All the news for Sunday 29 July 2018

Vitality Hockey Women's World Cup 2018 - Day 7
London (ENG)

Results 28 July

ESP v GER (Pool C)     1 - 3
ARG v RSA (Pool C)     1 - 1
JPN v BEL (Pool D)         3 - 6
NZL v AUS (Pool D)     1 - 1

Upcoming fixtures 29 July (GMT+1)

11:00     KOR v CHN (Pool A)
13:00     NED v ITA (Pool A)
17:00     IND v USA (Pool B)
19:00     ENG v IRL (Pool B)
Pool standings
Pool A
| Rank | Team | Played | Wins | Draws | Losses | Goals For | Goals Against | Goal Difference | Points |
| --- | --- | --- | --- | --- | --- | --- | --- | --- | --- |
| 1 | Netherlands | 2 | 2 | 0 | 0 | 14 | 1 | 13 | 6 |
| 2 | Italy | 2 | 2 | 0 | 0 | 4 | 0 | 4 | 6 |
| 3 | China | 2 | 0 | 0 | 2 | 1 | 10 | -7 | 0 |
| 4 | Korea | 2 | 0 | 0 | 2 | 0 | 8 | -8 | 0 |
Pool B
| Rank | Team | Played | Wins | Draws | Losses | Goals For | Goals Against | Goal Difference | Points |
| --- | --- | --- | --- | --- | --- | --- | --- | --- | --- |
| 1 | Ireland | 2 | 2 | 0 | 0 | 4 | 1 | 3 | 6 |
| 2 | England | 2 | 0 | 2 | 0 | 2 | 2 | 0 | 2 |
| 2 | India | 2 | 0 | 1 | 1 | 1 | 2 | -1 | 1 |
| 4 | United States | 2 | 0 | 1 | 1 | 2 | 4 | -2 | 1 |
Pool C
| Rank | Team | Played | Wins | Draws | Losses | Goals For | Goals Against | Goal Difference | Points |
| --- | --- | --- | --- | --- | --- | --- | --- | --- | --- |
| 1 | Germany | 3 | 3 | 0 | 0 | 9 | 4 | 5 | 9 |
| 2 | Argentina | 3 | 1 | 1 | 1 | 9 | 6 | 3 | 4 |
| 3 | Spain | 3 | 1 | 0 | 2 | 10 | 10 | 0 | 3 |
| 4 | South Africa | 3 | 0 | 1 | 2 | 2 | 4 | -2 | 1 |
Pool D
| Rank | Team | Played | Wins | Draws | Losses | Goals For | Goals Against | Goal Difference | Points |
| --- | --- | --- | --- | --- | --- | --- | --- | --- | --- |
| 1 | Australia | 3 | 1 | 2 | 0 | 4 | 3 | 1 | 5 |
| 2 | Belgium | 3 | 1 | 1 | 1 | 8 | 7 | 1 | 4 |
| 3 | New Zealand | 3 | 1 | 1 | 1 | 6 | 5 | 1 | 4 |
| 4 | Japan | 3 | 1 | 0 | 2 | 7 | 10 | -3 | 3 |
---

Die Danas top Pool C. South Africa exit World Cup after brave stand against Las Leonas



South Africa's Shelley Jones in action against Las Leonas. Pic credit: Getty Images/FIH

Going into the last round of pool matches, incredibly the only guaranteed quarter-finalist remained Ireland. As the opening match got underway – a Pool C, all-Europe affair between Spain (WR:11) and Germany (WR:6) – it was still possible for all 16 teams to qualify.

By the end of the two Pool C matches, things had been sorted with Germany emerging as the very deserving pool winners, with Argentina (WR:3) taking second place, which means they will play the cross-over match against the third placed team from Pool D. Spain will take on the second-placed team in Pool D.

South Africa (WR:14), who failed to win any of their pool matches were the first team to exit the tournament, but not before they earned a point against Argentina – the first time they had taken points from the world number three team in a major international since their 2-2 draw at the Madrid World Cup in 2006.

In the opening match, it was Spain who made the brightest start. The Red Sticks won a penalty corner and, with their recent success on the set-piece, Germany were right to line up with apprehension. The excellent Julia Ciupka was up to the challenge however and the ball was cleared to safety.

"We don't have one or two star players, we are a team who works hard for each other" Franzisca Hauke

Germany quickly created their own opportunity when Lena Micheel burst through with her devastating speed and flair. The result was a penalty corner which was worked beautifully. Anna Schröder injected the ball and the switch back to her from the top of the circle caught Spain totally unawares. Schröder lifted the ball high over Maria Ruiz in Spain's goal and Germany were on their way.

In the second quarter, Spain again came out the faster and started to play very creative hockey to get behind the German midfield. Germany reacted to the challenge by strengthening their presence in midfield and cutting out Spain's route to goal. Selin Oruz, Viktoria Huse and Janne Müller-Wieland were central to stemming the Spanish flow.

As the quarter counted down, a mazy run by Begona Garcia earned Spain their second penalty corner of the match. The ball was played in and bounced high in the air. Quickest to react was Xantel Gine, who plucked the ball from the air and angled it into the goal.

Georgia Oliva burst through to win Spain's third penalty corner but this time Germany were alive to the threat of the Red Sticks penalty corner variations and the slipped pass was cut out.

A quick German counter led to Germany's own penalty corner opportunity. The shot was high and dangerous but Ruiz rose to the challenge and gloved the ball away. Still Germany pushed and just seconds later restored their lead when Oruz was on hand to push the ball home after Hannah Gablac had taken the ball around the back of the Spanish defence.

The lead was increased further when Viktoria Huse's penalty corner flew emphatically towards the goal. Marie Mävers showed her poacher's instinct in front of goal as she got the lightest of touches to score her first goal of the tournament.

Germany nearly made it four as the ever-dangerous Lisa Altenburg ran the ball from her own circle. Her wicked cross eluded everyone, including teammate Gablac who was just unable to get on end of it.

Spain's Berta Bonastre was pragmatic as she spoke after the game. "We were definitely competitive out there today but we made some little mistakes and they were the difference between us and Germany today. It was the same with our match against Argentina. It was not a 6-2 game, but we made mistakes which were punished.

"It is frustrating because we are there, we are competing, we get penalty corners. We win or lose games in the circle and it didn't go for us today," she added.

Vitality Player of the Match Franzisca Hauke said: "We don't have one or two star players, we are a team who works hard for each other. Since 2014 we have had a lot of changes. Germany was known as the hardest nation when it comes to defending but now we are playing a really attacking game as well. We want to shoot more goals, it is not enough to just defend our goal. We are also much more fit than we were four years ago, and that is key.

"Xavier Reckinger (Head Coach) has a good eye for positioning: for example, Anne [Schroeder] and myself used to play central, now we are wide and can use our speed much better. That works well."

The second match between Argentina and South Africa was the final Pool C match, with the African continental champions needing a huge win to overturn their goal deficit and move above Spain in the pool placings.

For Argentina, Germany's earlier success over Spain meant Las Leonas could not top their pool and so even a win would see them go to the cross over stage of the competition and face the third placed team from Pool D.

There was an air of tension in the Leonas squad that suggested they were desperate to put on a good performance, both for their loyal fans and for their own self-confidence.

The first half was a perfect example of a team setting up a defensive wall and stopping anything in its tracks. Argentina threw everything at the South Africa defence in the opening moments. Vitality Player of the Match Phumelela Mbande in South Africa's goal was in outstanding form but also had an element of luck on her side as she parried and blocked everything that was thrown at her.

The world number three side had numerous opportunities, with one of the best falling to Maria Granatto after Agustina Albertarrio had burst down the right hand side of the pitch and crossed straight across the South Africa goal.

No-one could have predicted what happened in the last two seconds of the first half. A break from South Africa found Lilian du Plesis, who struck a brilliant ball into the Argentina circle. Jade Mayne was quickest to the bouncing ball. She chopped it down into the ground and both Argentina's defenders and South Africa's strikers watched as it squeaked past Belen Succi into the Argentina goal.

"That was a great moment," said Nicolene Terreblanche after the game. "When you saw that goal, the belief came flooding in. Moments like that just help you get momentum as a team."

After the half-time break, Argentina resumed their position camped in the South Africa half of the pitch. They probed and probed to try and find a way through but, even as the number of penalty corners racked up, the equaliser proved elusive.

The pressure mounted as the third quarter counted down. South Africa stood firm and protected their lead but the attacks from the blue and white shirts came thick and fast. The breakthrough came from a moment of brilliance from Maria Granatto, who latched onto a bouncing cross and turned it goalwards. The striker's celebrations loosened a little of the tension that had crept into the Argentina side.

By the end of the 60 minutes, Argentina had notched up 26 shots and 13 penalty corners in contrast to South Africa's two shots. It was a point about which Argentina Head Coach Agustin Corradini expressed some concern.

"What I saw out there was a team who had too much energy and no thinking. There was an air of desperation and going forward too quickly. We had 13 penalty corners and we didn't score. That is too many opportunities for only one outcome.

Speaking after the game, South Africa's Nicolene Terreblanche explained that the team went onto the pitch determined to get a result from their final pool match.

"We had nothing to lose. We said 'flip guys, we need to be one-on-one solid defensively,' and we did that. And our 'keeper, she was phenomenal today. In the first game we didn't do well, you cannot afford to start the tournament how we did. If you can play well from the first game then you get into a stronger position and you get momentum."

Argentina and Spain's opponents will be revealed after the second session of matches involving the four teams in Pool D.

FIH site


---

Belgium Red Panthers show their bite and Australia win continental clash




An epic test of strength and resilience saw Australia (World Ranking:5) overcome their Oceania rivals New Zealand(WR:4) to finish top of Pool D. In yet another twist to this fascinating Vitality Hockey Women's World Cup, the lowest ranked team in the pool, Belgium (WR:15) finished second in the pool and Japan (WR:12) made an early exit from the competition.

The result means New Zealand will play Argentina (WR:3) in the crossover match and Belgium will play European rivals Spain (WR:11). Australia join Ireland and Germany in qualifying straight through to the quarter finals.

 Verve, energy, innovation – Belgium have improved with every game and this was the Red Panthers at their best. Japan came to the party and played their role in a nine-goal thriller but this was the performance that Belgium have been working towards.

As Anouk Raes acknowledged, they are one of the lower ranked teams but in this tournament they have not looked out of place at any stage. "We played very well against both New Zealand [lost 4-2] and Australia [0-0] but we had targeted this game because we are close to Japan in the rankings," said the Belgium captain.

It was a must-win match for Belgium who, despite drawing against Australia, were in danger of exiting the tournament because of other results. For Japan, a draw would suffice. The 6-3 result was Belgium's highest score in a World Cup, their previous was a 5-0 win over Italy in 1976, when they finished in fourth place.

More importantly for this generation of players, it meant qualification through to the cross over matches, at the expense of the immensely likeable Japanese squad.

The match started at a high tempo that never really abated. It was Japan who put in the first serious attempt on goal. The shot from Shihori Oikawa was picked out by Aisling D'Hooghe in the Belgium goal, with the lithe 'keeper dropping to her right to stop the shot.

Japan had shown what they could do with a win over New Zealand and a close 3-2 encounter with Australia but, on this occasion, they were up against a Red Panthers team who had brought their A-game.

Belgium shot into a 2-0 lead before 20 minutes had passed. The first goal came from a slick penalty corner routine. Judith Vandermeiren was on the end of a three pass routine which left the Japanese defence chasing shadows.

The next two goals were all part of the Jill Boon show. First the Red Panther's striker, who was voted Vitality Player of the Match, latched onto a ball that flew into the Japanese circle, her deflection sending the ball high into the goal, well out of reach of Megumi Kageyama.

The third Belgium goal was scored by Anne-Sophie Weyns, but the hard work was done by Boon, who neatly wrong-footed a defender to clear the way for a perfect pass to the waiting Weyns.

Kageyama went some way towards rectifying the error when she saved at point blank range from Louise Versavel, but she was not able to do anything about Versavel's next move which saw her outwit the defence to score a neat goal – her second of the tournament.

"We came into the tournament with no pressure and we have played really well, even in the 4-2 loss. The team confidence is very high right now" Anouk Raes, Belgium

Japan gave their World Cup dreams momentary hope when they scored a penalty corner after a great move by Japan forced a foul in the circle. Akiko Kato was on hand to slot the ball home.

Louise Versavel increased her tally five minutes later after she picked up on a cross by Pauline Leclef. By now the striker knew exactly where the goal was and she slammed home with composure. Eight minutes later, Versavel scored her hat trick as she converted another Belgium corner.

One of the features so far of this World Cup has been the ability of some of the teams to produce some innovative penalty corner routines and Belgium showed a couple of beauties in this match.

Japan have delighted the spectators with their approach to the competition and the neutrals in the crowd were delighted when the Cherry Blossoms scored two more goals in the final 10 minutes. First Kana Nomura strode into the circle and slammed a straightforward penalty corner shot past D'Hooghe and then Hazuki Nagai added her name to the score sheet with a neatly finished penalty corner.

"We are so pleased," said Raes. "Our goalkeeper was excellent and her first save provided the momentum for that performance. We came into the tournament with no pressure and we have played really well, even in the 4-2 loss to New Zealand. The team confidence is very high right now."

New Zealand versus Australia is never a dull fixture and there was a lot riding on this game. Both teams were seeking the win that would put them at the top of Pool D and hence straight through to the quarter-finals.

For Australia, who started the day on four points, a draw was enough. For New Zealand, who had lost to Japan, only a win would do if they were to either win the pool or move ahead of Belgium into second place.

New Zealand took the lead in the 13th minute when Olivia Merry pounced on a rebound after Rachael Lynch had saved from Kelsey Smith. The joy was short-lived however as just five minutes later Emily Smith made a great run through the New Zealand defence and put the ball over Sally Rutherford in the Black Stick's goal.

Samantha Harrison thought she had put her team ahead when she struck the ball high into the Hockeyroos net but on referral she was adjudged to have used the back of the stick.

A big half was called for from the players and, as so often for Black Sticks it was Stacey Michelsen who answered the call. The powerful midfielder strode through the ranks of Australia players to set up a shot for Samantha Harrison and it was Michelsen herself who nearly hit the rebound home, her shot fizzed wide of Lynch's goal.

Michelsen's example fired up those around her and the next player to test Lynch was Merry. A quick break – is there any other – from Anita McLaren, followed by a cross found Merry in front of goal and unmarked. Her shot was well saved by Lynch.

Jodie Kenny had the chance to put the game to rest as she stepped up to take a penalty corner after some good work by Emily Hurtz to win the corner. Kenny's shot was stopped by Rutherford, and cleared by the Black Sticks defence.

The resulting draw was just rewards for two teams who really couldn't be separated. It was a point conceded by Maddy Fitzpatrick, who said the two teams know each other so well that any encounter is always hard-fought and close. "We had plenty of chances but then so did New Zealand."

"We worked hard but the lines [between defence, midfield and forward] were perhaps a little too close so we couldn't play our game," said Michelesen. New Zealand are renowned for bringing out the big game in the latter stages of a competition and there was steely determination in the eyes of the New Zealand captain as she declared that her team would be ready for Argentina on 30 July.

Day 7: Results
Spain v Germany 1-3
Argentina v South Africa 1-1
Japan v Belgium 2-6
New Zealand v Australia 1-1

The action continues on Sunday 29 July at the Lee Valley Hockey and Tennis Centre as a full day of action sees the pool action draw to an exciting finale. Korea (WR:9) face China (WR:8) at 11:00 (BST). Then it is Netherlands (WR:1) against China (WR:17) at 13:00. India (WR:10) will play USA (WR:7) at 17:00, and then England (WR:2) go head-to-head with Ireland at 19:00.

FIH site


---

Day Seven: The Vitality Hockey Women's World Cup




Australia and Germany secured their quarter final places at the Vitality Hockey Women's World Cup as South Africa and Japan were sent home on day seven of the tournament.

Belgium put in an impressive display to beat Japan in pool D while a draw was enough for both Australia and New Zealand to reach the knockout stages.

Germany secured top spot in Pool C with a 3-1 win over Spain while South Africa frustrated Argentina to hold them to a 1-1 draw.

Pool D:

Belgium won a thrilling, high-scoring encounter with Japan 6-3, while Australia and New Zealand shared a 1-1 result.

Belgium coach Niels Thijssen said: "Our dream was to come through the group, whether that was first, second or third I would have been happy with that before the tournament. Another game is perfect for us, it's what we want."

After tonight's results, Australia win the pool, with Belgium directly behind them, and the Black Sticks third. As pool winners, Australia gain direct access to the quarter finals, with Belgium playing Spain and New Zealand facing Argentina in the crossover stage on Monday.  

The first of nine goals In the clash between Belgium and Japan came from the stick of Judith Vandermeiren at a short corner in the seventh minute.

With Japan struggling to match the intensity and pressing from Tuesday's victory over New Zealand, the Red Panthers doubled their lead through Jill Boon's deflection in the 17th minute. Anne-Sophie Weyns extended Belgium's lead after a fantastic pirouette-and-pass from Boon to see the Red Panthers go into the half-time break 3-0 up.

Belgium started the second half where they left off in the first, scoring three minutes into the third quarter through Louise Versavel, before Japan pulled a goal back from a short corner.

Nothing summed up the contrasting fortunes of the teams at that stage of the match than the 39th minute, when Versavel scored her second to make it 5-1 to Belgium, with Japan's Motomi Kawamura being shown yellow shortly after.

Versavel brought up her hat-trick two minutes into the final quarter. With victory secured, the Red Panthers could perhaps be forgiven for taking their foot off the gas, and two more short-corner goals from Japan – to make it three for them in the match – made the final score 6-3.

Jill Boon contributed with a goal and an assist and isn't ready to call time on the Red Panthers' World Cup adventure. She said: "We fear no one but respect everyone. We are ranked thirteen, and every coming game will be super hard, but we're going to fight like hell to get through."

The match between Australia and New Zealand set off at a brilliant pace with both sides looking to attack and press, resulting in an end-to-end opening quarter. There were chances for both sides but two minutes before the first break New Zealand edged ahead.

A give and go opened the Australian defence and after the initial shot was saved, Olivia Merry slapped home the rebound for her third goal of the tournament. Australia almost levelled immediately but a strong reverse strike was chested away by Sally Rutherford.

The scores were levelled immediately after the first break. Edwina Bone's crashed ball into the circle was well collected by captain Emily Smith who coolly tucked her effort past the onrushing Rutherford.

Just before the half-time break New Zealand thought they had taken the lead through Samantha Harrison. A counter attack started by Michelsen saw Harrison freed into the circle but her reverse stick strike was ruled out after a review showed she had used the back of her stick.

The second half continued to entertain as both sides played positively under the light. There we chances aplenty but neither side was able to carve open the clear cut opportunity to take the lead and the win.

Australia's Ambrosia Malone, playing in her first major tournament at the age of 20, was delighted with the first-place group finish for her country. She said: "To not have the pressure of the crossover and being straight through the quarter finals is obviously really important to us, so we're very happy to be on top.

"And that's what we've aimed to do, get better with each game and not lose a game."




Pool C:

Die Danas made sure of finishing first in the pool as Anne Schroder, Selin Oruz and Viktoria Huse all found the net while South Africa are eliminated despite their valiant draw with Argentina.

Spain finish in third while Argentina take second place and both now head into the crossovers to decide if they reach the quarter finals.

Looking to continue their 100% start Germany began positively and took the lead after just five minutes. From a penalty corner the ball was returned to the injector and Anne Schroder flicked over the keeper from a tight angle.

On the stroke of half-time Spain drew level from another penalty corner. The original drag-flick hit a German foot and flew high into the air dropping towards three players but it was Carmen Cano who go the final touch to send it into the net.

Germany responded strongly though striking twice in three minutes soon after the half-time break with Selin Oruz and Viktoria Huse on target.

A fast-paced and frantic final quarter entertained the crowds but there we no more goals as Germany held on for victory and in doing so secured top spot in pool C.

There was a shock in the second game of the session as South Africa held Argentina to a 1-1 draw. Despite the draw South Africa are eliminated from the tournament while Las Leonas secured second place in pool C.

Argentina struggled to break down a determined South African defence and found themselves trailing as Jade Mayne snuck in to deflect past Belen Succi from close range just before half-time.

Maria Jose Granatto was on hand to eventually level for Argentina lifting the ball into the net to complete a fine flowing move.

Argentina threw everything at South Africa to try and grab a winner but despite a late barrage of penalty corners couldn't break through.

England Hockey Board Media release


---

South Africa end Hockey World Cup campaign on a high

Ockert de Villiers



The South African Women's hockey team ended their campaign on a high with a draw against Argentina. Photo: Aubrey Kgakatsi/BackpagePix

The Proteas showed serious moxie in their final 2018 FIH Hockey Women's World Cup match in London by holding world number three Argentina to a 1-1 draw on Saturday.

The South Africans received hockey lessons in their first two matches of the global showpiece, losing 3-1 to Germany and suffering a massive 7-1 defeat to Spain.

The Spanish were embarrassed in their match against Argentina, courtesy of a 6-2 annihilation which suggested another runaway defeat for the Proteas.

Unfortunately for the Proteas, the draw meant nothing for their standing in what is considered to be the SuperGroup after finishing at the bottom of the pile and signalling their early departure from the tournament.

South Africa looked set to snatch one of their biggest scalps after going 1-0 up shortly before the half-time break.

Jade Mayne's shot into the back of the box reverberated through the stadium as the South Africans looked set to slay one of the giants of women's hockey.

South Africa turned in an inspiring performance as they managed to keep the South Americans out for 46 minutes.

Shot-stopper Phumelela Mbande emerged as a future superstar and was one of the shining lights for the struggling South Africans.

Mbande kept the scoreline respectable against Germany and was equally instrumental in South Africa's match against Argentina.

Argentina managed to sneak one past Mbande in the 47th minute courtesy of a Maria Granatto goal.

South Africa finished in a creditable ninth place at the previous edition of the tournament which was their best since the 1998 World Cup when they bowed out in seventh position.

The winners of each pool qualify for the quarter-finals with the second and third-placed teams playing in crossover matches for places in the next round.

Independent Online


---

South Africa knocked out after draw against Argentina, Germany beat Spain

Germany head into the quarter-final round with three wins in three games in the group stage.



Germany vs Spain. FIH

Despite a 1-1 draw against world No 3 Argentina, South Africa became the first team to exit the Hockey World Cup in London on Saturday. Bronze medallists at Rio Olympics, Germany, beat Spain 3-1 to top Pool C.

The African continental champions needed a big win to overturn their goal deficit and move above Spain in the pool. Jade Mayne's goal just before the end of second quarter helped their cause. But Maria Granatto equalised for the Las Leonas in the 47th minute with a good field goal.

Argentina had notched up 26 shots and 13 penalty corners in contrast to South Africa's two shots.

"What I saw out there was a team who had too much energy and no thinking. There was an air of desperation and going forward too quickly. We had 13 penalty corners and we didn't score. That is too many opportunities for only one outcome," said Argentina Head Coach Agustin Corradini after the match.

Speaking after the game, South Africa's Nicolene Terreblanche explained that the team went onto the pitch determined to get a result from their final pool match.

"We had nothing to lose. We said 'flip guys, we need to be one-on-one solid defensively,' and we did that. And our 'keeper, she was phenomenal today. In the first game we didn't do well, you cannot afford to start the tournament how we did. If you can play well from the first game then you get into a stronger position and you get momentum."

It was the first time that South Africa had taken points from the world number three team in a major international since their 2-2 draw at the Madrid World Cup in 2006.

Anne Schroder, Selin Oruz and Viktoria Huse were on target in Germany's win over Spain. The teams went into the half-time break at 1-1 with Maria Lopez's 30th minute penalty corner cancelling out Schroder's goal. But the Germans intensified their attack in the second half to score twice and secure their quarter-final berth.

Scroll.in


---

Hockeyroos Head Straight Into Quarters After NZ Draw

Ben Somerford




The Hockeyroos have secured top spot in Pool D to progress straight into the 2018 Women's World Cup quarter-finals after a 1-1 draw with New Zealand in London on Sunday morning (AEST).

Australia captain Emily Smith scored the equalising goal on her 26th birthday in the 18th minute after Olivia Merry put the Black Sticks ahead in the 13th minute.

Both sides came close to winning goals in the second half but Australia did enough to settle for the draw which secured top spot after Belgium defeated Japan 6-3 earlier in the day in the other pool match.

Australia finished top of Pool D and heads for the quarter-finals on Wednesday with five points from three matches.

Belgium and New Zealand finished second and third respectively, meaning they're both headed for the sudden death playoffs on Monday.

The Hockeyroos will play the winner of Argentina-New Zealand's playoff from 5.15am Thursday LIVE on FOX SPORTS.

Australia's veteran defender Jodie Kenny said: "We're really happy. It would've been nice to come out with a win but a draw was enough.

"We were really happy with that effort tonight so well done to our girls."

She added: "We knew it was going to come down to the death tonight. They're always fiery and it's always a great competitive match."

Little separated the sides on the statistics count with 18-17 circle penetrations and 52-48% possession in New Zealand's favour, while both teams had six penalty corners each.

New Zealand won the first penalty corner of the contest, with Anita McLaren's shot blocked in the fourth minute.

Smith found space inside the circle in the 10th minute but spurned her chance, while Kalindi Commerford limped off with an injury early too.

Moments later, New Zealand went ahead when Merry swooped on a loose ball to convert into the backboard after Hockeyroos goalkeeper Rachael Lynch had slid in to block Kelsey Smith's chance.

Emily Hurtz forced Black Sticks keeper Sally Rutherford into a save almost immediately, but Australia didn't have to wait long to equalise through the skipper.

Stephanie Kershaw released Edwina Bone on the right flank and her cutback found Smith, who slid her shot under the on-rushing Rutherford for 1-1.

The Black Sticks mounted the pressure with three consecutive 24th minute penalty corners, with Brooke Neal's shot going wide of the target and Stacey Michelsen's attempted deflection.

New Zealand thought they had restored their lead when Samantha Harrison converted on a 27th minute counter-attack but Australia successfully reversed the decision on referral for using the back of the stick.

The Hockeyroos won a short corner immediately after the long interval with Kenny shooting narrowly wide, while the dangerous Michelsen flashed a 38th minute shot wide after Lynch had kicked away Smith's effort.

Lynch saved from Merry early in the last, before Madison Doar shot wide of the Australia goal shortly after too.

Kenny had a late drag flick blocked well by Neal as New Zealand removed goalkeeper Rutherford in the final minutes chasing a winner and top spot but Australia held on.

Australia 1 (Smith 18')
New Zealand 1 (Merry 13')

Hockey Australia media release


---

Draw with Australia sends Vantage Black Sticks Women into Cross-over match



Brooke Neal and Ella Gunson team up to tackle Australia's Kathryn Slattery in this morning's match. Photo: www.worldsportspics.com

New Zealand has drawn it's final pool match with Australia 1-1 after a fiercely contested tie between the Trans-Tasman rivals.

The result means the Vantage Black Sticks Women will now play in the cross-over round against Argentina for the right to play Australia again in the Quarter-Final.

Both teams started the match knowing their destiny was in their own hands, a win would mean topping the pool and that all important direct passage to the last eight.

A cagey start to the game in much chiller conditions than previous games in London led to the evenly matched teams cancelling each other out with both sides strong in defence.

It was the Vantage Black Sticks who drew first blood. The breakthrough came in the 13th minute as Australia attempted to play the ball out from the back. Busy Kiwi's forward Kelsey Smith forced defensive errors from both Jodie Kenny and Georgina Morgan, taking possession and firing in a shot which was saved by Australian goalkeeper Rachael Lynch.  New Zealand's Olivia Merry however was quick to pounce, slotting the rebound home. New Zealand 1-0 up .

It didn't take the Hockeyroos long however to strike back in the 2nd quarter. The Kiwis goal seemingly spurring the opposition into life. On the 18th minute Edwina Bone fired in a cross from the right flank perfectly into the path of Hockeyroo's captain Emily Smith, she took two touches to get the ball under control and then calmly finished beneath onrushing goalkeeper Sally Rutherford.

The game had now picked up the pace significantly and it was the Kiwi's who thought they'd taken the lead when Sam Harrison found herself free in the circle, meeting a cross at speed and attempting a reverse sweep shot into the back of the net. She converted and the Kiwis celebrated. A video referral however showed the striker had clearly hit the ball with the back of her stick and the referee duly awarded Australia a free hit and disallowed the goal.

The game continued to ebb and flow. Late in the 2nd quarter New Zealand pressure led to 3 consecutive penalty corners as New Zealand chased a winner.

The second half started with the teams locked at 1-1 and it was Australia who looked the more likely to score with good possession and powerful counter attacking, the hockeyroos turning the ball over with increasing frequency.

Despite Australia successfully starving New Zealand's big match players Stacey Michelsen and Anita Mclaren of a supply line, the Kiwi's shot count continued to rise, Kelsey Smith forcing a great save from the Australian goalkeeper.

As both teams went looking for the winner in the 4th quarter it was New Zealand who came on strong. Good build up play from the the Vantage Black Sticks women led to a fantastic ball into the circle which found Olivia Merry in space, she moved the ball into a shooting position and unleashed a rasping strike towards goal but unfortunately for the Kiwi's straight into the feet of Rachael Lynch in the Australian goal.

New Zealand's pressure on the left from Stacey Michelsen and good work from Anita Mclaren in the circle led to another chance, this time falling to Madison Doar who found space before putting the shot wide.

The Kiwi's pushed on with more than 55% of the possession and 4 shots to Australia's 1 in the final quarter, but it wasn't enough and the Hockeyroo's held firm.

Vantage Black Sticks Women's coach Mark Hager said it was gut-wrenching not to win the game and top the group especially after recording 17 shots to Australia's 9.

"It was a typical Aussie against New Zealand battle both teams had chances to win the game,  probably just our inability in front of goal has hurt us a bit which is disappointing."

The team now faces world ranked number 3 side Argentina in a cross-over match. Hager said his team will be ready to go again.

"We're confident with every game we go into and we'll prepare well and just come out and play our game and do things well."

That game can be seen on Sky Sports at 7:15am on Tuesday 31st July.

VANTAGE BLACK STICKS: 1 (Olivia Merry 13')
AUSTRALIA: 1 (Emily Smith 18')

Half Time: 1 - 1

Hockey New Zealand Media release


---

Black Sticks women draw with Australia

By David Leggat



NZ coach Mark Hager. Photo / Photosport.co.nz

New Zealand have drawn 1-1 with Australia in a tight World Cup match in London but must go through an elimination game to make the quarter-finals.

The world No 4 Black Sticks have paid for their poor display against 12th-ranked Japan in their previous pool D game. They finished third while Australia, ranked fifth, progress straight into the last eight by dint of winning a tricky group.

A win over Japan, as things panned out today, would have had New Zealand qualify top, but classy defender Brooke Neal has a simple philosophy.

''You can look in the past, but we're a team who look forward and to be honest we have to win every game from now on anyway, so it means doing our homework and making sure we're clinical,'' Neal said.

New Zealand went ahead with a well-taken Olivia Merry goal in the 13th minute.

Busy attacker Kelsey Smith, named player of the match, was involved on the left side of Australia's defensive circle and when the ball fell to Merry she picked her spot to score at the near post from a difficult angle.

Australia bounced back smartly, Emily Smith making it a 26th birthday to savour when she capitalised on a defensive blunder, which had goalkeeper Sally Rutherford well out of position, to roll the ball into an empty net.

The first half was pretty even and New Zealand would have regained the lead when Sam Harrison slapped a reverse stick shot into the Australian goal.

But it was ruled out on an Australian referral as it came off the back of her stick.

Australia were stronger in the third quarter and there were trying defensive situations for New Zealand, in which Neal was outstanding, and Liz Thompson and Ella Gunson also key figures.

Going forward captain Stacey Michelsen's weaving runs were top class and troubled Australia's defence while Smith, Sam Charlton and Merry also proved a handful. But New Zealand needed more out of world class midfielder Anita McLaren who was below her best.

Merry had one great opportunity, made by her own skill in the penalty area, gathering a cross and turning well to get a shot in but Australia's goalkeeper Rachel Lynch was up to the job.

Both teams had six penalty corners but the defensive units were up to the job, Neal blocking one Jodie Kenny drive with her stick.

Belgium thumped Japan 6-3 to go second in the group. They will face Spain in the other crossover game.

New Zealand will play world No 3 Argentina on Tuesday morning (NZT).

New Zealand beat them in the world league final in Auckland late last year but lost four and won only one of their matches on a tour to Argentina in February.

In a quirk of the draw, if New Zealand beat Argentina, they will face Australia again in the quarter-finals.

he New Zealand Herald


---

Black Sticks into second round after draw with Australia in women's hockey World Cup

Joseph Pearson



Black Sticks celebrate with Olivia Merry after her goal against Australia. GETTY IMAGES

The Black Sticks are through to the second round of the women's hockey World Cup after drawing 1-1 with Australia on Saturday (Sunday NZ time) in London.

New Zealand needed only to avoid a heavy defeat in their final pool game to progress from Pool D and Australia's Emily Smith cancelled out Olivia Merry's earlier goal for the Kiwis as the contest finished level.

The result means the Black Sticks had to settle for third in the pool and they face Argentina in a play-off on Monday (Tuesday NZ time) to qualify for the quarter-finals. Australia topped the pool to reach the last eight.

In a rematch of the Commonwealth Games final, when New Zealand thumped Australia 4-1 to win gold on the Gold Coast in April, the Trans-Tasman rivals faced one another knowing they had already effectively advanced from Pool D because of Japan's earlier 6-3 loss to Belgium, who would finish second in the pool.

With that defeat, Japan fell to rock bottom of New Zealand and Australia's pool, as Belgium assured their progression to the second round, and only a Black Sticks defeat by at least four goals against Australia could save the Japanese from elimination.



Both and Australia advanced from the pool stages of the World Cup. GETTY IMAGES

The pool winners would automatically book a place in the quarterfinal, while those finishing second and third would need to contest a play-off to make the last eight, so plenty was at stake for the Black Sticks against their rivals from across the ditch after losing 2-1 to Japan in their last game.

New Zealand, who opened the tournament by beating the Belgians 4-2, needed victory to leapfrog Belgium to take top spot, while Australia required just a draw, and the Black Sticks broke the deadlock after 13 minutes.

Kelsey Smith pinched the pocket of an Australian defender and Merry scored the game's opening goal from a tight angle.

But Australia hit back three minutes into the second quarter as Smith capitalised on some slack Kiwi defending to make it 1-1.

New Zealand's Samantha Harrison then had a goal correctly disallowed and the score remained level at half-time.

After a conservative third quarter, when captain Stacey Michelsen came closest to adding a second for the Black Sticks, both sides played out a draw as the final 15 minutes passed without much incident.

New Zealand's next opponents are Argentina and the winners will face Australia on Wednesday (Thursday NZ time) in the quarter-finals. Belgium play Spain in the play-offs.

New Zealand 1 (Olivia Merry 13')
Australia 1 (Emily Smith 18'). HT: 1-1.

Stuff


---

India need to attack early and play with exuberance against USA to avoid going home

Sundeep Misra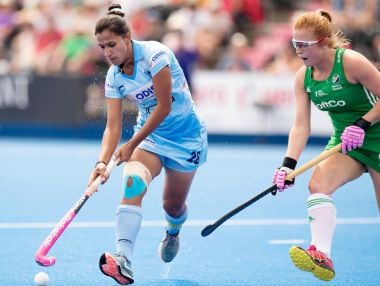 India captain Rani Rampal in action against Ireland at the Women's Hockey World Cup India. Worldsportpics

As a team, as individual performers, as a diverse set playing the Championship, as a unit with sublime skills, the Indian women face a test that either pushes them into the cross-over matches or sends them home; from a team that promised much, they might become a bunch that never delivered. Standing between them and redemption of sorts is the world's seventh ranked team, USA.

India don't need to look beyond the World Cup for inspiration. In their own group, they have Ireland, ranked 16th, six places below them, sitting on top of Pool B with six points and direct qualification for the quarter-finals. Italy, lowest ranked at 17th in Pool A, have six points and a guaranteed cross-over slot. Belgium, ranked 13th, have snatched a cross-over match and so did Spain, who are 11th in the FIH rankings.

Italy have been the revelation of the World Cup, solid in defence with some crackling counter-attack ability and playing at the World Cup for the first time in 42 years. After beating South Korea, a delighted Eugenia Bianchi said: "We are so pleased to come here and make history. We are the lowest ranked team and when we saw what Ireland achieved we were so pleased as it showed that the lower ranked teams can do this."

Italy also have an Indian origin player — Jasbeer Singh, daughter of Inder Singh who was in the 1966 Bangkok Asian Games team that won gold; and so motivation shouldn't be far off for the Indian bunch, who face elimination unless they put up a display that would at least momentarily dispel the demons seen in the encounter against the 16th-ranked Ireland.

If India need to create the chances they did against Ireland, they would have to break through the powerful American midfield that along with pace has wonderful possession qualities which India somehow couldn't display against the Irish.

Speaking to PTI, coach Sjoerd Marijne said, "The team's structure and planning is good, which enabled us to create chances in the striking circle but not being able to convert these chances into goals cost us the match (against Ireland)."

"We made 27 circle entries against Ireland while it was only 10 against England. Though playing against these two teams is very different from each other, it is frustrating that we could not convert a single goal from these chances (15 shots on goal) against Ireland."

Marijne says it's a positive aspect to get shots but the strikes were too wayward and too individualistic in its build-up. India skipper Rani Rampal will have to consciously look at building up with Vandana Katariya or the constantly overlapping Neha Goyal. It has been seen at the World Cup that cutting in from the flanks, on the line, has been easier for speedy players. But going down the middle, as Rani does at times, is easier for the defence to tackle. Skills also mean knowing when to steer the ball to another player or affect another classical build-up by having either the defence come up or keep a flanking midfielder at the back.

Against England, India did defend in numbers but for long stretches they looked confident and were very disciplined. Against Ireland, they seem scattered, not sure what to do in which circumstance. Once the Irish had made India chase the 1-0 scoreline, they cleverly bunched them up on the flanks and then opened the space for their astute and brilliant Anna Flanagan to raid the Indian defence.

Both India and the USA are on a point each with victory assuring third spot. A draw would benefit India as they have a minus one goal difference compared to minus two for the Americans.

India cannot afford mistakes against the USA. The Americans are a relatively young team. They have seven players who have 100-plus caps with only two crossing the 200 mark – skipper Melissa Gonzalez and Michelle Vittese. Nine players haven't even earned 50 caps. Contrast this with the Indians — 10 players have 100-plus caps; three have 200-plus caps and three have 50-plus caps. The ones with 200-plus: Rani, Vandana and Deepika will have to be the ones leading the brigade.

Marijne said, "When we play USA, the emphasis would certainly be on scoring from these opportunities created. We have to execute better and the girls are working for that." Critics would, of course, point to the fact that training and 'working' comes at the camp. At the World Cup, execution is top priority. And that is where the team needs to come together.

Early goals have been an issue for India. Chasing is tough and needlessly becomes tense. So the search for an early goal is imperative. Taking risks early in the first quarter may pay off for India in a match which is of so much importance to both the teams. In terms of stats, USA holds the upper hand. In 28 matches, India have won only four, drawn eight and lost 16. In the World Cup, both the teams clashed once in 1983, which the Americans won 1-0. In their last encounter in July 2017, India had lost 1-4.

Yet, the silver lining is that like India at this World Cup, the USA too are stuttering. But to prove that the team can come up with the goods when the chips are down or when faced with the prospect of elimination, India will need to push their midfield strongly and understand that holding the ball has its merits only when it's done to gain territory or create space, not to showcase skills and then run into an army of defensively proficient players.

India cannot win without stretching play across the pitch. And when they do that, Deepika becomes that offensive player which was sorely missed against Ireland. She has the physical strength to come up and whack those hits to both the corners of the flanks.

In fact, against the Irish, the Indian team never arrived. A key component is to understand the opposition defence. India couldn't even decipher Flanagan's PC runs against Gurjit Kaur. Hopefully, those mistakes would have been rectified when they take on the very structured Americans.

The other aspect is the penalty corner drill, which didn't get an opportunity against England and completely collapsed against the Irish, where seven chances were blown away. In key encounters, pressure gets to the best and India will have chances if they can bamboozle the Americans with indirect attempts.

The Americans finished fourth in the last World Cup and only once have picked up a medal, a bronze, in the 1994 World Cup. Against India, they would be fighting to squeeze into the cross-overs. For India, much is at stake. Win, lose or draw India need to play with exuberance, freedom, zest and vigour. It's time to be astute and use that experience.

Firstpost


---

Deliver or depart time for Indian women

To remain in contention for a quarterfinal berth, India need a win or a draw from Sunday's game.



Indian women hockey team captain Rani Rampal in action during a Women's World Cup match in London. Photo Credit: PTI

Stung by a lower-ranked Ireland, Indian women's hockey team will need at least a draw against USA in Sunday's pool B match to keep their hopes of reaching the knockout stage of the World Cup alive.

After settling for a draw against world no 2 England in the opening match despite grabbing an early lead, Rani Rampal-led India suffered a disappointing 0-1 loss to Ireland in their second round robin match to squander the chance of making a direct entry to the quarterfinals.

Only the top teams from the four pools directly qualify for the quarterfinals, while the remaining four slots would be filled from the cross-over stage.

The sides finishing second and third in their respective pools would clash with each other in the cross-over stage with the four group toppers making it to the quarterfinals.

With one draw (1-1 against England), one loss (0-1) against Ireland, India are placed third in the Pool B points table.

USA too have drawn once against England and lost 1-3 to Ireland. Though both the teams have one point each, India is ahead due to goal difference.

To remain in contention for a quarterfinal berth, India need a win or a draw from Sunday's game.

"It is a must-win match for us on Sunday and there is no doubt that, chief coach Sjoerd Marijne said.

India didn't get any penalty corners against England but seven opportunities came their way against Ireland but the team could not convert the goal-scoring chances.

However, Rani and Co cannot repeat the same mistake in the high-stake game on Sunday.

"The team's structure and planning is good which enabled us to create chances in the striking circle but not being able to convert these chances into goals cost us the match," Marijne said.

"We made 27 circle entries against Ireland while it was only 10 against England. Though playing against these two teams is very different from each other, it is frustrating that we could not convert a single goal from these chances (15 shots on goal) against Ireland.

"But at the same time I take this as a positive that we have the ability to puncture any team's defence and create potential opportunities. When we play USA, the emphasis would certainly be on scoring from these opportunities created. We have to execute better and the girls are working for that," he added.

While the forward-line and mid-field lacked energy and pace, India's defence has held strong. While Ireland made just 10 circle entries, England made 34.

"Our defence will be one of our advantages against USA. The loss against Ireland has not affected the confidence of the team because we know that if we have created enough chances against Ireland while our defence has held strong, we can do the same against USA too," Marijne said.

The Hindu


---

Ireland well placed as England await opposition



Can Irish history continue against England? PIC: England Hockey

England women return to their 10,000 on Sunday in a final Women's Hockey World Cup Pool B game featuring a team brimming with confidence, energy and belief. Except we're not talking about the hosts here. Ireland, the table toppers, are the talk of Lee Valley, with the Green Army colours transported to front and back pages back home.

Ireland are ranked second lowest – at 15th – in London and while they admit to being surprised at having won the group, their underdog status has propelled them to higher-ranking wins over USA and India.

Never before had they won back-to-back matches at a World Cup in their four attempts stretching back to 1986. 'We've been banging on the door of world hockey', said Anna O'Flanagan after their Indian win secured a last eight passage.

But this World Cup campaign has finally lifted the part-timers. Having trained for six weeks leading up to the World Cup, with three camps in Dublin, Cork and Germany, Graham Shaw has gelled a side which relishes 'playing under adversity', as Shirley McCay told The Hockey Paper.

O'Flanagan, who plays for Bloemendaal, is one score away from equalling Ireland's record scorer, Lynsey McVicker, currently on 65. She will aim to do so against England, a team they looked second-rate to in losing 4-1 at last summer's EuroHockey Championships. What a summer turnaround.

This is McCay's biggest tournament she's played in. For Ireland's most experienced player, approaching 270 caps, that says it all on Ireland's progression here. A first Olympic campaign must be the aspiration following this run.

McCay is set to retire after London to go into full-time coaching in Ulster. And as the final hooter sounded on Thursday, McCay surveyed the crowd and sounded out one ticket holder in particular.

"I had to ask my boss for more leave," smiled the 30-year-old. "She was in the stands so I had to ask her for a bit more time off."

As she says, it's all because "we love the underdog tag and all know our strengths."

Ireland women knows its recent history too – at a location they are beginning to love. In 2015, Ireland men beat England to bronze at the EuroHockey Championships for the nation's biggest achievement; the women's heroics at the same venue have undoubtedly trumped that.

The sport continually falls short when coming up with Ireland's bigger beasts and no hockey pitches in seven Irish Republic counties –  including Mayo, Kerry and Clare – tells some of the story.

McCay said: "We are all semi-professional. We don't get paid to play and most of us have full-time jobs or in college and it brings us together. We are playing under adversity all the time and that only helps us."

There is always an edge to proceedings whenever fully-funded England face up to rivals yearning for their millions and world-class support.

On Sunday evening, it will be heightened. There is much at stake: England need to find their mojo in attack and on penalty corners. They've showed glimpses of the former – plenty of circle penetration and attacking intent without that final flourish, Alex Danson aside – while it remains to be seen if they will wield out more PC routines.

"They maybe haven't taken the chances and have under-performed compared to their expectations," added McCay. "But they can perform under pressure and we are looking forward to the fight."

Laura Unsworth knows a thing or two about pressure. She played at London 2012. She fought back with the team after the 2014 World Cup.

In her mind, she knows that England are ready to click.

"If we can keep creating chances, which we are doing, and put them away, then results look a little bit different,' said the 30-year-old.

"We are going to make the most of it. Playing in front of 10,000 is a rare occurrence and everyone is positive and in a good place from the last two matches."

England will be eyeing proceedings from early afternoon. A Dutch win over Italy will see them top and a potential last eight opponent. Then comes USA and India. If you've been reading The Hockey Paper, you'll know the permutations by now. England can't wait and ponder. They must go all out for the win.

The Hockey Paper


---

Hockey World Cup atmosphere can lift England further, says Susannah Townsend

By The Hockey Paper



England will play in front of third 10,000 sell out PIC: England Hockey

Susannah Townsend, England's midfield battler, believes the 2018 Women's World Cup has bettered London 2012 for both intensity and atmosphere.

The 30-year-old missed out on selection and had to watch on as Great Britain women won bronze six years ago at the Olympic Park.

For hockey's quadrennial showpiece, Townsend's girlfriend has witnessed England's two sell-out crowds in London and reported back to a player gunning for a first victory when they play Ireland on Sunday evening.

"People stand up when we're moving forwards as they feel the excitement. That's unheard of," said Townsend.

"I went to London 2012 and I didn't feel that when I was there. Hearing the crowd get back behind you here, it gets you going."

England will need plenty more of it in a must-win final pool game against Ireland, the world No 16 side who have defied expectations.

"We would like to be where Ireland are now. We have got better with every game," said Townsend, 28.

"The plan doesn't really change for us, we go into every game to win and pressure isn't a bad thing."

England can close in on a first win of the tournament if they are able to continue making hay with their forward running and circle penetrations.



Susannah Townsend is ready to lift England PIC: WORLDSPORTPICS

They have closed out games with domination aplenty – 60 per cent against the USA – and believe the time is right to finally click.

Townsend added: "If we can do that, the goals will come flowing and we will get our corners in.

"We haven't scored from our penalty corners which is something we need to do and we aren't going to pretend it's something we're not focusing on."

Laura Unsworth, the East Grinstead defender who played in London 2012, backed up her team-mate.

She said: "Playing Ireland, a home nation, is always a tricky affair.

"But If we can keep creating chances, which we are doing, and put them away, then results look a little bit different.

"We are going to make the most of it. Playing in front of 10,000 is a rare occurrence and everyone is positive and in a good place from the last two matches."

Unsworth suggested that England's defensive performances against India and USA had been a standout in the first week of the tournament.

"If you could compare it to a normal match, they have had one or two shots per match, which is pretty much unheard of in international hockey," she added.

The Hockey Paper


---

Unsworth: We will be ready



Laura Unsworth at the World Cup

England defender Laura Unsworth is relishing the challenge of facing Ireland and says the squad will be 'well prepared' for their final Vitality Hockey Women's World Cup pool match on Sunday.

Two draws in their opening two games against India and the USA means that England can no longer top the group but victory over Ireland would secure second spot.

Unsworth is expecting a tough battle with the Irish but believes the squad will be ready and has praised the home support the team have been receiving at Lee Valley Hockey and Tennis Centre.

Vice-captain Unsworth said: "Obviously we have had two tight matches and defended very well creating chances which is very positive in a tournament environment. On Sunday we will aim to go out there in front of our 10,000 fans and put in a good performance for everyone to watch.

"Battles against Ireland are always tough, they are a close-knit team and I think it will be a case of us trying to break them down a bit, but I think it'll be a tight affair and feisty in patches.

"We have been away for 24 hours with everyone going home and now we are back for the second part of the tournament, we have two training sessions and we will be prepared come Sunday."

Another sell-out crowd of 10,000 will be there to cheer on England once again on Sunday night and Unsworth is encouraging fans to continue to make plenty of noise.

She added: "I don't think any of us could have imagined how great the crowd as been. I think especially on Wednesday night when we had that last counter attack the crowd were electrifying we couldn't hear each other. We really appreciate all the support please keep it going!

"It makes a massive impact. When we are on a break they just get up off their seats and when we score it just gives us goosebumps, everyone up out their seats on their feet shouting and celebrating with all of us."

England Hockey Board Media release


---

It's not all about Alex Danson, says England defender Giselle Ansley

By The Hockey Paper




Giselle Ansley has admitted that England are not relying on captain fantastic Alex Danson to keep them alive in the Women's Hockey World Cup.

Danson, 33, scored a sublime individual goal against USA on Wednesday, but their subsequent 1-1 draw leaves them in a precarious position heading into this weekend.

England need to win against Ireland on Sunday to finish second in Pool B and secure a play-off match against one of Korea, China or Italy.

Victory there would mean a quarter-final showdown with rivals Holland.

There are further permutations. If England finish third (USA beat India and Ireland beat the hosts), then they would play Korea, China or Italy, but with a quarter-final against Ireland.

Moreover, England can finish bottom and crash out of the World Cup if Ireland beat them and USA and India share a scoring draw.

But for England to secure a play-off spot, they will first need the stick skills of Sophie Bray and Lily Owsley to shine against Ireland.

"You have to use the strength of the team and we don't rely on any one player in the team," said an upbeat Ansley. "Everyone has a role to play in the squad and they stick to that.

"As a high striker you want to feed them up front. It's not a reliance on Alex and it's great she scored on her 200th game as she is a fantastic leader."

This World Cup has thrown up some surprise results, not least by Ireland, the 16th-ranked side topping Pool B thanks to a 1-0 win over India to send the Green Army support into overdrive.

Ansley added: "You could get caught up in other results and what's going on in other pools, but now our thoughts are on Sunday.

"We saw Ireland put in a cracking performance against the USA but we know we can put in another good show."

Ireland's two pool victories confirmed their last eight berth in their first World Cup in 16 years.

A semi-professional side, their performance was heralded by Shirley McCay, Ireland's most experienced player.

She said: "We are absolutely shocked, but we knew we were capable of something special coming in as underdogs."

Ahead of Sunday's game, Ireland's captain Katie Mullan said: "It's a brilliant occasion for us but I have no doubt that England will come out and apply themselves."

The Hockey Paper


---

Is this the settled format for future?

Errol D'Cruz




Cross-over playoffs between second and third placed nations in each pool and judicious scheduling of matches in the Women's World Cup hockey tournament in progress in London suggests an FIH initiative to cope with the flip-side of running a larger tournament that involves 16 teams -- an increase of four.

Earlier, 12 teams split over two pools assured every nation a minimum of five matches. Now, 16 split over four groups drastically reduces matches.

A simple four-team pool format producing two qualifiers for the quarterfinals would have offered a minimum of just three matches with many a nation's campaign in danger of ending after a mere two match days.

That didn't augur well for the future of the lower-ranked nations grappling for funding, sponsorship and exposure.

The organizers then turned to a cross-over format similar to one used at the 2002 Commonwealth Games in Manchester.

This, a smart move, qualifies the winners of each pool directly to the quarterfinals leaving the second and third-placed teams fighting for the other last-eight spot in playoffs.

So, if a team loses its first two matches, there's still a chance to squeak into the playoffs with a victory in the last encounter.

And with the fixtures shrewdly set to allow interest for most of the participants to be dragged as far as possible into the league phase of the tournament, lower-ranked nations sustain interest and the adrenaline flow at least to the half-way mark of the event.

It, however, has shown up some unusually large number of rest days. The Netherlands, for example, found themselves with five rest days after their opener against South Korea.

So much so that the team management decided to break the monotony and possible boredom by moving its location to a new hotel as a refreshment.

Interesting, and most welcome ironies, were produced in a competition that is proving to be memorable.

The lowest-ranked in the competition, Italy at 17, secured a playoff spot with victories over China and South Korea, probably sending their team manager into a tizzy to re-schedule travel plans back home.

And Ireland, ranked 16, was the first team to qualify for the quarterfinals. Considered also-rans in pre-event assessment, the Irish qualified directly from Pool B with two straight wins over USA and India, leaving their last encounter against hosts England academic from their point of view but crucial for their much fancied opponents who have yet to seal a playoff berth.

It appears, lessons were learned from the men's World Cup qualifier in Edinburgh, Scotland, in 2001 where the standard format of qualifying the top two from the pool for the quarterfinals didn't do justice to the idea of promoting the sport.

The 2002 Men's and Women's World Cups in Kuala Lumpur and Perth respectively split 16 teams into two groups, entailing 76 matches including classification fixtures.

But such a match-heavy competition is far from feasible today, given financial, time, TV broadcasting constraints and the enormity of organization.

Not surprisingly, the next editions were condensed to the earlier 12-nation two-pool format that remained unaltered till the 2014 events in The Hague, The Netherlands.

Stick2Hockey.com


---

How sustainable is the Vitality Hockey Women's World Cup?



HWC sustainability bins

"If everyone in the world consumed as many natural resources as the average person in Western Europe, we'd need three planets to support us" (United Nations).

This is why Joie Leigh, England Hockey's Sustainability Manager, is committed to helping create a more sustainable world through the use of sustainable solutions, within the planning and delivery of the Vitality Hockey Women's World Cup (VHWWC). Hockey Maker Em Guy shares how we are working to make this event sustainable as possible.

With a comprehensive sustainability policy in place for the event, contractors, partners and stakeholders have all provided their support to enable this World Cup to be as sustainable as possible. The Vitality Hockey Women's World Cup is leading the way in creating sustainable sports events.




It is the first major international tournament to be played on turf meeting new sustainability standards, with the water used for pitch watering using 30% less water per cycle.

Lee Valley Hockey and Tennis Centre has excellent sustainability standards. Head of Sport and Leisure or Lee Valley Regional Park Authority Dan Buck says: "The award-winning building is rated as excellent on the BREEAM scale and all spectators will travel by public transport".

With no spectator parking available (with the exception of blue-badge holders), spectators are encouraged to use public transport and then walk Vitality Mile through the Queen Elizabeth Olympic Park when travelling to the venue, to reduce CO2 emissions.

As title sponsor, Vitality believe in a 'Shared Value Philosophy' which incorporates "the belief that what is good for us, should be good for our members and should be good for society as a whole" (Vitality). As part of this, Vitality support the development of grass-roots teams in order to encourage people to engage in healthy behaviours.




Along the Vitality Mile activation zones have been introduced, giving spectators the chance to engage in various activities and games.

Once in Fan Central sustainable solutions continue with caterers KERB banning all single use plastics (e.g. providing reusable stack-cups to spectators for £1) within its trade. Caters in the Arena, Boulevard Events, are striving to use biodegradable alternatives to plastic, meaning the amount of non-recyclable and non-compostable waste created at the event has been significantly reduced. This enables Brewsters, the event waste management company, to recycle up to 96% of the waste produced on event.




Harrogate Spring Water has ensured that all of their bottles are 100% recyclable and are produced from at least 50% recycled materials. Free water taps are provided across both Fan Central and the Arena to allow spectators to refill their bottles rather than purchasing another.

Harrogate Spring Water's activation in Fan Central promotes the recycling of their bottles through their 'The Incredible Shrinking Bottle' campaign which encourages consumers to 'Twist It. Cap It. Recycle It.'. Drinks from Fullers are also being served in reusable stack cups to minimise the use of single use plastic cups.




Jaffa's juice bar is created from upcycled pallets used in the transportation of their citrus, whilst their packaging is compostable and their ink is earth-positive.

'Give the Gift of Hockey' is a recycling initiative designed to collect and redistribute old hockey equipment, to enable and inspire people to play hockey.

With Adidas supporting the initiative, apparel is also reused and recycled, Simon Cartwright, senior director of team sports at Adidas AG said: "Take back schemes like this give us the chance to take old products and repurpose them so that they avoid ending up in landfill or the oceans and reduce the carbon footprint of making new products."

Spectators are able to recycle their old equipment and kit by donating it at the drop-off point within Fan Central, where it is collated and will then be redistributed across the UK and Africa.

Workforce meals are being served with compostable cutlery, plates, cups and napkins, plus a refillable water point in Hockey Maker lounge to reduce the use of single-use plastics.

Sustainability Hockey Maker Champion Em Guy said: "As a Hockey Maker I have noticed a significant rise in the ways in which the VHWCC is sustainable, compared to previous events. It is important for the well-being of this and future generations to make events such as the VHWCC sustainable.

"I am proud to be part of an event that promotes sustainability in all areas of its planning and delivery so that all areas of the event are both benefiting from and contributing to a more sustainable world."

England Hockey Board Media release


---

2018 CAC Games (W) - Day 9
Barranquilla (COL)

Results 28 July

GUA v GUY (7th Place)     0 - 1
DOM v JAM (5th Place)     4 - 1
BAR v TTO (Bronze Medal)     0 - 2
MEX v CUB (Gold Medal)     0 - 1

Final  positions

1. Cuba
2. Mexico
3. Trinidad & Tobago
4. Barbados
5. Dominican Republic
6. Jamaica
7. Guyana
8. Guatemala

FIH Match Centre


---

EXIN Masters World Cup Day 1: USA Opens with Three Wins and Two Draws

TERRASSA, Spain - Competition started yesterday at the fourth-edition EXIN Masters World Cup in Terrassa, Spain and Team USA came away with three wins and two draws in both the men's and women's divisions.  

O-40 Men's 3 vs. New Zealand 2

In their opening game of the EXIN Masters World Cup, the U.S. O-40 Men's Masters Team produced an upset over New Zealand.
 
After going down 0-2, Alex Armas (Charlotte, N.C.) put in a rocket of a shot from the top of the right circle to get USA on the board. In the second half, Alan Golding (Washington, D.C.) tied the game with a tip in goal from a pass by Raja Bal (Lexington, Mass.) from outside the 25. TJ Bamrah (Santa Clara, Calif.) scored the game winning goal on a penalty corner with less than two minutes to play to clinch the 3-2 win.
 
USA goalkeeper Garfield Stewart (Bayshore, N.Y.) produced several clutch saves to keep USA in the game and alive to counter strike. The U.S. O-40 Men's Masters Team will play today against Australia at 8:00 a.m. ET in their second pool game.




O-45 Men's 2 vs. Argentina 2

A strong first match from U.S. O-45 Men's Masters Team against Argentina. The team played a solid attacking game that took Argentina by surprise and led to an Amanmeet Sandhu (Modesto, Calif.) goal from a penalty corner. First quarter ended with a 1-0 USA lead.

Argentina put pressure on USA's defense starting the second quarter by crowding the right wing. An unfortunate rebound from the post led to Argentina's equalizer and the teams went to halftime tied 1-1.

In the third quarter, Argentina came firing out from the start and managed to pull ahead with a penalty corner goal. However, Team USA fought back and exploited an excellent spell in midfield to lead to a great passing play and a goal from Leroy Mayers (Parsippany, N.J.). This was Randy Christie's (Bronx, N.Y.) second assist of the day.
Both teams traded possession in the last quarter with USA having most of the ball in the first part and Argentina fighting back to get a last minute penalty corner. The team stood their ground and defended the chance without mishaps to close the game in a 2-2 draw. The U.S. O-45 Men's Masters Team will play today against Argentina at 2:30 p.m. ET in their second pool game.

O-50 Men's 1 vs. New Zealand 1




O-55 Men's 4 vs. Spain 3

The U.S. O-50 Men's Masters Team shocked host Spain by beating them 4-3 in a nail biter in front of a nice crowd of locals and USA supporters.

USA's opening goal came in the 5th minute from striker Jeremy Roberts (Beltsville, Md.) who scored after a rebound from the first USA penalty corner slotting the ball to the bottom left corner. The red, white and blue pressed Spain and after a great end-to-end movement, Ian Wagge (Scarborough, Maine) scored a brilliant diving goal on the end of a pinpoint accurate pass from Bob Kosla (Phoenix, Ariz.) in the 12th minute to give USA a 2-0 lead.

The third goal came in the 20th minute when Roberts picked up a sideline pass and attacked the circle shooting on goal and eventually putting the ball out of Spain's goalkeeper's reach for goal number three.

The fourth goal was again the result of a Roberts run when he was taken down by the Spanish goalkeeper preventing a certain goal. Captain Manzar Iqbal (Chicago, Ill.) calmly stroked the ball low to the goalkeepr's left to make the score 4-0 in the 25th minute.

The USA continued to press Spain who turned up their work rate and grabbed a last minute deflection goal to end the half 4-1 down.

The second half picked up the pace and Spain got a second goal in the 37th minute and added a third five minutes later ending the third quarter 4-3 down.

The last quarter was a hard fought contest during which time Spain pulled their goalkeeper but the game ended 4-3 for the USA. The U.S. O-55 Men's Masters Team will play today against The Netherlands at 1:30 p.m. ET in their second pool game.


O-50 Women's 2 vs. Chile 1

For more information regarding the EXIN Masters World Cup, including full schedule, results, roster, live stream information, and more, check out the official event program by clicking here.

USFHA media release


---

Masters World Cup: Malaysian teams start wel

By Jugjet Singh

KUALA LUMPUR: Both the Malaysian veterans teams got off to a great start in the Masters Hockey World Cup in Terrassa, Spain.

The 45+ team beat Scotland 2-1, while the 55+ team hammered Ireland 9-0.

In the 45+ tournament, Malaysia are grouped with Germany, Spain, France and Scotland; while in the 55+ tournament Malaysia are with Argentina, Germany, Ireland and Italy.

Team manager Manjit Majid Abdullah said: "In the 45+ match, we missed numerous scoring chances and it was a hard-fought win. However, in the 55+ we totally dominated and outclassed Ireland in every department.

"Sarjit Singh (former Olympian) marshalled the 55+ well in this big win."

Malaysia 55+ will next play Argentina on Monday, while the 45+ take on France next.

Jugjet's World of Field Hockey


---

Only 15 but Kirandeep is a shoo-in for national hockey team




KUALA LUMPUR: Fifteen-year-old Kirandeep Kaur (pic) is in top form in the women's hockey playing tour in Brisbane and she's likely to win a place for next month's Asian Games in Jakarta.

National coach K. Dharmaraj has given her displays the thumbs up.

"I'm impressed with her performance as she has been consistently good in four friendly matches with the Queensland Academy of Sports.

"Her performances in Brisbane are even better than at the World Series in Singapore last month.

"She has the talent and the speed as a forward. She scored the winning goal against Queensland Academy of Sports in the fourth match, which we won 2-1 on Friday," said Dharmaraj.

He added Kirandeep has shown she has the quality to feature on a big stage like the Asian Games.

"It's good to see a 15-year-old player giving the older national players competition for a place in the Asian Games team," said Dharmaraj.

The Form Three student of SMK Bukit Bandaraya in Bangsar was called up for national training in May and a month later, she made her international debut in the World Series in Singapore.

She played in all six matches and scored a goal in the final against Thailand, which Malaysia won 6-0.

Dharmaraj took 20 players for the playing tour in Brisbane and will name the final squad of 18 for the Asian Games next week.

Malaysia played four friendlies with the Queensland Academy of Sports, winning two (3-1 and 2-1) and drawing two (2-2 and 1-1).

For the Asian Games, Malaysia are drawn in Group A with China, Japan, Hong Kong and Taiwan while defending champions South Korea, India, Thailand, Kazakhstan and Indonesia are in Group B.

The Star of Malaysia


---

Scotland win U18 Boys' silver after great final against Russia




Scotland U18 Boys' won the silver medal at EuroHockey Championship II after a battling performance against Russia, which saw the Russians run out 6-3 winners. The Scots had been 3-0 down but dragged themselves back into the contest before Russia saw the game out in the final quarter.

Scotland U18 Boys' had already secured promotion to the top level of U18 boys' hockey, which means both Scotland U18 boys' and girls' have gained promotion this summer.

The match was all even in the first quarter with both sides producing some excellent hockey. Scotland edged the possession but the contest was tight.

Russia took the lead early in the second quarter when Igor Stepanenko scored from a penalty corner. Russia quickly went 2-0 up in Cardiff when Alexey Sobolevskiy scored from open play just two minutes later.

In what was a big quarter for the Russians Sobolevskiy scored his second and Russia's third to take a 3-0 lead into half time.

Scotland pulled one back after the restart when Andrew McConnell struck from a penalty corner with a rocket flick into the back of the net.

Russia struck back right away however to make it 4-1 through Artur Kazanchian.

Scotland wouldn't give up without a fight and Alex Riddell scored to pull it back to 4-2 in Cardiff. The goal came from the second phase of a penalty corner and Riddell sent a rebound into the net.

Riddell's goal set up a big final quarter as Scotland set about fighting back in the final.

Jamie Golden then struck a third for Scotland to pull it back to 4-3. The goal came from a McConnell reverse pass to the near post where Golden touched it past the keeper and in.

It looked like game on for Scotland until Russia scored a killer fifth goal in the final quarter. Scotland had a penalty corner and couldn't find a finish, which allowed Russia to burst forward and win a penalty corner of their own. Denis Starienko stepped up with the strike and scored to knock the stuffing out of the Scots.

Russia made it 6-3 with a minute to play as Scotland threw everything into attack, Vladislav Kazantsev rounded off the scoring to claim gold for Russia.

In the end the silver medal went to Scotland U18 boys' and with promotion already secured it completed a fantastic tournament.

Scotland U18 Boys' Head Coach Andrew Brogdon said, "It was a great game of hockey, absolutely worthy of any final. I couldn't have asked for more from the players, they left everything out on the pitch and gave it absolutely everything they had. The only difference was Russia was a little more clinical than we were, and on another day it could have easily have been us who won the match.

"I'm super proud of the team. The future is bright for these boys and I'm absolutely certain there's some future Scotland and GB internationalists in this squad. Scottish Hockey is moving in the right direction and I'm delighted with how these boys have delivered this week."

Scottish Hockey Union media release


---

Congrats to Magnolia on its 50th anniversary

Rachael Thomspon-King



TTHB/FCB Junior Player of the Year, Shania De Freitas receives an award for her excellence from Richard Nieves. PICTURE DARREN RAMPERSAD

It was a night to celebrate and that is what the members of Magnolias Hockey club did on at its 50th anniversary at the Ballroom at the Queen Park Cricket Club in St Clair, some two weeks ago.

The event was used to celebrate the outstanding contributions of the sportsmen and women in a number of sports and at different stages in their careers.

A few of them are on national duties including players Brianna Govia, Brittney Hingh, sisters Savannah and Shaniah de Freitas, as well as the Olton sisters Amie, Samantha, Saarah and Kaitlyn.

They along with veteran hockey player Stacey Siu Butt and Natalie Nieves, who are both on the technical staff for the national women's team at the ongoing Central American and Caribbean (CAC) Games in Barranquilla, Colombia. Siu Butt is serving as the assistant coach while Nieves is the videographer.

"I think this must be a record achievement for a club to have eight members selected to a national team," said presenter Derek Lee, who wished each a successful tournament. "Remember to wear your national colours with pride and always strive to be your best both on and off the field. Support each other, look out for each other and keep the Mags flag flying high. Best of luck to all of you and the Team, make us proud!"

Women's hockey coach Darren Cowie, who steered Magnolia's to an elusive Championships League title, was also presented a token of appreciation for his leadership and guidance of the senior team.

Tracy Lee-James also got special mention for her appointment as an umpire at the Games.

"We thank you for your commitment and the time you have dedicated to umpiring you are now reaping the rewards may you continue to reach higher heights," said Susie Gomes, who presented the award.

Shaniah de Freitas, who is the main fixture on both the Magnolia Under-19 and Championships teams that were crowned TTHB National Indoor champions last year in their respective divisions, was also recognised for being the TTHB nominee for the First Citizens "Junior Player of the Year" award.

Richard Nieves presented this award to the hard-hitting standout player who made her senior international debut at last year's Pan American Indoor Championships in Guyana.

He said, "Shaniah's passing ability coupled with a lethal flick at set pieces enabled her national coach to entrust her with responsibility at key junctures in crucial games.

"She was a valuable contribution against the region's top teams at the Championships in Guyana and her growing stature and constant improvement will only augur well for her continued success at national level.

"Shaniah continues to improve and grow in her knowledge of the game and we know that we can expect much more from her in the future."

Alexandria "Lexi" Yearwood and Chloe Walcott were also in the spotlight in the momentous occasion.

Colin Murray dished on the multi-talented duo, who have been burning up the Squash Courts and have become regular fixtures on the national team.

"Chloe represented T&T on the Girl's U-13 team in 2015 and 2016. In 2017 she ranked Number two in the U-15 division and captured the U-17 national champion title. She just recently returned from Jamaica where she represented T&T in U-15 girl's at Junior CASA 2018," said Murray.

Mention was also made about the Club's 32-year partnership as Shandy Carib Magnolia with Carib.

Meanwhile, Yearwood, who was nominated as the FCB Junior Girls Squash player of the Year for last season, he shared that she captured gold in the U-19 division and also won her first senior national title. She also secured a bronze in the Girls U-19 Caribbean Squash Championships and represented T&T at the recent Junior CASA as well.

HONOUR ROLL

National team selections for 2018 CAC Games: Savannah de Freitas, Shaniah de Freitas, Brianna Govia, Brittney Hingh, Amie Olton, Samantha Olton, Saarah Olton, Kaitlyn Olton
National Team Technical Staff 2018 CAC Games: Stacey Siu Butt (assistant coach), Natalie Nieves (videographer)
Umpire Representation 2018 CAC Games: Tracy Lee-James
Multi-discipline National Team (Squash): Alexandria "Lexi" Yearwood, Chloe Walcott
Recognition of TTHB/FCB Junior Player of the Year: Shaniah de Freitas
Present Coach: Darren Cowie
Long Service Awards: Josephine d'Abadie, Karen Dowden
Recognition of a past coach: Raphael "Raffie" Govia
Recognition of Dedication: Richard Nieves, George Nieves, Michael Dowden
Spirit of Magnolia: Kimberley Wellington
Special thank you to Colin Murray

The Trinidad Guardian