All the news for Thursday 26 July 2018

Vitality Hockey Women's World Cup 2018 - Day 4
London (ENG)

Results 25 July

GER v ARG (Pool C)     3 - 2
USA v ENG (Pool B)     1 - 1

Upcoming 26 July (GMT+1)

12:00     ESP v RSA (Pool C
14:00     IND v IRL (Pool B)

Pool standings
Pool A
Pool B
Pool C
Pool D
| Rank | Team | Played | Wins | Draws | Losses | Goals For | Goals Against | Goal Difference | Points |
| --- | --- | --- | --- | --- | --- | --- | --- | --- | --- |
| 1 | Australia | 2 | 1 | 1 | 0 | 3 | 2 | 1 | 4 |
| 2 | New Zealand | 2 | 1 | 0 | 1 | 5 | 3 | 1 | 3 |
| 3 | Japan | 2 | 1 | 0 | 1 | 4 | 4 | 0 | 3 |
| 4 | Belgium | 2 | 0 | 1 | 1 | 2 | 4 | -2 | 1 |
---

Germany hits top form against Las Leonas while Danson celebrates 200 caps with goal against USA




Fireworks, flame throwers, if this summer wasn't hot enough, then things at the Vitality Hockey Women's World Cup has just gone into inferno mode.

First up was a sizzling encounter between two of the teams that must consider themselves contenders for medals at this event, Germany (FIH Hero World Ranking: 6) and Argentina (WR:3). this was followed by a tense and nervy affair between two teams who made stuttering starts to their world cup campaign, host nation England (WR:2) and USA (WR:7).

While the largely English crowd were here to cheer on their team, and in particular captain Alex Danson who received her 200th England cap, they could not fail to be dazzled by the quality of the preceding match, in which Germany registered a 3-2 win to cement their place at the top of Pool C.

A 1-1 draw between USA and England means that Pool B remains wide open, with Ireland leading the way on three points, with England on two points and India and USA on a point apiece.

The first match of the evening saw two well-matched but completely contrasting teams take to the pitch for the second round of matches in Pool C.

Germany had beaten South Africa by a convincing 4-1 scoreline in the opening match of the Vitality Hockey Women's World Cup, while Argentina had completed an even more comprehensive demolition of Spain when they racked up six goals and conceded just two.

Despite the Argentina team's reputation for starting quickly, it was Germany who took the lead in the fifth minute when Hannah Gablac slotted home for her first goal of the World Cup. She picked up the ball with her back to goal, twirled and slotted home past Belen Succi in the Argentina goal.

For the next few minutes it was all Germany as they won a series of penalty corners. To their collective disappointment they failed to capitalise on these and were made to pay in the 14th minute when Florenica Habif turned some intense Argentine pressure into an equalising goal.

Germany re-took the lead four minutes into the second quarter when Charlotte Stapenhorst was on hand to slap home the ball after some tricky stick skills from Elisa Grave. The 21 year-old showed great composure to hold possession as she manoeuvred past the Argentina sticks and Stapenhorst's shot was enough to change the direction of attack and flummox Succi.

The third goal was a belter of a shot from Stapenhorst. The striker, who has clearly hit form at just the right time, took the ball wide into the Argentina circle and then, ignoring the Argentina defender who was shadowing her, unleashed a shot that flew into the goal at head height.

Argentina nearly pulled one back as Noel Barrionuevo sent a shot past Julia Ciupka's goal but the speed of the German counter was astounding and the 2014 bronze medallists came perilously close to conceding a fourth.

The ebb and flow nature of the game meant that no sooner had Argentina withstood that attack than they were creating their own chances. Maria Ortiz was in the perfect position to reduce the deficit to one goal as she slipped the ball past Ciupka.

If Ciupka was annoyed at letting that goal in, she more than redeemed herself with the point blank range save she made at the start of the second half. The ball was struck with ferocity by Julieta Jankunas but Ciupka reacted quickly to palm the ball to safety.

The remainder of the game may have remained scoreless but it was full of excitement and drama as Argentina sought a third goal and Germany used every ounce of their experience to hold onto the narrow lead.

"I think that was a great game of hockey tonight," was German captain Janne Muller-Wieland's verdict on the game.

"It was so exciting to play in front of that crowd and I think the British really appreciate a good sporting spectacle."

Talking about her own team's performance, she said that the team had worked hard to control the tempo of the game and one of the things that was adding to the German team's performance was the well balanced composition of the squad, where some speedy young players are lending well with the experienced core of Die Danas.

A capacity crowd, a pyrotechnics display and the knowledge that a win was crucial was enough to set nerves jangling for both England and USA.

There was visible tension in the faces of both squads as they lined up for the national anthems. Alex Danson was able to muster a smile as the crowd and players acknowledged her 200th cap for England – a figure that catapults her into a rarefied group of players who have represented England 200 times (this does not include Great Britain caps).

"Everyone gets goosebumps when the crowds get behind us and when Alex scored that was just another level." Laura Unsworth, England

The opening half was a cagey affair with both sides probing for breaks in their opponent's defence but staunch defending meant the teams entered the half-time break at 0-0.

This did not mean there was any lack of action. Hannah Martin used her speed to create space but missed her shot. Michelle Vitesse sparked an attack that saw Maddie Hinch pull off a tremendous save in the England goal and then Jackie Briggs was called on to make a save as Susannah Townsend's shot sent the ball high in the air and off the cross bar. Briggs was quickest to the ball and thwarted the incoming England attackers.

Possibly the moment of the World Cup, from a host nation perspective, took place in the 34th minute when Alex Danson weaved her way through the USA defence and slotted the ball home to give England the lead.

The roar of the crowd was ear-splitting and for a few minutes England looked in the ascendency.

But USA are not a team to ever give up and, in the shape of teenager Erin Matson, they have a fearless striker. Matson picked the ball up on the wide left and drove towards the circle. Her position seemed innocuous but the shot that rasped off her reverse stick left Hinch stranded and the scores even.

As the game counted down, the tempo rose in both camps and the work rate of the athletes reached even higher levels.

Sophie Bray was in a race to the ball with Briggs, which left the England player in a heap. There was no quarter given by either team as they both searched for the elusive breakthrough. A tremendous save by Hinch in the closing seconds of the game was met with a sigh and as the teams trooped off the pitch it was clear both sets of players could not have given more.

"That was tough," was Laura Unsworth's reaction as she reflected on the game. "I think we limited USA to just a few chances, in fact I only really remember the shot that led to the goal. Two very fit teams were going at each other which will always result in a tight game."

Unsworth also reflected on the moment Danson scored her goal. "It was a very special moment, on the occasion of her 200th cap. Everyone gets goosebumps when the crowds get behind us and when Alex scored that was just another level."

Erin Matson, who scored USA's goal said: "We have played in front of big crowds but nothing like that. Our team is good at embracing that and running with the energy and I personally love a loud crowd. It did go a bit silent after I scored.

"Our way to think about things is to move on and take it one game at a time. We didn't play to our strengths in the first game so tonight it was about playing for us and not worrying about what we need to do about the other team.

"Without the pass from Gonz (Melissa Gonzalez) I wouldn't have scored. She held the ball and fed it at the perfect moment. It happens quite a bit in practice and I am confident on my reverse."

Thursday 26 July sees Spain (WR:11) take on South Africa (WR:14) at 12:00 (CEST+1) – another must-win game to avoid bottom place in Pool C. This is followed by India (WR:10) against Ireland (WR:16) at 14:00 (CEST+1).

#HWC2018

FIH site


---

England 1-1 USA



Alex Danson goal

It was a night that belonged to Alex Danson, who collected her 200th cap and scored her 115th England and Great Britain goal, drawing her level with record-scorer Marjorie Pollard.

The England striker was just 16 when she made her debut in 2001. Since this date, she has grown into one of the foremost international players and had an illustrious career, the highlight of which saw her score five goals in Great Britain's gold-medal winning campaign at the 2016 Olympics.

She said afterwards: "I just look at the stadium tonight and the overriding feeling with 10,000 supporters here I feel very proud of how far our sport has come during my career.

"It was incredibly special but for me playing in this game is special, walking out with my team mates of present and past is the hugest honour."

With a sense of inevitability, she scored tonight – and it was a wonderful strike. It wasn't enough to earn her country a win, though, with England being held 1-1 in a well-fought match against the US.

The result makes it successive 1-1 draws for the hosts in Group B following Saturday's stalemate with India. They were always going to be in for a fight against America, who have gained a reputation for their never-say-die attitude and surprised more than a few by finishing fourth at the last World Cup.

The last three matches between the two nations have either been won by the odd goal or by a shootout.

The first quarter of the game was narrowly edged by the US, with their typical high-energy performance denying England so much as a circle entry.

It took until the second quarter for England to emerged as a force, with Susannah Townsend at the forefront. They won their first short corner of the match in the 20th minute, with Rayer deflecting just wide.

This was followed by another in the 26th minute, when the initial shot from the top of the 'D' was blocked, with the ball eventually finding its way skyward to Townsend. Improvising, she smashed the ball tennis style onto the woodwork, to gasps from the 10,000 crowd.

The hosts opened the scoring in the 34th minute, and naturally it was Danson with the goal. With great dexterity and directness, she evaded a number of US challenges before entering  the 'D' and rifling a backhand into the bottom right corner. A fantastic strike.

It took only four minutes for America to level things up, and this time it was the turn of one of the new generation, with 18-year-old Erin Matson scoring a similarly excellent goal.

Latching on to the end of an American counter-attack, she was fed the ball at the top-left of the 'D' and hit a stinging reverse that flew past Hinch and rippled the net.

The US had the better chances to win the game, earning two short corners in quick succession at the death, but the latter was miscontrolled at the top of the 'D' and both sides accepted the draw. 

One of England's best players on the night, Susannah Townsend, said afterwards: "The game today was a step up to the India game. Both teams had their chances to put the game away and I think we dominated purely because we put in the fight.

"Personally, I think we should have come away with the win today with the way we played, but it didn't happen."

Townsend also had a moment to heap praise on her teammate Danson, saying: "I know that the one person I would want on my team is Alex Danson and whether she is having a good game or not she shows that fight and she is a leader on the pitch."

England Hockey Board Media release


---

USWNT and England Finish in Thrilling 1-1 Draw in Second Vitality Hockey Women's World Cup Game



Erin Matson line up the shot that equalised for USA. Image by Mark Palczewski

LONDON, England - 10,600 fans. That is how many spectators came out to the Lee Valley Hockey and Tennis Centre to watch the U.S. Women's National Team take on FIH World Ranked No. 2 England in their second pool game of the Vitality Hockey Women's World Cup. Scoreless after the first half, it was England who got on the scoreboard first off a backhand into the corner but USA equalized in similar fashion five minutes later as a thrilling match finished in a 1-1 draw.

"Going against England, I would say they are a similar style as us," said Melissa Gonzalez, USWNT Captain, when asked about the game plan heading into this match. "They are very quick, gritty and attack forward, so we had to keep their fast players in front of us and work as a unit."

The opening minutes saw USA put a lot of pressure on England, pinning them into their defensive end. As both teams looked to generate a flow, it was USA who earned the first penalty corner of the game in the 11th minute. The chance came when Michelle Vittese (Cherry Hill, N.J.) made a hard run up the right side, drove into the circle and on a follow-up touched the ball on an England defender's foot. Off the top, the ball was swept down to inserter Erin Matson (Chadds Ford, Pa.) who's deflection went into England goalkeeper Maddie Hinch. USA followed up and M. Vittese had another chance before England cleared it away. The first quarter concluded deadlocked at zeroes.

Early in the second quarter, England picked up the energy and earned themselves a penalty corner but found no result. This momentum shifted to England as they penetrated their attacking circle a few more times before earning a second penalty corner. A thrilling set as the initial sweep was blocked by flyer Amanda Magadan (Randolph, N.J.) but the second chance was deflected high and out of mid-air Susannah Townsend tipped it high off the post. USA had a final sequence up field, but the halftime score remained tied, 0-0.

Starting the third quarter similar to the second, England earned a penalty corner but had no outcome. England kept possession and just a minute later in the 34th minute, Alex Danson weaved through USA's defense to place a backhand into the corner and give them a 0-1 lead. This fueled a tempo change for USA and moments later a close chance came when Ashley Hoffman (Mohnton, Pa.) sent a ball toward the circle that was deflected by Matson and landed on Margaux Paolino's (Villanova, Pa.) stick. Paolino passed it back to Matson who had a good look but no result. USA continued to work hard and in the 39th minute a strong midfield run by Gonzalez drew the England defense before she released it into space on her left to Matson up ahead.Matson ran it into the circle and put a backhand shot in to tie the game, 1-1. As England continued to threaten, USA produced great team defense to shut down their chances.

The final fifteen minutes were exhilarating as it came down to any team's game for the taking. Five minutes in to the fourth quarter the stadium cheered in excitement as England found themselves in a 3v2 advantage toward goal but USA goalkeeper Jackie Briggs (Robesonia, Pa.) came out and made the stop. USA didn't fall back and kept up their own offensive pressure searching for any kind of positive outcome. As time ticked away the competition grew even more intense. A few looks came for both teams and a very close chance in the final minute when USA earned a penalty corner. Unfortunately, a miscue on the top turned into a fast break for England but the final score finished in a 1-1 tie.

"I said before the match to the girls about the crowd, that these are the kind of games and moments in your life that are very limited," commented Gonzalez, on the energy from the stadium. "This is what you play for as an athlete. You can take those nerves and excitement and use them as fuel. I think it was really electric."

The U.S. Women's National Team will play No. 10 India in their final pool game on Sunday, July 29 at 12:00 p.m. ET. India is slated to play their second pool game tomorrow against Ireland at 9:00 a.m. ET.

USFHA media release


---

England's Women's Hockey World Cup hopes go to the wire after USA draw



Alex Danson attempts another circle move in 1-1 draw PIC: England Hockey

England are precariously balanced. And it was left to an off balance Alex Danson, in equalling England's all-time goals record, to keep the hosts alive at the Women's World Cup thanks to a stunning individual strike.

But even as she whirled both arms to her players and the 10,5000 crowd after weaving into the D on the right, then deep into the circle, and then followed that up with a rasping reverse stick strike as she hit the net and the floor, England couldn't ignite and kill off the game against the USA in a second 1-1 draw.

The players looked crestfallen afterwards, their jog to all four corners at the final hooter and the smiles to supporters failing to mask the clear disappointment as the players traipsed back into the Lee Valley Hockey and Tennis Centre.

For an Erin Matson goal for the Stars and Stripes – a reverse strike to cancel out, and rival Danson's – has now kept all possibilities and permutations alive in Pool B.

If Wednesday night was a must-win, Sunday represents a seismic match for England against mostly part-time Ireland who seemingly don't fear world rankings at major tournaments.

"It is still very much in our hands and we have to go out now for the win," said coach Danny Kerry. "We can still top the group, we're playing pretty well and I couldn't have asked for much more than that."

Like India at the weekend, the US were a team there for the taking and get England's campaign ticking. Yet the US started brightly, their high press at least offering England chances to attack and utilise Danson.

An early goal would certainly have settled the nerves, the players looking a touch fragile still in front of expectant home support.

And so it was that another 60 minutes of nerve-jangling hockey played out.

USA were rewarded the first penalty corner of the game. It resulted in a scramble in the D, danger closing in on Maddie Hinch's line before the ball was volleyed away.

Central runs by Hannah Martin and Ellie Rayer stood out before the hosts' first PC resulted in Laura Unsworth standing at the top of the circle.




A slow injection, perhaps, but Unsworth's shot showed welcome venom as it rattled past the post.

England began to win key battles in midfield allowing for breaks beyond the 23m line, but the final blow was still needed. When Martin did find herself free from a defender in the D for the reverse shot it resulted in an air shot. World Cup moments hinge on moments like these.

But England continued to dominate in the USA half. A composed Sarah Haycroft won their second PC; Unsworth again fizzed to Lauren Briggs' right with Susannah Townsend's high stick connecting, but only onto the post and across goal.

The wave of attacking options available to England never seemed to properly materialise. There were flurries, without the venom. Kerry's side looked stilted and it was left to the US to have the final say with consecutive PCs at the death.

Hinch saved well to deny the first, though another chance was presented to the world No 7 side. This time, England cleared. There could have been one final hurrah with 40 seconds left, but the attack petered out at the top of the circle.

So we were left to savour those two fine, memorable second-half backhand strikes from Danson and Matson – the stalwart and the teenager – within five minutes of each other. The final hooter meant that, for the second World Cup running, England's hopes were stagnating in the group stages.

This 2018 edition at least represents a second chance courtesy of the cross-over games. But working out what may occur is frankly a lottery.

If Ireland beat India, they will top the group, leaving England to fight out second and third spots. Finish second and win the cross-over and a likely meeting with the Netherlands looms, but only after beating one of Korea, China or Italy.

Third is perhaps the best route – meeting one of Korea, China or Italy again, and then a potential meeting again with a Pool B rival – but this can't be ordered. Moreover, India and Ireland could still draw leaving, as Kerry says, the chance for the hosts to go straight to the last eight.

All England can do now is go hard at the green army and halt England's slide to the red signal at their own World Cup.

The Hockey Paper


---

England face battle to reach quarters after USA draw

England's disappointing start to the World Cup continued as they were held to a 1-1 draw by the United States.

USA's Erin Matson cancelled out Alex Danson's opener to leave the hosts, who drew their opening match against India, second in Pool B.

With only the top side in each pool progressing directly to the quarter-finals, England now face the prospect of a play-off to reach the last eight.

Danny Kerry's side face Ireland in their final pool match on Sunday.

The USA had the better of a cagey first quarter but England grew into the match and almost took the lead before half-time, but Susannah Townsend's overhead volley rebounded off the post.

England came out strongly in the second half and opened the scoring with a brilliant individual goal from captain Danson.

However, 18-year old Erin Matson brought the USA level with a superb reverse finish minutes later.

Neither side was able to create any meaningful opportunities in a tense final quarter, and England are now reliant on other results if they are to top the pool.
Analysis

2016 Olympic gold medallist Helen Richardson-Walsh, 5 Live Sports Extra

It's a really frustrating result for England. Going a goal up and then not being able to hold on to that lead was disappointing. But it's still in England's hands and that's all you want going into your final game.

It's going to be tough against Ireland, but England can win that game.

Fair play to the USA. They didn't give up and have taken some real positivity from this result.

It's very exciting going into the final pool games.

What they said

England captain and goal-scorer Alex Danson, speaking to BT Sport: "We played better tonight than we did against India. There was some world-class defending, but there's always something to improve on.

"We will rest, recover, do our homework and we'll come out all guns blazing in the last game."

England coach Danny Kerry, speaking to BT Sport: "I think the USA had the better of the first quarter but after that I think we shaded it. I can't ask any more of the girls tonight- they gave everything.

"If we play like we did today against Ireland, we'll be in with a shout."

BBC Sport


---

Ireland get further boost as England and US draw




Ireland's women could become the first side to reach the World Cup quarter-finals if they can land their second successive victory in London on Thursday afternoon when they take on India.

That is the equation following England's 1-1 draw with USA on Wednesday evening in Lee Valley, a result which sees the Green Army remain in first place overnight with a game less than played than their rivals.

A draw would also guarantee a place in one of the crossover places for second and third in the group at the very least, a great situation for the side to be in.

Graham Shaw, though, was well aware of the abilities an ever-improving India side possess. Like Saturday's 3-1 defeat of the US, Ireland go into the tie as underdogs based on ranking positions, but they have a strong record against the Asian side.

Most notably, they were the side Ireland beat in Johannesburg in World League 3 to pretty much assure their place in London. It was a tie fraught with emotions, one which Ireland dominated for long periods but only scraped home with two goals in the last 10 minutes for a 2-1 success.

Indeed, were it not for sub goalkeeper Grace O'Flanagan's heroics, they probably would not be on this stage. Trailing 1-0, she emerged from the bench to save a penalty stroke with her very first touch of that tournament when Ayeisha McFerran was sin-binned for a foul on Navjot Kaur.

O'Flanagan denied Rani Rampal's stroke and the belief flowed after that, showing the character to pull the result out of the fire.

In addition, Ireland beat India twice at the 2016 Hawkes Bay Cup with their last defeat only coming back in 2014. As such, pre-tournament, this was the tie viewed by outside eyes as the must-win tie if the Green Army were to emerge from Pool B. Now, the complexion has very much changed with the value of a victory very different.

For coach Shaw, he anticipates a new challenge compared to the zonal line-up the US provided with India known for a long-ball game, using pace in attack and congestion around their own defensive lines.

They showed how difficult they can make things for opponents in their 1-1 draw against Olympic gold medallists England, only succumbing to a late equaliser.

"India possess a very different challenge," Shaw said. "I rate them very highly and have greatly improved since we played them last year in Johannesburg. We prepared in the same manner as we did for the USA; every day, we do little bits of video to prepare for aspects of their game and will then try put it all together on the day."

The other aspect that he looks to continue to foster in the side is the relaxed vibe, the refrain of enjoying the moment continuing beyond the feel-good factor of Saturday.

The players got time to mingle with supporters at Fan Central on Sunday at Lee Valley, trying their hand at television presenting for the BBC and showing off some of their skills on stage.

It is a far cry from the tetchy and tired outlook that accompanied last August's draining European campaign in August.

And midfielder Chloe Watkins – who has been part of the squad since before the 2012 Olympic qualifiers – said earlier this week to the BBC it has been one of the most relaxed, happy atmospheres despite the high stakes.

"There's a good buzz and everyone seems to be enjoying themselves. We were well prepared going into the US game so that showed in our performance. We were calm and confident which is down to that and hopefully we can do the same this time out against India because it does help."

Temperatures could hit 30 degrees at the venue, but Watkins said it should not be a major issue having trained on Tuesday at the same time as Thursday's 2pm tip off.

"It's always a few degrees higher inside the stadium; we noticed that the other night. It was so important for us to get training in [at the same time of day] to see if we need to bring in any new protocols or increase fluid intake.

"We know it's going to be hot and it is quite humid but we have played in Malaysia, Johannesburg and Valencia in the middle of the summer, so we have strategies to combat that."

Hockey World Cup (Lee Valley Stadium, London)
Pool B: Ireland v India, 2pm

The Hook


---

Martin: The crowd really added something



Hannah Martin (centre)

England star Hannah Martin praised the vocal home support and is looking forward to more of it when they take on the USA on Wednesday night.

The hosts started their Vitality Hockey Women's World Cup with a 1-1 draw against India and Martin believes the fans played their part as England grabbed a late equaliser.

Martin said: "It was quite surreal jogging out and seeing just how many people were actually there. The stand goes all the way to the top and the crowd definitely added something and really helped us. We can wait for the same again on Wednesday."

"We wanted the three points against India so there was a bit of disappointment. The second half though was really good and we were unfortunate not to put an extra goal away."

England last played the USA at the World League Finals back in November where a double from Sophie Bray guided England to a 2-1 win. Martin says the squad are excited about the challenge ahead.

She added: "They are a very fit team and quick with good ball carriers and skills. We can identify where to take advantage and are looking forward to the challenge and can't wait to get back out there.

England Hockey Board Media release


---

England heed Hockey World Cup advice from London Olympians

By The Hockey Paper



Wimbledon's Suzy Petty joined the GB programme in 2017

England are focusing on themselves than worrying about the Vitality Women's World Cup mood on social media, says midfielder Suzy Petty. And with uncluttered minds they are doing so with sound advice from London 2012 Olympians still fresh in their memory.

England players decided collectively to switch off social media for the tournament, replicating Great Britain's stance during their winning run at Rio 2016.

And Petty says that heeding the advice of past GB Olympians has helped to cope with the expectations heaped on the shoulders of England's new-look side for this World Cup campaign.

Five Olympians – Kate and Helen Richardson-Walsh, Beth Storry, Hannah Macleod and Crista Cullen – paid the current team a visit before the tournament.

Petty, one of 15 players called up to the squad post-Rio, said: "It's a complete unknown and they were briliant. It was a cool experience. They have very fond memories of London 2010 and it was positive what they said.

"We are thriving on it being at home. The pressure is not as much as we thought it would be now. We know how to cope now with the crowd being loud and silent."

England will experience another capacity crowd as they search for a first pool stage win after their opening draw against India.

And for Petty the match represents another big game in her second coming as a centrally contracted player.

Last January she was on the Tube in London when an email popped through from England hierarchy with news of the Tokyo 2020 cycle players.

Petty had played a few GB matches five year ago under then coach Jason Lee but hadn't received a contract leading up to Rio. She had to wait until she got a signal to receive the green light that she would be joining Danny Kerry's squad this time.

And 18 months on, she wants more big-time hockey.

She told the Evening Standard: "If you can't enjoy the matches then why do you play the sport?

"It's tough times sometimes but with a 10,000 crowd we are going to enjoy it and play as hard as we can.

"I didn't know if it would throw me off but it was weird having 10,000 on your side. We knew that they were behind us if we did something good or bad."

The Hockey Paper


---

India looks to make amends against Ireland

Goalkeeper Savita was brilliant versus England



Need to fire: Rani Rampal-led India, seeking its first win, will have its task cut out against Ireland. Photo Credit: PTI

The Indian women's hockey team would be aiming to make amends when it takes on a lower-ranked Ireland in its second game of the World Cup, here on Thursday.

India had a bright chance to score an upset win against World no.2 England in its Pool B opener but settled for a 1-1 draw.

By virtue of its stunning 3-1 stunning over the USA, Ireland is currently leading Pool B just ahead of England and India.

The Indians, on the other hand, would be desperate to score their first win in the tournament.

Goalkeeper Savita was brilliant under the bar to deny England on numerous occasion.

The Indians did create more chances from open play against England and that counted as a positive for chief coach Marijne.

A win will brighten its knock-out chances ahead of its last fixture against USA on July 29.

The Hindu


---

Confident India face Irish test

Skipper Rani says team ready for the challenge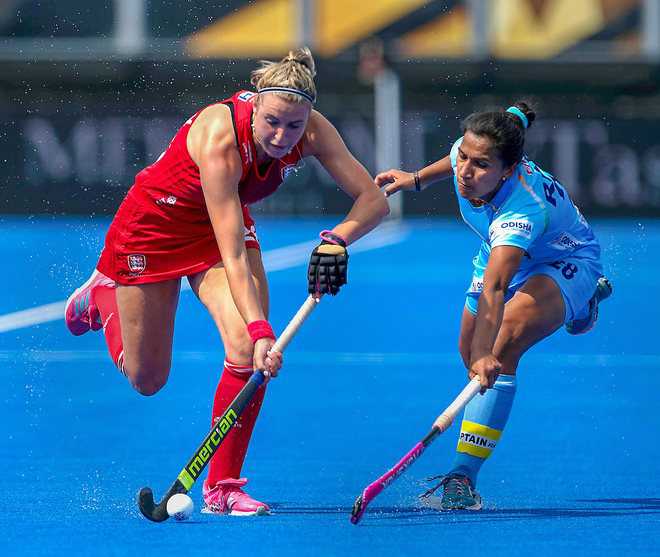 India held England to 1-1 draw in their opening game. file

After a valiant start to their World Cup campaign, Rani Rampal-led Indian women's hockey team will take on Ireland in a must-win Pool B match here on Thursday.

India had enjoyed an excellent start to their campaign, holding World No. 2 England to a 1-1 draw on Saturday.

The Indians could have stunned the Olympic Champions as they maintained the lead for most of the second half before the hosts scored a late equaliser.

Though India settled for a draw, skipper Rani is happy with her team's performance as they held their own in front of a packed stadium cheering for the home team.

"I think it was a great match, a good start for us. There are so many positives that we can draw from that match which will help us in the upcoming matches. I don't think we were surprised with our performance because we have done well against England in the past and this time we went for a win," Rani said.

The skipper further said the team watched the videos from their opening match and were better-prepared for the Irish challenge.

"The entire team, including the support staff, sat down for a meeting after the match to discuss our performance. We also discussed the goal we conceded and how we could have averted it. We believe we can do better than what we did against England and the aim is to improve match by match," the striker added.

The Indians — placed 10th in the world rankings — will need to produce a similar performance against Ireland as a defeat or a draw will complicate things for them. In such a scenario, the Indians will have to beat the US by a healthy margin and hope for a favourable result from the clash between England and Ireland.

World No. 16 Ireland, on the other hand, will be coming into match after a 3-1 win against the higher-ranked USA, who are placed No.7 in the world rankings.

Ireland are currently leading Pool B and will want to carry on the momentum into the game against India.

"Yes, we have watched videos from Ireland's match against the USA and credit goes to them for a good start and good defending to hold the lead till the end," said Rani.

"During the three-day rest, we played a few practice matches among ourselves to try out different methods of goal scoring and keep up the momentum. We need to make a good start against Ireland and keep up the pressure. We are confident and ready for the next challenge," she added.

The Tribune


---

Hockeyroos Out To 'Get One Back' On New Zealand

Ben Somerford




Hockeyroos captain Emily Smith is looking to "get one back" on 2018 Commonwealth Games gold medallists New Zealand ahead of Sunday morning's (AEST) decisive 2018 World Cup encounter in London.

World number five Australia and world number four New Zealand will meet from 5am AEST on Sunday in the final Pool D game to decide final pool placings and who qualifies for the quarter-finals and play-offs.

The top-ranked side from each pool will progress to the final eight, while second and third will go into the knockout play-offs on Tuesday morning (AEST) to fight for a spot in the quarter-finals.

Australia currently sits top of Pool D with four points from two games and are guaranteed to finish in the top three. New Zealand and Japan are second and third respectively with three points, with Belgium fourth on one point.

With pool placings up for grabs, the Hockeyroos will have no shortage of motivation against the Black Sticks with their recent history in mind too.

New Zealand defeated Australia in April's Commonwealth Games gold medal match on the Gold Coast, while they also knocked the Hockeyroos out of the 2016 Rio Olympics in the quarters.

Australia claimed some revenge with victory in May's Tri Nations in Queenstown as well as last year's Oceania Cup in Sydney but they'll be eager to triumph on the big stage.

"We've had this Trans-Tasman rivalry for years," Crookwell product Smith said.

"We always know it's going to be a hard-fought game. I'm really looking forward to the challenge.

"They obviously got the better of us at our home Comm Games. That was disappointing and a bit of heartbreak to swallow.

"We need to get them one back. They lost their game (2-1 to Japan on Tuesday) so they'll be wanting to come out and show the rest of the world why they're here.

"We want to do the same."

Australia could've put one foot firmly in the quarter-finals if they had have claimed victory over Belgium on Tuesday night, instead settling for a 0-0 draw.

Smith added: "I'd say it was an opportunity missed. That really would've set us up well going into the next qualification round but credit to Belgium who defended really doggedly.

"We couldn't get any clean shots away and their goalkeeper had a blinder. I guess we didn't execute our PCs.

"We won six short corners and normally that's enough for us as the Australian team but with a few missed pushes and traps it makes it hard for our key executors to do their job."

Smith pointed to a lack of big-game experience following Australia's Commonwealth Games defeat but hoped those lessons would begin to be heeded in London.

"It's the experience that we're lacking, especially when it comes to these hard-fought games where you need that bit of spark to create something," said Smith who turns 26 on gameday this weekend.

"Brooke Peris had some really good runs (against Belgium) and was trying her hardest to give us that extra 10 per cent to lift the whole team.

"Unfortunately we didn't follow as a whole group and a few basic skill errors let us down.

"We have got a lot of work to do. We are very young and this group will be together for years to come.

"That's the promising thing, that we're still competing on the world stage with the group that we have who've only been together for one-two years.

"We're in our juvenile stage for the Tokyo Olympics. Most of the team is under 23 and have a lot left in their career."

Australia's Women's Hockey World Cup Schedule (all times AEST):
Sunday 22 July 5am - Australia 3 def Japan 2
Tuesday 24 July 11pm – Australia 0 drew with Belgium 0
Sunday 29 July 5am - Australia v New Zealand
Monday/Tuesday 30/31 July TBC - Playoffs
Wednesday/Thursday 1/2 August TBC - Quarter-finals
Saturday 4 August TBC - Semi-finals
Sunday/Monday 5/6 August 11pm/1:30am - Bronze medal/Gold medal match

Australia's Women's Hockey World Cup team:
Athlete (Hometown, State)
Jocelyn Bartram (Albury, NSW)
Kristina Bates (Port Melbourne, VIC)
Edwina Bone (Orange, NSW) *Plays for ACT
Kalindi Commerford (Mollymook, NSW) *Plays for ACT
Madison Fitzpatrick (Cabarita Beach, NSW) *Plays for QLD
Emily Hurtz (Sydney, NSW) *Plays for VIC
Jodie Kenny (Wamuran, QLD)
Stephanie Kershaw (Townsville, QLD)
Rachael Lynch (Warrandyte, VIC)
Ambrosia Malone (Burleigh, QLD)
Karri McMahon (Berri, SA)
Georgina Morgan (Armidale, NSW)
Kaitlin Nobbs (Newington, NSW)
Brooke Peris (Darwin, NT)
Kathryn Slattery (South Stirling, WA)
Emily Smith (Crookwell, NSW)
Grace Stewart (Gerringong, NSW)
Renee Taylor (Everton Park, QLD)

Hockey Australia media release


---

Ed Sheeran's fiancee adds celebrity glow to England bid

By The Hockey Paper



Anna Toman, left, has received celebrity support PIC: Worldsportpics

England women will aim for the 'Perfect' riposte against the USA as they continue their bid for a first Women's Hockey World Cup title.

Ed Sheeran's fiancee Cherry Seaborn sent a good luck message to midfielder Anna Toman ahead of England's opening draw against India at the Olympic Park.

Seaborn is Toman's club team-mate at Wimbledon and is backing the team for title glory.

"Everyone is really excited and Cherry is 100 per cent on board with us and behind the team," said Toman.

"I knew Cherry before Wimbledon as I played juniors with her. I've seen him [Ed] about a few times and he's really great as he comes and supports us quite a lot.

"It's great to have the support from celebrities and it will only help us in the long run."

Sheeran is a keen supporter of his soon-to-be wife at Wimbledon matches. "It attracts quite a bit of attention," added Toman.

"If we can keep hockey in the limelight then that's what we want. We want people talking about it and supporting us."

England will need a win against the USA to avoid a nervy final game against Ireland and the threat of finishing second, meaning a cross over game to qualify for the knock out stages of their own World Cup.

The US need a win after going down to Ireland on the opening day of the tournament.

Susannah Townsend said there was more to come from England after their 1-1 draw with India.

"We controlled it but couldn't get it in. Yes, we could have scored more goals if you look at it but we're in the tournament," she said.

The Hockey Paper


---

2018 CAC Games (M) - Day 6
Barranquilla (COL)

MEX v DOM (Pool B)     3 - 1   
TTO v JAM (Pool A)     3 - 0   
GUA v GUY (Pool B)     0 - 8   
CUB v BAR (Pool A)     4 - 2

Final Pool Standings
Pool A
Pool B
| Rank | Team | Played | Wins | Draws | Losses | Goals For | Goals Against | Goal Difference | Points |
| --- | --- | --- | --- | --- | --- | --- | --- | --- | --- |
| 1 | Mexico | 3 | 3 | 0 | 0 | 9 | 1 | 8 | 9 |
| 2 | Guyana | 3 | 2 | 0 | 1 | 11 | 4 | 7 | 6 |
| 3 | Dominican Republic | 3 | 1 | 0 | 2 | 5 | 7 | -2 | 3 |
| 4 | Guatemala | 3 | 0 | 0 | 3 | 1 | 14 | -13 | 0 |
---

Mexico, Trinidad & Tobago, Cuba and Guyana Earn Semis Spots

Damian Gordon



Photo: Juan David Armesto   

Day 6 was decider day for the men. Only GUA came into the day knowing that they will play for 5-8th. Each Pool A team could qualify, so they all were in must win situations. JAM needed to beat the tournament's top ranked team by a wide margin and hope for a BAR win.

Match 1 Pool B – Mexico (MEX) vs. Dominican Republic (DOM)

It was Pool B that started the day's matches though. DOM needed to beat MEX to have a chance of qualifying. With GUA vs GUY still to play there was no way for them to know how many goals they would need. They came out aggressively pushing MEX into their defensive half. MEX played their game, looking to force turnovers in midfield and counterattack. They earned a couple PCs but were unable to score them. DOM forced a few circle entries, but did not threaten the MEX goal and the Q1 horn sounded with the score 0-0.

MEX dominated possession early in Q2 and earned a PC that was well defended. As the quarter progressed DOM's determined play started to push MEX back. They earned a couple PCs that were easily stopped by the defence and Joel MINCON just missed a deflected shot. DOM's cause was helped by some MEX indiscipline as they earned 4 cards, 2 green and 2 yellow leaving them playing with 9 players. DOM finally used their numerical advantage when Jose LOPEZ scored with 3 seconds left on the clock. The horn sounded on Q2 with the score 0-1.

Q3 started with MEX playing more aggressively looking for the equaliser. DOM defended well, Wander RODRIGUEZ making some crucial saves. MEX earned a few PCs and forced a couple saves from RODRIGUEZ. DOM played for counterattacking opportunities, eventually earning a PC of their own but the MEX defence held firm and Q3 ended with the score still 0-1.

Q4 saw a midfield battle with neither team able to get any clear chances. Just two minutes in RODRIGUEZ was indecisive on a cross leaving Francisco AGUILAR with an easy tap in goal. DOM immediately came to life pushing for the crucial goal to put them in front. MEX withstood the pressure and took the lead when another cross ball was well met by AGUILAR to deflect past RODRIGUEZ. Then with DOM running out of ideas MEX added a third, AGUILAR's hattrick. The game ended shortly after with a comfortable 3-1 win for MEX who topped the group with a perfect 3 wins from 3 matches, booking their place in the semi-final.

Match 2 Pool A – Trinidad and Tobago (TTO) vs. Jamaica (JAM)

A TTO win by at least two goals would all but qualify them for the semi-finals as a CUB win will knock BAR out. The JAM scenario was a bit more improbably, but they did come out to make a game of it pushing TTO back in defence. They also earned the game's first PC, but it was well defended. TTO started to dominate possession and position, while JAM settled into a half field press when not in possession. It worked well for them as they neutralised the TTO threat. The horn sounded on the score 0-0.

Q2 saw temperatures reach a staggering 40 degrees Celsius. To cope both teams played a bit slower. TTO had more possession, but were unable to convert it into quality chances. They did get numerous PCs but they struggled to get good shots on target. Eventually captain Akim TOUSSAINT got a bit of room and managed to drill his shot past Giovanni GREEN in the JAM goal. TTO earned a few more PCs but failed to add to the score and the halftime horn sounded with the score TTO 1-0 JAM.

Q3 got under way in the scorching heat with TTO searching for a way past the solid JAM defence. Again they earned numerous PCs but failed to score them. JAM kept their discipline, looking for the counterattack, but TTO did well to neutralise any threats. Q3 ended with the score still 1-0.

TTO maintained their stranglehold on the game in Q4. Two minutes in they forced a turnover and Teague MARCANO scored from the counterattack to double his team's lead. TTO kept coming at JAM but still could not score any of the PCs that they continued to earn. The game was basically played in the JAM half, but they continued to keep good defensive structure making it difficult for TTO. When TTO did get a good chance GREEN was alert enough to keep them out. TTO eventually did get one more, another TOUSSAINT FG. The final horn sounded with the score 3-0. TTO did enough to qualify for the semi-finals.

Match 3 Pool B – Guatemala (GUA) vs. Guyana (GUY)

 Our third match saw GUY coming in as favourites to claim the third semi-final spot following DOM's loss earlier. They did not relax, immediately pushing GUA back. GUA demonstrated their disciplined committed selves keeping GUY out until the final minute of the quarter when Me'shach SARGEANT scored a FG. The Q1 score was 0-1.

GUA tried to push forward in attack, but they were unable to threaten the GUY goal. GUY continued to dominate play earning a few PCs. Their pressure eventually worked when Randy HOPE added their second from a PC. GUA stayed strong and there were no goals by the time the halftime horn sounded.

GUY needed less than a minute for Jerazeno BELL to score from a PC. GUA then enjoyed their best period of the match, earning a PC and keeping the ball in the oppositions half for small periods of play. GUY easily withstood the pressure and created another chance that Aroydy BRANFORD scored to make the Q3 score 4-0.

Again GUY only needed a minute to score another BELL PC. GUA started to fade in the afternoon heat and with it their usual disciplined defence. Bell completed his hattrick from a FG before captain Robert FRANCE scored two FGs in the final 2 minutes for an emphatic 8-0 win. GUY easily qualified for the semi-final with their win.

Match 4 Pool A – Cuba (CUB) vs. Barbados (BAR)

Our final match was a virtual quarter-final matchup between the Caribbean rivals. A BAR win or draw would be enough to qualify for the semi-finals as group leader while only a win would qualify CUB. The game started at a fast pace with CUB pushing BAR deep. BAR tried to counter by playing quickly, but that suited the CUB who started creating circle entries. Two minutes before the quarter ended Iraidys CALDERON got around his defender and shot past Andre BOYCE in the BAR goal for a 1-0 lead. The horn sounded shortly after with the score still CUB 1-0 BAR.

Q2 started as quickly as the first, CUB pushing BAR back. As the quarter progressed BAR started slowing the game down by keeping possession of the ball. They earned a couple PCs like this, but were unable to score them. CUB kept coming and a cross was excellently deflected by CALDERON, but saved by BOYCE who was unable to stop the rebound. BAR pushed forward looking for a goal, but despite earning a PC were unable to score. The halftime horn sounded with the score 2-0.

The game continued to play at a fast pace with CUB doing most of the running. BAR managed a PC that was drilled into the bottom corner by Che WARNER to get his team back into the game. The play went from end to end without many clear chances until CUB earned a PC that was skilfully flicked by Roger AGUILERA. The game started to get more physical, but except for one green card the umpires were able manage the situation with strong whistles. The horn sounded with the score 3-1.

BAR came out in search of a quick goal and they got it 2 minutes into Q4. Akeem RUDDER deflecting in a cross on the far post. The game settled into more of a midfield battle, with CUB creating a few opportunities. BAR defended well and continued to press for an equaliser. The game was loaded with action. BAR earned a PC that was brilliantly charged down by Yasmany GUTIERREZ. CUB though had the last word as they caught BAR committing numbers forward and CALDERON stole the ball from Marlon DANIEL to run the length of the field to beat BOYCE with a fierce strike. The full-time horn sounded seconds later with CUB celebrating their 4-2 win and the last semi-final spot.

With that the semi-finals will see CUB vs GUY and MEX vs. TTO. The 5-8th playoffs see BAR vs. GUA and DOM vs. JAM.

We are now into the classification phase of the tournament, starting with the women tomorrow. DOM vs. GUA and JAM vs. GUY will be trying to qualify for a chance to play for 5th place. MEX vs. BAR and TTO vs. CUB will be looking to secure one of the two automatic qualifying positions for Pan American Games next year.

Pan American Hockey Federation media release


---

A Preview of Tomorrow's Semi-final and Classification Matches

Damian Gordon



Photo: Juan David Armesto

The pool phase is done and dusted. We have our semi-finalists and 5-8th classification match ups. They are Pool A winners MEX vs Pool B runners up BAR and Pool B winners TTO vs. Pool A runners up CUB in the semi-finals; then 5-8th playoffs see 3rd place Pool A DOM vs. 4th place Pool B GUA and 3rd place Pool B JAM vs. 4th place Pool A GUY.

The Rankings

Using their tournament rank we have # 1 ranked MEX vs. #2 ranked BAR, #3 ranked TTO vs. #5 ranked CUB, #4 ranked DOM vs. # 7 ranked GUA and # 6th ranked JAM vs. 8th ranked GUY. Given that the ranking is based on tournaments played it is worth noting that CUB have not played since their 2014 gold medal performance in Veracruz. Also worth noting is that only three world ranking places separate Jamaica (66th) from Guyana (69th).

The Tournament

MEX and TTO have played a perfect 3 from 3 in the pool phase. MEX has yet to concede a goal for the tournament, but boast a modest goals for total of 6. TTO has a more impressive tally of 15 goals for, but 12 of those came against CAC Games debutants GUA. BAR have looked athletic while defending with tenacity. It would be interesting to see if their quick forwards can put pressure on the steady MEX back line. CUB has looked really good without really finishing teams off. Their modest return of 5 goals for while conceding the same amount suggests vulnerability, but they are a team loaded with talent and TTO will have to be at their very best if they are to win.

DOM, like CUB, have been very good and quite ordinary. They had opportunities against MEX and lost narrowly, likewise they led in their match against CUB but could not maintain for long enough periods and again lost narrowly. They should still have the quality to finish off GUA. GUA have been a tenacious defensive unit. They never stop working and they are not afraid to put their bodies on the line for their team. They have even shown signs of attacking verve, scoring a goal from an excellent counter attack. JAM have been a difficult team to beat and with a little more precision in the attacking circle might well have beaten both TTO and BAR. GUY have been well organised defensively and can probably count themselves unlucky to be drawn in a group in which any of the three teams ahead of them good enough to play in the semi-final.

Predictions

It would take a braver person than I to predict the winners of these games. None of the teams have looked unbeatable, even those still undefeated. It all makes for an exciting day of hockey. Look out for our Day 7 recap to find out how the games went.

Pan American Hockey Federation media release


---

Sunshine following dark days for Sardar Singh

Just before the 2018 edition of the Sultan Azlan Shah, reports started doing the rounds that Sardar Singh would announce his retirement after it.

By Swaroop Swaminathan



Having packed his bags after being overlooked for CWG, Sardar finds himself in happy zone before Asian Games

CHENNAI : Just before the 2018 edition of the Sultan Azlan Shah, reports started doing the rounds that Sardar Singh would announce his retirement after it. Obituaries were already penned as the management saw no place for him in the side. Sardar himself had believed those reports and had even cleaned out his room before a change of guard at the top offered him a new lease of life. In an extensive interview with Express, he talks about that phase, how he dealt with it and the targets for the season. Excerpts...

On pressure to retire

There has been performance pressure on me for some time now. When I wasn't picked for a few series, I thought I was rested and would be picked for important ones like World League Final and Asia Cup. Even when I didn't play in those tournaments, I still continued training like I usually do in the camp. But when I wasn't in the squad for Commonwealth Games, I decided to return home. I had packed my stuff and left, thinking it was over for me. I just thought to myself if I didn't get opportunities here, I will play in foreign leagues (he had got offers from clubs in both Belgium and Spain). 

On the last three-four months

I started introspecting when people said I had slowed down. I made my mind a little stronger and convinced myself I can play more. I was lucky and would like to thank selectors for showing faith in me again. When Harendra Singh came in, he showed a different type of confidence in me. Before the Champions Trophy, I sharpened my skills and I resorted to use my experience by playing basic and simple hockey. I played whatever role I was given. 

On whether he has thought about retirement yet

I draw my inspiration from Holland's Teun de Nooijer and Australia's Jamie Dwyer. They have kept themselves fit and played in their late 30s. I will play till the day I think I can give my best. If you are performing well, no one should have a problem. The day your fitness falls or you become a liability to the team, you should call it a day. I'm clearing my Yo-Yo tests, it means I'm fit to play now. If I have become slow, as people claim, how am I clearing my Yo-Yo tests?

On target for rest of the season

Asian Games is one of the most important targets. A victory in Jakarta will help us qualify directly for the 2020 Tokyo Olympics. This will help boost self-confidence of the team for the World Cup at the end of this year. So effectively Asian Games is the most important tournament for us.

On how has his role changed over a decade with the team

When I started playing for India, we were ranked 12-13 and today we are ranked 5th. So the ranking shows how we have improved. I have worked under a number of coaches and each one of them brought something new to the team and adopted a different strategy. They all had different demands and different structure. In 2009-10, I played as a freeman, after that centre-half. I also played forward in 2015. Everyone made me play in different positions and I supplied whatever was demanded.

On how the current team has developed

We have a great structure. Till five years ago, we did not have any structure. And in those days we were playing 70 minutes. I must have played around 115 matches continuously for 70 minutes. Hockey has become very fast today, gone are the days when 3-4 good players could win you games. For the last few years, we have had a balanced side. That's why you see the rankings improving and good results coming in.

New Indian Express


---

Big Australian Flavour At Masters World Cup

Ben Somerford




Twelve Australian teams will be compete for glory when the fourth edition of the Masters World Cup commences in Terrassa, Spain, on Friday.

The 2018 World Cup takes place from Friday 27 July to Sunday 5 August with 135 teams from 25 nations represented across 11 divisions.

Australia are one of two nations to have teams in every division from Women's 35+, 40+, 45+, 50+, 55+, 60+, Men's 35+, 40+, 45+, 50+ and 55+, with an Australian Wattles team in the Women's 60+ too.

Club Egara will host the matches in Terrassa which was the first Spanish city where Field Hockey was practiced and remains deeply rooted into local society.

Terrassa was chosen as the subsite for Field Hockey matches during the 1992 Barcelona Olympic Games.

There will be 443 matches played across seven pitches at Club Egara, with approximately 80 umpires, 20 officials, 100 volunteers and thousands of players.

The Masters World Cup takes place every two years and is promoted by the International Masters Hockey Association (IMHA) and worldwide recognised by the International Hockey Federation (FIH).

The 2016 Masters World Cup was hosted by Canberra, with Australia winning the Women's 40+, 45+, 50+, Men's 40+ and 45+ titles.

Video streaming playing LIVE matches at PITCH 1 will be available throughout the Tournament; LIVE matches can be watched at the YouTube platform of La Liga4sports: https://www.laliga4sports.es

For more information on the tournament: http://wcmasters2018.eu/

For more information on the match schedule: http://wcmasters2018.eu/match-schedule/

For more information on the results: http://matchcenter.wcmasters2018.eu/

The Masters World Cup comes a month after the Grand Masters Hockey World Cup which was played in Barcelona in June.

Australia retained their Men's 75+ title after a strong campaign which included four wins, one draw and one defeat.

The Australians, led by top scorer Ian Wright (three goals), defeated England 2-0 in their final game to secure top spot and the title.

Elsewhere, Australia were runners-up in both the Men's 70+ and Men's 65+ divisions.

Australia went down 2-0 in a shootout after a 2-2 draw with England in the Men's 70+ final.

In the Men's 65+ final, England were too strong also, triumphing 4-1 over the Aussies.

Australia also finished fifth in the Men's 60+ division.

Hockey Australia media release


---

Dynamic Duo on the Field and Sidelines

By Kathleen Harte Simon, Philafieldhockey.com Founder and Editor




The U.S. Women's Masters Teams will compete in the 2018 EXIN Masters World Cup in Terrassa, Spain from July 27 to August 5, with more than 140 national teams expected to compete in age categories from Over-35 to Over-55. For O-50 USA athletes Nicky Hitchens and Denise Zelenak, who also coach side-by-side at Drexel University, it will be their fourth appearance at a World Cup but, like them, nothing about the experience is old.

"I am always excited to play hockey, but when you see your name up there listed under a USA Team, it is something very special," said Zelenak."I truly appreciate having another opportunity to play while wearing the red, white and blue. Masters has taken me around the world, giving me some amazing memories and more friends than I can count. I am so proud to be a part of these teams and program."

Together, Zelenak and Hitchens steer Drexel University, a Division I program competing in the Colonial Athletic Association (CAA). Zelenak has been at the helm of the program for 23 years; Hitchens for 14 years, now as associate head coach. What differentiates this dynamic duo from other Division I coaches, in part, is their passion for playing the sport, in addition to coaching.

"The busier I am, the more stress I feel but I've never come away from a hockey event, training or a competition and regretted being there," noted Hitchens. "It is so rewarding to see so many friends and colleagues and to maintain hockey friendships. It's an important part of my life."

"I don't think why I play and the positives I've experienced have changed at all," added Zelenak. "There are no mirrors on the sidelines so when I play, I am ageless. It's after that I feel old!"

In addition to coaching the Dragons, high performance teams, Futures and club programs this spring, the two carve out time for personal training in addition to the masters training sessions comprised of twice-monthly practices and several tournaments.

Both focus on cardio and strength training at the gym 5-6 days a week, stickwork, and for Hitchens, playing squash is as effective as cross training. "It helps with my footwork, hand eye, cardio and my mental game as well. I have a great training partner [in Zelenak] so that helps keep me motivated when I'm tired or overwhelmed!"

As for actively participating in Drexel's practice sessions, Zelenak noted, "I haven't played full field much with the team for many years. I feel that it is important that they are the focus at practice, and I think when I used to step on the field the focus changed. Having said that, I do jump in during some drill sets to show and share player movements or skills but not in any competitive games."

The chemistry of the two is evident on the field. They read each other extremely well, trust each other and complement one other's play. The same applies to them as coaches on the sidelines.

"Nicky is my sister at heart," said Zelenak. "We are not the same in demeanor or personality, but we see things similarly and work hard to do things the right way. I also think playing sports for us is very similar, as we are both super competitive and have a strong commitment to whatever we choose to pursue. I also trust her implicitly."

"It's been really helpful to work with someone who is very different from me so that I can model behaviors and strategies that aren't my strong suit," added Hitchens. "Denise is a true student of the game, always watching film and living hockey, so I'm spoiled working with someone always in touch with what's current in the sport. She is much more comfortable at teaching broader concepts and strategies because of her teaching background; I'm more comfortable one-on-one."




As for Hitchens and Zelenak's World Cup goals, they don't differ at all. Put simply: the goal is to win.

"My personal goal is probably the same as the team goal, to win a medal and improve on our last performance," said Hitchens. "In Australia we were fortunate to be coached by Denise [who also played] as she has coached as an adult many, many times and understands what it takes to work with 50-year-olds. Legendary coach Beth Bozman will be coaching the 50's this time around and I'm excited to see how far we can go."

The two also have similar personal goals to get stronger and more fit to fend off any injuries which Hitchens noted "seem to stick around much longer with age."

"What you want to do and what you can do changes," added Zelenak. "We are only mortal and some parts of me don't work so well, but I will take what I can, whenever I can!"

The two represented USA at the 2014 FIH Masters Hockey World Cup in Rotterdam, The Netherlands (O-40), 2016 Masters Hockey World Cup in Canberra, Australia (O-45 bronze medal) and 2017 IMHA Masters Indoor World Cup in Krefeld, Germany (O-40).

"There are so many highlights but most of all, the time spent with teammates and getting to know athletes from other countries is irreplaceable," said Hitchens. "Top moments would be winning the bronze in Australia in a shootout over South Africa; teams singing on the trolley from the venue to the city in Rotterdam; and singing the national anthem before our game against the Dutch in 2014."

"In Holland before our Dutch game, they sang their national anthem as a group and then asked us to do the same," added Zelenak. "It was not pretty but it was humbling, it reminded me how fortunate I am to be able represent our country."

With the World Cup on the horizon where the two will represent their country yet again, both Hitchens and Zelenak definitely don't see the tournament as the finale. Age does not define them. If anything, it motivates them to work even harder, while juggling family and coaching commitments, to be the best they can be.

"I can't imagine a future me without hockey," said Zelenak. "I continue to play because it is who I am. It's how I define my best self."




USFHA media release


---

African Youth Games 2018 - Day 6
Algiers (ALG)

African Youth Games 2018 (M)

ZIM v NAM (5th & 6th Place)     1 - 1 (0 - 0) (2 - 0 SO)

Final Placings

1/2 South Africa / Zambia
3/4 Nigeria / Kenya
5. Zimbabwe
6. Namibia
7. Algeria

African Youth Games 2018 (W)

NGR v ALG (5th & 6th Place)     3 - 0 (0 - 0)       
RSA v ZIM (SF1)     2 - 0 (2 - 0)
NAM v GHA (SF2)     2 - 1 (1 - 1)

Final Placings

1/2 South Africa / Namibia
3/4 Zimbabwe / Ghana
5. Nigeria
6. Algeria

FIH Match Centre


---

National Junior Squads & Sultan Of Johor Cup Team Confirmed

Ben Somerford

Hockey Australia today confirms the 27-member 2018 Men's and Women's National Junior Squads as well as the 18-member Burras team which will compete at the 2018 Sultan of Johor Cup in October.

Both National Junior Squads are selected on the basis of identifying athletes capable of progressing to the National Senior Program as future Kookaburras and Hockeyroos.

The National Junior Program provides training and competition opportunities for the athletes, as well as targeted development through their home daily training environment.

In the Men's National Junior Squad, Cade Banditt, Sam Gray, Anand Gupte, Michael Francis, Daniel McBride, Sam McCulloch, Mitchell Nicholson, Daine Richards and Jake Staines are all first-time representatives.

National Junior Men's Coach Ben Bishop said: "As always the selection of our Junior Squad was challenging. A number of athletes not selected performed well at the Under-21's Championships this year and we look forward to seeing their development over the next 12 months.

"For the athletes selected, it is a reward for consistent and quality performances throughout not only the Under-21's tournament but also in their home training environments and National Junior Program activities over the last year.

"Our National Junior Program looks to continue to deliver our next Kookaburras through development in quality training camps and international competition opportunities such as the Sultan of Johor Cup this year."

In the Women's National Junior Squad, Amy Lawton and Jolie Sertorio are included despite both being just 16 years young with the selectors excited about their potential.

National Junior Women's Coach Tim White said: "We are excited to announce the 2018 Women's National Junior Squad. There are 10 athletes who have been selected in the squad for the first time, with the remainder of the squad being re-selected after being in the 2017 National Junior Squad.

"The National Junior Squad plays an important role in the Hockey Australia pathway. The main purpose of the National Junior Squad is to broaden the talent base of quality young athletes around the country.

"Some athletes from the National Junior Squad will come under consideration for an Under 23's Tour to China in November, where Australia will play six matches against China, Great Britain and Germany.

"Hockey Australia is also looking to hold a National Junior Camp early next year during the 2019 Pro League in Melbourne when Australia plays the Netherlands and Belgium, presenting a wonderful learning experience for the young athletes."

The 2018 National Men's Junior Program includes participation at the Sultan of Johor Cup in Malaysia from 6-13 October, with the Burras team to compete today confirmed.

Bishop added: "The Sultan of Johor Cup is an excellent Junior International Tournament that we thrive on competing in each year. We have performed well as a program in this tournament since its inception, especially over the last two years winning the tournament.

"This year we aim to expose more athletes to the rigours of an international touring opportunity while providing a rewarding and enduring hockey experience."

The Burras will play against Malaysia, Great Britain, India, Japan and New Zealand.

National Junior Men's Squad:
Jacob Anderson (QLD)
Cade Banditt (QLD)
Hayden Beltz (TAS)
Jonathon Bretherton (VIC)
Lachlan Busiko (SA)
Hayden Dillon (NSW)
Nathan Ephraums (VIC)
Matthew Finn (QLD)
Matthew Fisher (WA)
Liam Flynn (WA)
Michael Francis (QLD)
Sam Gray (NSW)
Coby Green (WA)
Anand Gupte (ACT)
Niranjan Gupte (ACT)
Ehren Hazell (NSW)
Brayden King (WA)
Dylan Martin (NSW)
Daniel McBride (VIC)
Sam McCulloch (TAS)
Mitchell Nicholson (QLD/TAS)
Alec Rasmussen (WA)
Daine Richards (NSW)
Ben Staines (ACT)
Jake Staines (ACT)
Damon Steffens (VIC)
Blake Wotherspoon (QLD)

National Junior Women's Squad:
Sienna Archer (WA)
Alice Arnott (NSW)
Hannah Astbury (QLD)
Morgan Blamey (NSW)
Olivia Colasurdo (VIC)
Casey Dolkens (QLD)
Talei Forrest (ACT)
Morgan Gallagher (QLD)
Annie Gibbs (WA)
Andrea Gillard (NSW)
Rebecca Greiner (QLD)
Rachel Guy (VIC)
Amy Hammond (SA)
Carly James (VIC)
Grace Jeffrey (NSW)
Amy Lawton (VIC)
Morgan Mathison (QLD)
Pippa Morgan (WA)
Renee Rockliff (WA)
Courtney Schonell (NSW)
Jolie Sertorio (WA)
Hattie Shand (SA)
Michaela Spano (SA)
Maddi Smith (NSW)
Shanea Tonkin (WA)
Aisling Utri (VIC)
Abigail Wilson (NSW)

Burras' 2018 Sultan of Johor Cup team:
Cade Banditt (QLD)
Hayden Beltz (TAS)
Lachlan Busiko (SA)
Hayden Dillon (NSW)
Nathan Ephraums (VIC)
Matthew Finn (QLD)
Matthew Fisher (WA)
Liam Flynn (WA)
Coby Green (WA)
Niranjan Gupte (ACT)
Ehren Hazell (NSW)
Brayden King (WA)
Dylan Martin (NSW)
Daniel McBride (VIC)
Alec Rasmussen (WA)
Ben Staines (ACT)
Damon Steffens (VIC)
Blake Wotherspoon (QLD)

Hockey Australia media release


---

Field Hockey Canada announces Gryphon Hockey Tournament All Star Teams




Congratulations to all athletes, coaches and officials on a successful 2018 Field Hockey Canada National Championships. It is our pleasure to announce the 2018 Tournament-11 for the U15, U18 and U23 divisions at this year's tournament! Congratulations on this amazing achievement. The tournament all star team is sponsored by Gryphon Hockey, the official stick sponsor of Field Hockey Canada. Check out their website HERE.

Gryphon Hockey Tournament 11

U15 Girls – Chloe Smith (AB), Olivia Huebner (BC), Tessa Everett (BC), Brooke Taylor (BC), Danielle D'Silva (ON), Isabella Beck (ON), Grace Leahy (ON), Lindsay Doiron (PEI), Kayla Robertson (QC), Mikayla Stelling (BC), Elly Peters (ON).

U15 Boys – Baldeep Sivia (AB), Finlay O'Callaghan (BC), Armaan Bagri (BC), Arjun Cheema (BC), Harvir Malhi (BC), Sahibjit Sahota, (ON) Alexander Bird (QC), Nicolaz Syrros (QC), Jacob Ethier (QC), Parwazjit Hundal (QC), Brett Eisner (USA).

U18 Girls — Allison Kuzyk (BC), Melanie Scholz (AB), Alissa Wong (BC), Libby Hogg (BC), Dani Husar (ON), Maryam Maamoun (ON), Grace Davis (ON), Rory Aiken (PEI), Annabelle Murray (QC), Aerin Park (BC), Stefanie Sajko (BC).

U18 Boys — Robinpreet Singh (AB), Shazab Butt (AB), Ryan Knight (BC), Amraaz Dhillon (BC), Ganga Singh (ON), Rajamn Singh (ON), Adam Kapasi (ON), Flynn McCulloch (QC), Isaac Farion (QC), Nicolas Syrros (QC), Alex Curtis (USA).

U23 Women — Grace Davis (ON), Julia Costanzo (ON), Alison Lee (ON), Emily Ziraldo (ON), Jaslan Stirling (ON), Shannon Pereira (ON), Rebecca Carvalho (ON), Megan Ma (BC), Audrey Sawers (BC), Lindsay Cole (BC), Maddy Yeomans (AB), Camilla Macgillivray (AB), Jennifer Wishart (AB).

U23 Men — Jamie Wallace (BC), Fin Boothroyd (BC), Gavin Bains (BC), Lyle Fernandes (ON), Adam Kapasi (ON), Ralph Kerrebijn (ON), Rohan Chopra (ON), Ranbir Kalkat (ON), Jugraj Kalkat (ON), Dean Schiller (USA), Buneet Singh (USA).




Field Hockey Canada media release


---

Ministry explains why payment was held back to Sea Games contractor

By HAIKA KHAZI

PUTRAJAYA: The sports ministry has held back a final RM40,000 payment to contractor Kuckreja & Co because they did not remove the rubber surface used for the indoor hockey event at last year's Kuala Lumpur Sea Games (KL2017).

Sports ministry chief secretary Datuk Lokman Hakim Ali said Kuckerja & Co were given a contract to install and later remove the indoor hockey pitch after the Sea Games at the Malaysia International Trade and Exhibition Centre (MITEC).

"They refused to do it and asked that the final payment of RM40,000 be paid first," said Lokman.

"The sports ministry did not do so as the final payment is only to be made once all work has been done in a satisfactory manner."

Lokman pointed out that Kuckerja & Co's failure to clear the indoor hockey mat has also led to other contractors unable to remove their own equipment from MITEC. The ministry thus has no choice but to let other contractors remove the pitch.

"As a result, six of the 28 rolls of the rubber surface were damaged. The remaining 22 rolls are in good condition and in storage at the ministry," added Lokman.

"The ministry will deduct a part of the final payment to Kuckreja & Co as compensation."

KL2017 Malaysian Organising Committee chief executive officer Datuk Seri Zolkples Embong declined to comment on the issue.

Zolkples said the equipment and facilities used for KL2017 came under the purview of the facilities committee chaired by Lokman.

On a separate note, Lokman explained that the delay in final payments to certain contractors for KL2017 was due to insufficient documentation from them.

"The contractors have been asked to submit the documents. The payments will be made as soon as we receive them."

Jugjet's World of Field Hockey