All the news for Tuesday 3 July 2018

Tenacious India outdone on penalties but fast, counter-attacking style augurs well

Sundeep Misra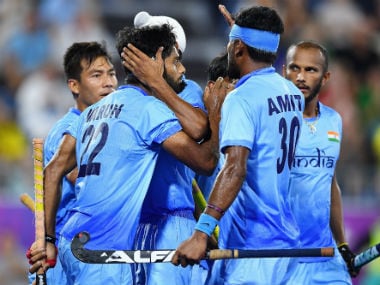 India won their second consecutive Champions Trophy silver. AFP/ File

Dominating in three of the four quarters, finding space on the flanks and the midfield zones, defenders playing as if auditioning for the roles of forwards, and pegging back the World Champions into a largely defensive role, the eventual shoot-out at the end of a 1-1 regulation time scoreline seemed a trifle unfair. Going into a period where luck does play a significant part, the 3-1 score in Australia's favour tore India's heart. It was gut-wrenching, one that made a ferocious midfielder like Manpreet Singh break into tears, an 18-year-old goal scorer, Vivek Prasad say "the hurt will remain" and a captain exclaim that "we gifted the Trophy to Australia."

Critics might say India played out of their skins and pushed the mighty Aussies back. Some would offer consolation with an air of resignation. But the performance in the four quarters was mature, tactically sound and with just a few inches here or there the team could have been celebrating so raucously that Breda would have stayed up all night.

In the end, while the Australians guzzled beer, the Indians sat around the Hockey Club, gloom written on their faces, desperate to get back to their hotel. Coach Harendra Singh summed it up: "Tonight, sleep would be difficult. The hurt would remain for weeks."

In the morning team meeting, however, the instructions were clear that errors would be minimised and defence positions will not break. In other words, keep the structure going through the four quarters. But in the middle of the first quarter, Harendra saw the Aussies back-pedalling. "That was the moment I told them to go up and play your game; but no easy balls to the Aussies."

It was a different match from then on. The midfield stretched itself. The defences came up, minimising the gap between them and the midfield. The Australians didn't get the gaps and constantly ran into either Surender Kumar, Varun Kumar or Jarmanpreet Singh. Birendra Lakra played as if trying to convince the coach that he is a better forward than a defender. Time and again, head down, he dribbled like he owned the black arts, going past Australian forwards and midfielders like a hot knife through butter. Time and again, he dragged the game away from the reigning champions and threw balls on the flanks or pushed it to Simranjeet Singh, a player who has been growing in stature match after match.

It was Amit Rohidas who went for the referral in the opening minutes and got the first penalty corner. And then came the second too as Australia wondered where were they losing the grip. They had an initial exchange with Sreejesh, but that was a straightforward shot on the pads.

Surender, meanwhile, had also loosened the shackles and towards the end of the first quarter, sprinted through the midfield to give it to Dilpreet who sent it to SV Sunil and with just the goalkeeper in front, tapped the ball onto his own feet.

Blake Govers, Aran Zalewski, Tom Craig, Daniel Beale were doing their running around the Indian striking circle. While the defenders plucked balls away cleanly, Sreejesh was also on fire too, keeping shots away and also the few loose balls that went free in the circle. Both teams displayed extraordinary positional strength and in a final like this, both Sreejesh and his Aussie counterpart Lovell Tyler were in superb form.

In the second quarter, Simranjeet sped into the Aussie half, drew away most of the defence and squared brilliantly to Sunil who just couldn't control it. Meanwhile, Australia pushed and earned their first PC in the 24th minute. After a dummy push that slightly took the Indian defence to one side, Govers powered the flick glove height to Sreejesh who was in position but the ball deflected off the glove and into goal. It was a soft goal that bothered Sreejesh no end, even after the match was over. For a man so much in form, Australia had earned a lucky break sending the ball past him.

India now chased. The goal broke whatever little chains that bound them as a defensive unit. Aerial balls, rotation, possession and sending parallel passes across the midfield became the staple diet. To the credit of the Aussies, they didn't relent or become overtly defensive. India wasted a third PC and even Lakra had a chance when he dribbled back and forth till he ran out of space.

At the break, Australia led by a goal. Immediately on resumption, India once again held the middle as its forwards rode on the through balls to keep the Aussies looking over their shoulder. India's aggression had balanced the match out; they were clearly ahead on circle entries, shots on goal and also on the PCs.

A Manpreet-Dilpreet move gave India their fourth PC. Varun slid it to Manpreet, who lost balance precisely at the moment to shoot. Both teams went back and forth, and the crowds loved every minute of it. They enjoyed the fight that India was giving, taking the game to the Aussies. With eight minutes to go in the third quarter, Surender sent a through ball that reached Mandeep, who beat a mass of Aussie legs and sticks and reached and tapped it towards goal. The ball hit the post and came back into play. The crowds groaned. On the Indian bench, Harendra wondered how to find the equaliser. It came from the flank as Chinglensana fired a hit that rose in the air off a stick as Vivek Prasad, alert and following the trajectory, walloped the ball into the goal. It was a brilliant goal from an 18-year-old playing his first big final. He could have waited for the ball to drop and then take a hit. But Vivek saw the opening to the right of Tyler and smacked it in.

Suddenly, the match was on as India pushed hard and tried to hold the ball for the remaining two minutes of the third quarter. The third quarter possession for India was around 53 percent with six circle entries and four shots on goal.

The final quarter opened to frenetic pace. Manpreet was leading the way with a powerful display just short of the Aussie striking circle. A shot went wide before Dilpreet's shot was saved by Tyrel. Australia was not willing to come forward with too many players knowing India's penchant for the counter and didn't want to be caught on the wrong foot.

With five minutes left, Sunil swung in from the right flank and sent a cross that evaded the Aussie sticks and looked headed for goal. All Manpreet had to do was tap it in. But he went the wrong way as an Aussie defender covered it. The opportunity to close the match had come and gone.

In the last minute, India held onto the ball and kept the Aussies away who probably were more relieved.

With Sreejesh in tremendous form, one felt India could swing the shoot-out. Australia started well with captain Aran Zalewski converting. Sardar went for the gap in the goalkeeper's pads but the ball hit the outside flap and slid away. After Daniel Beale made it 2-0, Harmanpreet Singh missed. Matthew Swann and Tom Craig couldn't score and it looked like India had an outside chance when Manpreet Singh converted. But Jeremy Edwards hoodwinked Sreejesh as Australia was crowned Champions Trophy winners for a record 15th time in an incredible 36 appearances. In the modern era, it will remain a dominant performance in any championship.

For India, it was a second consecutive silver. They came into the tournament trying to salvage some pride after a disaster at the Commonwealth Games. After the hurt has been resolved and team meetings held over what could have been against the Aussies, they would look back with pride on what has transpired at Breda. As Harendra said, "Immediately after the match was over, I told the team to be proud of what they could achieve here. They played a final against the world champions and could easily have turned the match around. But we will have our chances and maybe, something big is around the corner."

Winning the best goalkeeper award wouldn't heal the wounds for Sreejesh. "Individual awards are okay and they last for a moment or so," he said. "The magic was in winning the Champions Trophy and it is only then that an individual award makes sense in what is a team win. Its's okay for me. It would have been an achievement if we had won."

Speaking on the Australian PC that sneaked in, Sreejesh was hugely upset. "I let the team down with that kind of goal," he admonished himself. "As a goalkeeper, you cannot let in those kind of goals. I know I let the team down."

Yet it was a sparkling performance from Sreejesh that kept the team afloat in difficult circumstances. Vivek was excited that he could score in such a big final but absolutely gutted that India lost. "We came to win and that was the mood in the team meeting," he said. "We knew exactly what to do and we did everything. Maybe, a little more was needed."

Tears glistening in his eyes, Manpreet couldn't come to terms with a second silver. "I still cannot believe that we lost that match. Everything was in our favour and we were doing everything right on the pitch. Yes, we should have put the chances away." For a long time, he held his head, wiping away tears. Finally, he looked up and said, "It will take some time but we will look forward to the challenges ahead in the Asian Games and the World Cup."

Finesse can be illusionary at times. Tenacity combined with ball possession and a fast counter-attacking style may give this Indian side a new identity. At this moment, temporarily devoid of emotion, the Champions Trophy silver medal could be therapeutic for a side that has some big challenges around the corner.

Firstpost


---

Gulf Indian fans savour Indian glory at Breda

s2h team




They are a silent Barlmy Army of Indian hockey. They are there wherever and whenever Team India is engaged in major tournaments across globe. You saw them quite often flying to homeland India to watch a Champions Trophy, Hockey World League...Raipur, Bhubneswar.. Delhi and elsewhere.

You saw them recently at Breda, correct?. Yes. Six families of Non-Resident Indians from Oman and Dubai travelled all the way to The Netherlands to immerse themselves in the hockey heaven in Breda in what can be categorized as the one of the best hockey settings.

Shanavas Naduvath Valappil, Javis Ahamad Oliyath Vazhayil, Hashir Ponmanachi, Parvesh Kariambath were part of the the small but vocal and vibrant group that was all pervasive in the initial days of Breda, and be part of witnessing and relishing India pulverize Pakistan on the opening day.

It was a Paisa Vasool day for these six families, more so getting a chance to mingle with Indian stars after the match.

Though its desire to be wherever India's international hockey is there, Breda assumes further significance as it is the last edition of a major historical event, and their star PR Sreejesh is in the helm of affairs.

Echoes Shanavas, Account Manager at Lacnor in Dubai: "Yes, we are here to support our national team India. Also, we don't want to miss out the historic occasion of Champions Trophy. This wont be held next time, you know", says the hockey fan with an inimitable, patented smile on his face.

The foursome (in pic) are part of many die hard sports enthusiasts from Thalassery in Kerala State of India. They are into many high profile jobs in Gulf region. However, they carried with them the passion for sport, especially hockey, to Muscat, Dubai and elsewhere.

So much so that the United Thalassery Sports Club (UTSC) that they established in the last decade has become the last word for their sporting spirit.

Javis Ahamad is the Secretary of the UTSC that celebrates annual Gulf Hockey Fiesta in the early part of year year after year.

"UTSC does whatever is in my mind, and in vision to spread hockey in Oman. Having seen all these school kids, I feel the UTSC's contribution to improve and spread hockey in Gulf is immense", said the elderly wiseman Talib K Al Wahaibi, Chairman, Oman Hockey Federation, at the concluding session of Gulf Hockey fiesta last year.

How true!

Everything could be achieved at home or wherever you settle, if pure passion is the pathway. This group of Gulf Indians prove the same. Expatriate hockey fans are main global attraction for the field hockey sport. These new wave of enthusiasts give a firm, welcome rivalry to Europe centric Indian hockey fans.

This adds beauty, variety and gaiety to the the sport we all love.

Stick2Hockey.com


---

Malaysia women and Singapore men win Hockey Series Open Singapore



Top ranked Malaysia women and Singapore men won the Hockey Series Open Singapore Photo: Singapore Hockey Federation

Malaysia women and Singapore men have won won the Hockey Series Open held in Singapore between 23 June to 1 July. The result means both teams have qualified for the Hockey Series Finals to be held in 2019.

It was also double joy for Thailand as both their men's and women's team took second place in their respective events and therefore qualified for the Hockey Series Finals, where they will continue their journey towards qualification for Tokyo 2020.

Singapore men, who came into the tournament as favourites due to their FIH Hero World Ranking position (40) got off to the best of starts as they beat the unranked Indonesia 7-0. The host nation continued through the tournament in the same vein, much to the delight of the home crowd at the Seng Kang Sports Centre.

They defeated Myanmar (WR:89) 2-0, Thailand (WR:47) 4-1, Hong Kong (WR:45) 6-2 and Chinese Taipei (WR:52) 4-0 to set up a final where they defeated Thailand for a second time, 4-1, with sharp shooter Ahmad Johari scoring twice.

Thailand also enjoyed a good tournament, their only defeats coming at the hands of the champions.

The top goal scorer award was shared between Singapore's Johari and Thailand's Thanakrit Boon-Art, both of whom scored eight goals.

In the women's event, top ranked side Malaysia (WR:22) continued on their upwards trajectory as they won the the round-robin with ease before beating Thailand (WR: 28) by a comfortable 6-0 scoreline in the final. Malaysia scored an impressive 51 goals in total and conceded just one - against fourth placed Kazakhstan.

Not surprisingly, Malaysia players dominated the goal scoring leadership board, with Nuraini Rashid topping the list with nine goals. Three of these goals came in Malaysia's opening match, where they scored 18 goals past Indonesia (WR: 65).

While Malaysia and Thailand finished clear of the field, the battle for bronze was a tense affair between Kazakhstan (WR:34) and Singapore (WR:35). The teams were inseparable during the match, finishing 3-3 and then Singapore managed to beat their higher ranked rivals in a thrilling shoot-out, much to the delight of the home crowd.

Final standings
Men:
1. Singapore
2. Thailand
3. Chinese Taipei
4. Myanmar
5. Hong Kong
6. Indonesia

Women:
1. Malaysia
2. Thailand
3. Singapore
4. Kazakhstan
5. Hong Kong
6. Indonesia

The event in Singapore was a continuation of the Hockey Series Open, with other events in the Series taking place across the world over the coming weeks. This stage of the FIH's new Hockey Series is the first step towards Olympic qualification for participating teams.

The Hockey Series Open will continue in Wattignies, France between 6-8 July when four more women's teams start their exciting journey towards the Hockey Series Finals and the opportunity to qualify for Tokyo 2020.

#HockeySeries2018

FIH site


---

Korper propels Austria to next phase of Olympic qualifying Series




Austria and Wales were the outstanding teams at the Hockey Series Open event – the first step on the road to Olympic qualification – which took place in Zagreb, Croatia.

Both teams now progress to the Hockey Series Finals, which take place in 2019. Harvestehuder THC's Michael Korper of Austria and Surbiton's Gareth Furlong of Wales mirrored their team's performances as they finished first and second respectively at the top of the goal scoring statistics. Korper fired ten goals in total and Furlong scored nine.

Wales, who are ranked 24 in the world, opened the tournament with a 6-1 win over Slovakia but the good start to their campaign ended abruptly the following day at the hands of Austria, the top seeds at 19.

The higher ranked team took the lead through Dominic Uher, while Michael Korper scored two penalty corners to open his impressive goal scoring account.

Austria then faced a tricky encounter with the host nation Croatia. They took an early 3-0 lead, with Korper again scoring a brace, but Croatia fought back with goals from Maximilian Bachmann and Josip Krleza.

It was 3-2 with a quarter of the match left and Croatia piled on the pressure, but a yellow card for Krleza in the 52nd minute meant their challenge fizzled out as Austria's defence held firm.

Both Wales and Austria then started to pull clear of the other three teams. Austria beat Switzerland 8-0 and Slovakia 15-1; while Wales beat the Swiss team 7-1 and Croatia 9-0.

In the final standings, Croatia finished in third place as they beat both Switzerland 2-0 and Slovakia 6-1. Both Bachmann and Krleza continued to impress with their goal scoring skills as they picked up two goals apiece against the Slovakian team.

Euro Hockey League media release


---

Experienced Black Sticks women's squad named for World Cup medal quest

ANDREW VOERMAN



The Black Sticks won Commonwealth Games gold in April. Now they want a World Cup medal. JOHN COWPLAND/PHOTOSPORT

The Black Sticks women have made history once this year, now they want to do it again.

An 18-strong squad for this month's World Cup in England was named on Tuesday, featuring 17 of the players who won Commonwealth Games gold for the first time in April.

Retired midfielder Pippa Hayward is the only player missing from that group, replaced by Lulu Tuilotolava.

The squad is led by Stacey Michelsen, and with more than 2000 caps between them, they are set on winning New Zealand's first medal at the event.

"Our team talks about firsts," said Mark Hager, who is off to his third World Cup as coach, seeking improvement on the seventh-place finish of 2010 and the fifth place of 2014.

"We want to be the first to achieve something past players and past teams haven't done, so this is an opportunity for us to achieve a medal at a World Cup, which no New Zealand women's team has ever done.



Black Sticks coach Mark Hager says they are chasing a historic medal at the World Cup. ANDREW CORNAGA/PHOTOSPORT

"If we can tick that off, that's another part of our legacy we can leave behind, and the next team can hopefully better it. That's something we've really strived for over the years."

The Black Sticks have been drawn with Australia - who they beat in the Commonwealth Games final - Belgium, and Japan in pool D for the 16-team event in London, which begins for them on July 23 [NZ time].

Three teams from each group will advance to the knockout stage. The winners will go straight to the quarterfinals, while the second and third-placed teams will face a further round of elimination matches.

Hager said it had been tough for the world No 4 Black Sticks, as they switched their focus to the World Cup after winning on the Gold Coast.

"I think the first three or four weeks we were sort of still on a high, I probably felt a little bit of complacency within the group. Obviously we went to Cromwell and we got a bit of a wake-up call, that we're not where we want to be.

"It's now about getting back on the same page as everybody else and saying what did we do well at the Commonwealth Games in terms of our preparation and our performances - what did we do there that helped us achieve our first-ever gold medal?"



Veteran midfielder Stacey Michelsen will captain the Black Sticks in England. GETTY IMAGES

Since that "wake-up call" in Cromwell, where the Black Sticks beat Japan twice - once in a shootout - but lost to them once, as well as to Australia three times, as part of a tri-series, Hager has been impressed.

"We had some fitness testing [on Monday] and we've improved from where we were in April, so that's a real plus, and that's what we wanted to achieve in this period since the Comm Games, increasing our fitness even more.

"That's exciting for the group to know they're going in well conditioned; they don't have to worry about being not fit. We can put that to one side and now concentrate on the hockey and be more specific on our structures and how we want to play and that's a real bonus for this group."

The Black Sticks leave New Zealand on Sunday for Germany, where they will play the hosts, Argentina, and the Netherlands in a warm-up tournament next week.

2018 Women's Hockey World Cup

Black Sticks squad: Stacey Michelsen (c), Madison Doar, Ella Gunson, Brooke Neal (Northland) Sam Harrison, Grace O'Hanlon, Liz Thompson, Lulu Tuilotolava (Auckland), Sam Charlton, Tarryn Davey, Frances Davis, Shiloh Gloyn, Rose Keddell, Amy Robinson, Sally Rutherford (Midlands), Anita McLaren, Kelsey Smith (Capital), Olivia Merry (Canterbury).

Black Sticks' pool D fixtures [All NZ time]
July 23, 6am v Belgium
July 24, 11.30pm v Japan
July 29, 7am v Australia

Stuff


---

Maria Verschoor left out of Holland's women's hockey World Cup squad

By The Hockey Paper




Maria Verschoor, the 24-year-old forward, is a surprise omission from coach Alyson Annan's 18-strong Netherlands squad for their 2018 women's World Cup defence later this month.

The Amsterdam star, a Rio silver medallist, is one of five players listed as a reserve for the upcoming four-nations tournament in Germany and the World Cup in London.

However, her club team-mate Eva de Goede – one of five Amsterdam players in the Dutch squad – returns to Oranje colours after the two-time Olympic champion took a year off the sport last year.

Except for the absence of Verschoor and De Goede's return, Annan has retained the same 18 players who lifted the European title in Amstelveen last summer.

"In the Netherlands we have a luxury problem," says Annan. "There is a lot of talent and experience in the group that I had at my disposal in the past year.

"Nevertheless, we quickly agreed as a staff on the choice for these eighteen players. Of course it is annoying that I had to disappoint players, but this is a professional group. The choices we have made now fit in with the line of the past period. "

At the four-nations, the Dutch, the 2014 champions in The Hague, will compete against Germany, Argentina and New Zealand.

The World Cup starts on 21 July, with the Dutch starting their defence a day later. They have group games against South Korea, China and Italy.

The Netherlands squad

Ireen van den Assem, Margot van Geffen, Marloes Keetels, Josine King, Frédérique Matla, Pien Sanders, Lidewij Welten (all Den Bosch), Carlien Dirkse van den Heuvel, Caia van Maasakker, Xan de Waard (SCHC), Eva de Goede, Kelly Jonker, Kitty of Male, Lauren Stam, Anne Veenendaal (Amsterdam), Laurien Leurink (Laren), Laura Nunnink (Oranje Rood) and Malou Pheninckx (Kampong).

The Hockey Paper


---

Schopman Names 18-Athlete Roster to Compete at the Vitality Hockey Women's World Cup




LANCASTER, Pa. - It's the second biggest stage for the sport held every four years. A squad of 28 women, all striving for the best, all fighting for the same dream had to be narrowed down. U.S. Women's National Team Head Coach Janneke Schopman and coaching staff have named the 18-athlete roster that will travel to London, England for the Vitality Hockey Women's World Cup from July 21 to August 5. The selected squad is a mix of veterans and young talent, some of who have less than ten international caps, who look to make a statement in London by showing the global hockey scene the unparalleled amount of work they put in these past few months.

"Selection was very difficult for us as a staff this year, we have so many players with different strengths that all add something to the team," commented Schopman. "Choosing 18 means leaving players at home, that worked as hard as anyone which is never easy."

Leading with experience are six-athletes who competed at the last rendition of this event in 2014. Contributing in the back on defense are goalkeeper Jackie Briggs (Robesonia, Pa.) and Stefanie Fee (Virginia Beach, Va.). Adding strength in the midfield are captain Melissa Gonzalez (Mohegan Lake, N.Y.) and Michelle Vittese (Cherry Hill, N.J), supported by Jill (Witmer) Funk (Lancaster, Pa.) and Kathleen Sharkey (Moosic, Pa.) as strikers. This is counter-balanced with a few rookies who are looking to get their first taste of international competition in a major senior event. Lauren Blazing (Durham, N.C.) has been selected as other goalkeeper and Margaux Paolino (Villanova, Pa.) and Tara Vittese (Cherry Hill, N.J.), who both have recent experience playing with the Junior USWNT, look to make a stamp against international opponents.

The Vitality Hockey Women's World Cup will take place at Lee Valley Hockey and Tennis Centre's pitch at the venue at Queen Elizabeth Olympic Park in London. The event is made up of  16 women's teams, that are broken into four pools of four teams. FIH Hero World Ranked No. 7 USA sits in Pool B with defending Rio 2016 Olympic Gold Medalists No. 2 England, along with No. 10 India and No. 16 Ireland. The USWNT is set to play Ireland in their first pool game on Saturday, July 21 at 1 p.m. ET (6 p.m. local time).

After qualifying for the World Cup last year in South Africa at the FIH Hockey World League Semifinals, the USWNT has been hard at work preparing for the international stage. In January, they hosted No. 1 The Netherlands for a four-game West Coast Series at Stanford University in Palo Alto, Calif., followed by four more games against No. 21 Canada in Chula Vista, Calif. In April at the Home of Hockey at Spooky Nook Sports in Lancaster, Pa., USA went unbeated against No. 15 Chile in a four-match series before heading off to Tucuman, Argentina in the middle of June to face the No. 3 host nation for their final five-game series.

"Final preparations for the World Cup are underway, the games in Argentina showed us where we should put our focus on and the team is working hard to making sure we have covered all our bases come the first game," added Schopman.

2018 USWNT Vitality Hockey Women's World Cup Team:

Lauren Blazing (Durham, N.C.), Jackie Briggs (Robesonia, Pa.), Stefanie Fee (Virginia Beach, Va.), Ali Froede (Burke, Va.), Jill (Witmer) Funk (Lancaster, Pa.), Melissa Gonzalez (Mohegan Lake, N.Y.), Ashley Hoffman (Mohnton, Pa.), Amanda Magadan (Randolph, N.J.), Alyssa Manley (Lititz, Pa.), Erin Matson (Chadds Ford, Pa.), Lauren Moyer (York, Pa.), Margaux Paolino (Villanova, Pa.), Kathleen Sharkey (Moosic, Pa.), Caitlin Van Sickle (Wilmington, Del.), Michelle Vittese (Cherry Hill, N.J.), Tara Vittese (Cherry Hill, N.J.), Nicole Woods (Beverly, Mass.), Julia Young (Yorktown, Va.)

In two weeks, join USA Field Hockey in celebrating the amazing accomplishment of the U.S. Women's National Team as they head to London to participate in the Vitality Hockey Women's World Cup 2018. The official World Cup Send-Off event will take place on Saturday, July 14 at Spooky Nook Sports in Lancaster, Pa. Don't miss out on an exceptional opportunity to meet and greet the players, get autographs and find out what it takes to be a USWNT athlete. Special guests and Olympians Katie Bam, Lauren Crandall and Rachel Dawson will kick off the event as the field hockey community will gather to send off the team. It will also include a raffle and silent auction with autographed team jerseys and signed hockey sticks. Click here for more information or to purchase tickets.

USFHA media release


---

Dutch experience help build O'Flanagan's mental toughness for World Cup after fine Hoofdklasse season



Anna O'Flanagan in action for Bloemendaal. Pic: Koen Suyk

Coping with the forthright Dutch mentality is something Anna O'Flanagan says she initially took a while to get used to but says she will ultimately be stronger for the experience.

The star Irish striker – along with Chloe Watkins – enjoyed a fine season with HC Bloemendaal, taking time away from her legal career to take on full-time hockey in the best league in the world, the Hoofdklasse.

In the league, Bloemendaal had a tough campaign, finishing ninth, but avoided the relegation playoffs for the very first time. And they won the first edition of the Gold Cup since its return.

O'Flanagan says the risk she took in taking on the move but it has paid dividends in World Cup year.

"It was a massive decision," she said about putting work on hold. "I always wanted to push myself and play hockey at a higher standard and become a better player every day.

"For me, I needed to get something under my belt and finish my degree, get a profession going and have something to fall back on. We don't get paid for this so I have to have something.

"Focusing on hockey, I thoroughly enjoyed the year; it was extremely different to anything I had ever experienced but it gave me that bit more flexibility to train things I never could before."

At Bloemendaal, she had the chance to work with hockey legend Teun de Nooijer, a three-time world player of the year and double Olympic gold medal winner.

"You learn so much from him," O'Flanagan enthused. "He's a quiet man, doesn't shout about the place or put you down. He quietly takes you aside and looks at little things. He trains a lot of the things he was good at, dribbling with the ball, passing on the move.

She also had more time to practice skills on her own, trying out shot selections she might not often use over and over again. In action, O'Flanagan was able to try and put these into action against stronger defenders every game.

"The quality of the players across the board is so high, things don't break down as much. Technically, they are so good and play the game at such a pace. What I loved to is they love to attack. That's my game, to go forward as much as I can!"

Importantly, getting used to the Dutch mindset was another learning curve. O'Flanagan exudes a rare confidence by Irish standards on the pitch, something that is probably key to her poacher's instincts and her incredible goalscoring tallies.

And she found that, without that kind of ability to get on with things, you can very quickly get left behind.



O'Flanagan in recent action against Canada in Dublin. Pic: Adrian Boehm

"The Dutch are very forthright, confident and direct. If you go over with an Irish mentality and are hard on yourself – which I can be – you won't survive.

"You have to come up to their level and have the self-confidence because you don't get it from anywhere else. In Ireland, we are more reserved and we do beat ourselves up about things.

"That's something I did learn; they don't do it. It took a few months to get into that mindset but if you don't stand up and be counted, you can be left behind."

With that year under her belt, the focus is now directed to London and July 21. Selection was a relief though, in all likelihood, she was probably one of the first names on Graham Shaw's list as the team's top goalscorer with 62, three off the national record.

O'Flanagan said it was an emotional time to see good friends cut in the last few weeks in what she says is the "most competitive" squad she has been involved in.

"It was tough; we are an extremely close group. Twenty-nine of us trained for this World Cup and there are 29 of us being represented at this World Cup.

"We're very passionate about that because it is all of their work that goes toward this. It's girls who played last summer, the summer before. It's not just this one event. But it is tough when your close friends don't make it.



The Ireland World Cup squad. Pic: Inpho

"Nonetheless, we have a group of 18 girls who, on any given day, can match any team in the world. We are so excited to be going to a World Cup, to have this opportunity and are going to take it with both hands."

It starts against the US on July 21 with India five days later, both sides whom they have beaten and been beaten by in recent years.

And then a potential experience of a lifetime, facing the world number two side England in front of a sold out crowd on July 29.

"I don't know if anyone wearing an Irish jersey could say they wouldn't enjoy playing an English team on English soil with 10,000+ people there. There's absolutely no pressure on us. They are ranked two in the world so we cannot wait. No better place to beat the English!"

The Hook


---

CWG defeat 'motivates' India for England opener at World Cup



Jaspreet Sahni. Husted Images

When India women lost the Commonwealth Games (CWG) bronze to England in April this year, the mood was somber. The dream of a major medal had shattered. The preps for the World Cup had received a jolt. The girls, who narrowly missed a place in the final, had to return home empty-handed. Interestingly, three months and seven days from that day in Gold Coast, the same opponents who handed a 0-6 thrashing to win bronze at Gold Coast will await India in their World Cup opener. But the Indian team is approaching the day as an opportunity to stitch the CWG wound for good.

Hosts and world No. 2 England will welcome India on the opening day of hockey's pinnacle event in London on July 21. While the challenge presents No. 10 India a tough opener, a win will gladden hearts back home, especially Harendra Singh, who has since handed the team's reins back to Sjoerd Marijne and replaced the Dutchman as the men's coach.

On Friday, when India announced it's 18-member squad for the World Cup, team's goalkeeper and vice-captain Savita recollected that day on April 14 in Australia and explained how it 'motivates' the team.

"I believe we lost tempo in the 3rd-4th place match (at CWG) because of the semifinal loss (0-1 against Australia)," Savita said. "But after losing to England, we got together and said that it doesn't end here. We can't do anything about what's in the past now. We have first match (at World Cup) against England again, so we are very motivated. We are mentally and physically ready."

It's intriguing to note that India defeated England 2-1 in the pool stage at CWG but their defence came a cropper in the bronze-medal playoff.

"Since CWG, I feel there's been a lot of improvement," Savita said.

On their preparatory tour of Spain, India gave a fair account of themselves with 2 wins, 2 defeats and 1 draw in the five-match series.

"In Spain, we experimented and tried some variations. We still have a few days before the World Cup, so we are working on improving those," the Indian goalkeeper said.

"There is relief in terms of conceding less penalty corners. Yes, there are mistakes at times but it (the defence) is stronger. At times we train with the boys (at national camps) to improve on speed so that we can tackle teams like England, who are fast, in a better way. That helps a lot," she added.

At the World Cup, India stand third if one gazes through rankings of teams in Pool B, after England (2) and USA (7). Only Ireland (16) is ranked lower than India, who have entered the top 10 for the first time in history.

Following the announcement of India's 18-strong World Cup squad, coach Marijne also mentioned how important it is to start well against England in his team's opening encounter.

"In order to reach our first goal of qualifying for the quarter-finals, we can only think about the first match against the hosts and the team is excited and confident of starting well against them in front of a packed stadium," he was quoted as saying in Hockey India's press release.

The Indian team will be led by Rani Rampal, who returned to the side for the tour of Spain. She scored three goals in that series, including two in India's 4-1 win in the last match of the tour.

In terms of history, like India, England too have yet to win a World Cup with their best finish being a bronze medal in the 2010 edition. Meanwhile, India's best outing was way back in the inaugural edition in 1974 when they finished fourth.

So there's a lot to play for – for both the teams.

India's World Cup Squad
Goalkeepers
1.     Savita (VC)
2.     Rajani Etimarpu
Defenders
3.     Sunita Lakra
4.     Deep Grace Ekka
5.     Deepika
6.     Gurjit Kaur
7.     Reena Khokhar
Midfielders
8.    Namita Toppo
9.    Lilima Minz
10.  Monika
11.  Neha Goyal
12.  Navjot Kaur
13.  Nikki Pradhan
Forwards
14.  Rani Rampal (C)
15.  Vandana Katariya
16.  Navneet Kaur
17.  Lalremsiami
18. Udita

Hockey World News


---

A hockey crusade, to get people watching the women's World Cup this summer

Todd Williams believes that club first mentality will shape hockey's participation numbers as more children are lured away from open air and onto sofas

Todd Williams




The size and scale of football's World Cup is surely enough to give any other sport a severe inferiority complex. Bigger than the Olympic Games, the cost alone of hosting the number of commentary teams in Russia would probably dwarf the budgets other international sporting organisations are able to spend on their equivalent events.

It's always been my view that the global appeal of football boils down to it being the most perfectly simple game. All you need is a ball and off you go with your team mates using all but your hands to try and score against your opponent.

So why on earth would you play anything else?

If you haven't thought about why you play hockey and why you think kids should play, it is a worthwhile exercise. For me, as someone who has played, and more recently, coached the game since I was five, there are so many reasons why I love the sport. The skills, the competition, the fitness, the tactics, the team work, the great clubs and above all, the great people, many who are lifelong friends spread all around the world.

It's actually as a parent though that I see hockey make its strongest case for being a great sport. Seeing junior clubs, coaches, administrators, umpires, parents and players all around the world working to deliver a well organised, safe, active, competitive team sport for boys and girls of all ages, shapes and abilities is something we should all be proud of.

Despite that, some administrators like Hockey Australia's CEO Matt Favier, see hockey as a sport needing to change to stay "relevant".

Favier speaks of a new age of spectators who "consume sport in a very different way" and corporate partners who are "driven by a new set of success measures". This is of course the language of sponsorship and every sponsor hungry sport's Holy Grail: television.

As a result, Hockey Australia has been on a seemingly relentless crusade to come up with some sort of modified game to appeal to these new sporting consumers. Mixing men's and women's teams into the same game, playing shorter games as well as double value and bonus point goals are all on the menu.

Interestingly, news from Australia has confirmed an impressive five-year deal between FIH and Fox Sports Australia that will include broadcasting the Australian Hockey League.

It remains to be seen whether that will be in its existing form or whether Favier intends to have the more attractive players sent off to an island for a few days in between games, or for bonus goals to be awarded to a player who can pluck a ball out of a bucket of snakes.

Now, there is no argument from me that increasing the coverage of the elite level of competition is part and parcel of increasing the profile of the game at all levels, but as I have said before, pursuing this should not be at the expense of the game itself.



England has experience running through team PIC: Chris Lee

Equally, hockey's top administrators wanting to reduce the dependence on government funding by increasing the broader appeal of hockey to sponsors and television is also entirely justified. For the governing bodies of countries like Great Britain and Australia, there is also the precarious situation of having significant levels of their funding being linked to the performance and ranking of their national teams.

Not only must this create an obvious dilemma in the allocation of resources, but this situation surely isn't a million miles away from the same type of profits first, stability second mentality that the banks so willingly adopted shortly before triggering the global economic crisis? But then that is the medal-driven world we now live in.

Consequently, we are now seeing the top end of our game being pulled from pillar to post in the quest for the IOC's love and the desire for more TV time. Like the IOC, we run the risk of becoming obsessed with appealing to this all-powerful new generation of 15 – 25-year-old sports fans, with their consoles and remotes, forcing us to fit our sport into their fast-food sporting diet if we want to get it on TV and seen by sponsors.

And that is why we need to keep reminding ourselves why we play, umpire, coach or administer hockey and why we think it's a great game for kids to play as well.

That reminder now seems all the more relevant in the context of the IOC discovering last week that its most recently recognised sport – esports – might not be that great for kids or indeed anyone for that matter.

Despite the IOC's endorsing of esports late last year, the World Health Organisation has announced that it was recognising "gaming disorder" as a mental health condition, with the ability to cause debilitating addiction with characteristics similar to substance abuse and gambling.

How this sits with the Olympic ethos of "faster, higher, stronger" remains to be seen given that the IOC insisted that esports "must not infringe" on Olympic values in order to be recognised as a sport. IOC President Thomas Bach said in April that for esports to be a demonstration sport at the 2024 Games in Paris it would be on the condition that there be no promotion of violence.



Hockey has worked hard for television air time PIC: FIH/Twitter

There has, however, been no comment yet from the IOC on what appears to be their support of an activity that promotes the risk of significant mental ill health, particularly one can assume, if you were "training" flat out to win one of their medals.

So maybe it's time that we left the IOC to this modern-day equivalent of tobacco advertising which, you won't be surprised to learn, is also being heavily supported by a salivating gambling industry and instead we became more focused on how hockey can increase its participation numbers, rather than viewers, from our future generations.

Understanding what spectators want is perfectly reasonable but that should only go so far. What is more important is how well we can deliver what we already know is a great game for adults and kids in the local community through strong, active clubs. If we can do that right then a sport can become relevant in even the most unlikely of households, a fact that my local gymnastics club has proved to me in the last few weeks.

As a counter to my above average hockey ability is the fact that I have no idea whatsoever when it comes to playing a musical instrument. At another level altogether below that however is my gymnastic ability.

Nonetheless, I am now one of many parents who happily sit on a viewing balcony at a gymnastics club first thing every Saturday morning watching my seven-year-old leap around like a mad thing. With great coaching and excellent facilities, I smile at her delight even though inside, just watching what she does makes my own back hurt.

I'm on that balcony because my daughter's friends are also at the club and told her how good it was. I'm there because some of the parents I know whose children are there told me well the club is run. I'm there even though I don't ever seriously watch gymnastics on television and couldn't care less if they've changed their competition format. Ironically though, I'd probably watch it now if my daughter asked me to watch it with her.

So, what does all this mean? Well, for a start, the great work from the FIH and national associations has proven that we can get our sport on television, but no matter how hard we battle, it will always be wedged in amongst the major sports.

Of course we must fight to maintain that niche, but when you realise that television will broadcast an overweight Tyson Fury fighting an undersized and woefully under-skilled opponent over four tedious rounds, the chances of getting a genuinely competitive international team sport on the box is pretty good. The real battle though is not for television, it is about television and all other formats on which sport is watched.

As extraordinary as it is to have to say, we need to remind ourselves and perhaps some administrators that sport should be defined first and foremost by participation, not by viewing numbers. The rise of esports tells us that it is more important than ever that all sports, real sports, rally to get people away from screens rather than just be jostling amongst each other to be part of a high-fat, crash, bang, wallop viewing diet.

So, we need more people playing and more people on the sidelines watching people they know play which, I'd politely point out to Mr Favier, is the way good sport and all it's wonderful physical, mental and social benefits should be consumed. That is the battle we should all be joining rather than the "if you can't beat them, join them" approach.

With the women's World Cup in London now only days away and the men's event following at the end of the year in India, hockey will, as it did four years ago in The Hague, have two wonderful showcases of our sport, beaming live around the world. As ever, I'll be pencilling in as much viewing time as I can but this time around I've decided to do something I've never done before. This time, I'm going to make a point of encouraging as many people as I can to watch it as well.




I'm done with keeping quiet when I'm in conversations with non-hockey folk, fearful that raising the topic will draw rolling eyes, groans of displeasure and painful stories of being painfully hit in the shin when playing painful hockey at school. Whereas before that "I used to hate hockey" bloke would get my condolences and an implied admission that by not choosing football or rugby I was a sporting equivalent of a Morris Dancer, he's now getting both barrels.

That includes where he can watch it and, even more important, where he can play it should he ever want to heal the mental scarring, and where his children can play if he's at all interested in them being involved in a great, well-organised, team sport for boys and girls in the fresh air.

So, if you weren't going to it already, why not tell a few more people than you normally would about where to watch hockey and where to play it? With the esports' Death Star looming ominously above us, what parent would choose the now much lower risk of a sore shin over the risk of sleep, attention and anxiety disorders?

And let's not forget, that with the very real possibility that I could be watching a floor routine or vault competition on TV this weekend, the club first mentality might also boost our own viewing numbers.

The Hockey Paper


---

Success for England at Grand Masters World Cup



Over 65s celebrate Gold

England claimed four gold and two silver medals at a hugely successful World Grand Masters World cup in Barcelona.

The tournament was held between the 21 and 30 June with gold medals coming in the Women's Over 60s and 65s as well as the men's Over 65s and 70s. Silver medals were picked up by the men's Over 60s and 75s.

Sue Merry hit a fine hat-trick as England won the Women's Over 60s World Cup. Helen Royan grabbed a double while Margaret Bottomley and Ruth Hine were also on the score sheet.

The team were 3-0 inside eight minutes as they dominated the match from start to finish to deservedly lift the title. Meanwhile England also took gold in the Women's Over 65s with an unbeaten campaign.

In the men's over 65s final England beat Australia 4-1. The teams were level at 1-1 heading into the second half before goals from Bill Deayton, Tim Smith and Jaswant Bansal led England to victory.

The men's over 70s final was a classic which saw England twice come from behind to take the game to a shootout. Stephen Stowell scored twice to keep England in the contest before he kept his cool to score the winning penalty in the shootout.

Full match details, line-ups and scorers from the tournament can be found here.

England Hockey Board Media release


---

2018 Test Matches: BEL v CHI (W)
Brussels (BEL)

BEL v CHI     2 - 0

FIH Match Centre


---

Indian hockey colts beat Bangladesh 6-3 in 3rd practice match

BENGALURU: Indian junior men's hockey team came up with a collective effort to beat Bangladesh 6-3 in the third practice match at the Sports Authority of India centre here on Monday.

The home team built on an early lead with Raj Kumar Pal's third minute field strike.

Though Bangladesh were quick to respond with an equaliser via Rashel Mahamud through a set piece in the 11th minute, India worked on a good defensive structure to keep the visitors at bay till the later stages of the game.

Later on Shilanand Lakra (19th) , Mohammad Umar (22nd), Mandeep Mor (33rd), Hardik Singh (46th) and Abhishek (48th) scored for India to help the hosts take a commanding 6-1 lead.

Though the visitors scored two goals in a span of five minutes in the fourth and final quarter of the match through Mohammad Ashraful Islam (49th) and Mohammad Mahabub Hossain (53rd), but that was not enough to salvage a draw against the Indians.

The Times of India


---

Elliott plays his part in Dusseldorf's rise in Germany



Maurice Elliott celebrates with Dusseldorf team on Sunday

While most countries are in the depth of their summers off, Maurice Elliott's club season only came to an end on Sunday as he helped his German club Deutscher Sportsklub Dusseldorf to promotion from the German regional leagues.

The former Pembroke man and Irish international was on the mark in a 4-1 success over Crefelder HTC in the western division as they finished second in the table, rising to the national second tier for next term.

Elliott relocated to Germany in 2017 where he now works with Trace One as a Product Support Specialist while also playing and coaching with the club. Previously, he played professionally for a season with Beerschot in Belgium in between spells with Pembroke.

Now 35, the 20-cap man is still playing a very high standard of hockey. DSD lost out to a very strong Rot Weiss Koln second team featuring three former Olympians – with plenty of medals between them – in the form of Phillip Zellar and the Wess brothers Timo and Benni.

That left Dusseldorf with it all to do going into the last day of the season with promotion and the league on the line. Deutscher Sportsklub Dusseldorf needed to win to secure promotion and hope that Ulenhorst Mulheim's seconds lost to win the league outright. Unfortunately for DSD, UHM won their final game against Oberhausener, pipping DSD to the championship.

However, the convincing 4-1 win for Dusseldorf over Crefeld was enough to secure promotion to the "Bundseliga 2" for the new season, and the scene was set for the celebrations that followed.

Elliott was coached by Tobias Bergman, a former Swiss International and former team mate of Ronan Gormley of Crefeld, in a team bolstered by the mid-year arrival of three-time Olympic medallist Oli Korn.

Played in 30-degree heat, DSD got off to an early lead with the Mertgins brothers Lukas and Henrik combining nicely with Henrik, a German national hopeful, converting on his reverse stick.

Rachid Sadou made it 2-0 before Elliott got his goal when Korn drove in from the right of the circle to set up the Dubliner who flicked home from nine yards.

Crefelder got one back from a stroke but Henrik Mertgens completed the win in the closing minutes, linking up with Italian international Danniela Coilli.

In a packed hockey weekend, it was the club's third promotion following the men's and ladies second teams who were also promoted from their respective leagues.

For Elliott, he told The Hook the ambition for the club is to reach the top tier in the next few seasons and lay the base for their youth team to aspire to, particularly their Under-14 side became the German Grand Meisters at their level.

The Hook