All the news for Saturday 30 June 2018

Rabobank Hockey Champions Trophy Breda 2018 - Day 6
Breda (NED)

Result

BEL v PAK (RR)     4 - 2

Upcoming 30 June (GMT+2)

14:00     ARG v AUS (RR)
16:00     NED v IND (RR)

Pool standings
| Rank | Team | Played | Wins | Draws | Losses | Goals For | Goals Against | Goal Difference | Points |
| --- | --- | --- | --- | --- | --- | --- | --- | --- | --- |
| 1 | Australia | 4 | 3 | 1 | 0 | 11 | 7 | 4 | 10 |
| 2 | India | 4 | 2 | 1 | 1 | 9 | 5 | 4 | 7 |
| 3 | Netherlands | 4 | 2 | 0 | 2 | 12 | 6 | 6 | 6 |
| 4 | Belgium | 5 | 1 | 3 | 1 | 10 | 13 | -3 | 6 |
| 5 | Argentina | 4 | 1 | 1 | 2 | 5 | 8 | -3 | 4 |
| 6 | Pakistan | 5 | 1 | 0 | 4 | 7 | 15 | -8 | 3 |
---

Red Lions boost hopes of medal at Men's Rabobank Hockey Champions Trophy 2018



Florent van Aubel was on target as Belgium defeated Pakistan in Breda. Copyright: FIH / World Sport Pics

Belgium boosted their hopes of claiming a bronze medal at the Men's Rabobank Hockey Champions Trophy 2018 thanks to an important victory over Pakistan on Day 6 of the event currently taking place in Breda, the Netherlands.

The 4-2 triumph for the Red Lions moved them into fourth place, a result that could be good enough for a place in Sunday's bronze medal match. However, they will need to wait until the results of the two remaining pool phase matches, which take place on Saturday 29 June. The key fixture for the Belgians will be the meeting between fifth-placed Argentina and reigning world champions Australia, with Los Leones needing victory against the team that sits top of the stangings if they are to replace the Belgians in the bronze medal game. 

Both Pakistan (FIH Hero World Ranking: 13) and Belgium (WR:3) came into Friday's contest occupying the bottom two positions in the pool and knew that a victory to either side would keep alive hopes of a medal in Breda. However, following their impressive 4-1 triumph over Olympic champions Argentina on Thursday, the Red Lions faced a Pakistan team riding high on a wave on confidence and the Asian giants were certainly the better team in the opening quarter.

The Greenshirts took a deserved lead in the 11th minute when Aleem Bilal sent a penalty corner rocket just inside the post, raising the prospect of Pakistan defeating both the Rio 2016 Olympic gold and silver medallists in consecutive days. Although Belgium improved in the second quarter - Loick Luypaert was off target with a couple of penalty corners - it was a lead that Pakistan took into half time.

The Red Lions continued to grow into the game and eventually were rewarded for their hard work when team captain Thomas Briels equalised, brilliantly evading Pakistan goalkeeper Imran Butt with a wonderful piece of skill before forcing home from close range. Remarkably, Pakistan and Belgium traded blows to take the score to 2-2, with Aleem scoring another superb penalty corner effort and Belgium's Amaury Keusters tapped home seconds later to restore parity ahead of the final quarter.

Belgium dominated the final period of the game and took the lead for the first time thanks to Cedric Charlier, who was on hand to tap in from close range following a failed penalty corner routine. The win was confirmed by Florent van Aubel's 54th minute field goal, with Tom Boon earning great credit as the creator of the decisive strike.

"We are really happy with the performance, maybe not the level but the character and desire we showed", said Belgium goalscorer Cedric Charlier after the match. "It is a tournament in which we have not showed our best form, so we have had to find other ways in which to win games. Mentally it was really tough to stay in the game, but at the end we tried to do the little things well and that is what gave us the win today."

It was a milestone day for Pakistan's Toseeq Arshad, who made his 100th senior international appearance for the Greenshirts.

The Men's Rabobank Hockey Champions Trophy 2018 continues on Saturday 30th June when the final two matches of the pool phase take place. Argentina's meeting against Australia gets underway at 14:00 Central European Standard Time (UTC +1), with second-placed India and third-placed Netherlands going head-to-head for a place in the competition final against reigning champions Australia at 16:00.

#HCT2018

FIH site


---

Pakistan loses to Belgium 2-4 in last league game

By Ijaz Chaudhry

Pakistan twice led Belgium but eventually lost 2-4 in their last match of the round robin stage of the Champions Trophy Hockey tournament.

Belgium were missing their first choice goal keeper Vincent Vanash. He had to rush home as his wife had gone into labour.

The green shirts made a good start; seemed to be carrying on where they left off in the last match against Argentina. They made incisive raids, had an open play chance and earned three penalty corners. Off the third PC, Aleem Bilal's high flick found the right side of the net.

In the second quarter, Belgium, silver madallist from  the 2016 Olympics and currently World No 3, were decidedly a better side. They repeatedly entered the opponents circle and Pakistani net minder Imran Butt was called to make four saves. Belgium also earned three penalty corners but it ended 1-0 in Pakistan's favour when the sides changed ends.

Third quarter was the most fascinating with fast pole to pole stuff.

Three goals were scored in as many minutes.

In the 36th minute, a swift three men move starting from the Belgian half, culminated in skipper Thomas Briels beautifully side stepping Imran Butt before diving full length to slam the ball in.

Very next minute, Aleem Bilal put his side ahead again with another penalty corner conversion, carbon copy of his first goal.

Soon, it was 2-2. A Belgian build up from left saw Keusters deflecting the ball into the net from close range.

It was all to play for in the last 15 minutes. Belgium surged ahead for the first time by finally availing  their fourth penalty corner. The injection wasnt stopped properly in the circle. But after a couple of good passes, ball was put in by Cedric Charlier.

Their fourth goal arrived courtesy a move starting from just outside the own 23 metres. An excellent long hit from Boccard reached Boon near the circle whose first time ball found Florent van Aubel in front of the goal who made no mistake. In fact, all the three Belgian field goals were scored from close range.

With three points, Pakistan finished at the bottom of the league. Now, they will figure in the 5th/6th position play off on Sunday.

SCORERS:
Belgium: Thomas Briels (36'), Amaury Keusters (39'), Cedric Charlier (51' off PC), Florent van Aubel (54')
Pakistan: Aleem Bilal 2 (11' & 38' both of PC)

PHF Media release


---

Belgium beat Pakistan 4-2




BREDA - Pakistan faced their third defeat in the Hockey Champions Trophy when they were beaten by Belgium by 4-2 in Breda on Friday.

Pakistan opened the account through M Aleem Bilal who converted the penalty corner in the 11th minute to provide his team 1-0 lead. Briels Thomas then scored an equalizer in the 26th minute to make it 1-1. Just after two minutes, Aleem Bilal converted another penalty corner successfully to give Pakistan 2-1 edge once again but the lead couldn't last long as Keusters Amaury slammed in an impressive field goal in the very next minute to square the things once again.

After that, Belgium players changed their game plan, which paid dividend as their attacking game plan not only pressurized the green shirts but also helped them win the game with a good margin of 4-2. Charlier Cédric converted the penalty corner successfully in the 51st minute while Aubel Florent netted the fourth and last one in the 54th minute through field goal to complete the rout for Belgium.

Pakistan team is now out of the race for medals after the 4-2 loss at the hands of Belgium. The green shirts will now play for the fifth position. In their last match, Pakistan won against second-ranked Argentina by 4-1, bouncing back after consecutive defeats against India, Australia and Netherlands.  Six teams are taking part in this year's tournament, which is the last edition of the Champions Trophy. The tournament will be replaced by the Hockey Pro League (HPL) in 2019. Pakistan have three Hockey Champions Trophy titles under its belt, along with finishing as runner-up seven times in the tournament's history.

The Nation


---

Govt withholds PHF grant after team's poor show

ISLAMABAD: Following back to back poor performances and humiliated defeats, the caretaker government has decided to withhold Rs 200 million special grant to the Pakistan Hockey Federation (PHF) with immediate effect.

The News has learnt from well-placed sources in the Ministry of Finance that the grant that was due to be released this week has been withheld following series of embarrassing defeats in junior and senior international events and series.

The financial year ends tomorrow and all efforts on the part of the PHF to get the approved special grant turned futile as government has decided not to release the amount following series of poor shows by the national outfits. "The government has decided to withhold Rs 200 million grant the approval of which was made last month by the previous government headed by Shahid Khaqan Abbasi.

The decision to withhold the grant was taken following series of poor performances including the ongoing Champions Trophy. Every effort has been made to get the amount released but to no avail. Those who matter believe that heavy amount has been granted to PHF during the last three years without any positive results," a source within the Ministry when contacted said.

The News has learnt that a whopping amount of Rs 600 million has been given to PHF in shape of normal and special grant during the last three years. "The government cannot afford any more special grants at a time when results are not coming. The PHF has been given everything they demanded during the last three years, still no positive change has been seen in the standard. Instead the team that was ranked six four years back is now struggling to maintain their 13 ranking. Be it Asia Cup, Azlan Shah Cup, Asian Champions Trophy or Champions Trophy, Pakistan hockey has performed poorly in these three years. There is no wisdom in giving them more amount just for nothing," the official.

The interim set-up has left it for the coming democratic government to decide on granting special grant during coming financial year. "No more special grants for the PHF, the matter has been left for the next financial year where in all probabilities the coming democratic government would decide whether to continue with the same set up." The last three years have been disastrous for Pakistan hockey where the team not only lost the ranking, it was beaten by minnows like Japan, three times in four outings. Oman team that has ranked outside 30 also played draw in three-nation event that Japan won ultimately beating Pakistan in the final.

The worst-ever seventh position in the Gold Coast Commonwealth Games and poor performance in the Asian Champions Trophy and last year Azlan Cup are also goes to discredit of current PHF hierarchy.

As if that was not enough, the national team which is being trained and coached by Dutch coach Renault Oltmans has been beaten in each and every game it has played so far in the ongoing Champions Trophy under way in Breda.

The News International


---

India need draw against Netherlands to enter final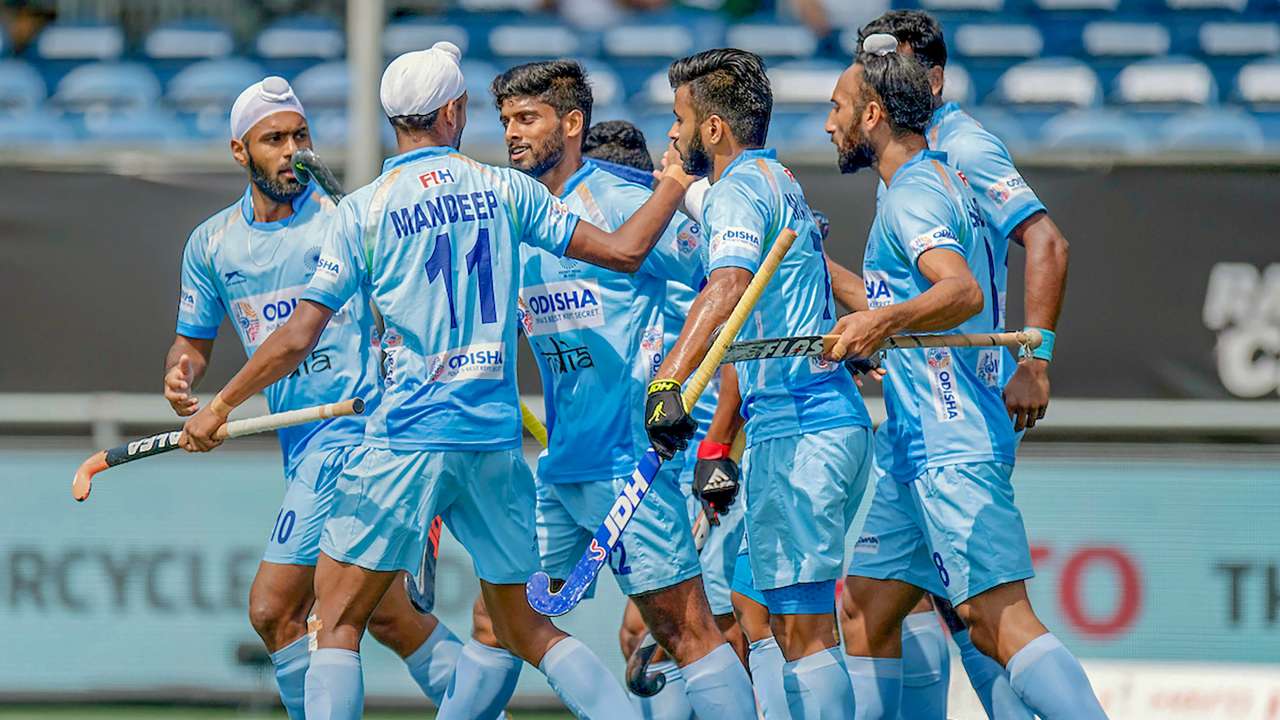 The Indian men's hockey team in action during the ongoing Champions Trophy in Netherlands , PTI

India would look to eke out at least a draw against hosts Netherlands in their last round robin match in Breda on Saturday, a result that will be enough for the eight-time Olympic champions to grab a second consecutive final spot at the Champions Trophy hockey tournament.

India are currently placed second in the standings with seven points from two wins, one loss and a draw. Defending and world champions Australia are atop the table with 10 points and have already secured a berth in Sunday's summit clash. As per the rules of the six-nation tournament, the top two teams from the round robin stage will play in the final.

For India the equation is simple -- a draw on Saturday would surely guarantee their place in what can be termed as a repeat of 2016 Champions Trophy final in London. For Netherlands, it is a must-win match as only a victory can ensure their place in the final.

In the other inconsequential match of the day, in-form Australia are considered as hands down favourites against Olympic champions Argentina. Under new chief coach Harendra Singh, India could not have asked for a better start to their campaign here. The Indians mauled arch-rivals Pakistan 4-0 before stunning Argentina 2-1.

But thereafter, India lost to Australia 2-3 after a valiant fight before conceding a late goal to draw 1-1 against Belgium last night. But the results of the opening two games hold India in good stead as they now need just a draw against Netherlands to secure their final berth.

Even though Ramandeep Singh's injury hurt India badly, but the strikers have been in good form in this tournament. The likes of Mandeep Singh, Dilpreet Singh and Lalit Upadhayay have lived upto expectations but SV Sunil looked a pale shadow of himself.

The defenders too did a decent job but in the last two games against Australia and Belgium, they crumbled when put under immense pressure. Experienced PR Sreejesh has been phenomenal under the goal for India and it solely because of his heroics, India managed to garner a point against Belgium on Thursday.

But the major cause of concern for India would be their penalty corner conversion rate. Despite earning a handful of penalty corners in the last four games, India converted just three through Harmanpreet Singh. And Harendra would need to address these issues if India want to win their maiden Champions Trophy title in the last edition of the tournament. Even though India need just a draw to progress, Harendra and his team would definitely go for the kill against the hosts on Saturday.

Daily News & Analysis


---

Hockey Series Open - Singapore 2018 (Men) - Day 5
Singapore (SGP)

Results

MYA v INA (RR)     7 - 1
THA v HKG (RR)     5 - 1
SGP v TPE (RR)     4 - 0

Final Pool standings

Hockey Series Open - Singapore 2018 (Women)
Singapore (SGP)

Results

HKG v INA (RR)     12 - 0
KAZ v THA (RR)     0 - 4
MAS v SGP (RR)     5 - 0

Final Pool standings
---

Malaysia v Thailand final

By Jugjet Singh

KUALA LUMPUR: The Malaysian women's team will play Thailand on Sunday for the Hockey Series Open gold medal at the Seng Kang Stadium.

Yesterday, Malaysia beat Singapore 5-0 to top the standings on maximum 15 points, while Thailand beat Kazakhstan 4-0 to finish second on 12 points.

Thailand lost to Malaysia 4-0 in this tournament, and are not expected to stop coach K. Dharmaraj's charges from claiming a golden finish.

The finalists in Singapore advance to the next stage, yet to be decided by the International Hockey Federation (FIH).

From all teams competing in this first round, a minimum of 15 teams will qualify for one of three separate Hockey Series Finals.

Each of the Hockey Series Finals will have eight teams playing in them, and will take place throughout the world, with berths into the Olympic qualification events up for grabs.

Malaysia got their goals off Nur Zafirah Aziz (first), Wan Norfaiezah Saiuti (sixth), Nur Amirah Shakirah Zulkifli (30th), Fatin Shafika Shukri (56th) and Nuraini Rashid (58th).

"As the highest ranked team in this tournament, of course we want to win gold and even though we did beat Thailand 4-0 in the pool stage, we will not take them lightly in the final.

"Thailand have always had an ambition to beat Malaysia and so, we can't afford to give them much space on Sunday," said Dharmaraj.

For the record, Malaysia beat Thailand 2-0 in the 2017 Kuala Lumpur Sea Games final.

FINAL STABDINGS

                          P  W  D  L  F    A   Pts
Malaysia        5  5  0 0  45 1   15
Thailand 5  4  0 1  25 4   12
Kazakhstan 5  3  0 2  15 12   9
Singapore 5  1  1 3  7          9    4
Hong Kong  5  1  1 3  12 17   4
Indonesia 5  0  0 5  0          61   0

Jugjet's World of Field Hockey


---

Peerless Malaysia set to bag World Series hockey title

KUALA LUMPUR: Malaysia will face Thailand in the final of the women's World Series hockey tournament in Singapore tomorrow.

Coach K. Dharmaraj's players kept a 100% record by winning all five round-robin matches.

They wrapped up their fixtures by outplaying hosts Singapore 5-0 at the Sengkang hockey stadium yesterday.

Thailand outplayed Kazakhstan 4-0 to finish second in the six-nation tournament with 12 points from four wins and one defeat after the round-robin fixtures.

Malaysia and Thailand have qualified for the Round Two of the World Series. The dates and venue of the competition have not been decided by International Hockey Federation (FIH).

Malaysia started off well by taking the lead in the first minute through Nur Zafirah Aziz yesteday.

Five minutes later, they doubled the score off another field goal scored by Wan Norfaiezah Mohd Saiuti.

Malaysia continued to pile up the pressure and added three more goals through Nur Amirah Shakirah Zulkifli (30th), Fatin Shafika Mohd Shukri (55th) and Nuraini Abdul Rashis (58th).

Team manager Lailin Abu Hassan said they fielded some younger players against Singapore to gain exposure.

"We started off well by taking a 2-0 lead in the first six minutes of the match but we were disappointed for missing a number of sitters.

"We want the players to play much better in the final to win the tournament," said the former international.

Malaysia, who beat Thailand 4-0 in their round-robin encounter, will start off as favourites to win the final tomorrow.

The Star of Malaysia


---

Hockey Series Open - Zagreb 2018 (Men) - Day 5
Zagreb (CRO)

Results

SUI v AUT (RR)     0 - 8
CRO v SVK (RR)     6 - 1

Pool Standings
| Rank | Team | Played | Wins | Draws | Losses | Goals For | Goals Against | Goal Difference | Points |
| --- | --- | --- | --- | --- | --- | --- | --- | --- | --- |
| 1 | Austria | 3 | 3 | 0 | 0 | 14 | 2 | 12 | 9 |
| 2 | Wales | 3 | 2 | 0 | 1 | 13 | 5 | 8 | 6 |
| 3 | Croatia | 3 | 2 | 0 | 1 | 10 | 4 | 6 | 6 |
| 4 | Switzerland | 4 | 1 | 0 | 3 | 3 | 18 | -15 | 3 |
| 5 | Slovakia | 3 | 0 | 0 | 3 | 3 | 14 | -11 | 0 |
---

Grand Master Hockey World Cup 2018 - Semi Finals
Real Club de Polo de Barcelona

Semi Finals and Classification Results
Grand Master Hockey World Cup 2018 Mens 60+
Grand Master Hockey World Cup 2018 Mens 65+
Grand Master Hockey World Cup 2018 Mens 70+
Grand Master Hockey World Cup 2018 Mens 75+
Grand Master Hockey World Cup 2018 Womens

Grand Master Hockey World Cup 2018 Mens TT 60+
Grand Master Hockey World Cup 2018 Mens TT 65+
Grand Master Hockey World Cup 2018 Mens TT 70+

FIH Match Centre - Masters


---

U.S. O-60 Men's Masters Team Splits Crossovers to Land in 13th Place Match at FIH Grand Masters World Cup

BARCELONA, Spain - After a victory in their final pool play game, the U.S. O-60 Men's Masters Team fell into the 9th-16th crossover portion of the FIH Grand Masters World Cup at the Real Club de Polo de Barcelona in Barcelona, Spain. On Wednesday, in their first classification match, they faced Ireland and unfortunately were defeated 0-4. This landed them into the lower half of the crossovers in the 13th-16th portion against Argentina. Eager to find revenge from the previous day, USA produced two goals in each half on Thursday for a comfortable 4-0 win.

Game 5: IRL 4, USA 0 (9th-16th)

To start, the match was pretty even between USA and Ireland. It took until late in the first half at the 24th minute mark for Ireland's Billy Pollock to convert on a field goal. Six minutes later, Richard Clarke added another off a penalty corner to give Ireland a 2-1 halftime advantage.

The Green Machine tallied two more off field goals from Ian O'Keefee and Eddie O'Malley to bring the final score to 4-0.

Game 6: ARG 0, USA 4 (13th-16th)

Fueled from the defeat against Ireland in the first classification match, USA came out on Thursday hungry, with an edge to find the goal. That was true in each half as USA was able to produce two goals in each from four different goal scores. In the 15th minute, the first goal was tallied by Peter Jones (Stamford, Conn.) off a penalty stroke. Five minutes later, Chamkaur Gill (Placentia, Calif.) converted on an excellent field goal to make it 2-0 at the half.

It took until late in the second half for Alva Serrette (Stone Mountain, Calif.) to add his name to the scoresheet when he scored on a 3-on-1 field goal. To round out USA's day, Aaron Sher (Scottsdale, Ariz.) scored with two minutes remaining in the game off a penalty corner to make the final score 4-0.
Tomorrow, June 30, the U.S. O-60 Men's Masters Team has their final game of the FIH Grand Masters World Cup against Singapore at 8:15 a.m. ET for 13th place.

USA Field Hockey would like to take this time to extend condolences to team member Darryl Michael, who fell seriously ill during tournament play. The USA Masters Committee has set up a GoFundMe account to help support Darryl and his family with medical costs. Thanks to generous donations, the USA Masters Committee reached it's funding goal in less than 24 hours and is continuing to accept donations to support their teammate through his recovery process. If you would like to contribute to the GoFundMe campaign, click here.

USFHA media release


---

2018 4 Nations Invitational Tournament (W) (NED) - Day 3
Breda (NED)

Results

ESP v CHN (RR)     2 - 6
NED v JPN (RR)     4 - 1

Final Pool standings
| Rank | Team | Played | Wins | Draws | Losses | Goals For | Goals Against | Goal Difference | Points |
| --- | --- | --- | --- | --- | --- | --- | --- | --- | --- |
| 1 | Netherlands | 3 | 3 | 0 | 0 | 13 | 1 | 12 | 9 |
| 2 | Japan | 3 | 2 | 0 | 1 | 7 | 6 | 1 | 6 |
| 3 | China | 3 | 1 | 0 | 2 | 7 | 12 | -5 | 3 |
| 4 | Spain | 3 | 0 | 0 | 3 | 3 | 11 | -8 | 0 |
---

Hockey India names women's team for World Cup




Hockey India today announced the 18-member Indian women's hockey team for the prestigious Vitality Hockey Women's World Cup London 2018 which will begin on 21 July. India will play Pool B along with hosts and world number two ranked England, USA (WR:7) and Ireland (16).

The team will be led by experienced forward Rani while goalkeeper Savita will shoulder the responsibility of Vice-Captain. Fellow Goalkeeper Rajani Etimarpu returns to the team after having been rested for the Spain Tour.

"We have a good blend of experience and youth in the team. The recent Spain Tour has given the team great confidence to do well at the World Cup."
Sjoerd Marijne, India Chief Coach

India's defence will consist of Sunita Lakra, Deep Grace Ekka, Deepika, drag-flicker Gurjit Kaur and youngster Reena Khokhar who makes a comeback into the team. In the midfield, Namita Toppo, Lilima Minz, Monika, Neha Goyal, Navjot Kaur and Nikki Pradhan will hold fort.

India's captain Rani returned to the team during their Spain Tour and will again be leading her team's forward-line. The ace-striker will be linking up with the experienced Vandana Katariya while Navneet Kaur, Lalremsiami and Udita will also provide them support in attack.

"It was not an easy decision to select the 18-member team as all the core probables have worked really hard in the National Camp. However, we feel that this 18-member team will be the best mixture to be successful at the Vitality Hockey Women's World Cup London 2018," stated Chief Coach Sjoerd Marijne.

On the team's balance, the Dutchman said, "We have a good blend of experience and youth in the team. The recent Spain Tour has given the team great confidence to do well at the World Cup. Our focus is on the first match against England."

"In order to reach our first goal of qualifying for the quarter-finals, we can only think about the first match against the hosts and the team is excited and confident of starting well against them in front of a packed stadium," expressed Marijne.

India's squad for the Vitality Hockey Women's World Cup London 2018:

Goalkeepers
1.     Savita (Vice-Captain)
2.     Rajani Etimarpu                        
Defenders
3.     Sunita Lakra
4.     Deep Grace Ekka
5.     Deepika
6.     Gurjit Kaur
7.     Reena Khokhar
Midfielders
8.    Namita Toppo
9.    Lilima Minz
10.  Monika
11.  Neha Goyal    
12.  Navjot Kaur
13.  Nikki Pradhan
Forwards
14.  Rani (C)
15.  Vandana Katariya
16.  Navneet Kaur
17.  Lalremsiami
18.  Udita

Courtesy of Hockey India

FIH site


---

Women's hockey World Cup will be cauldron of noise, says England great

By Rod Gilmour




Hockey great Kate Richardson-Walsh says that England's rival teams at the women's World Cup will experience a "cauldron of noise" at the Olympic Park.

After ending a lengthy career at the top of the sport after Rio Olympic gold, the 38-year-old also said she would be "a tiny bit jealous" of her former team-mates on the pitch this summer, due to the sheer size of the event.

This week pictures emerged of the main grandstand being erected at Lee Valley, with the venue set for a record 15,000 capacity and Richardson-Walsh, who will be commentating for BT Sport this summer, admitted that this would make for an "amazing atmosphere".

"The stand is really tight around the pitch and it will just be a proper cauldron of noise," she told 5 Live's Friday Sports Panel.

"I'm a little bit jealous that I'm in a commentary box and not out there playing but it will be incredible."

The gold medal-winning Olympian believes that the sporting events such as football World Cup and Wimbledon will keep the sporting juices in the UK well and truly alive with the hockey showpiece beginning just one week later on July 21.

"Keep the World Cup fever flowing, that's what we are after," added the former captain.



Extra seating has been erected PIC: Twitter/Iain Edmondson

Asked who would be the standout players in London when England play India in three weeks time in their opening game, she said that it would be a collective effort over individual stars coming to the fore.

"It sounds a bit clichéd now but we won that gold medal in Rio as Great Britain as we were a squad and it wasn't just the players there, it was the 31," she admitted.

"It's the same this time. We've had some difficult injuries so we are missing a few senior players with concussion but the likes of Alex Danson, Hollie Pearne-Webb, Laura Unsworth, Lily Owsley … we've got some absolute quality running through the field so it will be case of all the youngsters, exactly like the football team, enjoying themselves and going out there and showing what they can do."

England will continue preparations next week when they play warm-up games against Germany at Lee Valley, while England Hockey will also be launching the player's kit for the World Cup in London on Thursday.

The Hockey Paper


---

From FIFA to FIH: CEO Thierry Weil relishing new challenge



New FIH CEO Thierry Weil reflects on his first three months in charge Photo: Getty Images

Reflecting on his first three months in charge, new International Hockey Federation (FIH) CEO Thierry Weil gives his first interview in which he reflects on his move from the world's largest international sports federation, FIFA, to head of a sport that has been working hard to innovate and grow in recent years.

One of his first observations has been the passion that people within the FIH have for their sport. This, he considers, is both a blessing and challenge. He explains:"From the President to the Executive Board to the office staff, there is a passion for the sport that comes from lifelong involvement. For some people, they have been in hockey their entire lives and their parents were involved in the sport before them."

For Weil, this is somewhat at odds with the concept of a 'Hockey Revolution'. "The term 'revolution' means dramatic change, so for me, as an outsider, a revolution within the sport is an exciting prospect but it's not easy to implement because the passion for the sport makes it difficult to introduce too much radical change."

"The Hockey Revolution is an ambitious mission but it opens a lot of possibilities in view of new initiatives and different approaches."
Thierry Weil, FIH CEO

But being an outsider and a newcomer to the sport has its advantages. "I can ask stupid questions or have crazy ideas that would actually fit in with the idea of a Hockey Revolution. They are the questions that those within the sport would never dream of asking. It means I can have conversations that at least will open people's minds to new ideas."

For Weil, the three words that drew him to the role of CEO were "FIH Pro League", and his views on this are outlined in the second part of this interview to be published shortly. However, not surprisingly for someone brought up in the world of football, while the FIH Pro League is a thrilling initiative, it is the World Cup that remains the number one event.

"I see the World Cup as the pinnacle. It is the biggest event. The Olympics is also big but the World Cup is an FIH event and so must be the top. And it has so much commercial value – two World Cup events in a year is great commercially as well as for the sport's profile."

Reflecting on the Hockey Revolution, how dramatic will it be under its new leader?

"The Hockey Revolution is an ambitious mission but it opens a lot of possibilities in view of new initiatives and different approaches," says Weil. "I think that the way to increase the popularity of the game is to make it simple to play and easy to understand."

Weil cites two areas, aside from the FIH Pro League and the Hockey Series, in which the game can grow commercially: the development and spread of the short-form version of the game, and the introduction of exhibition matches in cities, so that people can just turn up and watch the sport as they are walking around town.

These initiatives will help increase the fan base and participation rates, which in turn will have a positive knock-on effect on FIH's ability to find commercial partners. To back up these ambitions, in 2018 and 2019 FIH will invest more than ever in its dynamic broadcast and content strategy, with the aim of raising the quality of coverage. This will include features that will help spectators understand the game better.

Three months in and Weil is a huge fan of the sport. He says hockey has great potential to grow, develop and lead the way in innovation. At its heart is the fact that it is both a team sport and a sport that is enjoyed and played equally by men and women, of all ages and ability.

"Hockey has already taken a big step forwards over the past few years," says Weil, and, while it might not be a revolution in the strictest sense of the word, he is excited to be leading hockey into the brave new world of commercial sport.

FIH site


---

'Hockey World Cup must remain priority over Olympics'

By Richard Bright



World beaters: The Kookaburras won the 2010 Hockey World Cup

The World Cup must remain the pinnacle of the sport over the Olympics and the looming FIH Pro League, says world hockey chief Thierry Weil.

In his first interview since taking over the helm of the International Hockey Federation in March, Weil also said that coming from a non-hockey background – he was previously at soccer governing body Fifa – meant that his "crazy ideas" would "fit in" with the FIH's self-billed Hockey Revolution, a term outlined when announcing its 10-year strategy for the sport in 2014.

"The term 'revolution' means dramatic change, so for me, as an outsider, a revolution within the sport is an exciting prospect but it's not easy to implement because the passion for the sport makes it difficult to introduce too much radical change," he told the FIH.

"The Hockey Revolution is an ambitious mission but it opens a lot of possibilities in view of new initiatives and different approaches."

Weil, a Frenchman, suggested that he could also ask "stupid questions" in regards to offering new ideas in raising the value of the sport.

"They are the questions that those within the sport would never dream of asking," he added. "It means I can have conversations that at least will open people's minds to new ideas."

With 35 years behind him as an executive, more recently with Fifa, Weil is adamant that the World Cup is where the sport must focus its attention to gain the most value.

He said: "I see the World Cup as the pinnacle. It is the biggest event. The Olympics is also big but the World Cup is an FIH event and so must be the top. And it has so much commercial value – two World Cup events in a year is great commercially as well as for the sport's profile."

The FIH also stated that over the next 18 months it will invest "more than ever in its dynamic broadcast and content strategy" with the aim of raising the quality of coverage.

The Hockey Paper