All the news for Tuesday 26 June 2018

Rabobank Hockey Champions Trophy Breda 2018
Breda (NED)

Fixtures 26 Jun 2018 (GMT+2)
18:00     ARG v BEL (RR)
20:00     NED v PAK (RR)

Pool Standings
| Rank | Team | Played | Wins | Draws | Losses | Goals For | Goals Against | Goal Difference | Points |
| --- | --- | --- | --- | --- | --- | --- | --- | --- | --- |
| 1 | India | 2 | 2 | 0 | 0 | 6 | 1 | 5 | 6 |
| 2 | Australia | 2 | 1 | 1 | 0 | 5 | 4 | 1 | 4 |
| 3 | Netherlands | 2 | 1 | 0 | 1 | 7 | 3 | 4 | 3 |
| 4 | Argentina | 2 | 1 | 0 | 1 | 3 | 3 | 0 | 3 |
| 5 | Belgium | 2 | 0 | 1 | 1 | 4 | 9 | -5 | 1 |
| 6 | Pakistan | 2 | 0 | 0 | 2 | 1 | 6 | -5 | 0 |
---

Stats Speak: Australia has all wins record versus India on the Dutch soil

By B.G.Joshi (Sehore-Bhopal, India)

Resurgent Indian team has to fight against all odds in match against Triple Title holders (World Cup-2014, Champions Trophy-2016 and World League-2017) Australia. India has won only 22 in 122 matches played so far. Kookaburras have clean slate on the Dutch soil, they won all 6. India have won once only (Bendigo Test match) in last 10 matches. Tomorrow (June 27) India will lock horn against Australia at 6:30 pm (IST).

India-Australia: at a glance
| | | | | | |
| --- | --- | --- | --- | --- | --- |
| Tournament | MP | W | D | L | Last Wins |
| Olympics | 10 | 3 | 1 | 6* | Munich 1972,3-1 |
| World Cup | 8 | 1 | 1 | 6 | Buenos Aires 1978,2-0 |
| Champions  Trophy | 15 | 2 | 2 | 11^ | Cologne 2002,3-2 |
| Hockey  World League | 4 | 0 | 1 | 3 | - |
| Common wealth Games | 5 | 0 | 0 | 5 | - |
| Azlan Shah Cup | 16 | 3 | 1 | 12 | Ipoh 2015,4-2 |
| Hockey Australia Challenge Cup | 24 | 2 | 3 | 19 | Sydney 2003,5-3 |
| Other Invitations Tourneys | 17 | 4 | 5 | 8 | Lucknow IGIG 1996,2-1 |
| Matches played in test series | 23 | 7 | 3 | 13 | Bendigo 2016,3-2 |
| Total | 122 | 22 | 17 | 83 | Bendigo 2016,3-2 |
| Last 10 matches | 10 | 1 | 1 | 8 | Bendigo 2016,3-2 |
| On Netherlands Soil | 6 | 0 | 0 | 6 | - |
 *In Montreal Olympics (1976), playoff match for SF berth India lost in tie breaker (FT 1-1, TB 4-5).
^In final match of London Champions Trophy (2016) India lost in Shoot out (FT 0-0, SO 1-3).

Fieldhockey.com


---

Hertzberger enjoys "best half" of hockey with the Netherlands in Breda



©: Frank Uijlenbroek/world Sport Pics

The Netherlands will look to build on Sunday's 6-1 win over Belgium when they face Pakistan in Breda on Tuesday on day three of the Rabobank Champions Trophy.

"That was so much fun, I really enjoyed that", said HC Rotterdam's Jeroen Hertzberger after the match. "I think that first half was probably the best half of hockey I have ever played in. I had a smile on my face all the way though."

A huge home crowd were given a superb show in the day's second match, with the Netherlands producing a spellbinding performance to defeat neighbours Belgium.

The Red Lions hit the post in the opening minute before the Dutch ran riot, scoring three times between the fourth and sixth minutes through Seve van Ass and Roel Bovendeert (2).

Strikes from Jeroen Hertzberger and Mirco Pruijser took the score to 5-0 at half time, with Belgium reducing the deficit thanks to John-John Dohmen after the break. Hertzberger, playing his first major international competition since Rio 2016, claimed his second and the Netherlands' sixth goal from the penalty spot to complete a stunning final score for the hosts.

Asian continental champions India ended the second day of action at the top of the table thanks to a fine win against Olympic champions Argentina. Australia finished the day in second place courtesy of a victory against Pakistan, while home favourites the Netherlands were in scintillating form by overpowering Belgium.

Tuesday sees two potentially thrilling encounters in Breda. At 6pm (CET), Olympic champions Argentina face Belgium in a rematch of the Rio 2016 gold medal game before hosts the Netherlands take on Pakistan at 8pm.

Euro Hockey League media release


---

Sardar Singh's unflinching determination during long career makes him an all-time great

Sundeep Misra



It is also fate that his 300th came against the Olympic champions Argentina and the 2-1 win was the icing on the cake. Image courtesy: Twitter @TheHockeyIndia

On 21 March, the Indian hockey team for the Commonwealth Games (CWG) had been announced. Besides the usual suspects, there were a couple of newcomers – Dilpreet Singh and Vivek Prasad. But most news establishments ran with the headline: Sardar Singh axed as Hockey India announce 18-member squad. The Times of India headlined: Sardar, Ramandeep dropped for varied reasons. The Indian Express wrote: Old hand Sardar Singh loses out to fresh legs in hockey squad for CWG 2018 while The Hindustan Times said Sardar Singh axed, goalkeeper PR Sreejesh makes comeback.

There were no questions asked. And neither were there any queries when Sardar was sent as captain to the 2018 Sultan Azlan Shah, captaining a team destined and doomed to fail. Almost half the senior team had been rested. It was taken for granted that a 31-year-old had developed the legs of a 60-year-old. It was also conveniently forgotten that midfielders, creators in sport, also used their Cerebellum or brain as we call it; legs are just one part of a hockey player's physicality. Otherwise, most sprinters could easily have second careers as field hockey players.

Something else also happened on 21 March. Sardar congratulated the team going to the Gold Coast and put a call through to the Grand Hyatt in Chandigarh. He confirmed that his membership was still intact and then said he would be using the gym for an extra hour every day and the pool in the morning and evening. Sitting on 298 matches after the 4-1 win over Ireland at the Azlan Shah tournament, he wanted to reach 300 Internationals; the burning desire, however, was to make a comeback, prove the detractors wrong and tell the critics he wasn't finished as a player. "I knew that I could play and contribute," he said a few days after the CWG team was announced. "But I am perplexed and very confused why I have been left out."

Sardar spent time with his family and friends. Some did believe he won't make it back to the Indian team. Some asked him to announce his retirement. Reporters wanted reactions. Sardar politely refused. He started doing yoga, swam and channelized any negative thoughts pumping iron, swimming extra laps and drinking his favourite lemon tea with honey. Even though he knew it was tough, he kept his dream alive.

At the CWG the young legs ran faster. Moving up and down the pitch was great. Switching between positions happened. But little less. Goals dried up. Young legs and minds couldn't coordinate play the way, the Coach, Sjoerd Marijne wanted it. By the time India played the semi-finals and then finished fourth, losing out on the bronze medal match; it was a foregone conclusion that something had misfired. Sardar didn't watch all the games. "Too painful," he said. During the matches, he either went out or hit the gym. Too many outside, it was quite clear that the team lacked clarity and experience.

On 20 April, Hockey India announced a list of 55. Sardar was in the mix. Speaking to The Indian Express, Sardar said, "I have been working on my fitness. I was regularly hitting the gym during the lay off period. I think it was a much needed break for me to regroup myself. As for now I am just hoping to make it back to the camp."

David John, India's high performance director also said, "The selection was based on form (for the CWG). They played two of the previous four tournaments. We used those tournaments as a guide to see which was our best and inform team."

It's also true that if India had made it to the CWG final, Sardar's career would have been done and dusted. From the ashes of India's failure came Sardar's resurrection.

The former Indian captain, widely regarded as one of country's hockey greats, is not too complex a character. In fact, apart from his brother Didar Singh, not many have unravelled that personality. To many, it was a surprise that he didn't criticise the coaches or Hockey India for being so unceremoniously dropped. Nothing on fading skills but simply ageing legs. Sardar spoke about everything from his training regime to trying to understand the reasons for being dropped. But even if he felt that the decision was biased and had nothing to do with his skills or fitness, he rarely spoke or reacted. Just nods and 'hanji paji.'

Much is made of the meeting he had with the strong-man of Indian hockey and the FIH president Narinder Batra. Apparently he stated his point of view. In modern sport, arguments and opinions are on one side but what picks you is performance. In the camp, Harendra Singh saw enough to select Sardar once again for the national team thus setting up the 299th and 300th international match that Sardar played at Breda in the Champions Trophy.

It is also fate that his 300th came against the Olympic champions Argentina and the 2-1 win was the icing on the cake. Two months back, a conversation on his comeback would have looked as bleak someone predicting Panama to win the FIFA World Cup.

Adversity in life may be a thing of the past for Sardar. But for someone who ran alongside sugarcane trolleys near his village just ahead of Sirsa, pulling out a few so that he could take them home; his hockey shoes as a youngster were sewed almost every second day by the local 'mochi' till the man gave up as there was no way to hold the canvas together, determination becomes a way of life. Talent was never taken for granted. The swish of the stick from left to right; that uncanny insight; the 360 degree vision; the heart that pumps like a marriage hall generator; the change of pace and direction of the ball may have reduced in some form or the other. And their replacements are experience, calmness, and reduced risk-taking, holding the ball, waiting for the opportunity and playing in a non-designated zone or area. In other words, he holds the team whenever he is on the pitch, running into empty spaces to free up the play if a teammate is stuck with two opponents on him. His body has paid a price for those 300 Internationals, but Harendra at the moment, is ensuring that the team is feeding off his experience and the youngsters are enjoying his mentorship.

In the match against Argentina in the 2nd quarter, Vivek ran into an empty space on the right and was confronted with two Argentines and no space to release. Sardar, on the left, realised that a second earlier and created space by running into another pocket giving another channel for Vivek to release the ball. Two things happened: Vivek understood the importance of keeping a channel open and also that while moving up, a 180 degree vision is more paying than a narrower 90 degree.

To imagine that Sardar would play like the man who pillaged teams between 2010 and 2014 is unfair, unrealistic and outrightly naive. Sardar's role in the team is bigger. He is not there to run and pick up every ball. He lends that shoulder on which the player leans. He creates pockets of play, which in a sport as fast as hockey, you don't realise till you keep following him. In the match against Pakistan, Harmanpreet Singh was tackled in the midfield and the ball taken. The counter was set up but a second before Sardar was running in behind Harmanpreet just in case he lost the ball.

Ten yards into Indian Territory, Sardar snatched the ball back and prevented a counter and a possible threat to the Indian goal.

For a man who was the youngest ever to captain India at the age of 21 at the 2008 Azlan Shah Cup, the last few years have been nothing but tumultuous. Since winning the 2014 Asian Games Gold, life has been turned inside out by allegations of rape (the case is still on though Punjab Police say there is no evidence), losing the captaincy just before the 2016 Rio Olympics, court cases that took a toll in 2017 and a police station appearance in Leeds to be questioned by the Yorkshire Police; coming a day after India thrashed Pakistan 7-1 at the World Hockey League in London. The worse seems to be over.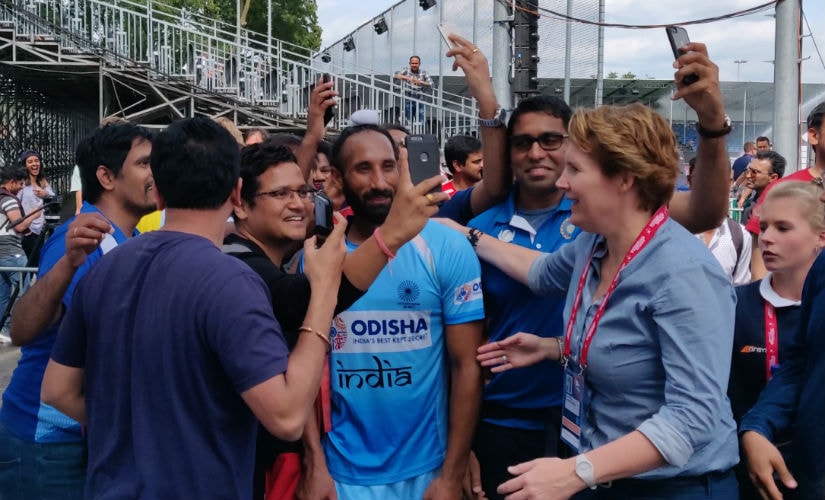 At the Bangalore airport before the team left for the Champions Trophy, they ran to him for selfies and here in Breda, it takes a while before he can get past the crowds to reach the post-match interview area. Image Courtesy: Sundeep Misra

Playing the Champions Trophy here in Breda, nothing would be better for the team and Sardar that they climb onto the podium. But a medal finish will not remove the sword hanging over Sardar's head. His aspires to play the 2018 World Cup in Bhubaneswar along with the Asian Games in Jakarta. But that strictly remains with just two people – one Sardar and the other Harendra. If Sardar keeps performing, picking him will not be a problem. Harendra may seem emotional on the outside but inside he is a man dedicated to just one cause – the Team. Nothing will disturb the fact that he will train and pick players on the ability to deliver. No personal biases or anything else will cloud his judgement.

Popularity wise, he is still mobbed by Indian fans. At the Bangalore airport before the team left for the Champions Trophy, they ran to him for selfies and here in Breda, it takes a while before he can get past the crowds to reach the post-match interview area.

On the team board, on the day of his 300th match, Harendra wrote, "The Lion will hunt today." At the mixed zone, when a reporter asked him about Sardar's comeback, he said, grinning from ear to ear: "He is a Lion. You cannot cage the Lion." Before the match, the entire Indian team knelt down when Sardar entered the ground; a grand gesture for a great player.

Former Indian captain Ashok Kumar, who after Sardar was dropped from the CWG team had predicted that 'I am sure Sardar will make his way back' said after the match against Pakistan, "Harendra knows what his qualities are and what standard he plays at. He is the world's best and most dependable player. His passes, distribution, his assessment and anticipation, there is no answer to that. He is one of the best."

On the eve of the 300th, Harendra said, "I think for everyone he is special. There is so much physical demand in modern hockey and any player who crosses 200 is a legend for me. And we play continuous hockey. And the physical demand, the psychological demand and motivational demand when a player crosses 300, it is a big milestone. My salute goes to Sardar; he kept pushing himself and kept getting his space. And at the same time the entire country must be proud that one of the player's is going to play 300th match."

After Dilip Tirkey (412), Dhanraj Pillay (339), Baljit Singh Dhillon (327), Pargat Singh (317) and Mukesh Kumar (307), Sardar is the sixth player to enter the 300 club. In the end, he only had one thing to say about the 300th – "I would say that I am lucky to play 300 matches for the country."

'400?' Sardar laughs with that look where his eyes stretch away into his scalp. At the moment he is enjoying himself. He has come through a tough period, assailed by self-doubts. That 300-plus-international ravaged body would rather take it day by day.

Firstpost


---

Hockey Series Open - Zagreb 2018 (Men) - Day 1
Zagreb (CRO)

Results

WAL v SVK (RR)     6 - 1
SUI v CRO (RR)     0 - 2

Pool Standings
| Rank | Team | Played | Wins | Draws | Losses | Goals For | Goals Against | Goal Difference | Points |
| --- | --- | --- | --- | --- | --- | --- | --- | --- | --- |
| 1 | Wales | 1 | 1 | 0 | 0 | 6 | 1 | 5 | 3 |
| 2 | Croatia | 1 | 1 | 0 | 0 | 2 | 0 | 2 | 3 |
| 3 | Austria | 0 | 0 | 0 | 0 | 0 | 0 | 0 | 0 |
| 4 | Switzerland | 1 | 0 | 0 | 1 | 0 | 2 | -2 | 0 |
| 5 | Slovakia | 1 | 0 | 0 | 1 | 1 | 6 | -5 | 0 |
---

Wales make winning start against Slovakia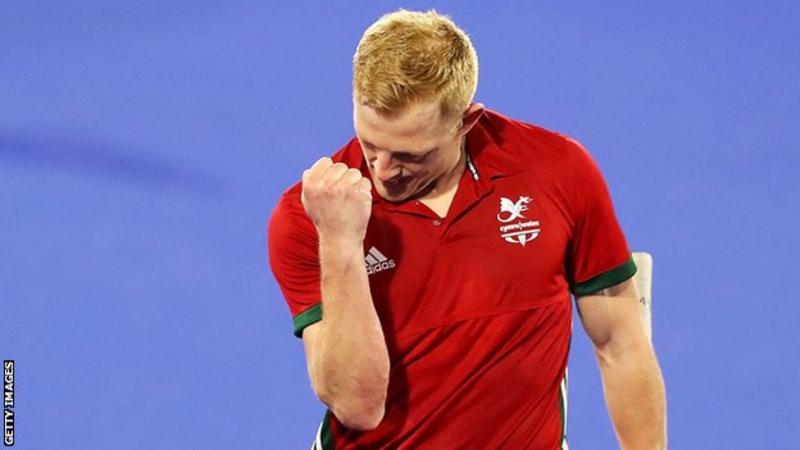 Rupert Shipperley scored Wales' last goal

Wales got off to a winning start to the 2018 Hockey Series Open in Croatia with a comfortable 6-1 victory over Slovakia.

Gareth Furlong and Owain Dolan-Gray scored in the opening 10 minutes before Ben Francis added a third.

Rhys Bradshaw and Furlong extended Wales' lead in the third period before Rupert Shipperley completed the rout.

Wales next face Austria - the highest ranked side at the event - on Tuesday, 26 June (18.30 BST).

Despite the emphatic scoreline, head coach Zak Jones was not completely satisfied.

"It's not a bad start to the tournament but it probably should have been a lot better," said Jones.

"We dominated possession and territory but we weren't clinical enough when the opportunities were created."

Jones' side were 26 places above their opponents in Zagreb and the difference showed early on when experienced defender Furlong scored from Wales' first penalty corner of the game inside six minutes.

Dolan-Gray doubled the lead before Francis combined with Dale Hutchinson to score Wales' third before half-time.

Slovakia could not live with Wales' pace, especially down the right flank from where Bradshaw tapped in his first international goal.

Furlong's trickery earned a penalty that he converted from the spot after 43 minutes.

Tomas Romanec clawed a goal back for Slovakia from their first attack of the second half but Wales had the final say through Shipperley.

The top two sides in the five team round-robin tournament. progress to the next round of the Open Series in 2019.

BBC Sport


---

Xavier Reckinger names Germany's World Cup squad



Germany's squad for the World has been revealed Photo: FIH/Getty Images

Germany Head Coach Xavier Reckinger named his squad for the Vitality Hockey Women's World Cup London 2018 yesterday.

The team includes ten bronze medallists from the Rio 2016 Olympic Games, including Janne Müller-Wieland, one of the most experienced members of the squad at 31, with almost 270 international appearances. The youngest member of the squad is Lena Micheel, 20, who came to the central training progamme in the spring.

"I think we now have a good mix of experienced players and young talent who bring some freshness to the team."
Xavier Reckinger, Germany Head Coach

Ahead of the showcase event in London, Germany played Ireland and Canada in Velbert in a test series where the hosts drew with Canada but lost to Ireland. They gained revenge however shortly afterwards as they defeated the Irish in a one-off test series 3-0 yesterday.

Germany will then play tests against Italy in Dortmund, Germany on June 30 and July 1, before playing England in two practice matches between July 3-5. They will round out their pre-World Cup preparations by taking on Netherlands, Argentina and New Zealand in the Four Nations Cup from 11-14 July at the TSV Grünwald just outside Munich.

Speaking about his squad selection, Xavier Reckinger said: "The girls have been great and made it very difficult for us to select. During the matches in Velbert, the team has been developing really well. Today, with our 3-0 win over Ireland, it was our best performance in a long time. We controlled the game better, especially defensively, and hardly made any major mistakes. I think we now have a good mix of experienced players and young talent who bring some freshness to the team. We needed that balance, especially with a view towards Tokyo 2020. Every single player has absolutely earned this place in the World Cup team!"

Germany Team for the Vitality Hockey Women's World Cup London 2018:

    Julia Ciupka
    Nathalie Kubalski
    Lisa Altenburg
    Hannah Gablać
    Elisa Gräve
    Franzisca Hauke
    Viktoria Martha Huse
    Nike Lorenz
    Marie Mävers
    Lena Micheel
    Janne Müller-Wieland
    Selin Oruz
    Cécile Pieper
    Maike Schaunig
    Anne Schröder
    Charlotte Stapenhorst
    Jana Teschke
    Amelie Wortmann

*Two reserve players were also named - Nina Notman and Alisa Vivot.

FIH site


---

Hockeyroos' Women's Hockey World Cup Team Confirmed

Alexie Beovich




The 18-member team for next month's Women's Hockey World Cup was today announced by Hockey Australia.

The world's number five team will play Japan (ranked 12th), Belgium (ranked 13th) and New Zealand (ranked 4th) in the rounds of the 14th edition of the Women's Hockey World Cup in London from July 21 to August 5.

The team heads to London in great shape, following their convincing victory in May's Tri Nations series in New Zealand, where the team beat the Black Sticks a convincing 4-1 in the final.

Head Coach Paul Gaudoin is looking forward to arriving in London in three weeks to compete in the World Cup, where the event will also serve as a significant milestone towards the Hockeyroos' ambitions for Tokyo in 2020.

"It's an exciting team with some new faces. Midfielder Jane Claxton will be missed due to injury, but it provides a great opportunity for new talent to stake a claim for midfield positions. The Hockeyroos are bursting with talent and vitality, and I am excited about what we can achieve," said Gaudoin.

"We have also made changes to our off-field team and I am really looking forward to working with 2000 Sydney Olympic Gold medallist Katie Allen and former Assistant Coach to Canada, Steph Andrews."

The team announced today will see Georgina Morgan return after an extended period of injury. The talented central defender brings a real strength to the team's defensive unit and provides another option to its penalty corner attack with her drag flicking skills.

Ambrosia (Rosie) Malone, the newest member of the Hockeyroos having joined the team after the April Commonwealth Games, impressed at the recent Tri Nations tournament in New Zealand.

Also new to the squad in 2018 is Kalindi Commerford, her strong midfield presence will be complimented by another newcomer, creative midfielder Kristina Bates.  Both players earnt selection on the back of strong performances in New Zealand.

Australia's history at the World Cup is a bright one. Australia finished second at the last Women's World Cup, played in the Netherlands in 2014, after being defeated by the host nation 2-0. Having played in ten Women's Hockey World Cups since 1981, the Hockeyroos have claimed gold twice (1994 and 1998), silver three times (1990, 2006 and 2014) and bronze once (1983).

Follow @hockeyroos on Twitter for live updates throughout the Cup.

Women's Hockey World Cup team
Jocelyn Bartram (NSW)
Kristina Bates (VIC)
Edwina   Bone (ACT)
Kalindi Commerford (ACT)
Madison Fitzpatrick (QLD)
Emily Hurtz (NSW*)
Jodie Kenny (QLD)
Stephanie Kershaw (QLD)
Rachael Lynch (VIC)
Ambrosia Malone (QLD)
Karri McMahon (SA)
Georgina Morgan (NSW)
Kaitlin Nobbs (NSW)
Brooke Peris (NT)
Kathryn Slattery (WA)       
Emily Smith (NSW)
Grace Stewart (NSW)
Renee Taylor (QLD)

*plays for Victoria
 
Women's Hockey World Cup Schedule (all times AEST)
July 22 Australia – Japan 5am
July 25 Australia – Belgium 9am
July 29 Australia - New Zealand 5am
August 1-2 Semi finals
August 4 Quarter finals
August 5 Bronze medal match 2pm
August 5 Gold medal match 4.30pm

Hockey Australia media release


---

Team cultures acknowledge failures to create lasting sporting culture



Kate Richardson-Walsh has spread hockey word since Rio 2016 PIC: Daniel Lynch

Kate Richardson-Walsh, along with wife Helen, are a duo in demand in leadership speeches. Here, one listening headmaster says the next challenge as individuals is to be part of a successful team

At a conference event held by the Girls' Schools Association recently, I was lucky enough to hear a talk from Kate Richardson–Walsh. The Olympic gold medal-winning Great Britain' captain spoke about the values and behaviours of champions and how you need to consistently challenge yourself.

The squad came together for London 2012 and I'm sure that many of us will remember Kate receiving a blow that broke her jaw in the opening round of matches but getting back on the pitch to lead the team to an eventual bronze medal position.

Kate spoke about the bittersweet emotions of a third place for a squad that believed they had the opportunity to win gold. She also spoke candidly of how the team went through a rocky patch after the Olympics and needed to reinvent themselves and their goals.

Kate explained that, when building towards London, the team's vision was focused on achieving the gold medal and I believe that this single goal was one key reason why the team imploded in terms of their performance over the couple of years after the London Olympics. If a team is working towards one solitary goal, once that goal is either reached or not reached the purpose of the team is lost. There is nothing left to pull everyone together or to drive the team forwards.

On the other hand, if the goal is to build a strong culture the 'golden threads' of achievement will continue to run through the team even after a particular goal is reached.

For elite athletes a gold medal is always the ultimate goal, but if the team culture takes account of the past and the future and is based on values and behaviours, a much stronger, longer-lasting culture of success can be generated.

This is also the basis of one of the best books I have read about leadership, Legacy by James Kerr. In that book he talks about the values and behaviours that drive New Zealand's famous All Black rugby team to be the side that everyone strives to beat: the team spirit that emphasises the value of humility, the importance of dispassionate thinking in a tense situation and the imperative to leave the team stronger than when you joined.

As far as my role is concerned, I have just announced next year's senior prefect team in school assembly. It is always exciting to see the eagerness with which students put themselves up for posts of responsibility and I am really looking forward to working with this group of girls who will lead so many activities across the school in the next 12 months.

We will be working together to establish a core set of values and beliefs that they can refer to when they are taking on their roles.

In almost every school in the country there is a team of older pupils who take on some responsibility for helping to lead activities within the school.

I believe that it is important that we do not abandon these students to their own devices but enable them to become the leaders that schools, and our wider society, need in the months and years to come. Value-led leadership is something that we can all respect and it leaves a legacy for the next generation of students to aspire to.




The values of a team cannot be imposed from outside, however; they need to come from the individuals within a team. I know that my student leaders will bring their own strengths and weaknesses to their roles.

It is through working with others, recognising your areas of deficit and trusting the rest of your team to step up and support you in these while simultaneously acknowledging your own strengths and working to support others that an effective, functioning team is formed.

Sometimes those two steps are the hardest for a leader. We have been inculcated to believe in the infallibility of those in charge so it can be frightening to admit weakness, yet to work successfully as part of a team we have to rely on others to do things we cannot do ourselves.

Kate was the team captain, their leader, but she did not win the gold medal on her own. Since Rio Kate has retired from international hockey but the team continues to be successful. That's our next challenge as individuals, to be part of a successful team, one that will carry success on after we have left.

Neil Walker is headteacher of Westfield School in Gosforth, Newcastle upon Tyne

The Hockey Paper


---

Women's National Team continues to impress on tour against top European nations

Canada begins 2018 Europe Tour with 1 win, 3 draws, and 2 losses



Photo Credit: Tristan Urry

After an undefeated tournament at the Hockey Series Open, the Canadian Women's National Team nears the halfway point of a seven-week development tour across Europe. Complete with intense training sessions and highly anticipated matchups against top European teams, Canada kicked off their tour on June 15, 2018 in Dublin, Ireland.

Under head coach Giles Bonnet, Canada began with a two-game SoftCo Series against the Irish National Team. With goals by Stephanie Norlander, Holly Stewart and Caashia Karringten, Canada won 3-0, starting the campaign in a winning fashion.

The first match against Ireland also marked Kathleen Leahy's 50th international senior match, which Leahy was grateful for.

"Getting [to 50 caps] in the first place is great," she said. "It's cool to get to play with this team even once, so to play in the game and get a result was awesome. I feel like the team and I have come a long way, and it's been awesome to be a part of that journey."

Day two of the SoftCo Series saw a 1-1 draw between Canada and Ireland, with Canada's only goal scored by Brienne Stairs in the fourth quarter after a penalty stroke from Ireland forced the Canadian team to trail from the 11th minute.

Canadian midfielder Shanlee Johnston emphasized the team's desire to seek out a result and stated that they are using every match to move forward and improve their technique, especially when playing back-to-back matches.

"I think that [with] every game going forward, you always want to look for a result as a team and that result for us is a win," Johnston said. "Especially against Ireland, we need to start showing that we can win games against teams that are ranked between where we're ranked and the top 10."

Match three of the tour in Amsterdam started on a high as Hannah Haughn celebrated her 150th appearance in an international senior match. However, it later proved to be difficult as Canada took on the number-one ranked team in the world, Netherlands. Canada dropped the match 8-0 after clinical passing combinations and quick attacks were made by the opposing team.

Natalie Sourisseau said that although the game proved to be a wake-up call, it also highlighted where Canada needs to improve.

"Playing teams of this calibre is really good for us because it shows us what we need to work on…There are still a lot of things we're not getting right but also that we're achieving. Every game is another opportunity to learn from," Sourisseau said.

Two days later, Canada adapted after their first game and dropped their second match against Netherlands 1-0, an impressive improvement on Monday's loss. The team barely had time to process the result before travelling to Velbert, Germany for a 3 Nations Tournament.

Canada drew 1-1 against sixth-ranked Germany, with a goal from a well-worked penalty corner by Johnston. Johnston described the goal as "something [Canada] planned and practised ahead of time", stating that it was a tribute to how well the team has been playing recently.

"At this point, scoring against one of the top teams feels like we deserve it," she said. "It's not like a shot in the dark anymore. It's something we've put hard work into, and we're right there with them."

The next and final matchup saw Canada verse Ireland for the third time this month and featured Rachel Donohoe in her 50th international senior match. Canada tied the Irish 1-1, thanks to a goal by Sourisseau in the 34th minute.

"Getting to play these teams, you realize some of the things you need to work on and the bad habits you have because they expose you," Sourisseau said after the match. "For us, we can learn a lot by being here."

Next up: Canada plays a triple-header against the U21 Netherlands team this week in Amsterdam.

Field Hockey Canada media release


---

Fulton Announces Squad For France Series As Jermyn Set To Retire




Craig Fulton, head coach of the Green Machine, has revealed his squad that will face France in Cork in a 3-match series.

The sides are familiar foes playing against each other 4 times last year with Ireland coming away undefeated in the encounters.

Fulton has named a large panel of 26 for the 3 fixtures, one of which will be held in Garryduff and the other two in UCC.

The opening match on June 28th (7pm) will take place in Garryduff and will mark the final match of Ireland's top goal scorer John Jermyn.

Jermyn has decided to retire after more than a decade and a half of donning the green jersey and is looking forward to having his final match take place on home soil

"I can't think of better way to call an end to my career than in front of a home crowd in Garryduff where I first started training 32 years ago with my hero Reg Treacy".

Read more comments from John Jermyn by clicking here.

Men's International Fixtures in Cork:

Ireland vs France in Garryduff 28/6/18 7pm
Ireland vs France in UCC 30/6/18 2pm

Ireland vs France in UCC 1/7/18 2pm

Squad
David Harte
Mark Ingram
Jamie Carr
Jonny Bell
Conor Harte
Paul Gleghorne
Stuart Loughrey
John Jermyn
John Jackson
Matt Bell
Lee Cole
Michael Robson
Shane O'Donoghue
Chris Cargo
Daragh Walsh
Sean Murray
Neal Glassey
Eugene Magee
Peter Caruth
Mathew Nelson
Mitch Darling
Jeremy Duncan
Alan Sothern
Johnny McKee
Julian Dale
Owen Magee

Irish Hockey Association media release


---

Jermyn To Retire Following Final Match in Garryduff




One of Ireland's most prolific goal scorers will take his final bow this week as John Jermyn is set to retire at the Green Machine match against France in Garryduff on Thursday (June 28th).

Jermyn, part of the Green Machine for well over a decade, has amassed 178 caps and 92 goals, making him the top goal scorer in Irish hockey history. He received his first cap in 2002 and played an instrumental role for the Green Machine over the next decade and a half, including scoring 2 memorable goals at the 2016 Rio Olympics.

John said "It has been a huge privilege to represent Ireland for the last 16 years, give or take a year. Those years have been an amazing journey throughout which I have made a load of lifelong friends in my teammates. The highlight of which was fulfilling a lifelong ambition to play in the Olympics.

I have been lucky enough to work with some world class coaches and support staff whose tireless efforts are really appreciated by the players. I'd like to wish the team all the best in the upcoming World Cup in November".

John was keen to thank those behind the scenes that have played a role in his illustrious hockey career "There really are too many people to mention but I must thank my employers Ronan Daly Jermyn for their continued support.

Last but certainly not least, to my family, without your never ending support none of the last 16 years would have been possible. I can't thank you enough."

Fans from near and far are encouraged to come along and wish this Green Machine stalwart a worthy send-off "I can't think of a better way to call an end to my career than in front of a home crowd in Garryduff where I first started training 32 years ago with my hero Reg Treacy".

Men's International Fixtures in Cork:

Ireland vs France in Garryduff 28/6/18 7pm
Ireland vs France in UCC 30/6/18 2pm
Ireland vs France in UCC 1/7/18 2pm

Women's International Fixtures in Cork:

Ireland vs Japan in UCC 4/7/18 7pm
Ireland vs Japan in UCC 6/7/18 7pm
Ireland vs Japan in UCC 7/7/18 5pm

Irish Hockey Association media release


---

Jermyn to formally hang up stick on home turf



John Jermyn celebrates one of his goals in the lead up to the 2016 Olympics. Pic: Adrian Boehm

Ireland's record goalscorer, John Jermyn will formally hang up his international hockey stick in front of his home crowd at Garryduff on Thursday evening when the men's side take on France in a test match.

The 36-year-old scored 92 times in 178 games, culminating in the 2016 Olympic Games. He has not been part of the international setup since then but has been training for the past month with Ireland in anticipation of this big send off.

It is not the first time that he has tried to retire. In the wake of the 2012 Olympic qualifiers – when Ireland felt to a heartbreaking last minute defeat to Korea – Jermyn did send on notice of his intention to retire to Hockey Ireland.

But the missive was not formally acted upon by the governing body and no further public action took place to recognise the retirement. He did not play for Ireland between December 2012 and May 2016 but some spectacular league form for Cork C of I saw a couple of, initially tongue-in-cheek, suggestions of a recall ahead of the Rio Olympics.

Coach Craig Fulton soon explored the possibility of getting him back in the mix and he returned in May 2016 ahead of the Games where he added two more penalty corner goals to his tally.

One of the Ireland all-time greats, Thursday marks a fitting way to end the Cork native's career at the venue where he first picked up a stick.

"I can't think of a better way to call an end to my career than in front of a home crowd in Garryduff where I first started training 32 years ago with my hero Reg Treacy," Jermyn said of the fixture.

"It has been a huge privilege to represent Ireland for the last 16 years, give or take a year. Those years have been an amazing journey throughout which I have made a load of lifelong friends in my teammates. The highlight of which was fulfilling a lifelong ambition to play in the Olympics.

"I have been lucky enough to work with some world class coaches and support staff whose tireless efforts are really appreciated by the players. I'd like to wish the team all the best in the upcoming World Cup in November.

"There really are too many people to mention but I must thank my employers Ronan Daly Jermyn for their continued support.

"Last but certainly not least, to my family, without your never-ending support, none of the last 16 years would have been possible. I can't thank you enough."

The series is also the last one for coach Fulton before he takes up a role with Belgian hockey. David Harte and Mark Ingram return to the line-up from the one that beat Germany in a series in May with Dave Fitzgerald stepping out.

Kirk Shimmins and Stephen Cole are also out for this series with Neal Glassey, Jonny McKee, Julian Dale, Sean Murray, Eugene Magee, Peter Caruth and Stu Loughrey coming in along with Jermyn.

Ireland (v France from June 28 to July 1, Cork): D Harte (SV Kampong), M Ingram (Pembroke), J Carr (Three Rock Rovers), J Bell (Lisnagarvey), C Harte (Racing Club de Bruxelles), P Gleghorne (Lisnagarvey), S Loughrey (Hampstead & Westminster), J Jermyn (Cork C of I), M Bell (Crefelder HTC), L Cole (Oree), M Robson (Lisnagarvey), S O'Donoghue (KHC Dragons), C Cargo (Hampstead & Westminster), D Walsh (Three Rock Rovers), S Murray (Lisnagarvey), N Glassey (Lisnagarvey), E Magee (Banbridge), P Caruth (Annadale), M Nelson (Lisnagarvey), M Darling (Three Rock Rovers), J Duncan (Herakles), A Sothern (Pembroke), J McKee (Pembroke), J Dale (Cork C of I), O Magee (Banbridge)

Men's International Fixtures in Cork:
Thursday, June 28: Ireland vs France, 7pm, Garryduff
Saturday, June 30: Ireland vs France, 2pm, UCC
Sunday, July 1: Ireland vs France, 2pm, UCC

The Hook


---

SPAR South Africa Indoor Hockey Squad named to take on Zimbabwe



Cindy Hack (L) will captain the team.

In August this year the SPAR South Africa Indoor Hockey Ladies will head to Zimbabwe for the 5 match test series against the Hosts as part of the launch of PSi Zimbabwe. It will be the first competitive action for SPAR South Africa since they romped to a Croatian Cup title in January this year. The team has been selected considering the 2017 IPT as well as the recent selection camp in Durban and there are some exciting inclusions in the squad.

Edith Molikoe is one of those players and is as Botha describes a player of "immense quality". Edith will win her first cap for SPAR South Africa, and will be joined as a new cap alongside the exciting goalkeeping talent of Zimi Shange. Another selection that will excite fans is the return of Eloise Walters, an absolutely lethal threat in front of goal and Robyn Johnson has recovered from the broken hand that saw her miss out in Croatia in January. Another player that missed the Croatian Cup is Jenna Shuker who continues to deliver consistent quality.

There have also been call ups for Amore de Wet, Cheree Greyvenstein, Tegan Fourie and  Jamie Southgate. The team will be anchored by the two most capped players in South African indoor hockey (Either gender) with Jessica O'Connor joined by the exceptional Cindy Hack, the national captain.

"We are excited by the team and the talent that we have available. For some of the team it is a chance to continue to develop as national hockey players and we have a great blend of talent and experience in the team. We had a superb training camp and the players who missed out are knocking on the door" share Lennie Botha.

The SPAR South Africa side will see a busy remainder to the year with a planned series against Namibia, the IPT and a four match international series at the PSi Nationals in December. If that was not enough there is also a tour to Poland planned in January next year for a further 5 test matches to look forward to.

PSi International Hockey Test Series (Zimbabwe)

10th August (16:00) – First Test
11th August (10:00) – Second Test
11th August (18:00) – Third Test
12th August (16:00) – Fourth Test
13th August (16:00) – Fifth Test

SPAR South Africa squad
No. Name, Province
1. Amore de Wet, North West
2. Tegan Fourie, SPAR KZN Raiders
3. Cheree Greyvenstein (GK), SPAR KZN Raiders
4. Cindy Hack (Captain), SPAR KZN Raiders
5. Robyn Johnson, Southern Gauteng
6. Edith Molikoe, Eastern Province
7. Jess O'Connor, SPAR KZN Raiders
8. Zimi Shange (GK), SPAR KZN Raiders
9. Jenna Shuker, SPAR KZN Raiders
10. Jamie Southgate, Tuffy Western Province
11. Eloise Walters, KZN Inland

Management Team
Lennie Botha (Coach)
Brighty Mashaba (Video Analyst)
Robyn Morgan (Manager)

SA Hockey Association media release


---

Dharmaraj: We always play to break new barriers...

By Jugjet Singh

KUALA LUMPUR: Malaysian National women's coach K. Dharmaraj has been tasked with a steep target in the Asian Games in Jakarta, but he and his charges are game to make a gallant attempt.

The Olympic Council of Malaysia (OCM) had categorised the women's team as 'B', where they will have to pay their own expenses to the Asian Games and only reimbursed if they return with a medal.

Malaysia has always been fifth in Asia, but Dharmaraj aims to break that ceiling in Jakarta from Aug 10-Sept 2.

"It will not be easy, but whenever I take my girls for any tournament, I always tell them not to fear any team and break new barriers.

"We have been doing that for the last two years, and will make an attempt to enter the semi-finals, and then go for a medal in the Asian Games," said Dharmaraj.

Malaysian Hockey Confederation (MHC) deputy president Datuk S. Shamala had said: "Irrelevant of whatever category our women's team are in, just as our president Datuk Seri Subahan Kamal has said earlier 'the girls are definitely going to feature at the Asian Games'.

"We believe greatly that all the hard work the entire ecosystem has done tailoring for this edition of the Asian Games for the past 30 months with the dedication and extensive work of coaches Dharmaraj, Lailin Abu Hassan and Roslan Jamaluddin our girls will finish on the podium at the Jakarta Asian Games.".

Meanwhile, after hammering Indonesia 18-0 and Hong Kong 10-0, the women's team will play Kazakhstan in the Hockey Series Open at the Sengkang Stadium in Singapore Tuesday.

"We beat Kazakhstan 2-1 in our last meeting, and I expect them to be our toughest opponents in this tournament. We need to be sharper during penalty corners as we missed to many in the first two games," said Dharmaraj.

Malaysia won 39 penalty corners in two games, but could only score 10 goals.

"Yes, we had a total of 39 penalty corners in two matches but scored only 10. That's a big concern for me as we need to be sharper in the next two matches against Kazakhstan and Thailand.

"I expect Kazakhstan to defend and rely on counter-attack. They have really fast forwards who gave us a lot of problems in our last meeting (Asia Cup).

However in the World League Round Two in Kuala Lumpur last year, Malaysia hammered Kazakhstan 13-1.

Jugjet's World of Field Hockey


---

Scotland Under 18's boys end with double draws against England




Scotland Under 18's Boys finish on level terms with England at Titwood yesterday, a very positive performance against a side that will be competing in the top flight of European youth competition next month.

In Clydesdale`s sunshine, it was the Scots who opened the game, with Struan Walker making a determined run into the English circle and firing his shot into the net for a 1-0 half-time lead.

Early in the third quarter, Ben Butler-Felton restore parity for England with a rather soft penalty corner conversion. The Scots, however, was soon 2-1 ahead with Walker weaving his way along the baseline and launching a fierce shot past the English keeper. 2-2 then became the score right before the end of the third quarter, with the visitors becoming level with a low penalty corner conversion by Stu Rushmore.

At the start of the last quarter, the Scots went 3-2 ahead, the initial penalty corner shot appeared to hit both posts but Grove Menzieshill`s Jamie Golden followed up to slot the ball home. The lead was short lived as Morgan Males equalised from the spot to ensure the game ended in a 3-3 draw.

On Saturday, the contest also finished level, this time a 4-4 draw. The English were 2-1 ahead at the interval, Stu Kentwell opened in five minutes, Andrew McConnell equalised from the spot but Ben Butler-Felton put the visitors ahead.

Three minutes into the second half, Fraser Moran equalised for the Scots at a penalty corner, but Karan Sofat and Rushmore put the English into a commanding 4-2 lead.   However, in the final quarter strikes by Golden and Walker ensured a 4-4 draw by the final whistle.




Scottish Hockey Union media release


---

WKS Grunwald Poznan the Polish champions once again




WKS Grunwald Poznan claimed their 22nd Polish national title to qualify for the Euro Hockey League for a 12th successive season.

They completed their perfect season with a 5-1 win in Saturday's semi-final against LKS Gasawa with Arthur Mikula scoring twice in the second half to make the game safe.

Gasawa were in the game at half-time at just 2-1 down after initial goals from Mateusz and Michal Poltaszewski before WKS pulled away in the second half.

In the final, Piotr Kozlowski and the hugely experienced Artur Mikula scored in the first 32 minutes against KS Pomorzanin Torun – who beat AZS AWF Poznan 1-0 on Saturday – to set them on course for the 2-0 win.

It means Grunwald are eligible to play in EHL ROUND1 in Barcelona in early October, completing the line-up for next season's competition.

They are one of just two clubs to have played in every season of the EHL alongside Russia's perennial champions Dinamo Kazan.

Euro Hockey League media release


---

Time is right for Cole as he moves to Oree



Stephen Cole. Pic: Adrian Boehm

Stephen Cole says that the stars finally aligned to allow him to link up with a professional club this year as he takes up a contract with Belgian club Oree.

There, he will follow his younger brother Lee who enjoyed a strong season with the Brussels-based club, taking time out from his day job.

"I have always held the ambition to play abroad in one of the top leagues at some stage in my career but the right opportunity hadn't come about or timing hadn't lent itself to it before now," Cole told The Hook.

"While it was always something I had thought about, it wasn't something I was actively seeking for this season but initial contact was made through Lee, who had a brilliant time there last season. It all lined up nicely from there."

He says November's World Cup was "a major factor in the decision" as the Monkstown man looks to pin down a ticket to India with the Green Machine.

Work commitments have perhaps limited him earning more caps since making his debut in 2011. He played in the 2013 European Championships in Boom but found major ranking event selection off limits until the 2017 World League Semi-Final when World Cup qualification was achieved.

And so he is looking to give himself the best possible shot at inclusion in that panel.

"With the opportunity of World Cup selection on the horizon the ability to play in one of top leagues and train full time was a big plus for me.

"Oree are in a position to allow me to commit to all the national team programme which is a luxury I haven't always had.

"Once I finished my degree I went straight into employment and while State Street have been very accommodating over the past five years, they have had to draw the line at times too. This decision allows me to give all my energy towards becoming a better player.

"Seeing how much Lee enjoyed himself and the improvements he made as a player were huge endorsements for Oree. Obviously being able to have conversations with him about the club and anything I was unsure about was invaluable.

"I followed Oree's progress closely last season and they had some great results and once I spoke with the club president and the coach it gave me the confidence that Oree was a good fit. Naturally it was difficult for me step away from Monkstown but I am looking forward to the challenge in Brussels."

The Hook


---

FIH delegation visits Bhubaneswar in run-up to Hockey World Cup

BHUBANESWAR: International Hockey Federation (FIH) events director Gabrielle van Zwieten on Monday embarked on a two-day visit here to ensure that the preparations are up to speed in the lead up to the Hockey Men's World Cup to be held in November.

Accompanied by Hockey India officials, Gabrielle had extensive meetings with Vishal K Dev, commissioner-cum-secretary to Department of Youth Services and Sports and representatives from various departments of Odisha government to discuss the overall progress of work.

The day long proceedings also included the 5th Executive Committee Meeting for organisation of the World Cup chaired by Aditya Prasad Padhi, chief secretary and chief development commissioner of Odisha government.

Gabrielle will visit the remaining facilities on Tuesday to check the preparedness to host the International teams.

"I am delighted with the progress of work at the Kalinga Stadium and I am quite confident the venue will be ready well within the stipulated time," she said.

"The keenness of the Odisha govt and Hockey India to deliver to perfection and leave no stone unturned in their preparations to host the biggest hockey event is worth a mention and I am confident the hockey fraternity will witness a spectacular event starting this November."

The infrastructural work at the iconic Kalinga Stadium includes the up-gradation of seating capacity to 15,000.

The stadium will also get two brand new pitches. The flood lights at both main pitch and the practice pitch too have been upgraded while the entire main stadium is being given a face-lift with wider roads, new gates, permanent CCTV cameras for safety point of view.

A total of 36 matches will be played during the Hockey World Cup which opens with a clash between world no. 3 Belgium and world no. 11 Canada on November 28. Hosts India will also open their campaign on the same day as they face South Africa.

The hosts will also be in action on December 2 when they play a strong Belgium team whom they defeated in the quarter-finals of the Hockey World League Final at the same venue. India's third and final pool match will be against Canada on December 8.

The sixteen participating teams will play three matches each during the league stage over the span of twelve days before four cross-over matches take place on December 10 and 11.

The Times of India