All the news for Friday 22 June 2018

Women International Ireland 2-1 Germany




Ireland defeated Germany, ranked 10 places about them in the World Rankings, at No. 6,  in the first of the 3 nations in Dusseldorf this afternoon, Germany were first on the attack winning first PC of the gamer in the 2m, and the resulting drag clipped Irish defenders foot for another corner.  The second PC drag was saved by McFerran and Ireland countered but Germany cleared the danger.   

Ireland took the lead in the 7th minute when a great pass from defence by Tice found O Flanagan who drove at the German defence passed to Meeke in space and her shot at goal was saved by the German keeper Kruger, but O Flanagan pounced on the rebound to lift it over Kruger to give Ireland the lead.  Ireland marshalled by Tice & Matthews were defending well as Germany attacked and McFerran had to be alert following two PC's in the 13m but at the end of the quarter Ireland went in 1 nil up.

At the start of the second quarter good defence by Upton before Germany were awarded their 5th PC in the 19m but again McFerran was sharp.  Ireland dominated most of the final 10m of the quarter with Evans and O Flanagan looking sharp.  The best chance fell to Beatty chance when Watkins had set her up for shot at goal.
 
The third quarter was a tight affair with little chance for either side as defences dominated.  Ireland's best chance fell to Duke, but she failed to get a touch after powerful run by Mullan

Final quarter saw Germany win their 6pc in 48m minute when Upton was blown for not retreating 5 but again Ireland defence stood firm.  Watkins was menace throughout and drove forward linking well with O Flanagan up front.   Germany withdrew their keeper in favour of a kicking back in the 55 and immediately it paid dividends winning their 7th PC almost immediately but this time the push out was missed and free out resulted for Ireland.  As Germany pressed forward a cross from the left found Schroder in the circle beating McFerran and the equaliser.  Germany continued with their kicking back and with 30 seconds on the clock a clever overhead by McCay from the half way line found O Flanagan who laid off the Meeke and she calmly finished to an unguarded net for the winner.

Ireland 2 (Anna O Flanagan, Ali Meeke)
Germany 1 (Anna Schroder)

Ireland: McFerran (GK), Evans, Mullan, McCay, Beatty, Pinder, Upton, Matthews, O Flanagan, Wilson, Meeke
Rolling Subs: Duke, Torrans Colvin, Watkins, Tice, O Byrne

Remaining Fixtures

Friday 22nd Germany v Canada 5pm
Saturday 23rd Ireland v Canada 5pm

Irish Hockey Association media release


---

Women's international hockey: Germany 1-2 Ireland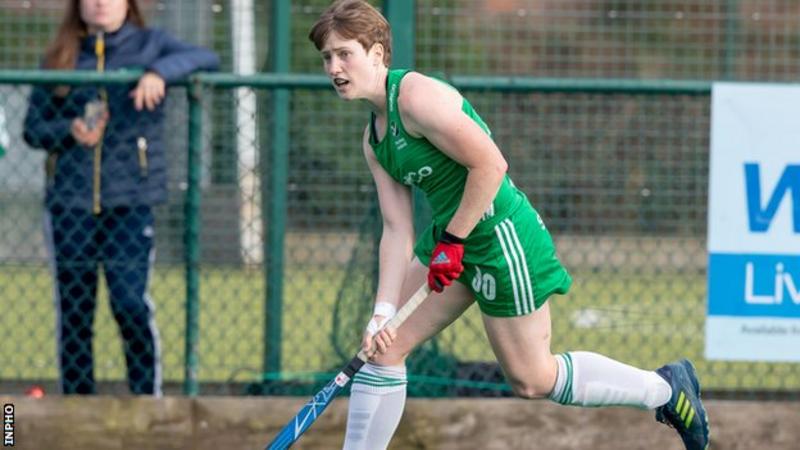 Ali Meeke scored the winning goal as Ireland secured a fine win over Germany

Ireland's women continued their World Cup preparations with an impressive 2-1 win over Germany in Dusseldorf.

Ali Meeke's goal with just 30 seconds remaining secured victory for Ireland over a side ranked 10 places above them in the world rankings.

Anna O'Flanagan gave the underdogs the perfect start after seven minutes before Anne Schroder thought she had earned Germany a late draw.

The World Cup begins in London on 21 July.

Ireland and Germany are competing in the 3 Nations warm-up tournament alongside Canada.

Ayeisha McFeran was forced into a smart save early in the game to keep the scores level from a penalty corner before O'Flanagan gave Ireland the lead.

The Bloemendaal forward laid off Meeke whose initial effort was smartly saved before O'Flanagan followed up on the rebound.

German keeper Hannah Kruger was withdrawn late on as the hosts went in search of an equaliser.

The move paid dividends as Schroder finished coolly from inside the circle with just minutes remaining.

However it was Meeke who had the final say, slotting into an empty net having been teed up by the impressive Flanagan.

Ireland take on Canada on Saturday before their World Cup campaign gets underway against the USA in Pool B.

BBC Sport


---

Canada beat Pakistan's Development Squad 3-0

In the first of the five match hockey series, Canada defeated Pakistan Development squad 3-0 at Tamanawis Park, Surrey.

The hosts settled down quickly and took an early lead when Gordon Johnston converted the first penalty corner with a high flick. However, it was more or less an even play in the first quarter.

Canada appeared a better side during the next 15 minutes. After wasting a penalty corner, they doubled the lead through open play.  A good attack from the right side saw a fine back pass to Sukhi, one of the two Panesar brothers, standing unmarked at the top of the circle. Sukhi found the net with a strong hit.

 Pakistani players were seen slipping on the surface quite a few times while the Canadians appeared more comfortable.

In the second half, the visitors probably got adapted to the pitch and had better of the exchanges.
 
Three penalty corners came their way but went unutilised.  In the waning minutes, Canada had their third goal against the run of play. Again, after a right side move, the ball was passed back and Mathew Sarmento put it in on the rebound.

It is worth mentioning that the hosts are fielding their national (first string) side while the development squad is Pakistan's second string. Their national team is in Holland for the Champions Trophy.

The boys inexperience showed at times.

PHF Media release


---

Men's Rabobank Hockey Champions Trophy 2018 all set for action



Argentina's Gonzalo Peillat is one of many superstars on show at the Men's Rabobank Hockey Champions Trophy 2018. Copyright: FIH / Getty Images

On Saturday 23 June 2018, the 37th edition of the prestigious Men's Champions Trophy will get underway in the Dutch city of Breda, with De Bredase Hockey & Bandy Club playing host to an event with a glorious past.

Six of the world's finest teams - including five of the top six placed teams in the FIH Hero World Rankings - will be fighting it out for the title, with reigning champions and current world number one ranked Australia likely to be favourites at an event that promises to be a sensational exhibition of top class international hockey.

The fine heritage of the Champions Trophy is reflected in the opening match of the 2018 competition, which features one of the biggest rivalries in the sport - Pakistan (FIH Hero World Ranking: 13) going head-to-head with India (WR: 6) on Saturday 23 June at 14:00 Central European Standard Time (UTC +1).

The meeting between Pakistan, the nation that launched the Hockey Champions Trophy back in 1978, and India, the eight time Olympic champions, is a fixture that is sure to draw thousands of spectators to the venue as well as millions of fans tuning in from across the world, eagerly anticipating the latest episode of this long-running battle between two of the sport's most successful nations.

The opening day drama does not stop there as at 16:00 another eye-catching fixture will take place, with home favourites and European champions Netherlands (WR: 4) meeting Olympic and Pan American champions Argentina (WR: 2). A sensational first day of action is rounded off by the contest between reigning champions Australia (WR:1) and Olympic silver medallists Belgium (WR:3), who face each other at 18:00 in what is certain to be a hugely competitive fixture between two of the most accomplished attacking sides in the world.

The combination of outstanding teams and an event taking place in one of the world's most fanatical hockey countries, there can be no doubt that the Rabobank Men's Hockey Champions Trophy promises to be a spectacular edition in Breda.

Spectator tickets for the event are still available. For more information, please click here.

The men's Hockey Champions Trophy has long showcased the very best that the sport has to offer, with the finest international teams competing to claim titles of historical significance. Here is a brief look at the teams that will contest the title.

Australia are the most successful team in the history of the Men's Champions Trophy with a staggering 14 titles and 28 podium finishes. As the top ranked team in the game, they will be rightly regarded as favourites. However, this will be the first major tournament since the retirement of iconic defender and captain Mark Knowles, who bowed out at the top with a gold medal at the Gold Coast 2018 Commonwealth Games. The departure of Knowles has seen Head Coach Colin Batch appoint vastly experienced duo Eddie Ockenden and Aran Zelewski as co-captains for this event on an interim basis, with a view to appointing a single captain for the Odisha Hockey Men's World Cup Bhubaneswar 2018 at the end of the year. Ockenden and Zelewski are central figures for a Kookaburras team that is missing injured duo Matt Dawson and goalkeeper Andrew Charter, but welcomes back experienced defender Matthew Swann after a six-month sabbatical as well as Blake Govers, who returns after a hand injury which forced him out of the Commonwealth Games.

Despite recently losing their position at the top of the rankings table to Australia, few would argue that this remains a golden time for Olympic champions Argentina, who have long been overshadowed by the success of their female compatriots. That said, it has not been an easy few months for Los Leones. Head Coach and former Argentina international Carlos "Chapa" Retegui - the man who, remarkably, guided both the men and the women's national sides to bronze medals at the Rabobank Hockey World Cup 2014 before leading the men to Olympic glory at Rio 2016 - has departed, being replaced by former Argentina internationals in the shape of new Head Coach German Orozco and assistant Matias Vila. Orozco has kept Argentina's existing squad pretty much intact, naming a vastly experienced group that will be guided by team captain Pedro Ibarra. Matias Paredes, Juan Gilardi and goalkeeper Juan Vivaldi are all aged over 35 but remain very much in their prime, using their vast experience in every game situation. Creative genius Lucas Vila is arguably Argentina's most influential player, although it is powerfully built penalty corner expert Gonzalo Peillat who often grabs the headlines thanks to his incredible prowess from set-pieces.

While the rise of Belgium's Red Lions in recent years has been well documented, the team scaled new heights in 2016. A superb silver medal at the Rio 2016 Olympic Games was hard earned and fully deserved, with the team producing some exceptional performances along the way. Their individual stars were also recognised, with Rio captain John-John Dohmen – who returned to the international scene at the end of 2017 after a year-long break – and defensive star Arthur van Doren being named the respective FIH Player and Rising Star of the Year for 2016. Many of the stars of Rio remain part of the squad, including Cedric Charlier, captain Thomas Briels, Simon Gougnard, Felix Denayer and Vincent Vanasch, who was named the FIH Hockey Stars Men's Goalkeeper of the Year for 2017. However, striker Tom Boon is not included in the squad for the Champions Trophy. The team coached by New Zealander Shane McLeod have been playing some magnificent hockey over the past 12 months, something they will be looking to continue in Breda.

Having achieved first place finishes at both the Hero Hockey World League Semi-Final in London and the Rabobank EuroHockey Championships in Amsterdam, 2017 was a memorable one for eight time Champions Trophy winners the Netherlands. The squad selected by Head Coach Max Caldas for this event contains a glittering array of gifted individuals, including play-maker Robbert Kemperman as well as powerful striker Mirco Pruijser, who finished as top scorer at August's Rabobank EuroHockey Championships to help his team claim defend their continental title in Amsterdam. Live-wire attacker Jeroen Herzberger makes a surprise return to the international scene at the age of 32 and looks set to play his 200th match for Oranje at this event. Although the team is missing outstanding attacking midfielder Billy Bakker, there is certainly no shortage of creativity contained within the squad. Valentin Verga, captain Seve van As, Jorrit Croon and Kemperman are all capable of creating chances out of nothing, ensuring that the Netherlands will be a side to be feared throughout this event.

Asian champions India will feel that they have a fantastic chance of challenging for the Champions Trophy, a title which, remarkably, they have never won. They came agonisingly close at the 2016 event in London, finishing runners up behind Australia thanks to a shoot-out defeat. A fourth place finish at the Gold Coast 2018 Commonwealth Games earlier this year triggered a change to the position of Head Coach, with Harendra Singh taking over from Dutchman Sjoerd Marijne, who moved back to his old position as Head Coach of the India women's team. Harendra has selected a strong team for the Champions Trophy, with ace goalkeeper PR Sreejesh being named captain of a side that also includes double cap centurions Manpreet Singh, SV Sunil and Sardar Singh. Thirty-one-year-old Sardar is just two matches away from reaching the milestone of 300 international appearances for India, something which he looks likely to achieve in Breda.

2014 Champions Trophy silver medallists Pakistan may have finished in seventh place at the XXI Commonwealth Games on Australia's Gold Coast earlier this year, but that result hides the fact that they went through the event completely unbeaten. Four draws in the pool phase – against Wales, India, England and Malaysia respectively - saw Pakistan finish fourth in their five-team pool, putting them in the 7-8 classification match where they defeated Canada 3-1. The founding nation of the Champions Trophy will be determined to add to the titles that they claimed in 1978, 1980 and 1994 – victories that all came on home soil, in Lahore (1978 / 1994) and Karachi (1980) respectively. The team are now coached by legendary Dutchman Roelant Oltmans, the man who guided the Netherlands men to triumphs at the 1998 World Cup in Utrecht and at the Sydney 2000 Olympic Games. The squad selected by Oltmans contains a balance of experience and youth, with team captain Muhammad Rizwan Sr being one of eight players to have surpassed the 100 international appearances barrier. Shafqat Rasool is the most capped player in the group with 190 senior international appearances, with ten players each having fewer than 50 caps.

A full schedule as well as broadcasting and official competition information can be found on FIH.CH, with extended coverage coming via the FIH social media channels.

#HCT2018

FIH site


---

Singapore Hockey Series Open begins Saturday




The second event in the inaugural Hockey Series Open will spring into action on Saturday as Singapore hosts six men's and six women's teams at the Seng Kang Sports Club between 23 June and 1 July.

The teams taking part are at the start of an exciting journey towards the Tokyo 2020 Olympic Games, with 15 nations from the Hockey Series Open events qualifying for next year's Hockey Series Finals. FIH Hero World Ranking points will also be on offer which could prove vital in respect of qualification for future events.

The women's teams taking part are: Malaysia (FIH Hero World Ranking: 22); Thailand (WR: 28); Kazakhstan (WR: 34); host nation Singapore (WR: 35); Hong Kong (WR:43) and Indonesia (65).

Malaysia will be favourites for the title, particularly as they have experienced top class international action at the 2017 FINTRO Hockey World League Semi-Final in Brussels and the Gold Coast 2018 Commonwealth Games. On both occasions, the Asian team acquitted themselves well when facing much higher ranked opposition, with Head Coach Dhaarma Raj saying that his players were going through a huge learning curve every time they played. The squad is also hugely experienced in international fixtures – only five players in the squad have fewer than 30 caps.

Kazakhstan and Thailand will both be looking to fill one of the two qualification spots after good performances in the 2017 Asia Cup. Thailand have bragging rights but only after a narrow 1-0 victory over Kazakhstan in the pool matches of that event.

The men's competition features several teams who are only just stepping onto the global stage. Singapore has the highest FIH Hero World Ranking at 40. Hong Kong is ranked 45 and these two teams are joined by Thailand (WR: 47), Chinese Taipei (WR: 52), Myanmar (WR: 89) and Indonesia, who are currently unranked.

Top ranked team Singapore will have the advantage of a home crowd and Head Coach Rajan Krishnan will be looking for his captain Ferdaus Zul'Kepli, and star player Silas Shah Noor to lead the way as two of the most experienced players in the team.

Thailand will aim for a good showing after they finished a highly creditable fourth at the Men's Asian Games Qualifier in Oman in March this year. The Thailand side finished ahead of Hong Kong and Chinese Taipei, so will have high hopes of a strong showing in Singapore.

However, Hong Kong have two not-so-secret weapons in their side. Tsang Kin Kan and Iu Felix Chi Him are both sharp in front of goal. Tsang Kin Kan is deadly accurate with his penalty corner strikes, while Iu Felix Chi Him has proven himself an opportunistic striker who scores given half a chance.

The largely unknown quantities of Myanmar and Indonesia will be looking to spring an element of surprise on their opponents. Myanmar is fielding a side with a number of older players, with six players in their 30s. This is a similar team to the one that held Singapore to a 2-2 draw in the SEA Games in Kuala Lumpur in 2017, although Head Coach Htun Htun Oo is also fielding four players who will be making their international debut.

While the Indonesian men's team are unranked, they will have ambitions to show how much they have developed over the past few seasons, especially with the prospect of hosting the Asian Games, a Tokyo 2020 qualifier, later this year.

The Hockey Series Open provides opportunities for the lower ranked or unranked nations to push ahead with their development by giving them the opportunity to take their place on the global hockey stage.

Fans can watch all the action from the Hockey Series Open Singapore on FIH Youtube. For further information about the Hockey Series Open, click here. You can also view more content on the Hockey Series channels on Facebook, Instagram and Twitter.

Further Info:
#HockeySeries2018

FIH site


---

1 month to go until the Vitality Hockey Women's World Cup




It's just one month to go until the biggest women's sporting event in London this summer, the Vitality Hockey Women's World Cup.

With over 100,000 tickets already sold, the Arena being increased to 10,000 seats and a spectator zone called Fan Central the size of three hockey pitches being built – this is going to be too big to miss!

1 month today, England's Women kick-start their world cup campaign against India in front of a sold-out crowd at Lee Valley Hockey and Tennis Centre, whilst Hockey and England fans alike will be sat showing their support watching on the big screen in Fan Central or at home on the TV!

Every game matters in the tournament and with the 16 best teams in the world all with their sight set on the trophy, you'll be spoilt for choice.

Top pick fixtures:
Sunday 22 July: ARG v ESP
Saturday 28 July: NZL v AUS
Sunday 29 July: NED v ITA
Wednesday 1 August: Quarter Final

The excitement doesn't just begin and end in the Arena! Fan Central is a go-to destination of the Vitality Hockey Women's World Cup and is located on the way to and from the Arena.

Here, you'll be able to make the most out of your day with friends and family, soaking up the festival atmosphere, watching live action on the big screen, listening to live music, eating the best street food London has to offer, a chance to meet hockey heroes and indulge in a bit of retail therapy!

England Hockey Board Media release


---

Coaches Corner: Farry fast-tracking Japan to World Cup success



Japan women will be looking to build on their success ahead of the Tokyo 2020 Olympics Photo: FIH/Getty Images

In this week's Coaches Corner, we meet a coach who is hoping to lead an Asian team to the World Cup podium for the first time since China's third place finish in 2002.

Anthony Farry is Head Coach of Japan women, a post he has held for just over a year. Prior to that he was in charge of the Canadian men's national team.

With exactly one month before the Vitality Hockey Women's World Cup London 2018 gets underway, we caught up with the progressive coach to find out how ready Japan are ahead of their eighth foray into World Cup action.

"Preparations for the World Cup have been going well, although like every team, we'd love to play more games and spend more time together, but we are slowly getting that side of things in order."
Anthony Farry, Japan Head Coach

Certainly the Japan women's team will be getting a lot of experience of playing in Europe in the final weeks before the action begins. They arrive in the Netherlands on 23 June and then go on a whirlwind tour of matches, including a Four Nations event in Breda running alongside the Men's Rabobank Hockey Champions Trophy, test matches against Ireland and then a Three Nations event against China and Belgium.

Aside from the physical preparation and the acclimatisation, all the players at the Vitality Hockey Women's World Cup in London will also have to cope with thousands of cheering fans. How on earth does a coach prepare his players for that sort of stress?

"We have a few athletes that have played in either a World Cup or at the Olympic Games so the experienced athletes can share their feelings with the less experienced ones," says the Australian. "However, one of the greatest things to see is the excitement and energy of athletes that comes from seeing and experiencing something for the first time.

"You can simulate and talk about scenarios all you like, but until you are faced with the reality of the situation it's hard to pinpoint exactly how they will react. We'll be keeping our focus on what we can control, our process and really looking to have fun and enjoy the atmosphere."

Watching various teams from around the globe there are obvious differences in style. The Asian style of hockey is often described as very defensive. For Farry, the challenge has been to encourage his athletes to maintain and apply their high levels of discipline towards training but to take a more athlete-centred approach to learning and development.

"The Japanese hockey culture is disciplined, but it is also enthusiastic, adaptable and open to change. I would like to think that we are moving towards a more athlete-centred and coach driven programme, I am learning from the group all the time about how we can play and the different styles we can build on, it's an exciting time. The players' work rate is excellent. What we need to improve is the decision-making and game management."

With the Tokyo 2020 Olympic Games just 18 months away, Farry and his team are extremely conscious of how important it is for hockey to raise its profile in Japan over the next few months. While the long term aim is undeniably on a medal at the home Olympic Games, a good performance at this year's World Cup will be a great stepping stone for encouraging the Japanese population to take the hockey team to their hearts.

For Farry, the opportunity to work in Japan has provided some challenges and some fantastic experiences. He says the language barrier has been testing but it has helped both the coach and his players think more carefully about their communication skills.

"I quickly recognised how you can take simple conversations with an athlete/staff member for granted and when that isn't the case it forces you to adapt and learn, which is great."

Anthony Farry is a coach who is as happy to learn new ways as his players are. The Vitality Hockey Women's World Cup will doubtless throw up some questions for the team ranked 12th in the FIH Hero World Rankings but Farry and the Cherry Blossoms are not shy of facing new challenges and learning from every experience.

Japan open their Vitality Hockey Women's World Cup campaign with a Pool D match against Australia on 21 July. They also face New Zealand and Belgium in the pool stages.

For the full Vitality Hockey Women's World Cup, London 2018 schedule click here.

#HWC2018

FIH site


---

England Hockey close to announcing women's World Cup squad

By Richard Bright



Alex Danson will lead England at the women's hockey World Cup

England Hockey has yet to finalise a date for the announcement of its squad for the Vitality women's hockey World Cup with one month to go.

But it is understood that Danny Kerry will likely reveal the 18-strong squad around the turn of the month – with three weeks to go until the start of the event in London on July 21.

While some of the 16 competing nations have already named squads for the World Cup, top nations such as Argentina, Germany and the Netherlands have yet to do so.

Holders the Netherlands will announce their squad after a four nations event next week.

There will be much anticipation over the makeup of Kerry's World Cup players, with several Olympians having missed out at the Commonwealth Games through injuries.

England Hockey remained tight-lipped on the inclusion and fitness of Shona McCallin, Nicola White and Lily Owsley, the latter two being excluded late on from the Gold Coast Games after picking up injuries in warm-up games prior to travelling.

England continue preparations with friendly games against Spain and Belgium, which conclude before the end of the month, while there will also be preparation matches at the start of July against Germany at Lee Valley as Kerry fine tunes his side on the main World Cup pitch at the Olympic Park venue.

Meanwhile, first round of interviews have taken place as a replacement is sought for Bobby Crutchley as England men's head coach.

Crutchley left his role suddenly last month, with Russell Garcia taking over for England's European tour this month.

The Hockey Paper


---

A positive frame of mind for Wales ahead of 2018 Open Series

Stevie Marie-Jones




With the Gold Coast now just a memory and with the Poland test series having given a number of young players a first taste of senior international competition, Wales' senior men have completed their preparation ahead of the first round of the Open Series in Croatia.

Going up against some familiar opposition from past competitions, Co-Captain Lewis Prosser is confident in the squad, despite the recent disruption due to study and work commitments. The recent three match test series against Poland, saw Wales blood four fresh faces, something Prosser fully endorses, suggesting it increases both the depth and competition within the squad. Stating that "in general it makes a squad play better, collectively and individually as well."

The men will be facing Austria, Switzerland, Croatia, and Slovakia during their time at the Open, with Slovakia being their opening game. Austria who are ranked 5 places above Wales and are a well know foe are likely to pose the sternest of tests.  Having played each other in a number of tight and competitive test series over the past few years, Wales know that controlling their key players will be pivotal in deciding the outcome of that key encounter.

Head Coach, Zak Jones had plenty of positives to share ahead of the squad jetting off to Croatia:

With only a short but intense preparation period and despite missing a number of experienced players at various points, I am really pleased with how we have continued to build on the positive performances and strong foundations of the Commonwealth Games.  The intensity and quality in this training block has been excellent and the squad are very much looking forward to what we know will be the very different and tough challenges that the sides we face in Croatia will present.  With a very good blend of youth and experience, the potential in this squad really excites me and we will look to continue to develop our positive, high tempo, attacking style of hockey

The squad arrive in the Croatian Capital, Zagreb on Friday 22nd June, two days ahead of their opening game, allowing them key time to fit in some final training sessions. The unfamiliar pitch and country will offer another challenge for the Welsh men, who'll be looking to get settled as quickly as possible and become comfortable with what will be their playing environment until the end of June.

Wales will play four games in six days but despite this heavy schedule Prosser is not overly concerned:

We usually have three games in three days, or four games in five days. We are a very fit squad, we take our fitness very seriously and our strength and conditioning programme has been unreal, so our fitness has, as a squad, become better and better

The men play Slovakia on the 25th June, before facing Austria on the 26th, Switzerland on the 28th and finally Croatia on the 30th, and there is plenty of confidence in the Welsh camp leading up to the Open Series. The mature players who are experienced in similar, round-robin formatted competitions at such a top level will undoubtedly help those who are seeing it all for the first time, and recovery sessions will be key to keeping legs fresh and minds focused.

Both squad and coaching staff are fully aware of the differences between the Commonwealth Games and the Open Series. The countries that Wales men will be facing may not be the top ranked sides that Wales fought hard against on the Gold Coast, but they will certainly offer new challenges for the Dragons to tackle. For Prosser, the focus is on their own performances rather than the opposition "if we play our way and the way we know we are capable of, we are confident that we will perform well and finish high up in the tournament."

SQUAD
GK   David  Kettle   Teddington
GK   James  Fortnam   Cardiff  &  Met
DEF   Gareth  Furlong   Surbiton
DEF   Dan  Kyriakides     Reading
DEF   Hywel  Jones   University  of  Birmingham
DEF   Ioan  Wall   Cardiff  &  Met
DEF   Eddy  Evans   Cardiff  &  Met
SC   Jacob  Draper   Cardiff  &  Met
SC   Lewis  Prosser  ©   Surbiton
SC   Luke  Hawker  ©   Cardiff  &  Met
MF/FWD   Dale  Hutchinson     Reading
MF   Rupert  Shipperley     Hampstead  &  Westminster
MF/FWD   Owain  Dolan-­‐Gray   Reading
MF   Alf  Dinnie     Cardiff  &  Met
FWD   Ben  Francis   Reading
FWD   James  Carson     Reading
FWD   Rhys  Bradshaw   Cardiff  &  Met
FWD/MF   Joe  Naughalty   Brighton  &  Hove

RESERVES:

GK   Jack  Tranter   Nottingham  University
DEF/FWD   Rhys  Doherty   Richmond
SC   Rob  Mugridge   Oxted
SC/MF   Rhodri  Furlong   University  of  Birmingham
MF/FWD   Jolyon  Morgan   University  of  Birmingham
DEF   Alistair  Clift   East  Grinstead

Hockey Wales media release


---

When Powell's Stars Collided At The Sydney Olympics

Alexie Beovich




The 2000 Sydney Olympics were a momentous occasion in Australian sporting history but with them came immense pressure and expectation on 1996 gold medallists the Hockeyroos.

The Hockeyroos entered into Sydney as the 'golden girls' of Australian sport, having defeated South Korea in the 1996 final in Atlanta 3-1 to secure their second ever gold medal.

With that came the weight of expectation as the home team in Sydney.

Former Hockeyroo Katrina Powell, who scored in the 1996 final, recalls: "The pressure was external. Even though we knew we weren't the same team, externally we were still the Hockeyroos and people expected us to do well.

"We tried to push it aside. It's difficult at home. That's when you go back to the process and the job you have within the team. That's the good thing about hockey, you're in a team and you don't have the feel the pressure alone. The team was there to shield each other.

"We also had an underlying belief that we knew we could do it."

There's no underestimating the challenge of backing up an Olympic gold. As the saying goes, it is more difficult to stay on top than to get there.

"We were already a successful team," Powell adds. "A lot of our prep was around being able to back that up.

"We spoke about how hard it is to back up Olympic Games four years apart. We did a lot of work on saying 'why not us?'. We innovated in between and had progressed. We hadn't stayed the same."

Australia defeated Great Britain 2-1 in their opening game, before a 1-1 draw with Spain. The Hockeyroos sealed top spot in the pool, though, with 3-1 and 3-0 wins over Argentina and South Korea respectively reinforcing the expectations of Aussie gold.

The side continued their impressive form in the Medal Round, crushing New Zealand, the Netherlands and China 3-0, 5-0 and 5-1 respectively to seal a spot in the gold medal match against Argentina, who thrashed New Zealand 7-1 in their final match to win through.

Powell recalls: "When I look back at it, I think Argentina had played their final the game before to qualify for the final, whereas we knew we had one more game, we were focused.

"When Argentina made it through, they celebrated like they'd won. We weren't satisfied."

Despite the pressure, the Hockeyroos dominated the final with Alyson Annan scoring early to settle the nerves. Further goals from Juliet Haslam and Jenny Morris put the side 3-0 up before the Argentines pulled one back through Vanina Oneto but it proved to be mere consolation.

"It all went our way," Powell reflects. "We started well. That set the scene. That belief comes out.

"I think sometimes it showed externally. I hope it wasn't arrogance but we were a pretty tight unit and gave off an aura which was almost unbeatable. Once we started well, that was the end of it. The crowd just takes you."

Cue the celebrations in front of a packed crowd at the Sydney Olympic Park Hockey Centre.

"It was a big relief," Powell says. "It was really exciting. I probably felt more relief in Atlanta that we'd done it and got one.

"Sydney was more exciting. We had way more family and friends sharing it with you.

"Having (sister) Lisa in the team, we had a good batch of family and friends. It was so exciting.

"I still feel so lucky I was in such great team with such a great coach, support staff and organisation behind us to play at a home Olympics at that time.

"That's star colliding and everything working in your favour."

Hockey Australia media release


---

Irish PSi Showdown reaches climax with world stars bound for Gormanston Park

Seventeen teams and a wealth of indoor hockey fans will descend on Gormanston Park to enjoy the inaugural PSi Showdown this weekend as the event reaches its climax.

In addition to 43 quickfire matches on the boards, the event has also attracted a series of stars to take part in an All-Star game at 2pm (free entry for all) which will provide the highest quality indoor hockey event in Ireland for many years.

Chief among them is Bjorn Kellerman, a Dutch international who won the 2015 Indoor World Cup and the 2017 outdoor European Championships. In between, he has won the Dutch club title twice with David Harte at SV Kampong as well as the Euro Hockey League in 2016, scoring spectacular goals at every turn.

He is joined in Dublin by Kampong team mate Sjoerd de Wert, another Indoor World Cup winner, as well as Irish legend Ronan Gormley and Ross Canning. All three players lined out for All-Star teams at the PSi in Cape Town last December.

The game will provide a focal point to Saturday's action. The Showdown, itself, will see five girls teams playing a straight round-robin in the first years girls section with the Wicklow Wasps, the South Dublin Vikings, the Kildare Swans, the North Dublin Knights and the Belfast Bears battling it out.

In the girls Sixth class section, there are eight teams with the Kilkenny Cats joining the party for two groups of four while there are four teams – the Cats, Vikings, Knights and Bears – involved in the Under-15 girls section.

Matches will start at 9.30am on Saturday and run through to 6pm running in parallel to a great social programme in with most children staying at the venue overnight.

At the top class Gormanston Park venue in north Dublin, there will also be an Obstacle course bouncing castle, Target shooting inflatables, Chill zone to relax on Beanbags.ie, Giant Jenga, Giant competitive naughts & crosses, 3v3 Bubble suit soccer, Ten pin bowling and a DJ providing music.

Sunday sees the competitions notch up a gear, building toward the finals in the afternoon. It follows six weeks of indoor clinics and challenge matches for each franchise over the last few months, preparing for the Showdown.

Looking forward to the weekend, PSi founder Simon Martin said it is the starting point of what can grow to be a major event in the Irish hockey calendar: "The inaugural PSi Showdown in Dublin is the first building block of creating something incredible together that we hope will serve Irish hockey and provide exciting opportunities for young players all over Europe to benefit from.

"Why can't teams from all over Europe travel to take part in the PSi Showdown each year? Dreams can fly!

"PSi is not only an indoor tournament but also an opportunity for children to learn valuable life skills such as being part of a team, dealing with disappointment of losing and learning to be humble in success.

"It's equally important not to ignore one of the most valuable aspects of the event, building friendships as ultimately there are what last a lifetime."

For Kilkenny Cats founder Eric Comerford, he cannot wait to test his sides against their counterparts at Gormanston Park.

"The Kilkenny Cats team are really proud of what we have established in a short couple of months. Hockey in general is really a minority sport down here and indoor hockey is virtually unknown.

"We took a risk with starting up the PSi Kilkenny Cats in a hurling dominated county but it has truly paid off. The kids love it and having something like Showdown (and a weekend away from the parents) had the kids hooked from the start!

"Parents have been super receptive from the beginning, they are now 100% behind us and want more of the same going forward."

There is an additional bonus to come from the weekend, too, with a junior and senior team selected from the competition who will have the opportunity to travel to Cape Town, South Africa to play in a PSi event.

Girls First Year section (round-robin): Wicklow Wasps, South Dublin Vikings, Kildare Swans, North Dublin Knights, Belfast Bears

Girls Sixth Class section
Pool 1: Wicklow Wasps White, South Dublin Vikings Yellow, Kildare Swans, North Dublin Knights Green
Pool 2: Wicklow Wasps Blue, South Dublin Vikings Blue, Kilkenny Cats, North Dublin Knights Grey

Girls Under-15 Section (round-robin): South Dublin Vikings, North Dublin Knights, Belfast Bears, Kilkenny Cats

The Hook


---

Magnolias, Malvern women continue impressive start

Nigel Simon

Shandy Carib Magnolias and Malvern continued their impressive unbeaten starts to the T&T Hockey Board Women's Championship Division at the National Hockey Centre, Tacarigua on Tuesday.

First into action was Malvern which got a double from former national standout Oire Trotman in a 3-1 defeat of struggling defending champions Paragon.

In fact, all the goals on the day were converted by either past or current national players with Krizia Layne getting the go-ahead item for Malvern in the 31st minute before Trotman doubled the advantage six minutes later.

Paragon then cut the lead in the half, through former national captain and Australian-based player Alanna Lewis in the 40th minute, but any chance of snatching a share of the points was dashed when Trotman fired in her second of the match, and the team's third in the 57th minute.

In contrast, Shandy Carib Magnolias did not have much trouble with a goal each from Kaitlyn Olton (14th), Rebekha Ngui (17th), USA-based Samantha Olton (19th) and her sister Amie Olton (58th) the players on target.

And on Saturday last, USA-based Brianna Govia banged in a double to inspire Magnolias to a 6-0 hammering of Paragon.

Govia who attends St John University along with Olton (S) got her brace in the eighth and 12th minutes after Savannah De Freitas opened the scoring as early as the first minute, followed by Olton (21st), Brittney Hingh (52nd) and Amie Olton, in the 56th.

QPCC, Petrotrin in goal spree

Queen's Park Cricket Club and defending champions Petrotrin were in ominous goalscoring form as they ran out with lopsided wins in their latest T&T Hockey Board Men's Championship Division encounters.

The Parkites got a double from former Guyana international Jerazeno Bell (10th & 18th) in a hard-fought 3-2 win over Malvern on Tuesday.

T&T international Jordan Reynos got the other important item for Queen's Park in the 26th minute while Aidan Marcano (ninth) and Tariq Marcano (30th), a national player as well got Malvern goals.

Petrotrin had a better outing as they peppered Notre Dame 6-0 led by a double from Wayne Legerton (5th & 17th) and Atiba Whittington (14th & 33rd) while John Williams and Nicholas Grant also scored.

On Sunday, the Parkites registered the biggest win so far this season, 9-2 against Fatima with Marcus Pascal firing in a beaver-trick in the 15th, 30th, 49th, and 59th minutes while a day earlier, Malvern and Defence Force drew 2-2.

T&T HOCKEY BOARD RESULTS

MEN'S CHAMPIONSHIP:

JUNE 16:
• Malvern 2 (Aidan Marcano 1st, Jeshurun Drayton 50th) vs Defence Force 2 (Marcus James 27th, 49th)

JUNE 17:
• QPCC 9 (Marcus Pascal 15th, 30th, 49th, 59th, Shawn Lee Quay 10th, 60th, Jordan Reynos 4th, Aidan De Gannes 11th, Jerry Bell 41st) vs Fatima 2 (Adam Perreira 46th, Jordan Vieira 54th)

JUNE 19:
• QPCC 3 (Jerry Bell 10th, 18th, Jordan Reynos 26th) vs Malvern 2 (Aidan De Gannes 4th, Tariq Marcano 30th)
• Petrotrin 6 (Wayne Legerton 5th, 17th, Atiba Whittington 14th, 33rd, John Williams 29th, Nicholas Grant 57th) vs Notre Dame 0

WOMEN'S CHAMPIONSHIP:

JUNE 16:
• SC Magnolias 6 (Brianna Govia 8th, 12th, Savannah De Freitas 1st, Samantha Olton 21st, Brittney Hingh 52nd, Amie Olton 56th) vs Paragon 0

JUNE 19:
• Malvern 3 (Oire Trotman 37th, 57th, Krizia Layne 31st) vs Paragon 1 (Alanna Lewis 40th)
• SC Magnolias 4 (Kaitlyn Olton 14th, Rebekha Ngui 17th, Samantha Olton 19th, Amie Olton 58th) vs Harvard Checkers 0

The Trinidad Guardian


---

Great initiative from Hockey New South Wales




Many people seem to forget that a lot of our umpires are young and learning. They aren't World Panel umpires and will get some decisions wrong. It's not the end of the world.

Remember - NO RESPECT, NO OFFICIALS, NO GAME

Take the pledge✋ - http://ht.ly/iPHX30kAPY6

Hockey New South Wales Facebook page


---

Dilip Tirkey praises Odisha CM Patnaik's initiative to popularise hockey

BHUBANESWAR: Former Indian hockey team captain Dilip Tirkey on Thursday appreciated Odisha Chief Minister Naveen Patnaik's initiative to officially notify hockey as the national game of the country.

Tirkey's reaction came a day after Patnaik wrote to Prime Minister Narendra Modi seeking his intervention for issuing a notification to accord national game status to hockey.

ALSO READ: Patnaik requests PM Modi to name hockey national game of India

In his letter to Modi, Patnaik had wondered as to how there was no official notification declaring hockey as a national game.

"I appreciate chief minister's work and research which bring to light that hockey is not yet the national sport officially. If you check facts, you'll realize an RTI filed in 2012 had revealed the same. People's misconception had the sport taken for granted, when hockey actually brought laurels to the country in the past," Tirkey, a former Rajya Sabha member, said.

Tirkey, who too belonged to Patnaik's BJD, urged the people across the country to support Odisha chief minister and promote hockey in India. "India has got highest Olympic gold medal in hockey. Therefore, it should be promoted more," he said.

He said the state's hockey players are happy that the Odisha government is sponsoring and promoting the game.

"I urge you all to involve yourself in the step taken by CM as hockey needs more recognition, Tirkey added.

Tirkey found support from former Indian national hockey team player Lazarus Barla, who said: "Like Odisha Chief Minister, other state CMs should also write to the Prime Minister and mount pressure to notify hockey as the national game. We appreciate Patnaik's initiative."

Patnaik's letter to the Prime Minister has also received widespread support on social media.

Patnaik's letter was posted on his Twitter handle within 24 hours.

The Times of India


---

Hockey as National Game: Rathore sees no need for official word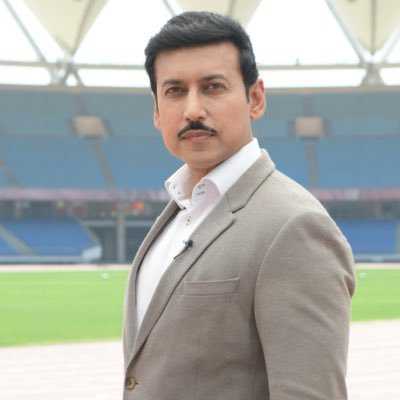 Rajyavardhan Singh Rathore, Sports Minister

A day after Odisha Chief Minister Naveen Patnaik wrote to Prime Minister Narendra Modi to declare hockey the National Game, Union Sports Minister Rajyavardhan Singh Rathore said no official proclamation was required to love the sport.

"For loving sports and hockey, we do not need an official proclamation... In terms of facilities, hockey is one of the priority sports of our country," said Rathore. He said he would leave it to the people to decide whether they really want hockey to be declared the National Game officially. Odisha is hosting the hockey World Cup in Bhubaneswar in November this year. It was while reviewing the preparations Patnaik learnt that hockey had never been officially notified as the National Game. In his letter to the PM, Patnaik wrote: "I am sure you will agree with the crores of hockey loving fans of our country — that hockey truly deserves to be notified as our National Game. This will be a fitting tribute to the great hockey players who have made our country proud. It will also inspire our future generations."

The Tribune


---

Perth Pythons win Australian Pride in Sport award for LGBTI community work

By Richard Bright



Kookaburra ​Dylan Wotherspoon helped raise club funds PIC: Perth Pythons HC

Perth Pythons, Western Australia's only LGBTI+ hockey club, has won prestigious awards at the Australian Pride in Sport awards.

The club won the 2018 LGBTI Community Sport award at a function in Melbourne this week, while Pythons coach Reid Smith won the LGBTI Inclusive Coach award.

The Pythons came to prominence last year when it produced a cheeky fundraising calendar, which proved such a success that its initial print run sold out.

The calendar was made in response to an international study of homophobia in sport titled Out on the Fields, which found that 80 per cent of participants had experienced or witnessed homophobia through sport, either watching or playing.

Funds raised from the calendar have been used to support the club's work making sport more inclusive and open for the LGBTI community.

Voodoo sponsored players, Gabi Nance, Tom Craig and Dylan Wotherspoon, friends of the LGBTI community, took part in the shoot in Perth.



Gabi Nance poses for the fundraising calendar

Wotherspoon said at the time: "Your sexuality does not define your skill or commitment – and yet homophobia stops many LGBTI people from participating in sport. Sport should be inclusive for everyone."

At this week's awards, the co-founder of the Pride in Sport index, Andrew Purchas, said: "These awards provide sporting organisations with an opportunity to reflect on their work in the inclusion of LGBTI participants and staff, and identify areas they can address to ensure their sport is truly inclusive.

"Many of Australia's sporting organisations are recognising positive steps need to be taken to ensure your sexuality, gender identity or intersex status does not impact your ability to play, watch or be involved with sport at any level.

"And we're proud to celebrate those success stories at the Pride in Sport awards."

The Pride in Sport index was established in 2014 by the Australian Human Rights Commission, Australian Sports Commission and Bingham Cup in recognition of the significant work that had to be done to eradicate homophobia and transphobia within Australian sport.

The London Royals HC will host its Pride Cup in London on June 30. The event is a 7-a-side mixed tournament held at Honor Oak Park.

The Hockey Paper


---

Hockey Australia Appoints New GM Strategy & Game Development

Penny Sidhu




Hockey Australia (HA) today confirms the appointment of Michael Johnston to the newly created role of GM, Strategy and Game Development.

The role is critical to HA's ambitions to grow the game and deliver increased engagement with the hockey community. Johnston is the final appointment in the new executive structure with HA CEO, Matt Favier saying the ability to drive a national strategic agenda and deliver outstanding stakeholder management requiring a high calibre candidate in the role.  

"Michael brings with him extensive experience in sports administration and strategy development. His ability to bring a fresh perspective and deliver great outcomes for the hockey community is wonderful and I am delighted to welcome him to our team," said Favier. 

Johnston comes to Hockey Australia from the Australian Sports Commission (ASC) with significant leadership experience across a range of areas in the game development and strategy space, along with excellent stakeholder management experiences, including Federal and State Departments of Sport. 

The role sees Johnston tapping into his experience leading the ASC Sports Governance & Business Capability branch and his project work across the areas of governance, strategy, culture, integrity, and commercialisation targeted towards NSO business capability.

During his eight years with the ASC, he was directly engaged with a number of NSOs regarding the development of participation projects and products for surfing, sailing, softball and baseball.

Johnston joins HA on July 2nd and is looking forward to working with a talented team of participation professionals.

"I take great enjoyment in 'connecting the dots' to bring isolated functions, ideas and people together to achieve greater outcomes, and I look forward to involving myself completely in Hockey," Michael said.

Hockey Australia media release