All the news for Sunday 27 May 2018

Hockeyroos win Tri Nations in Cromwell



Renee Taylor (AUS) tries to take on Rose Keddell (NZL). Photo: www.photosport.nz

Australia's Hockeyroos have won the Pioneer Energy Women's Tri Nations after a commanding 4-1 victory over the Vantage Black Sticks in Cromwell.

The Hockeyroos drew first blood in the eighth minute when Jodie Kenny slotted a penalty stroke after a shot from the preceding penalty corner hit the body of a defender on the line.

New Zealand equalised midway through the second quarter from a penalty corner, with Sam Harrison getting a fantastic diving deflection on the drag from Anita McLaren.

Just seconds out from halftime the Hockeyroos grabbed the lead again when Ambrosia Malone's touch found its way around goalkeeper Grace O'Hanlon.

Australia pushed out to a 3-1 advantage in the 35th minute after some scrappy work at the back allowed the Hockeyroos to force a turnover, Emily Hurtz finishing with a straightforward tap in.

Brooke Peris then clinched the series for her side with a goal on three quarter time.

New Zealand defender Frances Davies played her 50th international test in the fixture.

Head coach for the series Sean Dancer said it had been a tough series but one that gave his side plenty to build on.

"You've got to give Australia credit, they're a great team and hard to stop. They gave us a bit of a lesson today," he said.

"Today was probably quite indicative of how the week has gone for us, we haven't had the consistency to get through games effectively so that's certainly a focus moving forward.

"It's been a great learning experience and challenge for our group but the support from everyone down here in Cromwell and the wider region has been amazing."

The Pioneer Energy Women's Tri Nations is proudly supported by presenting partner Pioneer Energy and the Central Otago District Council.

VANTAGE BLACK STICKS 1: (Samantha Harrison 19')
AUSTRALIA 4: (Jodie Kenny 8', Ambrosia Malone 30', Emily Hurtz 35', Brooke Peris 45')
Halftime: Australia 2-1

Hockey New Zealand Media release


---

Hockeyroos Dominate Black Sticks To Win Tri Nations Title

Ben Somerford




The Hockeyroos have won the Tri Nations series after a commanding 4-1 victory over hosts New Zealand in Sunday's final in Cromwell.

The triumph provides a bit of revenge for Australia who lost to the Black Sticks in the Commonwealth Games gold medal match last month.

The win, which capped a dominant week for Australia with four victories from five games, is also great preparation for the Hockeyroos ahead of the World Cup in London starting in July.

Australia were impressive throughout the decider, with goals from Jodie Kenny (8'), Rosie Malone (30'), Emily Hurtz (35') and Brooke Peris (45').

The victory was also sweeter in captain Emily Smith's 200th international match.

Smith said: "We're very proud. It was very special to win in my 200th game.

"Obviously after the Comm Games we were disappointed to get the silver so we used this as a chance to play in pressure games and it went well."

Kenny put the Hockeyroos ahead in the eighth minute after Australia won a penalty stroke from a short corner.

The Black Sticks leveled in the 19th minute when Samantha Harrison deflected past goalkeeper Ashlee Wells from a penalty corner.

Wells came to Australia's rescue late in the first half when Olivia Merry was in one-on-one on goal before Malone restored the visitors' lead.

Malone, who scored her first international goal earlier in the series, fired in a reverse stick shot which New Zealand goalkeeper Grace O'Hanlon couldn't stop.

Australia went on with the job after the main break, with Peris' brilliant lead-up play setting up Hurtz to convert from close range.

Peris scored a goal of her own shortly prior to three-quarter time after Kristina Bates' bobbled pass into the shooting circle.

Both sides had chances in the final quarter but Australia did enough to seal the 4-1 triumph, earning their third straight win over New Zealand.

Australia 4 (Kenny 8', Malone 30', Hurtz 35', Peris 45')
New Zealand 1 (Harrison 19')

Hockey Australia media release


---

Australia outplay Black Sticks women in tri-nations final



Kaitlin Nobbs of Australia and Olivia Merry of New Zealand during the Tri Series Final. Photo / Photosport

Australia completed a dominant week of hockey against New Zealand with a 4-1 win in the tri-nations final in chilly Cromwell today.

The inaugural tri-series in the far south proved popular with the crowds but if they were hoping for a strong performance by the recent Commonwealth champions, they were out of luck.

Australia won their two round-robin clashes 4-1 and 3-0, and lost their first game to world No 12 Japan 2-1 before winning the second 4-1.

World No 5 Australia, who have been harbouring bitter disappointment since being dunked 4-1 by fourth-ranked New Zealand on the Gold Coast last month, were spirited and committed throughout the week. They capped that impressively yesterday.

They finished their week's work having scored 11 goals and conceded only two against the Black Sticks.

"You've got to give Australia credit, they're a great team and hard to stop. They gave us a bit of a lesson," said Black Sticks assistant coach Sean Dancer, who has been acting head coach this week.

Jodie Kenny put Australia in front with a penalty stroke but experienced midfielder Sam Harrison equalised with a fine diving deflection off a penalty corner set move early in the second quarter.

Further goals by Ambrosia Malone, Emily Hurtz and Brooke Peris on the three-quarter time mark, made the win emphatic.

The Black Sticks have been without some key senior figures for the series. World Player of the Year finalist Stacey Michelsen is having a short overseas break, defender Liz Thompson is nursing a back niggle, and experienced Sam Charlton is recovering from knee surgery. But there were no excuses from Dancer.

"[Yesterday] was probably quite indicative of how the week has gone for us. We haven't had the consistency to get through games effectively.

"It's been a great learning experience and challenge for our group but the support from everyone down here in Cromwell and the wider region has been amazing," Dancer said.

The series was very much a local initiative, with businesses stumping up funding to put it on.

Crowds of about 1500 turned up for the transtasman matches. That should be enough to encourage Hockey New Zealand to repeat the exercise at some point.

Taking a game to far-flung areas has never been a poor idea and the locals repaid with interest.

All three teams are preparing for the World Cup in London in July. New Zealand and Australia are in the same pool.

The New Zealand Herald


---

Black Sticks no match for Australia in third successive Tri-Nations defeat



Frances Davies tries to create something for the Black Sticks during their one-sided final against Australia. CLARE TOIA-BAILEY/PHOTOSPORT

There was only one team who lifted their game in New Zealand's deep south - and it wasn't the Black Sticks.

Australia added the icing to a week of dominance over their Commonwealth Games conquerors with a 4-1 victory over New Zealand in the Tri-Nations women's hockey final in chilly Cromwell on Sunday.

It added up to a remarkable 11-2 aggregate score in Australia's favour over three trans-Tasman clashes this past week, a stark turnaround from the Black Sticks' 4-1 win in the gold medal match on the Gold Coast last month.



Rose Keddell has control with Renee Taylor in hot pursuit during the Tri-Nations final in Cromwell. CLARE TOIA-BAILEY/PHOTOSPORT

In single figure temperatures, with some players donning leggings and long-sleeved thermal tops, the visitors again ran hot.

A close contest looked on when New Zealand's Samantha Harrison dived to deflect a goal from a penalty corner in the 19th minute to level the scores.



Ambrosia Malone was one of four Australian goalscorers in their march to the title against New Zealand on Sunday. CLARE TOIA-BAILEY/PHOTOSPORT

But Ambrosia Malone's field goal on the stroke of halftime gave Australia the lead again, and by the end of the third quarter it was all over at 4-1 thanks to goals from Emily Hurtz and Brooke Peris.

The Black Sticks were without some key players from the Gold Coast but clearly still have work to do ahead of their next big assignment, the World Cup in London in July.

After losing their opening match to Japan, New Zealand then scraped past them via a penalty shootout on Saturday to book their spot in the decider.

Stuff


---

2018 Test Matches: ARG v MAS (M) - 2nd test
Buenos Aires (ARG)

ARG v MAS     6 - 1

FIH Match Centre


---

Confident Bloemendaal sweep into EHL Grand Final



©: Frank Uijlenbroek/World Sport Pics

Bloemendaal advanced to the EHL Grand Final with a confident 6-0 win over Rotterdam to set up a Grand Final date with SV Kampong on Sunday, May 27 (4pm CET).

It was built around Jamie Dwyer's first half penalty stroke, a cracking second half solo goal from Florian Fuchs and a late Thierry Brinkman touch.

Speaking about the win, Fuchs said afterwards: "We defended really well as a team, collectively, straight from the beginning, and were really sharp. We came from quite a disappointing playoff weeks and so wanted to do so much better and that's what the whole team showed today. We put everything into it and it was an absolutely stunning team performance.

It was the perfect way for him team to bounce back from the tough losses in the Dutch playoffs and the German star said it was easy to do so given the club support.

"Look at what the club has organised in the last few days and the atmosphere. It helps you forget about [the disappointment]. You just want to do your best for your team, your club and are given so much enthusiasm by this atmosphere. It has been difficult but it has been a learning process as well."

His goal was another special one in the history of the EHL, an event which he has a special affinity for.

"I've been playing in it a long time and I just love it. But it's not just me. Everyone on the team and the club knows what the EHL is about and that's why you want to win it so much."

Early on in the game, there were chances at both ends with Roel Bovendeert volleying over first time from a long ball and Berend van Eldonk did brilliantly to keep out a Tim Swaen penalty corner shot.

Rotterdam had a number of corners before the half-time break but they found it difficult to get around the first runner with three charged down, yielding only a diving shot from Seve van Ass that slipped by the post.

The breakthrough for Bloemendaal came with eight minutes to go in the first half when van Eldonk tripped an attacker coming in from the left baseline, offering the chance for Jamie Dwyer to score from the following stroke.

Bloemendaal strengthened their position in the second half in absolutely stunning style when Swaen picked up the ball on the edge of his own 23-metre line and laid off for Fuchs. He embarked on an incredible, mazy solo run up the field that ended with him bunting home from mid-circle at the end.

Dwyer missed a great chance to make the game safe in the closing ten minutes but that final field goal did come in the last minute when Thierry Brinkman tapped in from Dwyer's cross.

Euro Hockey League media release


---

Kellerman inspires Kampong to the GRAND FINAL



©: Frank Uijlenbroek/world Sport Pics

SV Kampong moved a step closer to a second Euro Hockey League title as they beat Herakles 6-2 in the first semi-final of the FINAL4 weekend at Bloemendaal.

Kampong got off to the perfect start as they scored two field goals in the opening nine minutes to give them a commanding 4-0 lead.

The first came after a mad-scramble with Robbert Kemperman deflecting home the goal from Bjorn Kellerman's smash at goal. Victor Donck had brilliantly taken an initial chance off the line from Jasper Luijkx.

It became four when a massive long overhead from Martijn Havenga out of defence was missed by the last defender and Bjorn Kellerman stole in around the back, playing a cross for Constantijn Jonker to slap in.

The Dutch side had chances to extend their lead with Kellerman to the fore while Luijkx almost produced a brilliant third field goal when he got a touch to a Kellerman cross.

But Herakles are fighters and they got right back in the game when Antonio Sanz del Campo got to the baseline. David Harte cut out his knee-high cross but Nico de Kerpel was available to volley in the follow-up chance.

He also saw a corner shot deflect just wide as the Belgian side grew into the game toward the end of the third quarter.

But Kellerman made the game safe early in the fourth quarter with a delicious flick into the top corner from a narrow angle, putting the game out of reach of the Belgian side.

"I think we played really great. We had a really happy performance like last week with just one week to prepare and repair and we did it really well," Kellerman said afterwards.

"Mentally, we are really strong so we know we can play in the final but first we had to get through this one and play for that beautiful, beautiful prize.

"We have played about six years together and to win prizes, you have to play really well with each other. We know each other inside and out and you saw that today."

Euro Hockey League media release


---

Stockbroekx and Bloemendaal looking to learn from harsh playoff lessons



©: Frank Uijlenbroek/world Sport Pics

HC Bloemendaal's Manu Stockbroekx says it is a "dream come true" to get to play in the club's colours on home turf in the FINAL4 this weekend.

"As an athlete you work very hard and long in silence and in the dark," he told the EHL website. "Now, to finally show the world on what we have been working is quite a special feeling."

They take on HC Rotterdam this afternoon at 4pm (CET) in another intense battle in a month filled with them having gone through three weeks of big playoff game after big playoff game.

In the end, Bloemendaal ended fourth in the Netherlands but the Belgian star feels his side were never far off the mark and if a couple of key moments fell their way, it could have been a very different story. In those moments, though, his side learned some harsh lessons.

"The playoffs this year were the most intense play offs ever. I didn't expect to end fourth in the Hoofdklasse with the team and players we have and especially how we dominated the Hoofdklasse during the season.

"I think we were a bit scared with how good we were becoming! If you see the statistics of our play (goal shots, pc's, etc), we could have easily won the second leg of the semi final four or five nil. We didn't kill the game against Amsterdam.

"How they came back was lucky but, in the end, also showed their fighting spirit. That blow from being so close and losing that game while we were 2-0 up with a quarter to play was a very big hit mentally for our team.

"Guys weren't themselves anymore and lost confidence. The mental aspect was a big factor during the playoffs. So lessons are to kill the game and hold a bit more control or play smarter during lesser periods."

Nonetheless, Bloemendaal beautifully showed their potential in the KO16 in Rotterdam with two breathtaking 8-0 wins, first against KHC Dragons and then Saint Germain.

The Dragons match was particularly memorable, coming up against his former club in front of a packed house.

"It was one of those games I'll remember for the rest of my life. The atmosphere was so intense because of the big names in both teams and, in my eyes, the most beautiful clubs in Europe... and maybe the world … facing each other.

"The crowd was also amazing. A full, packed stadium for a hockey game between two very strong club sides. This is how hockey should be presented. It is in the hands of the players to make it a spectacle to remember. And I think we managed to do that!

"It was a bit strange [playing against his longtime club mates]. But when that whistle goes I need to focus on my game to be the biggest value to the team I'm playing for and represent the values I hold close to my heart."

Rotterdam are next on the agenda, a side they beat and drew with during the Dutch season but Stockbroekx knows the qualities they have to cause serious problems.

"They are a very strong side with some big names like Hertzberger. He's a player to watch together with Van Ass. They are skillful and quick and can decide a game.

"It is vital to be aware over them. Also, they have some young talents who are eager and can be dangerous. As shown in previous games, we'll need to bring our best game to beat them."

Euro Hockey League media release


---

Kellerman says Kampong and Herakles team ethic a crucial factor



©: World Sport Pics

Bjorn Kellerman says the "team" qualities of both SV Kampong and Herakles are what shine through the most for both clubs rather than focusing on star men.

Kellerman has produced some moments of wonder for Kampong in the last few seasons, notably in the EHL FINAL4 in Barcelona with a series of beautiful long passes for Robbert Kemperman and Quirijn Caspers to score key goals.

But above all, he feels the Utrecht club are a collective, something that has powered them to two Hoofdklasse titles and one EHL crown since 2016

Looking forward to the game, Kellerman said of Herakles: "They cannot reach the semi-finals for nothing. They are a strong team, beating big teams like Polo and Atletic Terrassa so we should not underestimate them.

"This kind of EHL semi-final is different compared to competition games so we will do everything to play our best game! I think the strongest point is that they are a TEAM. They play defend together and the attack together. We have the same strength so it will be a really nice game to watch!"

Kellerman says their in-depth research on Herakles started on Wednesday morning with a video session after a couple of days of celebration.

Those celebrations came after their 3-1 win over Amsterdam last Sunday with Kellerman scoring the confirmation third goal at the end, chasing a massive overhead from Martijn Havenga, tipping

"I saw the scoop of Martijn and thought that the stop of Phillip [Meulenbroek] was really difficult because of the sun. So I thought I would keep running! It wasn't difficult because the goal was empty but I was really happy.

"I never scored a goal like this but it feels amazing. The audience exploded, my teammates where running to me and were so happy. It is indescribable, it was the same feeling as the final last year against Rotterdam."

Having won three Hoofdklasse titles – he won one with Rotterdam – and one EHL but is looking to do both in one season for the first time.

"I have never won a double and that's the same for Kampong. We will play every game 100% and then I hope its enough for the EHL title. It will be heavy after a five play-off games but I think we are really fit and motivated to play this kind of games."

Euro Hockey League media release


---

Telkom beat woeful Vikings

By Elizabeth Mburugu



Vikings Lorrain Awour9l) and Telkom Beatrice Wekesa fight for the ball (Jenipher Wachie, Standard)

Veteran Jackline Mwangi was on fire as Telkom thrashed Vikings 11-0 in a Kenya Hockey Union (KHU) women's Premier League match played yesterday at City Park. Mwangi whose prowess at the opponents' goal is unrivaled scored five goals as Telkom registered their fourth victory of the season.

International Lilian Aura netted a hat-trick while Maureen Okumu, Caroline Guchu and Tracy Karanja scored one goal each for the 20-time league winners. The victory saw Telkom dislodge Strathmore University Scorpions from the top of the log. The former Africa champions are tied on 12 points with the Scorpions but enjoy a superior goal difference.

Telkom dominated the match from the onset but their quest for early goals were thwarted by the Vikings defenders and goalkeeper Lorraine Awuor. Mwangi finally got it right seconds to the break of the first quarter giving them a 1-0. Okumu made 2-0 in the 22nd minute before Mwangi added two more goals in the 24th and 28th minutes for a 4-0 lead at half-time.

On resumption, Vikings resorted to defensive play tightening their defence as Telkom strikers surged deep into their territory hunting for more goals. They held on in the third quarter stopping Telkom from scoring more goals. However, they loosened up again in the final quarter allowing Telkom to score at will as Aura and Guchu scored three quick goals in the 47th, 48th and 49th minutes.

Karanja put her name on the score sheet in the 53rd minute with Aura completing her hat-trick two minutes later. Mwangi scored her fourth and fifth goals in the 56th and 60th minutes giving Telkom maximum points.

The Standard Online


---

Hockey India names 48 players for Senior Women's National Camp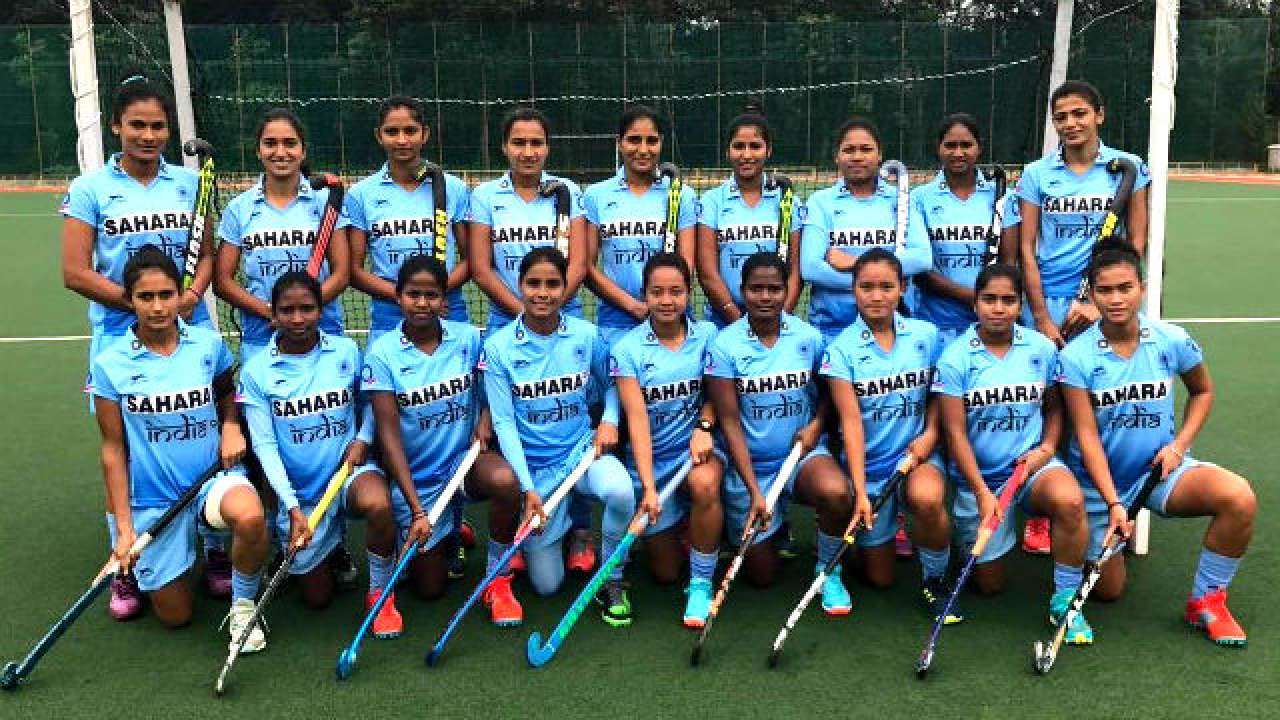 Indian women's hockey team - File Photo, Twitter

Hockey India on Saturday named 48 players for the senior women national camp to be held from May 28 to June 9 at the Sports Authority of India, Bengaluru, ahead of the Spain Tour and FIH Women's World Cup.

After ending their 5th women's Asian Champions Trophy campaign with a silver medal, the Indian team will regroup for the training camp under Chief Coach Sjoerd Marijne on Monday. The team will make use of this short preparatory camp that concludes on June 9 to assess their performance and work on the short comings ahead of the Spain Tour that begins on June 10.

"We will use this camp to further improve our fitness and evaluate the Asian Champions Trophy performance. We will also continue to work closely with the psychologist to improve the mental skills both individually and the team," said Marijne.

The present national campers list includes goalkeepers Savita, Rajani Etimarpu, Swati, Chanchal, Sonal Minj and Jaspreet Kaur. Defenders Deep Grace Ekka, Sunita Lakra, Sushila Chanu Phukhrambam, Gurjit Kaur, Rashmita Minz, Suman Devi Thoudam, Deepika, Neelu Dadiya, Mahima Choudhary, Kanika Raj, Manmeet Kaur, S.P. Kruthika, Nisha have been called up for the camp.

The list of midfielders include Nikki Pradhan, Monika, Lilima Minz, Namita Toppo, Neha Goyal, Udita, Manpreet Kaur, Jyoti, Ramwala Maitri, Anuja Singh, Anajali HR, Shyama Tidgam, Sonika, Puja Yadav and Karishma Yadav.

Forwards Rani, Lalremsiami, Navneet Kaur, Navjot Kaur, Rajwinder Kaur, Vandana Katariya, Anupa Barla, Priyanka Wankhede, Preeti Dubey, Reena Khokhar, Siddhi Singh, Leelavathy Mallamada, Soundarya Yendela and Birajani Ekka too will report to the Camp on Monday.

The girls have played quite a lot of matches over the past two months and we need to be careful with their work load to ensure they are fresh mentally and physically, stated Marijne.

National Campers List

Goalkeepers: Savita, Rajani Etimarpu, Swati, Chanchal, Sonal Minj, Jaspreet Kaur.

Defenders: Deep Grace Ekka, Sunita Lakra, Sushila Chanu Phukhrambam, Gurjit Kaur, Rashmita Minz, Suman Devi Thoudam, Deepika, Neelu Dadiya, Mahima Choudhary, Kanika Raj, Manmeet Kaur, S.P. Kruthika, Nisha.

Midfielders: Nikki Pradhan, Monika, Lilima Minz, Namita Toppo, Neha Goyal, Udita, Manpreet Kaur, Jyoti, Ramwala Maitri, Anuja Singh, Anajali HR, Shyama Tidgam, Sonika, Puja Yadav, Karishma Yadav.

Forwards: Rani, Lalremsiami, Navneet Kaur, Navjot Kaur, Rajwinder Kaur, Vandana Katariya, Anupa Barla, Priyanka Wankhede, Preeti Dubey, Reena Khokhar, Siddhi Singh, Leelavathy Mallamada, Soundarya Yendela, Birajani Ekka.

Daily News & Analysis