All the news for Tuesday 22 May 2018

2018 Pioneer Energy Tri-Nations Women's International Hockey - Day 4
Cromwell (NZL)

NZL - JPN     RR     4 - 1

Pool Standings
| Rank | Team | Played | Wins | Draws | Losses | Goals For | Goals Against | Goal Difference | Points |
| --- | --- | --- | --- | --- | --- | --- | --- | --- | --- |
| 1 | Australia | 2 | 2 | 0 | 0 | 8 | 2 | 6 | 6 |
| 2 | New Zealand | 3 | 1 | 0 | 2 | 6 | 7 | -1 | 3 |
| 3 | Japan | 3 | 1 | 0 | 2 | 4 | 9 | -5 | 3 |
---

Kiwis power back to form in Cromwell



Michaela Curtis breaks away. Photo: www.photosport.nz

The Vantage Black Sticks have struck form once again with a commanding 4-1 result over Japan at the Pioneer Energy Women's Tri Nations in Cromwell.

New Zealand warmed into the match swiftly and found themselves leading inside the opening 10 minutes after Madi Doar struck from the field.

Carrying their advantage into halftime, the Black Sticks doubled the buffer in the 33rd minute with Olivia Merry finding the back of the net.

Japan pegged one back just minutes later when Yuri Nagai converted from a penalty corner opportunity.

But New Zealand controlled the fourth quarter and stamped their authority with Anita McLaren (49') and Kelsey Smith (54') both scoring from penalty corners.

Head coach for the series Sean Dancer said it was a pleasing result and one that gives them confidence going forward in the series.

The Vantage Black Sticks play their final round robin match at 6:30pm tomorrow night where they will be looking for revenge against old foes Australia who beat them 4-1 on Sunday.

The Pioneer Energy Women's Tri Nations is proudly supported by presenting partner Pioneer Energy and the Central Otago District Council.

Odds for games at the Tri Nations are available at www.tab.co.nz along with a special promotion. Simply download the TAB app, set up a new account, deposit $20 using the promo code 'HOCKEY' and TAB will boost your account with a further $20 as well as give $20 to Hockey New Zealand.

VANTAGE BLACK STICKS 4: (Madi Doar 8', Olivia Merry 33', Anita McLaren 49', Kelsey Smith 54')
JAPAN 1: (Yuri Nagai 35')
Halftime: NZ 1-0

Hockey New Zealand Media release


---

Black Sticks women register first Tri-Nations win in style



Olivia Merry scored New Zealand's second goal. (File photo). KERRY MARSHALL/GETTY IMAGES

The Black Sticks women are finally on the board at the Tri-Nations tournament in Cromwell.

The Commonwealth Games gold medallists surged to a 4-1 victory over Japan to register their first win in their third attempt at the week-long event.

Following back-to-back losses against Japan and Australia over the weekend, the Kiwis went into Tuesday night's clash desperate to give the home fans something to cheer about.

Madison Doar got them off on the front foot with an eighth-minute goal before Olivia Merry doubled the lead after halftime.

Having already suffered a late defeat to Japan on Saturday, there may have been a few nerves in the Black Sticks camp when Yuri Nagai halved the deficit via a penalty corner in the 35th-minute.

But the Kiwis held their nerve and finished with a flourish, goals from Anita McLaren and Kelsey Smith capping an impressive performance.

The Black Sticks play their final round robin match on Wednesday against Australia, who take on Japan the following day.

The top-ranked team at the end of round robin goes straight to final on Sunday where they will meet the winner of Saturday's second vs third playoff.

Stuff


---

2018 Test Matches: POL v AUT (M) - 1st test
Siemianowice Slaskie (POL)

POL v AUT     4 - 0

FIH Match Centre


---

U.S. Women's National Development Squad Tops Chile in Game 2 of Test Series




SANTIAGO, Chile - Following their opening weekend victory, the U.S. Women's National Development Squad continued to impress the coaching staff in the second game of the four-game test series against Chile on Sunday, May 20. Similar to the first match, USA looked to take the game to their hosts and create early opportunities en route to a 3-0 victory against the backdrop of another exquisite mountain landscape at the Prince of Wales Country Club in Santiago, Chile.

In contrast to setting the tone early in Game 1, USA was tested first in the opening minutes as the host nation earned the first penalty corner of the game in the 7th minute. Kelly Marks (Elverson, Pa.) was well positioned to block a strike from the top of the circle on the left post. From there, Marks was assisted by Casey Umstead (Green Lane, Pa.) and Mary Beth Barham (Fairfax, Va.) before Karlie Heistand (Hamburg, Pa.) was able to clear their lines.

Shortly before the end of the first period, USA broke the deadlock. Kasey Tapman (Annapolis, Md.) started a great team move winning the ball on the 25 meter line, which Alyssa Parker (Woodbine, Md.) collected and passed on to Anna Dessoye (Mountaintop, Pa.). Dessoye then changed the angle of attack to release Erin Menges (Richmond, Va.) who in turn laid the ball off for Kelsey Briddell (Wilton, N.Y.). Parker kept up with the play arriving at the opposing circle in time to receive the ball back from Briddell and found Karlie Heistand (Hamberg, Pa.), who rounded Chile's goalkeeper comfortably to slot the ball into an empty goal to make it 1-0 USA in the 13th minute.

Finishing the quarter strong, USA then won their first penalty corner of the game. Tapman's sweep was saved by Chile's goalkeeper low to her right. Emily McCoy (Lititz, Pa.) nearly made it a 2-0 affair, but struck the rebound high over the crossbar with a backhand shot.

Both teams came out with great intent in the second frame, with Chile having the first sight of goal three minutes in. Chile's Kim Jacob wound up for a volley in front of goal but failed to get the desired connection. USA goalkeeper Jess Jecko (Sauquoit, N.Y.) was able to calmly palm the ball to safety. Jecko stepped into action once more a moments later, saving low to her right from Chile's second penalty corner opportunity. Back the other way, USA struck shortly before the end of the period, taking a two goal advantage into the halftime break courtesy of Parker, who profited from some great work on the right by Dessoye to initially win a free hit and then drive the baseline. Her ball across goal was met by Parker who deflected it between her legs and into the net in the 28th minute.

Chile concluded the first half down to ten players after Jacob was sent off on the game's first green card, receiving the infraction in the 29th minute.

USA made an untidy start to the third quarter struggling to keep possession and conceded a series of turnovers. This led to a barrage of four Chile penalty corners in quick succession, but the team weathered the storm and took their two goal advantage into the final period of the game. In the 48th minute, USA was able to put the game out of reach when Dessoye finished off a well-executed penalty corner with a backhand deflection at the near post.

The team endured a couple of nervous moments after when Umstead received a green card in the 55th minute. However, Parity was restored moments later as Constanza Palma received a yellow card. As the clock ran down USA took control of the final minutes of the game, maintaining their three goal lead until the final whistle.

"I am very proud of my players today," said Jun Kentwell, U.S. Women's National Development Squad Head Coach. "We made some changes and corrections in our team briefing and they did what we asked. I couldn't have asked any more from my players. Our pressing was much better today. Our team shape improved and we made passes earlier. I am happy to see not too many touches, just fast flowing."

The U.S. Women's National Development Squad will rest Monday, May 21 before taking the field in Game 3 on Tuesday, May 22. Game time is scheduled for 10 a.m. ET.

USFHA media release


---

Champions Trophy, top-four ranking on Harendra's agenda

While the Asian Games are undoubtedly the biggest assignment for the team this year, Harendra deliberately avoided saying so, instead emphasising on his long-term prospects.

Uthra Ganesan



Harendra Singh. Photo Credit: K. Murali Kumar

Three weeks in charge of the men's hockey team and Harendra Singh is already looking forward to the first piece of silverware at the upcoming Champions Trophy next month. He knows it is difficult but is ready to try and create history by winning the final edition of the elite tournament.

"Champions Trophy is very important for me. One, you are getting six quality matches before the Asian Games to judge players' ability and areas of improvement. Also, a good result at Champions Trophy will help erase the bad memories of Commonwealth Games and provide confidence ahead of the Asiad," Harendra said in an interaction with The Hindu here.

While the Asian Games are undoubtedly the biggest assignment for the team this year, Harendra deliberately avoided saying so, instead emphasising on his long-term prospects.

"I am not looking at regional dominance. The most important question right now is that while we have been in the top-six for the last three years, why are we not breaking into the top-four? There is a very thin line between winning and losing at this level and the line is defined by how you defend and attack inside the circle. And those are the areas I am looking at," he insisted.

He also was blunt in saying the team needs to work on its basics. "We are working on stopping the ball inside the circle and deciding what to do with it. Now we say that the ball isn't stopped inside the circle but that is a problem of basics.

"Strategy will always be there but we cannot ignore basics, which we Indians sometimes tend to ignore. These small details are actually a bigger problem than not having shots on the goal and I am happy and confident we will rectify them very soon," he declared.

He welcomed the presence of Chris Ciriello — who, incidentally holds an Overseas Citizen of India (OCI) passport — in the staff, said it wasn't difficult adjusting to the boys, most of whom have worked with him at some point in their junior careers and insisted that age would never be a factor for selections, leaving the door open for the likes of Sardar Singh.

In fact, given the number of times Harendra referenced Sardar as a role model with impeccable skills, vision and game-sense, one would expect the former India captain to play an important role in the upcoming outings for the side, form and fitness permitting. And, going by reports from the camp, Sardar ranks among the top on both parameters in the 48-probables' list.

The Hindu


---

Harendra Singh ready to take risks, enjoy pressure and get team to World No. 1

Rutvick Mehta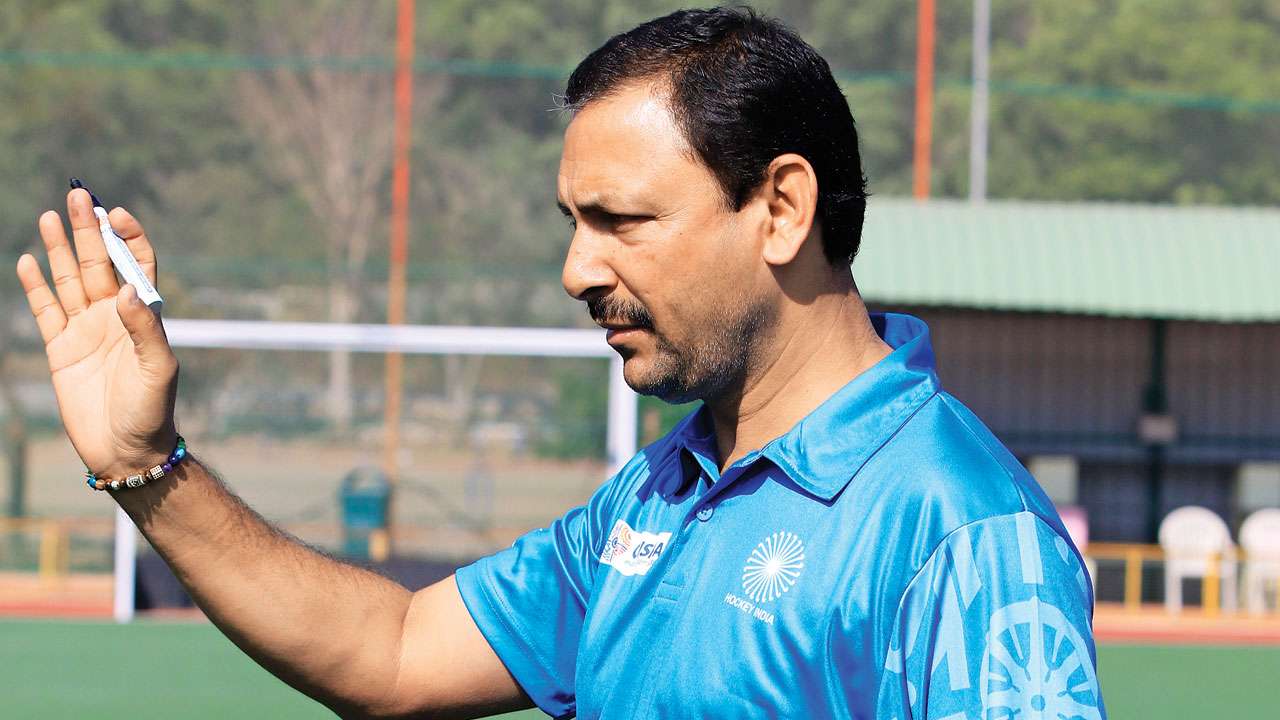 Harendra Singh

Harendra Singh wants gold in every tourney he enters. In this chat with Rutvick Mehta after taking over as coach of India men's side, he talks about changing mindset of players and goal of taking team atop rankings leading up to 2020 Olympics.

You've had a short camp with the boys. How was it?

I've enjoyed the short time so far, and so have the boys. We have worked on a few areas, and I've discussed some things with the players and the coaching staff. We sat and made a blueprint on what kind of hockey we want to play, how we are going to go about our defending and attacking structure, what are the liberties that each and every player will have. I'm not saying I'm going to restrict the liberty of the players, but it has to be within that set structure.

You had a successful seven months with the women's team, and the players were comfortable playing under you. How difficult was it to say goodbye to the girls?

Whenever a daughter leaves her house, a father is bound to feel the pain. This is a fact of life. Even I felt the pain. Even I was sad. But we are all mature, we are all professionals and we know that change is inevitable.

The first two days I found it a bit tough to accept that change. But now, we all are happy.

I'm very happy with their success, and that is showing in the ongoing Asian Champions Trophy, where they are playing fantastic hockey and getting good results. That shows that they have moved on. At the end of the day, you have to perform on the field, no matter what happens on the outside. These girls have shown the maturity to do that. I'm very proud of that fact. Whatever short stint I had with them, I only had good memories, ones that I will cherish for my entire life.

We will meet somewhere, sometime. We're not getting away from hockey, are we? There's a 'wo' before 'men'. So, it's only a small change.

You've come back to take charge of the men's team as the first Indian coach since 2008, and a lot of experts have insisted upon having an Indian coach for a long time now. Does that add extra responsibility on your shoulders?

Look, even if I am coaching a national U-14 or U-16 team, there is responsibility. At the end of the day, you're coaching an Indian team, no matter at what level. Yes, you can say the area of responsibility increases, because everyone is only focussed on the senior national team. So yes, you're under scrutiny every time. But I'm not new to this job. I have a lot of experience behind me in different capacities.

Moreover, I'm very happy that the coaching staff I have at my disposal is highly professional. For me, it's a privilege to join the team and coach the Indian team. So, I'm happy I am given the responsibility, and I'm always ready. Now everything depends on me, how I take this responsibility and take the team forward, because 2018 is a big year for Indian hockey.

It's indeed a big year, and you're a coach who always talks about winning every tournament that your team enters in. Now, you'll have to deliver almost immediately with a gold at the Asian Games in August, isn't it?

I think this team has the world's best goalkeeper and some of the world's top midfielders and forward. So, there's no lack of quality in this team. Now, we just have to clear our heads. I always talk about the world 'success', but the key is how we go about achieving that success. That responsibility lies with every individual player and coaching staff in the set-up. Even the person who is serving food to the players has a responsibility, that the players eat well and eat healthy.

We've defined the set of goals very clearly. Every day that you step on to the field, you should be clear as to for what we're stepping for. We know that getting the gold in Jakarta is paramount for us for the 2020 Tokyo Olympics. And for that, we've already made a blueprint for players as well as coaches. I believe in setting targets, because without targets you don't know where you're heading. That is the clarity of thought I want the players to have.

But that clarity of thought somehow goes away in big tournaments, where the boys have often crumbled in crucial matches over the last few years. How will you change that mindset?

I'm fortunate to have an analytical coach in Chris Ciriello (Australian dragflick specialist), who has won gold in all big tournaments. I've discussed with him as to how we can make this team formidable in any tournament they play. And that process has started in training itself.

People say, 'practice makes perfect'. I say, 'practice makes winner'. I want winners, not perfection. If you do not train as a winner and a medallist, how can you suddenly be that in a tournament?

So, we're training every session like how we would play a big tournament match. Every session has an objective. If anyone makes a mistake, he has to undergo a light punishment. For example, for one false shot, 20 push ups. And not just him alone, the entire team. Because an individual failure is a team failure. So, that's how I want the boys to train, and that is how they can replicate that into a tournament.

Hockey India high performance director David John has said the objective is to become the No. 1 team in the world leading up to the 2020 Tokyo Olympics. Do you believe this team can become the best in the world soon?

Today, Indian hockey stands on a very thin line. That thin line defines a podium and non-podium finish, between winners and losers. We're at the other end of the line only because we're missing goals inside the circle, doing stupid things in our own half and conceding goals. Players might think these are small mistakes and it's no big deal, but it is these little things only affect overall performance of the team. I've conveyed this message to the boys through a video clip of such instances. We have warned the players that such mistakes will not be accepted. As a team, we've made a chart of avoidables and unavoidables. That's the framework we've given to the boys.

From 2018 to 2020 Tokyo Olympics, we should be very clear: we want to be the No. 1 team in the world. Not No. 1 for one tournament and then come back to No. 3 or 4 again. Over the last three years, we have been No. 6. Now, the time has come to break that thin line and come into the top four, and then top two and No. 1.

Is this, thus, the biggest challenge of your successful coaching career so far?

I always take every job as a challenge, whether it's with Air India or Team India. Coaching is my first love, my passion. Whenever anybody puts a coaching challenge in front of me, I enjoy it. So even this time, I'm enjoying the challenge. I know the expectations of the country and of the management, and now is the right time for me to deliver for India hockey.

And you'll have to deliver in an environment that hires and fires coaches in a jiffy. Does that add to the pressure on you?

A person who doesn't enjoy pressure will never succeed in life. There are two things behind a successful coach: 1. Enjoying pressure; 2. Taking risks. If a coach doesn't know how to take risks, and if he doesn't enjoy pressure, he cannot deliver results. Then, he will become mediocre. He will be No. 6 in the world, and remain at No. 6 for four years. But Harendra Singh will take risks, enjoy pressure, and get the team to No. 1.

NO MOBILE PHONES DURING MEALS, ELSE PAY RS 500

One of the first rules Harendra Singh set for the Indian men's team after taking over as coach is ban of the use of mobile phones during meals, non-compliance of which would attract a fine of Rs 500. "I've set a rule for everyone in the team, that mobiles should not be allowed on dining tables, be it if we're eating at a restaurant or at the mess (in the national camp). If they break the rule, they have to pay a fine of Rs 500. If they want to play good hockey, they need proper protein and carbohydrates. And if they're hooked to their phones, they won't get any of that," Singh said.

'ALL 48 PLAYERS AVAILABLE FOR SELECTION, NOT JUST 24'

Harendra Singh said that all the 48 players in the core group will remain in contention for selection in the national team. Previous coach Sjoerd Marijne, who was sacked, had decided to prune the core group to 24 post the Commonwealth Games, but Singh said he will oversee all the 48 players in the national camp. "All 48 players will be part of the core probables. All the 48 will be available for selection all the time. We have a very large and highly talented pool at the moment, so it's not right to break them down into 24 and 24. For me, all the 48 will be available for national selection, and all 48 will train together with the same objectives," Harendra said.

Daily News & Analysis


---

Mindset of Indian team has to change, says India chief hockey coach Harendra Singh

Krishna Kanta Chakraborty

CHENNAI: India's chief coach Harendra Singh, who took charge of the men's team three weeks back, is already eyeing the Asian Games gold to get a direct into the Tokyo Olympics. The coach spoke to TOI on various topics from breaking into top-4 in world ranking, changing mindset of the players to his primary challenges as coach.

Excerpts:

India has changed 24 hockey coaches in the last 24 years. How challenging is it for you to live up to the expectations?

Changing the coach is part and parcel of any game. It depends on how you deal with it. Generally the change happens when the coach fails to deliver at the highest level.

Do you think the chief coach should be given a long-term contract?

I don't think a coach should continue if he doesn't deliver. So there isn't much logic behind offering a long-term contract without any major achievements. When you are taking the responsibility of a team, you have no other option but to deliver at the international level.

Is it true that you travel to different places (during off-season) to watch the matches to improve your coaching skills?

Yes, I have been doing that for many years. I travel to various countries on my own during my holidays and try to learn new technique of coaching. Today's hockey is very scientific and these tours have helped me a lot.

You have achieved a lot as a junior team coach and also transformed the women's team in quick time. There are several players who played under you in the junior side and are now in this team too. How much of an advantage is that for you?

Yes, that's a great advantage. Most of these boys have worked under me and I know all of them very well, including their family backgrounds. So when you have the minute details of the players, it comes as a big plus. It's not just about making them play hockey. There are many more factors involved in the process which we often tend to ignore. I'm lucky to be working with these boys again and I hope we can do wonders together.

You have coached the senior side earlier but that was interim arrangement. India couldn't do well in the recent past and have gone down in rankings too. What are the primary challenges for you?

This is a very important year for Indian hockey and I have to change the mindset of the team. It's time we understand that we cannot go to a tournament just to participate, we have to go there fully prepared and win medal for the country. As far as our ranking is concerned, my goal is to break into top-four as soon as possible but to achieve that we have to play outstanding hockey. We have the right set of boys and we can get there soon.

India will be playing three major tournaments – Champions Trophy, Asian Games and World Cup at home. What will be your realistic goal as the chief coach?

My target is to win the gold in Asian Games so that we get a direct entry into 2020 Olympics. If we can do that, we'll have a good amount of time for preparation for the Tokyo Games. As I said, this is a very important year for all of us. And like the players, I'll also be going through a challenging phase. But I'm sure the boys will cooperate and share equal responsibility to achieve the best marks.

What about the fitness of the team, isn't that an area to work on as well?

This is a very fit side, probably among top-four in the world. The culture has changed now and the boys are serious about their fitness. We have good support staff to guide them. The way we have gone about things in the last three weeks, the boys have started to understand what my goal is and I'm sure they will keep their fitness levels high for the three major tournaments this year.

You are known to be an aggressive coach. Earlier you said it was a bit difficult for you to instill aggression into the women's side but when it comes to the men's team that shouldn't be problem…

There is not much of a difference as the coaching philosophy doesn't change. Be it the women's side or the junior team, the method remains same. But yes, requirements may differ from team to team. A good coach will change his plan, strategy according to the demands and requirements of the team to achieve the best results. India love to play attacking hockey and that suits my style of coaching. And I don't want to change that. It doesn't matter who the opponent is. If you want to win big you have to be aggressive on the field.

The Times of India


---

Pakistan hockey coach Roelant Oltmans feels his team has less than five percent chance of winning Champions Trophy



File image of Roelant Oltmans. AFP

Karachi: Pakistan hockey team's Dutch coach Roelant Oltmans made it clear that his team had less than five percent chance of winning Champions Trophy tournament, starting 23 June in Holland.

"Even if we can manage to beat India, it would be a good sign and step forward as we are going to face tough competition in the Champions Trophy," Oltmans said during a media interaction.

Oltmans, who took over head coach before the Commonwealth Games in Australia in April, convinced the Pakistan Hockey Federation (PHF) to hire two new coaches— a penalty corner specialist and goalkeeping expert— to work with the team for the tournament.

Accordingly, penalty corner specialist Bram Lomans and goalkeeper coach Dennis Federpaug have joined the team and will be there till World Cup.

"We need to bring about major improvements in these two areas if Pakistan is to surge ahead in the world rankings," he said.

Talking about the fitness of the players he said that the players have become mentally and physically stronger as the physical training they got in the Army camp in Abbotabad helped the players a lot.

Firstpost


---

PHF hires two new foreign coaches for Champions Trophy

KARACHI: The Pakistan Hockey Federation (PHF) has hired two new coaches – a penalty corner specialist and goalkeeping expert – to prepare for the FIH Champions Trophy that is set to be held from June 23 in the Netherlands. The head coach of Pakistan hockey, Roelant Oltmans, says Pakistan hope to finish at a better spot than last time as they will be competing against the top teams in the world at the event and to prepare for that, the team will be getting the services of two specialist coaches.

Oltmans, who was speaking after the last phase of the training camp in Karachi, revealed that former penalty corner specialist Bram Lomans and Dutch goalkeeper coach Dennis Federpaug have joined the team and will be with them till World Cup.

"We are preparing for the Champions Trophy right now but our goal is Asian Games and then the World Cup," Oltmans said. "We saw in the last international tournament that we played with a dynamic attacking style and created a number of opportunities, but were not able to convert the penalty corners into goals." He added: "We have to improve our conversion rate and for that the coaches have been hired who will make this team stronger."

Talking about the fitness of the players he said that the players had become mentally and physically stronger. "The players become strong during the training camp in Abbottabad and I am glad that they have come here after resting but their fitness level was the same. They are now stronger physically and mentally and we are confident that they will give tough time to the teams," he said. Talking about the game against India in the Champions Trophy he said, "India is not the only team in Champions Trophy. We have four other teams too. No doubt the fans in Pakistan will cheer us if we beat India, but we will to give our all against other teams as well."

The Daily Times


---

Now for Asian Games bronze

By Jugjet Singh



COOL HEAD: Farah Ayuni Yahya.

KUALA LUMPUR: The Malaysian women hockey team ended fourth, but Farah Ayuni Yahya was named as the Best Goalkeeper in the Asian Champions Trophy (ACT) in Donghae, South Korea, on Sunday.

It was her second back-to-back recognition, as she was also awarded as the Best Goalkeeper in the ACT in Singapore two years back -- even though Malaysia ended last among five teams.

The policewoman has been instrumental in the rise of women's hockey in Malaysia, and was at the centre of attention when she helped score a sensational 2-1 win over higher-ranked Italy in a sudden-death shoot-out to join Ireland in qualifying for the World League Semi-Finals at the women's Hockey WL Round Two in Kuala Lumpur.

Malaysia had held Italy 2-2 then, and in the shoot-out, goalkeeper Farah made super saves to take Malaysian women into their first ever World League Semifinals.

Coach Dharmaraj's charges will next play in the Jakarta Asian Games, and Farah will be expected keep the score low again.

The Asian Hockey Federation (AHF) have yet release the fixtures, but ten teams, in two groups, will play at the Asian Games,  .

The ten are hosts Indonesia, Malaysia, South Korea, Japan, China, India, Thailand, Hong Kong, Taiwan and Kazahkstan.

Malaysia should have no problems against Indonesia, Hong Kong, Taiwan and Kazakhstan -- going by the standard displayed at the ACT where they beat a half-strength Japan 3-2, and narrowly lost to China (3-1), South Korea (3-1) and India (3-2) in the pool. In the bronze match, China could only win 2-0.

And the mission in Jakarta is to win bronze, an achievement last seen at the 1982 New Delhi Games.

Malaysian Hockey Confederation (MHC) president Datuk Seri Subahan Kamal had said in February that he believes with all the support given by MHC to to the women's team, they are good for bronze even though their Asian ranking is fifth.

And if Malaysia do win bronze in Jakarta, it would be partly because of our strength between the posts -- Farah.

"She has always been an asset for Malaysia in any tournament because of her daring saves which motivates the entire team. And in the Asian Games in Jakarta, we will need her to pull off upsets against higher ranked sides.

"The MHC has set us a bronze target in Jakarta, and I believe my players are up to it. We have a fighting chance, and we will fight for the medal," said Dharmaraj.

Jugjet's World of Field Hockey


---

Following a Very Decorated Career, Three-Time Olympian Ginolfi Officially Hangs Up Stick




COLORADO SPRINGS, Colo. – Following one of the most decorated playing careers in U.S. Women's National Team history, three-time Olympian Katelyn (Falgowski) Ginolfi (Lewes, Del.) has officially announced her retirement from the program after competing in 261 international matches for Team USA. Ginolfi joined the USWNT in 2005, when she was just 15 years old, and instantly earned respectful recognition as a wise athlete beyond her years. Recently, her expertise and leadership were integral in the USWNT's gold-medal finish at the FIH Hockey World League Semifinals in Johannesburg, South Africa, where the team officially qualified for the Vitality Women's Hockey World Cup in London. She was also key in the squad's finishes at the 2014 Rabobank Hockey World Cup (fourth) and Rio 2016 Olympic Games (fifth).

"When I joined the staff four years ago, Falgo was already a great player, letting her actions on the field speak for herself," said Janneke Schopman, USWNT Head Coach. "Getting to know her well throughout these years she was a player who cared a lot about the team, she has a very big heart. Falgo always worked hard, leading by example on the field. She also had great tactical awareness and knew how to play the game and orchestrate the play. It wasn't necessarily flashy but very effective and great for a coaching staff to have a player like her on the field."




Ginolfi grew up in Landenberg, Pa., and similar to many other field hockey athletes, started playing the sport in 1998 because it was something her older sisters did. She was a four-year letter winner at St. Marks High School and also played for the club team, Strikers. After only playing the sport for five years, Ginolfi's advanced skill set was recognized and she officially landed a spot on the U.S. U-20 Women's National Team, making her the youngest player named to the squad at just 14 years old. It did not take long for her talent to get recognized by the U.S. Women's National Team's head coach and just a year later, she found herself on the senior squad roster.

When she was just a senior in high school, Ginolfi was selected to the roster to compete at the 2006 Hockey World Cup in Madrid, Spain. As the youngest USA athlete named at just 17 years old, she aided in the USWNT's sixth place finish.

Ginolfi went on to play collegiately at the University of North Carolina at Chapel Hill, where she was a four-year starter and two-time captain for the Tar Heels. Following an undefeated National Championship performance in her first year, she took the spring semester off to train with the USWNT full-time and her dedication to her country paid off as the squad qualified for the Beijing 2008 Olympic Games. She missed the start of her sophomore season that August after being named to the competing roster for The Games as the youngest and only collegiate athlete on the squad. After finishing fourth in their pool, USA went on to claim eighth place.




To start her junior year, she again missed some time with the Tar Heels as she competed in the BDO Junior Hockey World Cup in Boston, Mass., where the squad finished eighth. After returning to North Carolina, Ginolfi didn't miss a beat and led them to another historical National Championship in 2009 after clinching the victory with just 11.7 seconds left on the clock. In 2010, she unfortunately missed the season after suffering a concussion in preseason that sidelined her for the fall. Despite not playing, she served as the team captain.

In her senior season, Ginolfi missed seven games in October 2011 while helping USA to a gold medal and Olympic berth at the Pan American Games in Guadalajara, Mexico. She did this all while playing with a torn anterior cruciate ligament (ACL) to shut down Argentina's top player in the final. The victory was USA's first over perennial power Argentina since 1987 and Ginolfi's performance earned her Player of the Game honors. She was also named to the 2011 World All-Star team, the only USA player on the 18-member squad, and nominated for the 2011 FIH Young Player of the Year Award.




Following this landmark victory with USA, Ginolfi returned to North Carolina and led the Tar Heels to their seventeenth ACC Championship and a NCAA Tournament runners-up finish. She accumulated an impressive shelf of accolades during her four and half years which included leading the nation in assists (2007), All-Atlantic Coast Conference (ACC) (2007, 2008, 2009, 2011), All-ACC Tournament (2008, 2011), All-NCAA Tournament (2007, 2009), ACC Freshman of the Year (2007), All-South Region (2008), NFHCA Second Team All-American (2007, 2008) and First Team All-American (2009, 2011). To cap it all off in her senior year, she was named ACC Tournament MVP, South Region Player of the Year and Longstreth/NFHCA Division I National Player of the Year, and finished as North Carolina's career leader in assists. Following her career, Ginolfi's No. 23 jersey was retired in her honor. She graduated in December 2011 after majoring in communication studies.

After college and less than five months after surgery to repair her ACL, Ginolfi was living on the West Coast training with the USWNT full-time preparing for the London 2012 Olympic Games. She was selected to represent USA and following a disappointing finish, Team USA bounced back a few months later at the Champions Challenge I in Dublin, Ireland earning silver.

"Being part of Team USA was about being a part of something bigger than myself," commented Ginolfi. "You cannot put into works the bonding that occurs with your teammates, through the highs and lows, through the victories and defeats. I have easily made some of the closest friends of my life."




In 2013, Ginolfi was part of a staffing change and coastal relocation that fueled the USWNT's upward trajectory on the international scene. She competed in various test series, multi-nation events and world championship experiences while remaining a constant, solid figure in world hockey. That year USA went on to place at the FIH Hockey World League Semifinals, which earned them a 2014 Rabobank Hockey World Cup berth. Ginolfi was selected to represent USA once again. She was integral in the squad's inspirational performance beating higher world ranked teams and outlasting Australia in a semifinal shootout to narrowly miss out on a medal against their Pan American rivals, claiming fourth.

Mimicking their 2011 performance, Ginolfi was part of the USA team that went undefeated at the 2015 Pan American Games in Toronto, Canada, securing the squad qualification for the Rio 2016 Olympic Games. This was followed up by a fifth-place finish at the FIH Hockey World League Semifinals before a shocker of a performance at the 2016 Hockey Champions Trophy in London, England. As the lowest world ranked team, Ginolfi assisted in impressive victories as well as a shootout win over Australia in the 3rd/4th place game to earn USA a medal. Continuing with that momentum, USA impressed the world that August at the Rio 2016 Olympic Games earning a historical fifth place finish.

In 2017, Ginolfi was part of the team that again stunned the world hockey scene at the FIH Hockey World League Semifinals when they upended the only two teams to upset them in the Rio 2016 Olympic Games in two shootouts to earn gold. That August, she was also part of the team that earned third at the women's Pan American Cup in Lancaster, Pa.

Ginolfi retires from Team USA having competed in 261 international matches and earning six gold, three silver and two bronze medals.

"There were legends before me on the National Team, who paved the way, who inspired me and taught me how to conduct myself and play the game," added Ginolfi, on what it was like to be on Team USA. "I can only hope that I have inspired the next generation, just as they inspired me."

While reflecting on her career, Ginolfi mentioned winning the 2011 Pan American Games as a career highlight. As mentioned, she shut down Argentina's top player in the final to win gold and qualify for the Olympic Games.

Impressively, Ginolfi is a three-time Olympian having competed in the Beijing 2008, London 2012 and Rio 2016 Olympic Games. She stated that there was no better feeling than being able to represent her country on such a prestigious platform.

"There is no greater sense of pride than representing your country at the Olympic Games," remarked Ginolfi. 'When I hear the chants 'USA! USA! USA!', I still get chills and am transcended back to standing in the tunnel of the Bird's Nest Stadium at the Opening Ceremonies of the Beijing 2008 Olympic Games. Every Games is unique, and every experience makes you hungry for more!"

Ginolfi accredits field hockey on allowing her to travel the world, while sharing her journey with her family and friends. She has met some of her closest friends, even husband, playing the sport and is forever grateful for the opportunities it has opened.

Ginolfi currently resides in Coronado, Calif with her husband, Jonathan, and their new yellow Labrador, Lewey.

USA Field Hockey would like to wish Ginolfi the best of luck in her future endeavors.

USFHA media release


---

Key to coaching is balance and having empathy for your athletes

By The Hockey Paper




Danny Kerry, the England and GB women's coach, believes that working with female athletes sees them "taking things to heart" over their male colleagues in the sporting environment.

His comments came last week as UK Sport revealed new initiatives to improve athlete welfare following a 'Culture Health Check' report.

The report revealed that nearly a third of British athletes under the UK Sport umbrella had experienced "unacceptable behaviour" in their world-class programmes across Olympic and Paralympic sports.

Kerry, currently preparing for the Vitality women's World Cup this summer, said that he had to change his ethos after the 2008 Beijing Olympics. Following a review, the then squad revealed that they "hated" Kerry, now an Olympic-winning coach.

Kerry told reporters: "It's not very PC to say this but in my experience there are differences between working with large groups of elite male and elite female athletes. There are different challenges to working with male and female athletes.

"Women can sometimes take things to heart. Men can be like that too but generally they have the ability to depersonalise it.

"Some coaches can unwittingly crush athletes with criticism through a lack of experience in dealing with people in stressful environments. That is something I'm extremely mindful of and I'm still getting wrong."

UK Sport will now increase its investment to the tune of £1 million towards Tokyo 2020 cycle, to generate an increase in its capacity to support its members.

In the aftermath of several high-profile stories in swimming and cycling where athletes spoke out against coaches, Kerry spoke exclusively to The Hockey Paper late last year on the potential problem he and his colleagues face.



Great Britain coach Danny Kerry gets his ideas across during a morning training session

We can now publish Kerry's thoughts for the first time and they offer a fascinating insight into how he deals with selection criteria and how athletes have dealt with the issue.

Athletes can 'lash out'

"It is such a nuanced and interesting area, for the head coach in particular.

Assistant coaches can be super positive and not be seen to be a part of that selection equation. If you are an athlete under pressure, you are going to lean towards someone who tells you nice things.

Ultimately, in order for you to win, you are going to have some straight conversations. I think you are not doing your job if you didn't have that. The skill is doing it in the right way and over a period of time.

I have been through three Olympic selections, the last two have been a lot of immediate, emotional responses. In hindsight, athletes realise where I stood. That it's black and white and I am proud of that.

It can be a bloody difficult position as head coach. Athletes who haven't received the information they have wanted can lash out. Equally, coaches can get it wrong. It is a nuanced skill to do well.

The balance is having empathy for your athletes and understanding the significance of what you are discussing with them and at the same time not sugar coating the message so the message doesn't go in.

At the other end of the spectrum, you are brutally hard with messages and you are breaking people and not being cogniscent of their needs and feelings and therefore performance doesn't work then either.

In some way you have to find a fine line between the two. That's why it is a fascinating area."

The Hockey Paper


---

Pathway to Podium athletes selected




Hockey New Zealand has selected its group of players for the Pathway to Podium (P2P) programme for 2018/19.

The Pathway to Podium (P2P) programme is a partnership between High Performance Sport New Zealand (HPSNZ) and Hockey NZ, designed to support the preparation of our athletes for the physical and mental demands of the high-performance sport environment.

This year sees the start of a new P2P model which supports both athlete and coach development at this level, with the athlete support delivered as a blend of camp based hockey specific support and a regional delivery of strength, conditioning and athlete life.

The new model will also allow Hockey NZ coaches to spend more quality time with identified athletes and service providers in environments designed to better develop the potential to be successful senior athletes.

The program focuses on supporting these athletes to prepare for high performance through the following:

•             Sport specific development at hockey specific development camps
•             Education about the requirements and demands of high performance sport
•             Preparation for transition into high performance
•             A blend of education and educational support in key areas of athlete performance support

The P2P program gets underway this week with the first training camp being delivered in Hawke's Bay from the 23-27 May.

For further information about the Pathway to Podium programme please contact Hockey New Zealand's Athlete Pathway Manager, This email address is being protected from spambots. You need JavaScript enabled to view it.l.

Pathway to Podium – 2018/19 Athletes

MALE

Jordan Cohen (Central)
Callum Dempster (Southern)
Adam Kailea (Auckland)
Harrison Lawson (Central)
Nicholas Lidstone (Canterbury)
Timothy Neild (Midlands)
Tim Schulpen (Canterbury)
Dylan Stevenson (North Harbour)
Gus Wakeling (Canterbury)
Finn Ward (Southern)

FEMALE

Bella Ambrosius (Canterbury)
Jess Anderson (Canterbury)
Anna Crowley (Central)
Katie Doar (Auckland)
Charlotte Lee (Canterbury)
Sophie Morrison (Midlands)
Jessica Pilmer (Northland)
Hope Ralph (Central)
Olivia Shannon (Central)
Emily Wium (Canterbury)

Pathway to Podium – 2018/19 Coaches

Hymie Gill (Northland)
James Coughlan (North Harbour)
Kat Henry (North Harbour)
Shaun Matthews (Auckland)
Franki Traini (Auckland)
Reiner Vellinga (Midlands)
Dane Lett (Capital)
Chris Leslie (Canterbury)

Hockey New Zealand Media release


---

Den Bosch underline Dutch hockey dominance

By The Hockey Paper




Dutch ladies champions Den Bosch won the EuroHockey Club Cup final for the sixth time since 2010 after beating UHC Hamburg 2-1 at Surbiton on Sunday.

The final was won with two minutes remaining when Den Bosch attacked from their own half and Pleunke van der Plas slotted home to break the German's resolve.

In a tight match, played out at a sultry Sugden Road, Fréderique Matla had handed the Dutch a crucial lead in the third quarter before Katharina Frank smashed the ball home to equalise with nine minutes left.

Den Bosch's win repeated their 2-1 win from the 2017 final on home soil.

The third place play-off ended in controversy after AH&BC Amsterdam, trailing 2-1, had a goal disallowed with 16 seconds remaining of the match as Spanish outfit Club Campo De Madrid hung on for a famous win.

Amsterdam had earlier had a goal disallowed in the second minute after Kitty van Male scored at the left post from a penalty corner. Beatriz Perez Lagunas scored the winner for Campo.

Mannheimer dominated the fifth place play-off, winning 7-0 against fellow debutants Victorya Smolevichi of Belarus.

Meanwhile, Holcombe and Junior FC made it three wins from three to set up a final between the two outstanding teams in Dublin at the women's EuroHockey Club Trophy.

Holcombe made light work of Slavia Prague with four goals in the first 12 minutes leading to a 7-0 overall victory. Leisa Randall scored a hat trick – the first coming a minute after she was introduced into the action – while South African star Dirkie Chamberlain added a double.

Steph Elliott told the EHF: "Three wins out of three, we are absolutely over the moon. We are going out like we have been, scout the teams and then just play our game. It's gone pretty well for us so far and let's see if we can get four from four."

The Hockey Paper


---

Club Euro victory for Grange and Edinburgh University




There were huge victories for Grange men and Edinburgh University on the final day of European club hockey tournaments in Vienna and Edinburgh respectively.

Grange HC 5-2 HC Vinnitsa

The EuroHockey Men's Club Trophy 2018 final saw a tremendous victory for Grange against HC Vinnitsa in Vienna, resulting in Scotland claiming a second EHL spot.

The game started off at a fast pace with both teams clearly determined for a victory. The first half alone was one of high intensity, with Grange scoring the first goal of the game, seven minutes into the game with Jacob Tweedie scoring a great opener.

Vinnitsa began fighting back, with a few attempts on goal themselves, however other that an effort that hit the post they just fell short. Then with two minutes left before half time, captain Qleksandr Diachenko scored a great strike to bring the teams into half time at 1-1.

The second half saw the game get off to a very quick start with Calum McKenzie scoring for Grange for a 2-1 lead for the Edinburgh side. This was followed by a third goal, this time captain Cammy Fraser scoring a cracker from a penalty corner, just minutes before the fourth quarter.

Coming into the final quarter, Frank Ryan stepped up to the plate scoring a fantastic field goal with a sharp and strong strike right into the back of the net. This brought Grange to a 4-1 lead, however Vinnitsa did go without a fight. They gained a penalty stroke, with Serhii Diachuk taking it, and calmly converting for a goal. This brought the scoreboard to 4-2.

As the final minute came on the scoreboard, Grange had one final push with Todd Mills scoring a great strike bringing the end score of the game to 5-2, with Grange winning the EuroHockey Club Trophy of 2018.

Edinburgh University 1-0 Clydesdale Western

Edinburgh University won the all-Scottish battle with a 1-0 victory over Clydesdale Western in Women's Club Challenge I.

Edinburgh University enjoyed the better chances in the first quarter without causing Western too much trouble.

Susan Al-Haddad was called into action in the second quarter for the hosts as Western created an opportunity from a long corner. There were no goals however and it finished 0-0 at half time.

It was cagey into the third quarter with both sides looking for the other to make a mistake.

The game opened up a little towards the end of the third quarter – first Jen Eadie was denied for Clydesdale Western as she attempted to let fly from the top of the D. Then Amy Brodie and Sam Judge combined to create an opening down the right, but some valiant defending prevented a clean strike.

Then Edinburgh University scored. An error in the D saw the ball fall kindly for Sam Judge and she fired the ball low into the bottom corner of the goal.

Clydesdale Western went on the attack at the death and a late penalty corner saw Francis Lonergan smash the ball wide of the left post.

Scottish Hockey Union media release


---

Grange storm to Euro Trophy title to boost Scotland's EHL hopes



©: Wac/fotobyhofer

A Cammy Fraser inspired Grange saw the Scottish club win the men's EuroHockey Club Trophy in Vienna with a storming 5-2 win over OKS SHVSM Vinnitsa.

The win could have an impact on how many places Scotland receive in the 2018/19 Euro Hockey League with the final nations rankings set to be finalised following the EHL FINAL4 next weekend on May 26 and 27 at HC Bloemendaal.

It was a remarkable fightback from the Scots who had lost their first game of the tournament and were four minutes from going out in the group stages before snatching a last-ditch winner against HC Minsk to reach the final.

In the decider, they got off to a dream start when Jacob Tweedie – a minute after coming on – showed his poaching instincts when Fraser delivered a cross from the right corner.

Vinnitsa had the best of the second quarter and got back on terms via an Oleksandr Diachenko drag-flick, finding a way past Nathan Doherty who had brilliantly saved an earlier effort.

Grange got back in the ascendancy in the third quarter and used their corners brilliantly, Fraser – on the switch – slapping into the path of Calum McKenzie to deflect in. Fraser then slapped in directly from another switch for 3-1 and Frank Ryan chipped home a fourth from a McKenzie pass.

Serhii Diachuk got one back from a stroke and the Ukrainian side piled forward but found no more joy. Indeed, Todd Mills got a last minute goal to make it 5-2 to start the party.

Euro Hockey League media release


---

Esteves fires Monkstown to fifth place in Euro Trophy



Monkstown's Christine Quinlan. Pic: Gerry/gpfoto.ie

Monkstown completed their Euro Club Trophy campaign on a high with a 1-0 win over Ukraine's MSC Sumchanka courtesy of Natalie Esteves' 14th minute penalty corner goal.

The win saw them finish in fifth place in the competition, avoiding relegation from the second tier of European competition with something to spare.

Their performances were also enough to keep Ireland in sixth place on the nations list – despite UCD's eighth place finish in London over the weekend in the elite Cup competition – and with it means Loreto will contest the top tier in 2019 and UCD the second level.

Against the Ukraine champions, the excellent Lizzie Murphy – later named goalkeeper of the tournament – made an early corner save before Town won a set piece of their own via Abbie Sarratt's shot hitting a foot. Christine Quinlan's shot drew a fine save.

From their second corner, won by Sadhbh Hoban-Logan, Esteves struck for the only goal of the game. During this spell, the tournament hosts were playing their best hockey, piling on pressure.

Murphy dealt well with a couple of break-outs from Sumchanka, maintaining their lead into the half-time break. Into the second half, Sinead Loughran put in a serious shift while Rachel Moore's deflection drew a top save and Hoban-Logan also went close.

Polina Volokhova cleared another effort off the line and Lily Lloyd's cross just evaded Caitriona McGilp's stick. In the closing minutes, Sumchanka pushed on but could not break through and Monkstown had fifth place.

The tournament overall was won by Holcombe who beat Spain's Junior FC with an audacious Beth Bingham effort, lobbing the goalkeeper to secure the win.

The news was not so good on the men's front, however, as Scottish side Grange won the Euro Trophy in Vienna.

This was enough to move Scotland – as well as France and Russia – above Ireland on the Euro Hockey League rankings list, reducing the Irish quota to one from two. It means Three Rock Rovers will play in ROUND1 in Barcelona in October while Glenanne miss out and will play in the Trophy in 2019.

The Irish Under-21 men, meanwhile, started off their US tour in style with Julian Dale scoring a hat trick in a 3-1 win over Japan at Yale. Jonny Caren's team will play the hosting USA twice this week while also playing Japan for a second time.

Women's EuroHockey Club Trophy
Fifth place playoff:
Monkstown 1 (N Esteves)
MSC Sumchanka 0

The Hook


---

Double Dutch for Kampong as Amsterdam denied

By The Hockey Paper




Kampong became Dutch national hockey champions for the second season running after the Utrecht team beat Amsterdam 3-1 – and now have the taste of a double success in seven days when they travel to the Euro Hockey League semi-finals this weekend.

After a 32-year wait for their first Dutch title, SV Kampong proved decisive in their third leg match to lift the trophy.

Second half goals from Robert Kemperman and Bjorn Kellerman saw them to victory after Jasper Luijkx and Mirco Pruijser hit first half goals for both finalists.

"This was the ultimate dream," captain Quirijn Caspers told hockey.nl. "We were talking about it this week. We knew if we were to become champions, it would be at home.

"What could surpass last season when we finally became champions? Well, this here. This is going to be such a nice party."

Caspers revealed that a stern talking to the team from Alexander Cox, the Kampong coach, had put them on track for another title success after Amsterdam had won the second match 2-1 to force a decider on Sunday.

"Actually, I do not want to blow too much smoke up his ass," added Caspers of Cox's game-plan. "He sat us down in that room today. We watched the video and he was individually super critical but he was also positive and he just picks people up and keeps us sharp. That helped us today."

A jubilant Sander de Wijn told reporters: "I dare say that we do not have the best team on paper but we have a team. And Al keeps the boys sharp.

"That he has been with the team for six years also indicates something about the maturity of the team."

Kampong will now go for the double at the EHL in Bloemendaal, starting off with a semi-final date against Herakles on Saturday.

The Hockey Paper


---

Tuks stun Maties to lift Varsity Hockey trophy

By Dan Lombard




The University of Pretoria stunned Stellenbosch University as they beat the competition frontrunners 5-0 in the Varsity Hockey final at the Maties Astro on Monday evening.

Maties would go on to rue their missed opportunities throughout the 60 minutes as there is no doubt that they were the form team of the competition and remained unbeaten until the final.

Tuks had to settle for second place on the log and qualified for the final as a goal in the last three seconds against Wits set up a dramatic penalty shootout which they duly won.

Tuks put pressure from the outset and made their intentions of winning the final known in the eighth minute as Sam Mvimbi dribbled past several tackles before firing in a shot to hand the visitors a 2-0 lead.

It goes without saying that the entire team contributed to the emphatic victory but a special word needs to be made of Tuks' Bradley Sherwood who led from the front from the first whistle. He consolidated their lead on the stroke of half-time as he netted a penalty stroke to make it 3-0 in favour of the men from Pretoria.

The second half dissolved into near misses and constant shifting between the two teams as Maties just could not convert their pressure into points.

In fact, it would take 26 minutes for the only goal to be scored courtesy of Steven Paulo with Tuks being crowned the 2018 Varsity Hockey champions four minutes later.

Scorers
Maties: 0

Tuks: 5
Goals: Sam Mvimbi, Bradley Sherwood, Steven Paulo.

* Field goals count 2 in the Varsity Sports Hockey competition

FNB Player of the Match: Mark Chong (Tuks)
Mugg & Bean Star Saver: Hendrik Kriek (Tuks)
Samsung Super Striker: Sam Mvimbi (Tuks)

Teams
Maties: 2. Andrew Hobson, 4. Nicholas Giger, 7. Matthew Roman, 9. Wade Dollman, 11. Dayne Samboer, 14. Gareth Tate, 15. Ruari Baker, 21. Clayton Saker, 22. Ross Anderson, 29. Mbuso Mgobozi, 38. William Everleigh.
Subs: 1. Rob McKinley (GK), 5. Tom Richardson, 8. Alex Stewart (c), 12. Maximillian Pike, 16. Jordan Turnbull, 23. Reece Arendse, 24. Callen Heynes.

Tuks: 1. Hendrik Kriek (GK), 3. Onke Letuka, 4. Mitchell Currie, 6. James Redfern, 7. Sam Mvimbi, 8. Peabo Lembethe (c), 9. Steven Paulo, 10. Michael Forrest, 15. Bradley Sherwood, 19. Matthew Davies, 22. Mark Chong.
Subs: 5. Jared Cass, 11. Ashley Kemp, 13. Matthew Butler, 16. Nicholas Pio, 20. Christian Kriek, 21. Tim Halle, 23. Sizwe Mthembu.

Varsity Hockey media release


---

Tuks beat Maties to be crowned 2018 Varsity Hockey champions

A brilliant performance from Bradley Sherwood proved to be the catalyst for the team to work as a united front to be crowned champions.

Ahmed Kajee



Tuks celebrate victory in the Varsity Hockey final on 21 May 2018. Picture: @varsitysportsSA/Twitter

STELLENBOSCH - In the final Varsity Sports tournament until the exam season ends at universities around the country, Maties hosted Tuks in the Varsity Hockey final at the Maties hockey astro.

Tuks went into the final with a record of five wins, two losses and a penalty shootout semifinal victory over Wits. Maties, meanwhile, went into the game unbeaten – and as favourites - after beating their final opponents earlier in the tournament 5-4.

Maties were under pressure from the first whistle, conceding in the eighth minute with Sam Mvimbi scoring for the visitors.

A brilliant performance from Bradley Sherwood – who was earmarked as a potential game changer - proved to be the catalyst for Tuks to work as a united front to earn the title of champions.

Sherwood scored just before half-time to send the home team into the break trailing 3-0.

Maties piled on the pressure throughout the second half but could not get the ball past goalkeeper Hendrik Kriek.

Tuks' Steven Paulo rounded off the scoring to hand the boys from Pretoria a 5-0 victory and the 2018 Men's Varsity Hockey title.

Eye Witness News


---

Lembethe strives to be "Captain Cool" on the astroturf in Varsity Hockey final

By Wilhelm de Swardt



Peabo Lembethe (Tuks) firmly believes that when the "chips" are down the captain can't afford to panic.

Judging from what happened during the Varsity Hockey semi-final when Tuks played Wits Lembethe is a real "Captain Cool".  With a mere 10 seconds left on the clock, he scored the equaliser which led to the game being decided by a penalty shootout. Tuks won to secure their place in the final against Maties in Stellenbosch.

Lembethe admits that he can't resist watching the video of his game-changing goal again and again on Instagram.

"It is a moment I will remember for a long time to come. I credit Guy Elliott (Tuks head coach) for what happened. Just before I scored, Wits took the lead, which meant we were losing. While running to the halfway line the coach's famous saying about no game ever being won or lost while there is still time on the clock came to mind.

"When the penalty corner was awarded I knew that this was the moment. We stuffed up our first attempt, but luckily another penalty corner was awarded. At this stage I could hear the crowd chanting my name, 'Peabo…Peabo'. It made me realised that I am usually able to score when it matters. The ball was played to me; I knew it was now or never. Luckily I did not disappoint our fans and more importantly my teammates," said the BA General student.

Lembethe views his heroic exploit as just one of those things a captain should do when the chips are down. A good understanding between coach and captain is also important to him.

"As a captain, I must have a good understanding what the coach expects from us as players. If the tactics seem not to work the captain should be able to fix what is happening on the field. There is no time to run to the bench to speak to the coach. Whatever had not been working could be discussed during halftime.

"Guy and I go a long way back. We met for the first time when I was playing at the Under-14 provincial tournament. At the time Guy was coaching the Northerns side. I scored a similar goal as the one I scored against Wits against his team. Afterwards, he came to congratulate me and bought me lunch. We had a long discussion about hockey. It was Guy who convinced me to come to Tuks after finishing matric at Maritzburg College."

The Maritzburg College influence in Tuks hockey can't be ignored. Currently, there are four Maritzburg "old boys" playing for the team. Quite a few of the support staff are also from the school.

As for the final Lembethe firmly believes that Tuks can beat Maties.

"During our first encounter, we conceded three soft goals. If we can stay calm as we did against Wits, I think we are in with a real chance. Maties play quite deep and are patient. They are waiting for their opponents to make mistakes from which they then try and capitalise. I am confident we know what needs to be done tomorrow," said Lembethe who is currently part of the South African hockey squad.

Varsity Sports media release


---

Hat-trick hero Mutira lifts Warriors to second

By AYUMBA AYODI

Butali Sugar Warriors talisman George Mutira scored a hat-trick to help his team beat Parklands Sports Club 4-0 in the Kenya Hockey Union men's Premier League on Sunday and rise to send on the table of standings, but the player has warned that his team is looking beyond winning the title.

Mutira, who joined Warriors from Chase Sailors this season, said his team's main target is to win the Africa Club Championship title at the end of the season.

"Recapturing the league title this season will be a bonus for us. We want that African crown," said Mutira, adding that he is having the best  with his new club, having previously played with most of his current team mates at Strathmore and Nairobi Simba.

Teamwork

"It's good to pull in the same direction as a team, and to add something to the dream," Mutira, who connected Kenneth Nyongesa's pass in the middle with a backhand flick for the opening goal on Sunday, said.

Derrick Kuloba found himself unmarked at the middle and fired a smashing backhand shot for Butali's second goal for 2-0 lead at the break at City Park Stadium.

Zack Aura orchestrated another Butali attack but his shot was parried back to play by Parklands goalkeeper Farshad Shire.

Mutira then weaved through Parklands defenders to complete his brace before sealing a hat-trick in the last minute.

The win saw Butali rise to second in the league with 15 points from a clean run of five wins, one less than Greensharks, who dislodged champions Kenya Police from the summit with 16 points.

Daily Nation


---

Kingsridge win third Hockey Challenge title



The Kingsridge team which won the East London Inland leg of the SPAR Eastern Cape Schoolgirls Hockey Challenge for the third time in King William's Town on Sunday was (back, from left) Robin September, Jordan Herbst, Charmone' Theron (vice-captain), Sambesiwe Tyali, Kirsty Elders, Taigan Hall, Margaret Ann Otto, Mbsakazi Fassi; (front, from left) Taylor Christian, Nela Mbedu (captain), Bridget Gratz, Linawo Matota, Jordan Galli and Anda Matomela. Picture: Megan Gratz

In a superbly contested final, Kingsridge edged Queenstown rivals Girls' High to win the East London Inland leg of the SPAR Eastern Cape Schoolgirls Hockey Challenge in King William's Town on Sunday.

This makes it a hat-trick of titles for the King outfit and they will again represent the region in the provincial finals to be played at Woodridge, near Port Elizabeth, on August 11.

Tournament director Bev Forword said it was another wonderful family day of hockey and fun "all made possible by SPAR".

"Nine teams took part from as far afield as Aliwal North, Bedford and Burgersdorp," she said.

"For some of these schools it is the only tournament they participate in during the hockey season and they certainly enjoyed the festivities.

"There was live music, spot prizes, plenty of food and lots of exciting hockey."

In the preliminary stage, Kingsridge topped pool A, with Aliwal North the runners-up, while Queenstown Girls' High headed pool B, with Burgersdorp second.

"In a super final, Kingsridge narrowly shaded Queenstown Girls' High 1-0," said Forword. "The play-off for third and fourth spot saw Aliwal North come out tops against Burgersdorp, also 1-0."

Kingsridge coach Mark Taljaard said they were delighted at winning again, but were also thrilled at the massive support the tournament received from the local community.

"I think the people of King and the supporters of schools like Kingsridge, De Vos Malan and St Christopher's were fantastic in the way they got behind the event," he said.

"The final was extremely well contested, much like our recent derby, which we also won 1-0.

"Queenstown put a lot of pressure on us at the start, but we were eventually able to get the winning goal through Charmone' Theron from a penalty corner."

SPAR Eastern Cape sponsorship and events manager Alan Stapleton said this tournament had a "special feel about it".

"It was really great to see schools like Burgersdorp, Aliwal North and Templeton, who travelled great distances, being part of the event and their spirit was outstanding," he said.

"And then there was the amazing support from parents and families, in particular the King William's Town folk, who came out in their droves."

Besides the exciting and competitive hockey and memories which were made, Stapleton said it also gave them an opportunity to promote their Stop Plastic campaign.

"There was added value of being able to spread the message of the threat of plastic in society, encouraging all to reuse, recycle and to look after our environment."

Fullstop Communications media release for the SPAR Eastern Cape Schoolgirls Hockey Challenge


---

Beaulieu Hockey Academy shines at the Wanderers Hockey Festival



Lia Gustavo of Beaulieu Hockey Academy holds the ball off from players of Crusaders Hockey Club. Photo: Nicholas Zaal

Even South Africa's national hockey players could learn a thing or two from the U11 girls at Beaulieu Hockey Academy.

The academy, which trains at Beaulieu College in Kyalami, sent two girls teams to the Wanderers Hockey Festival on 19 May.

Beaulieu Black and Beaulieu White shone in all their games – Black winning three of their four matches, and White won three of their five games.



Hanna Aitken of Beaulieu and Caitlin Wegerhoff of Crusaders Hockey Academy vie for possession. Photo: Nicholas Zaal

"I am very proud of the girls whether they win or lose," smiled coach Charlene Hackett. "Considering many of the girls are new to the academy and this was their first hockey festival at the academy, they have done extremely well."

Hackett added that the first U11 girls festival of the season proved a trial by fire, where the new players could demonstrate everything they have learnt in their few earlier practices against some of the biggest clubs around.

"I would say the secret to their success was their passion, their love for the game. You can never do anything well in life without passion for what you do."

https://northcliffmelvilletimes.co.za/wp-content/uploads/sites/7/2018/05/P3LiaGustavoofB_40269-768x576.jpg
Lia Gustavo plays for Beaulieu Hockey Academy on the day. Photo: Nicholas Zaal



Ella Meyer of Crusaders Hockey Club takes on the Beaulieu girls. Photo: Nicholas Zaal

The proud coach said her teams proved particularly good in defence, and while many junior players disliked playing hockey on grass as opposed to on astroturf, they made no fuss and got on with their games.

While the nature of the festival meant there was no official winner, the Beaulieu girls shone as two of the best teams on the day.

The academy also fielded an U11 boys side at the festival which won all three of its games.



Lilia Geyer of Beaulieu Hockey Academy looks to cross against Crusaders Hockey Club. Photo: Nicholas Zaal



Players of Crusaders Hockey Club (grey) and Beaulieu Hockey Academy (black and green) compete for possession in a tight match. Photo: Nicholas Zaal.

Northcliff and Melville Times