All the news for Saturday 24 March 2018

The 'third team' prepares for the Gold Coast Commonwealth Games

April 4-15, 2018 - Gold Coast, Australia

Sarah Juggins, for PAHF



Tyler Klenk (on the left)  . Photo: Yan Huckendubler

With the Gold Coast Commonwealth Games less than two weeks away, a number of people from PAHF are preparing to travel to Australia as part of the team tasked with ensuring the Games run as smoothly as possible. PAHF is well represented at the event with five Technical Officials, including Paula Parks (Canada) and Willard Harris (Trinidad & Tobago) leading the way as Tournament Directors for the women's and men's event respectively.

Also on the roster of officials at the 21st Commonwealth Games will be Ayanna McClean (Trinidad & Tobago), Reyah Richardson (Trinidad & Tobago) and Tyler Klerk (Canada). Paula Parks featured in an earlier article, so in this article we hear from the other four officials ahead of their trip to the Australian Gold Coast.

For Reyah Richardson, this will not be her first Commonwealth Games but in previous editions she has been a player, representing Trinidad and Tobago. This April she says she will be enjoying her first outing as a Technical Official at the event and, as she explains, despite no longer playing at the event, there are still important preparations for everyone involved: "This is my second Commonwealth Games. My first was Kuala Lumpur, Malaysia in 1998. At that tournament I was a player, representing Trinidad & Tobago.

"Though I am not an umpire, I believe physical preparation is just as important for the Technical Official. We are required to concentrate, be alert and on the move for the entire day whether we are on a match or not. At times, there is so much going on in the background that as a Technical Official we have to support the Tournament Director, our colleagues, the umpires. So being physically ready is important, it helps the body to keep going and the mind focused for the very long tournament days. I am still active as a hockey player, so I play the sport, run and do other activities to keep me fit and active."

Willard Harris is an old hand at the event. The Gold Coast will be the Trinidad and Tobago man's third Games. At both the 2006 event in Melbourne and the 2010 event in Delhi, Harris was a Technical Officer. He has fond memories of both Australia and India: "The atmosphere in the Melbourne Cricket Ground at the opening ceremony watching some of the then cricket greats perform a "show" match was fantastic, and the incredible city that Delhi is with its culture and mix made for a astonishing atmosphere."

Harris is the current Chair of the PAHF Competitions Committee and has recently completed a stint as Chair of the FIH Appointments Committee, so this is a rapid return to "active duty". Not that he minds at all: "I am glad to be back in doing something I love and assisting/mentoring younger officials to develop their career."

He has spent the past few months regularly catching up with Paula Parks to discuss the approach they will take to the event and doing some pre-work on their briefing presentations for the officials and the all-important draft appointments.

Tyler Klenk of Canada and Trinidad and Tobago's Ayanna McClean will be pitch side, blowing the whistle in the men's and women's events. For both umpires this is their first time umpiring at the Commonwealth Games.

For McClean, this year is a very special anniversary and one that will make her time at the Gold Coast even more special. "My mother umpired at the Commonwealth Games in Malaysia in 1998, and that was one of her top tournaments," explains the umpire. "It fills me with a sense of pride that I can follow in her footsteps exactly 20 years later and feel and exude the same level of excitement and love for the game as she did." The Commonwealth Games also gives McClean a chance to catch up with her mentor, the well-known Australian umpire and umpire manager Minka Woolley.

McClean is not a newcomer to the competition. Glasgow 2014 was her first experience of the Commonwealth Games and one of her first major events as an umpire. Since then she has been involved in major international events around the globe but she still has clear memories of her first Commonwealth Games match: "Glasgow was one of my first big tournaments and my first game was England vs Wales. I remember waiting to enter the field and being given notice that we needed to hold tight as security was clearing for the entrance of Duke and Duchess of Cambridge, Prince William and Kate. It was a reminder of how important the games were, and how close the monarchy still is to it.

"It was also my first time seeing Australia men's team live, and it was truly amazing seeing the top men's team play."

Being a multi-sport Games, the officials will also get the chance to watch some other sports in action, something McClean is looking forwards to: "It is always very special to attend tournaments that are full Games. Seeing all the athletes (male and female) from varying sports reminds me of my first senior tournament as a player at the Pan American Games. Specifically, at the CWG you get to see different sports, for example rugby and netball. I currently reside in New York and those sports take me back to my time living in Trinidad & Tobago."

Like Richardson, both McClean and Klenk take huge pride in their physical and mental readiness for the event. Umpires in the modern game are expected to be at peak fitness in order to preside over top class, and often professional, sports people. This means a tough training schedule and plenty of homework.

"Physical preparation includes working with a trainer and doing gym work four to five times a week," says McClean. "It also means ensuring I am eating properly and getting the right nutrition.

"I work with a sports psychologist on mental work, and do brain training games. I spend a lot of time looking at game film from my past tournaments, of the teams at tournament, as well as specific situations that are prevalent in the game. Finally getting in some match practice at our local league, specifically men's games for the speed and skill level."

Klenk has been going through similar training in preparation for the event. Of our four interviewees he is the newest member of the officials 'hockey family' but he has slotted into the international scene with ease, winning praise for his ability to handle high pressure games and has a clear strategy for settling into a tournament on the other side of the world.

"In my opinion, the first few days are crucial for the officials. It is important to take the first few days to get the body and mind in the right place. Given the distance we travel, it is important to make sure you shake off as much jet-leg as you can. Often this means going for some exercise sessions.

"It is also important to begin to mesh as a group, so the officials spend the first few days building relationships and trust.

"I'm also looking forward to the level of hockey. This is a great event to really push my level of umpiring. With some of the best teams in the world participating, it will create for some very tense matches. Those matches are where umpires really get to see what they are made of. I am also looking forward crowd and atmosphere. With the popularity of hockey in Australia, I am excited to see how the atmosphere will be."

There is no doubt that the competition will be tough and the officials will face a number of challenges during the two week period but these people are professionals through and through. And in Willard Harris and Paula Parks they have leaders who are respected and liked across the hockey world for their patience, positivity and ability to deal with pressure. While the players from the PAHF nations will be doing their best to bring home the medals, the third team will also be representing PAHF to the very best of their undoubted ability.

Pan American Hockey Federation media release


---

Hockeyroos & Kookaburras Receive Grand Games Farewell

Ben Somerford




The Hockeyroos and Kookaburras were given a grand send-off at Friday afternoon's Commonwealth Games Farewell Luncheon at the Perth Convention and Exhibition Centre.

The Gold Coast Glory Luncheon was organised by the Commonwealth Games Australia WA Division as a fundraising event for the 2018 Commonwealth Games Team.

The event also doubles as the only opportunity to farewell the 2018 Australian Commonwealth Games Team in WA where the Hockeyroos and Kookaburras are based.

Approximately 600 guests were in attendance, with thousands of dollars raised through auctions and donations.

Hockeyroos captain Emily Smith and Kookaburras midfielder Aran Zalewski were part of a Q&A session during the event.

Hockey legend Ric Charlesworth was also part of a Commonwealth Games Legends Panel, alongside former gymnast Allana Slater and ex-swimmer Eamon Sullivan.

Dignitaries such as Her Excellency The Honourable Kerry Sanderson AC, Governor of Western Australia and The Honourable Mark McGowan MLA, Premier of Western Australia were in attendance.

The Hockeyroos and Kookaburras will head to the Gold Coast on Wednesday 28 March for the Commonwealth Games which runs from April 4-15.

Hockey Australia media release


---

Knowles Returns To Home Town For Queen's Baton Relay

Ben Somerford




Retiring Kookaburras legend Mark Knowles returned to his hometown Rockhampton on Friday for a special occasion ahead of the 2018 Commonwealth Games.

Knowles ran in the Queen's Baton Relay along the streets where he grew up, before embarking on a remarkable international career.

The 34-year-old defender will retire after next month's Commonwealth Games in his home state, aiming for a fourth gold medal at the event on the Gold Coast.

The Kookaburras, who are in Pool A alongside New Zealand (ninth), Canada (11th), South Africa (15th) and Scotland (23rd), will head to the Gold Coast on Wednesday 28 March.

Fans should go to gc2018.com/tickets to be part of the biggest event to happen in Australia in over a decade.

Hockey Australia media release


---

India men's hockey team look to make statement of intent by winning gold in World Cup year

If India men's hockey team can clinch the gold medal at the upcoming Commonwealth Games in Gold Coast, it will be a big statement from the side considering this is a World Cup year. India have selected an 18-man squad, which will be captained by midfielder Manpreet Singh while Chinglensana Singh Kangujam will be his deputy. Despite missing veteran Sardar Singh, who was not selected for the Gold Coast Games, this Indian squad have the potential to come out on top. But the task will not be an easy one, especially against the likes of Australia and England.

Under Manpreet's leadership, India have done well as they lifted the Asia Cup last year followed by a bronze medal feat at the Men's Hockey World League Final in Bhubaneswar. Head coach Sjoerd Marijne, who was appointed last year after Roelant Oltmans was sacked, showed previously that he picks his team based on attacking prowess and he followed the similar pattern for the Commonwealth Games. Apart from Manpreet, midfielders Chinglensana, Sumit and Vivek Sagar Prasad were selected because all of them can score.

"We had competition for midfield positions. Manpreet picks himself but Sardar was a contender for the other slot. The players finally picked are more diverse than Sardar, they can also score, all three of them (Chinglensana, Sumit and Vivek Sagar Prasad). They are also good defenders in the midfield and are fast as forwards," Marijne was quoted saying by the Hindustan Times.

India's forward line is a combination of experience and youth as SV Sunil, Akashdeep Singh, Mandeep Singh, Lalit Kumar Upadhyay, Gurjant Singh and Dilpreet Singh make the cut for the Games. Drag-flicker Rupinder Pal Singh will lead India's defence along with Harmanpreet Singh, Varun Kumar, Kothajit Singh, Gurinder Singh and Amit Rohidas.

Goalkeeper PR Sreejesh made a strong comeback from injury this year and there was no reason for him to be dropped. The 22-year-old talent Suraj Karkera has been selected as the second-choice goalkeeper.

India have played attacking brand of hockey since Marijne took control of the team. He prefers a fast game with creative players dominating the midfield. So far, the system worked for India but there are also areas of concerns, especially in the defense. Unlike Oltmans, Marijne's focus is not much on the defense. At the Four Nations Invitational Hockey tournament in New Zealand, where India did well to reach the finals in both the legs, it was their defense that let them down. At the Commonwealth Games 2018, India will face England in the group stage. England's game will be similar to that of India and that's where the defense has to come out good.

The team will also look to do good when it comes to converting the penalty corners. In the last few tournaments, the conversion rate of penalty corners has been a problem with the likes of Rupinder and Harmanpreet not being clinical enough. Marijne should look to fix this issue before the team takes the flight to Gold Coast.

India have never won the gold medal at Commonwealth Games and in the previous two editions, they have finished behind Australia, who clinched the gold. But captain Manpreet wants to turn things around this time.

"Our first aim is to do well in the group stage because we have some strong teams in our Pool. It's extremely crucial to top our table and make the semi-final but if we do meet Australia in the knockouts, I believe we will be up for a strong challenge," Manpreet had told Indian Express.

India have been grouped in Pool B along with Pakistan, Malaysia, Wales and England. They will begin their campaign on 7 April against arch-rivals Pakistan.

Firstpost


---

India to attack more, will not hold ball for too long, says hockey captain Manpreet Singh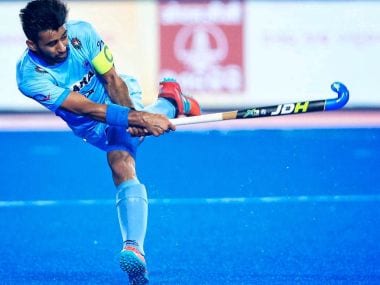 File image of India captain Manpreet Singh. Image courtesy: Twitter @TheHockeyIndia

New Delhi: Swift dribbles have been the Indian hockey team's calling card since time immemorial but new national coach Sjoerd Marijne wants his men to not hold onto the ball for too long in a bid to attack with more gusto, says skipper Manpreet Singh.

"Now, the drill is not to hold the ball for long, attack fast, try to enter the striking circle and take as many shots as possible. Our focus is to attack more and we are more aggressive now," skipper Manpreet told PTI during an interaction before the hockey squad left for Gold Coast.

One of India's biggest problems have been penalty corner conversion but the skipper feels that with four specialist drag flickers including VR Raghunath and Rupinderpal Singh, the team will put up an improved show.

"Regarding penalty corner conversions, we have four specialists (drag flickers) in the team and we should be able to convert as many penalty corners as possible. I think we have improved on that front also," he said.

India have returned with silver medals during the last two editions of Commonwealth Games in New Delhi and Glasgow respectively.

India have been placed in Pool B along with England, Malaysia, Pakistan and Wales.

They will begin their campaign against Pakistan at the Gold Coast Hockey Centre on 7 April and the skipper knows the importance of facing the arch-rivals.

"Everybody knows our best comes out when we play against Pakistan. But having said that, we should not go into the match emotionally-charged. We should take it as just a game which we need to win. We need to remain physically and mentally strong throughout the tournament," Manpreet said.

"An opening match of any tournament is very crucial and we would go for a win against Pakistan. A win in the opening match should boost our confidence going ahead in the Games," he added.

India have never won a gold in the Commonwealth Games and last time also, they lost to Australia 0-4 in the summit clash. Australia have won the gold medal in all the five editions since the sport's introduction in the 1998 Kuala Lumpur Games.

While he exuded confidence, promising a good show, the skipper was against predicting the colour of the medal.

"CWG is a very tough tournament, it has many top sides in the world. There are the Australians, the English, South Africans and then Pakistan. These days it is difficult to predict. We can beat any side in the world on our day. I feel we can win a medal, that much I can say. But I don't know we will return with a gold or not," said the 25-year-old mid-field lynchpin.

Manpreet wants to take one game at a time not thinking about finals or podium finish right at the onset.

"We will take game by game and will not straightaway start thinking that we will be in the final. We have plans how to go about each of our opponents," the Punjab player said.

Manpreet was given a break during the Sultan Azlan Shah tournament, where a young and experimental Indian team finished fifth.

He was named the captain in May last year and under him, the Indian team won the Asia Cup 2017 followed by a bronze medal feat at the Men's Hockey World League (HWL) Final in Bhubaneswar.

Asked if it will be tough to captain the side, he said, "There are a lot of senior players in the team, There is Sreejesh, there is SV Sunil among others and I can take advice from them and chalk out strategies. It will be a good team atmosphere."

Mandeep was part of the Indian team that won the gold in the 2014 Asian Games. He was also part of the Indian teams in the 2012 and 2016 Olympics.

Firstpost


---

Stop the eight-goal heartache

By Aftar Singh



Time for redemption: National goalkeeper Muhd Hafizuddin Othman saving an attempt by England's Mark Gleghorne during the Sultan Azlan Shah Cup in Ipoh recently. — Bernama

KUALA LUMPUR: National hockey goalkeeper Muhd Hafizuddin Othman conceded eight goals to England in the opening match of the Commonwealth Games in Glasgow four years ago.

He is expected to be behind the posts again in their opening Group B game against England in the Commonwealth Games in Gold Coast, Australia, on April 6.

But this time, Hafizuddin, 26, is better prepared to face the English and hopes that history will not repeat itself.

The Kuala Terengganu player is still disturbed over letting in eight goals against England in a group match, which Malaysia lost 8-1 in Glasgow four years ago.

"I hope the opening game this time will be different. I'm more prepared and experienced," Hafizuddin said.

In the recent Sultan Azlan Shah Cup in Ipoh, Hafizuddin played in the first two quarters of the match against England before he was replaced by Muhd Hairi Abdul Rahman. Malaysia were thrashed 7-2.

"England are a solid side and they can upset any top team in the world. We will face another tough encounter in Gold Coast.

"I watched the video of the match against England in Ipoh and it was really disheartening to let in so many goals.

"I've vowed to play well to make some good saves and not to concede soft goals," added Hafizuddin.

He said their defence, led by Muhd Razie Abdul Rahim, also needed to buck up as all the four teams in their group would be going all out to beat them.

"We're in the Podium Programme and the expectations are high on us to get some good results in Gold Coast.

"We need to get good results against India, Pakistan and Wales to reach the semi-finals. Nothing is impossible.

"I also hope my teammate Hairi will be ready to play to his true form in the Games," said Hafizuddin, who has 52 international caps.

Malaysia's other Group B matches are against Wales on April 7, India (April 10) and Pakistan (April 11).

Defending champions Australia are drawn in Group A with New Zealand, Canada, South Africa and Scotland.

The Star of Malaysia


---

No medal hopes for Pakistan hockey in Commonwealth Games

Abdul Mohi Shah

ISLAMABAD: For the very first time in the Commonwealth Games, Pakistan hockey team will enter the field without any realistic hopes of winning a medal.

In the past, whenever Pakistan team participated in the Games victory stand has never eluded us. Barring a few occasions when the government-backed Olympic association made it tough for Pakistan to compete at international events, Commonwealth Games has always been a favorite hunting ground for country's hockey.

Even in the toughest situations, Pakistan had been regarded as the team gunning for gold at the Games. In 2006, when Pakistan were not rated amongst the best hockey-playing nations, Pakistan's urge for gold was very much there at the Melbourne Games. For most part of the first half Pakistan dominated the final against hosts Australia and were leading 1-0 when raw youngster from Gojra Tariq Aziz smashed his hockey stick against Australian midfielder to reduce Pakistan to 10 players but more importantly handing over the advantage to opponents.

Though Pakistan lost the final in a close contest, winning silver medal in company of teams that also included India was all the more a good performance.This time around even making it to the semi-final looks like a distant hope. Pakistan have been placed along with India, England, Scotland and Malaysia in a pool where every match would be of immense importance.

The Pakistan Hockey Federation's recent decision as not to expose or even arrange bilateral series could ultimately have decisive impact on team's performance in the Games. The team was not sent to play Azlan Shah Hockey Cup in Malaysia and even no effort was made to involve the outfit in a bilateral series against relatively strong teams.

However, the PHF managed to field the team in a tri-nation event in the company of minnows Japan and Oman. To the shocking surprise of all the hockey lovers back home, Japan ran away with the title beating Pakistan in the final.

More shocking was to see a record four-time world champions playing a draw against 32nd ranked Oman.Thus it can easily be said that no efforts were made by the PHF to prepare the team for Commonwealth Games. For the PHF possibly getting involved in provincial politics and staying at the helm of affairs for longer period is more important.

The matter of the fact is that all the measures for the promotion of the game are useless unless and until your national outfit comes up with reasonable results. Only three or four years back the Greenshirts were in a position to beat teams like Holland, India and Germany (all in Champions Trophy). They can do it even now but for that a realistic and sincere approach is needed. When it comes to appointing officials on key posts to run the PHF offices or to train national team, one should follow the realistic approach.

The worst scenario behind this poor state of affairs is that whosoever is there to run the PHF offices or has been appointed as coach or selector is more there on the basis of personal relation.

Nobody takes pain to know whether the person appointed for the post has the required worth to justify his association with the federation. Such a culture where near and dear ones get the lucrative important post, the ultimate result would be total disaster. The PHF is currently going through the same fate where no one is sure of their responsibilities. Make hey while the sun shines is the motto every official is pursuing.

The national team has either been left to stay idle or was forced to play against teams where it is difficult to gain something rather chances of losing the already attained standard turn out to be greater one.

One wonders when realistic and practical approach would be the only priority for the PHF bosses after all it is the national team performance and achievement that gives the best idea as which direction we are heading to.

The News International


---

Stats Speak-Commonwealth Games Hockey: How they fared



By B.G.Joshi (Sehore-Bhopal, India)

Hosts Australia has an edge over rivals for Gold Medals. However Indian men and English ladies are in position to upset Aussies. Kiwis will be on podium in both categories.

Like Olympics all five continents are being represented in CWG Hockey. 

India, England, Australia and New Zealand will be among top two in either pools and likely to play the semi finals. Here are the standings of all 10 teams in previous editions:
Teams

(World

Ranking)

Kuala

Lumpur

Manchester

Melbourne

New Delhi

Glasgow

1998

2002

2006

2010

2014

Women

Pool A

England(2)

2

2

3

3

2

India(10)

4

1

2

5

5

South Africa(14)

5=

5

7

4

4

Malaysia(22)

7=

8

6

10

7

Wales(28)

9

nq

nq

8

9

Pool B

New Zealand(4)

3

4

4

2

3

Australia(5)

1

3

1

1

1

Scotland(18)

5=

6

5

7

6

Canada(21)

7=

7

8

6

8

Ghana(30)

Debut

Men

Pool  A

Australia(1)

1

1

1

1

1

New Zealand(9)

7=

2

5

3

4

Canada(11)

5=

6

9

7

6

South Africa(15)

5=

4

8

5

5

Scotland(23)

nq

nq

7

9

8

Pool   B

India(6)

4

nq

6

2

2

England(7)

3

5

4

4

3

Malaysia(12)

2

nq

3

8

7

Pakistan(13)

7=

3

2

6

nq

Wales(24)

9

7

nq

nq

9

nq: not qualified,= equals
Fieldhockey.com


---

Scotland men win Team of the Year award



EuroHockey Championship II 2017 Men – Final - The winning Scotland team – photo by Duncan Gray

The Scotland men's hockey squad has been awarded Team of the Year at the the 2018 Nordoff Robbins Scotland (NRS) Scottish Sporting Awards, supported by the Sunday Post and Ennova Law.

It is a tremendous accolade for the squad who won EuroHockey Championship II in Glasgow and reached the World League Semi Final in London last year.

The squad is currently in Gold Coast for the upcoming Commonwealth Games and the award was received on their behalf by former internationalist and current Scotland U16 boys' Head Coach Chris Duncan at a fantastic ceremony held at Prestonfield House, Edinburgh.

The NRS Scottish Sporting Awards celebrate and reward the outstanding achievements of Scotland's exceptional sporting stars from across amateur, professional and parasport; winning Team of the Year is a tremendous achievement.

Scottish Hockey CEO David Sweetman said, "This is great news for hockey in Scotland and I'm absolutely delighted to see the Scotland men's team recognised for their achievements. The success of the Scotland men's squad last year is an inspirational story and a great example for the sport.

"This is an exciting time for hockey as the sport grows across Scotland. The future is bright and I'd like to congratulate the Scotland men's squad on this well-deserved recognition, winning this prestigious Team of the Year award."

2017 was an incredible year for Scotland's men's hockey team. The Blue Sticks will be looking to carry their exceptional form from last year into 2018.

With the Gold Coast Commonwealth Games just weeks away excitement is building for the tournament. Scotland men have been drawn in Pool A in the Gold Coast with hosts Australia, New Zealand, Canada, and South Africa. Men's Pool B has India, England, Malaysia, Pakistan, and Wales drawn together.

Scottish Hockey Union media release


---

PSPB could just pip Air India

Railways takes on Punjab in other semifinal

Uthra Ganesan

For all the big names in their respective ranks, two of the biggest institutional teams in domestic Indian hockey — Air India and Petroleum Sports Promotion Board — have been less than impressive in their victories so far in the 8th National men's Hockey Championships here.

On Saturday, only one of them would advance as the two sides take on each other in the semifinal, with both hoping that the performance matches the reputation they carry on the domestic circuit. Between the two, PSPB would certainly be favourite by virtue of its marginally better outing in the quarterfinal and the fact that it has seven current national campers in its ranks including junior World Cup winning captain Harjeet Singh.

That, though, hasn't translated into action with High Performance Director David John, who has been watching all the games here expecting to pick youngsters for the developmental side, clearly disappointed with the fare on offer.

Air India, on the other hand, has relied mainly on Mohd. Faraz's impressive conversions during penalty corners to survive in the competition this long. With most of the names in its ranks past their prime, the organisation hasn't recruited since 2007 and managing with youngsters on stipend who keep leaving for better opportunities. Other than Adrian D'Souza under the bar, most senior players have played more on experience than fitness or a plan.

That may well be its USP. PSPB was guilty of missing chances by the dozen in its quarterfinal win against Chandigarh and was found wanting every time it was challenged by an enterprising youngster from the opposition ranks. Air India may not have the pace but it has players who can play within their limitations and, with a comprehensive structure, could trouble PSPB.

The other semifinal would see defending champion Railways take on a Punjab side that again has been good in patches with its international players — Gurbaj Singh, Dharamvir Singh and Gurvinder Singh Chandi among others — unable to step up the pace or put up a dominating show.

With three of the four semifinalists being institutional teams — with two more (Canara Bank and PNB) joining the A Division after reaching the final of the B Division this year — Hockey India however needs to take a hard look at both the format of the national championships and the standard of the game in states.

The Hindu


---

Beeston and Surbiton clash 'end of National Hockey League as we know it'

By Rod Gilmour



Surbiton's Alan Forsyth will be one of several internationals missing. (Image:: Simon Parker)

This weekend Beeston and Surbiton will play a crucial top-of-the-table men's Premier Division clash, with a Europe berth up for grabs and play-off spots still very much alive.

The season finale could not be much closer. Beeston will open their doors for free on Sunday and expect a bumper crowd for the visit of a side which lies two points behind the top-placed Nottingham club and, with many internationals missing due to the Commonwealth Games, there could be further twists in the final placings.

Yet optimism for a riveting finale does not sweep fully across England where this weekend's permutations follow a week where the very future of domestic hockey has been decided by England Hockey's board.

And in a season which also saw Beeston call a meeting with England's top clubs to propose a 'breakaway' league – which was subsequently voted down nine to one – chairman Graham Griffiths says Sunday's clash will be bitter sweet.

"This is the last National League as we know it and in a way it's so sad," proclaimed Griffiths.

The reason for Griffith's unsatisfactory outlook stems from England Hockey's consultation survey 'Bridging the Gap' (between international and domestic hockey) on the future structure of the domestic league.

An updated proposal in September then hinted at a two-phase league, with the Pro League – world hockey's new annual global tournament which will feature GB men and women in action from January to June – at the forefront of the changes.

Griffiths said: "The truth is we have to get on with it. The international calendar is growing and that is going to make it difficult for clubs at the top."

With the likelihood being that no top flight English clubs will be able to field any GB internationals in the first six months of the year, it is set to leave domestic clubs with a conundrum from January and when the league is revamped from 2019/20.
140405 reading beeston 04 (1).jpg



Will Sam Ward still be at Beeston from 2019/20?

Griffiths, who hopes to bring his proposed changes back to the table one day, says that instead of fielding star players like Sam Ward and Mark Gleghorne, they would look to Spain, Poland and other under-21 internationals from across the globe to fill the gaps.

"The clubs are going to question whether they might have internationals at all," he added.

Beeston joined forces with HC Rotterdam in a club development partnership last year, but Griffiths believes that the Dutch model would remain different from England's domestic set up. By that he means that continental clubs would likely continue to be served by their international players.

Meanwhile England Hockey's two-phase league proposal would also see:

– Clubs play in a National League between Jan and April / May. This will qualify teams for a 'best v best' competition between Sep-Dec.

– International players available to play for clubs in the 'best v best' competition (outside of international commitments).

Sally Munday, England Hockey's chief executive, said: "The reality means that the players will spend a significant amount of time outside of the country in the January to April period and on long haul trips. It will be extremely challenging for players to play in that period.

"Our domestic league is not compatible with what will come in with the international season from 2018/19. Our proposals were trying to make us have the best of both worlds."
A University-less league?

One of Beeston's constitutions in its proposed new league was one without University sides – all barring current Premier Division side Brooklands Manchester University HC.

"A club which is operated by the legal entity of a University, a University Student's Union or Athletic Union shall be ineligible to become members of the company, or take part in the league," the article of associations proclaimed.

England Hockey noted that it was "surprised" at Beeston proposals. But Griffiths's vision was "to develop a University programme on a Wednesday as a kind of Super League. It's not performance hockey at the moment."

One University source admitted that the format was "flawed" while University of Nottingham's director of sport Dan Tilley said: "We support England Hockey's aspirations to raise the bar with domestic hockey, something we as institutions are also trying to do.

"Our understanding is that there is no intention by England Hockey to exclude universities from the restructuring of the leagues."

The Hockey Paper


---

Drama at both ends of the table in final weekend of top flight action



Clifton Robinsons in action against East Grinstead earlier in the season. Credit Andy Smith

Clifton Robinsons face two tough games on the final weekend of the regular season as they battle to avoid a relegation scrap in the Investec Women's Hockey League Premier Division.

With most teams facing a double header this weekend because of postponements, there is much to play for at both ends of the table.

But second-bottom Clifton Robinsons face a battle at play-off chasing East Grinstead on Saturday before a potentially crucial match at bottom of the table Leicester on Sunday.

Without a win since October, the Bristol side will need to be on top form to take anything from their battle against the Sussex outfit. But victory at Leicester is more possible, with the Midlands side also not having won since October.

With the two teams above them - Slough and Canterbury - just two points away, both Clifton Robinsons and Leicester could climb away from the threat of relegation.

Elsewhere, Leicester will start their weekend fixtures with a trip to Bowdon Hightown on Saturday, while Slough's battle to avoid the drop sees them go to Canterbury on Saturday and the University of Birmingham on Sunday.

Currently fourth but without a win in their last three matches, the University of Birmingham entertain Holcombe on Saturday before the Slough clash 24 hours later.

Surbiton lead the way and need a point from their game at Buckingham to secure top spot and a place in Europe next season. A loss however Holcombe could catch them with big wins against University of Birmingham and Canterbury.

Buckingham are fifth and could still overhaul the University of Birmingham for the last play-off berth. After playing Surbiton on Saturday, they entertain Bowdon Hightown on Sunday.

In the Investec Women's Conference East, leaders Hampstead & Westminster will be looking to seal the title this weekend as they entertain bottom of the table Chelmsford on Saturday and second-placed Sevenoaks on Sunday.

Chelmsford are already down but the battle to avoid the relegation play-offs may go to 7 April as the other teams involved have games postponed till then.

The battle for the title in the Investec Women's Conference West is still wide open with four teams in the mix.

Current leaders Trojans play their final match at home against bottom of the table Team Bath Buccaneers on Saturday, while second-placed Stourport have two games left and go to Olton & West Warwicks on Saturday before a home game against Team Bath Buccaneers on Sunday.

Third-placed Reading could also snatch the title if they win and others lose. They play Swansea – currently fourth - on Saturday, after the Welsh side dropped out of the title race with a loss at Gloucester City on Thursday evening. Elsewhere, Reading go to Cannock on Sunday, the home side needing to make up a three-point deficit on Oxford Hawks to avoid the relegation play-offs, while both teams play twice this weekend.

And Investec Women's Conference North champions Beeston will be aiming to complete a perfect season with an 18th league win in their final match against Brooklands-Poynton on Saturday.

Bottom of the table Liverpool need to win at Wakefield on Saturday to go above them on goal difference with both teams also in action on Sunday, while Wakefield entertain Brooklands Poynton, while Liverpool go to Loughborough.

FIXTURES

Saturday, March 24 2018

Investec Premier Division
Bowdon Hightown v Leicester 14:00
Buckingham v Surbiton 14:00
Canterbury v Slough 14:00
East Grinstead v Clifton Robinsons 14:00
Univ of Birmingham v Holcombe 14:00

Investec Conference East
Barnes v Wimbledon 14:00
Bedford v Southgate 14:00
Cambridge City v St Albans 14:00
Hampstead & Westminster v Chelmsford 14:00
Sevenoaks v Harleston Magpies 14:00

Investec Conference North
Beeston v Brooklands-Poynton 14:00
Ben Rhydding v Univ of Durham 14:00
Fylde v Sutton Coldfield 14:00
Timperley v Loughborough Students 14:00
Wakefield v Liverpool Sefton 14:00

Investec Conference West
Gloucester City v Cannock 14:00
Isca v Oxford Hawks 14:00
Olton & West Warwicks v Stourport 14:00
Reading v Swansea City 14:00
Trojans v Team Bath Buccaneers 14:00

Sunday, March 25 2018

Investec Premier Division
Univ of Birmingham v Slough 12:00
Buckingham v Bowdon Hightown 13:00
Leicester v Clifton Robinsons 13:00
Holcombe v Canterbury 15:00

Investec Conference East
Cambridge City v Barnes 12:30
Southgate v Harleston Magpies 12:30
Hampstead & Westminster v Sevenoaks 13:30
Bedford v Wimbledon 14:00
St Albans v Chelmsford 14:00

Investec Conference North
Loughborough Students v Liverpool Sefton 12:30
Sutton Coldfield v Univ of Durham 12:30
Wakefield v Brooklands-Poynton 12:30

Investec Conference West
Cannock v Reading 12:00
Olton & West Warwicks v Oxford Hawks 14:15
Stourport v Team Bath Buccaneers 14:15

England Hockey Board Media release


---

Glens hope to move one step closer to men's EYHL title



Glenanne's Neil Byrne holds off Cork C of I's Alex Burns. Pic: Adrian Boehm

After a month's hiatus, the men's EY Hockey League gets fully back into top gear on Saturday following the Sultan Azlan Shah Cup with Glenanne in the box seat to take another step toward national glory.

First time out, they found Railway Union a tough nut to crack before eventually running out 2-0 winners.

Since then, Railway have got their first wins on the board but the Glens remain the clear leaders in the division and three wins from the last four games will earn a European spot and the regular season title. As such, motivation will be high to clean up the points and move significantly closer to their goal.

Lisnagarvey are the most realistic challengers with Johnny Bell using the programme notes to say the next six weeks will define their season. Certainly this weekend is a pivotal one, facing an away trip to Cookstown on Saturday before a tough battle on Sunday against a Pembroke side chasing a playoff place.

Errol Lutton's side need to win their games in hand and hope to win their showdown with the Glens on April 14 to have a chance of winning the regular season title for the second time in three years.

Banbridge are another side chasing a top four spot. Their slow start to the season came as a result of a trio of players moving abroad, compounded by injuries to Johnny McKee, Eugene and Owen Magee.

At fuller strength, they have won nine points out of 12 in 2018 but they have had far less game-time than Saturday's opponents Three Rock Rovers. Rovers are coming off the back of four wins in nine days last week, backing up a Mills Cup win with a 5-0 win at Garryduff in the Irish Senior Cup quarter-final.

It is their final preparation game for the Euro Hockey League on the Easter weekend, facing Saint Germain on Saturday, March 31 before facing either HC Bloemendaal or KHC Dragons.

That cup loss to Rovers aside, Cork C of I have had a reasonably productive start to 2018, unbeaten in the league since the turn of the year to move away from the danger zone. Hosting Monkstown, they will hope to add to that run in a Lynch family affair with Town's Karl and Jason facing their alma mater and cousin David.

On Sunday, Monkstown make the short trip up the coast road to St Andrew's to face Glenanne in the last of the quarter-finals of the Senior Cup.

In Leinster, the shoot-out between UCD, YMCA and Corinthian begins in earnest with goal difference set to be a crucial factor. To this end, YM will look to run up a score against Weston though the Lucan side did snatch a 1-1 draw in midweek against Clontarf – Simon Pearon grabbing their goal – to suggest they can frustrate.

The reds face Clontarf at the bull ring while UCD meet their student rivals Dublin University. In terms of any lingering appeals over the overturned result between YMCA and Trinity, the LHA have said they do no comment publicly on such matters but added that there is not currently an appeal before the governing body and so no further sting in the tail looks likely.

Men's weekend fixtures (Saturday unless stated)
EY Hockey League: Cookstown v Lisnagarvey, 2.30pm, Steelweld Park; Cork C of I v Monkstown, 1.30pm, Garryduff; Glenanne v Railway Union, 4pm, Booterstown; Pembroke Wanderers v Annadale, 1.30pm, Serpentine Avenue; Three Rock Rovers v Banbridge, 3pm, Grange Road
Sunday: Lisnagarvey v Pembroke Wanderers, 3pm, Comber Road

Irish Senior Cup, quarter-final, Sunday: Glenanne v Monkstown, 2pm, St Andrews College, Booterstown

Irish Hockey Challenge Final, Sunday: Ballynahinch v Catholic Institute, 2pm, Belfield.

Irish Hockey Trophy – semi-finals: Bandon v Bangor, 2.30pm, Bandon GS; Raphoe v Portrane, 2.30pm, Royal and Prior.

Leinster Division One: Clontarf v Corinthian, 12pm, Mount Temple; Avoca v Dublin North, 12.30pm, Newpark; YMCA v Weston, 2pm, Wesley; Rathgar v Kilkenny, 4pm, High School; UCD v Dublin University, 4.20pm, Belfield

Munster Division 1: Cork Church of Ireland B v Limerick, Garryduff, 3.30pm.

The Hook


---

Trinity hoping to keep run rolling as UCD face Railway rematch



Trinity's Sally Campbell on the attack against Pembroke last month. Pic: Adrian Boehm

An upbeat Trinity will hope their momentum from before the St Patrick's Day break will not stall their momentum as they make a break for eighth place in the women's EY Hockey League.

With four points out of six, they have cut themselves clear of bottom side Hermes-Monkstown, moving within range of Pembroke with their dander up.

As such, they will host Belfast Harlequins on Saturday – a side they drew with on the road – with confidence they make another significant inroad.

UCD have an instant chance for revenge against Railway Union following their Jacqui Potter Cup final defeat a week ago. The students can welcome back Katie Mullan, Leah McGuire, Lena Tice and Ellen Curran.

Railway can bring back in some of Emer Lucey, Emma Smyth, Cecelia Joyce, Kate McKenna, Kate Dillon, Hannah de Burgh Whyte and Sarah Canning though selection for places is high in the wake of their young guns performances last weekend.

Neither side has conceded in four games in the EY league; could this possibly be a scoreless tie or whose defence will be the first to be breached?

Cork Harlequins will be hoping for a UCD slip to keep alive their outside chances of the regular season title. They welcome Pembroke on Saturday before Belfast Quins continue their road-trip south on Sunday to Farmer's Cross for an Irish Senior Cup quarter-final.

Hermes-Monkstown need to get at least two wins from their remaining fixtures to have any chance of avoiding the drop but have a very tough series of games, starting with an away date at Pegasus, being played at Belfast High School at 1pm.

Pegs, though, need points of their own to get back on track after back-to-back defeats and make sure they finish in the top three and a guaranteed Champions Trophy spot.

Loreto and Ards both need a win to have any chance of making a late surge for the top four when they meet at Beaufort. With seven and eight points to make up, respectively, a loss would all but certainly put them out of the running.

In Leinster Division One, the main tension involves the games involving Corinthian and Old Alex. Muckross's league win means they are assured of an IHL2 spot next season if they don't earn promotion to the EYHL.

Third, though, looks unlikely to do so with at least one Leinster side likely to be relegated from the national division, meaning third missed out on IHL2. As such, second remains a big target though even that is not assured an IHL2 spot.

Corinthian need a win at Our Lady's and then hope Alex slip up either at North Kildare or in their final game against Avoca on April 5.

On Sunday, the Irish Junior Cup final sees UCD take on Railway Union who reached the final with a 4-0 win on Monday in the semi with Kate Dillon scoring a hat trick. There is also the first in a three-game series between Ireland and USA at Under-21 level in St Gerard's.

Women's fixtures (Saturday unless states)
EY Hockey League: Cork Harlequins v Pembroke Wanderers, 2.30pm, Farmer's Cross; Loreto v Ards, 2.30pm, Beaufort; Pegasus v Hermes-Monkstown, 1pm, Belfast HS; Trinity v Belfast Harlequins, 3pm, Santry Avenue; UCD v Railway Union, 2.50pm, Belfield, 2.50pm.

Irish Senior Cup, quarter-final (Sunday): Cork Harlequins v Belfast Harlequins, Farmers' Cross, 12.45pm.

Irish Hockey Trophy – Semi-final: Bandon v Catholic Institute, Bandon Grammar Sch., 12pm.

Irish Junior Cup final (Sunday): UCD v Railway Union, 12pm, Belfield

Leinster Division One
Wednesday: Genesis 2 (A Kavanagh 2) Our Lady's 2 (K Kennedy, E Kilbride); Rathgar 0 North Kildare 0
Saturday: Glenanne v Muckross, 12pm, Glenanne Park; North Kildare v Old Alex, 12pm, The Maws; Our Lady's v Corinthian, 12.30pm, Terenure; Avoca v Genesis, 2.30pm, Newpark; Clontarf v Rathgar, 4.30pm, Mount Temple

Munster Division 1: Belvedere v University College Cork, Ballincollig Comm. Sch., 1.30pm.

U-21 International Series (Sunday): Ireland v USA, St Gerards, 3.30pm.

The Hook


---

Big points up for grabs in Scottish National League 1



Men's Scottish Cup Final – Grange v Kelburne - Grange's Luke Cranney holds off Kelburne's Neil McIntyre – photo by Duncan Gray

With big points up for grabs this weekend will provide a real examination of Kelburne`s current credentials when they entertain Grange and Grove Menzieshill at Glasgow Green, the challenging sides second and third in the table respectively.

In their three games against Clydesdale, Hillhead and Wanderers since the winter shutdown the champions have faced challenges in parts of each contest – rather than rattling in the goals in cavalier spirit as was the case in past seasons. And then last Sunday they were dumped out of the Scottish Cup by Clydesdale, on a penalty shoot-out after a goalless draw in normal time.

If the Paisley side take the full six points from this weekend`s double header it will be a huge statement of their title winning credentials this season.

Grange are first up at Glasgow Green, arguably the side most likely to ruin Kelburne`s 14th consecutive celebrations. There is no doubt that the Edinburgh side has the potential to win their first league crown since 2002, they won the earlier league clash 3-0 at Fettes. The match was goalless at the interval, although Kelburne`s Johnny Christie failed to convert from the spot. The second half belonged to the home side, Irishman Frank Ryan scored twice and the other came from a penalty corner strike by Dan Coultas.

A win for Grange would restore them to pole position by two points, this time they might be more difficult to dislodge, the remaining fixtures are against teams from the lower reaches of the table.  And interestingly the Edinburgh side are the only unbeaten team in the division, although they were held to draws by Grove Menzieshill and Western Wildcats in the last few weeks.

Grange will be without the influential Cammie Fraser, down under with the Scotland Commonwealth Games squad, but there is still plenty of firepower left in Frank Ryan, Luke Cranney along with youngsters Jacob Tweedie and Callum MacKenzie

Grove Menzieshill on Sunday will be no easier a task for the champions, after all last time out the Taysiders produced a powerful display to see off Edinburgh University 4-0 at Peffermill. The first league encounter between the sides was in Dundee, goals by Michael and Johnny Christie gave the Paisley side a two goal lead at the interval, but Grove Menzieshill replied through Jamie Golden and Aidan McQuade for a share of the spoils.

Certainly Grove Menzieshill will be without Scotland players Gavin Byers and goalkeeper Steven McIlravey, but that does not make them less of a threat to Kelburne`s aspirations. Grove Menzieshill would hold on to third spot with a home win over bottom side Inverleith on Saturday, earlier in the season they won 4-0 at Peffermill.

Elsewhere, the team of the moment is Clydesdale, recent victories over Uddingston and Inverleith have propelled the Titwood-based side to fifth in the table, yet considerably short of a top four place. On Saturday they visit the Wildcats` den at Auchenhowie, the result here could determine whether the Titwood renaissance is durable or transient.

Wildcats' return after the winter shut down has been a bit mixed, a poor result against Uddingston, a 4-1 win over Inverleith, followed by a fighting draw with Grange at Fettes. The Wildcats will be without striker Rob Harwood but Andrew McConnell have been in lethal form recently both from penalty corners and open play.

Uddingston has a chance of moving off third bottom spot with points from their home game against Hillhead on Saturday, and then an away fixture against Inverleith the next day. Hillhead has been a bit short of match practice since the winter break, only a 4-1 reversal by Kelburne, so the Uddingston game and a home fixture against Dundee Wanderers on Sunday gives Mark Ralph`s squad a chance to move out of the relegation play-off zone.

Wanderers are just inside that zone after losing to both Grange and Kelburne in recent weeks, they should find Edinburgh University and Hillhead an easier source of points.



MJV Dundee Wanderers' Emily Dark v Milne Craig Clydesdale Western, Women's Scottish Cup Semi-Final, Photo by John Preece

With Grove Menzieshill not on duty this weekend, Edinburgh University could open up a sizeable gap at the top of the women`s National League 1 with three points at home against Dundee Wanderers. The loss of Scotland Commonwealth Games players is even, the students are without Amy Brodie while Wanderers are missing striker Charlotte Watson, so there is no advantage here.

Edinburgh University won the equivalent fixture 3-1 in Dundee, Zara Malseed with two and Hanna McKie were on target, so the students must start favourites again. The two sides` recent form would also suggest the same opinion, University have recorded two wins and a draw while the Dundonians have slipped back with defeats at the hands of Watsonians and bottom side Kelburne.

Wanderers have a second chance to pick up some points and reclaim fifth spot in the table when they visit Hillhead on Sunday for a catch-up fixture. This game looks set to be a cracker with both sides capable of a big performance at an important point in the season.

Western Wildcats at home to Clydesdale Western looks a juicy encounter, much here may depend on the relative depth of squads as both sides are missing their coaches and key players to the Gold Coast. Earlier in the season Wildcats knocked Western out of the Scottish Cup, but in the Titwood league encounter it was the latter who took the points with a 2-1 victory.

Wildcats could move up to second in the table if they can hold on to the three points at Auchenhowie, only two points separate the sides after Wildcats beat Grange 2-0 last weekend and Western went down by a single goal to Watsonians.

If Kelburne have the desire to stay in the top flight they must collect another three points from their home clash with Grange who are only three points ahead of them. Meanwhile GKH and Hillhead fight out the other game in the lower part of the table, but both look firmly fixed in the relegation play-off zone.

Scottish Hockey Union media release


---

Rotterdam join forces with Osaka in new partnership




HC Rotterdam announced today its brand new club apparel supplier will be Osaka. From the start of next season, the brand will provide the kit for the club's top teams, delivering all the clothing through the club's partner DAKA Sport.

"With Osaka we have chosen a brand with a sharp focus on hockey," explains chairman Diederik Chevalier. "Osaka has hockey in its DNA and is therefore a brand that fits the look of our organisation. We also paid close attention to delivery, reliability and, of course, a good sponsor contribution."

After Dragons in Belgium and Bloemendaal, Rotterdam is the third "big fish' for the brand Osaka.

And Osaka's top man Stephen Butler, a former Irish international who played in the EHL with both Glenanne and KHC Dragons, said: "We are, of course, very happy and honoured to have this link up with HC Rotterdam. This exclusive contract with a prestigious club like Rotterdam fits perfectly into the picture we have in mind."

Euro Hockey League media release


---

Pratt inspires Kilkenny to first South East win for 24 years



Kilkenny College celebrate. Pic: Joshua Good

A Yasmin Pratt-inspired Kilkenny College won the school and the South East region's first Kate Russell All-Ireland Schoolgirls Championship since 1994.

The speedy striker, named player of the tournament, struck six times across their four games to lead them to glory, edging out Loreto Foxrock by points with Ulster side Rainey Endowed third overall.

For coach Richard Willis – a former international – it was a second All-Ireland success having previously led the Kilkenny boys team to All-Ireland success in 1999, marking him out for a unique piece of Irish hockey history.

The crucial win came on Thursday when Pratt opened the tournament with a dipping shot, added to by Jessica Wagenaar en route to a 2-1 win over Foxrock.

A 0-0 draw with Rainey followed before they cut loose on day two of the campaign. Pratt's hat-trick saw Kilkenny come from behind to beat Cork's Mount Mercy 5-2, scoring the first two with superb solo runs before Megan Telford-Kelly and and Wagenaar built a 4-2 half-time lead.

Needing a win in their final tie against Galway's Salerno, Pratt – an Irish Under-18 international who is also the top scorer in the Leinster women's Division One – was also on the mark first before Sophie Thomas made the game and the title safe.

Foxrock beat both Rainey and Salerno on day two to secure silver in their first-ever appearance in the competition while Rainey could not add to their day one points total but still hung for third on goal difference ahead of Cork's Mount Mercy.

Kate Russell All-Ireland Schoolgirl Championships
Thursday: Kilkenny College 2 (Y Pratt, J Wagenaar) Loreto Foxrock 1 (E Reidy); Salerno 0 Mount Mercy 0; Rainey Endowed 0 Kilkenny College 0; Mount Mercy 1 (K O'Halloran) Loreto Foxrock 3 (C Hamill, S McCooey, S O'Brien); Rainey Endowed 3 (B Scott 2, G Scott) Salerno 1

Friday: Rainey Endowed 0 Loreto Foxrock 2 (C Hamill, S O'Brien); Mount Mercy 2 (A O'Farrell 2) Kilkenny College 5 (Y Pratt 3, M Telford-Kelly, J Wagenaar); Loreto Foxrock 1 (S O'Brien) Salerno 0; Mount Mercy 3 (K O'Halloran, L O'Shea, S Murphy) Rainey Endowed 1; Salerno 0 Kilkenny College 2 (Y Pratt, S Thomas)

Standings: 1. Kilkenny College 10pts (+6) 2. Loreto Foxrock 9pts (+4) 3. Rainey Endowed 4pts (-2) 4. Mount Mercy 4pts (-3) 5. Salerno 1pt (-5)

The Hook


---

St Mary's win hockey tourney

St Mary's locked horns with Waterkloof in the finals and were the deserving winners.

Sanelisiwe Tsinde



St Mary's Hannah Brown with a Waterkloof player in the final.

ST Mary's DSG, Kloof hosted 12 U16 Hockey teams from KZN, Gauteng and Western Cape at the weekend in South Africa

This tournament has been held since 2011 and brings together top hockey teams from around the country.

From Friday, 16 March to Sunday, 18 March, fantastic hockey was on display and the semi-finals were between Waterkloof and Hoërskool Menlo Park (defending champions) which was a Pretoria derby held in KZN.

After a tough game, Waterkloof trumped their cross town rivals to win 2-1.

Paarl Gimnasium played St Mary's DSG Kloof in the second semi-final where St Mary's won 2-1 to place them into the final against Waterkloof.



The winning team, St Mary's DSG with their trophy.

The final proved to be a cracker of a game where both teams showed great hockey skills, strategy and talent and the ball was moved from one end of the field to the other.

Both teams pressed hard during the game and the score was nil all until the final three minutes when Cerian Fourie weaved some magic to score a goal to seal St Mary's DSG Kloof's place as the well-deserved winners of a most exciting match and tournament. Goalkeeper of the tournament was Suzanne van Heerden (Waterkloof) and Danielle van der Walt (Hoërskool Menlo Park ) was the top goal scorer with seven goals.

The Highway Mail


---

Outstanding success at Millfield for Scottish School




Craigclowan School from Perth had a tremendous day at the IAPS U13 Hockey finals on 20TH March.  Having qualified 1st from the Scottish qualifiers in February, and Fettes prep School taking second spot, both schools went on to represent Scotland at the finals in Millfiled this week.

Following four wins and a draw in the group stages, Craigclowan came top of their pool and went on to beat Monkton School in the quarter finals in an exciting running penalties finish.

Reaching the semi-finals was way beyond expectation and whilst the school lost this game to the event winners (Foremarke Hall, who's coach is Scottish Hockey Russell Anderson), there was still delight at having reached this milestone. Craigclowan regrettably lost in the 3rd/4th play off, but coaches Jess Martin and John Stephen were nevertheless overwhelmed by their achievements. Coming 4th out of 24 teams was no mean feat. Fettes also competed well, and supported Craigclowan in the latter stages of the tournament.

A really talented group of youngsters, who demonstrated great skill and team work.




Scottish Hockey Union media release