All the news for Monday 29 January 2018

Kookaburras Fall Short In Five-Goal Thriller

Author: Ben Somerford




Australia have fallen short in another exciting encounter going down 3-2 to the Netherlands in the second match of the Test Series at Narrogin Hockey Stadium on Sunday afternoon.

The Dutch scored two first-half goals after Trent Mitton had opened the scoring for the Kookaburras, to give the visitors a 2-1 half-time lead.

Bjorn Kellerman made it 3-1 barely 60 seconds into the second half, before Blake Govers set up a tense finale with a drag flick goal in the 41st minute.

Australia couldn't re-produce their heroics from Saturday's 3-3 draw when Jeremy Hayward levelled in the last minute, with the Dutch having the better of the last quarter chances, only kept at bay by Kookas keeper Tristan Clemons.

The two sides will meet again on Thursday at Perth Hockey Stadium from 7pm WST.

Tristan White, who brought up his 100th cap for Australia said: "They've got threats all over the park, as do we. They're really polished everywhere.

"We need to do our homework on the lesser known players. We work on the big guys like (Billy) Bakker and Mirco (Pruyser). We need to eliminate all the threats as well."

Australia, who were without skipper Mark Knowles, took the lead in the seventh minute when Mitton did well to control the ball, before squeezing a shot past Dutch keeper Pirmin Blaak.

Robbert Kemperman tested Kookaburras keeper Andrew Charter from a drag flick before Terrance Pieters levelled in the 14th minute for the Dutch.

The Dutch doubled their tally to take the lead in the first minute after quarter time, with Pruyser firing home a neat angled shot.

Aaron Kleinschmidt tested Blaak, while Govers also kept the Dutch keeper busy with two drag flicks drawing good saves before half time.

The visitors went further ahead in the first minute of the third term, despite keeper Tristan Clemons' initial block, with Kellerman converting from the rebound for 3-1.

Pruyser shot wide, while Matt Dawson produced some expert defending for Australia to deny the visitors again, before the Kookaburras hit back.

Govers initially hit the backboard from the drag flick but the goal was disallowed. However, he stepped up again from the following penalty corner to score to Blaak's right.

Clemons saved Australia on numerous occasions in the final term, while Kleinschmidt had Australia's best chance after Daniel Beale's release, only to be denied by Blaak.

Australia 2 (Mitton 7', Govers 41')
Netherlands 3 (Pieters 14', Pruyser 16', Kellerman 31')

Hockey Australia media release


---

White: 100th Cap For Australia Was Unreal

Ben Somerford




Kookaburras defender Tristan White says it was an unreal feeling to play his 100th game for Australia in Sunday's 3-2 loss to the Netherlands in Narrogin.

The 27-year-old, who debuted in 2011, brought up the milestone with another strong display in defence, as the Kookaburras went down in a five-goal thriller to the Dutch.

"It felt great obviously. To play 100 for Australia is unreal," White said post-game.

"Obviously playing one is amazing, I didn't ever think I'd get this far, but I'm really happy that I did.

"Unfortunately we didn't get the win but I'll be fighting for the win in game 101."

The Kookaburras will meet the Dutch again on Thursday at Perth Hockey Stadium.

Australia coach Colin Batch praised White for his contribution over his 100 years, but said he had plenty more to offer with a view to the 2020 Tokyo Olympics.

"He's been a player who's around for some time and he's one of our experienced players now," Batch said.

"We rely on him in deep defence, he's a calming influence on the group. We still think his best hockey is in front of him.

"If he can keep going and keep reaching an elite level then he'll be pretty important for us over the next few years leading up to Tokyo."

Sunday's loss for the Kookaburras followed the 3-3 draw on Saturday, with the Test Series not short on goals.

"They've got threats all over the park, as do we. They're really polished everywhere," White said.

"We need to do our homework on the lesser known players. We work on the big guys like (Billy) Bakker and Mirco (Pruyser). We need to eliminate all the threats as well."

Hockey Australia media release


---

Kookaburras Thank Narrogin Community

Ben Somerford




The Kookaburras departed from Narrogin after a great long weekend which included two Test matches against the Netherlands in front of quality crowds at the Narrogin Hockey Stadium.

The regional Western Australian town welcomed the Kookaburras on Friday morning, before the matches on Saturday and Sunday which attracted approximately 3000 fans across both games.

Prior to the matches getting underway, there was plenty of activity in Narrogin, with the Kookaburras taking part in a clinic with around 60 children from the Upper Great Southern Hockey Association.

There was also a coaching workshop with the Kookaburras coaches, a strength and conditioning workshop for the local community, along with an umpiring workshop on Saturday morning with the FIH's international umpires speaking to locals involved in the game.

On Friday evening, the Shire of Narrogin hosted a Civic Reception at the Town Hall with 140 people in attendance, including local sponsors, both teams, officials and dignitaries.

Shire of Narrogin President Lee Ballard welcomed the teams, while the Member for Roe Peter Rundle MLA and Shire of Narrogin CEO Aaron Cook were all in attendance.

Kookaburras defender Tristan White, who played his 100th game on Sunday, paid tribute to the Narrogin community, who also hosted the side against Great Britain in May 2016.

"The stay was beautiful here in Narrogin," White said.

"I was lucky enough to come here a few years ago when the weather wasn't quite as good.

"The hospitality, the people, they get around us, so it's really great, I'll be happy to come back and play some hockey here again."

Hockey Australia media release


---

USWNT Falls to World's Best in Match Three of Series




PALO ALTO, Calif. – As the sun was setting on the campus of Stanford University, the U.S. Women's National Team faced the No.1 FIH Hero World Ranked The Netherlands for the third match of the series. Continuing to show remarkable scoring, the Oranje wowed the California crowd by defeating the USA 1-7.

Coming into the match, goalkeeper Lauren Blazing, (Durham, N.C.) knew she was going to see a lot of action. "I just tried to connect with my teammates, focus and approach the game like I do every game and practice," she commented when asked what her mentality was going in to the game. "The Dutch are a great team, so this series is a really good opportunity for us to put the skills we've been working onin practice to the test in a high-paced game."

The first quarter saw a lot of promise from both sides. The Netherlands early, earning their first penalty corner in the second minute. A quick step by USA's flyer sent the ball over the baseline as the red, white and blue instantly took possession the other way. Off a quick restart at the edge of the circle, Michelle Vittese (Cherry Hill, N.J.) found Melissa Gonzalez (Mohegan Lake, N.Y.) who's sweep was met by goalkeeper Anne Veenendaal. Another close chance came moments later for USA but the Oranje showcased solid defense as the first quarter came to a close.

The shared possession continued in the opening minutes of the second quarter before the Oranje grabbed a penalty corner. A well-executed drag flick from Ireen van den Assem found the back of the goal to grab a 0-1 lead. Blazing and USA's defensive unit was tested a few more times late in the quarter. Hoping to withstand the pressure, The Netherlands' Maria Verschoor precisely placed a reverse shot found the back of the goal to extend the score to 0-2 before the half.

It didn't take long out of the break for the Oranje to continue their scoring streak as Verschoor tallied her second of the game within a minute. Just two minutes following, Verschoor sent a backhand cross toward goal that was deflected in by Margot Zuidhof who was positioned just off the post to make it 0-4. Although USA saw a glimpse for a moment The Netherlands' passing expertise showed as they made their way up field and Margot van Geffen added her name to the scorer's sheet on a backhand inside the far post changing the score to 0-5. USA continued to drive forward and used poised passing to find the open space. This lead to an unsuccessful penalty corner chance but staying determined, a shot by Vittese went to a video referral looking for a foot. USA was correct on the decision and was given a penalty corner. Vittese's sweep was sent down to Lauren Moyer (York, Pa.) who deflected it into the net adding one back for USA. The quarter finished USA 1, The Netherlands 5.

Similar to the previous quarter, the Oranje came out quick grabbing a shot on goal within seconds. This lead to a build-up into the circle as they earned back-to-back penalty corners. Unable to translate on the first, the second saw Van den Assem score her second drag flick of the match to make it 1-6. USA showed some choppy defense in the remaining minutes that allowed Yibbi Jansen to add another for the Oranje as the final score stood at USA 1, The Netherlands 7.

"I think the series has really helped me and the newer players to gain experience playing in real games against great competition," finished Blazing. "It's great to have this international opportunity to play and grow as a team!

Another highlight in today's competition was that USWNT defender Caitlin Van Sickle (Wilmington, Del.) received her 100th international cap and Vittese recorded her 200th for the red white and blue.



Caitlin Van Sickle, Janneke Schopman, USWNT Head Coach, & Michelle Vittese

The U.S. Women's National Team is back in action on Tuesday, January 30 for their final match of the series against The Netherlands at 6:30 p.m. PT.

USFHA media release


---

Scotland women finish series with victory against Wales



Photo by Duncan Gray

Scotland women won the fifth and final test match against Wales as they prepare for the Gold Coast Commonwealth Games in April. The win means the Scots have won four of the five matches in the series, and only conceded one goal in the process. Selection for the Gold Coast will be announced on 14 February.

It was a scrappy first half with both teams battling for a foothold in the match. The opening quarter didn't offer much for either side with both teams looking to land the first blow.

It was Scotland who took lead in the second quarter when Becky Merchant smashed a narrow angle reverse stick shot into the back of the Welsh net. The goal came from a delightful pass by Bex Condie, similar to the contribution she made in the previous match between the two.

Wales soon equalised after they hit Scotland on the break. The Scots got numbers back to deal with the break but Nikki Lloyd was deemed to have stopped the ball on the line with her foot.

Wales scored the penalty stroke to level the score at 1-1, which was how the half ended.

The Scotland performance was much improved in the second half as the Tartan Hearts took control of the match. The Scots didn't create too many chances but gained lots of territory and looked comfortable throughout.

Ali Howie made it 2-1 for Scotland when she crashed the ball across goal and it found its way, probably off a Welsh foot, into the back of the net.

Scotland nearly scored a third goal in the final quarter. A penalty corner teed up a drag flick from Kate Holmes but it was well blocked on the line by a Welsh defender.

A couple of half chances fell for the Scots towards the end of the match; Heather Howie and Nicola Skrastin were sniffing for goals but were denied clean chances to score.

Scotland finished the match strongly and clocked up another fine win to end the series with four good victories.

Scotland women's Head Coach Gordon Shepherd said, "It's been a very pleasing competitive series and both sides have got a lot out of it. I'm delighted to have won four out of the five matches, drawn one, and only conceded one goal which was a penalty stroke. These are positive signs.

"We'll now focus on training as usual and continue to work hard as we build towards selection for April."

Scottish Hockey Union media release


---

2018 Test Matches: ARG v BEL (W) - 3rd Test
Buenos Aires (ARG)

ARG v BEL     6 - 2

FIH Match Centre


---

2018 Test Matches FRA v WAL (M) - Full results
Antibes (FRA)

26 Jan 2018 14:30         FRA v WAL     4 - 0
27 Jan 2018 14:30         FRA v WAL     1 - 0
28 Jan 2018 11:00         FRA v WAL     2 - 0

FIH Match Centre


---

India go down fighting in final after shootout ends in Belgium's favour

Sundeep Misra

Flashy passes, super-strikes, swift counters, reverse hits, acrobatic saves and in the end a shootout. The perfect pot-boiler that you expect in a final with two teams that are trying to realign the power structure in world hockey. Belgium began in a hurry blowing away four penalty corners and a stroke, all in the first quarter, and then on the back of an Indian resurgence, came back to equalise not once or twice but four times before taking the game to a shootout and winning it 3-0 to clinch the second leg of the 4-Nation Invitational Hockey Tournament. India, surprisingly, good shootout exponents couldn't slot in a single goal. At the end of regulation time, both teams were locked 4-4. In a way, it would be slightly shattering for India as they had weathered most of the Belgian storm but a wayward defensive line and a few soft goals let India down. For India, this was their second consecutive loss in a final to Belgium; and their third defeat to the Olympic silver medallists across both the legs.

Seventeen goals in two matches between these two sides pitch fork the concept that this is a rivalry to look forward to. In the earlier match in the Pool, India beat Belgium 5-4 and on Sunday they took the lead four times in a match they should have wrapped up in regulation time. Both the sides know each other well and quite a few of the Belgian players are also in the Hockey India League. And against India, Belgium does a good press knowing fully well that an early goal does put India under pressure.

But, hard as they might have tried, they couldn't get past the Indian defence in the first quarter. It was a quarter which saw hard hits into the striking circle along with some immaculate aerial balls. Counters from both teams lit up play in the middle phase of the quarter. And then off the fourth penalty corner Belgium had the stroke. All that aggression was about to pay off. Loick Lupayert had chosen his corner well. Except that PR Sreejesh saw the flick early and brought off a brilliant save, the ball hitting him on the glove and deflecting off.

In the second quarter, India started with pace, using both the flanks. Chinglensana, quite a mover in the middle sent in a few through balls that had the Belgian defence scrambling and giving away three penalty corners. Vincent Vanasch, however, did well by not conceding. The player to impress from India's side was Mandeep Singh. Constantly, harassing with runs on the flanks, he was a thorn in their defence. It was one of those on the right flank where he drew out the Belgian defence and then perfectly passed to Ramandeep Singh on top of the circle for him to smash home as India led 1-0.

The third quarter saw a more compact India in the defence. They rotated the ball well and looked for space. Belgium, looking for an equaliser found it in the 41st minute off their fifth penalty corner. Tanguy Cosyns pushing it past the outstretched stick of Sreejesh. Within the minute, India snatched the lead off a brilliant aerial ball. Varun Kumar saw Mandeep inside the Belgian striking circle and his scoop landed on Mandeep's stick who again drew away the Belgian defence before passing it into the middle of the circle for an overlapping Nilakanta Sharma to slam in for a 2-1. Two Indian goals had come of Mandeep assists. India could easily have gone another goal up when Arman Qureshi went on a lone run and then twisted around to hit a reverse hit. But probably couldn't see an overlapping Mandeep rushing in. Individual skill combined with slightly individualistic mind-set had probably robbed India off a goal.

And that proved expensive a minute later in the 43rd minute when Cedric Charlier found a little space in the Indian striking circle to hit a shot that went in through Sreejesh's pads. It was a soft goal. Charlier surrounded by Indian defenders didn't have any hope of getting through so he tried a lame-duck strike that proved to be lucky as the Indian goalkeeper let it slip between the pads.

Tied up at 2-2, the fourth quarter promised a battle. None of the teams were trying to bottle each other up. Opportunistic strikes and some lovely moves had got the goals. And when India stretched their play on the Belgian flank, Surender Kumar, standing right next to the corner flag, dispatched a hard it into the Belgian striking circle. It beat the defence but Mandeep deflected in for a brilliant super-opportunistic strike. Two assists and a goal, Mandeep was in the thick of action.

Two minutes later, Belgium were back on track. A swift move into the Indian striking circle and Sreejesh came off the line, misjudged and couldn't control the ball which Amaury Keusters sent into an empty Indian goal. At 3-3, it was anybody's game. Both the teams had opened up the midfield, not afraid to go in and snatch a goal. Sizzling runs on the flanks, perfectly laid passes through the middle and pacy counter-attacks dazzled the local fans.

In the 53rd minute, India snatched the ball off a counter-attacking Belgian side and Rupinder Pal gave it to Manpreet who twisted, turned and passed to Nilakanta. Ramandeep was in position to accept Nilakanta's pass and with a reverse hit gave India a 4-3 lead. It seemed India would hang on but Belgium had two penalty corners in succession and off the seventh, Felix Denayer pushed it past Sreejesh's glove. For a moment it seemed that the ball came in from the outside netting but the umpires ruled it as a goal. Not giving much away, India hung on with the ball not allowing Belgium to build up more attacks. Both teams played out the four minutes to take the match to a shootout.

It was the second shootout in the last five matches with Belgium. In the quarter-final of the HWL Final in December, India had beaten Belgium 3-2 in the shootout. On Sunday, all the scorers who scored that night cheered on by a packed stadium couldn't convert. Harmanpreet Singh, Lalit Upadhyay and Rupinder Pal Singh muffed up their chances. Rupinder slightly unlucky that after beating the goalkeeper his stick hit the upper portion of the ball sending it sideward rather than inside the goal. Sreejesh saved the first but couldn't keep away Felix Denayer, Florent van Aubel and Arthur van Doren from scoring. India played eight matches across two legs and lost three matches – all to Belgium. It's a matter of concern but not a crisis. Not yet. In those two legs, they have shown courage, guts, striking power and an ability to come together and create goals. In a year, where bigger prizes are at stake, Indian coach Sjoerd Marijne would do well to make a team that adapts quickly to changing equations in a 4-quarter match and also shows some old-fashioned thick-skinned robustness.

Firstpost


---

Belgium shoot India out in final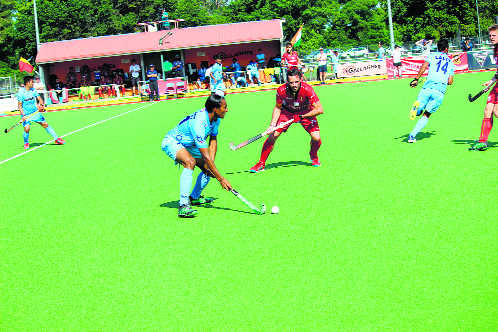 Midfielder Harjeet Singh clears the ball during the final of the second leg of the Four Nations Invitational Hockey Tournament. Hockey India

India suffered a 0-3 loss via a penalty shootout to Belgium after a 4-4 draw in the regulation time in the final of the second leg of the Four Nations Invitational Hockey Tournament.

Felix Denayer, Sebastien Dockier and Arthur van Doren scored for Belgium in the shootout to give the team a win. Tanguy Cosyns (41st min), Cedric Charlier (43rd min), Amaury Keusters (51st min) and Felix Denayer (56th min) scored during the regulation time.

For India, Ramandeep Singh (29th, 53rd mins), Nilakanta Sharma (42nd min) and Mandeep Singh (49th min) were the goalscorers for India in the regulation time at the Gallagher Hockey Stadium.

Earlier, Japan beat hosts New Zealand 4-1 in a shootout to win the bronze medal after holding the Black Sticks 1-1 in the regulation time. The final between India and Belgium was yet another goalfest with both the teams testing each other in a high-voltage encounter. It was a steady start for India as they were made to work hard to keep the ball. The Belgian attack kept Indian goalkeeper PR Sreejesh busy through the first quarter with as many as three penalty corners including a penalty stroke. The first penalty corner in the eighth minute was kept away by Sreejesh, who lunged to his right to make a save. Sreejesh kept India alive by saving Loick Luypaert's penalty stroke.

India won two back-to-back penalty corners at the start of the second quarter but could not make much of them. But they grabbed a 1-0 lead a minute before halftime when Mandeep Singh set up Ramandeep to push the ball in. The action intensified in the third quarter with Belgium scoring an equaliser in the 41st minute through Cosyns's well-executed penalty corner.

Moments later, India regained the lead after Nilakanta was quick to pick up a beautiful assist from Mandeep to strike the ball past Vincent Vanasch into the goalpost. Belgium levelled 2-2 the following minute when Charlier's reverse-hit breached Sreejesh's defence.

Fightback

In the final quarter, India won back their lead twice (3-2, 4-3) when Mandeep scored in the 49th minute followed by a sensational goal by Ramandeep in the 53rd minute.  But Belgium stayed in the hunt, snatching India's lead through Keusters (51st min) and Denayer (56th min) to ensure the match went into a penalty shootout.

India had lost to Belgium in the final of the first leg in Tauranga too.

The Tribune


---

India suffer heartbreaking loss to Belgium after shootout

HAMILTON (New Zealand): India suffered a heartbreaking loss to Belgium via penalty shootout after holding the World No. 3 side to 4-4 in regulation time in the final of the Four-Nations Invitational Tournament's second leg here.

It was Felix Denayer, Sebastien Dockier and Arthur van Doren who scored for Belgium in the shootout.

Tanguy Cosyns (41), Cedric Charlier (43), Amaury Keusters (51') and Felix Denayer (56') scored during regulation time.

For India, Ramandeep Singh (29', 53'), Nilakanta Sharma (42') and Mandeep Singh (49') were the goal scorers before the shootout.

Earlier in the day, Japan beat hosts New Zealand 4-1 in the shootout for bronze after holding the Black Sticks to 1-1 in regulation time.

The final between India and Belgium was yet another goal-fest with both teams testing each other hooter-to-hooter.

It was a steady start for India as they were made to work hard to keep the ball.

The Belgian attack meanwhile kept Indian goalkeeper PR Sreejesh busy through the first quarter with as many as three PCs including a penalty stroke. Their first PC coming in the 8th minute but Sreejesh was up to the task, lunging to his right to save.

With 52 seconds for the first hooter, Belgium won two more PCs which were brilliantly saved by the Indian goalkeeper but it was the penalty stroke taken by the ever-dangerous Loick Luypaert that Sreejesh saved which enthralled the evening audience in Hamilton.

India won two back-to-back PCs at the start of the second quarter but couldn't make much of it before finally taking the lead, thanks to clever some work by Mandeep Singh in finding Ramandeep Singh at the top of the circle.

Ramandeep had the time to control the ball and take a sure shot into the goal.

The action intensified in the third quarter with Belgium upping their attack, winning an equalizer in the 41st minute through Tanguy Cosyns's well-executed PC.

Moments later, India's Nilakanta Sharma was quick to pick up a beautiful assist from Mandeep Singh to strike the ball past Vincent Vanasch into Belgium post to regain 2-1 lead in the 42nd minute.

But Belgium equalised in the following minute, via Cedric Charlier using reverse hit to send the ball between Sreejesh's legs.

Four goals were scored in the final quarter showing just how intense this match was. India won back their lead twice in this quarter (3-2, 4-3) when Mandeep scored in the 49th minute followed by a sensational goal by Ramandeep Singh in the 53rd minute respectively.

But Belgium, are not the ones to give up easy as they stayed in hunt snatching India's lead through Amaury Keusters (51') and Felix Denayer (56') ensuring the match went into a penalty shootout.

The Times of India


---

Telkom slip, lose power: After five years of pure dominance, Telkom let go of top position

The Ghanaians have perfected their act as they take charge.

By Elizabeth Mburugu

That Kenya's hockey standards are dwindling is not in doubt.

This reality check comes after nine-time Africa Cup Club Championships (ACCC) winners Telkom relinquished their continental crown to Ghana Revenue Authority (GRA) at the just-concluded 29th edition of the games.

After years of playing second fiddle to Kenyans, GRA finally delivered Ghana's maiden women's trophy. And they did it in style in front of home fans.

Since 2012, Telkom has been calling the shots on the continent. Every year in succession, they made sure the name Kenya featured prominently in hockey circles. To some extent, they made a positive reading after the national team faltered at the hands of South Africa, Egypt and, recently, Ghana.

However, the West Africans hit Kenya where it hurts most when they snatched the women's club continental title.

But Telkom head coach Jos Openda took the beating positively.

"We need to up our game ahead of the next championships," said Openda.

Strathmore University Scorpions, Kenya's second representatives at the event, were outdone by their opponents as they finished second last in the six-team competition. They lost to both Ghanaian sides GRA (4-0) and Ghana Police (4-1) as well as Nigeria's Kada Queens (4-1) and Telkom (1-0) in the round-robin matches.

The Scorpions defeated debutantes Yobe Desert Queens of Nigeria 3-2 in the round-robin stage and 3-1 in the fifth place playoffs.

Telkom on the other hand won their five round-robin matches but failed to maintain the tempo, losing 1-0 to GRA in the final. The Kenyan league champions had defeated their Ghanaian equals by the same margin in their round-robin contest.

Nonetheless, it was clear to see that GRA were way ahead as they outclassed Telkom in all departments. The Ghanaians took full charge of the game and forced Telkom to play catch-up.

High pressure and spot-on passes were what the Ghanaians used to beat Telkom's, who might have conceded more goals if not for the steady eyes of goalkeeper Cynthia Onyango, who won the Best Goalkeeper award.

The first signs of trouble were during last October's Africa Cup of Nations in Egypt. Kenya's form plummeted and for the first time in many years, the women's national team, which had players from Telkom and Strathmore, finished fourth behind South Africa, Ghana and Nigeria.

The Standard Online


---

East Grinstead defeat Team Bath in Jaffa Super 6s Men's Final




East Grinstead edged out Team Bath Buccaneers to win the Jaffa Super 6s Men's title and secure their 13th indoor title.

Team Bath had worked their way into a 2-1 lead but East Grinstead fought back strongly to restore their lead and fight a late charge from the Buccaneers.

Ben Allberry put East Grinstead ahead before Toby Vaughan's double saw Team Bath respond much to the delight of their passionate following.

However shortly before the break Wes Jackson's clever reverse flick put East Grinstead level and Josh Coniglio's strike then gave them the lead for the first time in the match.

 Ashley Jackson made it 4-2 with a fierce drag-flick that turned out to be the winner, but John Jackson gave the Team Bath faithful one last cheer with a fine solo effort before the final whistle.

There were joyous scenes as East Grinstead completed a lap of honour with a large contingent of their fans staying to celebrate their victory.

England Hockey Board Media release


---

Bowdon win Jaffa Super 6s Women's title!




Bowdon Hightown won their 12th indoor title defeating Leicester in the Jaffa Super 6s Women's Final at the Copper Box Arena.

Sally Walton put Bowdon into an early lead before Charlene Mason's hit the winner after Rachael Mack had drawn Leicester level.

The contest was a tight affair between two impressive sides, however Bowdon were quickly onto the front foot and Walton converted a fourth minute penalty corner with aplomb.

They took this lead into the second half but shortly after the break Leicester deservedly levelled as through Rachael Mack's calm finish.

However with just four minutes to go it was Bowdon who found the back of the net as both sides created and missed good chances. A flowing move released Mason who hit the backboard to grab what would turn out to be the winner.

There were a few late scares as Leicester pushed hard for another equaliser but the Bowdon defence held strong to secure the title.

A large contingent of Bowdon fans were vocal throughout with the Copper Box rocking throughout the final.

England Hockey Board Media release


---

Canning quartet wins back indoor title for Rovers; Mills semi-finals take shape



Three Rock Rovers with the National Indoor Trophy

Three Rock Rovers retained the National Indoor Trophy title with an 8-5 win over arch rivals Railway Union at St Columba's with Ross Canning netting four times in the decider.

Prior to Christmas, Canning was invited to South Africa to play as part of a World Stars team as part of the Pro Series Indoor competition, lining out alongside a number of indoor world cup and European champions.

And the experience has helped him elevate his game in the often over-looked version of the sport in Ireland. It reversed their 7-4 defeat to Railway last weekend in the Leinster final but respective call-ups to the Irish senior men's outdoor squad meant both sides had to make changes.

Jeremy Duncan was the key man for the Sandymount club with five goals in that final and they missed that cutting edge. Rovers were without defenders Luke Madeley and Daragh Walsh for the same reason but their replacements, Eckart Geyer and the vastly experienced Peter McConnell, actually strengthened their hand.

Earlier in the three-team group, Railway saw off Queen's 6-3 before Rovers ran up a 17-2 victory against the Ulster champions.

It meant the Rathfarnham club needed just a draw in the last game of the competition. Rovers led 2-0 at the half-time break with Canning scoring twice – once from a corner, once from a penalty stroke – to put them in control. His third extended the lead from a Jody Hosking pull-back.

Railway got on the board via Tyron Kritzinger, quickly countered by Harry Morris before a swift comeback brough the game back to 4-4 – Kenny Carroll scoring two corners, dummying another to set up Eoin MacArthur.

But a pair of Ben Walker goals inside a minute restored a 6-4 lead for Rovers and they were out of range from there on, Canning capping the win with his fourth goal. Carroll got another for Railway before Jody Hosking flicked into an unpadded goal on the final whistle.

On Saturday outdoors, meanwhile, the expected sides pushed on in the Leinster Senior Mills Cup. Monkstown won 3-2 against Railway Union in the battle between the two national league sides with Andrew Sykes, Geoff Cole and Davy Carson on the mark.

Three Rock found things harder than expected in a scoreless first half against Rathgar before prevailing 4-0 with two goals from Mitch Darling and one each from Harry Morris and Kevin Mullins. They play Town in the final four.

Glenanne scored six first half goals in a 7-2 win over Clontarf while Corinthian completed the semi-final line-up with a 4-1 win over Kilkenny with Ian Stewart scoring twice against the cats for the second weekend in a row.

It means an interesting fixture sequence will be in place for the St Patrick's weekend when the Mills Cup final takes place. A day later on Sunday March 18, three of the Irish Senior Cup quarter-final refixes have been set to be played with Monkstown, Rovers and Glenanne all involved, meaning at least one side is in for a busy holiday weekend.

In Leinster Division One, UCD recorded a big 3-0 win over YMCA to move level on 29 points with Corinthian – albeit with two extra games played – as Andrew Ramsay, Andrew Meates and John Guilfoyle all hit the target.

For YM, they are still clear in the third playoff spot but are within range of Avoca with their next outing a date with Corinthian on February 4.

On Sunday, Kilkenny moved up two places with another big win to their name, running up an 8-1 Sunday success against Dublin North. They have just one loss in their last six games after five defeats to start the campaign and have scored 17 times in the last two matches with Ben Wallace's hat trick making it 10 for the season.

Portrane won a cracker down in Limerick 5-4 in the Irish Hockey Trophy, setting up a derby clash with Dublin North. The purples have been bolstered by Skerries player Brian McMahon in recent times and he will work well with Imran Khan and Mukhtar Ahmed.

Their tie went back and forth throughout with brother Riley and Cameron Shoebridge dicing for family bragging rights. Khan netting twice in the victory.

National Indoor Trophy: Railway Union 6 Queen's 3; Three Rock Rovers 17 Queen's 2; Railway Union 5 Three Rock Rovers 8
Final standings: 1. Three Rock Rovers 6pts (+18) 2. Railway Union 3pts (0) 3. Queen's 0pts (-18)

Mills Cup, quarter-finals: Rathgar 0 Three Rock Rovers 4 (M Darling 2, H Morris, K Mullins); Railway Union 2 (E MacArthur, M English) Monkstown 3 (A Sykes, G Cole, D Carson); Corinthian 4 (I Stewart 2, J Perdue, J Roberts) Kilkenny 1 (H McDonnell); Glenanne 7 (N Byrne, R Shaw, S Boucher, S Ronan, D Keogh, G Gibney, AN Other) Clontarf 2 (M Fulham, S Cassidy)

Leinster Division One
Saturday: YMCA 0 UCD 3 (A Meates, J Guilfoyle, A Ramsay)
Sunday: Kilkenny 8 (B Wallace 3, B McEnery 2, S Charles, A Atkinson, J Feely) Dublin North 1 (S Dempsey)

Irish Hockey Trophy, round one: Limerick 4 (Q Eacrett, C Shoebridge, J Hodkinson, J Maydell) Portrane 5 (I Khan 2, S Graham, P Conway, C Neville)

Munster Senior Cup, first round: UCC 2 (S Grace, A Power) Bandon 3 (R Smyth 2, D Jennings)

The Hook


---

Ards in seventh National Indoor Trophy heaven



Ards with their seventh successive National Indoor Trophy title.

Chloe Brown produced a masterclass for Ards as they claimed a seventh successive National Indoor Trophy crown at St Columba's, winning their decider 5-2.

She played a key part in each of her side's five goals as the Ulster club showed the extra bit of flair to unlock the Railway Union defence. Brown burst forward from midfield before slipping a pass to Amy Benson to, first-time, lay on for a simple Kerri McDonald tip in.

Anna-May Whelan equalised from a clever under the arm pass from Kate McKenna for 1-1 at half-time. Whelan's great run then led to their second with Kate Dillon providing an early finish.

Brown equalised from a corner and then made it 3-2 with an excellent step off her left foot to round the last defender on her right and flicked home.

At left-back, Brown then launched a long ball all the way along the boards to Benson who swept home the fourth Ards goal. Naomi McKnight tipped away a Dillon stroke to keep that two-goal gap in tact.

Brown crowned the win when she picked up the ball on the edge of her own circle, danced in between two flat sticks and then ran on to win a corner which she converted, copper-fastening a return trip to Europe in 2019.

Elsewhere, in Leinster Division One the three main contenders all scored victories without conceding. Alanah Quinsey's single goal earned Corinthian a 1-0 win over Glenanne to remain in third place, three points off top spot.

Leaders Old Alex had too much in the tank for bottom side Clontarf with Anna Roopnarinesingh scoring twice in a 4-0 win. Muckross beat Rathgar 9-0.

Those three are becoming ever more secure in the playoff places with 11 points between third and fourth where Our Lady's will look to trim the gap a little on Tuesday against Avoca.

Genesis and North Kildare's 1-1 draw meant that neither of them could make inroads to the sides above them, sitting in mid-table in fifth and sixth, respectively.

The last eight of the Irish Hockey Trophy was completed. Bray won a shoot-out against Avoca to outdo higher tier opposition, setting up a date with fellow Leinster Division 2 side Three Rock Rovers.

They fell behind early against Waterford but Angharad Griffiths and Steph Lyon turned it around before Stephanie Haughton got a late insurance goal.

YMCA bowed out at the hands of holders Bandon in a close-run 2-1 result while Belvedere were another Munster side to go through with a shoot-out win over Omagh.

Bandon will most Ballymena while Belvedere go to Catholic Institute. Mossley's 3-0 win over Greenfields earns them a home date against Cork C of I.

Women's National Indoor Trophy
Semi-finals: Ards 7 Glenanne 1; Railway Union 6 Galway 0
Final: Ards 5 (C Brown 3, K McDonald, A Benson) Railway Union 2 (A-M Whelan, K Dillon)

Leinster Division One: Genesis 1 (J Henry) North Kildare 1 (A Griffen); Old Alex 4 (A Roopnarinesingh 2, S O'Mahoney, L Jacob) Clontarf 0; Glenanne 0 Corinthian 1 (A Quinsey); Muckross 9 (Y Pratt 3, C Mathews 2, J Fennelly 2, J Gilsenan, A Flynn) Rathgar 0

Irish Hockey Trophy, round 2: Belvedere 1 (K O'Halloran) Omagh 1, Belvedere win shoot-out 4-3; Bray 1 (M Shelley) Avoca 1 (L Halpin-Doyle), Bray win shoot-out 3-2; Three Rock Ladies 3 (S Lyon, A Griffiths, S Haughton) Waterford 1 (E Breen); YMCA 1 (L Power) Bandon 2 (J Buttimer, A Buttimer); Ballymena 4 (K Young 2, R Reynolds, K Gillespie) Portadown 0; Greenfields 0 Mossley 3

Munster Senior Cup, first round: Catholic Institute 2 (K Daly, C O'Shea) UCC 1 (A Collins)

The Hook


---

Irish Womens EYHL Weekend Round Up

UCD picked up a huge 2-0 win over Cork Harlequins on the road to left them four points clear at the top of the women's EY Hockey League table, the first daylight between the sides in the title chase.

In a high octane nip and tuck battle throughout with Quins having their chances in the early stages before Emma Russell broke the deadlock in the second quarter.

Skipper Deirdre Duke then made the game safe in the second half and she was delighted to notch the victory off the back of a Lena Tice pass.

"It's huge to come down here and take the points," she said afterwards. "It's absolutely not an easy place to come and they are a super side who are getting better and better.

"We neutralised their threats really well. We defend from the front. The forwards worked tirelessly to turn ball over in the press, something we take huge pride in it. We are very quick on the counter and with distributors like Lena [Tice] in our team, you just have to be in the right place."

Pegasus kept up their interest in the title chase with a 6-2 win over Trinity at Santry Avenue. Two early goals laid the base for the win though they did not have it all their own way in the first half as Ellie Noone pulled one back.

But two Alex Speers strikes and further efforts from Ruth Maguire and Taite Doherty pulled them well clear by the final reckoning.

Elsewhere, draws were the order of the day on Saturday. Hermes-Monkstown came back from a goal deficit to draw 2-2 with Belfast Harlequins with Sadhbh Hoban-Logan's equaliser proving all important.

Ards and Pembroke drew 1-1 with both goals coming in the final quarter. Amy Benson had Ards one up with 16 minutes to go but Gillian Pinder's corner strike tied it with eight minutes left. Railway Union and Loreto shared a scoreless draw in the Dublin derby.

In Sunday's back match, Belfast Harlequins produced a spectacular finish to beat Loreto 4-3 at Beaufort. Jenna Watt netted a hat-trick in a result that moves Quins up fifth place at the end of the weekend.

Irish Women's EY Hockey League

Saturday: Cork Harlequins 0 UCD 2 (E Russell, D Duke); Hermes-Monkstown 2 (A Beatty, S Hoban-Logan) Belfast Harlequins 2 (Z Wilson, A Edwards); Pembroke Wanderers 1 (G Pinder) Ards 1 (A Benson); Railway Union 0 Loreto 0; Trinity 2 (E Noone, S Campbell) Pegasus 6 (A Speers 2, L McKee, R McMillan, R Maguire, T Doherty)

Sunday: Loreto 3 (S O'Brien, H Matthews, N Daly) Belfast Harlequins 4 (J Watt 3, R Johnston)

Day 11 extended reports

Cork Harlequins 0 UCD 2 (E Russell, D Duke)

Emma Russell and Deirdre Duke goals gave UCD a hugely significant 2-0 win over Cork Harlequins at Farmer's Cross, putting four points between the sides at the top of the table after 10 rounds of matches.

Naomi Carroll had a shot taken off line inside 50 seconds by Orla Patton as Quins looked to get off to a flying start but they were soon absorbing a lot of pressure with Emma Buckley making key saves. Quins had the ball in the net from a corner from Cliodhna Sargent but the first shot was deemed dangerous, going just over the backboard.

UCD replied in kind with Sorcha Clarke winning a corner which led to a Katie Mullan shot which was initially well saved by Buckley but Emma Russell snapped up the rebound.

Quins had three corners, including one on the stroke of half-time, but UCD defended well to stay one up. Rebecca Barry picked up a yellow card for a foul on Sara Twomey; she had just returned from the suspension when UCD went two up following a spell of sustained pressure with Deirdre Duke's reverse-stick shot finding the bottom right corner after a through ball.

Into the final quarter, the Cork side won three further penalty corners with Naomi Carroll causing havoc. Both teams enjoyed spells of dominance with Lena Tice the stand-out defender for UCD while Caoimhe Perdue was a constant menace for the hosts.

Railway Union 0 Loreto 0

In a fast-paced match, two excellent defences reigned supreme with Hannah Matthews controlling play for Loreto at the back and Orla Fox and Holly Jenkinson keeping the Railway defence intact.

The first quarter was mainly played between the 23 metre lines with play moving from end to end. The crowd saw the silky skills of Nicci Daly back in Loreto colours but she was unable to penetrate the Railway defence, being well marshalled by Kate Orr. Grace O'Flanagan was forced to make one save from a Loreto incursion, whilst at the other end Railway had a couple of shots but they were high and wide.

The second quarter followed a similar pattern with few chances for either side. A nice attacking interchange down the left hand side between Kate McKenna and Kate Lloyd ran out of steam at the circle while at the other end a deflected ball fell to Ali Meeke in the Railway circle but her shot flashed wide.

Loreto forced the pace in the third quarter, winning the first corner of the game in the 36th minute but Grace O'Flanagan made the save which hit a Loreto foot for a free out. With a high press, Loreto were rewarded with a second corner which was cleared by Holly Jenkinson, the first runner.

The last quarter was a more even affair but again chances were few and far between. Railway created more chances with Katie Fearon making a strong run through the centre but failed to find a way past the strong Loreto defence.

Zara Delany broke down the right but again Loreto prevented a circle entry. At the other end, Hannah McDermott was channelled wide when she had a chance in the Railway circle and Grace O'Flanagan was called into action in the last few minutes but kept her goal intact. Honours even as both sides compete for a coveted top four finish.

Hermes-Monkstown 2 (A Beatty, S Hoban-Logan) Belfast Harlequins 2 (Z Wilson, A Edwards)

Hermes-Monkstown built on their first win of the EYHL campaign, obtained in their last outing which took place before Christmas, as they drew 2-2 with Belfast Harlequins at the Merrion Fleet Arena. Ava Beatty tapped in at the back post to give the hosts an early advantage but Zoe Wilson crashed home a penalty corner at the end of the first quarter for 1-1.

Abi Edwards put the Belfast side in front in the second quarter as chances flowed at each end, the half ending 2-1 in the visitors' favour. Sadhbh Hoban-Logan levelled the game with the only goal of the second half when she dodged left around the goalkeeper and slipped home on her backhand. Plenty of cards followed in the closing quarter but no further goals means Hermes-Monkstown remain in 10th but close the gap to Trinity. Belfast Harlequins remain in seventh place.

Trinity 2 (E Noone, S Campbell) Pegasus 6 (A Speers 2, L McKee, R McMillan, R Maguire, T Doherty)

Pegasus notched their sixth win of the campaign to keep them very much in the title race while also putting six points between them and fourth place Railway in the automatic EY Champions Trophy positions. Pegs went in front from close range from a corner, finished by Rachael McMillan in the 12thminute. They won a stroke soon after which Carolyn Crampton saved brilliantly from Michelle Harvey.

The second goal did come in the second quarter when Lucy McKee was located with a through ball and she applied a beautiful shot into the top left of the goal. Trinity got one back when nice attacking play from Erika Markey created the chance for Ellie Noone to score with a tidy reverse.

Pegasus restored their two-goal lead six minutes into the second half when Alex Speers was free on the penalty spot and she pushed into an open goal. Two minutes later, Speers was on the mark from another corner for a 4-1 lead. Ruth Maguire rebounded for the fifth with eight minutes to go and Taite Doherty closed out their scoring with a few minutes left. Sally Campbell scored a corner for Trinity with the last act of the game.

Pembroke Wanderers 1 (G Pinder) Ards 1 (A Benson)

Pembroke and Ards shared the spoils in their opening EYHL game of 2018, a result that keeps them in eighth and fifth place, respectively, on Saturday evening. The Ulster side showed their danger straightaway, drawing a superb save from Iseult Cambay while a corner chance went off the post. For Pembroke, Orla Macken had a golden chance but fresh-aired at the top of the circle. Alice Ward hit the post in the second quarter from a corner while Jilly Ringwood also went close as the hosts upped their tempo but it remained scoreless into the break.

Into the third quarter, it remained scoreless with Ards taking their moments to go on the offensive with Chloe Brown forcing the issue. Maebh Horan's super flat-stick tackle blocked the best of her chances. They went in front a minute into the final quarter when Amy Benson swept home from a ball in from the right for a precious lead.

But Pembroke were back on terms with eight minutes to go from a corner which Gillian Pinder struck home. It led to a helter-skelter closing phase but no further goals meant honours even.

Sunday:

Loreto 3 (S O'Brien, H Matthews, N Daly) Belfast Harlequins 4 (J Watt 3, R Johnston)

A Jenna Watt inspired Belfast Harlequins jumped up to fifth place in the women's EY Hockey League with her third goal earning a 4-3 win at Beaufort in the closing minutes.

Siofra O'Brien edged Loreto in front with a nice slip under the goalkeeper before Rachel Johnston scored a corner to level things up at half-time. Hannah Matthews restored the Loreto advantage with a penalty stroke before Watt got her side back to 2-2 early in the final quarter.

Watt, from the injection spot, then put Quins up for the first time at 3-2 only for Nicci Daly to snap up a corner rebound, equalising yet again with five minutes to go. But Watt found a winner once more in the dying minutes to secure an important win that ignites the Belfast club's playoff chances.

Irish Hockey Association media release


---

Peillat comes to Terengganu's rescue in suspenseful win over Maybank

By Aftar Singh



No stopping me: Tenaga's Muhammad Shahril Saabah (right) dribbling past TNB Thunderbolts' Muhammad Shafiq Hassan during their match yesterday. — IZZRAFIQ ALIAS / The Star

KUALA LUMPUR: Lady Luck smiled upon Terengganu as they came from behind to edge Maybank 2-1 for their fifth win to move closer to the Malaysia Hockey League (MHL) Premier Division title.

The East Coast team continue to lead the six-team standings with 18 points from eight matches.

But they had to survive a scare yesterday when the Tigers got off to a roaring start in the 15th minute through Mohd Faid Farhard Mohd Shah at the Batu Buruk Hockey Stadium in Kuala Terengganu.

Fortunately for Terengganu, Argentine Gonzalo Peillat stepped up again to give them full points via two penalty corner goals in the 35th and 38th minutes. Peillat has now scored 11 goals in eight matches.

Terengganu coach Sarjit Singh said they were lucky to escape with a win.

"It was a tough match as Maybank took an early lead and we've to chase for the goals," said Sarjit.

"We earned eight penalty corners and Peillat converted two to give us full points."

KLHC chalked up an impressive 3-1 win over Universiti Kuala Lumpur (UniKL) in a tense match at the National Hockey Stadium in Bukit Jalil despite a heavy downpour.

KLHC moved to second in the standings with 17 points with two matchesleft.

KLHC missed the services of three national players – defenders Muhd Razie Abdul Rahim and Mohd Izad Hakimi Jamaluddin and midfielder Nabil Fiqri Mohd Noor – and UniKL took advantage of that by racing to an early lead in the sixth minute through Glenn Turner.

Turner collected a through pass from Jeroen Hertzberger before beating goalkeeper Roslan Jamaluddin.

But KLHC responded by equalising through Harvinder Singh off a goal melee in the 15th minute.

UniKL skipper Muhd Marhan Mohd Jalil protested that KLHC players had committed an infringement in the semi-circle but umpire R. Anbanathan sent him to the sin bin for arguing.

KLHC doubled the score in the 32nd minute when Jang Jong-hyun's penalty corner push from the top of the semi-circle was connected into goal by Lee Nam-yong.

UniKL were down to nine players in the third quarter when Timothy Deavin and Muhd Najmi Farizal Jazlan were flashed yellow cards for rough play. KLHC took advantage of the situation by scoring their third goal through Jong-hyun off a penalty corner in the 45th minute.

The Star of Malaysia


---

Three-match ban for red-carded Khairan




KUALA LUMPUR: RAMF Rajawali player Mohd Khairan Sahor (pic) has been slapped with a three-match ban for picking up a red card in the Malaysia Hockey League (MHL).

Khairan was sent off in the Division One Group B match against Bukit Jalil Sports School (BJSS) on Jan 25 for hitting BJSS skipper Mohd Ramadan Ariffin on the head with a hockey stick.

MHL tournament director Jusvir Singh, who chaired the disciplinary committee meeting yesterday, said they suspended Khairan for three matches.

"He was also reprimanded for his action," said Jusvir.

Khairan, who was the first player to receive a red card in the MHL, has already served a one-match suspension against Universiti Teknologi Mara (UiTM)-KPT last Saturday.

He will also miss the matches against Olak on Feb 1 and Kedah on Feb 3.

The Star of Malaysia


---

Kelburne and Inverleith reach men's GALA Day final



27 January 218 at Bells Sports Centre, Perth. Scottish National Indoor League Division 1 playoff – Inverleith v Dundee Wanderers – photo by Duncan Gray

POOL MATCHES

It was a dramatic day in the men`s indoor National League 1 championship, Bromac Kelburne advanced to the GALA Day final for the first time after seeing off Grove Menzieshill in the semis, they will meet four times champions Inverleith who disposed of Dundee Wanderers, so for the first time in several years there will not be a Tayside team in the ultimate stage of the competition.

There were no upsets in the morning final pool matches, so favourites Grove Menzieshill and Dundee Wanderers from Pool A along with Inverleith and Bromac Kelburne from Pool B advanced to the afternoon`s semi-final stages, to play for places in the GALA Day final.

In Pool A Grove Menzieshill held on to pole position courtesy of a 5-2 win over Clydesdale in the opening match of the day. The foundation of the Taysiders` victory came in the first half with a comfortable four goal lead, Albert Rowling got two while Ben Cromar and Jamie Carnegie were also on target. A fifth was added by Jamie Golden after the interval, in the final three minutes Chris McFadden scored two penalty consolations for the Glasgow side.

Dundee Wanderers never really made any inroads into Grove Menzieshill`s superior goal difference when they were only a single goal up against bottom side Edinburgh University at the break, Elliott Sandison was the scorer. Wanderers added three more from set pieces in the second half through Sean Dowie, Fergus Sandison and Jack Fullerton for a comfortable 4-0 win.

In Pool B Kelburne demonstrated their lethal credentials with a 13-5 win over Hillhead. Johnny Christie was top striker with five, and there were two each for Josh Cairns, Adam Bain and Neil McIntrye, at the other end Andrew Black notched a hat-trick for Hillhead.

The Edinburgh derby between Inverleith and Grange was over by the interval with the former 5-1 ahead, Stephen Dick bagged a couple while Stuart Hatton, Paul Taylor and Aedan McCrossan were also on the scoresheet, Andy Graham got Grange`s only counter. There was only a single goal in the second half, Inverleith`s Murray Fotheringham was the scorer.



27 January 218 at Bells Sports Centre, Perth. Scottish National Indoor League Division 1 relegation playoff – Hillhead v Einburgh University – photo by Duncan Gray

PLAY-OFFS

It took a strike by Olympian Stephen Dick a couple of minutes from time to give Inverleith a narrow 5-4 win over Dundee Wanderers in a pulsating contest to push the Edinburgh side into the final.

Inverleith went into a 2-0 lead in the first half through Dick at a penalty corner and Aedan McCrossan but a spot conversion by Sean Dowie brought the Taysiders back into the contest.

Eight minutes into the second half the scores were level at 2-2 with a penalty corner goal by Elliott Sandison. The catalyst came midway through the half with strikes by Ewan Mackie and Stuart Hatton to give Inverleith a 4-2 advantage. But Wanderers were not to be denied and Dowie from the spot along with Sandison from open play brought the game back to parity, that is until Dick produced the belated winner. to reach the GALA Day final

Kelburne`s victory was even more interesting considering they played with a pool of only seven players and defender Josh Cairns took on the role of goalkeeper in order to provide the Paisley side with an additional oufield player.

Any upset looked unlikely when Grove Menzieshill marched into an early two goal lead through Gavin Tomlinson and veteran Ross McPherson, but a double strike by Adam Bain restored parity. However, the Taysiders moved into a 3-2 lead at the interval with McPherson grabbing his second of the game.
Kelburne and Inverleith reach men's GALA Day final



27 January 218 at Bells Sports Centre, Perth. Scottish National Indoor League Division 1 playoff – Kelburne v Grove Menzieshill – photo by Duncan Gray

In the second half Johnny Christie equalised, Albert Rowling restored Grove Menzieshill`s lead, but Iain Scholefield`s strike brought the scoreline back to 4-4.  But then the Paisley turned the screw with further strikes by Christie again and Neil McIntyre.   Although Rowling struck again for Wanderers from the spot, Kelburne played out the remaining six minutes without losing their concentration.

Grange finished fifth after a 6-4 win over Clydesdale. A hat-trick from captain Frank Ryan and one each by Jacob Tweedie and Ali Irvine gave the Edinburgh side a comfortable 5-1 lead at the interval, Chris McFadden getting Clydesdale`s only reply. Despite an additional strike by Callum Milne the Glasgow side got the better of the second half, McFadden completed his hat-trick and Aidan Black added another, but not enough to rescue the contest.

Hillhead retained their first division status but only after a 3-1 penalty shoot-out over Edinburgh University after the sides finished 4-4 in normal time. Fraser Ward and Andrew Hilton put the Glasgow side two up only to be pegged back by Tim Mueller and Callum White for the students by the interval.  The second half also finished square with Antonis Esthymion and White again for the students while Hilton and Euan Campbell netted for Hillhead.

Scottish Hockey Union media release


---

Looking back and moving forwards

Sarah Juggins



Camila Caram (Chile) and Scott Tupper (Canada)   Photo: Yan Huckendubler

This year is all set to be another exciting year for hockey across the PAHF region. There are opportunities for the national teams to excel at all levels of competition: from the USA women and Trinidad and Tobago men who will be facing the top indoor teams in the world as they head to Berlin for the Indoor Hockey World Cup at the start of February; to the young stars of the game who will be competing at the Youth Pan American Championships in Guadalajara, Mexico, in March; to the developing teams from Central America and the Caribbean who have their multi-sport Games in July.

And, of course, 2018 is the year of the "Big One". The men's and women's Hockey World Cups will be taking place in India and England respectively, and the PAHF is well represented at both events, with Argentina and USA women flying the flag in London and Canada and Argentina chasing medals in Bhubaneswar.

Despite a heavy workload with club and country, three of the PAHF hockey stars took time out of their schedule to take a look back at 2017 and an insight into their hopes and dreams for the next 12 months. All the interviewees were voted into the 2017 Pan American Elite Teams.

Camila Caram is a star of the Chile women's team. This year was her third consecutive time as a member of the prestigious Pan American Elite Team. As captain of the national team, she led her team to silver in the Pan American Cup and to a first appearance at the Hockey World League Semi-Finals in Johannesburg, South Africa. The team has also moved up the world rankings to an all-time high of 15th in the world.

"2017 was a very good year for me personally and for our team," says Caram. "At first we had a really tough Hockey World League Two, where there were five teams – India, Belarus, Canada, Uruguay and us – that were fighting for two places in the Hockey World League Semi-Finals. Achieving second place was very gratifying. Later in the year, we went to Lancaster, USA, to play the Pan American Cup, in which we got second place, a historical result for Chile. Personally, I got chosen as the captain of Team Chile and that was a great honor! And of course, being selected in the Elite Team was also a great way to end the year. Being selected for the third time in a row was even more amazing."

Chile went to the Hockey World League Semi-Finals as the lowest ranked side but they took big ambitions with them. So, while Camile was pleased with her team's performance over the season, she does have some regrets: "Not being able to qualify to the London World Cup 2018 was definitely a low point, because that was one of our main goals for 2017. We knew it was going to be tough, but we had all our hopes pinned on qualifying for the Hockey World Cup and we didn't quite make it."

In the event, Chile finished ninth, after claiming the scalp of the hosts and higher-ranked team, South Africa, in the pool games and beating European contenders Poland in the play-off for ninth place. Indicating just how close Chile came to achieving their dream, India and Ireland finished seventh and eighth respectively and have both qualified for the World Cup. Caram's disappointment at being so tantalizingly near to qualification is understandable.

But, in a season that was marked by excellent performances against higher-ranked opponents, the stand out match for the Chile forward was the semi-final of the Pan American Cup where Chile beat USA 4-3, with the winning goal scored by Denise Krimerman in the final minute of the game.

For USA men's Pat Harris, this was a year that saw the striker enjoy success with the national team as well as a successful debut year in the European Hockey League with German giants Mannheimer.

"From a national team perspective, it was great to have some successful results at both the Hockey World League Round Two in Tacarigua, Trinidad & Tobago, and the Pan American Cup at home in Lancaster. In addition, being named to the PAHF Elite team was a nice individual accolade that came as a result of my team's efforts and performances.

"From a personal perspective, my year was highlighted by a second-place finish in the German indoor competition and winning the German Championship."

In a year when both the USA men's and women's teams have had highs and lows – including two semi-final losses for the men at the HWL Round Two and the Pan American Cup, and a semi-final loss for the women at the Pan American Cup – Harris cited the women's magnificent win at the Hockey World League Semi-Finals in Johannesburg as the standout performance of the year.

For one of the Pan American Elite team, 2017 was all about the Hockey World League Semi-Finals in London. Scott Tupper was part of the Canada team that booked its place in the Odisha Men's Hockey World Cup, Bhubaneswar 2018, and two performances from that event stand out for the veteran superstar.

"Finishing in the top five in London was the high point of the year. To finish off that tournament with a win over India, and knowing that our ticket to the World Cup was officially booked was a big accomplishment for our group.

"We got momentum from the start with a 6-0 win over Pakistan. That match jumps off the page. A score line like that against a traditional heavy weight in world hockey is unique for Canada, and set us off on the right foot for the rest of that tournament."

The results in London were made sweeter after, earlier in the season, Canada had failed to win the Hockey World League Round Two event, losing out to Japan in a fiercely competitive final. For Tupper that had been a hard lesson as the team had just been unable close the match and take first spot.

The coming year is a big one for Tupper and his team. The Commonwealth Games takes place in Australia in April and then, in November, it is the Big One, the World Cup. Tupper's hope is that Canada keep doing what they are proving very good at – competing with the higher ranked teams and causing some upsets in the process.

And so the scene is set for another year of great international hockey action. With teams from the PAHF region competing in events that range from blue riband global events to regional competitions; and with officials also representing PAHF at all levels, we are a continent that is punching above its weight in the exciting game of field hockey.

Pan American Hockey Federation media release


---

PHF secretary comes down hard on critics




ISLAMABAD - Pakistan Hockey Federation secretary Shahbaz Ahmed Senior Sunday rubbished the claims made by some quarter that the PHF was scared of losing that's why they failed to send team for Sultan Azlan Shah Cup in Malaysia.

Shahbaz was furious on some certain elements who had no information and just spread rumours. Talking to The Nation, he said the matter of the fact is Champions Trophy, where we got birth is much more difficult and highly prestigious tournament and if the federation is ready to send team there then why it would hesitate in sending team to Malaysia.

He said actual situation is they didn't receive any official invitation from Asian Hockey Federation or Malaysian Hockey Federation and asked the critics to make plea with the Asian or Malaysian Hockey Federation to send invitation to the PHF.

Shahbaz, who was one of the finest player of his era, said some individuals had made up their minds to not to pay heed to commonsense and spread rumours as they wanted to spread negativity and are after his head. "If they think by removing Shahbaz, Pakistan hockey will gain something, I am ready to quit. Actually, they are jealous and sick people. I and PHF president Brig Khalid Khokhar are doing our level best to take Pakistan hockey to golden days heights. Off course it is taking time but witness our hard work, devotion and dedication. We have left no stone unturned and trying on every possible way and mean to work for betterment of hockey and the players."

When asked about Pakistan team is badly lacking a top short corner expert after Sohail Abbas and we need to pay heed towards quality goalkeeper, Shahbaz said the federation was working tirelessly to improve all the areas where the team is lacking and would invite internationally acclaimed goalkeeping coaches and work on short corner expertise to improve these areas. "We are not sleeping. The arrival of Hall of Fame and international mega stars is a very clear indication that federation is moving in the right direction. It is my challenge to all the big mouths that they name the top players and we will invite them to play in Pakistan. The matter of the fact is even top hockey playing nations are facing debacle and even their top players don't get due recognition in their countries. But everybody had witnessed the way Hall of Fame stars and international players were treated in Karachi and Lahore, it proved that we had invited highly recognisable faces. The way the masses welcome the mega stars of yesterdays it was amazing feeling and personally I am highly grateful to COAS General Bajwa for inviting us and giving us such respect and love. Look international newspapers and television channels as upon their return all the mega stars were full of praise of Pakistan. But few certain people in Pakistan are creating fuss and had no other business but to spoil all the good work of the federation."

Shehbaz said it was team effort and he or president can't work without support of all, especially the sports journalists and the way The Nation gave outstanding coverage to the event is indeed a great service to country and hockey. "I salute Nawa-i-Waqt Group management for such wonderful and detailed coverage as it was need of the hour. The way COAS promised Presidential security to international players and teams and urged them to play in Pakistan is truly amazing and not easy to express in words. We all have to join hands for noble cause of hockey."

The Nation


---

It's Time to Walk the Hockey Walk

Join our Walking Hockey revolution, a brand new sport for those that want to have fun, excitement, meet new people and have some gentle exercise whilst playing this wonderful new sport.

Get more information including The Rules of Walking Hockey on our website Walkinghockey.com

Walking hockey is an FIH Global Project.