All the news for Sunday 21 January 2018

Women's Asian Games Qualifier 2018




2TPE v INA     6 - 0
THA v HKG     1 - 0
KAZ v SGP     1 - 3


| Rank | Team | GP | W | D | L | GF | GA | GD | P |
| --- | --- | --- | --- | --- | --- | --- | --- | --- | --- |
| 1 | Thailand | 6 | 5 | 0 | 1 | 21 | 1 | 20 | 15 |
| 2 | Hong Kong China | 6 | 3 | 2 | 1 | 11 | 2 | 9 | 11 |
| 3 | Chinese Taipei | 6 | 3 | 2 | 1 | 12 | 6 | 6 | 11 |
| 4 | Kazakhstan | 6 | 3 | 1 | 2 | 12 | 7 | 5 | 10 |
| 5 | Singapore | 6 | 3 | 1 | 2 | 8 | 5 | 3 | 10 |
| 6 | Pakistan | 6 | 1 | 0 | 5 | 3 | 23 | -20 | 3 |
| 7 | Indonesia | 6 | 0 | 0 | 6 | 0 | 23 | -23 | 0 |
---

2018 EuroHockey Indoor Championships (W) - Day 2

The EuroHockey Indoor Championships for Women are being held across 3 Divisions and 3 venues. The Results for Divisions I, II and III for Day 2 can be found below

2018 EuroHockey Indoor Championship (W)
Prague (CZE)

Pool A     NED v SUI     2 - 3 (1 - 1)
Pool A     BLR v POL     5 - 2 (2 - 0)
Pool B     GER v RUS     4 - 2 (2 - 0)
Pool B     UKR v CZE     1 - 2 (1 - 0)
Pool C     POL v RUS     1 - 4 (0 - 2)
Pool C     SUI v UKR     2 - 2 (1 - 1)
SF1     GER v BLR     5 - 4 (3 - 2)
SF2     NED v CZE     6 - 3 (4 - 2)
Pool A
 

| Rank | Team | GP | W | D | L | GF | GA | GD | P |
| --- | --- | --- | --- | --- | --- | --- | --- | --- | --- |
| 1 | Netherlands | 3 | 2 | 0 | 1 | 13 | 6 | 7 | 6 |
| 2 | Belarus | 3 | 2 | 0 | 1 | 13 | 10 | 3 | 6 |
| 3 | Switzerland | 3 | 2 | 0 | 1 | 6 | 9 | -3 | 6 |
| 4 | Poland | 3 | 0 | 0 | 3 | 4 | 11 | -7 | 0 |
Pool B
 

| Rank | Team | GP | W | D | L | GF | GA | GD | P |
| --- | --- | --- | --- | --- | --- | --- | --- | --- | --- |
| 1 | Germany | 3 | 2 | 0 | 1 | 12 | 7 | 5 | 6 |
| 2 | Czech Republic | 3 | 2 | 0 | 1 | 9 | 8 | 1 | 6 |
| 3 | Ukraine | 3 | 1 | 0 | 2 | 10 | 11 | -1 | 3 |
| 4 | Russia | 3 | 1 | 0 | 2 | 10 | 15 | -5 | 3 |
Pool C
 

| Rank | Team | GP | W | D | L | GF | GA | GD | P |
| --- | --- | --- | --- | --- | --- | --- | --- | --- | --- |
| 1 | Ukraine | 2 | 1 | 1 | 0 | 10 | 6 | 4 | 4 |
| 2 | Switzerland | 2 | 1 | 1 | 0 | 4 | 3 | 1 | 4 |
| 3 | Russia | 2 | 1 | 0 | 1 | 8 | 9 | -1 | 3 |
| 4 | Poland | 2 | 0 | 0 | 2 | 2 | 6 | -4 | 0 |

2018 EuroHockey Indoor Championship II (W)
Brussels (BEL)

Pool A     AUT v SWE     6 - 0 (1 - 0)
Pool A     LTU v ENG     3 - 5 (2 - 3)
Pool B     CRO v SCO     1 - 1 (0 - 0)
Pool B     BEL v WAL     7 - 0 (3 - 0)
Pool C     LTU v WAL     9 - 0 (4 - 0)
Pool C     SWE v SCO     2 - 1 (1 - 0)
Pool D     ENG v CRO     4 - 1 (2 - 0)
Pool D     AUT v BEL     0 - 3 (0 - 0)
Pool A
 

| Rank | Team | GP | W | D | L | GF | GA | GD | P |
| --- | --- | --- | --- | --- | --- | --- | --- | --- | --- |
| 1 | Austria | 3 | 3 | 0 | 0 | 15 | 5 | 10 | 9 |
| 2 | England | 3 | 2 | 0 | 1 | 13 | 9 | 4 | 6 |
| 3 | Sweden | 3 | 1 | 0 | 2 | 5 | 13 | -8 | 3 |
| 4 | Lithuania | 3 | 0 | 0 | 3 | 7 | 13 | -6 | 0 |
Pool B
 

| Rank | Team | GP | W | D | L | GF | GA | GD | P |
| --- | --- | --- | --- | --- | --- | --- | --- | --- | --- |
| 1 | Belgium | 3 | 3 | 0 | 0 | 16 | 0 | 16 | 9 |
| 2 | Croatia | 3 | 1 | 1 | 1 | 6 | 5 | 1 | 4 |
| 3 | Scotland | 3 | 1 | 1 | 1 | 6 | 6 | 0 | 4 |
| 4 | Wales | 3 | 0 | 0 | 3 | 0 | 17 | -17 | 0 |
Pool C
 

| Rank | Team | GP | W | D | L | GF | GA | GD | P |
| --- | --- | --- | --- | --- | --- | --- | --- | --- | --- |
| 1 | Sweden | 2 | 2 | 0 | 0 | 6 | 3 | 3 | 6 |
| 2 | Lithuania | 2 | 1 | 0 | 1 | 11 | 4 | 7 | 3 |
| 3 | Scotland | 2 | 1 | 0 | 1 | 6 | 2 | 4 | 3 |
| 4 | Wales | 2 | 0 | 0 | 2 | 0 | 14 | -14 | 0 |
Pool D
 

| Rank | Team | GP | W | D | L | GF | GA | GD | P |
| --- | --- | --- | --- | --- | --- | --- | --- | --- | --- |
| 1 | Belgium | 2 | 2 | 0 | 0 | 7 | 0 | 7 | 6 |
| 2 | England | 2 | 1 | 0 | 1 | 7 | 6 | 1 | 3 |
| 3 | Austria | 2 | 1 | 0 | 1 | 5 | 6 | -1 | 3 |
| 4 | Croatia | 2 | 0 | 0 | 2 | 1 | 8 | -7 | 0 |

2018 EuroHockey Indoor Championship III (W)
Apače (SLO)

ool A     SVK v SLO     4 - 2 (2 - 0)
Pool A     TUR v SVK     5 - 2 (1 - 2)
Pool A     SLO v TUR     1 - 10 (1 - 8)
| Rank | Team | GP | W | D | L | GF | GA | GD | P |
| --- | --- | --- | --- | --- | --- | --- | --- | --- | --- |
| 1 | Turkey | 2 | 2 | 0 | 0 | 15 | 3 | 12 | 6 |
| 2 | Slovakia | 3 | 1 | 1 | 1 | 9 | 10 | -1 | 4 |
| 3 | Slovenia | 3 | 0 | 1 | 2 | 6 | 17 | -11 | 1 |
---

Scotland draw with Croatia and lose to Sweden on Day 2 of indoor Euros

A draw with Croatia and a defeat to Sweden sees Scotland in third spot on day 2 in Pool C of Women's EuroHockey Championship II.

Scotland are out to win their final match of the tournament when they play Lithuania tomorrow to ensure a top two spot in the Pool.

Croatia 1-1 Scotland

Scotland drew with Croatia in their final Pool B match of Women's EuroHockey Indoor Championship II in Brussels on day 2. The result meant the Scots finished third in the Pool and go into Pool C with Sweden, Lithuania and Wales and play to avoid relegation to the third tier of European indoor hockey.

The first half ended goalless despite Scotland completely dominating the play. The Scots had all the ball with Croatia looking to counter.

The Scots had to wait until the second half before opening the scoring. Vikki Bunce was on target with the vital strike to put Scotland into a 1-0 lead.

It nearly went to 2-0 shortly after the Bunce strike but Scotland couldn't make the most of a penalty opportunity to compound the lead.

Croatia opened up in the closing stages of the match and they were rewarded with a goal. Somin Anamarija equalised for Croatia on 36 minutes to level the scores.

Scotland needed a goal to secure second place in the table so played Katie Stott as kicking back for the final four minutes of the match.

An injury to Louise Campbell didn't help matters – a dislocated shoulder looks to have put her out for the rest of the tournament.

The Scots had two over time corners but couldn't find the back of the net. The first appeared to have been stopped by a foot on the line, while the second resulted in a Scottish mis-trap.

In the end Croatia held on for the draw, and will enter the battle for promotion, while Scotland will face Sweden next on day 2 in Pool C before facing Lithuania tomorrow.

The Scots carry three points over into the next phase for their previous victory over Wales.

Scotland Indoor Head Coach Chris Anderson said, "We're disappointed – the girls worked really hard but experience was the difference. We controlled the game, and deserved to win, but just lacked experience.

"We'll play Sweden next, who are not unlike Croatia in that they'll sit back and look to hit us on the break. If we learn from the experience of this game, and cut out simple errors, then we have a great chance of taking the win."

Sweden 2-1 Scotland

A late comeback by Scotland was not enough to prevent a Sweden victory in the first match of Pool C on day 2 in Women's Indoor Championship II.

It was a dominant performance from the off by Scotland who nearly found the net in the opening ten seconds.

Scotland dominated possession and Sweden attempted to hit the Scots on the counter attack, although their opportunities were few. It was on a counter attack when Sweden took the lead midway through the first half – Emilia Fantini hit the net in the 11th minute of the match.

The pattern of play continued into the second half with Scotland creating chances to score. Emily Dark hit the post and Susan Hamilton was unlucky not to convert a chance arriving at the far post.

The contest swung greatly in Sweden's favour when Klara Moberg made it 2-0 on another counter attack in the 31st minute of the match.

Scotland played Katie Stott at kicking back for the final five minutes and was instantly rewarded with a goal. Dark was on target to pull the score back to 2-1 with four minutes remaining. It was a delightful finish by the striker, taking the ball on the penalty sport and scoring on her reverse stick.

Scotland hammered at the Swedish defence for the final few minutes but couldn't find an equalising goal.

Scotland women's indoor Head Coach Chris Anderson said, "This performance was significant progress by the team, we were excellent but just couldn't score. We hammered Sweden and lost 2-1 – I'm proud despite the loss.

"We've set a new benchmark with that performance and we'll be looking for more of the same against Lithuania tomorrow. We're going for the win and another big performance."

Fixtures

19 Jan 2018

11:20 – Scotland 5-0 Wales
18:30 – Scotland 0-5 Belgium

20 Jan 2018

10:20 – Croatia 1-1 Scotland
16:40 – Sweden 2-1 Scotland

21 Jan 2018

09:00 – Scotland v Lithuania

Scottish Hockey Union media release


---

4 Nations Invitational Tournament (M)
Tauranga (NZL)

3rd/4th Place     NZL v JPN     5 - 4
Final     IND v BEL     1 - 2

FIH Match Centre


---

Vantage Black Sticks third at Four Nations



Photo: www.photosport.nz

The Vantage Black Sticks Men have finished third at Tauranga leg of the University of Waikato Four Nations after a thrilling 5-4 victory over Japan.

New Zealand controlled much of the first half and led 2-0 at halftime before an incredible surge saw a further seven goals scored between the two sides in the second half.

Japan scored three unanswered goals after the break to take the lead before the Black Sticks struck twice in the final five minutes to snatch the result.

Marcus Child scored a first half double while Dominic Newman, Kane Russell and Hugo Inglis also added to the New Zealand score card.

Head coach Darren Smith said while it was disappointing to have missed out on the final, it was pleasing to finish in a positive manner.

"It was a tough match in hot conditions but I thought both sides played at a high tempo and we are pleased to come away with the result," he said.

"We're looking forward to continuing the challenge in Hamilton next week. This series is a fantastic opportunity to progress ahead of a very busy year."

After a high tempo opening quarter the Kiwis took the advantage when captain Blair Tarrant slipped a great ball into the circle for Marcus Child who tapped in past the goalkeeper.

Child scored his second goal of the match in the 25th minute after swooping on a penalty corner deflection and hitting home.

With New Zealand in control at halftime, Japan pulled a goal back immediately after the break when Shota Yamada sent a penalty corner flick into the cage.

Just a minute later it was a highlight reel moment for the Black Sticks when Marcus Child sent a long sideline overhead into the circle for Dominic Newman to showcase some brilliant skills and fire a bouncing ball past the goalkeeper.

Japan mounted an incredible comeback after the New Zealand goal, scoring three times through Hirotaka Zendana, Tsubasa Yamamizu and Koji Yamasaki to take the lead.

But the Black Sticks equalised through a 55th minute penalty corner flick from Kane Russell before a stunning effort saw Hugo Inglis net just two minutes from the final whistle.

In the Four Nations final, Belgium held on under huge late pressure to defeat India 2-1 in a top quality clash.

Belgium scored a goal in each half with a Tom Boon penalty corner and Sebastien Dockier field goal, while India's lone goal came from Mandeep Singh in the 19th minute.

With the Tauranga leg of the University of Waikato Four Nations now decided, teams head to Gallagher Hockey Centre in Hamilton for the next series from 24-28 January.

The first day's action in Hamilton sees Belgium play Japan at 5:45pm before the Vantage Black Sticks meet India at 7:30pm.

Tickets for all matches in Hamilton are still available through www.dashtickets.co.nz while matches will also be streamed live through the Vantage Black Sticks Facebook page.

FINALS DAY RESULTS - BLAKE PARK, TAURANGA

VANTAGE BLACK STICKS: 5 (Marcus Child 2, Dominic Newman, Kane Russell, Hugo Inglis)
JAPAN: 4 (Shota Yamada, Hirotaka Zendana, Tsubasa Yamamizu, Koji Yamasaki)
Halftime: Vantage Black Sticks 2-0

BELGIUM: 2 (Tom Boon, Sebastien Dockier)
INDIA: 1 (Mandeep Singh)
Halftime: 1-1

Hockey New Zealand Media release


---

Black Sticks survive scare and beat Japan for bronze in Four Nations

By: Christopher Reive

The Black Sticks were the last unbeaten team in the Four Nations hockey tournament in Tauranga last week but finished on a high - claiming the bronze medal.

The New Zealand side beat Japan 5-4 in a thriller on Sunday, with the hosts overcoming a late surge from the Asian nation to claim third place.

Head coach Darren Smith said while it was disappointing to have missed out on the final, it was pleasing to finish in a positive manner.

"It was a tough match in hot conditions but I thought both sides played at a high tempo and we are pleased to come away with the result," he said.

"We're looking forward to continuing the challenge in Hamilton next week. This series is a fantastic opportunity to progress ahead of a very busy year."

After falling to India 3-0 in their final round robin game, the Kiwis were knocked out of contention for the final, which was taken out by Belgium who beat India 2-1.

Facing Japan in the battle for bronze, the Black Sticks would have fancied their chances having already toppled the Asian nation 4-1 in pool play.

And as the game began, it looked as though the match was headed in the same direction with Marcus Child bagging an early double to have the Kiwi side up 2-0 at half time.

But Japan showed they had come to play in the second half, and got one goal back through Shota Yamada who tucked away a penalty corner.

Dominic Newman soon pushed the Black Sticks' lead back to two goals, with Child turning provider, and the match again looked comfortable for the hosts.

However, Japan erupted for three straight goals through Hirotaka Zendana, Tsubasa Yamamizu and Koji Yamasaki to take a 4-3 lead with just 11 minutes to play.

As the clock ticked over, the Black Sticks needed to do something to get themselves back into the contest.

With five minutes remaining, goalkeeper Richard Joyce was pulled from the match to allow the Black Sticks an extra field player.

It worked, as within a minute, the Black Sticks were level through Kane Russell and Joyce was brought back on the field.

The Kiwi side scored the match-winner about a minute later when Hugo Inglis scored a well-taken goal to lead the Black Sticks to the bronze medal.

The teams now move on to Hamilton, where they will play a second Four Nations tournament, which begins on Wednesday.

The New Zealand Herald


---

Black Sticks beat Japan, finish third at Four Nations



New Zealand's Marcus Child scores a double in the third and fourth playoff against Japan. John Cowpland / www.photosport.nz

The Black Sticks Men have beaten Japan 5-4 to finish third in the  Four Nations on Sunday.

In the final, Belgium held on under huge late pressure to defeat India 2-1 in a top quality clash.

The Black Sticks controlled much of the first half and led 2-0 into the break before an incredible surge saw a further seven goals scored between the two sides in the second half.

Japan dazzled the Black Sticks to score three unanswered goals after the break to take the lead before the home side struck twice in the final five minutes to snatch the result.

Black Sticks midfielder Marcus Child scored a first half double while Dominic Newman, Kane Russell and Hugo Inglis also added to the New Zealand score card.

Head coach Darren Smith said while it was disappointing to have missed out on the final, it was pleasing to finish well.

"It was a tough match in hot conditions but I thought both sides played at a high tempo and we are pleased to come away with the result," he said.



Marcus Child played a starring role in the Black Sticks 5-4 win against Japan on Sunday. Andrew Cornaga / www.photosport.

"This series is a fantastic opportunity to progress ahead of a very busy year."

After a high tempo opening quarter the Kiwis took the advantage when captain Blair Tarrant slipped a great ball into the circle for Marcus Child who tapped in past the goalkeeper.

Child scored his second goal of the match in the 25th minute after swooping on a penalty corner deflection and hitting home.

With New Zealand in control at halftime, Japan pulled a goal back immediately after the break when Shota Yamada sent a penalty corner flick into the cage.

Just a minute latter Marcus Child sent a long sideline overhead into the circle for Dominic Newman to fire a bouncing ball past the goalkeeper.

Japan mounted an incredible comeback after the New Zealand goal, scoring three times through Hirotaka Zendana, Tsubasa Yamamizu and Koji Yamasaki to take the lead.

But the Black Sticks equalised through a 55th minute penalty corner flick from Kane Russell before a stunning effort saw Hugo Inglis net just two minutes from the final whistle.

In the final, Belgium scored a goal in each half with a Tom Boon penalty corner and Sebastien Dockier field goal, while India's lone goal came from Mandeep Singh in the 19th minute.

The team head to Hamilton for the next series starting on Wednesday, the Black Sticks' first match against India.

Stuff


---

Victory eludes brave India

s2h team

Making use of the chances it created Belgium proved again better than India again, as it romped home 2-1 victory in the final of the Waikato University 4-Nations Cup. After conceding what turned out to be the winning goal, Indians created amble chances with guts, but the finish was not there due to compact Belgium defence.

India, playing without goalie in the last five minutes, got two penalty corners in the dying minutes to even out the score but first Rupinder Pal Singh and then man-in-yellow Harmanpreet Singh could not pierce the Belgium wall.

Things would not have come to this pass had Mandeep Singh been accurate, or at least meaningful and gainful, in his three attempts in the early part of third quarter. He messed up sitters, one that Dilpreet Singh served was a gem, but Mandeep could only hit the goalie.

Thereafter, Belgium attacked ferociously got three consecutive penalty corners but India matched them in defence. Lucky it was for the Indians, as a hit from rebound off the third penalty corner by Cedric Charlier just went wide

India and Belgium shared two goals at half time.

The final started on a brisk note with Tom Boom striking an early goal off a penalty corner while India replied through Mandeep Singh two minutes into the second quarters.

Sebastian Dockier bounced on to a short rebound to send the ball on the other corner of the cage to give Belgium the lead in the 36th minute. This turned out to be ultimate the winner.

Aftet three days rest, the second leg of the 4-Nation will commence. Hope India take revenge there.

Stick2Hockey.com


---

India lose 1-2 to Belgium in final encounter

TAURANGA: India went down fighting to Belgium 1-2 in a thrilling final match of the first leg of the Four Nations Invitational tournament at the Blake Park here on Sunday. Tom Boon (4th minute) and Sebastien Dockier (36th) found the target for Belgium while Mandeep Singh (19th) was India's lone goal-scorer.

Belgium were quick to get off the block as they won a penalty corner within three minutes of the game but Loick Luypaert's drag flick was superbly rendered ineffective by India's first runner Chinglensana Kangujam. Almost immediately, India had a great opportunity to score as a dribbling Dilpreet Singh made a beautiful turn at the top of the circle to dodge a Belgian defender. He then sliced the ball across to Lalit Upadhyay who had positioned himself in front of the post but sadly he could not get a nudge on the ball.

Belgium, meanwhile, mounted pressure on India with a goal through Boon in the fourth minute. With three seconds to go for the first hooter, India won a penalty corner but Rupinder Pal Singh's fierce hit to the right bottom of the post was saved by a Belgian defender at the baseline.

India overcame a slow start in the second quarter as they gained momentum, creating potential circle penetrations. It was in the 19th minute when Rupinder intercepted a Belgian long pass to find Manpreet in the midfield who then sliced the ball into the center of the circle.

Mandeep Singh was quick to react, beating goalkeeper Vincent Vanasch to push the ball into the post fetching India the equaliser. The next few minutes saw India work hard to keep the ball but a structured Belgian defence was tough to break. Meanwhile, Sreejesh made an excellent save in the 21st minute when Thomas Briels took a shot on goal, ensuring both teams went into the half-time break levelled.

It was advantage Belgium as they scored at the start of the third quarter when Gauthier Boccard used a powerful reverse hit from the top of the striking circle. Sreejesh made a fine save but Sebastien Dockier was quick to pick up the rebound as he found the gap and smashed the ball past the India goalkeeper.

Though Belgium won three back-to-back penalty corners towards the end of the third quarter, Manpreet Singh was unrelenting as the first runner to ensure no goal was scored. India bounced back in the final quarter, increasing their attack, finding gaps in the 15-yard mark putting pressure on the Belgian defence. But their experienced goal keeper Vincent Vanasch made some important saves to keep India at bay.

Last five minutes saw India's chief coach Sjoerd Marijne pull out their goalkeeper to add an extra man to their attack. The effort worked with India winning a penalty corner in the dying minutes of the match but Harmanpreet's attempt was well defended by the Belgians.

"We were much better than our previous match against Belgium. Our young players are making good progress against a world class team like Belgium which we will benefit from in the future. For now though, even a draw would have been a better result but the Belgium goalkeeper did some good work and made crucial saves," said Marijne.

On January 24, India will take on hosts New Zealand in the first match of the second leg in the Four Nations Invitational tournament.

The Times of India


---

India's 'percentage' game proves to be handful for uninspiring New Zealand

Sundeep Misra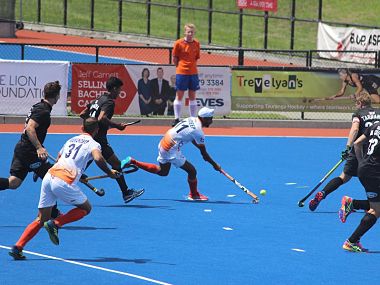 Indian team in action against New Zealand on Saturday. Image Courtesy:Twitter @TheHockeyIndia

Despite not being pushed to the brink, India gave it's all. Playing percentage hockey, committing less errors and getting the goals at crucial periods, India sidestepped host New Zealand 3-1, to enter the final of the 4 Nations Invitational Hockey at Blake Park, New Zealand. India needed a win, especially after the loss to Belgium and playing a final against the Olympic silver medallist would be a step in the right direction. The 4 Nation Invitational may not be a tournament that gives the team crucial FIH ranking points but pride is something most teams play for and when India converted a penalty corner in the second minute off Harmanpreet Singh, the Asian Champions were well on their way. India now plays the final against Belgium who beat Japan 4-1. In the end, three teams – India, Belgium and New Zealand had six points each but India with a goal difference of plus six and Belgium with plus four made it through. Host New Zealand will play Japan for 3rd/4th.

India scored through Harmanpreet Singh (2nd), Dilpreet Singh (21st) and Mandeep Singh (47th). The Kiwis only goal came off a penalty corner hammered in by Russell Kane (42nd).

It was a bright and warm day, perfect conditions for sport and for India too. In the last match, the Indians were a little uncomfortable with the blustery weather that came with light rains. But on Saturday, the sunshine had both teams pressing hard. New Zealand, in fact, after wins over Japan and Belgium must have given themselves more than just an outside chance against India. Despite the fact that in the 2017 Azlan Shah tournament, the Kiwis had lost two consecutive matches in the competition to India–0-3 and 0-4. India, then under Coach Roelant Oltmans, had played with a solid defence and swift midfield creating chances upfront. Now the Indian team under Sjoerd Marijne, in his third tournament, used a four man defence and a strong midfield. But upfront, chances weren't created as much as one would have hoped. India did have breakthroughs, but the forwards like Armaan Qureshi, Ramandeep Singh, Dilpreet Singh and Mandeep Singh were not that fleet-footed or sure of their positioning. Even though Dilpreet and Mandeep got the second and third goals, more was expected, especially when it came to creating space and ensuring that playing up would have pushed the Kiwis back, creating pressure.

In the second and third quarters, Marijne was shouting at the Indian forwards to move up and press. New Zealand were taking advantage of the space between the Indian forwards and midfield to push the ball through. And not pressing when the Kiwi defence had the ball also gave them the luxury to come up, allowing their forwards to press the Indian defence. Yet it could easily have been a second goal for India when Lalit Upadhyay had a generous slice of space but he blazed over.

India's second goal was off a build-up when Rupinder Pal Singh on one of his moves upfront gave the ball to Vivek Sagar who after going deep into the striking circle gave it back into the middle of the circle to Dilpreet. The Jalandhar boy has this uncanny talent of creating space in front and on either side. A slight twist and well taken reverse hit saw the Kiwi goalkeeper Richard Joyce beaten. From the outside it seemed simple but the tactic of dropping a shoulder to the right and taking the ball to the left is craft and Dilpreet, now officially being looked as serious striking talent is underlining his status in the coach's eyes.

The third quarter saw New Zealand pushing hard. They used both the flanks and constantly entered the striking circle. But the Indian defence of Surender, Rupinder Pal and Harmanpreet played well. It was only in the latter part of the quarter that India conceded four penalty corners. Sreejesh brought of three saves, two of which were direct flicks and then off a variation which rebounded off his pads onto the head of Hugo Inglis. It was on the third penalty corner that New Zealand finally found success. Russell Kane flicking to the left of Sreejesh and with the scores at 1-2, the match had enough life left. India didn't want a draw as that would have left the door open to a chance of being pipped on goal difference. Towards the end of the third quarter, New Zealand had their fourth penalty corner off a stick check committed by Harmanpreet Singh, who did appeal to the umpire but with no video replays, it was the Indian player's words against the judgement of the umpire. India defended well with the rising flick hitting Surender's stick and getting deflected away.

New Zealand, after the break, had brought in George Enersen to replace Joyce as goalkeeper. India also brought in Krishan Kant for Sreejesh at the end of the third quarter. There was more resolve in the Indian midfield and it was one those hard hits into the Kiwi striking circle hit more than hope than any intent that saw Mandeep latching onto it and deflecting it into goal. At 3-1, it was an uphill task for New Zealand. But they managed their fifth penalty corner which India defended well. New Zealand coach Darren Smith took off the goalkeeper as the team played with eleven field players. Armaan had a great opportunity but couldn't reach the ball and at the other end, off a counter-attack a Nick Ross through ball from the right hand side of the striking circle was missed by Mitai-Wells Leo.

In the end, India held off the Kiwis, recording a well-deserved victory. For Marijne, the final against Belgium on Sunday will be yet another opportunity to experiment with the team in order to achieve that stability that the Dutchman desires before the big three tournaments kick in–Commonwealth Games, Asian Games and the World Cup.

Firstpost


---

Hockeyroos Claim Win In Five-Goal Thriller

Ben Somerford




The Hockeyroos have claimed the first win of the Test Series against Spain with a 3-2 triumph at Perth Hockey Stadium on Saturday night.

The first two Tests finished 1-1 but Australia edged Spain on Saturday, with Karri McMahon netting the winner from a penalty stroke on 36 minutes.

Earlier, Australia took the lead twice, only for Spain to respond in an exciting second quarter where four goals were scored.

Jordyn Holzberger scored from a penalty corner from Madi Ratcliffe's pass in the 17th minute before the visitors levelled through Lola Riera from a drag flick one minute later.

Jodie Kenny converted a 20th minute penalty stroke but Spain equalised again four minutes later when Berta Bonastre scored from close range after Jocelyn Bartram couldn't stop Georgina Oliva's effort.

The result gives the Hockeyroos the series lead with one match to play at Warwick Hockey Centre on Sunday night.

McMahon, who missed a penalty stroke in Thursday's 1-1 draw, said: "It felt great to score having missed one in Thursday's game.

"It felt great to get another chance today and to convert it was fantastic."

Australia had the better of the chances in the first quarter, with Brooke Peris spurning a good opportunity when in on goal, firing over the bar.

The game came to life in the second with both sides trading four goals, firstly through Holzberger, but for the third straight game, Spain levelled immediately, this time via Riera.

The Hockeyroos won a penalty stroke which Kenny, in her third game back after spending time away from the game having had her first child, converted.

Spain levelled again when Bonastre forced the ball home from close range, while Oliva had the first chance after the main break but pushed it wide.

Australia won a second penalty stroke in the 36th minute, with McMahon stepping up to send Spain goalkeeper Maria Ruiz the wrong way.

Rachael Lynch and Lily Brazel combined for a crucial double save in the dying moments of the third quarter, before Savannah Fitzpatrick came close in the final term from Peris' cutback.

The win was a step forward for the Hockeyroos and McMahon said: "It's a group that hasn't been together for a while, so having three games we're starting to get some consistency into our play which is looking great. I can't wait for the final game tomorrow night."

Australia 3 (Holzberger 17', Kenny 20', McMahon 36')
Spain 2 (Riera 18', Bonastre 24')

Hockey Australia media release


---

National Hockey Stadium to host int'l event after 24 years

Shebaz says successful World XI tour ensures a better tomorrow for Pakistan hockey

Azhar Khan




LAHORE - National Hockey Stadium is going to host an international event after a gap of long 24 years, where the star-studded World Hockey XI will take on Pakistan hockey team in the second match of the two-match series here today (Sunday).

Pakistan hosted its last grand hockey event in 1994, followed by the tours of China and Oman. China played a four-Test series in 2011 and Oman U-18 team played a Test series in 2016. Now after a long time, World XI, which comprise a galaxy of stars from top hockey nations, has been on visit to Pakistan, which ended the drought of international hockey in Pakistan and help the country revive international hockey here.

The year 1994 was dubbed as the golden year of Pakistan hockey as the green shirts under the captaincy of former Olympian Shahbaz Ahmad Senior, now Pakistan Hockey Federation (PHF) secretary, won two major titles to re-establish country's status as hockey super power. Shahbaz helped Pakistan win the World Cup in Sydney and the Champions Trophy in Lahore, the last two major title victories till today.

The World XI tour has been arranged by the PHF to revive the game in which Pakistan is struggling at international level, with no title in grasp, not even at Asia level.

"It is a good omen for our national hockey that the world XI is playing in Pakistan and it is a big achievement on part of PHF to convince world known players of the game to play hockey in Pakistan as we have been deprived of high-profile events due to security situation in our country," said Shahbaz here on Saturday.

He said the World XI has the services of five players from Holland, three each from Argentina and Spain, two each from Germany and New Zealand and one from Germany and all the players are of top stature due to their standing in the game.

"The Word XI tour has its own significance in many ways to bring back international hockey to Pakistan, to provide an ideal opportunity to our young players to play alongside the masters of hockey and to motivate the youth to take up hockey as a sport," he added.

Shahbaz said the World XI tour is a step forward for the resumption of international hockey in Pakistan and to organise Pakistan Hockey League in April this year in a professional way. "The World XI tour is very vital for infusing a new life in our dying hockey , it will restore the confidence of other hockey nations for visiting Pakistan, it will create ideal opportunity for the lovers of the game to watch the big names of hockey in action in their own backyard," he added.

The PHF secretary said the successful tour of the World XI will ensure a better tomorrow of Pakistan hockey .

PHF president Brig (r) Khlid Sajjad Khokhar has said that World Hockey XI tour to Pakistan will be a 'game changer' for ensuring the return of international hockey to Pakistan. "World XI tour will serve as trust building measure to inspire the other hockey playing nations to give consideration to visit Pakistan in near future besides playing its part in making the inaugural edition of Pakistan hockey league a success," he said.

The PHF chief said the tour of World XI will give a positive message to the world that Pakistan is a safe country to hold top hockey events. "Our hockey suffered badly during over the past two decades as major international hockey did not take place in our country and no top hockey team visited us but the tour of the world xi has produced a ray of hope to re-start our hockey journey for regaining the lost glory," he said.

He termed the visit of World XI a step forward for the bringing back international hockey to Pakistan and to re-organise the national sport with renewed zeal and zest.

The Nation


---

Warm welcome accorded to hockey teams

Mohsin Ali

LAHORE - Pakistan and International hockey teams reach Lahore and were awarded a very warm welcome by the hockey lovers at Allama Iqbal International Airport on Saturday.

Pakistan hockey team along with coach Kamran Ashraf and manager Qmar Ibrahim arrived through PIA flight at 9:30am while International XI, PHF President Brig Khalid Sajjad Khokhar, Secretary Shahbaz Senior, chief selector Islah-ud-din Siddiqui, legends Shahnaz Shaeikh, Akhtar Rasool, Hassan Sardar along with Hall of Fame stars arrived through PIA flight at 1:00pm.

High-level security was witnessed at the airport, while both teams along with officials were taken directly to Garrison Hall, where Crops Commander Lahore, Lt General Aamir Riaz hosted a wonderful reception in honour of teams and officials. Major General Muhammad Aamir, GOC, conducted the ceremony on behalf of Crops Commander, who could not attend the reception. In his welcome address, Maj Gen Aamir lauded both teams and PHF for ensuring international players arrival in Pakistan and hoped this would continue in future too and international matches and tournaments would be held in all major cities of the country. Souvenirs were also given to Pakistan hockey team, management, Hall of Fame players, International XI, legends and others.

 On behalf of Crops Commander, a cheque of Rs two million was also given to PHF President Brig (R) Khalid Sajjad Khokhar and Secretary Olympian Shahbaz Senior.

Brig Khokhar thanked Crops Commander for his hospitality and termed this gesture will further help improve Pakistan's soft sports-loving image. He said army and other security agencies always lend helping hand. He also thanked Pakistan Cricket Board (PCB) Chairman Najam Aziz Sethi for lending helping hand and providing PCB's bullet-proof vehicles for international team and others.

The Nation


---

World XI captain predicts thrilling hockey match against Pakistan today




LAHORE: World XI captain Roderick Weusthof of the Netherlands says he anticipates interesting and thrilling hockey match against Pakistan at National Hockey Stadium here on Sunday (today). "Pakistan junior team comprises talented players but they lack in experience and technique and with passage of time it will blend into a good combination of players to get fine results," he told media at a news conference, along with few other foreign players and Pakistan Hockey Federation (PHF) secretary general Shahbaz Ahmad, at the National Hockey Stadium here on Saturday. Star-studded World XI routed Pakistan 5-1 in the opening match of the two match series at Karachi. The World XI captain said they were delighted to play against Pakistan junior team who would be learning a lot while playing against them. "The are young players and have the necessary potential to learn the finer points of the game while playing world's best players. And I think it is an ideal opportunity for them to lift the level of their game," said the Dutch hockey player, one of the most fearsome penalty corner experts of his time with 79 goals to his credit.

Roderick said he was pleased to see that with the tour of the World XI international hockey returned to Pakistan. "We are here to join hands with the Pakistan Hockey Federation to help them to revive international hockey and all the players are delighted to be a part of good cause," he said.

The World XI captain praised the hospitality extended to them during their stay in Pakistan and said they did not see any security issue at Karachi and Lahore and they were being looked after in a nice way.

Lahore to host elite hockey event after twenty four years: Meanwhile, Lahore will host an elite international hockey activity after a long gap of twenty four years when the star studded World Hockey XI will take on Pakistan junior team in the second tie of a two-match series at National Hockey Stadium here Sundat. It was way back in 1994 When Pakistan hosted its last grand hockey event ,though little known teams like China and Oman visited Pakistan afterwards. China played a four test series in 2011 and Oman Under-18 team played a test series in 2016. Now after a long time, World XI, a galaxy of stars from top hockey nations, are on a visit of Pakistan to end the drought of international hockey in Pakistan which could not hold any high profile hockey event owing to security concerns. The World XI tour has been arranged by Pakistan Hockey Federation to revive the game in which Pakistan is struggling at international level, with no title in grasp, not even at Asia level.

The Daily Times


---

'Homecoming' for Bovelander

Mohsin Ali




LAHORE - Netherlands world class dragfliker (short corner) specialist Floris Jan Bovelander Saturday said it was being like homecoming as he was back to Pakistan after almost two decades and was highly thankful to Pakistan Hockey Federation president Brig (R) Khalid Sajjad Khokhar and his close friend and former rival Shahbaz Ahmed Senior for giving him this opportunity.

Bovelander , who was undisputed king of short corners said it's always been great to visit Pakistan as it is the century, where Holland managed to win its only hockey world cup. "I had managed to win in Lahore, it was not a happy moment for the hosts Pakistan as we managed to beat them but trust me, I along with my teammates were highly surprised to witness that despite Pakistan losing the final against Netherlands, the local crowd was supporting us. I had strong rivalry with one of the most decorated, blessed players Pakistan and world hockey had ever witnessed Shahbaz Senior. We were rivals on the pitch for more than a decade, but we had tremendous respect for each other off the pitch."

He said having witnessed Pakistan juniors playing against the international XI was a good feeling. "I can see, Pakistan have few good juniors, whom if properly trained and provided with international exposure, might go on to serve Pakistan hockey for decades as they are still very young. They played very well in the first 15 minutes and put much experienced International XI under enormous pressure, which was good to see. I had witnessed green shirts rise and also sadly they are not enjoying same success, which they used to enjoy during the Shahbaz era. Having said that, Pakistan team committed too many mistakes, which was expected, as they had not played against such professional players before and they are bound to learn with each passing day."

When asked what was the difference he had noticed between Shahbaz playing days and now and where he finds Pakistan team lack and whether he thinks Shahbaz and Brig Khokhar are the perfect ones who could take Pakistan hockey where it belongs. Bovelnder said he was not interacted with Pakistan hockey since long and he can't exactly say where they lack and what were the reasons behind their downfall.

"But on the whole when sports suffer there is naturally a sharp decline being witnessed in all sports not only hockey. There are lot of reasons, live telecast of matches is a major factor behind youth are not taking interest in hockey. While school, college hockey is also important to attract youth, I seriously think, as a former great Shahbaz is the man, along with a highly dedicated president Brig Khalid, who both look highly determined and want to take Pakistan hockey to new heights. In fact, I came to Pakistan just because of my friend Shahbaz. I found Pakistanis are highly passionate, although it was highly thin crowd present on the first match, but even then, when Pakistan team took lead there was awesome noise and crowd rose to their seats and there was clearly a sense of expectation. I am highly honoured that PHF inducted us to Hall of Fame, which is indeed a huge honour for me."

He said he was cherishing this moment being part of the international hockey return to Pakistan and he would love to help Pakistan hockey stand back to its feet.

He said he would definitely want to travel to this part again as he never felt any kind of security issue. He urged other international players to think about coming to Pakistan.

Bovelander admired the PHF for working on positive lines and said their efforts can bring desired resuts for Pakistan hockey.

"Pakistan hockey needs international help and I am ready to help Pakistan. They are really wonderful, loving people, I can see the generation, who had never seen me playing were so anxiously wanted to have photograph with me. The old people were also in the ground in such good numbers, slowly and gradually, if the matches were broadcast live or even on television regularly, it will help Pakistan hockey a great deal."

When asked about who was the best player whom he had played against, Bovelnder replied, undoubtedly Shahbaz was the best. "His dribbles, skills, goal scoring habit, he was the best I had ever played against. We had mutual respect and he is my best friend. Playing 10 years against each other all-around the world, we had always shared good moments.

He said he didn't think the lack of international hockey being played in Pakistan is the reason behind hockey decline. "I can see, if matches are shown on television, other city players will get huge boost. The people will have more chances of watching hockey and I feel, as the national game of Pakistan, hockey deserve more attention," Bovelander concluded.

The Nation


---

Telkom demolish Yobe Desert Queens in Cup opener

By BRIAN OTWAL



Telkom players celebrate a goal against Nigeria's Yobe Desert Queens in Africa Cup for Club Champions hockey tournament in Accra, Ghana on January 20, 2018. PHOTO | BRIAN OTWAL |  NATION MEDIA GROUP

Nine-time champions Telkom opened their title defence on a high with a 5-0 drubbing of Nigeria's Yobe Desert Queens in their first round of matches in Africa Cup for Club Champions hockey tournament on Saturday in Ghana.

The Kenyan champions, who are chasing a tenth African title, scored four goals through league top scorer Jackline Mwangi. Mwangi breached the Nigerian's defence in the 12th minute to score the first goal and returned to score again minutes later.

Audrey Omaido scored her first goal of the tournament and Telkom's third in the 50th minute in the match played at the Theodosia Okoh Hockey Stadium in Accra.

Kenyan international Mwangi then returned to score her third goal in the 51st minute. The talented striker was not done yet as she scored her fourth goal of the match and Telkom's fifth in the 59th minute.

"We followed what our coach advised us to do and we won. It's a good start for the team in our quest to retain the title we won last year," said Mwangi.

The victory was a big boost for Telkom coach Jos Openda's charges who were without defender Flavian Mutiva who picked an injury during training on Friday.
Related Content

Openda believes his charges can fulfil his desire to win the title without conceding a goal. "I am so happy with the ladies, they played so well and the frontline was so amazing. With this I know our target is still on and we shall go through with victories and clinch the title," said the coach.

It was however a tough outing for Telkom's compatriots Strathmore University who went down 4-0 to last year's finalists Ghana Revenue Authority. The students dominated the better part of the first quarter before conceding the first goal in the 26th minute scored by Ghana Revenue captain Monica Grant.

Fosua Emela scored GRA's second goal nine minutes later, with Vivian Narkuor scoring the third in the third quarter. Strathmore, coached by Meshack Senge, twice come close to scoring but ended up conceding a goal in the last quarter after Erstina Coffieein sounded the board.

"Ghana Revenue are an experienced side and my team is not quite experienced, which cost us in the match. We made mistakes in the match which we will correct in our next match against Telkom," Senge added.

In other results on Saturday, Ghana Police beat Kada Queens of Nigeria 4-1, to lie third in the women's standings with Kada Queens, Strathmore University and Yobe bottom without a point.

Telkom leads the women's standings ahead of Ghana Revenue Authority on a better goal difference.

Telkom takes on Strathmore in an-all Kenyan duel, Yobe Desert Queens play Kada Queens in an all-Nigerian affair, while Ghana Revenue Authority and Ghana Police face off in the women's fixtures on Sunday.

Police Machine of Nigeria play Trustees of SSNIT of Ghana, El Sharkia Club of Egypt battle Niger Flickers of Nigeria, while defending champions Eastern Company Club of Egypt play Ghana Revenue Authority in the men's Sunday fixtures.

Daily Nation


---

Gritty Telkom stun Nigerians

By Elizabeth Mburugu



Orange Telkom Ruth Njoki(l) protects the ball as Strathmore Jane Apondi give chase

Coach Jos Openda was delighted that his team had achieved their first target in the competition

20-time national champions beat Yobe Desert Queens of Nigeria 5-0 in Accra last evening.

Telkom started their Africa Cup Club Championships title defence bid on a high note with an emphatic 5-0 win over Yobe Desert Queens of Nigeria at Theodosia Okoh Hockey Stadium in Accra, Ghana.

Veteran Jackline Mwangi and Caroline Guchu bagged a brace each while Audrey Omaido netted once to give their side a fine start.

Telkom, who are eying a tenth continental title, oozed pure class outshining their opponents through the match. Telkom coach Jos Openda was delighted that his team had achieved their first target in the competition, noting there is room for improvement.

"We all wanted a good start and the girls really worked hard to ensure that we got what we wanted. A win in the first match is very important because it boosts confidence and also helps us gauge ourselves as well as our opponents," Openda said.

He said their aim is not just reaching the finals but to retaining the title. "Our main objective is to successfully defend our title hence the need to strive to win more matches and book a place in the final."

Determined to score early goals, Telkom settled in the match with a daring charge from the opening whistle. They were indisputably the strong side as midfielders and strikers dovetailed well upfront in hunt of their tournament's first goal in title defence.

The Standard Online


---

Defeat to Terengganu a wake-up call, says unhappy Nor Saiful

By Aftar Singh

KUALA LUMPUR: Tenaga Nasional coach Nor Saiful Zaini is all worked up after his side failed to score a single goal against Terengganu in the Malaysia Hockey League (MHL).

Nor Saiful could not fathom his side's goalless display and worse still, they did not even earn a single penalty corner in their 2-0 defeat to the East Coast side on Friday.

Prior to the blip, Tenaga were riding high after three impressive wins in the Premier Division.

Tenaga, led by an all-local squad, edged Universiti Kuala Lumpur (UniKL) 3-2, pulled off a 4-2 upset over star-studded Kuala Lumpur Hockey Club (KLHC) and upstaged TNB-Thunderbolt 3-1.

Nor Saiful said the defeat was a wake-up call.

"My players wasted a few chances and for the first time, we did not even score a single goal," said the former international, who was a penalty corner specialist.

"We failed to earn a penalty corner for the first time too. I'm upset with the players' performances."

Tenaga boasted a number of experienced national forwards like Tengku Ahmad Tajuddin Tengku Abdul Jalil, Muhd Firhan Ashaari and Muhd Shahril Saabah but they under-performed. Nor Saiful also expressed his concern over the inconsistent performances of his young players.

"The young players looked rather tired when playing in the fourth and last quarter. They have played three tough matches in a week and that has taken a toll on them," said Nor Saiful.

Tenaga's next match is against winless Maybank at the National Hockey Stadium in Bukit Jalil today.

Said Nor Saiful: "I want my forwards to be sharper in the semi-circle. We need to collect full points against Maybank to stay in the race for the league title."

Tenaga are second in the Premier Division with nine points in four matches while the unbeaten Terengganu are at the top with 10 points.

The Star of Malaysia


---

Skipper Fitri promises to deliver the goods despite sick son

KUALA LUMPUR: It's not easy to perform in the Malaysia Hockey League (MHL) when you have a sick child to worry about.

But Terengganu skipper Fitri Saari is taking that in his stride even though his seven-year-old son is suffering from chronic lung infection.

"My twin son Muhammad Adam Zafran has been discharged from hospital a few days ago. But he needs an oxygen machine to breathe," said Fitri.

"I'm worried about him. It's not easy to focus on a game when my mind is on my sick child. It's my prayer that he'll recover," said the hard-working national midfielder.

His other twin son Muhd Yusuf Zahran is fine.

On the field, skipper Fitri has promised to deliver the goods.

"We hope to maintain our good run in the Premier Division," said Fitri, who has 110 international caps.

Terengganu lead the six-team standings with 10 points from three wins and one draw.

They will be out to extend their winning streak against Universiti Kuala Lumpur (UniKL) at the National Hockey Stadium in Bukit Jalil today.

The Star of Malaysia


---

Dramatic day in Scottish Men's Indoor National League 1



Grove Menzieshill v Inverleith – Photo by Duncan Gray

It was a dramatic day on the road to the GALA Day in Men's Indoor National League 1. Grove Menzieshill and Dundee Wanderers from Pool A along with Inverleith and Bromac Kelburne from Pool B ended the day in the top positions, but there were a couple of surprises along the way.

POOL A

The day opened with perhaps the biggest upset of the Indoor National League 1 season to date, champions Grove Menzieshill lost their unbeaten record to Tayside rivals Dundee Wanderers, the result brought the two sides level at the top of Pool A.

It certainly looked business as usual when Gavin Byers opened for the champions in the first minute, and that remained the score at the interval.

The second half certainly belonged to Wanderers, they advanced into a 4-1 lead through Ewan Borland, Fergus and Elliot Sandison and Jack Fullerton. In the final minute Gavin Tomlinson pulled one back for Grove Menzieshill from a penalty corner, but Wanderers still had the final say with a belated strike by Bobby Ralph for a big 5-2 victory.

Both Dundee sides seemed destined for the semi-finals after Clydesdale were held to a 3-3 draw by Edinburgh University – the students' first point in the competition. A double penalty corner strike by Fraser Hirst put the Titwood-based side into a two goal lead, but by the interval Callum White and Tim Mueller had drawn the University level.

With three minutes to go Patrick Lonergan seemed to have given Clydesdale the three points, but the students were not to be denied and White again scored for a share of the points.

Wanderers then confirmed their semi-final status with a 5-3 win over Clydesdale in their second outing of the day. The Taysiders marched into a 3-1 lead at the interval, Fergus Sandison opened followed by a double from Bobby Ralph, Chris McFadden from a penalty corner reduced the leeway.

The three points were sealed when Elliot Sandison and Ralph for his hat-trick pushed Wanderers into an unassailable 5-1 lead, although Patrick Lonergan and McFadden again got a couple of late consolations.

Grove Menzieshill sprung back into life with a 7-4 victory over Edinburgh University, there was a hat-trick for Gavin Tomlinson, Cameron Golden got two while Mike Ross and Aidan McQuade got the others, Callum White scored a double for the students.




POOL B

It could hardly be tighter at the top of Pool B after Inverleith beat rivals Bromac Kelburne 8-7 to share pole position on nine points apiece, that was until the Paisley side fell 12-2 to Grange in their second match, leaving Stuart Neave`s side with a three point lead at the top.

The Edinburgh side took the initiative right from the start and advanced into a 4-0 lead with strikes from Patrick Christie, Kyle Taylor and a double by Stephen Dick. By the interval Kelburne had made slight inroads into the deficit with goals from Chris Caldwell and two by Jack McKenzie, but Stuart Hatton and Dick for his hat-trick had increased Inverleith`s tally to six.

Sean Stewart`s early second half strike increased Inverleith`s lead to 7-3, but that seemed to signal a Paisley comeback with a double from Josh Cairns and Caldwell again to reduce Inverleith`s advantage to only 7-6.

Stephen Dick was on hand to supply his fourth of the contest to make it 8-6, and although Ben Peterson scored again for Kelburne it was not sufficient to salvage the match.

Inverleith consolidated their position with a 9-2 victory over Hillhead in their second outing. A hat-trick from captain Patrick Christie and another by teenager Ewen Mackie gave the Edinburgh side a comfortable 4-1 lead at the interval, Euan Campbell got Hillhead`s consolation. The scoring continued unabated in the second half, Inverleith`s tally was augmented by a double from Stuart Hatton, Mackie got his second while Stephen Dick and Murray Fotheringham both found the net, with a single reply from Andrew Hilton.

It was certainly a good day out for Grange, they finished with an astounding 12-2 victory over Kelburne, and in the process launched city rivals Inverleith to the top of the pool. Captain Frank Ryan ran riot with six goals, Luke Cranney got a hat-trick while Alan Johnston and Callum Milne pitched in with one each.

Earlier in the day Grange saved themselves the embarrassment of the relegation play-off after seeing off Hillhead 9-5 in the bottom of the pool clash. The foundation of Grange`s victory stemmed from hat-tricks by both Luke Cranney and Alan Johnston while Ross Jamieson scored twice for Hillhead.

Dunfermline Carnegie promoted

Elsewhere, Dunfermline Carnegie secured promotion from Indoor National League 2 when they won both games today beating Dundee Wanderers 2s 4-1 and Western Wildcats 4-3. The team will play in Indoor National League 1 next year for the first time.

Scottish Hockey Union media release


---

USIU maintain dominance over University of Nairobi

By CELLESTINE OLILO



JKUAT's Elizabeth Okama (left) tussles with Amira Sailors' Yvonne Madowo during their women's Premier League match in Nairobi on January 20, 2018.

University of Nairobi's poor run continued yesterday as they went down 1-0 to USIU Spartans a men's National in the Kenya Hockey Union women's Premier League at City Park Stadium in Nairobi on Saturday.

This was USIU's second consecutive victory after they beat Jomo Kenyatta University 3-0 on Friday to complete a season double over their university compatriots.

Having risen to third place on the standings behind title winners Telkom and Strathmore, USIU are now firmly in contention of one of the two spots allocated for Kenya in this year's edition of the Africa Club Championship.

USIU had their talented Rhoda Kuria to thank for in both matches as she scored a brace against JKUAT on Friday and accounted for the sole goal in her team's 1-0 win over UoN.

Having conceded the least number of goals in the league so far, USIU were keen to protect their back and their mantra yesterday against UoN was to play aggressive and that's exactly what they did right from the start.

The Spartans started slowly and created very little in the opening minutes. However, they picked up the pace in the second quarter and began creating chances winning a couple of short corners.

Their breakthrough came in the 36th minute when a well worked short corner set up Mava Williams, who blasted the ball past UoN goalkeeper Quinter Okere.

On Friday, USIU were helped by Kuria's brace and Stacey Tumaini's 35th minute goal in their 3-0 win.

"The league title is gone now, but we are trying to finish in the best possible position. The two wins are a great boost for us now that the league is coming to an end," USIU coach Willis Okeyo said after the match.

In a men's National League at the same venue, Multimedia University crushed Karate Axiom 8-0.

Cyprian Andimu (22nd, 48th) and Moses Ademba (43rd, 46th). both scored braces asDanston Baraza, Dennis Mwanzia, Desdarius Ontisa, and Doram Juma struck once each.

Daily Nation