All the news for Friday 19 January 2018

Kiwis remain undefeated at Four Nations



Photo: www.photosport.nz

The Vantage Black Sticks have continued their winning run with an impressive 4-1 win over Japan at the University of Waikato Four Nations in Tauranga.

The result follows on from Wednesday night's 5-4 over Belgium to leave the hosts as the only undefeated team after two days of play in the series.

New Zealand made a solid start to the match but allowed Japan to snatch the opening goal against the run of play in the 14th minute with Kenta Tanaka getting the final touch on a ball across goal.

The Black Sticks levelled the score just out from halftime when George Muir swept home a loose ball from Nic Woods' penalty corner flick.

The hosts came out of the break with intent and poured the pressure on Japan who looked to be struggling to match the tempo.

Midway through the third quarter the Kiwis took their first lead of the match when Shea McAleese got the final touch on a penalty corner shot.

The Black Sticks pulled further ahead from a 49th minute penalty corner with Nic Woods executing the perfect drag fake for Arun Panchia to smash a forehand shot into the backboard.

Kane Russell iced a convincing performance with a rocketing drag flick with just three minutes remaining on the clock.

Head coach Darren Smith was pleased with the performance against a determined Japan side who battled until the final whistle.

"Japan came out of the blocks very well and showed some firepower which threw us off a little bit," he said.

"We made it tough for ourselves early on but in the second quarter things started to change and the second half was pleasing. It's great to put together our second win in a row against high quality teams.

"We're looking forward to our next match against India on Saturday. They're quick, skilful and have a great corner so it will be a good challenge for us."

Earlier in the evening Belgium powered to their first win of the series with a 2-0 result over India thanks to goals from Arthur de Sloover and Victor Wegnez.

Teams have a rest day tomorrow before getting back in action on Saturday with the Vantage Black Sticks facing off against India at 12:15pm and Belgium taking on Japan at 2:00pm.

Both tests will be streamed live and then available on demand through the Vantage Black Sticks Facebook page (facebook.com/nzblacksticks).

DAY TWO RESULTS - BLAKE PARK, TAURANGA

VANTAGE BLACK STICKS: 4 (George Muir, Shea McAleese, Arun Panchia, Kane Russell)
JAPAN: 1 (Kenta Tanaka)
Halftime: 1-1

BELGIUM: 2 (Arthur de Sloover, Victor Wegnez)
INDIA: 0
Halftime: Belgium 1-0

Hockey New Zealand Media release


---

McAleese eases the way for Black Sticks

By: Christopher Reive



New Zealand's Shea McAleese. Photo / Brett Phibbs

After upsetting tournament favourites Belgium 5-4 on Wednesday night, the Black Sticks have continued the Four Nations winning way against Japan.

A third-quarter goal from Shea McAleese gave the Black Sticks their first lead of the night, which they carried en route to a 4-1 victory at Blake Park in Mt Maunganui last night.

The win meant the Black Sticks were the last unbeaten team in the competition after Belgium beat India earlier in the day.

The Kiwi side went into the match with the favourites tag, ranked seven spots higher than Japan (16) in the world.

However, it was Japan who had the better start, stifling the Black Sticks' attack and working hard on the counter.

The New Zealand side were stunned in the first quarter when a fast attack from Japan saw them get on to the score sheet to lead 1-0.

It was a slow start for the Kiwi side as they looked to be trying to force plays when they had the ball.

They came in more composed in the second quarter and were rewarded just before the half-time break when George Muir got the last touch on a penalty corner to level things at 1-1.

The plan didn't change for Japan in the second half as they appeared content to defend for as long as required and try catch New Zealand off guard with counter attacks.

However, a reckless challenge midway through the period saw them lose a man to a yellow card and the Blacks Sticks made Japan pay.

The hosts went up through McAleese who, after a penalty corner play, was able to tap in from close range.

The Black Sticks added to their scoreline through Arun Panchia and Kane Russell, who also scored from penalty corners, to put the match beyond doubt.

The sides get a day off now, before the Black Sticks play India and Japan face Belgium tomorrow.

The New Zealand Herald


---

Black Sticks men beat Japan to make it two wins from two at Four Nations



Black Stick Leo Mitai-Wells battles with Japan's Genki Mitani.ANDREW CORNAGA/PHOTOSPORT

The Black Sticks have made it two wins from two at the Four Nations tournament.

They beat Japan 4-1 at Blake Park in Mount Maunganui on Thursday, following on from their 5-4 thriller against Belgium the night before.

Japan took an early lead through Kenta Tanaka near the end of the first quarter, but George Muir pounced early in the second to level the scores 1-1 at halftime.

Shea McAleese got the breakthrough shortly after the break to put the Black Sticks in front, and Arun Panchia and Kane Russell ran up the scoreline in the final spell.

The Black Sticks face India in their final round-robin game on Saturday.

India began the tournament with a 6-0 win over Japan on Wednesday, but went down to Belgium 2-0 on Thursday, setting up an intriguing finish, as three teams could yet finish with two-win, one-loss records.

The top two teams after the round robin play off for first on Sunday, while the bottom two play off for third.

The tournament is then repeated in Hamilton the following week.

Stuff


---

India's midfield, forward line guilty of sluggish display in defeat against Belgium

Sundeep Misra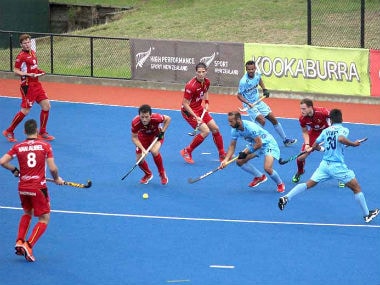 Indian hockey team in action against Belgium on Thursday. Image Courtesy Twitter @TheHockeyIndia

Consistency, that bugbear of Indian hockey raised its snarling head once again, as the national team went down 0-2 to the Olympic silver medallists Belgium at Blake Park in Tauranga, New Zealand. It wasn't that India were outplayed. But for a team that gets four penalty corners and an equal number of field attempts, not scoring isn't an aberration but a sin. Against a team like Belgium that controls the ball and play brilliantly, trying to create space and move with the ball becomes all that more difficult. In fact, this piece of stats would make the picture slightly clear–in the last 17 matches against Belgium, India has won only 4 and lost 13. Overall, the record stands at matches played 74 with India winning 46, losing 18 and 10 drawn. It also puts into perspective the rise of Belgium in world hockey. And the degree of difficulty India finds to break down Belgium in the midfield or the defence. For Belgium, the scorers were Arthur de Sloovers in the eighth and Victor Wegnez in the 34th minute.

It was apparent at the start that the Belgians were smarting from their 4-5 defeat against New Zealand on Wednesday. So the control against the stick-work of the Indians had to be impeccable. The first quarter was reminiscent in a way of the quarter-final played at the 2016 Rio Olympics where Belgium really pressed hard. They powered their way through the flanks, cut through the middle and kept pressing, waiting for errors. But in a match where the Indian midfield failed to ignite itself and a forward line that looked sluggish, the Indian defence stood solid and like a prize-fighter absorbed a good number of blows. PR Sreejesh made a couple of quick-silver saves but really couldn't keep out Sloover's reverse shot. The build-up was out of the ordinary. Arthur van Doren, Felix Denayer and Cedric Charlier played the ball and moved up with pace with the last pass  a flick into the striking circle from Charlier that set up the opening goal.

Even though India earned a penalty corner, it was Belgium who were doing the missing–Sreejesh saving a field attempt and then Simon Gougnard flashing wide. At the end of the first quarter, it seemed India would still wade into the contest.

India pressed hard at the Belgian defence in the second quarter but the cohesion was missing at the front. A Mandeep Singh cross couldn't be trapped in time by Satbir Singh while the Belgian defence scrambled to save India's second penalty corner. Wrong passes took the initiative away from India while Harjeet Singh needed to emphasize his presence in the midfield and not just look to knock the ball away. India's structure at the back was very good as the Belgians found it hard to go past Harmanpreet Singh and Surender Kumar. Towards the end of the second quarter, Ramandeep Singh racing down the left flank saw his reverse hit bounce off the cross bar. Belgium led 1-0 but India looked promising.

The third quarter started well with Satbir creating the third penalty corner but Belgium defended well. Not able to knock in the penalty corners does affect a team and India, even though they were pressing, but just not able to bring in the fluency. Belgium played unruffled. They held possession and rotated the ball throughout. If there was no space, they waited patiently for openings. And it came in the 34th minute when India gave Victor Wegnez the space that he even looked a little surprised at receiving. No Indian defender came forward to try and cut the angle as Victor easily had a couple of seconds to spot his corner and slam it in. The ball probably deflected off an Indian defender's stick leaving Sreejesh stranded. At 2-0, it was an uphill task if not an impossible one. Vivek Prasad had a plucky match and it was his cross that had Mandeep and Ramandeep diving yet not reaching the ball. Harjeet had a couple of good positions in the midfield but ended up with the wrong passes, letting momentum shift. India also wasted another, their fourth penalty corner as Belgium defended well. India had just one penalty corner battery as Rupinder Pal Singh was rested for the match. In the midfield, Harjeet needs to get hold of himself otherwise the 2016 Junior World Cup winning captain will never become the player he is meant to. Yet he has time and the Indian management would do well to steer him back onto the road he should be traversing.

Belgium wanting a win badly, also some sort of revenge for the quarter-final loss to India recently in the Hockey World League Finals, pulled players back. But it was also the reaction to India's constant pressing and playing up that made them close the gaps. India were scrambling as the captain Manpreet came forward, spraying passes all over the Belgian striking circle. Satbir interchanged from the left to right, desperately trying to throw off the Belgian defence. But the Red Lions rotated well and absorbed the Indian attacks with clean and robust tackling. India had a clear chance in the last four minutes when Mandeep moved in. But instead of passing to Ramandeep who stood in front, the tall striker took a wild shot that flew past the post. In fact, the wild heave in a way reflected India's play–erratic, mercurial, directionless, a rambling sort of performance.

Belgian captain Thomas Briels did say after the match that 'they held the ball much better'. "In the match against New Zealand (4-5), we didn't lock down the defence too well so today (Thursday) we had to play better and raise the game." Briels said. Looking forward, the Belgian captain hinted at some hard training in the rest of the year for the year-end World Cup in India. India now play host New Zealand on Saturday, a must-win match if they hope to enter the 4-Nation Final.

Firstpost


---

India lose to Belgium in Four Nations Invitational tournament



Indian men's hockey team , Twitter @HockeyIndia

The Indian men's hockey team failed to convert any of the four penalty corners and ended up losing 0-2 to Belgium at the Four Nations Invitational tournament at the Blake Park on Thursday.

Goals by S bastien Dockier (8th minute) and Victor Wegnez (34th) ensured Belgium stayed on top of the game.

Both teams played out an exciting first quarter, though it was Belgium who constantly tested the Indian defence, moving the ball swiftly while creating plenty of opportunities in the striking circle.

Their first big attempt came in the fourth minute when Belgian forward swiftly smashed a reverse hit to the post but goalkeeper PR Sreejesh, who is making a comeback from a long injury haul, made an impressive save.

Four minutes later, a circle penetration by Belgium saw Dockier demonstrate a classic reverse hit to put the ball into the post, leaving little chance for Sreejesh to save.

The 1-0 lead in the eighth minute put India on the backfoot. In the 12th minute, however, India found a golden opportunity to equalise when forward Ramandeep Singh won the team the first PC of the match, but the chance went begging, as the ball could not be stopped at the top of the D.

A compact Belgian defence slowed down India's attack in the second quarter. But relentless Indian forwards worked in packs as they kept up their hunt to find a successful penetration.

Seven minutes into the second quarter, India's moment to score was created by colts Armaan, Vivek Prasad and Mandeep who worked in tandem in front of the post forcing Belgian defenders to make an error.

The attempt resulted in the second PC of the match for India. However, Harmanpreet Singh's dragflick was defended by Belgium's first runner.

Minutes later, forward Ramandeep Singh made another foray into the Belgium circle, brimming hope of a conversion, but his nudge was high up, though Mandeep got a stick on it, the ball bounced off the cross bar. Belgium continued to lead 1-0 as the teams went into the half-time.

A strong circle penetration in the opening minute of the third quarter saw India win their third PC of the match, but Varun Kumar's drag flick was deflected by Belgian defender, denying India an equaliser.

Only minutes later, an error by the Indian defence was capitalised by Belgian Victor Wegnez who found the gap to put the ball into India's post to take his team's lead to a comfortable 2-0 in the 34th minute.

India, however, continued to fight with some gritty attempts. This time it was youngster Vivek Sagar Prasad, running into the top of the Belgian D and striking the ball across to the right flank, but a diving Ramandeep couldn't quite get a touch on the ball to deflect.

India later won their fourth PC of the match when Ramandeep's swift run-in through the midfield towards the striking circle forced Belgian defenders to foul.

A nice top of the circle variation though fetched no result as Belgians seemed well-prepared for it and denied India a goal with good defence.

The final quarter saw India push their limits in their attack, created a few good chances, but couldn t find a breakthrough.

India will take on New Zealand in their third match on Saturday.

Daily News & Analysis


---

Improved Hockeyroos Draw With Spain Again

Ben Somerford




The Hockeyroos have drawn 1-1 with Spain for the second straight match in their five-match Test Series at Warwick Hockey Centre on Thursday night.

Both sides traded goals in an exciting first quarter, with Grace Stewart opening the scoring on 10 minutes before the visitors replied almost immediately through Belen Iglesias.

Australia had a chance to re-take the lead when they won a penalty stroke in the second term but stand-in skipper Karri McMahon pushed her shot wide.

The experienced Jodie Kenny, who was playing her second game since returning to the national team after having her first child, said the Hockeyroos had improved from their scratchy opening 1-1 draw on Tuesday despite registering the same result.

Kenny said: "It was definitely a step forward which was a positive. There's a lot of things that we can do better, like score goals.

"We need to put it in the net and put away teams like this. I think it's about sticking those passes, basic skills and being efficient in the circle and punishing them when we get those opportunities."

Spain came closest in the first quarter, when Lola Riera shot wide, before Stewart finished off an excellent move for Australia in the 10th minute with a reverse stick finish after Gabi Nance's pass.

The visitors responded immediately, like they did on Tuesday, with Belen Iglesias firing home from an angle with her own reverse stick shot.

Australia won a penalty stroke two minutes into the second quarter, where McMahon beat Spain goalkeeper Melanie Garcia but not the post, firing wide.

Emily Hurtz spurned a great chance on 22 minutes after Stephanie Kershaw's steal in midfield, getting past Garcia but her fluffing her tomahawk well over the top.

Iglesias fizzed a shot wide before the break, while Carmen Cano also pushed a good chance off target in the 35th minute.

Australia responded with a series of their own chances, with Kenny denied from a penalty corner, while Nance's slalom run was halted at the crucial moment.

The Hockeyroos had a trio of penalty corners in the final quarter with Kenny's top corner shot which forced a good save from Garcia the best of the chances.

In her second game back, Kenny added: "It felt really great. I think I felt a bit nervous game one.

"It was my 187th game for me, but it felt like my first. This one I could settle the nerves and really enjoy it. It was great fun, but a pity we didn't get the win but a step forward."

The two sides will meet again on Saturday night at Perth Hockey Stadium, before the final official match on Sunday at Warwick.

Australia 1 (Stewart 10')
Spain 1 (Iglesias 11')

Hockey Australia media release


---

Pakistan face World XI in first game today




KARACHI: PTCL Hockey Cup 2018 trophy was unveiled in an impressive ceremony at Abdul Sattar Edhi Hockey Stadium Karachi here Thursday. To revive and promote Pakistan's national game, national and international hockey stars gathered to kick-start the five-day festivities. In this connection an all star World XI team will play two matches against Pakistan's national hockey team. During this event, two exhibition hockey matches will be played in Karachi and Lahore. The first will be held on January 19 (today) here in Karachi while the second will be held on January 21 (Sunday) at National Hockey Stadium Lahore.

In a first of its kind experience, players from Pakistan's hockey team will compete against a team of stars from all over the world, in an attempt to revive the sport in the country. "It is going to be a challenging experience, we have got just one day to talk and discuss the game," said Roderick Weusthof from the Netherlands, the captain of World XI side. Weusthof, who has a Champions Trophy gold medal to his credit, added that he's hoping for a competitive match against Pakistan. "We know that they are a good side," he said. Junaid Manzoor, the captain of Pakistan team, was equally excited to play in front of home crowd.

The Pakistan Hockey Federation (PHF) will also honour ten national and international hockey superstars with gold medals and induct them into Pakistan's first ever Hockey Hall of Fame. The Pakistan Hall of Fame will include Shahnaz Sheikh, Akhtar Rasool, Samiullha, Hassan Sardar, and Shahbaz Senior while the International Hall of Fame will be Paul Litjens (Netherlands), Floris Jan Bovelander (Netherlands), Christain Blunk (Germany), Don Prior (Australia) and Juan Escarre (Spain).

PTCL Chief Commercial officer Adnan Shahid said PTCL was proud to be a part of 'Hockey Hall of Fame World XI's Pakistan Tour'. He said the PTCL was aiming to support the PHF and hockey in future as well. "PTCL is playing its role in promoting sports in the country and we are humbled with the fact that we are contributing to revive the old glory days of hockey in Pakistan. Visiting of International players is a very positive sign. I am sure that more teams will come to play in Pakistan and this will help to take our national sport to the next level." PHF President Muhammad Khalid Sajjad said that after ten years hockey was going to be revived as Pakistan was the gateway to international hockey.

Teams:

Pakistan: Waqar Younis, Adil Rao, Rizwan Ali, Rehan Butt, Moin Shakil, Adeel Latif, Junaid Manzoor, Shahzeb Khan, Ghazanfar Ali, Afraz Hakeem, Umair Sattar, Naved Alam, Adil Rao, Amjad Ali, Owais Arshad, Rana Waheed, Ahmed Nadeem, M Illiyas, Waqar Ali, Zakiullah and Ibrahim.

World XI: Rob Reckers, Roderick Weusthof, Matthijs Brouwer, Hiddi Turkstra, Philip Meulenbroek, Phillip Burrows, Kyle Pontifex, Santi Freixi, Roc Oliva, David Alegre, Grant Schubert, Benni Wess, Justus Scharowsky, Augustin Bugallo, Nahuel Salis and Diego Paz.

The Daily Times


---

Visiting World XI players, icons vow to help in revival of Pakistan hockey

Anwar Zuberi



Foreign and Pakistani hockey legends pose with the Sindh Chief Minister Syed Murad Ali Shah and the PHF President retired Brig. Khalid Said Khokar after being inducted into the Hall of Fame at a local hotel on Thursday. Tahit Jamal/White Star.

KARACHI: The visiting World XI players and foreign Hall of Fame stalwarts have vowed to help in the revival of hockey in Pakistan and praised the country's contribution in the game during the past many decades.

"Pakistan's contribution in hockey is laudable and without parallel," said the foreign hockey stars at a meet the press session and the PTCL Cup unveiling ceremony of the two-match series held at the Abdul Sattar Edhi Hockey Stadium on Thursday.

The foreigners were delig­hted and acknowledged the overwhelming response from the print and electronic media.

Recalling wonderful memories from the past, world renowned penalty corner striker Paul Litjens of Holland said he is visiting Pakistan after almost quarter-of-a-century. "Pakistan is a nice country and I have had the honour of winning the PIA Champions Trophy at the Hockey Club of Pakistan Stadium way back in 1981," he told Dawn while standing on the blue and pink synthetic turf.

In a brief chat, the 70-year-old Litjens also recalled Holland's fantastic 3-1 victory over Pakistan in the World Cup final before a mammoth crowd at Lahore's National Hockey Stadium in 1990.

Admiring the rich contribution of the late Air Marshal Nur Khan and late Brig M. H. Atif, he said the former conceived the idea of World Cup and Champions Trophy which boosted the game tremendously.

Rob Lathouwers, who comes from a reputed family of hockey umpires from Holland and played a key role in materialising the World XI trip to Pakistan, said the team is a combination of players from half-a-dozen nations — Holland, Australia, Germany, Argen­tina, Spain and New Zealand.



WORLD XI captain Roderick Weustho (L), his Pakistan under-18 counterpart Junaid Manzoor, PHF chief retired Brig Khalid Sajjad Khokhar and PTCL CCO Adnan Shahid unveil the PTCL Cup on Thursday.—White Star

It is pertinent to mention that Pakistan's penalty specialist Sohail Abbas, who was supposed to lead the World XI, has expressed his inability to do so for some reason. "We've tried to contact him (Sohail) on his cell phone and WhatsApp him but in vain," Lathouwers said when asked whether Abbas is playing or not.

Roderick Weusthof of Holland has been named to lead the World XI in place of Abbas.

Lathouwers hoped that Pakistan hockey will be back on track in the years to come, possibly in three to five years.

Another notable umpire of the yore, Don Prior of Australia, and a former Dutch penalty corner specialist Floris Jan Bovelandar said "hockey and Pakistan can't be separated."

They hoped Pakistan will return back to host the foreign teams very soon besides improving their standard of play.

At the outset, the Pakistan Hockey Federation (PHF) President, retired Brig Khalid Sajad Khokhar termed the event "historic" and the first step towards reviving the game and ending the decade long embargo of foreign teams' visit to the country.

The PHF chief said he still remembers the words of a former FIH president who said "Pakistan is a gateway to hockey and no event can take place without them" when he called on the Punjab Chief Minister Shahbaz Sharif at Lahore in the recent past.

To a question, he said plans are afoot to organise a four-nation tournament at Oman, a venue allowed by the FIH, before the Com­monwealth and Asian Games later this year.

Asked that President Ayub Khan declared hockey a national game after the Rome Olympic victory in 1960 but no member of that team has been included in the Hall of Fame, Khokhar said: "It's a beginning and all celebrities will be honoured."

"We've included those players who are known by the new generation and will honour the stars from 1948 London Olympics till now with the passage of time," he added.

Answering yet another question, Khokhar said the country has a reserviour of great players and he had personally sent letters to them with a request to come on one platform and suggest ways and means for the betterment of the game.

The PHF president negated the impression that the Karachi Hockey Association (KHA) has not been taken on board. "The presence of the KHA secretary Haider Hussain is a true indicator."

Chief Commercial Officer of the PTCL Adnan Shahid hoped that the PHF's efforts would bore fruitful results in reviving and bringing back the past glory. He also welcomed the foreign players in Pakistan. Zakir Ali of Inverex, another sponsor of the event, also spoke on the occasion.

Flanked by the captains of the World XI Roderick Weusthof and Pakistan under-18 team Junaid Manzoor, the PHF chief unveiled the PTCL Cup amidst thunderous applause.

Also present on the occasion were PHF secretary Shahbaz Ahmed, vice-president Tariq Huda, former Olympians Shahnaz Sheikh, Hasan Sardar, Pakistan under-18 manager Qamar Ibrahim, Mansoor Ahmed, Iftikhar Syed, Nasir Ali and ex-international Safdar Abbas among others.

Dawn


---

Int'l matches in Pakistan to help revive hockey: PHF chief

PTCL Hockey Cup unveiled

Mohsin Ali




KARACHI - The PTCL Hockey Cup was unveiled Thursday in a ceremony attended by national and international hockey stars, who gathered to kick-start the five-day festivities.

The ceremony was graced by PHF president Brig (r) M Khalid Sajjad Khokhar, All-Star World XI team players, PHF officials and PTCL representatives. PHF chief Khokhar said that the Pakistan Hockey Federation (PHF) would also be honoring 10 Pakistani and international hockey legends for their services to the world of hockey . "Five Pakistani and five international hockey superstars will be presented with gold medals and inducted into Pakistan's first ever 'Hockey Hall of Fame'. The 'hall of fame' will include Shahnaz Sheikh, Akthar Rasool, Samiullah, Hasan Sardar and Shahbaz Senior, while the International Hall of Fame will comprise Paul Litjens (Netherlands), Floris Jan Bovelander (Netherlands), Christain Blunck (Germany), Juan Escarre (Spain) and Don Prior (Australia)."

Khokhar said the All-Star World XI team will play two exhibition hockey matches against Pakistan hockey team. "The first match will be played on January 19, 2018 at Abdul Sattar Edhi Hockey Stadium, Karachi while the second match will be played on January 21, 2018 at National Hockey Stadium, Lahore.

"The PHF appreciates the contribution of PTCL for revival of national game in Pakistan . We are working hard to promote the interests of Pakistan hockey , both in the country and abroad. We look forward to more support from other leading companies so that, together, we succeed in bringing back the glory days of our national game," he added.

PHF secretary Olympian Shahbaz Senior said: "Karachi has a great honour to produce a number of hockey legends, so that's why we have decided to host an international match here, which would not only give positive message to the entire world that Karachi is also a safe place to host international matches but also help revive international sports here."

PTCL chief commercial officer Adnan Shahid said: "PTCL is proud to play its part in an effort to revive the national game and bring international teams back to Pakistan . The matches will offer a new dimension to Pakistan team as they will play against the best that there is to offer by the world of Hockey . PTCL aims to support PHF and Pakistan Hockey in future as well."

Later, the national and international hockey legends were honoured during the 'hall of fame' awarding ceremony, where the nominated hockey greats were presented 'hall of fame jackets'.

Speaking on the occasion, Sindh CM Murad Ali Shah said that passion of PHF high ups is commendable and it will help in regaining past hockey glory. "Although Pakistan hockey has been going through tough times, yet the arrival of World XI players will prove to be a new hope for Pakistan hockey and help in reviving the national game in the country.

"Sindh has 11 world-class blue astroturf, the honour which no other province has and no one invested in hockey more than Sindh. We are also ready to fully cooperate with PHF for successful conduct of the hockey league, as we will provide financial assistance, venues, security and every possible facility to the PHF and national and international hockey players to make the league a success," he added.

The Nation


---

Footprints: 'This used to be my ground'

Shazia Hasan



THE Abdul Sattar Edhi Hockey Stadium has many fond memories for visiting international hockey legends who played here in their prime.—Photo by writer

"I REMEMBER when we beat Pakistan here. The crowd was so angry that they threw oranges at us," the veteran Dutch hockey penalty corner specialist Paul Litjens says while sharing a fond memory about the Abdul Sattar Edhi Hockey Stadium, formerly the Hockey Club of Pakistan. "The oranges went nicely with our kit shirts," he laughs.

Litjens is visiting Pakistan along with over 20 other old and new international hockey stars from the Netherlands, Germany, Australia, Spain and Argentina for the Hall of Fame and World XI Tour for which the younger players will play two hockey matches against the Pakistan XI side in Karachi (Jan 19) and Lahore (Jan 21) while the veterans, including former legends such as Litjens, Rob Lathouwers (Holland), Floris Jan Bovelander (Holland), Christian Blunck (Germany), Juan Escarre (Spain) and Don Prior (Australia), will be honoured and included in the Hall of Fame along with as many Pakistani greats, namely, Islahuddin Siddiqui, Hasan Sardar, Shahbaz Ahmed senior, Shahnaz Sheikh, Akhtar Rasool and Samiullah.

The international stars say they feel completely at home in Karachi, especially the ground. All of them mentioned the huge crowds they had witnessed here.

The ground sprinklers installed to keep the new blue artificial desso turf moist go off just then. "I have a very nice picture of myself under the water spray of the sprinklers here," says Floris Jan Bovelander, another penalty corner specialist from the Netherlands. "It was the Champions Trophy and we had lost to Pakistan. I was walking back down the ground towards the dressing room when the sprinklers here came on, and someone took my picture. I still have that picture. I like it very much," he says.

"There would be a very good crowd here in those days. I don't recall an empty place in the stands. It used to be completely packed. It has been some 20 years since then. The ground seems the same, except for the blue turf, of course, as it was green back then. It is an old stadium with lots of history. Pakistan hockey has great history, too," he adds.

Christian Blunck of Germany, too, shares some memories of winning against Pakistan in 1992 at the ground. "That was my first time in Karachi. The angry crowd threw whatever they had in their hands at us but we didn't mind. We understood that they were disappointed," he says. "I also remember riding a horse at the Karachi beach," he adds.

An international umpire of 158 matches, Rob Lathouwers also shares his memory of the stadium with Dawn. "It was in 1985 or '86 when I was umpiring a match between Pakistan and India here," he says before giving the result of that encounter. India won 3-2.

"I remember a very unhappy crowd that was absolutely furious. They had to get the Indian team out of there real quick. They also had to move out the Pakistan team before the crowd got to them, they were so mad. But they had no issues with us umpires. We were safe," he smiles.

Another international umpire, Don Prior of Australia says this is his fourth visit to the city. "I also umpired a match played between Pakistan and India here. Luckily, for me and you, Pakistan was the victor," he smiles.

"The crowd was incredible. I have never seen such a big crowd, not even in other countries. I always wanted to come back here," he says.

"I also umpired that 1994 Hockey World Cup in Sydney, which Pakistan won by beating the Netherlands," he says. "Most of the spectators there were also from Pakistan. It was the same during the Atlanta Olympics in 1996 when the most people coming to watch the field hockey matches were either Pakistanis or Indians," he says. "So there is an interest for hockey. There are people who still love the game here. They just need to watch exciting matches again to come out and watch again," he says.

When asked to be prepared not to find as big a crowd here on Friday, he says, and asks, "Yes, Pakistan hockey. What happened to it?"

In April of 2008, the stadium with which so many people associate the glory days of Pakistan hockey was stripped of its international status by the FIH, the world body of hockey, as it no longer boasted a practice pitch and a parking lot which happen to be standard FIH requirements for a ground for international matches. (The stadium originally did have a parking lot. But later on, the military built some apartment buildings there.)

However, not having a practice pitch and a parking lot is the least of its problems today. The two stands facing each other, and situated behind the goalposts, in the formerly 30,000 capacity ground are said to be in danger of collapsing anytime; therefore no one is allowed to sit there. Except for the blue turf, the stadium itself is in a dilapidated condition despite the annual Rs100 million grant the Pakistan Hockey Federation gets for it from the Sindh government to revive field hockey in the province.

Dawn


---

Pakistan must develop hockey infrastructure to regain past glory: Bovelander

Staff Report




KARACHI: Hockey legend Floris Jan Bovelander has suggested that a proper infrastructure and system should be developed for Pakistani players to improve the quality of the sport in Pakistan.

Bovelander, who is in Pakistan on an invitation from the Pakistan Hockey Federation (PHF) for the Hall of Fame induction, told media that reluctance to adopt changes in hockey is one of the reasons for the decline of the sport in Asian countries.

"Pakistan and India played same style of hockey. India noticed it 10 years ago and they are building their game for 10 years now. They picked up and they are back again. Pakistan should do the same, it will take a couple of years," he said.

The veteran, who has played 241 international matches, said that while Pakistan wanted to reclaim its former glory, the Pakistan Hockey Federation needed to do a lot of hard work to do so.

"Hockey is developing…some countries have come up while other have gone down," he said. "Hopefully Pakistan will pick-up again and become one of the better teams. I think the spirit is Pakistan is good and I believe that hockey is still alive here. To become a good solid top team there might be some changes that are necessary," he highlighted.

Emphasizing on the need to have proper infrastructure at the grass root level, the Atlanta Olympic gold medalist said the PHF should develop teams at different levels under the national team.

The former Dutch star also noted that Pakistan was not producing hockey heroes and that was the reason it had become difficult for people here to encourage youngsters to pick hockey.

He also highlighted the fact that hockey has changed in the last 30 years and Pakistan must catch up with steps taken by other countries to promote hockey.

The Daily Times


---

One Week Until USWNT vs. The Netherlands Series




PALO ALTO, Calif. -  In just one week the U.S. Women's National Team welcomes the FIH Hero World Ranked No. 1 The Netherlands to the West Coast. Both teams have a lot to prepare for in the coming months as they start their international calendars on a high note with the Vitality Hockey Women's World Cup London 2018 just around the corner.

USA Field Hockey hopes to see you at Stanford University in Palo Alto, Calif. to cheer on the red, white and blue each and every night of the four-game test series. Don't miss your chance to watch the anticipated matches. Secure your tickets today!

All tickets for the Saturday, January 27 game are sold out and all tickets in Section A for the Sunday, January 28 game are sold out. All other matches are trending in the same direction.

With a seating capacity of 500 and measuring more than 111,000 square feet, Stanford University's Varsity Field Hockey Turf surface is considered the premier surface. A 2009 renovation campaign featured the addition of lights to the facility.

Tickets start at $7 for children under 18, senior citizens and military, and $14 for adults (general public) for the grass/standing area (Section B). Tickets in the bleachers are $9 for children under 18, senior citizens and military, and $18 for adults (general public) (Section A).

There is an option to purchase full series tickets starting at $15 for (children under 18, senior citizens and military), $30 for adults (USA Field Hockey Members) and $35 for adults (general public).

Discounted group tickets will also be available for each game when 10 or more tickets are purchased for the same match. This is a great option for clubs, middle and high school teams, collegiate programs or any group of friends wanting to experience international field hockey competition together. Contact Glen Hollingsworth at This email address is being protected from spambots. You need JavaScript enabled to view it. with any questions or to purchase tickets for your group!

To help rally the crowd to be big, bold and loud throughout the four-game event, Theme Nights have been established. Click here to view the nights and join in on the fun.


All games will be live streamed on usafieldhockey.com.

USFHA media release


---

England women head to EuroHockey Indoor Championships II

England women head to Brussels for the EuroHockey Indoor Championships II taking place between the 19 and 21 January.

Alongside England in pool A are Sweden, Austria and Lithuania while Belgium, Croatia, Wales and Scotland are the sides in pool B.

England face Sweden in the tournaments opener at 9am UK time before taking on Austria at 4.10pm UK time on Friday.

They come up against Lithuania in their final pool game at 9.10am UK time on Saturday before the classification matches that afternoon with the semi-finals and final following on Sunday.

You can follow the matches on the FIH Match Centre

England Squad:

Esme Burge (Nottingham University)
Meg Crowson (Exeter University)
Kathryn Lane (Leicester)
Lydia MacDonell (Birmingham Students)
Olivia Paige (Birmingham University)
Miriam Pritchard (Loughborough Students)
Erica Sanders (Birmingham University)
Amy Tennant (East Grinstead)
Emma Trunks (Holcombe)
Alice Wills (Birmingham University)

England Fixtures:

19 January – England v Sweden 9am UK Time
19 January – England v Austria 4.10pm UK Time
20 January – England v Lithuania 9.10am UK Time

England Hockey Board Media release


---

World-class teams await Fulton's lads in Malaysia series
 
By Graham Hamilton



Class act: Sean Murray is valued by club and country

Ireland now know their opposition in the Sultan Azlan Shah Cup in Malaysia in two months time and it promises to be a high-powered tournament.

Craig Fulton's lads fly out to Ipoh in Malaysia at the end of February for the series which runs from March 3-11 and involves six nations currently in the top 12 in the world.

Although details have not been officially released yet, we can reveal the Green Machine will be facing World Cup champions Australia, World League champions Argentina, Asian champions India, current Azlan Shah champions England and hosts Malaysia.

That's high-quality opposition indeed but Fulton sees it as a chance to learn from the best teams in the world before they end up facing some of them in the World Cup finals scheduled for India in December.

A handful of those nations involved will be using the high-profile series to finish off their preparations for the Commonwealth Games which take place in Australia's Gold Coast in April, whereas the Irish are really only starting their build-up for the World Cup which is still many months away.

Fulton, who was part of a delegation that visited Tokyo on an Olympic venue tour earlier this month, has training camps arranged ahead of the Malaysian trip.

This includes a week in Spain from January 27 to February 4, and squads for both trips will be chosen in due course.

As usual, Ulster are likely to account for around eight players in the squads, with Lisnagarvey expected to supply a handful including midfielder Sean Murray who is having an outstanding season to date.

Meanwhile the EY Irish Hockey League resumes after its winter break with the four Ulster clubs all having crucial games on Saturday.

There's an Ulster derby at Strathearn where Annadale and Banbridge square up, with Bann wanting to start the new year on a winning note after what had been a disappointing end to 2017.

They find themselves in the bottom three when many expected them to be in the top three, but there are plenty of games to put that right.

However, a trip to mid-table Annadale isn't the easiest of starts after five weeks of inaction.

Second bottom Cookstown have a chance of climbing out of the trouble zone when they take on a Cork C of I team who have the leakiest defence in the IHL, having conceded 32 in their ten games to date.

Lisnagarvey have no relegation worries but they need to beat visiting Pembroke Wanderers if they are to stay in touch with top two Glenanne and Three Rock Rovers.

In fact they have a chance of narrowing the leeway,= as the Dublin rivals meet each other and so one or both will drop points.

The three top teams in the Ulster Premier League - Instonians, Bangor and Kilkeel - all have difficult away games as they try to open a gap on the other main challengers, Mossley, North Down and Belfast Harlequins.

Inst go to Harlequins with a 12.45pm start; the Seasiders go to Newry Olympic, and the Mournemen head to Civil Service.

Belfast Telegraph


---

Telkom eye 10th title

By BRIAN YONGA



Telkom Kenya players enjoys a light moment at City Park Stadium during their send-off by the firm Chief Executive Officer Aldo Mareuse on January 16, 2018 to the hockey Africa Cup for Club Champions that will be held in Accra from January 20, 2018. PHOTO | CHRIS OMOLLO |  NATION MEDIA GROUP

Telkom and Strathmore University Scorpions Thursday landed safely in Accra, Ghana ahead of Saturday's kick-off the 2017 Africa Cup for Club Champions.

The two Kenyan sides will come up against four other sides in the week-long annual competition.

The men's competition has also attracted six teams minus the Kenyan sides.

Strathmore University Gladiators and Butali Sugar Warriors had qualified to represent the country in the tournament but pulled out due to lack of finances.

The women's teams left the country Thursday at dawn for the six-hour flight to the West African nation.

Telkom, who are the defending champions, are going for a record 10th title and sixth in a row, while the Scorpions, silver medallists in 2014, will be aiming for their maiden title on their return to the continental showpiece after a four-year absence.

Telkom got a short in the arm after their mother company Telkom Kenya renewed their sponsorship to the team for another year to the tune of Sh12milion on Tuesday.

The sponsorship will cover the team's allowances, kit requirements and training throughout the year.

"We will have a light session today (Thursday) before the main action on Saturday, the squad is in high spirits and the target is to defend our title without conceding a goal," Telkom coach Jos Openda told Nation Sport via phone.

Telkom open their defence against Nigeria's Yobe Desert Saturday before taking on Scorpions on Sunday.

After Strathmore, Telkom, who clinched a record 20th Kenyan title last Sunday, will then play Nigeria's Kada Queens before clashes against hosts Ghana Revenue Authority (GRA) and Ghana Police.

The top two sides at the end of the round robin preliminary round will face off in the final. Telkom beat GRA 2-0 in the 2016 final held at the City Park Stadium in Nairobi last January to win their ninth title courtesy of goals from Jackline Mwangi and Terry Juma.

Scorpions face GRA in their first match before their clash with Telkom.

The students, whose best performance was silver at the 2014 final in Kampala, will then face Ghana Police, Kada Queens and Yobe Desert.

"We are eager to make our make on our return to the competition. We have a young squad who are hungry to win the title," Scorpions coach Meshack Senge said.

Daily Nation


---

Kampong honour Caspers, Jonker and de Wijn



©: World Sport Pics

SV Kampong honoured some of their major stars last weekend with a series of special presentations following their historic run of recent success, winning the 2016 EHL and the Hoofdklasse title in 2017.

Chief among them, long-time members Quirijn Caspers and Constantijn Jonker were made honorary life members of the club, a rare accolade. In the 115-year history of Kampong, only 30 people have been bestowed this particular honour.

Sander de Wijn was elected the multi-sport club's Athlete of the Year 2017 at the event, winning the title for the second time having also picking up the gong in 2012. He captained Kampong's championships winning side and was also part of the Dutch team who won the European Championships and the World League Semi-Final in the summer.

He was on a three person shortlist along with women's international star Malou Pheninckx, also winning the Euros and the World League Semi-Final as well as the World League Final.

Diederik Hageraats, from the club's football section, was also nominated after 12 years with the club's first team, scoring 111 goals in regular season competition.

Euro Hockey League media release


---

Five top clubs to pioneer new STICK project with European Commission



©: Frank Uijlenbroek / World Sport Pics

A consortium of five hockey clubs and universities are set to be awarded funding by the European Commission as part of the STICK project, sharing a fund worth €372,251.

The project was established by Atlètic Terrassa Hockey Club, in Spain, and the Universitat Autònoma de Barcelona. They have brought together five of the top hockey clubs across five EU member states, along with leading universities in partnership with their respective hockey clubs.

The funding will allow these clubs to facilitate high-level academic and sporting careers for students in the Erasmus+ exchange program.

The STICK project, funded by the European Commission through the SPORT action of the Erasmus+ program, aims to design a sports and academic exchange program within the framework of the Erasmus+ program.

It is part of the target to seek a solution to the difficulty of elite athletes to participate in Erasmus, without detriment to their sporting careers.

The project was selected in the autumn of 2017. Out of a total of 370 competing applications, the consortium was successful, along with 159 other applicants.

STICK will allow elite-athlete students to study at top universities, without sacrificing the world class playing and training environment that only top club hockey allows. The consortium has been awarded € 372,251 and will run for 2 years. The project is the first of its kind in European hockey.

The consortium of 10 partners comprises the following clubs and universities: Atlètic Terrassa Hockey Club, co-ordinator and promoter of the project, and the Universitat Autònoma de Barcelona; Beeston and Nottingham Trent University, in the United Kingdom; KHC Dragons and Universiteit Antwerpen, in Belgium; Pembroke Wanderers and Dublin City University, in Ireland.

A year on from Beeston Hockey Club's official twinning with HC Rotterdam, in the Netherlands, the project is also joined by HC Rotterdam and Erasmus Universiteit Rotterdam.

The STICK project, which lasts two years, will be initially focused on field hockey, as a pilot sport, but the ultimate goal of the project is to extend this model of academic-sports mobility to all sports.

In the long term, it is expected that the European Commission will implement this scheme of specific mobility for elite athletes and high performance in future programs.

Euro Hockey League media release


---

Line-up confirmed for ABN AMRO U14 EHL



©: World Sport Pics

The line-up for ABN AMRO U14 EHL has been finalised as six sides from around the continent look forward to an experience of a lifetime at HC Rotterdam at Easter.

The tournament features one Under-14 club team from each of the top six ranked nations on the EHL ranking list. Each club must be from one of the EHL qualified teams.

From the Netherlands, HC Bloemendaal won a three-team playoff to represent the Netherlands ahead of HC Rotterdam and two-time champions in the competition.

They get to play a tournament under EHL rules with the final day with final games being played in the main stadium for a memorable experience.

In Germany, HTC Uhlenhorst Mülheim were the highest ranked Under-14 team in October at the end of the German championship, earning their nomination.

The situation was similar in Belgium with Racing Club de Bruxelles the highest ranked team in the national championship in November at the end of their pre-Christmas series of games.

In Spain, Real Club de Polo won a three-team tournament against Atlètic Terrassa and Club Egara, held over three weekends of matches with each club hosting a round-robin series.

Wimbledon won a playoff match against Holcombe in December to earn the English ticket. In Ireland, Three Rock Rovers were nominated by their national federation when Banbridge did not advance to the KO16 and so will be the first team from the country to take part.

Last year in Eindhoven, Kampong and Mannheimer HC – cheered on by their club's first team – reached a memorable final with the Dutch club winning the final 4-1.

Euro Hockey League media release


---

Najmi urges slacking defenders to tighten up backline

By Aftar Singh



Counting on you: UniKL will be counting on Jeroen Hertzberger (left) to bolster their defence.

KUALA LUMPUR: Universiti Kuala Lumpur (UniKL) defenders must wake up from their slumber in the Malaysia Hockey League (MHL).

Conceding three goals in a spell of five minutes in the second quarter against KL Hockey Club (KLHC) on Wednesday clearly shows that their defence is in shambles.

But fortunately, UniKL fought back in the last quarter to snatch a draw.

UniKL's defence is marshalled by Jeroen Hertzberger. The other defenders are national player Muhd Najmi Farizal Jazlan, Kevin Lim and Baljit Singh Charun.

The Kangar-born Najmi, who had played for UniKL since 2013, said letting go three goals in a few minutes was bad for the team's progress in the league.

"We (the defenders) were "sleeping" during the period. We've never experienced such a situation in the last few years we played in the league," said Najmi.

"The defenders gave the KLHC forwards space to create chances and also score easily. We were also slow in clearing the ball from inside the semi-circle.

"It was a lesson well learnt. The defenders must be on their toes all the time. We also need to mark our opponents closely by not giving them the space to score," said Najmi, who has represented Malaysia 70 times.

The 23-year-old penalty corner specialist said he was not given the chance to take penalty corners in matches.

"I've played three matches and only managed to take one drag flick against KLHC. I failed to convert it. I hope to be given more opportunities," said Najmi.

UniKL are banking on Hertzberger to convert the penalty corners. He has been in top form as he has netted five goals – four from penalty corners and one field goal – in three matches.

UniKL are third in the six-team standings with four points from three matches. They face TNB-Thunderbolt at the National Hockey Stadium in Bukit Jalil today.

Added Najmi: "Thunderbolt may have a young team with an average age of 19 but they can give strong teams a good fight. They've scored in all their matches.

"We'll be cautious against Thunderbolt and hope to score first to put pressure on them."

Thunderbolt have three points from three matches. Their only win came via the 2-1 upset of former champions Maybank in the opening match.

The Star of Malaysia


---

Coach Sarjit wants Terengganu to end Tenaga's winning streak

KUALA LUMPUR: Terengganu coach Sarjit Singh has challenged his boys to end Tenaga Nasional's unbeaten run in the Malaysia Hockey League (MHL).

Terengganu face leaders Tenaga at the National Hockey Stadium in Bukit Jalil today.

Sarjit said his side had been shaping up well and had shown steady progress.

The locals have combined well with the foreign players and that has resulted in seven points from three matches for the East Coast team. They drew 2-2 with KL Hockey Club (KLHC) before outplaying TNB-Thunderbolt (6-2) and Maybank (5-1).

Said the former national coach: "My team has been performing well in every match and we're looking for another good result against Tenaga.

"We need to secure full points to stay in contention for the league title. But it's not going to be easy to get the better of Tenaga.

"Tenaga are in high spirits after three impressive wins. Their players give their best in every match. They also fight for every ball.

"They are fast on the counter-attack and deadly in the semi-circle," said Sarjit.

For today's match, Sarjit will be relying on the world's top penalty corner drag flicker Gonzalo Peillat and national forward Faizal Saari to deliver the goals.

Peillat and Faizal have scored in the last three matches and the dynamic duo are set to pose more trouble for Tenaga's national goalkeeper Mohd Hairi Abdul Rahman.

Hairi promised to fend off the two danger men.

"Terengganu have good forwards. We can't give away penalty corners and we need to play a tight game. We'll not allow them to end our winning streak," said Hairi.

Tenaga, powered by all locals, have secured full points in their first three matches.

Tenaga edged Universiti Kuala Lumpur (UniKL) – led by six foreign players – 3-2 before stunning star-studded KLHC 4-2. In the third match, they beat Thunderbolt 3-1.

The Star of Malaysia


---

Scottish Men's indoor National League 1 enters pool stage



Scottish Hockey Indoor Gala Finals 2017 – photo by Duncan Gray

The men`s indoor National League 1 championship enters the pool stage of the competition where some clubs are striving to qualify for the semi-finals, while others are equally anxious to avoid the dreaded relegation play-off.

Grove Menzieshill, unbeaten in the league, top Pool A with full points and look certain to be in the semi-final mix. They face their Tayside rivals Dundee Wanderers in the opening fixture of the day and will look to repeat their earlier 5-2 victory. The contest was over by half time that day as the champions raced into a three goal lead courtesy of Ross McPherson, Ben Cromar and Gavin Byers. The second half was more even with doubles from Grove Menzieshill`s Cameron

Grove Menzieshill then take on bottom side Edinburgh University in their second outing of the pool stage, and will be out to ensure another three points head for Dundee.

The race for second spot in the pool is clearly between Wanderers and Clydesdale, and they meet head-to-head to resolve the issue. The Dundonians hold a three point lead, courtesy of an earlier 5-3 win. However, it was a close affair for most of the contest, the scores were tied at 3-3 with only four minutes left. The final catalyst in the Wanderers triumph was a late double from Bobby Ralph.

But Clydesdale are not to be discounted, the Titwood-based side have had one of their better indoor seasons collecting nine points in the league with wins over Hillhead, Edinburgh University and Grange.

The semi-final line-up from Pool B looks certain already, what is still on the table is whether Bromac Kelburne or Inverleith will top the table and avoid Grove Menzieshill until the final.

Kelburne are favourites, they hold a three point lead following their 7-4 win on the opening day of the league programme. That day the Paisley side were on the ball and the new-look Inverleith outfit a little rusty, and the former were 4-0 up three minutes into the second half. Although the Edinburgh side recovered their composure for the rest of the contest, they were unable to salvage the proceedings.

Inverleith have won their last four league encounters with indoor internationalists Patrick Christie and Ewan Mackie in fine striking form. However, Kelburne have their own striking duo in the shape of Johnny Christie from open play and set piece expert Josh Cairns. So a high-scoring affair is in prospect this pool stage.

For the other sides avoiding bottom place in the pool and the relegation play-off is the agenda. Edinburgh University certainly look odds on for that spot in Pool A, but in the other group it looks to be a contest between Hillhead and Grange. The sides meet head-to-head in their opening encounter of the day, last time out it could not have been closer at six each, and so it is all to play for on Saturday.

Scottish Hockey Union media release


---

Helen Richardson-Walsh opens East London hockey pitch



Photo credit Kios Miah, Tower Hamlets' Council

Helen Richardson-Walsh, a gold medal winning Olympian pitched up along with John Biggs, Mayor of Tower Hamlets to open the council's new all weather hockey pitch in Mile End park.

The event took place at the newly completed all-weather floodlit pitch with coaching sessions delivered by East London Hockey Club for around 120  children between the ages of 8-14 yrs old from local schools.

To mark the occasion, John Biggs and Helen Richardson-Walsh cut a ribbon on the pitch to 'officially' open the pitch.

Helen described the pitch as 'a terrific facility' and she hoped it would inspire future Olympians to follow in her footsteps. Hockey has seen a 40% growth in people playing hockey in clubs since Team GB women won bronze at London 2012.

Helen Richardson-Walsh, who joined in with the children during their coaching sessions on the pitch, said:

"It has been a fantastic day meeting all the school children and seeing them all enjoying playing hockey despite it being freezing cold.

"After speaking to the coaches here they have said how the hockey is continuingly growing ever since London 2012 as people have been inspired by the national team to get involved. It was part of our team's vision to inspire a generation and it is great to see it in action."



Photo credit Kios Miah, Tower Hamlets' Council

Mayor of Tower Hamlets, John Biggs, said:

"I am delighted that we have invested in bringing a world class hockey pitch to the community.

"It's very important that we continue to grow sports activity in the borough and this is a great way to encourage hockey within Tower Hamlets.

"I would also like to thank East London Hockey Club for providing coaching as well as England Hockey and  PlayFootball for their support today.

The new pitch, part funded by The London Marathon Charitable Trust, was built during last summer and took three months to complete.  The Mile End Astro Project replaces the old astro pitch that was nearing the end of its usable life, with high quality 2G sand dressed astro pitch that meet current England Hockey Standards.

Cllr Abdul Mukit, Culture Member for Culture and Youth said:
"I'm delighted that Tower Hamlets has this new facility that can be used by local clubs, schools and community groups so that they can take part in a wide variety of sport and physical activity programmes.''

England Hockey Board Media release


---

Kelly Vanry accepted into Tokyo 2020 Emerging Leaders Familiarization Program




Last year, had anyone asked Kelly Vanry if she was expecting to go to the 2018 PeyongChang Olympics, she may have called them crazy. But the B.C. resident is now less than a month away from the experience of a lifetime.

Vanry, a touring manager with Field Hockey Canada, has been accepted into a most-unique professional development opportunity with the Canadian Olympic Committee. She and seven other representatives from Canadian national sport organizations will be heading to PeyongChang this February for the Winter Olympic Games as a part of the 2020 Tokyo Emerging Leaders Familiarization Program.

According to Vanry, she feels very fortunate to be included in the program and is looking forward to the opportunity. She said she'll be taking in the experience and trying to learn and improve herself along the way.

"I feel so excited and super lucky to be a part of the program," Vanry said. "…to be a part of this amazing program where I get a chance to go to the Olympics in PeyongChang and get a behind-the-scenes experience and really familiarize myself with what happens at the Games."

The program is designed to give potential 2020 team mangers and support staff the opportunity to experience the Olympic Games before they have to tackle it as staff. Vanry is in line to be the touring manager with Field Hockey Canada's Men's National Team should they qualify for the 2020 Tokyo Games. For Vanry, the opportunity to tour with the team has been a great experience and she's looking forward to more in the coming year.

"My favourite part about touring is hanging out with the players," Vanry said. "It's such a good energy, such neat people…I like looking after people, I love sport and I love hockey so it's a good fit."

The Winter Olympics takes place February 9-25, 2018 in PeyongChang, South Korea.

Field Hockey Canada media release