All the news for Friday 12 January 2018

Pakistan granted special spot in Champions Trophy

By Nabil Tahir



PHOTO COURTESY: ASIAN HOCKEY FEDERATION

KARACHI: Pakistan's national hockey team has been granted entry into the Champions Trophy by International Hockey Federation (FIH) president Narinder Batra after the request made by Pakistan Hockey Federation (PHF) president Brig (r) Khalid Sajjad Khokhar.

Pakistan were granted entry on the basis of the argument that they were not able to qualify for all the major events in 2018, which will halt the growth of the game in the country.

"As Pakistan were unable to qualify for all major events including the World Cup and Olympics, so Khokhar made a request to the FIH president Batra, who is also the former president of Hockey India, that Pakistan should be granted an entry in the Champions Trophy to help the team grow," PHF secretary Shahbaz Senior told The Express Tribune.

Outlining the terms of inclusion, Shahbaz said Pakistan will play as the seventh team in the event. "Pakistan needs to participate in international events to grow and this is one of those events where the top six teams of the world are available to play against," he said. "Normally it is a six team event, but Pakistan has been included as the seventh team courtesy a special request and will play against every team in the event."

The event is comprised of hosts Netherlands, defending champions and the Olympics, World Cup and World Hockey League winners. The remaining spots are be filled by the FIH executive board.

"Our team has enough time to prepare for the event and I am hopeful that we will be able to make a competitive team," said Shahbaz. "In the last Champions Trophy, we just had a month to prepare which was not enough, but this time we will be able to make a good team that will not only participate in the event, but will win matches as well."

The event is scheduled from June 23 till July 1 at Breda in Netherlands.

The Express Tribune


---

International hockey is coming back to Pakistan- and in a big way.

By Ijaz Chaudhry



Badar Refaie, the sports marketing man, is the main person behind it

World XI comprising stars from hockey's top nations will be playing two high profile matches against Pakistan's national team in Karachi and Lahore on January 19 and 21 respectively.

The main person behind the idea and the execution is Badar Refaie. He tells 'the World XI tour is a prelude to bigger things.'

Badar played first class cricket from 1976-80. He moved to the USA and stayed there to study and work. Bobby, as he is commonly called, represented the USA national cricket team for 12 years. Internationally acclaimed sports marketing consultant, Badar was PCB's marketing director from 2012-2015, and also worked as the Executive Director of the PSL; played a key role in the launching of this league. A dual Pakistan and US national, he also served as the executive secretary USA Cricket Association from 1998-2004 besides being involved in high profile projects to establish cricket in the USA including ICC's special project USA.

- What made you interested in hockey?

"In my time, all the cricketers played hockey and vice versa. I played hockey for my school team and also for a top notch club of Karachi.

Even after moving to the USA, my love for hockey remained intact. I was fortunate to witness that memorable final of 1984 Olympics in Los Angeles when Pakistan defeated Germany to win their last Olympic gold medal.

Hence, the decline of Pakistan hockey is very depressing for me.  I always desired to contribute in some way to revive our national game."

-It was the success of the cricketing venture that really lifted his spirits vis a vis hockey

"As you know, I was very much involved with the launch of PSL. The success of the league convinced me that a similar undertaking in Pakistan hockey is very much possible all the odds notwithstanding.  After leaving the PCB, I had returned to the USA; only the hockey dream made me come back.

In 2016, I presented the idea of the Pakistan Hockey League to the PHF. In the meantime, I got Transmedia interested in this venture. PHF launched the tender and Transmedia were the successful party.  We wanted to have the first edition of the PHL in Pakistan during October/ November, 2016. The foreign players had been contacted and the matters with the franchises were near completion. But the non-issuance of the NOC from the government was the stumbling block.

It is only recently that the government has finally given the go ahead."

- Bobby, the project director of the tour, is confident that the World XI visit would play a vital role in arousing people's interest in hockey before the all-important PHL

"That is the main purpose behind this short tour. It should serve as an appetizer for the PHL, and also help present Pakistan as a safe country for hockey. We have been able to rope in stars from almost all the top hockey nations of the day. The World XI has players, among others, from the Olympic Champions Argentina, World Champions Australia, European Champions Netherlands and the FIH 5th ranked Germany.

It is a wonderful blend. The three Argentines are young members of their current national team. Australian Grant Schubert has gold medals from all the big title events: Olympics, World Cup and Commonwealth Games. Three Dutch players have Olympic as well as European Championship medals. A fourth, the 19 year old Turkstra, played in the 2016 Olympics. Likewise, two Spaniards have Olympic silver and European gold in their trophy cabinet.
Phil Burrows is New Zealand's all-time top field goal scorer.

-How did you manage to assemble such a galaxy of stars?

"Despite country's unimpressive show for a long time, Pakistan and the sport of hockey are intractably linked. Pakistan's record of four World Cup victories is still unequalled. Then the charm of playing in world's biggest hockey stadium (in Lahore) is also an attraction. 

Unfortunately, hockey's diminished popularity means general public is not much aware of the present day stars of the game.

Hence, we arrived with the idea of the "Hall of Fame" event on the sidelines of this tour. During the first match in Karachi, five foreign legends will be honoured along with a similar number of Pakistani greats of the past. Among the foreigners, the names of Paul Litjens and Floris Jan Bovelander are still fresh in the minds of people from my generation. Many remember Bovelander as the man whose two penalty corner goals in the final of the 1990 World Cup in Lahore against Pakistan were instrumental in home country's 1-3 defeat.  Litjens held the world record for the most international goals (268) from 1982-2004 before our own Sohail Abbas came to own it.   Incidentally, Sohail, still active on the domestic front, will be a part of the World XI.

Spanish Juan Escarre is another one with fond memories of Lahore. As the captain of his national side, he hoisted the 2004 Champions Trophy – Spain's only Champions Trophy triumph.             

However, another legend doesn't have very good memories of Lahore. German Chris Blunck, was one of the players who flunked during the shootout of the 1994 Champions Trophy final against Pakistan; home side's last victory at the Champions Trophy. Nevertheless, he has an immortal status in game's history- 'Player of Tournament' at the 1992 Olympics when Germany won the Olympic gold after 20 years.                              

-There will be additional attractions especially for the youth

"To lure people especially the youth, music concerts featuring the most popular bands will be held before both the matches."

-Badar gives Transmedia a lot of credit

"I knew Rao Umar Hashim, Group Director TransGroup from my days with the PCB. Transmedia are the pioneers of sports marketing in this country. Apart from the PSL, for which they currently hold the marketing rights, the group has also been involved with the IPL, BBL, etc. Besides cricket, they have had stints with other sports. In hockey, it was the last Champions Trophy in Pakistan, in 2004. But today, it is different. In spite of the fact, that the World XI tour would be a commercial loss, the group has come forward to support the national game. Only motive is to bring back people who had left hockey grounds."

It will be after a very long time that the hockey lovers in Pakistan would be able to watch such an exciting ensemble of stalwarts in action. The tour should also serve as the catalyst for the PHL which in turn could lead to the revival of country's long lost hockey glory.

Ijaz Chaudhry writes on hockey & other sports. For more about him and his work, visit: www.sportscorrespondent.info  

Fieldhockey.com


---

Hockey World XI Aims to Revive the National Sport of Pakistan

#Bringbacktheglory

Sahar Iqbal

Pakistan Hockey Federation has announced a World XI hockey team tour to Pakistan, comprising stars from hockey's top nations. The two match series will be taken place in Karachi and Lahore on January 19 and 21 respectively. Globally recognized players from Germany, Australia, Netherlands, Spain, Argentina, China, New Zealand and Belgium will be touring Pakistan for a four day visit in a bid to revive international hockey in Pakistan.

Hockey is our national sport but has seen little progress in the sport as a whole and has seen no matches in recent years. From the glory days where Hockey was the main sport of Pakistan and produced some of the most coveted names like Sohail Abbas, the Hockey World XI tour aims to revive Hockey in the country with league matches to follow up later. Pakistan Hockey Federation's president Khalid Sajjad Khokhar said, "The foreign team, which is a blend of world's renowned hockey players, will be arriving Karachi and will play its first match at Abdul Sattar Edhi Stadium on January 19. Karachi's match will be played under lights and the match at Lahore will be a day affair."

The foreign team includes Kylie , David Alegre, Juan Escarre, Santi Freixa of Spain, Agustin Burgallo, Diego Paz, Roc Oliva of Argentina, Hidde Turkstra, Philip Muelenbroek, Roderick Weusthof, Rob Reckers, Matthijs Brouwer, Rob Lathouwers, Floris Bovelander of Netherlands, Benjamin Wess, Christian Blunck, Justus Scharowsky of Germany, Phil Burrows, Kyle Pontifex of New Zealand, and Grant Shubert.

A special function will also be held in Karachi to honor foreign and home players with their induction in the Hall of Fame. Talking about the event Mr. Khokhar said, "The prime objective of induction of players in 'hall of fame' is to develop a new culture in Pakistan hockey and to give recognition to those foreign and home players, who excelled in the game at the highest level," he said adding, "it will be a big step forward to motivate the youth to take up hockey as a sport and to revive the game in Pakistan."

PHF is hopeful that with friendly matches like these and the arrival of hockey players from all around the world, it will help bring back international hockey to Pakistan. And most importantly will instill confidence and hope in our national hockey players which right now is the need of the hour.

Fieldhockey.com


---

Smith: Spain Test Series Is 'Very Important' For Comm Games

Ben Somerford




Hockeyroos captain Emily Smith says the upcoming five-match Test series against Spain is "very important" as the group vies for spots for the 2018 Commonwealth Games on the Gold Coast.

Australia will meet world number 11 Spain from 15-21 January as part of the Hockeyroos' current training camp which got underway on Monday.

The Hockeyroos are building for the Commonwealth Games in April, where they will target their fourth straight gold medal.

"It's very important. This year has come around very quick," Crookwell product Smith said.

"The Comm Games is starting in April, so that'll be upon us very quickly. We have some quality games against Spain, which will set us up."

The 2018 Senior National Women's Squad was named in December with two spots still available and open to four players in Laura Barden, Kalindi Commerford, Ambrosia Malone and Jodie Kenny.

In addition, coach Paul Gaudoin is narrowing his focus on the final 18-member team for the Commonwealth Games, ensuring the training camp and matches will be intense with players desperate to impress.

"We've got a few extras over vying for a last two spots in our squad," Smith said.

"It's going to be a very competitive few weeks. There's a lot of pressure on everyone to put their best foot forward for Comm Games selection."

The squad only returned to full training in Perth on Monday, following a leave period where several players returned home.

"We were fortunate enough to have a decentralised program, so a lot of girls went back to their home states," Smith said.

"We still did conditioning, gym and some stick and ball, but not as intense as the daily training environment. We've all been smashing ourselves to get ready."

World number five Australia haven't played the Spanish since June's Hockey World League Semi-Finals in Belgium and Smith acknowledged they represented a bit of the unknown.

"They're a very skilful team. A little unknown as we don't play them that often," Smith said.

"They're outside the top 10, so we don't always play them at the major tournaments.

"Seeing them in the past, they're very skilful and don't give up, so we'll need to fight for the whole game."

The Test Series will not be streamed or broadcast. Fans can follow @Hockeyroos on Twitter for updates and the FIH Match Centre.

Australia v Spain Test Series #AUSvESP
Guildford Grammar Turf: 15 & 16 January (6:30pm WST)
Warwick Hockey Centre: 18 & 21 January (6:30pm WST)
Perth Hockey Stadium: 20 January (6:30pm WST) – tickets available at the gate
Tickets from $5

Hockey Australia media release


---

Australian Indoor Hockey Festival 2018 - U21 Championships Review

Alexie Beovich




A blistering U21's competition saw the New South Wales (NSW) Women and the Australian Capital Territory (ACT) Men take home gold in this week's Indoor National Championships.

The NSW Women duplicated their success from last year's tournament, successfully defeating Victoria (VIC) 6-1 in a dominant display on Friday afternoon.

The women in blue blitzed their way through to the gold medal match dropping just one game for the entire tournament.

Led by fantastic performances from Kiarra Marsh, Sarah Watterson and Rachel Divall, the team never trailed during the final match. Team NSW were able to pile on six goals before conceding a last minute penalty corner to Victoria.

NSW athlete Kiarra Marsh finished the competition ranked second for goal scoring with 11 tournament goals, falling just short of Queensland's Paige Schouw who had 14 goals to her name.

Team VIC proved to be a strong side throughout the tournament but were unable to match the offensive output of NSW in the gold medal match. Carly James led VIC's goal scoring tally with 9 goals for the tournament.

QLD defeated WA in the bronze medal match.

The Indoor National Championship saw NSW, VIC, ACT, Queensland (QLD) and Western Australia (WA) field sides.

Final Standings:


Individual Goal Scoring:


The ACT Men's team was able to come away with the goodies at Friday's gold medal match, defeating team NSW 6-2.

Despite a lopsided scorecard, the gold medal match was a thrilling contest. Both sides went into halftime tied 2-2 but ACT took advantage of the break and scored four unanswered goals to seal the win.

Jake Staines found himself on the end of some great balls and was able to score a second-half hat trick in a truly impressive display.

Fans were treated to an offensive show as the three top goal scorers from the tournament competed in the gold medal match.  NSW' own Brady Anderson finished the competition on top of the table with 12 goals to his name, while ACT's Ben Staines and Niranjan Gupte finished with 10 and 9 respectively.

Tasmania (TAS) defeated WA 2-1 in the bronze medal match.

Final Standings:


Individual Goal Scoring:


We're keeping everyone up to date with the action on and off the pitch through Instagram stories @HockeyAustraliaOfficial and Snapchat @HockeyAus so make sure you're following us!

#AusChampsHockey and #RightNowInGOulburn are the official hashtags of the tournament.

You can follow the games live at https://hockeyaustralia.altiusrt.com/or keep up to date with scores by following Hockey Australia on Twitter.

Hockey Australia media release


---

Wimbledon the team to beat at English indoor finals



©: Frank Uijlenbroek / World Sport Pics

Wimbledon, East Grinstead, Team Bath Buccaneers and defending champions Surbiton make up the final four in England's indoor Premier Division with the finals set for the razzamatazz of the Coperbox Arena on January 28.

Wimbledon topped the table and will face fourth-placed Team Bath Buccaneers in their semi-final, with East Grinstead and Surbiton playing each other in a bid to reach the final.

Wimbledon secured top spot when they beat Sevenoaks 5-2 last weekend, with England star Ed Horler hitting a hat-trick and Phil Ball (pictured) adding a goal in each half.

In their second game of the day, the southwest Londoners underlined their top form with a 6-0 defeat of Team Bath Buccaneers, Ball netting three more goals to take his tally up to 13.

There were no wins for Team Bath Buccaneers as their other game against Sevenoaks ended in a 4-4 draw, but they still finished fourth.

East Grinstead also secured a finals berth with two big wins, scoring 14 goals in the process. They opened the day against Reading, coming away with a 5-1 win. Wesley Jackson led the scoring with a brace while Ashley Jackson, Tijn Van Groesen and Ben Alberry all found the net also.

That result effectively ended Reading's slim chances of making the finals and they finished in fifth place after beating Loughborough Students 4-2. Goals from James Carson and Duncan Riddell made the difference with the game being drawn 2-2 at the break.

Alberry was then the star of East Grinstead's second game against Loughborough Students, hitting four goals in a big 9-3 win. Van Groesen also grabbed a brace, as did Simon Faulkner, with Jackson and Ross Stott were also on target.

Defending champions Surbiton finished third despite losing twice on Sunday. They suffered an early setback in a 5-4 defeat to Holcombe, with their opponents coming back superbly after trailing 3-0 at half-time, Dan Webster scoring twice.

It didn't get any better for Surbiton as they closed proceedings with a 8-5 defeat at the hands of seventh placed Brooklands MU. Scotland and GB star Alan Forsyth scored four but couldn't stop his side from losing as Stefan Ray-Hills hit a hat-trick for Brooklands.

Euro Hockey League media release


---

Peillat hopes to power Terengganu to Charity Shield

KUALA LUMPUR: The world's top penalty corner specialist Gonzalo Peillat wants to get his act right to help Terengganu win the Malaysia Hockey League (MHL) Charity Shield match at the Batu Buruk Hockey Stadium in Kuala Terengganu today.

It was tough luck for the Argentine in the final of the Tan Sri P. Alagendra Cup against Kuala Lumpur Hockey Club (KLHC) in Kuala Lumpur last Sunday.

He scored two goals – one penalty corner and penalty stroke – for Terengganu but two of his penalty corner drag flicks hit the crossbar .

KLHC went on to win their first Alagendra Cup in sudden death penalty shootout 4-3 after both teams failed to break the 3-3 deadlock in regulation time.

In the 2015 Charity Shield match, Terengganu lost to KLHC on their own backyard 5-6 in sudden death penalty shootout after both teams were tied 2-2 after regulation time. Terengganu were also beaten 1-2 last year.

The Star of Malaysia


---

Australian Govers blames it on bad luck for firing blanks

KUALA LUMPUR: Kieran Ian Govers is having the time of his life in his debut Malaysia Hockey League (MHL) season.

The former Australian international started with a bang by netting five goals to steer Universiti Kuala Lumpur (UniKL) to a 10-0 rout of Selangor in the first round of the Tan Sri P. Alagendra Cup last week.

The 29-year-old Govers also helped UniKL to reach the semi-finals for the first time in the Alagendra Cup.

Govers, however, failed to score in the next two matches against Petaling Jaya City Council (MBPJ) Tigers in the quarter-finals and Kuala Lumpur Hockey Club (KLHC) in the semi-finals of the knockout tournament.

When asked why he fired blanks after his five-goal feat in the opening match, Govers said that he was a bit unlucky.

"Great team play allowed me to convert. I scored in the second match (against MBPJ Tigers) as well but the goal was credited to another player.

"To be honest, it doesn't bother me if I don't score. As long as we win and play well, I'm happy. Scoring a goal is a bonus.

"It's going to be my job to try and score as I want to help my team win matches," said Govers.

UniKL open their league campaign against Tenaga Nasional at the National Hockey Stadium in Bukit Jalil today.

"As in any league, the opening match is going to be hard.

"We have to do better than what we displayed in the Alagendra Cup," said Govers.

The Star of Malaysia


---

Winning gold in CWG and Asian Games a realistic goal: Manpreet Singh

BENGALURU: India men's hockey captain Manpreet Singh if confident that the team can win gold at the Commonwealth Games 2018 and defend their Asian Games title later this year.

In a packed year for international hockey, India will participate in major tournaments including the CWG [Gold Coast], Asian Games [Jakarta] and at the World Cup [Odisha]. Under new coach Sjored Marijne, the team started well winning Asia Cup in October last year and then defended their bronze medal at the Hockey World League Final 2017 in Odisha in December.

"After the HWL Final [Odisha in December 2017], we recognised some of the areas that we were lacking in," Manpreet said on the eve of the team's departure for a Four Nations Invitational Tour in New Zealand on Friday. "We knew we can do better in defence, man-to-man marking in the circle and we did work on that in this camp. There is no doubt we are approaching this year with clear goals of winning in the CWG and defending our Gold Medal at the Asian Games. And it is important we convert our weaknesses into our strength before entering these major events."

India will play two separate five-day series against Belgium, New Zealand and Japan starting on 17 January 2018 at the Blake Park in Tauranga followed by five-day series at the Gallagher Hockey Centre in Hamilton that ends on 28 January 2018.

The 25-year-old feels the tour will put the young team, that also includes four uncapped players, in good stead ahead of bigger challenges. "It is always good to start the season with some good matches against top teams. We have Belgium in our pool in the World Cup this year and as many matches we play against them, the better for us. With teams like New Zealand and Japan in the fray, this tour will certainly help us in our preparations for the Gold Coast Commonwealth Games," he said.

Reflecting on the Hockey World League Final Manpreet said the experience of performing well against the likes of Australia, Germany, Belgium among others has instilled in them the belief that the can win against these top teams. "It was very important to do well against these tops teams in a big event. Earlier, somewhere at the back of our minds, we lacked the confidence that we can do well against higher ranked teams but now we don't doubt our abilities against top teams and play with the belief that we can win against them. We were the youngest team in the tournament and how we played instils new confidence in the minds of the youngsters," he midfielder said.

India start their campaign in New Zealand on January 17 against Japan at 10.15 IST.

The Times of India


---

I made a promise to myself: I will wear India jersey again, says PR Sreejesh

Rutvick Mehta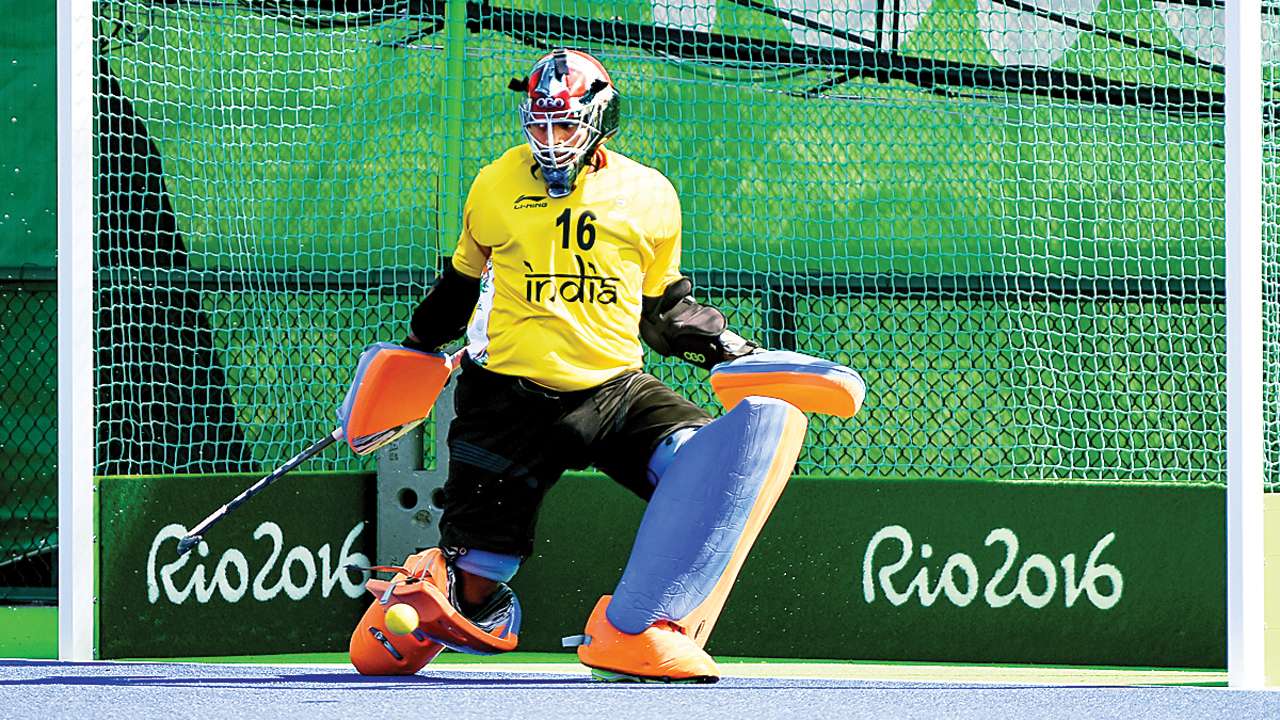 PR Sreejesh

A few days after suffering a ligament tear in his right knee in May last year, India hockey goalkeeper PR Sreejesh tweeted a picture with a caption, "My companion for next few months ..time for a break and a new beginning".His companion comprised a couple of crutches, an ice pack, a coffee mug, a playstation and some books.

However, somewhere in the midst of his eight-month long injury lay-off, India's star goalkeeper found another addition to the list: Open. Tennis legend Andre Agassi's autobiography.

That companion turned out to be an inspiration.

"I feel I chose the right book to read at the right time because Agassi had been through a lot in this career: best performance, worst performance, injury, breakups," Sreejesh tells DNA.

"That gave me an idea that even the best of the players have gone through these rough phases. But Agassi fought back, and at the end of his career, he became world No. 1 again by the age of 33.

"So I thought, 'if he can do that, why not me?' It gave me an inspiration that even I can come back and get back to the top of my game," he adds.

It is this belief with which Sreejesh, India's much-celebrated custodian for over a decade, is restarting his journey with the national team for the first time after May in the Four Nations Invitational Tournament in New Zealand starting from January 17.

Hit by the ACL (anterior cruciate ligament) injury, Sreejesh underwent a knee surgery in June in the hope of getting back to the hockey field again at some stage. ACL injuries can – and have – halted careers, but Sreejesh was adamant of not ending his career with those dreaded three letters.

He studied the injury and everything around it like a Class X kid before the board exams, as also the complexities of his muscles while he was on the long road of getting back on his feet.

"It was the toughest phase of my life," Sreejesh says. "I suffered almost a career-ending injury. Getting through the first phase of my injury was tough."

What kept him going, though, was a simple promise he had made to himself.

"I was desperate to get back on the field. I was desperate to get back into the national team. When I got injured, when I did the surgery, I made a promise to myself: I will wear the India jersey again.

"When I got back to my feet, when I lifted weights for the first time, when I trained for the first time, this promise was always there at the back of my mind. The motto to work hard and get back that India jersey never died in me," Sreejesh says.

And yet in the air of optimism, there were bound to be bouts of uncertainty, of whether Sreejesh can return as Sreejesh, the stubborn wall in front of India's goalpost that can be as daunting for any opposition to break down.

And probably for the first time in his booming and unblemished international career, the 29-year-old realised he had get back to the drawing board and erase the Sreejesh out of it.

"It was important to just stay in the present, analyse what is happening with you," Sreejesh says. "Not think about the past or the future. If you think more about the future, it will put questions in your head. If you think about the past, you will feel, 'oh, I was a star but now, I am nowhere'. That also brings a lot of negative energy. So, it's better to stay where you are now and think about what you can do now," he adds.

Staying in the present also meant Sreejesh was part of the team in spirit during every tournament and every game. He was tweeting frantically during almost all of India's games in his absence, giving his teammates instructions and motivation in less than 140 – now 280 – characters as if he were there in person.

"In or out, you're a part of the team and you want the team to win. That is why I was so active on social media. It was my way of motivating the team from sitting outside. You need to show some positivity from the sidelines and show the players that we're there to support you. It's important to stand by the team even if you're not playing," he says.

Sreejesh was out of hockey, but hockey was not out of Sreejesh. And the last eight months have shown that it can probably never be.

"This was a period in which I had to show myself how tough I am. I needed this to prove to myself more than anybody else," he says.

SREEJESH SPEAKS

On target of team in 2018 The target for every tournament is a medal. But, Asian Games is more important because it will give us direct qualification for the (2020 Tokyo) Olympics. World Cup is also a key event because we're hosting it and expectations will be high and we can't disappoint our home fans.

SREEJESH SPEAKS

On young goalies standing up Healthy competition is good for any team. It always helps us to improve ourselves, find our mistakes and ensure that we rectify them.

Daily News & Analysis


---

Fit enough to play at international level, says star hockey player PR Shreejesh



PR Shreejesh is coming back from eight-month injury lay-off. Photo Credit: Facebook/ShreejeshPR 

Former Indian hockey skipper and star goalkeeper PR Sreejesh, who is back in action following an eight-month injury lay-off, on Thursday said that he is now fully fit to play the game at international level.

The 29-year-old was forced to miss some of the key tournaments in 2017 due to a knee injury, which he sustained in the Sultan Azlan Shah tournament last year.

However, Hockey India has now recalled Sreejesh in the 20-member India squad for the Four Nations Invitational Tournament in New Zealand, starting on January 17.

Talking to ANI, Sreejesh said that the upcoming tournament would be a test period for him where he would try to analyze himself as well as improve himself for future.

"This four-nation tournament is going to happen in New Zealand. Eight-month is a huge break and what you are before and after the injury is different. So, it is a test period where I want to improve. This is the time for me where I want to analyze myself and to plan the future programmes," Sreejesh said.

The goalkeeper, however, insisted that he is up for the challenge.

"I think I am good enough now because I started jogging after two months of my injury. So, there was a good sign and then another three more months strengthening and some other trainings to improve my fitness levels. Now, I feel like I am fit enough to play hockey at international level," he said.

Sreejesh will be joined by young goalkeeper Krishan Bahadur Pathak who was member of the 2016 Junior World Cup winning team.

The team will be led by 25-year-old midfielder Manpreet Singh while Chinglensana Singh Kangujam will shoulder the responsibility of vice captain.

New inclusions in the team are forward Dilpreet Singh and midfielder Vivek Sagar Prasad who are rewarded for their promising performance at the 7th Sultan of Johor Cup last year.

India's defence features Rupinder Pal Singh, Harmanpreet Singh, Varun Kumar - all three will double-up as dragflickers. They will be joined by Birendra Lakra, Surender Kumar and Gurinder Singh in the defense-line.

The midfield will see skipper Manpreet Singh, Chinglensana Singh, Harjeet Singh, Nilakanta Sharma, Satbir Singh along with debut players Simranjeet Singh and Vivek.

India's attack will see Ramandeep Singh return to the team with young gun Armaan Qureshi, Dilpreet Singh, Mandeep Singh and Lalit Upadhyay.

Speaking about the squad for the tournament, Sreejesh said that the team is a perfect blend of young and experienced players before giving special emphasis to defender Harmanpreet Singh.

"The team is really good now and if you analyze the performances in the last two tournaments-Asia Cup and Hockey World League (HWL) Finals. Definitely, the team showed the consistent improvement. But still, I think we need to improve in a lot of areas. I think the youngsters are really putting efforts and they always try to give their best for the team and that is the positive sign.We have got a mixer of youngsters and seniors. I think more of the players have got 100 caps and that is a good sign for 2018. Especially, Harmanpreet Singh is a really talented player He has got some good skills for penalty corners. It is really important to play a key role in the team. He is an upcoming talent," he said.

India will compete with Belgium, Japan and hosts New Zealand at Tauranga and Hamilton in the four-nation tournament.

Times Now


---

A look back in time: The 2016 FIH Umpire of the Year awards




Last year's recipients of the International Hockey Federation (FIH) Umpire of the Year awards were Belgium's Laurie Delforge and Germany's Christian Blasch.

Both umpires proved they had what it takes to umpire at the top level when they took charge for the finals of the Olympic Games in Rio 2016. For Delforge, the Olympic final was a match between two European sides she knows well, Great Britain and the Netherlands; while Blasch took charge with South Africa's John Wright as Argentina played the Belgium Red Lions.

For Blasch, the award came after many years dedicated to umpiring at the highest level. He has been umpiring on the international stage since 1998 and has been a top level umpire since 2001. During that time he has been involved in three World Cups (2006, 2010, 2014) and four Olympic Games (2004, 2008, 2012, 2016).

Laurine Delforge is a relative newcomer to the hockey scene as she began her international umpiring career in 2012, having started umpiring seriously in 2008 – at the age of 18. Rio 2016 was Delforge's first Olympic appointment and she made history by becoming the first umpire debutant to take charge in an Olympic final. Delforge is also rare on the umpiring circuit in so much as she also plays top flight hockey, turning out for Belgium premier side Royal Antwerp Hockey Club and also representing her country at indoor hockey.

"My dad suggested that, since I seemed so confident about calling games, I should give umpiring a try. The thing is: I never say no when it comes to a challenge."
Laurine Delforge, FIH Hockey Stars Awards Umpire of the Year 2016

In an interview with the hockey website Self-Pass, Delforge said: "To be honest, becoming an umpire was never part of the plan. I started umpiring pretty much on a dare. As a player, I was often very upset by the umpires' decisions. Until the day my dad suggested that, since I seemed so confident about calling games, I should give umpiring a try. The thing is: I never say no when it comes to a challenge. So I took it on, aged 17, and I really enjoyed it."

Since they took centre stage at the 2016 Olympics and then were rewarded at the 2016 FIH Hockey Stars Awards, both umpires have found themselves representing their sport and their fellow umpires to a much larger extent. Blasch was recently called upon to comment in the newspaper, The Hamburg Abendblatt, upon the proposed introduction of video refereeing in football matches in Germany's Bundesliga, while Delforge most recently took part in an innovative online hockey conference, organised and facilitated by Belgium hockey website Hockey Today.

The quietly confident presentation from Delforge was titled "Hello from the other side," and gave great insight into the umpire's view of hockey, stressing the importance of great communication – verbal and non-verbal – as well as the importance of leaving all ego's behind then you step on the pitch.

Accepting the award last year, Blasch outlined how much it means to umpires to be recognised for the vital role they play in the game. He said: "It is the dream of any sports person to be involved in an Olympic gold medal match. Due to recent rule changes, hockey is a fast and entertaining sport, and for us as umpires it is sometimes challenging to keep pace with the development but it makes it so exciting to be part of the game."

#HockeyStarsAwards

VOTE NOW FOR THE PLAYER, GOALKEEPER AND RISING STAR OF THE YEAR!

IH site


---

Chris Pelow on a hockey career changed by cancer diagnosis: "You do think 'bloody hell, my life is over"

Chris Pelow looked set for a promising hockey career, before a throbbing pain in his foot changed his life forever.



Chris Pelow, right, taking on Lisnagarvey's Jason Lynch in November 2010. Pic: Adrian Boehm

Sydney University pre-season training is ramping up for the 2012 season; Chris Pelow takes a regulation bang to the foot. A week later, the dull throbbing has yet to subside.

The 24-year-old Dubliner asked a club mate, Damo Cunningham, a podiatrist, to have a look.

"He spotted something straight away and got me an MRI for the next day." Boom.

"That afternoon, they called me back and wanted me to see an orthopedic surgeon. This is kind of escalating." Boom.

"I saw the surgeon, explained a little of what had happened. Then, straight out, 'there's a lump in your foot; I don't want to startle you, but it could be cancer'.

"Thirteen days later, start to finish, the amputation came." Boom. "It was just boom, boom, boom; this is really happening."

He still doesn't know if that initial "ding" on the foot — or anything else — kick-started the cancer. The pace of events allowed little time for introspection.

"When I learned, in March, 2012, I was going to lose the leg, you do think 'bloody hell, my life is over'.

"You think, 'I am never going to play hockey again'; I started thinking about my last game for Corinthians, against Lisnagarvey, in the Irish Hockey League… knowing I won't experience that again.

"I am not going to get back into the Irish set-up… You look back and say 'what if?' It's only natural. But, unlucky as I was, I am still here."



Chris Pelow last week. Picture: Irish Examiner

Hockey was in the blood. Both his parents loved the sport; he got his first stick aged two. Trophies abounded, with Taney national school and then at Wesley College. He played in the first team with Corinthian Hockey Club midway through his teens, winning two Leinster senior cups.

By 2011, then 23, he had played at every underage international level and had developed through the Leinster panel, into Paul Revington's wider Irish senior set-up, a year out from the London Olympic qualifiers.

Such pedigree opens up opportunities. Australia came calling, with Sydney University offering grade-one hockey. The plan was to stay for a year; circumstance would keep him there for six.

Out of nowhere, two weeks in March, 2012, changed everything. One of Pelow's surgeons described it as a "one-in-a-million" situation, a synovial sarcoma — an aggressive form of cancer — that started in his foot and which had the potential to move up his leg.

Pelow, though, prefers to think he hit a one-in-a-million jackpot as a survivor.

Usually, sarcomas of this ilk affect either the knee or the hip.The speed from identification to amputation left him with his knee intact, keeping the possibility of a vastly increased range of movement.

More dramatically, doctors said they recommended amputation as soon as possible to save his life, illustrating Cunningham's quick, chance assessment of the situation.

"Every day longer, I was risking the cancer spreading further. The thing was, the pain was sore, but wasn't excruciating.

"We were a month out from the start of my second season in Sydney and I just wanted to get it sorted.

"I was playing sport at a high level. If I wasn't, I probably would have just left it. It was just niggly; I wasn't screaming my head off.

"I don't know what it was about it that Damian saw to say get an MRI. It was luck-of-the draw; another physio may just have given it a rub-down. It could have been a completely different outcome; I owe him a lot and a lot to luck".

But, again, the pace of events was good for his headspace, allowing him to "get it over and done with, rather than thinking about it, getting depressed".

His parents had to scramble to travel halfway around the world; costs were quickly incurred. The hockey community — worldwide, but close-knit — kicked in instantly; 17,000km apart, matching plans were underway.

The Friends of Chris Pelow fund — organised by Corinthian Hockey Club and Chris's schoolmates, Henry Micks and Irish international goalkeeper, Iain Walker — spawned overnight, raising €30,000.

That figure was mirrored in Australian dollars in Sydney. Chris is forever grateful for the fund: he has bought and adapted prosthetic legs, which can cost as much as €10,000 a pop.

"When it all happened, the support I got was phenomenal. From the Irish hockey community, north and south of the country. Since then, I always wanted to give people an update and I wanted to say thank you and maybe let me people know how I am doing."

His father, Ronan, in a passionate address to the crowd at half-time during the 2012 Irish Senior Cup final between Cork Harlequins and Railway Union, paid tribute to the close links.



In action for the Leinster senior team in the interpros. Pic: Adrian Boehm

"I can truly say, hockey connections saved Chris's life. From day one, his medical care has been in the hands of friends, fellow members of Sydney Uni. His surgeon, Sanjeev Gupta, was a past first-grade player, who now plays masters.

"Sydney University, together with you, the Irish hockey community, prove my long-held belief that nothing surpasses hockey as a sport and as a support structure."

Post-amputation, with his rehab advancing well, he entertained Paralympic thoughts: "Why not? I was a fit, strong guy."

He progressed reasonably well at rowing, for a year or so; he also looked at running, but the motivation to put in the individual hours was just not there.

"I didn't have that love or passion for it that you need to commit years to it. There were pressures from all sorts of other people and it would have been great to go, but to do something like that, you need to love it."

Coming back to playing hockey, though, took much longer to consider.

"I didn't want to get back into it in Sydney. I was happy coaching for a couple of years, but it took me a long time to get my head around playing again. I was used to being at such a high level."

When the cancer hit, Chris had only been a couple of months into a job with The Recruitment Company. They assured him his role was safe and their faith has been rewarded in spades.

When he planned a return to Ireland, earlier this year, The Recruitment Company offered the opportunity to open their first foreign office in Dublin. Being back in the bosom of his home club, in Whitechurch Park, meanwhile, gave him an itch to scratch.

Plenty of his contemporaries are still in and around the first team and he would take in their games in the Leinster league.

Davy McFeely — an old schemer in the club — saw an opportunity to get Chris involved. McFeely's persistence coaxed him to line out for the third team.



On the attack in the 2010 Mills Cup final. Pic: Adrian Boehm

Leinster Division 4, with the Corinthian club's third team is not the level of old. He did, however, get a level of satisfaction from "ripping in a reverse" into the bottom corner, against Railway Union.

"Everything is that little bit slower; I can't run as quick and the agility is not there. Physically, I can do everything.

"Being back, playing a couple of games, seeing guys from the Weston or Railway team coming up to you and saying its great to see me playing — guys I never met before — that has been special. I thought I would be more frustrated [with the level]!

"Now, it is good to be physically able to be back on the pitch and able to run around, pass the ball. That I can physically do that, I have got to be grateful for."

** This article originally appeared in the Irish Examiner

The Hook


---

All clear for KHU polls after court throws out petition

By BRIAN YONGA



Kenya Hockey Union chairman Nashon Randiek. PHOTO | FILE |  NATION MEDIA GROUP

Kenya Hockey Union (KHU) is free to hold its elections this Saturday after the High Court on Thursday dismissed a case seeking to stop the polls.

Hockey Kenya Federation (HKF) had on Monday obtained a temporary injunction to stop the Annual General Meeting.

Through its vice chairperson George Jalang'o, HKF is contesting the validity and mandate of the Kenya Hockey Union as the representative body for the sport in the country.

Jalang'o wanted the court to stop Saturday's AGM and compel KHU to provide its audited financial reports of 2013 to date, full list of registered office bearers and a copy of its constitution.

While dismissing the petition yesterday, High Court Judge, Joseph Sergon ruled that HKF failed to establish sufficient grounds to have Saturday's AGM stopped.

Sergon sided with KHU, which argued that Jalang'o not been a member or official of the body was not entitled to be given the documents he had asked for.

"The applicant has therefore failed to establish a prima facie case to be given the orders and in the end I find the motion to be without merit. It is dismissed with costs to the interested party (KHU)," read Judge Sergon in his ruling Thursday at Milimani.

KHU represented by Sports lawyer Edward Rombo, argued that stopping the AGM would seriously inconvenience it, having spent huge amounts of money in preparing for the meeting which will bring together delegates from across the country.

The ruling is a blow to HKF, which two years ago had a petition filed at the Sports Disputes Tribunal seeking to have KHU declared unlawful also thrown out.  The court's ruling now paves way for Saturday's elections at the Parklands Sports Club.

The elections have twice been postponed due to various reasons with the four-year term of the current office having expired last month.

The election were due to be held on October 28 but were postponed due to the Africa Cup of Nations which were held In Ismailia, Egypt from October 22-29. They were then pushed to December 16 only to be postponed to allow affiliates time to hold their elections.

A total of 19 candidates will battle for the 10 positions in the polls which will be overseen by Center for Sports Law.

KHU chairman Nashon Randiek, who was elected unopposed during the last election in 2013, will this time have an opponent in Nairobi Hockey Association's Inderjit Singh Matharu, a former Kenya international and Olympian.

Daily Nation