All the news for Friday 29 December 2018

Stralkowski and Otte complete German indoor panel for World Cup



©: Frank Uijlenbroek / World Sport Pics

Uhlenhorst Mülheim's Thilo Stralkowski and TG Heimfeld's Alexander Otte were the final two names added to the German men's squad named for the Indoor World Cup which will run from February 7-11 in Berlin.

National coach Stefan Kermas had already named ten players in November before finalising his panel with two vastly experienced indoor specialists.

The panel also includes Rot-Weiss Köln's Mats Grambusch, Marco Miltkau and Christopher Rühr, Mülheim's Ferdinand Weinke and Mannheimer HC's Dan Nguyen Luong who are all likely to play in the EHL KO16 at Easter.

Also involved are Tobias Walter and Mark Appel in goals, Berliner HC's Martin Häner and Martin Zwicker and HTHC's Tobias Walter.

Kermas said of the squad: "This is a harmonious mix and we are well prepared for different opponent systems and we will be able to create a lot from our own possession. Fabian Pehlke will be available as a replacement in attack. We will decide on further scenarios, should injuries occur."

Otte has twice been part of a German European indoor championship squad and the 2015 World Cup team that won bronze in Leipzig, top scoring with 19 goals.

Stralkowski has also been a long-standing outdoor member of the Honamas squad, winning Olympic gold in 2012 in London and at the Europeans in 2011 and 2013.

Indoors, he was part of the 2011 world champion German side and European victor in 2012. He scored 14 times in the 2015 Indoor World Cup.

For January's European Championships, Germany have named a completely different line-up. Mannheim's Niklas Garst will be one of the goalkeeper's with Teo Hinrichs also in the line-up. Mülheim's Malte Hellwig is another EHL-bound player involved while the side will be led by the experience of Moritz Fürste and Linus Butt.

Euro Hockey League media release


---

Semi Final Lineup decided at the Nationals

After the last day of the Super Round of the 64th National Hockey Championships at Peoples Hockey Stadium, Sukkur, semifinal line up has been decided.

The two semifinals will be played on Saturday.
National Bank vs Navy at 6:00 PM
WAPDA vs Sui Southern Gas Company at 8:00 PM

Unfancied Navy have been the surprise package .

They defeated defending champions PIA and remained unbeaten in the Super Round to deservedly claim a place in the last four.

On Thursday:
-Navy drew Fauji Fertiliser Company 1-1
SCORERS:
Navy: Mohammad Sabir
FFC: Khairullah

Recently raised FFC made a good impression on their maiden appearance at the National Championships.

They made it to the Super Round. Though they failed to qualify for the
semi final but performed well in every match of the Super Round.

-National Bank defeated Customs 4-1
SCORERS:
National Bank: Faisal Qadir, Aamer Ali, Attique Arshad & Dilber
Customs: Munawwar

The two provincial sides continued to be the whipping boys here.

-PIA defeated Punjab 5-1
SCORERS:
PIA: Nasir Ahmed 2, Shafqat Rasool 2 & Mohammad Ali
Punjab: Jahangir

-Sui Northern Gas Pipelines Limited defeated KPK 9-1
SCORERS:
SNGPL: Ghulam Abbas 3, Samiullah 2, Ayub 2, Dawood & Rana Waheed
KPK: Safian Khan

PHF Media release


---

Pakistan Hockey Federation invites FIH president Narinder Batra for World XI matches



File photo of Narinder Batra. Getty images

Karachi: The Pakistan Hockey Federation has extended an invitation to FIH president Narinder Batra to visit Karachi and Lahore next month for the matches to be played by a visiting international eleven side.

"We are inviting heads of different hockey federations and we have extended a special invitation to the FIH President, Narinder Batra to visit Pakistan," PHF secretary, Shahbaz Ahmed told PTI.

The International CI is due to reach Karachi on 18 January and play one match against Pakistan eleven the next day and than one more match on 21 January in Lahore.

To create hype and symbolise the visit by the international eleven side, the PHF has also invited several hockey legends from different countries for the matches.

"If the FIH President comes it will give a big boost to hockey in Pakistan because he belongs to India and headed Hockey India as well," Shahbaz said.

PHF President, Brig (retd) Khalid Khokar said PHF also wanted to invite former Indian greats, Dhanraj Pillay and Pargat Singh as special guests for the matches but have been told to contact the two directly.

"I don't know whether we will now have enough time to get visas and clearance for Pillay and Pargat but we want to show the world via the International XI matches that Pakistan is a safe and secure country for international teams to visit the country for matches."

Pakistan hockey at present is in the doldrums and languishes at number 13 in the FIH world rankings.

FIrstpost


---

Pakistan's invitation to Sultan Azlan Shah Cup revoked

KUALA LUMPUR: It's a sad day for Asian hockey solidarity – Pakistan's invitation to the 27th edition of the Sultan Azlan Shah Cup has been rescinded.

Asian Hockey Federation chief executive officer Tayab Ikram and Perak Hockey Association secretary M. Selvakumaran confirmed the rescindment yesterday but gave no reasons for it.

It was only a few days ago that Pakistan were invited for the tournament. The hockey powerhouse's presence was expected to create more excitement for the Sultan Azlan Shah Cup, a yearly tournament giving Asian teams the chance to play against world-class sides from Europe and other continents.

Pakistan's absence means only six teams – world No. 1 Australia, Argentina (No. 2), India (No. 6) England (No. 7), Ireland (No. 10) and Malaysia (No. 12) – will be in the fray.

The tournament starts from March 2-10 at the Sultan Azlan Shah Stadium in Ipoh.

Malaysia are also using the tournament to prepare for the Commonwealth Games in Gold Coast, Australia, from April 4-15, where they are drawn in Group B with India, Pakistan, England and Wales.

Group A comprises Australia, New Zealand, Canada, South Africa and Scotland.

The Star of Malaysia


---

Tenaga still aim to blitz into top three even without suspended Kumar

By Aftar Singh

KUALA LUMPUR: Tenaga Nasional are still eyeing a top-three finish in the Malaysia Hockey League (MHL) despite the absence of Malaysia's top hockey goalkeeper S. Kumar.

Tenaga coach Nor Saiful Zaini admitted they would sorely miss the 38-year-old Kumar – provisionally suspended for two years after testing positive for banned substance sibutramine after an Asia Cup hockey match in October – who's rated as one of the world's best keepers.

Kumar has waived a B sample test and will be given hearing in January.

"A top-three finish is still possible without Kumar. But it'll be a challenge playing without a sea-soned campaigner like him," said Nor Saiful.

Mohammad Hairi Abdul Rahman will replace Kumar as Tenaga's keeper.

"I hope Hairi is able to step in for Kumar. It's also time for him to prove himself in the MHL and win a regular spot in the national team," added Nor Saiful.

Hairi is among 24 players in the Podium Programme of the national hockey squad.

Nor Saiful, a former Malaysia captain, said Tenaga would continue to rely on local players to lead their challenge in the MHL.

"We've roped in two national players to beef up our strike force."

Tenaga have welcomed on board forwards Tengku Ahmad Tajudin Tengku Abdul Jalil and Mohd Firhan Ashaari. The duo featured for Terengganu in the past few seasons.

Tenaga have also included six players from the Project 2020 squad – goalkeeper Muhammad Hamiz Mohd Ahir, defender Syarman Mat Tee, midfielder Shello Silverius and forwards Muhammad Noor Firdaus Rosdi, Mohamad Akhimullah Anuar Esook and Muhammad Azrai Aizad Abu Kamal.

The MHL kicks off on Jan 3 and Tenaga will face Maybank in the Tan Sri P. Alagendra Cup opener at the National Hockey Stadium in Bukit Jalil.

Tenaga finished fourth in the eight-team Premier Division this year. They were knocked out of the Tan Sri P. Alagendra Cup after losing 3-2 to Kuala Lumpur Hockey Club (KLHC) in the first match.

The Star of Malaysia


---

Kurukshetra beat Rock Rovers 5-2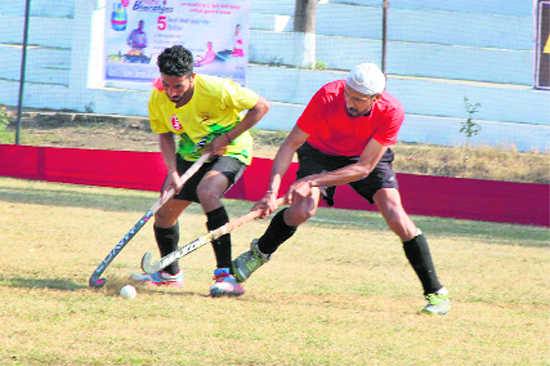 A match in progress during the 42nd GS Bains Liberals All India Hockey Tournament at Nabha on Thursday. Tribune photo

SAI Kurukshetra thrashed Rock Rovers Chandigarh 5-2 to enter the quarterfinals of GS Bains Liberals All India Hockey Tournament being played at the Government Ripudaman College.

The Kurukshetra lads took time to settle down before taking control of the proceedings. Vishal struck in the 25th minute to make it 1-0.

Rimanshu made it 2-0 in the 30th minute. The Kurukshetra lads went on the rampage after the interval with Rimanshu and Akash scoring goals in the 37th and 43rd minute, respectively.

Rock Rovers scored two goals through Harpreet Singh (52nd min) and Gaurav Tokhi (57th min) to reduce the margin (2-4).

The Kurukshetra lads rounded off the tally (5-2) with Mander scoring the last goal of the match in the 61st minute.

Punjab Police win

In the second match, Punjab Police beat minnows Green Chillies XI (7-0) to enter the quarterfinals.

Green Chillies had no answer to the superior stick work of the cops and conceded five goals before the half time. Amit Sandhu struck twice (2nd and 7th min).

Jasjit Kular and Ajay Kumar scored in the 15th, 16th and 32nd minute to put pressure on the opposition. Punjab Police added two more goals through Varinder (49th min) and Amit Sandhu (51st min) to accomplish a 7-0 win. Punjab Police next take on EME Jalandhar in the quarterfinals.

The Tribune


---

Following a Training Camp, Five Athletes Added to the 2018 U-21 USWNT




COLORADO SPRINGS, Colo. – After a final training camp weekend of the year and a trial opportunity for athletes identified during the college season, U.S. U-21 Women's National Team Head Coach Phil Edwards has added five athletes to the squad for 2018. Kelee Lepage (Honey Brook, Pa.), Madison Maguire (Rumson, N.J.), Jenny Rizzo (Hershey, Pa.), Rachel Robinson (Mount Joy, Pa.) and Cassie Sumfest (Lewisburg, Pa.) will get the chance to wear the red, white and blue in the coming year.

"It was a productive camp overall and really got the 2018 program up and running in the manner I had hoped for," commented Edwards. "We were able to introduce some new training ideas that I felt the group got to grips with very well and that bodes well for future camps. Some key principles were covered on the field and some important standards off the field were set by the team. We obviously hoped to add to the existing squad from those identified during the college season and were able to do so in the form of five excellent young players. In the case of Jenny and Kelee we welcome them back to the group following their involvement last year. For Madison, Rachel and Cassie this is their first time in the U-21 program and I look forward to working with them in the year ahead."




A native of Honey Brook, Pa. Lepage played high school hockey at Twin Valley, where she was Ashley Hoffman's teammate. She helped the Raiders earn three Berks County titles and the 2016 PIAA AA State Championship. Personally, she earned Second-Team All- American, Academic All-American, First Team All-State, First Team All-Berks County and was named Berks County Player of the Year as a senior. Within the club system, she played for X-Calibur FHC and participated in many USA Field Hockey National Events.

Lepage is currently playing collegiately at the University of Maryland where she just finished her sophomore season. In 2016, she helped the Terrapins win their third straight Big Ten regular season title and was named to the NFHCA National Academic Squad. This past year, she aided on defense as the team made an impressive run to the NCAA National Title game, before falling 2-1 in a close contest to Connecticut. The Terrapins 2017 campaign saw them pick up nine wins over ranked teams.

"To represent the United States is a tremendous honor," remarked Lepage. "It gives me the opportunity to play the game I love at the highest level, competing with and against the best of the best. I could not be more excited about this opportunity!"




From Rumson, N.J., Maguire has the sport in her blood as her mother, a former member of the U.S. Women's National Development Squad and U-21 USWNT, and many of her family members played in college. She played for Rumson Fair Haven (RFH) Regional where she helped the team win three state titles while be named First Team All-Shore as a senior, junior and sophomore, and Third Team All-Shore as a freshman. She was also named RFH NJSIAA Scholar-Athlete of the Year, Shore Conference Player of the Year, First Team All-State and was the first 100 goal scorer in the school history.

Maguire played alongside Lepage for X-Calibur FHC and also currently attends the same college. During her freshman year as a Terrapin, she earned Big Ten Freshman of the Week honors twice and was part of the team that won their third straight Big Ten regular season title. As a sophomore, she was a key asset in the midfield as the team made a run to the NCAA National Title match.

"Being a part of Team USA has always been a dream of mine," said Maguire. "I've wanted to follow in the footsteps of my mother, Kathy Staley Maguire, and my coaches, Katie Bam and Stefanie Fee. It is amazing that I get to represent my country and play the sport that I love!"




No stranger to the U-21 USWNT, Rizzo was on the squad in 2016, where she got to compete at the women's Junior Pan American Games and women's Hockey Junior World Cup. Following the 2017 squad announcement in June, she was invited for a tryout following her collegiate season. Rizzo just concluded her junior year in goal at Penn State University, where the Nittany Lions narrowly missed a trip to the Final Four finishing the season 17-5 overall. This season, she earned Longstreth/NFHCA Division I Mideast All-Region First Team honors after being a mainstay in the cage and recording five shutouts with a save percentage of .796, the fourth-best in the country.

From Hershey, Pa., she attended Hershey High School where she tallied a .77 save percentage, recording 20 shutouts and 243 saves. She earned Second Team All-State and First Team All-Mid-Penn Keystone Conference, and helped her team qualify for districts all four years. She was a member of the Alley Cats club team and heavily involved in USA Field Hockey's Futures Program.

"A spot on Team USA's Under 21 team means a lot to me because it allows me to grow personally as a player while learning from my teammates and coaches," said Rizzo. "Being on the team is an incredible opportunity to play internationally and I am ecstatic for the year ahead."




A native of Mount Joy, Pa., Robinson attended Donegal High School where she was a three-sport athlete. She helped lead Donegal to state titles in both field hockey and softball her senior year, as well as added her name to the school's 1,000 career points list in basketball. Her accomplishments on the field earned her three-time First-Team All-State honors, Second Team All-American in 2015 and Third Team in 2016. She was previous member of the U.S. U-19 Women's National Team following her selection last December at the 2016 STX Select event.

Robinson just concluded her freshman season at the University of Virginia where she earned All-South Region Second Team and VaSID All-State Second Team. Her stability on the defensive line earned her a starting spot in her collegiate debut in which she tallied three assists.

"I feel truly honored to represent Team USA!," noted Robinson. "It's a great opportunity to wear the red, white and blue and improve my hockey skills!"

Sumfest got a jump start in college having enrolled at the University of North Carolina, Chapel Hill in January 2017 and practiced with the team throughout the spring and summer before her first season as a Tar Heel. In her freshman campaign, she helped UNC win the program's 20th Atlantic Coast Conference Championships in program history and advance to the NCAA Semifinals where they fell in a penalty shootout.




From Lewisburg, Pa., Sumfest attended Lewisburg Area High School where she was a four-time All-State and All-Conference selection. She was a two-time captain for the team as well as MVP. She was also honored as the district's Most Outstanding Female Athlete in 2015-16 and Lewisburg High School's Most Outstanding Female Athlete in 2016-17. She was a member of the WC Eagles club team since 2012, and won multiple USA Field Hockey National Event championships.

Sumfest was on both the U.S. U-17 and U-19 Women's National Teams and was selected to travel to both Germany and Belgium, where she captained both squads. From 2015-16, she was a member of the U.S. Women's National Indoor Team and competed in the SPAR 4 Nations Tournament in Durban, South Africa.

"It is such an honor to represent this country," commented Sumfest. "Being able to train with the best U-21s is an amazing opportunity and I look forward to continue to grow as a player."

USA Field Hockey would like to thank Marc Hardy and Stu Smith for providing coaching support during the training camp. Next up for this squad is a training camp at Spooky Nook Sports from January 14-15, 2018 followed by a trip to Chula Vista, Calif., where they will train at the Chula Vista Elite Athlete Training Center from February 1-5, 2018. A few more training camps will take place during the spring before a tour to Argentina June 11-18, 2018.

USFHA media release


---

Maoist-hit Jharkhand village crazy for hockey, produces international-level woman players

Hesal, a tribal village in Jharkhand, has produced many national and international players since 1990. Poor girls work as labourers and farmhands to buy hockey sticks and train on empty stomachs to realise their dream.

Sanjoy Dey



Hockey enthusiasts from Hesal village play a village-level match in Khunti in Jharkhand.(Diwakar Prasad/ HT Photo)

The soil in Hesal produces more hockey players than paddy.

That isn't an exaggeration, not in this tiny, poor and Maoist insurgency-hit Jharkhand tribal village. Almost every girl here owns a hockey stick and dreams to don the national jersey — or to, on the strength of the game, get a job that means an end to abject poverty and hopelessness.

Since 1990, 55 girls from Hesal and its adjoining hamlets have been selected for national teams in different age groups. Nikki Pradhan, a Hesal girl, became the first Olympian from Jharkhand when she played for India in Rio 2016. She was part of the team that beat China in the Asia Cup this November.

Located in Khunti district, 50km south of Ranchi, the village has produced five international woman players. Many more are waiting in the wings.

Hesal's sights and sounds belie the hockey hub it is: green fields and trees, muddy roads, thatched huts and old people warming themselves in the winter sun. There's nothing to suggest this village of around 60 families is anything but a typical slice of rural India.

That is, till you encounter the girls.

More than a dozen teenage girls dash for an uneven playground at the lone government school in the area, 2km from the village, before the afternoon sun begins to wilt in the horizon. Most of them carry tattered sports kits and almost all are barefoot.




The girls come from poor families, which are dependent on the government's subsidised rice sold at Re 1 a kg. Their parents, mostly subsistence farmers, cannot provide adequate nutritious food, let alone buy them hockey sticks and shoes.

The girls go through a gruelling schedule from dawn to dusk. After attending school from 7am to 2pm, they hit the ground on an empty stomach as there is no provision of a mid-day meal, or free lunch, for students of Class 8 and above.

"We eat rice for breakfast. After school hours, we play hockey for two to three hours because if we go home for food we would miss training, which we don't want to," said Rita Kumari, a Class 9 student.



Hockey enthusiasts from Hesal village on their way to play a village-level hockey match in Khunti in Jharkhand. (Diwakar Prasad/ HT Photo)

The girls do not complain. They work as farmhands to fund their passion. And their love of the sport (and the hope that it can mean a better tomorrow) keeps them going.

"Mere pitaji kisan hai aur unke paas itne paise nahi hai ki stick kharid sake (my father is a farmer and he cannot afford to buy me a stick)," 13-year-old Mangri Saru said, sweat dripping from her forehead after a workout.

"So, I worked in a field and bought a wooden stick at Rs 400." Olympian Nikki Pradhan and her sisters did the same to earn and buy hockey sticks.

"My eldest daughter, Shashi Pradhan, was the first from the family to play hockey. When she demanded a hockey stick, I discouraged her from playing the game. I couldn't say that I couldn't afford to buy a stick. Poor girl worked as a labourer and bought a stick from the money she earned," said father Soma Pradhan.



Hockey enthusiasts from Hesal village on their way to play a village-level hockey match in Khunti in Jharkhand. (Diwakar Prasad/ HT Photo)

It was schoolteacher Dasrath Mahto, who, back in 1989, started the hockey craze in the village by coaching a few girls. He continued the process for more than two decades till hockey became a traditional game in the village.

"When I joined the school, girls playing hockey was not acceptable in the area. I convinced parents and motivated the girls. Now it is in the blood of the people," he said.

From 1990 to his retirement in 2016, the school produced 72 national and international woman hockey players. But after Mahto, the school has yet to get a sports teacher.

The role models for today's girls are those who came before, many of whom have since landed jobs as coaches and managers with the government and private sports institutions.

Hockey coach Jasmani Tiru, who played in national competitions in the 1990s, said the success of rural girls in national and international meets created job opportunities for them. They got hired by the government and this propelled the sport's popularity in the region.

According to Tiru, six girls from Hesal and nearby villages are with the railways and other government departments and companies.

Still, there's little recognition by the state. "I wrote to the government for a day-boarding centre for girls in the area but my request fell on deaf ears," complained Dasrath Mahto.

According to Khunti coach Suresh Mahto, the town could have been a springboard for the rural talent, but the initiative has been lost. The town's astroturf was not watered for seven years and it's damaged now.

Not all is lost though. The state plans a sign a deal with Tata Steel for coaching players of the Khunti area, Jharkhand sports director Ranendra Kumar said.

"The Tata Trust is imparting training to budding hockey players of villages. We are planning to set up a day-boarding centre for girls in Murhu block and a separate astroturf ground for girls in Khunti," he added.

Jharkhand has a glorious hockey tradition, and both boys and girls are fond of the national game. But it's the girls who have shone on the bigger stage.

"We are confident at least three players from Jharkhand will play in the next Olympics," state hockey association president Bholanath Singh predicted.

That's what the Hesal girls are working so hard for.

Hindustan Times


---

Des Simon RIP




Des Simon,  Hon Life Member of Hockey Ireland, who was 101, passed away yesterday morning.

A former Irish & Ulster president, he had celebrated reaching the century in September 2016 at a function in Belfast Castle attended by family and friends.

A former international hockey umpire, Des devoted many years to hockey in Ulster and, as well as having held the Irish & Ulster President roles, he was honorary secretary to the Ulster branch from 1970 to 1988.

A long-standing member of the Cliftonville Hockey club our deepest sympathy goes to his family & friends at this time.

His funeral will be at St John's Presbyterian Church in Whitehouse on Wednesday, January 3 at 10am.

Irish Hockey Association media release