All the news for Friday 22 December 2017

International hockey federation CEO Jason McCracken quits after sponsors shy away

Navneet Singh



Jason McCracken quit as the CEO of the international hockey federation.(FIH/Twitter)

Seven months ago, Jason McCracken had grand plans to change the face of world hockey after taking over from Kelly Fairweather as CEO of international hockey federation. But 10 months later, he had, it is learnt, become a casualty of circumstances.

That India holds the purse strings of international hockey, much like international cricket, was made amply clear when the international hockey federation (FIH) Chief Executive Officer (CEO) Jason McCracken quit earlier this week, reportedly for not being able to find a title sponsor for the Pro Hockey League.

Seven months ago, McCracken had grand plans to change the face of world hockey. He took over from Kelly Fairweather in February this year, but 10 months later --- and with FIH unable to scout for a sponsor for the six-month long event --- he had, it is learnt, become a casualty of circumstances. The FIH is headed by former Hockey India and current Indian Olympic Association chief.

The FIH had announced its ambitious plan to hold the home-and-away world competition in June and it is expected to kick off in January 2019. But, despite all efforts, the world body has neither been able to zero in on a title sponsor or a travelling partner.

It's majorly because, in recent times, India have become the main source of sponsorship. And with Hockey India deciding to withdraw from the Pro Hockey League, the sponsors have virtually vanished.

The FIH CEO had recently said that the doors are open for India, indicating that he was desperately looking at India to come on board. "Hockey is strong when India is around," he had said on the sidelines of the just-concluded Hockey World League Final in Bhubaneswar, Odisha.

But Hockey India has not shown interest. "We have decided not to compete," said HI secretary-general Mohd Mushtaque Ahmad.

Hockey India withdrew as it felt the global competition will not help its men's and women's teams earn a berth to the 2020 Olympic Games in Tokyo. India were replaced by Spain (men) and Belgium (women), respectively.

When he took charge, McCracken, a former FIH technical official from New Zealand, had said: "FIH plans to generate $150 million in four years from the Pro League. We also expect the League to catch the fancy of fans around the world."

FIH president Narinder Batra said the process of appointing a new CEO is on, adding that McCracken will continue till June.

On the issue of FIH still hunting for a title sponsor for the League, he said, "The procedure is on. There is lot of time. The league will start in 2019. The issue will be sorted out."

Hindustan Times


---

University of Waikato backing Four Nations



Photo: Planet Hockey

Hockey New Zealand is pleased to announce a naming rights partnership with University of Waikato for the Men's Four Nations series coming to New Zealand in January.

Some of the world's best men's hockey teams will hit our shores this summer for the University of Waikato Men's Four Nations in Tauranga and Hamilton.

The Vantage Black Sticks Men are set to host Olympic silver medallists Belgium (world ranking 3rd), India (6th) and Japan (16th) in a quad series from 17-28 January in Tauranga and Hamilton.

Split across two separate five-day series, Blake Park in Tauranga hosts the action from 17-21 January before teams head to Gallagher Hockey Centre in Hamilton from 24-28 January.

The Kiwis will be looking to start 2018 off with a bang as they begin their build-up for the Gold Coast 2018 Commonwealth Games in April.

New Zealand last played Belgium, coached by Kiwi Shane McLeod, and Japan at the Hockey World League Semi Finals in Johannesburg where they recorded a 2-0 defeat and 3-1 victory respectively.

"The University of Waikato is committed to bringing world-class sporting opportunities to the Waikato and Bay of Plenty regions," said Dr. Kirsten Petrie, Acting Dean, Faculty of Health, Sport and Human Performance.

"Our partnership with Hockey New Zealand to deliver The University of Waikato Men's Four Nations is part of our ongoing work to support high-performance sports. Participating Four Nations teams will have the opportunity to access the latest sports science research and facilities at the University of Waikato Adams Centre for High Performance while they are competing.

"As a world-class spectator event, the Four Nations provides an exciting opportunity for the hockey community and all those who have yet to experience this truly international sport, to get along and enjoy some of the world's top teams in action."

Tickets for all days of the University of Waikato Four Nations start from just $5 and are available now at www.dashtickets.co.nz

The 2018 University of Waikato Four Nations is proudly supported by Tauranga Energy Consumer Trust (TECT), Tauranga City Council and Hamilton City Council.

CLICK HERE for more on the University of Waikato Four Nations

Hockey New Zealand Media release


---

Review of 2017: England's Men



Mark Gleghorne

With three medals for Great Britain and England's men in 2017, the new squad have showcased an exciting style of hockey throughout the year as their road to Tokyo began.

Bronze at the EuroHockey Championships, gold as Great Britain at the Azlan Shah Cup and World League Semi-finals in London saw the athletes move on quickly from their disappointments at Rio 2016.

Medals:
EuroHockey Championship Bronze
World League Semi-Final Bronze

Landmark caps:
Barry Middleton 400 caps (GB & Eng)
Barry Middleton 250 caps (Eng)
Adam Dixon 200 caps (GB & Eng)
George Pinner 100 caps (Eng)
Ollie Willars 100 caps (GB & Eng)
Phil Roper 50 caps (Eng)
Henry Weir 50 caps (GB)
Ian Sloan 50 caps (GB & Eng)
Chris Griffiths 50 caps (GB & Eng)
David Ames 50 caps (GB & Eng)



Middleton 400

England began 2017 with a tour of South Africa where they faced the hosts and Germany, showing early signs of the exciting hockey to come in the year ahead with eye-catching 5-2 wins over both teams.

The trip saw nine athletes make their first international caps in the four-match series, making the victories all the sweeter.

A number of England's stars then travelled to Malaysia with Great Britain for the Azlan Shah Cup. The team made it all the way to the final and edged out Australia in a thrilling contest as GB enjoyed a 4-3 win, their first at the tournament since 1994.



England vs China

It was back to home ground for the summer with England hosting the Hero World Hockey League Semi-Finals at Lee Valley Hockey and Tennis Centre. England impressed in their pool before defeating Canada in the quarter-finals to secure qualification to the World League Finals and the 2018 World Cup.

However they were defeated 2-0 by the Netherlands in the semi-finals but bounced back in style to beat Malaysia 4-1 and secure bronze.



Liam Sanford tackles at the Euros

England's tournament of the year came at the EuroHockey Championships in Amsterdam. The team enjoyed pool wins over Poland and Ireland and showed remarkable fight in a semi-final loss to hosts Netherlands in front of a 9,000-strong crowd.

But England again showed their steel and ability to bounce back in the bronze medal match with Germany. With ten minutes remaining and the score level at 2-2, a stunning team move saw them edge ahead, Brendan Creed found David Ames in the corner with an overhead who crossed to Mark Gleghorne who dived to put the ball into the goal and spark wild scenes.

Co-captain Phil Roper then grabbed a fourth to put the game to bed and secure England's first European medal since 2009.

The squad ended the year in Bhubaneswar for the World League Finals where they again showed the determination and togetherness they have in abundance. The team were hit by illness but were able to finish second in their pool with a win over hosts India and a draw with eventual winners Australia.




They followed this up with a good contest with Argentina in the quarter-finals but lost out 3-2 to the Olympic champions. This set up a final match with the Netherlands in the pouring rain and almost impossible conditions. The team battled to the end but were edged out 1-0 to end their campaign.

It's been a year of progression for the squad who have shown a fantastic team spirit and been rewarded with major medals and this will hold them in good stead going into a huge 2018.

With the Gold Coast Commonwealth Games in April and a World Cup campaign in Bhubaneswar in December it's going to be a huge year of hockey in 2018 for our men!

England Hockey Board Media release


---

Review of 2017: England's Women



Danson in action v Germany

At the beginning of the year Olympians - still beaming from their success in Rio - and new faces excited to take their first steps in international hockey came together to start their new four-year cycle.

There have been many highs for the squad made all the sweeter as newer members to the central programme have quickly found their feet and made their mark.

Medals:
European Championship Bronze
World League Semi-Finals Bronze

Landmark goals:
Danson reaches 100 international goals
Danson moves to 2nd in all-time list of combined GB & England scorers (106)

Cap honours:
Laura Unsworth 200 caps (GB & Eng)
Lily Owsley 100 caps (GB & Eng)
Nicola White 100 caps (Eng)
Giselle Ansley 100 caps (GB & Eng)
Sophie Bray 100 caps (GB & Eng)
Sarah Haycroft 50 caps (Eng)
Zoe Shipperley 50 caps (GB & Eng)



England celebrate v China

England's return to competitive hockey as a new squad began in late February when they travelled to South Africa and won both matches in the two-game series, with eleven players making their senior England debuts during the trip including Anna Toman, Emily Defroand and Hannah Martin.

Next up was another test series with Spain in Madrid which saw the welcome return of Susannah Townsend from injury. However the series was lost 2-1 to the Spanish.



Danson in action against the Netherlands

In June the squad returned home to face both Argentina and the Netherlands in front of packed crowds at Lee Valley Hockey and Tennis Centre for the Investec Internationals. A stunning comeback from 2-0 down against the Dutch also saw Alex Danson score her 100th international goal in front of home support and live on BT Sport!

England returned to South Africa in July for the World League Semi-Finals in Johannesburg and, despite losing to the USA in the semi-finals, put in a stunning performance against Argentina to win 5-2 and take bronze.



England women at the Euros

The events kept coming in 2017 and in August England set out to defend their EuroHockey crown. They met the Netherlands in the semi-final saw a fantastic match played out in front of 10,000 fans at the Wagener Stadium in Amsterdam but it was the hosts who edged the match 1-0. However England responded in their bronze game against Germany with the impressive Hannah Martin continuing to make a name for herself.

There was further a positive for England as defender Hollie Pearne-Webb was named Player of the Tournament for her outstanding performances at the back, proving herself to be one of the very best defenders in the world.

Danson had been leading the team during the year on a temporary basis but in November she took up the position on a permanent basis after being voted in by the squad, meaning she will lead the team through until the end of the Vitality Hockey Women's World Cup in London.

A tough training block followed with two months to prepare and train for the World League Finals in Auckland which saw the welcome return of head coach Danny Kerry after his illness during the World League Semi-Finals in South Africa.

Kerry gave opportunities to Suzy Petty, Livy Paige and Erica Sanders who all appeared at their first major senior tournaments.

England reached the semi-finals with impressive displays over China in the pool stage - where Alex Danson netted her 106th international goal - and then against the USA in the quarter-finals. However England were frustrated by a determined defensive display from Korea in their battle for bronze and narrowly lost out 1-0.

Attacker Lily Owsley shone throughout the tournament with her unrivalled speed and caused havoc for all opposition defences and deservedly was named the Junior Player of the Tournament.



England v Netherlands

The year has been an exciting one from start to finish as the squad continues to progress and now heads into what can only be described as an action-packed 2018!

The Gold Coast Commonwealth Games in April are first on the horizon before the incredible opportunity of hosting the Vitality Hockey Women's World Cup at Lee Valley Hockey and Tennis Centre in London! Watch this space...

England Hockey Board Media release


---

Air Force, Navy and Islamabad taste victory at Nationals

Air Force, Navy and Islamabad won their respective matches on Thursday at the 64th National Hockey Championships in Sukkur.

-A brace by Mudassar and goals from Adnan, Mushtaq and Alamgir enabled Air Force defeat Higher Education Commission 5-3 in an absorbing contest.
For the losing side, Mohammad Abid, Amar Ahmad and Ashar Tariq scored

-Another keenly contested encounter was witnessed between Navy and Railways with Sailors winning through the solitary goal netted by Hamza Waheed.

-However, Islamabad gained an easy 4-1 victory over Gilgit-Baltistan. Muneeb got two for the capital side while Zainulabidin and Umar Mujtaba had one each.

Imtiaz Ahmed was the lone scorer for Gilgit-Baltistan.

....results of the two matches played late on Wednesday:
-WAPDA beat Sui Northern Gas Pipelines Limited: 4-0
SCORERS:Tauseeq, Asad Bashir, Aleem Bilal & Khizer Akhtar

-Sui Southern Gas Company beat ZTBL 3-2
SCORERS:
SSGC: Mohammad Rizwan 2, Ali Shan
ZTBL: Hammad Anjum & Ghazanfar Ali

PHF Media release


---

UniKL's new goalkeeper will be a Harte man to beat

By Aftar Singh



Handy man: Goalkeeper David Harte skippered Ireland to the Rio Olympics last year.

KUALA LUMPUR: Irish goalkeeper David Harte will be a hard man to beat when he makes his debut in the Malaysia Hockey League (MHL) starting on Jan 3.

The 29-year-old Harte has played for Ireland 203 times and will bring his wealth of experience to Universiti Kuala Lumpur (UniKL) in the Premier Division.

Harte has featured in five European championships in 2007, 2011, 2013, 2015 and this year.

The Ireland skipper also played in the 2016 Rio de Janeiro Olympics and helped his country to qualify for the 2018 World Cup in Bhubaneswar, India.

He also won bronze medals in the European Championship and the Champions Challenge 1.

He's also not short on individual honours too, being named the International Hockey Federation's (FIH) best goalkeeper in 2015 and 2016. Harte was also honoured as Europe's best in 2015.

Harte, who has also played for SV Kampong in Holland and Dabang Mumbai in the Hockey India League, cited his most memorable moment was at the Rio Olympics as it was the first time Ireland have qualified in 108 years.

He said he is now looking forward to his MHL adventure.

"I like the way Malaysian hockey teams play. They have an open and expansive style with lighting fast counter attacks. The MHL also has world class players," said Harte.

"The Malaysian team are not called the Speedy Tigers for nothing. Ireland have always found it tough playing Malaysia.

"I remember two games really well. The first was an Olympic qualifier in Dublin in 2012, where we managed a draw with minutes to go to qualify," said Harte.

"The second was a fifth-placing playoff in the World League semi-finals in Belgium, where we won to qualify for Rio," said Harte.

He said he chose the MHL because he knows UniKL coach A. Arulselvaraj, who was in Dublin for many years.

"With no India league next year, I decided to play in Malaysia to experience something new.

"I'll be playing with a young team and I'll use all my experience to help UniKL do well," added Harte.

The Star of Malaysia


---

Indian women's hockey players use unique technique to improve mental strength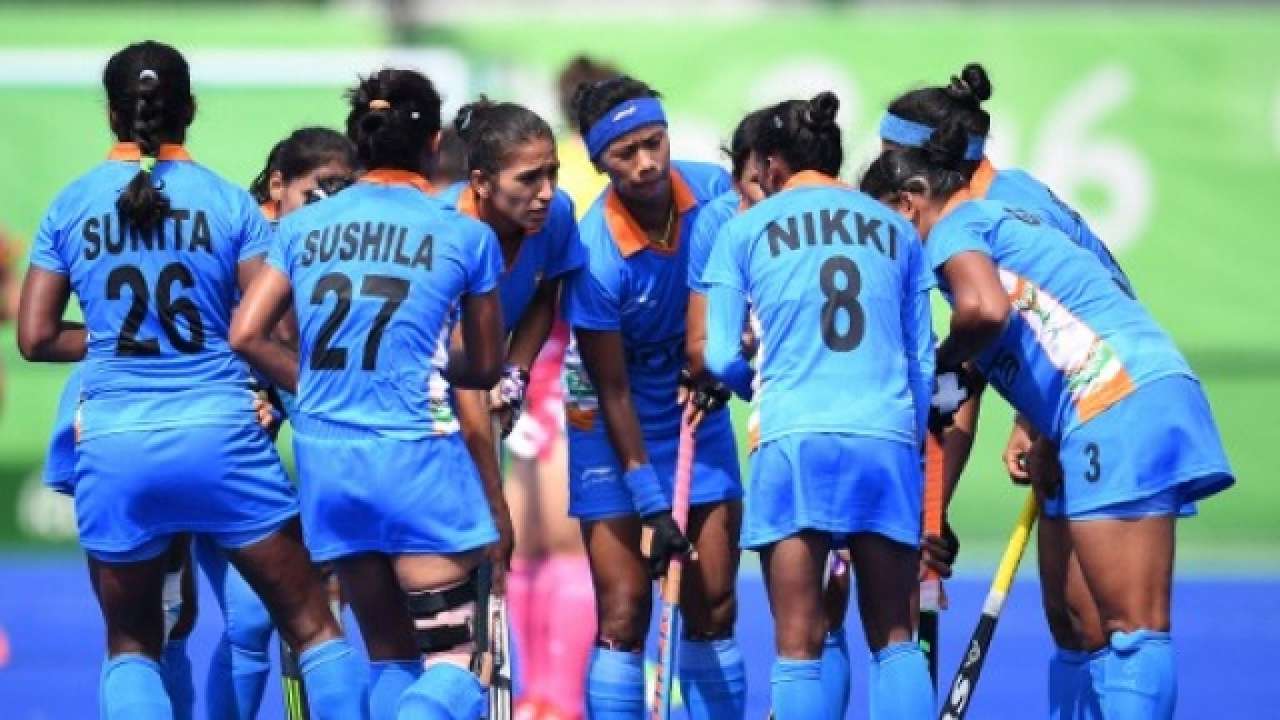 Indian women's hockey team - File Photo, AFP

Handling pressure in crunch situation is key to success in any sport and to address the issue the Indian team management has introduced 'NeuroTracker' to the women hockey players to enhance their mental strength.

Three major sporting events -- the Commonwealth Games (CWG), the Asian Games and the World Cup -- are slotted for 2018, making it a critical year for both men's and women's hockey. And Indian women's hockey team coach Harendra Singh and his support staff are leaving no stone unturned to prepare the girls for next year's big tournaments.

NeuroTracker is a non-invasive system that uses 3D multiple object tracking to improve the efficiency of neural networks that govern situational awareness, attention, executive function and cognitive stamina. The program is commonly used by top level football and basketball teams but it has been used for the first time in Indian hockey.

NeuroTracker was used on trial basis in October at SAI's Banglore centre where women's hockey team is based. After testing the device on every member of the hockey team, the Sports Authority of India (SAI) has now procured it and coach Harendra said the results are already visible on the field.

"This team is capable of winning against any team but they need self belief which will translate into team belief. For that they need mental strength. This is for the first time in Indian hockey NeuroTracker is being used to enhance mental strength of players," said Harendra.

"They have been given sessions on daily basis for last two months and results are encouraging especially for goal keepers and penalty corner specialists. It is helping in decision making, concentration and improving reflexes also," he added.

NeuroTracker program has spread to more than 550 elite training facilities around the globe, representing a vast and diverse sporting landscape. English Premier League clubs like Manchester United have spent huge amounts to install a NeuroTracker setup in its facility.

US soccer has also tested more than 7,000 youth players on it since 2014. The same program is used by top hockey and basketball teams as well. "This is a 3D program in which you'll see eight balls of green colours. Then, two of them will glow orange. These are your targets and you have to track them as they move," said Dr Pralay Majumdar, Head of Sports Science at SAI, Banglore.

"When all the balls stop moving, click on those targets with your mouse. Initially the balls come with slow speed but gradually speed is accelerated. NeuroTracker helps to raise athletes level of situational awareness and decision-making abilities on the field," he added.

India captain Rani Rampal feels that the team does not lack in skills and stamina but they need to work on their mental strength. "We know our strengths and weaknesses and now with the help of NeuroTracker we are getting that mental strength. We are taking 45 minutes session every day after lunch and players are enjoying it," she said.

Daily News & Analysis


---

New home on its way for Harbour Hockey




The necessary planning consents have now been granted to allow North Harbour Hockey to move to its proposed new site at Rosedale Park West.

A resource consent was granted in early December after reaching a mediated settlement with Council and those appealing the granting of the original consent.

The Upper Harbour Local Board also voted to grant the leases which will enable the relocation of several sports, including hockey.

The news marks a significant milestone for Harbour Hockey, with plans to upgrade the existing facility in partnership with Hockey New Zealand stopped in 2015 after being informed half the site would be lost through the Northern Corridor Improvements project.

To continue providing all the playing and social benefits associated with a centralised venue, it became necessary to relocate the entire facility.

Council and NZTA have worked tirelessly alongside representatives from hockey to ensure this would happen, and more recently they have worked with other sports who have been affected as the result of the relocation.

Harbour Hockey would like to acknowledge and thank all supporters of the project and the other sports, for their constructive and collaborative approach to this reshuffle and for enabling it to happen.

These sports include North Harbour BMX which is relocating to Oteha Valley Road and Rosedale Pony Club, Greenhithe Pony Club, Whenuapai Pony Club and Riding for the Disabled, for whom a new equestrian hub is being developed at Wainoni Park in Greenhithe.

Focus in 2018 now turns to the building process, with tendering for the construction already underway and building consent applications being processed at Council. 

The first stages of construction are expected to commence in the first half of 2018 with the facility planned for completion by the beginning of 2020.

Hockey New Zealand Media release


---

Irish PSi – find out how to join a franchise near you!




The Pro Series Indoor (PSi) will aim to bring the fast, fun and exciting nature of indoor hockey to the forefront and give it the recognition it deserves in Ireland for passionate school boys and girls hockey players.

The competition offers the opportunity of joining a PSi franchise in a specific region, participating in leagues, clinics and ultimately representing your region at PSi Nationals.

The PSi Nationals event, brings colours, music, vibe and excitement to elevate the profile of hockey and make it a memorable experience.

The focus is not only on the importance of developing your hockey but to create an environment where friendships are formed and camaraderie is built amongst the PSi franchises.

So how does it all work? For the four age groups – fifth class, sixth class, first year and Under-15s – each region will welcome, for example, 36 players per age group, divided into four teams of nine players of similar strength.

This will be based on two introduction days with each age group getting a designated two-hour time slot. From there, the teams will play out a five-week league phase which get implemented, building to exciting playoff games.




Following the regional league stage, PSi builds to a crescendo with the Nationals event at Gormanston Park in north Dublin for a three-day spectacular running from June 22 to 24, 2018.

The tournament will bring together teams from each region and from each age group. The players will pick up their goodie bags at an opening function on the Friday evening, before watching an exhibition between two top quality All-Star teams made up from a combination of Irish and world legends like Jamie Dwyer and Moritz Fuerste.

Day two and three will see up to 200 matches of indoor hockey across the four age groups in the giant Gormanston hall which can have up to four matches running simultaneously.

Each day ends with another All-Star game to delight the youngsters and show what they can aspire to be. Players can sleep over at the venue with special evening events also laid on. Players and teams have the choice of a 'Sleep in' or 'Sleep out' option when signing up to Nationals.

If this sounds like the kind of hockey experience you want to enjoy, you can find out more information by contacting This email address is being protected from spambots. You need JavaScript enabled to view it. or This email address is being protected from spambots. You need JavaScript enabled to view it.

People interested in getting involved in the Management of the Cork or North Dublin franchise can get in touch with Miles Warren.

Alternatively, you can contact your own regional franchise directly to the contacts below:

Wicklow Wasps
Leah Spillane: 0860212462
Ruth McDonagh: 0868932265
Email: This email address is being protected from spambots. You need JavaScript enabled to view it.

Kildare Swans
Natalie Fulton: 0838020618
Roland Rixon-Fuller: 0861971815
Email: This email address is being protected from spambots. You need JavaScript enabled to view it.




South Dublin Vikings
Miles Warren: 0877736076
Email: This email address is being protected from spambots. You need JavaScript enabled to view it.

Limerick Lions
Lorraine McGowan: 0862074348
Email: This email address is being protected from spambots. You need JavaScript enabled to view it.

Kilkenny Cats
Sinead Connery: 086 1055718
Eric Comerford: 089 2376181
Email: This email address is being protected from spambots. You need JavaScript enabled to view it.

Belfast Bears
Gareth Grundie: 00447883339278
Email: This email address is being protected from spambots. You need JavaScript enabled to view it.

Cork Rebels – coming soon

Dublin North Knights – coming soon

Example calendar of a PSi season
Introduction phase
24 March – Introduction Day
• 9:00 – 11:00 5th class girls
• 11:00 – 13:00 6th class girls
• 13:00 – 15:00 1st year girls
• 15:00 – 17:00 u15 girls

7 April – Introduction Day
• 9:00 – 11:00 5th class girls
• 11:00 – 13:00 6th class girls
• 13:00 – 15:00 1st year girls
• 15:00 – 17:00 u15 girls

Example of 5th class Girls fixtures
14 April – League week 1 – 9:00 – 11:00
o 9:00 – 1 vs 2
o 9:30 – 2 vs 3
o 10:00 – 1 vs 4
o 10:30 – 4 vs 3




21 April – League week 2 – 9:00 – 11:00
o 9:00 – 2 vs 4
o 9:30 – 1 vs 2
o 10:00 – 3 vs 4
o 10:30 – 3 vs 1

28 April – League week 3 – 9:00 – 11:00
o 9:00 – 3 vs 2
o 9:30 – 1 vs 3
o 10:00 – 2 vs 4
o 10:30 – 1 vs 4

5 May – League week 4 – 9:00 – 11:00
o 9:00 – 1 vs 2
o 9:30 – 2 vs 3
o 10:00 – 1 vs 4
o 10:30 – 4 vs 3

12 May – League week 5 – 9:00 – 11:00
o 9:00 – 1 vs 3
o 9:30 – 2 vs 4
o 10:00 – Bronze medal game
o 10:30 – Gold medal game




The Hook


---

Hockey Ireland appoints Adam Grainger as Director of Performance




Following a rigorous and competitive process Hockey Ireland wishes to announce the appointment of Adam Grainger as Director of Performance.

Adam holds a PhD, MSc, and BSc in Sports Science and worked in high performance in a number of positions.  He will join us from his most recent role as the Head of Performance of the Elite Ad Astra Academy, Institute of Sport and Health, University College Dublin and prior to that he was Head of Performance with Sale Sharks Rugby club.

Commenting on the announcement Jerome Pels, CEO of Hockey Ireland said: "On behalf of Hockey Ireland, I am delighted to announce the appointment of Adam. He has clearly demonstrated his capabilities in previous roles and we are happy to have him joining Hockey Ireland. The competition for the role was very intense and throughout the process, the panel was impressed by the high calibre of candidates. Adam is well qualified to take the organisation to the next level, with a deep understanding of the work of high performance. Adam has proven to be a strong leader and fully appreciates the need to build close relationships with the organisation's key stakeholders. I am confident that Adam will meet the exciting sporting challenges in front of us with knowledge, vision, determination and imagination."

Speaking this morning, Adam added: "It is an honour to be asked to be part of Hockey Ireland's high performance team during what is a very exciting time for the sport of hockey. I am looking forward to working with the Irish hockey community, athletes, coaches and support staff."

Adam will take up the role at the end of January 2018.

Irish Hockey Association media release


---

Togo reaps rewards for development work



Togo was recently recognised by FIH as having one of the best development programmes in Africa Photo: Hockey sur gazon -Togo

"Impossible is not in the spirit of the Togolese Hockey Federation", declares the West African national hockey association's mission statement, and assessing the progress made since the federation's foundations nine years ago, this is no idle boast. A prestigious award from the International Hockey Federation (FIH) in recognition of its work was just rewards.

The Togolese Hockey Federation (THF) was founded in 2008, following huge amounts of perseverance and determination by Luc Kouassi Dofontien and Komla M Gamisso. The two hockey advocates are part of a six-person committee that is driving hockey forwards in this West African country.

Of course, the federation faces problems. There is currently no national hockey stadium with a quality turf, hockey is played on grass, tarmac, sand and scrubland. There is little in the way of equipment; the players rely on donations from other country's and benevolent hockey equipment manufacturers. A lack of finance means that training of coaches and officials, and hence a raising in the standards of play, is limited, which is a frustration to the THF as they are desperate to see their players on the international stage.

But, the determination is boundless and as far as it is able, hockey in Togo is flourishing.

Hockey in the West African nation centres around grass roots projects, there are pilot centres in schools across the country and a network of clubs and activity centres. And it is not just the skills and techniques of hockey that are learnt through the hockey coaching courses, the THF is also determined to use the sport as a vehicle for driving social cultures and values.

Now, eight years after its formation, the THF has more than 900 players and five thriving hockey clubs located across the country. There are also 14 centres where hockey sessions are run for everyone, from children to adults; club players to beginners. Eight of these centres are found in the capital city Lomé, while the remaining six are in the interior of the country, catering for the dispersed rural communities.

As recognition for the growth and quality of its programmes, Dofontien and his team received an award as 'Best Development Programme in Africa' from the International Hockey Federation (FIH) in October.

One of the key factors in creating a strong hockey culture is the quality of the coaching and officiating and, to this end, the Togolese Hockey Federation, along with support from the FIH West Africa Targeted Assistance Programme (TAP) and the African Hockey Federation, has invested in coach and umpire education.

The result is 35 qualified coaches, of which 28 are currently trained to FIH Level One standards and a further three are undergoing FIH Level Two training. There are another three recruits whose training is about to begin. The growth in the number of qualified coaches has been gradual, dating back to 2010 when a number of physical education teachers were taken through their Level One course by a visiting coach educator from Ghana.

Since then, the quality and number of coaches in Togo has been strengthened by involvement with the West Africa TAP project.

Olympic Solidarity, a development programme run by the International Olympic Committee which organises assistance for National Olympic Committees, has also played its part by funding two international coaches from Belgium and France to train players and coaches in two separate visits to the country.

In addition, Togo has 24 qualified umpires, which helps raise the standards of play from school to international level. One of the outcomes of a good infrastructure comprising qualified umpires is the ability for Togo to play competitive matches against other West African countries.

In recent years, Togo Hockey Federation has held tournaments between the various hockey centres; a national championship; a state championship; has selected Under-17 national squads for women and men and will be playing its first full international in Accra, Ghana, next year.

Mention should also be made of the ongoing support of the Belgium Hockey Federation, numerous Belgium hockey clubs and Brussels Airlines, who have donated and transported heaps of hockey equipment to Togo.

There are also plans in place for the first artificial turf in the country. Once that is laid, then Togo can take a huge step towards international competition.

To find out more information about hockey in Togo, visit their official Facebook page.

#GlobalProjects

FIH site