All the news for Friday 15 December 2017

Hockey discipline

Paulini Ratulailai



Wyntah Underwood of Fiji Invitational under 18 (left) attacks against Japan under 21 during the Fiji Invitational Hockey Tournament at National Hockey Centre yesterday. Picture: RAMA

FIJI President's XI hockey team coach Hector Smith senior has stressed about the importance of discipline when it comes to playing against top teams such as Japan, New Zealand and Australia.

Smith said watching Japan play and follow a one rule and one game-plan showed the level of discipline of the players.

"The level of discipline the Japanese bring is really an eye-opener and the players know what is expected from them and it is the coach that speaks and this is something that our hockey players need to take on board," he said.

"In all sports attitude is a big issue for example during training if they are not supervised they don't do what they are supposed to do.

"Japan intended to tour to Australia and they were encouraged to join us in the competition so they brought in their under-18 women's team and the under-21 men's team."

"Coming back to the competition it is a really tough tournament with New Zealand for the men we drew nil all in the first half and we became sluggish in the second half so we had to fix that up.

"It is good to see the youngsters play against these teams as we want the competition to be brought here.

"We don't want to waste so much money to go to a place that is cold where we have our environment here which is friendly."

Smith stated that both men and women's under-18 teams were preparing for to play in the Olympic qualifier for Argentina next year and the qualifier would be held in Papua New Guinea next year.

"We have the women's team participating and the men's team have begun their team training."

"Vanuatu and PNG are the two teams that will challenge us for a spot in the Olympics and we're looking forward to a tough game."

He added that the tournament has brought a lot of challenge as they try to utilise all their players to play in one game.

"For the senior men we have a group of players that we're rotating on and the whole idea behind is we could expose our players and understand why they have to be fitter and tactical."

The Fiji Times


---

Meet the women's nominations for the Rising Star of the Year




The five shortlisted players for the International Hockey Federation (FIH) Rising Star of the Year award have made a huge impact in the past two or three years. While they might all be relatively new recruits to their respective national squads, all our nominees have proven themselves as important and integral members of their teams. From the steady hands in defence, the creative midfielders to the dynamic strikers, all our nominees are inspirational athletes on and off the field of play. The athletes are listed in alphabetical order.

VOTE HERE

Last year's Rising Star Award recipient Maria Granatto of Argentina has continued on her upwards trajectory. In the 2016 season, the talented striker was a relative unknown and her tricky skills and amazing game awareness caught many opponents off-guard. Now defenders know about Granatto but that doesn't make her any easier to contain. One of the joys of watching the game is to see Maria Granatto jink and twist her way through a packed defence, only to leave her opponents chasing shadows. Argentina have not enjoyed their most successful year in 2017 but with players like Granatto in the ranks, future trophies are sure to find their way to the South American giants of the game.




Nike Lorenz has been hailed by her captain Janne Muller-Weiland as "mature beyond her years", as she has made her position in the German defence a secure one. Lorenz is one of a number of exceptionally gifted young players whose presence in the national senior squad signals a bright future for Germany. At both the Hockey World League Semi-Finals in Johannesburg and the Sentinel Homes Hockey World League in New Zealand, Lorenz was coolly controlling in defence but also proved herself devastatingly accurate on penalty corners. Lorenz was voted Young Player of the Tournament in Johannesburg.




Frederique Matla has an impressive medal haul already. She has been a crucial part of the Netherlands team that has enjoyed great success in 2017, winning the FINTRO Hockey World League Semi-Final in Brussels, the Rabobank EuroHockey Championships in Amstelveen and the Sentinel Homes Hockey World League in Auckland. At just 20 years, Matla is a calm presence on the Dutch forward line, patiently and effortlessly gliding into space before linking up with team mates to create yet another flowing Oranje attack. Matla scored twice in the Sentinel Homes Hockey World League competition, both goals showing that, although she is one of the newest recruits to the world number one side, she is more than holding her own.




Laura Nunnink has been part of the Netherlands squad since 2014, when she made her debut appearance in the Champions Trophy in Mendoza, where the Netherlands picked up a bronze medal. Since then, the talented defender/midfielder has been a steady presence in the national side. In the early days of her international career, Nunnink quietly went about her job, defending efficiently and turning defence into attack with creative passing. Now she is approaching a century of caps, she has grown into a mature member of the team – a confident and strong presence who has been a vital cog in the Netherlands' recent successes.




Xan de Waard of the Netherlands has been a Rising Star nominee on three previous occasions, testimony to the enduring quality of her performances. De Waard is a player whose contribution to the game is sometimes overlooked because she makes excellence look effortless, but in a team of hockey superstars, Xan de Waard is right there among the best of them. At only 22 years-old, she has more than 100 caps to her name – the second youngest player to achieve this for the Netherlands – and her medal cabinet already contains a World Cup and EuroHockey Championship gold medal and an Olympic silver. Her greatest qualities are her passing and her vision, but she is also uncompromising in defence and a creative midfielder.




#HockeyStarsAwards

FIH site


---

National coach hails quality of Premier Hockey League



Photo by Marcel Sigg

National women's hockey coach Sheldon Rostron has hailed the Premier Hockey League as an important part of the bigger picture of the country's hockey set-up and said the standard of this year's tournament was a big step up from 2016.

Speaking as the curtain came down on the 2017 event, Rostron was also enthusiastic about the growth opportunities for such a tournament.

The unheralded Orange River Rafters were crowned women's champions and the Crossroads Maropeng Cavemen lifted the men's trophy for a second consecutive year as the tournament came to an end on Tuesday evening.

"From last year's PHL, I think we've seen a big improvement in the quality of hockey this year. I think it's been part of our processes to make sure, from high performance, that we've really looked at the top players that are here, how those teams get put together," said Rostron.

"We also tried to integrate all the under-21s that are in the system as well to make sure that they were all here to perform and we were very happy with the quality in general," added the coach.

"Within Africa this is definitely one of the strongest leagues and we need to look at how we grow ourselves from this – potentially latching on to international players that could maybe come and add value in a process like this, and hopefully being able to professionalise in the long-term. I think that way we could really add a lot of value to the national team."

With two major tournaments on the horizon for the national sides, the PHL provided selectors with one last chance to have a look at potential team members – with Rostron hinting there may even be a few surprises when his Commonwealth Games team is announced in January.

"In terms of players that we've seen, there've certainly been one or two that we've been happy to have a look at. I definitely think there are some players here that have put up their hands quite nicely," he added.

Meanwhile, CEO of SA Hockey Marissa Langeni was also full of praise for the tournament. "I'm absolutely pleased with how the tournament has gone. I think there's been some really exciting hockey for fans out there and I think the Premier Hockey League is obviously an event that everybody has been looking forward to.

"There were a few challenges with the rain but then again, over 8255 hockey fans have come through the gates to enjoy the spectacular display of hockey over the last three weekends –  I think that it's been a phenomenal event all round."

Looking ahead to next year's tournament, which will likely be played in the winter months, Langeni added: "We're now looking forward to PHL 2018 and to build on the successes achieved this year which, additional to the on field game, include educational workshops presented by the South African Institute for Drug Free Sport as well as Milk SA from a nutritional perspective.

"Just in terms of the talent pool that's out there, a lot of players are now asking how they can get involved in the PHL as they are realising that this is where they want to play. It is important for us as a national association to continue providing opportunities of access to the sport. The PHL provides us with a platform to create greater access for high performance athletes outside of our traditional inter-provincial tournaments.

"Our thanks go out to all our sponsors – SRSA, SuperSport, CTM, Crossroads, MilkSA, Tsogo, Grays, Greenfields, Old Mutual iWYZE and Private Property – for giving the players that opportunity and being a part of the hockey revolution in South Africa."

Tournament award winners:

Men:

Player of the tournament: Miguel da Graca (Crossroads Maropeng Cavemen)
Top goal-scorer: Courtney Halle (Old Mutual iWYZE Golden Gate Gladiators)
Best goalkeeper: Gowan Jones (ProGrip Drakensberg Dragons)
Best junior player: Tyson Dlungwana (Old Mutual iWYZE Golden Gate Gladiators)

Women:

Player of the tournament: Kristen Paton (Old Mutual iWYZE Namaqualand Daisies)
Top goal-scorer: Sulette Damons (Orange River Rafters) and Tiffany Jones (Private Property St Lucia Lakers)
Best goalkeeper: Nicole La Fleur (Wineland Wings)
Best junior player: Ongi Mali (Old Mutual iWYZE Namaqualand Daisies)

SA Hockey Association media release


---

Hockey India congratulates new FIH world panel umpire Javed Shaikh

NEW DELHI: Hockey India on Thursday congratulated Javed Shaikh on being promoted to the FIH World Panel Umpire (Outdoor Hockey) by the International Hockey Federation (FIH).

The FIH announced its decision on Wednesday after his name was recommended by Hockey India and supported by the Asian Hockey Federation.

The 41-year-old Shaikh from Mumbai began his career as an umpire in 2000 at a local tournament. In 2002, he was called-up as a national umpire followed by an opportunity at the 2003 Under-21 Invitational Cup in Poland where he served as an international umpire.

Over the last decade, Shaikh has umpired at major events such as Commonwealth Games, Asian Games as well as the 2014 Men's World Cup in Hague, The Netherlands and was also called up as an umpire during the 2016 Rio Olympics.

"This is an emotional moment for me. I see this as a recognition for my hard work over the past 15 years. Being in the FIH World Panel Umpire (Outdoor Hockey) is very prestigious and I am grateful to Hockey India for their constant support," said Shaikh on the side-lines of the on- going 52nd Bombay Gold Cup where he is umpiring.

Shaikh further stressed upon the role of Hockey India in promoting umpires and their extensive programs that has helped several enthusiasts to take up umpiring as a career.

"As an umpire it is extremely important to get support from national federation and I am fortunate that Hockey India promotes umpires in a big way," he said.

"It's not just the exposure in terms of round-the-year umpire clinics and domestic assignments to give us match experience but they also send us programs on fitness which is essential for an umpire at any level."

Congratulating Shaikh on his promotion, Hockey India's Secretary General Md. Mustaque Ahmad said, "I congratulate Javed Shaikh on his promotion to the FIH World Panel Umpire (Outdoor Hockey) by the FIH.

"It is a recognition for his 15 years of tireless efforts as an umpire and such recognition will only encourage more enthusiasts to take up umpiring in hockey.

"It is a matter of pride for us when umpires represent India in top tournaments across the world. I wish Shaikh the very best for his future endeavours."

The Times of India


---

Sarah Wilson and Martin Madden umpire World League finals



Martin Madden and Sarah Wilson

Scottish Hockey umpires Sarah Wilson and Martin Madden have officiated the women's and men's World League finals respectively.

It is a tremendous success for both umpires and for Scotland as it shows the excellent standard of Scottish officiating on the world stage.

Madden was umpire for the final of men's World League in India between Australia and Argentina. It was Australia who ran out 2-1 winners to retain their World League title.

Martin Madden said, "As ever the tournament was another great experience. I love coming to India as the people are always so welcoming and so passionate about the hockey. I got some really good games all the way through and then getting the final in front of a packed stadium is why you put in all the work to get to these events.

"I had great support from the umpire managers Ged Curran and Steve Horgan as well as some great umpiring colleagues."

Wilson was umpire for the women's World League final between The Netherland and New Zealand in Auckland, where the Dutch ran out as 3-0 winners. Wilson said she felt very privileged to be appointed for the final and received tremendous plaudits for her excellent management of the match, as well as throughout the tournament.

The World League Finals appointments also builds on the success of last year when both umpires featured in the bronze medal matches at the Rio Olympics and were recipients of numerous awards for their performances.

Scottish Hockey Union media release


---

Women in Umpiring



Emma Shelbourne is going to the Commonwealth Games

Despite the latest Sport England 'Active People Survey' finding that 74% of sporting officials across the country are men, it seems it is not just participation where hockey has gender equality.

Over the last two years England Hockey data shows that 44% of L1 Umpire Course attendees were women. That is nearly double the proportion of women compared to the national average.

In order to celebrate these figures we are sharing the stories of four female umpires across all levels of the game who we hope will inspire you to take up the whistle.

Despite being just 17, earlier this year Elise Charlton from Derby was handed the opportunity to take charge of the In2Hockey Finals as part of the England Hockey young umpire development programme.

"To umpire the U13s Schools Girls' final was a great privilege and  reward for the practice and help that I have had through the Midlands Young Umpire Group and my club," she said. Elise has now gone to umpire in the East Midlands Prem men's league and is hoping to be put forward to do Midland's ladies regional leagues after Christmas. 

Another female umpire who is very grateful to her regional colleagues is Annette Golding. After falling in love with the sport while growing up in her native Jamaica, Annette first undertook a L1 course in 2005 while playing at Blackheath.

Yet despite being told she had the talent to umpire at another level, it was not until three years ago that she decided to give up the game to concentrate solely concentrate on officiating and, with the help of her colleagues at the Kent Hockey Umpiring Association, is now a qualified L2 umpire.



Karen Fynn in action

On the other hand Karen Finn has raced up the levels and has already passed her L3 assessment despite taking up umpiring just three years ago.

She can now be found officiating Investec Women's National Conference fixtures - a level in which she found herself in during her playing career - and is very glad she made the decision to take up umpiring after quitting the game, despite initial reservations.

"I began by feeling a little embarrassed to tell people what I was doing instead of playing; to use a Harry Potter analogy, a little like I was going to join the Death Eaters," she recalled.

"As it is now, I feel like we're a group of Aurors – defending the game against the dark arts!

"I always thought that umpiring would be a lonely business, but it really isn't.  There is great team work between umpires and so much support from mentors, coaches and assessors.  The higher the level, the more this appears to be the case."

Our final inspirational umpire is Emma Shelbourn, who has been appointed to officiate at the 2018 Gold Coast Commonwealth Games next April.

It has been a long journey to this point for Emma – who is also a teacher – but with the help of many, including colleagues at Skegness Grammar School, she will travel to Australia and take charge of some of hockey's biggest teams.

"Being an umpire allows me to enjoy world class games in the fast lane, on the front row seat," she said.

"I feel incredibly lucky to have been selected, but luck in my eyes is a combination of hard work, sacrifice and dedication. I can't wait to get to Australia and contribute to a small part of Commonwealth history."

England Hockey Board Media release


---

Home comfort beckons for Cork Harlequins

Second-placed side expected to continue their impressive form at Ards' expense

Mary Hannigan



Naomi Carroll is top scorer with seven goals for unbeaten Cork Harlequins. Photograph: Rowland White/Presseye/Inpho

Cork Harlequins have the rare enough treat of a home game this weekend as they look to end 2017 as the only unbeaten side in the Hockey League.

Five wins and three draws from their games so far have put them second from top, trailing defending champions UCD by just a point.

Remarkably, seven of those eight fixtures have been away from home, five in Dublin and two up North, which makes that unbeaten record all the more impressive. If they can make good use of home advantage in the new year, when seven of their nine games will be at Farmers Cross, then their challenge will be comfortably maintained.

With 22 goals, Stephen Dale's side are the league's top scorers, Naomi Carroll heading the list with seven, her international team-mates Róisín Upton and Rebecca Barry contributing another seven between them.

In contrast, goals have been hard to come by for their opponents on Saturday, only bottom club Monkstown scoring fewer than Ards in the campaign so far.

Their strength has been at the back, conceding just seven goals in eight games, and they restricted Harlequins to just one when the sides drew back in October.

Railway Union moved above Ards in to fourth last weekend with their victory over Pembroke Wanderers, and they have a chance of leapfrogging Pegasus in to the third spot if they can get the better of the Belfast side at Park Avenue on Saturday.

Loreto are away to Belfast Harlequins and in need of a win to revive their challenge, two defeats in their last three games seeing them drop to sixth. Leaders UCD, meanwhile, are at home to second-from-bottom Trinity on Sunday.

Hockey League – Saturday: Railway Union v Pegasus, Park Avenue, 1.0; Cork Harlequins v Ards, Harlequins Park, 1.05; Belfast Harlequins v Loreto, Deramore Park, 2.30. Sunday: UCD v Trinity, Belfield, 1.30.

The Irish Times


---

Sabah stun Johor to enter final

By Aftar Singh



Go away: Perlis' Nurhasif Husaini evading the challenge from Kuala Lumpur's Amandeep Singh at the National Hockey Stadium in Bukit Jalil yesterday. — M. Azhar Arif/The Star

KUALA LUMPUR: Sabah edged last year's runners-up Johor 1-0 to reach the final of the 1MAS National Under-14 Hockey Championships.

Mohamad Syafiq Lamatta fired home the winner in the 45th minute off a penalty corner in Group Y at the National Hockey Stadium in Bukit Jalil yesterday.

Sabah, who finished fourth last year, upset defending champions Pahang 1-0 on Wednesday.

Sabah coach Hasrul Jideh was full of praise for his players.

"The boys played well to defeat unbeaten Johor. I'm also proud of them for overcoming favourites Pahang on Wednesday.

"My players are in high spirits but we have only one day's rest before the final. We have come this far and we'll be out to win our second title."

Sabah, who retained 10 players from last year's squad, won in Melaka in 2015.

In Group X, Kuala Lumpur only managed a 0-0 draw with Perlis in Group X.

Perak, who defeated Perlis 3-0 on Wednesday, just need a draw against Kuala Lumpur today to set up a showdown with Sabah.

The KL girls fared better by reaching the final with a 2-0 win over Terengganu at the Education Minis-try Turf.

They top Group X with full points from two matches.

On Wednesday, KL, who placed 10th last year, upset last year's runners-up Melaka 2-0.

The KL team manager A. Kannagi said they were lucky to reach the final.

"My girls have not been playing well from the start of the championships. We missed a lot of chances against Terengganu but Kirandeep Kaur, who marshalled the midfield, did well to give us the lead before Nor Farida Sulaiman converted a penalty stroke," said the former international.

In Group Y, defending champions Pahang, who were upset 3-2 by Penang on Wednesday, bounced back to thrash Selangor 5-1.

J. Thibatharshini scored a hattrick in the second, fifth and 22nd minutes. Nur Farina Natasha Badrul Hisham (seventh) and Zati Alyani Muhamad Zubir (19th) contributed Pahang's other goals.

Nur Farah Hanis Azharuddin scored for Selangor in the 38th minute.

RESULTS & FIXTURES

BOYS CLASSIFICATION

13th-15th: Kedah 0 Sarawak 0
10th-12th: Terengganu 1 Singapore 1
7th-9th: N. Sembilan 0 Selangor 3

Second Round

Group X: Perlis 0 K. Lumpur 0
Group Y: Sabah 1 Johor 0

GIRLS CLASSIFICATION

10th-12th: N. Sembilan 3 Sarawak 0
7th-9th: Perak 1 Johor 1

Second round

Group X: K. Lumpur 2 Terengganu 0.
Group Y: Pahang 5 Selangor 1

TODAY

BOYS CLASSIFICATION

13th-15th: Sarawak vs Melaka (7am)
10th-12th: Singapore vs Penang (8.30am)
7th-9th: Selangor vs Kelantan (4pm)

Second round

Group X: K. Lumpur vs Perak (5.30pm)
Group Y: Johor vs Pahang (7pm)

(Matches at National Hockey Stadium in Bukit Jalil)

GIRLS CLASSIFICATION

10th-12th: Sarawak vs Kedah (7.30am)
7th-9th: Johor vs Perlis (9am)

Second round

Group X: Terengganu vs Melaka (3pm)
Group Y: Selangor vs Penang (4.30pm)

(Matches at Education Ministry Turf)

The Star of Malaysia


---

Alex land first major title of schoolgirls season



Alexandra College's Leinster Junior Cup winning side. Pic: Leinster Hockey

Alexandra College landed the first major title of the Leinster schoolgirls season as they took the Junior Cup title, beating Muckross Park in a shoot-out in the final at Grange Road.

It owed much to some Amy Molloy heroics in goal and the cool head of Eva Lavelle in sudden death to eventually get the result after a well-contested tussle.

Molloy had initially stepped into the role for the semi-final with Rachel O'Mahony – goalkeeper for the early rounds – away on holiday for the semi-final and up to the day before the final.

Molloy duly kept a clean sheet in normal time in the final and produced a series of key interventions in the shoot-out, setting the scene for Lavelle to coolly slot the winner, 3-2.

Early on, Muckross started superbly, bossing the first 10 minutes with Kate Sheridan's thumping shot saved off the line by Lavelle at the left post.

Alex stormed back, winning a series of corners while Muckross keeper Kate O'Donnell made an incredible diving stop to tip away Ella Tempany's rising shot as well as keeping out a couple of corners.

Lucy Crowe and Abby Clarke – an Irish soccer international – were particularly solid at the back for Muckross as the game settled down with chances becoming rare.

For Alex, Lavelle was a quality performer in midfield with some slick skills. The second half saw openings at a premium until the last few minutes when Ailill Dorman twice went within inches of a winner.

It sent the tie to a shoot-out where Lavelle and the impressive Isabelle Maleady both scored in the opening round before the goalkeepers took over. Molloy and Kate O'Donnell kept out the next six shoot-outs.

Emma Whelan put Alex on the brink of victory only for Clarke to make it 2-2 at the end of the regulation five. Molloy then made a brilliant double save in the first round of sudden death, allowing Lavelle the chance to race in and place a calm winner, sparking an eruption from the red side of Grange Road.

Leinster Schoolgirls Junior Cup final
Alexandra College 0 Muckross Park 0, Alex win 3-2 on a shoot-out

Muckross Park: K O'Donnell, I Murphy, A Clarke, R Staunton, L Crowe, A Comerford, E Booth, K Sheridan, K Rossiter, H Reynolds, I Maleady, A Walsh, A Gallagher, O Grimes-Dooley, I de Chaumont, O O'Shea

Alexandra College: R O'Mahony, E Godsil, E Ryan, E Whelan, J Phillips, A Sadlier, H Roche Griffin, L Lyons, E Lavelle, C Collins, A Dorman, E Tempany, H Condon, J Fish, M Cooper, A Molloy, F Hurley



Alex fans at Grange Road. Pic: Leinster Hockey

The Hook


---

Brid Drohan-Stewart To Assist Hockey Ireland

Hockey Ireland are delighted to accept some strategic sponsorship assistance from Brid Drohan-Stewart who is returning to Dublin after living and working in Auckland for the last few years with her husband Colin Stewart ( Bacchus ) . Brid, an international commercial marketer with over 25 years' experience, has offered to help Hockey Ireland fine tune their current approach to see if they can secure some all-important sponsorship in advance of a massive World Cup year for the Men and Women's teams.

Brid said "My interest in Irish hockey is one that goes back many years as a club player and coach, and obviously Bacchus has had a big contribution to Irish club hockey over the years and now more recently with national women's team. With Bacchus returning to work with Graham and the Irish women on a permanent basis, I would be delighted to help in any way I can".

Hockey Ireland is actively in conversations with several interested parties and has gone to the market over the last number of months seeking sponsors and suppliers. Hockey Ireland is committed to aligning with brands that reflect our brand values and company ethics. Likewise Hockey Ireland's sponsorship strategy has a global focus, not solely targeting Irish companies but also international brands, reflecting the worldwide appeal of hockey.   Jerome Pels CEO of Hockey Ireland said "I am thrilled to have someone like Brid offer her experience on a 'pro bono' basis, and working with our marketing team to help with our sponsorship approach. To be able to strategically tap into her expertise and commercial marketing knowledge will be extremely useful, and we look forward to working together upon her return to Dublin in December".

Irish Hockey Association media release


---

Dundee Wanderers Crowdfunding campaign



Scottish Hockey Indoor Gala Day Finals MJV Dundee Wanderers – photo by Duncan Gray

Dundee Wanderers is Crowdfunding to raise £3,000 toward hosting the 2018 women's EuroHockey Indoor Club Champions Cup in Scotland for the first time. The prestigious tournament will welcome the top eight teams from around Europe to Scotland.

Dundee Wanderers will host the Women's EuroHockey Indoor Club Cup in February 2018. Teams will descend on Dundee from Germany, Spain, Austria, Belarus, Switzerland, the Netherlands, and Ukraine to take part in the tournament.

The event will showcase hockey throughout Scotland and Europe to thousands of people to put Dundee firmly on the sporting venue map for hockey in the future.

Dundee Wanderers will play in Pool A against UHC Hamburg (GER), Club de Campo Villa de Madrid (ESP), SV Arminen (AUT), while Pool B has GHC Ritm Grodno (BLR), HC Rotweiss Wettingen (SUI), AH&BC Amsterdam (NED), and MSC Sumchanka (UKR).

MJV Dundee Wanderers Ladies has won the Scottish National League indoor title in seven of the last eight years. In February they won the silver medal at the Eurohockey Indoor Club Trophy in Lithuania giving them the right to take on the elite of the European women's game in Dundee in the Eurohockey Indoor Club Cup next February.

The team is filled with international players at both junior and senior level and is looking forward to facing this ultimate sporting challenge against the best players not only in Europe but the world.

Mounting an event of this size and importance will result in significant costs for the club and who have estimated that this will be in the region of £26,000 and Crowdfunding is a vital part of their fundraising effort.

The club is looking for support toward the cost of hiring the entire Dundee International Sport Centre for four and a half days, which could be as much as £10,000.

All donations of any size are very appreciated by the club, and anyone wishing to show their support by donating can do so HERE.

Scottish Hockey Union media release


---

FIH chief Batra elected unopposed as IOA President

Anandeshwar Pandey elected treasurer

Uthra Ganesan



Narinder Batra. Photo Credit: PTI

Narinder Batra formally took over as the new president of the Indian Olympic Association after winning elections at the Annual General Meeting here on Thursday.

Batra received 143 of the 160 votes polled to elect the office-bearers for the next period of four years from 2018-22 while his rival Anil Khanna, honorary life president of the All India Tennis Federation, got 13.

Handball Federation of India's Anandeshwar Pandey was elected as the treasurer after Rakesh Gupta withdrew and Mukesh Kumar of Judo Federation of India was rendered ineligible. Rajeev Mehta was re-elected unopposed as the secretary-general while R.K. Anand won to the lone senior vice-president post defeating Kabaddi Federation's Janardhan Gahlot.

Khanna, who had already announced his decision to withdraw from the race but did so after the last date of withdrawal necessitating elections, was among the first to congratulate Batra, also the International Hockey Federation (FIH) president, for his victory.

Five federations — judo, gymnastics, taekwondo, winter games and archery —were disqualified from participating either because of recognition issues for their respective NSFs or the presence of a court-appointed administrator for the same.

Besides, Services Sports Control Board (SSCB) was also debarred because of rules that allow government bodies to be part of the IOA but without voting rights.

Batra spoke on several issues in his first interaction with the press. Excerpts:

On issues around Sports Code: It would be improper of me to comment on a matter in court but my understanding is that the code applies only to the NSFs not the IOA. That said, as far as I know, the IOA is in full compliance with the National Sports Code of 2013 since reworking its constitution, which has been approved by both the IOC and the government. Also we need to define a sportsperson, who can be anyone having played at a certain level, not just those who have represented India. I would think about 68% of our EC members fulfil the criterion.

On working relations with the government: We need to work on our relations with the government, how they can improve. They should understand us, we must understand their points and work together. The attitude is to work in a cordial environment but the government should also understand that there is a certain autonomy and independence for the NSFs. There is a very thin line and I hope we both work within our restrictions and limits.

On India hosting major competitions: I personally believe we should bid for the big events and I am aiming at India hosting the Asian Games in 2026, the CWG in 2030 and the Olympics in 2032.

On bilateral series in any sport with Pakistan: I have always held the view that in international competitions we cannot boycott any team because that will only have repercussions for us. As far as bilateral or trilateral series are concerned, this is my personal view that it is an absolute no unless the relations improve and they improve their behaviour. I know certain sections believe sports and politics should not be mixed but this is my view.

The new IOA office-bearers: President: Dr. Narinder Batra; Senior vice-president: R.K. Anand; Secretary-General: Rajeev Mehta; Treasurer: Anandeshwar Pandey.

The Hindu


---

Batra new IOA chief, says India will bid for top events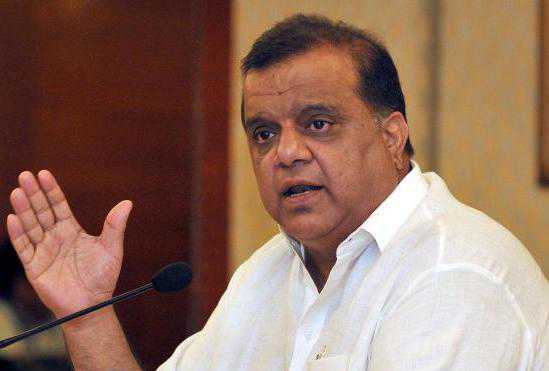 Narinder Batra

Narinder Batra has been elected as the new Indian Olympic Association president. His elevation as N Ramachandran's successor was all but a formality after Anil Khanna withdrew his candidature. Rajeev Mehta was elected unopposed for the post of secretary general, while Anandeshwar Pandey was elected as the new treasurer. Former secretary general Randhir Singh was nominated to become a life member by the newly elected body.

The polling happened despite efforts from senior IOA members, including Tarlochan Singh, to get the entire body elected unopposed. Following late night deliberations, the candidates opposed to the Batra group had decided not to contest but Returning Officer R Mendiratta decided to hold elections as the last date for withdrawal was over. With no way out from the elections, the members decided to vote for the unanimous candidates.

But once the voting started, the old fissures between the Lalit Bhanot group that backed Batra and Mehta and Ramachandran group resurfaced. Khanna polled 13 votes to Batra's 143. The closest contest happened for the post of senior vice-president, for which International Kabbadi Federation boss Janaradhan Singh Gehlot was up against Jharkhand Olympic Association chief RK Anand. Anand polled 91 votes to Gehlot's 61.

Interestingly, even before the results were formally announced, Batra, flanked by Mehta and Pandey, announced himself as the new boss of IOA. "I am yet to take over officially as the IOA president. But I want to ensure that India's medal count improves in all games, athletes' issues are resolves and our relationship with the government improves," said Batra.

He said IOA would go all out in trying to host the Commonwealth Games, Asian Games and the Olympics. "I will look to (bid for) 2026 Commonwealth Games, 2030 Asian Games and 2032 Olympic Games," he said.

The Tribune