All the news for Monday 11 December 2017

Australia's Kookaburras claim Odisha Men's Hockey World League Final Bhubaneswar 2017



Australia, winners of the Odisha Men's Hockey World League Final Bhubaneswar 2017. Copyright: FIH / World Sport Pics

Bhubaneswar, India: Australia's Kookaburras have defended the Hockey World League title that they won in Raipur two years ago by claiming a 2-1 triumph over reigning Olympic champions Argentina, bringing the curtain down on ten pulsating days of world class hockey at the Kalinga Stadium.

As has been the norm here in Bhubaneswar, a huge crowd was on hand to witness the action and were treated to a contest that really could have gone either way.

The match came to life in the second quarter when Jeremy Hayward slammed a low penalty corner effort into the net to give reigning world champions Australia the lead, but it was an advantage that lasted that lasted less than a minute. Agustin Bugallo got the goal, finding space for himself before guiding a perfectly angled deflection into the Australia net.

Both sides came close to edging ahead in the third quarter, although Australia certainly had the best of those opportunities. Blake Govers missed a close range deflection before Eddie Ockenden's instinctive strike rattled the crossbar.

The winning goal arrived three minutes before the end of the contest when Australia's Blake Govers showed quick hands to find an Argentinean foot in the circle. The 21-year-old made no mistake with his drag-flick, finding the bottom corner of Juan Vivaldii's goal to put Australia on the verge of victory.

Argentina threw everything at their opponents in the dying stages, winning a trio of penalty corners. However, the Australian defence held firm to win the Hockey World League title for the second successive time.

Speaking after the match Australia captain Mark Knowles said: "It feels awesome. We wanted to come here and play the best teams in the world, and you cannot ask for a better final with the number 1 and number 2 ranked teams facing each other. Our team is moving in the right direction, and we are looking forward to coming back here for the World Cup next year."

India took the bronze medal thanks to a 2-1 triumph over Germany, but it was fair from straight-forward for the host nation. Germany's semi-final performance against Australia attracted huge praise on Saturday, going down to a narrow defeat despite having only 13 fit players available due to illness. With two more players going down over night, Germany found themselves having to face host the home favourites in the bronze medal match with a squad of 11, which included reserve goalkeeper Mark Appel who played as a striker.

It proved to be one of the most remarkable matches of the event, with Germany holding their own against the home favourites for long periods and even went into half time having ten shots at goal in relation to India's three. However, it was the Indians who went into half time with the lead thanks to SV Sunil's excellent finish in the the 21st minute following a fine reaction save from Germany shot-stopper Tobias Walter.

Unbelievably, Germany drew level six minutes into the third quarter from the most unlikely of sources, with reserve goalkeeper Mark Appel lifting it over the onrushing Indian goalkeeper Suraj Karkera and into the net. The strike sparked wild celebrations from Germany's athletes, all keen to congratulate Appel on his first ever international goal.

Die Honamas continued to remain very much in the game, with both sides missing good chances to win the match before Junior Player of the Match, presented by ONGC Harmanpreet Singh scored the vital goal six minutes from the end of the contest with a powerful low drag-flick to seal the bronze medal. It was another spirited, never-say-die performance from Germany, but in the end proved to be just too much to ask.

Germany's Mats Grambusch was was named as the Odisha New Opportunities Best Player at the event, while Argentina's Juan Vivaldi took the Odisha Tourism Best Goalkeeper Award. The ONGC Best Junior Player was awarded to Belgium's Victor Wegnez, who joined compatriot Loick Luypaert as an award winner, taking the Hero Top Scorer Award thanks to an impressive eight goal haul. 

RESULTS – DAY 10

Sunday 10th December 2017
Bronze medal match - India 2, Germany 1
Man of the Match, presented by Odisha New Opportunities: Mats Grambusch (GER)
Junior Player of the Match, presented by ONGC: Harmanpreet Singh (IND)

Final - Argentina 1, Australia 2.
Man of the Match, presented by Odisha New Opportunities: Juan Gilardi (ARG)
Junior Player of the Match, presented by ONGC: Lachlan Sharp (AUS)

Final Standings
1: Australia
2: Argentina
3: India
4: Germany
5: Belgium
6: Spain
7: Netherlands
8: England

Awards
ONGC Best Junior Player: Victor Wegnez (BEL)
Odisha Tourism Best Goalkeeper: Juan Vivaldi (ARG)
Hero Top Scorer: Loick Luypaert (BEL)
Odisha New Opportunities Best Player: Mats Grambusch (GER)

#HWL2017

FIH site


---

Kookaburras Crowned World League Champions

Ben Somerford




The Kookaburras have claimed back-to-back FIH Men's Hockey World League titles after a heart-stopping 2-1 win over Argentina in Monday morning's (AEDT) decider in Bhubaneswar.

Blake Govers' 58th minute drag flick clinched the win for the Australia, although the Kookaburras needed to withstand a late rally of pressure from the 2016 Rio Olympic gold medallists.

Earlier, Jeremy Hayward opened the scoring from a penalty corner in the 17th minute, but Argentina levelled within 60 seconds via Agustin Bugallo.

The result marks a significant milestone for the Kookaburras in their final game of 2017, ahead of a huge year where they will compete at the 2018 Commonwealth Games on the Gold Coast and the 2018 World Cup in India.

The triumph also means Australia will regain world number one status ahead of Argentina upon the next release of the FIH rankings.

Kookaburras captain Mark Knowles said: "It feels awesome. We came here wanting to play well and not knowing exactly where we were at, wanting to play the best teams in the world.

"It's a pretty good advertisement for hockey when the number one team in the world plays the number two. The Olympic champions against a team that want to chase them now. I'm so happy."

Australia edged the contest after a tight first quarter where Eddie Ockenden had the best chance with an angled shot which was saved by Argentina goalkeeper Juan Vivaldi.

The match came alive in the second term when Hayward put the Kookaburras ahead from the first penalty corner of the game with a drag flick to Vivaldi's left.

Australia's joy quickly turned when Juan Gilardi crashed a pass inside the shooting circle which Bugallo deflected for the equaliser.

Diego Paz and Lachlan Sharp both had chances before the main interval for either side, before Argentina heaped on the pressure in the third.

The Lions initially had a penalty stroke which was reversed upon review in the 32nd minute, before Tyler Lovell made a fine double save to deny Gonzalo Peillat and Nahuel Salis from a penalty corner.

Ockenden hit the crossbar on the stroke of half-time after an ambitious drive forward from Knowles.

Juan Lopez fired a good chance wide early in the last, before Australia made the breakthrough.

Govers won the penalty corner for Australia, before powering a clinical finish past Vivaldi's left for the match winner.

Argentina won three late penalty corners but Lovell and Australia stood firm to clinch a famous triumph to end 2017 on a high.

Australia 2 (Hayward 17', Govers 58')
Argentina 1 (Bugallo 18')

Hockey Australia media release


---

Knowles: Kookas Moving In Right Direction For Huge 2018

Ben Somerford




Kookaburras captain Mark Knowles is already looking ahead to 2018 after the side's FIH Men's Hockey World League triumph over Argentina on Monday morning (AEDT).

The Kookaburras edged the 2016 Rio Olympics gold medallists 2-1 in Bhubaneswar, with Blake Govers' 58th minute drag flick from a penalty corner clinching the win.

The triumph concluded a successful back-end to 2017 for the Kookaburras who won the Oceania Cup in Sydney in October and the International Festival of Hockey in Melbourne in November.

The result also means Australia leapfrogs Argentina as the world's number one ranked side.

Knowles said it was a great sign ahead of a huge 2018 which includes the Commonwealth Games on the Gold Coast in April and the World Cup in India in December.

"This is where the World Cup is so it's the perfect preparation," Knowles said.

"Our team is moving in the right direction. You've got to build each year.

"We know that from the past. We've got the Commonwealth Games in April and the World Cup in December.

"It's a big goal for this group."

Knowles was thrilled with the triumph, particularly knocking off the Rio Olympics gold medallists who he said had set the benchmark.

"It feels awesome. We came here wanting to play well and not knowing exactly where we were at, wanting to play the best teams in the world," he said.

"It's a pretty good advertisement for hockey when the number one team in the world plays the number two.

"The Olympic champions against a team that want to chase them now. They've set the bar. I'm so happy."

The Kookaburras will enjoy a short break before the group gets together in January ahead of the Test series against the Netherlands in Perth and Narrogin.

Tickets are available via Ticketmaster for the Dutch Test series, with the first game in Narrogin on Saturday 27 January.

Hockey Australia media release


---

Australia wins the incredible HWL Final

s2h team




These two teams did not shine in the pool stage, but Australia and Argentina lit up the Kalinga stadium and played an incredible kind of hockey befitting the occasion today.

World Cup winners Australia lifted their game many notches above to exceed the high bench mark the Olympic Champions Argentina had set, to retain the Hockey World League crown second time in a trot.

Australia struck twice against a solitary strike by Argentina to win their second successive HWL finals.

It was befitting finale to the the ten-day of high drama and superlative action. Playing against full crowd and ever increasing decibels, Australia went up with precision in penalty corner (1-1) only to see the Argentinean even it out through an acrobatic deflection of crash ball (1-1). If Jeremy Haywards' immaculate penalty corner was a toast, BUGALLO Agustin Bugallo's deflection of a crash ball without seeing the ball but turning it to the far corner of the net, is a master piece goal, which drew masterpiece reaction from his coach Carlos Retegui.

With the 17th and 18th minute goals, the sides changed for lemon time. On resumption, no quarters was given or taken in the third quarter though the scoreboard remained static.

Blake Govers earned a penalty corner using all his consummate skills and then went on to convert two minutes before the hooter (2-1).

Thereafter, Argentina waged a spirited battle to take the game to shoot out.

Australia goalie Taylor Lovell made some exciting saves, even as Juan Lopez missed out twice, once pushed his solo run after snatching the ball from otherwise alert Mark Knowells only push wide and then when a rebound ball ballooned to him, hit out.

Argentina obtained three penalty corners in the space of two minutes after Australia made its second goal, but the Australian defence stood solid. But it appeared against the backdrop of blitzkrieg by Argentina, the match will go to shoot out, but the Australians were thankfully brave and lucky enough to pass out those 120 seconds.

RESULTS – DAY 10
Sunday 10th December 2017
Bronze medal: India 2, Germany 1
Man of the Match: Mats Grambusch (GER)
Junior Player: Harmanpreet Singh (IND)

Final: Argentina 1, Australia 2.
Man of the Match, presented by Odisha New Opportunities: Juan Gilardi (ARG)
Junior Player of the Match, presented by ONGC: Lachlan Sharp (AUS)

Final Standings
1: Australia
2: Argentina 3: India
4: Germany
5: Belgium
6: Spain
7: Netherlands
8: England

Awards
Best Junior Player: Victor Wegnez (BEL)
Best Goalkeeper: Juan Vivaldi (ARG)
Top Scorer: Loick Luypaert (BEL)
Best Player: Mats Grambusch (GER)

Stick2Hockey.com


---

Australia's reign continues; India wins bronze

Uthra Ganesan



S.V. Sunil is all smiles after scoring a goal against Germany in the third-fourth place match on Sunday. Photo Credit: Biswaranjan Rout

World champion Australia beat Olympic champion Argentina 2-1 to win the battle of champions and retain the title in the Hockey World League Final at the Kalinga Stadium here on Sunday.

Earlier, India beat Germany by a similar margin and salvaged some pride by claiming its second successive bronze medal.

Having started off slowly in the tournament, the Aussies fired on all cylinders to strangle Argentina. A brilliant hit in from Lucas Vila saw Agustin Bugallo slot the ball into the net less than a minute after Australia went ahead on the 17th minute through Jeremy Hayward but that was to be its only consolation.

Even though the Argentines had more shots at the goal, the difference between the two sides was in the execution of penalty corners. Gonzalo Peillat was unable to find a way past Tyler Lovell as Argentina wasted four PCs while Australia scored off both the chances it got.

Earlier, Germany was playing its second high-intensity game in as many days, with less than 20 hours in-between, after a draining semifinal against Australia. It had just 11 players available, its second goalkeeper Mark Appel playing as a centre-forward for the first time ever in his career – and he scored the team's lone goal.

Stand-in captain Mats Grambusch took to the field despite suffering from fever, same as the other six rendered out of action. And yet, it had as much possession as India, managed 13 shots at the goal against India's 12, earned seven penalty corners and kept running circles around the host.

It looked like India and not Germany was short of legs. The latter had a clear plan and stuck to it. The defensive zoning worked perfectly. The players knew a ball would always travel faster than a player and so used minimum but accurate passes, ran less but with more direction and yet were precise and quick enough with their overlapping to always have someone to receive the passes.

It was all level in the first two quarters. India fashioned a series of attacks but they all fizzled out against a stout German defence. Gurjant Singh's shot in the 12th minute went straight to goalkeeper Tobias Walter. As did shots from S.V. Sunil and Akashdeep Singh. Mandeep Singh was nowhere to be seen.

Sunil managed to finally break the deadlock in the 21st minute, shooting in a rebound after Walter padded off Akashdeep's shot, but for a team fresh off a rest day, that was little to be relieved.

The second saw the Germans pegged back, as expected, but they continued their dogged defence as India failed to find a way past. A long pass from Grambusch in the 36th minute, from outside the dotted circle on the right, found Appel unmarked at the far post who just swung his stick and scored.

India earned its first PC in the 41st minute and then got three more, finally scoring off the last to go ahead. There even was a miscommunication during one where no one knew who would inject the ball. It kept attacking against a team running on fumes but there was no way Germany was going to go down without a fight. And it didn't.

India might have won the game but it was Germany that walked off to the loudest applause from the crowd.

The results: Final: Australia 2 (Jeremy Hayward 17, Blake Govers 58) bt Argentina 1 (Agustin Bugallo 18). Bronze medal match: India 2 (S.V. Sunil 21, Harmanpreet Singh 54) bt Germany 1 (Mark Appel 36).

The Hindu


---

Australia beat Argentina 2-1 to clinch second straight gold

Feroz Khan

BHUBANESWAR: In the end, the penalty corners made the difference. Both Australia and Argentina boasted of some of the top exponents of the art but it was the former who beat them to retain their Hockey World League Final title, with a 2-1 win in the summit clash here on Sunday.

By virtue of their win, Australia replaced Argentina at the top spot in team's rankings.

Jeremy Hayward (17') converted a penalty corner in the second quarter to put Australia ahead before Argentina equalised through Agustin Bugallo (18'). Blake Govers (58') then sealed the gold in the final quarter when he converted a penalty corner two minutes before the full time.

The teams found it difficult to make enough circle entries and so there were few attempts at goal. Australia found an opening in the second quarter when they won their first penalty corner of the night. And Haywards scored, lifting his shot to the right of Juan Vivaldi, putting Australia 1-0 ahead.

The celebrations lasted a minute with Bugallo getting his name on the scoresheet. Juan Gillardi played on inside the Australian circle and Bugallo lifted the ball to the right of goalkeeper Tristan Clemons with a lovely deflection with the ball ending inside the far corner. It wasn't a pulsating contest but a battle of wits. Both teams had their chances but neither found the success.

Juan Gilardi had a golden chance to put the game to bed when he beat Australian captain Mark Knowles, the last defender and all he had to beat Tyler Lovell but the goalie charged ahead and the Argentine crashed his shot wide of the cage.

He would come to regret that miss when Govers continued his excellent form, converting his fifth penalty corner of HWL Final. Argentina came back hard winning three penalty corners in the dying moments but failed to convert either with the Kookaburras defending with all their might to deny the Olympic champions.

Argentina would make one final attempt with an overhead pass landing inside the Australian D in the final seconds and Diego Paz thrashed a bouncing ball at the goal but it was off target. Australia thus became champions for the second time in a row and will go down in international hockey history as the last team ever to win Hockey World League Final.

Earlier, India defeated a depleted Germany 2-1 in the bronze medal match.

The Times of India


---

Australia end 2017 on a perfect note

Feroz Khan

BHUBANESWAR: Mark Knowles is a happy man. At 33, he's the oldest and most experienced member of the Australian men's hockey team that won a second consecutive gold medal at the Hockey World League Final in India on Sunday.

Marshalling a young bunch which he describes as "very inexperienced", he continues to be the Australian team's key player and not just because of the wealth of experience he brings to the table and the fact that he happens to be their captain too.

Pleased as his team won the title after starting on an average note when they were left dazzled by India in their opening clash of the HWL 2017, Knowles is impressed at the progress his team has made after the debacle of the Rio Olympics where they lost to New Zealand in the quarter-finals.

Australia ended the pool stage winless, drawing all their three games against India (1-1), Germany (2-2) and England (2-2). After an average start considering the standards expected from the current world champions, it was natural to have doubts as to whether Australia will be able to defend their crown.

"We started off a little bit below our best," he told TOI Sports on Sunday, "but the biggest thing with these tournaments is that you don't want to play your best game at the start. We knew the pool stage you only have to win a certain amount and you have to play your best in the quarter-finals, semis and the final to win the trophy."

But, as was their plan, Australia kept their best for the stage which mattered. In the knockouts, they raised their game and spanked Spain 4-1 in the quarter-finals, beat a depleted Germany 3-0 in the semis and then outwitted Olympic champion Argentina in the summit clash 2-1 en route to a second HWL title.

Knowles feels the tournament will serve Australia's young players well as they would have learned how to deal with pressure situations in pressure matches in a packed stadium. "We didn't do well in Rio last year. But this team is growing, it's new, different and getting better. I think it's fantastic for a group of very inexperienced player who haven't known exactly where we were in this year. To come out and play in three big matches and win three finals, for us that's the perfect way to end the year," he said.

Knowles still feels that the team has some way to go before establishing themselves as the world's best as little separates the top-ten teams. "What we have seen is that the top-eight teams in the world are so close. You look at Nos 7 and 8 in this tournament - they are one of the best in the world. If you don't play well in big matches, you will pay for it," he said. "If you look at maybe the best team in this year Belgium, they got beaten by India. So you have to be good at every single game and that's probably this team did really well. We didn't think much about past matches or the matches to come. As I said, for a group of young guys, who haven't played much international hockey that's very-very pleasing."

Australia coach Colin Batch has been tasked to guide them through this transition phase, and has had a good year. This is his second title in two months with the Kookaburras after winning the 2017 Oceania Cup in October. A busy year lies ahead for international field hockey and the 59-year-old, who took over the team's rein in December 2016, feels it is moving in the right direction.

"We introduced a few younger players [in the tournament]. Two of them played in the junior world cup last year. There was another 19-year-old. It has been a very good experience for them," he said. "They have just started their Kookaburras career and it's nice to start with a tournament win. It is the end of our year and we are happy with this. We have a break after this and we move forward to developing [them] firstly for the Commonwealth Games and then the World Cup at the end of the year."

While he is content with how the team performed as a unit, his captain impressed him the most. "Our captain Mark Knowles is still a very good player and he played all the way through and he has very high standards we have come to expect that he can do that. But we had consistent performances across the team and I am pleased that we've become a good team which is hard to beat," he said.

Batch echoed Knowles' view that there is still a lot of scope of improvement and the team wants to graduate from being just good to very good. "Look there's a lot to improve still. We want to become a very good side and at the moment we are just good. But at the moment we will just enjoy the victory and we are very pleased," he said.

The Times of India


---

Australia defeat Olympic champions Argentina, defend title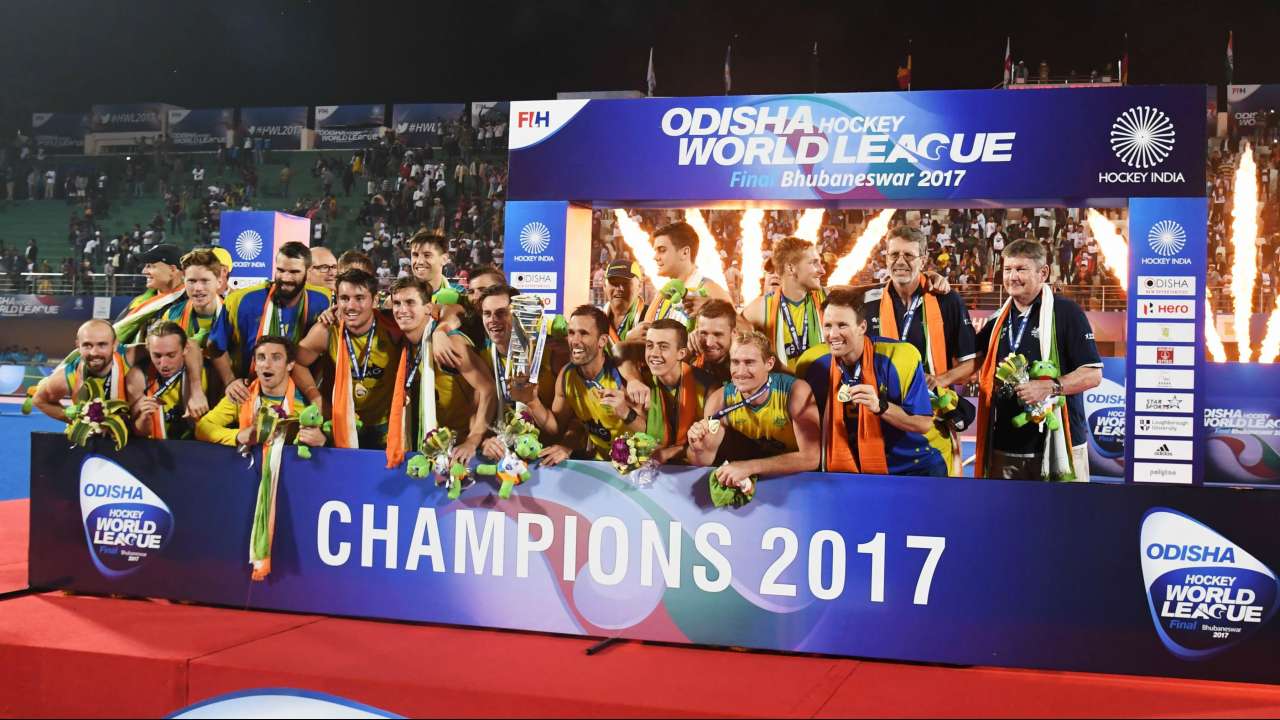 Australian players celebrate with the trophy after winning their final match of the Hockey World League Final against Argentina at the Kalinga Stadium in Bhubaneswar on December 10, 2017 , AFP

Australia have defended the Hockey World League title by claiming a 2-1 triumph over reigning Olympic champions Argentina, bringing the curtain down on ten pulsating days of world class hockey at the Kalinga Stadium in Bhubaneswar.

The match came to life in the second quarter when Jeremy Hayward slammed a low penalty corner effort into the net to give reigning world champions Australia the lead, but it was an advantage that lasted less than a minute.

Agustin Bugallo got the goal, finding space for himself before guiding a perfectly angled deflection into the Australia net. Both sides came close to edging ahead in the third quarter, although Australia certainly had the best of those opportunities.

Blake Govers missed a close range deflection before Eddie Ockenden's instinctive strike rattled the crossbar. The winning goal arrived three minutes before the end of the contest when Australia's Blake Govers showed quick hands to find an Argentinean foot in the circle. The 21-year-old made no mistake with his drag-flick, finding the bottom corner of Juan Vivaldii's goal to put Australia on the verge of victory.

Argentina threw everything at their opponents in the dying stages, winning a trio of penalty corners. However, the Australian defence held firm to defend the title, which they won in Raipur two years ago.

Speaking after the match, Australia captain Mark Knowles said, "It feels awesome. We wanted to come here and play the best teams in the world, and you cannot ask for a better final with the number 1 and number 2 ranked teams facing each other. Our team is moving in the right direction, and we are looking forward to coming back here for the World Cup next year."

Daily News & Analysis


---

Australia defeat Argentina in hard-fought encounter to defend title



Bhubaneswar: Australian players celebrate after scoring goal against Argentina in the final match of the Men's Hockey World League at Kalinga Stadium in Bhubaneswar on Sunday evening. PTI Photo by Swapan Mahapatra

Bhubaneswar: World champions Australia defeated Olympic champions Argentina 2-1 in a hard-fought summit clash to defend the Hockey World League (HWL) Final crown at the Kalinga Stadium on Sunday.

It was a fitting end to the eight-nation tournament which witnessed a keen battle between worlds best two teams.

Eventually, the experience of handling pressure in big tournaments came in handy for the three-time World Champions Australia who scored through two penalty corner conversions by Jeremy Hayward (17th minute) and Blake Govers (58th) to add another crown to their glorious history.

Argentina's lone goal came from the sticks of Agustin Bugallo in the 18th minute.

Contrary to the final result, Argentina had more shots on goal (nine against Australia''s six) than their opponents but the Kookaburras had better ball possession.

Eventually, what turned out to be the difference between the two sides in the evenly-contested encounter was penalty corner conversions.

Argentina had four penalty corners but Gonzalo Peillat and Co failed to find the net once, whereas, Australia had a 100 percent record from set pieces converting two out of two.

After a barren first quarter, Australia took the lead minutes into second quarter through Hayward who beat Argentina goalkeeper Juan Vivaldi with a powerful grounded flick to the right side.

But Australia's joy was short-lived as the Los Leones equalised in the next minute with a gem of a field goal. Standing in a one-on-one situation with an Australia defender inside the D, Bugallo neatly directed in Lucas Villas free hit from outside the circle.

Thereafter, it was a neck-and-neck battle between the two sides as they tried hard to assert supremacy over the other.

Australia finally succeeded in their efforts late into the match when Govers converted their second penalty in the 58th minute.

In the last two minutes, it was all Argentina as they attacked in numbers in search of the equaliser and in the process earned two penalty corners but the Australians defended well to maintain their slender lead.

Australian goalkeeper Tyler Lovell made some important saves in the dying minutes of the game to keep the Argentines at bay and ensure the gold medal for his side.

Firstpost


---

India need to fix gaping holes in defence and midfield despite bronze

Sundeep Misra



Indian player Harmanpreet Singh (C) celebrate with his teammates after scoring against Germany. PTI

Sport is an expression. And no team articulated it better than Germany on Sunday. Bluntly put, the bronze medal play-off should have been a straight execution; Germany, the lambs, being cut down by sheer numbers of the opposition. But in a different sense, Germany was David to India's Goliath. In pure numbers, it was 16 vs 11. It should have been a mismatch. It wasn't.

For those who didn't know, Germany was missing 5-6 players not only on the pitch but also on the bench. Beyond a point, the Germans were physically over. They played like automatons. In fact, like in the marathons, athletes sometimes lose their physical ability and what keeps them running on asphalt is simply the drill. That's exactly what happened to Germany against India.

The final score-line, however, was 2-1 in India's favour. For the packed Kalinga Stadium, it was a victory to savour. Seconds after the hooter went, the Germans sank to the turf, some prone, some bent over their sticks, some relieved that 120 minutes of hard hockey — two matches with less than 20 hours in between. German captain Martin Haner, Julius Meyer, Christopher Ruhr and Marko Miltaku had fever. Weinke and Linnekogel also fell ill while Timur Oruz, member of the 2016 Olympic bronze-winning team had to fly back with an injury.

India were full strength. It was a bronze medal tempered with the knowledge that much work needs to be done. For an Indian team with more than 1400 matches between them, excuses of not being experienced didn't cut much ice. For the moment, celebrating the win is more important before coming back to the drawing board where the path to the 2018 World Cup needs to be clearly lit up.

At the Kalinga, the performance was tepid, sometimes hazy. The worrying aspect is the yo-yo nature of this Indian team; almost perfect performances on some days, incredibly pathetic on others. It's probably in the nature of how we play that the gremlins invade our minds. Consistency is not something we strive for. In terms of priority, it has always come after skills. Otherwise, how do you show a balanced possession between both the teams — India's 52 percent to Germany's 48?

It should have been quite the opposite. The argument is India plays a different style while the Germans keep rotating and probing. India relies on speed, skill and the sprint to kill the defence. But against an opponent whose legs were giving away, we should have annihilated them. On the contrary, we almost lost the match. Germany had seven penalty corners but no conversions to show — unlike Germany. India had 20 circle entries and only one field attempt — so much India. So is the direction right? Are we growing as a team? To keep saying that India has a new coach is not enough anymore. This is a bunch that should know how to win at least against depleted sides. SV Sunil, Rupinder Pal Singh, Kothajit, Harmanpreet Singh, Manpreet Singh, SV Uthappa, Akashdeep Singh, Chinglensana, Mandeep Sigh are all players with experience at World Cups and the Olympic Games, and that's the worrying aspect.

Opportunities were aplenty against Germany. Crosses fizzed in, but there was nobody at the end of the line. The right flank provided 70 percent of the play, while the left portion of the German striking circle could have accommodated a bunch of spectators, so unused it was. The only time we had a clear sight on goal was when Harmanpreet opened up the defence with a lovely pass that went to Akashdeep on the left side of the German striking circle. His reverse shot rebounded off the German goalkeeper's pads and found Sunil, whose slap-hit went into the corner.

That was the only time when India stretched the Germans. Despite the goal, we were back to playing in a bunch, like a gaggle of school kids not willing to hand over the ball. At times, India plays mesmerising hockey — fast, first touch, dodge, one-touch dribble, subtle deflection. And at times, they cannot hold the ball, or even trap.

Sjoerd Marijne is due for a three-week break. But he would probably try and understand this nature of Indian hockey. He did praise Germany's performance later.

"It was a great performance from Germany. They fought really hard. We wanted to score early. The way they played, it was not a system we are used to. The players were a little bit scared, to lose the ball. I am happy with the win, because matches like these are not easy. Of course, we can improve," Marijne said.

India's midfield play wasn't expressive enough. With players like Uthappa, Manpreet, Chinglensana and at times even Lalit operating from the half-line, the potency should have been there. But with the captain, Manpreet Singh, also keeping an eye on the defence, forward movement remains stunted a bit. Probably that was one of the reasons why India operated on the right flank with Amit Rohidas and Kothajit, all feeding Sunil.

Yet, you need control in those parts of the match where India has to slow the pace down. It's impossible to play at high speed constantly. In such tactics, losing the ball is part of the script. But the turnover is dangerous. And Germany showed that. Mats Grambusch, at times, went in alone and almost created goals. Thrice in the match, he shot out even though he had Karkera at his mercy. But credit to the Indian goalkeeper for keeping the penalty corners out. It was good to see him come off his line and take the flick on the gloves or pads. The German Niklas Bruns would be disappointed for having missed six of the seven that he flicked.

Marijne speaks about consistency. To be fair, he is right to be worried. But that has been the underlying theme of all the coaches who have tried to do something with this Indian team — Brasa, Terry Walsh, Roelant Oltmans and now Marijne. It's not out of the ordinary to understand that players are mentally brittle. The team also needs to ramp up its ambition quotient.

"The most important thing is consistency," said Marijne. "That's the thing we need to work on. We played at the highest level. Now we can take steps, what we need to change. We will take our time for that. We have to learn our lessons. The easier thing is to see what we didn't do well. I know that. But if you create chances, it means you did something good." By the same logic, Germany did better, and India need to be worried.

Yet finishing on the podium is a high. Mentally, that was important. Yes, steps need to be taken. What is important for India is not winning the bronze or the sure-shot medal at the Commonwealth Games or the Asian Games gold but what we put on the pitch at the 2018 World Cup. The Asian Games gold is important for qualifying directly to the 2020 Olympics. But bigger questions need to be answered about the composition of the team.

It would be wonderful to allow Manpreet to grow as captain. But the defence needs work. Even a player of the calibre of Harmanpreet Singh did a stupid error when India led 2-1 giving Germany a penalty corner; that it didn't work out was a relief.

But India will need to look at players kept out like Surender, Sardar, Pardeep Mor and Ramandeep. Mor's runs were missed and it's perplexing that players are dropped out of the mix without reasons being explained. Experience has a value and more than Marijne, one believes David John, the high-performance director should understand that. Indian hockey has constantly re-jigged teams, rebuilt groups without realising that every 2-4 four years players cannot be axed or re-assigned because of a change in tactics.

It's not Indian hockey's fault that every second year we have a new coach. It also means new players. Marijne spoke about the belief in the team. "For me it's always about the team, not the individuals. We want to score 100 goals. There are seven young guys who played the tournament at the highest level against top countries. The guys train so hard to improve PCs. I hope you are proud as well that they won the bronze medal. I am proud. We can see now that we can play against every country. Players really believe they can beat every country. That's a big step."

German coach Stefan Kermas brought it down to emotion. "I think this game I spoke only about emotional things," he said. "But it's always good to keep the emotions down and find little tiny small things. This match was quite easy for me, because I just had to concentrate on the pitch. Today the whole power and spirit came off the team. It was not my idea to plan, it was their idea. The idea to win for each other can be most important."

With a bronze around their necks, feet on the podium where a year later they would play the World Cup, India need to find that fine balance, eradicate the weaknesses and look out for the rapiers the others are already sharpening.

Firstpost


---

India wins Bronze, concedes a goal to a Goalkeeper

s2h team




India retained bronze after defeating Germany 2-1 in the 3rd Hockey India League Finals in Bhubneswar even as it conceded a goal to Mark Appel, the second goalie who had to play as centre-forward due to seven of its team members could not play on account of injury or fever.

SV Sunil slotted India's solitary first half goal off a rebound from German Goalie for India to change sides with a goal advantage in the bronze medal match of the 3rd Hockey World League final.

Its Akashdeep Singh who sent a withering shot from left side of circle only to see goalie stretching his left leg to deflect the ball, which got deflected straight to top of circle where rushing SV Sunil pushed the ball straight home as the ball was rolling. Its an acrobatic goal at its best.

The German bench did not have original captain Martin Haner, play maker and celebrated star Christopher Ruhr, Julius Meyer, Dieter Linnekogel, Ferdinand Weiknke and Marco Miltkau.

Early in the third quarter, Mark Appel received a cross from right flank and gently pushed inside circle to give jitters for India (1-1). India managed to beat the depleted team when its fourth penalty corner went right.

Harmanpreet Singh struck to the right far corner, which the goalie Walter Tobias anticipated and deflected with his stick, but the ball deflected into the cage for 2-1. The 54th minute goal survived many anxious moments.

India last won bronze at Raipur two years ago beating Netherlands in shoot out after normal time stood as 5-5.

Germany could manage only eleven players for the match as seven has either fever or struck down by injuries. Still, they offered a fight in the first two quarters. They had more attacks and even penalty corners. Germany had six of them in the first half against nil by the hosts. Indian defence was solid that the Germans could not strike any goal out of such huge opportunities.

However, the game was even as Germany did not show any weariness on the field or exchanges. Unexpectedly, three Indians - Rupinder Pal, Mandeep Singh and Sumit -- got yellow card suspensions as if to resonate with the depleted rival! "We had only substitutions. Its pretty tough today. Hope we will get better results in future events", said Mats Grahmbusch

Its Indian goalie Suraj Karkera who did everything at his armory to keep Indian side clean.

"We had chances to score. The team last night decided to play. Am not satisfied as we could have won today", said German coach Niklas Bruns.

Young Player: Harmanpreet Singh
Man of the match: Mats Grahambusch

Stick2Hockey.com


---

India edges past a fighting and depleted Germany

Uthra Ganesan



S.V. Sunil is all smiles after scoring a goal against Germany in the third-fourth place match on Sunday. Photo Credit: Biswaranjan Rout

BHUBANESWAR: Sports is said to build character but, more importantly, reveal it when it matters most. On those grounds, the German side would be proud of its performance despite faltering to a 2-1 defeat as host India salvaged pride by winning its second successive bronze medal at the Hockey World League Final in front of a packed Kalinga Stadium here on Sunday.

Consider this: Germany was playing its second high-intensity game in as many days, with less than 20 hours in-between after a draining semifinal against world champion Australia. It had just 11 players available, its second goalkeeper Mark Appel was playing as a centre forward instead for the first time ever in his career — and he scored the team's lone goal.

Stand-in captain Mats Grambusch took the field despite suffering from fever, same as the other six rendered out of action. And yet, it had as much possession as India, managed 13 shots at the goal against India's 12, earned seven penalty corners and kept running circles around the host.

It looked like India and not Germany was short of legs. The latter had a clear plan and stuck to it. The defensive zoning worked perfectly. The players knew a ball would always travel faster than man and so used minimum but accurate passes, ran less but with more direction and yet were precise and quick enough with their overlapping to always have someone to receive the passes.

It was all level in the first two quarters. India went for the lead and fashioned a series of attacks but they all fizzled out against a stout German defence. Gurjant Singh's shot in the 12th minute went straight to goalkeeper Tobias Walter. As did shots from S.V. Sunil and Akashdeep Singh.

Mandeep Singh was nowhere to be seen. Sunil did manage to finally break the deadlock in the 21st minute, shooting in a rebound after Walter padded off Akashdeep's shot, but for a team fresh off a rest day, that was little to be relieved.

India, on the other hand, appeared uncertain. It was surprising, given that the team knew the opposition would be tiring as the match wore on, but India appeared more under pressure in the first-half.

Germany had more shots on goal, six PCs and almost equal possession. The second half saw the Germans pegged back, as expected, but they continued their dogged defence as India failed to find a way past. Grambusch's long pass from outside the dotted circle on the right found Appel unmarked at the far post and he just swung his stick at it and scored in the 36th minute.

India earned its first PC in the 41st minute and then got three more, finally scoring off the last to go ahead. There was even a miscommunication during one where no one knew who would inject the ball. It kept attacking against a team running on fumes but there was no way Germany was going to go down without a fight. And it didn't.

India might have won the game but it was Germany that walked off to the loudest applause from the crowd.

The Hindu


---

India win bronze, Germany hearts, Aus gold

Harmanpreet scores in the final minutes of the game to help India beat depleted Germany 2-1

Indervir Grewal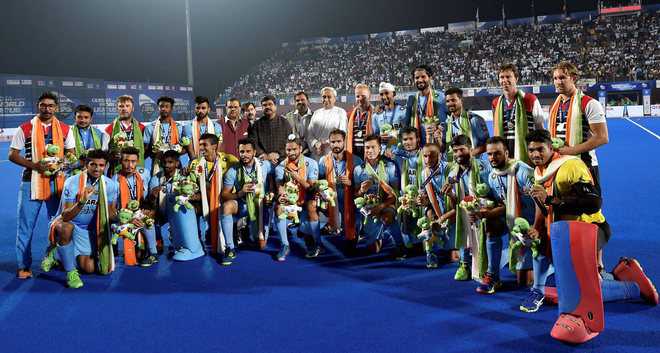 The Indian hockey team with Odisha Chief Minister Naveen Patnaik (C) and Union Minister Dharmendra Pradhan after wining the bronze medal on Sunday. PTI

It was expected to be easy, almost a walkover. In fact, Germany had thought twice before competing. "In the morning, we had a meeting about whether we were going to play for bronze or not," said captain Mats Grambusch.

Since their semifinal on Saturday, which Germany had played with 13 players, the four-time Olympics champions had lost two more players to the mysterious illness. It meant Germany had no substitutes.

Even the image of the teams lined up for the national anthems raised sympathy for the Germans. The shrunken team huddled together while the long line of Indian players sang the 'Jan Gan Man', with the crowd as their chorus.

Such contests always ask moral questions, from the players, coaches and audiences. And the mentality of the team with perceived advantage is complicated. "It is difficult, mentally, when you know that you play a team with only 11 players," said Mark Appel, Germany's second goalkeeper who had to play in the outfield. "You know that you need to win. You know what I mean…"

Or, in the case of the underdogs, it is simple. "Once we had decided we were going to play, we focused on our strategy," said Grambusch. Appel said that the strategy was to "keep it simple". For Stefan Kermas, it was an easy match to coach. Screaming from the sideline, the only thing Kermas reminded the players was to "concentrate".

"It was easy for me. I spoke only about emotions," said Kermas. "There are minor adjustments I can make, but mainly it was about the spirit of the team." The Germans, known for their team spirit and grit, didn't need anybody's sympathy, especially the Indian team's. And they didn't get any sympathy from the hosts. "Nobody comes easy for a bronze medal match," said India captain Manpreet Singh. "We just wanted to win the match. We went full-fledged to apply pressure."

Harmanpreet Singh said: "Even if they were only 11, they were players who knew how to play structured hockey."

The German XI made sure the home crowd got to witness a tight contest. It was an inspiring performance from them. But it was also not India's best day. The hosts had a listless start. Germany earned the first penalty corner, had the first real scoring opportunity. In the first half, they had 10 shots as opposed to three by the hosts. They earned six penalty corners compared to none for India.

It was as if India were struggling to cope playing in such a situation. In tennis, it is not an uncommon scenario. When one player starts to hurt due to a mid-match injury, the opponent starts to struggle due to a slip in concentration level.

But in such cases, the player with the upper hand finds his ruthlessness again. It seemed that the first goal in the 21st minute would inspire that level of ruthlessness in India. After Akashdeep Singh's reverse-stick shot was brilliantly saved by goalkeeper Tobias Walter, SV Sunil slapped the rebound in.

But India never found their stride. India didn't keep possession well, passes didn't flow and they didn't look their speedy selves. Six minutes into the second half, Appel scored against the run of play. Grambusch's cross went through a bunch of Indian players and reached an unmarked Appel in front of goal. The youngster showed a striker's poise to lift the ball over the onrushing goalkeeper to stun the Indians. The goal woke India up. Though they never found their rhythm, India did what was needed to win – "scored one goal more" than their opponents. After waves of attacks and penalty corners in quick succession, Harmanpreet finally thumped one into the backboard in the 54th minute. "In the end, it is all about winning," said Harmanpreet.

Admitting that there were many things that India could have done better, he chose to look at the positives. "We wanted to score early. The way they played, it was not a system we are used to. The players were a little bit scared to lose the ball. I am happy with the win because matches like these are not easy. Because it all (11 vs 18) plays in the head," said Marijne. "The most important thing is the mentality with which we won the match. Of course, we can improve."

Marijne was impressed by the Germans, saying: "It was a great performance from Germany. They fought really hard." There was no doubt that it was something inspiring from a bunch of players that had kept Australia at bay for 42 minutes less than 24 hours ago. "You saw yesterday, how Australia struggled. If the world No. 2 side can struggle, the world No. 6 also can," said coach Marijne.

Kermas couldn't have asked for anything more from his players. "Really happy with the performance. This was emotionally important. It showed their team spirit," Kermas said.

"Look at that smile," Kermas said, pointing towards Grambusch. "They know what they tried to do yesterday and today." In contrast, Manpreet and Harmanpreet sat on either side of Marijne, quiet and brooding. They were clearly not happy with their performance. But when reminded that they had just won the HWL Final bronze medal and should smile more, the two, along with their coach, had a hearty laugh.

Australia beat Argentina 2-1, defend title

World champions Australia defeated Olympic champions Argentina 2-1 in a hard-fought summit clash to defend the Hockey World League (HWL) Final crown at the Kalinga Stadium here today. It was a fitting end to the eight-nation tournament which witnessed a keen battle between the world's best two teams. Eventually, the experience of handling pressure came in handy for the three-time world champions Australia who scored through two penalty corner conversions by Jeremy Hayward (17th) and Blake Govers (58th) to add another crown to their glorious history. Argentina's lone goal came from the stick of Agustin Bugallo in the 18th minute. PTI

Awards

Best Junior Player: Victor Wegnez (BEL)
Best Goalkeeper: Juan Vivaldi (ARG)
Top Scorer: Loick Luypaert (BEL)
Best Player: Mats Grambusch (GER)

Goalie's goal

Mark Appel's bright grin said it all. Appel had last played in the outfield 10 years ago. In Bhubaneswar, a mysterious illness to many of his teammates forced him to shed his pads for the job of a striker. "My job was simple, to run as much as I could and trouble the defenders," said Appel. But midway through the match, he found himself with the ball in front of the goal. Half-an-hour after the match, the tall 23-year-old still smiled thinking about his equaliser against India. "It was special for me, for Mark, for the team," said captain Mats Grambusch, whose cross had found Appel. "That's why the team had come together like that afterwards," Grambusch said about the team's tight huddle around Appel.

The Tribune


---

India scanter past the finishing line to bag bronze medal

Gallant Germany, playing with just 11 players, make life miserable for the hosts, who rely on a late penalty corner to grab bronze

by Mihir Vasavda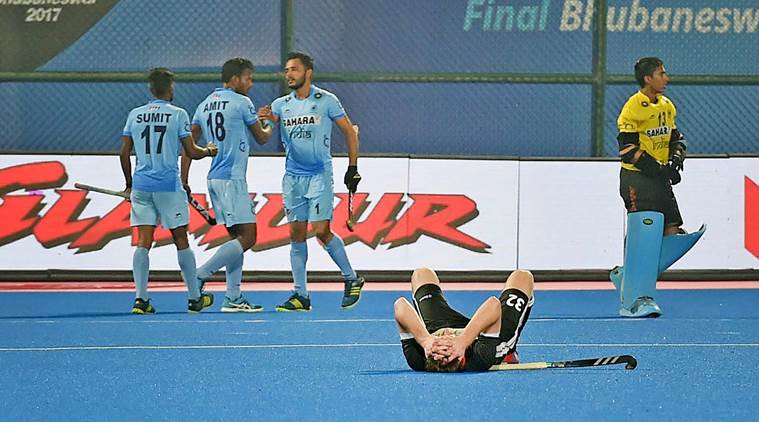 The Germans were clearly the better side, but India were clinical enough to convert their chances to goals. (Source: PTI)

Apples were banned from the Kalinga Stadium the last fortnight. The harmless fruit figures prominently in the list of items considered to be 'security threat'. But on Sunday, one snuck in. And became the biggest threat to the Indian defence.

Mark Appel came to Bhubaneswar as one of the two goalkeepers in Germany's squad. But he will leave the city as the scorer of one of the most memorable goals in international hockey not just for the way it was scored but also the circumstances, which made it even more special.

For the record, the final scoreline read 2-1 in India's favour. But when we look back, the scoreline will never be a reliable witness in describing how freaky and scarcely fathomable the events of this evening were. Eventually, a late Harmanpreet Singh drag-flick saved a full-strength India the embarrassment of being dragged into a penalty shootout by a severely depleted Germany, who did not even have enough players to field a proper playing XI.

So Appel, the goalkeeper, turned into a goal-poacher.

The 23-year-old hadn't played as an outfield player for a decade. Now, he's done it twice in two days. On Saturday, he was forced to step in after four of his mates were down with fever. By the time the team reached the hotel after losing 3-0 to Australia, two more players – Dieter Linnekogel and Ferdinand Weinke – had joined Christopher Ruhr, Marco Miltkau, Julius Meyer and Martin Haner in the growing list of German players who were running high temperature.

The team doctor declared all of them unfit to play the bronze-medal match and with Timur Oruz already ruled out due to injury, Germany were left with just 9 outfield players and 2 goalkeepers for the playoff. So, on the morning of the match, they went into a huddle in their meeting room of the team hotel.

If Germany had to play, it would have to be without substitutes. Stefan Kermas, coach since a year, had already weighed the pros and cons of playing with just 10 outfield players. This was a good time for Germany to have a man whose day job is of a risk assessment manager in their corner. But he'd left the decision to the players. "We asked ourselves, 'guys are we going to go for it, go for the bronze?'" captain Mats Grambusch said. "And everybody said, 'let's do it.'"

Germany had shown India its place in the group stage match earlier in the week. But to return to the field less than 24 hours after playing Australia to take on the hosts in front of nearly 10,000 people for a medal with just 11 men was a brave call. Then again, it'd have been very unlike Germany if they would've thrown the towel without even stepping on the field.

So Grambusch led his platoon out on the field against an Indian battalion that was fresh after a day's rest and raring to make amends following a defeat to Argentina in the semifinals. This was a unique scenario: an 18vs11 match has never been played in high-level hockey. Germany, though, weren't there just to play a support role in India winning a medal.

Even with just 11 players, the Olympic bronze medallists were everything they usually are and India have perennially aspired to be: disciplined, efficient, quick, fit and aggressive. To play the way Germany did with 11 men, despite the brutality of modern hockey with its physicality and pace, was stuff straight out of Marvel movies.

Their game-plan looked straightforward – keep the possession to avoid running a lot and defend in zones. Appel, meanwhile, was given the licence to run around in the Indian 'D' and create as much panic as he could. "Since I haven't played as a forward, it was impossible for me to understand the finer nuances of that position in just a day. So I just ran and tried to disturb the defenders as much as I could," he said.

India, despite the numerical advantage, were rattled. The unusual scenario that they unwittingly became part of threw them off their game and they looked like a team willing to show mercy on the opponents rather than being ruthless. Although they enjoyed possession and had more entries into the German 'D', India were not clinical enough to open the scoring. Germany, on the other hand, created the better chances despite their players conserving energy to last the entire match.

Early lead

SV Sunil gave India the lead in the 21st minute, which brought more relief than joy for the home side, but that seemed to spur the Germans more than affect them. They created more chances off penalty corners but lacked the finishing.

At half time, Kermas did not indulge in any strategy talks. "I only spoke about emotional things – keep their emotions down and find tiny little things for the strikers," Kermas said. "Our target was to just score a goal and see what happens."

Minutes after the restart, Germany scored. Appel's touch to control a speculative pass by Grambusch would've made an actual centre-forward proud. His finish, a lift over an advancing Suraj Karkera, was even more impressive. The goal initially silenced the crowd but after realising what had happened, even they applauded him.

You could sense the embarrassment the Indian players felt. This was a match they had to win. Yet, they were not able to. As minutes ticked by, they threw everything they had at the Germans but were still unable to break their resolve. Harmanpreet's goal from a corner came at the right time for India, who were starting to get nervous.

If India were expecting that the goal would break their opponents, they couldn't have been more off the mark. The home side had rotated their players roughly 60 times to keep them fresh. Yet, they were being chased down for every ball. You could get tired watching the Germans but they never got tired running.

Germany had more chances than India but somehow, the hosts hung on for the win. It was a crucial win for a team that has been under the scanner throughout the tournament. But this wasn't about India. As the final hooter buzzed, every German player fell flat on the surface, exhausted and drained. Rupinder Pal Singh sat next to Grambusch, eventually named player of the tournament, and hugged him. A couple of other Indians embraced Appel.

Applepie, as he is called back home, nearly soured India's evening. India could never have predicted that an Appel would prove to be such a threat.

Australia Extend supremacy

There's a year still for the World Cup but defending champions Australia proved on Sunday why they are still the favourites despite not being at their dominant best. After under-achieving at the Rio Olympics, the reigning world champions defeated the Olympic gold medallists 2-1 in the final to win the World League.

Drag-flicker Jeremy Hayward converted a penalty corner in the 17th minute to put Australia ahead before Argentina equalised through Agustin Bugallo a minute later. Blake Govers (58′) put the Kookaburras ahead by converting another penalty corner just two minutes before the full time. It looked game over but Argentina threw the kitchen sink at their opponents.

Australia were put under extreme pressure in the last two minutes, winning three penalty corners. But goalkeeper Tyler Lovell made fantastic saves to keep Gonzalo Peillat's powerful strikes out.

Indian Express


---

India beat Germany 2-1 to clinch bronze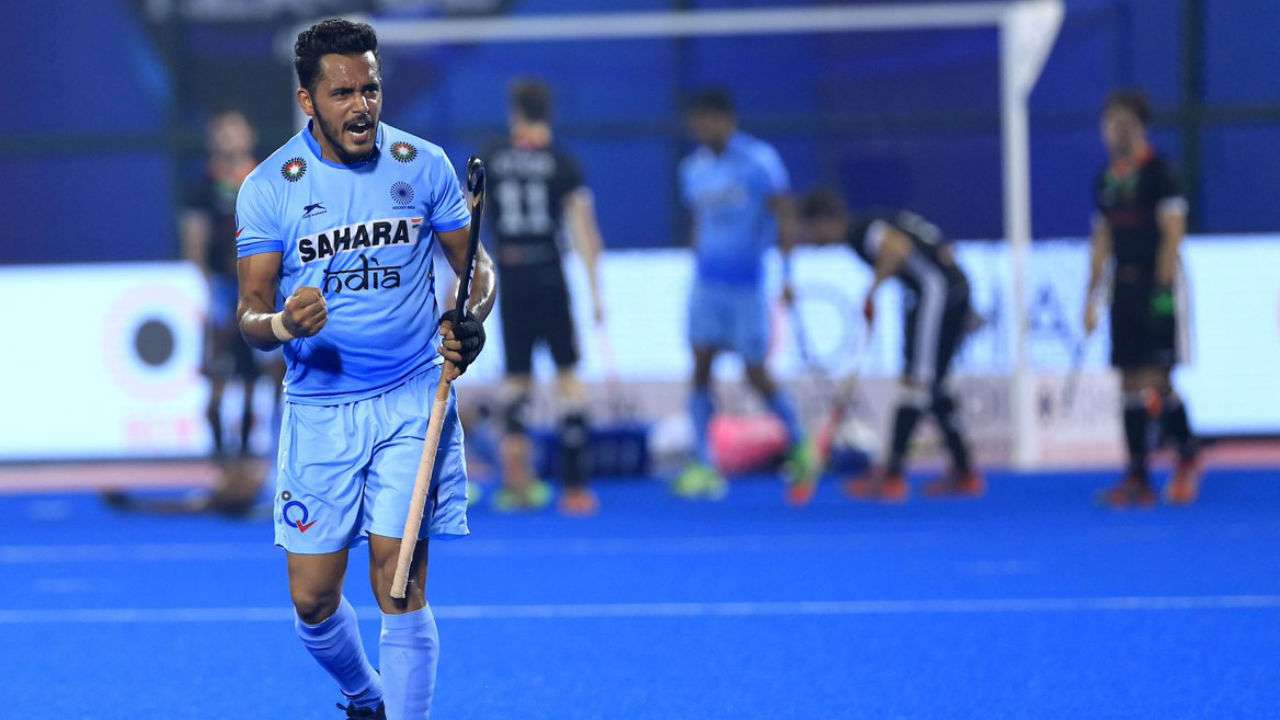 Harmanpreet scored the winning goal for India. , Twitter @HockeyIndia

India beat Germany 2-1 in the Bronze Medal match at the Hockey World League 2017 Final in Bhubaneswar.

India were leading at half time thanks to SV Sunil's strike in 21st minute. The Indian defence did well to hold it going into the break. However, Mark Appel scored the equaliser in the 36th minute to pull Germany back in the match. 

Harmanpreet then scored from a penalty corner in the 54th minute to restore the hosts' lead.

India had earlier edged past Belgium in the quarter final match to become the only team to defeat the tournament favourites here. However, the hosts went down 0-1 to Olympic Champions Argentina in the semi-finals of the tournament while battling rain.

A day after India's semi-final defeat, Germany also received a 3-0 defeat in their respective game against World Champions Australia. Germany were down with health issues as four of their top players including captain Martin Haner were under the grip of high fever. Germany are still not confident to play with a full squad on Sunday and are afraid they may be left to face India in the bronze-medal match with a depleted squad.

However, Germany have an upper hand over India as they have already defeated the hosts 0-2 in their last league match of the tournament. Despite being defeated earlier, India would still aim to sign off the tournament on a winning note. Later today, the summit clash is scheduled between defending champions Australia and world no. 1 Argentina.

Daily News & Analysis


---

It was an extreme experience to have an empty bench, says Germany coach Stefan Kermas

Kermas said the players did not want to end the tournament without giving a fight for the bronze medal.Kermas said the players did not want to end the tournament without giving a fight for the bronze medal.

Feroz Khan

BHUBANESWAR: Seven German players missed the crucial bronze medal match against India at the Hockey World League Final on Sunday leaving them with an empty bench for the game. Thus, with no substitutes available, they were forced to play with just 11 players for the entirety of the 60 minutes which they eventually lost 1-2.

While the absence of key players made it difficult for Germany to play their best game, they still put up a brave performance against India before a late goal condemned to a defeat. They had several chances to take the lead during the contest but their coach Stefan Kermas was proud of the effort the team put in.

"I am proud of the way they performed. I just told the guys today that the fighting spirit is more important for me than winning the bronze. These 11 guys put everything they had in the match today and that's what a real team should do. In my eyes, we could have scored three-four goals in the first quarter. It was possible that we could win. It's little bit sad that we didn't win but I am really proud and happy with the way we played without our seven players today," Kermas said after the match.

Two more German players fell ill on Friday joining five others and Kermas said it was strange to have an empty bench behind him during the match. "I never had this kind of situation before this before as a coach. You always had matches where your win was a last-second goal or otherwise. But today with no one sitting at the bench behind me, I'd never [experienced] this in my coaching life. So, it was an extreme, new situation for all of us," he said.

That Germany were playing an important match second day in a row made life even more difficult for their tiring players.

Kermas revealed that the players took the decision to take the field as they did not want to end the tournament without giving a fight for the bronze medal. "It was a team decision that they will play today. It is important that the teams wants to play and win. I asked the boys what do you want to do today and the answer was Stefan we don't want to finish without playing and we are here to play as good as we can. We tried to win every game and that was a team decision. A great spirit in the locker room before the match because they wanted to try to give everything to win this match," the 38-year-old said.

He congratulated Indian team on the win but and said had the luck been a bit on their side, they could have won. "We tried everything we could today and with a little bit more luck in the end, could have won the game. But congratulations to the Indian team for the win. Everything was fine today [on the field] and the boys know what they tried to do today and everybody in the German team can be proud of the performance," he said.

Kermas said they will look at solutions to minimise the danger of such events occurring in the future and expressed his desire to return home with a medal from the World Cup next year, an event that will also be hosted by Bhubaneswar. "Nearly everything is possible if the team spirit and will go in the same direction. The big aim is to win a medal in front of this crowd at the World Cup next year," he signed off.

The Times of India


---

India take bronze, depleted Germany win hearts

Arnab Lall Seal

BHUBANESWAR: Remember the time when Sachin Tendulkar got hit on the face but still kept playing against Pakistan even with blood oozing out of his nose. You might also remember how Anil Kumble, in 2002, bowled with a broken jaw against the West Indies in Antigua. Then there's also Graeme Smith, who tried to save a Test against Australia by coming down to bat at No. 11 with a broken hand.

On all three occasions, they did the unthinkable. When everybody counted them out, they made their presence felt and by doing so, inspired millions of others. On Sunday, people at the Kalinga Stadium got to witness something similar as India beat Germany 2-1 in the bronze medal match of the Hockey World League Final.

There were only 11 German players who took the field against a full-strength Indian team. Captain Martin Haner, Julius Meyer, Christopher Ruhr and Marco Miltaku were all down with fever from Friday night and didn't feature in the semis against Australia or in the playoff against India. To add to their woes, Dieter Linnekogel and Ferdinand Weinke fell ill from Saturday night.

With Timur Oruz also going back to his country before the semis with an injury, the 11 players played the entire 60 minutes having also played the semifinal against Australia less than 20 hours back. The only exception was Dan Nguyen, who received a green card in the third quarter.

India, meanwhile, were disappointing to say the least. Unlike Germany, they played with a full team but still failed to match them in some of the areas. Sample this: Germany won seven penalty corners compared to India's four. But at the end of the day, it didn't matter much as India won it 2-1 thanks to goals from SV Sunil and Harmanpreet Singh.

It was six minutes into the second quarter that Sunil, finally got his name on the scoresheet in India's fifth match of the tournament. Germany goalkeeper Tobias Walter had made a brilliant save to keep out a powerful reverse flick from Akashdeep Singh. But the rebound went straight to Sunil and he slapped it hard into the net.

After that the home team had numerous chances to sound the board but it wasn't to be.

The Times of India


---

'It was difficult to play two matches in 24 hours with seven players injured'

Modern hockey is considered one of the toughest and fastest sports

Uthra Ganesan

internationally, so much so that teams are never scheduled to play more than two back-to-back matches in any tournament. When those two games happen to be medal matches and one team has just 13 – and later 11 – players available, it is almost a no-contest.

But there is a reason Germany is considered one of the toughest teams in the game. The World No. 5 stunned the world when it scored twice in the last minute to win its quarterfinal against New Zealand at the Rio Olympics. On Sunday, it put up a spirited performance that would rank among the greatest fight-backs on field.

"I think this game I spoke only about the emotional things. But it's always good to keep the emotions down and find little things. This match was quite easy for me, because I just had to concentrate on the pitch since we had no substitutes. Today the whole power and spirit came off the team. It was not my idea, it was their idea. The idea to win for each other can be the most important and we showed what 11 players fighting together for a common goal can do," German coach Stefan Kermas admitted after the game.

"I am really happy with the performance because it was quite difficult to play two matches in 24 hours with seven players injured. We had the chances. It's much more important to see the kind of spirit this team developed to push each other in such an important match. We did everything we can today. The scoreheet for me is the right one. Look at the smile (on captain Grambusch)," he laughed.

Star striker Florian Fuchs found it funny that the team's goalkeeper scored. "It's unbelievable, it's actually funny that our goalkeeper scored. This was the first time he played as an outfield player and obviously, the first goal he has scored ever, but it is unbelievable," he laughed.

That the Germans could afford to laugh was testament to the fact that there was no shame in the defeat. If anything, it were the Indians who were more circumspect after the game. "It was a great performance from Germany. They fought really hard. The way they played, it was not a system we are used to. The players were a little bit scared to lose the ball," admitted coach Sjoerd Marijne.

Asked about the takeaways from the tournament for his young side, Marijne preferred to dwell on the positives. "We played at the highest level. Now I know what happens mentally, what we need to change. We will take our time for that. We have to learn our lessons. The easier thing is to see what we didn't do good. But if you create chances, it means you did something good," he said.

The Hindu


---

Rajyavardhan Singh Rathore lauds Indian hockey team, announces complete funding for future tournaments



File image of Rajyavardhan Singh Rathore. PTI

Bhubaneswar: Sports Minister Rajyavardhan Singh Rathore on Sunday announced that his ministry will provide "complete funding" to Hockey India as they prepare for a triple Major next year — Commonwealth Games, Asian Games and World Cup.

"From hereon, Commonwealth Games, Asian Games and World Cup are all Olympic preparatory tournaments besides being major competitions. The ministry will give complete funding to Hockey India in terms of whatever they need. 2018 is the year of sports in India," Rathore told reporters during a press conference on the sidelines of HWL finals.

Rathore congratulated the young Indian team for retaining the bronze medal in the Hockey World League (HWL) Final.

"In the past few months, our hockey team's performance has been good. In this tournament also, the comeback has been good. Indian team is the youngest in terms of average age, which helps build endurance, speed and bench strength," the Olympic silver medallist said.

Rathore reiterated that the Central Government will do everything possible in its capacity to support the athletes and raise the bar of sports in the country.

"All the schemes until now the focus was on infrastructure funding. It's the easiest thing to do. But how do you bring players to practice in those stadiums. That funding was missing. Khelo India programme is funding those soft sponsorships," he said.

"Every year we will fund 1000 players, give them Rs 5 lakh for the next 8 years and keep adding 1000 every year."

He also said that India is among the top five countries in the world where there are incentives, job reservations, meritorious pensions for deserving athletes.

Firstpost


---

Odisha government announces cash rewards for Indian hockey players

BHUBANESWAR: The Odisha government on Sunday announced a Rs 10 lakh cash prize for each Indian hockey player who was part of the team that won the bronze medal by beating Germany in the Hockey World League Final at Kalinga Stadium.

A Rs 10 lakh cash prize has been announced for the coach also while supporting staff of Hockey India would get Rs 5 lakh each.

"Well played, #India, bronze winners of #HWL2017. The young team showed brilliance & tremendous grit to achieve podium finish. Happy to announce a 10 lakh cash prize to each player & coach & 5 lakh each for support staff of @TheHockeyIndia. They have made us proud. #INDvGER," tweeted Chief Minister Naveen Patnaik.

He distributed the bronze medals to the Indian Hockey players at the Kalinga Stadium in the presence of Union Petroleum Minister Dharmendra Pradhan.

Sports Minister Rajyavardhan Singh Rathore, who is also here to watch the matches, did not announce any incentives for the bronze medallists. He said that incentives are provided under the sports policy for nurturing the talent of players.

He said that the union government has revamped Khelo India aiming at impacting the entire sporting ecosystem, with wide-ranging interventions.

He said under this scheme, the government will provide a scholarship to 1,000 talented youngsters across various sports disciplines.

Each sportsperson selected under this scheme will receive an annual scholarship of Rs 5 lakh for eight consecutive years.

The Times of India


---

Fijians lift game

Paulini Ratulailai



Kobayashi Kurumi (middle) of Japan under 18 attacks against Australian Country during the Fiji Invitational Hockey competition at National Hockey Centre. Picture: RAMA

THE Fiji hockey men's team is definitely heading in a positive way forward to achieve their dream of becoming one of the top teams in the region.

The Australian Country men's team defeated the Fiji President XIII 4-1 in the Fiji Invitational tournament at the National Hockey Centre.

Coach Sara Rogers said the Fijian team definitely surprised them in the first quarter.

"It was tough playing against some big and solid Fijian players.

"They played some really good hockey especially in the first quarter holding our boys in to a nil all which was very tight for our boys," she said.

"They made us work quite hard all throughout the game and this shows that Fiji hockey is really going forward challenging all these big teams.

"We were really impressed with how the Fijian players played."

She added that both teams were a little bit rushed and panicked in the beginning of the game.

"They were a bit nervous coming into a tournament like this and for our team all this boys don't know each other and they just recently met. This is our second game together they were a bit nervous, but they are moving forward."

Roger said in order to improve on the player's skills they always need to be open minded when they were on the field and be alert.

In the other game Japan under-18 defeated Australia Country 6-1.

The Fiji Times


---

Thrilling semis ahead as PHL reaches business end

By Karien Jonckheere



Orange River Rafters captain Dirkie Chamberlain (left) and the Tivoli Blyde River Bunters' Celia Evans battle for the ball in the Rafters' remarkable 3-0 win over the defending champions at the Premier Hockey League in Johannesburg. Photo by Marcel Sigg

The Tivoli Blyde River Bunters suffered their first defeat of the Premier Hockey League in Johannesburg today. And it came at the unlikely hands of last year's women's wooden spoon recipients – the Orange River Rafters.

But apart from slightly denting their confidence, it did nothing to affect the outcome of the Bunters' progress to the playoff stages of the competition, nor their position at the top of the log.

It was yet another remarkable result for the Rafters, defeating the defending women's champions 3-0 to earn themselves an all-important bonus point, which was necessary for a place in tomorrow's semifinals. They also had to rely on the Old Mutual iWYZE Namaqualand Daisies beating the TopT Madikwe Rangers later in the afternoon to go through.

That match went straight to a shootout after a thunderstorm played havoc with the afternoon's fixtures. And the Daisies duly played their part, winning the shootout 3-1 of knock the 2016 runners-up out of the tournament.

Earlier, goals from Sulette Damons, Jackie Scheepers and Chane Hartel were what did it for the Rafters, who have had an up-and-down tournament so far, but have managed to win when it counted.

Speaking about inflicting a first defeat on the Bunters, Damons said: "It feels great and gives us a lot of confidence going into the semis. Everyone just played freely and did what they needed to do and that's in the end what gave us the victory. We kept fighting and moved the ball more and everyone just kept believing."

A visibly upset Bunters (and SA national) captain, Nicolene Terblanche, said: "We didn't play well today so we didn't deserve the win. Credit to the Rafters – they definitely deserved it."

The Bunters will face the Rafters once again, in tomorrow's semifinal.

Meanwhile, the men's defending champions, the Crossroads Maropeng Cavemen head into the semis in scorching form. They will take on the Kilimanjaro Addo Elephants in their semifinal in a repeat of last year's gold-medal match.

The Cavemen's only loss of the tournament was in a rain-affected match against the Garden Route Gazelles on the opening weekend that went straight to a shootout. But today, they produced a characteristically impressive performance to beat the Mapungubwe Mambas 2-0, with goals coming from Chad Futcher, off a penalty corner in the sixth minute, and Cerezo Comerasamy just before the end of the third quarter.

With both teams already through to the semis before the match started, the only factor riding on the result was which one would finish top of the men's log.

"It was hugely important to top the group and go into the semis with some confidence," said Cavemen coach Mark Sanders afterwards. "There are no easy games in the next round but the team coming in fourth is under a bit more pressure than the team finishing second or third so we're happy to fight from the top of the log.

"I think the Elephants are a side coming into form but so are we, so I think it'll be tough. I think the extra day's rest they've had will put them in some good areas. There's still a load of things for us to work on like being clinical in the circle. We're creating a lot of opportunities but not taking as many as we'd like. Defensively we've still got to manage certain pressure areas and I think we'll be better."

The ProGrip Drakensberg Dragons finished in third spot on the log after the Garden Route Gazelles beat them 4-2 in another straight-to-shootout match because of the thunderstorm. The Dragons will play the Mambas in Monday's other men's semifinal. The struggling Gazelles went into the match needing an unlikely 11-goal winning margin if they were to make it to the semis.

Meanwhile, tomorrow's other women's semifinal will be contested between the Daisies and the Private Property St Lucia Lakers. The Lakers found themselves two goals down against the Wineland Wings after Tarryn Glasby and Liné Malan found the back of the net. But goals from Erin Hunter and Tiffany Jones levelled the scores at 2-2 and the Lakers eventually won the resulting shootout 2-1.

"We definitely started off slowly and we kept trying to encourage each other to light that fire that we know we have," said Lakers captain and player of the match Shelley Jones. "It took a little while – I don't think our gas burners were quite turned on yet. We eventually switched them on in the second half, which we're kind of known for. We seem to score most of our goals in the third and fourth quarters so we knew if we just persisted with what we were doing, we'd hopefully come back and that's what we did, which was great"

Results

10 December 2017:

Private Property St Lucia Lakers 2-2 (2-1 shootout) Wineland Wings
Crossroads Maropeng Cavemen 2-0 Mapungubwe Mambas
Tivoli Blyde River Bunters 3-0 Orange River Rafters
Garden Route Gazelles 4-2 (shootout) ProGrip Drakensberg Dragons
Old Mutual iWYZE Namaqualand Daisies 3-1 (shootout) TopT Madikwe Rangers

Fixtures

11 December 2017:

12pm: Private Property St Lucia Lakers v Old Mutual iWYZE Namaqualand Daisies
2pm: Mapungubwe Mambas v ProGrip Drakensberg Dragons
4pm: Tivoli Blyde River Bunters v Orange River Rafters
6pm: Crossroads Maropeng Cavemen v Kilimanjaro Addo Elephants

Final log standings

Men:

    Crossroads Maropeng Cavemen
    Mapungubwe Mambas
    ProGrip Drakensberg Dragons
    Kilimanjaro Addo Elephants
    Garden Route Gazelles
    Old Mutual iWYZE Golden Gate Gladiators

Women:

    Tivoli Blyde River Bunters
    Private Property St Lucia Lakers
    Old Mutual iWYZE Namaqualand Daisies
    Orange River Rafters
    TopT Madikwe Rangers
    Wineland Wings

SA Hockey Association media release


---

PHL defending champion Bunters stumble against Rafters

Ockert de Villiers



The Orange River Rafters celebrate their 3-0 win over defending champions the Blyde River Bunters. Photo: Marcel Sigg.

JOHANNESBURG - The Premier Hockey League (PHL) will come to an emphatic end with the 2017 playoffs scheduled for on Monday after a few surprising changes to the top of the ladder in this year's edition.

It was a weather-affected final day of round-robin matches at the Randburg astro on Sunday with thunderstorms delaying some of the matches in the afternoon.

Defending women's champions, the Blyde River Bunters, suffered their first defeat of the tournament with the Orange River Rafters claiming a convincing 3-0 victory.

The Bunters had their playoff berth secured before the start of the match against last year's wooden spoonists, who recovered well from early setbacks in the tournament.

"We didn't play well today so we didn't deserve the win. Credit to the Rafters - they definitely deserved it," said Bunters captain Nicolene Terblanche.

Sulette Damons, Jackie Scheepers and Chane Hartel found the back of the box to secure a rematch against the defending champions in Monday's semi-finals.

"It feels great and gives us a lot of confidence going into the semis," Damons said.

"Everyone just played freely and did what they needed to do and that's in the end what gave us the victory. We kept fighting and moved the ball more and everyone just kept believing."

The Rafters were helped into the playoffs after the South African Under-21 team, playing as the Namaqualand Daisies, won a 3-1 shootout battle against the Madikwe Rangers.

The match between the Daisies and the Rangers went straight to a shootout thanks to the weather.

In the other women's tournament semi-final the Daisies will come up against the St Lucia Lakers after their 2-10 shootout victory over the Wineland Wings.

In the men's tournament defending champions Maropeng Cavemen will have another stab at the title where they will face fellow 2016 finalists, the Addo Elephants.

The Caveman will be difficult to stop after suffering a solitary loss against the Garden Route Gazelles on the opening weekend.

They were at the top of their game on Sunday, beating the Mapungubwe Mambas 2-0 courtesy of goals to Chad Futcher and Cerezo Comerasamy.

"It was hugely important to top the group and go into the semis with some confidence," said Cavemen coach Mark Sanders.

"There are no easy games in the next round but the team coming in fourth is under a bit more pressure than the team finishing second or third so we're happy to fight from the top of the log."

The Mambas will face off against the Dragons, who suffered a 4-2 defeat to the Garden Route Gazelles in a straight-to-shootout match.

The Star


---

Irish EY Hockey League Weekend Round Up

Pembroke and Hermes-Monkstown both scored important victories in their bids to avoid relegation from the women's EY Hockey League over a weather-curtailed weekend.

For Hermes-Monkstown, they finally got their first points of the season as they beat Trinity 2-1 at the Merrion Fleet Arena. Christine Quinlan and Caitriona McGilp – two players who have won national titles with both UCD and Hermes – used their experience to guide the side, with Quinlan scoring the first and McGilp the clinching goal.

They were their first goals since September in the league, ending a tough run of form and reducing their gap to ninth place from four points down to two by the end of Sunday's play.

Indeed, it could have been even better had they got something from their game on Sunday against Pembroke – brought forward from December 16 – but succumed to a 1-0 defeat with Aisling Naughton getting the only goal.

Pembroke had lost their Saturday derby against near neighbours Railway Union 3-2 with Kate Lloyd netting the crucial winner with 11 minutes to go. Nonetheless, their Sunday win moves them out of the relegation playoff place, dropping Trinity to ninth spot.

At the top, Abbie Russell's first quarter finish kept UCD clear at the top as they beat Ards 1-0. It leaves them a point ahead of Cork Harlequins in the rankings. Quins came from a goal down to beat Loreto at a hastily switched tie from Beaufort to Booterstown due to the Dublin club's first choice pitch being frozen.

Sarah Torrans had Loreto in front but Roisin Upton equalised from a corner before Michelle Barry and Naomi Carroll won the 3-1 tie in the closing quarter.

On the men's side, just one game beat the weather with Monkstown drawing 2-2 with Glenanne. Town – back to close to full strength – led twice via Guy Sarratt and Andrew Ward but Shane O'Donoghue levelled the game twice.

It extends Glenanne's lead at the top to four points but will give chasers Three Rock Rovers, Lisnagarvey and Pembroke a boost as they look to close the gap.

EY Hockey League results:

Men
EY Hockey League: Monkstown 2 (G Sarratt, A Ward) Glenanne 2 (S O'Donoghue 2)
Postponed: Lisnagarvey v Annadale, Banbridge v Cookstown

Women
EY Hockey League
Saturday: Loreto 1 (S Torrans) Cork Harlequins 3 (R Upton, M Barry, N Carroll); Hermes-Monkstown 2 (C Quinlan, C McGilp) Trinity 1 (A Long); Pembroke 2 (A Ward, O Macken) Railway Union 3 (H de Burgh Whyte, J McDonnell, K Lloyd); UCD 1 (A Russell) Ards 0

Sunday: Pembroke 1 (A Naughton) Monkstown 0

Postponed: Pegasus v Belfast Harlequins

Women's EYHL – day eight round-up

Saturday:

Loreto 1 (S Torrans) Cork Harlequins 3 (R Upton, M Barry, N Carroll)

Two final quarter goals put free-scoring Cork Harlequins in the frame for their fifth win of the season with a 3-1 win at a tie quickly switched to St Andrew's due to a frozen pitch at Beaufort, keeping up their chase of leaders UCD.

Sarah Torrans put Loreto – who had Nicci Daly in their squad – 1-0 up six minutes before half-time but the lead was brief with Roisin Upton scoring a low drag-flick, ensuring parity at half-time.

It remained that way until 15 minutes from time from play via Michelle Barry and Naomi Carroll secured all three points three minutes later.

Monkstown 2 (C Quinlan, C McGilp) Trinity 1 (A Long)

Monkstown ground out their first win of the women's EY Hockey League campaign, tightening things up at the bottom of the table ahead of another big game on Sunday when they face Pembroke.

Christine Quinlan's deflected shot from a penalty corner handed them their first goal since the opening day of the campaign after six blanks. They were also bouyed by the arrival of South African Under-21 Natalie Esteves who almost prompted a second with a great ball to Caitriona McGilp who shot just wide.

Liz Murphy kept them narrowly in front with some great saves before Ailish Long got it back to 1-1 with 20 minutes to go from a well-worked corner, setting up a tense final phase of the game.

But McGilp settled the game when she buried a corner with 11 minutes left, a vital win that reduces the gap to ninth place Pembroke ahead of their key Sunday showdown. Trinity are also back in range, two points above them.

Pembroke 2 (A Ward, O Macken) Railway Union 3 (H de Burgh Whyte, J McDonnell, K Lloyd)

Railway Union moved into the top four in the women's EY Hockey League for the first time his season as Kate Lloyd scored with 10 minutes to go to win the Dublin 4 derby. Pembroke had the services of Emily Beatty and Gillian Pinder, giving them an extra impetus and they went ahead in the 15th minute.

Beatty created it when her shot came off goalkeeper Riona Norton and Alice Ward finished the second phase nicely. Hannah de Burgh Whyte equalised 10 minutes later when she got the final shot off from a corner to make it 1-1.

Jean McDonnell put Railway in front seven minutes after half-time but Pembroke were not going away easily and they were level when former Railway player Orla Macken with an excellent strike from a corner.

Lloyd finished off a Railway corner move, though, to win it soon after in spite of a concerted late Pembroke charge.

UCD 1 (A Russell) Ards 0

Abbie Russell's 12th minute goal retained UCD's slim lead at the top of the women's EY Hockey League with a 1-0 win over Ards at Belfield. The students welcomed back Ellen Curran after injury but were without Sarah Robinson and Sara Twomey.

Nonetheless, they got off to a great start as Russell pounced following a good build-up from Bethany Barr and a good umpire's advantage to allow the chance. UCD had the best of the play for the most part with Katie Mullan instrumental in driving them forward while Chloe Brown was key for Ards when they countered late in the half.

Naomi McKnight was in fine form in the Ards, making some great stops as Deirdre Duke and Mullan peppered the Ards goal as time wore on but just the single goal stood between the teams at the final whistle.

Sunday: Pembroke 1 (A Naughton) Hermes-Monkstown 0

Aisling Naughton scored against her former club to give Pembroke a big boost, lifting them out of the relegation playoff place and into eighth place, leaving Hermes-Monkstown bottom over the Christmas break.

They made the best of the early exchanges with Erika Hinkson seeing a corner move deflected wide before Naughton got on the end of Gillian Pinder's shot with a lovely finish for the only goal.

Pembroke carried that lead into half-time and went close to another when Hinkson intercepted between the two centre halves but Liz Murphy kept out her strike. Hermes-Monkstown awoke to draw Iseult Cambay into a couple of saves but Pembroke remained the more attacking force for much of the tie and grasped the three points.

Men's EYHL report

Monkstown 2 (G Sarratt, A Ward) Glenanne 2 (S O'Donoghue 2)

Shane O'Donoghue struck twice to see Glenanne come back from a goal down twice at the Merrion Fleet Arena to preserve their unbeaten run in the men's EY Hockey League, drawing 2-2 with Monkstown.

Town welcomed back Stephen and Geoff Cole from injury a week after Davy Carson had returned, bolstering their ranks. They went ahead 15 minutes into the tie when Guy Sarratt dragged a corner into the top right corner. Karl Smith went close to a second but shot wide from Geoff Cole's cross.

Glenanne were on the rise, though, with Dave Fitzgerald required to make some great double saves before O'Donoghue levelled from his side's third corner, 1-1 at the break.

Andrew Ward returned Town to the lead in the 40th minute when he rebounded off an Iain Walker save. O'Donoghue levelled once again eight minutes from a corner which fell his way, shooting in on his reverse. The final quarter was end to end but ended with no further goals.

The Glens move a further point clear at the head of the table while Monkstown stay in fifth, four points off the top four after half their matches.

Irish Hockey Association media release


---

UCD and Cork Harlequins continue to set pace

Abbie Russell goal enough to give students victory over Ards at Belfield

Mary Hannigan



Harlequins recovered from going a goal down away to Loreto to eventually win 3-1. Photograph: Photograph Ryan Byrne/Inpho

There was no change to the top three in the Hockey League table after the weekend's games, Pegasus holding on to third despite their fixture against Belfast Harlequins being postponed, while UCD and Cork Harlequins both won again.

Ards, though, made the students work hard for their victory at Belfield on Saturday, the game decided by a first-half goal from Abbie Russell after good work from Bethany Barr.

Harlequins, meanwhile, recovered from going a goal down away to Loreto, Sarah Torrans the scorer, to win 3-1. Róisín Upton had the Cork side level by half-time before final quarter goals from Michelle Barry and Naomi Carroll sealed the points.

Railway Union also came from behind to beat Pembroke Wanderers 3-2 at Serpentine Avenue, a result that moved them above Ards in to fourth.

Alice Ward gave the home side an early lead but scores from Hannah de Burgh Whyte and Jean McDonnell had Railway 2-1 up by half-time. Orla Macken levelled for Pembroke, but a Kate Lloyd goal clinched it for Railway.

But Pembroke managed to pick up a win come Sunday against Monkstown to lift them out of the bottom two, Aisling Naughton getting the only goal of the game.

Monkstown, though, got off the points mark on Saturday when they beat Trinity 2-1 with goals from Christine Quinlan and Caitríona McGilp.

Hockey League: Saturday: Loreto 1 (S Torrans), Cork Harlequins 3 (R Upton, M Barry, N Carroll); UCD 1 (A Russell), Ards 0; Pembroke Wanderers 2 (A Ward, O Macken), Railway Union 3 (H de Burgh Whyte, J McDonnell, K Lloyd); Monkstown 2 (C Quinlan, C McGilp), Trinity 1 (A Long). Pegasus v Belfast Harlequins, postponed. Sunday: Pembroke Wanderers 1 (A Naughton), Monkstown 0.

Irish Times


---

Grove Menzieshill steal the limelight on men's indoor day 1



Men – 2017 National 1 Grand Final – Grove Menzieshill v Inverleith – photo by Duncan Gray

Grove Menzieshill stole the limelight in the opening exchanges in the Scottish Men's National League 1 championship with three straight wins over Grange, Bromac Kelburne and finally Inverleith to grab pole position in the table.

There were mixed fortunes for the pre-tournament championship favourites in the opening exchanges, Grove Menzieshill beat Grange 10-1 while Inverleith went down 7-4 to Bromac Kelburne.

Grange had quite a strong line-up on view but the Taysiders put on the pressure and piled on the goals. It seemed ominous when Grove Menzieshill`s Ben Cosgrove opened the scoring in the first minute, but almost immediately the Edinburgh side equalised through Frank Ryan – and it looked as if we had a ding-dong battle to look forward to.

But by the interval the Dundonians had marched into a commanding 6-1 lead, Albert Rowling was to the fore with a hat-trick, Cosgrove got his own second, and Cameron Golden added the other.

There was no respite for Grange after the interval, Grove Menzieshill added four more without reply, Rowling for his own fourth in the game, Cosgrove added another for his hat-trick while Golden and Gavin Byers were also on target for a convincing victory.

Meanwhile, Inverleith seemed slow to get going and found themselves three down at the interval to Kelburne, Johnny Christie got two and Josh Cairns added to the tally from a penalty corner.

Three minutes into the second half Cairns added another from a set piece but the Edinburgh side made a spirited comeback with goals from Patrick Christie and Ewen Mackie to bring the score back to 4-2. But any meaningful revival was stifled with further Kelburne goals by Michael Bremner and Christie again for his hat-trick. Although Inverleith did bring the score back to 6-4, Christie`s fourth in the final minutes sealed the three points for the Paisley side.

Grove Menzieshill cemented their initial victory with a 6-3 win over Kelburne in their second outing. Ben Cromar and Golden put the Dundonians two up at the interval. The result looked sealed when Aidan McQuade added a third from the spot two minutes into the second half. Although Christie pulled one back for Kelburne a couple of minutes later, any comeback was stifled by further Grove Menzieshill strikes from Rowling and Cromar.

In the closing minutes Cairns scored twice from set pieces, Cromar notched his hat-trick for the Taysiders, leaving Grove Menzieshill worthy winners in the end.

However, Kelburne finished the day with a 7-4 win over Edinburgh University to finish on the six point mark. The Paisley side were 3-1 up at the interval, two set piece strikes by Cairns and a further goal by Chris Caldwell were countered by a goal from Peter McKnight just on the interval. The students brought the score back to 4-4 at one point but a second half hat-trick by Christie and a further goal from Neil McIntyre secured the points for the outdoor champions.

Meanwhile, Inverleith recovered sufficient composure to see off Edinburgh rivals Grange 5-1 in their second outing. Inverleith consolidated their victory with a three goal half-time scoreline, captain Patrick Christie led from the front with a brace while Ewen Mackie added the other.

Luke Cranney pulled one back for Grange half way through the second half, but Stuart Hatton and Christie again for his hat-trick confirmed their first three points.

The final clash of the day was a direct confrontation between the great rivals Grove Menzieshill and Inverleith, the former stole the show with a convincing 5-1 victory. Three goals in seven minutes in the first half sealed the three points, Mike Ross converted two penalty corner awards while Rowling again was on target from open play.

In the second half McQuade added a fourth, Aidan McCrossan pulled one back for the Edinburgh side, but in the end Rowling had the final say with a fifth and conclusive strike.

Dundee Wanderers celebrated their return to the top flight with a 7-5 win over Edinburgh University. The students took a two goal lead in only four minutes with a brace from Callum White. Wanderers then got their act together and after 12 minutes had a 4-2 lead, Bobby Ralph started off the revival to be followed by a quick-fire hat-trick from Fergus Sandison.

A couple of goals were exchanged before the interval, Jack Jamieson scored for Edinburgh while Sean Dowie replied for the Taysiders.

The second half was a fairly even affair scorewise, Sandison added another two for Wanderers to bring his personal tally to five, while at the other end White scored again and George Adams completed the scoring for the students.

Wanderers completed a perfect day by beating Clydesdale 5-3 in their second match. The Taysiders had a 3-2 lead at the interval with Sean Dowie, Cameron Bell and Sandison on target while Paddy Lonergan and Fraser Hirst replied for the Glasgow side.

Hirst made it 3-3 in the second half but Wanderers put their foot on the gas with Bobby Ralph scoring twice to secure another three points.

Clydesdale opened their day with a comfortable 7-4 win over Hillhead. The Titwood-based outfit were four up at the interval, Paddy Lonergan scored twice while Andy MacAllan and Chris McFadden added the others.

Although David Gay pulled one back for Hillhead early in the second half, Clydesdale raced into a 7-1 lead through Struan Walker and further strikes from Lonergan and MacAllan. Ross Jamieson, Callum Duke and Andrew Hilton added three to Hillhead`s tally late in the second half, but by this time it proved only a consolation.

Scottish Hockey Union media release


---

Dundee Wanderers in pole position in women's indoor



Photo by Duncan Gray

At the end of the second day`s play in the Scottish Women`s National League 1 campaign, Dundee Wanderers are in pole position, one point ahead of  Milne Craig Clydesdale Western, Grove Menzieshill and Edinburgh University, although the last two sides have played a game more.

Wanderers confirmed their status as favourites to retain their title with a 6-1 win over Tayside rivals Grove Menzieshill in today`s opening fixture in Perth.

Jamie Lyon had the audacity to open the scoring for Grove Menzieshill in just six minutes, thereafter it was all Wanderers. There were two goals each for Ruth Blaikie and Emily Dark, Sam Sangster and Jessica Ross provided the others as the champions fired in six in reply.

However, the champions certainly did not have it all their own way in their second outing against Edinburgh University, they dropped their first points of the season in a 3-3 draw.

Teenager Ruth Blaikie put the Taysiders in front, Bridie Marlow levelled for the students, but two minutes before the interval Blaikie gave her side a narrow 2-1 lead. Midway through the second half Becky Dru equalised for Edinburgh. Wanderers believed they had sewn up the three points when Sam Sangster launched the ball into the roof of the net at a penalty corner after a switch by Emily Dark. However, the students kept their composure, they were awarded an overtime penalty corner and Dru scored with a direct shot for a share of the points.

The Edinburgh students celebrated their upset by beating bottom side Kelburne 9-0 in their second outing, Hanna McKie (3) and two each for Marlow and Louise Campbell were the main scorers.

Milne Craig Clydesdale Western also opened with a convincing 6-1 win over Wildcats. The Titwood-based outfit raced into a six goal lead, Margery Justice notched a hat-trick and there were also goals for Millie Steiger, Kayleigh Justice and Laura Mann.

The Glasgow side followed up with a 9-1 win over CALA Edinburgh with two goals each for sisters Kayleigh and Margery Justice along with Susie Gilman.

CALA collected their second win of the tournament with a 4-1 win over bottom side Bromac Kelburne, Emma Davie was top scorer with a double.

In their final game CALA lost 4-2 to Grove Menzieshill for their second win of the day and joint second position in the table. The Taysiders were two up at the interval with Jude McMullan and Katie Stott on target. Jamie Lyon and former Scotland player Ailsa Wyllie doubled Grove Menzieshill`s tally in the second half while Amie Russell and Davie replied for the Edinburgh side.



Photo by Duncan Gray

Hillhead lost their unbeaten record after going down 2-1 to Grove Menzieshill in their first game of the day. It started well enough for the Glasgow side when Wendy Andrew gave them the lead in seven minutes. Back came the Taysiders, Ali Glasse-Davies totally reversed the scoreline with two penalty strikes inside three minutes to put the Dundonians 2-1 ahead. There was no further scoring in the second half and Grove Menzieshill doubled their points tally to six.

Hillhead did put some more points on the board after a 3-3 draw with Wildcats. The Glasgow side were 2-1 ahead at the break with penalty corner strikes by Zoe Irvine and Jennifer Sinclair, Molly Godfrey replied for the Wildcats. But the Auchenhowie side took the second half through Lucy Findlay and Emma McDiarmid although Wendy Andrew levelled for Hillhead with two minutes to go.

Scottish Hockey Union media release


---

Kenya Police bounce back

By BRIAN YONGA



Leon Magomere of Greensharks (left) and Oliver Echenje of Kenya Police tussle for the ball during their Kenya Hockey Union Premier League match at City Park Stadium on December 10, 2017. PHOTO | MARTIN MUKANGU |  NATION MEDIA GROUP

Kenya Police came from a goal down to beat Greensharks 2-1 in a Kenya Hockey Union men's Premier League match at the City Park Stadiium, Nairobi on Sunday.

Chris Wokila had fired the Sharks ahead in the sixth minute after finishing a swift move, however Police responded with goals from Amos Barkibir and Calvins Kanu.

The result took the leaders to 64 points, 13 ahead of second placed Butali Sugar Warriors. It was the perfect response for Police, whose unbeaten run was brought to an end after a 1-0 loss away to Western Jaguars last weekend.

Police coach Kenneth Kaunda praised his charges mental ability after the match.

"It was a hard fought win and a nice response after last weekend's loss. That is what champions are made of, been able to pick themselves up after been down," Kaunda said.

Police can inch closer to their first title since 2013 with victory against bottom placed Technical University of Kenya on Jamhuri Day.

Elsewhere, Amira Sailors' chances of a top-two finish suffered a blow yesterday after they were held to a 1-1 draw with Vikings in a Kenya Hockey Union women's Premier League match.

Vikings took a deserved lead in the 18th minute through Sarah Bonareri's field goal.

Sailors should have levelled in the 25th minute but Pauline Naise saw penalty flick saved by Vikings keeper Winnie Kiprop.

They eventually levelled through Yvonne Madowo, who sounded the boards following a short corner. Sailors had chances to win the game but were let down by poor finishing and excellent saves from Kiprop.

Sailors coach Linet Onyango lamented the two dropped notes, expressing her disappointment after lethargic display from her charges.

"To be fair, this was not a good performance from our charges. All our systems did not work and we were not even goal-hungry. I hope we can show more fighting spirit against Telkom on Tuesday," Onyango told Nation Sport.

The win took Sailors to second spot in the table with 34 points displacing United States International University of Africa (USIU-A). The students, who are also on 34 points, drop to third due to an inferior goal difference but have played two less games than the Sailors.

Vikings coach Clyde Mmbaha said her side was unlucky not to walk away with the three points.

"I think we should have buried the game before halftime but we allowed them to come back and it feels more like a loss than a point gained, " Mmbaha said.

His side remain in sixth place with 21 points.

In the men's Premier League, Western Jaguars ended their tour of the city with a 2-0 win over champions Strathmore University Gladiators. Wayne Kipkorir scored in the fifth and 22nd minutes to steer the Kakamega -based side to victory.

Jaguars had on Saturday beaten former champions Sikh Union 3-0 at the same venue and the six points left Jaguars team manager Ian Wasike purring.

"I think we are just about safe from relegation and we now focus on finishing as high as possible, " Wasike said.

Jaguars are now placed eighth with 27 points after their weekend exploits.

In Nakuru, the hosts recorded a 3-0 win over the visiting Parklands. Sammy Ciira hit a brace with Caleb Kinjo adding the other.

In the women's Premier League, Multimedia University lost 3-1 away to Mombasa Sports Club. Esther Mwikali fired the hosts ahead at the quarter mark after converting a penalty flick. The visitors hit back through Shirlen Nabifwo after 22 minutes.

However, goals from Emma Uchi and Margaret Akinyi condemned the students.

Daily Nation


---

Jaguars crown successful city tour with 2-0 win over champions Strathmore

Relegation-threatened side delivers when it matters most with double victories on the road.

By Elizabeth Mburugu



Western Jaguar Allan Mabit(l) and Strathmore Clayson Luvanda fight for the ball  (Jenipher Wachie.Standard)

Western Jaguars reaped big from their weekend's visit to City Park as they gained maximum points from double victory against former holders Nairobi Sikh Union and reigning champions Strathmore University Gladiators.

Perhaps having gained confidence from their 1-0 win against league leaders Kenya Police, Jaguars were unstoppable as they downed the two giants to chalk their third straight victory and eighth this season.

The wins enhanced their chances of escaping this season's relegation axe. Jaguars captain Dan Kuya said they are seeking to earn points from their remaining fixtures and land a respectable finish.

"We have had an unstable season but we won't let it define how we end the season," Kuya said.

He added that even as they return to their base in Kakamega and focus on their remaining matches, they have gained more confidence.

"Our last three matches have been against the best teams in the country.

"We have won against sides that have lifted the league titles in different seasons and it has boosted our confidence. We now believe that we also equal to task."

Jaguars announced their presence in the city with a resounding 3-0 win against 2012 winners Nairobi Sikh Union. They completed a successful weekend out with a 2-0 win against champions Strathmore.

Adan Ayuku, Kelvin Machinji and Brian Onditi were on target against Sikh Union; in the second, 44th and 45th minutes for the crucial points.

The Standard Online


---

Pahang and Sabah the first teams through to second round

By Aftar Singh




KUALA LUMPUR: Defending champions Pahang and Sabah are the first two boys' teams to reach the second round of the 1MAS National Under-14 Hockey Championships.

Both sides registered their third straight wins yesterday. Pahang, gunning for their third title, edged Perlis 1-0 in Group A at the National Hockey Stadium in Bukit Jalil.

Former champions Sabah chalked up a convincing 6-3 win over Terengganu.

Pahang, who outplayed Kelantan 4-1 and Melaka 2-0 in their first two matches, wrap up their group fixtures against Penang today.

Skipper Muhammad Fazril Lokman scored off a penalty corner in the ninth minute in the 1-0 win over Perlis.

Pahang coach Muhd Sufian Mohamed said they played an all-out attacking game against Perlis but only managed to score one goal.

"We missed a number of open chances. My players were looking a bit tired in the last few minutes and Perlis failed to score from the chances they created. As we have qualified for the second round, I'll rest some players in the match against Penang," said Sufian.

Sabah, who edged Negri Sembilan 1-0 and Kuala Lumpur 2-1 in the first two matches, went two up after just eight minutes against Terengganu.

Mohamad Syafiq Lamatta sounded the board off a penalty corner in the sixth minute. Two minutes later, Muhammad Daniel Hakim Yusaini also found the target off another penalty corner.

Terengganu pulled one back via Muhammad Harizh Iman Chairil Anwar in the 18th minute.

Sabah then scored three more through Chyreal Harvie Ahinin (29th), Muhammad Izaz Afdhaal (35th) and Herryzolly Peter (42nd) to take a 5-1 lead. Terengganu narrowed the gap with two goals through Engku Amirul Idhan Engku Ibrahim (44th) and Mohamad Hadrie Mohd Hasnu (49th).

Syafiq Lamatta hit Sabah's sixth goal in the 50th minute, making no mistake from a penalty corner.

Sabah, who finished fourth last year, will complete their group fixtures against Kedah tomorrow.

Sabah coach Hasrul Jideh was impressed with his team's display.

"We have secured our place in the second round, and we'll beat Kedah to keep our 100% record," said Hasrul.

The Star of Malaysia


---

Dunross Prep, Sujo's top Siu-Butt hockey festival

Nigel Simon



The Sujo's Private School girls' team proudly display their trophies and medals won at the Stacey Siu-Butt Primary School Hockey Tournament last week.

Dunross Preparatory School (boys) and Sujo's Private School (girls) captured the titles when the Stacey Siu-Butt Primary Schools Indoor Hockey Tournament came off at Woodbrook Youth Facility, Hamilton-Holder Street, Woodbrook, on Sunday last.

In the boys' decider of the 15-team competition, Dunross inspired by the eventual Most Valuable Player award recipient, Adam Wyatt edged out Eshe's Learning Centre 'B' 3-2 via penalty-strokes shoot-out following a 1-1 draw.

In the boys' third placed match, Eshe's Learning Centre 'A' whipped Holy Name 4-1. The 11-team girls' tournament ended in a lopsided contest with Sujo's Private School powered by most-goalscorer Toni Campbell-Warren hammered Eshe's Learning Centre, 6-0.

Briggs Preparatory School took third place in the girls' competition courtesy a 3-0 blanking of Newtown 'A'.

The Trinidad Guardian


---

Job Opportunity – Head Coach, Women's National Team (Interim)



Feature Photo: Yan Huckendubler (PAHF)

Working in collaboration with a variety of partners, Field Hockey Canada is the national sport governing body responsible for the development, growth and promotion of field hockey in Canada. Among its responsibilities, Field Hockey Canada selects, prepares and promotes Canada's teams for international competitions including FIH World League, Continental Championships, World Championships, and major multi-sport games (e.g. Olympic Games and Commonwealth Games).

We are seeking an interim Head Coach for the Canadian Women's National Field Hockey team. Reporting to the Chief Executive Officer, the Head Coach is responsible for the National Team athletes' on-field preparation. This includes training sessions in Vancouver as well as confirmed competitions as outlined in the attached Job Description. This is a short-term fixed contract with a commencement date in early January 2018.

Qualifications

Skills / Background:

    Evidence of world-class coach experience, ideally with a successful track record of coaching at the international level;
    Proof of the ability to work effectively within a team, possessing excellent planning, interpersonal, management and organizational skills, with the ability to collaborate with and inspire others;
    Strong engagement and communication skills;
    Experience integrating medical, sport science and technology support within a team environment;
    Innovative approach to coaching with an appreciation of past success and the ability to draw knowledge from other sports or fields to achieve excellence;
    Evidence of commitment to developing effective partnerships to support the national program's mission.

Education:

The successful candidate will have a demonstrated commitment to coach education throughout his/her career. Evidence of having completed, or being in the process of imminently completing, coach certification at the highest national level is required. An academic degree(s) is considered an asset.

If you have a passion for working with high performance athletes and collaborating with a variety of stakeholders and believe you possess the appropriate experience and skill set for the position, please submit your resume and covering letter that includes the top 3 reasons why you are the ideal candidate for this position.

Applications are to be submitted electronically by Monday, December 18, 2017 to:

Rhonda Lewis, Chair, Board Human Resources Committee, at This email address is being protected from spambots. You need JavaScript enabled to view it..

Field Hockey Canada is committed to employment equity and encourages applications from all qualified candidates. In addition, Field Hockey Canada is committed to providing accommodation for people with disabilities. If you require accommodation, we will work with you to meet your needs.

We appreciate your interest, however, only the shortlisted applicants will be contacted.

Click HERE for the full job description.

Field Hockey Canada media release


---

HOCKEYtoday.cc launches first ever online Coach Conference at Friday 2017-12-15

HOCKEYtoday.cc will be a platform for hockey coaches from all over the world with one goal : #sharetheknowledge !

Therefore we will offer 4 services:
1. Coach Catalog : a free and public library of drills, exercises and all kinds of knowhow for coaches.
2. Coach Conference : our first ever Coach Conference is scheduled for the 15th of December 2017.
3. Coach Chat : one-on-one video chats with renowned coaches answering the questions put to them by our members - starting in January of 2018, following our Coach Conference.
4. Coach Courses : online coach courses will be offered by the end of 2018.

Coach Conference at 2017-12-15

We will be hosting the first ever online Coach Conference on Friday the 15th of December 2017. It will be hosted fully online so coaches have no need for travel if they want to attend...

HOCKEYtoday.cc will offer a full day of keynote and workshops starting at 9am UK time, 10 am European time, afternoon in Asia, early evening in Australia and unfortunately very early for the American continent. But for those who will not be able to follow us live, if they register they can also watch everything on demand when it suits them...

We start the day off with our keynote delivered by none other than a true legend in hockey coaching: Ric Charlesworth. He will be talking about team building and how to create a championship team. If interested coaches have some of their own questions for this legendary coach, they can join us live and ask them at the Q&A after his presentation.
The keynote presentation will be followed by several short but entertaining workshops:

    Pirmin Blaak (NED) : the goalie from the Netherlands & owner of Goalieworks on goalkeeping.
    Santi Freixa (ESP) : only yesterday a fierce forward for Spain, today a promising coach in the Netherlands talks about scoring.
    Laurine Delforge (BEL) : a talented lawyer and the youngest umpire at the World Cup and women's final in Rio explains about communication with an umpire.
    Mark Cairns (SCO) : the COO from Coach Logic and a former rugby international talks on what we in hockey can learn from video analysis done the rugby way.
    Annemieke Griffin-Zijerveld (USA/NED) : Performance Psychologist will tell us more about coaching mental toughness.
    Justin Reid Ross (RSA) : penalty corner specialist for South Africa and player for Amsterdam in the Netherlands & Delhi Wave Riders in the HIL will present his views about the drag flick.

So HOCKEYtoday.cc invites all ambitious hockey coaches from all over the world to get on board and #sharetheknowledge ;)

Registration at the website of HOCKEYtoday.cc is possible for free if you only want to consult the Coach Catalog, the free library of drills, exercises and knowhow. Or coaches can register for a discounted one time fee of 25 euro (normal fee would be 50 euro) to register for the Coach Conference next Friday the 15th of December 2017. Finally interested coaches can also choose to join the Coach Club for a small monthly or annual fee to enjoy full access to all of our Coach Conferences (twice a year) and all Coach Chat sessions throughout the year.

The concept, endorsed by the FIH Academy from the international hockey federation, is launched by Bernardo Fernandes from self-pass.com and Ernst Baart from be-hockey.com. HOCKEYtoday.cc is all about the "sharing is caring" mantra and in this case more specifically about #sharetheknowledge ! They want to provide hockey coaches all over the world and from all levels (if you're ambitious and eager to learn) a platform to learn from the best and to share our knowhow among each other.

HOCKEYtoday.cc media release