All the news for Wednesday 29 November 2017
2017 Men's Asian Challenge - Day 4

HKG v BRU 5 - 0
TPE v MYA 3 - 1
| Rank | Team | GP | W | D | L | GF | GA | GD | P |
| --- | --- | --- | --- | --- | --- | --- | --- | --- | --- |
| 1 | Chinese Taipei | 4 | 4 | 0 | 0 | 21 | 3 | 18 | 12 |
| 2 | Hong Kong China | 4 | 2 | 0 | 2 | 17 | 5 | 12 | 6 |
| 3 | Myanmar | 4 | 2 | 0 | 2 | 15 | 7 | 8 | 6 |
| 4 | Brunei | 4 | 0 | 0 | 4 | 0 | 38 | -38 | 0 |
---

Spain Record 4-2 Victory Over Green Army




A pacey game with plenty of goals saw hosts Spain record a 4-2 victory over the Green Army in Alcalá.

The early action was end to end with Rebecca Barry seeing her shot ricochet off the post before a Spanish ball went flying past the Irish goal moments later. The hosts maintained that momentum and in the 8th minute Alicia Magaz was on hand at the back post to tap in a reverse pass, and give her side the 1-0 lead. 3 goals in 6 minutes in the second quarter saw the game seesaw in the favour of Spain once again. Emma Russell drew Ireland level in the 21st minute as she scored on the reverse following relentless pressure from Anna O'Flanagan to win the ball for her team. But a strike by Georgina Oliva and a PC drag flick by Clara Ycart gave the world number 11 side a comfortable 3-1 lead going into half time.

It was Spain who got the next goal, Oliva for her second as she fired a reverse into the bottom right-hand corner. But Zoe Wilson was utilising the aerial ball to bypass the Spanish line while Nikki Evans was causing the defence some trouble and the Irish passes began to stick. It was Evans, linking up with Elena Tice, that broke through the middle and found Russell free, who converted for her second of the game to bring the game to 4-2. The sides exchanged green cards and penalty corners in the final quarter but neither defence could be breached.

Ireland next play again tomorrow against Belgium at 11:45am (local time).

Spain 4 (Magaz, Oliva x2, Ycart)

Ireland 2 (Russell x2)

Squad: G O'Flanagan, J McMaster, Y O'Byrne, N Evans, N Carroll, H McLoughlin, C Watkins (Captain), L Colvin, A O'Flanagan, Z Wilson, D Duke

Subs: E Buckley, C Brown, E Getty, E Tice, E Russell, A Meeke, R Barry

3 Nations Fixtures at Club Hockey Alcalá:

Ireland 2vs4 Spain 28/11/17 11:45am
Ireland vs Belgium 29/11/17 11:45am
Spain vs Belgium 30/11/17 11:45am
Ireland vs Spain 1/12/17 11:45am
Ireland vs Belgium 2/12/17 11:45am
Spain vs Belgium 3/12/17 11:45am

*All times listed are local

Irish Hockey Association media release


---

Coach Marijne happy with India's preparations

Bhubaneswar all decked up for the World-level event; tickets for India matches and knockouts sold out

Uthra Ganesan



Getting ready: Belgium and Germany prepare for the tournament with a practice match at the Kalinga Stadium. Photo Credit: BiswaranjanRout

Huge hoardings of the tournament and key players welcome arrivals at the Biju Pattnaik International Airport here.

From there till the Kalinga Stadium, where the Hockey World League Finals will be played, the roads are flanked by more of the same. The Odisha Government and the organisers have made sure the city knows it is hosting a big sporting event.

Tickets for the first day — ₹50 and ₹250 denominations — have been sold out. As are tickets for every day India is in action, and the knockouts.

The crowds have also made a note of the Indian team and its training schedule. The warm-up match against England on Tuesday had almost 200 people watching.

There were enough people at the Belgium-Germany practice game as well, more than what some domestic tournaments manage.

The India coach was happy with the preparations. Sjoerd Marijne has been seeking consistency from the team and pushing harder for his first big challenge, regardless of the Asia Cup triumph.

"We did good yesterday, we were better today. That's what we are pushing for, getting better with every game.

"Every time we enter a tournament we try to go for the medals, that's normal for every athlete. If we do that, the development process will automatically follow," Marijne said.

He was also satisfied with the recovery and performances of the players returning from injury. Local favourite Birendra Lakra will be playing a major world-level tournament after almost 18 months.

He did make a brief comeback during the Asian Champions Trophy but hurt the same knee again. Rupinder Pal Singh, too, returns from a groin injury and both will be teaming up after a long time in the defence.

"I am absolutely satisfied with their recovery and match fitness.

"Of course, the competition will be at a different level here compared to the Asia Cup, but for us it is about going all out for the best results," Marijne added.

The last time the city hosted a major tournament was the Champions Trophy that saw India finish fourth after losing to Pakistan in an ugly semifinal that triggered a major face-off between the two federations which continues till today.

It was a huge success back then and, going by the interest among the general public so far, seems set to repeat after three years.

The Indian team, however, will be hoping for better results.

The Hindu


---

Curtain comes down on a glittering umpiring career

A tribute to John Wright by Steve Jaspan



John Wright (left) and Paco Vazquez on the occasion of John's 200th International and Paco's 100th.

Several things struck me when John Wright announced his retirement as an international hockey umpire a few months back.

The announcement signalled the retirement of one of the finest hockey umpires of all time – certainly the best male hockey umpire South Africa has produced and, in fact the most celebrated umpire or referee in any sport in South Africa.

There is no South African official and few international ones who have umpired 3 World Cup finals (the last 3), 2 Olympic Finals (Athens and Rio), whilst also umpiring in 3 other Olympic Games.  He also umpired numerous finals in Continental Championships in Europe, Oceania, Asia and Pan America, as well as Champions Trophy finals – a staggering career achievement and a CV beyond compare.

But it is more than that because other than the final in Rio (which I watched on TV) I was present for all the major finals he umpired.  You have to be in the stadium to really absorb the reality of it.

The tension and pressure on an umpire in the red-hot cauldron of a final with a packed stadium and worldwide audience of millions is unbelievable.  One mistake can change the direction of the game, the fate of the Gold Medal, the ultimate prize for any hockey player or athlete.

The umpires are subjected to verbal abuse from the spectators, the players and the coaches including on-going "sledging" or verbal barbs.  I have witnessed one of the world's top hockey coaches running down the side-line verbally abusing John.

This against the back drop of the fact that hockey is one of the fastest ball games in the world with high levels of player congestion at times.  A deflection, a subtle stick tap, or any other infringement can happen so fast, and an umpire focussing on the ball is also expected to pick up things happening off the ball!

Yet the calmness and quiet authority exhibited by John in the "heat of battle" was remarkable especially with the stakes so high.  He managed this with dignity and aplomb.

After crucial games and handshakes all round, most players and coaches would acknowledge the excellent job he had done in that "cauldron".

A further hallmark of a great hockey umpire is the ability to work together with his fellow umpire on field and this teamwork is vital to ensure the best possible handling of the game.  John was always able to ensure that he worked superbly well with his co-umpires.

South Africa's great women's umpire Marelize de Klerk conducted herself similarly and with great distinction also umpiring numerous gold medal matches.
   
I am sure John and Marelize fed off each other's success and helped pave the way for many other South African umpires to follow suit eg Gary Simmonds, Deon Nel and now Michelle Joubert, with John's brother Peter also emerging as a top umpire.

The mentoring role they played and involvement in South African hockey's umpire development is notable.

I remember asking John after the World Cup final in The Hague if he had enjoyed the experience.  He told me the tension and fear of making a crucial error was so big that it is difficult to enjoy these occasions in the fullest sense but the sense of satisfaction of a job well done is the dominant feeling.  The enjoyment probably seeps in when one knows that you have done a job par excellence.

John Wright, I pay tribute to you for an unparalleled career in hockey umpiring – all done as a volunteer with no remuneration – which makes the achievement even more remarkable given the preparation and training required.
You can rightly feel tremendously proud and you have been a role model for young umpires at home and abroad, as well as South African and World Hockey.

SA Hockey Association media release


---

Hockeyroos To Play Spain In Perth Test Series

Ben Somerford




Hockey Australia (HA) today announces that Perth will host a five-match Test series between the women's national teams of Australia and Spain in January.

The fourth-ranked Hockeyroos will meet world number 11 Spain with two matches at Guildford Grammar on 15 and 16 January, two matches at Warwick Hockey Centre on 18 and 21 January and one match at Perth Hockey Stadium on 20 January.

The Test series will form crucial preparation for the Hockeyroos ahead of next year's Commonwealth Games on the Gold Coast in April where they're aiming for a fourth consecutive gold medal.

Australia learned their Commonwealth Games pool and schedule on Tuesday, with the Hockeyroos grouped against New Zealand, Scotland, Canada and Ghana in Pool B.

The Hockeyroos will also compete in the 2018 World Cup in London in July and August, with the draw having taken place on Sunday, pitting Australia in Pool D against New Zealand, Japan and Belgium.

Hockeyroos head coach Paul Gaudoin said: "The Spain Test series will be our first matches in 2018 which is a big year for us, so it's great to be able to play good opposition in Perth where we are based.

"The recent tournaments we've played have given us a good opportunity to assess our playing group and we'll soon announce our National Squad for 2018.

"The Spain Test series will be the first opportunity to bring those players together competitively for matches ahead of the Commonwealth Games and World Cup."

The announcement of the Spain Test series comes a fortnight after Hockey Australia confirmed Perth and Narrogin would play host to the Kookaburras' four-match Test series against the Netherlands in January and February.

The two series represent the first time an Australian side has played in Western Australia since May 2016.

Hockey Australia CEO Matt Favier said: "It's great to be able to bring international hockey to Western Australia, where both the Hockeyroos and Kookaburras are based, for the first time in more than 18 months.

"Both sides have long received great support from the Western Australian public and it's exciting to be playing matches in various venues across the Perth metropolitan area and regionally too.

"With a home Commonwealth Games around the corner, we're expecting strong support during the two series."

Hockey WA CEO Stuart Gilsenan said: "Western Australia has a long and proud sporting history and some of the most passionate fans around so it's great news for the State.

"It's been a while since we've had international fixtures in Western Australia so we're really excited to be back hosting such fantastic fixtures with some the most exciting players in the world.

"As a sport, we have forged significant partnerships with Hockey Australia and, with the ongoing support of the Department of Local Government, Sport and Cultural Industries have a great opportunity to showcase our world class facilities across the State.

"It's a great coup for us to be able to able to host such high-quality fixtures like this one and the series against the Dutch at locations across the Perth metropolitan area and in Narrogin."

Ticketing details available via www.hockey.org.au/2018tests.

Meanwhile, tickets for the Kookaburras-Netherlands' Test series in WA go on sale at 9am WST today via Ticketmaster.com.au.

Australia v Spain Test Series Fixtures:

Monday 15 January 6.30pm WST – Guildford Grammar
Tuesday 16 January 6.30pm WST - Guildford Grammar
Thursday 18 January 6.30pm WST – Warwick Hockey Centre
Saturday 20 January 6.30pm WST - Perth Hockey Stadium
Sunday 21 January 6.30pm WST – Warwick Hockey Centre

Hockey Australia media release


---

Elephants look to charge back into PHL contention



Photo by Marcel Sigg

The first weekend of the Premier Hockey League didn't quite go according to plan for Cheslyn Gie, but the Kilimanjaro Addo Elephants coach is confident things will get back on track in the next round of matches this coming Saturday.

Last year's finalists went down 4-0 in their opening match against the Pro-Grip Drakensberg Dragons. Then, in a repeat of the 2016 final, they just fell short against the defending champions – the Crossroads Maropeng Cavemen – losing 3-2 on Sunday.

To add to Gie's worries, star SA national player Jonty Robinson injured his ankle in Sunday's game and is in a race against time to be fit again for this weekend.

"We always expected it to be a tough start as we received two new marquee players in critical positions for the team. It took the players a game to get used to each other and we definitely started to gel and play better as a team by the second match," explained the coach.

"I believe if we continue to improve we will be a threat for any team in the coming weekends.

"We were able to learn from our mistakes and the improvement showed in our second match against the Cavemen. The team's fighting spirit is still as strong as in 2016 and this bodes well for the coming weekends."

Asked what the Elephants will need to improve on before they tackle the second weekend of PHL matches, Gie reckoned: "We will have to improve our penalty corner defence, ensure we make more connections on attack and convert the opportunities we created. We missed two tap-ins against the Cavemen while we were leading 2-1. Scoring those opportunities would have eased the pressure and tension."

The team's first clash of the coming weekend will be against the SA under-21 side, playing as the iWYZE Golden Gate Gladiators.

"We had a great result against them in 2016 although the Gladiators have seen many changes to their team, so we are confident we can get a positive result against them. We are however aware that they have the potential to spring a few surprises as they pushed the Dragons all the way to a shoot-out on Sunday," said Gie, whose team's next challenge after the Gladiators will be against the Mapungubwe Mambas on Sunday.

"The Mambas have a very balanced team and from their performance the past weekend they have a lot of fire-power up front and we will have to do well to counter this."

As for whether Robinson is likely to be part of the Elephants' line-up at the Randburg Astro this weekend, the coach explained: "His injury seems very bad and we definitely missed him on the park in the fourth quarter. He will be seeing a radiologist to have a look at the injured ankle.

"I am still awaiting the results. Jonty is however very positive that he will be fit enough to play this coming weekend.

"If he can't, his wealth of experience and calmness under pressure would be a huge loss for the team. However we managed well with him off the park when injured and I expect the players to step up if we should lose him due to injury."

The second round of PHL action gets under way on Saturday morning at 8am. After the opening round, last year's bottom team, the Drakensberg Dragons, are top of the men's log with the Mapungubwe Mambas second, having played one game less.

Defending champions, the Blyde River Bunters, are top of the women's log after two wins from their two matches. The Under-21 Namaqualand Daisies are second and while last year's runners up, the Madikwe Rangers, are currently fourth, they have played one game less.

SA Hockey Association media release


---

Zondi is looking forward to the Premier Hockey League challenge

Tuks's successful hockey coach Inky Zondi's career enters a new challenge with his involvement in the Premier Hockey League.



Inky Zondi (right) in action on the hockey field with the Tuks captain, Natalie Esteves who will lay for the Blyde River Bunters in the Premier Hockey League. Photo: Reg Caldecott

A good challenge is the one thing that Inky Zondi, one of Pretoria's best hockey coaches, relishes. That is why he is looking forward to coaching the St Lucia Lakers in Premier Hockey League, which started over the weekend in Randburg.

The head coach of Tuks Hockey had a dream season so far coaching the women's team to a historic win in the Varsity Tournament. The team followed up on their success by also winning the USSA Tournament.

Natalie Esteves, captain of Tuks Hockey, has no hesitation in crediting Zondi for their success.

"I cannot explain what Inky has as a coach, but he can get people to believe in him and to play for him, his style he wants us to play. It is just the way he is with his charisma. He is also very innovative as a coach who is always looking to bring something new to the game," said Esteves.

That ever quest to push the boundaries of the game is why Zondi is looking forward to being one of the coaches in the Premier League. It is a first for him.

"I think the League is undoubtedly one of the most exciting concepts in South African hockey as it pits the best against the best. It is what the sport needs as it is a sure way to lift the standard of the game.

"The fact that the top players are mixed up in different teams forces them out of their comfort zone. The Tuks women's players will be playing for five different teams, which means they will have to adapt to a new playing style and tactics.

"It is also challenging for us as coaches because we get to work with players we don't know. In my team, The St Lucia Lakers, there are only three current Tuks players and two former Tuks players. So I got to find a way of identifying each player's strengths as quickly as possible and then work out a strategy to maximise it in a gameplan. It forces you as a coach to think outside of the box," said Zondi a few days before the tournament started.

Last year the St Lucia Lakers finished fourth. Zondi prefers to refrain from making predictions, but at the same time, he makes it clear that as a coach he is going to see if they can't improve.

"But what will be more important to me is to get each player to play to the best of their ability. If I get to do so, there is a good chance that we will end up being one of the top teams in the tournament," he concluded.

The Premier Hockey League started the past weekend and the finals will be played on 12 December. All the games are played at the Randburg Astroturf.

A total of 24 Tuks players have been selected to play in the tournament. The men are Tevin Kok, Nduduzo Lembethe, Sizwe Mthembu, Michael Forrest, Steven Paulo (Mapungubwe Mambas); Onke Letuka (Addo Elephants), Mark Chong (Golden Gate Gladiators) and Matthew Davies (Maropeng Cavemen).

The Tuks women who will be in action are Phumelela Mbande, Izelle Verster, Celia Evans, Natalie Esteves, Marizen Marais, Anél Luus, Marissa Poolman, Nicolene Terblanche (Blyde River Bunters); Ayanga Baleni, Megan Anderson, Chané Hill (St Lucia Lakers), Amy Etherington, Sulize de Klerk (Orange River Rafters); Claire Gibbings (Madikwe Rangers) and Thando Chithi (Winelands Wings).

Pretoria East Rekord


---

Old hockey association, The Hockey Maharashtra, ready for a comeback

Disaffiliated in 2013, The Hockey Maharashtra gets a thumbs up from Pune court, which has also restrained a national and few state bodies from continuing affiliation to the new organisation

By Yogesh Sadhwani

Sports and politics go hand-in- hand. This was evident recently when a Pune court ruled in favour of The Hockey Maharashtra, an association that was disaffiliated way back in 2013 by Hockey India. The old body responsible for promoting the sport in the state was replaced by another albeit with the same name, with new committee members after the disaffiliation. Cdr Kehar Singh, an office bearer of the old body moved Civil Court, Senior Division in Pune in 2016.

It started in 2013 when Hockey India called for a meeting to discuss troubles in the state association. According to the petition filed by Cdr Singh, there were differences between president Rekha Bhide and treasurer Manoj Bhore in the state, because of which national body stepped in. A month after the first meeting was called in Delhi, the state body was disaffiliated. They reasoned it by stating, "mismanagement and lack of coordination amongst office bearers and members of particular unit and thereby causing harm to game of hockey".

The action literally translated into momentary death of The Hockey Maharashtra. Immediately after the order, national body appointed another state association with new office bearers. This one was called Hockey India. The new body got all the perks of state body and was meant to promote the sport and players in state.

In 2016, Cdr Singh challenged The Hockey India's decision. He argued that the National Hockey did not give the state body a chance to argue their case or hear their appeals. Moreover, he told the court that the new body was given the same name and that it was illegal.

On November 20, Joint Civil Judge CP Bhagwat passed an order stating that National Hockey did not "give an opportunity of appeal" to the Hockey Maharashtra office-bearers and hurriedly gave affiliation to the new body "which is against natural justice". The court also observed that the old body has "more experience to run the association and conduct hockey games and competition".

"Therefore, not only in the interest of plaintiff association (The Hockey Maharashtra), but, in the interest of game of hockey, balance of convenience lies in favour of plaintiff... Mrs Rekha Bhide is president of plaintiff, who is an international hockey player, awarded with Arjun Puraskar. Mr Kehar Singh is also retired commander and former hockey player. Therefore, they would definitely handle hockey properly as compared to experience and profession of members of defendant No. 3 (new state body) (sic)," order states.

For now, the court has restrained National Hockey, Maharashtra Olympic Association and Maharashtra state from continuing affiliation to the new state body. They have been asked to hear appeals filed by members of old body. Also, the new body cannot represent itself as an official state organisation responsible for promoting hockey in Maharashtra. While passing the order in favour of old body, court stayed it for three weeks. This means that the old body cannot take charge till December 10 and till then the new one can continue.

When Mirror contacted Cdr Singh, he had already making preparations to take over the state body. "For the last four years the game has suffered a lot in the state. I will bring the lost glory back in no time," he said. Rekha Bhide added, "My heart goes out to players. I am happy with the order and thankful to the judiciary."

Manoj Bhore, who was the treasurer of the old body and went on to join the new state body as well, said, "It is a sad day. I only hope that players and game do not suffer because of this."

History of factions in Pune hockey

Maharashtra Hockey Association (MHA) had two factions in 2000-01. The Benny Boodle faction was affiliated to KPS Gill's Indian Hockey Federation (IHF) was disbanded by Leandro Negre- led Federation of International Hockey (FIH) . Then, the ad-hoc committee led by Suresh Kalmadi gave temporary recognition to Ikram Khan's MHA faction. Later, before IHF was de-recognised, it credited the Pune District Hockey Association headed by former corporator Rajesh Pillay. These three bodies were then dissolved by Hockey India, just when they were vying to host the tournaments. In 2010, The Hockey Maharashtra was born. Three years later, it set an entire new panel led by Hitesh Jain. Since then, Pune has hosted seven national tournaments at Balewadi, including a five-a-side tournament with a mixed team. FIH president Narendra Batra, who held the tournament in Pune last week, assured to take up this format with International Olympic Committee (IOC) for inclusion.

— AVINASH RAJPUT

Pune Mirror


---

Seven Penn State field hockey players earn Mideast All-Region honors

Jessie Evans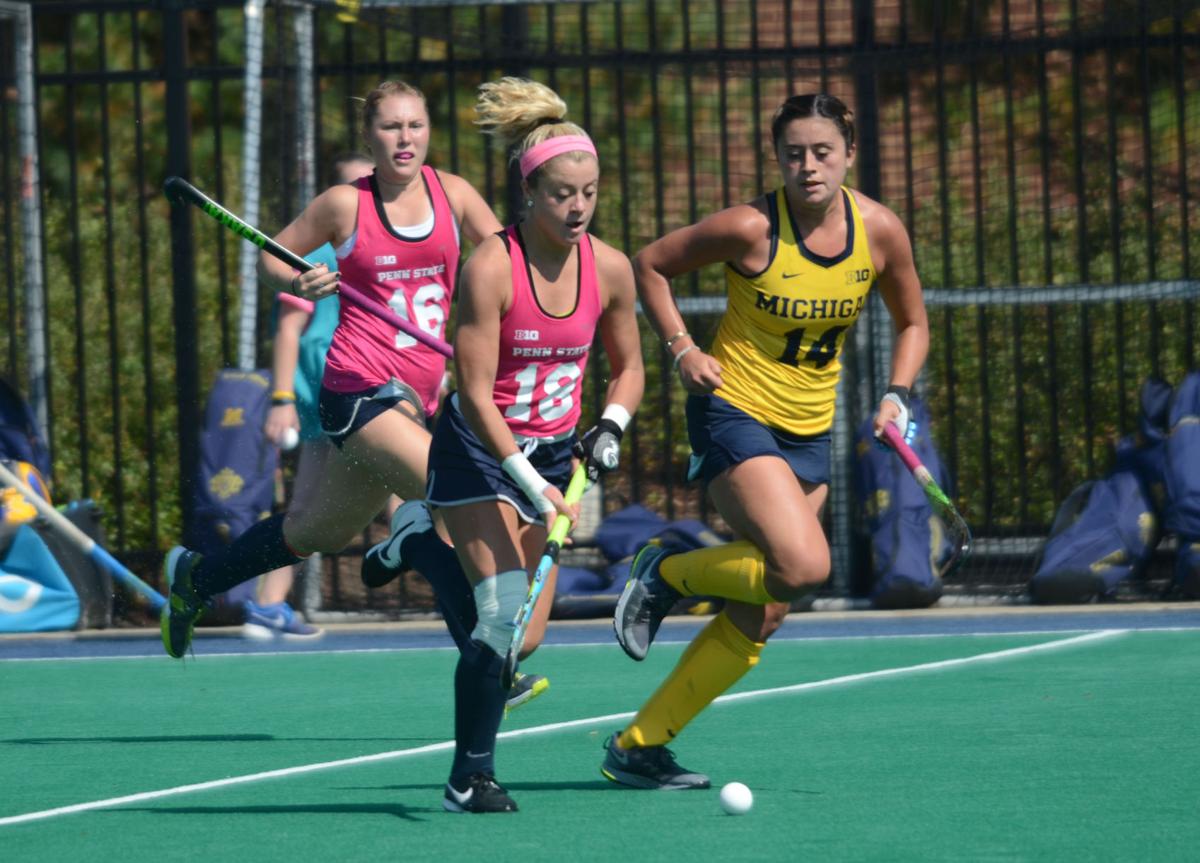 Moira Putsch (18) runs the ball down the field during the Pink Zone game against Michigan at the Field Hockey Complex on Sunday, Sept. 24, 2017. Camille Stefani

The National Field Hockey Coaches Association announced Monday afternoon that seven Penn State players were named to the 2017 Longstreth/NFHCA Division I Mideast All-Region team.

The Nittany Lions made their second-straight appearance in the Big Ten Championship game with major contributions from all seven of the players.

The Nittany Lions All-Region First-Team honorees include junior Moira Putsch, junior Aurelia Meijer, junior Katie Dembrowski, junior Jenny Rizzo and senior Skyler Fretz.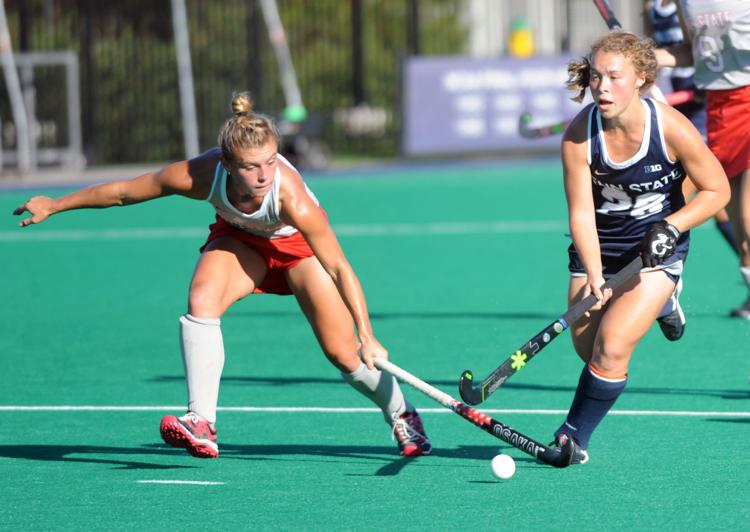 Gini Bramley (28) pushes the ball past Ohio State's Caroline Rath (24) during a game against Ohio State at the Penn State Field Hockey Complex on Thursday, Oct. 6, 2016. The Nittany Lions defeated the Buckeyes, 2-0. Erin O'Neill

A 2016 All-American forward, Putsch earned her second NFHCA First-Team honor after finishing the season as the leading goal scorer for the Nittany Lions. Having started all 22 games, Putsch earned a career high of 21 goals and 15 assists. Putsch finished her third year with a team-high 57 points.

Midfielder and forward Meijer finished the season tied as the third-leading goal scorer for the Nittany Lions. The Hattem, Netherlands, native had seven goals and five assists recorded for the season, earning her third NFHCA First-Team honor.

After starting all 22 games Dembrowski ended the season with a career-high five goals and four assists.

Rizzo earns her first All-Region honor after ending the season with the fourth-best save percentage in the country of .796. Rizzo, a prominent figure in goal since her freshman year, also ended with five shutouts and 113 saves.

Defender Skyler Fretz earned her third All-Region honor, finishing with a career-high of nine defensive saves to contribute to a career total of 14.

Penn State's All-Region Second-Team honorees include junior Cori Conley and junior Gini Bramley.

Conley earned her first All-Region honor this season and Bramley finished this season as the second leading goal scorer for the Nittany Lions, earning the NFHCA Second-Team honor and her second All-Region honor.

Bramley ended the season with a total of ten goals and five assists.

The Daily Collegian


---

HA Congratulates Thompson & Birmingham On Awards

Ben Somerford




Hockey Australia today congratulates Hockey NSW Chief Executive David Thompson and former Kookaburras captain Warren Birmingham after both received significant awards at the inaugural NSW Champions of Sport ceremony.

Thompson won the Administrator of the Year award, beating five other candidates from a variety of sports, at Monday night's awards at Rosehill Gardens.

Birmingham was inducted into the NSW Hall of Champions having represented Australia 200 times between 1982 and 1994, including two Olympic Games, four World Cups and 11 Champions Trophies.

Now 55, he was captain of the Kookaburras at the 1992 Olympics in Barcelona when the side claimed a silver medal. He also won the International Player of the Year in 1992.

Birmingham captained Australia from 1990 to 1994 and was remarkably selected in nine consecutive World XI teams.

He was inducted alongside the likes of cricket's Michael Clarke, diving's Matthew Mitcham OAM, cycling's Rochelle Gilmore and basketball's Matthew Nielsen.

Thompson's accolade comes after he has overseen substantial membership growth at grass roots and junior age level for hockey in NSW.

His innovations include Hockey NSW's strategic intent by 2020 by 2020 which focuses on obtaining 2,020 players under 12 by the year 2020, the successful Primary School Campaign which has generated membership growth and a new income stream, the Regional Challenge and the revolutionary 'Joey Ball' – a softer, safer alternative to the traditional hockey ball.

Hockey NSW was also a finalist for the Organisation of the Year award, the NSW Women's Masters State Championship was a finalist in the Event of the Year category and Helen Rankin-Jarvie was a finalist for the Masters Athlete of the Year gong.

Hockey Australia media release


---

OCI Announce Olympic Solidarity Scholarships




The Olympic Council of Ireland has announced that 12 athletes have been awarded Olympic Solidarity Scholarships to assist with qualification and preparations for the Tokyo 2020.

Ireland men's hockey team have also been awarded a scholarship to assist in their qualification efforts for the Tokyo Olympic Games. The scholarship of €84,000 / €21,000 per anum has been awarded to Irish Hockey to assist the men's national team, currently ranked 10th in the World, with their Olympic qualification campaign.

In order to be eligible, athletes must be competing at international level in an Olympic discipline that will feature at Tokyo 2020 and have the technical ability to qualify for the Games as demonstrated through recent results.

Funding provided under the scholarship scheme will cease prior to 2020 if the athletes for any reason become ineligible to qualify for Tokyo.

The OCI submitted the application to the International Olympic Committee's Olympic Solidarity Fund on behalf of 12 Irish athletes, having first invited each of Ireland's National Sporting Federations to nominate qualifying athletes from their individual sports.

The IOC awarded the OCI eight scholarships and one team scholarship but the OCI's Executive Board decided to invest an additional €140,000 to bring the number of scholarships warded up to the maximum of 12 permissible under the scheme.

OCI president Sarah Keane said: "Funding is crucial to performance sport which, by its nature given the international competition, not to mention travel, expert coaching, equipment and sport science and medicine involved, is resource intensive.

"We are delighted that we have secured funding from the IOC's Olympic Solidarity Fund to support some of Ireland's Olympic hopefuls and also that the OCI are in a position to invest some additional funds to bring the total number of athletes benefiting from the scholarship programme to 12.

"It is a testament to the work by the athletes themselves and  those involved in Ireland's sport performance programmes that we have such an exciting group of talented athletes across a range of different sports determined to represent Ireland at the Tokyo Olympic Games.

"It is fantastic to be able to provide some level of  financial support to assist them in their quest to secure Olympic qualification."

Irish Hockey Association media release