All the news for Thursday 23 November 2017

Sentinel Homes Hockey World League Final 2017 - Day 7

QF USA v ENG 1 - 2
QF NED v CHN 4 - 0

FIH Match Centre


---

Korea and New Zealand win first quarter-finals of Sentinel Homes Women's Hockey World League Final 2017



New Zealand knocked reigning champions Argentina out of title contention Photo: FIH/WSP

Korea defeated Germany whilst New Zealand beat Argentina in the first two quarter-finals of the Sentinel Homes Women's Hockey World League Final 2017 being held at Harbour Hockey Stadium in Auckland, New Zealand.

In the first quarter-final of the event, Korea and Germany went head to head. The first quarter saw many of Germany's right sided attacks start to pay dividends, with Marie Maevers making some excellent runs into the circle.

She was eventually rewarded, forcing three penalty corners early on, the last of which Nike Lorenz converted with a powerful, accurate drag flick to goalkeeper Jang Soo Ji's right hand side.

Korea continued to absorb the German attacks just outside their defensive circle and, with renewed confidence, they started to get and exploit space with plenty of possession.

With four minutes left in the half, Korea's attacks were starting to threaten and unsettle the German defence with Hong Ji Seon's deflection going close.

Two minutes later, in the 28th minute, Korea broke through as they capitalised on a green card for German defender Selin Oruz.

Korea  drove down the right and Lee Yuri's accurate cross reached team mate Cho Hyejin who tapped the ball into the goal to draw the teams level.

Korea then took the lead six minutes after the break. This time their penalty corner proved fruitful, Jang Heesun's shot found its way between Cuipa's pads.

The lead was brief however. Penalty corner specialists Germany treated everyone to a piece of hockey perfection. Marie Maever's excellent low body position allowed her to smash in the lay-off from team-mate Lorenz and make it 2-2.

In the 41st minute-Germany's penalty corner artillery thundered into action again. A sneaky double deception after the trap at the top of the circle followed by a subtle but perfectly accurate pass to Marie Maevers allowed her to score again as Germany retook the lead.

Korea then took the opportunity to treat the crowd to their own penalty corner tricks. Some neat deceptive play preceeded a pass to Park Mi Hyn who slammed the ball across the goal behind the German defence for Park Seunga to once again tie up the match.

The score remained 3-3 therefore the game went to shootout. And it was Korea who emerged victorious. Their 'keeper, Jang Soo Ji, was superb, saving three of the four from the German players.

At the same time, Korea's outfield players proved more clinical, with Park Mi Hyun, Park Seunga and Cho Eunji scoring their attempts. Nike Lorenz scored the only successful goal for Germany in the shootout, which ended 3-1 to the Asian team.

Speaking about their victory, Korea's Jang Heesun said: "We are really happy at the moment. We just can't believe it – it's unbelievable - some of the team are crying they are so happy. We will take that confidence into the next game and hopefully that will lead to a good result in the semi-final."

On the other hand, Germany's Marie Maevers said: "We were good. We worked hard. We are disappointed because we had lots of chances but Korea were really good today. It is a bit unlucky for us, their goalkeeper Jang was very good - she deserved to win the penalty shootout."

In the evening game, hosts New Zealand delighted the home crowd as they came from behind to beat reigning champions Argentina.

It was however the Pan American champions who started the match well as Delfina Merino opened the scoring in the second minute.

Argentina continued to dominate the first half, playing with confidence and energy, but New Zealand showed their resilience, breaking down attack time and time again, with their defence and goalkeeper Sally Rutherford in fine form.

Argentina's Maria Granatto, Delfina Merino and Rocio Sanchez remained threatening throughout but it was the hosts who scored next.

"I thought goalkeeper Sally Rutherford was sensational for us. It was all about getting over a hurdle and we did that tonight."
Mark Hager, New Zealand Coach

In the 32nd minute New Zealand forced their second penalty corner. Some deception at the top of the circle helped Brooke Neal stroke the ball over Argentinian goalkeeper Belen Succi to draw the teams level.

That knocked the confidence and energy out of Argentina. A minute later another New Zealand penalty corner offered a different combination.

Ella Gunson's drag flick went low to the goalkeeper's right and Stacey Michelson, the injector, hung her stick goalwards and allowed the ball to ricochet neatly into the goal to the delight of thousands of Black Sticks fans.

Argentina poured on the pressure in the final quarter, forcing a number of last grasp saves from the New Zealand defence, but they couldn't do enough to find the equaliser as New Zealand went on to win 2-1.

Speaking afterwards, New Zealand Coach Mark Hager said: "We haven't ever lost a quarter-final but it was heart failure watching the last ten minutes. We were always in the game - the girls stood up and did what we asked them to do - except the last ten minutes. I thought goalkeeper Sally Rutherford was sensational for us. It was all about getting over a hurdle and we did that tonight."

Argentina's Augustina Albertarrio said: "Well that's the game. Sometimes you play good, sometimes you play bad - that is the world of sport. We are really disappointed. We came top in the Pool games but there are two separate tournaments here. Everyone wants to make it to the final."

Two more quarter-finals will take place tomorrow, with USA taking on England at 18:00 and Netherlands playing China at 20:15.

The winner of USA v England will then play New Zealand in one Semi-Final while the winner of the Netherlands v China match will play Korea in the other Semi-Final. The other teams will play in classification matches.

#HWL2017

RESULTS
Quarter-finals:
Germany 3, Korea 3 (Korea won 3-1 in shootout)
Argentina 1, New Zealand 2.

FIH site


---

Vantage Black Sticks storm through to semis



Photo: www.photosport.nz

The Vantage Black Sticks have stunned reigning champions Argentina 2-1 to progress to the semi finals at the Sentinel Homes Hockey World League Final in Auckland.

Argentina were dangerous from the opening whistle and scored early before a tremendous fightback powered New Zealand to a famous victory.

The result will see the Vantage Black Sticks go up against the winner of Thursday night's quarter final between England and the USA, with the draw to be confirmed at the conclusion of all quarter finals.

It was an extra special night for Shiloh Gloyn who played her 50th test in a match she certainly won't forget.

Defender Samantha Charlton said it was an incredible feeling to go through a tough pool phase and finally click when it counted.

"Everyone is pretty happy right now. We didn't have the start to the tournament that we were expecting but we knew we'd get up for any game in the quarters and it was great to see us do that today," she said.

"It was good to see the girls really play with belief tonight even after going down early. You could see everyone had that fight in them.

"Whether it's England or USA in the semi final we know it will be a tough game but we are certainly up for the challenge."

Argentina edged ahead in just the second minute when Delfina Merino capitalised on an opportunity deep in the circle to knock the ball past goalkeeper Sally Rutherford.

New Zealand rallied following the goal and created some great phases of play but went into halftime still trailing by one goal.

The Kiwis caught fire early in the third quarter and equalised through a 32nd minute penalty corner which Brooke Neal rocketed into the roof of the net.

Captain Stacey Michelsen put the Black Sticks in front just a minute later from another corner, getting a deflection on a great Ella Gunson ball to the far post.

New Zealand absorbed huge pressure from Argentina in the final quarter but were strong on defence with Rutherford also making some crucial saves.

In tonight's other quarter final, Korea upset Germany 3-1 in a shoot-out after the game was locked up 3-3 at fulltime.

Event tickets can be purchased along with a full rundown of transport information through www.ticketek.co.nz

VANTAGE BLACK STICKS: 2 (Brooke Neal, Stacey Michelsen)
ARGENTINA: 1 (Delfina Merino)
Halftime: Argentina 1-0

Hockey New Zealand Media release


---

Black Sticks stun Argentina in quarter-finals of World Hockey League

By David Leggat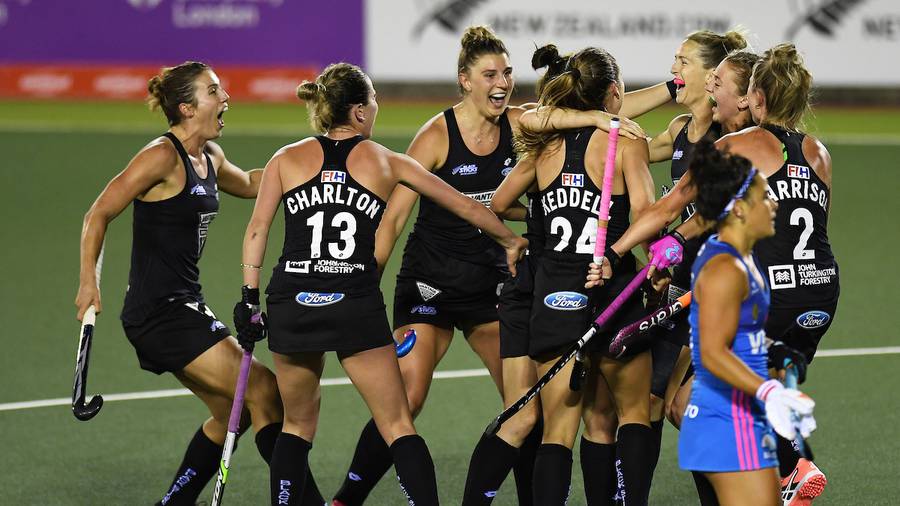 Black Sticks players celebrate a goal against Argentina. Photo / Photosport

They hadn't won a game in pool play but New Zealand saved their best until sudden death was staring at them in the quarter-finals of the Sentinel Homes World Hockey League at North Harbour tonight.

The Black Sticks confounded all expectations by beating world No 3 Argentina 2-1 to advance to a semifinal against either England or the United States.

They bounced back from conceding a soft goal inside the second minute to Argentine captain Delfina Merino.

They showed plenty of heart to grab two of their own in the space of two minutes at the start of the third quarter, their best period of the match, then hung on for dear life as Argentina launched wave upon wave of attacks at them.

Goalkeeper Sally Rutherford was a hero for the fifth-ranked Black Sticks while midfielders such as Kelsey Smith and co-captain Stacey Michelsen were terrific through the park.

"It's a pretty awesome feeling," Michelsen said.

"I'm just so happy, and probably a little bit relieved."

Through pool play New Zealand had been poor in front of goal. This time penalty corners did the trick for them.

They scored two from their seven attempts in the match and importantly kept Argentina scoreless from their six set pieces.

Defender Brooke Neal scored the equaliser from a neat set play, the ball flying over goalkeeper Belen Succi.

The second rocked Argentina, midfielder Ella Gunson driving the ball towards Michelsen coming in from the left, and her deft stick work got the ball into the net.

The Black Sticks, instead of slowing play down, gave away too much soft ball late on but survived by a variety of means in the final, nerve-jangling minutes.

"We did a really good second half, the chances were there," Merino admitted.

South Korea caused an upset in the first quarter-final.

Having drawn 3-3 with sixth-ranked Germany, the Koreans were far superior in the penalty shootout, taking their chances impressively against a tentative German side to win it 3-1.

The Koreans linked arms and danced delightedly in a circle after the final goal.

"We had our chances and in the shootout. They are a strong side but we should have, and could have, won this game," disappointed German captain Janne Muller-Wieland said.

World No 1 Netherlands play China and England face the US in tomorrow's remaining quarter-finals.

The New Zealand Herald


---

We knew it wasn't over

By David Leggat



Black Sticks players wave to supporters after winning. Photo / Photosport

The Black Sticks' minds went back a couple of years as they found inspiration to topple highly-fancied Argentina in a dramatic world hockey league quarter-final at North Harbour last night.

The Argentines hosted the 2015 world league finals and did it the hard way. New Zealand had lost all three pool games this time, had little attacking edge, and weren't given much chance of toppling the world No 3 team.

"For us it was about recognising that despite losing three times it definitely wasn't over," co-captain Stacey Michelsen said after the 2-1 victory before a jubilant crowd.

"We saw Argentina last time came through pool play and hadn't won a game, but won their quarter-final and the tournament.

"Just knowing it wasn't over and continuing to push on really helped us."

It was Michelsen, who has been terrific through the tournament, who fittingly scored the winning goal last night.

She deflected an Ella Gunson drive from a penalty corner into the Argentine net, and that came a minute after the Black Sticks had equalised after giving away a goal in just the second minute.

Defender Brooke Neal scored from a penalty corner to shake the Argentines; Michelsen's strike rocked not only the crowd but the South Americans' too.

They then held off a series of Argentina attacks through a largely one-sided final quarter, and although it wasn't always calm and clever defensive work, it had tons of heart and the Black Sticks got a fantastic reward.

The third quarter did it for New Zealand, during which they had eight shots on goal to three and the bulk of the possession and got their goals.

By the end, Argentina had made 30 circle penetrations to 12 by the Black Sticks. So step forward experienced goalkeeper Sally Rutherford, who had a memorable night.

"To have her back there and calm everyone down to make those key saves, she's unbeatable," an admiring Neal said of the keeper.

The Black Sticks will next face either the United States – who beat them 3-1 despite the New Zealanders having much the better of the contest statistically in their final pool game on Monday – or England, who square off in their quarter-final tonight.

South Korea caused an upset in the first quarter-final last night.

Having drawn 3-3 with sixth-ranked Germany, the Koreans were far superior in the penalty shootout, taking their chances impressively against a tentative German side to win it 3-1.

The Koreans linked arms and danced delightedly in a circle after the final goal.

World No 1 Netherlands play China in the final quarter-final tonight.

The New Zealand Herald


---

Black Sticks stun Argentina in big quarterfinal upset in Auckland



The Black Sticks score and it's suddenly game on against Argentina in the quarterfinals of the World League Final. ANDREW CORNAGA/PHOTOSPORT

Black Stick Brooke Neal said everyone was willing to put their body on the line for the 2-1 win over Argentina.

Lifted by a vocal home crowd, the Black Sticks defended desperately and celebrated a major boilover victory over Argentina in the World League Final in Auckland.

Thanks to two quickfire goals after halftime, the New Zealand women beat Argentina 2-1 in the quarterfinals and will face either England or USA in the semifinals.

Brooke Neal and Stacey Michelsen struck in the space of 90 seconds to rock Argentina after they trailed 1-0 at the main break at North Harbour Hockey Stadium.

The Black Sticks defended stoutly to hold on in a frantic final 10 minutes and spark wild celebrations. Goalkeeper Sally Rutherford was one of their stars while the lively Kelsey Smith was a standout throughout.



Shiloh Gloyn slides and strikes towards goal for New Zealand in their quarterfinal against Argentina. ANDREW CORNAGA/PHOTOSPORT

"It's a pretty awesome feeling to finish that game. All through the week we had been playing well in the midfield but just not converting, and it was good we didn't panic and we worked on fixing those small things," captain Michelsen told Sky Sport.

"It's been an amazing crowd all week and so nice to have them cheering a win and hopefully we can continue this."

New Zealand now get some recovery time and watch England and USA battle it out on Thursday to see who they meet in the semis, with big guns Argentina and Germany out of the picture already.

"They're both really good sides and you don't have a preference at these tournaments because every team is so strong," Michelsen said.

It looked a mismatch: New Zealand having finished fourth in their pool after three defeats including a flat 3-1 loss to USA, while Argentina arrived in red-hot form following a 4-1 win over Germany to top their group.

When Delfina Merino opened Argentina's account in the opening minutes, after the Black Sticks couldn't clear a scramble in front of goal, it looked ominous for the hosts.

But they organised their defence and kept it to 1-0 down at halftime, after both sides had three shots apiece in the first 30 minutes.

New Zealand roared to life after the main break with their set piece working superbly, converting two of seven penalty corner attempts.

Neal levelled the scores less than 90 seconds into the half from a penalty corner, then suddenly the Black Sticks were in front.

Michelsen timed it brilliantly for the deflection from close range and it was 2-1.

New Zealand's confidence soared and with the crowd lifting they kept Argentina at bay. The highly-ranked visitors had six PC attempts in all but converted none.

Rutherford booted away one dangerous shot with nine minutes left and then swatted away another penalty corner attempt, as Argentina tried to play at pace and desperately sought the equaliser.

It wasn't the only upset on the night, either. South Korea pipped Germany 3-1 on penalties, after scores were tied 3-3 at fulltime, to advance to the semis.

Black Sticks 2 (Brooke Neal 32', Stacey Michelsen 33') Argentina 1 (Delfina Merino 2'). 1Q: 0-1, HT: 0-1, 3Q: 2-1

Stuff


---

Black Sticks coach wants to keep aggressive style for semi-final after stunning Argentina



The Black Sticks celebrate scoring during their upset victory over Argentina. PHOTOSPORT

Black Stick Brooke Neal said everyone was willing to put their body on the line for the 2-1 win over Argentina.

Coach Mark Hager has urged the Black Sticks to maintain an aggressive style following their stunning quarter-final upset victory over Argentina in the World League Final in Auckland.

New Zealand's women's team beat the competition's reigning champions 2-1 on Wednesday and face the winners of Thursday's last eight encounter between England and the United States in Friday's semi-final at North Harbour Hockey Stadium.

Hager's Black Sticks finished bottom of Pool A following three first-round defeats (4-0 v the Netherlands, 2-1 v South Korea and 3-1 v USA) but all eight teams automatically qualify for the second round.

New Zealand in the quarter-finals were drawn against an Argentinian side that topped Pool B after beating China 3-0 and England 1-0 before then thrashing powerhouses Germany 4-1 in their final pool match on Tuesday.

But the Black Sticks overturned a 1-0 deficit thanks to goals in the 32nd and 33rd minute to Brooke Neal and Stacey Michelsen respectively before defending stoutly to clinch a semi-final place.



Shiloh Gloyn lining up a shot against Argentina. PHOTOSPORT

"The girls stood up tonight and basically did what we asked them to do. They did the hard yards, moved the ball, and made it hard for Argentina which was pleasing," Hager said.

Hager praised their defensive effort against the Argentinians, who scored eight goals in three pool matches, but wants their attack to continue to flourish against either England or the USA.

"We tend to play well in quarter-finals, but it's now about getting that mental fortitude right for the semi-final," he said.



Black Sticks women's coach Mark Hager. GETTY IMAGES

"We've got to come out with the same attitude where we're aggressive on the ball and we want to attack - that's our style."

South Korea beat Germany 3-1 on penalties in Wednesday's other quarter-final after the scores were tied 3-3 and they'll face either China or the Netherlands in the last four.

Stuff


---

England and USA set for Thanksgiving Day clash!



England celebrate v China

All eyes will be on the Sentinel Homes World League Finals tomorrow as England and the United States of America contest their quarter-final in a Thanksgiving Day showdown!

England set up the tie with the USA after beating China 4-1 in their final pool game while the American side finished second in their group.

The sides previously met at the World League Semi-Finals in Johannesburg in July where the USA were victorious in a shootout.

Reflecting on his side's win over China and looking ahead to the clash with the USA, England head coach Danny Kerry said: "The team were smart against China and that application created our win, this experience is absolute gold dust.

"We have one hell of a game coming up against a hard working USA team. We will need to be at our absolute best."

Danson is relishing the clash with the USA, she said: "It's going to be a fantastic game, we are obviously both very competitive and strong teams. We've played them a number of times this year so it's going to be a very end to end battle which we are looking forward to.

"We have a rest day today so we have an opportunity to recover, do our homework and then we'll come out fighting for the quarter-final."

Bray commented: "With the nature of the tournament our attentions turn straight away to our quarter-final final game against the USA. We will go into the game with a lot of belief and are excited at the prospect of the knockout game!"

The match will be shown live on BT Sport starting at 5am UK time.

England Hockey Board Media release


---

England announce Odisha Hockey World League finals squad



England Euros Men

England have named their 18-man squad for the Odisha Men's Hockey World League Final in India where Barry Middleton is set to make his 400th international appearance.
 
The tournament sees eight of the world's best sides battle it out between 1-10 December in Bhubaneswar with England taking on world number two Australia, Germany and eight-time Olympic champions India in Pool B.

Middleton, 33, made his international debut on 7 April 2003 and has gone on to represent England and Great Britain a combined 397 times. Should he feature in all of England's group games he would reach the landmark of 400 against Australia on Monday 4 December.

England will be hoping to build on their successes so far in 2017, with a number of the squad part of the Great Britain side that won gold at the Azlan Shah Cup in May before England defeated Germany at the European Championships to take bronze.

Liam Ansell, Luke Taylor and James Gall have all been called up to the squad and will compete at their first major senior tournaments for England, while Ian Sloan and Michael Hoare miss out through injury.

Head coach Bobby Crutchley said: "We are really excited about the challenge ahead at the World League Finals in Bhubaneswar against some of the best sides in the world. The tournament provides us with a great opportunity to learn more about our players and to both grow and improve the depth in our squad ahead of events in 2018."

England will contest in the opening match of the showcase tournament against Germany on 1 December before playing India on 2 December and completing their pool against Australia two days later.

All matches from the tournament will be shown live on BT Sport with full timings and listings below.

David Ames (Holcombe)
Liam Ansell (East Grinstead)
David Condon (East Grinstead)
Brendan Creed (Surbiton)
Adam Dixon (Beeston)
James Gall (Surbiton)
Harry Gibson (Surbiton)
Mark Gleghorne (Beeston)
David Goodfield (Surbiton)
Chris Griffiths (East Grinstead)
Harry Martin (Hampstead & Westminster)
Barry Middleton (Holcombe)
George Pinner (Holcombe)
Phil Roper (Wimbledon)
Liam Sanford (Reading)
Luke Taylor (Surbiton)
Sam Ward (Beeston)
Henry Weir (Wimbledon)
 
Fri 1 Dec – Germany 11.15am UK time
Sat 2 Dec – India 2pm UK time
Mon 4 Dec – Australia 12.00pm UK time
Wed 6/Thu 7 Dec – Quarter-Finals
Fri 8/Sat 9 Dec – Semi Finals
Sun 10 Dec - Final

England Hockey Board Media release


---

Kookaburras Make Two Changes For World League Final

Ben Somerford




The Kookaburras have been forced to make two changes to the team to play at the FIH Men's World League Final in Bhubaneswar due to injuries.

Sydney brothers Ben Craig (finger) and Tom Craig (hamstring) have been ruled out, replaced in the 18-member team by young duo Lachlan Sharp and Jake Harvie.

NSW Waratahs 20-year-old attacking midfielder Sharp, who hails from Lithgow, is uncapped at senior level but represented Australia at last year's Junior World Cup.

Teenage defender Harvie, who hails from WA's South-West, debuted for Australia against New Zealand in Bendigo earlier this month and earned six caps during the International Festival of Hockey.

Kookaburras head coach Colin Batch said: "It's disappointing for both Ben and Tom to miss out as both had been building towards the World League Final, but it represents a great opportunity for Lachlan and Jake.

"Ben has a fracture in his finger and while he won't need surgery, he's been ruled out. Tom is still experiencing some soreness from a hamstring injury, so he needs to focus on his rehabilitation to be fully fit for next year.

"Lachlan has been on our radar for a while having impressed during the National Development Squad's European tour earlier this year and last year's Junior World Cup. Jake's selection builds on his recent performances where he impressed at the International Festival of Hockey.

"We feel both can handle this opportunity and we're excited to give them this chance."

The Kookaburras will depart for the World League Final on Saturday, with the side's first game against India on December 1.

Australia are grouped against India, Germany and England in Pool B.

The tournaments runs from December 1-10 and will be televised on Fox Sports, with all Kookaburras' games live.

Kookaburras team for World League Final:

Athlete (City, State)
Daniel Beale (Brisbane, QLD)
Tristan Clemons (Bunbury, WA)
Matthew Dawson (Killarney Vale, NSW)
Jeremy Edwards (Hobart, TAS)
Blake Govers (Wollongong, NSW)
Jeremy Hayward (Darwin, NT)
Jake Harvie (Dardanup, WA)
Aaron Kleinschmidt (Melbourne, VIC)
Mark Knowles (Rockhampton, QLD)
Tyler Lovell (Perth, WA)
Edward Ockenden (Hobart, TAS)
Lachlan Sharp (Lithgow, NSW)
Matthew Swann (Mackay, QLD)
Jacob Whetton (Brisbane, QLD)
Tristan White (Wollongong, NSW)
Tom Wickham (Morgan, SA) *Plays for WA
Dylan Wotherspoon (Murwillumbah, NSW) *Plays for QLD
Aran Zalewski (Margaret River, WA)

Hockey Australia media release


---

HWL challenge is bigger than Asia Cup: Sjoerd Marijne

s2h team




Riding high after clinching gold in his maiden task at the Asia Cup, India men's hockey coach Sjoerd Marijne believes the upcoming tournament Hockey World League Finals will be more challenging.

"I am really happy with Asia Cup performance. But we play to get better. This tournament is different".

"We get to play against five of the world's best teams. This is bigger than Asia Cup. We will take positives from it, but this time the challenge will be different," said Sjoerd Marijne.

His team arrived with his 18-member squad in host city Bhubaneswar today.

Indian team, which has a combination of both seniors and juniors will play against Australia in their first match on December 1. Coach is excited but sounds cautious on the first big match.

"Me as coach, this will be the first time we will face Australia. We are looking forward to that match. In fact, all the matches are a challenge to us."

Veteran player Sardar Singh was left out for the all important FIH tournament. On Sardar Singh being dropped from the team the smiling coach said, "We will try Rupinderpal Singh, Birendra Lakra and Harmanpreet Singh in that role. We have seen Sardar's game, now we need to see other players as well. We are searching for the right combination."

All praise for host city Bhubaneswar the coach said the crowd will give the team the extra energy. "Hockey knowledge is good in Bhubaneswar. The crowd will come to support us which will give us extra energy."

Hockey World League finals will be held from December 1 to 10.

Stick2Hockey.com


---

An Army of 150 sports persons sweating out hard for HWL success

s2h team




Bhubaneswar: Jatin Mohanty, a volleyball player quickly fires a few instructions to his fellow mates at the Bhubaneswar airport as time trickles by. As soon as the announcement of the arrival of the New Delhi flight is made, he and his nine other friends, stand in a queue ready to welcome the India hockey team, the first team to arrive in the city for Hockey World League Finals.

Jatin is one among the 150 sports players, who has been selected as a volunteer for the upcoming hockey tournament.

"I have been given airport task. My friends and I will have to ensure the smooth transportation of the players' luggage from the airport to the hotel," says Jatin.

Similarly, the 140 other inmates of the Kalinga Stadium Sports Hostel will be helping for managing the media, during practice sessions and will be actively involved in other jobs to make Hockey World League a success. For a city which has suddenly become a new sporting destination after successfully hosting the Asian Athletics Championships, Hockey India League and Hockey Champions Trophy (2014), smooth management and conduct has become crucial.

"We take pride in our state and want our players to have a memorable stay in our city. Though we play different sports, we are happy to serve them a

Stick2Hockey.com


---

U-19 USMNT Earns Draw Against Canada in Third Test Match



Image Courtesy of Thomas Tarala

MOORPARK, Calif. - The U.S. U-19 Men's National Team, made up of all U-18 athletes except for two players, and Canada's U-18 Men's Team went head-to-head in match three of the series at Moorpark College in Moorpark, Calif. After trading goals throughout the game, the final score resulted in a tie of 3-3. With both USA and Canada tallying a win and the result today, the series winner will be decided tomorrow, Thursday, November 23 at 10 a.m. PT.

Match 3: USA 3, Canada 3

The U-19 USMNT started strong in the first quarter, earning their first offensive penalty corner just two minutes in. The initial shot was deflected off a Canada defender's foot earning USA a second attempt. The crisp execution of the insert, trap and subsequent drag flick from Garry Singh (Corona, Calif.) put USA on the board first. Five minutes later, Canada responded to tie up the match at 1-1. Back-to-back chances on penalty corners came for USA, but they were unable to convert. With less than a minute remaining in the quarter, Canada earned a penalty corner and USA's goalkeeper David Kristof (Darien, Conn.) easily made the save.

In the second quarter, USA continued the theme of starting strong as they attacked early and earned a penalty corner 30 second in, but the chance went wide. Canada ramped up their pressure and earned four penalty corners in a 2 and half minute span, converting on the fourth attempt. USA's goalkeeper Kristof made the save but Canada quickly scored off the rebound to make it USA 1, Canada 2.

USA came out on attack in third earning two penalty corners within the first five minutes but Canada's goalkeeper denied both shots. Continuing to search for the equalizer, captain Christian DeAngelis (Doylestown, Pa.) charged the attacking circle forcing the goalkeeper into a contact battle and as the ball rolled away from the goalkeeper, Alberto Montilla (Allen, Texas) took the opportunity to slide it into the goal and even the score at 2-2

With a deadlocked score heading into the fourth quarter, the match was anyone's game. USA looked to pull ahead early but the earned penalty corner was unsuccessful. USA continued to move the ball looking to threaten once they saw an opening. Montilla took a shot which was cleared by Canada's goalkeeper, leading to a bit of a scramble in front of the goal. DeAngelis was able to find an opening and grab the go-ahead goal. USA tried to open the lead on another penalty cover, but were unable to finish. In a series of three defensive back-to-back penalty corners, with saves by Colin Hennessy (Marlborough, Mass.) and DeAngelis on the first two attempts, Canada scored on the third try at the 13:46 minute mark.

Match Roster: Breslow, Curtis, DeAngelis (C), Govaert, Hawley, Heller, Hennessy, Hommes, Jackson, Kristof (GK), Mendoza, Montilla, Quaile, Schiller, Sharma, G. Singh, Stuart (GK), Walshaw

"Today we saw some of the best hockey we've played all week," said Rutger Wiese, USMNT Head Coach. "I'm excited about what our guys are learning. It was a great game between USA and Canada. The game was hard fought from both sides."

USFHA media release


---

USWNT to Host No. 1 World Ranked The Netherlands in January for West Coast Series




COLORADO SPRINGS, Colo. – A event you won't want to miss! At the end of January, the U.S. Women's National Team will be hosting the No. 1 FIH Hero World Ranked The Netherlands on the West Coast at Stanford University in Stanford, Calif. for a four-game event. This international series will mark USA's first of the year as they prepare for a competitive schedule leading up to the FIH Vitality Hockey Women's World Cup in London, England in July.

"To have the opportunity to play four games at home against the best team in the world currently will give us a great learning opportunity and only makes us stronger," said Janneke Schopman, USWNT Head Coach. "The games against the Netherlands in Australia and in New Zealand have shown that we need to play a high-level team like The Netherlands to get the experience and understand their level of skill and tactics better. I'm looking forward to playing them in January!"

The two teams faced off at the FIH Sentinel Homes Hockey World League Final in Auckland, New Zealand in the second pool-play match. Despite a solid defensive effort against a fast-paced, fluent Holland team, USA was defeated 2-0. Prior to that, they met at the International Festival of Hockey in Melbourne, Australia in the four-team round-robin tournament where USA fell 6-1.

Tickets for The Netherlands series are available Wednesday, November 22 at 12:00 p.m. ET. Tickets can be purchase on usafieldhockey.com. Group and member discounts are available. All games in the four-game event will also be streamed live on usafieldhockey.com.

USWNT vs The Netherlands Schedule:

Thursday, January 25             6:30 p.m. PT
Saturday, January 27              6:30 p.m. PT
Sunday, January 28                6:30 p.m. PT
Tuesday, January 30               6:30 p.m. PT

Tickets start at $7 for children under 18, senior citizens and military, and $14 for adults (general public) for the grass/standing area (Section B). Tickets in the bleachers are $9 for children under 18, senior citizens and military, and $18 for adults (general public) (Section A). USA Field Hockey Members receive a 20% discount. Check your email for the members only promo code.

There will be an option to purchase full series tickets starting at $15 for (children under 18, senior citizens and military), $30 for adults (USA Field Hockey Members) and $35 for adults (general public).

Discounted group tickets will also be available for each game when 10 or more tickets are purchased for the same match. This is a great option for clubs, middle and high school teams, collegiate programs or any group of friends wanting to experience international field hockey competition together. Contact Glen Hollingsworth at This email address is being protected from spambots. You need JavaScript enabled to view it. with any questions or to purchase tickets for your group!

Stay tuned to usafieldhockey.com for more information regarding the USWNT versus The Netherlands series. #UN1TED

USFHA media release


---

Van Doren and de Sloover up for prestigious Belgian award



©: Frank Uijlenbroek / World Sport Pics

KHC Dragons Arthur van Doren and Beerschot's Arthur de Sloover have both been nominated for Belgian Sports Person of the Year awards, placed on the shortlist by sportspress.be, the Belgian professional association of sports journalists.

Van Doren is up for the Sports Man award along with soccer stars like Kevin de Bruyne and Eden Hazard and tennis player David Goffin. De Sloover is on the Hope of the Year award list following his breakthrough into the Red Lions team in 2017.

A vote will take place between professional sports journalists and former winners of the awards with the three-person shortlist in each category revealed on Wednesday, November 29. The winners will be named at the Gala du Sport which will take place on Saturday, December 16 in Brussels.

On the pitch, van Doren was content with a strong 6-1 win for Belgium over France in a warm-up game before they head out to Bhubaneswar for the World League Final.

"We played a good game with the first period certainly a lot more convincing than the second," said Van Doren at the final whistle. "We tried out a lot of things and it's nice to see how this works out in our video analysis. This will certainly allow us to draw some interesting lessons before tackling the World League final."

Belgium were without the sick Vincent Vanasch and injured Simon Gougnard but they still led 3-0 at half-time via Thomas Briels, Sébastien Dockier and Amaury Keusters.

In an experimental second half, Gauthier Boccard, Florent van Aubel and John-John Dohmen all scored while Hugo Genestet got the French goal.

Euro Hockey League media release


---

Racing complete perfect first half of French season




With an easy 9-1 win over Wattignies, Racing Club de France landed their tenth consecutive victory of the French league season, making for a perfect first half of the campaign.

The Versailles club retains first place in the standings, five points ahead of Saint-Germain with CA Montrouge in third going into the winter break.

Jean-Laurent Kieffer was the key player, striking four times in the win with further goals from Mathieu Regniez (2), Adrien Coffigniez, Celestin Duchesne and Antoine Ferec.

Saint Germain continued their productive start to the season with a spectacular 7-5 win over Lille to stay in second in a crazy game. Indeed, Saint Ger led 5-2 with 15 minutes to go to the final whistle before Lille's young guard fought back to make it 5-5.

But Hugo Genestet for the decisive goal with three minutes to go before Joris Harou finished into an empty net and they grabbed the three points.

For Montrouge, Eliot Curty got the only goal of their 1-0 win over FC Lyon, the goal coming in the final minute of the game.

Polo beat Stade Francais 2-0 to move off the bottom, meaning there are three sides on six points occupying the bottom three places while Stade are one point better off.

The league will return for the last three rounds of the regular season next March before it breaks down into playoff battles.

Euro Hockey League media release


---

KL rout Indonesia to reach semis

By Aftar Singh

KUALA LUMPUR: Nur Zafirah Aziz stole the show for Kuala Lumpur by scoring four goals in their 8-1 trouncing of Indonesia in a Group A match of the women's Razak Cup hockey tournament.

Zafirah was on target in the fifth, eighth, 27th and 48th minutes at the Kuala Lumpur Hockey Stadium yesterday. She has now netted six goals in four matches.

The other KL goals were netted by Nur Suraya Ashikin Mohd Zuraimi (21st), Shahiera Syazreen Mohd Saiful (24th), Norazlin Sumantri (33rd) and Nurrobiatu Norhisham (36th).

Ira Febrianti Juarsyi replied for Indonesia in the 49th minute. It was the first goal scored by Indonesia in the tournament.

The win sees KL joining defending champions Pahang in the semi-finals from Group A.

Pahang top the group with maximum points from four matches while KL, Perak and Terengganu are all tied on six points.

KL finished runners-up due to a better goal difference.

In tomorrow's semi-finals, KL will face Group B champions Selangor while Pahang will take on last year's runners-up Armed Forces.

KL coach Badrul Hisham was glad that his players saved their best for the last group match.

"My girls finally found their scoring touch. We needed a score three clear goals to finish second in the group but my girls did way better," said Badrul.

In Group B, Selangor crushed Johor 5-1 to stay unbeaten and top the group with seven points from two wins and a draw.

They drew 1-1 with Melaka in the opening match and edged Forces 2-1 on Tuesday.

Forces chalked up a hard fought 1-0 win over Melaka to finish as group runners-up.

Selangor, who just needed a draw against Johor, scored through Nurul Safiqah Mat Isa (26th), Eilya Fateha Eillias (27th), Nor Afira Mohamad Ismail (34th), Raja Norsharina Raja Shabuddin (42nd) and Fatin Shafikah Mohd Sukri (55th).

Johor reduced the deficit through Hanis Nadia Onn (52nd).

National forward Siti Rahmah Othman was the toast for Forces, netting the winning goal in the 51st minute against Melaka.

The Star of Malaysia


---

Selangor edge towards semis after downing Armed Forces

By Aftar Singh

KUALA LUMPUR: Selangor have taken a step closer to qualifying for the semi-finals after coming back from a goal down to edge Armed Forces 2-1 in a Group B match in the women's Razak Cup hockey tournament.

Selangor now have four points from a win and a draw. They need just a draw against Johor in their last group match today to confirm their place in the last four.

The race to qualify for the semi-finals from Group B is still wide open because Armed Forces and Johor are tied with three points each after two matches while Melaka have one point.

Forces, who edged Johor 1-0 last Saturday, must beat Melaka today to confirm their place.

In yesterday's match, played at the Kuala Lumpur Hockey Stadium, Forces took a 26th-minute lead against Selangor when national forward Siti Rahmah Othman's penalty corner drag flick sailed past Selangor goalkeeper Noortasya Hidayah Mohd Azlan.

Selangor stepped up a gear and were rewarded with two quick goals in the third quarter.

Fatin Shafikah Mohd Sukri equalised in the 38th minute off a penalty stroke before Raja Norsharina Raja Shabuddin added a second for Selangor just a minute later, also off a penalty corner.

Selangor coach Ikmar Abdul Jabar admitted that the hard-fought win "is very crucial for us".

"I'm happy with the way my players fought back because Forces gave us a tough time," said Ikmar.

Armed Forces coach Azizan Mustafa blamed their loss on poor finishing.

"We played well but could not score more than a goal. We are now under a lot of pressure to beat Melaka tomorrow (today) to qualify for the semi-finals," said Azizan.

In Group A, Terengganu stayed in contention for a place in the last four when they came alive in the last seven minutes to beat Indonesia 2-0 for their second win.

The East coast team have six points from three matches and need just a draw against Perak to seal a spot in the last four.

Auni Athika Ghani put Terengganu ahead in the 53rd minute off a reverse stick attempt before Siti Azlinda Atan added the second from the top D five minutes later.

In Group A's other match, Pahang defeated Perak 2-0 for their fourth consecutive win.

Pahang, who are already through to the semi-finals, got their goals through Siti Noor Amarina Ruhani (27th minute) and Siti Zulaika Hussin (43rd).




The Star of Malaysia


---

Olak to play alongside the big boys next year

KUALA LUMPUR: The Old La Sallians Association of Klang (Olak) will make their debut in the Malaysia Hockey League (MHL) next year.

They will feature in Division One when the MHL begins on Jan 10.

Olak team manager Joseph De Silva said that after playing in the Under-19 Malaysian Junior Hockey League (MJHL) for 23 years – since 1995 – "we have finally decided to feature in the senior league".

"We are competing in the MHL as we want to continue grooming players. We also want to give a chance to players aged 19 and above to continue playing hockey.

"Most of our players don't get a chance to play with other teams in the MHL after they leave Olak," said Joseph, who has been managing the Olak team since 1995.

Olak have done well in the MJHL, winning the double – league and overall – twice in 1998 and 1999. They also won the league title in 1997 and bagged the overall title in 2000.

Olak are discussing with former national player and Police defender Baljit Singh Sarjab to play for them in the MHL.

"Police are not putting up a team in the MHL despite winning the Division One title this year. So, we hope to get him to beef up our defence. After all, he is also good penalty corner drag flicker.

"We expect to name a young squad to gain exposure in the MHL. Most of them featured in the Selangor Hockey League, which ended last month," said Joseph.

Olak will hold a one-day trial at the Pandamaran Hockey Stadium in Klang on Dec 2 from 4pm to 7pm.

For details, contact Joseph (019-6491927) or Olak chief coach S. Sivabalan (013-3428049).

The closing date for teams to confirm entries for the MHL is Dec 8.

The Star of Malaysia


---

The One and Only Largest USA Field Hockey Event Begins Today




PALM BEACH COUNTY, Fla. – Tomorrow is the big day! The 36th edition of National Hockey Festival, presented by CranBarry, is nearly here. The annual Thanksgiving weekend tradition brings people throughout the country together to make memories on and off the pitch. As the next rendition brings new faces, talent and experiences, why is it that Festival is USA Field Hockey's one and only largest annual event?

Largest Gathering in the Nation
More than 150 teams and 2,800 athletes will put their skills to the test across 26 field at the International Polo Club in Palm Beach County, Fla. Beautiful scenery, fresh cut grass and palm trees from dawn to dusk setting the tone for the next set of pool champions.

#FHFestival17
National Hockey Festival is an annual tradition, so help us create another digital scrapbook! Use the hashtag #FHFestival17 and tag @USAFieldHockey on social media to show your followers, friends and family that field hockey in paradise is unbeatable!

Vendor Village
One of the largest gatherings of field hockey gear in the country can only be found at theNational Hockey Festival. Anything from new socks to sticks, backpacks and more will be available from various merchants all weekend long. That includes CranBarry, official presenting sponsor, and Harrow Sports, the official licensee, and various games for additional prizes.

Event Program
Head spinning yet? All your answers are covered in the USA Field Hockey online event program. Find all the latest information, downloadable map and more by clicking here.

USFHA media release


---

Top two face off in the Investec Women's Premier Division



The Univ of Birmingham's Rosie Henderson. Credit Andrew Smith

After taking top spot away from Surbiton last weekend, the University of Birmingham face a trip to Sugden Road to face their rivals in the Investec Women's Hockey League Premier Division on Saturday.

Surbiton's goalless draw at Bowdon Hightown, coupled with the University of Birmingham's comeback 2-2 draw with Canterbury, meant that the students leapfrogged Surbiton on goals scored. But all that could change this weekend as one of the closest leagues for several seasons reached the Winter break.

"It's a key game for both us and Surbiton," said the University of Birmingham head coach Phil Gooderham. "Both teams – like a lot of sides at the moment – have players missing because they're at the Hockey World League, but also because of injuries. But that's just the nature of things and the girls who have stepped up have done really well for us.

"It's going to be very close, but we will go down there and compete well and play hard. We're looking forward to it, and it would be a great way to end the first half of the season with a win."

Elsewhere, East Grinstead play host to Bowdon Hightown and could also go top if they win and the match between the current league leaders Surbiton and the University of Birmingham ends in a draw.

Buckingham are at home against Slough in their final outdoor match of the year and will want to end 2017 with a win and maintain their spot in the top four.

After a strong performance at the University of Birmingham last weekend, Canterbury will be looking to take the points as they entertain Leicester, while Holcombe play host to Clifton Robinsons.

In the Investec Women's Conference West leaders Trojans face second-placed Reading with the winners guaranteed top spot heading into the Winter break.

Meanwhile third-placed Stourport are at home against Cannock and could move up to second with a win.

Leaders Beeston are at home against Fylde in the Investec Women's Conference North as they look to make it ten wins from ten matches, while second-placed Brooklands Poynton head to third-placed University of Durham knowing the winner will take second place.

And similarly, Hampstead and Westminster are looking to maintain their perfect record in the Investec Women's Conference East as they host Bedford, while second-placed Sevenoaks go to Barnes.

FIXTURES

Saturday, November 25 2017

Investec Women's Hockey League

Investec Premier Division
Buckingham v Slough 12:00
East Grinstead v Bowdon Hightown 13:30
Canterbury v Leicester 14:00
Holcombe v Clifton Robinsons 14:00
Surbiton v Univ of Birmingham 16:00

Investec Conference North
Univ of Durham v Brooklands Poynton 12:00
Liverpool Sefton v Timperley 12:30
Loughborough Students v Ben Rhydding 12:30
Sutton Coldfield v Wakefield 12:30
Beeston v Fylde 14:00

Investec Conference East
St Albans v Harleston Magpies 13:00
Barnes v Sevenoaks 13:30
Hampstead & Westminster v Bedford 13:30
Southgate v Wimbledon 14:00
Cambridge City v Chelmsford 15:30

Investec Conference West
Olton & West Warwicks v Gloucester City 12:00
Oxford Hawks v Team Bath Buccaneers 12:00
Swansea City v Isca 12:00
Trojans v Reading 12:00
Stourport v Cannock 16:00

England Hockey Board Media release


---

SA's Smith relishing PHL debut

by Karien Jonckheere



Austin-Smith © Gallo Image

With the Premier Hockey League (PHL) now just three days away, former captain of the national men's team, Austin Smith, is relishing the opportunity to play in the competition for the first time.

Smith missed out on the 2016 PHL because of club commitments in the Netherlands, but timing has worked out in his favour this time around, and he'll take to the field with the Drakensberg Dragons team when the action gets under way at the Randburg Astro in Johannesburg this Saturday.

"The tournament was run during the middle of the Dutch club competition last year and that's where I'm contracted to play and coach," explained the 32-year-old Capetonian.

"I'm really looking forward to playing in the PHL for the first time. I followed it from afar last year and it looked like a lot of a fun. I've been fortunate enough to play in the Hockey India League and what I really enjoyed about that tournament was playing alongside players that I'd never had the chance to do so before. The PHL will be a very similar experience, playing with South African players that I usually only play against at inter-provincial tournaments."

The Dragons team, coached by Sihle Ntuli, includes other marquee players such as Gowan Jones and Jethro Eustice – who Smith has played alongside in the national team – but also many that are new to him.

"I have to be honest, some of the players in my team I only know by name. I think that's half the fun of the PHL, getting to know other players in South Africa and learning from one another. I haven't played in the local league in South Africa for the past 12 years since I left to play overseas so it also gives me a chance to get back in touch with a lot of old playing mates," he explained.

As for what he's expecting from the PHL, which will be played over three consecutive weekends, with the playoffs taking place on 11-12 December, Smith added: "I heard that it took a few games to get the connections just right and it takes a lot of communication to get everyone on the same page. It's logical that it takes a while but I hope with the experience that we have in our team we are able to do that quicker and more effectively than other teams."
The Dragons finished in bottom spot at last year's tournament, but Smith is looking for nothing lthan a win in 2017.

"I have never started any tournament hoping for anything besides the gold medal. Nothing motivates me more than the chance to win. Having not played last year I really have no idea what the level is like or how our team will fair, but I guarantee that we will be going for the gold," he said.

The Drakensberg Dragons play the opening game of the tournament – against the Addo Elephants on Saturday morning at 8am. All matches will be broadcast live on SuperSport.

Supersport