All the news for Tuesday 21 November 2017

Sentinel Homes Hockey World League Final 2017 - Day 5

Pool B GER v ARG 1 - 4
Pool B ENG v CHN 4 - 1

Pool A
| | | | | | | | | | |
| --- | --- | --- | --- | --- | --- | --- | --- | --- | --- |
| Rank | Team | GP | W | D | L | GF | GA | GD | P |
| 1 | Netherlands | 3 | 3 | 0 | 0 | 9 | 0 | 9 | 9 |
| 2 | United States | 3 | 1 | 1 | 1 | 4 | 4 | 0 | 4 |
| 3 | Korea | 3 | 1 | 1 | 1 | 3 | 5 | -2 | 4 |
| 4 | New Zealand | 3 | 0 | 0 | 3 | 2 | 9 | -7 | 0 |
Pool B
| | | | | | | | | | |
| --- | --- | --- | --- | --- | --- | --- | --- | --- | --- |
| Rank | Team | GP | W | D | L | GF | GA | GD | P |
| 1 | Argentina | 3 | 3 | 0 | 0 | 8 | 1 | 7 | 9 |
| 2 | Germany | 3 | 2 | 0 | 1 | 6 | 4 | 2 | 6 |
| 3 | England | 3 | 1 | 0 | 2 | 4 | 4 | 0 | 3 |
| 4 | China | 3 | 0 | 0 | 3 | 1 | 10 | -9 | 0 |
---

Netherlands top Pool A whilst USA pick up first win at Sentinel Homes Hockey World League Final 2017



The finalised Pool A standings were confirmed today

Netherlands continued their dominant form with a win against Korea whilst USA secured their first win in what was the last Pool A matches of the Sentinel Homes Women's Hockey World League Final 2017 being held at Harbour Hockey Stadium in Auckland, New Zealand.

Tonight's results mean that Pool A ends with Netherlands in first place, USA second, Korea third and New Zealand fourth as the event moves towards the Quarter-Finals.

World number one ranked Netherlands made it three wins from three as they made light work of Korea in the opening game.

The reigning European champions dominated possession and territory in the early stages, getting a shot on goal in the first 30 seconds of the match.

However the Korean defence was organised and resolute. Korean captain Kim Youngran and Cha Yesol were key defenders during the frequent Dutch attacks and made them work hard to piece together their usually fluent passing game.

In the second quarter, Netherlands upped the pressure on the Korean defence, with Jang Soo Ji pulling off some stunning saves in goal.

In the 26th minute Margot van Geffen superbly deflected Caia van Maasaaker's drag flick high into the net from the penalty corner to take a 1-0 advantage into the half-time break.

The Dutch attack continued in the third quarter, although regular sorties into the Korean defence were mopped up. Korea then had a golden chance in the 38th minute but Park Seunga couldn't trap the cross.

21 year-old goal scoring sensation Maartje Krekelaar doubled Netherlands lead in the 41st minute when she tapped in a ball she received from the right, through a sea of legs and missed-traps from others, and showed her razor sharp reactions to score and bring her tally to four goals at this event.

The final quarter was all Oranje, with Netherlands champion drag flick expert Caia van Maasaaker scoring with only five minutes left on the clock.

"We know that the Korean's are always tough opponents, they keep their game tight, so it was an important win for us."
Caia van Maakaasar

Despite further attacks, Korea defended well and the score ended 3-0, a result which secured top spot in the Pool for Netherlands.

Speaking about her side's victory, Caia van Maakaasar said: "It was a difficult start in the first half. It took us a while to get into our rhythm, but in the second half we got our tempo up. We know that the Korean's are always tough opponents, they keep their game tight, so it was an important win for us."

Korean captain Kim Youngran said: "It was unfortunate that we couldn't show all our ability tonight but we are satisfied with today's game and satisfied for our Pool matches so far. I am confident we will achieve more at this World League Final."

In the later game, USA picked up their first win of the event with a confident 3-1 win against hosts New Zealand.

This match began at a frantic pace, USA absorbing everything that was thrown at them from New Zealand's Black Sticks, buoyed again by a large home crowd.

However, against the run of play USA scored first. A serious foul outside the circle by New Zealand's Brooke Neal saw USA awarded a penalty corner which they scored from. A deft deflection from Ali Froede's drag flick was neatly touched in by Jill Witmer, her first goal of the event.

The second quarter started as the match had - quick exchanges with end to end hockey. In the 22nd minute New Zealand got their sixth penalty corner and Ella Gunson got her stick to the Olivia Merry slap hit at goal, drawing the scores level at 1-1.

In the 43rd minute, USA's Michelle Vitesse was squeezed by three New Zealand defenders just inside the circle and umpire Michelle Joubert had no hesitation in awarding a penalty stroke. Taylor West opted for goalkeeper Grace O'Hanlon's right and powered home USA's second goal.

Just before the end of the third quarter, USA struct again. Taylor West drove hard from the right, went across the face of the circle and despite her reverse hit lacking power it had enough angle to get past O'Hanlon in goal. The 3-1 scoreline remained as USA went on to pick up an important win which earned them a second place finish in the Pool.

Following their win, USA's Taylor West said: "New Zealand are a great team and we knew it would be a fight from start to finish but we were strong on the ball. We wanted to play forward and capitalise on our chances and we did."

New Zealand Coach Mark Hager said: "We had 56 circle penetrations to USA's 12 so it's disappointing that we're not putting the ball in the net. We have improved from day one but defensive errors hurt us. We were not good enough tonight."

Tomorrow sees the last of the Pool B matches, with Germany taking on Argentina at 18:00 to see who finishes top whilst England play China at 20:00.

Follow all the action on the official website and FIH's social channels, Facebook, Twitter, Instagram and Snapchat.

RESULTS
Pool A:
Netherlands 3, Korea 0;
New Zealand 1, USA 3.

#HWL2017

FIH site


---

USWNT Finishes Second in Pool A Following Win Over Host Nation at Sentinel Homes Hockey World League Final



(24) SHARKEY Kathleen against (24) KEDDELL Rose Copyright: Worldsportpics, Rodrigo Jaramillo/FIH

AUCKLAND, New Zealand – November 20, 2017 – A home crowd at the North Harbour Hockey Stadium made the atmosphere exciting as the U.S. Women's National Team faced host and FIH Hero World Ranked No. 5 New Zealand in the third and final pool play match of the Sentinel Homes Hockey World League Final. A lot was on the line for this game, as the outcome affected the final pool standings and placements in the quarterfinal round. Finishing the first half tied 1-1, USA produced two goals in the third quarter to earn a 3-1 victory over New Zealand and finish second in the pool. The last time USA defeated the Black Sticks in a world international event, excluding test series, was at the Beijing 2008 Olympic Games.

"We were able to be gritty and get a result which was important and a step forward for us for seeding purposes," said Melissa Gonzalez (Mohegan Lake, N.Y.), USWNT's Captain. "There were times where we were able to work around [New Zealand], as we know they are a tough side. But we were most successful when we use our strengths, which is speed and quick ball movement."

New Zealand came out strong testing USA's defense early. Tallying multiple circle penetrations in the opening minutes, the Black Sticks earned their first penalty corner in the 6th minute. Although the attempt was unsuccessful, USA continued to struggle to produce clean outlets. A passing combination up-field for USA found Casey Di Nardo (Virginia Beach, Va.) and as she tried to cut inside, was taken to the turf. The hard foul outside the circle was upgraded to USA's first penalty corner. A well-executed sweep from Ali Froede (Burke, Va.) was tipped into the net by Jill Witmer (Lancaster, Pa.) to give USA a 1-0 lead. New Zealand quickly took action the other way and earned three consecutive penalty corners. The first and second attempts were denied on the post by Caitlin Van Sickle (Wilmington, Del.) and the third saved by goalkeeper Jackie Briggs (Robesonia, Pa.). The quarter finished with an exciting chance for USA as Alyssa Manley (Lititz, Pa.) received the ball wide open at the top of the circle. The Black Sticks cut down the play to limit USA's potential to extend the lead.

Keeping the high press on, New Zealand came out with the same intensity to start the second quarter. Briggs produced a stick save on an early penalty corner as the Black Sticks searched eagerly for the equalizer. In the 22nd minute, New Zealand executed an identical penalty corner play as USA's and they too were effective as Ella Gunson tipped it into the net to make it one goal apiece. USA remained on the back foot for the finishing minutes and were also down a player as Manley received a 5-minute yellow card for a hard tackle.

"New Zealand's strength is their ability to back tackle and their speed going forward," commented Gonzalez, on USA's struggle to transition the ball forward. "They want you to turn it over in the pockets so for us we needed to know our exit. That change a bit in the second half."

A tied game heading into the third, the excitement started to build in the stands. USA earned a penalty corner five minutes in but New Zealand read the play perfectly and quickly countered down field in a numbers up situation. The opportunity finished with a sliding Black Stick sending the ball just wide of the goalmouth. A minute later at the other end, Michelle Vittese (Cherry Hill, N.J.) was collapsed on by three New Zealand defenders at the top of the circle and taken down hard earning USA a penalty stroke. Poised Taylor West (Princess Anne, Md.) successfully converted giving USA a 2-1 lead. The lead was extended for USA in the final seconds of the quarter when West found room and buried a backhand into the corner of the goal.

Similar to how the first quarter started, New Zealand went full force at the start of the fourth trying to cut the goal margin. A few attempts were present for both sides as majority of possession was held between the 25-yard lines. Frantic to produce any outcome, the Black Sticks pulled their goalkeeper for a kicking back with 6 minutes remaining. This put USA's defense to the test to hold off the attack as New Zealand continued to threaten forward. The pressure continued as the clock ticked and USA secured the 3-1 victory.

The U.S. Women's National Team will have tomorrow off as Pool B finishes their competition. Following the conclusion of the day, the FIH will officially announce the match-ups for the Quarterfinals.

USFHA media release


---

Vantage Black Sticks fall to USA



Photo: www.photosport.nz

The Vantage Black Sticks have continued their frustrating run after suffering a 3-1 defeat from USA at the Sentinel Homes Hockey World League Final in Auckland.

The hosts once again created a huge number of circle penetrations and scoring opportunities but could only make one count.

New Zealand now await the results of tomorrow's Pool B matches but face a clash against either Argentina or Germany in the sudden death quarter finals phase.

Experienced defender Samantha Charlton said there was a disappointing feel in the camp after a game they felt they could win.

"We're extremely disappointed. It was a game we dominated in terms of statistics but we couldn't come away with a win.

"The format of the tournament is such that we can still come through to win our quarter final and make it through to the semis – it's something that's been done plenty of times before.

"Whether it's Argentina or Germany we know it will be a tough game, but we have the ability to beat them and it's by no means over from here."

The USA were first to score from a ninth minute penalty corner with Jill Witmer getting a deflection on the flick to roof the ball into the net.

New Zealand equalised midway through the second quarter when Ella Gunson found a way through the goalkeeper from a penalty corner of their own.

With the score level 1-1 at halftime, USA broke the shackles after being awarded a penalty stroke in the 37th minute following some heavy body contact dished out by the Kiwi defenders.

The momentum continued for USA who opened a 3-1 buffer in the 45th minute with Witmer slipping a reverse shot across the face and into the side of the goal.

The quarter finals draw will be confirmed at the conclusion of pool play tomorrow with Germany facing Argentina at 6pm and England squaring off against China at 8pm.

Event tickets can be purchased along with a full rundown of transport information through www.ticketek.co.nz

VANTAGE BLACK STICKS: 1 (Ella Gunson 22')
USA: 3 (Taylor West 37' 45', Jill Witmer 9')
Halftime: 1-1

Hockey New Zealand Media release


---

Black Sticks dominate on paper but beaten 3-1 by United States

By David Leggat



Olivia Merry celebrates the Blacks Sticks first goal from a penalty corner. Photo / www.photosport.co.nz

Perspiration wasn't the problem for the Black Sticks in their final pool game at the world hockey league final at North Harbour tonight - inspiration in front of goal was.

The United States beat New Zealand 3-1 to ensure the hosts would finish bottom of the pool, and consign them to a quarter-final at the Sentinel Homes-sponsored tournament against either of the two unbeaten pool B teams, world No 3 Argentina or No 6 Germany.

The statistics all favoured fifth-ranked New Zealand. They outscored the No 7-ranked US 18-5 on shots, 65-35 percent possession in the opposition half, 29-6 on circle entries. Given the outcome that makes weird reading. Add in one successful penalty corner in seven attempts and a picture starts to emerge.

"I'm definitely getting sick of saying it but we're not clinical enough in the attacking circle," Black Sticks co-captain Stacey Michelsen said.

"We need to get better at that because we are creating chances but just can't put them away."

Jill Wittner gave the US a lead, much against the run of play and off a fortuitously-awarded penalty corner, deflecting a drive over keeper Grace O'Hanlon.

Midfielder Ella Gunson equalised, niftily deflecting a strong Olivia Merry drive high into the US net before halftime.

However Taylor West scored twice in the second half, once with a penalty stroke after Frances Davies bundled an attacker over, and once with a reverse stick shot which bobbled twice before crossing the line.

In the early game, the world No 1 team the Netherlands easily completed a 100 percent record in pool play with a 3-0 win over South Korea.

The Dutch had 25 circle entries to three by the world No 9 Koreans and a 19-1 shot advantage.

The goals came from Margot van Geffen from a penalty corner just before halftime, the in-form Maartje Krekelaar in the 41st minute and another penalty corner strike from Caia van Maasakker.

"It's perfect and we're happy," van Maasakker said of their pool play form.

So a day off today before the quarter-finals perhaps?

"No I think we will go training. I like to train."

In tomorrow's final pool B matches, Germany play Argentina, both in good form with two-from-two records, and England face China. There are two quarer-finals on each of Wednesday and Thursday.

The New Zealand Herald


---

Black Sticks face daunting quarterfinal after missed opportunities cost them in loss to USA

OLIVIA CALDWELL



Kelsey Smith on the run for the Black Sticks in their 3-1 loss to the USA on Monday night. ANDREW CORNAGA/PHOTOSPORT

The Black Sticks again rued missed opportunities in their 3-1 loss to the USA in their last pool match of the women's World League Final in Auckland.

It leaves them eyeing a daunting quarterfinal against either powerhouses Argentina or Germany on Wednesday.

The home side created several early chances on Monday night, but were unable to convert penalty corners and shots on goal early in the first half with only one goal in 12 circle entries.

A deflated Black Sticks captain Stacey Michelson summed up her team's goalscoring troubles.

"Definitely getting sick of saying it, but we are just not clinical enough in the attacking circle," she said.

The USA, however, were able to grab their first penalty corner against the run of play, a deflection form Jill Witmer putting them ahead 1-0.

As has been the Black Sticks biggest struggle of the tournament they just couldn't convert their shots. The side had previously scored only one goal in two defeats to the Netherlands and Korea.

The Black Sticks were given three penalty corner opportunities in the opening stanza, none of which changed the scoreline.

Michelson and midfielder Shiloh Gloyn showed positivity when they linked up in the centre to feed their forwards, particularly in the first half.

Finally a relieving goal came for the Black Sticks in the second quarter through an Ella Gunson deflection after the striker missed an earlier opportunity. Gunson was strong up front and battled with the USA defence, but was often left unsupported in the circle.

Midfielder Pippa Hayward carried the ball calmly in the halves, cementing her spot in the starting lineup ahead of Wednesday's quarterfinals.

After a tied score of 1-1 at the break momentum shifted with the USA in the second half as they began to create their own attacking opportunities, namely through 121-capped veteran Kathleen Sharkey who was rewarded with a penalty stroke which she converted easily in the top left corner.

A beautiful goal from USA midfielder Taylor West off a reverse stick had the Black Sticks down and out 3-1 at the three-quarter break.

All eight teams advance to the quarterfinals, but their seeding is determined by how they fare in pool play. The Black Sticks will face either Germany or Argentina in the quarterfinals, neither of which have lost a match or conceded a goal this tournament.

The quarterfinals begin on Wednesday, with the final to follow on Sunday.

AT A GLANCE

USA 3 (Jill Witmer, Kathleen Sharkey, Taylor West) Black Sticks 1 (Ella Gunson). HT: 1-1.

Stuff


---

Pahang outclass Indonesia to book semi-final berth

By Aftar Singh



Eyes on the ball: Pahang's Nuraini Abdul Rashid (centre)trying to get past two Indonesia players during the women's Razak Cup Group A match at the Kuala Lumpur Hockey Stadium yesterday. — Ibrahim Mokhtar/The Star

KUALA LUMPUR: Defending champions Pahang thumped debutants Indonesia 4-0 in a Group A match to book a place in the semi-finals of the women's Razak Cup hockey tournament.

The East Coast team, who had defeated Terengganu 4-0 and Kuala Lumpur 5-1, topped the group with nine points from three wins. Pahang will wrap up their fixtures against Perak today.

For Indonesia, it was their second defeat as they were earlier beaten 3-0 by Perak.

In yesterday's match played at the Kuala Lumpur Hockey Stadium, Pahang, who are powered by seven internationals, took the lead in the sixth minute through Wan Nor Faiezah Mohd Saiuti.

Skipper Siti Noor Amarina Ruhani doubled the score in the 17th minute before Siti Zulaika Hussin added the third in the 48th minute.

Thiba Tharshini James completed the rout in the 52nd minute.

Pahang coach Mohd Ashraf Banadict Arais Abdullah said they have achieved their first target of qualifying for the semi-finals.

"Overall I'm not too concerned about the scoreline. However, the team took it easy in the first quarter and that upsets me," said the former international.

In a Group B match, Johor bounced back from defeat to keep their last four hopes alive with a 2-1 win over Melaka.

Johor, who lost to Armed Forces 1-0 last Saturday, will face Selangor tomorrow.

Melaka, who drew 1-1 with Selangor in the opening match, took the lead in the seventh minute off a penalty stroke converted by Nur Aisyah Yaacob.

But national forward Hanis Nadia Onn was the toast for Johor, scoring two quick goals in the 29th and 30th minutes to help her team collect full points.

Johor coach Lailin Abu Hassan was pleased with the commitment shown by his players.

"They made fewer mistake today and we are looking forward to our last match against Selangor," said Lailin.

Melaka must beat Armed Forces tomorrow to ensure a last four berth.

Their coach Dr Mohd Aras Khamis said the players crumbled under pressure after taking the lead.

"I believe the fast pace of the game made the players tired. Now we have to win at all costs against Armed Forces," said Dr Aras.




The Star of Malaysia


---

Polo close gap but Campo lead the way for Spanish winter break



©: Frank Uijlenbroek / World Sports Pics

Despite a 4-0 loss to Real Club de Polo, Club de Campo will hold the lead in the Spanish Honor Division until next March following seven wins from their nine games in the first half of the season.

Polo's win at Eduardo Dualde inflicted a first defeat of the campaign on the Madrid club with David Alegre scoring the first goal before Alex Casasayas made it 2-0. Llorenc Piera and Max Plennevaux scored in the last seven minutes to complete a comprehensive victory.

The result closed the gap to Campo to a single point at the halfway stage of the campaign with Club Egara in third place, two points off the leaders.

Junior FC sit in fourth place despite being held 3-3 at home by Atletico San Sebastian, Pero Arkoaga scoring a hat trick for the visitors to claw back a point.

Atletic Terrassa have ground to make up if they are to contest the playoff places, especially after their 3-1 loss to FC Barcelona at the Pau Negre. Atletic are in fifth place.

Euro Hockey League media release


---

Grange and Edinburgh University top National League 1 tables



Photo by Mark Pugh

Grange and Edinburgh University will finish the year at the top of the men's and women's Scottish National League 1 tables as the outdoor season reaches its midway point.

Grange recorded their eighth win in ten to keep ahead of Kelburne at the top of Men's National League 1. Clydesdale have yet to show the form they must be capable of and Grange took full advantage, running out 7-1 winners. Todd Mills rattled in four of Grange's seven goals and Jacob Tweedie, Ali Irvine and Luke Cranney added one apiece for a comfortable victory.

Kelburne are still three points behind Grange after their 4-1 win over Inverleith. Jonny Christie with two and Mike Christie and Iain Scholefield with one each did the damage.

Grove Menzieshill would have expected to maintain their position relative to the top two when they met Dundee Wanderers, but they so nearly lost that match. Neither team shone in the first half and Grove Menzieshill had the better of the exchanges in the second.  But an inability to execute their penalty corners coupled with another fine display by Connor Downes in the Wanderers goal kept them at bay. A late break gave Wanderers the lead, Bobby Ralph scoring when he should have been closed down, and Ben Wilson equalised two minutes from time, latching onto a loose ball after a penalty corner.

Western Wildcats recorded a narrow win to remain well up in fourth place but Hillhead, now ten points behind Wildcats, will rue missed chances with only Graeme Campbell on the score sheet. The future may be brighter for Hillhead but they have to overcome a three point deficit behind Dundee Wanderers and Edinburgh University to escape from the relegation playoffs.

Uddingston picked up another valuable point in their 3-3 draw with Edinburgh University but they need more to ease away from relegation fears. Similarly the point for Edinburgh merely keeps them safe in mid table. Antonis Efthymiou, Simon Balschke and Chris Duncan scored for Edinburgh.

Edinburgh University continued their almost relentless progress with their ninth win in ten and they lead Grove Menzieshill by three points in Women's National League 1. Hanna McKie, Zara Malseed and Laura Swanson all scored twice with Louise Campbell, Sophie Maunder and Ella Watt adding one each in their 9-2 win over GHK.



Photo by Andy Lovat

Grove Menzieshill had the vast majority of the pressure against Dundee Wanderers but found it extremely difficult to pass Carmin Dow in Wanderers' goal. When they did so through Sarah Jamieson that might have been the catalyst for victory but Wanderers responded with a breakaway goal by Ruth Blaikie, neatly set up by Emily Dark. So that 1-1 score line leaves Grove Menzieshill three points shy of the top instead of one behind Edinburgh.

Clydesdale Western might have expected a more comfortable victory over Grange than the 2-1 which they had to settle for. A first half goal by Lucy Lanigan separated the teams but Grange equalised before a late winner from a penalty corner by Millie Brown secured the points for Western who are now only a point behind Grove Menzieshill and four behind Edinburgh.

Western Wildcats remain two behind Clydesdale Western after their more comfortable win over Hillhead.

Watsonians produced a professional performance versus a young Kelburne side. The 8-0 win saw three goals from Heather Elder, two for Olivia Bell, and goals for Eve Pearson, Olivia McMahon and Daniele Johnston to round off first part of outdoor season.

Scottish Hockey Union media release


---

Runaway leaders Telkom and Police march on in title race

By BRIAN YONGA



Strathmore University Scorpions defender Jane Muragu tussles for the ball with Telkom's Lillian Aura during their Kenya Hockey Union Premier League at the City Park Stadium on November 19, 2017. PHOTO | MARTIN MUKANGU | NATION MEDIA GROUP

Kenya Police and Telkom inched closer to winning this season's Kenya Hockey Union men and women's Premier League titles after the weekend's round of matches.

Both teams won their respective matches to maintain their unbeaten run as the season nears its conclusion.

Kenya Police were ruthless in their 4-0 win over Parkroad Badgers on Sunday evening to secure their 19th win from 20 matches. They are on 58 points with eight games left to play this season.

Goals from Samuel Wokila, Amos Barkibir, Moses Cheplaiti and Calvins Kanu were enough to sink the Badgers.

Four more wins from their last eight matches will give them their first league title since 2013 but it could be less if second placed Butali Sugar Warriors, who are on 45 points, drop points in their run in.

Police coach Kenneth Kaunda has urged his charges to keep their 'feet on the ground'.

"I think we have so far played well and everything is going according to plan. We however cannot afford to get complacent because our rivals are on out back and will be ready to pounce," Kaunda said.

Butali, who won their third match in the space of five days, have vowed to fight till the end and hope that their rivals drop some points.

"We will take it to the wire and do everything within our reach but it is a tall order because they (Police) are playing really well," Butali skipper Kenneth Nyongesa said. Greensharks, who play Chase Sailors on Wednesday, dropped to third with 45 points with USIU (38) and Wazalendo (35) completing the top five places.

At the bottom, Technical University of Kenya's hopes of remaining in the top flight continued to dwindle as they drew 0-0 with Nakuru. The result left the students bottom on six points, 15 points away from safety with seven matches left.

In the women's Premier League, Telkom' march to a record 20th title continued after hard-fought 3-2 win over arch-rivals Strathmore University Scorpions.

Telkom, who conceded their first goal after keeping 13 clean sheets, are on 42 points with six matches left. Telkom assistant coach Josephine Ataro said a win against second-placed USIU Spartans this weekend will leave them in pole position for the title.

"We just have to dig deep and keep our shape because the season is getting tougher as the games come to an end," she said.

Daily Nation


---

Butali Sugar Warriors back to hunting ways as league leaders Police open a 13-point gap in the title race

By Elizabeth Mburugu



Kenya Butali Sugar Saidi Okwemba. PHOTO; JENIPHER WACHIE

Former Kenya Hockey Union men's Premier League champions Butali Sugar Warriors had a successful week as they scored a double victory at the weekend.

Their midweek 2-0 win over Parkroad Badgers set them on the path to earning nine crucial points that propelled them to second place, up from fourth.

They have 45 points from 19 rounds of matches, 13 less than leaders Kenya Police, who remain unbeaten after 20 outings. Warriors beat Nairobi Sikh Union 3-1 and Chase Sailors 3-0 on Saturday and Sunday to revive their hopes of a top two finish.

The 2015 champions seem to be regaining their footing after a shaky season that has seen them lose two matches to Police in the first round and to Greensharks in the second leg. They have also drawn thrice, dropping six more points.

Warriors captain Kenneth Nyongesa remained hopeful, saying even though reclaiming their title was a feat they might not achieve, a top two finish was more realistic.

"We had to adjust our goals to more practical ones and I think this season we can only fight for second place. Police have been in fine form and thinking we can even snatch the title, which they already have in one hand, is unrealistic," Nyongesa said.

He added that going forward, they were determined to earn points from every match played. Greensharks were pushed to third place with 43 points while United States International University of Africa (USIU-A) are fourth with 38.

Last year's winners Strathmore University Gladiators are ninth with 22 points while Technical University of Kenya are last with six points from 21 rounds of matches.

Western Jaguars, who survived demotion, seem to be courting relegation as they are 14th with 18 points from 18 matches. Kenyatta University Vultures are 13th while their Kenya College of Accountancy University counterparts are 12th, two places above the relegation zone.

Telkom enjoy an eight-point advantage at the peak of the women's title chase with 42 points from 14 matches. The 19-time league champions, who had their spotless season tainted in their 3-2 win over rivals Strathmore Scorpions on Sunday, have scored 85 goals.

The Standard Online


---

Pakistan hockey will take years to regain its winning form, says PHF secretary

Abu Bakar Bilal

Pakistan Hockey Federation (PHF) Secretary Shahbaz Ahmed Senior has said that the national hockey team will require "at least a few years to regain their winning form", DawnNews reported.

While talking to DawnNews, the former Olympian said it was unfortunate that the players were not able to take part in some international events due to the unavailability of funds.

The statement comes days after Pakistan finished last in a four-nation hockey tournament held in Melbourne.

The PHF secretary admitted that the federation did not have money to bear the expenses of a foreign coach, but went on to say, "Even a foreign coach cannot put the hockey team on the right track."
Advertisement

He said that the level of fitness and skills of the national players was quite low as compared to the players of other international teams.

Ahmed lamented that the players preferred to play in international leagues instead of focusing on the domestic hockey setup.

"I am making efforts to promote and build the domestic hockey infrastructure so that the player quality improves at the grassroots level," he added.

The PHF secretary, however, hoped for better results in Commonwealth Games to be held in Australia next year.

Responding to allegations against him and other PHF officials, the former Olympian said he had seen the world during his hockey career and had no desire to go on foreign tours on federation's expenses.

"I went to New Zealand for a pro-hockey league meeting at the behest of the hockey federation," he clarified.

Dawn


---

I won't sell my old mud house: Rani Rampal

Tushar Dutt

PUNE: Rani Rampal, who is playing for Indian women's hockey team for 10 years now, need not have played the National 5s meet here last week. But knowing her background and grit, it was no surprise that she wanted to contribute for her state team. And contribute she did. By winning the women's title and losing in the semis of the experimental 'mixed' event.

"I had not represented Haryana in the Nationals for a couple of years. They support me so much, this is the least I can do in my free time," the captain says candidly. Fresh from Asia Cup triumph, she also wanted to experience the faster format that may be the future of hockey.

Rani says a lot has changed in her life.

"When I made it to the Indian team, I was a girl who was fighting poverty. I lived in a village which never wanted me to wear shorts and play the game. I had to face relatives who would tell my parents that I would bring bad name to the family one day," she tells TOI. "But now, I see the same relatives sending their daughters to hockey academies. I don't have any anger towards them. In fact, I respect them for changing with time. I somewhere feel my struggle has not gone waste."

Rani admits that getting a government job and pulling her family out of poverty was the only reason she started playing. "I was only seven when I decided to take up the sport. At that time, I didn't know what it meant to play for India. All I knew was that the sport may fetch me a job. We lived in a small house, made of mud. Every time it rained, the roof leaked, leaving us worried. My father is a hardworking man and we saw him labour hard even in the month of June, when everybody else stayed indoors to avoid the heatstroke," she recalls.

No wonder, Rani made it to the Indian team at the age of 14. "I feel other than my first coach Sardar Balbir Singh, the then Indian women's coach MK Kaushik sir saw something in my game. He had a big role in selecting me in the Indian team," she says.

When she made her international debut, she had no clue about the Olympics. "Honestly speaking, when I saw my seniors cry after losing the qualifying round for the 2008 Games, I couldn't understand what was there to get so much bothered about. But a couple of years, when we lost to South Africa 1-3 in the deciding qualifying match for London Games, I realised what it is all about. I cried all night in my hotel room," Rani says.

"Four years later, we were in a similar situation when we faced Japan for the Rio berth. I told myself: Many players have gone and many will come, but we still have not qualified for the Olympics. This circle has to break,."

Rani scored the only goal in the match that took the women's team to the Olympics for the first time.

With a secure job and a good financial support, Rani has ticked most of the boxes. "The biggest one was to make a big house for my parents. My parents have shifted to the new house and are very happy."

Rani, however, has not forgotten her old home. "I have decided I will not sell that house or the plot. I want to keep it forever. I have reached a place where I need to have something that keeps reminding me of my past. Something that can keep me grounded," she says, her voice choking with emotion.

The Times of India


---

U21 Womens Squad Announced




David Passmore, head coach of Ireland's U21 women's team, has today announced his initial panel for the 2017/2018 season. Commenting on his selection, Passmore said "It's great to start the next cycle over a year and a half out from the next European Championships and there is a strong presence from younger players in this group.  Our aim is to develop the athletes in all areas over the next year to lay the foundations to push hard to qualify for the 2020 Junior World Cup and for them to develop towards senior representation.  There is plenty of talent and athleticism in the group but the hard work needs to start now and we have some quality match opportunities for the summer to help us work towards these goals.  Those players in the senior squad will prioritise that programme. The squad is not exclusive and I will continue to watch game live and by video bringing any players I feel warrant a trial. Any coaches who would like a player considered should contact me".

Name, Club / School, Province
ade Arundell (GK), North Kildare / Kings Hospital, Leinster
Amber Barnwell, Monkstown-Hermes, Leinster
Michelle Barry, Cork Harlequins, Munster
Ava Beatty, Monkstown-Hermes, Leinster
Emma Buckley * (GK), Cork Harlequins, Munster
Rachel Burns, Trinity, Ulster
Sally Campbell, Trinity, Leinster
Michelle Carey, Railway Union / Colaiste Iosagain, Leinster
Niamh Carey, Railway Union / Colaiste Iosagain, Leinster
Clodagh Cassin * (GK), UCD, Leinster
Jenny Clein, UCC, Munster
Ellen Curran *, UCD, Leinster
Alanah Doyle, Ards, Ulster
Kelly Dunleavy, Catholic Institute, Connacht
Katherine Egan, UCD, Leinster
Katie Fearon, Railway Union / Loreto Beaufort, Leinster
Laura Foley, Catholic Institute, Munster
Erin Getty *, QUB, Ulster
Tori Hastings, QUB, Ulster
Nina Heisterkamp, Railway Union / St Killian's, Leinster
Hannah Irwin, Ulster Elks, Ulster
Suzie Kelly, Monkstown-Hermes, Leinster
Jade Lamont (GK), Belfast Harlequins, Ulster
Erica Markey, Trinity, Leinster
Emma Mathews, Muckross, Leinster
Rebecca McConnell, Mossley, Ulster
Freya McDermott, UCD, Leinster
Sophie McDowell, Mossley / Ballyclare High School, Ulster
Katie McKee, Pegasus / Banbridge Academy, Ulster
Grace McLoughlin, Railway Union / Loreto Beaufort, Leinster
Hannah McLoughlin *, Loreto / Loreto Foxrock, Leinster
Jess McMaster *, QUB, Ulster
Lizzie Murphy * (GK), Monkstown-Hermes, Leinster
asmin Pratt **, Muckross / Kilkenny College, Leinster
Abbie Russell, UCD, Leinster
Holly Taggart, Ballymena, Ulster
Sarah Torrans *, oreto, Leinster
Emma Young, UCD, Leinster

* The involvement of these players will be managed around their senior squad commitments

 ** The involvement of these players will be managed around their U18 Commitments

Irish Hockey Association media release


---

Field Hockey Canada names Paul Bundy Head Coach of the Men's National Team



Paul Bundy at the 2016 Olympic Games in Rio de Janeiro, Brazil. Photo Yan Huckendubler (PAHF)

Vancouver, BC – Field Hockey Canada is announcing the appointment of Paul Bundy as Head Coach of the Men's Senior National Team. Bundy has been the assistant coach for five years and has acted as interim head coach since Anthony Farry moved on last summer.

Bundy has been an integral part of Field Hockey Canada's progress since 2010. He has a broad coaching resume including many years of coaching in the UK, coaching the Canadian Women's National Team and assistant coaching Canada's Men's National Team at the 2016 Olympic Games in Rio.

Field Hockey Canada CEO, Jeff Sauvé, said he admires Bundy's dedication to field hockey in Canada. The process to hire a head coach was a thorough and comprehensive procedure and he has every confidence that Bundy is the best fit for the organization.

"He has coached against and learned from the world's most successful coaches," Sauvé said. "He displays innovative thinking and has proven to be a true student of the sport. Paul is a tremendous leader who will have a long-term impact on the organization, while positioning us for on-field success in the immediate future."

Bundy, who has been acting Head Coach since May, said he's excited to formally dive in as head coach and lead this program towards 2020 Olympic qualification.

"Our culture is strong and I'm excited to tackle the challenge," Bundy said. "The overarching goal right now is Tokyo 2020 and being successful there."

Most recently, Bundy led Team Canada through the FIH World League series, successfully qualifying for the 2018 FIH World Cup in India.

Between a Five-Nations Tournament in Spain, the Commonwealth Games in Australia and the World Cup in India, Bundy said the upcoming year is going to be busy and a great opportunity to succeed on the pitch and grow the program.

"We have quality competitions lined up for 2018," he said. "…with the major milestone being the World Cup in India at the end of the year. The Commonwealth Games is a great tournament as well and an excellent indicator for how we stack up leading into­ the World Cup."

Field Hockey Canada media release


---

Alexa Hoover wraps up legendary field hockey career in national all-star game

Despite the 4-3 scrimmage loss, Hoover's career closes perfectly

By Moses Nsereko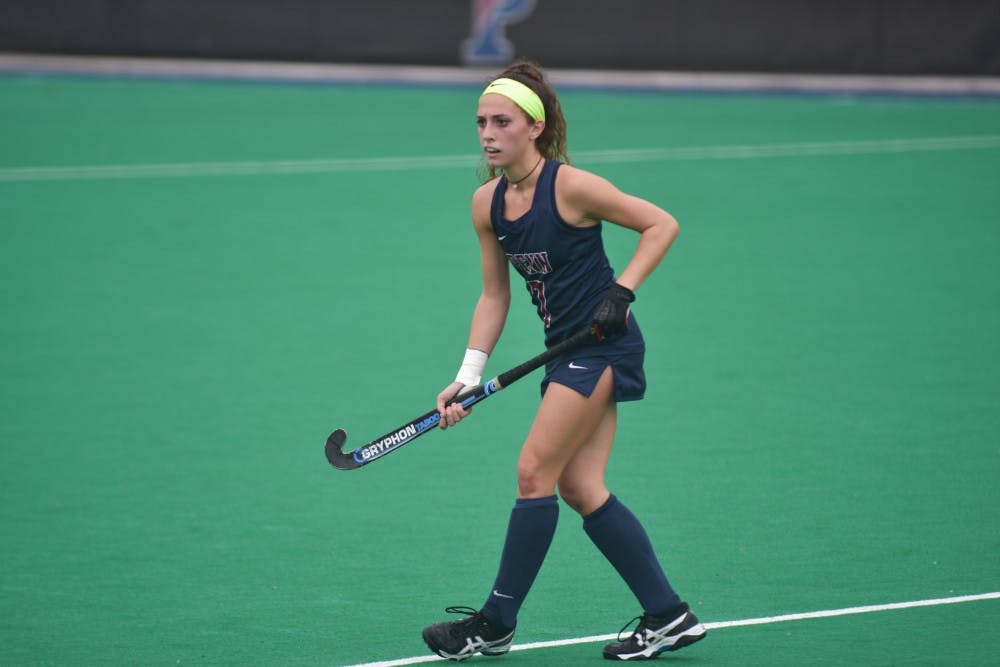 Senior Alexa Hoover wrapped up her dominant career this weekend at a national all-star game. Photo: Zach Sheldon

You would think she would have had enough, right?

But then again, she is a legend.

For senior field hockey attack Alexa Hoover, her legendary career came to a close not on Penn's Ellen Vagelos Field, but in Louisville, Ky. Hoover participated in the Division I National Field Hockey Coaches Association (NFHCA) Senior All-Star Game this past Friday.

"I was just sitting on the sidelines and just looking around like, 'Wow, this is an amazing thing that I got selected for," the team captain said. "To be able to play and represent Penn, and the Ivy League, it was just an amazing feeling. I just felt very lucky."

Hoover, along with Dartmouth senior Sarah Tabeek, was one of two Ancient Eight representatives in the exclusive game. Hoover and the other participants were invited to watch the semifinal bouts of the NCAA Division I Field Hockey Championship tournament as well.

After watching the undefeated University of Connecticut win its semifinal match on its way to a title, the star seniors took the field. The players were separated into two teams — a "light" team and a "dark" team.

Hoover, wearing Penn's grey uniform, was on the light team, which ended up falling short in a tight 4-3 contest. But if you ask the Collegeville, Pa. resident, there was more to the game than just the result.

"It was just really fun playing with these girls," Penn's all-time leading goal scorer said. "These girls are all so amazing and such amazing players, and you can see that they really are the top. They are the elite girls; the shots these girls were taking, the defense, it was back and forth."

Whenever you get players at this high of a level on the same field, the goal will always be to win. But in what will be many of these player's last games in their school jerseys, there was a distinct levity to the game.

"It was very light-hearted on the field," the senior attack said. "We were laughing on the field; we were joking because a lot of us know each other from either playing each other or just growing up."

While it may be the end of competitive field hockey for most, Hoover, unsurprisingly, is setting her sights higher. The 2018 graduate plans to attend an open tryout for the US national team.

When asked, the four-time All-Ivy honoree spoke about wanting to keep the game in her life.

"20 years from now, I don't want to regret not at least trying out," she said. Field hockey has been a part of my life for 17 years, and I don't think I can just give it up just like that now that my college career is over. For now, I'm just going to keep training until then, and then fingers crossed!"

While not much is known with what the future holds for Hoover in competitive field hockey, her collegiate career has reached a fitting ending.

The Daily Pennsylvanian