All the news for Tuesday 14 November 2017

Gold for Jamaica, silver for Guyana. Top two off to Colombia in 2018

Puerto Rico takes bronze. Final called off, round-robin standings determined winner.



Qualifiers for the Central American and Caribbean Games - Guyana vs Jamaica. Photo Jevon Williams

Gold Medal: JAM vs GUY.

The match between Jamaica and Guyana was called off in the second period due to bad weather conditions and power outage at a section of the JN Hockey Field in Kingston. The pool standings were used to declare Jamaica the winner –as they finished on top of the round-robin.

This does not affect their seeding for the 2018 CAC Games in Colombia since this tournament does not give ranking points.

Guyana's Aroydy Branford copped the leading goalscorer and player of the tournament awards, while Medroy Scotland was awarded goalkeeper of the tournament.

Bronze Medal: PUR 2 vs GUA 1

The bronze medal game on the final day of the CAC Qualifiers saw Guatemala fighting to avoid a repeat of yesterday's score against Puerto Rico. Guatemala managed to hold off Puerto Rico who had them under pressure throughout the first period; however Joseph Agosto was able to give Puerto Rico the lead in the 19th minute when he scored from a penalty corner.

The lead was extended in the 42nd minute, when Gilberto Monserrate scored a penalty stroke. The Guatemalan defence tried their best under the increased pressure to prevent their opponent from widening the gap.

The 56th minute came with a superb shot from Leonidas Leiva to give Guatemala a goal. The game ended at 2-1 with Puerto Rico taking the Bronze Medal.

Player of the tournament: Aroydy Branford (GUY)
Top goal scorer: Aroydy Branford (GUY)
Goalkeeper of the tournament: Medroy Scotland (GUY)

Pan American Hockey Federation media release


---

Guyana wins gold in game against Jamaica. Both qualify for 2018 CAC Games.

Puerto Rico finds goals in time to take bronze, player of the tournament and leading goal scorer awards.



Qualifiers for the Central American and Caribbean Games (Final) - Jamaica v Guyana. Photo: Jevon Williams

Gold Medal:  JAM 0 vs GUY 1

Spectators at the JN Hockey Field in Kingston, Jamaica witnessed the first final of the CAC Qualifier between Jamaica and Guyana. Having already qualified for the 2018 CAC Games in Colombia, both teams were looking to improve the goalless score line from their previous encounter.

The first period was slower than expected; neither of the teams generated any real chances to take the lead. As the game progressed, Jamaica started getting more opportunities through a number of penalty corner, but the Guyanese defence stood firm to guard the goal.

Guyana later took control of the games, making beautiful plays into the circle until LaTacia Chung struck the ball from a penalty corner to get pass goalkeeper Lorie-Ann McIntosh and give Guyana the lead.

With Jamaica unable to equalize, at the fulltime whistle, the Guyanese celebrated their gold.

Bronze Medal: PUR 1 vs BER 0

Puerto Rico and Bermuda struggled to score in their first match against each other. They both came today looking to make an improvement since only a goal could give them the bronze medal. It was a hard fought game between the two. Bermuda's Maha Clarke got off a shot in the first period but goalkeeper Stephanie Garcia denied her entry.

The Bermudans put up a fight in the second half, winning a few penalty corners, however none were converted.

The winning goal came in the 30th minute from Puerto Rico's Marisa Miro.  This put her at the top of the goal standings for the tournament with a total of 5 goals. Captain Josefina Freaney was named player of the tournament.

Fifth Place: GUA 0 vs PAN 0  (0-1 SO)

Panama was looking to improve on their last performance against Guatemala, where they lost 1 nil. They took control early in the game, penetrated the circle, but were unable to create chances to score. The game ended goalless and went to penalty shootout.

Penalty Shoot Out

Lisa Guzman of Panama scored the first and only goal against Guatemala. Norma Quevedo made some remarkable saves to keep the Panamanians form scoring again, However, Guatemala was unable to get their shots in the goal when their chances came.

Panama got the win and Quevedo was named goalkeeper of the tournament.

Player of the tournament: Josefina Freaney (PUR)
Top goal scorer: Marisa Miro (PUR)
Goalkeeper of the tournament: Norma Quevedo (GUA)

Pan American Hockey Federation media release


---

Jamaica men wanted to prove selves in hockey final

Livingston Scott



Jamaica men's hockey team captain Kishawn White (second right) is challenged by Panama's players during their CAC Games preliminary round qualifying match at the JN Hockey Field on November 5. Ricardo Makyn

Jamaica men's hockey team captain, Kishawn White, said he and his charges were eager to prove themselves to the Jamaican public and added that they were confident of victory against Guyana in Sunday's CAC Games qualifiers final, which ended prematurely due to poor lighting at the JN Hockey Field in Mona, St Andrew.

The teams were deadlocked at 0-0 with 19 minutes gone when lightning struck and rendered some lights useless. Then, any attempt to restart the match proved futile as Jamaica goalkeeper and vice captain Kardiff Davidson complained that he had a problem seeing the ball and White lodged the complaint with the match officials, who called off the contest and awarded the game to the number one team from the preliminary round, Jamaica.

"We were very confident because we knew the goal we wanted to achieve. We wanted to finish undefeated and we knew Guyana would give us a challenge, so we were very pumped up for that match," White said.

"We beat them 3-2 in the preliminary round, so in the final they were going to come hard. But minutes into the second quarter they called the game, because the lighting was very poor and the goalkeeper could not see the ball. So as captain, I had to put it to the referee. When your last man cannot see the ball that is a problem. But it so sad the match ended that way," he said..

White also highlighted the struggles both teams went through in preparation to host the qualifiers and pleads to the corporate community to assist with preparation for next year's CAC Games.

"The lights are not working. We would like help to fix the lights. Both teams (male and female) are still struggling. They don't have proper equipment to train, and we are still waiting to see what we can get. Even for this qualifiers, we had a lot of struggles, but we didn't focus on the negatives. We kept on the positive side because we knew the goal we wanted to achieve, and we are proud to be champions. But we still need help in all departments," he said.

White added: "We really wanted to show Jamaica what we can do. We want to put hockey up front. We had our mind set to show people in Jamaica what hockey can do and what hockey in Jamaica is."

The Jamaica Gleaner


---

Great Britain lose opener with Germany



Great Britain celebrate a goal

Great Britain were edged out by Germany in their three-match test series opener in Mannheim.

Luke Taylor marked his first GB cap with a goal while Tom Carson and Barry Middleton were also on target.

However a brace from Dieter Linnekogel and strikes from Christopher Ruhr, Dan Luong Nguyen and Marco Miltkau saw Germany to a 5-3 win.

There were welcome returns for GB as Chris Grassick was back in action after over a year out and also Carson after his hand injury.

After the match Head coach Bobby Crutchley said: "After a long break with no match play, this is just what we needed. I was pleased with some aspects of the game and when we played with energy and intensity, we looked threatening in possession.

"This gives us an excellent platform on which to build for the rest of the week. I'm pleased for Luke Taylor, James Albery and Liam Ansell who all made their senior debuts tonight for Great Britain."

Great Britain took the lead after ten minutes when Taylor converted from a penalty corner as he made his first appearance for GB, however Linnekogel levelled from a German penalty corner nine minutes later.

Middleton was on target to put GB back into the lead but Linnekogel was on hand again from a penalty corner to level the scores before half time.

On 38 minutes Carson put GB back into the lead again as he marked his return to competitive international hockey after his injury lay off.

However the hosts rallied to finish strongly to stage a late comeback. Firstly Nguyen put home a penalty corner before Ruhr and Miltkau field goals put Germany into a late 5-3 lead.

Great Britain XI: Harry Gibson (GK), Ollie Willars, Brendan Creed, Henry Weir, Harry Martin, Sam Ward, Phil Roper (C), Barry Middleton, Tom Carson, James Albery, Alan Forsyth

Subs (Used): George Pinner (C), Luke Taylor, Chris Grassick, David Goodfield, Liam Ansell, James Gall, Dan Kyriakides

England Hockey Board Media release


---

Perak hand Terengganu first loss in Razak Cup final

By S. Ramaguru



Day to remember: Perak players celebrating their win in the Razak Cup at the Azlan Shah Stadium yesterday. — SAIFUL BAHRI /The Star

IPOH: Perak lifted the Razak Cup Division One title for the eighth time when they dethroned Terengganu with a 3-2 win in a pulsating final at the Azlan Shah Stadium.

It was Terengganu's first loss in a final. They also made the final in 2012 and 2016 but emerged champions on both occasions.

Perak went for the jugular and could have taken an early lead, but Shazrul Imran Nazli missed with just goalkeeper Mohamed Hafizuddin Othman to beat.

There was little to separate the teams as both had chances to score.

Perak, however, achieved a breakthrough in the 30th minute when Mohamed Najib Abu Hassan scored a field goal.

Terengganu started the second half strongly and managed to score the equaliser in the 35th minute when international forward Faizal Saari converted their fourth penalty corner.

Not deterred, Perak continued to surge forward. They were rewarded in the 53rd minute through a field goal by Mohamed Haziq Shamsul.

Terengganu again fought back with Faizal converting a penalty corner in the 56th minute.

Perak, however, had the last laugh when Hafifihafiz Hanafi scored from a penalty corner variation in the 59th minute.

Perak also won an individual award through Mohamed Haziq, who was named the final's man-of-the-match

Faizal earned a consolation as he bagged the top-scorer award with nine goals.

Earlier, Melaka finished third when they edged Negri Sembilan 1-0.

Mohamed Farid Ziyad was the hero, netting in the 10th minute.

Meanwhile, Perlis gained promotion to Division One after beating Selangor 2-0 in the Division Two final.

Azhad Akmal Mohamed Fahmi starred for Perlis with a brace in the 16th and 52nd minutes.

It was a tournament to remember for Perlis as they also swept all the four individual awards through Azhad Akmal (man-of-the-match for the final), Tengku Ahmad Tajuddin (top scorer and best player) and Faizal Aziz (best goalkeeper).

The Star of Malaysia


---

Indonesia the surprise entrants for women's Razak Cup tourney

KUALA LUMPUR: Indonesia are the surprise entrants for the women's Razak Cup hockey tournament to be at the KL Hockey Stadium from Nov 18-26.

They are in Group A with defending champions Pahang, Terengganu, Kuala Lumpur and Perak.

Last year's runners-up Armed Forces are in Group B with Johor, Selangor and Melaka.

KLHA organising chairperson K. Maheswari was disappointed that six teams – Police, Negri Sembilan, Sabah, Sarawak, Kedah and Penang – have decided to stay away this year.

"Some have cited examinations as the reason for not putting a team. But then all states are affected by school examinations, not just a few," she said.

"Teams also have to realise that the Razak Cup caters to the senior players. So, they should try to get senior players and not depend on school-goers.

"I'd like to see more experienced players in the tournament and a sprinkling of youth.

"There are enough domestic meets to cater to the younger age group."

The top two teams from each group will meet in the crossover semi-finals.

The Star of Malaysia


---

Fulton Names Squad For Netherlands Series




The Green Machine will take on the current European Champions, the Netherlands, in 2 uncapped matches in Upward Hockey Club on November 21st and 22nd. The series will see the return of Mitch Darling to the squad, making his first appearance in the green shirt since the 2016 Rio Olympics. Peter Caruth also comes back into the match squad following a period off due to injury. The series will act as warm up matches for the Netherlands who are preparing for World League 4 in India this December, while it will mark the end of international fixtures this year for the Green Machine.

Head Coach Craig Fulton is looking forward to the match series, commenting "It's a great opportunity to play against the Dutch as they head out to compete in World League 4. The current Irish senior men 20 man squad is made up of some exciting youth and senior experience. Mitch Darling and Peter Caruth are back in the training squad which is positive, it an exciting time as we start the process towards the 2018 World Cup next year".

Fixtures:

Ireland vs Netherlands 21/11/17 1pm in Upward Hockey Club, Netherlands
Ireland vs Netherlands 22/11/17 1pm in Upward Hockey Club, Netherlands
*Times listed are local

Squad:

David Harte (Captain)
Mark Ingram
Matthew Bell
Conor Harte
Luke Madeley
Stuart Loughrey
Sam O Connor
Lee Cole
Michael Robson
Kirk Shimmins
Sean Murray
Darragh Walsh
Stephen Cole
Neal Glassey
Matthew Nelson
Alan Sothern
Peter Caruth
Mitch Darling
Jeremy Duncan
Julian Dale

Irish Hockey Association media release


---

Darling returns to Irish panel for first time since Rio



Mitch Darling is back in the Irish squad. Pic: Adrian Boehm

Mitch Darling will make his first appearance for Ireland since the Rio Olympics following his inclusion for a short two-game series next week against the European champions, the Netherlands.

The forward took time away from the national set-up in the wake of the Games, missing the World Cup qualifying process during the summer but is named in a panel of 20 for the games at Upward Hockey Club in Arnhem.

Peter Caruth is another Olympic returnee, bidding to play his first game since June's games against Pakistan, missing the World League Semi-Finals and Euros through injury.

They add extra firepower to the frontline where they will link up with Alan Sothern, Cork C of I man Julian Dale and Belgian-based Jeremy Duncan.

The backline sees a number of changes from the European panel with Luke Madeley and Sam O'Connor coming in with Paul Gleghorne and Jonny Bell stepping out. Gleghorne returned to club action last Saturday for Garvey while Bell sustained a facial injury in that same game against Cookstown.

The Netherlands are in their final preparations for December's World League Final in India. For Ireland, they are looking at the long-term preparations for next year's World Cup which will also take place in India.

Ireland senior men for Netherlands series (November 21-22, Upward HC): David Harte (Captain, SV Kampong), Mark Ingram (Pembroke), Matthew Bell (Banbridge), Conor Harte (Racing Club de Bruxelles), Luke Madeley (Three Rock Rovers), Stuart Loughrey (Hampstead & Westminster), Sam O'Connor (Glenanne), Lee Cole (Royal Oree), Michael Robson (Crefelder), Kirk Shimmins (Pembroke), Sean Murray (Lisnagarvey), Daragh Walsh (Three Rock Rovers), Stephen Cole (Monkstown), Neal Glassey (Lisnagarvey), Matthew Nelson (Lisnagarvey), Alan Sothern (Pembroke), Peter Caruth (Annadale), Mitch Darling (Three Rock Rovers), Jeremy Duncan (Herakles), Julian Dale (Cork C of I)

Schedule
Tuesday, November 21: Ireland v Netherlands, 1pm, Upward
Wednesday, November 22: Ireland v Netherlands, 1pm, Upward

The Hook


---

Samiullah wants probe into Melbourne disaster

Anwar Zuberi

KARACHI: Terming Pakistan's performance in the recently concluded four-nation international hockey festival in Melbourne as "pathetic", legendary Olympian Samiullah has demanded an immediate inquiry into the shameful result.

"The greenshirts have failed to rise in the last two years and have virtually put the heads of country's former hockey stalwarts down," Samiullah said while talking to Dawn on Monday.

The iconic left-winger of yore urged the Ministry of the Inter-provincial Coordination to initiate a probe into the Melbourne debacle forthwith as it brought disgrace to the nation.

Pakistan finished at bottom in the quadrangular event in the Australian city losing all the four games including the playoff for the third position.

Pakistan suffered a 1-9 drubbing from Australia — green-shirts' worst-ever loss in international games — followed by a 1-3 loss to minnows Japan, 2-3 to New Zealand and again 1-2 to Japan in the third-place match.

"The Melbourne defeats, particularly, twice to Japan, indicate that the [current] team have no ability to fight back," lamented Samiullah.

Samiullah, who is known as 'flying horse' for his superb hockey skills, reckoned the situation for Pakistan hockey is alarming and added that the incumbent hierarchy has failed to deliver the goods during the last two years.

"Since assuming the role in August 2015 as PHF president, retired Brig Khalid Sajjad Khokhar and secretary Shahbaz Ahmed have miserably failed to solve employment problem of players and the base is shrinking," he remarked.

Taking current performance of the team and the PHF's lack of visiton into consideration, Samiullah said, "I see no light at the end of tunnel".

He said it's time to focus on under-19 players whose fitness level he said will be much higher then the present lot.

"The corruption charges levelled by the secretary of the Khyber Pakhtunkhwa Hockey Association Zahir Shah against the PHF high-ups need to be probed," Samiullah said when asked to comment on KP official's statement to the media the other day.

He also demanded of the government to probe alleged embezzlement of PHF funds by Qasim Zia, Akhtar Rasool, Asif Bajwa and Rana Mujahid.

Dawn


---

Hockey India to experiment with mixed-gender format, eye Olympic inclusion

Tushar Dutt

PUNE: Considering the growing relevance of gender-equality at the Olympic Games, the Hockey India will be conducting a 5-a-side mixed-gender tournament at Shiv Chhatrapati sports complex in Balewadi on Saturday.

According to Hockey India general secretary Manoj Bhore, the format will be tried for the first time in Pune and will be watched by International Olympic Committee observers.

"The aim is to pitch this format for the 2024 Games. Since many individual sports like tennis, shooting, badminton have been attaining gender equality at the Games, we at Hockey India thought of bringing a concept that is faster and will fulfill the equality criteria. The tournament will be watched by an IOC member as something like this is being conducted for the first time in the world," Bhore told TOI.

An International Hockey Federation (FIH) official also confirmed that the world hockey body is keeping a keen eye on the format. "We have been following the developments closely. It can be a format of the future and even the IOC is in the knowhow of things," the official said.

The mixed-gender event will be a day's affair, while the 5-a-side national league matches for men and women will begin from Tuesday.

Each team will have nine players, five men and four women. At a time, five players will be at the ground, which will mandatorily include minimum of two women players. Top Indian players like Devendra Walmiki, Rani Rampal, Savita Rani and Gurpreet Kaur will be a part of the nationals.

The Times of India


---

Field hockey loses seniors but freshmen assure promising future

By Greg Levinsky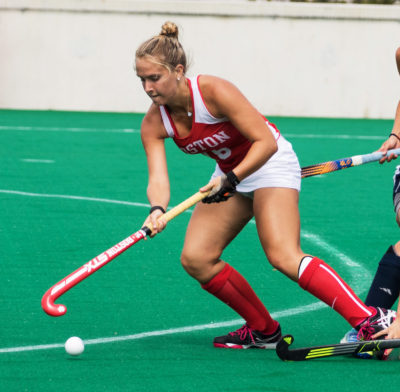 Senior Grace Boston is one of the many Terriers that will graduate this year. PHOTO BY JUSTIN HAWK/ DFP FILE PHOTO

With nine freshman on the roster, it seemed unlikely that head coach Sally Starr and the Boston University field hockey team would go further in postseason play than they did last season.

In 2016, the senior-laden Terriers lost only one regular season in conference game and secured the No. 1 seed in the conference tournament — only to be beat by American University in the Patriot League championship.

This season, the Terriers (14-8, 6-0 Patriot League) once again performed to Starr's high standards.

"In every measure it was a successful year," Starr said. "This team just got better and better, worked hard and finished with an outstanding November."

A 2017 Patriot League Tournament win and a victory in the opening round of the NCAA Tournament served as a testament to their hard work and success this season.

Starr said the departing senior class — Allie Renzi, Kali Shumock, Grace Boston and Jordyn Beesmer — were instrumental parts of leading the youthful squad.

"This senior class really helped a young team with nine freshman coming in," Starr said.

The Terriers began the season on a four-game winning streak, then faltered in five of the following seven games, including losses to No. 1 University of Connecticut and No. 2 Duke University.

After the Duke (17-4) loss, the Terriers regrouped and won their most important game of the regular season slate at home against American (13-6, 5-1 Patriot League). BU ended up coming out victorious, 2-1, in what served as the deciding game for where the Patriot League Championship would be held.

"American was the preseason pick to finish first in the conference and for us to beat them in the regular season was huge," Starr said. "It's those games against the Dukes, Connecticuts, Princetons and BCs that really help us to be successful come November."

The Terriers closed out the regular season winning four of six games. BU captured the regular season Patriot League title before ousting the College of the Holy Cross and passing by Bucknell University enroute to their third Patriot League title since joining the conference in 2013.

The Terriers then handed Fairfield University a 5-0 loss in the opening round of the NCAA Tournament before falling to the undefeated UConn (21-0) in the first round of the NCAA Tournament.

Freshman Ailsa Connolly took the Patriot League by storm, leading the Terriers with 11 goals. Newcomers Miya Denison, Petra Hall, Millie Baker and Kathryn Scheerer also found substantial success in their freshman campaigns.

Denison scored six goals with one assist for the season, and she scored the Terrier's lone goal in their regular season matchup against UConn and added a goal in the NCAA opening round victory over Fairfield (9-12).

Over the season, Hall added five goals and four assists, while Scheerer was the only freshman to start every game. Baker split the season in goal with junior Kathleen Keegan, except when Baker was in the net for the entirety of the Terriers' game against Duke.

"This is probably one of the deepest team in many, many years," Starr said. "You can see it by the number of players that sustained a really high level of play."

Junior Maika Akroyd scored the first four goals of her career after moving to the midfield. Classmates Ally Hammel and Allie Doggett were unanimously named to the All-Patriot League First Team along with senior Shumock. Connolly, along with sophomore Kiley Gallagher were named to the All-Patriot League Second Team.

Shumock will participate in the NFHCA Division 1 Senior Game held in Louisville, Kentucky at the site of the 2017 NCAA Division 1 Field Hockey Championship.

Hammel was also awarded the 2017 Patriot League Defensive Player of the Year trophy for anchoring a backstop that allowed just five goals in conference play.

"Our defense both individually and as a team was outstanding this year," Starr said.

With a plethora of talent returning, Starr said she's looking toward the spring to work on the next season and hopes to continue the team's success.

"What we need to do is commit ourselves to improve our attack, a lot of games we got the ball in our attacking third, but we didn't finish as well as we could have. That will be a point of emphasis this spring," Starr said. "We have the potential to be very good again."

The Daily Free Press