All the news for Friday 27 October 2017

Africa Cup of Nations results and standings Day 4

Men
EGY v RSA 3 - 3
NGR v GHA 1 - 5


| | | | | | | | | | |
| --- | --- | --- | --- | --- | --- | --- | --- | --- | --- |
| Rank | Team | GP | W | D | L | GF | GA | GD | P |
| 1 | Egypt | 3 | 2 | 1 | 0 | 20 | 5 | 15 | 7 |
| 2 | South Africa | 3 | 2 | 1 | 0 | 14 | 6 | 8 | 7 |
| 3 | Ghana | 3 | 2 | 0 | 1 | 10 | 4 | 6 | 6 |
| 4 | Kenya | 3 | 1 | 0 | 2 | 3 | 8 | -5 | 3 |
| 5 | Nigeria | 4 | 0 | 0 | 4 | 4 | 28 | -24 | 0 |

Women
RSA v EGY 11 - 0
GHA v NGR 1 - 0


| | | | | | | | | | |
| --- | --- | --- | --- | --- | --- | --- | --- | --- | --- |
| Rank | Team | GP | W | D | L | GF | GA | GD | P |
| 1 | South Africa | 3 | 3 | 0 | 0 | 21 | 0 | 21 | 9 |
| 2 | Ghana | 3 | 3 | 0 | 0 | 9 | 1 | 8 | 9 |
| 3 | Kenya | 3 | 1 | 0 | 2 | 2 | 7 | -5 | 3 |
| 4 | Nigeria | 4 | 0 | 1 | 3 | 1 | 8 | -7 | 1 |
| 5 | Egypt | 3 | 0 | 1 | 2 | 1 | 18 | -17 | 1 |


Results and standings from FIH Match Centre


---

SA hockey women thrash Egypt, men draw at Africa Cup

Ockert de Villiers



Sulette Damons opened the scoring for South Africa on Thursday and added another goal later in the match. Photo: Ryan Wilkisky/BackpagePix

JOHANNESBURG – Stopping a goal short of a dozen, the South African hockey women went on an 11-0 rampage in their Africa Cup of Nations match against Egypt in Ismailia.

Continuing her dream return to the national set-up after an injury enforced layoff, Dirkie Chamberlain, scored four goals in what was South Africa's penultimate group match.

Chamberlain cemented her place at the top of the goal-scoring tally with seven after three rounds.

South Africa's goal-fest came at almost a point every five minutes, exposing holes in Egypt's defences like a watering can.

Sulette Damons, who scored a brace in the match, opened South Africa's account in the fifth minute.

Chamberlain extended the lead two minutes later for her first of four goals, with the rest coming in the second half.

Sylvia van Jaarsveld, Stephanie Baxter and Lilian du Plessis, with a brace of her own, also got on to the score-sheet.

Chamberlain landed two go consecutive goals in the 48th minute before Du Plessis landed a final blow two minutes from time.

The men's match between South Africa and Egypt was the opposite of the women's clash.

The two top sides finished a tit-for-tat battle in a 3-3 stalemate in what was considered a dress rehearsal of the final.

South Africa are chasing an eighth consecutive continental title, which would earn them a place in next year's World Cup in India.

The first chukka finished scoreless, and it was only until late in the second quarter that South Africa managed to get the ball in the back of the box.

Taine Paton opened the scoring in the 23rd minute, with Nqobile Ntuli doubling the lead five minutes later.

Egypt reduced the deficit in the final minute before the half-time break courtesy of a Mohamed Husseinen.

The hosts equalised five minutes into the second half, thanks to an Ahmed Gamal goal with Ahmed Alganaini giving the Egyptians the lead for the first time in the match six minutes later.

South Africa managed to clinch a draw when Tim Drummond scored in the 48th minute.

IOL Sport


---

Hong Kong defeat Pakistan 2-0

LAHORE: Hong Kong defeated Pakistan 2-0 in the Women's Hockey Asian Challenge 2017 at the Hassanal Bolkiah National Stadium, in Brunei's capital Bandar Seri Bagawan, on Thursday.

Pakistan had lost 0-3 to the same opponents in the first match of this double league round, and were largely outplayed in that tie.

However, the second encounter saw a vastly improved display by the Pakistan girls, said a spokesman for the Pakistan Hockey Federation.

In yesterday's match, Hong Kong went ahead with two goals inside the first 20 minutes and it seemed Pakistan would be over run. But thereafter, it turned out to be a good contest as the Pakistan forwards repeatedly made inroads into their rivals' defense.

Pakistan next plays Brunei on Friday (today) in the last match of the double round. In the first tie, Pakistan had easily defeated Brunei 4-0.

Scorer: Tiffany Chan (2nd min & 19th min).

The Daily Times


---

Australia storm back to beat India

by  Satwant Dhaliwal

Australia came back from a goal down to stop India's march in the Sultan of Johor Cup following a 4-3 come-from-behind victory at the Taman Daya Hockey Stadium today.

 The defending champions moved to second in the table standings behind leaders India despite sharing nine-equal points. Great Britain (9 points) is third followed by Malaysia (1), Japan (1) and the United States (0).

"We knew in the first half we had the chances and created a lot of them. The players played according to the process. There was some problem in the penalty corner execution on the other end of the pitch as it was a bit bumpy," said Australian head coach Brent Livermore.

His Indian counterpart, Jude Felix Sebastian, said: "I am very disappointed with this defeat. We were in the lead and should have taken the opportunity to win this match. Nevertheless we are still in the running for a place in the final."

Joel Rintala had fired Australia ahead in the third minute from a penalty corner strike but the celebrations did not last long as India clawed back with goals from Sanjay in the ninth minute via a penalty corner conversion and Dilpreet Singh's open play strike on the stroke of first half.

India went into the third quarter leading 2-1 but the Australians turned on the heat through team captain Coby Green's 36th minute field goal to level 2-2 before Jonathan Bretherton extended the score line 3-2 via a penalty corner.

But the Indians were back on track just two minutes on resumption of the, fourth quarter. Dilpreet, the tournament's most outstanding goal poacher, restored India's pride with a well-placed shot past goalkeeper George McGeaoch to once again draw level at 3-3. It was Dilpreet's ninth goal in the tournament.

In a nail-biting finish, it was the Australians who took the opportunities well. Nathan Ephraum delivered the final blow from Australia's seventh penalty corner of the match to stay on top of the reigning Junior World Cup and two-time SOJC champions.

For the Australians, the victory comes as a big boost in their hopes of qualifying for Sunday's final after suffering a shock 4-2 defeat against Great Britain 24 hours earlier.

India's campaign began with a 3-2 win over Japan, edged Malaysia 2-1 and pummelled United States of America 22-0 on Wednesday. The Australians, on hand, demolished USA 19-0, defeated Japan 4-0 but lost 4-2 against Great Britain 4-2.

Official Sultan of Johor Cup site


---

Burras Beat India To Be On Cusp Of Final

Ben Somerford




The Burras have come from behind to defeat India 4-3 in the Sultan of Johor Cup in Malaysia on Thursday meaning they'll qualify for the final if they beat Malaysia on Saturday.

Australia had lost to Great Britain on Wednesday meaning defeat to India would have meant they couldn't qualify for Sunday's decider.

The Burras opened the scoring early through Joel Rintala (3') from a penalty corner, but India hit back with goals from Sanjay (9') and Dilpreet Singh (30') to lead 2-1 at half-time.

Australia re-claimed the lead with two third-quarter penalty corner goals from captain Coby Green (36') and Jonathan Bretherton (45').

India equalised in the 47th minute through Dilpreet Singh but two minutes later Nathan Ephraums hit the winner from a penalty corner.

Australia meets fourth-placed hosts Malaysia on Saturday from 9.05pm AEDT.

Top-of-the-table Great Britain plays second-placed India on Saturday as well in the final round.

The Burras (nine points) have a superior goal difference to leaders Great Britain (12 points) while India has nine points, meaning any Australia win against Malaysia will be enough to qualify for the final.

Hockey Australia media release


---

Australia edge out India juniors in Sultan of Johor Cup

The defeat came a day after India had hammered United States of America 22-0 in their third league encounter.



Junior hockey players celebrate a goal against USA during their match of 7th Sultan of Johor Cup 2017 in Johor Bahru, on Wednesday. Photo Credit: PTI

India juniors lost their first match, when they were pipped 3-4 by Australia in a high-scoring fourth round robin league encounter at the 7th Sultan of Johor Cup hockey tournament, in Johor Bahru on Thursday.

The defeat came a day after India had hammered United States of America 22-0 in their third league encounter.

Dilpreet Singh (30th min, 47th min) and Sanjay (9th min) scored for India in the match but goals from Joel Rintala (3th min), Coby Green (36th min), Jonathan Bretherton (45th min) and Nathan Ephraums (49th min) were enough for Australia to secure the victory.

Australia dominated the proceedings in the initial stages of the first quarter as they attacked the Indian defence to start on a bright note.

This resulted in the Australians winning a penalty corner in the 3rd minute of the match which was well converted by Joel Rintala to give his side the lead.

However, after conceding an early goal, the Indian team stepped up their efforts in the latter half of the first quarter and won themselves a penalty corner in the 9th minute, which was finished off by Sanjay to level the scores at 1-1.

The game was very well balanced between the two sides throughout the second quarter as defenders of both the teams showed resilience to keep out the efforts.

However, in the last minute before the half-time hooter, a mis-pass from the Australian side led to beautiful counter-attack from India with Dilpreet Singh's fiercely struck shot giving India a 2-1 lead.

In the third quarter though, Australia focussed on getting an equaliser, controlled the proceedings with some quick passes.

The Australians finally managed to convert another penalty corner in the 36th minute when Coby Green found himself free in front of goal after the drag-flick was not successfully executed by his teammates.

Australia then scored again in the 45th minute to take a 3-2 lead when another unsuccessfully executed penalty corner was followed up by a well-taken shot by Jonathan Bretherton.

In the last quarter, it was India got the equalizer when Dilpreet calmly levelled scores latching onto a long pass.

However, India could only stay level at 3-3 for two minutes as Australia's Nathan Ephraums converted a penalty corner in the 49th minute to give Australia a 4-3 lead.

India will now face Great Britain in their fifth match on October 28.

The Hindu


---

Malaysia whip US for full points in Sultan of Johor Cup

By Kathleen Ann Kili



Off I go: Malaysia's Muhammad Azrai Aizad Abu Kamal dribbling away from United States' Colin Finlay Quaile at the Taman Daya Stadium yesterday. — ABDUL RAHMAN EMBONG / The Star

JOHOR BARU: Malaysia recorded their biggest win in the Under-21 Sultan of Johor Cup hockey tournament after bashing whipping boys the United States 18-0.

The three points allowed Wallace Tan's boys to be in strong contention for a top-four finish in the six-team tournament.

Captain Nik Muhammad Aiman Nik Rozemi led the way by scoring five goals – fourth, fifth, 21st, 22nd and 59th minutes. Mohamad Akhimullah Anuar Esook added four more in the sixth, 23rd, 41st and 56th minutes.

Mohammad Firdaus Omar (18th, 32nd, 54th) and Muhammad Azrai Aizad Abu Kamal (33rd, 50th, 55th) bagged a hattrick each while Muhammad Hafiizhuddin Zaidi (17th), Luqman Nul Hakim Ahmad Shukran (40th) and Muhammad Shafiq Hassan (58th) chipped in with one apiece at the Taman Daya Hockey Stadium yesterday.

Malaysia led 8-0 at half-time.

The United States have now conceded 70 goals in four matches.

"The boys played well. We were able to score consistently in each quarter.

"This win will boost my players' confidence ahead of our final group game against defending champions Australia on Saturday," said Wallace, who added that he was confident his team can get a "favourable result" against Australia.

In earlier matches, Australia beat India 4-3 while Britain are just one step away from qualifying for the final after beating Japan 3-1.

The Star of Malaysia


---

Another win for GB U21 men – MacKenzie scores again

Scotland's Callum MacKenzie was on the score sheet as Great Britain U21 men took one step closer to Sunday's Sultan of Johor Cup final as they kept up their perfect record in the tournament with a 3-1 victory over Japan. Cameron Golden also featured in the win and played an important role in the team's performance.

Having come from behind to defeat Australia on Wednesday, Jon Bleby's side were forced to repeat the feat against a compact Japanese outfit who went ahead on the stroke of half-time through Ramu Watanabe.

But Britain got into their stride in the second half and goals from Eddie Way, Callum Mackenzie and Zach Wallace ensured their side emerged victorious for a fourth straight game.

A draw against India on Saturday will now guarantee them a place in the final the following day, although they will certainly want to finish the group stages with a perfect winning record.

Way almost opened the scoring with the first meaningful efforts of the game, only for Yusuke Takano superbly deny him twice in a matter of seconds from successive penalty corners.

Yet while Britain enjoyed much of the possession early on, it was their opponents who created the next clear-cut chance as Atsushi Sugiyama forced Chris Wyver into a save at the end of the first quarter.

The second quarter saw substitute stopper Oliver Payne also called into action to keep out Ryosei Kato when the Japanese attacker may well have passed to his team-mates instead of going for goal.

A period of stalemate followed after that until Japan won four penalty corners in quick succession during the final minute of the first half, the last of which they scored from as Payne's save landed at the feet of Watanabe who could not miss from two yards out.

Britain pressed hard in the third quarter but were limited to nothing more than half chances until the final minute when they got their own back on their opponents by also converting a penalty corner, Way sweeping home at the second attempt to equalise.

Mackenzie then struck for the third game in a row in the 54th minute to give his side the lead, scrambling the ball into the goal after Ben Francis' shot was saved by Takano.

Wallace then capped another superb individual display with a goal of his own one minute from the final whistle, also pouncing on a rebound and leaving head coach Bleby very happy once again with the resilience his side showed.

"We are really pleased to have won four from four," he said.

"Tonight was a different type of challenge but the team showed brilliant character to execute an improved second-half performance and beat a tough Japanese team.

"Now our focus turns to the final pool game against India."

You can watch that game against India by clicking here

Scottish Hockey Union media release


---

Women's Asia Cup offers another chance for Hockey Women's World Cup qualification




Between Saturday 28 and Sunday 5 November, eight of the best women's international teams in Asia will be playing for the title of winners of the Women's Asia Cup. The event is taking place in in Kakamigahara City, Gifu, Japan and the additional prize for the winner, besides the honour of being crowned champions of Asia, is qualification for the Women's Hockey World Cup London 2018.

Host nation Japan, will be joined by teams from China, India, Kazakstan, Korea, Malaysia, Singapore and Thailand. Three of these teams have already booked their places in next year's blue riband event. China and Korea finished second and fourth respectively at the Hockey World League Semi Finals in Brussels, while Japan's sixth-place finish in the Hockey World League Semi Final in Johannesburg was enough to see them qualify for the London spectacle. If any of the other five teams lift the trophy on 5 November, they will join the 13 teams who have already qualified.

The competition format is two pools leading to cross-over classification matches. In Pool A, China (World ranking: 8), India (WR 12:), Malaysia (WR: 22) and Singapore (WR: 40) will be battling it out, while Pool B will comprise Japan (WR:11), Kazakhstan (WR: 34), Korea (WR:9) and Thailand (WR: 31).

For India, after the magnificent achievement of qualifying for the 2016 Olympics, the 2017 Hockey World League Semi-Final was a bit of a disappointment after they finished eighth. The Eves will be desperate to put that right and qualify for next year's World Cup.

It will also be a first international event under the guidance of new head coach Harendra Singh, who took over the reins after previous head coach Sjoerd Marijne moved across to take over as men's head coach. Speaking to The Hindu Times, Singh said he is looking for a strong performance in Japan with qualification for next year's Hockey women's World Cup London 2018 being his top priority.

"We have a very good blend of youth and experience within our team which will help us in negating the tasks ahead of us at the women's Asia Cup. The team has played against higher ranked teams in the build-up to the tournament which has helped us in improving our game."

A familiar are on the team sheet is the Eve's star striker Rani. She too is confident that the team can perform up to its potential at the women's Asia Cup. "We have made improvements in our game wherever it was necessary. I feel the team is playing well as a unit and there is a good sense of cohesion in our squad. We are looking forward to performing well in Japan so that we can qualify for the World Cup," she said.

Another coach looking to make a mark with a new team is former German head coach Jamilon Mülders. The Asia Cup begins just weeks after Mülders takes up position as head coach of China and both coach and players will be on a sharp learning curve.

China's goalkeeper Li Dongxiao is looking forward to working alongside the charismatic German, although she knows it will be a challenging first few weeks. "We haven't really had enough time to do adequate preparation. Thus this time, our main target will be team building and learning.

"Temporarily, we have formed our unique style. We only had a short term training this time, and Jami needs some time to get familiar with us. But, with the guidance of Jami, I am quite sure that we will form our tactical style by training and playing."

Korea has the best record of the participating teams in the event. They have won the Hockey Asia Cup three times, been runners-up once and taken bronze on three occasions. At the previous edition, Korea took silver after they lost to Japan 2-1 in the final. While, they have World Cup qualification secured, Huh Sang Young will be looking for his team to perform well at these games as it is a rare opportunity for his team to play top international teams.

Korea's captain, Kim Jong Eun, agrees with this point. "For Korea, geographically, we are at a disadvantage, which restricts us when it comes to travelling to play against other teams from other parts of the world."

Home advantage and the prospect of putting on a show for fans will be an immense driver for Japan. With the Olympics taking place in Tokyo in just over two years time, the Cherry Blossoms would dearly love to put on a great performance on home soil to whet the public's appetite for hockey. In terms of performance, coach Antony Farry has named a very young and inexperienced team, with a view to building for 2020. Six players are making their debut, while a further 10 players have less than 20 caps.

Malaysia is the fifth highest ranked team in the tournament and a second place finish at the Hockey World League Round Two event in Kuala Lumpur saw them defeat higher ranked Italy in the semi-finals before losing out to a strong Ireland in the final. The team then underwent a huge learning curve at the Hockey World League Semi-Final in Brussels, where they finished in 10th position. Despite losing all their games, the scoreline indicate a team that is prepared to defend hard. 1-0 losses to New Zealand and Scotland and a 3-1 defeat at the hands of Spain suggest that Malaysia just need more top class international competition.

Both Thailand and Kazakhstan will need to be at the top of their games if they are to challenge for the podium in this event. At the Hockey World League Round Two event in Kuala Lumpur at the beginning of the year, Kazakhstan finished in seventh place and Thailand in fifth, so they left with the confidence of having won their final game, but both teams had good and bad moments at that tournament.

Kazakhstan will be desperate to avoid an opening match defeat after a 12-0 thrashing at the hands of Ireland in Kuala Lumpur set them on the back foot for the remainder of that particular tournament. Kazakhstan's striker Vera Domashneva will need to take her opportunities, while 'keeper Guzal Bakhavaddin will be working hard to maintain defensive structure.

For Thailand, the challenge will be to play the attacking hockey that saw them put 11 goals past Vietnam in the recent SEA Games, while shoring up a defence the allowed the lower-ranked Singapore to steal a 3-2 win at the same tournament.

Singapore were defeated 5-0 by Pool A rivals Malaysia when the two team's met at the SEA Games in August and the team will need to be on top form as they take on India in their opening match and also have to play the top-ranked team, China. 

Singapore's young team will have gained a huge amount of international experience when they played in the Hockey World League Round Two event in Kuala Lumpur. During that tournament, they beat Kazakhstan 4-1 and drew with Thailand before losing on shoot-out – both results indicating that the bottom ranked team may well be no pushover.

The competition gets underway on Saturday 28 October, with all eight teams in action. Pool A matches kick things off with China taking on Malaysia at 12:30, before India face Singapore at 14:30. Then Korea play Thailand at 16:30 before host nation Japan play Kazakhstan at 18:30.

To keep track of all the action from the Hero Asia Cup, please visit the competition event webpage or follow the Asia Hockey social media channels on the links below.

Twitter: @asia_hockey  Facebook: Asian Hockey Federation

FIH site


---

orean women rule the root in the Asia Cup

BG Joshi and K Arumugam

South Korea and Japan are the only two nations to represent all the eight Women's Asia Cup held so far. India and China missed a number each, but alternatively posed a stiff challenge for Korea's suzerainty. These four nations together formed the cream of Asia in the women's circuit.

The all-present Korea and Japan dominated the Asian scene for better part of Asia Cup, collecting 13 medals out of 24 including five gold and five Silver.

The South Koreans girls dominated the Asian scene, challenge coming in from China, India and Japan, but the Koreans were a hard nut to break.

For others in Asian circuit, Korea set the bench mark.




Korea won the Gold in the inaugural edition and followed it up in 1993 and 1999. When it preferred to send the senior team to Auckland Olympic Qualifier, their second string came to India to defend the title in the early 2004. The hosts India benefitted out of the situation. It beat Korea in the semis in an one-sided encounter (0-5).

It is the only occasion the Koreans went medalless in their eight Asia Cup entries.

Otherwise, the Koreans with their fleet feet and aggressive style kept themselves notches above the others.

Other Korean medals include Silver in 2007 & 2013, bronze 1989 & 2009.

Koreans have struck about 30 goals in each edition, which is the highest for any country.

Asia Cup for Women produced in all 959 goals in 157 matched held so far. Though the first four editions produced a conservative figure of 280 goals, averaging 70 per edition, the scoring prowess increased subsequently. Last four editions saw an average of 170 goals per edition.

Maximum goals came in Bangkok which saw eleven teams fight it out, the largest field ever. 35 matches produced 237 goals.

Asia Cups were played on different formats so far. The first two editions were held on round robin basis. League cum knock out was a regular feature since then.

The Kakamigahara number, however, will see for the first time Quarterfinal format.

Note: Joint authors K. Arumugam and BG Joshi work extensively on statistics. They have recently reconciled their women hockey data for the sake of uniformity and correctness.

Stick2Hockey.com


---

India face Singapore in women's Asia Cup opener

KAKAMIGAHARA CITY (Japan): India will face Singapore in their opening match of the Women's Asia Cup which gets underway on October 28.

Top eight Asian women's teams, including India, will face off in the continental tournament, which will also serve as a qualifier for the Hockey World Cup 2018.

Teams from China, India, Kazakstan, Korea, Malaysia, Singapore, Thailand and reigning title holders Japan will fight for supremacy in the event which will conclude on November 5 here.

The competition gets underway on Saturday with all eight teams in action.

Pool A matches kick things off with China taking on Malaysia, India facing Singapore, Korea playing Thailand and host nation Japan meeting Kazakhstan.

For India, after the magnificent achievement of qualifying for the 2016 Olympics, the 2017 Hockey World League Semi-Finals was a bit of a disappointment and the eves will be desperate to qualify for next year's World Cup.

It will also be a first international event under the guidance of new Head Coach Harendra Singh, who took over the reins after previous Head Coach Sjoerd Marijne moved across to take over as men's Head Coach.

Three teams have already booked their places in next year's blue riband event. China and Korea finished second and fourth respectively at the FINTRO Hockey World League Semi- Final in Brussels, while Japan's sixth-place finish in the Hockey World League Semi-Final in Johannesburg was enough to see them qualify for the London spectacle.

India could also qualify, as the next highest placed and ranked finishers from the Hockey World League Semi-Finals, ahead of the Asia Cup final should South Africa win the Africa Cup of Nations on October 29.

This is because South Africa already has a place at the Hockey World Cup by virtue of their fifth place finish at the same Hockey World League Semi-Final.

If any of the other teams not already qualified for London lift the Asia Cup on November 5, they will join the 14 teams who will have already qualified for next year's showcase event.

The Times of India


---

Black Sticks named for World League campaign



Sam Charlton, Rose Keddell and Sam Harrison will line up for the Black SticksPhoto: www.photosport.nz

Vantage Black Sticks Women's head coach Mark Hager has named a strong side to contest the Sentinel Homes Hockey World League Final in Auckland next month.

The tournament sees the world's eight best women's hockey teams converge on the Harbour Hockey Stadium for a winner takes all championship from 17-26 November.

The Vantage Black Sticks (world ranking 6th) are joined in Pool A by seven-time World Cup winners Netherlands, USA (4th) and Korea (9th).

Defending Hockey World League champions Argentina contest Pool B alongside England (2nd), Germany (Rio bronze medallists) and China (8th).

New Zealand take a talented team into the World League finale with Stacey Michelsen (238 tests) and Samantha Charlton (201) providing a wealth of experience to the group.

There are four changes from the side which competed at the recent Oceania Cup in Sydney with the additions of 18-year-old Madison Doar, Erin Goad, Pippa Hayward and Ella Gunson.

Hager said it was an exciting time for the group with the opportunity to play one of the biggest tournaments on the international calendar in front of a packed home crowd.

"It's really exciting to be playing at home but also a really big challenge. We look forward to the test of showing what we are capable of against the best teams in the world," Hager said.

"We've added some speed to the striker line to give us some more emphasis up front as we need to score more goals and improve our conversion rate.

"Erin, Pippa and Ella will be great additions and they have worked hard to get back into the team while it's a big moment for Madi, who we believe will learn quickly and relish the opportunity.

"Madi is a good attacking player who is quick and wants to score goals, she's a young player without fear and we want to let her go out there and play her game.

The Vantage Black Sticks open their campaign with an exciting clash against world number one ranked Netherlands at 8pm on Friday 17th November.

The Sentinel Homes Hockey World League Final sees 10 days of action packed hockey as well as a spectator village with a variety of food vendors, fully licenced bars, displays, big screen viewing and entertainment.

All games will be broadcast live and replayed on SKY Sport.

General admission and corporate hospitality tickets are still available through www.ticketek.co.nz

Further event details and information on the Sentinel Homes Hockey World League Final is available on the International Hockey Federation (FIH) website www.fih.ch

VANTAGE BLACK STICKS WOMEN
SENTINEL HOMES HOCKEY WORLD LEAGUE FINAL
17-26 November - Auckland, New Zealand
| | | | | | |
| --- | --- | --- | --- | --- | --- |
| SHIRT # | PLAYER NAME | REGION | POSITION | AGE | CAPS |
| 13 | Sam CHARLTON | Midlands | Defender | 25 | 201 |
| 5 | Frances DAVIES | Midlands | Defender | 21 | 28 |
| 1 | Tarryn DAVEY | Midlands | Defender/Midfielder | 21 | 10 |
| 32 | Madison DOAR | Auckland | Midfielder/Striker | 18 | 4 |
| 28 | Shiloh GLOYN | Midlands | Striker/Midfielder | 28 | 46 |
| 3 | Erin GOAD | North Harbour | Striker/Midfielder | 24 | 39 |
| 12 | Ella GUNSON | Northland | Defender | 27 | 168 |
| 2 | Sam HARRISON | Auckland | Striker | 25 | 127 |
| 26 | Pippa HAYWARD | Canterbury | Midfielder | 26 | 142 |
| 24 | Rose KEDDELL | Midlands | Defender | 22 | 152 |
| 4 | Olivia MERRY | Canterbury | Striker | 24 | 175 |
| 31 | Stacey MICHELSEN | Northland | Defender | 25 | 238 |
| 9 | Brooke NEAL | Northland | Defender | 24 | 125 |
| 15 | Grace O'HANLON | Auckland | Goalkeeper | 24 | 20 |
| 6 | Amy ROBINSON | Midlands | Midfielder/Striker | 21 | 34 |
| 8 | Sally RUTHERFORD | Midlands | Goalkeeper | 35 | 150 |
| 25 | Kelsey SMITH | Capital | Midfielder/Striker | 22 | 60 |
| 16 | Liz THOMPSON | Auckland | Defender/Midfielder | 22 | 154 |
Hockey New Zealand Media release


---

SPAR South Africa Indoor Hockey Ladies squad announcement




The SPAR South Africa Indoor Hockey women's team have a fantastic summer to look forward to as SA Hockey confirms two series on their calendar. The first confirmed series vs Zimbabwe will take place in Durban on the back of a fantastic Interprovincial tournament hosted there this month. The second sees SPAR South Africa heading to an invitational tournament in Croatia in January 2018. There is also a third International series to take place in Cape Town pending confirmation

The SPAR South Africa women to take on the Zimbabweans as well as the International series features 14 players. There are three goalkeepers in the 14 player squad with previous shot stoppers Hanli Hattingh and Nicole la Fleur (currently on International outdoor duty in Egypt) joined by Cheree Greyvenstein who was outstanding for the SPAR KZN Raiders in Durban.

Coach Lennie Botha has the opportunity to call up current dual internationals in Jessica O'Connor, Kara Botes and Celia Evans, while Kelly Reed and African Hockey Indoor Cup of Nations top goal scorer Heather McEwan also make the final team. Lethal striker Eloise Walters and Amore de Wet, who has been out of the side for the past year, also earned call-ups from some inspired hockey at IPT. Cindy Hack, the first South African player to reach 50 indoor hockey caps, will continue to lead the team after her player of the tournament performance at the 2017 IPT.

New caps in the squad include the impressive Jamie Southgate, Robyn Johnson and explosively talented youngster Teagan Fourie.  It's a great opportunity for Botha to field youthful exuberance and introduce a few talented players into the rigours of international indoor hockey.

For the Croatia Cup, 12 of the players remain the same, with the exclusion of Heather McEwan and Cheree Greyvenstein. The Cup offers the SPAR South Africa women a great opportunity to test themselves against some high quality opposition while simultaneously building a bigger group of players for the SPAR South Africa squad.

Skipper Cindy Hack is particularly excited about the Croatia Cup opportunity stating: "This an incredible opportunity to be invited to the tournament and it's an exciting new phase, a building phase, where we are able to expose new players to top international indoor hockey. Tournaments like this allow us to gauge where we are in the international scene and outline what we need to be working on going forward."

SPAR South Africa squad for Zimbabwe Series (15-19 November) and International Test Series (4-10 December)

No., Name, Province

1, Amore de Wet, North West
2, Celia Evans, Northern Blues
3, Cheree Greyvenstein, SPAR KZN Raiders
4, Cindy Hack (c), SPAR KZN Raiders
5, Eloise Walters, KZN Inland
6, Hanli Hattingh, Western Province
7, Heather McEwan, Western Province
8, Jamie Southgate, Western Province
9, Jessica O'Connor, SPAR KZN Raiders
10, Kara Botes, SPAR KZN Raiders
11, Kelly Reed, SPAR KZN Raiders
12, Nicole la Fleur, Western Province
13, Robyn Johnson, Southern Gauteng
14, Tegan Fourie, SPAR KZN Raiders

SPAR South Africa squad for Croatia Cup (2-9 January 2018)

No., Name, Province

1, Amore de Wet, North West
2, Celia Evans, Northern Blues
3, Cindy Hack (c), SPAR KZN Raiders
4, Eloise Walters, KZN Inland
5, Hanli Hattingh, Western Province
6, Jamie Southgate, Western Province
7, Jessica O'Connor, SPAR KZN Raiders
8, Kara Botes, SPAR KZN Raiders
9, Kelly Reed, SPAR KZN Raiders
10, Nicole la Fleur, Western Province
11, Robyn Johnson, Southern Gauteng
12, Tegan Fourie, SPAR KZN Raiders

SA Hockey Association media release


---

Mandeep stars in ONGC's big win over reigning champs PNB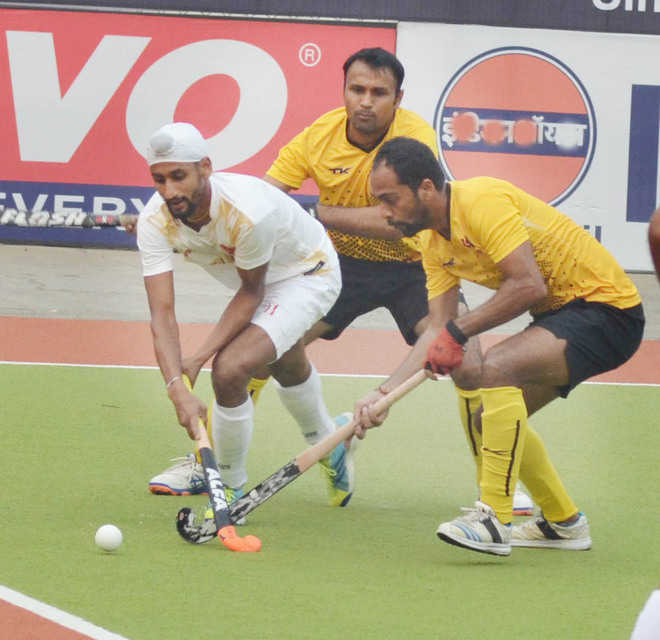 ONGC's Mandeep Singh protects the ball from a PNB defender. Sarabjit Singh

Jalandhar: Oil and Natural Gas Corporation (ONGC) made short work of Punjab National Bank, beating the defending champions 6-0 in the men's section of the 34th Surjit Hockey Tournament here today.

In the other match in the men's section, Indian Oil beat Indian Navy 4-1.

In the women's section, Haryana XI beat North Central Railways 8-4. Despite the win, they failed to qualify for the final. With four points, RCF (Kapurthala) enter the final. Haryana are second, while North Central Railways finish third.

In the second match of the women's section, Western Railways hammered UCO Bank 5-1.

In the match between ONGC and PNB, India player Mandeep Singh (13th, 39th and 51st minutes) scored a hat-trick, while Sumit Kumar (25th), Jagwant Singh (44th) and Ajay Yadav (47th) scored a goal each.

In the other match, Indian Oil took the lead in the 21st minute through India player Affan Yousuf. In the 32nd minute, Yousuf doubled their lead. In the 47th minute, Indian Navy's Jugraj Singh reduced the lead with a penalty corner conversion. But Olympian VR Raghunath restored Indian Oil's two-goal lead in the 59th minute through a penalty corner. In the 61st minute, Roshan Minz made it 4-1.

Amrinder scores four

Amrinder Kaur (13th, 24th, 49th, 57th) scored a hat-trick, while Ritu (2nd, 17th) scored a brace in Haryana XI's big win.

In the other match, Manjit Kaur (19th), Pinky T (25th), Anupa Barla (26th, 40th) and Karishma Yadav (40th) scored as Western Railways thrashed UCO Bank 5-1.

The Tribune


---

'Players not paid full daily allowance during Asia Cup'

Kashif Abbasi

ISLAMABAD: A parliamentary panel was on Thursday stunned to know that Pakistan's national hockey squad was not paid their fully daily allowance while playing the Asia Cup in Bangladesh recently.

Pakistan, the former three-time Asia Cup champions, finished a dismal third in the continental event staged at Dhaka's Maulana Bhashani Hockey Stadium as they overwhelmed South Korea 6-3 in the third-place playoff earlier this month.

"We came to know that the hockey players were not paid their daily allowances. Under these circumstance how could they perform [in the Asia Cup]?" asked Senator Saeedul Hassan Mandokhel.

Hockey board proposed to revive national game

The Senate Standing Committee on Inter-Provincial Coordination (IPC), which met here at the Parliament House on Thursday with Senator Saud Majeed in the chair, expressed its concerns over the national hockey team's poor performance in recent international events.

Pakistan Hockey Federation secretary Shahbaz Ahmed, who briefed the committee on the hockey affairs, said it would take many years for the national team to start bagging international titles again.

Responding to the issue of daily allowance, Shahbaz said the players were given half daily allowance during the Asia Cup during which arch-rivals India overpowered Pakistan twice, saying the PHF was running out of funds.

Commenting on the reasons behind Pakistan's miserable run in the Asia Cup, the PHF official said the players' fitness level was not up to the required level, adding lack of proper infrastructure for the game of hockey was also responsible for the poor state of country's hockey.

"During the last 27 years, the national team have not succeeded in earning gold medal in the Asia Cup; and we last clinched the World Cup some 23 years ago," Shahbaz said, highlighting the alarming descent of Pakistan hockey over the years.

However, the PHF secretary didn't mention the national team's show in the 2010 Asian Games in Guangzhou where they claimed gold and at the 2014 Asian Games in Incheon where the green-shirts managed to seize silver.

There should be residential training academies in all provincial headquarters and Islamabad where players could receive training as well as live, suggested the PHF secretary.

The chairperson, on the occasion, directed the IPC minister to instruct all provinces to build such an academy in every provincial headquarter and Islamabad so that players could get maximum chances of training.

Meanwhile, Shahbaz also lamented the fact there were very limited job opportunities for hockey players in the country, adding those who had jobs were getting a nominal salary of around Rs25,000 per month.

To address this burning issue, the PHF secretary requested the Senate committee to play its role by engaging the government and private sector for providing jobs to players, so that youth could be attracted towards the national game.

The Senate committee unanimously supported that there should be a full-fledge hockey board, on the pattern of Pakistan Cricket Board, so that the national game could flourish under an independent board.

Pirzada said he had requested for a meeting with Shahid Khaqan Abbasi as the prime minister would finally decide about the formation of the proposed hockey board.

Dawn


---

Senate committee wants PHF to be made independent body

Mohsin Ali

Islamabad - The Senate Standing Committee on Inter-Provincial Coordination (IPC) Thursday recommended that the process on making Pakistan Hockey Federation (PHF) an anonymous body should be completed at the earliest.

The committee met here at the Parliament house under the chairmanship of Saud Majeed and was attended by Senator Ayesha Raza Farooq, Sahi Syed, Sardar M Azam Khan Moosakhel, Saeed-ul-Hassan Mandokhel, Mir Kabeer Ahmed M Shahi, Mukhtar Ahmed Dhamra, IPC minister Riaz Pirzada, PSB DDG Technical Syed Habib Shah, M Azam Dar and PHF secretary Shahbaz Senior.

Committee chairman Saud Majeed suggested that the PHF should be made anonymous body and the idea was also endorsed by IPC minister Riaz Pirzada. Saud also said two blue astroturfs will be installed in Islamabad and the IPC ministry must consult with provinces and start hockey academies in provinces and federal capital. Like U-18, the U-12 and U-15 hockey teams should also be formed. "We are ready to help the PHF in starting hockey league." The chairman paid glowing tributes to Shahbaz for his services for Pakistan hockey and hoped Pakistan hockey will once again rise from the ashes.

IPC minister Riaz Pirzada said one national training centre and two hockey grounds should be prepared at Naseer Bunda Stadium in Islamabad. "Hockey players should be provided with jobs and I will take up this issue with the PM. We have allocated land to shift PHF headquarter to Islamabad from Lahore. We will provide international coaches to hockey federation.

PHF secretary Shahbaz Senior said without providing hockey players' reasonable jobs and other facilities, Pakistan hockey cant progress. He said national colour holder players get employment in PIA or banks on meager Rs 25,000 monthly salaries.

"We managed to form a hockey team in Fauji Foundation and now we are working on formulating a team at Pakistan Ordinance Factory (POF) Wah. We sent our U-18 hockey team to Australia, which won gold medal. We handed over that team to ZTBL and the same team would participate in 2020 Olympics. We are working very hard on that group of players and we are hopeful that this bunch of players would perform heroics for Pakistan and finish on podium in the 2020 Olympics."

Shahbaz informed the committee that the players' physical and mental fitness is not up to the mark. "We are working very hard on improving players' fitness levels and hired top class physical trainers for this purpose. We have to work at least two to three years on players, we will assemble a quality team. We need at least four academies in the country, where these players may reside and get round the year training. We need all-out support of government in this regard. It is the only viable solution to all the present problems being faced by the hockey players and it is the main reason behind our team lacking way behind at international level."

The PHF secretary revealed that in April 2018, they are going to conduct first Pakistan Hockey League, for which a whopping Rs 250 million funds need to be spared. "We will generate this amount without government help. Around 35 international players will take part in the league while the matches will be held in Lahore, Sheikupura, Karachi and Gojra.

"We have requested Punjab government to provide NOC for the hockey league. We are still waiting for nod of approval for this purpose. We are also trying to install astroturf in Quetta for the past two years, but all our efforts are yet to bear fruit," he added.

The Nation


---

Frontrunners prepare for battle



Surbiton's Alan Forsyth. Credit Simon Parker

Reigning champions Surbiton host early leaders Beeston in this weekend's most anticipated Men's Hockey League Premier Division fixture on Sunday.

Surbiton suffered their first defeat of the season last weekend when they lost 4-2 at Holcombe, so will be aiming to get straight back to winning ways with a victory at Beeston.

But their Nottingham rivals will have other ideas and will want to maintain what is now the Premier Division's only unbeaten record.

"It will be a tough game, but at this level you have to be respectful of every opponent," said Surbiton's manager Matt Jones. "We were very disappointed with ourselves for our performance at Holcombe last week.

"It shows that despite the brilliant performance the week before, we didn't follow it up. So we've had a very clear focus on rectifying the things that we didn't do at Holcombe.

"You often learn more from defeat than victory. Sometimes when you win you brush over some of the things that you should've done better, so this has been a good chance for us to take a long hard look at ourselves."

Elsewhere on Sunday, East Grinstead head to Hampstead and Westminster in search of a win which could see them go top if Beeston falter at Surbiton.

Reading are also on the road with Brooklands MU their hosts, while Wimbledon host Holcombe and bottom of the table Canterbury entertain Sevenoaks in a Kent derby on Saturday evening as they look for their first points.

In the Men's Conference North, leaders the University of Nottingham are hosting fourth-placed Cannock, while second-placed University of Durham face a tough trip to Loughborough

Students, who will overtake them – and potentially go top of the table – if they win.

The University of Exeter host Fareham in the Men's Conference West as they bid to hold on to top spot, while second-placed Olton and West Warwickshire go to Clifton Robinsons. Last season's champions, Cardiff & Met, could go top if they win at Cheltenham.

And in the Men's Conference East leaders Cambridge City travel to Brighton and Hove in a bid to preserve their unbeaten record, while second-placed Oxted go to Old Georgians.

FIXTURES

Saturday, October 28 2017

Men's Premier Division
Canterbury v Sevenoaks 17:30

Sunday, October 29 2017

Men's Premier Division
Hampstead & Westminster v East Grinstead 13:30
Brooklands MU v Reading 14:00
Surbiton v Beeston 14:00
Wimbledon v Holcombe 14:00

Men's Conference North
Univ of Nottingham v Cannock 12:30
Doncaster v Sheffield Hallam 14:00
Loughborough Students v Univ of Durham 14:00
Preston v Deeside Ramblers 14:00
Leeds v Bowdon 14:30

Men's Conference East
Chichester v Southgate 12:30
Brighton & Hove v Cambridge City 13:00
Teddington v Old Loughtonians 13:30
Old Georgians v Oxted 14:00
West Herts v Richmond 14:00

Men's Conference West
Cheltenham v Cardiff & Met 12:30
Univ of Birmingham v Isca 12:30
Univ of Exeter v Fareham 12:30
Clifton Robinsons v Olton & West Warwicks 13:00
Team Bath Buccaneers v Havant 13:00

England Hockey Board Media release


---

Top two face off in the Premier Division



Slough goalkeeper Asha Tranquille-Day. Credit Simon Parker

The top two face off in the Investec Women's Hockey League Premier Division on Saturday, with second-placed Slough travelling to Surbiton.

Both teams, along with East Grinstead, currently have ten points and with three other teams within three points of them, the top flight is shaping up to be a closely fought contest.

"Things are going pretty well for us at the moment but we're not getting ahead of ourselves at this stage," said Slough captain Kat McGonigle.

"Our target at the start of the season was to finish higher than eighth last season and that's still the aim. We didn't expect our match with Surbiton to be a top of the table clash! We're looking forward to the game. We're playing some good hockey, but they're obviously a decent side."

Elsewhere third-placed East Grinstead head to the University of Birmingham, while Clifton Robinsons and Holcombe – who are fourth and fifth in the table – face each other at Coombe Dingle.

Canterbury head to Leicester as they continue their bid for a first victory of the season, while Bowdon Hightown are hosting Buckingham.

The top two also meet in the Investec Women's Conference West, with leaders Trojans travelling to second-placed Reading.

Stourport head to Oxford Hawks as they bid to keep pace with the top two, while the bottom two meet with Cannock at home against Team Bath Buccaneers.

Leaders Hampstead and Westminster will be aiming to maintain their perfect start to the league season when they go to Cambridge City in the Investec Conference East, while Sevenoaks are similarly on a 100% record and go to Bedford in search of victory number six.

Beeston host Liverpool Sefton as they go for a sixth consecutive win in the Investec Conference North, while second-placed Sutton Coldfield go to Ben Rhydding.

FIXTURES

Saturday, October 28 2017

Investec Women's Hockey League

Investec Premier Division
Univ of Birmingham v East Grinstead 12:30
Clifton Robinsons v Holcombe 13:00
Bowdon Hightown v Buckingham 13:45
Leicester v Canterbury 14:00
Surbiton v Slough 14:00

Investec Conference North
Brooklands Poynton v Wakefield 12:00
Loughborough Students v Timperley 12:30
Ben Rhydding v Sutton Coldfield 13:30
Fylde v Univ of Durham 13:30
Beeston v Liverpool Sefton 14:00

Investec Conference East
St Albans v Barnes 13:00
Chelmsford v Southgate 14:00
Harleston Magpies v Wimbledon 14:00
Bedford v Sevenoaks 14:30
Cambridge City v Hampstead & Westminster 15:30

Investec Conference West
Olton & West Warwicks v Swansea 12:00
Oxford Hawks v Stourport 12:00
Cannock v Team Bath Buccaneers 12:30
Gloucester City v Isca 12:30
Reading v Trojans 16:30

England Hockey Board Media release


---

Exciting tussles in Scottish National league 1 this weekend



Photo by Andy Lovat

There are interesting tussles this weekend in the search for this season`s National League titles, in the men's leaders Western Wildcats take on 13-times champions Bromac Kelburne at Glasgow Green, while Grove Menzieshill will hold on to pole position in the women`s competition if they can see off Milne Craig Clydesdale Western on Tayside.

Grove Menzieshill moved to the top of women`s National League 1 profiting from the defeat of the Wildcats last Saturday, but this weekend the Taysiders will have to see off the challenge of Milne Craig Clydesdale Western to sustain that lofty status.

The Dundonians have certainly been the most consistent outfit in the division so far with five wins and a 3-3 draw with Wanderers to their credit. Grove Menzieshill have also been popping in the goals – 24 in six games – with Scotland striker Sarah Jamieson contributing in each outing with an overall total of eleven.

Despite Western`s up and down season so far, Saturday`s tussle between the great rivals is far from a foregone conclusion. The Glasgow club have a host of Scotland players and their 2-1 victory over Wildcats last weekend was a source of encouragement for Coach Derek Forsyth.

He said: "This was a much better performance, we dominated the game and gave Wildcats few chances to score.

"But we need to be much more clinical in front of goal considering the number of chances we created."

As for the Grove Menzieshill games, Forsyth said: "This could be a tricky match for us and both sides have players returning from the Ireland test series. Grove Menzieshill have some good young players and they always play a tidy game."

Western have just leapfrogged Dundee Wanderers into fourth place in the table, and Forsyth will be determined to preserve that position.

With the Wildcats defeat last week champions Edinburgh University have moved into second spot, they play Grange this weekend and the students would hope to be taking advantage of any slip-up by leaders Grove Menzieshill.

Wildcats` player/coach Kaz Cuthbert will be anxious to restore her charges` confidence after the Western defeat with a strong performance against Kelburne at Glasgow Green.

Dundee Wanderers had goalkeeper Carmin Dow to thank for the 3-1 score line not being more extensive against the Edinburgh students last weekend, the result was that they slipped out of the top four, so the Taysiders will hope that the three points against GHK will keep them in touch with the play-off positions.

The final contest on the card brings Watsonians to Hillhead that could be a close call as both sides strive for the middle ground in the table.



Photo by Duncan Gray

Wildcats are holding on to pole position in men's National League 1, they lead Grange by only a single goal, and this weekend they travel to face a Bromac Kelburne side still smarting from their 3-0 reversal in Edinburgh.

The Auchenhowie pack are unbeaten so far after six games and doubtless coach Harry Dunlop would have accepted that scenario before the campaign began.

However, Dunlop was not so happy with his charges last weekend against Clydesdale, despite winning by a single goal. "I don`t think we played well, we didn`t have the urgency or flair we usually have, however it`s important to win when you are players short and the team plays badly.

"So I`m certainly not unhappy about the result."

Having played the champions many times over recent years, Dunlop will know that any sort of sub-standard performance will simply not do.

"Wildcats can certainly beat Kelburne, however we will need to be at the very top of our game to do it," said Dunlop. "We have very clear ideas on how they play and the question will be whether we can influence the match enough to stop them playing their usual game."

In a nutshell Wildcats will need to stifle Kelburne`s usual swashbuckling style of attacking hockey that allows the likes of Johnny and Michael Christie along Jack MacKenzie, Ben Peterson and Josh Cairns from set pieces to rattle in the goals.

It can be done, Grange did it last weekend and the free-flowing Paisley side drew a blank for the first time in a long while.



Photo by Duncan Gray

Kelburne could in fact go back to the top of the division if they can see off Wildcats on Saturday and then Uddingston the following day. However, coach Gordon Shepherd will remember that it was the Lanarkshire side that caused the upset of last season with a 2-1 win over the 13-times champions, a result that almost cost them the league title.

Grange find themselves up against Edinburgh University at Peffermill, and nothing is ever certain in this derby encounter. Although Grange have had the better of this contest over the recent years, there has been occasions when the students have upset the applecart.

However, Grange`s 3-0 win over Kelburne last weekend was an impressive result, Frank Ryan was the catalyst on this occasion with two second half strikes, bringing his total for the season to four.

Grange will still be without teenager Callum MacKenzie, he is with the Great Britain under-21 squad in Malaysia, but there is still Luke Cranney, Cammie Fraser, Jacob Tweedie and Dan Coultas at penalty corners to make the breakthrough.

The Edinburgh students are certainly piling in the goals – 20 in their five matches so far – and they are mostly coming from a host of different players.

Grange could take over pole position if they can take the three points, on the other hand the students are knocking on the door of the top four, and they have a game in hand, an upset here would advance their cause.

Grove Menzieshill currently lie in fourth spot and a home win over Clydesdale would consolidate that position. The Taysiders would seem to still be struggling to find consistency of performance, last weekend they put four past Inverleith and the following day finished their Scottish Cup tie against Uddingston 4-4 and only progressed after a penalty shoot-out.

After a tough match against Wildcats Coach Callum McLeod`s task is to pick up the squad to take something from their visit to Tayside.

It has taken Hillhead six games to finally get off the mark, yet they did it in style with a 4-0 win over Uddingston, Graeme Campbell was the catalyst with a second half hat-trick. Saturday could see the Old Anniesland outfit progress further up the table with a home win over Inverleith.

The final clash between Uddingston and Dundee Wanderers could be intriguing, both sides have only won one game in the campaign so far, so it could be a hard-graft three points for the winner.



Photo by Mark Pugh

Scottish Hockey Union media release


---

Lights go out on Old Alex and Muckross table-topper

Old Alex and Muckross's top-table clash was thrust into darkness at Marlborough Road on Thursday evening with seven minutes to go with floodlight failure calling a halt to the tie.

Alex were leading 1-0 at the time courtesy of a Lisa Jacob goal but, as per the LHA rule 3.4 and 3.7, it looks likely the game will have to be replayed in full at a later date.

Corinthian and Our Lady's continued their excellent starts to the season on Wednesday evening amid a busy midweek schedule.

For the latter, Our Lady's won 2-1 to record their third win from four games. Glenanne had started off the better of the two teams and got their reward in the 12th minute after some good pressure.

Terenure started to get a foothold in the game midway in the first half and got a few corners in quick succession. Sinead Kelly got the game level from a drag flick in the 25th minute.

Terenure enjoyed more of the ball in the second half but Glenanne looked dangerous on the counter-attack. Aoife Kelly gave Terenure the lead after a loose ball fell to her on the back post for the winner.

Corinthian were 5-0 winners over Rathgar, Lauren McGrane and Hannah McKay netting in the first half before Jessica McGrane netted twice in the second half with another from Amber Kinlan.

Speaking afterwards, Reds coach Ralph Billings said of the win: "I was very happy with the second half performance. The first was a bit frantic but we put our corners away.

"They were the first few corners we had scored all season so I am delighted with the way it finished.

Looking back on the season to date, Billings is happy with how the campaign is going, picking up three wins in a row that has set them up for some big showdowns in the coming weeks.

"We will keep pushing with the two big ones of Old Alex and Muckross on the way. We were a bit nervous for our first game [against Avoca]; new coach, new style and that kind of stuff and left with a draw. We have dominated each game since and we are feeling good and excited for the rest of the season.

"We have some brilliant players coming through with a couple involved in the interpros and some younger ones again so we are excited to see what happens next. Our minimum goal has to be IHL2; we will push for IHL1."

Avoca and North Kildare will hope to close the gap to the top five – who have formed a five-point buffer at this stage – when they play in Saturday's only Division One game with all the others brought forward.

Elsewhere, UCD's reign as the top women's university side will be put to a serious test this weekend as they are unable to draw on many of their regular stars for the intervarsities in Grange Road.

Miles Warren will only be able to call on Lena Tice of his regular defensive line-up with a number unavailable or ineligible while Bethany Barr and Anna Richardson are also unavailable.

It means they will have to delve into their wider panel for a tricky opening group that features University of Ulster – whom they beat in last year's final 6-1 – and UCC.

At full strength, UCD beat the Cork side 4-1 in a tricky Irish Senior Cup tie, netting twice in the last four minutes. With the Belfielders shy a number of experienced heads, their group game could be even closer.

The other group in the Chilean Cup features a resurgent Trinity who have made a decent start to elevated life in the EY Hockey League. They have had extra coaching support from Olympians Kyle Good and David Fitzgerald which has paid dividends in the last 12 months and will hope to carry that through to their dates with DIT and Queens.

The top two in each group advance to the semi-finals while the bottom two go into a relegation pool. In the Chilean Plate, NUI Galway, Maynooth, DCU, UL, RCSI and Cork IT will be battling for promotion.

Women's Leinster Division One
Wednesday: Glenanne 1 Our Lady's 2 (S Kelly, A Kelly); Rathgar 0 Corinthian 5 (J McGrane 2, L McGrane, A Kinlan, H McKay)
Thursday: Muckross 0 Old Alex 1 (L Jacob) – game abandoned seven minutes early due to floodlight failure
Saturday: North Kildare v Avoca, 4pm, The Maws

The Hook


---

Polo look to bounce back after Junior defeat




Real Club de Polo and Atlètic Terrassa meet on Saturday on day six of the Spanish season in what is usually a key game for the destination of the title.

Polo will be looking to bounce back following their first loss of the campaign, falling 4-2 to Junior FC who have made an excellent start to the campaign.

Junior came back from two goals down at the end of the first quarter to run up the victory with Gaby Dabanch scoring the last two goals in the comeback. The result saw Polo lose their place at the top of the table and go into second place.

Atlètic had a simpler day last weekend when they beat San Sebastian 5-0 with goals from Dani Malgosa, Roc Oliva, Sam Cortes, Lluis Mele and Marc Escude. It lifted them into fourth place with their third win of the campaign.

Club de Campo are the only unbeaten side left in the division thanks to their 5-3 win over CD Terrassa. They were always comfortable with Jose Basterra's double and Alvaro Iglesias building a 3-0 lead at half-time.

Alvaro Tello and Alvaro Mello stretched the lead out to 5-0 before Terrassa pulled back a trio of goals. Next on Campo's agenda is a home tie against FC Barcelona.

Club Egara, meanwhile, will test Junior FC's credentials of potentially breaking into the top four.

Euro Hockey League media release


---

Weekend College Games




Each week, USA Field Hockey highlights some of the top college games in Division I, II and III.

FRIDAY, OCTOBER 27

DI: Ohio State vs Indiana | Big-Ten First Round | 3 p.m. ET
Ohio State and Indiana will play in the Big Ten's first-ever First Round game featuring eighth and ninth placed teams this Friday at Michigan's Ocker Field in Ann Arbor, Mich. The winner of this game advances to face the top-seeded Michigan Wolverines on Sunday October, 29. Ohio State is coming off a disappointing 1-0 loss to Iowa this past Sunday. Despite the loss, the Buckeyes have upset multiple higher-ranked opponents this year as they are 9-8 overall and 2-6 in conference play. Indiana fell 7-1 to No. 5 Penn State this past Sunday. Although Indiana got out to a slow start, they never gave up and their seniors left it all on the turf. Indiana will look to its leadership when they take on Ohio State this Friday. Tune into see who survives and advances to the final four of the Big Ten Tournament.

DII: Franklin Pierce vs Assumption | 7 p.m. ET
Conference foes Franklin Pierce and Assumption will battle it out this Friday in their last regular season game of the year before heading into postseason play. Franklin Pierce earned a thrilling double overtime 4-3 win over conference opponent Bentley this past Saturday. With one conference game left, the win over Bentley moved the Ravens to fifth in the Northeast-10 (NE10) standings, where the top six teams making the NE10 Championship. Franklin Pierce improved to 10-6 overall and 7-4 in conference play. Assumption is coming off a big 9-0 win over Southern Connecticut State this past Saturday, as they tallied five unanswered goals in the first half. Assumption is now 8-8 overall and 5-5 in conference play. Tune into see which teams can secure their spots heading into postseason.

DIII: Dickinson vs Gettysburg | 3:30 p.m. ET
Dickinson's two game winning streak was snapped when they fell 3-2 to Haverford this past Saturday. Despite being down 3-1 for most of the match, Dickinson scored with a little over two minutes left in regulation but were ultimately unable to tie the game. With the loss, they dropped to 8-7 overall and 3-5 in conference play. Gettysburg is also coming off a disappointing performance when they lost 3-1 to conference opponent Johns Hopkins this past Tuesday. The Bullets are now 7-8 overall and 5-4 in conference play. This final regular season match-up will be the last Centennial Conference game for both teams before postseason play begins. Tune into see who heads into the Centennial Conference Championship with another win under their belt.

SATURDAY, OCTOBER 28

DI: Brown vs Penn | 12 p.m. ET
Brown is aiming to claim its first Ivy League victory of the 2017 season when they take on Penn this Saturday. Last weekend, Brown suffered a close 2-1 loss to Colgate, who took a 2-0 lead in the first half and held on to win despite Brown's second half rally. Brown dropped to 1-14 overall and 0-5 in conference play. Penn has won its last three games including its most recent 3-2 upset victory over higher-ranked Syracuse. The victory marked the second win over a ranked opponent for Penn this season as they improved to 8-6 overall and 3-2 in conference play. Tune into see if Brown can get its first Ivy League win or if Penn will extend its winning streak.

DII: No. 8 Kutztown vs Limestone | 11 a.m. ET
The match-up between these two teams will be the game to watch in Division II hockey this weekend. After stunning No. 1 Shippensburg on Saturday beating them 3-0, Kutztown fell to No. 2 East Stroudsburg yesterday 2-1. The Golden Bears will be looking to finish the season strong as they currently sit at 10-7 overall and 5-5 in conference play. Lime­­stone is coming off three consecutive shutout victories, with the most recent being an 8-0 win over Queens (N.C.) The Saints scored seven goals in the first half and outshot Queens 18-7 to earn the win and move to 14-2 overall and 9-1 in conference play. Tune into see if Kutztown can bounce back or if Limestone can extend its winning streak.

DIII: No. 3 Babson vs No. 10 Montclair State | 9:30 a.m. ET
The match-up between these two teams will be a great game to watch in Division III field hockey this weekend. Both teams have suffered only two losses this season so expect this match to be a close one. Babson extended its winning streak to four games after defeating conference opponent Worcester Polytechnic Institute 3-1 this past Saturday. With the win, they improved to 16-2 overall and clinched the outright New England Women's and Men's Athletic Conference title with an 8-0 league record. Montclair State is coming off a thrilling 1-0 overtime victory against Fairleigh Dickinson this past Tuesday. The Red Hawks are now 14-2 overall and 3-2 in conference play, as they will look to get a big win over Babson to give them a boost heading into postseason play.

SUNDAY, OCTOBER 29

DI: No. 1 Connecticut vs No. 11 Boston College | 1 p.m. ET
Connecticut and Boston College will both wrap up their 2017 regular season games this Sunday. No. 1 ranked Connecticut is coming off a 10-0 win against Georgetown this past Saturday, where goalkeeper Nina Klien notched a new program record with her 34th career shutout. With the win, the Huskies improve to 15-0 overall and 6-0 in conference play. Boston College is coming off a 3-0 loss to conference foe Wake Forest this past Friday. The Eagles dropped to 11-6 overall and 0-6 in conference play but will be looking for a big upset win against Connecticut to give them energy heading into postseason play. Tune into see if Connecticut can remain undefeated.

DII: Molloy vs Converse | 1 p.m. ET
Molloy will be looking to get its first win of the 2017 season when they take on Converse this Sunday. This match-up will be the last regular season game for both teams where a last game mentality could potentially give Molloy the boost it needs to earn its first 2017 victory. The Lions are coming off a disappointing 5-0 loss to Saint Michael's this past Sunday as they dropped to 0-16 overall. Converse is coming off a close margin 3-2 loss to Queens (N.C.) this past Saturday, where they worked hard to knot the contest at 1-1, but two second half goals put Queens out of reach. With the loss, Converse dropped to 2-11 overall this season. Will Molloy earn its first 2017 victory or will Converse be able to bounce back from their previous loss?

DIII: Ferrum vs Sweet Briar | 1 p.m. ET
Ferrum and Sweet Briar will both be looking to end their 2017 seasons on a high note this Sunday. Ferrum is coming off a tough 1-0 loss to conference opponent Concordia University (Wis.) this past Sunday. The Panthers only let in one goal despite being outshot by Concordia 11-4 during the match. This dropped them to 3-13 overall and 1-5 in conference play. Sweet Briar will look to earn its first victory of the 2017 season this Sunday, after coming off a 13-0 loss to Virginia Wesleyan. With the loss, Sweet Briar dropped to 0-11 overall this season. Will Sweet Briar be able to finish the season with a win or will Ferrum's defense be able to shut them out?

* DI Rankings are based off NFHCA Division I Coaches Poll (Posted October 24, 2017)
** DII Rankings are based off NFHCA Division II Coaches Poll (Posted October 24, 2017)
*** DIII Rankings are based off NFHCA Division III Coaches Poll (Posted October 24, 2017)

USFHA media release


---

No. 11 Boston College travels to No. 1 UConn as part of three games to watch this weekend

Amanda Doyle, Excelle Sports



UConn hopes to remain No. 1 after its Top 25 bout with Boston College this weekend. UConn Athletics

The regular season for Division I field hockey comes to a close this weekend, and many schools will be making last-ditch efforts to climb up the rankings before next weekend's conference tournaments. This past week saw several powerhouses clinch their regular-season titles and secure spots in their respective conference tournaments. But many more teams will be looking to cement their postseason fate. Here are the three games to watch during this pivotal weekend.

No. 15 James Madison (10-5, 3-1 CAA) at No. 19 William & Mary (12-5, 4-1 CAA)

James Madison takes on William & Mary on Friday with each team hoping to bolster their position with the postseason looming. The Dukes travel to Williamsburg to face a William & Mary squad that's lost one game in the last month. While both sides have already clinched spots in the Colonial Athletic Association tournament, there's still a lot on the line. Both teams will be angling for a win in order to help secure a higher seed (and home field advantage) for next weekend's conference tournament.

JMU will then travel to Towson on Sunday for its final regular season game. Towson has won just one game this season. Elsewhere in the CAA, the current conference leader and reigning NCAA champion Delaware will play its final two games on the road this weekend. The Blue Hens are undefeated in conference play this season and need just one win to clinch the top seed in the conference tournament. But if Delaware gets swept on the road, it could open up the No. 1 spot to JMU or William & Mary. No matter what, the CAA appears poised to send multiple teams to the NCAA tournament for the first time since 2012.

No. 11 Boston College (11-6, 0-6 ACC) at No. 1 UConn (15-0, 6-0 Big East)

Sunday at 1 p.m. ET

As if Boston College's schedule wasn't tough enough — the team went winless in ACC play — the Eagles close out their regular season on the road at top-ranked UConn on Sunday. The undefeated Huskies already clinched the Big East season title for a fifth straight year and 17th time overall. UConn is averaging more goals per game than any other Division I school right now. BC will have a tough time shutting down the Huskies, who have had 10 different players score this season. Chief among UConn's scorers is senior Charlotte Veitner, whose 109 career goals is a record among all active NCAA players.

UConn will face Quinnipiac on Friday before capping off its spectacular season against BC on Sunday. This game will be Boston College's final tune-up before the ACC tournament, where it'll take on Duke.

No. 4 Virginia (14-3, 5-1 ACC) at Old Dominion (7-8, 4-2 Big East)

Sunday at 2 p.m. ET

The fourth-ranked Virginia Cavaliers travel to Norfolk, Virginia, on Sunday to take on in-state rival Old Dominion. Although not much will be at stake, the game is representative of a changing of the guard in Division I field hockey. The Old Dominion Monarchs are the most decorated program in DI history with nine NCAA titles — more than any other school — but none since 2000. Now ODU is seeking its first NCAA tournament berth since 2013, which was the team's first year in the Big East after switching from the Colonial Athletic Association.

Meanwhile, Virginia's star continues to rise, despite playing in the ACC — the most competitive conference in field hockey. The Cavaliers are the reigning ACC champions after winning the conference tournament for the first time last year. They've already nabbed the 2017 regular season ACC title and the top seed for next weekend's conference tournament, where they'll have a bye into the semifinal round.

Both teams look to end their regular seasons on a high note when they face off on Sunday.

NCAA