All the news for Tuesday 17 October 2017

India, Malaysia, Pakistan and Korea reach Super 4s at men's Hero Asia Cup 2017

India and Malaysia top pools, Pakistan and Korea remain in hunt for title in Dhaka



Malaysia (in orange) have been in impressive form at the men's Hero Asia Cup 2017, winning all three of their matches played so far. Photo credit: Asian Hockey Federation

Four teams remain in the hunt for glory at the men's Hero Asia Cup 2017, currently being played in Dhaka, Bangladesh, with India and Malaysia showing outstanding form to top the pools as the competition enters the Super 4s phase.

India and Malaysia are joined in the Super 4s - a round robin competition between the teams that finished in the top two positions in Pools A and B - by Pakistan and Korea, who did enough to keep their own dreams of winning the competition very much alive.

India showed exactly why they are the highest ranked team in the competition with a trio of wins in Pool A, comfortably seeing off the challenges of Japan (5-1) and hosts Bangladesh (7-0) before producing a battling victory over long-time rivals Pakistan (3-1) to finish at the top of the standings.

As expected, Pakistan proved to be India's toughest opponent, with the competition favourites taking a narrow 1-0 lead into half time before two goals in two third quarter minutes from Ramandeep Singh and Harmanpreet Singh effectively sealed all three points.

Pakistan's Ali Shan pulled a goal back with 11 minutes of the match remaining, but it was not enough to deny India a first place finish in the pool ahead of Pakistan, who finished second and also move into the Super 4s. Japan and Bangladesh finished Pool A in third and fourth place respectively, and will feature in the 5-8 classification matches.

Speaking shortly after the triumph against Pakistan, India captain Manpreet Singh said: "Yes we are happy about winning the match but we didn't play our best game. We had quite a few missed chances and I feel the team lost a little bit of focus. We should have got more goals and we will be working on the mistakes we made and strive to improve in the Super 4s stage."

In-form Malaysia were the dominant force in Pool B, storming to three successive victories and ensure that they enter the Super 4s in confident mood. Unpredictable attacker Faizal Saari has been at his mercurial best and currently sits top of the competition scoring charts, his six goals being crucial to triumphs over China (7-1), Korea (2-1) and Oman (7-1).

Following victory over Oman, Malaysia Head Coach Stephen van Huizen said: "We went into this match knowing that we had already made the Super 4s, so we tried to manage our performance without overworking and at the same time improve on certain areas. I am happy we won comfortably and we look forward to Super 4s. Every match hence forth will be tough and we have to be our best in all three matches to make the final."

Reigning Asia Cup champions Korea took second place in Pool B, although they entered their final pool game against China knowing that defeat would have been catastrophic on two fronts. A loss would not only have ended hopes of defending their title, but also killed the chance to secure that all-important World Cup ticket that comes with winning a Continental Championship.

Although both sides started the match level on four points apiece, Korea's superior goal difference meant that a draw would be enough for them to qualify for the Super 4s, with China knowing that only victory would keep alive their own Asia Cup ambitions.

As he has done so often down the years, veteran penalty corner ace Jang Jong-Hyun made a significant contribution to Korea's fortunes, scoring twice in a 4-1 win to ensure that his team joined India, Pakistan and Malaysia in the next phase of the competition. The result meant China finished third in Pool B, with Oman fourth.

China may not have reached the Super 4s, but there is still potential for a happy ending in Bangladesh. Thanks to their performances at the Hero Hockey World League Semi-Final in London earlier this year, China are currently next in line for a ticket to the Odisha Hockey Men's World Cup Bhubaneswar 2018. With India, Pakistan and Malaysia having already qualified, only a Korea title success here in Dhaka will be enough to deny China their ticket to next year's global showpiece. 

The Super 4s phase of the Asia Cup starts on Wednesday 18th October, with Malaysia facing Pakistan and India taking on Korea. The day's play will also feature a solitary match in the 5-8 classification phase, with Japan and Oman going head to head. 

To keep track of all the action from the Hero Asia Cup, please visit the competition event webpage or following the Asia Hockey social media channels on the links below.
Twitter: @asia_hockey 
Facebook: Asian Hockey Federation

#HeroAsiaCup

FIH site


---

Malaysian top Group A

By Jugjet Singh

MALAYSIA toyed around with Oman but still won 7-1 to remain unbeaten in Group A of the Asia Cup in Dhaka, Bangladesh Monday.

It was Malaysia's 13th straight victory over Oman, and an improvement over the 6-1 drubbing in the World League Round Two at the same venue in March.

With nine points after three matches, Malaysia topped Group A and will now challenge for a medal in the round robin matches.

Malaysia played to avoid injuries, while Oman played a robust game, but after Faizal Shaari scored in the 16th minute, the match became lopsided.

Tengku Ahmad Tajuddin tucked in the second in the 18th minute, and Shahril Saabah made it 3-0 off a 20th minute penalty corner.

The other goals were scored by Tengku Ahmad Tajuddin (23rd), Fazial (27th), Amirol Arshad (40th), Najmi Jazlan (42nd),

Oman got their consolation off Salmeen Al Nofali (25th).

Korea check into round robin

SOUTH KOREA struggled for long periods, before beating a stubborn China 4-1 to become the last team to qualify for the Asia Cup round robin in Dhaka, Bangladesh, Monday.

The other teams which will play in the medal round are Malaysia, India and Pakistan.

Olympian Jang Jong-hyun saved the day with two goals in the 10th and 43rd minutes while Kim Seong-kyu (47th) and Yang Jihun (57th) scored the other two.

The China goal was scored by Du Talake (38th).
 
RESULTS -- GROUP B: Malaysia 7 Oman 1, China 1 South Korea 4.

FINAL STANDINGS

GROUP A
            P  W  D  L  F  A Pts
INDIA       3  3  0  0  15 2  9
PAKISTAN    3  1  1  1  10 5  4
JAPAN       3  1  1  1  6  8  4
BANGLADESH  3  0  0  3  1  17 0

GROUP B
            P  W  D  L  F  A Pts
MALAYSIA    3  3  0  0  16 3  9
S KOREA     3  2  0  1  12 5  6
CHINA       3  1  0  2  4  12 3
OMAN        3  0  0  3  4  16 0

ROUND ROBIN FIXTURES
Oct 18: Malaysia v Pakistan (5pm), India v South Korea (7.30pm).
Oct 19: South Korea v Pakistan (5pm), Malaysia v India (7.30pm).
Oct 21: Malaysia v South Korea (5pm), India v Pakistan (7.30pm).

Jugjet's World of Field Hockey


---

Good target practice

By S. Ramaguru




KUALA LUMPUR: Malaysia warmed up for the Super Four round of the Asia Cup hockey tournament with another big win.

Yesterday, Stephen van Huizen's team wrapped up their Group B fixtures unbeaten by whipping Oman 7-1 at the Maulana Bhashani National Hockey Stadium in Dhaka, Bangladesh.

Earlier, Malaysia opened their campaign with a 7-1 demolition of China. They then followed it up with a 2-1 win over South Korea.

Malaysia rested veteran goalkeeper S. Kumar and midfielder Fitri Saari yesterday, but still proved too good for Oman as they scored four field goals and three penalty corner set pieces.

But surprisingly, Malaysia failed to get going in the first quarter. They only came alive in the second quarter, which saw six goals being scored.

Faizal Saari started the ball rolling by scoring Malaysia's first penalty corner in the 16th minute. It opened the floodgates as Tengku Ahmad Tajuddin (pic) was on target in the 18th minute. Two minutes later Mohamed Shahril Saabah made it 3-0.

Tengku Ahmad was on target again in the 23rd minute.

But Salmeeen Al Nofali managed to reduce the deficit for Oman in the 25th minute off a penalty corner.

Faizal, however, made it 5-1 in the 27th minute for his sixth goal to emerge as the tournament's leading scorer.

In the third quarter, Mohamed Amirol Aideed netted his first goal of the tournament through a deflection in the 40th minute. Mohamed Najmi Jazlan also scored for the first time with a reverse hit in the 42nd minute for a comfortable win.

National team manager Mohamed Nasihin Nubli blamed the scoreless first quarter to the players' lackadaisical attitude.

"We were just too casual. Our players showed more urgency in the second quarter to get the goals.

"Overall, we are happy with the showing as all the players were able to put in some quality work," said Nasihin.

"For us, the real tournament starts on Wednesday with the Super Four. Winning all the group matches has boosted our players' confidence," he added.

Besides Malaysia, the other teams who qualified for the Super Four are India, Pakistan and South Korea. First up for Malaysia is Pakistan tomorrow followed by India on Thursday and South Korea on Saturday.

The top two teams after the Super Four will square off in Sunday's final while the bottom two will fight for the bronze medal.

The Star of Malaysia


---

Holders South Korea outclass China with 4-1 victory

Korea face India, Malaysia take on Pakistan in Super-4 stage




KARACHI: Defending champions South Korea outclassed China 4-1 in the 2017 Men's Asia Cup Hockey Tournament at the Moulana Bhashani Hockey National Stadium in Dhaka on Monday. With this win, Korea entered the Super-4 stage and will play top-ranked India on Wednesday while Pakistan will take on Malaysia as the tournament inches closer to an exciting title clash on October 22. Though the first quarter began with the two teams showcasing skill and strategy that was on par with each other, Korea drew the first blood to put pressure on Chinese defence. It was Jonghyun Jang who successfully converted a penalty corner to fetch Korea a 1-0 lead in the 10th minute. The second quarter saw some tense moments with China missing out on crucial chances. It was not until the 38th minute when Talake Du scored an equalizer through a PC. Jonghyun scored his second goal of the match in the 43rd minute through another PC and took a 2-1 lead.

The defending champs built on their momentum with two more goals in the final quarter via field goal by Seongkyu Kim (47 min) followed by Jihun Yang (57 min) successful PC to win the match.

The Daily Times


---

South Korea thrash China to enter knockouts

DHAKA: Defending Champions South Korea outclassed China 4-1 in a Pool B match of the Asia Cup hockey tournament on Monday.

Jang Jonghyun (10th, 43rd minutes) converted penalty corners while Kim Seongkyu (47th) and Yang Jihun (57th) completed the tally.

Du Talake (38th) scored the only goal for China.

With this win, South Korea make it to the Super 4 stage and will play top-ranked India on Wednesday while Pakistan will take on Malaysia.

Though the first quarter began with the two teams showcasing skill and strategy, South Korea drew first blood to put pressure on the Chinese defence.

Jang converted a penalty corner to gain a 1-0 lead in the 10th minute.

The second quarter saw some tense moments with China missing out on crucial chances. It was not until the 38th minute when Du Talake equalised through a penalty corner.

Jang scored his second goal of the match through another penalty corner to give South Korea a 2-1 lead.

The defending champs built on their momentum with two more strikes in the final quarter as Kim scored a field goal followed by a penalty corner conversion by Yang.

The Times of India


---

Canada and Trinidad & Tobago Impress on Day 1 Mens Indoor Pan Am Cup



2017 Indoor Pan American Cup - Canada vs Mexico. Photo: Yan Huckendubler

Canada 10 v Mexico 0

The 2017 Mens Indoor Pan Am Cup started with defending champions Canada taking on Mexico.  The Canadian captain Ken Pereira celebrated his 400th International Match for Canada, an incredible milestone.  In the first half Canada built a steady lead through quick passing, effective press and sharp finishing.  They were up 4-0 at the 10 minute mark before Mexico adjusted the pace and held Canada to a 5-0 margin at half time.

The second half was similar with Canada applying steady pressure.   Mexico established some passing patterns that will serve them well in upcoming matches, however 8 different goalscorers led by Jonathan Roberts with three gave Canada a resounding 10 – 0 victory.

Click here for Yan Huckedubler's photos from this game

 Guyana 5 v Barbados 4

The Guyanese men entered Cliff Anderson stadium for the first time in the Indoor Pan American Cup to take on Barbados.  The Bajans threatened to score early but it was Robert France who tallied two goals early to life the excitement in the stadium. Barbados played with a strong structure and had a chance at half on a penalty corner earned by Dave Cox, however his layoff shot was punched wide.

The second have both teams revved it up.  Hilton Chester gave Guyana a 3-0 cushion before Barbados updated their tactics during a timeout and responded with 3 goals including two from Che Warner to tie the match.  Guyana wouldn't be denied as they responded quickly with two more goals capped by the eventual game winner by France.

Argentina v Trinidad & Tobago

The early moments favoured Argentina but after wasting two penalty corners opportunities they called on their keeper Francisco Demonte to make a huge save to =keep the momentum going.  Not to be outdone Ron Alexander dove to stop a Juan Eleicegui shot after being setup by a brilliant run Alejo Lacaze.

A midfield intercept and spirited run by Jordan Riviera found Akim Toussaint and his poised finish gave TTO the opening goal.  Remarkably Toussaint doubled the lead in the same minute of a mishandled pushback.

Argentina continue to falter on their penalty corner with Alfreda Sosa shooting wide and Eleicigui mis-trapping at the top. Leandro Leotta finally scored from the field with a blistering shot that found the mesh.

The second half featured three early goals Dwain Quan Chan, Jordan Viera and Soloman Eccles that put TTO in the drivers seat.  Argentina continued to push forward but were unable to contain the TTO counter and experience in finishing.  Final score favoured TTO 5-2..

Pan American Hockey Federation media release


---

Argentina and Uruguay top the tables with two wins on Day 1 Womens Indoor Pan Am Cup

Canada and USA undefeated after one match while hosts Guyana suffer narrow loss



2017 Indoor Pan American Cup - Argentina vs Barbados. Photo: Yan Huckendubler

Argentina 14 v Barbados 1

The opening match of the 2017 Womens Pan Am Cup started quickly for Argentina.  Three goals by Carina Guzman in the opening 3 minutes had Barbados on their heels. They held for a bit before Guzman made it 4-0 on a beautiful solo effort.

Barbados was at their best when they maintained possession through spirited play by Ayanna Wilson and Cher King.  Argentina advanced with their press and forced a series of penalty corners. The half finished on an Argentina penalty corner goal by Maria Nimo to make it 8-0.

With the mid day heat only moderately tempered by the stadium fans, the second half was played at a more controlled pace.  Argentina cruised to a 14-1 win and affirmed their status as one of the favourites to win the Cup.

Uruguay 4 v Guyana 3

The crowd at Cliff Anderson Sports Hall swelled to see the home debut of the Guyana against Uruguay.  Their spirit was dampened slightly with Uruguay's Augustina Nieto scoring the opener and Uruguay showing good form with their powerful passing and penetrating runs in the circle.

Guyana raised their intensity and earned a penalty stroke by Marisha Fernandes which was skillfully converted by Trisha Woodroffe to the delight of the crowd.    Maria Viana Ache regained the lead for Uruguay and only a great save by Alysa Xavier kept that lead from being extended before half time.

The intensity increased in the second half after the two teams exchanged early goals.  Uruguay sealed their 3 points with a penalty stroke goal by Constanza Barrandeguy in the final minutes.

United States 7 v Trinidad & Tobago 2

The mid day heat welcomed the participants of third match of the day.  TTO jumped to an early lead with Blair Wynne converting in the 2nd minute.  The USA were disciplined moving the ball around the back court but couldn't find forwards free in the opposing half.  The first half ended with TTO holding their slim lead.

The second half started with TRI extended their lead through Zene Henry, but USA were on the edge of a huge shift of momentum.  A five goal spurt in 7 minutes had TTO looking for answers.   Mary Beth Barnham and Sammy Popper scoring a brace each during that stretch.  

From there the USA set their auto pilot and collected full points.

Canada 5 vs Barbados 1

Canada opened their defence of the Indoor Pan American cup against Barbados who had dropped their opener vs Argentina earlier in the day.  Canada had their Penalty Corner working well with captain Alison Lee converting two and Angela Lancaster tallying as well.  Lancaster added one from the field to put Canada comfortably in the lead at half time.

Barbados fell back into a prevent defence in the second half and held the advancing Canadians.  They pushed their press forward and Takirsha Cambridge in particular was able to intercept and generate counter attacks.   Cher King earned a Penalty Corner on a counter and that was converted by Tammisha Small to put Barbados on the board.   Lancaster completed her hat trick with a closing tally to give the North Americans a comfortable 5-1 win.

Click here for Yan Huckendubler's photos from this game

Argentina 3 vs Guyana 0

It was the second game of the day for both teams as the temperature cooled somewhat in the open air Cliff Anderson Sports Hall.  Argentina was looking to score early, but it was Guyana who earned a corner that was defended well by Juliana Rios Ferreyra.    Guyana stepped up their press and broke the flowing momentum of Argentina repeated.  It took until the 12th minute for Julieta Luna to tally for Argentina on a beautiful solo effort.  Maria Narvaez struck quickly again and Guyana called a timeout to plan their comeback from a 2 goal deficit.

The second half featured numerous saves by Alysa Xavier in the Guyanese goal to keep her team within reach.  Josephina Castaneda broke through to put Argentina in a comfortable lead.   Leigh Sandison pushed forward and earned a late penalty corner for Guyana, but Maria Pastor made a sliding save to preserve the 3-0 shutout win.  Full points to Argentina after two matches; they will start day two at the top of the standings

Uruguay 4 vs Trinidad & Tobago 0

Uruguay were looking to jump to the top of the standings but both teams were slow to start their second matches of the day.  Uruguay attacked well up the right side with Milagros Algorta but TTO was able to absorb and through Alanna Lewis, switch and generate their own opportunities.   Maria Viana Ache broke the deadlock from field play to give Uruguay a slim lead at the half.

The second half started with a darting run by Blair Wynne whose shot sailed wide.   Uruguay extended their lead through a well executed corner option by Agustina Nieto.   TTO faced a half court press and found Krizia Layne in the circle earning a penalty corner.  The subsequent scramble drew an penalty stroke that was pushed wide by Kristin Thompson.

That would be the last chance for Trinidad & Tobago, Uruguay finished with two late goals to run the final score to 4 – nil.

Pan American Hockey Federation media release


---

After Slow Start, Indoor USWNT Fights Back to Win First IPAC Match



Image courtesy of Yan Huckendubler/PAHF

GEORGETOWN, Guyana – Unable to produce a desirable outcome and trailing at the half, the U.S. Women's National Indoor Team fought back from a 2-0 deficit in their opening game of the women's Indoor Pan American Cup in Georgetown, Guyana. Seven unanswered goals found the Indoor USWNT ahead of Trinidad and Tobago to earn the victory 7-2.

USA took time to settle in to the sweltering conditions against a fast and tenacious Trinidad and Tobago team. Right out of the gate, Trinidad and Tobago caught USA's defense off guard and in the second minute of play Blair Wynne gave them a 1-0 lead. Trinidad and Tobago continued with a number of close chances, but USA's goalkeeper Samantha Carlino (Kennett Square, Pa.) was there to make the saves. USA had plenty of chances as well, including a penalty corner by Samantha Popper (Blue Bell, Pa.) that was saved on the line and shots by Madison Orobono (Macungie, Pa.) and Paityn Wirth (Thompsontown, Pa.) that were blocked.

With USA starting to get more offensive pressure, Trinidad and Tobago found Zene Henry in the left corner from a long pass and scored from a narrow angle to give them a two-goal advantage. USA continued to press forward and were rewarded when Mary Beth Barham (Fairfax, Va.), who was working tirelessly, forced her way through two defenders to put USA on the scoreboard. A minute later, it was Barham again, this time deflecting in a penalty corner to tie the match at 2-2.

After Barham hit the post, Anarose McDonough (Kennett Square, Pa.) found Popper with a pinpoint pass, who made no mistake to give USA their first lead in the 32nd minute. The pressure was now shifted on the tiring Trinidad and Tobago defense. One minute later, Ali Campbell's (Boyertown, Pa.) penalty corner chance was stopped on the line by a defender's body. The resulting penalty stroke increased the USA, 4-2. Seconds later, Popper collected a ball on the half way line, swerved past two defenders and slipped the ball through the on-rushing goalkeeper taking it 5-2, USA.

Orobono added a sixth off a penalty corner option with three minutes to go and with time running out, Wirth saw her shot stopped with a foot on the line. Campbell stepped up to score from the penalty spot to secure the 7-2 win for USA.

"We showed our inexperience in the first half," said Jun Kentwell, Indoor USWNT Head Coach. "It took us too long to settle against a good Trinidad team that played very well. I was pleased that our players kept their nerve and started to play with more poise and quality in the second half."

The U.S. Women's National Indoor Team will face No. 18 Uruguay tomorrow, Tuesday, October 17 at 6:00 p.m. ET in their second pool play match.

Goal Scoring Summary:
Team     Minute     Player     Action     Score
 TTO      2        #3 Wynne      FG      0 - 1
 TTO      26      #14 Henry      FG      0 - 2
 USA      27      #3 Barnham      FG      1 - 2
 USA      29      #3 Barnham      PC      2 - 2
 USA      32      #10 Popper       FG      3 - 2
 USA      33      #5 Campbell      PS      4 - 2
 USA      34     #10 Popper      FG      5 - 2
 USA      37      #9 Orobono      PC      6 - 2
 USA      40      #5 Campbell      PS      7 - 2

USFHA media release


---

400th Cap milestone for Canadian Ken Pereira



Ken Pereira (Canada). Photo: Yan Huckendubler   

Looking for his next Pan American Cup gold medal, the co-captain of the Canadian Indoor National Team is no rookie: today, in Georgetown, Guyana, Ken Pereira took his position on the court after hearing the pre-game Canadian national anthem for the 400th time, a combination of 348 outdoor Caps and 52 indoor Caps!

400 Caps is an accomplishment that very few international players ever achieve, and it is certainly a Canadian first.

Ken was a late comer to the game of field hockey, spending his youth playing ice hockey, football and most other sports. He began his field hockey career, inspired by his cousin John DeSouza (who is the coach of the Canadian Women's Team in Guyana) and joined the GOA Reds field hockey club at the age of 16.

Known for his big smile and always joking attitude, Kenny is 5'6 and 'a buck thirty soaking wet'. He had an uphill battle to prove what he lacked in size, he made up for in skill, speed and attitude. Ken broke into Team Canada via the indoor team, playing in the 1993 Glenfiddich International in Scotland.  He was then given a shot on the outdoor team in 1994, at age 21, and never looked back.

Fast, crafty and agile Ken was able to create chances in attack, and began his career as a forward. Ken played in many notable competitions as a rookie on the team, including the 1995 Pan American Games, 1998 Commonwealth Games, and 1998 World Cup in Holland,  but the competition that really put him on the map for Canadian hockey fans was the 1999 Pan American Games in Winnipeg. In a quintessential Pan American final, it was a Canada vs. Argentina battle. Ken scored the game's only goal, late in the first half, making no mistake with a loose ball in the circle. The photo of Ronnie Jagday and Ken celebrating his goal, is a Canadian field hockey classic, and was the inspiration for the redesign of the Field Hockey Canada logo.

Ken went on to play in the Sydney Olympic Games, living out a lifelong dream. Canada finished tenth, with tight loses to Germany, the Netherlands, and Spain, drawing with Pakistan, Great-Britain and Malaysia, and beating Poland.

Shortly thereafter, after playing in his second Commonwealth Games, Kenny picked up his indoor stick again, this time to play in the first Indoor Pan American Cup - the qualifier for the  2003 Indoor World Cup. Team Canada didn't drop a point through the entire competition, and sailed into the Indoor World Cup, where they finished 5th - the highest the Canadian Men have placed at a World Cup. Ken again competed in the 2005 Indoor Pan American Cup and, on home court in Kitchener-Waterloo, Canada won the tournament with a 5-3 win over Trinidad and Tobago in the final, securing their spot in the 2007 Indoor World Cup.

It was around this time that Ken moved to Holland to play in the Dutch League. Ken played for 5 years with top club HGC, and finally secured the EHL Championship in 2011 with Canadian teammate Rob Short.

After a few more years of tours and tournaments, the 2007 Rio Pan Am Games couldn't come soon enough for Ken and his Canadian compatriots. Canada squeaked out the narrowest of wins against Trinidad and Tobago in the semi final (4-3 in overtime) to then took on, who other than Argentina, in the final. Again Canada managed to pull out the win on a sudden death penalty stroke  after a 2-2 tie in regulation time, earning a spot for the 2008 Beijing Olympics. The Canadian team then went on to qualify for the 2010 World Cup.

It's hard to find career highlights after five Pan American Games, four Commonwealth Games, three Indoor World Cups, two World Cups and two Olympic games, but Ken managed to add a unique feat: he was the first member of a team sport to be named a Canadian flag bearer at the Commonwealth Games. leading Team Canada into the opening ceremonies of the Delhi Games in 2010. 

It was soon after, in 2011 that Ken Pereira, along with Rob Short, broke the legendary Bubli Chohan's record for most international matches for team Canada. He finished his outdoor career with 348 caps with Team Canada.

Ken Pereira also played in the India Hockey League in 2012, captaining the Pune Strykers to the finals, and more recently, captained the Canadian team at the 2014 Indoor Pan American Cup to victory and another Indoor World Cup.

Off the court, Ken Pereira plays a pivotal role in hockey development across Ontario. If you haven't been coached by him with team Ontario, been umpired by him at one of the many club tournaments, had him as your TD at a high school tournament in the fall, attended one of his coaching clinics, or heard one of his many hockey stories, then you probably haven't been around hockey too long! Always looking to help Ontario athletes take their careers as far as they want, Ken continues to remain a key figure in hockey across Ontario.

Pan American Hockey Federation media release


---

Rani Rampal to lead India in women's Asia Cup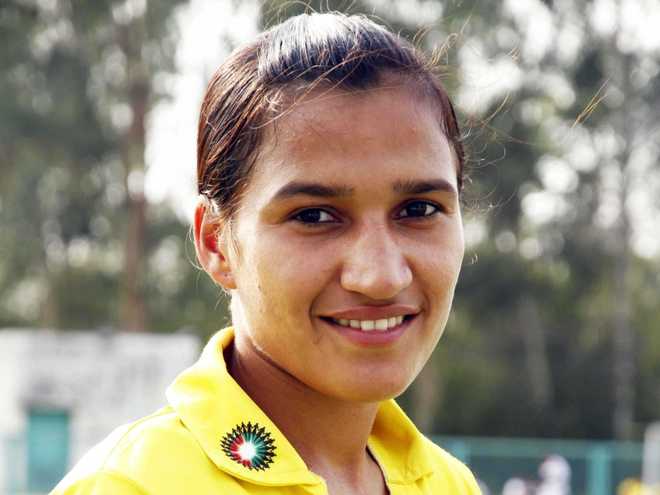 Rani Rampal. File photo

Striker Rani Rampal will captain an 18-member Indian team at the ninth women's Asia Cup hockey tournament, which starts from October 28 at Kakamigahara City, Japan.

Senior goalkeeper Savita has been named as the vice-captain of the side.

The team selected by Hockey India for the upcoming Asia Cup has five changes from their Europe Tour of Netherlands and Belgium.

Experienced defender Sushila Chanu Pukhrambam makes a comeback into the team while forwards Navneet Kaur, Navjot Kaur and Sonika have also been included.

Apart from the inclusions, the goal will be kept by Savita and Rajani Etimarpu while Deep Grace Ekka, Sunita Lakra, Suman Devi Thoudam and Gurjit Kaur will man the defence.

The midfield will feature Namita Toppo, Nikki Pradhan, Monika, Lilima Minz and Neha Goyal while Rani, Vandana Katariya and Lalremsiami will feature in the forward line.

This will be the first for new head coach Harendra Singh with the Indian eves and he would be looking towards a strong performance in Japan with qualification for next year's Hockey women's World Cup London 2018 being his top priority.

"We have a very good blend of youth and experience within our team which will help us in negating the tasks ahead of us at the women's Asia Cup. The team has played against higher ranked teams in the build-up to the tournament which has helped us in improving our game.

"We have made several minors adjustments and improvements in our game so that we don't repeat unforced errors in our play. We will be aiming to win the women's Asia Cup 2017 in order to qualify for next year's World Cup," said Harendra.

Captain Rani too is confident that the team can perform up to its potential at the women's Asia Cup.

"We have made improvements in our game wherever it was necessary. I feel the team is playing well as a unit and there is a good sense of cohesion in our squad. We are looking forward to performing well in Japan so that we can qualify for the World Cup," she said.

India have been placed in Pool A alongside China, Malaysia and Singapore and will start their campaign against Singapore on October 28.

Squad:

Goalkeepers: Savita (vice-captain) and Rajani Etimarpu        

Defenders: Deep Grace Ekka, Sunita Lakra, Sushila Chanu Pukhrambam, Suman Devi Thokam, Gurjit Kaur

Midfielders: Nikki Pradhan, Namita Toppo, Monika, Lilima Minz, Neha Goyal

Forwards: Rani Rampal (captain), Vandana Katariya, Lalremsiami, Sonika, Navneet Kaur, Navjot Kaur.

The Tribune


---

Hockey wins gold

Rosalie Willis

THE Fiji women's hockey team won gold after defeating Samoa 5-2 in the Oceania InterContinental Hockey 5s tournament at Sydney Olympic Park on Sunday evening.

Having already played Samoa on Friday and winning 6-4 Fiji were expecting to play Australia Country Team in the gold medal match. However as an invitational team they were not available to play in the final meaning that Fiji again met Samoa.

Robin Mitchell, the Fiji Hockey Federation president, told this newspaper that the final was "the best game yet."

"We won comfortably and used our skills to move the ball around well."

Hockey 5s is a shortened form of hockey much like how Rugby 7s is a shorter version of rugby union. The style suited Lora Bukalidi who scored two goals in the final.

Fiji now waits for the new world rankings to come out next month to see if they have done enough to reach Commonwealth Games qualifications. They currently sit 13th on the world ranking with the top 10 team eligible for the Commonwealth Games next year.

The Fijian women's team have not played any international games this year which has hindered their chances however the win on Sunday makes them in with a chance. There is also a chance that teams within the top 10 will not accept their offer as there is no subsidy making funding an issue. The next chance for Fiji is on the 9th-16th of December where they host the Fiji Invitational in Suva. Both the men's and women's teams will be playing, hosting teams from Australia.

The Fiji Times


---

Bronze for hockey

By CROFTON UTUKANA



The Solomon Islands Boys and Girls teams celebrating their wins.

The Solomon Islands men's and women's teams has won bronze medals in the Oceania Intercontinental Cup successfully ended over the weekend in Sydney, Australia.

President of the Solomon Islands Hockey Federation (SIHF) Nihal Seneviratne confirmed this to Star Sports, Monday.

"The national men's hockey team has won bronze medal after beating   Samoa 6-1 in the third and fourth playoffs while women's team also won Tonga  7-2 and scoop bronze medal in the third and fourth playoffs final,'' he said.

Seneviratne said he was very proud of the results both teams have achieved in the competition.

 "I am really excited about our teams' achievement.

"They improved alot and are heading to right direction," he said.

"Our opponents played hockey for quite awhile compared to Solomon Islands, however we've improved a lot," he added.

The president therefore thanked the DCC government, Australian High Commission Office and Samlimsan company for supporting hockey in the country.

"Without their support hockey will not be able to achieve our goals," he added.

 Meanwhile, Vanuatu and Fiji have won the men's and women's Oceania Intercontinental Hockey 5's titles over the weekend in Sydney.

Vanuatu defeated Samoa in the men's Oceania 5's goal medal match 11-1while Fiji beat Samoa Samoa 5-2 in the women's gold medal match.

Australia Country finished top in both categories but were ineligible to play in the finals due to the competition having official FIH ranking points at stake.

The Solomon Star


---

2018 hockey sponsorship

Pravin Narain

Fiji's Marist Hockey Club is looking forward to working with Geotech Drilling International Services as sponsor for the 2018 Marist Hockey Tournament in Suva.

Club official Paul Fraser said the company was happy with the tournament and they believed the company would sponsor the tournament again.

"We are thankful to the company for coming on board and sponsoring the event and they have contributed a lot to make the tournament a successful one over the years," Fraser said.

"The company is happy with the media coverage they got from the local media.

"We are working hard to make the tournament bigger and better next year as we had Ba and Levuka who competed in the last tournament."

Marist won the men's and women's finals. The Marist men's team defeated Ventures 5-3 while the women's team fought hard to beat Ventures 3-1 in the penalty shoot-out.

The Fiji Times


---

England's Danson and Hinch relish Auckland challenge



Alex Danson and Maddie Hinch are ready to take on the world in Auckland Photo: FIH.

England women will be heading out to Auckland in the 'best possible shape' according to Head Coach Danny Kerry. "We have great pace in our attack and in our defensive unit we have some of the best players in the world," said Kerry as he addressed a group of hockey players and spectators at the club where he first picked up a hockey stick, Pelicans Hockey Club in Norfolk.

Kerry's words were echoed by striker Alex Danson and goalkeeper Maddie Hinch, both of whom are looking forwards to a 12 month period that includes the Sentinel Homes Hockey World League Final Auckland 2017, the Hockey Women's World Cup London 2018 and the Gold Coast Commonwealth Games.

"I am so excited about the next few months," said Hinch. "Auckland will be a great chance for us to test ourselves against the top teams in the world and then the buzz of a home crowd for the World Cup will be unbelievable. I think about it so much."

"We have great pace in our attack and in our defensive unit we have some of the best players in the world!"
Danny Kerry, England Head Coach

The team are back in full training and, apart from a few days after the Hockey World League Final, it will be full steam ahead for the next few months. Hinch agrees with her coach that the team is in great shape. "After Rio, like all the teams, we have been rebuilding but because of our programme and Danny's attention to detail, I think we are ahead of the curve."

England had a busy July and August with the Hockey World League Semi-Final in Johannesburg, South Africa where they finished in bronze medal place and then the EuroHockey Championships where they again finished third.

"We had a month away after the EuroHockey Championships and we came back really refreshed," said Danson, who has been temporary captain since the retirement of Kate Richardson-Walsh after Rio. "Since then we had fitness testing and we have been working on key areas in both circles – sharpening our attack and defence."

"Following Rio, we got together as a group and said, 'right, we need to respect that [the gold medal] but this is a new journey with a new group of players and now we have to form our own identity by using what we did in the past but also looking to the future.'"

The England team has retained 10 of the players who were in Rio and more who were involved in the Rio cycle and Danson says that the transition to this new group has been more seamless than perhaps anyone would expect.

"At the Hockey World League Semi-Finals, we learnt just how critical small moments are in both circles. We have been doing a lot of work on shooting, creating and taking chances. And by doing that, we have done important defensive work as well.

"We have also been doing a lot of work on group identity and behaviours around the group, not necessarily only on the pitch."

For Danson, like Hinch, the Hockey World League presents a great opportunity to play the top teams in the world but it is also a chance for the team to to get used to dealing with long haul travel. And, with the Hockey Pro League coming up, this offers a really good chance to experience taking a long haul flight and adjusting to play in a different time-zone.

When it comes to the opposition, neither Danson or Hinch gives anything other than respect to the other teams. "No team holds any fear for us," says Hinch. "There are certain players you respect but ultimately you rise to the challenge they present."

As someone who now plays her club hockey for SCHC in the Netherlands, Hinch knows firsthand some of the players who will create challenges at the Hockey World League Final. "Lidewij Welten is an awesome player and I train with Caia [van Maasakker of the Netherlands] and Charlotte Stapenhorst [Germany], both who take penalty corners against me at international level, we often joke about it, but at the end of the day, there is no huge advantage or disadvantage to the fact I know them so well. We all just appreciate each other's skills."

For Danson, the fact that England prepare so diligently has removed any 'fear factor'. "We do a lot of simulation training where we train as if we are playing a Chinese team or a Dutch team so we are trained for the challenge of a different team. We don't 'fear' another team because we are trained to deal with their particular threat. So if they have a strong overhead game or if they play in channels, we have trained as a team to deal with that. Our challenge is to get ourselves in a position where we can play at the standard we set ourselves right until that final whistle.

"The challenge for all players is to keep the standard of play right until the 60th minute. Every international player is a very good player so the challenge is whether you can still replicate and perform when you have been playing for 59 minutes. Players are big, strong, quick and fit so you have to work so hard to keep yourself at the top of the game."

Follow all the action from the Sentinel Homes Hockey World League Final Auckland 2017 by using #HWL2017.

FIH site


---

Schopman Confirms 18-Athlete Roster for FIH Sentinel Homes Hockey World League Final in New Zealand



Image courtesy of Mark Palczewski

COLORADO SPRINGS, Colo. – It's an end of the year showdown you won't want to miss! U.S. Women's National Team Head Coach Janneke Schopman and coaching staff have confirmed the 18-athlete roster that will travel to Auckland, New Zealand for the women's FIH Sentinel Homes Hockey World League Final, November 17-26, 2017. The selected squad is a mix of veterans and young talent, some of whom are getting their first opportunity to perform abroad on the international stage.

"We had to make some changes to the roster since last summer because of injuries and college season, but I'm excited to bring new players to this level of competition," said Schopman. "With this team, we will bring the fight and it gives us a great opportunity to see where we stand amongst the top nations in the world."

Leading with experience will be goalkeeper Jackie Briggs (Robesonia, Pa.), captain Melissa Gonzalez (Mohegan Lake, N.Y.) and Michelle Vittese (Cherry Hill, N.J.). This is counter-balanced with a few rookies who get the chance to wear the red, white and blue for the first-time off home soil. Casey Di Nardo (Virginia Beach, Va.) will be earning her first international cap for Team USA as Erin McCrudden (Yorktown Heights, N.Y.) and Carissa Vittese (Cherry Hill, N.J.) will look to build on an already started solid career platform. McCrudden competed in the USWNT vs. Ireland series in May and C. Vittese saw action in the 2017 women's Pan American Cup (PAC).

A few athletes, who hope to still be competing in their collegiate seasons, were left off the roster due to an overlap in NCAA post-season and Final competition schedule. Some injuries have also sidelined a few other players.

Jackie Briggs (Robesonia, Pa.), Casey Di Nardo (Virginia Beach, Va.), Ali Froede (Burke, Va.), Melissa Gonzalez (Mohegan Lake, N.Y.), Amanda Magadan (Randolph, N.J.), Alyssa Manley (Lititz, Pa.), Erin Matson (Chadds Ford, Pa.), Erin McCrudden (Yorktown Heights, N.Y.), Lauren Moyer (York, Pa.), Alyssa Parker (Woodbine, Md.), Kathleen Sharkey (Moosic, Pa.), Loren Shealy (Charlotte N.C.), Caitlin Van Sickle (Wilmington, Del.), Carissa Vittese (Cherry Hill, N.J.), Michelle Vittese (Cherry Hill, N.J.), Taylor West (Princess Anne, Md.), Alesha Widdall (Whitney Point, N.Y.), Jill Witmer (Lancaster, Pa.)

In its third edition, the Final will take place at the North Harbour Hockey Stadium and feature eight teams that are currently ranked in the top-nine of the FIH Hero World Rankings. Team USA is ranked No. 4 and as first time Final debutants they sit in Pool A with No. 1 The Netherlands, along with host No. 6 New Zealand and No. 9 Korea. Equally as competitive Pool B consists of Rio 2016 Olympic Games Gold Medalists No. 2 England, recent Pan American Cup Champions and defending Final Champions No. 3 Argentina, No. 7 Germany and No. 8 China.

The USWNT will open up tournament play in the first match of the event against Korea on Friday, November 17 at 2 a.m. ET (6:00 p.m. local time).

FIH Hockey World League Final Pool Matches:

Friday, November 17, 2017, USA vs. KOR, 2 a.m. ET
Saturday, November 18, 2017, USA vs. NED    , 4 a.m. ET
Monday, November 20, 2017, USA vs. NZL, 4 a.m. ET

Click here for the full FIH Sentinel Homes Hockey World League Final schedule.

The International Hockey Federation (FIH) has not finalized details in regard to the live stream of this event. More information will be made available soon.

Just before the Final, the USWNT will travel to Australia to participate in the International Festival of Hockey (IFOH). This world-class tournament will see the nations of Australia, Japan, New Zealand, The Netherlands and the USA battle it out across a week-long competition. Now in its second year, the IFOH will be a valuable experience before Team USA heads to New Zealand for the Final.

"The International Festival of Hockey gives us the opportunity to play high level games prior to the World League Final," added Schopman. "Playing against countries like Australia, Japan and The Netherlands will gives us the chance to try some things out and be fully ready for the start of World League especially coming of of a couple of months of training without actual games."

USWNT midfielder Anna Dessoye (Mountaintop, Pa.) will partake in the International Festival of Hockey, but will return to the United States at the conclusion of the event. Matson will only be competing in the Final.

International Festival of Hockey Matches:

Monday, November 6, 2017, USA vs. AUS, 2 a.m. ET (Bendigo - Test Match)
Tuesday, November 7, 2017, USA vs. JPN, 11 p.m. ET (Melbourne)
Thursday, November 9, 2017, USA vs. AUS, 3:30 a.m. ET (Melbourne)
Friday, November 10, 2017, USA vs. NED, 10 p.m. ET (Melbourne)

Click here for the full International Festival of Hockey schedule.

Set your DVR! For the first time in history, all USWNT games and the women's medal matches of IFOH will be broadcast live on the Olympic Channel. This per cable subscription service is at no additional charge.

USFHA media release

Note: the Olympic Channel is also available via the Olympic TV app on all app providers.


---

Four additions for Vantage Black Sticks Men



Pictured: Dane Lett, courtesy www.photosport.nz

Vantage Black Sticks Men's head coach Darren Smith has named a squad for two tests against Australia in Bendigo and the International Festival of Hockey in Melbourne.

The Kiwis face the world number two ranked Kookaburras on the 5th and 6th November in Bendigo before heading to the International Festival of Hockey in Melbourne from 8-12 November where they will take on Australia, Japan and Pakistan.

The squad of 20 sees two changes from the side which competed at the Oceania Cup in Sydney along with two additions, while many senior names are still unavailable through European club hockey commitments and injuries.

Midfielder Arun Panchia will again wear the captain's arm band and provide the bulk of experience for his side having played 230 tests.

After impressive Ford National Hockey League and Australian Hockey League campaigns, Capital Cobras defender Dane Lett has earned a recall having last played for New Zealand in 2014.

Goalkeeper George Enersen and striker Kim Kingstone also come back into the side while Midlands midfielder Aidan Sarikaya is set to make his international debut.

Smith said the tour will be another great opportunity to line up against high quality opposition.

"Australia were very impressive at the Oceania Cup last week so we will relish another chance to test ourselves against them.

"Japan and Pakistan will be coming off the back of Asia Cup which is currently being contests in Bangladesh, so we expect them to be in good form.

"Dane was a key contributor to Capital's Ford NHL campaign and it is great to see him back in a Vantage Black Sticks jersey again.

"Our debutant Aidan has been developing very well through the talent system and with Midlands for some time. He gets his chance after a strong Junior World Cup late last year and has carried that momentum into his hockey this year."

MATCH SCHEDULE (all in NZ time)

Sunday 5th November (Bendigo)
6:00pm - Vantage Black Sticks Men vs Kookaburras

Monday 6th November (Bendigo)
6:00pm - Vantage Black Sticks Men vs Kookaburras

Wednesday 8th November (Melbourne)
6:30pm - Vantage Black Sticks Men vs Japan

Thursday 9th November (Melbourne)
8:00pm - Vantage Black Sticks Men vs Kookaburras

Saturday 11th November (Melbourne)
5:30pm - Vantage Black Sticks Men vs Pakistan

Sunday 12th November (Melbourne)
5:00pm - Bronze Medal Match
8:30pm - Final

CLICK HERE for more on the International Festival of Hockey

VANTAGE BLACK STICKS MEN – INTERNATIONAL FESTIVAL OF HOCKEY
5 & 6 November, Bendigo and 8-12 November, Melbourne


| | | | | | |
| --- | --- | --- | --- | --- | --- |
| SHIRT # | PLAYER NAME | REGION | POSITION | AGE | CAPS |
| 2 | Cory BENNETT | North Harbour | Defender | 26 | 62 |
| 3 | David BRYDON | Canterbury | Defender | 21 | 26 |
| 13 | Marcus CHILD | Auckland | Midfielder | 26 | 106 |
| 1 | James COUGHLAN | North Harbour | Midfielder | 27 | 82 |
| 23 | Nick ELDER | Southern | Midfielder | 24 | 16 |
| 15 | George ENERSEN | Canterbury | Goalkeeper | 26 | 22 |
| 19 | Daniel HARRIS | North Harbour | Striker | 20 | 3 |
| 8 | Richard JOYCE | North Harbour | Goalkeeper | 25 | 29 |
| 10 | Kim KINGSTONE | Auckland | Striker | 23 | 13 |
| - | Dane LETT | Capital | Defender | 27 | 3 |
| 5 | Harry MISKIMMIN | Capital | Defender | 23 | 23 |
| 26 | Leo MITAI-WELLS | Midlands | Striker/Midfielder | 22 | 32 |
| 30 | George MUIR | North Harbour | Midfielder/Striker | 23 | 76 |
| 24 | Arun PANCHIA (c) | Auckland | Defender/Midfielder | 28 | 230 |
| 14 | Jared PANCHIA | Auckland | Striker | 23 | 67 |
| 31 | Hayden PHILLIPS | Central | Midfielder | 19 | 35 |
| 18 | Brad READ | Capital | Defender | 22 | 6 |
| 7 | Nick ROSS | Southern | Midfielder | 27 | 66 |
| - | Aidan SARIKAYA | Midlands | Midfielder | 21 | - |
| 32 | Mac WILCOX | Central | Striker | 21 | 15 |
Hockey New Zealand Media release


---

Batch: Oceania Success Is A Breakthrough

Ben Somerford




Kookaburras coach Colin Batch says his side's Oceania Cup success is a significant breakthrough as the current group's maiden Final triumph.

Australia defeated New Zealand 6-0 in the Oceania Cup Final on Sunday, with doubles from Tom Wickham and Aran Zalewski leading them to victory.

Batch took over as Kookaburras coach in December, following the Kookaburras' quarter-final exit at the Rio Olympics.

The Kookaburras, who are ranked second in the world, have been evolving in personnel and style since Batch took over, finishing third at July's World League Semi-Final in South Africa.

Batch said the Oceania Cup triumph was a breakthrough for his current crop.

"It's the first time this group has won a final," Batch said.

"Full credit to us. We're on the way but we know we've got a lot of work to do.

"We never take anything for granted. We're an emerging team and we want to become a really good team. That performance says that we're heading in the right direction."

Batch was further pleased that Australia played their best hockey at the back-end of the Oceania Cup, having beaten NZ 5-1 on Thursday prior to Sunday's emphatic win.

"You always want to do that; play your best at the end," he said.

"It's only a week tournament but you are always trying to do that, so as the coach I'm pleased to see that."

The Australia coach heaped praise on his senior players for their efforts at the Oceania Cup, as the group seeks to instill a positive culture.

"We were well led by our leadership group; (Mark) Knowles, (Matthew) Swann, (Trent) Mitton and Zalewski, they all contributed well," Batch said.

"It's pleasing that those guys are driving our performance. You're getting that which is what you need with a new group coming through."

Australia are next in action at the International Festival of Hockey in Bendigo and Melbourne where they'll face New Zealand (ranked eighth), Pakistan (14th) and Japan (17th) from November 5-12.

Hockey Australia media release


---

Gaudoin Praises Emerging Hockeyroos

Ben Somerford




Hockeyroos coach Paul Gaudoin says Australia's Oceania Cup triumph over New Zealand will instill much-needed belief in his young side that the international arena is where they belong.

The Hockeyroos defeated New Zealand 2-0 in Sunday's Final, having also overcome the Black Sticks 2-1 on Saturday.

The Oceania Cup victory earns Australia crucial ranking points and exacts some revenge on their Rio Olympics conquerors.

Gaudoin said there was more gained for his youthful side.

"A lot of these girls don't realize how good they can be," Gaudoin said.

"That's the challenge for us, to keep challenging them and motivating them to put their best foot forward and go for it."

Gaudoin, who took over as head coach in December, was happy with the Hockeyroos' style of play too.

"We're certainly wanting the girls to play with freedom and flexibility, interchanging their lines and to back themselves," he said.

"It's a very new group, including the coaching staff and we've been building.

"We've had a solid block of seven to eight weeks. I think that's helped put across the philosophies of how we want to play for a concentrated period.

"I think we saw that come out over the last two games."

Gaudoin was eager to point out how young his team was during the Oceania Cup, while he had to make four late changes due to injury with Jordyn Holzberger, Karri McMahon, Edwina Bone and Laura Barden all withdrawn.

The Black Sticks were missing some senior players but Gaudoin said the end result was a sign the Hockeyroos were headed in the right direction, rather than NZ being under-strength.

"I'd like to think we've taken a step up," he said.

"It's a very young group, I think we've got nine girls who were eligible for Under-21s last year, that's a massive amount.

"We've got girls back home who'll be keen to put their best foot forward in the next period as well.

"I think we are progressing but there will be little dips and troughs along the way. We understand that, but as long as the trajectory is going in the right direction then we'll be looking good for next year."

Australia are next in action at the International Festival of Hockey in Bendigo and Melbourne against the United States, Netherlands and Japan from November 6-12.

Hockey Australia media release


---

EHL KO16 draw – Rotterdam set for series of classic knock-out ties




The draw for next Easter's EHL KO16 has set up a series of potentially top-class ties at HC Rotterdam as the world's premier club hockey competition enters the knock-out phase.

The Dutch club will host four days of action with 16 of Europe's best clubs battling it out from March 30 to April 2, 2018, hoping to grab one of the four FINAL4 tickets on offer.

At the top of the draw, 2016 winners SV Kampong meet 2017's champs KTHC Rot-Weiss Köln for the fourth time in five seasons in what promises to be another breathtaking tie.

The winner of that tie will go on to meet either Dinamo Kazan – recently crowned the Russian champions for 2017 – and Royal Racing Club de Bruxelles who emerged from ROUND1 in Barcelona as a group winner.

In the second quarter of the draw, Holcombe's second EHL campaign begins with an imposing tie against Real Club de Polo de Barcelona. Belgian newcomers Herakles begin their EHL campaign with a date against Spanish champions Atlètic Terrassa.

In the lower half of the draw, the top match looks set to be a classic with KHC Dragons' game against HC Bloemendaal pitting two of the competition's most decorated clubs.

Whoever wins will likely be a big favourite as they take on Ireland's Three Rock Rovers and France's Saint Germain, the fairytale story from Barcelona when they eliminated Club Egara.

The final quarter of the draw features Racing Club de France taking on Uhlenhorst Mülheim. Hosts HC Rotterdam have a huge battle on their hands when they play German champions Mannheimer HC.

The full schedule for the KO16 will be released on November 1, 2017 with tickets also going on sale that day. For all further updates, keep an eye on www.ehlhockey.tv and on our social media outlets.

KO16 draw:
SV Kampong (NED) v KTHC Rot-Weiss Köln (GER)
Royal Racing Club de Bruxelles (BEL) v Dinamo Kazan (RUS)

Holcombe HC (ENG) v Real Club de Polo de Barcelona (ESP)
Royal Herakles (BEL) v Atlètic Terrassa (ESP)

KHC Dragons (BEL) v HC Bloemendaal (NED)
Saint Germain (FRA) v Three Rock Rovers (IRL)

Racing Club de France (FRA) v Uhlenhorst Mülheim (GER)
HC Rotterdam (NED) v Mannheimer HC (GER)

** For fans looking to travel to the EHL KO16, HC Rotterdam will be posting fan info at the following link: http://www.hcrotterdam.club/ehl2018

Social media
Twitter: @ehlhockeytv
Facebook: Euro Hockey League
Instagram: ehlhockeytv
Hashtags: #ehlhockey #KO16

Euro Hockey League media release


---

Field Hockey Outlasts Cornell, Remains Undefeated in Ivies

By Sean B. Chanicka

After junior forward Kathleen Young suffered an injury in last week's game against Boston College, Harvard Field Hockey knew that it would be facing a challenge going forward. Traveling to Ithaca this weekend, the Crimson had to quickly adapt to life without its leading scorer. In a highly contested game, Harvard (10-3; 4-0 Ivy) eventually overcame the Big Red (7-4; 1-3) 4-3 thanks to an overtime goal.

In what has become the norm this season, the Crimson began the game with a relentless attack on Cornell's goal. This plan resulted in an early goal, as freshman midfielder Tessel Huibregsten collected the ball in the 3rd minute and fired her shot into the net.

Harvard didn't need to wait long to get back on the scoresheet. In the 10th minute, sophomore midfielder Bente van Vlijmen fired a shot which was deflected by a Cornell defender. However, freshman forward Natalie Sicher recovered the deflection and fired off her own shot for the score. The goal was Sicher's first of her career with the Crimson.

Facing a 2-0 deficit early on, Cornell knew that it needed to respond soon before the game got out of reach. In the 23rd minute, the Big Red scored its first goal of the game, as Grace Royer brought her team within 1. Both teams traded shots to end the half, but neither was able to score before the whistle blew.

Harvard opened the second half just as in the first, with a flurry of shots on net. After firing two shots on net, freshman Mimi Tarrant managed to score her first goal of the game in the 41st minute. After seeing one of her shots blocked by the Cornell goalkeeper, Tarrant quickly reacted to grab her miss and shoot again, this time into the back of the net. Her goal extended the lead to 3-1 and, for the moment, seemed to put the game out of reach for the Big Red.

Cornell, however, had other plans in mind. In the next 16 minutes of game time, Cornell managed to tie the game at 3-3. Just 8 minutes after Tarrant's goal, Cornell pulled the game back to within one, as the team scored off of a penalty corner. In the 57th minute, Cornell senior Krysten Mayers stole the ball, raced into the circle, and fired her shot past senior goalkeeper Olivia Startup to even the game. With this goal, Mayers tied the Cornell record for career points and goals with 94 and 40, respectively.

In the waning minutes of regulation play, each team found itself with multiple chances to score, yet neither was able to get the decisive goal. In an overtime period that saw more fouls (4) than shots (2), Harvard ultimately triumphed with its goal in the 75th minute. Following a series of fouls by both teams, junior midfielder Emily Duarte shot the ball on net, but saw her attempt saved by the Cornell goalkeeper. However, Tarrant, just as she had earlier in the game, collected the rebound off the save and tucked her shot behind the goalkeeper to seal the game.

Following this week's action, Harvard keeps its focus on Ivy league play as it returns home for a much anticipated matchup against Princeton. The Tigers, also undefeated in Ivy league play following an 11-1 victory at Brown, will be Harvard's main competition in its quest for another Ivy League title.

The Harvard Crimson


---

Maryland downs No. 6 Penn State, 2-1, in double overtime

Maryland Athletics



Maryland field hockey is rolling after its fourth straight win on Sunday. Maryland Athletics

COLLEGE PARK, Md. – The 16th-ranked Maryland field hockey team took down No. 6 Penn State, 2-1, in double overtime Sunday when senior Carrie Hanks scored the game-winning goal in the 87th minute on Senior Day.

The Terrapins (10-5, 5-2 B1G) were locked in a defensive battle with the Nittany Lions (12-3, 4-2) for 86 minutes, then Hanks took a ball from sophomore Madison Maguire for just her second goal of the year. The Terps have won four straight games.

College field hockey: Inside the art of the all-important defensive save

"First and foremost, this is a breakthrough outcome for our team," head coach Missy Meharg said. "We've been close. We've put great segments of hockey together and I think we played the game with a complete intensity. We gained a lot of control, even when it was chaotic. I couldn't say enough about Bodil Keus. She's a freshman, so that makes me super happy about the future of our backfield. Penn State is an awesome team and I'm sure we will see them again."

The two teams stayed scoreless through the first period. Maryland outshot Penn State, 10-3, in the first 35 minutes.

Senior Lein Holsboer finally broke open the scoring when she tipped in a loose ball rebound from the left post in the 41st minute.

Less than three minutes later, Penn State tied the game at 1-1 when Abby Myers sent in a shot off a rebound with 27 minutes to play.

At the end of the regulation, Maryland and Penn State headed to the 15-minute, 7-vs.-7, golden goal overtime period. Junior goalkeeper Sarah Holliday made three of her nine saves in the first overtime.

Hanks scored just 1:12 into the second overtime when she took the ball from Maguire and sent in a high shot that banged in off the crossbar.

College field hockey: Syracuse surges past No. 2 Duke with late goal in key ACC matchup

Maryland took 21 shots to Penn State's 16 and had five penalty corners to four.

Prior to Sunday's game, the Terrapins honored their six seniors in Brooke Adler, Marissa Cutry, Carrie Hanks, Lein Holsboer, Layne Litsinger and Maddy Ulery.

Next, Maryland will take on No. 4 Virginia (11-2), Tuesday at 5 p.m. in Charlottesville.

NCAA


---

Maryland field hockey beats No. 6 Penn State in overtime for its second top-10 win

By Scott Gelman



Midfielder Lein Holsboer sprints past a defender during Maryland's 2-1 win over Penn State on Oct. 15, 2017. (Marquise McKine/The Diamondback)

Maryland field hockey defender Carrie Hanks heard her teammates cheering around her, but she couldn't tell what happened.

Hanks couldn't find the ball after receiving it on the left side of the circle in the second overtime period against Penn State on Sunday afternoon. By the time she spotted the ball, it was in the back of the net from her no-look strike.

The Terps rushed the field soon after, celebrating No. 16 Maryland's 2-1 win over No. 6 Penn State. Defender Marissa Cutry held the Maryland flag and ran in the direction of the Terps' band and fans. The Terps alternated who held the flag while screaming.

It was a season-defining win for coach Missy Meharg's squad after the Terps lost three of four games toward the end of September. The veteran coach said this particular team is fun because she never knows what will happen. On Sunday, it escaped with its second victory against a top-10 foe this season.

"I don't think I have words," said Hanks, a senior playing her final regular-season home game. "To go off this way, it's incredible."

Maryland's fourth straight win shows the Terps match up with the best of the Big Ten. That came into question during a last-second loss to Michigan, also in double overtime, on Sept. 29.

The Terps' aggressive press kept the Nittany Lions' attack — which entered Sunday averaging more than three goals per game — off the board for much of the first half. Penn State's defense also limited the Terps.

Maryland's offense didn't let up, though. The Terps outshot the Nittany Lions, 10-3 in the first half and 21-16 overall.

Still, the Terps entered the intermission in a scoreless tie.

But both attacks appeared more aggressive minutes into the second half. In the 41st minute, midfielder Lein Holsboer took a deflected shot and turned it into a score to give Maryland a one-goal lead. However, as Meharg has warned the Terps is often the case with opposing attacks after scoring, Penn State responded just three minutes later.

Nittany Lions midfielder Abby Myers tied the game, but Maryland's defense didn't panic.

Holsboer said the consistency in their defensive structure was an impressive element in the backline's performance on Sunday.

"It's so stable," she said.

Minutes into the second overtime, Meharg wanted Hanks on the field, so much so she placed Hanks at forward while Holsboer prioritized defense.

The decision paid off, as Hanks earned enough free space for the game-winning score.

"This is a breakthrough outcome for our team," Meharg said. "There was great intensity. There were great segments of hockey together. We gained a lot of control."

The Diamondback


---

After switching positions, Maryland field hockey's Carrie Hanks scored the game-winner

By Scott Gelman



Defender Carrie Hanks passes the ball to a teammate during Maryland's 2-1 win against Penn State on Oct. 15, 2017. (Marquise McKine/The Diamondback)

Defender Carrie Hanks spent her first season at Maryland as a midfielder, so when field hockey coach Missy Meharg asked her to play forward in the final moments of Sunday's 2-1 double-overtime win against No. 6 Penn State, it was a smooth transition for the senior.

Meharg approached the game's second overtime period with ease, aware several Terps were versatile enough to switch positions.

So the veteran coach thought playing Hanks on the opposite end of the field included few risks in her team's biggest game to date. Hanks provided the reward with a game-winning score, helping the Terps win their fourth consecutive game after a slow season start.

"Carrie is just ruthless," Meharg said. "She's on the [U.S. Women's] Developmental Squad for a reason. She works at her game all the time. She's brilliant in the classroom. It's the way she takes her life on."

[Read more: Maryland field hockey beats No. 6 Penn State in overtime for its second top-10 win]

The position shift came minutes into overtime because Meharg needed the Terps backline to focus on Nittany Lions midfielder Abby Myers. Myers hadn't recorded a score entering Sunday's matchup, but her strike in the 44th minute tied the game at one.

Because Myers capitalized on one scoring opportunity, Penn State coach Charlene Morett inserted her into the lineup for more weapons in the team's attack.

As a result, Meharg reorganized her seven players on the field. Midfielder Lein Holsboer, Maryland's leading scorer who has also anchored the backline at times, was responsible for keeping Myers off the board.

Early in the second overtime period, Holsboer gained possession and advanced the ball toward Maryland's offensive zone. She connected with midfielder Madison Maguire while Hanks positioned herself on the left side of the circle.

Without realizing it, Hanks then deposited the ball into the net to secure Maryland's second win against a top-10 opponent this season.

"She's a great defensive leader," Holsboer said. "She moved to the backfield and stepped up her game. … She's very mature and experienced."

That much was clear from the outset Sunday, as the Terps limited a Nittany Lions attack that entered averaging more than three goals per game.

The game-winning score was a familiar sequence for Hanks, who started every game during her first three seasons in College Park and has started all but one entering Tuesday's contest against No. 4 Virginia. Hanks, a preseason Big Ten Player to Watch, has notable international experience and was named to the U-21 squad earlier this year.

As the second overtime period began, the Terps experienced flashbacks to their last-second, double-overtime loss to Michigan at the end of September. But Hanks, momentarily playing a different spot on the field, created a different outcome.

"There was this feeling of 'We know we can do this,'" Hanks said. "We kept going at them. Our press was fantastic. We were connecting when we were moving up the field."

The Diamondback


---

Maryland field hockey defender Bodil Keus named Big Ten Freshman of the Week

By Scott Gelman



Defender Bodil Keus pushes the ball up the field during Maryland's 2-1 win against Penn State on Oct. 15, 2017. (Marquise McKine/The Diamondback)

Maryland field hockey defender Bodil Keus was named Big Ten Freshman of the Week on Monday.

Keus anchored the No. 16 Terps' backline as coach Missy Meharg's team topped No. 6 Penn State in College Park on Sunday. She ended the game with three shots on goal and helped the Terps maintain a Nittany Lions attack that entered the matchup averaging more than three goals per game.

[Read more: Maryland field hockey beats No. 6 Penn State in overtime for its second top-10 win]

The rookie has started 14 of Maryland's 15 games. Her eight goals are second to midfielder Lein Holsboer's nine, but because she has proven to be Meharg's top choice on penalty corner and stroke attempts, Keus paces the Terps with 50 shots.

This is Keus' second conference honor. After Maryland's first win against a top-10 team this season — a 1-0 victory at home against Louisville on Sept. 10 — Keus was named Big Ten Defensive Player of the Week.

Maryland will face No. 4 Virginia on Tuesday night.

The Diamondback