All the news for Sunday 15 October 2017

Kookaburras Crush Kiwis To Claim Oceania Cup

Ben Somerford




The Kookaburras have secured their 10th Oceania Cup title after an early blitz set up a 6-0 win over New Zealand at Sydney Olympic Park Hockey Centre on Sunday night.

Australia scored twice in the first five minutes of the opening two quarters to set up the win.

Tom Wickham and Aran Zalewski both finished with doubles, while the ever-industrious Jake Whetton and Dylan Wotherspoon got the other goals.

Australia's success comes ahead of next month's International Festival of Hockey in Bendigo and Melbourne and the World League Finals in India in December.

Defender Matt Swann said: "It's always good to play against the Black Sticks and have a win.

"We both love playing against each other. To get a win over the Black Sticks and win the Oceania Cup is always great.

"It's always a great experience to play in front of an Australian crowd."

Wickham opened the scoring after three minutes with a powerful shot on the turn.

Wotherspoon doubled their advantage two minutes later, after good lead-up work from Whetton.

Whetton came close moments later with an angled shot which hit the side netting as Australia piled on the pressure.

Blake Govers set up Wotherspoon who was denied by NZ goalkeeper Richard Joyce to end a dominant opening quarter.

Australia picked up where they left off in the second, with Whetton adding a third with a powerful shot following a good run on 17 minutes.

Two minutes later, the impressive Zalewski found space inside the shooting circle to slot the fourth.

Tom Craig went on an outstanding run where he beat three opponents as Australia rounded out the first half in control.

Govers had a penalty corner thwarted, while Cory Bennett was denied in the same circumstances down the other end for NZ in the third.

Margaret River product Zalewski scrambled home the fifth goal on the cusp of three-quarter time.

Australia kept the pressure on in the last quarter, with Trent Mitton denied before Wickham added the sixth with two minutes to play.

The Kookaburras will turn their attention to next month's International Festival of Hockey where they'll face Pakistan, Japan and New Zealand.

"We're really looking forward to it," Swann said.

"I have a sweet spot for Melbourne. We won a couple of Champions Trophies there and they've always produced great crowds and been behind us.

"We're looking forward to going back, hopefully we'll get the W as well."

Hockey Australia media release


---

Hockeyroos Secure Seventh Oceania Cup Title

Ben Somerford




The Hockeyroos have defeated Rio Olympics conquerors New Zealand 2-0 to win their third consecutive Oceania Cup at Sydney Olympic Park Hockey Centre on Sunday afternoon.

First-half goals from Jane Claxton and Kristina Bates were the difference with Australia holding off the Black Sticks' attempts to rally in the second half.

The victory secures the Hockeyroos their seventh Oceania Cup crown and goes some way to exacting some revenge for last year's Olympic defeat.

Australia had already claimed 2018 World Cup qualification but will gain a rankings points boost from the triumph.

Goal scorer Bates said: "It's an amazing feeling. The Kiwis have had it over us the last couple of tournaments so it's really good to get the win today.

"It puts us in a good spot heading into the Commonwealth Games next year. It's a good result for us."

The Hockeyroos started in perfect fashion, with new captain Emily Smith providing a precise pass for Claxton who fired past Black Sticks keeper Sally Rutherford from just inside the shooting circle.

Madi Ratcliffe had a penalty corner saved late in the first quarter, while Smith set up Claxton for another chance which went wide.

Late in the first half, goalkeeper Rachael Lynch did brilliantly to deny Rachel McCann, before Australia scored their second.

The goal came in dramatic circumstances with Bates deflecting into the back of the net with barely seconds to play in the first half.

Australia had plenty of momentum after Bates' goal with the parochial home crowd but New Zealand came out the stronger in the second half.

Jocelyn Bartram smothered a McCann chance when in one-on-one, but she did one better with an athletic stretching left-foot save from Stacey Michelsen's angled shot.

Smith couldn't deflect a Ratcliffe drive on target late in the third quarter before spurning a chance on a counter-attack.

Amy Robinson had the best chance of the last quarter for NZ but pushed her shot wide, as Australia held firm to collect the regional title.

Speaking about her goal moments before half-time, Bates added: "It was awesome to a score a goal, particularly in the final.

"It put us in a real good spot for the rest of the game. I was super excited."

Hockey Australia media release


---

Black Sticks women beaten by Australia in Oceania Cup hockey final

ian Anderson



Australia score on halftime against New Zealand in the Oceania Cup women's hockey final in Sydney, Australia. PHOTOSPORT

A strong second-half display couldn't stop New Zealand from losing the Oceania Cup women's hockey final to Australia.

The hosts took a 2-0 lead into the second half in Sydney and while the Kiwis dominated the last 30 minutes, they couldn't muster a goal.

The Black Sticks protested that Australia's second goal went in after time had expired at the end of the first half, but to no avail as the goal counted.

After the Hockeyroos dictated terms in the second quarter, New Zealand took the game to the hosts straight after the re-start, with Stacey Michelsen prominent.

Rachel McCann couldn't get her shot past the Australian goalkeeper Jocelyn Bartram when one-on-one after a quick counter-attack two minutes into the third quarter and Bartram again was key when she stopped a reverse-stick strike by Michelsen after the Kiwi star stole the ball in midfield.

Michelsen later had a tomahawk shot fly just wide and while New Zealand removed goalkeeper Sally Rutherford late in the final quarter as they strove to find the net, Australia held on to take the title.

Jane Claxton opened the scoring for the victors in the third minute with a powerful shot into the far corner of the goal from the top of the circle before the Hockeyroos had their best spell in the second quarter.

They ran wave after wave of attack at the visitors but it wasn't until the final second of the half when Kristina Bates deflected the ball past Rutherford to double her side's lead.

The New Zealand and Australian men's teams were due to meet in their final on Sunday night.

Stuff


---

Black Sticks women beaten by Hockeyroos in Oceania Cup final

The Hockeyroos have claimed their third-straight Oceania Cup with a hard-fought 2-0 win over New Zealand in Sydney.

Jane Claxton scored early and Kristina Bates doubled the lead with a contentious goal just before halftime in Sunday's decider.

The victory ensures the women's national team are likely to retain fifth spot in the world rankings, one slot ahead of their Trans Tasman rivals.

The result also came less than one day after Australia held on for a 2-1 win against the Black Sticks in their final group match in Homebush.

And the Hockeyroos picked up where they left off on Saturday, when Claxton fired from just inside the shooting circle from an Emily Smith pass in the second minute.

New Zealand had a number of chances to equalise on the counter but couldn't convert their opportunities and were down 1-0 at quarter time.

A tight second period seemed destined to finish without a goal until Bates deflected a 40-metre pass from Ashley Fea seconds before halftime.

Officials momentarily discussed whether there was enough time on the clock before agreeing that the goal stood, giving Australia a commanding two-goal lead at the main break.

Spurred on by conceding the last-gasp goal, the visitors burst out of the gates in the second half and should've cut the lead when Rachel McCann found herself in front of goal.

But she was turned away by goalkeeper Jocelyn Bartram, who also denied New Zealand captain Stacey Michelsen and Kelsey Smith to preserve their lead at the final change.

It wasn't until the fourth quarter that the Black Sticks earned their first penalty corner, however they were still unable to find a way through Australia's defence.

The Hockeyroos conceded just one goal in their three matches during the tournament.

The New Zealand Herald


---

Hockeyroos Get One Back Over The Black Sticks

Ben Somerford




The Hockeyroos have claimed a morale-boosting 2-1 victory over New Zealand ahead of Sunday's Oceania Cup Final where they'll face the Black Sticks again.

Maddy Fitzpatrick and Brooke Peris were the goal scorers for Australia in a dominant first-half, before Olivia Merry scored for NZ in the 53rd minute to ensure a tense finale.

The win is Australia's second against New Zealand in seven matches since the Black Sticks knocked the Hockeyroos out of last year's Rio Olympics.

The two sides will meet again at Sydney Olympic Park Hockey Centre in Sunday's decider from 3pm.

Opening goal scorer Fitzpatrick said: "It feels really good especially against New Zealand.

"They've got us a few times in the last year so it was really good to get the win."

Madi Ratcliffe had two early chances, before New Zealand threatened through Rachel McCann but goalkeeper Rachael Lynch thwarted the danger.

The opening goal came on 12 minutes when Fitzpatrick drag flicked into the backboard from a penalty corner.

Australia doubled their lead on 22 minutes when Emily Smith deflected Stephanie Kershaw's drive into Peris' path, with the striker brilliantly powering her shot home.

The Black Sticks rallied after the main interval with captain Stacey Michelsen spurning two good opportunities, before Grace Stewart's good work set up Fitzpatrick for another penalty corner effort which was well saved.

New Zealand pulled one back when Merry scored from close range after Shiloh Gloyn's cutback on 53 minutes.

McCann missed a golden opportunity in the dying minutes with an open goal at her mercy while Gloyn shot wide as the Hockeyroos held on.

Fitzpatrick added: "I think it was a really good hit-out. They came out pretty solid in the first half.

"We put in a really good performance on the pitch, second half we got a bit fatigued and they were pressing hard and put us to the test.

"We stuck to the process and carried on with what we were doing."

Speaking about Sunday's Final, she added: "It's going to be really tough. I think if we do what we did today and follow that it should all work out.

"There's a bit of pressure but hopefully that brings out a better performance."

Hockey Australia media release


---

Vantage Black Sticks play for Oceania titles



Photo: Planet Hockey

The Vantage Black Sticks Men and Women will fight it out against their Australian rivals in tomorrow's Oceania Cup finals in Sydney.

The Women play out a rematch against the Hockeyroos at 5pm (NZT) after being edged 2-1 in Saturday night's round robin clash.

Australia had the better of the first half and went into the sheds leading 2-0 after goals from Maddy Fitzpatrick and Brooke Peris.

New Zealand lifted after the break and evened out the game statistics through some great attacking hockey as they hunted for goals.

A 53rd minute field goal from Olivia Merry gave the Kiwis a sniff but the Hockeyroos were able to desperately hold on under huge pressure to take the result.

Meanwhile, the Vantage Black Sticks Men swept Papua New Guinea 19-0 in their encounter to set up a gold medal match against the Kookaburras at 7:30pm tomorrow (NZT).

The Kiwis were fuelled by a five goal bag from Sam Lane while Jared Panchia netted four times and Daniel Harris and Cory Bennett both scored doubles.

New Zealand will be hungry for revenge over the Aussies after being defeated 5-1 by the world number two ranked hosts on Thursday.

Both men's and women's Oceania Cup gold medal matches will be streamed live through www.epicentre.tv

CLICK HERE for more on the 2017 Oceania Cup

VANTAGE BLACK STICKS WOMEN: 1 (Olivia Merry)
AUSTRALIA: 2 (Maddy Fitzpatrick, Brooke Peris)
Halftime: Australia 2-0

VANTAGE BLACK STICKS MEN: 19 (Sam Lane 5, Jared Panchia 4, Cory Bennett 2, Daniel Harris 2, Hayden Phillips, Leo Mitai-Wells, James Coughlan, Nick Elder, Nick Ross, Harry Miskimmin)
PAPUA NEW GUINEA: 0
Halftime: New Zealand 11-0

Hockey New Zealand Media release


---

France assured berth at Odisha Hockey Men's World Cup Bhubaneswar 2018




France have become the latest team to qualify for the Odisha Hockey Men's World Cup Bhubaneswar 2018 thanks to favourable results at the Oceania Cup, which is currently being played in Sydney.

France's place was confirmed on Saturday (14 October) when New Zealand defeated Pacific Islanders Papua New Guinea to set up an Oceania Cup title decider with Australia on Sunday (15 October).

Under FIH regulations, the team that wins its continental qualifier automatically qualifies for the World Cup. However, as both Australia and New Zealand have already qualified for next year's tournament in India thanks to their respective third and sixth place finishes at the Hockey World League Semi-Final in Johannesburg earlier this year, a World Cup qualification spot opened up for France, who were next in line for a ticket to Bhubaneswar.

France, who are 16th in the FIH Hero World Rankings, finished seventh at the Hockey World League Semi-Final in Johannesburg in July thanks to a 3-0 victory over Egypt in their final game of the competition. It left them third behind New Zealand and Pakistan - who were assured of World Cup places after results at the Pan American and European Continental Championships went their way - in a list of countries waiting to learn their fate.

France are the 14th team to achieve men's World Cup qualification, joining hosts India, Argentina, Australia, Belgium, Canada, England, Germany, Ireland, Malaysia, Netherlands, New Zealand, Pakistan and Spain at the prestigious 16 nation event. They will be competing in their first Hockey World Cup since the 1990 event in Lahore, Pakistan. After a 28 year absence, it will be a welcome return to a stage on which they admirably performed in their two previous appearances. France participated in the inaugural event 1971, achieving a fine seventh place finish in Barcelona, Spain before repeating the feat 19 years later in Lahore, where they also finished seventh. 

The final two men's World Cup qualification places will be decided by the outcomes of the upcoming Continental Championship events in Asia - currently taking place in Dhaka, Bangladesh - and Africa (22-29 October 2017).

The Odisha Hockey Men's World Cup Bhubaneswar 2018 will be held at the Kalinga Stadium from Wednesday November 28 to Sunday December 16, 2018.

FIH site


---

Vanuatu & Fiji Clinch Oceania 5s Titles

Ben Somerford



Vanuatu wins the men's #Oceania5s gold medal 11-1 over Samoa!! #OC2017 pic.twitter.com/GwiwAwFmri

Vanuatu and Fiji have won the men's and women's Oceania InterContinental Hockey 5's titles at the Sydney Olympic Park Hockey Centre on Sunday afternoon.

Vanuatu triumphed over Samoa in the men's Oceania 5's gold medal match 11-1 over Samoa, with captain Hiro Namu scoring five goals.

Morris Aromalo also scored a hat-trick for the Vanuatuans and Ben Sam scored a brace, while Vainiu Teo scored a late consolation.

Fiji beat Samoa 5-2 in the women's Oceania 5's gold medal match with Lora Bukalidi scoring two goals, while Mae Whitman scored a brace for the defeated.

In the men's Oceania 5's bronze medal match, Solomon Islands defeated Tonga 6-1 with John Levo and Jason Ifua both scoring doubles.

In the womeon's Oceania 5's bronze medal match, Solomon Islands also claimed third spot with a 7-2 win over Tonga led by Jeremy Ghailobo's five goals.

Hockey Australia media release


---

Malaysia beat Korea again

By Jugjet Singh

MALAYSIA beat South Korea 2-1 Saturday to cement their spot in the Asia Cup Round Robin with a match to spare in Dhaka, Bangladesh.

On Monday, Malaysia will play Oman while South Korea will meet China in the final Group B matches.

The Koreans sat back and soaked in the pressure for the first 10 minutes, but still, Malaysia could not find the much needed break.

Only in the last five minutes of the first quarter did the Koreans break into the Malaysian semi-circle, but stout defending kept them at bay.

The stakes were high for Korea, as they needed to win and keep their World Cup hopes alive, while Malaysia played with great composure to deny them.

Tengku Ahmad Tajuddin finally gave Malaysia the break, when he deftly dribbled into the semicircle and won the second penalty corner, for Faizal Shaari to nail the opening goal, and his fourth of the tournament, in the 17th minute.

Faizal again played a pivotal role when Malaysia won their third penalty corner. This time he pushed to the centre for a set-piece and even though the ball was stopped by goalkeeper Hong Doopyo, Azri Hassan tucked in the rebound in the 19th minute.

However, Korea came back into the match in the 27th minute when Lee Seunghoon scored a field goal from close range.

But Malaysia played in the remaining minutes to deny South Korea an equaliser.

RESULTS: Group B: Malaysia 2 South Korea 1; China 2 Oman 1.

STANDINGS

GROUP A
            P  W  D  L  F  A Pts
INDIA       2  2  0  0  12 1  6
PAKISTAN    2  1  1  0  9  2  4
JAPAN       2  0  1  1  3  7  1
BANGLADESH  2  0  0  2  0  14 0

GROUP B
            P  W  D  L  F  A Pts
MALAYSIA    2  2  0  0  9  2  6
S KOREA     2  1  0  1  8  4  3
CHINA       2  1  0  1  3  8  3
OMAN        2  0  0  2  3  9  0

Jugjet's World of Field Hockey


---

Lethal on the set piece

By S. Ramaguru



Ever reliable: Faizal Saari scored Malaysia's first goal off a penalty corner in the 2-1 win over South Korea in the Asia Cup yesterday.

KUALA LUMPUR: Malaysia scored two quick penalty corner goals in the second quarter to edge defending champions South Korea 2-1 in their Group B match of the men's Asia Cup hockey tournament in Dhaka.

Malaysia surprised South Korea with goals by Faizal Saari (17th minute) and Mohd Azri Hassan (19th) at the Maulana Bhashani National Hockey Stadium yesterday. The Koreans reduced the deficit through Lee Seung-hoon in the 27th minute.

It was Malaysia's second win in the tournament, having trounced China 7-1 on Thursday.

With yesterday's win, Malaysia have booked their berth in the Super Fours (second round) of the tournament.

World No. 12 Malaysia still have a match in hand against Oman tomorrow.




The Koreans, who have yet to qualify for the 2018 World Cup, have one win and one defeat. World No. 13 South Korea and China meet tomorrow with the winners set to seal their place in the Super Four.

China had earlier edged Oman by a similar 2-1 scoreline to keep their Super Four hopes alive.

Malaysian team manager Mohd Nasihin Nubli admitted that the "early goals allowed us to keep the Koreans at bay".

"We had no pressure and we played at a relaxed pace. The early goals in the second quarter helped. The Koreans were under pressure as they needed to win.

"It helped that our players were mobile and their defensive play was up to par.

"It was a good win and one that the players worked hard for.

"Skipper Mohd Shukri Mutalib is injured but he should be ready for the Super Four round.

"We are happy to have grabbed two wins. We hope to wrap up the preliminary round with another win on Monday," he said.

The Star of Malaysia


---

No room for pressure in India-Pakistan clash, coach Sjoerd Marijne insists on keeping it tactical

Sundeep Misra



India's new coach Sjoerd Marijne. Firstpost/Neeraj Tiwari

There is a buzz around Maulana Bhashani Stadium in Dhaka. And it's getting louder. Suddenly, there is extra security around the stadium. Even in the press box, policemen sit with guns. No teams have had a pre-match press conference until now — that honour now belongs to India and Pakistan. Tickets are being distributed to journalists to be given to friends and relatives. It's the match to be seen at. In Dhaka, at least among the hockey and sports fraternity, it's a must watch game.

At the press conference, Pakistan captain Muhammad Irfan was asked about the 1985 Asia Cup final when Pakistan beat India 3-2. Irfan appeared clueless. He whispered to assistant coach Muhammad Sarwar, who captained the Pakistan side in 2003. But Sarwar had no clue either. But here in Dhaka, the people remember; even the memories have refused to fade away; they still cling to the walls of the stadium, though astro-turf has long replaced grass at the arena. The romance of an India-Pakistan clash is being devoured by Bangladesh.

The Indian team trains under the watchful eyes of new coach Sjoerd Marijne. The Dutchman is the opposite of what the quote seeking media wants. At the press conference, Marijne doesn't take the bait offered by the Bangladesh media. "This is your first India-Pakistan match as coach. Are you under pressure?" they ask him. The Indian coach has a sullen way of answering. "It's just another match for me. It's a process and we are looking to play a certain way. Yes, it's an honour to be the coach during an India-Pak match," he replies. Marijne will not be pressured into answering in a certain way.

Sarwar, who has played quite a few India-Pak matches, including the 2003 Test series, spoke about awaam and haar-jeet. "People in both countries don't like losing and I hope it's a good match. If we don't miss our chances, it will be a close game," he said.

Certainly a few more words would be added to give an extra twist to the drama that is unfolding before every hockey lover here. For Pakistan, captain Irfan is the voice of reason. "India have been playing more hockey than us and have got the right exposure," he explains to a journalist who asked him what the scoreline could be, and if Pakistan can rectify their mistakes in time for Sunday's match.

"India play fast and has a good defence as well. So, we will try and play to our potential and ensure that the boys play above theirs," he said.

Meanwhile on the turf, the Indian team seems to be enjoying itself. After they are done facing questions from the Bangladesh media, the Indians have put both goalposts in use. The forwards are doing their drills at the first, while goalkeeper Akash Chikte is defending penalty corners at the second. The latter will be a major area of concern even if the coach doesn't feel it so. Harmanpreet Singh and Varun Kumar are both firing it in.

Against Bangladesh, Harmanpreet was all over the place, and was on target just once. In a tense clash, where scoring first will count for a lot, powering in the penalty corners could be the the key to ensuring the players don't face much pressure. Of late, India have put it across Pakistan in their last four encounters. However, the scorelines have a story to tell. In the 2016 Asian Champions Trophy in Kuantan, India won twice by identical 3-2 margins. But in London during the Hockey World League, India won 7-1 and 6-1. So it's clearly about momentum, making the most of half-chances, and scoring from quick counter-attacks.

"It's process driven. You play to a plan and the team executes it. Unless there is a strategy, there are no results. We plan and play," Marijne said.

At the media briefing, a journalist asked the Indian coach if emotions or skills will do the job for Pakistan. Marijne is not blunt, but he is emphatic when he says, "I always play tactically. I will have a strategy."

Irrespective of the result on Sunday, there is no denying that a gap exists between the teams. There is an element of truth when Pakistan rue not getting much exposure, with teams reluctant to travel there. Players like Irfan are playing in the Malaysian League to gain match practice when the national team doesn't have any engagements.

Yet, things can go wrong for India. Against Bangladesh, they had a 5-0 lead after two quarters, but couldn't score in the third, before putting two away in the fourth. But chinks were visible. And that could hurt them against Pakistan. "I am aware of the weaknesses and also know the strengths," says Marijne. "My focus is on the play and the team. India has to focus on itself and not the match."

Focus, focus, focus

Marijne wants the team to focus on "everything else except the fans, referees and the opposite team". But isn't it slightly surprising that there is no pressure that comes from coaching India against their greatest rivals on a hockey field? Marijne's answer is straightforward and clinical. "Pressure comes from myself. I want to win. I hate losing. And what should I do for that? I need to prepare. I have to be busy with the players. I have to focus on the play. I can't be busy with pressure," he said.

On the other hand, Pakistan chose to not train on Saturday, opting to take the day off and relax. As Irfan said, "The team watched videos and understood what is required."

On the turf, the interaction between Ramandeep Singh, SV Sunil, Gurjant Singh and Akashdeep Singh is on. It's fast paced, and the single touches make them seem like shadows on the turf. Their footwork is neat, as the striking circle becomes a maze of geometrical patterns. They are like wasps buzzing all over the circle. Against Japan and Bangladesh, there were moments when their passing touched a level where the opposition defence couldn't even spot the ball. But the inconsistency lets the team down in crucial matches.

"I have a vision for hockey. I can come close with this team. They can be brilliant, and at times against Bangladesh, they did achieve it," Marijne said.

One can raise eyebrows at the words "in the match against Bangladesh", but the coach is not offering Bangladesh as an example. He is speaking about the process, the specific match is only incidental. Ask him to predict a scoreline for the Pakistan clash, and Marijne again doesn't fall for the bait. "I cannot be busy with results. I am busy with the warm-up. Yes, the results are important and I know everybody is looking forward to the match. But it's also important to focus on the process. If that is right, the result will be good," he said.

SV Sunil is dripping with sweat. It pours off him as if someone just dunked him in a pool. It forms a puddle at his feet. Training is finally over and the coach has mercifully allowed them to return to their rooms, to prepare for Sunday's match. Sunil says he doesn't remember the matches he has played against Pakistan in the past. He also denies being under much pressure before the key clash. "Nothing at all," he says, slightly amused that one should even contemplate it. "We have played them a lot. We just follow the basics and try and do everything right."

Sunil does believe that playing hockey has changed a lot in the last 3-4 years — since the foreign coaches came in — "and now it's a whole lot tactical. "It's one-touch hockey now. We can't hold the ball beyond two touches. You have to make it hard for the opponent. They have to run to get the ball. Against Pakistan, we will get a result," he said confidently.

Those days are over when being a forward meant scoring goals. Sunil can sometimes play for long periods on the right wing, creating moves and hitting in crosses. And when finding the gaps, he would cut in and smack a few shots goalwards. "The aim should be to create as well. We have a good forward line and that is our strength," he said.

Irfan says, "The basic difference is that you (India) have a foreign coach and we have an Asian (Pakistani)."

But it's not as simplistic as that. Hockey may have changed over the years, from being a hit-and-run to a 5-3-2-1 flowing system, to being more akin to chess today, with coaches knowing and understanding how to play which player where and when. But in an India-Pakistan clash, some portion of this delectable sport is still tuned to the heart. At some point, you do see players straining at the leash, wanting to dazzle, do a hip swerve, and swoosh, the stick like a magician making the ball vanish. In fact, it will be surprising if style doesn't define an Indo-Pak hockey clash. Irrespective of whether there is a foreign or Asian coach.

Firstpost


---

Confident India face stern Pakistan test on Sunday

After beating Japan 5-1 in their opening match, the Manpreet Singh-led side mauled minnows Bangladesh 7-0 on Friday.



Indian players celebrating a goal against Bangladesh in their Pool A match at the Maulana Bhashani National Hockey Stadium in Dhaka on Friday.   Photo Credit: PTI

Two easy wins garnered, a confident India would face its toughest test in the event when it takes on arch-rivals Pakistan in the much-anticipated clash of the Asia Cup hockey tournament, in Dhaka on Sunday.

Rated as favourites to win the title, the Indians have been impressive so far, beating Japan and hosts Bangladesh comprehensively in their opening two Pool A matches.

After beating Japan 5-1 in their opening match, the Manpreet Singh-led side mauled minnows Bangladesh 7-0 on Friday.

Pakistan, on the other hand, have had a mixed outing so far. While they thrashed Bangladesh 7-0 in their campaign-opener, they were held to a 2-2 draw by Japan in their next match.

India are currently sitting atop Pool A with six points from two wins while Pakistan are placed second with four points.

With two wins, India are comfortably through to the Super 4 stage of the tournament and the Sjoerd Marine-coached side would be hoping to finish the pool stages with an all-win record.

In the first two games, the Indians have showcased beautiful one-touch hockey and used both flanks to create numerous scoring chances.

What is heartening is that the Indians have scored some excellent field goals but a matter of concern for them is their penalty corner conversion rate.

Against Bangladesh India earned as many as 13 penalty corners but could make use of just two.

Less than a month into his new job replacing the legendary Roelant Oltmans, tomorrow's game can be considered for coach Marijne biggest challenge of his short tenure.

History suggests that any Indo-Pak hockey duel is full of not just excitement and drama but also frayed tempers.

Pakistan might not be the most potent force in world hockey presently but when it comes to playing against India, the intensity touches a new level.

So come tomorrow, the Indians will have to control their emotions when they take the turf. Any lapse in concentration would spoil all the good work they have done so far in the tournament.

Of late, India have dominated arch-foes Pakistan in hockey, the latest being the 6-1 thrashing in a 5th-8th place classification match of the Hero Hockey World League Semi-Final in London in June.

That loss dented Pakistan's hopes of booking a berth at the next year's World Cup to be held in Bhubaneswar and the Pakistanis would be desperate for revenge.

With four world titles and three Asia Cup titles (1982, 1985, 1989), the 14th-ranked Pakistan have been blighted by poor management and security concerns.

But with a new management in place, Pakistan have recalled some experienced players in the squad and this could make things better rather than worse.

For Pakistan it is a big game as a loss can dent their Super 4 chances as Japan is expected to win hands down against Bangladesh in the other Pool A match of the day.

The Hindu


---

India vs Pakistan, a match made in Dhaka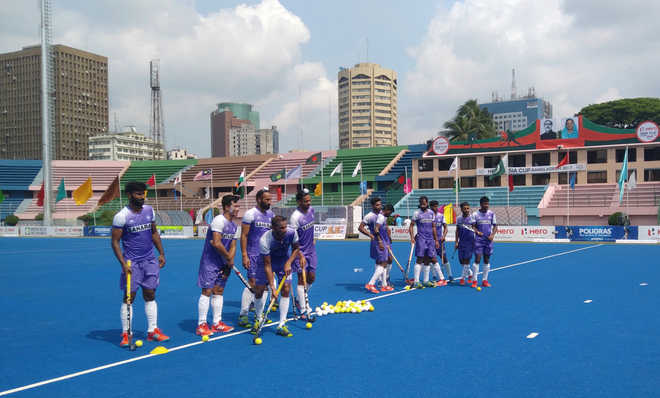 The Indian team at a practice session in Dhaka on Saturday. India would be keen to improve their penalty corner conversion rate. HI

Dhaka: = India would face their toughest test in the Asia Cup hockey tournament when they take on arch-rivals Pakistan in their highly-anticipated clash here tomorrow.

The Indians have been impressive so far, beating Japan and hosts Bangladesh comprehensively in their opening two Pool A matches. After beating Japan 5-1 in their opening match, the Manpreet Singh-led side mauled minnows Bangladesh 7-0 yesterday.

Pakistan, on the other hand, have had a mixed outing so far. While they thrashed Bangladesh 7-0 in their campaign-opener, they were held to a 2-2 draw by Japan in their next match.

India are currently sitting atop Pool A with six points from two wins while Pakistan are placed second with four points. With two wins, India are comfortably through to the Super 4 stage of the tournament. The Sjoerd Marine-coached side would be hoping to finish the pool stages with an all-win record.

In the first two games, the Indians showcased beautiful one-touch hockey and used both flanks to create numerous scoring chances. What is heartening is that the Indians have scored some excellent field goals but a matter of concern for them is their penalty corner conversion rate.

Less than a month into his new job after replacing Roelant Oltmans, coach Marijne faces the biggest challenge of his short tenure tomorrow.

Dominant India

Of late, India have dominated Pakistan in hockey, the latest result being the 6-1 thrashing in their 5th-8th place classification match at the Hero Hockey World League Semi Final in London in June. That loss dented Pakistan's hopes of booking a berth at next year's Bhubaneswar World Cup. Pakistan would be desperate for revenge.

With four world titles and three Asia Cup titles (1982, 1985, 1989), Pakistan have a glorious past, but they have been blighted by poor management and security concerns and are now ranked world No. 14. But with a new management in place, Pakistan have recalled some experienced players to the squad and this could make things better. Tomorrow's game is big for them because a loss can dent their Super 4 chances as Japan are expected to win hands down against Bangladesh in the other Pool A match of the day.

The Tribune


---

Pakistan take on India today




DHAKA - It's Super Sunday once again when Indian men's hockey team will take on Pakistan in a high-voltage encounter here at the Hero Asia Cup 2017 in Dhaka. Even as the memories of India – Pakistan clash from the Hero Hockey World League Semi Final in London earlier this year is fresh in the minds of hockey lovers' world over, the two teams are geared up for tomorrow's match that is believed to create anxious moments for the teams' supporters.

"What happened in London was different," asserted Pakistan skipper Mohammad Irfan on the eve of the match. "I am aware that we lost two back-to-back matches (Pakistan lost 1-7 and 1-6) against India but the present Pakistan team is different with few of the senior players making a comeback. Our management has changed and I am confident we will put up a good show where hockey lovers from across the world will enjoy the match," expressed the 29-year-old Irfan.

Though Pakistan got off to a roaring start in this tournament with a 7-1 win against hosts Bangladesh, they stumbled against Japan as they settled for a 2-2 draw. On Sunday, Pakistan needs to ensure a win against India to make the Super 4s stage. "It is a must-win game for us otherwise we know it will come down to the match between Japan and Bangladesh and if Japan beats hosts by a big margin then we are in trouble," emphasized Irfan. He rued the chances his forwards missed against Japan but is hopeful they won't make the same mistakes against India. "We watched the video of the match against Japan. There were easy chances that we missed but we don't want to repeat the same mistake against India. They are a strong team with good strategies but we want to focus on our individual skill," he added.

Meanwhile, Indian team captain Manpreet Singh stated that his team's focus will be to top the table and to do that they want to make sure they come up with an overall performance against Pakistan. The team is currently on top of the pool table with six points from two wins (against Japan 5-1 and Bangladesh 7-0) in Pool A.  "For hockey lovers, India- Pakistan is always a great game to watch. For us, we want to play them as any other opponent. We want to focus on our strategies against them and ensure we get on to a good start and not concede early goals," 25-year-old midfielder stated.

While Indian forward-line has showcased incredible form, the team continues to struggle with penalty corner conversion – a concern that might cost them dearly against Pakistan who will look to use this to their advantage. "I still don't think our PC conversation is bad. Yes, we missed a few chances but you must also acknowledge that Bangladesh defence in PC was good," Manpreet pointed out.

Interestingly, Sunday will witness the 170th clash between India and Pakistan and the match is pegged to be Hero Asia Cup's biggest encounter with Bangladeshi hockey buffs expected to turn out in large numbers to witness this epic face-off. Statistics show that India have just 57 wins while Pakistan have won 82 times against their nemesis India. And as Pakistan skipper rightfully said, "It will be the team that absorbs the pressure well in the early stages of the match will emerge victorious on Sunday."

Squads:

Pakistan: Mazhar Abbas (goal keeper), Amjad Ali (goal keeper), Muhammad Irfan (captain), Atif Mushtaq, Mubashar Ali, Ammad Shakeel Butt, Abu Bakar Mahmood, Tasawwar Abbas, Rashid Mahmood, Rizwan Jr, Arslan Qadir, Azfar Yaqoob, Umar Bhutta, Rizwan Sr, Ali Shan, Muhammad Atiq, Waqas Akbar and Ajaz Ahmad.

India: Akash Chikte (goal keeper), Suraj Karkera (goal keeper), Dipsan Tirkey, Kothajit Singh, Surender Kumar, Harmanpreet Singh, Varun Kumar, SK Uthappa, Sardar Singh, Manpreet Singh (captain), Chinglensana Singh, Sumit, SV Sunil, Akashdeep Singh, Ramandeep Singh, Lalit Kumar Upadhyay, Gurjant Singh, Satbir Singh.

The Nation


---

Pakistan face India in crucial Asia Cup game today

LAHORE: Pakistan take on arch-rivals India in their last pool match at the Asia Cup hockey tournament at Dhaka's Maulana Bhashani National Hockey Stadium on Sunday.

India, leading the pool 'A', are already through to the super four round after recording two successive wins that gave them six points.

On the other hand, Pakistan having four points are placed second in the pool after the green-shirts played a 2-2 draw against Japan on Friday. In the tournament opener, Pakistan had given hosts Bangladesh a 7-0 hockey lesson.

Japan (one point), who were thrashed 1-5 by India in the pool match, will play Bangladesh in their last pool match on Sunday.
Advertisement

Sunday's matches will be crucial for both Pakistan and Japan. Pakistan currently enjoy a clear edge over Japan, having a +7 goal difference compared to latter's -4.

Japan therefore need not only a huge win over Bangladesh but also hope for Pakistan's defeat at the hands of India by a big margin -- a scenario which will help them make the last-four stage.

Pakistan have been the Asia Cup champions thrice — winning the first three editions in 1982, 1985 and 1989. While India have lifted the cup twice, in 2003 and 2007.

As far as their Asia Cup head-to-head record is concerned, Pakistan have had a clear edge over India. Out of the six matches played between the traditional rivals in the continental event so far, Pakistan have won five and lost just one.

Meanwhile, Malaysia (six points) lead pool 'B' with two straight wins. There are followed by defending champions South Korea (three points) who have won one and lost one match. China (one win, one loss; three points) and Oman are placed third and fourth in the pool, respectively.

Dawn


---

Pakistan face arch-rivals India today

KARACHI: In their last pool match of the Hockey Asia Cup, Pakistan come across their arch-rivals India on Sunday at Dhaka's Maulana Bhashani Hockey Stadium. India are already through to the Super Four round after two convincing wins. Pakistan were surprisingly held to a 2-2 draw by a determined and fast-moving Japanese side. Japan play Bangladesh in their last match. Pakistan enjoys a +7 goal difference while Japan has – 4. Hence, Japan needs not only a big win over Bangladesh but also hope for Pakistan's defeat against India by a margin which suits them. Pakistan are three-time Asia Cup champions Pakistan while India have lifted the cup twice.

It is interesting to note that Pakistan won all the first three editions of the cup in 1982, '85 and '89. While India's victories were achieved in more recent times, in 2003 and 2007 In all of Pakistan's three Asia Cup wins, India were the runners up. In 1985 and '89, Pakistan defeated their neighbours in the final. The inaugural 1982 competition was played on a single league basis. There also the Green Shirts defeated India in the decisive last match. India's first win, in 2003, came at Pakistan's expense in the final. In total, the traditional rivals have met six times in the tournament. Interestingly, Pakistan has won as many as five times while India's lone win against Pakistan in this event came in 2003. In that edition, they met twice. Pakistan won the pool match 4-2 but lost the final by an identical margin. The match will air at 4:30pm PST.

The Daily Times


---

Stats Speak: Will it six-in-row triumphs for India against arch rivals

By  B.G.Joshi (Sehore-Bhopal, India)

Having won 5 consecutive matches since April-2016 India is in position to make six-in-row victories versus arch rival Pakistan in Dhaka today (Oct 15, 2017). India beats Pakistan 5-1(Ipoh, AZ Cup, Apr 2016); 3-2(Kuantan, ACT, League, Oct 2016); 3-2(Kuantan , ACT, Final,   Oct 2016); 7-1(London, HWL, Pool, Jun 2017) and 6-1(London, HWL, Classification, Jun 2017) .However longest winning streak for either country is 7 victories in a row for Pakistan in 2004.Here are statistical highlights of these giants since inception:
Particulars

Matches

Played

India

won

Drawn

Pakistan

Won

Goals

For India

Goals For

Pakistan

Total

169

57

30

82

337

390

In  Asia Cup

6

1

0

5

10

18

In  Dhaka

4

1

2*

1

11

8

Last 5

5

5

0

0

24

7
 *India won in tie break in 2001 PM Intl. Gold Cup, where as Pakistan won in tie break in 2010 SAG.

Fieldhockey.com


---

The numbers game: Pakistan's edge over India in hockey encounters



Overall, both teams have met in 169 games, with Pakistan winning 82 and India only winning 57 matches.—File photo

An encounter between arch-rivals Pakistan and India in any sport is never 'just another match' for either team. Players—be they of cricket, hockey, or any other game—enter the field with high emotions, always making it a high-voltage match.

With both teams set for a spectacular Asia Cup Hockey match in Dhaka on Sunday, let's have a look at the statistical background of encounters between the two teams in the field of hockey.

India will enter the match with a winning streak of five back-to-back wins against Pakistan. They have won twice in the FIH World Hockey League, twice in the Asian Hockey Champions Trophy, and once in the Sultan Azlan Shah Cup in 2016.

Before India's current five-win streak, the Green Shirts had a winning run of three matches against the men-in-blue.

Overall, both teams have met each other in 169 games, with Pakistan winning 82 and India winning 57 of them. The remaining 30 matches between the traditional rivals ended as draws.

In the history of the Asia Cup, the former champions have faced each other on six occasions, with Pakistan winning five of them, and India winning just one Asia Cup match against Pakistan.

Pakistan has overall scored 390 goals against India's 337 goals in a total of 169 matches. In six Asia Cup games, Pakistan scored 18 goals against India's 10 goals.

In Dhaka, Pakistan has won two games against India, while the neighbouring country has won one. One of the four matches between the two in the Bangladesh capital has ended as draw.

55 goals by Sohail Abbas is the most by any player in Indo-Pak matches. Sandeep Singh is the highest goal scorer for India in Indo-Pak encounters, with 21 goals.

Although Pakistan's current form against India is not so encouraging, records give the Green Shirts a historical upper hand against India.

Some statistical highlights from Pakistan vs India hockey rivalry show that:

• Pakistan has won more Indo-Pak matches in India than India. (Played 39, Pak won 23, India won 14)

• Pakistan has won more Indo-Pak matches in Pakistan than India. (Played 34, Pak won 16, India won 9)

• Pakistan has won more Indo-Pak matches in rest of Asia than India. (Played 56, Pak won 23, India won 22)

• Pakistan has won more Indo-Pak matches in Europe than India. (Played 26, Pak won 17, India won 7)

With this glorious record, Pakistan hockey fans are hopeful that the men-in-green will bring India's current streak to an end and hoist the Pakistani flag high on hockey field once again.

Geo TV


---

Women hockey team training for Asian Challenge Cup

Mohammad Yaqoob



A training camp for women national hockey team is in progress in Lahore for Asian Challenge Cup being held in Brunei from Oct 22 to 29.

The Pakistani women hockey team got this opportunity after a gap of almost one year. As soon as the team was announced by the Pakistan Hockey Federation (PHF) after two-day trials and training camp started at the National Hockey Stadium, a rumour shocked everyone involved. The news that the tournament had been cancelled because many countries pulled out their teams circulated around. The players got disappointed and they started packing their luggage to go back to their homes. The rumour was so strong that even the team management, headed by former Olympian Saeed Khan, believed in it and got concerned.

The rumour-mongers said that only Pakistan and Hong Kong along with the host country Brunei were left in the tournament as Uzbekistan, China, Myanmar and Sri Lanka had pulled out their teams. However, the PHF got confirmation about the tournament and announced that the team would go as per plan as all the foreign teams were participating in the contest.

As it transpired the politics in women hockey was the main cause behind the rumour. Like the women cricket, the politics in women hockey is also at the peak. However, a timely action of the PHF avoided a scare and now the camp is in full swing at the National Hockey Stadium. The team will leave for Brunei on Oct 20. Pakistan has little chance to win any respectful place in this tournament but the players will get some international exposure.

The Sports Board Punjab (SBP) has vowed to promote and sponsor players to become Olympians, enabling them to win laurels for the country. For the last one decade, the board was moving in the wrong direction without having any clear vision. Holding festivals and discouraging international players had become its trademark. For the last one decade, it has almost ignored holding Under-16 competitions for girls and Under-14 contests for boys though its prime duty was to promote the talent at the grassroots. The board's new director general, Aamir Jan, has admitted in his first media talk the importance of the players and vowed to take every step to produce the Olympians.

Aamir had also pledged that champions of all the sports at Punjab level would be honoured and the sports board would help them become Olympians by providing them the best coaching and training facilities. The new DG has also expressed resolve that his first priority will be not only to complete the under-construction sports infrastructure but also to make them operational for the players.

Punjab, which provides 80 to 90pc players to the national team in almost every sport, is lacking sufficient sports infrastructure. The sports facilities which are available in the province are also under the full control of the bureaucracy, which has no clear standard operating procedure (SOP) to ensure a smooth system in allocating the grounds and sports complexes for any sports organisers on merit.

Instead of following a system in allocating the sports facilities, personal likes and dislikes of the administrators of these sports infrastructure have more sway. The sports board also needs to immediately announce a comprehensive policy on the use of the Sports Endowment Fund, which the provincial government announced a couple of years back. But still not a single player could get benefit of it, which is an alarming situation.

In a surprise move, Lahore Regional Cricket Association (LRCA) president Khwaja Nadeem has withdrawn his nomination papers from the election for the same post. The elections are being held in Lahore on Oct 26 under the supervision of the Pakistan Cricket Board (PCB). In place of Nadeem, his covering candidate Naushad will now contest the election against Shahraiz Abdullah Rokhari.

Both the groups have the claim for their victory. The main role in the elections is to be played by three voters of the North Zone, one of the three affiliated zones of the LRCA. While Naushed has the full support of three votes of the West Zone, Shahraiz has the support of three voters of East Zone, because they are heading those zones, respectively. But the North Zone in which all the clubs working in the old city area of Lahore, like Shahdara, Bhatti Gate, Iqbal Parks have to play a vital role in the elections.

Dawn


---

Hockey: India name 18-member team for Sultan of Johor Cup, Vivek Sagar Prasad to lead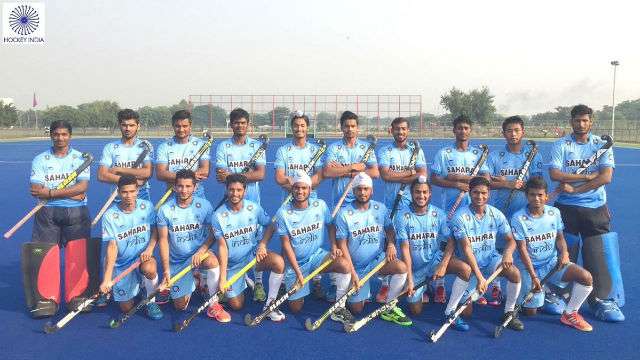 Team India for Sultan of Johop Cup (Twitter (@TheHockeyIndia))

Indian men's junior team will take part in the seventh Sultan of Johor Cup which begins from October 22.

Indian men's junior team will take part in the seventh Sultan of Johor Cup which begins in Johor Bahru, Malaysia from October 22. Hockey India announced the 18-member squad for the competition on Saturday.

The team will be captained by Vivek Sagar Prasad while Pratap Lakra has been named as the vice-captain.

India will take on Japan in the opening match of the tournament. The Indian colts have been training for the tournament at the National Camp at SAI, Lucknow since September 11.

During the course of the camp, India's junior men's team coach Jude Felix has tried and tested all players from the core group before selecting a balanced squad. The Indians will be participating in the tournament after a gap of a year. They finished second in the fifth Sultan of Johor Cup in 2015 where they lost to Great Britain in the final.

"The junior men's team has been training with the objective of performing well at the upcoming Sultan of Johor Cup. We have a very strong pool of players at the junior level who believe in themselves, and this tournament will give the right amount of exposure," coach Felix said.

"I believe this will be a start to our long-term objective of retaining the World Cup title at this level," he added.

Besides India, other participating teams in the tournament are Japan, hosts Malaysia, USA, Australia and Great Britain.

Indian Squad

Goalkeepers: Pankaj Kumar Rajak, Senthamizh Arasu Shankar.

Defenders: Suman Beck, Pratap Lakra (vice-captain), Sukhjeet Singh, Varinder Singh, Mandeep Mor, Sanjay.

Midfielders: Harmanjit Singh, Rabichandra Singh Moirangthem, Vivek Sagar Prasad (captain), Vishal Singh, Vishal Antil.

Forwards: Shilanand Lakra, Raushan Kumar, Abhishek, Dilpreet Singh, Maninder Singh.

DNA


---

SA Indoor IPT 2017 | The Semi-Finals

There was a little bit of gloom in the air around Durban this morning, but that was definitely not brought on by the indoor hockey on display. The early morning saw the cross pool playoffs for position 5-8 before the big semi-finals got underway.

Ladies IPT (Danville Park Girls School)

SF 1 – SPAR KZN Raiders 3-1 Western Province

It was a pulsating affair in which Cheree Greyvenstein (KZN) and Nicole la Fleur (WP) denied every goal scoring opportunity in the first half. It was a tactical masterstroke by Brinsley Powell for WP as they subdued the free-scoring Raiders and created the best chance of the half but failed to punish the SPAR Raiders. In the second half, the Raiders raised the tempo and eventually scored when Cindy Hack set up Shelley Higgo for the tap in, this after Kelly Reed had a goal disallowed. Kara Botes put the second away from a great team effort but WP again refused to be counted out and with four minutes remaining netted through Jamie Southgate. The ladies surged forward but were caught out late on when a goal-bound effort was stopped with a foot on the line and Kelly Reed put away the Penalty stroke in the final play of the game. The SPAR Raiders had survived a mighty test and would now be favourites to defend their crown in tonight's final.

SF 2 – KZN Inland 1-0 North West

Remarkably the second semi-final looked set for a goalless first half but the Midlands ladies decided that would not be the case. 18 minutes of a tactical seesaw was eventually capped off by Kelly Trimborn netting and putting Inlands in front. The second half started with some controversy as the Inland ladies were denied a penalty stroke and seconds later had a goal chalked off. Elmien Marais then showed incredible skill to set herself up one-on-one against the Noxolo Martele but fired wide. Midlands created more good chances and then faced three final minute penalty corners but outstanding defence meant the side that finished 7th last year are now in the final!




5-8 Playoff Results

Mpumalanga 1 (Calitz 5)
Southern Gauteng 4 (Du Plessis 12,14, 28 & 29)

KZN Mynahs 5 (J Cormack 16 & 38, C van Niekerk 22, K Cormack 38 & Gaze 35)
Northern Blues 4 (Pitso 2, Evans 26, Mans 30 & Paans 32)

Mens IPT (UKZN Westville Campus)

SF 1 – KZN Raiders 7-3 Western Province

The heavily favoured Raiders started in that vein when they took on Western Province in the Semi-Final. Jethro Eustice fired a quick brace, one through a penalty stroke, to give them the early lead, before Ryan Julius pulled one back. That encouraged the hosts further who netted two more in quick succession through the talented Jarryd Jones. Legend Dale Isaac pulled another back for Western Province before Geoff Abbott scored a field goal to make it 5-2 at halftime. Early in the second half, Ryan Julius made it 5-3 with a penalty stroke before Greg Last and Geoff Abbott scored field goals to secure the defending champions a spot in the final.

SF 2 – Southern Gauteng 3-0 KZN Inland

Southern Gauteng was determined to get another crack at the final after losing the gold medal match last year and showed that determination with a ruthless first half against the Inland boys. The defence was perfect and capped off by a Penalty corner goal, field goal and penalty stroke through Brandon James, Julian Hykes and Kyle Marks respectively. The second half continued the one-way traffic and Southerns extended their lead through another Kyle Marks penalty stroke before Inland finally put themselves on the board through Brian Gravett. That would be just a glimmer of hope for the Inland Men, looking to emulate their ladies in making the final, as Southern Gauteng raised the tempo and Chad Futcher, Julian Hykes, and Reza Rosenberg netted in the space of 4 minutes to make it 7-1. Although they were too late to really scare Southerns, Inland had the last laugh netting three late goals through a Gavin Jelley brace and Jarred Mitchell to add respectability to the scoreline. What it ultimately means is that it's a repeat of the 2016 final for the men!




5-8 Playoff Results

Mpumalanga 1 (Flowers 12)
KZN Mynahs 10 (Lees 4 & 14, Nyawo 27 & 37, Mackay 6 & 21, Baker 24 & 33 & Kelly-Stack 13 & 38)

Northern Blues 7 (Janse 13 & 26, Lamprecht 4, Paulo 25, 29 & 36 & Odendaal 16)
North West 3 (Botma 24, van Staden 33 & Jeffery 40)

SA Hockey Association media release


---

SA Indoor IPT 2017 | We are the Champions




When Queen penned the lyrics to "We are the champions" I imagine the thought that every major sporting event would have the song ringing out was not at the forefront of their minds. It was however at the forefront of the SPAR KZN Raiders ladies and men today as they successfully defended their Indoor IPT titles.

The SPAR KZN Raiders are a supremely well-oiled machine, who are able to click through the gears remarkably well. It is hard to pick a weakness in their team. At the back, they are superb as seen by the fact that they have not conceded more than 6 goals in the tournament. Less than two a game. Jess O'Connor, Jenna Shuker and Kara Botes offer a sturdy base, ahead of two superb keepers in Zimi Shange and Cheree Greyvenstein, from which the creative flair of Kelly Reed, Shelly Jones and Teagan Fourie are well able to flourish. Up front, the abilities of Cindy Hack and Shelly Higgo and Sethu Sithole are more than enough to punish the opposition.

In the final, the KZN Inland ladies found that out first hand as the Raiders were in clinical mood playing in their white reverse kit. Kelly Reed broke their early stalemate when she netted from a penalty corner and it was all SPAR Raiders from then. The exciting Teagan Fourie netted the second which was quickly followed up by Kara Botes with the third. Two more goals were added in the first half through Cindy Hack and Kara Botes, while Kelly Reed was showing why she is rated as one of the best players in South African Indoor Hockey in a dazzling display.

The second half saw the SPAR KZN Raiders close out the final in a professional manner, limiting the KZN Inland chances to half chances at best and finished off the final with a convincing 6th goal by Shelley Jones after more great work from Reed and Higgo. It was a victory that was well deserved for the hosts who were tested very rarely in the tournament but always passed with flying colours.




Ladies Player of the Tournament – Cindy Hack (SPAR KZN Raiders)

Goalkeeper of the Tournament – Nicole la Fleur (Western Province)

Top Goalscorer – Lilian du Plessis (Southern Gauteng)

FINAL POSITIONS

1 - SPAR KZN Raiders
2 - KZN Inland
3 - Western Province
4 - North West
5 - KZN Mynahs
6 - Southern Gauteng
7 - Northern Blues
8 - Mpumalanga




The Men's final was played between the two top teams in the tournament, with both having won five out of five to make it to the final. It was a tense affair as the two teams battled it out for national glory. Southern Gauteng had early momentum and won a few penalty corners, but they were kept out well by the rear-guard of the Raiders, who in turn had penalty corners but found Jason Briggs in inspired form consistently denying Jethro Eustice.

The game came to life in the 15th minute when Julian Hykes was given a green card and when the penalty corner was kept out Jethro Eustice popped up with the field goal to break the deadlock. Julian Hykes then had a shot saved on the line brilliantly by Robin Jones. Halftime and the score was 1-0 in favour of the Raiders.

If the first half was a tentative affair, the second half looked like it wouldn't be the same as Southern Gauteng scored a fantastic penalty corner through Spencer Botes, but in the same minute, the Raiders pulled ahead again as a Jarryd Jones cross was inadvertently directed in by Miguel da Graca. Matt Fairweather then made it 3-1 when he coolly converted a penalty stroke awarded by Peter Caulder after foul play on Justin Domleo by Rusten Abrahams.

Raiders were turning up the heat and Wade Paton then smashed home a penalty corner to put Raiders 4-1 up with just 9 minutes remaining. A minute later Jethro Eustice finished off a break to make it 5-1.  With 6 minutes remaining Southern Gauteng took off Briggs to play the extra outfield player and immediately won a Penalty corner which was converted through Julian Hykes. Jethro Eustice was then shown a yellow card for his team misbehaving on the bench and Raiders would see out the game a player short. That didn't stop them though as a mistake from Southerns was punished by Geoff Abbott finishing into an empty net.

Julian Hykes would pull a consolation goal back with the last play of the game, but it was not enough as KZN Raiders won the game and were announced as champions for the third consecutive year! Remarkably it meant that the Raiders have now continued to hold both the male and female trophies for indoor and outdoor hockey!




Men's Player of the Tournament – Jethro Eustice (KZN Raiders)

Goalkeeper of the Tournament – Chris McCathie (KZN Raiders)

Top Goalscorer – Ryan Julius (Western Province)

FINAL POSITIONS

1 - KZN Raiders
2 - Southern Gauteng
3 - Western Province
4 - KZN Inland
5 - KZN Mynahs
6 - Northern Blues
7 - North West
8 - Mpumalanga

SA Hockey Association media release


---

Surbiton beaten by Univ of Birmingham



Alice Wills celebrated her goal against Surbiton. Credit Andrew Smith.

The University of Birmingham beat reigning champions Surbiton in the Investec Women's Hockey League Premier Division, winning 3-1 on Saturday afternoon.

England and GB ace Lily Owsley fired them in front after eight minutes from a penalty corner, only for Rebecca Middleton to level for Surbiton four minutes later.

After the break Alice Wills put the University of Birmingham back in front from a 50th minute field goal, and Erica Sanders made sure of the win with a 59th minute goal from open play.

That result means that Holcombe's 1-0 win over Bowdon Hightown was enough for them to take over at the top of the table, with Dirkie Chamberlain's 19th minute field goal giving them the points.

Alex Malzer's goal with two minutes remaining was enough for East Grinstead to beat Slough 1-0 and climb to fourth in the table, while Slough stay second.

Clifton Robinsons were 2-1 winners at Canterbury. Sarah Kerly gave the home side the lead in the ninth minute, but the visitors hit back with goals from Elena Emo and Hannah Coulson.

In the day's other top-flight match, Leicester and Buckingham couldn't be separated and a close match ended goalless.

Investec Conference East

Wimbledon pulled off the result of the day in the Investec Women's Hockey League Conference East with a 9-0 defeat of Southgate.

Libby Sherriff opened the scoring in the sixth minute and Wimbledon were three up at the break with Laura Bevan and Anna Toman adding to the tally.

The floodgates opened in the second half with second goals for Sherriff and Bevan with Tamsyn Naylor, Crista Cullen, Kate Maxey and Nicola Lloyd all on target.

Hampstead and Westminster top the table with four wins from four thanks to a narrow 1-0 away win at Bedford. Sevenoaks are second – they also won 1-0 against Harleston Magpies. Cambridge City were worthy 3-0 winners against St Albans and Barnes beat Chelmsford 4-1.

Investec Conference North

Two goals from Barcelona Olympic legend Jane Sixsmith helped Sutton Coldfield to a 3-0 win over Fylde, and they remain top of the Investec Women's Conference North table with a 100% record.

She struck in the second minute from open play and again five minutes later from a penalty corner. Emma McCabe scored their third eight minutes from time from a penalty corner.

Beeston are also on a 100% record after winning 1-0 at Brooklands Poynton, but they had to rely on Alice Huddlestone's late goal to clinch the win and inflict their rivals' first defeat of the campaign.

Elsewhere, Ben Rhydding were 3-0 winners at home against Loughborough Students, while the University of Durham won 2-1 against Timperley and Liverpool Sefton beat Wakefield 3-1 with Jane Bazley-Harrison scoring twice for the hosts.

Investec Conference West

Trojans are the only team in the Investec Women's Conference West with a 100% record after they overcame Swansea City on Saturday.

Emma Teague's 22nd minute strike put them ahead, and late goals from Imo Lea and Philippa Stewart helped them to victory.

Stourport dropped to second after they shared the spoils in a goalless match with Gloucester City.

Elsewhere, Lily Walker scored twice in Cannock's 4-1 win over Oxford Hawks, while Reading moved third thanks to Keelie Perham's two goals which helped them win 2-0 at Team Bath Buccaneers.

And Sally Walton scored twice as Olton & West Warwicks won 3-2 over Isca.

* Full results, tables and fixtures from the Investec Women's Hockey League is available here - http://www.englandhockey.co.uk/page_noside.asp?section=2342§ionTitle=Fixtures%2C+Results+%26+Standings

England Hockey Board Media release


---

Excitement at the top of both National League 1 tables



Western Wildcats v Grange – photo by Duncan Gray

After an exciting weekend of hockey it's a three-way tie at the top of the Scottish men's National League 1, while Western Wildcats are clear at the top of Women's National League 1.

Men's National League 1 Champions Bromac Kelburne moved back to the top of the first division on goal difference after beating Dundee Wanderers 6-1, but they share pole position with Grange and Western Wildcats who drew 3-3 at Auchenhowie. There was a brief hint of a shock on the cards when Fergus Sandison put Wanderers ahead in only two minutes, but the champions took control from there. A double from Johnny Christie along with singles by Jack McKenzie, Adam Bain, Chris Caldwell and Neil McIntyre completed the victory.

It was a ding-dong battle at the Wildcats` den, Andrew McConnell put the home side ahead following a cross from Owen Jenkins-Garcia. But back came Grange, Dominic Wild did have the ball in the net but it was disallowed for dangerous play. However, the equaliser was only slightly delayed, a cross from Cammie Fraser was deflected into the Wildcats` net by teenager Callum MacKenzie. Grange finished the half with most of the pressure and chances but the score remained level.

Grange went into a 2-1 lead with a low penalty corner strike by Dan Coultas after a foul on Fraser. The Edinburgh side then gave the ball away in the midfield, Rob Harwood moved into the circle only to be sandwiched out of his shot, the youngster dusted himself down and sunk his spot effort into the Grange net for the equaliser.

Grange went ahead for the second time in the contest, MacKenzie was the provider to an unmarked Luke Cranney who turned and shot low into the net. Grange might have sealed the victory but Frank Ryan`s shot cannoned off the bar. But the visitors were denied their victory through a piece of brilliance from teenager McConnell, he was involved in a passing move with Jenkins-Garcia and finished with a powerful lob over the keeper.

Clydesdale completed a hat-trick of victories with a comfortable 6-1 win over Inverleith at Peffermill. Ciaran Crawford was both saint and sinner, he notched a hat-trick, but then contrived to miss from the spot against an outfield keeper, the original custodian languishing in the sin bin after a stick tackle on Patrick Lonergan.

Clydesdale`s other scorers were a double from Chris McFadden and a single from Struan Walker, but the result lifts the Titwood side into the top four for the first time this season.

Edinburgh University also continued their good progress with a 5-1 win over Hillhead, the goals came from Gordon Amour, Davyn Keuter, George Adams, Ewan Mackie and Callum White.



Western Wildcats v Grange – photo by Duncan Gray

In women`s National League 1 Western Wildcats extended their winning sequence to five matches with a tremendous  3-0 win over Grange to retain pole position. Alex Stuart, Heather Aitken and Emma McDairmid were on target for the Auchenhowie outfit. The win is another great result for the league's form side who have made a great start to the season.

Grove Menzieshill are still in second place, two points behind Wildcats, after a solid 5-0 win at GHK. Scotland striker Sarah Jamieson, who has been on red-hot form since the season started, scored a hat-trick while the other goals came from Katie Stott and Nikki Skrastin.

Dundee Wanderers moved into fourth spot after thumping Kelburne 5-0, there were two goals each for former Scotland player Vikki Bunce and teenager Charlotte Watson – a great way to celebrate her selection for the GB Elite Development Programme. The Taysiders leapfrogged Milne Craig Western on goal difference after the latter were held to a 1-1 draw by Watsonians.

At Titwood Mairi Shaw opened for Watsonians but Millie Steiger replied for the home side, Western now fall out of the top four on goal difference from Wanderers while Watsonains remain in mid-table.

Edinburgh University returned to winning ways with a convincing 6-0 win over Hillhead.   Laura Swanson and Sophie Maunder both scored twice while the others came from Zara Malseed and Lara Tomkins.

Scottish Hockey Union media release


---

Amira Sailors crush Multimedia with magnificent seven

By BRIAN YONGA



Vivian Achieng' of Amira Sailors drives the ball during their their Kenya Hockey Union Premier League match against Multimedia University at City Park Stadium on October 14, 2017. PHOTO | MARTIN MUKANGU |  NATION MEDIA GROUP

Four goals from Kenya international Pauline Naise helped Amira Sailors crush Multimeda University 7-0 in a Kenya Hockey Union women's Premier League match at the City Park Stadium, Nairobi on Saturday.

Her strike partner Susan Oketch was also on target with skipper Lorraine Nondi and Leah Omwandho also getting their names on the score sheet.

It was the Sailors' first win of the second leg and the result moved them up to fourth in the table with 24 points, nine behind leaders Telkom. Jomo Kenyatta University of Agriculture and Technology (JKUAT) are up to third after they got three free points after their opponents Kenyatta University Titans failed to turn up for their encounter at the same venue.

The Juja-based side are on 25 points, gaining five free goals from the walkover.

In the first match, Naise needed only two minutes to get on the score sheet, flicking Oketch's square pass past MMU keeper Maureen Akinyi.

She got her second of the match five minutes later, showing great skill to hold off two MMU players before firing low past Akinyi to give her side a 2-0 lead at the end of the first quarter.

The students managed to keep a clean sheet in the second quarter as their opponents launched waves of attack.

Amira went 3-0 up, two minutes into the third quarter as Oketch took full advantage of a defensive mix-up between Akinyi and defender Rachel Ngari to score. Two minutes later, Naise made it four as the MMU defence again went to sleep allowing the 23-year-old to sound the board.

MMU offered little in attack leaving Amira keeper Rachel Kerubo with little to do in the match. Amira scored three more goals to complete a remarkable outing. Naise's four goals took her tally of the season to 14 goals.

"We wanted a win badly and the players showed quality and we hope this victory gives us the drive to have a good season," Amira coach Linet Onyango said.

In the second tier men's league, MMU men's team fared better as they came from behind to beat Dedan Kiamthi University 2-1. Kelvin Kibet's 28th minute field goal gave Kimathi the lead and it stayed like that until the last 10 minutes of the match.

Moses Ademba, who is a standby player in the national men's team that will take part in this month's Africa Cup of Nations, scored twice in the space of two minutes to complete the turnaround.

Daily Nation


---

Vanishing hockey sticks

Bilal Hussain




"There was a time when I used to sell a dozen hockey sticks and almost as many balls every other day. What used to be my daily average sale of hockey accessories is now almost my monthly average sale. Moreover, hockey sticks are now normally bought to serve as crutches," says Arshad Nazeer, who runs a sports goods shop Nazeer Sports at Kashmir Road in Karachi. There are several grounds near this shop, including KMC Sports Complex.

"I don't know why people think that hockey sticks are cheaper than crutches and they go for hockey sticks to support them," says Arshad. "May be they feel better with a hockey stick in hand as compared to crutches," he added.

With the advent of computers and now mobile phones, sports activities have gone down in the city. There may be other reasons. Inflation for instance since people may not be having enough leisure for recreational activities. The opportunity cost of playing sports has risen greatly.

"There was a time when I used to sell a dozen cans of Dunlop ball every day. Each can contains three balls. Now its sale has gone down to a dozen can a month. I used to sell four to five hard balls for cricket and more than a dozen tennis balls used for playing tape ball cricket every day. I don't think I have sold a single hard ball in the last month," says Arshad, who has been running the shop since 1970.

According to Arshad, the sale of sports goods declined soon after 80's and he holds the opinion that 90's saw surge in political activism in the city, at the cost of healthy activities.

He also has a very curious case to tell. Three years back, one of his acquaintances, who was accompanied by around five German nationals, came to his shop and asked him for an international standard hockey stick that costs around twenty thousand Pakistan rupees or around US$ 200.

"I didn't have one and I told him about five merchants who could provide him with one. But he told me that he has already taken these tourists there and I was their last hope. After learning that I also didn't have a quality hockey stick, the German, who was asked by his friend back home to bring a hockey stick from Pakistan on his return, joked that his friends won't believe him and would think he was lying."

Unable to find a high quality hockey stick in the sports market of Karachi, it was unbelievable for the visiting Germans but it has become a harsh reality for us now. The lack of availability of accessories means that the game has almost been abandoned.

Arshad was not sure of the dates when this peculiar incident happened. It may have happened some time after Pakistan played Germany in the final of Champions Trophy in 2014 in Bhubaneswar, India.

The non-availability of hockey stick used in international events may imply that there might not be a single random person aspiring to at least play with an international standard hockey stick.

Buying or using accessories of international standard doesn't necessarily imply that a person has aspired to become an international player. Even fans try to have their hand on accessories that have been used by star players. Models of a certain brand of shoes or t-shirts that have been used by Lionel Messi or Christiano Ronaldo during matches are things that many football fans want to possess.

Karachi was once considered one of the powerhouse of hockey in the country. Pakistan has the most illustrious past in the game of hockey, which we call our national sport. Karachi was never behind in producing hockey legends for the country. There was Islahuddin Siddiqui, Hasan Sardar, Samiullah, and recently Sohail Abbas.

Shahbaz Ahmed, one of the best hockey players Pakistan has ever produced and who happens to be the incumbent secretary of Pakistan Hockey Federation (PHF), has said that lack of jobs has been a major reason for the downward trend of hockey in the country.

The high quality hockey sticks have literally vanished from the markets of Karachi because of negligible demand. If someone is adamant to possess a hockey stick, then that person has to acquire it from Sialkot or ask some acquaintance, who might be going to Sialkot or some other city like Lahore, where hockey is still alive.

"It's expensive because it is made of fiber glass. Its material is expensive. But several other low-price hockey sticks are available in the market, which are generally used to play hockey," says chief selector Hasan Sardar, one of the greatest hockey players.

The News on Sunday