All the news for Friday 13 October 2017

 Defending Champions Korea beat fighting Oman 7-2

Jihun Yang (41', 60') scores twice in Korea's winning start at the Hero Asia Cup 2017



 
Dhaka (Bangladesh), 12 October, 2017: In the second match of the day, Defending Champions Korea overcame an early 0-1 setback to beat Oman 7-2 in their opening game of the Hero Asia Cup 2017 here at the Maulana Bhashani National Stadium on Thursday.
 
Oman surprised the evening audience as they began strongly against defending champions Korea. Good man-to-man defence saw Oman keep Korea from converting any successful circle penetration and eventually ended the first quarter in a stalemate. They had come close to scoring a goal in the 13th minute when Al Fazari Rashad got a reverse stick on the ball but missed the goal post by inches. 

The missed opportunity, however, did not dent the confidence of Rashad who converted a field goal in the 18th minute to give Oman a head-start against the defending champions. Oman entertained the local crowds as they made brave forays into Korea's circle and put their defence under pressure.  Their counter attack was on the mark and got their basics right with accurate passing and trapping but were unlucky on a few instances when they missed opportunities to convert goals.

Oman held on to their 1-0 lead until Mookyoung Lee beat Oman goalkeeper Al Noufali Fahad to score the equalizer in the 22nd minute. Only two minutes into the third quarter Oman won a PC but a poorly executed attempt saw them lose the opportunity to regain lead.

Korea on the other hand came back strongly in the third quarter as Cho Suk Hoon converted a field goal to help put Korea in lead. They doubled their lead when Inwoo Seo pumped a field goal past Oman keeper in the 39th minute and followed this up with a finely executed PC by Jihun Yang that took Korea's lead to a strong 4-1 in the 41st minute.

While Oman lost their steam in the final quarter and lacked consistency in their defence, Korea pushed for more goals and were even successful in earning a 5-1 lead when Jongsuk Bae converted a field goal in the 48th minute. Almost immediately, a defensive error on Oman's part saw them concede a PC. Jonghyun Jang was impressive with his dragflick to ensure a 6-1 lead putting the defending champions in a very comfortable position. Oman weren't the ones to give up easily though. Their forward Al Qasmi Asaad Mubarak was a delight to watch when he trapped the ball perfectly to swiftly dribble into the circle beating the Korean defender to score a sublime goal in the 52nd minute. A PC won in the dying minute of the match saw Korea's Jihun Yang convert their 7th goal to end on a sweet note. 

Post match comments:

During the post match press conference, Oman National Coach AK Ponacha said, "I am happy with the way the team started. The first and second quarter was good and our plus point is counter attack but our fitness is not on par with Koreans and I feel we lacked the punch towards the end and the margin was too big."

Korean Coach, on the other hand, said he is hopeful of getting better in the tournament. "We are coming back from a long and tiring national league in Korea and the team trained together only for 10 days. I feel that's why they were not up to the match in today's match but going forward I feel we will improve our performance." On playing Malaysia next, Coach Kyo Shin Seok said, "Malaysia is a good side. I have seen their videos and they are strong in PCs. We want to play our best game against them."

Next Oman will take on China on October 14 at 15.00 hours while Korea will meet Malaysia at 17.30 hours on the same day.

Asian Hockey federation media release
www.asiahockey.org
www.facebook.com/asiahockey
www.twitter.com/asia_hockey
www.instagram.com/asiahockey


---

Coach Stephen not happy with penalty corners despite big win over China

By Aftar Singh




KUALA LUMPUR: A winning start. Loads of goals scored. And just one conceded.

Yet, national hockey coach Stephen van Huizen was far from pleased.

Malaysia got their men's Asia Cup hockey tournament off to a sizzler – trouncing China 7-1 in their opening Group B match in Dhaka, Bangladesh, yesterday.

Twenty-six-year-old forward Faizal Saari (pic) stole the show with a hattrick – in the 17th, 31st and 41st minutes – at the Maulana Bhashani National Hockey Stadium.

Tengku Ahmad Tajuddin Tengku Abdul Jalil netted a brace in the 12th and 19th minutes while Muhd Shahril Saabah (35th) and Muhd Ramadan Rosli (60th) scored one apiece.

E Wenhui replied for China in the 56th minute.

The only "weakness" world No. 12 Malaysia's showed was their poor penalty corner conversion rate – scoring just one from six attempts.

And that's exactly what irked Stephen.

"It was a good start. We thought that China would go all out against us as the Asia Cup is their last chance to qualify for next year's World Cup Finals (in Bhubaneswar, India).

"But my boys' played true to their form and we did well to score six field goals.

"I am not too pleased with our penalty corner conversion rate though. We have to work on our penalty corner variations for the coming matches," said Stephen in a telephone interview.

Malaysia went to Dhaka without three experienced players – defender Mohd Izad Hakimi Jamaluddin and midfielder Meor Mohd Azuan Hasan and forward Muhd Firhan Ashaari – due to injuries.

But that did not stop Malaysia from playing a fast attacking game against China and capitalising on their chances.

Malaysia will have a day's rest before they take on defending champions South Korea tomorrow.

The Koreans, who have yet to qualify for the 2018 World Cup, also started their campaign well by defeating Oman 7-2.

The Star of Malaysia


---

Malaysia 7 China 1

MALAYSIA played a cool and controlled game under humid conditions to beat China 7-1 in the Asia Cup in Dhaka, Bangladesh, Thursday.

Coach Stephen Van Huizen's men will next play South Korea on Saturday at 7.30pm Malaysian time and a win will ensure Malaysia's spot in the Round-Robbin.

Man-of-the-match had to be seasoned campaigner Tengku Ahmad Tajuddin, whose quick reflexes handed Malaysia the first goal.

His goal came off a comedy of errors from China, as all their players in the semi-circle stopped playing, expecting the umpire to blow for a Malaysian penalty corner, but experienced Tengku Ahmad Tajuddin took the lull opportunity to slam in the ball.

The 12th minute goal took off a heavy load from the Malaysian shoulders.

China were never in the match after that, as Malaysia almost had total control of the ball and the second goal was scored in the 17th minute by Faizal Shaari.

Tengku Ahmad Tajuddin scored the third off another classic attempt in the 19th minute and China were in deep trouble.

Razie Rahim finally got his scoring touch right after the half-time break, when he sent in a sizzling drag flick to the roof of the goalmouth to make it 4-0 in the 31st minute.

Shahril Saabah made it 5-0 in the 35th minute, while Faizal got his hat-trick in the 41st minute and Ramadan Rosli scored number seven to totally demolish the Great Wall.

China scored their consolation off E Wenhui in the 56th minute.

Jugjet's World of Field Hockey


---

Easy outing but the task is sterner

s2h team

An easy outing await India today in the Asia Cup, as it takes on the host Bangladesh in its second match of the 10th Asia Cup being underway in Dhaka, Bangladesh.

However, there is a task for India against the backdrop of Pakistan defeating Bangladesh with a generous score of 7-0 in the opening day. Both Pakistan and India in Group A wish to lead their group so that they get easy meat in the the Super 4s (quarterfinals). Besides, topping the pool, though it would depend on who between the two will win on the all important day the 15th Oct, will bear huge psychological boost in the knock out stage.

Therefore the question of scoring more goals than Pakistan against Bangladesh will taunt Indian captain Manpreet Singh and its think tank.

With Pakistan and India in the same pool, every match they play will bear such psychological conundrum.

Now that the inexperienced Bangladesh has learnt its lessons in defence, no way scoring for India will be an easy task.

Despite 5-1 rout of Japan, Indian forwards did not cover themselves with glory. They were somehow sluggish and wasteful.

Even the Indian coach had said something similar: "As a coach, I am always critical so I have to say I am not 100 per cent happy with how we played (against Japan). I believe we can do better but this was our first match and now that the team is done with shaking off the initial jitters, I think we can focus on improved performance in the next game," stated India's Chief Coach Sjoerd Marijne.

Its therefore clear the Indian forwards did cut much ice. Such missing out easy tasks will not work tomorrow. More so because what history tells: easy meat teams packs up their citadel making rival forwards to do their business after suffering huge loss.

Therefore, there is an element of excitement await in the Bangladesh tie. That is whether India can score more that Pakistan did yesterday.

STAT: India have won all the seven matches it played against Bangladesh. India has struck 52 goals while all that Bangladesh has in its kitty is mere two goals.

Stick2Hockey.com


---

India look to carry on momentum against Bangladesh

The Indian team led by Manpreet Singh hardly broke a sweat during its win over Japan in its campaign opener on Wednesday.



Sardar Singh and Akashdeep Singh during a training session for Asia Cup Hockey in Dhaka. Photo Credit: PTI

Bolstered by a dominating 5-1 win over Japan, India will look to carry forward the momentum when they take on hosts Bangladesh in their second Pool A match of the men's Asia Cup hockey tournament here tomorrow.

The Indian team led by Manpreet Singh hardly broke a sweat during its win over Japan in its campaign opener on Wednesday.

Apart from an initial set back when Japan equalised in the fourth minute, India sailed through the match improvising their game hooter to hooter and rarely stumbling against the Japanese counter attack.

In their first tournament under a new coach, India meant business and found the net in each quarter, twice in the third, to streamroll their less-fancied but tricky opponents.

SV Sunil (3rd minute), Lalit Upadhyay (22nd), Ramandeep Singh (33rd) and Harmanpreet Singh (35th and 48th) were on target.

India will be hoping to build on the confidence they have gained from the first match and team's the chief coach Sjoerd Marijne hopes that his players put on an improved show against the home team tomorrow.

"As a coach, I am always critical so I have to say I am not 100 per cent happy with how we played. I believe we can do better but this was our first match and now that the team is done with shaking off the initial jitters, I think we can focus on improved performance in the next game," he said.

Considering that Bangladesh suffered a humiliating 0-7 loss in their campaign opener against Pakistan yesterday, India will start as overwhelming favourites.

The Indians would look to stick to their basics and execute their plans well.

"If we are able to do that (stick to our plans), then I don't see why we should not win the match," Marijne, who is on his first major tournament with the Indian men's team, said.

Sjoerd took charge of the team just last month following the sudden sacking of Roelant Oltmans.

Meanwhile, skipper of Bangladesh Rashel Mahmud said that his team will have to put up a much better performance against India if they want to pose any fight.

"We did not play a good match against Pakistan and made a lot of mistakes that led them to score so many goals. It was a bad start but we don't want to let this loss affect our confidence. We will comeback as a better team against India," the skipper had said after the match against Pakistan.

The Hindu


---

India look to warm up for Pak tie with big win over B'desh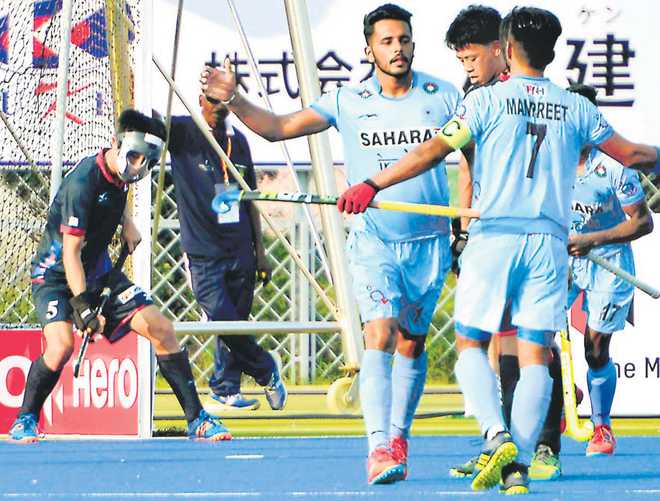 Against Japan, Harmanpreet Singh not only held the defence together but also converted two penalty corners.

After a great start to the tournament, the Indian men's hockey team would look to iron out a few flaws when it takes on hosts Bangladesh in the Asia Cup here tomorrow.

Bolstered by the 5-1 win over Japan in the opener and considering the fact that Pakistan steamrolled Bangladesh 7-0 yesterday, India will start as overwhelming favourites.

India, playing their maiden tournament under coach Sjoerd Marijne, looked impressive from the word go against Japan. And come tomorrow, India would look to polish the skills further before their final preliminary fixture against arch-rivals Pakistan on Sunday.

While the Indian attacking force of SV Sunil, Lalit Upadhyay, Ramandeep Singh and Akashdeep Singh looked threatening, the young Harmanpreet Singh not only held the defence together but was also a force to reckon with while taking penalty corners, converting two set-pieces.

Even though it was a commanding performance against Japan, Marijne is not satisfied. "As a coach, I am always critical so I have to say I am not 100 percent happy with how we played," Marijne said.

"I believe we can do better but this was our first match and now that the team is done with shaking off the initial jitters, I think we can focus on an improved performance in the next game," the Dutchman added. "If we are able to stick to our plans, then I don't see why we should not win the match."

The Asia Cup will be the last tournament Marijne will get to gauge the team's strengths and weaknesses before the year-ending Hockey World League Final in Bhubaneswar.

Meanwhile, Bangladesh skipper Rashel Mahmud said his team will have to put up a much better performance against India if they want to give any fight to their fancied opponents. "We did not play a good match against Pakistan and made a lot of mistakes that led them to score so many goals," Mahmud said.

"It was a bad start but we don't want to let this loss affect our confidence. We will come back as a better team against India."

Malaysia, Korea off to great start

Malaysia began their campaign with a 7-1 win against China in their Pool B match on Thursday. In the second match of the day, defending champions Korea overcame the early setback of going a goal down against Oman to beat the minnows 7-2.

The Tribune


---

Pakistan to play 2nd match against Japan today

After a comprehensive 7-0 win over the hosts Bangladesh in their opening fixture of the 10th Hockey Asia Cup, Pakistan will take on Japan today in their second match at Dhaka's Maulana Bhashani Stadium.

Japan were beaten 1-5 by India in their first match.

Japan is yet to reach the podium at the Asia Cup though they have finished fourth no less than four times.

This will be the fifth meeting between the two countries in Asia Cup.

Pakistan has won three and lost one.

Japan's lone victory came at the 2007 Asia Cup in Chennai, India where they defeated the Green Shirts 3-1.

That defeat meant Pakistan failed to reach the semifinals of a continental event (Asia Cup/Asian Games) for the first time. They eventually ended at the 6th spot.

The Nation


---

Hayward Fires Kookaburras Into Oceania Final

 Ben Somerford




The Kookaburras have defeated New Zealand 5-1 at Sydney Olympic Park Hockey Centre on Thursday night to claim a spot in the Oceania Cup Final.

Jeremy Hayward scored two goals from penalty corners, while Jake Whetton, Tom Craig and Dylan Wotherspoon were also on the scoresheet.

The result made it two wins from two matches for Australia after Wednesday's 30-0 victory over Papua New Guinea.

Two-goal hero Hayward said: "It was a pretty good performance, 5-1 in the end.

"That's the round matches done so we've got a rest day tomorrow, training on Saturday and then we'll be ready for the final on Sunday."

Hayward opened the scoring late in the first quarter but the opening half was an even affair, with Australia edging the chances but only holding a 1-0 lead.

The Kookaburras converted their opportunities in the third quarter to open up a three-goal buffer at the final break, with Whetton and Hayward grabbing the goals.

Whetton reacted brilliantly to scoop home from close range on 34 minutes after Blake Govers' squeeze shot hit the post.

Hayward added the third in trademark fashion with a powerful shot from a penalty corner on 42 minutes.

Australia were happy to pass the ball around early in the last, before Craig powered home a fierce shot from just inside the circle to make it 4-0.

New Zealand pulled one back when Daniel Harris shot in the back of the net from a penalty corner.

But the Kookaburras added a fifth barely 15 seconds later when Trent Mitton drove forward and squared for Wotherspoon who brilliantly volleyed home.

The Kookaburras are next in action in the Final on Sunday with another match-up against New Zealand the likely scenario.

"They're a good side," Hayward said.

"They'll challenge us no doubt. We're looking forward to Sunday."

As for his two-goal penalty corner effort, Hayward added: "I'm pretty happy about that.

"I have just to walk up and flick a corner. All the strikers do the hard work so I'm very happy."

Saturday and Sunday's matches will be live streamed at Epicentre.tv. Tickets are available by Ticketbooth.

Hockey Australia media release


---

Vantage Black Sticks overcome by Kookaburras



Photo: Planet Hockey

The Vantage Black Sticks Men have been defeated 5-1 by hosts Australia in their opening match at the Oceania Cup in Sydney.

The world number two ranked Kookaburras took a narrow 1-0 lead into halftime before scoring two goals in each of the third and fourth quarters.

Striker Daniel Harris made his debut for the Vantage Black Sticks and scored his side's lone goal through a 57th minute penalty corner.

Head coach Darren Smith said it was a tough challenge with the Kookaburras capitalising on their chances in the attacking circle.

"I thought at times we played some good hockey and our outletting was well controlled, but Australia created opportunities in the circle and were pretty ruthless in their finishing," he said.

"There were a couple of loose goals late in the game which inflated the score line but we certainly need to tidy up parts of our game and put them under more pressure."

The Vantage Black Sticks Men face Papua New Guinea next up at 5pm on Saturday night (NZ time) followed by the Vantage Black Sticks Women versus Hockeyroos.

CLICK HERE for more on the 2017 Oceania Cup

VANTAGE BLACK STICKS MEN: 1 (Daniel Harris)
AUSTRALIA: 5 (Jeremy Hayward 2, Jake Whetton, Tom Craig, Dylan Wotherspoon)
Halftime: Australia 1-0

Hockey New Zealand Media release


---

Black Sticks men routed by Kookaburras at Oceania Cup

MATT ENCARNACION



Jeremy Hayward slotted two goals as the Kookaburras routed the Black Sticks 5-1. JAN KRUGER/GETTY IMAGES

Jeremy Hayward hit two goals to help the Kookaburras defeat New Zealand 5-1 and book a spot in the Oceania Cup field hockey final.

Hayward converted two set pieces on Thursday night in the first and third quarters, sandwiching an opportunistic goal by Jake Whetton in Sydney.

Tom Craig made it a four-goal lead with a long-range bomb in the final period, before Dylan Wotherspoon sealed the win late in the match.

Daniel Harris scored the lone goal for the Black Sticks, who must beat Papua New Guinea on Saturday (5pm NZT) to advance to the final.

READ MORE: Blacks Sticks women pile up record 33-0 win over PNG

Australia's win came after the men's national team opened the five-day tournament on Wednesday with a 30-0 thrashing of Papua New Guinea.

Colin Batch's side have the next two days off before a likely rematch against the Black Sticks in Sunday afternoon's decider (7.30pm NZT)

The Kookaburras have won all nine previous Oceania Cup titles since its inception in 1999.

The home side enjoyed the best chances of a close opening quarter. Hayward's penalty corner found woodwork and Daniel Beale forced a foot-save from the Black Sticks' goalkeeper.

But Hayward eventually broke the deadlock when he converted another set piece in the 14th minute, flinging powerfully to take a 1-0 lead at the first break.

A green card to Tom Wickham appeared to have turned momentum the Kiwis' way just before halftime, however the home side doubled their advantage soon after the resumption.

Young gun Blake Govers rattled the post from the edge of the shooting circle, only for the rebound to be scooped into the top of the net by Whetton in the 34th minute.

Hayward made it a three-goal lead when he hit straight on another penalty corner in the 42nd, before Craig capped off the night with a long-range bomb.

New Zealand scored a consolation goal through Harris, however the Kookaburras had the last laugh when Wotherspoon finished off a Trent Mitton run.

Batch, the former New Zealand coach, said Hayward had been building up his form in recent months.

"He's come a long way. He had a good world leg three with his flicking. He didn't get a lot of opportunity in the Australian Hockey League but he did score some goals there," Batch said.

"It's good to see him come out and good pitch to flick on, so it's a good test. He got some results for us.

"It was very competitive for a long part of that game and I was pleased we were able to put together a 60-minute performance.

"I just said to the guys that if you're doing that, then quite often you get a good result."

HOCKEYROOS THRASH PNG

Meanwhile, the Hockeyroos opened their Oceania Cup campaign with a 23-0 wipeout of minnows Papua New Guinea.

Emily Smith led the onslaught on Thursday night with five field goals in her first outing since last month's appointment as captain, and prolific scorer Kathryn Slattery also starred with five of her own.

Grace Stewart chipped in with a hat-trick, while Gabi Nance, Maddy Fitzpatrick and Renee Taylor added a brace each in Sydney.

The dominant performance from world No 5 Australia sets up a mouth-watering clash with world No 6 New Zealand on Saturday before Sunday's final.

The NZ Black Sticks hammered PNG 30-0 on Wednesday.

It was one-way traffic from the start at the hockey centre in Homebush, beginning with Taylor converting a penalty corner in just the second minute.

The field goals poured in at a steady rate thereafter, including two long-range efforts from Nance as the team raced out to a 6-0 quarter-time lead.

PNG stemmed the tide somewhat at the start of the second quarter, thanks largely to a handful of reflex saves by goalkeeper Taita Roama.

Alice Fred even drew a bronx cheer when PNG headed downfield for a rare opportunity.

But the hosts didn't take long to find their groove and took an 11-0 halftime lead from Slattery's hat-trick and Smith's first-half double.

The main break did not halt the Hockeyroos' momentum with Brooke Peris ensuring the scoreboard ticked over less than a minute after resumption.

Smith refused to allow her team to let up with a third-quarter double, while Kaitlin Nobbs converted a penalty stroke in a seven-goal period.

Kristina Bates and Kate Hanna added their names to the scoresheet in the final quarter, taking the team's total goalscorers to 10.

Hockeyroos coach Paul Gaudoin was pleased with his team's approach against PNG but said they needed to lift their passing and corner efficiency against New Zealand.

"Our girls did what we asked them to do today - to be smart, respectful but also to play the game in the right spirit," he said.

"I think we did that reasonably well today and got through unscathed.

"I think we were a little bit lax with our passing in terms of the accuracy and specificity of those. That's going to be important and we need to make sure we finish our chances.

"That's going to be really important against a very good New Zealand team."

Stuff


---

Hockeyroos Crush PNG To Clinch Final Spot

Ben Somerford




The Hockeyroos have qualified for Sunday's Oceania Cup Final after a routine 23-0 victory over Papua New Guinea at Sydney Olympic Park Hockey Centre on Thursday night.

Emily Smith scored five goals in her first game as Australia captain, while Kathryn Slattery blasted a first-half hat-trick on her way to five for the match.

The result eliminates Papua New Guinea after two heavy defeats, with Australia still to play New Zealand on Saturday, before Sunday's decider.

There were 10 different goal scorers in the victory, including Renee Taylor who opened the scoring to get her maiden international goal, before completing a double.

"It's always good to get on the scoresheet," Taylor said.

"Your first international goal is definitely one you remember throughout your career, so it's very exciting to finally get one in."

Speaking about the overall performance, Taylor added: "We had a few things which we wanted to work on each quarter, whether it was pressing or ball movement.

"It was good to get the touches out and get used to the turf before taking on New Zealand on the weekend."

Grace Stewart also scored a hat-trick, while Gabi Nance and Maddy Fitzpatrick both hit doubles.

Brooke Peris, Kaitlin Nobbs, Kristina Bates and Kate Hanna also scored goals.

Australia will enjoy a rest day on Friday, before Saturday's clash with NZ from 5pm.

"They're always a tough one to take on," Taylor said.

"We'll just be looking forward to hitting them hard on Saturday and getting a few things out of that game before we take them on on Sunday."

Saturday and Sunday's matches will be live streamed at Epicentre.tv. Tickets are available by Ticketbooth.

Hockey Australia media release


---

Gaudoin: It's Time To Get NZ Back

Ben Somerford




Hockeyroos coach Paul Gaudoin says it's time for Australia to get one back on New Zealand ahead of the two sides meeting on Saturday and Sunday at the Oceania Cup in Sydney.

The Tasman rivals will meet in the final group game at 5pm Saturday having both already qualified for Sunday's Final at 3pm at Sydney Olympic Park Hockey Centre.

Australia eased past Papua New Guinea 23-0 on Thursday, with the Black Sticks beating the same opponents 33-0 on Wednesday, although Gaudoin said those score lines meant little for the weekend's games.

The Hockeyroos have only beaten NZ once in their past seven encounters, including the quarter-final defeat at last year's Rio Olympics.

"We know what they do reasonably well and they know what we do, so it's about who performs well on the day," Gaudoin said.

"They've had the wood over us for a little bit of time now, so we have to find a way to get them back.

"What the secret is, I don't think there is one. We have to execute our skills well and play well for 60 minutes consistently."

Gaudoin said Australia's opening game at Sydney Olympic Park Hockey Centre would help the side for the weekend, adjusting to a faster pitch than used in Perth for last week's Australian Hockey League.

He also said he'd like to see a few areas of improvement heading over the weekend.

"We needed to improve on the efficiency of our corners," he said. "We know in tight games corners are pretty telling in terms of who comes out on top.

"We'd like to see our basic skills improve. I think we were a bit lapse with our passing in terms of our accuracy and the specificity of those.

"That's going to be important. We need to finish our chances which is going to be important against a really good New Zealand team."

Saturday and Sunday's matches will be live streamed at Epicentre.tv. Tickets are available by Ticketbooth.

Hockey Australia media release


---

Kookaburras Not Getting Carried Away

Ben Somerford




Kookaburras coach Colin Batch isn't getting carried away with Thursday's 5-1 win over New Zealand and knows the Black Sticks will be a different proposition for Sunday's Oceania Cup final.

Australia booked their spot in Sunday's decider (from 5.30pm) with Thursday's win at Sydney Olympic Park Hockey Centre, with the Kiwis likely to join them as they are heavy favourites to beat Papua New Guinea in Saturday's final group game.

Jeremy Hayward scored a brace via penalty corners, while Jake Whetton, Tom Craig and Dylan Wotherspoon added further goals in the healthy victory, following Australia's 30-0 win over PNG on Wednesday night.

"For New Zealand that was their first game of this tournament so they're going to be a different opposition on Sunday," Batch said.

"It's about playing our best at the end. We've got a couple of days to work through a few routines and hopefully get an even better performance."

Batch was pleased with Thursday's performance, particularly on the defensive end.

"I thought our tackling was particularly good," he said.

"There was a number of times when we were challenged in the first quarter and right through the game on the edge of the area and our tackling really held up so I was pleased with that.

"We have been doing a lot of work with our tackling, we realise the importance of it."

The Kookaburras are aiming for their 10th Oceania Cup title and also to claim much-needed ranking points, with the side currently sitting second, with NZ in eighth.

But Batch acknowledged his developing side were building towards the World League Final in India in December and next year where they'll embark on the Commonwealth Games and World Cup.

"This is a new time and new era for men's hockey," Batch said.

"We're a developing team. We want to become a great team. We're a long way from that at the moment but there's some belief happening and we're developing that.

"World League Three we came from behind a lot to win games and they were tight, tough games.

"There was some belief out of that tournament. There will be more challenges along the way.

"We're not sure what the future will bring but we're headed in the right direction."

Saturday and Sunday's matches will be live streamed at Epicentre.tv. Tickets are available by Ticketbooth.

Hockey Australia media release


---

Fijians compete for games' spot

Josefa Makaba



The national women's hockey team in Australia. Picture: SUPPLIED

THE national women's hockey team defeated Samoa in their third match of the Oceania final qualifying event in Australia.

The event is for Oceania teams vying for a spot in next year's Commonwealth Games in the Gold Coast.

The top 10 Commonwealth teams by world ranking at the end of October 2017 would qualify for the Commonwealth Games hockey tournament.

The Fiji women's team was ranked 13th in the Commonwealth at the end of July, but at the end of September, Singapore and Sri Lanka had moved above them. For this week the Fiji women's team is competing in the Oceania Intercontinental 5s tournament.

Fiji started their campaign on a low note losing to Australian Country 4-2. Australian Country is an invitation side which do not qualify for ranking points. Yesterday Fiji beat Solomon Island 8-0 in their first game before they beat Samoa 6-4.

The Fiji TImes


---

Ireland qualify for Hockey Women's World Cup London 2018




Ireland women have qualified for the Hockey World Cup for the first time since 2002 following Australia's win over Papua New Guinea at the Oceania Cup, which is currently being played in Sydney.

Ireland's place was confirmed when Australia defeated Pacific Islanders Papua New Guinea to set up an Oceania Cup decider with New Zealand on Sunday.

Under FIH regulations, the team that wins its continental qualifier automatically qualifies for the World Cup. However, both Australia and New Zealand had already qualified for next summer's tournament in London by virtue of respective fifth and third place finishes at the FINTRO Hockey World League Semi-Final in Brussels, Belgium earlier in the year.

This means a World Cup qualification spot opened up for Ireland, who were next in line to claim their place in London.

The 'Green Army', who are 16th in the FIH Hero World Rankings, finished seventh at the Hockey World League Semi-Final in Johannesburg in July thanks to a 2-1 win over India in their final game.

It left them third behind Italy and Spain - who were assured of World Cup places after results at the Pan American and European Continental Championships went their way - in a list of countries waiting to learn their fate.

Now Ireland can also look forward to playing in the blue riband competition for the first time in 16 years. It will be Ireland's fourth appearance at the Women's Hockey World Cup, with their 11th place at the 1994 event on home soil in Dublin being their best finishing position to date.

Ireland become the 14th team to qualify for the prestigious 16 nation event. The final two women's World Cup qualification places will be decided by the outcomes of the upcoming Continental Championship events in Africa (22-29 October 2017) and Asia (28 October-5 November 2017).

The Women's Hockey World Cup will be held at the Lee Valley Hockey & Tennis Centre in the Queen Elizabeth Olympic Park in London, England from 21 July to 5 August 2018.

FIH site


---

Ireland Women Qualify for World Cup 2018




Ireland Women have qualified for the World Cup for the time since 2002

Australia's victory over Papua New Guinea in the Oceania Cup early this morning means that the Green Army have qualified for the World Cup Finals in 2018.   This is only the fourth time in the 43 year history of the World Cup that Ireland Women have taken part.

Head Coach Graham Shaw said "we are delighted to receive confirmation of qualification as this was our No 1 objective for 2017.   We want to be competing in all major competitions and the World Cup in London will be special since Great Britain won the gold medal in Rio.   I am sure they will put on a fantastic show, that we are proud to now be a part of".

This is a fantastic achievement and the culmination of a successful summer with both of Ireland's men's and women's teams now qualified! The last time the men were in the World Cup Finals was 1990 and the women have not featured since 2002.

The intervening period since qualification has been a flurry of planning as all the qualified nations settle their preparation programs for the run in to both World Cups. The women will be first up in July 2018 in London while the men will play in late November 2018 in India.

The women have finalised their program which will see a number of single nation match series against Scotland in October and both Scotland and Great Britain, the Olympic Gold medalists in March as well as a tri-nations tournament in January in Spain with Belgium, the recent European Silver medalists also featuring.

The men will start their program after Christmas and a key highlight of their program will be attending the Sultan Azlan Shah Cup in Malaysia in March. Great Britain are the holders of last years 26th edition of this prestigious tournament. The men's program will also include a tri-nation tournament in Spain with Netherlands at the end of January along with some home games to be finalised.

To accommodate both teams World Cup preparation programs, a number of changes have been made to the domestic Calendar for this season to ensure that our national squad players are available to their clubs for the EY Hockey League and Irish Senior Cup. The updated Calendar is available on the website here and both Competition WG (IHL and Cups) will be in touch with clubs to communicate the changes.

Both national coaches wish to thank all the clubs and players for the huge support throughout the summer and for the journey ahead as they head into their respective World Cup competitions. It really is an exciting time for Hockey Ireland to have both teams competing in World Cups in the same year!

Irish Hockey Association media release


---

Final formality cleared as Irish women look forward to first World Cup in 16 years.



Ireland's women can now officially look forward to World Cup 2018. Pic: Adrian Boehm

World Cup qualification arrived this morning as Australia ran up their inevitably huge victory over Papua New Guinea, crossing the final t and dotting the final i required to send Ireland's women to their first event of this magnitude since 2002.

"You are always waiting on the official confirmation even though we felt it was a foregone conclusion," coach Graham Shaw said of the week's results at the Oceania Cup.

"It's fantastic. A World Cup in London, especially after with the English women winning the tournament in Rio, it's going to be fantastically supported and hopefully we can get a big Irish crowd over."
Ireland's seventh place finish in the World League in July was heavily celebrated at the time with anticipation that it would be enough for a ticket to London 2018.

It placed the green army third on a waiting list for the elite competition with the outcomes of the continental championships ultimately deciding their fate.

If already qualified sides won their regional competitions, Ireland would move up the list. Europe and Pan-America worked out which pretty much had the plane ticket booked with the Oceania Cup this week proving a formality as New Zealand beat PNG 33-0 and the Hockeroos landed their 23-0 result today.

"When you know the talent New Zealand and Australia possess, you essentially knew what was going to happen. I didn't think for any second they were going to slip up.

"If we were waiting on results in Africa or Asia later on, I would have been more worried but that is the real importance of finishing seventh in the World League so we weren't hanging on for any more results."

As such, that India victory was particularly memorable, especially in the manner it came about with Ayeisha McFerran taking a ten-minute sin-binning and Grace O'Flanagan saving a stroke with her first touch of the tournament.

"We were disappointed to end in the seventh/eight playoff. Our performances through the tournament deserved to be higher and we targeted a top four. If we managed a few situations better, that could have happened.

"Against India, we showed a lot of character and resilience, going 1-0 down, losing our goalkeeper to a sending off. Responding the way we did, it showed the squad has turned a corner to pull out a result of that magnitude."

From the highs of that tournament followed a lack-lustre European Championships, something that Shaw says his side will need to learn the lessons from in the World Cup build-up.

"We are in the process of debriefing, gathering as much information as we can to see what we can address and make any adjustments. It was incredibly difficult, competing against professional teams, to peak for one competition in Johannesburg and then again three weeks later.

"When you are part-time, jumping into a full-time programme can be difficult mentally and physically draining. That's something we will reflect on. Trying to peak for two competitions and what comes with that,what you put yourself through."

Preparation for the World Cup, though, will be a much simpler task in terms of organisation with a singular focus to plan for in 2018 rather than 2017's numerous different directions.

"For 2017, we started on January 2, travelling to Malaysia then on to Johannesburg with a lot of other tournaments in between, a lot of travelling. There was a lot of different styles and a lot of different standards.

"Now, we will know a lot earlier who will be in our group and factor your programme around that.

"The format of four groups of four with the bottom team knocked out, we are going to be up against it. We will be seeded fourth in our pool but we have to approach every game, believing in what we can do and bring the best possible to every single game.

"We do believe we can compete against the top nations. It's about finding consistency and those performances in big competitions. This summer has taught us a lot about that."

The first phase of the preparation process starts in 10 days with a series against Scotland with eight of the Irish Under-21s from Valencia getting their chance to stake their claim for a spot in the wider panel.

"We need to expand our squad. We need 26 to 28 players capable of going to major events and that's how we create a competitive squad. The teams we put out will be incredibly young on the Tuesday and Wednesday, trying to look at other players, expand the squad and make it as competitive as possible to get the best out of people."

The Hook


---

Scotland women's squad announced for matches versus Ireland



Scotland take on Ireland in a three-match series. Photo – Duncan Gray

The Scotland women's hockey squad has been announced for the upcoming test series against Ireland in Belfast and Banbridge, and includes five fresh faces in line to win their first cap.

The three matches will be held on 22 October at 5pm at NICS HC in Belfast; on 24 October at 7pm at Banbridge HC; and on 25 October at 12:30pm at NICS HC.

The teams last met back in August at the RABO EuroHockey Championships 2017 in Amsterdam, battling out a close 0-0 draw, so it's set to be a close series of tough matches.

This time round it is a much-changed Scotland squad that welcomes some new faces to the group. Laura Swanson, Danie McMurray, Rachael Mack, Lorna Cruickshank, and Emily Dark are all in line to win their first cap for Scotland with the latter set to be Scotland's youngest ever-recorded capped senior internationalist.

Scotland women's Head Coach Gordon Shepherd said, "I have decided to use these games to give players who were not selected this summer for the World League Semi Final and European Championships an opportunity to stake a claim for a place in the squad that will be selected for warm weather training in January. The January camp will be the selection phase for the Gold Coast Commonwealth Games.

"A number of players were unavailable for selection and this has meant we were able to select some new players to have a look at.

"There are five new caps and I am looking forward to seeing them in this environment. One of these players is Emily Dark who will be the youngest player that I have given a cap to. She is an exciting prospect and has progressed massively this year."

Scotland women's squad

Lucy Camlin – (Watsonians)
Danie McMurray – (Western Wildcats)
Kareena Cuthbert (C) – (Western Wildcats)
Becky Ward (C) – (Western Wildcats)
Emily Newlands – (Watsonians)
Karin Belch – (Grove Menzieshill)
Bex Condie – (University of Birmingham)
Laura Swanson – (Edinburgh University)
Katie Robertson – (Grove Menzieshill)
Kate Holmes – (Clifton Robinsons HC)
Emily Dark – (Dundee Wanderers)
Fiona Bruce – (Wimbledon)
Rachael Mack – (Leicester)
Lucy Lanigan – (Clydesdale Western)
Sarah Jamieson – (Grove Menzieshill)
Charlotte Watson – (Dundee Wanderers)
Millie Brown – (Clydesdale Western)
Fiona Burnet – (Clydesdale Western)
Lorna Cruickshank – (Durham University)

Scottish Hockey Union media release


---

Raising the Indoor Hockey Bar




The winds were blowing at nearly 30km an hour in Durban today, almost symbolically sweeping the South African Indoor Hockey Inter Provincial Tournament into the coastal city. If the wind was fast, the hockey took up another level with some outstanding moments produced on day one of the historic tournament.

Although the main story of the tournament will be who wins, there will be two outstanding stories that develop throughout the weekend. The first is the long awaited return of the Northern Blues in both the Men's and Ladies tournaments and the second is the ongoing development of Mpumalanga as a hockey region for South Africa.

Ladies IPT

Southern Gauteng would like to go further this year than they did last year, when they fell out in the Semi-Finals and they welcomed SA outdoor superstar Lilian du Plessis into their fold. In the opening game against North West they secured a 1-0 through UJ's Lanne Rossouw. The KZN Mynahs also picked up a first round victory with surprising ease as they despatched of KZN inland 6-0 with both Carla van Niekerk and Jessica Lardant netting braces.

An incredibly young Western Province side showed their intent early on with a good 6-2 victory over Mpumalanga. Two players with Nationals caps, Heather McEwan and Natasha Rootenberg, each scored 2. The Raiders and Northern Blues completed the Round 1 action where the Blues held their own against their much favoured opposition. Eventually the Raiders emerged 4-1 victors thanks largely to Kara Botes popping up with two goals.

The second round of matches featured a superb display by the KZN Mynahs to dispatch of Mpumalanga. The incredible talent of Namibia's 16 year old superstar Kiana Cormack caught this writer's eye as she impressed with work rate and a finishing ability that many more experienced players would love. Inspired by Heather McEwan, Western Province got their second victory of the day beating KZN inlands 3-0, while the Raiders did a workman-like performance in putting 5-2 victory past a plucky North West.

The game of the day was the Gauteng derby as the two sides of the Juskei battled it out to be the provinces top team.  The Blues, featuring a very Outdoor Hockey flavoured side, showed fantastic effort and application in leading 1-0, 2-1 and 4-2. But two late goals from Lilian du Plessis, one a superb reverse stick flick, meant Southern Gauteng shared the points in an absolute classic.




Men's IPT

It appears if you want a crazy, exciting, edge of your seat match, you need to be a KZN Inland supporter. Both of their games were decided by just the solitary goal, first coming from behind to beat KZN Mynahs, while never really closing the door. Their second win was a cracker in beating Northerns 6-5 in a very vociferous game.

Southern Gauteng, Western Province and KZN Raiders all showed why they are favourites for the top four with a pair of victories. Western Province scored 26 goals in their two games, mostly through Dale Isaac and Ryan Julius, while Southern Gauteng netting 20 to sit just behind. Tomorrow morning the two heavyweights will play for top spot in their group and the "easier" cross pool game in the afternoon session.

The defending champions had no problems in a comfortable 7-2 victory against the Northern Blues men, with a hat-trick from Geoff Abbott, and then beating their "B" side the Mynahs with very little difficulty.




Remember you can follow the tournament at the SA Hockey Tournament Management System site here https://saha.altiusrt.com/

SA Hockey Association media release


---

Unbeaten Beeston face Brooklands test



Beeston's Adam Dixon (R) battles with Wimbledon's Alistair. Credit David Kissman

Unbeaten Beeston head to Brooklands MU for a tough test of their title credentials in the Men's Hockey League Premier Division on Sunday.

Currently second, the Nottinghamshire side have won two of their first three games, drawing the other, and will be hoping for a similar result to last week when they beat Reading with Mark Gleghorne scoring all three goals.

"For us, playing Brooklands is a bit of a Northern cup final!" said chairman and First XI Manager Graham Griffiths. "We've got a lot of respect for them and are good friends. They've got some very good players and I think they will be a good team this season.

"I have no doubt it's going to be a tough game. We beat them in pre-season, but that was very much a one-off and we will take nothing for granted."

Beeston's squad has been boosted by several players rejoining the club, with Sam Ward and Gareth Andrew returning from Holcombe and Adam Dixon coming back from Rotterdam who he played for for one season.

James Blackwell and Mark Wadsley have also returned after a spell at Olton and West Warwickshire while German half-back Marius Gemmel is also now in their first XI squad.

Elsewhere leaders and current champions Surbiton head to Wimbledon in a repeat of last season's league final, while Reading will be looking to bounce back from last weekend's defeat at Beeston when they host Holcombe on Saturday evening.

Also on Saturday Sevenoaks are at home against East Grinstead and Canterbury travel to Hampstead and Westminster with the two Kent teams, who occupy the bottom two places in the table, looking for their first points of the season.

Two unbeaten sides face each other in the Men's Conference East, with leaders Oxted going to Teddington. Cambridge City have also not lost a league match so far this season and they are at home against Chichester on Sunday.

The University of Nottingham top Men's Conference North table, and they will want to continue their great start to the season when they play Bowdon at home. Meanwhile, the University of Durham lie second and could take top spot if they can beat Cannock and the University of Nottingham lose.

And in the Men's Conference West, Team Bath Buccaneers go to the University of Birmingham as they bid to make it three wins from their first three games. Meanwhile, early table toppers Olton and West Warwickshire also hit the road, with a match at Cheltenham.

Elsewhere, Cardiff & Met will leapfrog Fareham if they beat them on Sunday, and there is a big Exeter derby on Saturday evening as Isca host the University.

Fixtures
Saturday, October 14 2017

Men's Premier Division
Sevenoaks v East Grinstead 17:00
Reading v Holcombe 18:00

Men's Conference East
Richmond v Old Loughtonians 18:00
Isca v Univ of Exeter 18:30

Men's Conference West
Isca v Univ of Exeter 18:30

Sunday, October 15 2017

Men's Premier Division
Hampstead & Westminster v Canterbury 13:30
Brooklands MU v Beeston 14:00
Wimbledon v Surbiton 14:00

Men's Conference East
Cambridge City v Chichester 12:30
Brighton & Hove v Old Georgians 13:00
Teddington v Oxted 13:30
West Herts v Southgate 14:00

Men's Conference North
Univ of Nottingham v Bowdon 12:30
Deeside Ramblers v Sheffield Hallam 13:30
Doncaster v Loughborough Students 14:00
Preston v Leeds 14:00
Univ of Durham v Cannock 14:00

Men's Conference West
Cardiff & Met v Fareham 12:30
Univ of Birmingham v Team Bath Buccaneers 12:30
Cheltenham v Olton & West Warwicks 14:00
Havant v Clifton Robinsons 14:00

England Hockey Board Media release


---

Holcombe test for Bowdon Hightown



Bowdon Hightown defend a penalty corner in the League Finals 2016-17. Credit Garry Bowden SIPPA

Bowdon Hightown are preparing to make the trip south to Holcombe as the Investec Women's Hockey League Premier Division continues to provide some mouth-watering clashes.

A raft of big-name summer signings have boosted Bowdon Hightown's hopes for the 2017-18 campaign, with GB and England stars Sam Quek and Kirsty Mackay having rejoined the club as well as Wales and GB Under-23 midfielder Julie Whiting.

But having won one, drawn one and lost one of their first three games, Bowdon are yet to find top gear.

"We're looking forward to playing Holcombe," said Bowdon Hightown's First XI Manager Sam Leckey. "It has been a good start on the whole, but we consider ourselves unlucky not to have more points given the chances we've created.

"We've had a good influx of players into the club at all levels, a bit of a Rio effect! We've picked up some great talent, especially at first XI level.

"We're definitely targeting the play-offs. The last couple of seasons have been a bit difficult, but we think we've got enough talent to push for the top four."

Elsewhere, leaders Surbiton head to the University of Birmingham as they bid to continue their unbeaten run, while second-placed Slough are also playing away at East Grinstead.

The bottom two in the early table come up against each other as Canterbury host Clifton Robinsons on Saturday, while Leicester are at home against Buckingham.

Two of the three teams with 100% records play each other in the Investec Conference North, with Brooklands Poynton at home against Beeston, while the other side to have won all three, Sutton Coldfield, are at home against Fylde, who have made an unbeaten start to their campaign too.

In the Investec Conference East, Hampstead and Westminster go to Bedford as they bid to make it four out of four, while Sevenoaks are similarly on a 100% record so far and they head to Harleston Magpies.

Early Investec Conference West leaders Stourport are at home against Gloucester City on Saturday evening, while Trojans host Swansea City as they bid to maintain their strong 100% start.

Fixtures
Saturday, October 14 2017

Investec Premier Division
East Grinstead v Slough 13:30
Canterbury v Clifton Robinsons 14:00
Holcombe v Bowdon Hightown 14:00
Leicester v Buckingham 14:00
Univ of Birmingham v Surbiton 14:15

Investec Conference North
Brooklands Poynton v Beeston 12:00
Univ of Durham v Timperley 12:00
Liverpool Sefton v Wakefield 12:30
Sutton Coldfield v Fylde 12:30
Ben Rhydding v Loughborough Students 13:30~

Investec Conference East
St Albans v Cambridge City 13:00
Barnes v Chelmsford 13:30
Harleston Magpies v Sevenoaks 14:00
Wimbledon v Southgate 14:00
Bedford v Hampstead & Westminster 14:30

Investec Conference West
Olton & West Warwicks v Isca 12:00
Trojans v Swansea City 12:00
Cannock v Oxford Hawks 12:30
Team Bath Buccaneers v Reading 12:30
Stourport v Gloucester City 18:00

England Hockey Board Media release


---

Enjoying challenges of coaching junior Indian hockey players: Jude Felix

Former India hockey captain Jude Felix said he is enjoying the challenge of coaching the junior hockey team after guiding his side to victory in the KD Singh 'Babu' hockey tournament.

Sharad Deep



India's junior hockey team pose after winning the All-India KD Singh 'Babu' hockey tournament in Lucknow on Wednesday. (HT Photo)

Former India hockey captain Jude Felix loves challenges in sport as he feels it is a process to make one stronger to solve bigger problems in life.

For now, coaching the young Indian team is his biggest challenge and he is enjoying it. Jude, the newly-appointed junior India coach, says, "That (challenges) is how my life is, and I am enjoying it.

"Learning is a continuous process and I am happy that boys are learning fast," he told Hindustan Times after his boys won the prestigious All-India KD Singh 'Babu' hockey tournament defeating Punjab National bank 3-2, at the Mohd Shahid Stadium.

"It is a good win to check our preparation as the boys are getting ready to take up the challenges in the Sultan of Johor Cup (junior men) tournament, which begins on October 22 in Malaysia. For the last 40 days, we have been training hard here at the SAI centre. I am hopeful of a good show," said Felix.

Felix brings with him vast experience. "My association with these boys is just three months old. They have come from different backgrounds, mindsets and training styles. Turning them into a unit is a tough job. I have got a group of talented guys who are the future," he said.

Terming Australia and Great Britain challenging sides at the upcoming Malaysia event, Felix said the Indian juniors should make these two teams run for their money in the event.

"I would like to begin my stint with a win but I still believe the boys need to do a lot. Mistakes are bound to happen and how they keep learning from the mistakes would be important," said Felix, who led the India team in the 1993 World Cup and in the 1994 Asian Games in Hiroshima.

The former half-back admitted that his 15-month stint as assistant coach with the senior India side was a great learning experience for him. "It was quite an exciting time for me with the team as I learnt quite a few things.

"That experience is helping me in nurturing juniors and I want their knowledge bank about the game full," he said.

Felix has played more than 250 international matches and represented India in the 1988 and 1992 Olympics. Speaking on the preparation for the 2020 Junior World Cup where India will be the defending champions, Felix said he had already started the process and there would be intense scheduling like exposure trips, tournaments and training of players.

Hindustan Times


---

Hockey athletes and coaches team up to battle doping



FIH and partners have been delivering an extensive anti-doping education programme in recent years Photo: FIH/Getty

The International Hockey Federation (FIH) continues to lead the global battle against doping with latest figures revealing thousands of the world's top hockey athletes and coaches have completed anti-doping education programmes.

Easy access to information, plus a continuous learning programme is an approach backed by both International Hockey Federation (FIH) and the national hockey associations as they work together to ensure that clean athletes are protected and the players compete on a level playing ground, in a fair environment.

Comprehensive tracking of hockey's education programme for elite hockey players began back in 2016 when 1,224 top level athletes and support personnel from 25 countries participated in either WADA's on-line anti-doping education programme 'ALPHA', or a course led by one of the national associations. Further to that, all 432 hockey players who competed at the Rio Games completed anti-doping education.

"As of 11 October 2017, 1,991 athletes and support personnel from over 25 countries have completed anti-doping education programmes."
FIH

Since then, FIH has widened the education programme to include second tier nations and youth teams prior to the Youth Olympic Games, as well as running an anti-doping education booth at the Indoor Asia Cup, in collaboration with the Qatar Anti-doping Commission and the Asian Hockey Federation. As of 11 October 2017, 1,991 athletes and support personnel have completed such education.

The programme has also extended to participants on courses offered by the FIH Hockey Academy, who all have to complete a CoachTrue online programme. The recent FIH Level 2 Coaching Course in Lancaster, USA, included an anti-doping education webinar, run in collaboration with USADA.

Speaking about FIH's anti-doping initiatives, Rob Koehler, Deputy Director General and Senior Director, Education and NADO/RADO Relations, praised FIH's anti-doping programme. He said: "WADA is very pleased with the commitment that the FIH has shown to ensure that education is a priority in promoting clean sport in hockey. Their education programme has been multi-tiered with a focus on athletes and their support personnel. Such an approach to education fosters a clean sport environment that empowers all athletes to make the right decisions."

While hockey is one of the low risk sports when it comes to doping, there are still transgressions, and positive tests do occur. FIH and its partners are very aware of this and continue to develop stringent testing procedures as well as continuing education for all athletes and coaches.

One of the best ways to educate people is to involve them in the learning process. Head coaches are far more likely to sit down with their players and agree common goals and team behaviours than to dictate how the team will operate. The days of the coach 'telling' and the players 'doing', is by and large over. The general consensus among many of the world's leading coaches is that it is essential to involve players in the decision-making process.

It is an approach that is also beginning to yield results in the battle against doping in sport. At the Rio 2016 Olympic Games, the IOC put together a series of educational awareness programmes, featuring real-life scenarios that the athletes could access online and through their mobile phones. This educational approach, backed up by a strict enforcement process has continued to develop so it will be at the heart of the Olympic Agenda 2020, ensuring that the integrity of the sport continues to be protected.

In addition, WADA - the World Anti Doping Agency – has put together a package of quizzes, questionnaires, videos and information guides that are easily accessible for athletes and coaches at any time.

For more information Anti-Doping, visit: http://www.fih.ch/inside-fih/our-official-documents/anti-doping-and-medical

FIH site


---

Weekend College Games




Each week, USA Field Hockey highlights some of the top college games in Division I, II and III.

FRIDAY, OCTOBER 13

DI: No. 8 Northwestern vs No. 22 Iowa | 4:00 p.m. ET
Northwestern has won their last four games including wins over higher-ranked Maryland and Rutgers. The Wildcats look to continue their winning streak when they take on Iowa this Friday in a Big Ten showdown. Currently 10-4 overall and 4-1 in conference play, Northwestern is coming off a 6-0 win over Ball State last Sunday, which was fueled by a strong offensive charge where they capitalized on their penalty corners to earn the victory. On Sunday, Iowa fell 4-2 to higher-ranked Duke. They worked hard to continuously cut the Blue Devils lead in half but were unable to stop Duke from scoring late in the second half to secure the win. Iowa is now 5-8 overall and 1-3 in conference play as they look to get back on track with a big win over their conference foe this Friday.

DI: No. 2 Duke vs No. 12 Wake Forest | 6:00 p.m. ET
The game between these highly ranked Atlantic Coast Conference (ACC) teams will be the game watch in Division I field hockey this weekend. No. 2 ranked Duke bounced back after losing to ACC rival Syracuse on Saturday to defeat Iowa 4-2 on Sunday. The Blue Devils are now 10-2 overall and 2-2 in conference play after consistently sitting in the top of the rankings each week. Wake Forest will look to extend their three-game winning streak. Over their last three wins, the Demon Deacons scored 18 goals leading up to defeating Richmond 6-2 last Sunday. Wake Forest improved to 8-5 overall and 2-2 in conference play and has shown that they can knock off top competitors. Both teams are 2-2 in the ACC and will be looking to get their third conference win of the season.

DII: Newberry vs Belmont Abbey | 7:00 p.m. ET
Newberry College battled Lindenwood to double overtime for the first time this season. Although Newberry scored first, they were unable to keep the lead and ultimately fell 2-1 to Lindenwood dropping to 5-7 overall and 2-4 in conference play. The game against Belmont Abbey will be The Wolves' seventh Eastern College Athletic Conference (ECAC) game this season. During this past week of play, Belmont Abbey had a pair of hat tricks in each game to help them claim back-to-back victories. They defeated Queens (N.C.) 5-3 on Wednesday and then went on to defeat Molloy 6-3 on Monday. The Crusades improved to 7-5 overall and 2-3 in conference play. Tune into see if Belmont Abbey can keep their positive momentum going or if Newberry will be able to stop them in their tracks.

DIII: No. 16 Skidmore vs Vassar | 4:00 p.m. ET
The match-up between these two Liberty League teams will be an exciting game to watch in Division III field hockey. Skidmore College extended their winning streak to three games after defeating New Paltz 2-0 this past Sunday. They didn't allow a single shot on goal and had a 23-3 shot advantage over New Paltz. The Thoroughbreds improved to 9-4 overall and 3-0 in conference play, and will now try to have another strong offensive performance versus Vassar. The Brewers are coming off a 1-0 victory over conference foe William Smith College this past Saturday. The win snapped a two-game losing streak for Vassar as they improved to 7-4 overall and 2-1 in conference play. Will Skidmore be able to remain undefeated in the Liberty League of will Vassar knock off another conference foe?

SATURDAY, OCTOBER 14

DI: No. 13 Harvard vs Cornell | 12:00 p.m. ET
Harvard will look to remain undefeated in Ivy league play when they take on Cornell on Saturday. Harvard battled, but ultimately fell 2-1 to higher-ranked Boston College this past Sunday. After the loss, their record stands at 9-3 overall and 3-0 in conference play. This Ivy League match-up is an opportunity for Harvard to get back on track after the loss. On the other hand, Cornell picked up its first Ivy League win of the season last Saturday defeating Yale 3-2. The game between these two teams is one of the longest on-going rivalries. The last time they played one another Harvard defeated Cornell 5-0 and later went on to win the Ivy League Championship.

DII: Slippery Rock vs Bloomsburg | 12:00 p.m. ET
Slippery Rock will compete in its seventh out of ten straight Pennsylvania State Athletic Conference (PSAC) contests this Saturday. Slippery Rock fell 3-1 to top ranked PSAC foe Shippensburg University this past Saturday. The loss was the second PSAC loss of the season for the Rock, as the first also came from Shippensburg when the teams met earlier this season. They are now 8-5 overall and 3-2 in conference play. Bloomsburg meanwhile will look to rebound after last weekend's 2-1 loss to Lindenwood. The contest was decided by a shootout in which Lindenwood outscored Bloomsburg 4-3 in seven rounds. The Huskies dropped to 6-6 overall and 2-2 in conference play as this game will be a key PSAC match-up for both teams.

DIII: No. 3 Middlebury vs No. 63 Trinity  | 11:00 a.m. ET
The match-up between these two teams will be the game to watch in Division III field hockey this weekend. Both teams have proven to be top competitors in the New Engalnd Small College Athletics Conference (NESCAC) this season. Middlebury improved to 9-2 overall and 6-1 in conference play after extending their winning streak to fives games when they dropped Wesleyan (Conn.) 3-0 on Sunday. Trinity is 7-4 overall and 3-4 in conference play this season as they earned their sixth consecutive victory after defeating Springfield 4-1 on Tuesday. The game showed Trinity's depth with both first years and seniors contributing to the victory. Both teams are evenly matched in skill so expect this game to be a battle until the very end.

SUNDAY, OCTOBER 15

DI: No. 17 Rutgers vs No. 28 Ohio State | 1:00 p.m. ET
Rutgers earned the highest ranked victory in program history this past Saturday, when they defeated higher-ranked Stanford 2-1 in a thrilling overtime win. They are now 8-5 overall and 2-2 in conference play since the addition of U.S. Men's National Team captain Ajai Dhadwal on staff as assistant coach. Ohio State meanwhile will be looking to get their first Big Ten conference win. The Buckeyes are coming off a thrilling 3-2 overtime win over California last Sunday, improving to 7-6 overall and 0-4 in conference play. This will be the first of four straight Big Ten match-ups for Ohio State. Both these teams have proven that they can upset top ranked teams so expect this game to be an exciting one.

DI: No. 6 Penn State vs No. 16 Maryland | 3:00 p.m. ET
The match-up between these two top-ranked Big Ten conference teams will be a great game to watch in Division I field hockey this weekend. Penn State will be looking to improve their four-game winning streak as they are coming of a 2-1 win over California this past Saturday. The Nittany Lions are 12-2 overall and 4-1 in conference play. Maryland is coming off a 4-1 win over Liberty this past Sunday, where they scored in the first 70 seconds of the game and never looked back. Maryland is now 8-5 overall and 3-2 in conference play. Tune into see who moves up in the Big Ten conference!

DII: Bellarmine vs Molloy | 1:00 p.m. ET
Bellarmine bounced back after suffering back-to-back losses in the previous weekend to defeated Converse College 3-0 this past Friday. In the contest, Bellarmine came out firing with multiple shots in the first minute of play. Now resting at 5-8 overall and 3-4 in conference play, the squad will look to have another quick start when they take on Molloy. Molloy is 0-13 overall and will be hoping to get their first win of the 2017 season, as the Lions are coming off a 3-6 loss to Belmont Abbey this past Monday. Molloy has had some close games this season and it's only a matter of time before they notch their first victory.

DIII: No. 17 Bowdoin vs Colby | 1:00 p.m. ET
Bowdoin will look to bounce back after back-to-back losses this past weekend when they fell 3-2 to Trinity on Saturday an 1-0 to UNE on Sunday. Both games went into overtime but Bowdoin was unable to capture the victories. The Polar Bears dropped to 6-4 overall and 3-3 in conference play. Colby is coming off back-to-back victories this past week, when they defeated Southern Me. 4-0 on Wednesady and went on to drop conference for Wesleyan (Conn.) 2-1 on Saturday. Colby improved to 7-3 overall and 3-3 in conference play. This is a key game for Colby and Bowdoin because both teams are 3-3 in NESCAC play. Check this game out to see who moves up in the NESCAC conference.

* DI Rankings are based off NFHCA Division I Coaches Poll (Posted October 10, 2017)
** DII Rankings are based off NFHCA Division II Coaches Poll (Posted October 10, 2017)
*** DIII Rankings are based off NFHCA Division III Coaches Poll (Posted October 10, 2017)

USFHA media release


---

Three ranked ACC matchups headline exciting weekend of conference games

Pat Ralph, Excelle Sports



Six of the seven ACC teams were ranked in the latest NFCHA coaches' poll. Wake Forest Athletics

For a second straight weekend, the three best games in college field hockey all come from the ACC. With seven teams ranked in the top 15, the ACC continues to set the tone as the best conference in Division I field hockey. The Big Ten is certainly close with three teams in the top 15, but it pales in comparison to the dominance of the ACC so far. This weekend, six of the seven ACC teams ranked in the top 15 go head-to-head in three thrilling matchups to watch that you won't want to miss.

No. 2 Duke vs. No. 12 Wake Forest

Friday October 13th, 6:00 p.m. ET

The first of three top 15 ACC matchups this weekend comes in North Carolina where a pair of long-time rivals will go head-to-head in Durham.

The Blue Devils (10-2) saw their six-game win streak get snapped last weekend in a 2-1 loss at home against Syracuse. However, Duke bounced back with a 4-2 win over No. 22 Iowa. Standing at 2-2 in conference play, the Blue Devils will continue their five-game home stand against the Demon Deacons on Friday.

Also at 2-2 in the ACC, Wake Forest (8-5) moved up from No. 15 in the polls after a pair of wins over Appalachian State and Richmond. Riding a three-game win streak, the Demon Deacons look to continue their winning ways against Duke in a big conference showdown. Both teams will have games on Sunday too. Duke will host Miami (Ohio) while Wake Forest travels to No. 17 James Madison.

No. 5 North Carolina vs. No. 11 Louisville

Saturday October 14th, 1:00 p.m. ET

The second top 15 conference showdown this weekend pits the Tar Heels against the Cardinals in Chapel Hill.

North Carolina (11-2) is arguably the hottest team in the conference right now as it enters Saturday's game on an eight-game win streak. In their lone game last weekend, the Tar Heels improved to 3-1 in the ACC with a dominant 4-0 shutout win over Virginia. UNC will look to extend its win streak to nine games when it faces Louisville (10-4) on Saturday.

The Cardinals are also playing very well, entering Saturday's contest on a six-game win streak and are 3-1 in ACC play as well. Last weekend, Louisville defeated No. 9 Boston College 4-1 on the road before traveling to New Hampshire and capturing a 5-2 win. With first place in the ACC on the line, this game shouldn't disappoint at all. While this is Louisville's lone game this weekend, the Tar Heels travel to VCU on Sunday.

No. 4 Virginia vs. No. 7 Syracuse

Saturday October 14th, 1:00 p.m. ET

The third and final top 15 ACC game features the Cavaliers and Orange going at it in Syracuse. The Cavaliers' nine-game win streak was snapped last weekend by UNC, handing Virginia (11-2) its first conference loss this season. Virginia rebounded with an 8-0 win over Drexel, but the loss to North Carolina slid Virginia down from No. 3 in the polls.

The Cavaliers look to get back on track in conference when it travels to Syracuse (10-3), who jumped up from No. 9 in the rankings this week. The Orange stand at 2-3 in the ACC after an impressive 2-1 at Duke in their lone game last weekend. While a win for Virginia will continue to keep the Cavaliers at the top of the ACC, a win for Syracuse would vault the Orange back into the conference title race. After facing Syracuse, Virginia will travel home to face former ACC rival and No. 16 Maryland while the Orange will host Drexel on Sunday.

NCAA


---

Maryland field hockey wants to start fast against Ohio State

By Scott Gelman

When the Maryland field hockey team faced Ohio State last fall, early offensive aggression enabled defender Carrie Hanks to give Maryland a one-goal lead in the first period, en route to a 2-1 victory.

Coach Missy Meharg's squad was comparably effective at prompt scoring last year against Penn State. It took two-and-a-half minutes for forward Welma Luus to record Maryland's first goal in a 5-4 regular-season win, and about 26 minutes for Emma Rissinger to score the Terps' first goal in their 2-1 Big Ten tournament loss to the Nittany Lions.

But the 2017 version of Meharg's team has struggled to generate offense early in games, and sometimes throughout the entire contest. The Terps enter Friday's showdown against No. 25 Ohio State averaging fewer than three goals per game.

"We're talking about it and addressing it," Meharg said Sunday.

Maryland scored a combined eight times in wins against Michigan State and Liberty last weekend, but still, the attack's inconsistencies have prompted Meharg to focus on that unit. As what could prove to be a season-defining weekend of conference play awaits — Maryland will host the Buckeyes and No. 6 Penn State — performance in the game's early moments could dramatically impact the outcome.

The strategies Meharg used during practices seemed to contribute to Maryland's improved output against the Spartans and Flames. Regardless of whether the Terps trained in 3-on-3, 5-on-5 or 7-on-7 scenarios, Meharg led conversations about "the mechanical tactics that happen when you have the ball versus when you don't have the ball at the beginning of every game."

The scale of Maryland's practice "games" aimed at fueling faster starts often changes. Sometimes the drills are reserved to one small area of the field. Then, Meharg said the team participates in bigger games before the Terps expand to use the entire field.

It took 70 seconds for midfielder Madison Maguire to record Maryland's first score in Sunday's 4-1 win against Liberty, which added credibility to Meharg's tactics. That was done without standout midfielder Lein Holsboer involved in the attack.

Holsboer, Maryland's leading scorer, prioritized defense against the Flames, because freshman defender Sophie Giezeman was sick.

While Maryland has showed improvement recently, the Buckeyes have scored three goals in two of their last four contests, and the Nittany Lions are averaging more than three per game, meaning fast starts will crucial this weekend.

"We're so excited for next weekend," midfielder Brooke DeBerdine said Sunday. "We're all looking forward to that."

The Diamondback


---

A Man With a Plan Excels on the Old Dominion Field Hockey Team

As the school year continues across the country, U.S. U-20 Men's National Team member Christian DeAngelis keeps busy himself in between competitions at Old Dominion University.

Vicki L. Friedman



Photo Credit: ODU Athletics

NORFOLK, Va. - October 12, 2017 - Over skinny hotdogs, crinkle-cut fries and soupy mashed potatoes, Christian DeAngelis and teammates Mia Fucci and Anouck Vandersteen dig in to lunch at the Broderick Dining Commons after a two-hour field hockey practice at Old Dominion University in Norfolk, Va.

Passing topics include an upcoming American Writers test, a class DeAngelis and Vandersteen share, and Fucci's awkward style of shooting a penalty stroke. The freshman approaches it sideways instead of straight on; her lack of a poker face gives her away.

"That's how I did it in high school," she says.

"Are you in high school?" DeAngelis asks, snagging a fry from her plate.

"You're going to insult me and steal my biggest fry?" Fucci protests with a giggle.

The conversation moves on to talk of a recruit visiting for the weekend. "We're gonna take her shopping!" Fucci says.

DeAngelis shrugs. "I'll be done, and they'll be in the first store."

It's one of the few ways that DeAngelis, a 5-foot-11 freshman forward/midfielder, is struggling to fit in with his Monarchs teammates. DeAngelis is the only male on Old Dominion's field hockey roster -or, for that matter, on any Division I field hockey roster in the country.

Field hockey isn't an NCAA sport for men, but coach Andrew Griffiths assures, "He's one of us."

DeAngelis is a practice player, which in itself isn't unusual. Coaches of women's teams often rely on male practice players, particularly in basketball, to simulate opponents' schemes.

Almost always, Division I practice players are high school standouts accomplished enough to play at the Division II or III levels.

DeAngelis is an elite talent, a member of the U.S. U-20 Men's National Team. His aspiration to earn a spot on the senior national team left him searching for options that would offer expert coaching, a strength-and-conditioning regimen and daily exposure to the sport he fell in love with at age 13.

That he wanted a college degree, too, led him to Old Dominion. DeAngelis made a verbal commitment to Griffiths in April.

"Coming here to work with a team like this, to work with them on every drill, that's gold," says the 18-year-old, whose deep voice resonates with his Philadelphia accent.

He isn't on scholarship, and he neither plays nor travels with the Monarchs, but DeAngelis is a member of the team in every other way, Griffiths says. His paperwork has gone through the NCAA clearinghouse. He participates at every practice and follows a weight-room regimen. He's on the sideline for home games, he's part of the huddle during timeouts and he has his own locker. One caveat: It's in the visiting team's locker room, with a spray bottle of Axe Apollo alongside some sweaty gym shorts.

Group chat? Check.

"He's one of my best friends on the team. It's really nice having him," Fucci says. "He's here to challenge us, and it's nice having him as a friend. Field hockey is such a girl thing. It's nice to have a boy's perspective on the game."

Although going to a college that offers high-caliber field hockey at the club level was an alternative, DeAngelis craved the structure a Division I program would provide. Besides, this isn't the first time he has been on a hockey team surrounded by women.

He played alongside his sister Brianna when he was a freshman and she was a junior at Central Bucks High School West. He would have continued, but the state high school association passed a rule preventing teams with male players from participating in postseason play.

"I used to warm up against him in goal," says Brianna, now a sophomore goalkeeper at Lock Haven, "which was awesome."

Growing up, when Christian wasn't playing soccer, he was likely spending time at one of Brianna's field hockey tournaments.

"Back then, I didn't have a cell phone, so to keep myself and my younger sister occupied, we'd see if there were extra sticks in Brianna's field hockey bag," he says.

A Thanksgiving trip in 2012 to a tournament in West Palm Beach, Fla., presented an opportunity for Christian to play in a scrimmage. During a segment called "Grow the Game," boys were encouraged to pick up a stick and try it out.

He was hooked. He talked to one of Brianna's club coaches about joining that team. He went from an entry-level U-14 girls' indoor team to a more competitive one. That's when U.S. Men's National Team coach Rutger Wiese spied him for the first time.

"You're really good," Wiese told DeAngelis. "Have you ever thought of playing with guys?"

DeAngelis had not, but soon enough, he joined a regional high performance center where he evolved from a boy playing field hockey to a field hockey player. He was good enough to be selected to the California Cup, the pathway to the junior national team. He has since played in five Cal Cups in addition to the Junior Men's Pan American Championship.

Dave DeAngelis explored the idea of his son becoming a practice player in college, the best pathway, he thought, among limited options to accelerate Christian's development.

While men's field hockey is wildly popular in some parts of Europe and South America, it remains a niche in the United States. Players DeAngelis' age often choose to hone their skills overseas or on the West Coast, home to a number of competitive club programs.

"Christian's an East Coast guy," his father says. "Then there was the matter of him getting an education."

ODU met all the criteria. Griffiths coached at Lafayette College in eastern Pennsylvania for six years and knew the family. Christian actually played in a co-ed tournament against Old Dominion during a previous summer and enjoyed the urban campus that is a half-hour from the oceanfront.

Still, he arrived in Norfolk, Va., as a reticent freshman unsure of how he was going to fit in at a program with nine national titles and 31 NCAA tournament appearances, second only to North Carolina.

"I was really quiet at first, and then a couple of practices in, a few of the girls came up to me and started a conversation," he says. "Once I started getting friendly with some of them, it was pretty easy to be friendly with the whole team."

When he isn't at practice or in class or "eating six plates of food at the dining hall," Fucci teases, the sports management major regularly chills with his teammates, watching their Netflix preferences, usually Disney movies or "Gossip Girl."

"He's into our shows," Fucci says.

DeAngelis good-naturedly counters with, "There's a difference between watching and being in the room. As they're watching their shows, I'm often doing something else."

Even so, "He got us into 'Arrow,'" Fucci says, referring to the adventure series based on DC Comics' Green Arrow.

Practice, though, is serious for everyone. DeAngelis has one motor. So do the rest of the Monarchs.

"With him going his hardest, it brings a different aggression to our game," Fucci says. "He's made us go after the ball harder."

"When we work on offensive corners, he's on defense," midfielder Carrie Sensenig says. "Once you know you can get a shot off with Christian playing against you, you know you can get it off if anyone else is playing you."

His overhead lobs travel twice as far as those of his teammates, but mainly his speed, along with his bright orange shoes, sets him apart.

"Three of his steps are like one of mine," senior midfielder Danielle Grega says.

DeAngelis is modest about his contributions. "I'm trying to make them better, and they're trying to make me better," he says.

His reverse stick shot now goes where he wants it to, thanks to a tutorial from teammates.

"I never knew how to hit a reverse on the ground before," he says. "It would be up in the air or down low."

Wiese embraces the concept of more males following DeAngelis' lead. Right now, DeAngelis is the lone practice player listed among the 78 schools that play Division I field hockey.

"This is the first time I've ever heard of anybody being rostered," Wiese says. "I hope we see more of it. He gets to train every day with good coaches. He has access to the weight room. He has a routine. He's working toward a degree. I only see benefits."

DeAngelis' long-range goal is to be on the roster of the senior national team. "If I keep up with training and grow as the years come, I feel it's obtainable," he says. "But it's only if I want to push myself to get better."

He's hopeful more guys will discover, as he did, just how much fun field hockey is.

"Not many guys even know about it," he says. "It'd be great to get some guys to pick up sticks and try it out for themselves."

USFHA media release