All the news for Wednesday 11 October 2017

World Cup race resumes at men's Hero Asia Cup 2017

Eight of Asia's best chase the continental title in Dhaka



Between Wednesday 11 and Sunday 22 October, eight of the finest international teams in Asia will do battle over 11 days at the men's Hero Asia Cup 2017 in Dhaka, the capital city of Bangladesh.

This year, the premier continental tournament will feature host nation Bangladesh competing against China, India, Japan, Korea, Malaysia, Oman and Pakistan in the race for the title.

With many of the world's most gifted hockey athletes on show, the competition is guaranteed to be a fiercely contested, world class sporting spectacle for the fans who will witness the action at Dhaka's vast Maulana Bhashani National Stadium.

As well as the race to be crowned champions of Asia, there is also the small matter of a ticket to next year's Odisha Hockey Men's World Cup Bhubaneswar 2018 on offer to the winner.

While World Cup hosts India have been joined by fellow Asia Cup competitors Malaysia and Pakistan at next year's global showpiece thanks to strong showings in the recent Hockey World League Semi-Final events, for the other competing nations - the Hero Asia Cup 2017 represents one final opportunity to claim that ticket to Bhubaneswar and subsequently keep any hope of World Cup glory alive.

The eight competing teams in Dhaka are split into two pools of four, with Pool A featuring India (FIH Hero World Ranking: 6), Pakistan (WR: 14), Japan (WR: 17) and Bangladesh (WR: 34), while Malaysia (WR: 12), Korea (WR: 13), China (WR: 18) and Oman (WR: 30) will fight it out in Pool B.

In Pool A, two time Asia Cup champions India will be widely considered as favourites not just to top the group but also to win the title, although they enter the competition following a fairly disappointing sixth place finish at the Hero Hockey World League Semi-Final in London earlier this year.

They also have a new Coach, with Dutchman Sjoerd Marijne looking to make an instant impact after replacing compatriot Roelant Oltmans in the hot seat.

Marijne has selected a strong side for the competition, with midfielder Manpreet Singh captaining a group that features only two players - 31-year-old midfielder Sardar Singh and attacking star SV Sunil, 28 - over the age of 25.

Triple Asia Cup champions Pakistan are the second highest ranked team in the pool and will be expected to be India's main challengers in the race for a first place finish in the group. For Pakistan Head Coach Farhat Khan, the target is very much a competition victory.

"We have already qualified for next year's World Cup in India, but our main focus will be on performing well in the Hero Asia Cup 2017", said Farhat, who as a player won bronze at the Barcelona 1992 Olympic Games. "There is tough competition among the participating Asian teams with India being the strongest on paper with a world ranking of six. But there are always teams who can spring a surprise as Malaysia showed by finishing fourth at the Hockey World League Semi-Final in London. Therefore, it is important for us to keep focus on our game as we want to win the tournament."

Japan have turned heads of late thanks to some fine performances, with striker Kenta Tanaka making a real name for himself in 2017 due to his searing pace and brilliant finishing. They too will be a side to watch, while host nation Bangladesh will be hoping that the advantage of playing at home will level the field against their higher-ranked opponents in Pool A.

Pool B features Korea, the reigning champions and, thanks to four titles which include gold medals at the two most recent editions of the competition, the most successful team in the history of the Asia Cup. Despite this fine record, their substandard recent form suggests a third successive title will not be straight forward. A disappointing ninth place finish at the Hero Hockey World League Semi-Final in London earlier this year was not enough to secure World Cup qualification, so the team arrives in Dhaka knowing that this could be their last chance to claim their place in Bhubaneswar.

"It is true that our team has not been able to perform well in the recent times, but it is because we have been going through a transitioning phase in the national team", said Korea Team Manager Kim Yoon Dong, before explaining his feeling that the team is capable of exceeding expectations in Dhaka. "We have made several improvements in the management, coaching staff and the players by mixing experience with youth."

With eight players over the age of 30 - including hugely influential 34-year-old midfielder Lee Namyong, who has near 260 senior international appearances under his belt - the Korea squad certainly has plenty of game knowledge to call upon, something which could prove vital in an event such as this. However, with Malaysia and China having both shown good form this year, Pool B is certainly far from straight forward.

Malaysia were superb at the Hero Hockey World League Semi-Final in London earlier this year, defying expectations to finish fourth ahead of India, Pakistan and Canada, teams who all entered the event placed higher in the FIH Hero World Rankings. It is with some justification that Malaysia feel buoyant about their prospects in Dhaka, and will aim to outdo the previous best finish of third, which came at the 2007 competition in Chennai, India.

China will also fancy their chances of upsetting the odds at the Asia Cup, especially after a surprise higher final placement than Korea at the Hero Hockey World League Semi-Final in London. The meeting between the two nations at that event saw China defeat their higher-ranked opponents 5-2, with Su Jun scoring twice from open play in the triumph.

Pool B's lowest ranked competitors are Oman, but have proven themselves as a side capable of punching above their weight so will not be underestimated. The team finished fourth out of eight nations at the Hockey World League Round 2 competition in Dhaka back in March of this year, earning wins against Bangladesh, Ghana and Fiji.

As for the Asia Cup itself, it is not the first time that Bangladesh has played host to this hugely prestigious continental championship. The previous time that the event was held on Bangladeshi soil was only the second edition of the competition. That event took place way back in 1985, meaning that the return of this high profile tournament to Bangladesh has been a long time coming.

After 32 years, the 10,000 capacity Maulana Bhashani Hockey Stadium certainly provides a fitting venue for a competition that will embody the Big, Bold, Packed and Loud ideals that sit at the heart of the Hockey Revolution.

The competition gets underway on Wednesday, with two Pool A matches kicking things off. India take on Japan at 15:00 (UTC +6) before Pakistan face host nation Bangladesh at 17:30. To keep track of all the action from the Hero Asia Cup, please visit the competition event webpage or following the Asia Hockey social media channels on the links below.

#HeroAsiaCup

FIH site


---

Pakistan to take on hosts on opening day.

By Shahid Khan

Pakistan will participate in 10th edition of the Men's Asia Hockey Cup which will take place at the Maulana Bhashani National Hockey Stadium in Dhaka from 11 to 22nd October.

Greenshirts will face hosts Bangladesh on the opening day.  They will then take on Japan next on October 13 before their final pool match on 15th October against their arch rivals and top seeded team in the tournament –India.

The quadrennial event last took place in Bangladesh in 1985 when Pakistan clinched the trophy just as they had done in the inaugural event in 1982 and also in 1989.  Since then, India (2003, 2007) and Korea (1993, 1999, 2009 and 2013) have also been champions in the nine editions played so far.

"It is a momentous occasion for us as the Asia Cup 2017 hosts. This event will not only bring hockey lovers from across Bangladesh to watch best teams compete for top honours but those traveling for the event to Dhaka will get to witness the warm hospitality of the people of Bangladesh" expressed an elated Abdus Sadeque, the General Secretary of Bangladesh Hockey Federation.

Bangladesh will look forward to their team's performance especially as modern facilities at the stadium have newly installed floodlights for the Asia Cup.

Meanwhile Greenshirts captain Mohammad Irfan expressed his confidence that Pakistan will put on a respectable showing in the competition.

"We are confident of putting up a good show in the tournament and find our way into the final at least," Irfan said "We have been training for the last two months, concentrating hard on fitness which is important in modern hockey."


Newly appointed head coach Farhat who replaced Khawaja Junaid after heavy defeats against their arch rivals India at Hockey World League in June where Greenshits finished in 7th position, said we will try our best to make it into the final.

Defending champions Korea will remain tough contenders for the title as they arrive in Dhaka with an eye on the World Cup Qualification, whereas the other contenders India, Pakistan and Malaysia have already secured their berths for next year's World Cup being held in India.

Pool A - India Pakistan, Bangladesh, Japan
Pool B – Korea, Malaysia, Oman, China

The top two teams of each group will qualify for the four-team second round with direct qualification into the 2018 World Cup for grabs for the eventual winner.

Exclusive to Fieldhockey.com

Shahid Khan is senior hockey sports journalist and has covered all major hockey tournaments including Olympic Games, World Cups and Champions Trophies for various media outlets including BBC Radio and commented on Reuters Televison.


---

Pakistan Face Hosts Bangladesh on Opening Day

10th Men's Hockey Asia Cup starts on Wednesday at Maulana Bhashani Hockey Stadium in Bangladesh's capital Dhaka.

On the opening day, all the four teams of pool A will be in action.

In the first match, India would face Japan while the second game would feature hosts Bangladesh and Pakistan; starting at 4.30 PM PST

This will be the fifth meeting between Pakistan and Bangladesh in Asia Cup.

Pakistan have won all the four previous  encounters without conceding a goal.

However, when Dhaka last staged the Asia Cup in 1985, Bangladesh gave Pakistan a good run for their money, losing only by the score of 0-1.

Pakistan, at that time, were the undisputed king of hockey holding all the titles: Olympic, World Cup, Asian Games and Asia Cup.

PHF Media release


---

India aim to regain Asia Cup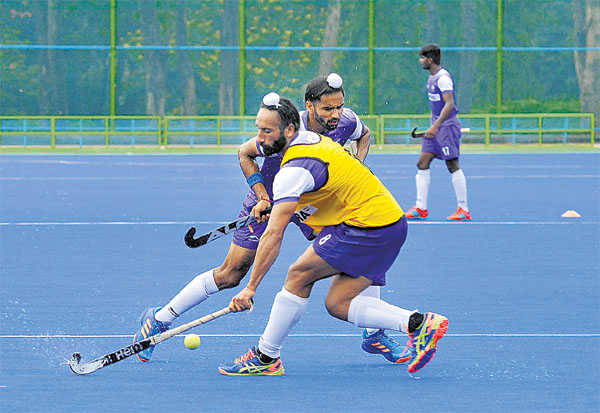 India's Sardar Singh and Akashdeep Singh during a training session on the eve of their opener in the Asia Cup, in Dhaka on Tuesday. PTI

Looking to recapture the Asia Cup title after a gap of 10 years, the Indian men's hockey team faces a tricky campaign-opener against Japan here today.

Last edition's runners-up India, led by midfielder Manpreet Singh, will be eyeing a perfect start to their campaign in Pool A, which also features archrivals Pakistan and hosts Bangladesh.

Pool B, meanwhile, consists of two-time defending champions South Korea, Malaysia, China and minnows Oman.

"The opening match is always challenging because we need to get over early nervousness and find our rhythm. The team is upbeat and ready for the first challenge," said skipper Manpreet.

Two-time champions India, who last won the tournament in 2007, last played Japan in the Sultan Azlan Shah Cup earlier this year where they won 4-3. But the Indians cannot afford to take Japan lightly. The Sultan Azlan Shah Cup was a prime example as Japan stunned reigning world champions Australia 3-2.

"We have seen how they play and they are definitely one of the fastest improving sides in Asia. We can never take Japan to be an easy team," the India skipper said.

The Asia Cup will be the beginning of a new phase in Indian hockey as it would be coach Sjoerd Marijne's first tournament at the helm.

"The Asia Cup is a fresh start not just for me but also for the team which is mentally prepared to return home with the title," Marijne had said. "The Asia Cup is where I will get to see how the team reacts in match situations and where we are lacking and need immediate improvement," he added.

In the other match of the day, Pakistan will take on hosts Bangladesh.

The Tribune


---

Confident India aim to retain No.1 status in Asian hockey

DHAKA: Eyes firmly set on retaining the numero uno status in the continent, favourites India face a tricky campaign-opener against Japan in the men's Asia Cup hockey tournament starting here tomorrow.

The Asia Cup will be the beginning of new phase in Indian hockey as it would be newly-appointed coach Sjoerd Marijne's first test post the sacking of Roelant Oltmans.

It would be an arduous task for the 43-year-old Marijne to fill in the big shoes of Oltmans, who made a significant contribution to Indian hockey in his four-year tenure, lifting the Asian powerhouse from 12 to sixth in the world rankings.

Last edition's runner-up India, led by midfielder Manpreet Singh, will be eyeing a perfect start to their campaign in Pool A which also features arch-rivals Pakistan and hosts Bangladesh.

Pool B, meanwhile, consists of defending champions Korea, Malaysia, China and minnows Oman.

The opening match of a tournament always holds greater significance for any team and India too would be hoping for a positive start ahead of their clashes against Bangladesh and Pakistan on October 13 and 15 respectively.

"The opening match is always challenging because we need to get over early nervousness and find our rhythm. The team is upbeat and ready for the first challenge," said skipper Manpreet on the eve of their opener.

For Manpreet and India, the Asia Cup is a chance to assert their supremacy in the continent.

"We are aware that we go into this tournament as the highest-ranked team and we will aim to keep up the No.1 status," the skipper has said.

The Indians last played Japan in the Sultan Azlan Shah Cup earlier this year where they won the encounter 4-3.

But the Indians can ill-afford to take Japan lightly as the Japanese have shown in the past that they have the ability to play fast-paced hockey with good attacks, making them an unpredictable team.

The Sultan Azlan Shah Cup was a prime example of this unpredictability as Japan stunned reigning world champions Australia 3-2.

"We have seen how they play and they are definitely one of the fastest improving sides in Asia. We can never take Japan to be an easy team," the India skipper said.

The Asia Cup is also India's lone international outing before the yearending big event -- the FIH Hockey World League Final to be held in Bhubaneswar.

So after giving some top junior players good exposure in the recent tour of Europe, India have named a squad which has a good blend of youth and experience.

Goalkeepers Akash Chikte and Suraj Karkera retained their spots whereas defenders Harmanpreet Singh and Surender Kumar make a return after being rested for the Europe Tour.

The tournament will also witness the return of seasoned pros like former skipper Sardar Singh, Akashdeep Singh, Satbir Singh and SV Sunil, who has been named the vice-captain.

The tournament will also give new coach Marijne a fair idea about what needs to done in the next 15 months, which will witness some high-profile tournaments like the Hockey World League Final, Asian Games, Commonwealth Games and the World Cup.

"The Asia Cup 2017 is a fresh start not just for me but also for the team which is mentally prepared to return home with the title," Marijne had said.

"The Asia Cup is where I will get to see how the team reacts in match situations and where we are lacking and need immediate improvement," he added.

In the other match of the day, Pakistan will take on hosts Bangladesh in Pool A.

The Times of India


---

Time to redeem Indian hockey

K. Arumugam

Indian hockey has been in the news for last six months or so for all wrong reasons. Two unexpected defeats in the London HWL SFs, and consequent misreading of the technical matters, sudden rise of a former physio as the High Performance Director in the decision making process, who had bulldozed all that was built patiently by Roelant Oltmans hitherto, and then in another twist characteristic of Indian hockey the women hockey coach was catapulted to Men's.

Not enough, Indian adminos surprised the global community with the postponement of its blue riband property, the Hockey India League and then pulling out of the proposed Pro Hockey League, which all put the Indian hockey in a big question mark over its future. The mood here in India on hockey is gloom.

With leading goalkeeper in a long haul of recoup, and vice-captain of the team getting injured in the last camp, the Indians at Dhaka has the onerous task of lifting the morale of dwindling population of Indian hockey fan.

What happened in the last edition of Asia Cup doesn't infuse anything positive. India lost the opener to Pakistan 3-2 the winning goal coming from Sohail Abbas in his last days of hockey career. That was the only goal he struck at Kuantan in 2009.

Being in the 3-team group, India needed an outright victory over China, but the match ended 2-2 though its India that took 2-0 at half time. Determined China, who had beaten them at the Doha Asian Games a year ago, spoilt India show yet again.

Pushed out of semis for the first time in nine appearance in the Asia Cup, India finished fifth after beating Japan and Bangladesh.

Coach Harendra and manager Dhanraj Pillay were for a while clue less.

The present team has half dozen from the Kuantan outfit that let themselves down.

Manpreet Singh's team now has two fold task if it wants to lift the morale of Indian hockey.

The young captain has said that its important for India to keep its premier position in Asia. His target is nothing less than the crown which is eluding India since after those glorious 2007 days.

Ten years down the times, India being the top ranked team, will strive to be so at Dhaka. But it will have to face threesome in energized Pakistan, target obsessive South Korea and unpredictable Malaysia.

All the four teams – India, Pak, Malaysia and South Korea – are capable of defeating the other in a given day.

If the recent Asian Champions Trophy are any indications, every fight is going to be closely contested.

In the ACT, India scrapped through Malaysia by a single goal win, and Korea in the tie-break and beat Pak by narrowest of margins.

India's defence without Kothajit Singh, Rupinder Pal Singh and PR Sreejesh need to pull up its socks.

Barring defence, India is a balanced side, that is a good news for fans back home.

Of all the participants, Korea is in dire need of the Cup as it would take them to India for the World Cup. Pak and Malaysia have qualified while Japan, a renewed side remains a dark horse.

With U-17 Football World Cup taking the centre-stage Asia Cup doesn't figure anywhere in the Indian sporting scene except a few.

India-Pak match on 15th Oct will alert the nation, and then only victory can give Indian hockey a space that it desperately in need of.

Stick2Hockey.com


---

India coach Sjoerd Marijne needs to shake things up to remove element of predictability

Sundeep Misra



File photo of India hockey coach Sjoerd Marijne. AFP

The word 'hope' has a beautiful, lovely ring to it. Put some muscle on it and you get: 'ambition', 'desire', 'drive' and 'energy'. Push the envelope further and some coaches use the line – 'fire in your belly' and 'do you have the thirst for it?'

India's third Dutch coach, Sjoerd Marijne, at the moment, with the national hockey team in Dhaka for the 2017 Asia Cup, would probably be asking the same of his players and himself too. Anybody in world hockey worth his salt would understand by now how Hockey India rotates coaches like luggage on a carousel. In fact, for every two steps forward, it's usually two steps backward.

But Marijne, unlike Roelant Oltmans before him, has 'fire in his 43-year-old belly'. At least, his age should define him by that very standard. Oltmans took it hard when his age was questioned. He was a coach who had won probably everything before coming to India.

So when Marijne said, "It took me all of five minutes to say yes to the offer to become India's national coach", it wasn't just about primping his professional CV, but to also ensure that he did a job most couldn't before him. Or were not given the time to accomplish much – from Oltmans' four years to a few months for Paul Van Ass.

It would be good if Marijne doesn't mark his tenure by days but by tournament wins and that too the big ones. It's just his rotten luck that the reason to remove Oltmans could become Marijne's biggest pressure point.

Under Oltmans as high performance director, India won the 2014 Asian Games gold and then under him as coach won the Asian Champions Trophy, and the Champions Trophy silver, not to forget the bronze at the Hockey World League Finals. Impressive, but the thirst for a World Cup podium and an Olympic medal is becoming critical for the very survival of the sport in India. It's under that pressure Marijne will operate.

In a way, it's good that Marijne begins with the Asia Cup and not the Hockey World League Finals in December at Bhubaneshwar. Yet, the strain, anxiety and stress will show when you coach the Indian national hockey team. The Dutchman will take over a team that is being labelled a balancing act between juniors and seniors. In fact, it's far from that. The youngsters who haven't played a top level senior tournament are Varun Kumar and Dipsan Tirkey in defence, Suraj Karkera as the second-choice goalkeeper and forward Gurjant Singh. The rest are hardened professionals and arriving in Dhaka with only one thing in mind – win the Asia Cup.

Anything less will be considered a failure. Especially when teams like South Korea and Pakistan have been struggling off late. It's only Malaysia, who have beaten India twice in the recent past, at the 2017 Sultan Azlan Shah Cup and the Hockey World League Semi-finals, which might once again pose a challenge. Malaysia have qualified for the 2018 World Cup, so their intensity might dip. But for South Korea, winning the Asia Cup is imperative as the winner go to the 2018 World Cup. India has already qualified as the hosts.

South Korea are the reigning champions and the most successful team in the history of the Asia Cup with four titles, which they won in 1993, 1999, 2009 and 2013. In the last edition, they beat India 4-3 in the final in Ipoh, Malaysia.

Off late, they resemble an ageing sprinter, struggling to cope with speed and finishing; sixth place at the 2016 Champions Trophy being their best result. However, the ninth place finish at the Hockey World League Semi-finals in London has shaken up the South Korean management and an overhaul will be seen in the team's composition.

The South Korea team manager, Kim Yoon Dong, has said: "The team has been going through a transition and now after mixing youth and experience, we are confident of doing well." Winning a hat-trick of titles is not impossible for a South Korean team that plays on speed, counter-attacks and a fitness regimen that has constantly made it a top-six team for almost a decade, and silver-medallist at the 2000 Sydney Olympics.

Then there is Pakistan. Rule them out at your own peril. They have had a wretched run of late but with a change in coach, the Pakistan Hockey Federation is hoping that fortunes might change too. Khwaja Junaid didn't do much wrong expect lose to India twice at the Hockey World League in London by margins of 1-7 and 1-6. That was enough to send him off and bring in Farhat Khan, a 1992 Barcelona Olympics bronze medallist.

"I don't like defeat; we had a glorious past in hockey and I witnessed a great era. I do believe in winning every match and I am hopeful that by adopting a policy of aggressive game, we can produce good results," said Khan after being appointed. Even though Pakistan have qualified for the World Cup, a good result in Dhaka would ensure that the sport starts to grow again, with the fans dreaming of the days of magic recreated rather than wringing their hands in frustration.

Even though Farhat has replaced Junaid as the coach, he will be well served to see the matches Pakistan played against India in the 2016 Asian Champions Trophy in Kuantan. India beat Pakistan in the group stage and then in the final, but both were close games. "We will need to make improvement in all areas of our game if we want to achieve our goal this time. We failed to qualify for the last World Cup, and then the 2016 Olympic Games. Therefore we want to deliver our best starting from the Hero Asia Cup 2017," said Farhat.

India are still without their talismanic captain PR Sreejesh, out till early next year with a ligament injury. And in defence, they won't have Rupinder Pal Singh, their most successful penalty corner specialist in recent times. Yet, India can rely on the consistent Surender Kumar and Harmanpreet Singh.

Penalty corners might be an issue as Varun Kumar hasn't played with the senior team in an Asia Cup. Marijne will have to rely on Harmanpreet for conversions and if Varun comes good, India can think of a secure future defensively. It has been 10 years since India won the Asia Cup. But more than that, the team will try and forget the bad run they have had recently. Turbulence also came in the form of Oltmans being sacked and a win in the tournament will silence critics and give the players some stability before playing the year-end Hockey World League Finals.

"The last time we won the tournament was in 2007, but this time we have the chance to play as the number one team in Asia. Our aim is to take the tournament match-by-match and give our 100 per cent in order to win against every opponent," says captain Manpreet Singh. "Winning the Hero Asia Cup 2017 will be a stepping stone for us in achieving our main objective of being a top-three ranked country in the world." If India couldn't make it to the 2017 Sultan Azlan Shah Cup final or the last-four of the Hockey World League Semi-final in London, the number of misses and the shots at goal would be a pointer for Marijne to move forward.

Historically, the pain has been in the opposition striking circle. Many times, Indian forwards have been chasing ghosts; most of it of their own making. SV Sunil, Ramandeep Singh, Akashdeep Singh, Lalit Kumar, Gurjant Singh and Satbir Singh have the opportunity to play some brilliant hockey and invoke the greats of the past like Mohammed Naeem who scored 12 goals in the 1985 edition of the Asia Cup, right here in Dhaka. And then Prabhjot Singh who scored 15 goals in the 2007 Asia Cup in Chennai that India won.

India's foremost hockey statistician, BG Joshi, points out that in nine Asia Cups, India have played 49 matches, winning 37, losing eight and drawing four. They have scored 246 goals and conceded 53. Marijne can only add to these numbers. There is no doubt that there will be a change in style, approach, competitiveness and intensity. And for that, the Indian coach would look to the midfield to control and maintain a structure that would strangle most teams, giving India the territorial advantage, but also the goals that are so required to win matches.

Sardar Singh and Manpreet Singh are the pivots around whom SK Uthappa and Chinglensana Singh would revolve. But eyes would be on Sardar, who after picking up the Rajiv Khel Ratna, would be looking to impress and extend his career till the 2018 World Cup. A strong and influential midfielder is required to turn around fortunes and both Manpreet and Sardar fit the role. It's up to Marijne on how he uses both in terms of talent and skills. It was surprising to see Pardeep Mor not make it to the Asia Cup team after some good hockey over the past one year. Maybe the management wants to give a few opportunities to Sumit, whose talent and skill level can turn around a match.

It's good to have mantras – "player-driven, coach-assisted process" – but in the end, only results matter. It's the patterns that decide whether your play is predictable or has elements to shock and awe opponents. In the last year or so, it's the predictability that has at times let down India. Marijne will do well to instil some novelty into this team.

Firstpost


---

Under Marijne, India hockey team seeks fresh start in Asia Cup



Sjoerd Marijne was the head coach of the Indian women's team before the reschuffle.   -  AFP

The Indian men's hockey team will seek a fresh start under new chief coach Sjoerd Marijne as it opens the Hero Asia Cup campaign against Japan at the Maulana Bhashani National Stadium here on Wednesday.

Dutchman Marijne, who has spent around 20 days with the men's squad, replaced sacked Roelant Oltmans last month. Marijne's new wards enter an important cycle with major tournaments coming up in the next 15 months including the Hockey World League (HWL) Final in December, Commonwealth Games in April followed by the Asian Games and the 2018 World Cup.

This cycle begins with the Asia Cup, in which the Indians are favourites. India is the top-ranked side in Asia and over the past few years, it is the only Asian team to have claimed medals at global tournaments. However, it needs to bring its top game to every match to ensure it tops Pool A which will also see Bangladesh and Pakistan in the fray.

It will also have to bring some technical and tactical adjustments to its game according to the ideas of Marijne.

"We have had two good practice sessions on the main pitch and even played a practice match against Oman. The team is upbeat and ready for the first challenge," captain Manpreet Singh said.

"The opening match of the tournament is always challenging because we need to get over the early nervousness and find our rhythm."

India played Japan in the Sultan Azlan Shah Cup earlier this year where it beat 4-3. It's Japan's ability to play fast-paced hockey with good attack that makes it an unpredictable team. At the Sultan Azlan Shah Cup they set up a shocking 3—2 win over World No.2 Australia.

"We have seen how they play and they are definitely one of the fastest improving sides in Asia. We can never take Japan to be an easy team," said Manpreet.

India's defence line-up is inexperienced with Rupinder Pal Singh and Kothajit Singh missing out due to injuries. The defence line-up has young players in Dipsan Tirkey, Surender Kumar, Harmanpreet Singh, Varun Kumar and returning Amit Rohidas.

Captain Manpreet feels that Rohidas, who is making his comeback after a couple of years, will make the most of his opportunities.

India will face Bangladesh on October 13. The team will play its third and final league match against arch rival Pakistan on October 15.

Sport Star Live


---

Like 1999, it will be India-Japan opener in Dhaka

s2h team




India-Japan encounter was the opening match of the 1999 Asia Cup where India won the Silver. Similarly, both vastly improving nations will clash in the first match of the Dhaka Asia Cup tomorrow. In 1999, India won Japan with a respectable score of 3-1. Whether India will keep up its clean slate against the peninsular nation will be answered tomorrow in the Asia Cup opener at the Maulana Bhashani National Stadium in Dhaka.

Recent meeting of the two throw possibility of close encounter. India played Japan in the Sultan Azlan Shah Cup earlier this year only to see how much Japan has improved, and how it became difficult to post a narrow 4-3 win.

Indian skipper Manpreet Singh, a matured man now, is aware of the task at hand. "The opening match of the tournament is always challenging because we need to get over the early nervousness and find our rhythm. We have had two good practice sessions on the main pitch and even played a practice match against Oman. The team is upbeat and ready for the first challenge," stated skipper Manpreet Singh on the eve of their first match.

"It's Japan's ability to play fast-paced hockey with good attack that makes them an unpredictable team. At the Sultan Azlan Shah Cup they set up a shocking 3-2 win over World No.2 Australia. "We have seen how they play and they are definitely one of the fastest improving sides in Asia. We can never take Japan to be an easy team," expressed Manpreet.

India's defence line-up saw a minor change with the experienced Kothajit Singh missing out due to an injury.

"But we are now joined by Amit Rohidas who has just returned from a good outing at the Australian Hockey League and he did well during India's tour of Belgium and Holland so we don't see Kothajit's absence as a set-back," explained Manpreet.

On the other hand, Japanese National Coach Siegfried Aikman minced no words when he said that every team stands a chance to make the final in this tournament. "It's a major tournament which gives us the opportunity to play at the highest level. The World Cup Qualifier makes it even more challenging for us but reality is that we need to know our place in the ranking. We stand for a huge challenge to compete with outstanding teams in our group. However, this is sports and in sports its always possible to flip the script. So, let's wait and see," he stated.

He further added: "I think that India has the best chances as the highest ranked team in this tournament. But behind India almost all countries can surprise. As I said before we don't come only to participate we came to achieve our goals."

Stick2Hockey.com


---

Malaysia hope to capture Asia Cup crown

By Aftar Singh




KUALA LUMPUR: Malaysia are eyeing for their first-ever men's Asia Cup hockey title.

The ninth edition of the tournament begins today at the Maulana Bhasani National Hockey Stadium in Dhaka, Bangladesh.

Since the inaugural tournament in Karachi in 1982, Malaysia's best-ever outing was third in Chennai in 2007.

Eight teams will feature in Dhaka. Malaysia, the world No. 12, will open their Group B campaign against China tomorrow.

Malaysia's other matches are against defending champions South Korea on Saturday and Oman on Oct 16.

Group A comprises world No. 6 India, Pakistan, Japan and Bangladesh.

image: http://www.thestar.com.my/~/media/online/2017/10/11/01/20/asiacup.ashx?h=314&w=280&la=en

With Malaysia as the second highest-ranked team, national chief coach Stephen van Huizen has set a final target for the team.

Penalty corner specialist Muhd Razie Abdul Rahim (pic) believes the target is achievable.

"The team spirit is high after we finished fourth in the World League Semi-Finals (in London in June) to qualify for the 2018 World Cup in India. We have a solid team that can rise to the occasion to beat any team in Asia to win the title," said defender Razie.

"At the World League Semi-Finals, we beat South Korea (1-0) and China (5-1) in the group matches before we upset India (3-2) in the quarter-finals. We can do it again.

"The other Asian teams now fear us. Our mission is to win every single match to lift the title," added the 30-year-old Police inspector.

The top two teams from each group will feature in the Super Four, which will be played on a round-robin format. The top two will then square off in the final while the bottom two will fight for the bronze medal.

The final is on Oct 22.

The Star of Malaysia


---

Knowles Previews Oceania Cup

Ben Somerford




Kookaburras captain Mark Knowles has previewed the Oceania Cup which starts in Sydney on Wednesday and says it's a great chance to grow the game in the region.

Australia will play New Zealand and Papua New Guinea in the three-team biennial tournament at Sydney Olympic Park Hockey Centre.

The Kookaburras will commence their campaign against PNG on Wednesday night from 8pm.

"The Oceania Cup is really important with world ranking points which is important for seedings at the World Cup," Knowles said.

"It's also a chance to play one of our big rivals in New Zealand but also expand the game in Oceania.

"Tonight's game against PNG will be fantastic for them to learn a bit about the Kookaburras and our style but also for some of our guys to play against those guys and show the love of hockey that we have and also see the love of hockey that they have."

The Kookaburras trained on Wednesday morning ahead of the game, having arrived in Sydney on Monday night.

Most of the team is fresh from competing at the Australian Hockey League which concluded in Perth on Sunday.

"We're feeling great," Knowles said. "It's a really big challenge for the guys to snap into national team mode and get the feeling back that the Kookaburras have had this last 12 months."

Second-ranked Australia are expected to battle it out with New Zealand (ranked eighth) for the title, with PNG (ranked 61st) going in as the underdogs.

Australia, who have won all nine Oceania Cups, hasn't played the tournament on home turf since 2011, with the past two held in Stratford, New Zealand.

"It's a big rivalry. We absolutely love playing in Australia which is good," Knowles said.

"We had to play in New Zealand the last two Oceania Cups in front of their black and white supporters, now they get to come and be in front of the green and gold.

"Hopefully there's plenty of people cheering."

There will be live Twitter updates for all Australia games @Kookaburras and Saturday and Sunday's matches will be live streamed at Epicentre.tv.

Men's Fixtures:

Wednesday 11 October - Australia v Papua New Guinea, 8pm

Thursday 12 October - New Zealand v Australia, 8pm

Saturday 14 October - Papua New Guinea v New Zealand, 3pm

Sunday 15 October - Final, 5.30pm

Hockey Australia media release


---

Emily Smith Previews Oceania Cup

Ben Somerford




Emily Smith says it couldn't have worked out any better that she will run out as Hockeyroos captain for the first time in front of family and friends in her home state.

Smith was last month confirmed as the new Australia skipper, following Madonna Blyth's retirement after the 2016 Rio Olympics.

The 25-year-old has 179 caps to her name and 68 international goals but will step out as skipper for the first time when Australia meets Papua New Guinea on Thursday at 6pm.

"I'm really looking forward to that," Smith said.

"Obviously the first time I run out as captain is going to be in front of my family and friends.

"It couldn't work out any better so I'm really looking forward to it."

The Hockeyroos arrived in Sydney on Monday, with the bulk of the squad having competed at the Australian Hockey League in Perth which concluded on Sunday.

Four players had to withdraw from the initial 18-member team due to injury in Karri McMahon, Jordyn Holzberger, Laura Barden and Edwina Bone.

Gabrielle Nance, Kristina Bates, Kate Hanna and Brooke Peris were all added to the team giving them opportunities to press their case with a view to next year's Commonwealth Games and World Cup.

The Hockeyroos trained in Sydney on Tuesday morning and Wednesday ahead of their tournament opener.

"There's a lot to learn. We're a young team," Smith said.

"We've had to make a few changes but it gives everyone an opportunity to show what they're made of.

"I'm really looking forward to what we can learn and take from this going forward."

Smith also said the fifth-ranked Hockeyroos were highly motivated to beat New Zealand (ranked sixth) after bowing out of the 2016 Rio Olympics at the hands of the Black Sticks.

"Obviously after the Rio Olympics they've got one up on us," Smith said. "We've got to get them back for that.

"It's really important for us going forward with our ranking points, we need to win this tournament to stay up with the top five and 10 nations in the world."

There will be live Twitter updates for all Australia games @Hockeyroos and Saturday and Sunday's matches will be live streamed at Epicentre.tv.

Women's Fixtures:

Wednesday 11 October - Papua New Guinea v New Zealand, 6pm

Thursday 12 October - Australia v Papua New Guinea, 6pm

Saturday 14 October - New Zealand v Australia, 5pm

Sunday 15 October - Final, 3pm

Hockey Australia media release


---

Oceania 5s Commence In Sydney On Wednesday

Ben Somerford



Photo credit: Ned Dawson

The Oceania InterContinental Hockey 5s commence at Sydney Olympic Park Hockey Centre on Wednesday with six nations ready to battle it out.

Fiji, Samoa, Solomon Islands, Tonga, Vanuatu and Australia Country will all played in the excitinig hockey short format from Wednesday 11 October to Sunday 15 October.

The event runs in conjunction with the Oceania Cup, where Australia, New Zealand and Papua New Guinea will face off for the biennial regional title.

The NSW Government has played a significant role in securing the event, through the tourism and major events agency Destination NSW.

Hundreds of competitors and spectators will converge on Sydney Olympic Park as part of the event.

The Oceania 5s commence at 9am Wednesday 11 October with Vanuatu playing Australia Country in the men's division.

There will be 24 matches overall in the Oceania 5s, with the gold medal matches to be played on Sunday at 12.15pm (women's) and 1pm (men's).

The modified game brings two teams of five on to a regulation half field but is designed to be played on a number of different sized grounds and with or without boundary boards.

This allows for Hockey5s to be more accessible to communities worldwide. While not aiming to replace the traditional form of Hockey, it is instead aimed to compliment it while expanding the reach of hockey worldwide.

Key Rules:

• 55 metres by 41.7 metres pitch (rectangular half normal size),

• Three periods of 10 minutes,

• Five players per side on the field,

• No drawn games (extra time),

• No Scoring D, goals can be scored from anywhere,

• One-on-one challenge instead of penalty corners.

Hockey Australia media release


---

Turkington Forestry support Vantage Black Sticks



Photo: www.photosport.nz

Hockey New Zealand is pleased to announce John Turkington Forestry as an official partner of the Vantage Black Sticks Women.

The partnership will see John Turkington Forestry provide direct support to the Vantage Black Sticks Women's programme along with a back of shirt sponsorship component for the rest of the year.

John Turkington Forestry is a large harvesting and marketing business based in Rangitikei, harvesting more than 700,000 tonnes of logs per annum.

John, his wife Angela and their boys Sam and Tom are great supporters of hockey in New Zealand having sponsored the sport at all levels over the past 10 years including Rangitikei Hockey, Secondary Schools in the area and Central Hockey's Ford National Hockey League campaigns.

The Turkingtons also held a fundraising dinner leading into the 2016 Rio Olympic Games with more than $90,000 raised to directly benefit the New Zealand players.

CEO John Turkington said he was proud to help contribute to a national programme which punches above its weight on the world stage.

"The women's programme is full of great role models for our kids and they work so hard for the love of the sport in a semi-professional environment," he said.

"They make huge personal sacrifices to compete for their country against the best in the world, and we are proud to be helping make that aspect easier for them. We love hockey and this is a natural progression in supporting the game."

Hockey New Zealand CEO Ian Francis said it was fantastic to have extra support from the Kiwi owned and operated business who have shared values.

"We are thrilled to welcome John Turkington Forestry to the Vantage Black Sticks Women's family to continue their tremendous support for our sport," Hockey New Zealand CEO Ian Francis said.

"John and Angela are very passionate about hockey and we greatly appreciate their contribution to helping the Vantage Black Sticks achieve on the world stage."

The Vantage Black Sticks Women play their opening game at the Oceania Cup in Sydney at 8pm tonight (NZ time) against Papua New Guinea.

Hockey New Zealand Media release


---

Canada ready to face the heat in Guyana

Scott Sandison, coach to Canada, current reigning men's champions

Sarah Juggins



2017 Indoor Pan American Cup, Guyana - Canada   

With just a few days to go before the seventh Indoor Pan American Cup bursts into life, we meet up with the coach of one of the teams tipped to take the title.

Scott Sandison is coach to the current reigning men's champions, Canada, and as one of the players in the last edition of this event, Scott has a good idea of what his players can expect as they seek a third consecutive indoor title.

The first thing the players from the north of the continent have to cope with is the temperature because, even though this is an indoor tournament, with air-conditioned sports halls, things will be hot in Guyana. The Canadians will be coming out of their own summer months but even so, rehydrating after matches and dealing with the climate on a day-to-day basis will be a challenge.

It is something the more experienced players will be used to and Scott says that many of the players have played club tournaments in Guyana so will know what to expect and how to best prepare their bodies for the extra stress of the heat.

In general, Canada's preparations for the Pan Am Indoor Championships have been good, reports the head coach. The team has been training for this event for the past year. The downside is a lack of international experience.

 'We are coming to Guyana not having played any internationals,'says Scott. 'This is a player funded program so the costs of travel along with the timing of the event make it difficult to play games. We are coming to the end of summer in Canada which is not the time we play indoor so this has made it somewhat challenging to organize our training schedule.'

Scott adds that, as no-one is a full-time athlete, the players must also fit work or study into their daily schedule, something else that adds to the challenges of competing on an international stage. It is a stress that the coaches are working hard to mitigate. All the training times are after school or work hours and the coaching team has arranged coaching 'clusters' to take place at weekends. But Canada is a large country and many of the squad have long distances to travel to training. This, says Scott, adds to both the organisational complexity as well as increasing the cost to the athletes. It is a situation that the squad strives to manage but you get the sense that it creates more problems than the coach is prepared to admit.

As someone heavily involved with both the indoor and outdoor version of the game, Scott is clear where the indoor version stands in the pecking order, and why: 'The outdoor game is an Olympic event and so therefore receives more funding and support from the federal government. Field Hockey Canada understands indoor is both a pathway for development and an opportunity to perform at the highest level. Unfortunately the hotbed for indoor hockey in Canada is in Ontario and the outdoor teams are based in British Columbia – which is a five hour flight away – this causes challenges in trying to figure out a balance for athletes and programs but FHC has tried to support us as best they can.'

Financial and logistical constraints aside, Canada will be arriving in Guyana as one of the favourites for the title. They have a squad with a lot of experience and many of the players have played in both multiple World Cups and Pan American Cups. Micah Teixeira, Jeewanjet Bath, Tyler Branco and Jonathan Roberts all played in both the 2010 and 2014 Pan Am Cup and, of this year's squad, only Adrien A'Andrade and the teenage duo, Joshua Kuempel and Adam Kapasi, didn't play in the 2015 World Cup in Germany.

For Scott, this is a crucial factor in Canada's quest for success: 'That knowledge of the game at its highest level will hopefully make a big difference for us. Many players have played more hockey with 6's than with the last iteration of the 5's so I think this also plays to our advantage. The selections for the team was difficult as there were additional players very worthy of competing for Canada.'

Despite this, the coach and his players are taking nothing for granted. 'Every team coming to Guyana is there to win. We can't take any team lightly as the format of top two in the final means you need to be consistent throughout the tournament. Guyana playing at home will have the crowd behind them and they finished third at the last indoor Pan Am Cup, Argentina beat us in the round robin in that same tournament, and Trinidad and Tobago is a constant threat as they have many talented individuals on their team.'

This event will be Scott's first major international as a coach but his international experience is of the highest order, including the 2008 Beijing Olympics, two Commonwealth Games and two Indoor World Cups as a player. His approach to coaching is to leave any ego at the door and look to his players and fellow coaches for support and advice. 'There are a number of players that will be important to our success,' he says. 'Ken Pereira, as the longest standing member of the team, will provide the smarts and skills to lead the team. Devohn Teixeira will provide a spark to the team as he has been playing in Europe the last couple months and is just rejoining our team ahead of the tournament. Jeewan Bath and Jonathan Roberts will be participating in their fourth Indoor Pan Am Cup'.

'There are a lot of experienced players on this team and so this has been an easy transition in terms of taking over. I am constantly learning from this position. If you aren't learning you're falling behind. I have appreciated the players and coaching staff's approach to looking for holes in tactics and strategies. It has been a collective effort.'

Scott also names Gurtej Daliwahl and Lyle Fernandes as younger members of the squad who learnt a lot when they competed in the World Cup in 2015 – an event where Canada finished in 12th position.

While the heat might prove an issue in Guyana, it is a trip that Scott is looking forward to. His mother comes from Guyana, so he is looking forward to 'reconnecting with some familiar faces.' He is also keen to see how Guyana tackles hosting a Pan American event for the first time. 'The Guyana Hockey Association has put a lot of time and energy into hosting this event and I have very high hopes for success of the event. I hope this helps them to continue their development and that they are able to host more tournaments going forward.'

Canada men will face Mexico in the first match of the 2017 Pan Am Cup on 16 October. The winner of the event qualifies for the 2018 Indoor Hockey World Cup in Berlin, Germany.

Pan American Hockey Federation media release


---

OTHL team enters super league of Nehru Cup

s2h team




With two consecutive victories in as many as days, the Delhi based NGO team One Thousand Hockey Legs XI has entered the Super League of 35th Sub-Jr Nehru Cup being underway in Major Dhyan Chand National Stadium, New Delhi.

OTHL XI yesterday defeated Government Boys Senior Secondary Schools Manda, Madhya Pradesh, 6-1 with three goals coming from ultimate Man of the Match, the diminutive forward Sachin.

Sachin was declared Man of the Match at Pune in the 2nd SGNB All India Inter-School tournament held last week.

Ankush, Ritik Singh and Parveen scored a goal apiece for the delightful OTHL victory.

In the first encounter in the wee hours of Monday, OTHL XI scrapped through for full points against Punjab Public School from Nabha, Punjab. The scoreline was 2-1. Sachin and Aditya struck a goal each.

Since taking part in 2013, various OTHL teams have tried hard to get past the preliminary, but failed. At least one strong Academy team used to come in the way.

This is the first team to break the barrier and be in the Super League which will commence from 15th.

Nehru Hockey Tournament Society is the first national level organization to give the NGO direct entry for the tournament.

It is worthwhile to mention here that one champions schools team from each state participate in the prestigious All India tournament, started 35 years ago, and hence holding all its six flagship events without break.

Education Departments of each State organize a Pre-Nehru tournament and the winner is sent to Delhi, the tradition that has started four decades ago is still being maintained.

OTHL will now play its first Super League match on 15th.

OTHL XI team: Karan & Durgesh Sharma (GKs); Sahil Singh, Aditya Kumar, Parveen Kumar, Nishant Kumar, Aadil Malik, Ankush Kumar, Ritik Simgh, Rahul, Md Arbaz, Rajdeep Yadav, Ankit Kumar, Sachin, Aniket, Manish (ghittorni)

Stick2Hockey.com


---

FIH launches new standards for lighting aimed at reducing environmental impact and increasing sustainability



FIH have released new lighting guidelines and standards Photo: GEMEENTE DEN HAAG VALERIE KUYPERS

The International Hockey Federation (FIH) has published new lighting guidance and standards with a view to helping hockey facilities increase sustainability and reduce their environmental impact.

Recent advances in lighting technology and growing concerns about night sky pollution led the FIH to initiate a review of its lighting guidance and standards. Now available at www.fih.ch/facilities, the new guide is written for those considering lighting fields that will not be used for televised events.

Fundamental to the development of these guidelines is the FIH's 10-year Hockey Revolution strategy aimed at making hockey a global game that inspires the next generation. The FIH has been making a concerted effort to further align this strategy with the International Olympic Committee's 'Olympic Agenda 2020'. With a particular focus on increasing sustainability (Agenda Recommendation 5), the FIH's new guidelines aim to make a positive reduction on facility owners' carbon footprint whilst also ensuring their installations are more efficient, increasing sustainability and lowering costs in the long-term.

The new guide includes information on LED lighting and the various factors that need to be considered when deciding if LED or metal halide lighting is the best option for a project. It also includes a new lower category of lighting intended for community clubs and schools.

Unless played in good daylight, hockey, like all other sports, requires good lighting for it to be played safely and enjoyably. This is true whether the game is being played at the recreational level or at an international televised event.

Even though it requires investment, lighting represents only a modest proportion of the total cost of a new field's installation and where the right lighting is installed, the users, players, spectators and venue owners are never disappointed. However, if a poor system is installed, this almost always leads to complaints and eventually to a very costly change or upgrade. Such advice is therefore an incredibly valuable resource for facility owners.

Lighting guidance for venues that will be used for televised matches is currently being reviewed as part of the FIH's Hockey Visibility Project, in which all aspects of ball visibility on TV are being investigated, including lighting, turf and ball colours.

The research is being undertaken with the assistance of broadcaster BT Sport, Polytan (FIH's Official Hockey Turf Supplier for the 2018 FIH World Cups and 2020 Olympic Games) and others. It is hoped the findings of the project will be available in early 2018.

For more information about the FIH Quality Programme for Hockey Turf, please contact FIH Facilities Manager, Alastair Cox via This email address is being protected from spambots. You need JavaScript enabled to view it..

FIH site