All the news for Tuesday 3 October 2017

Indoor USWNT Beats Australia With Second Half Surge




SPRING CITY, Pa. – Following a scoreless first half, the U.S. Women's National Indoor Team defeated Australian's Women's National Indoor Development Team 8-0 in the third game of a six-match series at The Training Center in Spring City, Pa.

A tight, tactical first half that yielded few open play chances and a number of uncharacteristic turnovers plagued USA as they tried to force the ball through the tight Australia defense. The only scoring opportunities came from four penalty corners to both teams, but all were denied by strong goalkeeping.

Head Coach Jun Kentwell made adjustments at half time which quickly paid off with Katie Gerzabek (Springfield, Pa.) penetrating the Australia defense and slipping the ball to Jess McCarthy (Havertown, Pa.) to break the deadlock less than two minutes after the interval. Seconds later Gerzabek scored from the top of the circle to quickly make it 2-0. Now playing with confidence and speed USA was well in control of the game. Gerzabek continued to roll finding Mary Beth Barham (Fairfax, Va.) who flicked the ball into the top corner in the 29th minute to give USA a 3-0 lead. Three minutes later Sammy Popper (Blue Bell, Pa.) took a penetrating pass from Annie McDonough (Kenneth Square, Pa.) and lifted the ball over the sliding goalkeeper for the fourth goal. McCarthy added her second and USA's fifth score three minutes later. USA did not let up the pressure and fast inter-passing and penetrating runs produced three more goals in the space of five minutes, including scores from Ali Campbell (Boyertown, Pa.) and Gerzabek, who completed a hat-trick with two well placed shots, to bring the score to 8-0. Australia still had some fight and only a fine sliding save on a breakaway in the last minute from USA goalkeeper Sierra Espeland (Fredericksburg, Va.) prevented Australia from pulling one back.

"I was very pleased with how the team adjusted in the second half," commented Kentwell. "We played with more poise and found the right moments to penetrate their tight defense. I am pleased we could show all the young players who came to watch this evening some exciting, fast, indoor hockey."

The USA Indoor Women will play their fourth game with the Australia Women's Indoor Development Team on Wednesday, October 4 at 8:00 p.m. at The Training Center. Come out and support the U.S. Women's National Indoor Team and have a chance to win some great raffle prizes very kindly donated by Harrow.

Goal Scoring Summary:
Team     Minute     Player     Action     Score
USA     22     #14 McCarthy     FG     1 - 0
USA     24     #4 Gerzabek     FG     2 - 0
USA     29     #3 Barham     FG     3 - 0
USA     32     #13 Popper     FG     4 - 0
USA     34     #14 McCarthy     FG     5 - 0
USA     35     #30 Campbell     FG     6 - 0
USA     36     #4 Gerzabek     FG     7 - 0
USA     38     #4 Gerzabek     FG     8 - 0

USFHA media release


---

AHL Day Five Round-up & Highlights

Ben Somerford




NSW Waratahs booked their semi-finals spot with a dramatic late turn-around against the WA Thundersticks in Monday's Australian Hockey League (AHL) action.

WA, who would've progressed with victory after India drew with Northern Territory earlier in the day, took an early lead when Trent Mitton (12') scored from a penalty corner.

The hosts held their advantage up until the final change, before the youthful Waratahs charged home emphatically.

Kookaburras forward Blake Govers equalized in the 50th minute and four minutes later Tom Craig stunned the home fans with the winner.

The result gives NSW an unassailable three-point buffer at the top of Pool B.

India drew 1-1 with Northern Territory with Stingers skipper Adrian Lockley (34') equalizing Mohammad Umar's sixth minute goal.

The result means India must defeat ACT on Tuesday to leapfrog WA in second spot, while NT could also progress with victory over NSW and if India fail to win.

In Pool A, Victoria Vikings clinched their final four spot with a hard-fought 3-2 victory over Queensland Blades.

Kiran Arunasalam gave Victoria a ninth minute lead, before Jacob Anderson (26') equalized just before half time.

The game came to life in the final 10 minutes when Chris Ciriello (54') scored a penalty stroke.

Aaron Kleinschmidt doubled the buffer moments later, only for Robert Bell (57') to ensure a frantic finale with a goal from a penalty corner.

Elsewhere, SA Hotshots defeated New Zealand 4-0 after goals from Kurtis Willson (8'), Tom Fitzgerald (26'), Lachlan Busiko (31') and Cameron White (40').

Victoria Vipers clinched their semi-final spot with Madi Ratcliffe's double helping them to a 4-2 win over NSW Arrows in Pool B.

The Vipers made it four wins from four games and inflicted NSW's first goal against in an exciting display, with Ratcliffe (2' and 19') opening up a 2-0 lead.

Jessica Watterson (28') responded before the main interval, but the Vics hit back courtesy of Lily Brazel (34') and Nicola Hammond (57'). Watterson (59') grabbed a late consolation.

NSW will face SA (7pm) on Tuesday for a spot in the final four, after the Suns crushed India 3-1.

Suman Thoudam had given India the lead after a 22nd minute penalty corner, but SA captain Karri McMahon (26' and 44') scored a brace, while Kim Blatchford (28') also hit the scoresheet.

In Pool A, Queensland progressed despite being held to a 1-1 draw with ACT Strikers.

Laura Gray (8') gave ACT an early lead but Hockeyroo Madison Fitzpatrick (17') leveled in the second quarter. Anna Flanagan earned a fourth quarter yellow card for backchat to the umpire.

New Zealand kept alive their hopes of reaching the semis after a 2-0 win over NT. Phoebe Steele (6') and Michaela Curtis (36') scored the goals.

NZ will face WA (3pm) on Tuesday to decide who progresses, with a draw enough for the Diamonds.

Hockey Australia media release


---

AHL: India A men draw 1-1 with Northern Territory

India played against Northern Territory on an attacking mode right from the start. The efforts paved way for Mohammad Umar who converted a field goal in the 6th minute of the match giving India A men a 1-0 lead in the first quarter.

A well-executed defensive structure saw the team keep up the lead in the following minutes and the team continued to keep the pressure on. The second quarter saw Indian forwards Armaan Qureshi and Affan Yousuf come close to scoring a goal.

Northern Territory put up an improvised performance in the third quarter forcing a defensive error on India's part resulting in a penalty stroke to Northern Territory. Adrian Lockley made no mistake in converting the penalty stroke that equaled the score 1-1 in the 34th minute.

The score-line continued to remain constant all through the remaining minutes of the third quarter. Though India pushed hard for a goal in the final quarter, Northern Territory defence stayed resilient. The final few minutes of the match continued to remain tense for both teams but they eventually ended in a 1-1 draw.

India next play Australian Capital Territory at 11.00 hrs IST on October 3, 2017.

Stick2Hockey.com


---

Hawker and Cardiff looking to raise their EHL level another notch



©: Frank Uijlenbroek/world Sport Pics

Cardiff & Met's Luke Hawker is looking to raise the level another notch for Welsh club hockey following their first ever EHL win last year in Banbridge.

The club captain played a key role in their 5-0 win over SG Amsicora before they played a strong game against UHC Hamburg, nabbing a late goal to earn a bonus point in the closing minutes in a 3-1 loss that ultimately retained a Welsh place in the EHL.

"It is an honour, no matter the club or country, to participate in the Euro Hockey League," he said of ROUND1 in Barcelona.

"Being part of the first ever appearance of a Welsh side in the 2014/15 EHL was tremendous. And to better that last year in securing a return to Barcelona means a lot to both myself and the club.

"Every player strives to make an impact at the highest level available to them. As captain, senior player and international within Cardiff & Met, I feel it is my responsibility to produce such performances on a consistent basis. I hope to continue this form against Elektrostal, Mulheim and within the domestic league and knockout competitions this season."

On that front, he scored twice last weekend in Cardiff's 3-1 win over Clifton Robinsons in the English Conference West division in which they play.

They have a side with a number of changes to the line-up with Dan Kyriakides snapped up by Reading while Rhys Gowman has a long-term injury.

"We have a number of debutants to National League hockey this season and for many it will be their first time competing on the European stage. Aside from the long-term injury of Welsh International Rhys Gowman, we are yet to acquire any serious injuries, so the squad has a good base of training behind them which should stand us in good stead going into the weekend.

"There is a fresh feel within squad. We have 11 new players representing us; most are young and very talented such as Rhys Bradshaw who is certainly one to watch for the future.

"Naturally, the influx of talent has promoted a competitive training environment and what we lack in experience, we certainly make up for in talent, ambition and pride.

"As existing players move-on and new players join, there will always be tactical modifications to exploit the strengths within the squad. Head coach Walid Abdo and assistant coach Paul Edwards have been working to ensure the squad is in a position to maximise these, whilst having one eye on the opposition."

They are in Pool B with the Russian runners-up Dinamo Elektrostal, a side Cardiff have not met in the EHL but Hawker says he has plenty of experience of playing Russian sides for club and country on different stages.

"Their style of hockey characterised by strength and speed is effective, seeing them progress to KO16 in the past. We will need to match and better the physical aspect of their game in order to compete in the early stages."

An ever-present in their EHL history is meeting German opposition – previously facing the EHL royalty of HTHC and UHC Hamburg – and this year is no different, taking on Uhlenhorst Mulheim.

"There is no doubting that Mulheim carry a wealth of experience and quality in their squad so our prior exposure will prove vital in this encounter.

"Typically, the Germans present a disciplined and structured approach to their game with a clinical edge in attacking areas. Mulheim will no doubt present a new challenge and a huge learning opportunity for many of our squad, an experience that will prove instrumental in future domestic league, cup and European campaigns."

Euro Hockey League media release


---

Scholefield and Kelburne to put Spanish know-how to full effect



©: Frank Uijlenbroek/world Sport Pics

Scottish kingpins Bromac Kelburne are looking to use their know-how of Spanish opposition to full effect as they look to scale a tough Pool D featuring Club Egara and France's Saint Germain.

Iain Scholefield says they will be far from overawed by the challenge, though, especially in the wake of last season's EHL ROUND1 in Banbridge when they beat Dinamo Kazan 3-1 and pushed eventually Spanish champions Atletic Terrassa all the way in a 3-2 result.

Looking ahead to the challenge, Scholefield said: "The team has taken a lot of confidence from last year's performance; we had two strong games and pushed Terrassa all the way.

"We feel we are more than capable than going the next step and progressing in the competition. We have played Spanish opposite a number of times, therefore we have a good idea of what to expect from Egara."

And while Kelburne have never met French opposition in their eight previous EHL campaigns, Scholefield says his side have a good idea of what to expect from the Saint Germain challenge.

"A number of our players in the team have had lots experience of playing French opposition whilst playing for Scotland over the years. I personally know Martin Genestet very well as I played with him for two years during my time at Qui Vive in the Netherlands so the team are well aware of the style and strengths of the French team."

As for his own club, Kelburne started their campaign with three wins from four to date, beating Inverleith 5-1, Clydesdale 6-3 along with a 2-2 draw with Grove Menzieshill. And they completed their pre-EHL programme with a 3-2 success against Hillhead.

"The team is very settled with all the players having played together for a long time," Scholefield continues. "It definitely benefits us with our connections and understanding.

"The club has a strong tradition of producing quality players who are capable of playing at the top level, the team are adaptable and cope with these changes well. This season the team has been strengthened with the return of Michael Christie who brings a wealth of skill and experience.

"We have been improving steadily over the last few games and we are in good shape for the games vs Egara and Saint Germain. It is always a step up in quality when we play in EHL but we have been working hard both on and off the pitch."

Euro Hockey League media release


---

Bromac Melbourne back in pole position




Western Wildcats sojourn in pole position in the first division lasted barely 24 hours as Bromac Kelburne reclaimed their customary top spot with a narrow 3-2 win over Hillhead at Old Anniesland.

The champions are now a point ahead of both Wildcats and Grange, but with a game more played.

It was another frustrating day for Hillhead coach Mark Ralph, for the second time this weekend he watched his side compete with the top sides in the land and on both occasions lose by the odd goal in five, conceding a late goal to surrender the points.

After going two goals down to the Paisley side Ralph`s charges staged a spirited comeback with goals from Andrew Hilton whose effort went in off a defender, then Graeme Campbell levelled with a fine reverse stick shot.

But a shock result was not to be as the champions stole the occasion with a late strike by Chris Nelson.




Meanwhile at Bothwell Castle Policies, Grove Menzieshill moved into fourth spot after seeing off Uddingston by the same 3-2 scoreline.

The home side took an early lead through Lewis Haxton but by the interval the Taysiders had moved into a comfortable 3-1 lead, Cammie Golden scored twice while Albert Rowling got the other.

Steven Percy pulled one back for the Lanarkshire side in the second half but it was not enough to save the day.

Scottish Hockey Union media release


---

Reds cling on to four-goal start to see of Glens



The Corinthian side that beat Glenanne 4-3.

Corinthian just about held on to beat Glenanne 4-3 on day two of women's Leinster Division One, a win built around a brilliant spell of four goals inside 15 minutes at Whitechurch Park.

In a blistering start, the reds started off the stronger side, maintaining a lot of possession and making some very quick attacks to cause plenty of danger.

They went ahead in fortuitous style when, under pressure, a Glens' attempt to clear took a deflection off another defensive stick and found its way in. A stroke made it 2-0 and their full press yielded another couple of goals for a 4-0 lead with barely a quarter of the tie gone with Carol McGowan credited with two while Jessica McGran and Amber Kinlan were also on the mark.

The visitors settled found their feet and, with some positive attacking play, they found themselves with two short corners one after the other, the second of which was converted by Kate O'Connor.

Elaine Griffin got another back on the half-time whistle to raise hopes of an unlikely point. Indeed, when Rachel O'Brien swept across goal for Hannah Morrin to tap in at the back post, it was game on. But Corinthian held firm to land their first win of the new campaign, keeping out a couple of late corners.

They are among five unbeaten sides in the division with Our Lady's one of the big stories of the new campaign following back to back 2-0 wins.

Against Avoca, Shauna McPhillips scored the first goal from a corner; it came from a pass from Sinead Kelly at the top which she slotted home from outside left post.

Kelly was also involved in the creative process for the second, latching onto the ball and driving into the D before slipping to Ciara Scallan on the back post.

They are level with Muckross and Old Alex on six points. For Muckross, they did the damage in the first half against Rathgar with Yasmin Pratt scoring twice while Sophie Barnwell was also on the mark for a 3-0 half-time lead.

After the break at The High School, Rathgar were hugely competitive, creating a number of good chances in an even tie but the Dublin 4 side were out of reach.

Sylvia O'Mahony scored both goals for Alex in their 2-0 win over Clontarf. Genesis kept their seasonal clean sheet in place with a 0-0 draw against North Kildare, adding to their 1-0 win over Glenanne a week ago.

In Munster, UCC and Catholic Institute continued their perfect starts to the Division 1 season. On Sunday, UCC broke down the solid defensive work of newly promoted Belvedere to record a 3-0 win at the Mardyke with Aebhfhinn Bourke scoring in the first half before Aoife Collins and Mollie O'Mahony netted in the second half.

Insta accounted for Ashton 3-0 with Eimear Ryan scoring twice, raising her tally to three for the season, sandwiching an effort from Christine O'Shea.

Both UCC and Insta have a clean sheet for the season ahead of their showdown next Saturday. Bandon have also yet to concede and they sit in third place on four points as Katie Desmond's double under-pinned a 3-0 win over Limerick.

Leinster Division 1: Old Alex 2 (S O'Mahony 2) Clontarf 0; Rathgar 0 Muckross 3 (Y Pratt 2, S Barnwell); North Kildare 0 Genesis 0; Our Lady's 2 (C Scallan, S McPhillips) Avoca 0; Corinthian 4 (C McGowan 2, J McGrane, A Kinlan) Glenanne 3 (K O'Connor, E Griffin, H Morrin)

Munster Division 1
Saturday: Bandon 3 (K Desmond 2, S Sullivan) Limerick 0; Catholic Institute 3 (E Ryan 2, C O'Shea) Ashton 0.
Sunday: UCC 3 (A Bourke, A Collins, M O'Mahony) Belvedere 0

The Hook


---

Junior champs India to headline Sultan of Johor Cup

by S. Ramaguru

KUALA LUMPUR: Junior World Cup champions India are all set to parade a new set of players for their 2020 Olympic challenge.

The new players will see action for the first time at the 7th edition of the Sultan of Johor Cup in Johor Baru next month.

India are confident that the new players will put up a good showing.

Newly-appointed India coach Jude Felix is also relishing the chance to test his players against some of the best junior teams in the world.

Besides India, the other teams competing in the Sultan of Johor Cup, to be held at the Taman Daya Stadium in Johor Baru from Oct 22-29, are defending champions Australia, Britain, Japan, the United States and Malaysia.

India's team are undergoing their final phase of training in Lucknow and Jude is impressed with the talent at his disposal.

"None of them have played in the Johor tournament before and there is a healthy competition to make the final squad," said Jude in a telephone interview.

"There are some very strong teams competing. I hope my players will be able to match them. We have always had a good outing in Johor and we hope to maintain that."

Jude used to play in Malaysia, having assisted Yayasan Negri Sembilan to the overall title in the Malaysia Hockey League in 1994.

The former India captain also had a stint as assistant coach of Malaysia's senior team at the Rio Olympics.

He also coached in Singapore for a few years before starting his own hockey academy in India.

"I have pleasant memories of playing in Malaysia, which has a special place in my heart. I attended one edition of the Sultan of Johor Cup as a spectator – when India were coached by Mukesh Kumar. Overall, the tournament has benefitted the junior teams immensely," he said, adding that the tournament would be useful for his players to gain experience.

"This is the start of a new journey for us. The long-term target will be to defend the Junior World Cup title in three years' time."

The Star of Malaysia


---

South Africa under 21 Squads Announced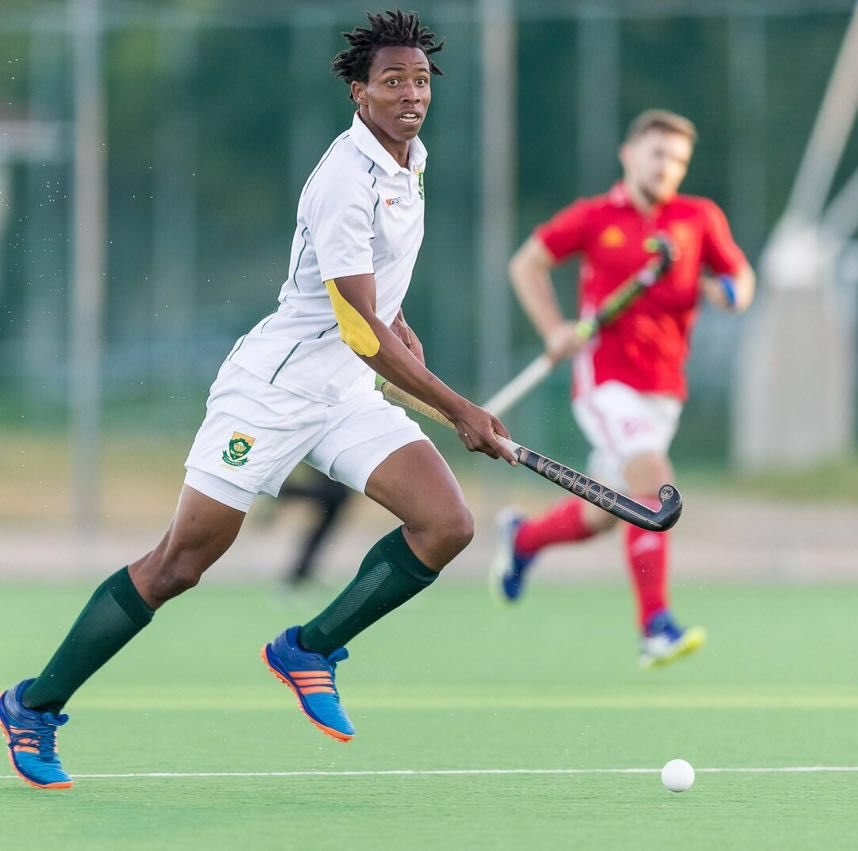 Southern Gauteng and National Senior team member, Tyson Dlungwana

Today we announce the South Africa under 21 Squads. Following the completion of the successful Under 21 IPT held in Potchefstroom, which was won by the Southern Gauteng Ladies and the Western Province Men.

The selected players will be gathered for selection and training camps, with an eye on both the Africa qualifying tournament for the Junior World Cup and of course the Premier Hockey League (PHL), which takes place in November this year. The Ladies selectors shared that they have selected players born between 1998 & 2000 as well as a few more experienced players with a keen eye on the importance of the PHL.

The Men's under 21 Squad, which Garreth Ewing has been reappointed to coach after a successful Junior World Cup, features full Internationals Tyson Dlungwana, Rusten Abrahams and Dayaan Cassiem along with some of the most exciting talent ever seen in the country.

In the Ladies under 21 Squad under coach Rob van Ginkel there are a few players who played at the Junior Hockey World Cup last year included in the team, including the likes of Sandiswa Tabata, Kristen Paton, Ongi Mali and Sisipho Magwaza. While Cheree Greyvenstein, Kirsty Adams and Simone Gouws all got experience playing in the PHL last year.
South African U21 Ladies Squad

 

South African U21 Men's Squad

 

Name

Province

 

 

Name

Province

1

Mishka Ellis

Boland

 

1

Muzzamil Sheik

Eastern Province

2

Moya Smith

Boland

 

2

William Eveleigh

Boland

3

Sisipho Magwaza

Southern Gauteng

 

3

Duncan Fischer

Southern Gauteng

4

Marine Kock

North West

 

4

Tim Kirkman

KZN Raiders

5

Cheree Greyvenstein

KZN Raiders

 

5

Chris Rhode

Western Province

6

Thati Segaole

Northern Blues

 

6

Andrew Hobson

Western Province

7

Sare Laubsher

Free State

 

7

Tyson Dlungwana

Southern Gauteng

8

Edith Molikoe

Eastern Province

 

8

Courtney Halle

Southern Gauteng

9

Ongeziwe Mali

Eastern Province

 

9

Jared Cass

KZN Raiders

10

Kirsty Adams

Boland

 

10

Jacki Mohlaba

Western Province

11

Bianca Wood

Border

 

11

Dillon Langeveld

Eastern Province

12

Sonika Elizabeth van Heerden

Free State

 

12

Franco Carstens

Western Province

13

Julia Flemming

Southern Gauteng

 

13

Andile Ndlovu

KZN Inlands

14

Simoné Gouws

Free State

 

14

Rusten Abrahams

Southern Gauteng

15

Monique Baartsch

Boland

 

15

Sam Mvimbi

South West District

16

Daniela Rhodes

KZN Inlands

 

16

Connor Beauchamp

Western Province

17

Mia Barnard

Free State

 

17

Chris Makaba

Southern Gauteng

18

Mmamoagi Kungoana

Southern Gauteng

 

18

Ross Campbell

Western Province

19

Francisca Darkoh

Border

 

19

Mark Chong

Northern Blues

20

Hannah Pearce

Southern Gauteng

 

20

Matthew Roman

Western Province

21

Sandisiwe Tabata

Western Province

 

21

Dayaan Cassiem

Western Province

22

Jamie Southgate

Western Province

 

22

Luke Schooling

Western Province

23

Teegan Fourie

KZN Raiders

 

23

Che February

Southern Gauteng

24

Casey-Jean Botha

Free State

 

24

Spencer Botes

Southern Gauteng

25

Courtney Du Preez

North West

 

25

Laython Coombs

Eastern Province

26

Charne Maddocks

North West

 

26

Max Pike

Western Province

27

Thando Chiti

Northern Blues

 

27

Matthew Davies

Northern Blues

28

Minke van Heerden

Western Province

 

28

Jesse Martin

Southern Gauteng

29

Stephanie Botha

Western Province

 

29

Brad Sherwood

KZN Inlands

30

Francious Caarstens

Western Province

 

30

Michael Forrest

Northern Blues

31

Lezan Jacobs

Free State

 

31

Ross Vides

Eastern Province

32

Kelsey Minaar

Eastern Province

 

32

Winray Christoffels

Free State

33

Lezaan Janse van Vuuren

Southern Gauteng

 

33

Lungani Gabela

KZN Raiders

34

Meeghan Klomp

North West

 

34

Mbuso Mgobozi

Western Province

35

Pollert Mashua

Western Province

 
 
 
 

36

Nomnikelo Veto

Southern Gauteng

 
 
 
 

37

Lida Kotze

Western Province

 
 
 
 

38

Shindré-Lee Simmons

Free State

 
 
 
 

39

Miché Bennett

Western Province

 
 
 
 

40

Ashleigh Datnow

Southern Gauteng

 
 
 
 

41

Kristen Paton

Southern Gauteng

 
 
 
 

42

Nthabi Maine

Southern Gauteng

 
 
 
 
SA Hockey Association media release


---

Australian Men's Masters World Cup Teams Named

Ben Somerford




Three teams have been selected to represented Australia at next year's IMHA Masters World Cup in Spain, Terrassa, following the Men's Masters Championships in Hobart.

Queensland, Victoria and Western Australia triumphed in the Over 35s, Over 40s Division One and Over 45s Division One respectively on Sunday.

Teams for the fifth Masters World Cup, to be played from 27 July – 5 August 2018, were named after the finals.
IMHA 5th Masters World World Cup Australian Teams
Chef De Mission                                Martin Ferrari
Team Doctor                                      Dr. Leanne Fung
35's Australian Team
Coach:                  Bill Tompkins
Manager:            Ian Edwards
Medical :               Alex Flohr
Captain                 Traill Anthony                   VIC                         Essendon
V.C.                        Byrne Adam                       QLD                        Warwick
V.C.                        Hotchkis Mathew            ACT                        Curtin
                                Armstrong Angus             WAC                      Nomans Lake
                                Barry Adam                        QLD                        Everton Hills
                                Bhullar Kula                        QLD                        Macgregor
                                Campbell Craig                  NSW                      Castle Hill
                                Cormack lee                       SA                           Bellevue Hill
                                Cooper Lachlan                 SA                           Seaton
                                Fletcher Stuart                  NSW                      Toukley
                                Helmstedt                           QLD                        Kirkwood
                                Jones Alex                           VIC                         Fairlight
                                Mascumber Stephen      VIC                         Torquay
                                Mahony Duncan               QLD                        Lammermoor
                                Rogers David                      QLD                        Railway Estate
                                Somers Peter                     QLD                        Nudgee
                                Sutherland Troy                NSW                      Elderslie
                                Vimpani Simon                  NSW                      New Lambton 
Shadows              Hogan Michael                  NSW                      Oran Park
                                Landsberg Andrew          QLD                        Norman Gardens
                                Fernance John                   NSW                      Adamstown
                                Mc Intyre Shane               NSW                      South Penrith
                                Richards Cameron           QLD                        Carina
                                Tamblyn Jordon                WA                         Strathfieldsaye
                                Hunt Tristian                      NSW                      Fletcher
                                Purcell Andrew                 VIC                         Yarraville
                                Zanetti Ashley                   QLD                        Windsor
                                Creaves Geoff                   VIC                         Rowville
                                Knights Trent                     NSW                      Minto
40's Australian team
Coach:                  Craig Williams                   
Manager:            Paul Hardie
Ass Manager:     Letitia Hope
Medical:               Sharon Dixon
Captain                 Toussaint Nigel                  VIC                         Moonee Ponds
V.C.                        Brennan Daniel                 VIC                         Box Hill North
V.C.                        Stebbings Jonathon        ACT                        Bentleigh
                                Bannister Adam                NSW                      Canterbury
                                Carlson David                     QLD                       
                                Hammond David               VIC                         Seaford
                                Hope Matthew                 ACT                        Canberra
                                Houghton Stewart           QLD                        Mansfield
                                Korcz Aleksander             SA                           Adelaide
                                Lobsey Matthew              NSW                      Grafton
                                MacKinnon Luke               ACT                        Duffy
                                May Andrew                      QLD                        Runcorn
                                Mayfield Daniel                 QLD                        Mackay
                                McCarthy Chris                  ACT                        Taralga
                                McLean Stuart                   VIC                         Avondale Heights
                                Reid Scott                            QLD                        Proserpine
                                Rossiter Troy                      QLD                        Wurtulla
                                Selby Matthew                 TAS                        Devonport 
Shadows              Sims Graeme                     WAC                      St James
                                Bradley Matthew             QLD                        Eatons hill
                                Freeman Sam                    SA                           Sturt
                                Maff Brett                           QLD                        Charters Towers
                                Watson Jamie                    VIC                         Doncaster
                                Dowd Rodney                    QLD                        Cranbrook
                                Robertson Greg                VIC                         Pascoe Vale
                                Martin Christopher         QLD                        Mundingburra
                                Withington Stuart            TAS                        Perth
                                Ward Thornton Myles    NSW                      Allambie Heights              
                                Newman Jesse                  WA                         Hamilton Hill
45's Australian Team
Manager:            Gary Porteous
Manager:            Brett Picknell
Medical :               Darren Poon
Captain                 Withington Brett              TAS                        Norwood
V.C.                        Brown David                       NSW                      East Lismore
                                Colthart Allan                     WA                         Carlisle
                                Brown Simon                     NSW                      Wollongbar
                                Clark Chris                           NSW                      Goonellabah
                                De Souza Dominic            NSW                      North Manly
                                Hill Nick                                VIC                         Mcleod
                                Hurst David                         WA                         Ashby
                                Keeble Peter                      QLD                        Runaway Bay
                                Newton Andrew              NSW                      Blakehurst
                                Philips Leon                        ACT                        Harrison
                                Siva Brian                             WA                         Dalkeith
                                Smith Damian                    TAS                        New Town
                                Smith Grant                        QLD                        Casino
                                Stephenson Tim               VIC                         Somerton Park
                                Tilker David                         VIC                         Croydon
                                Wightman Dean               QLD                        Bundaberg
                                Williams Darren                ACT                        Royalla 
Shadows              Ellison Adam                      NSW                      Coffs Harbour
                                Fordham James                NSW                      Abbotsford
                                Illingworth Michael         WA                         Greenwood
                                Brooks Alistair                    TAS                        Howrah
                                Hamilton Matthew          ACT                        Calwell
                                Kooner Pete                       TAS                        Yowie Bay
                                McDonald Stewart          WA                         West Leederville
                                Johnston Wesley              NSW                      Cordeaux Heights
                                Jones Adrian                      NSW                      Maroubra
                                Poke Jarrad                         TAS                        Smithton
                                King Graeme                      QLD                        Trinity Park
                                Whelen Kieran                  VIC                         St Kilda

Hockey Australia media release


---

Tough reins for Namusoke

The new coach has the immediate duty of saving Kampala Swan.

By Kasozi Balikuddembe




Kampala Swan's new coach Sandra Namusoke is struggling to keep up with the demands of the Ugandan National Hockey League.

There is quite a lot of work to done by the lady, who took over from Faustine Ojangole.

The coach player has the immediate duty of saving Kampala Swan's rather sinking campaign who have only managed three wins in nine games played so far.

On Saturday, at the hockey stadium in lugogo, things continued to go south for the second last bottom side, suffering an overwhelming 7-0 loss at the hands of leaders and natural contenders Wananchi who are currently unbeaten with 30 points from nine games.

Doreen Mbabazi further proved her outstanding abilities scoring a double as Wananchi seek to defend the title they won convincingly last year.

Meanwhile Rockets are playing catch up in the men's league after going nine games without a win. They registered their first win on Saturday against Simba 3-2 courtesy of Michael Nashimolo brace, a slender lead but enough to renew some hopes of a better season.

National Hockey League

Results

Men

Rockets 3 Simba 2

Women

Wananchi 7 Kampala 0

The New Vision


---

After legal battle, Cal field hockey finds success at renovated field

By Austin Weinstein



Photo: Lianne Frick

In the past few months, UC Berkeley has added a number of new details and facilities to Underhill Field, finishing most of a long-uncompleted settlement with the Cal women's field hockey team.

While uncompleted, the settlement left the school open to litigation. Some smaller details are still being worked out, but both the campus and the attorney for a group of former Cal field hockey players agree that the additions bring the long-running legal saga to an end.

Although Underhill was converted from a Rec Sports field into a field hockey space for the 2016 season, it lacked full-size stands or team rooms. People confused it for a Rec Sports field and would attempt to use it while the field hockey team was practicing.

The team's concerns are now mostly resolved, but the campus's are not. After a federal investigation into the campus's handling of its field hockey program, UC Berkeley agreed in March to federal Title IX monitoring by the U.S. Department of Education's Office for Civil Rights, or OCR. A representative from OCR visited campus this year as a part of the agreement.

There are now team rooms at Underhill Field, as well as full stands and team benches. The fence circumscribing the field is now draped in a wind screen with the "Cal Field Hockey" logo, which the team says was a big morale boost.

"It was apparent on that Friday when the team arrived for our first match, and (the wind screens) had been done overnight," head coach Shellie Onstead said. "There was a completely different feeling in the group."

The team's performance has rebounded, too. After a 5-13 finish last season, the Bears have started this year 7-3 and are on a six-game winning streak. While the team is still struggling against blue-blood programs, Onstead said the completed field was a fresh start.

Players say the new equipment makes the field feel like a legitimate home. Katrina Carter, a redshirt sophomore from Gilroy, said the field is something the team can call its own, after years of using temporary fields — or having no field at all.

"This is our home now. This is our field," Carter said.

The team played at Maxwell Family Field until 2013, when it was converted into a football practice field without a plan for a new field hockey space. For two seasons, the field hockey team played all of its home games at off-campus fields, while practicing on fields such as the Stanford University field to the converted roof of the Upper Hearst parking garage on campus.

Yvie Lock, a freshman midfielder from Winchester, U.K., said the new field has changed the atmosphere of the team.

"The facilities here are incredible," Lock said. "It's a real, proper program."

The Daily Californian


---

Sentinel Homes backing World League Final



Photo: www.photosport.nz

Hockey New Zealand is thrilled to announce Sentinel Homes as the naming rights partner of the Sentinel Homes Hockey World League Final in Auckland this November.

The Auckland based home building company's support helps deliver the event which will see the world's eight best women's hockey teams, including New Zealand's Vantage Black Sticks, face off in a winner takes all event at the Harbour Hockey Stadium from 17-26 November.

Hockey New Zealand CEO Ian Francis was buoyed by the signing, saying the pinnacle event had the potential to change the way hockey is presented to the public in New Zealand.

"Having a brand like Sentinel Homes on board as naming rights sponsor is critical for the success of this tournament. Our aim is to create a legacy for hockey throughout New Zealand from this event and be a sports brand that links strongly to families. So we're thrilled Sentinel Homes are supporting this milestone event for hockey in this country.

"A lot of families and young people will be watching this event, and we hope they are inspired to take up hockey as their sport, or at least to be active. That's the sort of impact high profile events like this can generate, so we're very grateful for the support of Sentinel Homes."

Sentinel Homes director Stu Shutt was equally positive about the partnership with one of the biggest events on world hockey's calendar.

"We're excited to be a part of this world class hockey event in New Zealand. Hockey is very much a family sport, and designing and building homes for families to enjoy is at the heart of our business. It will be great to see the international teams descend on Auckland and wish all the players, officials and fans a great 10 days of competition," Shutt said.

The Vantage Black Sticks are joined in Pool A at the Sentinel Homes Hockey World League Final by seven-time World Cup winners Netherlands, USA (world ranking 4th) and Korea (world ranking 9th).

Defending Hockey World League champions Argentina contest Pool B alongside England (world ranking 2nd), Germany (Rio bronze medallists) and China (world ranking 8th).

The Sentinel Homes Hockey World League Final sees 10 days of action packed hockey as well as a spectator village with a variety of food vendors, fully licenced bars, displays, big screen viewing, entertainment and more.

General admission and corporate hospitality tickets are on sale now at www.ticketek.co.nz

Further event details and information on the Hockey World League Final is available on the International Hockey Federation (FIH) website www.fih.ch

Hockey New Zealand Media release