All the news for Monday 11 September 2017

Captain Shajeeh Ahmed's Brace in Development Squad's 4-2 win over Oman




After being held to a 2-2 draw in the opening match of the 5-match hockey series, Pakistan's Development Squad defeated the hosts Oman 4-2 at the Sultan Qaboos Sports Complex hockey ground in Muscat.

Played in the floodlights with a large number of Pakistani expats in the crowd, it was a well contested show. But the visiting Pakistan side was the better team most of the time.

Skipper Shajeeh Ahmed, who came into the limelight during the last national championships where he was the top scorer with three hat tricks, netted two goals today.

-SCORERS:
Pakistan Development Squad: Shajeeh Ahmed (2), Rana Sohail, Awaisur Rehman
Oman: Basim Khatir Rajab & Ammar Jumma alshaibi

3rd match will be played on Tuesday

PHF Media release


---

'Pakistan hockey revival has begun'

By Ashok Purohit



Muhammad Usman (left) and Muhammad Saqlain (Muscat Daily)

The recent news of four-time champions Pakistan securing its spot in the 2018 men's hockey World Cup in India has brought about smiles across the Pakistan hockey fraternity.

The former powerhouse, which had failed to qualify for the 2014 World Cup, had finished seventh in the Hockey World League Semifinals in London, UK, earlier this year, meaning it had missed out on a direct World Cup spot.

Ranked 14th in the FIH rankings, Pakistan, however, found results at the recently-concluded EuroHockey Championship go its way as it became the 13th team to seal its spot in the World Cup after the four semifinalists at the event had already made it to the World Cup.

Pakistan was the highest HWL Semifinals finisher that had not qualified ahead of the EuroHockey. It now joins hosts India, Argentina, Australia, Belgium, Canada, England, Germany, Ireland, Malaysia, Netherlands, Spain and New Zealand at the World Cup.

"It is great news and the start of our hockey revival," said Muhammad Usman, a member of the 1994-World Cup winning Pakistan team in Sydney, Australia.

Usman, who represented his country in Olympics and World Cup, is currently in Muscat as the coach of the Pakistan Development Squad (PDS).

Usman along with another Pakistan Olympian, Muhammad Saqlain, who is also a PDS coach,  spoke to Muscat Daily on Pakistan hockey.

In fact, the Sydney triumph was the last of the four World Cup titles that Pakistan had won and Usman clearly remembers the final when his team edged past the Netherlands 4-3 in a penalty shootout after both teams were locked 1-1 at the end of regulation time.

"Our goalkeeper Mansoor Ahmed made a fantastic stop to deny Dutchman Jeroen Delmee and help us clinch the World Cup for a record fourth time on December 4, 1994," said Usman.

"We are very happy [on World Cup qualification] that Pakistan hockey is back on track and we hope that it could make its presence felt at next year's World Cup," said Usman.

Saqlain said that the key to team's improvement would be the players' fitness level as modern hockey demands speed, skill and stamina.

"Fitness levels have to be extraordinary in today's hockey. Changing our natural style is not going to help us but we need to adopt the defensive strategy of Europeans as Asian hockey is strong in attacks," said Saqlain, who was a member of silver-winning Champions

Trophy team in 1998 and also won Commonwealth Games silver medal in 2006.

Both Saqlain and Usman hoped that Pakistan could improve its rankings and be among the top six nations by next year.

"That is a realistic target for our national team, which has suffered due to non-participation at top-level events over the past couple of years. Right now we are ranked 14th in the world. We hope that our team can make it to top-six by next year's World Cup. If it does, it would be a perfect comeback," the former Olympians said. 

At the 2010 World Cup, when Pakistan last took part, it finished at the bottom among the 12 teams. For a team that has an envious record in the competition, having claimed the title on four occasions, more than any other nation, the welcome return to World Cup action has raised hopes and its revival will be a journey keenly watched by hockey-lovers across the globe.

Pakistan side beats Oman




Action from the second Test match between Oman and the visiting Pakistan Development Squad at the Sultan Qaboos Sports Complex on Sunday. The visitors won 4-2 to take 1-0 lead in the five-match series.

The Muscat Daily


---

Under 21 IPT - Western Province and Southern Gauteng are the Champions

Two pulsating finals played at in Potchefstroom today to determine the winners of the 2017 SA Hockey Under 21 IPT.

Women's Final – Southern Gauteng vs. Western Province Pens

It was a tentative opening half as the two sides waited for openings to capitalise. Southern Gauteng has been immense under Tsoanelo Pholo, but her charges were not going to underestimate Cindy Brown's squad. The game, however, came to life in the third chukka as Southerns fired back-to-back penalty corners in the 36th and 37th minutes through Lezaan Janse and then Gabriella Terblanche.

The impressive defensive unit would then shut up shop and Nadia Mattana in goals would deal with whatever was thrown her way. They ended the tournament having conceded only one goal and were rightfully our 2017 under 21 IPT Champions

Result: SG 2-0 WP Pens

Men's Final – Western Province vs. Northern Blues

If the Ladies final had distinct favourites, that was not the case in the Men's as the Province side led by Jason Mulder and the Blues team under the tutelage of Ryan Anderson had very little on paper to separate them and the game would follow that script too.

Connor Beauchamp fired in a blistering penalty corner to give WP the early lead, a lead that would last only 7 minutes before Michael Hesse pulled one back through a field goal. We would have to wait 27 minutes after that for the next goal and this time the Blues pulled ahead from a superbly taken penalty corner by Peabo Lembethe. Province raised the temperature and were eventually rewarded with a 55th minute equaliser by Beauchamp again.

That would be the last goal of the game and so the title would be decided on showdowns. Early goals from WP through Maximillian Pike and Luke Schooling were followed by misses by Campbell, Tate and Hobson. The Blues had missed through Steven Paulo, Travis Jutronich and National player Tevin Kok, before Cody van Breemen pulled one back. Unfortunately for the Blues Nicholas Church could not beat Christopher Rhode in the WP goal and it was the Cape side that would take home the title.

Result: WP (2) 2 -2 (1) N. Blues

Final Results for the tournament
Ladies U21 IPT

 

Men's U21 IPT

POS

TEAM

 

POS

TEAM

1

Southern Gauteng

 

1

Western Province

2

Western Province Pens

 

2

Northern Blues

3

Northern Blues

 

3

Southern Gauteng

4

Free State

 

4

Western Province Pens

5

North West

 

5

Eastern Province

6

Eastern Province

 

6

Free State

7

Western Province

 

7

KZN Coastals

8

Invitational

 

8

North West

9

KZN Coastals

 

9

Mpumalanga

10

Mpumalanga

 

10

Border
SA Hockey Association media release


---

Mülheim start German league on front foot despite Windfeder injury




Uhlenhorst Mülheim produced a superb start to their new Bundesliga season in Germany as they won 6-3 at Club an der Alster with Thilo Stralkowski and Malte Hellwig both netting twice.

They built up a 4-0 lead inside 14 minutes with Tobias Matania opening the scoring almost immediately before Stralkowski, Benjamin Becker and Hellwig got on the mark.

Alster got one back but a second Hellwig goal made it 5-1 at half-time before Stralkowski closed out the win in the second half.

On the down side, though, Lukas Windfeder suffered a thigh injury in the second quarter which forced him off the pitch and they will now hope it is not serious enough to keep him out of the EHL ROUND1 in October in Barcelona.

Elsewhere, reigning champions Mannheimer HC beat TSV Mannheim 3-1 in front of 850 fans. Kei Käppeler had given TSV a 20th minute lead before a pair of Paul Zmyslony goals swapped the lead and Lucas Vila completed the win in the 52nd minute.

Coach Michael McCann said he was "satisfied with the start" and felt his side had chances for further goals despite an impressive start from TSV.

Michael Körper scored seven times for Harvestehuder THC in their 10-1 dismissal of Düsseldorfer HC while Rot-Weiss Köln beat Nuremberg HTC 2-0 with Christopher Rühr and Moritz Trompertz on the mark.

Euro Hockey League media release


---

Clinical Wazalendo see off USIU

By BRIAN YONGA



Andrew Memo USIU-A (left) vies for the ball with Sammy Wasike of Wazalendo during their Kenya Hockey Union men's Premier League match at City Park Stadium on September 10, 2017. PHOTO | MARTIN MUKANGU |  NATION MEDIA GROUP

Wazalendo moved two points off the top three with an impressive 3-1 win over United States International University of Africa (USIU-A) in a Kenya Hockey Union men's Premier League match at the City Park Stadium on Sunday.

Goals from Stanley Chege, Erick Ochieng and Nelson Shiraku saw Wazalendo secure the three points with Brian Kiplimo briefly levelling for the students in the 28th minute.

USIU had beaten beat KCA University 2-1 on Saturday and were unable to complete the double as Wazalendo picked them out.

"It was a decent performance from the charges, we controlled the game and deservedly won the match," Wazalendo coach Fidhelis Kimanzi said.

In an earlier encounter, Andrew Kamau's 14th minute strike was all Parkroad Badgers needed to see off newcomers Technical University of Kenya (TUK) 1-0 at the same venue. The result left the students still looking for their second win of the season having just one a single match out of 15 games played.



Alex Nyawira of Technical University of Kenya (left) tackles Ian Lang'at of Parkroad Badgers during their Kenya Hockey Union men's Premier League match at City Park Stadium on September 10, 2017. PHOTO | MARTIN MUKANGU |NATION MEDIA GROUP

In the second tier men's league, Parkroad Tigers secured an emphatic 6-2 win against Gorilla as visitors Dedan Kimathi University downed Karate Axiom 3-1 in another tie.

The only women's top flight encounter of the day saw Vikings and Jomo Kenyatta University of Agriculture and Technology play out a goalless draw.



Sarah Bonareri of Vikings drives the ball past Leslie Bonyo of JKUAT during their Kenya Hockey Union women's Premier League match at City Park Stadium on September 10, 2017. PHOTO | MARTIN MUKANGU |NATION MEDIA GROUP

On Saturday, international Francis Esikhuri fired the winning goal to hand former champions Sikh Union a 2-1 win over Greensharks in a men's Premier League match.

The former Kenya Police and Chase Sailors attacker grabbed the winner via a penalty corner three minutes to the end to settle a tight contest. Davis Wanangwe scored the opening goal for Sikh Union in the 36th minute before substitute, Chris Wokila leveled for Green Sharks in the 43rd minute.

And with the match headed for a draw, Esikhuri perfectly converted Allan Iningu's short corner, firing past Sharks keeper Alexander Muge to give his side a winning start in the second leg.

Sikh coach cum player Inderjit Matharu praised his charges fighting spirit urging them to keep the momentum for the remainder of the campaign,

"We never stopped fighting and eventually got the winning goal. This is the start we wanted in this leg and we are hoping it will fire us to more success in the coming matches," the legendary player told Nation Sport.

In Kakamega, Parklands secured a precious 1-0 win over hosts' Western Jaguars courtesy of Allan Odongo's solitary strike in the second quarter.

Daily Nation


---

Sikh Union escape imminent Shark-attack

By Elizabeth Mburugu



Butali Seth Oburu and Sikh Union Allan Inigu fight for the ball when they played Men Premier at City Park. PHOTO: JENIPHER WACHIE

Former champions Nairobi Sikh Union beat Greensharks 2-1 in a Kenya Hockey Union men's Premier League match yesterday at City Park.

In another encounter, United States International University of Africa (USIU-A) also won by a similar margin against Kenya College of Accountancy University (KCAU).

Davis Wanangwe and former Kenya Police and Chase Sailors attacking midfielder Francis Esikuri were on target for Sikh Union while Chris Wokila scored Sharks' consolation goal. The win gave the 2012 champions a good start to the second leg of the season.

Sikh Union's captain Amit Rajput said they hope to get better in subsequent matches.

"Our main objective is to finish in a good position. We fought well to earn maximum points," he said.

After the first round, Sikh Union finished fifth with 22 points, 18 less than league leaders and 2013 winners Kenya Police, who are seeking to end a three-year trophy drought.

Both sides were at level for the better part of the match, battling to a barren draw in the first half. After minutes of a fruitless battle, Wanangwe drew first blood in the 36th minute, beating Sharks defence to slot in past goalkeeper Alexander Muge and give his side a 1-0 lead.

Sharks responded with urgency and intensified their quest to break Sikh Union's defence. Their efforts were rewarded when Wokila ensured parity two minutes to the break of the third quarter. Not ready to share the spoils, Sikh Union pressed deep into Sharks' territory with Esikuri scoring the winning goal three minutes to the final whistle through a penalty corner.

USIU-A added misery to their KCAU counterparts after rallying from a goal down to secure victory. KCAU took the lead in the 15th minute through Captain Gordon Odiwuor's penalty corner.               

The Standard Online


---

Maryland field hockey defeats No. 9 Louisville for its first win over a ranked opponent

By Scott Gelman

With about 28 minutes remaining in Maryland field hockey's 1-0 win against No. 9 Louisville on Sunday afternoon, the Terps' sideline had a message for their young squad.

"Manage the energy," several coaches shouted.

Coach Missy Meharg rotated 16 players, but after playing an aggressive press defense, she feared some Terps would become fatigued.

However, Maryland responded to the message with a score and was able to maintain its lead, securing the program's first win against a ranked opponent this season.

"I wouldn't take it too far," goalkeeper Sarah Holliday said of the victory. "This is amazing because we still have a lot more to do. This does set a tone, considering our previous few games."

The Terps earned two consecutive penalty corner opportunities over a four-minute span, a symptom of their maintained aggression after attempting 58 shots against Towson on Friday. Cardinals goalkeeper Ayeisha McFerran, who plays for the Ireland National Team, saved defender Bodil Keus' first shot.

McFerran challenged the Terps all afternoon and ended the game with six saves.

But in the 47th minute, Keus — one of Maryland's go-to scorers off penalty corner attempts this season — snuck the ball around a Louisville defender and drove toward the goal. Then, she deposited the ball into the lower-right corner of the net.

The score gave Maryland a one-goal advantage it wouldn't relinquish, but the Cardinals challenged the Terps in the ensuing three minutes, during which Meharg said Maryland "laid off."

"The kids were gassed," Meharg said. "The style that we're playing, we're emptying the tank. But all of a sudden, an empty tank's going to be an empty space."

The Cardinals earned a penalty corner 90 seconds after the Terps' score with a chance to tie the game.

Louisville's shot sailed wide right, enabling Maryland to preserve its lead.

The sequenced proved how much Meharg's squad has improved five games into its schedule with conference play slated to begin next weekend.

Facing its third ranked team, Maryland controlled possession from the outset. It was the second time in three days that was the case, as the Terps topped Towson, 8-0, on Friday to open the Terrapin Invitational in College Park.

Maryland's attack didn't generate as many shots Sunday as it did against the Tigers but still maintained a shooting advantage. The Terps took 19 to Louisville's eight.

The Terps' up-tempo defensive strategy limited the Cardinals' opportunities, and as a result, Maryland boasted an 11-4 first-half shooting advantage. Nonetheless, neither team scored before intermission.

Holliday and defenders Hannah Bond and Sophie Giezeman anchored the Terps' backline, holding the Cardinals scoreless for Maryland's first shutout of the season.

With two minutes remaining, Terps assistant coach Marvin Bam shouted, "Finish the game!" The Terps did.

Guidance from the sideline helped the Terps generate momentum.

"It's a good confidence booster," Bond said. "It adds more motivation going forward to keep developing."

The Diamondback


---

No. 3 Penn State field hockey avenges postseason defeat to No. 12 Princeton with 2-0 victory

Patrick Burns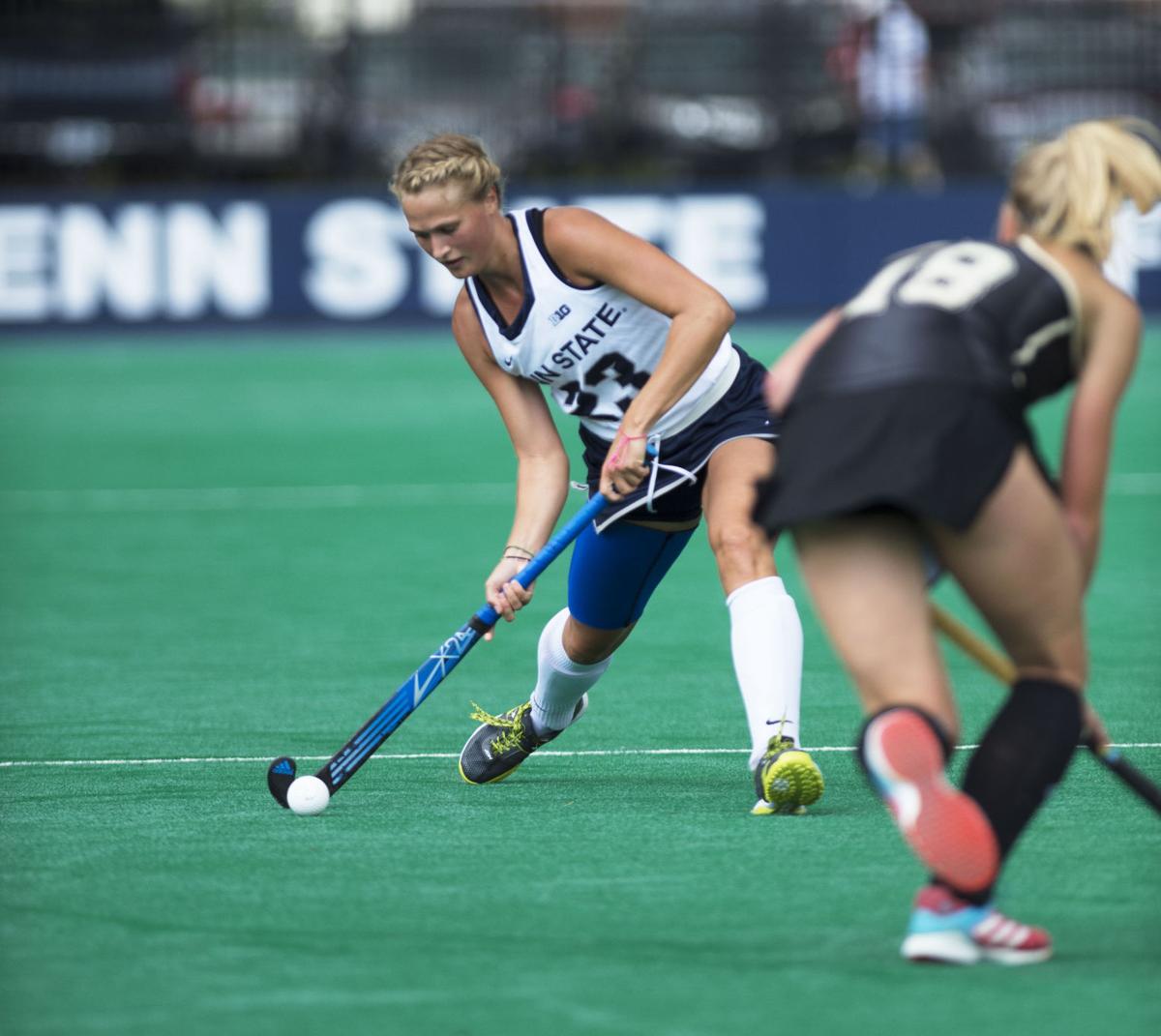 Penn State Forqard Aurelia Meijer (23) takes a shot on net during the game against Wake Forrest at the Penn State Field Hockey complex on Sunday Sep. 3, 2017. Penn State defeated Wake Forrest 6-0. Christopher Sanders

No. 3 Penn State had one thing on its mind Sunday: revenge.

Last November, Princeton ended the Nittany Lions' season earlier than they had hoped, upsetting Penn State 2-1 in the first round of the NCAA tournament.

On Sunday, the Tigers owned the majority of the game's chances, but Big Ten Defensive Player of the Week Jenny Rizzo took matters into her own hands, holding Princeton scoreless and leading Penn State to a 2-0 road win in the process.

Princeton (1-3) outshot the Nittany Lions 15-12, including a 12-3 advantage in the second half, but Rizzo made sure no shots from the opposition would find the back of the cage.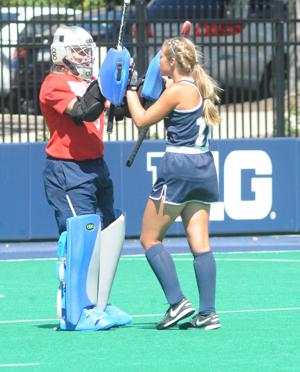 Jenny Rizzo (5) high-fives Skyler Fretz (11) during the game against Lock Haven on Sunday, Spet. 11, 2016. Penn State beat Lock Haven 4-1. Rebecca Storch

Penn State (5-0) also took advantage of its opportunities on set pieces, scoring each of its goals on penalty corners.

Junior forward Moira Putsch opened up the scoring 13 minutes in, deflecting a shot from Katie Dembrowski into the back of the net. The goal put Putsch in the team lead for goals on the season with five.

The Tigers controlled much of the game's possession until the 52nd minute, when Penn State picked up another penalty corner.

Junior midfielder/forward Aurelia Meijer picked up the ball at the top of the arc and slotted it to the left of Princeton goalkeeper Grace Baylis, extending the Nittany Lions' lead to two.

Penn State will travel to Lewisburg on Tuesday for a clash against Bucknell at 7 p.m., followed by the Nittany Lions' first Big Ten game of the year at home against Iowa on Friday at 5 p.m.

The Daily Collegian


---

Old Dominion field hockey tops Richmond

Erin Huffman scored two goals and Old Dominion overcame an early deficit to defeat Richmond 4-2 in field hockey on Sunday at the L.R. Hill Sports Complex.

The Spiders (0-5) took a 1-0 lead two minutes into the match on a goal by Florentine Beelaerts van Blokland on a corner kick. Huffman scored her first goal to tie it eight minutes later.

Amie Olton gave the Monarchs (3-3) a 2-1 lead with a goal off a corner. Danielle Grega and Rebecca Birch got assists on the play. Huffman posted her second goal to make it 3-1 and Alexandria Brewer notched her first career goal to extend it to 4-1.

The Virginian Pilot Online