All the news for Monday 28 August 2017

Rabo EuroHockey Championships 2017 results

Sunday 27 August 2017

09:00 Men / Placement match ESP 2 - 1 POL
11:00 Men / Placement match IRL 2 - 2 AUT
13:30 Men / Placement match 3/4 GER 2 - 4 ENG
16:00 Men / Final BEL 2 - 4 NED

Men Pool C
         W     D     L    P
Spain     2     1     0     7
Ireland     1     1     1     4
Austria     0     3     0     3
Poland     0     1     2     1

Rabo EuroHockey Championships 2017 Official site


---

Deja vu and Dutch delight at the EuroHockey Championships




It was a case of deja vu at the 2017 EuroHockey Championships as the top four men's teams played out identical fixtures with identical outcomes to the women's matches 24 hours earlier. The final placings saw the same six teams finish in the same order in the men's and women's competitions.

First England played Germany in a bruising and absorbing encounter for the bronze medal, while Belgium and Netherlands put on a thrilling display to decide on the gold medal.

The Netherlands needed all their resolve and talent to turn around a 2-0 deficit as Belgium raced to a 2-0 lead by half-time, but a special goal from Robbert Kemperman signalled an Oranje revival and the crowd at the Wagener Stadium were in for a treat as the two best teams in European men's hockey went toe to toe for the title. In the bronze medal match, England were able to emulate their women's team by taking bronze at the expense of Germany, while Spain took fifth place after beating Poland 2-1 and Ireland sent Austria to join Poland into the 2019 Trophy competition as they held on for a 2-2 draw.

Belgium vs Netherlands 2-4

Goals from Tom Boon and Cedric Charlier gave the Red Lions a 2-0 lead at half-time and it seemed that the team ranked fifth in the Hero FIH World Rankings was on its way to another imperious win.

The Netherlands needed something special to get them back in the tie and it arrived seven minutes into the second half when Sander de Wijn's diagonal overhead was picked up by Kemperman, who smashed the ball home on the volley. The equaliser came from a Mink Van der Weerden drag-flick, which rebounded off the crossbar back into play. Mirco Pruijser was on hand to scramble the ball home.

It was van der Weerden's turn later as his drag flick flew into the right-hand corner of the goal to make it 3-2. Pruijser then completed the victory in the last minute as the Belgians withdrew their goalkeeper in favour of a kicking back. The Amsterdam man exchanged passes with Thierry Brinkman before sliding into the open goal and a 4-2 win with 17 seconds to go.

Sander de Wijn, speaking to EHF's Stephen Findlater said: "Most of the people at half-time wouldn't give us any chance, especially after our 5-0 defeat in the group stage. We needed a moment to reopen the game and, in the end, amazing.

"It was a great season after a disappointing Olympics. We've started something new, kept faith in ourselves and structure and proved we can handle the pressure. Especially for the young guys, their first major tournament, there was a lot of pressure on them and they performed really well."

Germany vs England 2-4

This was an end-to-end game that was fast-paced and exciting, but in the end, two goals in the closing minutes saw England cross the line as winners, emulating the England women's team who had won bronze the day before, also against Germany. It was England's first major medal since 2011.

The first quarter saw plenty of action but no goals as both 'keepers – George Pinner and Tobias Walter – were on the top of their games. Mats Grambusch opened the scoring with a deflected corner but the lead was nullified a few minutes later by Barry Middleton, who scored in similar fashion. England took the lead through Ian Sloan and went into the half-time break ahead.

Germany equalised again as Lukas Windfeder scored his fifth goal of the tournament but England's lead was re-established through Mark Gleghorne as he swept home a pass from David Ames.

In search of an equaliser, Germany removed their goalkeeper for the last few minutes and England capitalised as they broke from defence and Phil Roper slotted into an empty net to secure the game and the medal.

Spain vs Poland 2-1

Spain finished their EuroHockey campaign on a high by winning 2-1 against Poland and securing fifth place. The goals came from Alvaro Iglesias and Josep Romeu, while Pawel Bratkowski reduced the deficit with three minutes to go.

Marc Salles said of the tournament: "We needed to win because it's important to finish fifth and to do better than the last time in 2015. We had a hard group with Holland and Belgium, the best teams in the competition. Now, we look forward to the final of the World League and, more so, the World Cup."

Ireland vs Austria 2-2

Austria threatened to snatch a dramatic late win to keep their European top level status but ultimately their 2-2 draw with Ireland meant they are relegated along with Poland. Ireland, in the meantime, have retained their place in the top tier, courtesy of goals from Alan Sothern and Shane O'Donoghue.

It was far from an easy ride for the Irish as Michael Korper gave Austria the lead within five minutes of the game starting. Ireland fought back and took the lead but a late surge from Austria saw Korper score his second and, with 20 seconds to go, Dominic Uher had a chance to win the tie but the ball slipped from his control and the Ireland players breathed a sigh of relief.

Ireland will now contest the top tier in 2019 with Austria dropping back down to the Trophy competition.

Final placings:
Netherlands
Belgium
England
Germany
Spain
Ireland
Austria
Poland (relegated to EuroHockey trophy in 2019)

Individual awards
Player of the Tournament: Arther van Doren (BEL)
Under-21 Player of the Tournament: Jorrit Croon (NED)
Goal of the Tournament: Robbert Kemperman (NED)
Top scorer: Mirco Pruijser (NED)
Best Goalkeeper: Vincent Vanasch (BEL)

FIH site


---

Dutch men defend European title in dramatic comeback against Belgium

AMSTERDAM (Reuters) - The Dutch men successfully defended their European hockey crown on home soil on Sunday, delivering a thrilling comeback against an in-form Belgian side who had beaten them 5-0 six days earlier.

The Dutch team claimed their fifth European gold in a 4-2 victory despite finding themselves 0-2 down at halftime at Amsterdam's Wagener stadium where the country gained its first European gold in 1983.

Dragflicker Mink van der Weerden made the difference for the home side by successfully dispatching one routine and having another hit the crossbar before striker Mirco Pruyser edged the ball over the goal line for 2-2.

Robbert Kemperman slotted home a skilfully controlled aerial pass and Pruyser appeared on the scoresheet a second time in the closing seconds of the game when Belgium had removed their goalkeeper to try to gain an on-field player advantage.

For Dutch coach Max Caldas, a former Argentine international, the European medal was a boon after the team finished empty-handed at last year's Olympics in Rio de Janeiro following a semi-final loss to Belgium and subsequently lost out on a bronze medal against Germany.

"The better team won today... We knew this was possible," he told Dutch broadcaster NOS, fighting back tears of joy.

The Dutch victory mirrors Saturday's result on the women's side where the world's number one team easily saw off first-time finalists Belgium in a 3-0 victory.

For Belgium, a European silver medal equals their best-ever result from 2013 on home soil when the team lost to Germany.

The medal adds to Belgium's growing success under the leadership of former New Zealand international Shane McLeod who coached the team to a surprise Olympic silver medal a year ago.

Belgian veteran player Tom Boon opened the scoring in the first quarter from a penalty corner drag flick, soon followed by a tip-in goal from striker Cedric Charlier.

The Belgians had started the tournament strongly, including putting five goals past the stunned Dutch hosts on Monday before they overcame Germany in a penalty shoot-out in Friday's semi-final.

The Star of Malaysia


---

England defeat Germany to secure Euro bronze



Mark Gleghorne celebrates v Germany

England secured bronze at the EuroHockey Championships in Amsterdam in a thrilling 4-2 win over Germany.

Final quarter strikes from Mark Gleghorne and Phil Roper saw England over the line as they saw off late pressure from the Germans to secure the medal.

Earlier Mats Grambusch gave Germany the lead before strikes from Barry Middleton and Ian Sloan put England ahead, but Lukas Windfeder levelled to set up the thrilling finale.

It was an entertaining opening to the contest, both sides showed strong attacking intent and an end to end first fifteen minutes followed.

Goodfield called Tobias Walter into early action with a flicked effort before George Pinner was twice off his line quickly to thwart two German attacks.

A flowing team move almost saw England edge ahead, Brendan Creed fired a ball into Barry Middleton whose first time touch freed up Sam Ward, but his effort was deflected narrowly wide.

Quickly after the first break Germany pulled ahead from a penalty corner. Defender Liam Sanford broke early meaning England were forced to defend with one less man, the ball was fired to the right hand post where Grambusch met the effort to deflect high past Middleton.

However it wasn't long before England were back level through a penalty corner of their own. At the top of the circle Adam Dixon fired the ball to Middleton on the right hand post who was on hand to deflect high into the net. 

Minutes later and England were in front when Michael Hoare found Sloan free in the circle with a fine ball. He collected and turned before slotting calmly under Walter to give his side the lead heading into the half-time interval.

Defender Michael Hoare was forced off through injury late in the third quarter as Germany began to exert some consistent pressure on the England backline. This paid off shortly before the final break, Windfeder's drag flick from a penalty corner proving too hot for Pinner in the England goal.

Germany buoyed by the equaliser took control in the final fifteen minutes but it was England who retook the lead. Creed flew a pass over the top to David Ames who controlled well, his cut back into the circle was met by Gleghorne who dived to send the ball into the backboard.

The pressure on the England defence continued and increased when Germany opted for a kicking back, but determined work from the side kept the Germans at bay and in the closing stages a breakaway goal from Phil Roper made it 4-2 to secure the bronze medal.

England: George Pinner (GK), Liam Sanford, Brendan Creed, Michael Hoare, David Ames, Adam Dixon, Barry Middleton, Phil Roper, Sam Ward, David Goodfield, Chris Griffiths

Subs (Used): Ollie Willars, Henry Weir, Harry Martin, Ian Sloan, Mark Gleghorne, David Condon

Subs (Unused): Harry Gibson (GK)

England Hockey Board Media release


---

Green Machine Retain 'A' Division Spot



Photo credit: World Sport Pics

Austria enjoyed the brighter start of the two sides and got the scoreboard ticking in the 5th minute. Dominic Uher strode down the right and into the circle, sending the ball towards the back post where Michael Korper was waiting for the sweep in from close range. Conor Harte and Matthew Bell were pulling the strings at the back and showing great vision to try break down the Austrian defence. The equaliser came courtesy of the two aforementioned as Harte found Bell in the corner who showed great skill along the baseline before pulling the ball back to Alan Sothern who slammed the ball home. Austria had the only penalty corner of the half but the mistrapped attempt didn't trouble the Irish.

The Green Machine started the second half a lot stronger and controlled the game for large periods. Shane O'Donoghue gave Ireland the lead with an unstoppable drag flick high into the corner of Szymczyk's goal. O'Donoghue had another PC chance minutes later but his effort was saved. Ireland had more opportunities to put the game to bed as both Matthew Nelson and Lee Cole sent their shots over the bar. Austria, needing a win to avoid relegation, elected for a kicking back and the tactic appeared to pay off as Korper somehow slipped the ball into the goal from a tight angle on the baseline. But it was too little too late for Austria and despite a last-minute flurry in front of goal Ireland ran out deserved victors and retain their place in European A Division.

Commenting after the match, coach Craig Fulton said "I thought overall on the day we were the better team. We were comfortable in the second half, I thought we could have scored 1 or 2 more but it was always close. Overall, we have huge strength in depth in our squad and with a year to go till the World Cup it's the perfect place to be". 

Rabo Eurohockey Championships

Ireland 2 (Sothern, O'Donoghue)
Austria 2 (Korper x2)

Ireland: D Harte (Captain), M Bell, M Nelson, A Sothern, K Shimmins, S O'Donoghue, S Murray, M Robson, P Gleghorne, C Harte, S Loughrey

Subs: J Bell, J Jackson, N Glassey, B Walker, D Walsh, L Cole, M Ingram

Austria: D Uher, A Bele, B Schmidt, M Korper, D Frohlich, B Stanzl, F Steyrer, M Minar, L Thornblom, X Hasun (Captain), M Szymczyk

Subs: F Zeidler, S Eitenberger, P Schmidt, O Binder, F Unterkircher, P Stanzl, M Mantler

Irish Hockey Association media release


---

Ireland survive late scare to retain elite status; Fulton and Harte reflect on 2017

Craig Fulton and David Harte reflect on their final EuroHockey Championships tie against Austria and the state of the Irish men's team following a hectic 2017 of three international tournaments.



Ireland following their draw with Austria. Pic: Frank Uijlenbroek/World Sport Pics

Ireland survived a heart-stopping late scare to retain their status in the top tier of European hockey as they got the draw they needed to relegate Austria.

It should have been easier on the nerves as they led 2-1 with three minutes to go but they came out the right side of a dramatic endgame to close out a formative year.

The first half was innocuous to say the least from an Irish perspective with Austria taking an early lead via Michael Korper from Dominic Uher's cross.

With the stadium music turned off for the Sunday repose, the atmosphere – whether manufactured or real – was tepid, matching the play.

Ireland did, however, got back on terms from their only attack of note of the first half. Matthew Bell's driving run ended with Alan Sothern who was razor-sharp to control and tap in with minimal fuss.

Fortunes turned in the second half, something coach Craig Fulton said was down to Austria's tactical outlook rather than any stern words on his behalf.

"They were man-to-man for most of the tournament and went to a zone defence which helped us and it really helped us. It made it easier to play it through and we could have scored one or two more."

As such, the Green Machine had plenty of control in the third quarter, particularly when they went ahead from Shane O'Donoghue's third corner flick of the competition into the top right corner.

Late drama, though, is a seemingly ingrained element in the Irish DNA and they contrived to concede an equaliser in the last three minutes from their own attack.

A penalty corner of their own was charged down by Xaver Hasun, starting a counter-attack which ended with Korper's shot going in off both Harte twins at the near post.

Then, with 20 seconds to go, Uher had a chance to win the tie but it slipped through his grasp from Hasun's ball.

It left the tie at 2-2, Ireland taking sixth and Austria seventh with survival assured for the 2019 edition.

"You are always going to scrap it out at the bottom," Fulton added. "It's not a nice place to be but it builds character. Hopefully, in 2019, we can put in the right building blocks and kick on from there and make that semi again."

While the fraught outcome was not the ideal end to the campaign, Fulton can reflect on a regenerative 2017.

"A lot of depth used which is the most important thing we could have done. With a year to go to the World Cup, it's the perfect place to be. Looking at the options, the players are getting confident at this level and so we just need to put a smart programme in place for 2018.

"We call it chapter 17 in the Irish hockey history annual. 17 stands out as a proud moment with a lot of standout moments. Going into World League 2, that was probably one of the hardest tournaments we have done. To win that and qualification for the World Cup in Johannesburg, the squad with all the changes."

For the likes of Neal Glassey, Sean Murray and Jonny McKee it has been a formative year, emerging as central figures in the panel while the teenagers Matthew Nelson, Daragh Walsh and Ben Walker have gained invaluable know-how.

"With the experience we had in the Rio build-up, it was hard for some of them, being in the squad but not a possibility of playing in a tournament – there was no tournament besides the Olympics in 2016.

"We had a lot of games and they were in those squads and so we see the fruit now off the back of that. Builder [Glassey] was in the squad two years before he played in his first tournament. That's not easy. It's indicative of competition so that's very positive.

"For Ben to come out of school the day before – I think he was in French class and not allowed to answer the phone – and then we had to fetch him from a bus station because he can't drive. Then he won us four corners and scored the next day against Ukraine.

"It's indicative of the healthy environment that we are in from a youth level. There's a real vibe from 18s, 21s and above. Guys are keen to play and that's the healthiest part of this year.

"There's some talent there as well so we have to see what we do with that and how we can move forward. We have worked closely together, massively so. We have had a few injuries so that doesn't help and other guys who couldn't do tournaments because of work."

David Harte concurred about the nature of the tournament and the state of the hockey nation: "We got the job done; you never know how these matches are going to go. It ebbed and flowed; we probably should have dominated and put the game out of sight.

"It's the story for the tournament that we didn't take our opportunities but that will come. The young guys playing up front in this kind of tournament will set us up nicely for 2019.

"[For the squad] I am not too sure how many teams can say they move players in and out of the team based on work. The Belgian team had two changes at most; we used 30 players on a rotation basis.

"You might have thought after Olympic year, we would be quiet but you had World League 2 in March. Then not many contact hours before Johannesburg with a changed squad and changed faces. The young lads have added a dimension to the group. When you have people from other countries asking who is Sean Murray, who is Matthew Nelson, you know these guys will be ones for the future and hopefully sooner in time for the World Cup."

Men's Rabo EuroHockey Championships

Pool C:
Ireland 2 (A Sothern, S O'Donoghue)
Austria 2 (M Korper 2)

Ireland: D Harte, M Bell, M Nelson, A Sothern, K Shimmins, S O'Donoghue, S Murray, M Robson, P Gleghorne, C Harte, S Loughrey
Subs: J Jackson, J Bell, N Glassey, B Walker, D Walsh, L Cole, M Ingram

Austria: M Szymczyk, D Uher, A Bele, B Schmidt, M Korper, D Frohlich, B Stanzl, F Steyrer, M Minar, L Thornblom, X Hasun
Subs: F Zeidler, S Eitenberger, P Schmidt, O Binder, F Unterkricher, P Stanzl, M Mantler

Umpires: B Bale (ENG), J van 't Hek (NED)

The Hook


---

World Cup 2018: Welcome Pakistan

K. Arumugam




Welcome Pakistan. The news that Pakistan, presenter of the beautiful World Cup trophy, has earned a berth for the 16-team Odisha World Cup 2008, is sweet, and welcome.

The vibrant hockey nation has lost its moorings in the recent past due to many factors, but a single match victory in the London Hockey World Cup has ensured its passage to India, as things turned out in its way in Euro Championships.

India and Pakistan on hockey front is facing troubles, but the presence of Pakistan in the Odissa mela will enrich the event, not doubt on that.

Its sporting rival India has defeated it badly in London. But the Pak team is not that bad as it is perceived.

A year ago just a goal separated both in the Asian Champions Trophy final. That the team reached the final in an event in which the best six teams of Asia participated in itself is a big feat.

Still a year back in Bhubneswar, Pakistan defeated the hosts in the Champions Trophy semi-final. That the team reached the final in an event in which the world's eight teams participated is a not a small feat.

Viewing against these two instances, one can easily surmise the London was an aberration.

Therefore, Pakistan will be a team to watch in Odisha.

Pakistan's problem, apart from administration, it seems is poor base. I don't think serious effort has been made at grassroots.

They churn around 50 to 60 players and that is a woeful number for a nation.

Pakistan players may be a skillful lot, but modern hockey demands extreme fitness first. Serious thought and action on fitness front is missing in Pakistan's scheme of things.

We cannot qualify for the Olympics eating kajur (date fruits) and …." Said former Pakistan captain Mohd. Imran. It conveys the state of affairs of elite program in the country and its conservatism.

Imran said so on dejection when his team failed to qualify for the last Olympic number.

Pakistan has to shed its age-old mindset, and should not hesitate to import brains.

They can take a cue from India or Malaysia in this respect. This will happen if only their former players would stop living in 'their' times even now.

A World XI cricket event will happen in Pakistan, the International Cricket Council has recently announced so. If it will be successful then Pak hockey can also expect nations willing to tour.

Good augury for Pakistan hockey, and their prospects will be keenly watched by the hockey world.

Stick2Hockey.com


---

EHL legend Moritz inducted into EHF Hall of Fame



©: Frank Uijlenbroek/world Sport Pics

With his gleaming smile framing his boundless passion and energy for hockey, Moritz Fürste became the first German man to be inducted into the EHF Hall of Fame last night.

The lifelong UHC man was honoured at the Wagener Stadium alongside Maartje Paumen and Kate Richardson-Walsh following his immaculate career which includes two Olympic gold medals, indoor and outdoor World Cup gold and two European Championship titles.

The 2012 World Player of the Year also won the EHL three times and was the inaugural MVP way back in 2008 and again in 2010.
Speaking about the honour, he said: "It's a great honour, especially because it's a public vote and I honestly didn't expect it, especially because my country is not famous for voting publicly for anyone!

"I'm incredibly honoured and think this is a great institution that there is a hall of fame. There are many players who deserve to be part of it. I am thrilled to be one of them. Titles were never the motivation for me to compete. If that was the case, I could have stopped six years ago when we basically had every title won! I have to be very thankful to every team mate I ever played with who made it happen."

He did pay tribute to UHC as well, the club he joined as a four-year-old though he was already on the sidelines long before that.

"I would never compare titles or prizes because they all have their own history but the EHL is something I won with the people I grew up with, the group of my best friends, most of whom I see every day even when they stop playing.

"In 2008, it was amazing to reach something like that with my club where we have yet to win the German championship; it was very emotional and a very important step in my career!"

Euro Hockey League media release


---

Irish Under-21 Euros begin with maintaining top tier status the target



Ellen Curran is one of a number of players with senior caps. Pic: Adrian Boehm

A day after the Irish senior teams finished their hectic summer, the Under-21 men and women begin their European campaigns with avoiding relegation the crucial target is either side is to make the Junior World Cup in three years time.

In order to be in that frame, Ireland must remain in the top tier and so this week in Valencia – starting at 9am for the men on Monday and 11.15am for the women against England – is vitally important.

The women have managed to organise an extensive programme of 17 matches this summer, raising €70,000 themselves to put together the series, buying their own balls, bibs and cones and so on.

It's something which coach Dave Passmore says "makes you appreciate what you have when you have to fund it yourself" adding It's not ideal but it's a fact of life. We said we won't winge about it; we'll just get on with it."

Speaking about his selection, he added: "I don't know if I remember a tougher final selection. Normally you get to 14 or 15 and then numbers work themselves out based on positions and corners but this group wasn't like that.

"There is a core group at the same standard and the fitness levels have really come on. I would hope we would be in the top two or three fitness wise which should stand us in good stead.

"It's such a key part of the game, especially in the sun. We have 11 or 12 who have gone over 18 in a yo-yo which is where we want them for senior level. It's an athletic group and also a very young group."

The vast majority of the side was part of the Irish Under-18s that played in Cork last year, just about staying up and keeping top tier status.

"They have really improved and understand the margins between winning and losing, what you have to put in to play at that level. Unquestionably, some of them will come into the seniors no matter what their age. The biggest part of my role is about finding and developing the most talented players. I will be judged more on them than on how we get on in the tournament.

Nonetheless, avoiding relegation is the primary target.

"With a World Cup every four years, you have to be in the European Cup in the year prior to it so avoiding relegation is the most important thing by far and away. When you are in the B division, getting good fixtures is much harder. Then, when you get to world level, that's where the real learning takes place and they start to understand the game from a different perspective.

"But they are an ambitious group and we have really enjoyed it which helps when you are doing it on a voluntary basis and everyone puts that bit more in."

They follow the English tie with a key game against France in their second game, a side of whom 14 formed part of their seniors for the European B division last month and train full time at CREPS.

The group concludes against Germany on Thursday in the seven team tournament with one side relegated.

"I don't think there is a team in Valencia that we can't beat on a good day. We are very difficult to play against."

As for the men, their programme has mainly been in tandem with the senior team with coach Jonny Caren the regular assistant to Craig Fulton. They have seen a quartet of players move up to senior level which limits their options but Fulton said that the tandem training approach was the right way to run the programme.

"We had to keep everyone ticking over in both squads so they weren't out of the frame coming into these major tournaments. We are in a different system [to the women] but I like it. I like them training with us, getting direct games against us. There's talent there so we have to see what we can with it."

The men start off against Germany before playing Austria and Belgium.

Women's Under-21 squad: Emma Buckley (GK, Cork Harlequins), Michelle Carey (Railway Union), Edel Nyland (Longwood University, USA), Ellen Curran (Hermes-Monkstown), Sorcha Clarke (UCD), Taite Doherty (Pegasus), Erin Getty (Vice Captain, Randalstown), Tori Hastings (Queens University), Suzie Kelly (Hermes-Monkstown), Ruth Maguire (Co-Capt, Pegasus), Hannah McLoughlin (Loreto), Jessica McMaster (Queens University), Elizabeth Murphy (GK, Hermes-Monkstown), Alex Ogilby (Clifton), Sarah Patton (UCD), Abbie Russell (UCD), Sarah Torrans (Loreto), Sara Twomey (Co-Capt, UCD)

EuroHockey Junior Championships (August 28 – September 3, Valencia, all times Irish)
Women's fixtures
Monday, August 28: Ireland v England, 10.15am
Tuesday, August 29: Ireland v France, 2.30pm
Thursday, August 31: Ireland v Germany, 8am
September 2-3: Classification matches

Men's Under-21 squad: Jamie Carr (Three Rock Rovers), Geoff Cole (Monkstown), Matthew Crookshanks (Annadale), Julian Dale (Cork C of I), Conor Empey (Three Rock Rovers), Ryan Getty (Lisnagarvey), Sam Grace (UCC), Luke Madeley (Three Rock Rovers), Kyle Marshall (Banbridge), David Mawhinney (YMCA), Peter McKibbin (Lisnagarvey), Fred Morris (Almere), John Mullins (Clontarf), Daniel Nelson (Lisnagarvey), Keith O'Hare (Pembroke), Mark Samuel (Three Rock Rovers), Simon Wolfe (Cork C of I), one more TBC

Men's fixtures
Monday, August 28: Ireland v Germany, 8am
Wednesday, August 30: Ireland v Austria, 8am
Thursday, August 31: Ireland v Belgium, 10.15am
September 2-3: Classification matches

The Hook


---

Two second-half goals power Maryland field hockey's win over Saint Joseph's

By Scott Gelman



Maryland field hockey coach Missy Meharg looks on at the Field Hockey and Lacrosse Complex. (Marquise McKine/The Diamondback)

Maryland field hockey forward Sabrina Rhodes arrived in College Park unsure of her role. She tallied four career goals as a midfielder with Delaware, last season's national champion.

But coach Missy Meharg has had Rhodes alternate between forward and defender, and in Sunday's 2-1 win against Saint Joseph's, Rhodes was tasked with contributing to Maryland's attack. In the 65th minute, the decision proved beneficial.

Midfielder Brooke Adler sent a pass toward Rhodes, who scored to give the Terps a lead they wouldn't relinquish in their first home opener since 2000.

"There's always opportunities," said Meharg, now in her 30th season leading Maryland field hockey. "I'm always believing we're going to win the game. I'm not surprised."

The No. 6 Terps, who started four freshmen, outshot the Hawks, 7-2, in the first half.

Meharg routinely turned to her bench, but Maryland struggled to generate opportunities, overrunning plays and missing targeted teammates with passes.

As a result, the No. 6 Terps entered the intermission in a scoreless tie.

Saint Joseph's forward Anna Willocks scored the game's first goal in the 41st minute. She converted on a penalty stroke to give the Hawks a one-goal lead they seemed poised to maintain.

"I don't think [we were frustrated]," defender Bodil Keus said.

Minutes into the second half, Meharg sent several attacking midfielders to the forward line, which helped spark Maryland's late offensive rally. Midfielder Lein Holsboer and Rhodes were both moved.

In a span of about 12 minutes, Keus received three penalty corner opportunities. She converted the third chance to tie the game at one.

The strategy remained effective when Adler connected with Rhodes for the go-ahead goal.

"We had a tremendous amount of attack up there," Meharg said. "We put all our powers up front. That's what you get."

Despite the initial woes, Meharg said she remained calm at the intermission and didn't pressure the Terps, who have now won 22 straight openers, to score immediately in the second half.

That resonated with Rhodes, who quickly established a role.

"One thing about Maryland and its history of excellence is you find a way to win," Meharg said. "What an amazing outcome."

The Diamondback


---

Penn State field hockey earns key road win over No. 10 Virginia

David Eckert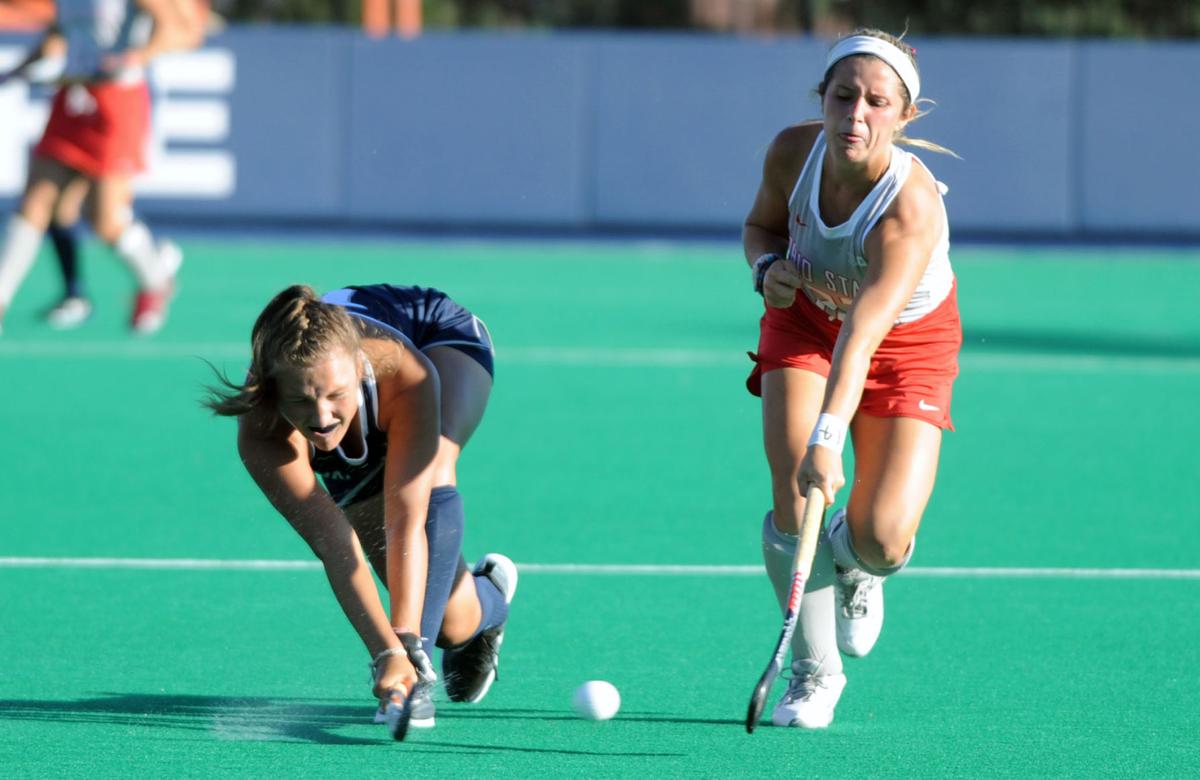 Bes Bovelander (17) falls while passing the ball during a game against Ohio State at the Penn State Field Hockey Complex on Thursday, Oct. 6, 2016. The Nittany Lions defeated the Buckeyes, 2-0. Erin O'Neill

On Friday, Penn State rode momentum provided by a brief rain delay to a victory over No. 23 Old Dominion and on Sunday, they dominated without Mother Nature's intervention.

The Nittany Lions scored four consecutive goals to open the game, coasting to a 4-2 road win over Virginia in Charlottesville.

Bes Bovelander opened the scoring by tucking a shot into the bottom right corner of the goal, sparking a three-goal first-half outburst by the Nittany Lions.

The rest of the kindling came courtesy of Gini Bradley, who scored twice in the span of three minutes to put Penn State firmly in control.

Jenny Rizzo was superb in net for the victors, saving eight of the 10 shots sent her way by the Cavaliers, who were held scoreless through the game's first 56 minutes.

Bovelander scored her second goal of the game early in the second half, ensuring that a late-game two-goal flurry from Virginia went for naught as Penn State earned its second victory over a ranked team in as many days

The Daily Collegian


---

Wake Forest loses in field hockey

The No. 15 Wake Forest field hockey team lost 5-4 on Sunday to No. 11 Michigan in Iowa City, Iowa in the Big Ten/ACC Challenge.

The Deacons fell behind 2-0 early, but answered with two quick goals to tie the game late in the first half. Then, after Michigan added two more to take a 4-2 lead, the Deacons responded again with two straight goals, before the Wolverines scored the winning goal in the 57th minute.

Jule Grashoff added her team leading third goal of the season in the first half, while Emily Adamson delivered her second of the season. Freshmen Anne van Hoof and Elisha Evans scored their first career goals for the Deacons.

The Winston-Salem Journal


---

UMaine defeats Quinnipiac for first field hockey win

Samantha Wagg and Libby Riedl each had a goal and an assist, and the University of Maine blew past Quinnipiac for a 3-1 field hockey victory Sunday in Orono.

Wagg scored off Emily Hindle's corner 15 minutes in.

Ella Mosky, with assists from Wagg and Riedl, doubled the lead for the Black Bears (1-1) 10 minutes into the second half before Valerie Perkins broke through for the Bobcats (0-2). Riedl scored Maine's final goal off a pass from Brianna Ricker.

Livy Golini of York kept the game close for Quinnipiac, making 13 saves to partially offset Maine's 30-3 shot advantage. Emma Cochrane had two saves for Maine.

The Press Herald


---

Three Dar Academy Boys in Pakistan's Development Hockey Squad for Oman

By Ijaz Chaudhry

The recently announced Pakistan's development hockey team for the Oman tour (September 9-15)includes three players, Asad Aziz, Rana Sohail Riaz and Amir Ali nurtured at the Dar Hockey Academy.

Dar Hockey Academy, formed in late 2006, has become a big reservoir of talent, supplying quality players to the national teams of Pakistan at all the levels.

The Pakistan under 18 team which won the Australian under 18 nationals a few month back included as many as five academy boys.
Pakistan's national team at the Hockey World League in London 2017, had two Dar HA players.

Right now, the Dar HA's colts side is on a training tour of Netherlands where it is playing the first teams of clubs of world's most competitive Dutch Hockey League.
This is Dar HA's fifth visit of Holland. The academy has also toured Germany (thrice), Belgium (twice), India and Malaysia (one each). 

Academy is based in Lahore but talented players are picked from other places as well. These outstation players are provided with free boarding, lodging and schooling by the Dar Hockey academy.

Ijaz Chaudhry writes on hockey & other sports. For more about him and his work, visit: www.sportscorrespondent.info  

Fieldhockey.com


---

Hockey prepare

Paulini Ratulailai

FIJI Hockey Federation conducted trials for the women's teams on Saturday to select the side to play in the Intercontinental Cup 2017's five-a- side in Sydney in October.

The senior men's team also its trials to prepare for their Fiji Invitational games in December.

It will be held in Fiji.

Head coach Hector Smith said the women's team would be coached by Allison Dutt and they selected a squad which then would be reduced to nine players.

"It's a five-a-side tournament and this will help them in their points because the top 12 will qualify for the Commonwealth Games next year," he said.

"Right now we're in 14th position, so they need to improve on their performance if they want to get a spot in the Commonwealth Games.

"For the men, their main focus is in December, so we've begun the process of training and testing people out on their ability to withstand pressure.

"We've been concentrating on club games commitments and their local league and we will get in 24 people and from that we will pick 18.

"The President Selection of New Zealand and Australia teams will be the two teams that we will be hosting. This is part of the development and exposure our younger players where we will include our under-21 players.

"We're getting secondary school students involved in this kind of international tournament to develop the sports further.

"Since the men's team had travelled to Bangladesh earlier in the year we've given a chance for the women's team to take this next trip," he said.

The Fiji Times


---

$10 million hockey hub plan turfed

Dan Jervis-Bardy



Burnside Hockey Club members Abbie, 11, and Max, 7, with Adelaide Hockey Club member Olivia, 14. Picture: Keryn Stevens

PLANS for a $10 million hockey hub in the southeastern Parklands are set to be turfed amid opposition from park users.

But Burnside and Adelaide hockey clubs may yet still find a new home in the city's greenbelt as Adelaide City Council eye another site for a major hockey centre.

The Adelaide Park Lands Authority, the body which advises the City Council on development in the Parklands, recommended at last week's meeting that the club's plan for two full-sized synthetic pitches at Park 17 be shelved.

Authority members were presented with the findings of public consultation on the plan, which found the majority of 176 respondents believed the proposal was "not compatible with the existing form and function" of Park 17.

Members of Touch Football SA, which is based in the southeastern Parklands, lodged more than 70 per cent of the submissions amid "significant concerns" they would be left without a home if the project went ahead.



Park 17 hockey plan. Source: Adelaide City Council

As a compromise, the authority advised that council staff and the clubs investigate the "under-utilised and unsightly" southern part of Park 22, at the corner of Greenhill Rd and Anzac Highway, as an alternative site for a hockey hub.

The land is used as a carpark during the Royal Adelaide Show, but is otherwise vacant.

Adelaide Hockey Club spokesman Tom Game, who last week addressed the authority on behalf of the clubs, believed the Park 22 option "could work".

But Mr Game stressed Park 17 was the "clear preference".

He was disappointed at the City Council's change in direction after in 2014 identifying the southeastern Parklands as a preferred option for a regional hockey centre.

"We are frustrated in a sense that we followed the council's lead on this," Mr Game said.

"We have expended a huge amount of volunteer time and energy … and our major concern is that we will be forced to repeat (the planning)."



Park 17 hockey plan. Source: Adelaide City Council

The clubs last year approached the City Council with detailed designs for the Park 17 hockey hub, which they said would fill a gap in pitches in the region, attract new players and help draw international events to SA.

It would also end Burnside's more than decade-long search for a home ground and clubrooms.

Authority member Anita Allen said while the council should focus its efforts on the Park 22 option, it should at least remain open to the possibility of a hockey hub at Park 17 in the future.

Ms Allen's colleagues agreed, voting to recommend the council reconsider the southeastern Parklands proposal should the Park 22 plan collapse.

City councillors were scheduled to debate the recommendation at a meeting in September.

Adelaide Now