All the news for Tuesday 25 July 2017

Top 5 Men's PAC Games to Watch

COLORADO SPRINGS, Colo. – The men's Pan American Cup (PAC) will kick off Friday, August 4 at Spooky Nook Sports in Lancaster, Pa. As participating nations battle it out in pool play, there is a handful of match-ups that are being eagerly anticipated to watch in the opening round.

Chile vs. Venezuela – Friday, August 4 at 10 a.m. ET

As the lowest FIH Hero World Ranked team in the tournament, Venezuela faces an uphill battle. Appearing in their first PAC since 2004, a Venezuela win would mark the first victory in PAC tournament history. This rematch against Chile will give them more motivation, as it is their opening game. The two teams previously clashed in the 2016 FIH Hockey World League Round 1 in Chiclayo, Peru, where Chile prevailed 2-0.

Chile went on to place first in Peru, and like Venezuela, they are hungry for wins, as well as a medal as they hope to place in the top three in the PAC for the first time in more than 10 years. Young Venezuela gun Cristian Vargas led all scorers in Round 1 with 12 goals in five games. He will be a body to keep an eye on, especially when going up against Chile's goalkeeper Adrian Henriquez.

Brazil vs. Mexico – Friday, August 4 at 5:00 p.m. ET

The two nations have exchanged strikes in the win column in recent years in major international competition, and in nail biting fashion to boot. In 2015, it was Brazil that prevailed 1-0 in the Pan American Games, with Lucas Paixao netting the lone goal in the 44th minute. The year before, it was Mexico who won in a 3-0 shootout at the FIH Hockey World League Round 1 in Guadalajara.

Brazil comes in to PAC hoping to regroup after falling four spots in the FIH Hero World Rankings. A win would help form the team's identity as well as keep pace with Canada lurking in Pool B. Look for Patrick Arnoud van der Heijden and Bruno da Silveira Mendonca to play significant roles for Brazil opposite veteran Mexican stars Edgar Garcia and Ruben Martinez.

Argentina vs. United States – Friday, August 4 at 7:00 p.m. ET

A true test for the red white and blue will be when they go up against the FIH Hero World Ranked No. 1 team in their first match to begin PAC play. In front of a home crowd, USA last met the bite of Los Leones in the 2015 Pan American Games in Toronto, Canada, falling 6-0 to the eventual champions, while finishing sixth. Since then, USA has taken a new shape, particularly within the role of head coach as Rutger Wiese aims for a high-ranked win since taking over the program in January.

For the reigning PAC Champions, the Pan American Games was a major platform for a young Gonzalo Peillat to begin his rise on the team as one of their top performers. Peillat led all scorers with 14 goals and looked just as dominant at the FIH Hockey World League Semifinals in London, England, where he finished with a leading 12 goals. USA will have an antidote in the form of goalkeeper Brandon Karess in the goal to ward off Peillat and company, while veteran leaders Pat Harris and William Holt will lead the counter attack on offense.

Canada vs. Brazil – Sunday, August 6 at 10:00 a.m. ET

A gold and three silver medals rest in Canada's trophy case for past PAC achievements. A quest for a fifth means going through a rematch of the Pan American Games fourth-place match, where Canada topped Brazil 5-3 in shootouts after going scoreless in regulation.

Canada's goalkeeper David Carter has been a big part in commanding their defensive efforts and is set to hit the 150 international cap mark in the tournament. In the FIH Hockey World League Round 2 in Tacarigua, Trinidad and Tobago, Carter also finished the tournament only allowing six goals in six games to earn a second-place finish behind Japan. Brazil's dynamic duo brothers, Patrick and Yuri van der Heijden, could be an interesting match-up to put up against Carter in response. Offensively, Canada's captain Scott Tupper will be tough to keep quiet following a team leading seven goals in Round 2 this past spring.

Trinidad and Tobago vs. Mexico – Sunday August 6 at 12:00 p.m. ET

Trinidad and Tobago want to top their sixth-place finish as host nation in April's Hockey World League Round 2. Despite being from the same region, these two teams have only met a handful of times over the years, with the most recent being in the 2014 Central American and Caribbean Games, where Trinidad and Tobago prevailed 1-0 in a semifinal match-up.

Teague Marcano led the squad with five goals for Trinidad and Tobago in Round 2, and combined with youngster Tariq Marcano, could offer a unique clash versus Mexico's defense.

USFHA media release


---

Top 3 Women's PAC Games to Watch

COLORADO SPRINGS, Colo. – With the women's Pan American Cup (PAC) starting the second day of competition at Spooky Nook Sports in Lancaster, Pa., the participating teams will be eager to step on the turf to get pool play underway. Of the seven teams, three are recently coming off performances at FIH Hockey World League Semifinals in Johannesburg South Africa and will look to continue the momentum into PAC. Below highlights some key match-ups, that all fall on the first day of competition for the women.

No. 19 Canada vs. No. 41 Brazil – Saturday, August 5 at 12:00 p.m. ET

This match-up features an underdog going against a cohesive unit with team familiarity. No. 19 Canada will bring the momentum from their recently intra-squad Super Series when they hit the field at PAC. Meeting up with a few other Pan American teams at FIH Hockey World League Round 2, which they hosted, they will look to scoring threat Brienne Stairs to get Canada on the board, early and often.

The 2015 Pan American Challenge Champions and bronze medal finisher at the 2016 South American Championship, Brazil will come out fighting as they look to make their mark at PAC. The leadership of Anita Rodriguez and goalkeeper Andrea Bernardes will headship the young squad.

No. 3 Argentina vs. No. 20 Chile – Sunday, August 5 at 5:00 p.m. ET

Having played each other a little more than two weeks ago in the second pool play match of the FIH Hockey World League Semifinals in South Africa, Argentina came out on top in that contest by a score of 2-0. Considered a top force on the female side, Argentina will look to rebound after two heartbreaking losses to finish out their Semifinals campaign. Leading the charge will be Delfina Merino with her speed and lethal skills on their quest to defeat their PAC titles.

Chile will also look to rally after finishing tenth in the Semifinals. Through key players such as captain Camila Caram and Carolina Garcia, they will bring a competitive battle against Argentina looking to revenge the recent score mark.

No. 6 USA vs. No. 30 Mexico – Saturday, August 5 at 7:00 p.m. ET

Two impressive come from behind performances to force both matches into a shootout, USA showed grit as they went on to win the FIH Hockey World League Semifinals in South Africa. USA will use that energy on their journey to claim their first-ever PAC Championship. The team is anchored by a trio of notable talents, all of whom received honors at the Semifinals. Jill Witmer earned Top Goal Scorer of the Tournament, tallying five goals throughout the event, while Jackie Briggs earned Best Goalkeeper of the Tournament following her impressive defense during the shootout victories and Melissa Gonzalez was named Best Player of the Tournament for her leadership and constant hustle.

Trying to shut down USA's fast-paced game, Mexico's defender Karen Orozco and goalkeeper Jesus Castillo will use their international experience and communication to adjust their team. Up front, Marlet Correa and Arlette Estrada will look to convert on open chances.

USFHA media release


---

Saturday at George Square - Play the Square!




Scottish Hockey will host a fun day of Hockey in George Square as excitement builds for men's EuroHockey Championship II in Glasgow.

Play the Square will see a six-aside U12 mini Euros tournament played out this Saturday 29 July 2017 at 1pm-5pm at George Square in Glasgow. The matches will be played on an inflatable pitch while a second inflatable pitch will offer the chance for people to come and try hockey in an iconic Glasgow location.

Hamish the Hockey Hippo will also be in attendance to cheer on the teams taking part – Hillhead, Western Wildcats, Kelburne, and Clydesdale will all have mixed U12 teams showing their skills in a fun tournament.

Come along and take part in what will be a fun day of hockey in the heart of Glasgow as part of the build-up for the Men's EuroHockey Championship II in Glasgow.

For more information about Men's EuroHockey Championship II, click HERE.

Scottish Hockey Union media release


---

McFerran hails O'Flanagan "turning point" as Ireland prove their quality on world stage

John Flack speaks to Zoe Wilson, Ayeisha McFerran and Arlene Boyles about the Irish women's Hockey World League heroics in Johannesburg



The Irish team race towards Grace O'Flanagan and Ayeisha McFerran for the final hooter celebrations. Pic: Jan Kruger/Getty/FIH

Ayeisha McFerran was among the first of the Irish players to congratulate Grace O'Flanagan after Ireland's epic win over India which has all but secured World Cup qualification via the World League 3 tournament in Johannesburg, writes John Flack.

O'Flanagan came off the bench after McFerran had been sin binned in the first-half and, with her first touch, saved a penalty stroke and went on to make several important stops as India threatened to add to their tally.

Then it was left to Katie Mullan and Lizzie Colvin to score a brace of corners to seal the win which leaves Ireland well placed to book a ticket to London next year.

"Of course I was relieved that Grace saved the stroke, she stepped up having not played all tournament and to be able to do that was certainly a turning point in the game." said McFerran.

"When the final whistle came we were very excited as a whole squad, we knew that we could do it from the get go, but to hear the final whistle come was proof to ourselves that we could step out and do it!

"I was very happy for Grace and the whole team. This tournament was a roller coaster of emotions for everyone, players and staff so to be able to stay level and come fighting in the final game is something we're all very proud of.



Lizzie Colvin receives the adulation following her winning goal against India. Pic: Jan Kruger/Getty/FIH

"Going to the World Cup with this squad is proof that everything all squad members have sacrificed to get here has been worth it.

"The tournament itself, of course, had its ups and downs, we feel we put in very positive performances against teams higher ranked than us, but we proved to the hockey world that we are a force to be reckoned with.

"Valencia [in 2015] taught us all that tournaments don't always go as planned, but it's about controlling your emotions and just keep going."

Zoe Wilson, a strong candidate for Irish player of the tournament, was in agreement with McFerran as she reflected on the seventh place finish.

"What a journey this tournament has been, I felt that they way we challenged teams above our ranking gave us an immense belief to go into this final game. For us, it was a last chance at realistically qualifying for the World Cup." said the Belfast Harlequins player.

"When Grace came on for the first time in the tournament I had total faith in her, she prepares so thoroughly before each and every game and when she saved the penalty stroke I really felt that it was a turning point in our game, good fortune was finally on our side.

"At half time Graham [Shaw] just reminded us of our game plan and the hard work we had put in to date, be patient and results would come as we knew when we scored more goals would come.

"It was a long time to be in a tournament and maintain concentration because if you weren't playing you were researching the next team or debriefing. So it was physically and mentally challenging but a great learning experience.

"I have no doubt those early mornings with (Belfast Giants ice hockey player) Colin Shields at the gym in Belfast paid dividends, especially when fitness was tested at altitude and at times during the game when we were reduced in numbers so I have a lot to thank him for.

"I believe we showed how good a physical shape we were in going into the tournament and this gave us confidence knowing we could play at the pace we wanted to play at and that no team would outrun and outwork us.

"As for Valencia, we had a talk at the beginning of the trip as it was important for us all to share experiences of those who have been here before and those who haven't been in this pressured environment before.

"And the message that came across was that we are a whole different team now and we know we can compete with the best it's just a matter of doing it on the pitch and having the experience of some of the girls that have been in this situation before it would stand us in good stead."

Team manager Arlene Boyles, who played for Ireland in their last World Cup appearance in 2002, says that following the disappointment of an under-par display in losing to South Africa, determination was key.

"We just knew if we stuck to the process we would get the result. The girls didn't panic at any stage and we talked a lot about the fear factor after the SA game. We had to be brave and losing was not an option." she said.



Zoe Wilson closes in on Argentina's Delfina Merino. Pic: Jan Kruger/Getty/FIH

"Grace's save was a turning point and we took a real boost from that. We had to dig deep and we did. The first corner was called as we saw a gap and it was executed perfectly. Lizzie's goal was a top drawer strike."

Belfast Harlequins midfielder Colvin scored the winner and revealed, her improvised effort after controlling a mis-trap wasn't her first such strike.

"It was a great match and nice way to finish the tournament after the disappointment of the South Africa game." she said.

"I don't usually score the goals – five in total I think. That one was a carbon copy of the one I got against Chile last summer in the four nations."

Now though, it's a case of sit back, wait and then celebrate again after a joyous dress- rehearsal after the final whistle on Saturday, thanks largely to the amazing Grace…..

The Hook


---

Australian test for our indoor hockey teams

by S. Ramaguru

KUALA LUMPUR: The Malaysian men and women's indoor hockey teams are set to gain some valuable practice matches against quality opponents.

Two teams – men and women – from the Western Australian Institute of Sport (WAIS) will be making a playing tour of Malaysia in early August.

They are expected to play at least seven matches each against the two Malaysian SEA Games-bound sides.

Said national coach Mohamed Amin Rahim: "We need such quality matches to fine-tune our playing strategies.

"WAIS have also indicated that they will bring their best players.

"This is good news for our players."

Malaysia played two friendlies against the Singapore men's national side last weekend, winning 9-1 and 11-0.

Amin, a former national outdoor hockey international, said that he tried out all the 18 players during the two matches.

"Initially, I was planning to name the Games team after the two matches.

"But now I feel more time is needed.

"Some of the fringe players surprised me with their performances.

"I want to take another week before naming the final squad.

"We will have our final 12 in time for the matches against WAIS.

"I will also name three reserves in case of last-minute injuries," said Amin.

Indoor hockey is making its debut in the Kuala Lumpur Games from Aug 19-30.

Six teams – Malaysia, Singapore, Indonesia, Thailand, the Philippines and Vietnam – are competing in the men's section.

Only five teams – Malaysia, Singapore, Indonesia, Thailand and the Philippines – are taking part in the women's category.

The Star of Malaysia


---

PHF receives security clearance for PHL

By Nabil Tahir

KARACHI: Pakistan Hockey Federation (PHF) on Monday received the long-awaited security clearance from Pakistan Army to organise the Pakistan Hockey League (PHL) in the country along with other tournaments which will feature international players.

The federation was assured by the Chief of Army Staff (COAS) General Qamar Javed Bajwa that they will be provided fool proof security.

"COAS has assured us to give extraordinary security for our proposed matches and tournament, and now we will begin the remaining work of PHL," PHF President Brig Khalid Sajjad Khokar told The Express Tribune.

The decision of Pakistan Army was followed by the visit of Ronaldinho and friends earlier this month, where they played two matches at Abdul Sattar Edhi Hockey Stadium in Karachi and Fortress Stadium in Lahore, respectively. The security for the event was provided by Pakistan Army which sent a strong message to the world.

"The news about the security clearance has boosted the confidence of the whole team working on this project for the past few months, said Khokar. "The format of the league has been decided and we are ready to execute our plans in November."

Khokar informed that the federation will also be organising nine-players-a-side tournament in August and September featuring 10 teams from Pakistan, while a World XI match will also take place before PHL.

Will revive hockey in Pakistan: Shahbaz

PHF secretary Shahbaz Ahmed Senior, who is making the efforts to invite international players from different countries for the World XI match, said he is optimistic that they will be able to revive international hockey in the Pakistan once again.

"The World XI match will be held before the PHL to demonstrate the security setup in Pakistan, and it will help us revive the national game," said Shahbaz. "Some of the nations have assured us of sending their players, while I am also talking to my friends in different countries who are helping me in this effort," he said.

Shahbaz revealed that they hired the company which was helped the Pakistan Cricket Board in organising the first edition of the Pakistan Super League.

"Five teams with city names will be a part of the tournament," said Shahbaz. "The format, the logo and many other things have been finalised. Only a few amendments are left and then we are good to go with the league in November or December."

The Express Tribune


---

Ronaldinho and friends give hope to Pakistan Hockey Federation

By Nabil Tahir

KARACHI: The recent staging of 'Ronaldinho and Friends' twin exhibition matches featuring some of world's most iconic footballers has also given hope to other sports organisers, including the Pakistan Hockey Federation (PHF), who feel the precedent set by the spectacle can help them secure security clearances for their long-planned league.

Last weekend, Karachi hosted the first of two futsal matches as legends such as Ronaldinho, Ryan Giggs, Robert Pires and others showcased their skills on Abdul Sattar Hockey Stadium's newly laid out AstroTurf, which has yet to see any major hockey action as plans to hold a Pakistan Super League-style event has failed to come to fruition.

Held amid tight security, the seven-a-side futsal match, PHF officials believe, showed that Karachi is a safe place capable of hosting international tournaments featuring foreign stars.

Olympian Kamran Ashraf, who is also associated with the PHF, feels the futsal event has sent out a positive image of the city and the country.

"Ever since the new turf was laid out seven months ago, we had been waiting to hold a big event and it cannot get any bigger than top football stars coming to play here," said Olympian Kamran Ashraf in an interview with The Express Tribune. "This was a big achievement for the PHF and for the stadium management that they were able to facilitate such an enormous event."

Per Ashraf, the tight security provided by Pakistan Army has sent a message to the world that Pakistan is a safe country and will open door for many other opportunities. "After the arrival of these football stars we will also invite big-name hockey players to our Pakistan Hockey League (PHL), and I bet it will now be easy for us to convince them to come and play here," he said.

The PHL has been in the pipeline for quite some time, but Ashraf feels the wait of the hockey fans will soon be over.

"PHF has all its plans ready, and once the security clearance is issued, it can be held within a month," he said. "We have planned it for November, for which we will have to get the security clearance by the end of September, but I think we will get it even sooner after this football event."

Naveed Alam, another of PHF officials, echoed Ashraf's sentiments, saying: "PHF has completed the planning, including format of the league, number of teams, the total budget and has even talked with the organizers. The only thing holding us back is a security clearance from the government. Once we get that, we will invite players from more than 10 countries."

The Express Tribune


---

Pakistan Hockey Federations wants to host World XI tie, hockey league

Pakistan Hockey Federation (PHF) President Khalid Khokhar recently met the Chief of Army Staff, Gen Qamar Bajwa at General Headquarters in Rawalpindi.

Khokhar, a retired brigadier, expressed satisfaction over the meeting and said: "Gen Bajwa appreciated the idea of a proposed hockey league featuring international stars, to be held in Lahore at the end of this year."

"He also assured the Army's support in providing security to foreign players and teams visiting Pakistan," he said.

Talking about PHF's other efforts in reviving hockey in Pakistan, Brig Khokhar said: "In September, the PHF is trying to bring a World XI [team] — comprising past and present international stars from leading hockey nations such as Australia, Germany and the Netherlands — to play an exhibition match against a Pakistani team consisting of seasoned stalwarts."
Advertisement

"The match will probably be played at the Army Stadium, Rawalpindi or in Karachi," he added.

Brig Khokhar further said that "the Pakistan Army's support would go a long way towards staging the hockey league and the match against the World XI."

"These efforts would rekindle people's and especially the youth's interest in hockey, which is very essential for the revival of our national game," he concluded.

Dawn


---

Accessibility will help catalyze Indian hockey's reach

India's coaching system also lags behind in scientific rigour and is in dire need of a revamped curriculum

Jaspreet Sahni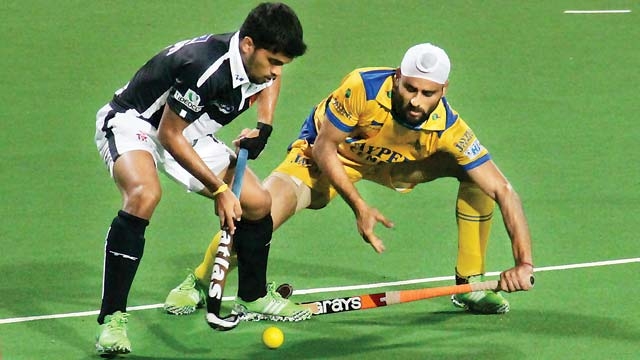 It's always a cardinal sin to generalise on the basis of commonplace notions. Sadly, hockey in India has been a victim of that ever since its graph nosedived. Like any other sport, hockey has had its share of wows and woes. After major victories, the country hoists the players and the game on its shoulders but is never remiss in criticising it, in equal measure, for not delivering consistently.

Many examples abound of this inconsistency: of the treatment meted out by the public and of the performance delivered by the players. In December 2016, India won the Men's Hockey Junior World Cup. In stark contrast, six months from that day, the senior team lost to hockey minnows Malaysia and Canada in London.

While many deprecated the senior team for their performance, one must not lose sight of the fact that the team has still managed to climb up to the sixth spot in world rankings.

A large share of the credit goes to former Hockey India (HI) president and current International Hockey Federation (FIH) chief Narinder Batra. While most federations of Olympic sports in the country were struggling to run office, Batra turned HI into a professionally run unit.

Batra-led HI ensured that the sport not only grew but also became commercially viable, so much so that a professional league, the Hockey India League (HIL), came to life. As a result, the players' kitchens were flush with supplies.

At the same time, controversies never left the HI corridors. Four foreign coaches — Paul van Ass, Terry Walsh, Michael Nobbs and Jose Brasa — left unceremoniously after a tiff with HI. However, India returned to the Olympics (2012), won the Asian Games gold (2014), claimed their maiden Champions Trophy silver (2016) and won the Junior World Cup (2016). It's another story that continued failure in the Olympics meant that the public at large never passionately took to hockey. And in terms of recent setbacks, the future of HIL is in jeopardy on financial grounds with some of the franchises mulling an exit.

But reasonable success also led to reasonable development. Infrastructure has improved, academies are the new focal point, new stadiums have come up and small cities like Bhubaneswar have metamorphosed into preferred international hockey venues. However, many bemoan that at the grassroots level there has been little change. Experts I spoke to commonly opined that building swanky stadiums was not a sign of growth. Will every kid have access to an astroturf field, they asked cynically, and much to the dismay of hockey enthusiasts in India.

Take Punjab's example. The state has more than 150 cities but only 26 turf pitches — 8 full-length and 18 of six-a-side size. The village of Mithapur in Jalandhar, which is home to former and current India captains Pargat Singh and Manpreet Singh, has been struggling to get the government's nod for a turf at Shaheed Darshan Singh KP Stadium.

The coaches training local kids at the stadium have been told to prepare the base for astroturf by themselves. It costs Rs 15 to 20 lakh and the government hasn't been upfront with any help.

This example alone highlights the struggle and need for more playing fields than big stadiums. And that doesn't mean full-length artificial pitches. The start can be made with six-a-side fields.

The game's holistic growth lies in making it more accessible.

Further, India's coaching system also lags behind in scientific rigour and is in dire need of a revamped curriculum. The coaching system in the country dates back to the '60s and '70s. It is true that the approach has become scientific at the top level, India's supply chain of quality sportspersons won't improve until the same is incorporated at the grassroots. This prescription is just as valid for hockey.

It is not all dark though. Academies like Surjit Hockey Academy (SHA) in Jalandhar have set a dazzling precedent. It only provides training to enrolled players but also takes care of their food, lodging, and studies until they graduate from college. Its success can be gauged from the fact that among the 18 players who won the Junior World Cup last year, 10 are products of SHA.

Jaspreet Sahni is a sports writer with close to a decade of combined experience in digital and print media

DNA


---

Sarratt hat trick fires Ireland U-18s to win over England



The Irish Under-18s following their win over England on Sunday.

Ireland's Under-18 boys closed their week at the Six Nations tournament in Nottingham on a high with a Guy Sarratt hat-trick powering them to a 4-2 win over hosts England.

Gareth Borland's side had a tough week against high level opposition with losses against Belgium, the Netherlands, Germany and Spain.

But they saved their best until their last tie as they produced a fine performance that could have seen them win by a couple more but for the crossbar and some goal line saves.

England took the lead in the fifth minute from a penalty stroke scored by Owen Williamson but Ireland were the better side for much of the tie and were bacl on terms before the end of the first quarter from a penalty corner drag-flick.

Into the second half, Alex O'Regan was set free on the left of the circle to slot home from play. Stuart Rushmere equalised with a diving touch to a corner move for 2-2 but Ireland finished the stronger.

They went back in front within a minute from a Sarratt drag-flick low passed the goalkeeper's stick side and the Monkstown man completed the victory in the 53rd minute.

The Under-16 boys ended their week with a draw against the Netherlands as their highlight in their second game. They out in a massive defensive performance in that tie with Scott Dale pulling a series of good saves while Harry Lynch, Oliver Kidd and Kevin O'Dea kept the Dutch keeper busy.

Early in the 3rd quarter with the scoreline still 0-0, Riley Marchant reverse hit a shot which was slapped in at the back post by Mark Duggan to give the Irish a 1-0 lead.

The start of the 4th quarter saw the Dutch press high which required huge defensive focus from defenders Jake Raben, Cian Murphy, Craig Mackay and Hugo Henderson.

On the full time hooter, the Netherlands were awarded a controversial corner, but after consulting with his colleague, the decision stood. Ireland kept out a pair of corners but another was awarded.

An early break by an Irish defender saw him sent to the half way line and from the resulting corner, the Netherlands equalisedm finishing the game 1-1.

It was a highlight of the week in which they battled hard against the same opposition as their Under-18 counterparts.

The Hook


---

Surbiton not to take up EHL KO16 place



© Frank Uijlenbroek/EHL

Men's England Hockey League 2016-17 winners Surbiton have decided not to take up their place in the Euro Hockey League KO16 in 2018 that is awarded to the league winners.

The club have made this decision as the EHL clashes with teams' acclimatisation and final preparation for the Commonwealth Games in the Gold Coast, Australia.  The EHL KO16 runs from 30 March to 2 April whilst the Commonwealth Games starts on Thursday 5 April.  

Surbiton could lose up to 14 players from their squad to the England, Scotland, Wales and Canada teams that will take part in the Games and does not wish to participate in the EHL with a significantly weakened squad.

England Hockey understands and supports the rationale for this decision. There is full recognition that this is a highly unusual clash for teams and players.   

Surbiton's Club Captain, Mark Waller said: "After our Men's 1s fantastic achievement of being crowned Men's Hockey League champions last season, it is regrettable that we have had to take the difficult decision to withdraw from next season's Euro Hockey League competition.

"But the clash with the 2018 Commonwealth Games means that Surbiton face the prospect of losing up to 14 players (representing England, Scotland, Wales and Canada), who would therefore not be available for selection for the Euro Hockey League.

"This would mean that we would send a severely weakened side to compete at the KO16 stage, which would not only undermine our reputation, but also undermine the Euro Hockey League competition.

"In light of this, and after discussions with both the EHF and England Hockey, it was agreed that the best option was for Surbiton to withdraw on the basis that our place could be taken by another English club side."

Following the decision England Hockey has consulted with Surbiton, Wimbledon - who qualified for the EHL Round 1 by virtue of finishing top of the table at the end of the regular season and Holcombe – who finished in third place at the league finals.

England Hockey has agreed that Holcombe will replace Surbiton as our representatives in the EHL KO16 and Wimbledon will retain their place in EHL Round 1 in October. This decision is taken with the full support of the clubs concerned and has been agreed by the European Hockey Federation who run the EHL.

David South, Chairman of Holcombe said, "We are pleased to be a part of the EHL once again and to represent England.  Our Men's 1XI had a positive European experience last season, despite narrowly losing to the former champions by one goal, and are excited to get another chance to compete at this level.  It is certainly going to be an exciting season with both our Men's and Ladies' 1XI involved."

England Hockey Board Media release


---

Warriors squander chance to close gap on surging Police

By BRIAN YONGA



Boniface Ndombi of Parklands vies for the ball with Butali Sugar Warrior's' Barnabus Odhiambo during their Kenya Hockey Union men's Premier League match on July 23, 2017. PHOTO | MARTIN MUKANGU |  NATION MEDIA GROUP

Former men's champions Butali Sugar Warriors missed the chance to close the gap on league leaders Kenya Police after the weekend round of Kenya Hockey Union league matches.

Butali were held to a surprising 1-1 draw by an improving Parklands side in the weekend's final match to move to second place with 30 points.

With the first leg of the league set to come to a close this coming weekend, Butali missed the chance to move near the league leaders after another disappointing outing.

Parklands took a shock lead in the seventh minute through talismanic striker Allan Odongo's field goal, before the visitors levelled through Maxwell Fuachaka in the 18th minute of play.

Butali were frustrated by Parklands' resolute defending as they went in search of more goals to win the match. It however proved futile as Parklands held on.

Butali skipper Kennenth Nyongesa expressed his disappointment at the result but vowed to fight till the end of the season.

"This was not the response we wanted after losing to Police and it is a game we should have won having created so many chances," Nyongesa told Nation Sport on Monday.

It was Butali's third draw of the season and they are ahead of third-placed Greensharks on goal difference.

The Kisumu-based club lost 2-1 to Police prior to Sunday's draw against Parklands.

"We have one match until the end of the first leg and we must ensure we end on a high before the league breaks," he added. Police, who were not in action this weekend, lead the table with 37 points ahead of this coming weekend's final first leg matches.

Wazalendo are in fourth place with 25 points, while 2012 winners Sikh Union Nairobi round off the top five places with 22 points. At the wrong end of the table, debutantes TUK lie bottom with four points, seven behind 14th placed Kenyatta University Titans.

In the women's Premier League, champions Telkom ensured they will end the first leg on top after another impressive result. The 19-time champions thrashed KU Titans 9-0 to end their first leg campaign with a 100 per cent record.

They have amassed 30 points, scoring 70 goals and are yet to concede.  Spartans are second five points behind after their 6-0 win over UON. Last season's runners up Strathmore Scorpions (23 points) occupy third place with Amira Sailors and JKUAT following in the next positions respectively.

Daily Nation


---

Hockey finals under way



Star first-team hockey players get ready to take on each other in the grand finals of the SPAR KZN School Girls' Hockey Challenge at St Mary's DSG on July 29 and 30. Gearing up for the finals are Megan McCarthy (Durban Girls' College), Tayla Putz (St Mary's captain), Bella Thompson (Our Lady of Fatima captain), Katja Schadle (Wartburg Kirchdorf captain), Brady Wiseman (St Anne's captain), Amy Karlsen (St John's DSG captain) and Phiwo Myeza (Amanzimtoti High captain).Photo: ValAdamson

THE top 10 first hockey teams will converge at St Mary's DSG to battle it out in the grand finals of the SPAR KZN School Girls' Hockey Challenge in South Africa on July 29 and 30.

The format for the finals will be pool games, with the 10 teams being split into two pools. Games will be 20 minutes one way, with four points being awarded for a win, two points for a draw with goals and a single point for a goalless draw.

Only one team has made an appearance in all seven of the grand finals — Durban Girls' College — which has a sterling record with three consecutive golds, two silvers and a fourth place. They look to be the favourites in Pool B.

College are joined by newcomers St John's DSG, and Amanzimtoti High School and King Edward High School are both making their third appearance at the tournament. King Edward made a name for themselves last year after they impressively held the stronger teams to draws in the pool games.

Pool A sees defending champions St Mary's DSG taking on previous 2011 winners St Anne's College, Grantleigh College, Wartburg Kirchdorf School and Our Lady of Fatima.

The two saints teams are in good form after a vigorous school season but they will be up against the formidable German precision from Wartburg and the determined teams of Fatima and Grantleigh.

Overseeing the games will be a handful of the Most Promising Umpires (MPU), who were selected at the various regionals levels, together with a handful of more experienced whistle blowers who will assist in grooming the up-and-coming regional umpires.

Travelling from Dundee is Que Mdletshe, the MPU representing the Northern KZN regional.

Kevin Engelbrecht will be travelling with his team from Wartburg. Engelbrecht is part of a strong hockey family, with his relatives Elona and Michelle both participating for Wartburg.

Alana Marais will be representing the Pietermaritzburg region.

Durban umpire Angelique Kellerman is no stranger to the tournament, having played and captained Durban Girls' High School when she was still a pupil.
Bryan Riddle, who is a Grade 11 pupil from Thomas More College, has been working hard to further his umpiring career and will be using this tournament to start making a name for himself.

Complementing the most promising umpires is Sonika Visser, who also appeared in the first tournament as an MPU. Pam Daniel, like Kellerman, made her way through the ranks as a talented player and an MPU for Westville Girls' High, and is now a graded umpire.

Engelie Maas has become a regular at both the regional and final tournament. Lastly, Greg Beavon will be rounding up the list of umpires.

News24