All the news for Saturday 22 July 2017

Men's finalists known at Hockey World League Semi-Final in Johannesburg



Germany (pictured) will meet Belgium in the event final in Johannesburg. Copyright: FIH / Getty Images

Johannesburg, South Africa: The men's final at the Hockey World League Semi-Final will be contested between Germany and Belgium following another dramatic day of action at the University of the Witwatersrand.

It was also a hugely significant day for New Zealand and Ireland, who claimed wins to take their places in the 5-6 classification match, the winner of which will be guaranteed a place at the Odisha Hockey Men's World Cup Bhubaneswar 2018.

Germany (FIH Hero World Ranking: 3) were the first team to reach Sunday's showpiece final, fighting back from a goal down against Spain (WR: 10) to tie the match before winning a tense sudden-death shoot-out. Die Honamas were made to work extremely hard to replicate the achievement of Germany's women in reaching their event final, with Ricardo Sanchez putting the Spaniards ahead at the end of the first quarter. Germany's equaliser did not arrive until five minutes from the end when Ferdinand Weinke smashed home from a tight angle to force the shoot-out.

The two sides were locked together at 2-2 after ten shoot-out attempts, with Sergi Enrique and Mats Grambusch making it 3-3 before the telling moment arrived. Spain's Enrique Gonzalez - a young player who has had an outstanding tournament - failed to convert, with Christopher Rühr making no mistake to put his team into the final.

Germany's opponents in the final will be European rivals Belgium, a team the Germans defeated in the pool phase. However, the Red Lions will be looking to avenge that result following their hard-earned 2-1 victory over Australia's Kookaburras. Belgium netted either side of half time through Cedric Charlier and Amaury Keusters before Jeremy Hayward slammed home an Australian penalty corner at the end of the third quarter. Australia's Kiran Arunasalam had a goal ruled out in the final minute as Belgium clung on to set up an all-European event final.

"It was a really exciting semi-final, both teams played pretty well and had some good opportunities even through to the last seconds of that game", said Belgium Head Coach Shane McLeod. "It made for a really good match and now we play the final game, which is what we came here for."

In the 5-8 matches, Egypt (WR: 19) gave New Zealand (WR: 8) a run for their money before eventually being beaten 2-0. The Egyptians proved difficult to break down but eventually the Black Sticks got the breakthrough just after half time thanks to a high quality penalty corner routine expertly converted by Nick Haig. Kane Russell added a second ten minutes from the end with a penalty corner routine almost identical to the first, putting New Zealand into the 5-6 classification where that direct ticket to the Odisha Hockey Men's World Cup Bhubaneswar 2018 is on the table.

"It was a tough game for us today and we probably started a bit slowly, we would have liked to get some more out of our chances in the first half", said Kane Russell post-match. "We were able to hang on and put two goals on the board which was good and we need to come out firing for our last game to make sure we finish fifth and qualify for the World Cup."

New Zealand's opponents in that all important World Cup play-off match will be Ireland (WR: 9), who were taken to a shoot-out by France (WR: 17) before two times FIH Hockey Stars Goalkeeper of the Year David Harte made two important saves to see his side safely through. Hugo Genestet gave France the lead just five minutes into the match, an advantage that they held until late in the third quarter when Shane O'Donoghue netted a penalty stroke. In the shoot-out, goalkeeper Harte denied Guillaume Deront and Hugo Genestet before Chris Cargo scored the winner to keep his teams hopes of direct World Cup qualification alive.

Earlier in the day, Austin Smith scored twice to help hosts South Africa (WR: 15) finish their competition on a high, beating Japan (WR: 16) 4-2 to take ninth place on the final standings.

On Saturday 22nd July, the 5-8 classification positions in both the women's and men's competitions will be finalised. At 11:15 South Africa Standard Time (UTC +2), the women of India and Ireland will meet in the 7-8 classification match, with Japan and South Africa facing off at 13:30 in the women's 5-6 contest. The attention then switches to the men's 5-8 classification games, with Egypt playing France for seventh at 15:45, before New Zealand and Ireland take to the field at 18:00 for the battle for fifth place and the subsequent World Cup qualification ticket that comes with it.

Hockey World League Semi-Finals - Johannesburg, South Africa

Men's 9-10, 5-8 and Semi-Final Results
9-10: Japan 2, South Africa 4
5-8: Egypt 0, New Zealand 2
5-8: Ireland 1, France 1 (4-3 after shoot-out)
SF: Spain 1, Germany 1 (3-4 after shoot-out)

SF: Australia 1, Belgium 2

Fixtures and timings
All times South Africa Standard Time (UTC +2)

Saturday 22nd July 2017
11:15: India v Ireland (Women 7/8)

13:30: Japan v South Africa (Women 5/6)

15:45: Egypt v France (Men 7/8)
18:00: New Zealand v Ireland (Men 5/6)

Sunday 23rd July 2017

11:00: England v Argentina (Women 3/4)
13:15: Australia v Spain (Men 3/4)
15:30: USA v Germany (Women Final)
18:00: Belgium v Germany (Men Final)

FIH site


---

Classic Charlier goal sets up Belgian triumph

JOHANNESBURG: A brilliant Cedric Charlier goal set up Belgium for a surprise 2-1 win over Australia in Johannesburg on Friday and a Men's Hockey World League final showdown against Germany.

The gritty Germans scored five minutes from time in the other semi-final to draw 1-1 with Spain and won the shootout 4-3 to book a place in the Sunday tournament decider.

Preceding that match will be the women's final between Germany and the United States, offering the European economic powerhouse the chance of a hockey double.

League title-holders Australia are ranked second in the world, three places above Belgium, and started the semi-final at the University of the Witwatersrand as slight favourites.

But goals by Charlier, after a sweeping two-man move covering virtually the length of the artificial turf field, and Amaury Keusters rattled the Kookaburras.

Jeremy Hayward halved the deficit at the end of the third quarter, but ill-discipline cost his team dearly in the final 15 minutes with Kiran Arunasalam and Tim Craig yellow-carded.

In field hockey, players receiving a yellow card spend five minutes in the "sin bin", or "naughty chair" as South African spectators call it.

Australia scored in the final minute, but the "goal" was referred to the TV umpire and replays showed a Kookaburra foot touching the ball as it sped to the net.

There was still time for a final attempt to snatch an equaliser, but Arunasalam could not control a long, lofted Hayward pass and the ball ran out of play.

"That was a really high-level and exciting hockey match," said New Zealand-born Belgium coach Shane McLeod.

"It was crucial for us to match the Australians physically, and we did. That was a real battle. We came here to play in the final and have achieved that goal.

"Facing Germany requires a different approach. Whereas Australia are a 'run-and-gun' team, the Germans are tactically smart."

Ricardo Sanchez gave Spain -- seven places beneath third-ranked Germany -- a late first-quarter lead they successfully defended for 40 minutes.

Ferdinand Weinke levelled for the Germans, who had to play without star attacker Timm Herzbruch for most of the match after he fell awkwardly.

Christopher Ruhr was the villain-turned-hero in the shootout -- the second in two days as the United States took a similar route at the expense of England to the women's final.

He failed to score off the first post-match dribble, converted a penalty stroke to give his team the lead and scored the decisive "sudden-death" goal.

Germany skipper Mats Grambusch said resilience and shootout practice were key factors in reaching the decider against their European neighbours.

"We practice a lot for shootouts and were involved in several recently which helped. You also need a little luck in these post-match situations and we had it.

"Spain are a great team and we had to be mentally strong to stay in contention for much of the match. After equalising, the momentum swung in our favour."

The Times of India


---

Kookaburras to play Spain for third place in WL Semi-Final

Defeated 2 - 1 by Belgium in semi-final

Author: Holly MacNeil




The Kookaburras semi-final against Belgium took place at the World League Semi-Final overnight, with the game going the way of Belgium with a final score of AUS 1 – 2 BEL. Belgium will now play Germany in the final of the World League Semi-Final, while Australia will play Spain in the bronze medal match.

The first quarter was extremely fast paced and skilful with both Australia and Belgium determined to get the upper hand early on in the match. Belgium's attack was working overtime, with the Australian defence working equally as hard as the quarter ended at nil – all.

Twenty-two minutes in and Emmanuel Stockbroekx stole the ball from Australian Tristan White and worked alongside Cedric Charlier to get the ball down to the Belgium D, before Charlier smashed the ball into the net past keeper Andrew Charter to score the first goal of the game.

With 12 seconds remaining in the first half the Kookaburras were up for their first opportunity on a penalty corner. The first was knocked out by the foot of a Belgium player, resulting in a second opportunity which couldn't be converted by Australia leaving the score going into half time at AUS 0 – 1 BEL.

Belgium were up for their first penalty corner opportunity 34 minutes into the game with the drag flick from Tom Boon going wide and leaving the score at 1 – nil. Thirty-six minutes in and Amaury Keusters scored a second field goal for Belgium from a deflection on a goal attempt by Simon Gougnard, leaving the Kookaburras trailing by two.

Right on the buzzer of three quarter time Australia was awarded a penalty corner opportunity. Daniel Beale injected the ball before the drag flick from Jeremy Hayward sailed into the left of net brushing the post as it went in. With 15 minutes of play remaining the score was AUS 1 – 2 BEL.

With just four minutes to go in the game the Kookaburras replaced Andrew Charter with Matt Dawson as their kicking back to try and level the score. In the final minute of play they almost did just that after Kiran Arunasalam managed to knock one into goal, however on video review the goal was disallowed noting that the ball had touched a foot on the way into the net.

The disallowed shot left the final score at AUS 1 – 2 BEL. Belgium will go on to contest Germany in the final of the World League Semi-Final, while Australia will play Spain for third place.

Kookaburras head coach Colin Batch said: "We had a plan that we went out with and we did OK, but it was a tough game. We did well to come back and get a goal in the final seconds of the third quarter and get back into the game.

"We did score in the last 30 seconds which would have levelled the score but it was disallowed on review. It was disappointing, but we learned a lot tonight. Our drive now is for the final game and to make sure we play well in that."

The Kookaburras next play Spain in the bronze medal match on Sunday, 23 July at 7.15pm AWST / 9.15pm AEST. The match will be broadcast Live on Fox Sports Australia.

Kookaburras Match Schedule
Sunday, 23 July: Bronze medal v Spain 7.15pm AWST / 9.15pm AEST.

KOOKABURRAS 1 (0)
Jeremy Hayward 45 (PC)

BELGIUM 2 (1)
Cedric Charlier 22 (FG)
Amaury Keusters 36 (FG)

Kookaburras squad v BEL
Athlete (Hometown/State)
Daniel Beale (Brisbane, QLD) 102/16
Andrew Charter (Canberra, ACT) 134/0
Matt Dawson (Killarney Vale, NSW) 78/10
Jeremy Hayward (Darwin, NT) 85/30
Aaron Kleinschmidt (Melbourne, VIC) 25/6
Mark Knowles (Rockhampton, QLD) 301/27
Trent Mitton (Perth, WA) 118/50
Jake Whetton (Brisbane, QLD) 130/53
Tristan White (Wollongong, NSW) 91/6
Dylan Wotherspoon (Murwillumbah, NSW) *plays for QLD 42/10
Aran Zalewski (Margaret River, WA) 112/16

Used Substitutes
Kiran Arunasalam (Doncaster East, VIC) 10/1
Tom Craig (Lane Cove, NSW) 40/14
Jeremy Edwards (Hobart, TAS) 24/2
Tom Wickham (Morgan, SA) *plays for WA 18/4

Unused Substitutes
Tyler Lovell (Perth, WA) 89/0
Josh Pollard (Melbourne, VIC) 22/2
Matt Swann (Mackay, QLD) 156/7

Hockey Australia media release


---

Black Sticks to play for fifth in Johannesburg



Photo: FIH/Getty Images

The Vantage Black Sticks Men have set up a fifth place playoff following a 2-0 win over Egypt at the Hockey World League Semi Final in Johannesburg.

The Kiwis struggled to capitalise on their chances in a goalless first half before scoring from two second half penalty corners.

Nick Haig lit up the score board in the 36th minute after flicking home from a well-worked corner variation by Nic Woods.

The same set piece move worked perfectly again in the 50th minute, this time Kane Russell the man firing into the back of the net.

New Zealand will now meet the winner of the Ireland vs France classification playoff at 4:00am on Sunday morning (NZT).

There is plenty still to play for with the victor of the fifth-place playoff earning automatic qualification to the 2018 Hockey World Cup in India.

Defender Russell said it was tough going against the Egyptians but good to be able to lift in the second half and record a win.

"It was a tough game for us today and we probably started a bit slowly - we would have liked to get some more out of our chances in the first half," he said.

"We were able to hang on and put two goals on the board which was good and we need to come out firing for our last game to make sure we finish fifth and qualify for the World Cup."

In semi-finals fixtures at the tournament, Spain play Germany while Belgium meet Australia to determine who progresses to the gold medal match.

VANTAGE BLACK STICKS 2: (Nick Haig, Kane Russell)
EGYPT 0
Halftime: 0-0

Hockey New Zealand Media release


---

Black Sticks men one win from World Cup after overcoming Egypt at World League Semifinal



Nick Haig found the back of the net in New Zealand's 2-0 win over Egypt at the World League Semifinal tournament. PHOTOSPORT

The New Zealand men's hockey team are one win away from booking their berth at next year's World Cup.

As expected, the Black Sticks were too strong in a 2-0 victory against Egypt at the World League Semifinal tournament in Johannesburg on Friday (Saturday NZ time).

The match was scoreless at halftime before Nick Haig and Kane Russell both netted from penalty corners in the second half to seal a place in the playoff for fifth for the Kiwi side.

New Zealand will face Ireland in their final game at the event on Sunday, the winner nailing down a spot at the 2018 World Cup to be held in India.

The top five teams at the tournament in South Africa secure qualification, although the sixth is also likely to make it following the five continental championships later this year.

Healthy favourites against the 19th-ranked Egyptian side, the eighth-ranked Black Sticks struggled to capitalise on their chances in a goalless first half.

But they eventually hit the lead when experienced defender Haig lit up the score board in the 36th minute, flicking home from a well-worked corner variation by Nic Woods.

The same set-piece move worked perfectly again in the 50th minute, this time Russell the man to fire the ball into the back of the net.

Russell said it was tough going but they were pleased they were able to lift in the second half and record a win.

"It was a tough game for us today and we probably started a bit slowly - we would have liked to get some more out of our chances in the first half.

"We were able to hang on and put two goals on the board which was good and we need to come out firing for our last game to make sure we finish fifth and qualify for the World Cup."

Germany booked their spot in the final by beating Spain in a semifinal shootout, with Australia playing Belgium in the other final four match.

New Zealand 2 (Nick Haig, Kane Russell) Egypt 0. Halftime: 0-0

Stuff


---

Green Machine 1 Win Away From Guaranteed World Cup Spot




It took the excitement and drama of a shootout to separate these two sides as Ireland all but secured their place at the 2018 World Cup.

John Jackson lead the charge in earning his side their first penalty corner inside the opening 30 seconds of the tie. O'Donoghue's dragflick was saved and minutes later France had a PC of their own which Hugo Genestet slapped into the corner. David Harte had to be at his best as he made some superb reaction saves as Jean-Laurent Kieffer evaded the Irish defence. Francois Goyet received a 10-minute yellow for a diving tackle which allowed the Irish to gain more of a foothold in the game as they won 2 further PC's. France arguably had the better of the chances as they proved highly dynamic with pin point passes.

Goyet saw his spin and shot fizz wide early in the second half while Simon Martin Brisac's shot was rocketed across the face of goal. Magee again breaking at pace down the right-hand side caught France unawares but his shot across the circle just missed Jeremy Duncan. Sean Murray, again attacking down the right side and along the baseline, drew the tackle resulting in a stroke which Shane O'Donoghue riffled into the top corner. Jackson and Conor Harte made some inspired tackles as France pushed hard for the winner in the final few minutes, and despite racking up 39 circle penetrations they simply couldn't get their shots off.

Harte proved the difference in the shoot-out as he saved both Deront and Genestet's efforts while Cargo sealed the victory with the final goal. 

Commenting on the victory, head coach Craig Fulton said "Tournament hockey is about playing your best hockey when it counts. Today was always going to be tight against France, they're a very dynamic team and we had to defend well today. We didn't mind going to 1vs1's, it helps having David Harte in goal".

The Green Machine now move into the 5th/6th place match against New Zealand and will be in action tomorrow evening. 5th place is a guaranteed ticket to the World Cup but 6th place looks highly likely to get the Green Machine there as well. 

Ireland women's hockey team compete against India in the 7th/8th playoffs tomorrow (10:15am Irish time), shown live on BT Sport. 7th place could well prove enough for the Green Army to book their spot at the World Cup once all the Continental Championships are complete. 

Hockey World League Semi Finals Johannesburg

Ireland 1 (O'Donoghue)
France 1 (Genestet)

Shootout:

Ireland 4 (Harte, O'Donoghue, Jackson, Cargo)
France 3 (Lockwood, Kieffer, van Straaten)

Ireland: D Harte, J Jackson, J Bell (Captain), M Bell, C Cargo, M Nelson, A Sothern, S O'Donoghue, C Harte, J Duncan, S Cole

Subs: J Carr, E Magee, N Glassey, S Murray, P Gleghorne, S Loughrey, J McKee (Injured)

France: P van Straaten, H Genestet, S Martin Brisac, V Lockwood, C Masson, N Dumont, G Deront, JP Forgues, V Charlet (Captain), E Tynevez, A Thieffry

Subs:  C Peters-Deutz, JL Kieffer, B Rogeau, G Baumgarten, F Goyet, E Curty, C Saunier

Irish Hockey Association media release


---

Shoot-out magic puts Ireland all but ends 28-year wait for World Cup berth



Ireland celebrate following their shoot-out win. Pic: FIH/Getty

Barring a series of miracles, Ireland's men have assured their place at a first World Cup since 1990 as they ground out a shoot-out win over France in Johannesburg.

David Harte made two brilliant saves, showing why he is the two-time world goalkeeper of the year, at the death before Chris Cargo slotted a low shot passed Corentin Saunier to snatch a 4-3 victory after normal time had finished 1-1.

The hour of regulation play was fraught throughout with France having the best of it, going ahead early on via Hugo Genestet. Four penalty corner chances in the first half for Ireland went incomplete, adding to the tension after they let nine of those set pieces slip by in their quarter-final against Spain.

In that quarter-final tie, Ireland were by far the more aggressive. This time, the focus was far more on defensive bravery against a French side playing with a swagger that belied their lower ranks.

Nonetheless, Ireland stuck at the task and, from a rare chance on the counter, Sean Murray was hooked back by Jean-Baptiste Forgues on the right baseline. It led to a penalty stroke that Shane O'Donoghue roofed to make it 1-1 in the third quarter.

After that, a healthy chunk of defending was required with Conor Harte – nursing a shoulder injury – getting through a wealth of work while Paul Gleghorne and John Jackson put their bodies on the line to shut down chances.

Jackson, indeed, dove to block a Blaise Rogeau shot with three seconds to go to ensure the extra chance, one in which Ireland have serious confidence. It was the same method they beat the French on in March in World League Round 2 in Stormont, knowing they had Harte to watch their backs.

Harte was modest in his assessment, taking the regular captain's line of it being "what our team did to get us there" with "all credit being to the guys".

But both coach Craig Fulton and Chris Cargo – who scored the winner – said the Kinsale man's ability between the posts gives them huge belief in the shoot-out.

"When you have the best keeper in the world, you are pretty confident going into a shoot-out," match-winner Cargo said while coach Craig Fulton said he "didn't really mind" it going the distance.

Indeed, his record is such that he has not lost a shoot-out since 2014 between club and country, including five wins in 2017 already – three with Ireland and a couple with Kampong. Three times France have been his victims in that time and they must be sick of the sight of him.

There was drama with Eugene Magee adjudged to have fouled goalkeeper Corentin Saunier in his one-on-one only for the video review to swap the decision in Ireland's favour with O'Donoghue netting from the spot from a second time.

Harte swept away Guillaume Deront and Genestet's chances, setting the stage for Cargo to slip home an incredibly calm effort.

For Fulton, he hailed his goalkeeper who missed part of the tournament with a concussion but came back to have a massive influence.

"It took him out of his rhythm for four or five days and we almost had to rehabilitate that confidence back into him. He's also our captain and wasn't around so it did change the dynamic.

"The guys did really well to respond. That was key and we came back with improved performances [in the last two games]. The big one was against Spain and we are disappointed [not to kill them off] about that but will learn from it. We did really well today when it mattered."

He added that wins of this nature can only help the new-look side after such a large turnover of players in the wake of Rio.

"We've had a 10-player change from the Olympics so we are in a building phase and we are excited to see the youngsters in these big games. If you don't play these big games, how do you grow?

"We are trying to get more guys to play in Europe in stronger leagues and hopefully we can get to a World Cup or Olympic quarter-final in the near future.

"When I started we were 15th, now we are ninth. There's the progression. Our goal is to get to the top six in the world."

For now, it gives them a place in the World League's fifth place playoff against New Zealand on Saturday. Fifth guarantees an India 2018 spot at the first attempt.



The respective goalscorers Hugo Genestet and Shane O'Donoghue. Pic: FIH/Getty

But a minimum finish of sixth will be well within the threshold when the continental championships are tallied in the coming months.

Among the elements that would have to go against them, for example, would be Papua New Guinea – the world's number 61 – beating both Australia and New Zealand.

In the other continents, either Poland or Austria would have to win in Europe; in Pan-America someone other than Canada and Argentina would need gold. Asia and Africa do have slightly shorter odds with Korea and South Africa in the mix.

Cargo, though, is keen that it doesn't even come down to the waiting game that led to an all-nighter watching Australia play New Zealand in the Oceania Cup in late 2015.

"We played some really good stuff against Spain in the quarter-final so we knew if we kept going, we would get our rewards. France are a really good team; we play them a lot and probably know them too well so we knew it would go to the wire and just really happy we got on the right side of it."

"We want to guarantee our qualification here, finish as high as we can and get all those ranking points so I can't wait to face New Zealand.

They play on Saturday at 5pm in Johannesburg while the Irish women are on at 10.15am in their seventh place playoff. That one is also important in potentially boosting their chances but they will have to wait a few months no matter what.

Hockey World League Semi-Final, 5th-8th place playoffs
Ireland 1 (S O'Donoghue)
France 1 (H Genestet),
Ireland win 4-3 on shoot-out

Ireland: D Harte, J Jackson, J Bell, M Bell, C Cargo, M Nelson, A Sothern, S O'Donoghue, C Harte, J Duncan, S Cole
Subs: E Magee, N Glassey, S Murray, P Gleghorne, S Loughrey, J Carr

France: A Thieffry, P van Straaten, H Genestet, S Martin-Brisac, V Lockwood, C Masson, N Dumont, G Deront, J-B Forgues, V Charlet, E Tynevez
Subs: C Peters-Deutz, J-L Kieffer, B Rogeau, G Baumgarten, F Goyet, E Curty, C Saunier

The Hook


---

Veteran Smith jack of all trades but young Cassiem the master

by Ken Borland

Germany and Belgium confirmed themselves as the men's finalists for the Hockey World League at the Wits Astro on Friday night with thrilling semi-final wins.

Germany were 1-0 down to Spain as they entered the last five minutes of their semifinal, but they never lost their composure, never tried anything silly and barely looked like a side chasing the game for a spot in a  final.

Having just taken off their goalkeeper and with sterling defender Mathias Muller acting as a kicking back, captain Mats Grambusch then produced a superb run along the baseline before flipping the ball back for Ferdinand Weinke to slap in the equaliser.

Grambusch also marked himself out as a special player in the shootout, which went to sudden death, as he scored with both of his brilliant attempts.

Christopher Ruhr, firstly after Dieter-Enrique Linnekogel had won a penalty stroke, provided the other two goals in the shootout and goalkeeper Mark Appel also made some great saves for Germany to find their way through to the final.

In the other semifinal, Cedric Charlier and Amaury Keusters both scored for Belgium, before Australia pulled a goal back from a short-corner after the hooter for the end of the third quarter, through a fine flick by Jeremy Hayward.

Then, with just 19 seconds left in the match, Kiran Arunasalam thought he had scored the equaliser for Australia, but Kiwi umpire Gareth Greenfield called for a referral and a small foot was discovered, leading to the goal being disallowed.

The USA and Germany will meet in the women's final on Sunday, while South Africa's women's side play in the fifth/sixth playoff against Japan on Saturday at 1.30pm.

Earlier on Friday, South Africa's national men's team beat Japan 4-2 in their playoff for ninth and 10th place with veteran former South African captain Austin Smith proving himself a jack of all trades as he scored two goals and led a determined defensive effort.

The hard-fought victory ensured the hosts not only didn't finish last in the tournament, but it means they avoid relegation from the elite level of the event.

While the 32-year-old Smith twice rocketed superb short-corner drag-flicks into the right-hand corner of goal, the match was marked by a top-class display from the 18-year-old prodigy Dayaan Cassiem.

Cassiem was a constant threat running with the ball and he set up both the 29th-minute short-corner that saw South Africa go 2-1 up through Smith's second goal, and the penalty-corner four minutes from full time that made sure of victory.

Cassiem pounced on a deflection and, spinning and shooting all in one motion, he fired the ball into goal to give the home side a two-goal cushion.

Coach Fabian Gregory said the performance left no doubt that Cassiem is a future superstar.

"Dayaan was fantastic today, I took huge flak for choosing him because he was just 18 years old and had not played in an IPT yet, but you could see today that it was a no-brainer. He's the most exciting striker in the country, a real goal-scorer and he's always just so focused on the rebounds.

"He's had offers from all around the world, but first he must get his matric and study further. As a player, he's really hard on himself and is extremely humble. He's such an exciting prospect, but he's really grounded," Gregory told The Citizen on Friday.

Japan equalised just a minute after Smith had scored his first short-corner goal, but the defender put South Africa 2-1 up just before halftime. The Japanese dominated the third quarter, however, with Genki Mitani ramming home their second equaliser.

South Africa claimed a 3-2 lead though after a superb breakaway. Julian Hykes ran aggressively from midfield, combining with Rhett Halkett down the left, before Cassiem's mis-hit shot hit a Japanese defender in the goalmouth, leading to a penalty stroke. Jonty Robinson's flick was not his most confident effort, but it nevertheless went into the right-hand corner of the goal.

Gregory said he was pleased his team had won playing a more exciting brand of hockey.

"Playing the youngsters with their exuberance and their willingness to go out and play is exciting and they showed the way forward today, it was good for the team to show they can play attacking hockey. We want to try and score goals, we want to play with more speed, play with no fear. The ability to close out a game is also important and knowing when to put the knife in," Gregory said.

Results: 9th-10th - South Africa 4 (Austin Smith 2, Jonathan Robinson, Dayaan Cassiem) Japan 2 (Koji Yamasaki, Genki Mitani); 5th-8th - New Zealand 2 (Nick Haig, Kane Russell) Egypt 0, Ireland 1 (Shane O'Donoghue) France 1 (Hugo Genestet), Ireland won shootout 4-3 (Conor Harte, Eugene Magee, John Jackson, Chris Cargo vs Viktor Lockwood, Jean-Laurent Kieffer, Pieter van Straaten); Semi-finals – Germany 1 (Ferdinand Weinke) Spain 1 (Ricardo Sanchez), Germany won shootout 4-3 (Mats Grambusch 2, Dieter-Enrique Linnekogel/Christopher Ruhr 2 vs Sergi Enrique 2, Alvaro Iglesias); Belgium 2 (Cedric Charlier, Amaury Keusters) Australia 1 (Jeremy Hayward).

Saturday's fixtures: Women's 7th-8th – 11.15am India v Ireland; Women's 5th-6th – 1.30pm South Africa v Japan; Men's 7th-8th – 3.45pm Egypt v France; Men's 5th-6th 6pm New Zealand v Ireland.

KenBorland.com


---

Cassiem shines in SA victory

Dayaan Cassiem topped off his best game for South Africa in a very short career by scoring a goal in SA's 4-2 win over Japan in the FIH World Hockey League Semi-Finals.

With this victory the SA men's hockey team finished 9th in the tournament.

At halftime South Africa was leading 2-1 after two penalty corner scores from Austin Smith. It brought his tally to four goals in the tournament and 56 in his career. Koji Yamasaki scored Japan's goal at the end of the first chukka.

With 11 minutes left Japan's Genki Mitani scored to equalise matters. Japan upped the pace big time later in the third chukka going into the final 15 minutes.

With another shot at goal a Japanese defender denied the 18-year-old Cassiem, but SA got the penalty shot for the body-block. Jonathan Robinson hit the back of the goal-box to give SA the lead (3-2) once again.

Cassiem finally got reward for a game well played when he scored SA's fourth goal. "It was great to score. I really enjoyed playing with the team. This tournament was a great learning experience for me," said Cassiem.

Captain Tim Drummond added: "It was a tough tournament for us and we learnt some hard lessons, but the boys showed character today. We did not reach our initial goal, but we did some reassessment and we really wanted to win."

The SA women's team takes the field Saturday at 13:30 to play Japan for the 5th place in the tournament. The women have qualified for the 2018 FIH World Cup in London.

The African Championships is later in the year and if the SA Women win that tournament South Africa will be in the Top 10 of the world rankings. Currently South Africa is 13th.

All matches in the Hockey World League Semi-Final are played at the Wits Hockey Astro in Johannesburg. Twenty of the world's best men and women's national teams will take part in these Hockey World Cup 2018 qualifiers.

SA Hockey Association media release


---

SA eye future after 9th-place finish

by Karien Jonckheere



Austin Smith © Gallo Images

The SA men's hockey team have finished ninth at the Hockey World League after defeating Japan 4-2 in their final playoff match in Johannesburg on Friday.

It will be some consolation for the home side to have won at least one match in what has been a largely disappointing tournament for them.

Austin Smith scored twice off penalty corners and Jonty Robinson once from a penalty stroke.

But it was youngster Dayaan Cassiem's final goal in the 56th minute – a swivelling rebound shot from a penalty corner – along with his performance in general that had SA hockey fans excited.

"Dayaan was fantastic today," SA coach Fabian Gregory said afterwards. "I took huge flak for choosing him because he was just 18 years old and had not played in an IPT yet, but you could see today that it was a no-brainer. He's the most exciting striker in the country, a real goal-scorer and he's always just so focused on the rebounds," he added, suggesting that Friday's performance was a good sign of things to come.

"Playing the youngsters with their exuberance and their willingness to go out and play is exciting and they showed the way forward today. It was good for the team to show they can play attacking hockey. Guys like Dayaan, Tevin Kok, Nqobile Ntuli and Ryan Julius are good for the future of South African hockey.

"We want to try and score goals, we want to play with more speed, play with no fear. The ability to close out a game is also important and knowing when to put the knife in."

The South Africans will certainly need those skills when they head into the Africa Cup, which is now a tournament they have to win if they are to qualify for next year's World Cup.

Meanwhile, Belgium will face Germany in the men's final of the Hockey World League on Sunday.

There was a nerve-wracking finish to Germany's semifinal against Spain as the match went to a shootout.

Having scored in the 15th minute, Spain were leading for much of the match, but five minutes before the final hooter, Germany's Ferdinand Weinke slotted in the equaliser.

Spanish hearts were broken when the Germans then edged the shootout 4-3.

Olympic silver medallists Belgium defeated Australia 2-1 in the other semifinal to book their spot in the final.

There was a fair amount of drama in that match too as Australia thought they had equalised with 19 seconds left to full time.

It was referred to the video umpire however, and TV footage showed the ball had hit an Australian foot on its way in and the goal was disallowed.

In the final, Belgium will be hoping for a reverse of their Pool game against the Germans in which they were beaten 3-2 earlier in the tournament.

In other results on Friday, New Zealand defeated Egypt 2-0 and will take on Ireland for fifth place. That's after the Irish beat France in another penalty shootout – also 4-3 after the teams were locked at 1-1 in regulation time.

Action continues at the Wits Astro in Johannesburg on Saturday with the SA women battling it out with Japan for fifth place at 1.30pm.

The women's final will be contested between Germany and Argentina at 3.30pm on Sunday while the men's final takes place at 6pm.

All matches are being shown live on SuperSport.

Supersport


---

Malaysia have no hope of making World Hockey League Finals

KUALA LUMPUR: The national men's team can forget about making the World Hockey League Finals.

This is because all the four teams who made the last four in the second World Hockey League Semi-Finals in Johan­nesburg are ranked higher than Malaysia.

The eight teams who have qualified for the Finals – to be held in Bhubaneswar, India, from Dec 1-10 – are India, Holland, England, Argentina, Germany, Australia, Spain and Belgium.

These eight teams, along with Malaysia and Canada, have also confirmed their berths in next year's World Cup, which will be held at the same venue in India.

National skipper Mohd Shukri Mutalib said he knew that their chances were slim after finishing fourth in the World Hockey League Semi-Finals in London last month.

"It's not a surprise (not qualifying for the World Hockey League Finals). Our chances were slim to start with as only a lower-ranked team finishing fourth would have given us a chance. As it turned out, all the four semi-finalists in Johannesburg are higher ranked than us," he said.

The national men's hockey team are preparing for next month's KL SEA Games.

Coach Stephen van Huizen has made it clear that he will field the strongest side to ensure they retain the gold medal.

The other teams competing are Singa­pore, Indonesia, Thailand and Myanmar.

The men's team will also compete in the Asia Cup, which is a World Cup qualifier, in Dhaka from Oct 11-22.

The teams competing are India, Pakis­tan, Malaysia, South Korea, China, Japan, Bangladesh and Oman.

The Star of Malaysia


---

Tickets sold out for Hockey World League Final

Johannesburg, South Africa: The South African Hockey Association (SAHA) has announced that all tickets for the final matches of the Hockey World League Semi-Finals are officially sold out.

Set to take place on Sunday, 23 July the much-anticipated women's and men's final matches are a culmination of 16 days of world-class hockey. Over 2500 fans are expected at the Wits Hockey Club where all the action has been taking place since the start of the tournament.

"From the onset, we have always stated that we need the support of our clubs and the hockey community to make this event big, bold, packed and loud. Much to our delight, this is exactly what the fans and hockey community have delivered. Over the past 13 days, our stadium has been packed and all teams have enjoyed the support of locals," said Marissa Langeni, CEO of SAHA.

All 132 matches from the Hockey World League Semi-Finals have been broadcast live on SuperSport, and the finals are no exception. The Women's Final is set to take place at 15h30 on 23 July, with the Men's Final push back at 18h00.

There are still tickets available for purchases online, for the semi-final and classification matches taking place on 20, 21 and 22 July, and can be purchased at: http://hockeyworldleague.nutickets.co.za/

The top teams from Brussels, London and Johannesburg will also be aiming to qualify for two of hockey's showcase events – the Women's Hockey World League Final 2017 in Auckland, New Zealand and the Men's Odisha Hockey World League Final 2017 in Bhubaneswar, India.

SA Hockey Association media release


---

One year to go until Hockey Women's World Cup London 2018




Friday 21 July marks one year to go until the Hockey Women's World Cup London 2018 gets underway at Queen Elizabeth Olympic Park's Lee Valley Hockey and Tennis Centre.

With the public ticket ballot set to open on 19 August and the final teams qualifying over the next few weeks, excitement is really beginning to grow ahead of this blockbuster event.

Register for Public Ticket Ballot

Following the conclusion of the semi-final stage of the Hockey World League Semi-Final in Johannesburg, South Africa yesterday, 11 teams have guaranteed qualification thanks to their final standings in both World Cup qualifying events.

Hosts England await the arrival of reigning champions Netherlands as well as China, New Zealand, Korea and Australia who finished in the top five spots at the FINTRO Hockey World League Semi-Final in Brussels, Belgium. The second Hockey World League Semi-Final, in Johannesburg, South Africa, saw Argentina, Germany, USA, Japan and South Africa book their tickets to London after finishing top of the standings there.

Whilst the top five teams are guaranteed qualification for the women's World Cup, England's qualification for the semi-final stages in Johannesburg meant that they will finish in the top four. With Japan and South Africa playing in the fifth versus sixth classification match on Saturday 22 July, both teams have guaranteed qualification for London due to the fact that the highest ranked sixth place finisher in Brussels was Italy (16) who are ranked lower than both Japan (11) and South Africa (13)*.

The remaining five World Cup qualifiers will be the winners of the Continental Championships taking place between August and November 2017. If one of the continental winners has already qualified through the Hockey World League then teams will qualify based on their final position at the Semi-Finals and their respective FIH Hero World Ranking (as of 1 August 2017) compared to one another.

With more than two thirds of teams now qualified, fans can now bid to secure tickets to the event through England Hockey's Public Ballot and can pre-register before 19 August 2017. Finals, Semi-Finals and England matches will sell out so we urge you not to wait if you want to be there to witness the drama.

On 19 August 2017 all fans who have pre-registered for the women's World Cup in London will receive an email with a link through to the Ballot tickets website. There will also be a link on this site through to the ballot entry pages from 19 August.

The public will be able to apply for as many matches as they want. Tickets to matches will be limited to six per England session.

Applicants can tick an "upgrade me" box, which will enter them into the ballot for the next price category if unsuccessful in their first request.

The Public Ballot will close on 6 September 2017.  Payment will only be taken if ticket requests are successful after the Public Ballot closes.

Successful applicants will be selected at random. For additional information about the Women's World Cup and the Public Ballot, check out our Q&A.

Find out who will take the remaining spots in the Hockey Women's World Cup London 2018 by following the Continental Championships through FIH.ch over the coming weeks as well as through our social media channels including Facebook, Twitter and Instagram.

*Rankings as of 10 April 2017

FIH site


---

PAC Preview: Men's Athletes to Watch




COLORADO SPRINGS, Colo. –  In the coming weeks Spooky Nook Sports in Lancaster, Pa. will welcome some of the greatest field hockey talent in the world at the 2017 Pan American Cups (PAC). With many of the participating nations enjoying recent success, this is another prime opportunity for many individual athletes to showcase their talents on the international stage.

Of the participating men's national teams, each have key athletes to keep an eye on throughout the tournament. With PAC taking place from August 4-13, some teams will be treating the event as a tune up for the FIH Hockey World League Final in December in Bhubaneswar, India, and others will be looking to book their ticket to the 2018 Odisha Hockey Men's World Cup. Whether that mentality translates to building confidence or reassessing is dependent on the teams' performance over the past few months. Nevertheless, expect the best of the Pan American Hockey Federation has to offer when the men's teams hit the turf this August.

No. 1 Argentina
The top FIH Hero World Ranked team, and recent Olympic Games champions has not lost a beat since their gold performance in Rio de Janeiro, Brazil. As recent qualifiers for the Odisha Hockey World League Final after finishing second in the Semifinals, Argentina is the reigning Pan American Cup Champions after ousting host nation Canada, 4-0, back in 2013. In that game defender Gonzalo Peillat had a head-turning performance having tallied all four goals in Argentina's second PAC title. Since then the 24-year old Peillat has remained a major component of the Los Leones' success. In 2014, he was named the FIH Young Player of the Year and in the same year he led the team in goals at the Rabobank Hockey World Cup in The Hague, The Netherlands. Peillat followed up that achievement with a team leading 11-goal showing at the Rio 2016 Olympic Games. He has shown no signs of slowing down coming in to PAC after his performance at the FIH Hockey World League Semifinals in London, England leading the event with 12 goals.

No. 11 Canada
A medal winner of each past Pan American Cup events, Canada looks to reclaim gold following a fifth-place finish at the Semifinals in June. With a World Cup qualification already secured, 14 of the 18 players from the Semifinals roster will appear for Canada in Lancaster, Pa., and is a perfect opportunity for rookie Brad Logan to get his first taste of one of the highest levels of international play. Logan, whose hometown is Pietermaritzburg, South Africa, played with Banbridge HC after a successful career with Western Province at the U-21 and Senior levels, earning two gold medals. He will join notable veterans with goalkeeper David Carter and Iain Smythe, who are both set to hit the 150 international cap mark during PAC. Also, team captain and most capped athlete on the roster, Scott Tupper.

No. 26 United States
Home advantage is an added boost for the U.S. Men's National Team that looks to make a big stamp in international play. Medaling is the ultimate goal, following a fourth-place finish in 2013 at the hands of a 3-1 loss to Trinidad and Tobago. PAC will also be a big test for USMNT Head Coach Rutger Wiese after being named to the position in January. Leading the charge on the field for the red, white and blue will be the veteran talent of Pat Harris and William Holt, who pilot the team in international appearances with 119 and 113 respectfully.

Another key athlete who has less than 20 caps to his name is goalkeeper Brandon Karess. He had a spectacular showing at the FIH Hockey World League Round 2 in Tacarigua, Trinidad and Tobago winning three thrilling shootout competitions to secure the bronze medal. His stellar defense, saving 12 out of the 15 shootout chances, earned him Goalkeeper of the Tournament.

No. 27 Chile
Nestled in Pool A with Team USA is the Chile Men's National Team that has never qualified for the World Cup. Also not medaled in over a decade, Chile hopes to be a dark horse squad, especially coming off a third-place finish at the 2015 Pan American Games and a third place victory at the FIH Hockey World League Round 1 in Chiclayo, Peru. Led by captain Sven Richter on offense, and goalkeeper Adrian Henriquez, Chile is not a team to sleep on by any means.

No. 29 Brazil
Dropping four spots in the FIH Hero World Rankings since early 2017, Brazil is still looking to find its true identity on the turf. Despite large strides in team identification and development since hosting the Olympic Games, the men's side faces an uphill battle with Canada looming in pool play. An opening win against Mexico would give a large momentum boost to a squad that has not finished higher than seventh in past PAC competitions. This tournament spells nothing but fresh chances for players like Patrick Arnoud van der Heijden and Bruno da Silveira Mendonca to give Brazil a larger stepping stone to success.

No. 33 Trinidad & Tobago
Placing third in the 2013 PAC will be a big measuring stick in 2017 for Trinidad and Tobago. They saw recent success as hosts of this season's FIH Hockey World League Round 2, and will use that momentum as a springboard in a few weeks as the second-highest ranked team in Pool B behind Canada. Additionally, the squad's international experience as players and coaches has benefited them greatly. Among them is young gun Tariq Marcano, who remains a key player to watch on the field especially given his outings with British Club St Albans.

No. 41 Mexico
Following a head turning performance at FIH Hockey World League Round 1, the Pan American Cup will be a big test in terms of where the Mexico Men's National Team stands up against its higher ranked opponents. Their highest finish in PAC history was sixth in 2013, losing to Chile 6-3. Despite lacking experience in comparison to the rest of the participating teams, Ivan Arballo has emerged as a key penalty corner converted for Mexico, and teammates Edgar Garcia and Ruben Martinez bolster international cap experience with a young squad.

No. 48 Venezuela
Arguably facing the toughest challenges of any team in pool play, Venezuela hopes to strike better fortune than their previous PAC appearance in 2004, where they went 0-5. They remain winless in the competition altogether, but have a formidable weapon in Cristian Jose Vargas Prado. The 21-year-old registered 12 goals during FIH Hockey World League Round 1 across five games en route to a second-place finish in the competition behind Chile. He has proven to be someone to never take your eye off and if given the chance, Vargas will open up opportunities to the rest of the team's offense if left unchecked.

Portions of content courtesy of Sarah Juggins (PAHF)

USFHA media release


---

Parnham to Deliver "Coaching Technical Skills Workshop" Prior to Women's Pan American Cup Final




COLORADO SPRINGS, Colo. - USA Field Hockey is pleased to announce a Technical Skills Workshop to be led by Craig Parnham, Director of Coach Education and Learning, in conjunction with Liz Tchou, Senior Manager of Coach Education. This three-hour workshop will be held at Spooky Nook Sports in Lancaster, Pa. on Sunday, August 13, 2017 from 12:00 p.m. to 3:00 p.m. prior to the women's Pan American Cup Final. All participants of the workshop will receive a free ticket to the women's 4:00 p.m. bronze medal and 7:00 p.m. gold medal matches. This workshop is the perfect opportunity to focus on technical skills in preparation for the upcoming season while networking with fellow coaches. Coaches of all levels are welcome and participants will be accepted on a first-come, first-serve basis.

Why attend?

The focus of this workshop will be on technical skill acquisition. Participation in the course will enable coaches to collaborate with their peers and Craig Parnham, former Olympic Games athlete and head coach of the U.S. Women's National Team. New and experienced head and assistant coaches of youth, club, high school and collegiate athletes will be motivated and prepared to take their athletes and teams to the next level.

The Technical Skills Workshop will be held inside Spooky Nook Sports on a filled turf field. Technical instruction will include basic grips, grip management, detecting and correcting errors, ball control, passing and receiving, forehand and backhand skills, aerials and more. 

Price will be $65 for USA Field Hockey Members and $85 for non-members

*Participants will receive a free ticket to the women's 4:00 p.m. bronze medal and 7:00 p.m. gold medal matches. Tickets will be distributed following the workshop.

CLICK HERE TO REGISTER

The Technical Skills Workshop is the first of USA Field Hockey's new "Workshop Series," which will be piloted to become part of the Coach Education Pathway. USA Field Hockey is committed to providing coaches with ongoing quality Coach Education that is accessible, affordable and includes best practices to deliver a player-centric development experience.

USFHA media release


---

PHF take tough decisions after team's poor show

By Nabil Tahir

KARACHI:  Following the team's disastrous performance in the World Hockey League Semi-finals, Pakistan Hockey Federation (PHF) has appointed new management for the senior hockey team with immediate effect.

The decision was taken by PHF president Brig (Retd) Muhammad Khalid S Khokhar on Thursday, with head coach Khawaja Junaid being replaced by Farhat Hassan Khan and team manager Muhammad Rafiq replaced by Muhammad Shafqat.

In the changes which will stay in effect till 2018, assistant coach Muhammad Sarwar has kept his place.

However, Khokar also appointed a new selection committee which will be headed by former Olympian Hassan Sardar, and will also include Ayaz Mehmood and Syed Mussadiq Hussain.

The new committee will replace Abdul Rasheed Junior, Farhat Hassan Khan, Waseem Feroz and Qasim Khan.

Pakistan finished seventh in the World Hockey League Semi-finals, where their only victory came against Scotland.

Even after such a horrid show, the four-time World champions managed to qualify for next year's World Cup.

The management which faced the axe was appointed after the team's poor performance in the Champions Trophy last year.

The Express Tribune


---

60 players named for training camp

LAHORE - Pakistan Hockey Federation (PHF) Friday announced the names of 60 players for attending a training camp for the buildup of the team to take part in the Asia Cup being played from October 12 to 22 at Dhaka.

"The camp will be held from July 24 at Islamabad's Naseer Bunda Hockey Stadium under the supervision of new management of the team led by former Olympian Farhat Khan," said PHF spokesman here on Friday.

The defenders include M Irfan, M Aleem Bilal, Niwaz Ishfaq, Rashid Mahmood, Toseeq Arshad, M Rizwan Jr, M Atif Mushtaq, Tasawar Abbas, Ammad Shakeel Butt, Abu Bakar Mahmood, Mubashir Ali, Asad Aziz, M Faisal Qadir, Taimoor Malik, Hassan Anwar, Qazi Asfand, Tazeem ul Hassan, M Junaid Kamal, Saleem Nazim, Syed Kashif Shah, Ali Hussain, Kashif Javed, Ali Hassan Faraz, Sami ullah, M Zeeshan, M Zubair, M Ateeq and Sohail Manzoor.

The forwards are M Irfan Jr, M Umar Bhutta, Arslan Qadir, Ali Shan, Ijaz Ahmad, M Rizwan Sr, Abdul Haseem Khan, Azfar Yaqoob, M Dilber, Rana Umair, Karim Khan, Shan Irshad, M Bilal Qadir, Shajeeh Ahmed, M Atif, Rana Sohail Riaz, Mohsin Sabir, Samiullah, Saran Bin Qamar, Khizer Akhtar, Rizwan Ali, Kashif Ali, Ali Akber, Umer Sarfraz, Fahad Ullah, Fraz Dar, Abdul Jabbar, M Naveed, Nohaiz Malik, M Sabir, Umar Hamdi and Faisal Rasheed.

The Nation


---

Hockey India urgently needs saving: Is the sport careening towards extinction?

"He who refuses to learn, deserves extinction." — Rabbi Hillel

Austin Coutinho



Hockey in India could very well be careening towards extinction. Illustration courtesy Austin Coutinho

Indian hockey, not for the first time in almost a hundred years, seems to have driven itself into a dead-end. Therefore, when its wise men (and women) meet in a couple of days, Hockey India (HI) will have to address a few problems with a lot of prudence and pragmatism. More importantly, HI shall have to take a few 'unpopular', but path-breaking decisions to save the game from an untimely demise in the country.

For the uninitiated, there are a couple of developments, on the domestic and global fronts, that would need looking into urgently by HI:
Ads by  Datawrkz

1. There is a chance, God forbid, that the very structure of the Hockey India League (HIL), which was slowly but surely gaining in popularity, may collapse.

2. India has withdrawn from International Hockey Federation's prestigious FIH Pro League, planned to be launched in January 2019, citing reasons that seem silly and unconvincing.

Both these occurrences could severely affect India's reputation in world hockey.

It is reliably learnt that there will be no HIL in January-February 2018. HI, it is believed, in a communiqué to the world hockey body has informed it of India's decision not to hold the league in the coming year. It has cited financial concerns of some of the franchises as a reason for the same.

Followers of the HIL, however, say that the announcement of FIH Pro League — which will be held from January to June 2019 has pushed HI into a tight corner. With a window not available for the HIL in the first half of the year, and the international flavour in danger of going out of the event, the Indian league will now have to find a new time slot.

An HI official has gone on record to say that HIL will not be scrapped. According to him, in all probability, future editions of HIL will be held during November-December, before the Pro League begins in January.

On the financial front, three of HIL's franchises, out of the six participating teams, have been facing a cash crunch and hence have shown an inclination to opt out. Uttar Pradesh Wizards, owned by the Sahara India Pariwar and Delhi Waveriders are said to be badly off and the MS Dhoni co-owned Ranchi Rays has been desperately looking for a corporate partner to bail it out. Under these circumstances, the HIL seems to be hanging by a thread.

"If HIL is wound up for any reason, it will be a disaster," says former India forward and Olympian Merwyn Fernandes. "Since its inception, HIL has made a huge difference to India's international performances. The league has thrown up some great domestic talent. Youngsters, rubbing shoulders with international stars and working with foreign coaches, have adapted themselves to the new game — physically, technically and mentally — and are now ready to take on the world."

"The professional league has also brought in much needed money to the game," opines Fernandes. "Young hockey players can now look forward to a good, secure lifestyle." He believes that professional leagues like IPL, the Pro-Kabaddi League and others are good for sport and therefore, every effort should be made to make HIL economically viable and more attractive to spectators and sponsors alike.

Hockey pundits believe that FIH, which has always been envious of the skill and artistry displayed by players from the sub-continent, has introduced the Pro League to counter the ever-growing popularity of the Indian league. Indian officials too seem convinced that the Pro League is pro-Europe and meant to curb India's progress.

The FIH Pro League will have nine of the best teams in the world — amongst men and women — playing each other on a home-and-away basis, every weekend for six months. The top four teams in each section will be awarded Olympic berths.

HI has cited the inferior ranking of the women's team as a reason for withdrawing from the proposed league. India, it is said, is therefore banking upon qualifying for the Olympics through the Hockey World League. This defeatist approach on part of HI would perhaps rob India of an opportunity to be part of a world class league, in both men's and women's hockey. Moreover, it will deprive the women's team of improving by playing regularly against tougher opponents.

'Clash of egos' is also being mentioned in hockey circles as one of the reasons for HI's decision to keep out of the Pro League. Narinder Batra, former HI chief and now FIH President said that he regretted India's pulling out of the prestigious league. "We have replacement teams available. Our process of calling for applications was oversubscribed," he said, quickly dismissing India's decision to keep away as a minor aberration.

Batra said that the Pro League is a major milestone for the 'hockey revolution' that was planned under a 10-year strategy to make it a global game. Indians, for several decades, were the undisputed kings of world hockey. Today, because of the short-sightedness of the game's administrators, they shall only stand by and watch as a global hockey revolution takes place.

India's sports ministry would therefore do well to review the working and the strategy of HI. Hockey fans in the country aren't just interested in an Olympic gold medal. They also want India to play professionally, among the best teams in the world, and take their rightful place at the top of the heap. An entry through the back door to the Olympic Games, without fighting it out in the Pro League, isn't an idea that would appeal to young Indian minds!

India Inc., perhaps pushed by the sports ministry again, would do well to help the HIL prosper. A strong hockey league, backed by sponsors, television channels, Bollywood glamour and millions of supporters is just the tonic Indian hockey needs to find its way back to gold-medal winning ways.

Hockey in India is careening towards extinction. The "national game", like the national animal, is being 'poached' in order to massage egos. Cricket, and even kabaddi, have taken over what was once hockey's fiefdom. Therefore, the sports ministry, in collaboration with HI, needs to launch a 'Save Indian Hockey' project; somewhat similar to and with the same urgency as the 'Save the Tiger' project.

Shah Rukh Khan and Akshay Kumar could perhaps lend a hand, becoming brand ambassadors to give the game a boost!

The author is a sportswriter, caricaturist, former fast bowler and a mental toughness trainer.

Firstpost


---

Indians resume training after disastrous HWL Semifinals

If a slip-up was to happen, this was the best moment for it, coach Oltmans insists

Shreedutta Chidananda



Time to regroup: Oltmans says the sixth-place finish is a wake up call for the team, but it can now learn from the result. 

Still smarting from one of its worst displays in recent times, the Indian men's senior team has resumed training in the familiar environs of the National camp here.

India finished sixth at the HWL Semifinals in London last month, after defeats to lower-ranked Malaysia and Canada, and returns home in the knowledge that there is much room for improvement.

"Of course I'm not satisfied with the final result (in London)," chief coach Roelant Oltmans said at the SAI here on Friday.

"Our finishing was not up to the standard we wanted. Also, while defending against counter-attacks, we made a couple of mistakes in important games. It is disappointing, but if it (a slip-up) was to happen, this was the best moment for it to happen, because we have enough time to rectify it. We will learn from this result. It is a wake-up call."

Asked again if India's guaranteed qualification for the HWL Final and the 2018 World Cup, by virtue of being the host, was a factor in the performance, Oltmans said: "I hope not, and I try to prepare them like it's not, but maybe somewhere in the back of your mind, it's there. You see that the teams that really had to fight for it, that last fighting spirit, they were maybe a little bit better than we were."

With injury to Rupinderpal Singh just before the tournament began, Harmanpreet Singh had to shoulder the responsibility of converting penalty corners alone. Although he scored six goals, the youngster could have done better, Oltmans felt. "That part was a little disappointing. It was the first tournament where Harmanpreet had to do it all by himself and the pressure for a 21-year-old is quite high. He needs to gain experience," he said.

Oltmans admitted that the Sardar Singh issue had affected the side. The star midfielder had to travel to Leeds and back on the eve of the game against Holland for questioning by police. "We don't want such a thing to affect the team, but of course it has an effect," the Dutchman said.

"Mentally we try to take it away, but what do you think will happen when a player has to travel for 11 hours by car, to answer questions at a police station? We knew it would affect our match with Holland.

"After that we hoped the situation would close. But unfortunately she (the complainant) showed up everywhere every time, again," he said, while vehemently denying that he was making an excuse for his side's poor performance.

Oltmans hailed Sardar's commitment as a player. "It is great. Think about it; put yourself in his position. That's why against Holland I took him out of the game quite early. I felt it was not fair. Otherwise everyone was going to blame Sardar.

"But you should not blame him for that. If you see the commitment, the way he's training...from my point of view, he's better than he was the year before. He's still very eager."

India will leave for Europe on August 6 for a friendly tour of Belgium and the Netherlands.

The Hindu


---

India's finishing not up to the mark, says Oltmans

BENGALURU: Indian hockey chief coach Roelant Oltmans on Friday said the team was looking to rectify its mistakes after the disastrous sixth place finish at the Hockey World League Semifinal in London last month. The team is currently at the SAI, South Centre here, preparing for an exposure tour to Europe next month where they will face Belgium and Germany.

Excerpts:

HWL performance

I'm not satisfied with the final result. Our finishing was not up to the standard. Also, on the counterattack we made a couple of mistakes in important games, especially against Malaysia and Canada. That cost us a better position. If it happened, this was the best moment for it to hap pen because we have enough time to rectify it and discuss it with players, which we are doing daily. We will learn from this result.

Sardar issue

We wouldn't want such a thing to affect the team but of course it has an effect. Mentally we try to take it away but what do you think will happen when a player has to travel for 11 hours to a police station, answer questions for a couple of hours and come back? Of course it has an effect at least on the individual player. And also all the players know about this whole affair. We try to take it away. We knew it would affect our match with Holland, since it was the next day.

Is the next generation ready?

That will take time. Let's not make the mistake of thinking that the boys who won the Junior World Cup in December 2016 can just walk into the senior side and be the senior World champions in two years' time. That's not how it works.

The Times of India


---

Don't think it's correct to use Sardar Singh's issue as an excuse: Hockey coach Roelant Oltmans

Chief hockey coach Roelant Oltmans said the Sardar Singh issue should not be used as an 'excuse' for India's poor performance, adding that this was a wake-up call for the team ahead of October's Asia Cup and the World League finals.

by Mihir Vasavda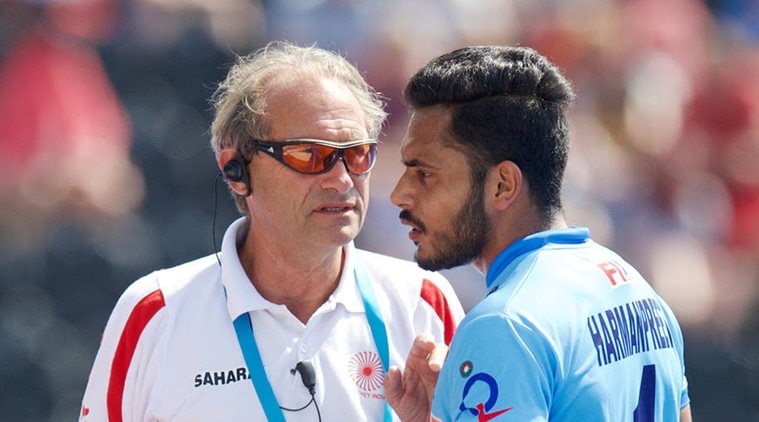 Roelant Oltmans called India's showing at the Hockey World League semifinals in London 'a wake up call'.

A sixth-place finish at the 10-team Hockey World League Semifinals in London handed India a reality check ahead of next year's World Cup. A police interrogation against former captain Sardar Singh and allegations of match fixing made against Pakistan officials, by Hockey India, further rocked the boat.

Hockey India claimed the incidents had an impact on the team's performance. In an interview with The Indian Express, chief coach Roelant Oltmans said the Sardar Singh issue should not be used as an 'excuse' for India's poor performance, adding that this was a wake-up call for the team ahead of October's Asia Cup and the World League finals at the end of the year. Excerpts:

How do you look back at the team's performance in London?

I call it a kind of wake-up call. We did quite a few good things but there are a couple of things which need to improve. If you look how often we enter the 25-yard circle… the number is twice as much as our opponents. So that is good news in one way. But at the same time, we need to get results out of it. When you compare the results our opponents get out of their entries in the circle, ours is by far lesser. That is a clear area where we need to improve. We need to make sure the performance in the future will be better.

The team ditches the game-plan in crunch times. You've been stressing on it a lot but is the message reaching the players?

Most opponents are defensive against us. They give the ball, let us do our thing and then try to attack on counter. If you look at number of opportunities we create, then it's good. But in the end it's about final pass, the timing of the pass, when are you going to dodge, the position in the circle… these decisions are very important. It's a matter of experience. We are working on that. It's a process and takes time. But I am pleased for the fact (striker) Ramandeep (Singh) scored six field goals. We scored some really nice goals in the tournament. But they also missed several chances in important situations… We could have scored more of course. In the last game against Canada, we were leading 2-1. At that stage, we had four or five golden chances to increase our lead. But we did not and eventually lost 3-2. We have to make sure we finish the game when we get the chances.

The team has had troubles beating top teams in big tournaments. But at the Olympics, they stumbled against Canada, at Azlan Shah Cup they lost to Malaysia and in London, India lost to both teams. Does it concern you that the team isn't able to beat the lower-ranked teams as well?

No, it doesn't concern because if you look at statistics, I know it won't happen next time. So I am not worried.

Sardar Singh was called by the Leeds police in the middle of the tournament. Did it impact the performance, as has been claimed?

I will not use it as an excuse. We are a professional team, we know we have to focus on the job. In the end that's what it is about and players are aware of that. Of course, it does impact you when you travel 11 hours and police asks you all kinds of questions. But we try to keep that effect as low as possible. Unfortunately, after that situation, our results were less but once again, I don't think it's correct to use it as an excuse.

Hockey India has alleged that there was an attempt to fix India's match against Pakistan. Do you subscribe to those views?

I won't make any comments on the Pakistan issue.

Questions are raised on Sardar's role in the team. How do you look at it?

Sardar in 2017 is much better than Sardar in 2016. By that, I mean his understanding of his defensive duties is much better and he is coming into opponent's circle more than he did before. But I won't go much into individual details of a player.

Hockey India has decided to pull out of the Pro League, which will be launched in 2019. Do you think that tournament would have been helpful?

There are pros and cons of that tournament. It's good for hockey in general that matches will be played amongst teams in front of the home crowd. One of the things I feel right now is many matches in major tournaments are played in front of really very few spectators. We have to change that and from that point of view, it's good. At the same time, it will cost a lot of money just to play a few matches. So that's a problem. For us, it is important to have competition with best sides in the world. We pulled out now so that means we have to find different ways for that.

Are you happy with with the decision?

Of course you think that we would like to play. But like I said, the most important thing is we get enough opportunities to play top teams in the world throughout the year. I am told that will happen.

The future of Hockey India League is under a cloud and 2018 edition is unlikely to take place. Do you think that will have an impact?

At this moment, I am not aware exactly. There is a meeting with franchises on July 26 so let's wait to see what comes out of that.

The Times of India


---

Scotland U21 Women score five in Euros victory over Ukraine




Scotland U21 Women defeated Ukraine 5-3 in their penultimate game of EuroHockey Junior Championship II in Hradec Kralove, Czech Republic.

The result puts Scotland at the top of Pool C with one final game against Poland to play.

It was a dream start for Scotland as they went 1-0 up in five minutes when Laura Swanson deflected a penalty corner into the back of the net to take the lead.

The goal was in fact Scotland's third penalty corner effort, showing the early dominance of the Scots in the opening quarter. Despite the success in possession there would be no further goals in the quarter and Scotland went into the break 1-0 ahead.

If the first quarter was Scotland's the second quarter belonged to Ukraine. Ukraine equalised at the start of the second quarter through Oleksandra Bilous taking advantage of loose defending from close range.

Then came five minutes of madness from a Scottish perspective. The Scots failed to clear their lines and Ukraine went 2-1 up when Karyna Leonova scored in the 23rd minute.

Two minutes later and it was the same scenario that allowed Ukraine to go 3-1 up through a strike by Olha Kurosova.

The Scots then showed grit and character to battle back and scored a vital goal just before half time. Lexi Sabatelli went on a long run, dribbled the ball past two players, and slammed a reverse stick shot into the bottom corner in the 26th minute to make it 3-2.

After half time the Scots were very positive and again took control of the match.

They were rewarded for their efforts when Lorna Cruickshank equalised for Scotland. Swanson picked out Cruickshank standing on the penalty spot and the forward buried the ball into the back of the net to make it 3-3.

The momentum was with Scotland and Millie Steiger immediately gave Scotland the lead. Some nice play by Swanson eventually found Steiger popping up at the far post to knock the ball home and put Scotland 4-3 up.

Ukraine went searching for an equaliser in the final quarter but found the Scots resolute and difficult to break down.

The game was put to bed when Scotland hit Ukraine on the break and Frances Longeran was instrumental in a move that allowed Swanson to score her second of the match to make it 5-3. Game over.

It was another standout performance by Longeran who really has grown into the tournament as it progressed. Emily Dark, although not amongst the goals today, was again effective and showed a cool head and tremendous composure in forward areas.

Scotland U21 Women's Head Coach Neil Menzies said, "Our forwards really stepped up today - we scored five really good goals and could have had more. The decision-making was better and we showed the end product we can produce.

"We have one game to go and we're looking for a similar outcome to today's game. We can cut out the goals we concede and show the same composure in front of goal to finish the tournament on a high."

Scottish Hockey Union media release


---

Scotland U21 Men beaten by late France comeback

Scotland U21 Men missed out on a place in the EuroHockey Junior Championship II final after a late comeback by France saw them pip the Scots at the post with a 3-2 victory. Scotland will now play in the third place play-off against the Czech Republic.

Scotland got off to a fantastic start – looking confident from the first whistle. It wouldn't be long before the Scots opened the scoring. An early penalty corner was awarded to Scotland and Aidan McQuade sent a drag flick sailing into the back of the net to make it 1-0.

Scotland continued to look dangerous as the quarter progressed, down the left channel in particular with Joe McConnell looking menacing.

A French break in the final minute of the quarter threatened to spoil Scotland's dominant lead but the Scots defence combined well to snuff out the threat at the vital moment.

Scotland continued to dominate the French in the second quarter as they passed the ball with pace in the French half. They were in cruise control although the French managed to restrict opportunities to add to the lead.

Then for a moment, as the half reached a close, the French seemed to switch on and turned the screw on Scotland. First Thomas Lenglat had a shot saved at the near post for France but it led to a penalty corner. Up stepped William Jeammot to equalise through a drag flick just before half time. It was a goal completely against the run of play but gave the French a big reward to make it 1-1.

Scotland resumed control in the second half and played again some excellent hockey.

The Scottish dominance was rewarded when Kyle Gladwin scored an absolutely sensational goal to put Scotland 2-1 up. After a great turn in the D Gladwin beat two defenders and slipped the ball low into the net to make it 2-1.

It was almost 3-1 minutes later when Joe Waterston slipped the ball into the D for McQuade but it deflected just wide of the target. France survived.

In the final quarter Scotland initially came out strong but the French battled their way into the game and began to dictate the contest towards the end of the match.

France then equalised with six minutes remaining when Xavier Esmenjuad popped up at the far post to make it 2-2.

Then with four minutes on the clock it went 3-2 to France when Gaetan Fabron somehow managed to force the ball home amongst a ruck of players.

With the minutes ticking down Scotland went to kicking back and all-out attack but the French showed their greater experience and were able to see out the game and claim a spot in the final.

Scotland U21 Men Head Coach Graham Moodie said, "We played really well – it was a fantastic performance and I'm really proud of the players. Losing the game was not through lack of effort, it was fine margins in the end, and I'd lack to congratulate France on a great win.

"The boys are devastated but they can be really proud of what they've done in this tournament, they've grown with every game and there's so many positives to take away. There's one more game to go and we can go out tomorrow and show we deserve third place."

Scottish Hockey Union media release


---

Netherlands overwhelm England U18 Girls



U18 girls, July 2017

A clinical display of hockey from the Netherlands saw them beat England Under-18 Girls in their penultimate match of the Six Nations Tournament in Terrassa, Spain, on Friday morning.

Two breaks in play for thunder storms – the second being a 45-minute break between the third and fourth quarter –didn't help settle England's nerves and led to a disjointed match.

The Netherlands opened the scoring in the first minute through a penalty corner from Carmel Bosch, and just two minutes later they doubled their lead with Anna de Geus scoring at a penalty corner.

Hanna Bergkamp's seventh minute goal was followed by a 15-minute spell where England kept their rivals at bay, but the scoring continued with Pien Dicke scoring on 25 minutes to make it four-nil at half time.

Dicke's second goal came on 38 minutes, and with Sasha Berringa finding the net on 43 minutes, England found themselves 6-0 down.

After a long break for the thunder to subside, there was no let-up in the intensity of the Netherlands' play, and in the first minute of the final quarter Teuntje Horn scored, and this was followed by further goals from Noor de Baat, Carmel Bosch and Johanna Van Heching.

The final game for England Under-18 Girls at the Six Nations Tournament in Terrassa, Spain, is on Sunday morning when they take on Belgium.

England Under-18 Girls (0) 0

Netherlands Under-18 Girls (4) 10
Carmel Bosch 1 56 (PC, PC)
Anna de Geus 3 (PC)
Hanna Bergkamp 7 (PC)
Pien Dicke 25 38 (PC, FG)
Sasha Berringa 43 (FG)
Teuntje Horn 46 (FG)
Noor de Baat 54 (FG)
Johanna Van Heching 60 (PC)

England Hockey Board Media release


---

Abdo and Cardiff to draw on 2016 EHL experience in Barcelona



©: Frank Uijlenbroek/world Sport Pics

Cardiff & Met HC coach Walid Abdo, pictured, is hopeful last year's EHL ROUND1 experience will stand his side in good stead as they look forwad to a group featuring Dinamo Elektrostal and top seed Uhlenhorst Mülheim.

They became the first Welsh side to win a match in the EHL last year when they saw off Italy's SG Amsicora, retaining their place in the top tier.

And Abdo said that his side can use that experience to show up well in Barcelona from October 6-8.

"I'm so proud that due to our continued consistent performances in Europe the club gets to fly the flag for Wales again at the top table," he said, reacting to the draw.

"It's going to be a huge challenge pitting our wits against some of the best teams in European hockey. The players and I are hoping to go one step further than last season where I feel we gained some great experience in our victory against Amsicora from Italy and our loss to UHC Hamburg.

"We will be starting our preseason program first week of August in preparation for our domestic league programme with one eye on the EHL in October. The plan is to get ourselves right physically, technically, tactically and mentally for our upcoming season".

They will have a few changes in their panel, though, with Welsh internationals Liam Brignull and Rhys Gowman likely to be unavailable. The former has stepped back from hockey to play football with Bishops Cleeve while Gowman is on the road back from a long-term injury.

Euro Hockey League media release


---

2017 National Championships: Day 3

Kori Sidaway



The U18 Women's team Ontario Central looks up for options as they battled the B.C. Lions in a tight nail biter of a game on Day 3 of the 2017 Nationals Championships held in Surrey, BC. PHOTO: Blair Shier

Day 3 of the 2017 National Championships was another busy day of hockey, featuring a little less sun but the same amount of fun! The U15 Boys and Girls tournament entered the final rounds of pool play tom fight for the top spots in their pools before crossover pool play begins in Day 4. Meanwhile, the U17 competition kicked off their first games of Nationals 2017. The day started with some heavy rain, but the skies cracked open to allow a mix of sun and cloud for most of the afternoon which made for some perfect playing weather later in the day.

Matches were kicked off by the top two teams of Pool A in the U15 Girls tournament – an inter-provincial face off between the B.C. Stags and the B.C. Lions in the pouring rain. The change of weather would have been thought a relief from the previous days, but the elements provided a tough environment for the girls to work through. But they did, and the White Lions stickhandled their way to a 2-0 win with goals from Gurnaz Grewal and Taylor Katsube.

The U18's made their tournament debut today as they kicked off their competition. The first U18 game saw the Women's Albertan team take on the B.C. Rams from Pool A where the Rams didn't hold back, and unleashed an onslaught of goals to finished it up 7-0. Both Sanehpreet Basra and Leina Dueck came away with two goals to their name.

The next game went back to the U15 age group where Ontario East and Central battled it out for provincial bragging rights. In a super tight, clean game neither team managed to come out on top as the teams tied 0-0 by the end of the game.

The U15 Boys were up next with Alberta and the B.C. Lions squaring off. The Lions came out firing early with a goal a mere two minutes in from Eric Holscher. The game stayed that way for the majority of the match, but with 15 minutes to go in the second, Harshdeep Gill managed to bank the ball into the back of the net to solidify their 2-0 win.

Mid morning the U18's Men's competition was sparked with Quebec taking on the B.C. Rams. In an exciting game that was tied 1-1 for most of the first half, the second saw the B.C. Rams open up and fall into a groove- hitting the back of the net four more times to win with a final score of 5-1. B.C. Rams team captain backed a total of two goals to help his team earn the game.

Ontario East and the B.C. Rams from the U15 Boys division was a close matchup that saw the score bounce back and forth the majority of the game, until a goal off a penalty corner from Ravi Bhindi put team Ontario on top, winning by the small margin of 4-3.

Heading into the afternoon Ontario West and the B.C Royal Lions U15 Girls teams squared off in another tight game. The Lions came out in the first two minutes with a goal from Isabella Ahern, which was answered in a Penalty corner goal from Ontario's Ella Murphy late in the first. The game stayed tied for the remaining second half until in the dying minutes, Hallie Wedge of Ontario West, managed to bank a goal to ensure her team the 2-1 win.

Next up was the U15 Boys Ontario Central team versus Quebec. Ontario proved to be a hard match with back to back goals from Jasandeep Athwal in the eighth and ninth minute to ensure an early lead. Jaiharsh Brar added to the lead to make the score 3-0 heading into halftime. The scoreboard sat like that until midway through the second when Randeep Randhawa scored off a penalty corner. With a minute to go Quebec was granted a penalty corner and Issac Farion managed to light up the scoreboard but wasn't enough as the final whistle blew, leaving the score 4-1 for Ontario Central.

Pool B of the U15 Girls was back in the office as Team Quebec and the B.C. Rams took each other on. The B.C. Rams walked away with a 7-0 victory even though they had some problems with their short corners early on. They fell into their groove with lots of players scoring, but most notably two goals each from Allison Kuzyk and Kate Rogers.

Ontario was contested over an inter-provincial match up that pitted Ontario West and the Ontario Select team of Pool A against one another. Ontario West came out early scoring two goals from Women's National Team athlete Jordyn Faiczak and goals to follow from Katie Lynes and Sophie Schmidt. The early lead proved difficult to fight back from and after the second half three more goals were added to the scoreboard for the West, leaving the final score at 6-0.

Rounding four o-clock, the B.C. Stags challenged team Alberta from the U15 division. The Stags came out firing on all cylinders and lit up the scoreboard within the one minute mark from a goal by Elle Nelson. Birkley Anderson answered her teammates goal, putting the Stags up 2-0 before the half, and that's the score the game finished with.

The U18 Women's tournament continued into the PM as Ontario Central and the B.C. Lions squared off in a Pool B battle. The game was tight – the B.C. Lions managed to put a speedy goal in at the four-minute mark, but close 1-0 lead remained that way the majority of the game, making this match up a real nail biter. Late in the game Jaslan Stirling managed to finish off a penalty corner and converted it into a goal, ensuring her team took the tie.

The U18 Men then stormed the field as Ontario and Alberta matched up in another tight game. Lots of cards were handed out on both sides, and Jagpreet Singh of Ontario lead his team to a win settling two goals and leaving the game sitting at 2-1.

In what turned out to be a total blowout, the U18 B.C. Stags took on Ontario East and took home the win thanks to Jenna Berard's hat trick and other notable goalscorers Janet Dawson and Kyla Toljander with two each, to carry the B.C. to win 10-0.

The last game of the evening featured the U18 Men's team Quebec and the B.C. Lions. It was a tight matchup that saw the Lions hold a lead for most of the game. A goal from Jason Dhaliwal two minutes in, was left unanswered until a penalty corner in the dying seconds of the game gave Quebec the chance they needed to square it up. And Quebec capitalized on that opportunity with a goal from Daniel Nahir to leave the final score at 1-1.

Day 4 of the 2017 Nationals (tomorrow) will see the Women's U23 kick off their tournament in the evening, continuous play from the U18's and the U15's entering cross-pool play in the semi0finals between the first and second placed teams in their respective pools as well a third and fourth.

Friday night will also be the evening of the Championship Social where the Tournament 11 Awards will be handed out for both the U15 Boys and Girls. A banquet dinner, drinks, a DJ and dancing! See you all there at 6:30PM at the Pacific Inn, Surrey.

For the full tournament schedule, click here.

For more photographs from Day 3 head over to our Facebook page.

Field Hockey Canada media release