All the news for Monday 19 June 2017

India prove too strong for Pakistan on Day 4



Action from India versus Pakistan on Day 4 of the Men's Hero Hockey World League Semi-Final in London. Copyright: FIH / Getty Images

London, England: India recorded a big victory against Pool B rivals Pakistan while Olympic champions Argentina fought back from three goals down to claim a hard-earned draw in Pool A against host nation England on day four of the Men's Hero Hockey World League Semi-Final in London. 

The day's play opened with a classic contest between Pakistan and India, with a large crowd enjoying the sunshine and a dominant performance from India who ran out 7-1 winners with an array of high quality strikes to move to the top of Pool B. Pakistan hit the frame of the goal in the opening period before Harmanpreet Singh fired home just ahead of the quarter-time break with a double from Talwinder Singh taking the score to 3-0 at half time. Harmanpreet made it 4-0 early in the third quarter before Akashdeep Singh and Pardeep Mor chipped in. Shortly after Pakistan's Muhammad Umar Bhutta netted a consolation goal, India completed the match scoring through Akashdeep Singh, who claimed his second of the match. 

"I thought Pakistan were the better team in the first quarter and they created more opportunities but after we scored the first goal we started to play according to our plan", said India Head Coach Roelant Oltmans after the match. "We scored some great goals today and when we score the type of goals that we did today, that is what makes a coach happy. I enjoyed the way we played, but as always I look for things to improve in our performances but scoring seven and conceding one is good." 

Pakistan finished the day at the bottom of the Pool B table and in danger of missing out on the competition quarter finals. They will need a positive outcome from Monday's meeting with Scotland if they are to maintain hopes of securing a place in the cross-over quarter-finals and keep alive hopes of securing World Cup 2018 qualification at this event.

Following the excitement of the Pakistan versus India contact, the fans were treated to a real treat in Pool A as host nation England claimed a 3-3 draw with Rio 2016 Olympic gold medallists Argentina. Whilst as point against the top ranked team in world hockey is creditable, England will rue the fact that at one stage they held a 3-0 lead over their opponents. A Mark Gleghorne penalty stroke in the 6th minute put England ahead; Sam Ward double the advantage three minuts later with a superb deflection before Barry Middleton netted early in the third quarter to give the home favourites a commanding advantage. 

However, three goals in six electrifying minutes dragged Argentina back into the contest, with a Gonzalo Peillat penalty corner double coming either side of a Matias Paredes field goal. England were indebted to goalkeeper and team captain George Pinner in the final stage, who produce a string of fine saves – one from a penalty stroke – to ensure England claimed a share of the spoils in the clash between two sides who remain at the top of Pool A, with England currently sitting in first place thanks to a marginally superior goal-difference. Both sides are already assured of a place in the quarter-finals, but a first place finish would set up a quarter-final match against the team that finishes fourth in Pool B.

The action continues on Monday (19 June) with four more matches taking place at the Lee Valley Hockey and Tennis Centre. At 1200 GMT, Scotland take on Pakistan in their crucial Pool B contest, which is followed by another Pool B encounter at 1400 when European champions The Netherlands play Canada. At 1800, attention switches to Pool A when Korea and Malaysia go head to head before Olympic champions Argentina and China meet at 2000.

The top four finishers in London will qualify for the eight nation Odisha Hockey World League Final in Bhubaneswar, India, although there is a small caveat to this. If India, the host nation of the Final, do not finish in the top four then only the top three teams in London will qualify. They will be joined by the top three finishers from the Semi-Final competition in Johannesburg, South Africa, plus the highest ranked fourth place finisher from the two Semi-Final events.

When it comes to qualification for the Odisha Hockey Men's World Cup Bhubaneswar 2018, there are five automatic berths available here in London, although this will increase depending on the outcomes of the upcoming Continental Championships, which are also World Cup qualification events.

FIH site


---

England and Argentina share spoils in six goal thriller



Phil Roper MHWL

Three goals in four minutes earned Olympic Champions Argentina a draw against England after the hosts had taken a 3-0 lead. Mark Gleghorne, Sam Ward and Barry Middleton's strikes were cancelled out by two Gonzalo Peillat penalty corners and a Matias Paredes goal in an enthralling encounter at the Hero Hockey World League Semi-Finals. Argentina had the chance to steal the winner from the penalty spot in the dying minutes but George Pinner stood tall to deny Maico Casella.

There were no signs of pre-match nerves for England as they got off to an explosive start in front of a vibrant crowd. After six minutes Mark Gleghorne's drag flick was blocked on the line by Manuel Brunet, and the #14 duly stepped up to convert the resultant penalty stroke. Three minutes later it was 2-0 to the hosts – a reverse stick strike was blocked by the pads of Juan Vivaldi but the rebound fell kindly to Phil Roper. The Wimbledon forward smashed the ball goal bound for Sam Ward to poach on the far post, in true striker's fashion.

It wasn't long before Pinner and the England defence were called into action as the Argentinean attack came to life in the second quarter. A first time reverse stick strike from  Joaquin Menini was blocked by the England number one before Adam Dixon prevented a certain goal, by stretching to tip the ball over the bar. When Argentina were awarded their first penalty corner, tournament top goal scorer Peillat stepped up, but his strike didn't threaten Pinner as Liam Sanford charged off the line to block. England's defence held firm and maintained their 2-0 lead going into the half time break.  

Yet again, England started brightly from the re-start and took a 3-0 lead after 34 minutes. Brendan Creed sent a crash ball into the circle for a diving Barry Middleton to deflect into the roof of the net - his 110th international goal. The South American side bounced back though and were back on level terms in the after three quick fire goals in the space of four minutes. Two penalty corner rocket strikes from Peillat, either side of Matias Paredes's goal, meant the momentum had firmly swung back in favour of the visitors, with one quarter left to play.
 
With neither side wanting to settle for a draw, the game continued to flow from end to end. Gleghorne's low penalty corner strike was saved by the stick of Vivaldi before Argentina were awarded a penalty stroke after a goal mouth scramble. Casella stepped up to the spot, only to be denied by the out stretched left pad of Pinner, much to the delight of the home crowd. The drama wasn't over as Pinner expertly saved a further three penalty corners before England almost snatched it at the death. Ames turned over possession in the midfield to set up a counter attack and with three players waiting in the circle, Vivaldi did well to smother Ward's cross and clear the danger.

England 3 (2)
Mark Gleghorne, 6 (PS)
Sam Ward, 9 (FG)
Barry Middleton, 34 (FG)

Argentina 3 (0)
Gonzalo Peillat, 37, 41 (PC, PC)
Matias Paredes, 40 (FG)

England: George Pinner (GK), Henry Weir, Brendan Creed, Michael Hoare, Liam Sanford, Ollie Willars, Ian Sloan (C), David Ames, Adam Dixon, David Goodfield, Barry Middleton, Harry Martin, David Condon, Phil Roper, Sam Ward, Mark Gleghorne, Chris Griffiths, Harry Gibson (GK)

England remain top of Pool A, ahead of Argentina on goal difference, and face Korea in their final pool match on Tuesday evening.

England Hockey Board Media release


---

India trounce Pakistan 7-1 at HWL Semifinals

India had their biggest ever win over Pakistan. They defeated the traditional rivals 7-1 on Sunday at the Hockey World League Semifinal Round which also doubles up as the qualifiers for the 2018 World Cup at London's Queen Elizabeth Olympic Park.

It was Pakistan's third successive big defeat in the tournament.

India gave a wonderful demonstration of structured hockey in front of a full house.

Their attacks were well orchestrated and finishing was excellent. India converted two of their four penalty corners; Pakistan none out of five.

First quarter didnt give any indication of things to come. The most evenly fought 15 minutes of the match had both the sides earning one penalty corner . Aleem Bilal's flick went very high above the bar.

While Harmanpreet Singh's flat, fast and angular push beat goal keeper Amjad.
The two teams had a PC in the first five minutes of the second quarter as well but couldn't avail.

In the 23rd minute, India extended the advantage with an excellent quick passing move capped by Talwinder.

After Pakistan wasted two chances in a quick succession, Talwinder scored his second of the day. A left side move resulted in a high ball in the circle which was well tapped in by Talwinder with stick held above the head.

India persisted with their offensive play and Ramandeep's two successive shots were well saved by the goal tender Amjad.

Half Time India:3  Pakistan: 0

Within three minutes of resumption, Harmanpreet again converted a PC. This time via a forceful high flick on the left side of the net.

Then Pakistan had two PCs. On the first, Abu Bakr's good high push was well palmed away by the custodian Chikte. Off the next, Abu Bakr attempted a carpet push which was again saved by the stick of the diving Chikte.

In the 47th minute, Akshdeep after picking a little pass outside the circle, sprinted into the area and rattled the net from the top of the circle for his team's fifth goal.

Hardly two minutes passed when India's next goal arrived. A left side attack resulted in Pardeep Mor receiving the ball on the right side of the circle. With time and space at his disposal, Mor found the target with a forceful hit and it was a tennis score now.

Aleem Bilal made a hash of Pakistan's fifth PC with a feeble push. However, Tasawwar Abbas's wonderful ball found Bhutta unmarked in the middle of the circle who sounded the board for Pakistan's first goal of the tournament.

Indians were not finished yet. With less than two minutes left, Akashdeep from a difficult angle at the right side of the circle thundered the far net with a superb hit- one of the finishes of the tournament.

Now, Pakistan needs to defeat Scotland in the last pool match to qualify for the quarter finals.

SCORERS:
India: Harmanpreet Singh 2 (PC), Talwinder Singh 2, Akashdeep Singh 2 & Pradeep Mor
Pakistan: Umar Bhutta

PHF media release


---

Stats Speak: Seven Biggest wins of India over Pakistan

By B.G.Joshi(Sehore-Bhopal,India)

In 168th match between arch rivals India beats Pakistan by 7-1. It is the biggest ever win of India against traditional opponent. In London India beats Pakistan first time, previously in Pre Olympics Tourney (1967) and in World Cup (1986) India lost by 0-1 and 2-3 goals respectively. Below the list of 7-matches are given, in which India have scored 5+ goals in magnificent victory:
| | | | | | |
| --- | --- | --- | --- | --- | --- |
| Date | Venue | Tournament | Match | Score | Indian Scorers |
| 21/02/1986 | Hyderabad | Home-Away Test Series | Test Match | 6-3 | Shahid(2),Thoiba,Tikken,Hardeep and Carvalho |
| 26/12/1995 | Chennai | South Asian Games | Final Match | 5-2 | Dhanraj  Pillay(3),Mukesh Kumar(2) |
| 22/08/2003 | Amstelveen | Champions Trophy | League Match | 7-4 | Gagan,Deepak,Jugraj(2each),Prabhjot |
| 03/02/2010 | Dhaka | South Asian Games | League Match | 5-1 | Raghunath (3),Dharamvir(2) |
| 10/10/2010 | New Delhi | Commonwealth Games Hockey | Pool Match | 7-4 | Sandeep Singh ,Shivendra(2 each),Sarvanjit,Danish and Dharamvir |
| 12/04/2016 | Ipoh | Azlan  Shah Cup | League Match | 5-1 | Sunil(2),Manpreet,Talwinder and Rupinderpal |
| 18/06/2017 | London | HWL-Round 3 SF | Pool Match | 7-1 | Aakashdeep,Harmanpreet and Talwinder(2each),Pradeep Mor |
 Head to Head: Total-168, India wins-56, Pakistan wins-82, drawn-30, India's GF-331, Pakistan's GF-389.

Fieldhockey.com


---

India's first win over Pakistan in London

by Dil Bahra
 


Goal scorers Talwinder Singh and Akashdeep Singh  Photo: Yan Huckendubler

India finally beat Pakistan 7 – 1 in a match played in London yesterday, having lost their previous two encounters in the capital.

At their first encounter, at Lords Cricket Ground on 21 October 1967, in front of a 12,000 crowd, Pakistan won by the only goal of the match scored by Tariq Ali.  India team (11 players – no substitutes in those days), at this Pre-Olympic Tournament, was captained by Gurbax Singh included   seven Sikh players, namely Jagjit Singh; Harmik Singh; Balbir Singh 'Railways'; Harbinder Singh; Inder Singh and Joginder Singh.

At their last appearance, for the wooden spoon match, at the 6th World Cup in Willesdon, London, on 17 October 1986 Pakistan won by 3 – 2  in extra time. Qazi Mohib-ur-Rehman, Kalee Mullah and Nasir Ali scoring for Pakistan and Mohinder Pal Singh scoring a brace for India. India's team (12 players – one substitute used) included four Sikh players, namely Pargat Singh; Hardip Singh; Mohinder Pal Singh and Balwinder Singh.




India were at their best on this occasion and their recent form showed. A 7 – 1 winning margin was their best result in the 168 encounters that they have played against Pakistan which started at the Final of Melbourne 1956 Olympic Games. Six of the seven goals were scored by Sikh players – Harmanpreet Singh; Talwinder Singh and Akashdeep Singh scoring two goals each. Pardeep Mor scored India's other goal and Muhammad Umar Bhutta scoring Pakistan's only goal.

India's team, led by Manpreet Singh included ten Sikh players in the squad of eighteen, namely Harmanpreet Singh; Sardar Singh; Mandeep Singh; Talwinder Singh; Harjeet Singh; Satbir Singh; Akashdeep Singh; Jasjit Singh Kular and Ramandeep Singh.

Sikhs in Hockey


---

Pakistan no match for India

s2h team




Facing precise and fitter rival in a do or die encounter, Pakistan caved into the pressure cauldron, and proved no match for India in the ongoing London razzmatazz. Sparks flew from only the Indian armoury as they coasted a record 7-1 victory over arch rival Pakistan in their third match of the Hockey World League Semifinals.

The third loss for Pakistan in as many as matches virtually extinguish their World Cup entry chances to be held in India in 2018.

With minus 16 goal difference, and a match remaining, Pakistan is walloping at the bottom of the table.

Only top four teams will move to quarter final, and top five finishers will move to Delhi for the next World Cup.

Harmanpreet Singh, Talwinder Singh and Akashdeep Singh struck two goals each, the other one coming from the unexpected quarters, Pardeep Mor.

Umar Bhutta struck the lone consolation goal three minutes before the hooter, only goal that Pakistan struck in three matches.

Nine months before at Kuantan, the Pakistan team looked better and fitter, as they made it to th4 final, and then lost the crown by a solitary goal (3-2). Coming against such good form, the downfall is unexpected for Pakistan.

With three goals in its kitty, India were sitting pretty well at half time in the much awaited encounter against arch rivals Pakistan.

Harmanpreet Singh struck off India's first penalty corner much against run of play. Till then it was Pakistan who were dominating the proceedings, even earning a penalty corner. Its tireless move maker Pardeep Mor who sprinted fast with the ball fro top of circle to backline to earn this fruitful penlaty corner.

Once Harmanpreet put the break away goal, Indians were unstoppable.

Talwinder Singh, who otherwise had poor game so far, struck a brace

Sardar Singh played pivotal role in all Indian moves. His stamp was conspicuous in the third goal. In a well coordinated move, Sardar got the ball on top of D. First he tried to hit, but on second thought, just scopped high of which Talwinder just turned full to deflect the ball with right side of blade (3-0) in the 24th minute.

Sardar was also in the picture in Talwinder Singh's first goal, India's second. Its Sardar's minus from left backline, Talwinder tapped in (2-) three minutes earlier.

Pakistan got couple of their chances in the first half, but blew away with harried dives and wild hits that went wide.

Bilal took both the PCs Pak hard-earned in the first half, but he was never dangerous.

Only thing that went right for Pakistan today is they won both their referrals. They dominated the first quarter with turn overs and consistent circle penetration, but the forwards were wayward in finishing. On the other hand, Indian struck as easily as knife cutting butter.

Scores: Harmanpreet Singh (13 & 33)
Talwinder Singh (20 & 20)
Akashdeep Singh (47 & 59 )
Pardeep Mor (49)
Umar Bhutta (57)

Stick2Hockey.com


---

India pays back in the same coin after 35 years

s2h team

It must rank one of the longest wait in the sporting history. When Indian men's hockey team did an encore in London today, the 18th June, it obviously paid back in the same coin to Pakistan.

It was 35 summers ago that the visiting Pakistan posted a stunning 7-1 win over host India in the 1982 Asian Games final.

The humiliating defeat is till considered Black December for Indian hockey, if not Black Day, as it happened in front of who is who of Indian political class, and in a venue which saw record crowd.

Today, when Akashdeep struck an athletic beauty two minutes before the hooter, it has equalled the score that Pakistan posted in Delhi in 1982.

The only difference is that when it lost in Delhi India posted the first goal whereas Pakistan goal in London today came after conceding six goals.

India came close to match the return score of 82 Asiad in Chennai (SAF Games 1995) but its 5-0 lead was reduced to 5-2 later, and the Indians could not score further.

Pakistan hockey has been on a downhill for over a decade now.

No genuine effort seemed to have been put in place to revive and retrieve.

Pakistan did not qualify for the last World Cup and Olympics.

It must have sent alarm bells and efforts must have been taken on war footing.

It did not happen.

The results are there obvious for anyone to care.

Canada thrashed Pakistan for their record 6-0 win after The Netherlands pumped in four unanswered goals in the opener. The Dutch defeat seems fair, as the subsequent two loses were far more deeper.

With a score series of 0-4, 0-6, 1-7, Pakistan has one match to go in the 5-team pool A.

Pakistan is now almost sure of missing out Bhubneswar World Cup.

Its second World Cup miss for Pakistan which ironically presented the World Cup trophy to the FIH.

Stick2Hockey.com


---

India stifled Pakistan after slow start for biggest win against arch-rivals

Sundeep Misra



Akashdeep Singh celebrates scoring the fifth goal for India against Pakistan. Getty

Working their way slowly into the match against a much improved Pakistan side, India produced some vein-popping intensity to quell their opponents' initial aggression and then finally took over the territory to produce a stunning performance to destroy Pakistan 7-1.

India came into this match riding on the momentum of two wins. Pakistan, on the other hand, were haunted by two consecutive defeats — 0-4 against Holland and then the humiliating 0-6 against Canada. They had simple expectations — they needed to avoid a big defeat. When Ajaz Ahmad sprinted his way into the Indian striking circle in the second minute, missing a goal by the thinnest of margins, many would have thought that a contest was on.

For the next ten minutes, both sides produced moves that could have brought the opening goal. But once, Indian goalkeeper Vikas Dahiya kept out a stiff shot and then Ali Amjad, the Pakistan goalkeeper somehow managed to bring up his gloves to keep out a stinging Akashdeep Singh hit from the top of the circle. Pakistan weren't rolling over. They were playing up field and India realized that space was at a premium. Harmanpreet Singh had already missed a penalty corner.

In the 13th minute, India earned their second penalty corner and this time, Harmanpreet's flick either intentionally or by error rolled along the turf to beat Ali. India, to their palpable relief, had a 1-0 lead. Pakistan kept attacking and also earned a penalty corner, which the tall and lanky Muhammad Aleem Bilal shot over the cross piece. By the end of the first quarter, it was evident that Pakistan were trying to hold the ball and create penetration, which would give some opportunities to their forward line.

In their match against Canada, which they had lost 0-6, Pakistan, in fact, had more circle penetrations than even the Canadians. Positioning and finishing had been woeful that day. But against India, they had come prepared. They played both the flanks and made use of the crosses. The finishing let them down in the first two quarters, where they were equal to India.

Slowly, India started gaining supremacy. Ramandeep Singh kept breaking away with pace in the midfield and so was SV Sunil, who despite a death in the family played with courage and conviction. Team manager Jugraj Singh, after the match, said, "Sunil's brother-in-law passed away and that's why he was so emotional after the match."

One such breakaway move saw Ramandeep, Talwinder Singh and Sumit play in tandem. In the end, the ball was in the circle and Talwinder somehow managed to hook on to it and send it into goal. India led 2-0 and yet Pakistan came back strongly. In the 24th minute, Talwinder got his second goal of the match, guiding a high ball into the net, giving India a 3-0 lead.

Khawaja Junaid, the Pakistan coach, didn't waver. Standing beside the Pakistan bench, he urged Pakistan deep into Indian territory. One could fault him for not playing an overly defensive game but losing wasn't the issue at hand. Getting goals and finding that finishing touch was what Junaid was after. Later he said, "I knew we were down 0-3 but I could see that we were troubling the Indian defence. A few finishes could have given us a couple of goals." Pakistan did get another penalty corner in the second quarter but Bilal again flicked out.



Talwinder Singh of India tangles with Muhammad Aleem Bilal and Muhammad Yaqoob of Pakistan during their match. Getty

After the break, something needed to give for either the match to become more competitive or for India to race away with more goals. Harmanpreet got his second goal — a picture perfect flick, rising ball, crashing into the net. India led 4-0. Pakistan were tottering.

Pakistan had back-to-back penalty corners. But the Indian goalkeeper Akash Chikte, who replaced Vikas Dahiya, saved consecutive attempts. If the Indian defence appeared slightly harried, the goalkeepers stepped in with good performances.

By now, the midfield had opened up. Space was there to be exploited. It was a matter of time before Pakistan lost their structure in defence. It was a Sardar Singh move that cleared the way for Akashdeep to hit in for the fifth goal in the 47th minute. And then two minutes later, Pardeep Mor, dashed down the right flank and without any Pakistan defender attempting to stop him, entered the striking circle and lashed a shot down the Pakistan goalkeeper's throat. It was 6-0 to India and they were dominating in every aspect.

With a six-goal cushion, Indian players showcased their skills. Akashdeep kept the ball on the stick, like it was glued and raced into the striking circle and then bounced it into the air before hitting a reverse hit that Ali barely saved. Harjeet Singh, on the right flank did the same, bouncing the ball on his stick to squeeze himself out of a sticky situation. Warm applause greeted both players from the fans.

Pakistan earned their fifth penalty corner off another attack through the middle. Surender Kumar saved on the goal-line and then cleared it. Three of the defenders decided to throw away their face masks and didn't see the ball come back into the Indian striking circle as Muhammad Umar Bhutta deflected it past Chikte. It was a defensive error; though Roelant Oltmans called it a "lucky goal".

By now the match had slipped into the final minutes where Akashdeep scored his second of the match to give India their biggest margin of victory against Pakistan. The earlier wins, 7-4 was in Amstelveen in the 2003 Champions Trophy and then yet again a 7-4 victory in the 2010 Commonwealth Games. Interestingly, the links to both these matches were also on the ground. Jugraj, who had scored two goals in Amstelveen, is the manager of the team and Sardar, part of the team in 2010, is still a member of the squad.

Pakistan coach Junaid was crestfallen. "It's not the score-line that worries me," he said. "We did play well in the first two quarters. We could have scored a couple. In the end we would have lost to a superior India but the margin wouldn't have been so wide."

Indian coach Oltmans was happy that a quarter-final berth had been sealed. He did admit that Pakistan did good work in the first two quarters but that India had quality to turn it around and stamp their superiority over the match. "I am already looking forward to the match against Holland," said Oltmans. "We need to prepare for that. This match is over and I am satisfied."

If penetrations were equal between India and Pakistan, the penalty corners were five for Pakistan and four for India. There is still work to be done in the Indian team if they hope to catch up with Holland and fight on equal terms with England and Argentina, if at all they meet them in the tournament.

If there was any aberration in the match, it was the first quarter where Pakistan dominated. That was the period when India looked ragged, unsure and disorganised. But once the nerves were quietened, Pakistan were slowly and steadily stifled.

With nine points and a match against the World No 4 Holland to be played on Tuesday, India have a chance of topping the group. The Dutch are stiff opponents but Harmanpreet was confident that India is ready. "Opponents will get tougher. We have to play a steady game and after a rest tomorrow (Monday) we would be ready for the Dutch. All I can tell you is that it would be a very competitive game," he said.

In three matches, India have scored 14 goals, letting in only two. It's a good streak that they would love to continue against the Dutch. India are playing in a vibrant mode, creating and scoring in those moments. If Sunday's India-Pakistan match had to be described in movie parlance, with the Indian cricket team playing the Champions Trophy final in the same city against the very same nation, it would simply be that hockey, a low-budget film, was a runaway hit.

Firstpost


---

India vs Pakistan isn't just another hockey match, the intensity goes well beyond the realm of sport

Sundeep Misra



File image from India's 3-2 against Pakistan in the Asian Champions Trophy 2016. AFP

The 2003 Champions Trophy Hockey was held at the Wagener Stadium in the town of Amstelveen, Holland. India had beaten Germany 3-2, lost to Holland 4-3 after leading 3-1 and then got destroyed 4-1 by Australia. Pakistan were next and tickets had been sold out. Even touts were looking for tickets. Amstelveen had become the melting pot for India and Pakistan fans. Indian fans had flown in from England, Belgium, Norway, and Germany. Some drove in and by the time the ground had opened, clusters of Indian and Pakistan fans with flags were already marching towards the stadium.

The Wagener Stadium is not built like a war zone. Cobbled streets converge into the stadium, which anyway looks like a village setting. Fans that had been there in previous years parked their cars in the city centre and took either trams or buses to the stadium. Dutch police had already been informed that India-Pakistan was playing so a few fireworks were expected. The match was at 4 pm; the sun shining brightly. Planes constantly flew overhead as the stadium was in the flight path to Amsterdam's Schiphol Airport. It was a perfect setting for an India-Pakistan match.

India, led by Dhanraj Pillay, had the likes of Deepak Thakur, Gagan Ajit Singh, Ignace Tirkey, Jugraj Singh, Prabhjot Singh and Dilip Tirkey. Pakistan, led by Sohail Abbas, had the brilliant Salman Akbar in goal and forwards of the quality of Rehan Butt, Dilawar Hussain, Mudassar Ali and Raza Ali. With a few minutes to go for the match, tensions were high and a group of fans had already clashed. Dutch security had kept different stands for the fans. Yet they somehow managed to square off with each other. "Bharat Mata Ki Jai" and "Allahu Akbar" filled the air as the game began.

By the 20th minute, Pakistan were 2-0 ahead. In the 22nd minute, Jugraj pulled one back for India before Pakistan made it 3-1. Jugraj fired in another penalty corner and it was 2-3. Indian fans were finding their voice. The Dutch were enjoying every bit. They were watching a rivalry that made even theirs with Germany look second rate. Along with the tension, player skills had gone to a different level.

After the break, Pakistan were 4-2 up and it seemed they would pull away. Rehan was brilliant and the Indian defence were desperately trying to hold him. The Indian fans had fallen silent. Deepak scored followed by Prabhjot and the score board read 4-4. It was mayhem now. Fans were falling over the fence. Extra security was called in. The Indian tricolor and the Pakistan crescent waged a match of their own in the stands. In the 60th and 62nd minute, Gagan Ajit Singh made it 6-4. And with five minutes to go, Deepak made it 7-4. There was no holding back the Indian fans. They jumped on to the turf, with the security after them. The Indian team was led away as both Pakistan and Indian fans hurled abuses at each other.

An India-Pakistan match is not just a game. The intensity of the match goes well beyond the realm of sport. It's a psychological battle between two teams almost remote-controlled by their millions of fans, or at least they seem to believe they do. Amstelveen was just another backdrop to these high-intensity games that had fans transfixed.

Ask Chennai fans who had come for the 1995 SAF Games final when India beat Pakistan, the then World Champions, 5-2 and they would say, "An unforgettable match." But it goes beyond just a mere match. It's a clash for respect, pride, dignity, honour, and also to an extent, ego. Or as coach Rajinder Singh said to the team before the Amstelveen Champions Trophy game, "Oye, Jaan de deo aaj" (Give your lives today).

Hockey became a symbolic sport for India after the British left. And it was in 1960 at Rome that India lost to Pakistan in the Olympic final for the first time. Leslie Claudius, then captain, said over dinner once, "I didn't want to come back to Kolkata. Any other team and I could have taken it. But Pakistan! No." The rivalry had been set. And it has only intensified over the years.

India snatched back the Olympic gold in 1964 at Tokyo. Pakistan captain Manzoor Hussain Atif said before the final, "We are only afraid of your full back Prithipal Singh. Itna gusse mein kyun khelta hai?" (Why does he play with so much anger?) The fact was that Prithipal had lost his home Nankana during the 1947 partition. And he played with a desire to beat Pakistan and calm the storm inside him.

By the early 70s, Pakistan had started dominating. India beat them in the '75 World Cup final and the controversy still rages over the match-winner scored by Ashok Kumar in the final; Pakistan say the ball hit the post and came out and not the inside of the post. These matches were epic in nature. The World Cup final in Kuala Lumpur had more than 60,000 people inside the Merdeka Stadium, crammed into seats, on the ground and hanging over the railings. More than 70 percent of the fans were Malaysian, desperate to watch an India-Pakistan encounter.

In Europe, it is still the most sought after clash. Even though the coaches play it down as just another match, they secretly pray that they don't lose to their arch-rivals. Dhanraj once said that it was difficult to sleep before a Pakistan match. "It's one match that we are required to win," he said. "All sins will be washed away after that." Of course, it was mostly just "talk" but it showed the impact of the craziness of the tie on the players.

Many India-Pakistan players sat together after a loss or a defeat. In the 1991 Azlan Shah, India beat Pakistan 1-0 and later Shahbaz Ahmed and Pargat Singh were seeing having a laugh over, I guess it was coffee. In the 1989-90 Asia Cup final in New Delhi, fans queued up hours before the match. The Shivaji Stadium was packed, and fans were stranded outside even after the match began. The entire star cast and crew of Ramayana were in the stadium. Yet the fans, angry after Pakistan took a 2-0 lead, started throwing bottles and other objects. The match had to be stopped and then began after police took positions across the fence.

Geographically and politically, an India-Pakistan match is akin to putting fuel to a fire. What is a rivalry if there is no bad blood? Rivalries cannot be "happy" ones. One team has to lose and disappointment is as important an ingredient as euphoria after winning. And nothing can give that feeling better than an India-Pakistan hockey match. Rajinder Singh was in the team when Pakistan beat India 7-1 in the '82 Asian Games final at New Delhi. The city went silent before erupting in anger against the national team. "It was like a sore that didn't heal for a long time," said Rajinder. He was the coach when India beat Pakistan 7-4 in the 2003 Champions Trophy in Amstelveen. "A part of me has healed," he said after the win.

For Pakistan and India fans, the trophy is of no consequence; it can be a pool match or a final. A win is about bragging rights. Trophy comes later, celebrations about beating each other and not losing "the" match is like attaining a temporary high. Fans and players then again wait for the next match; the next emotional churn; the next high.

Firstpost


---

Arch-rivals India, Pakistan aim to distill spirit of sport into art

Sundeep Misra



The Indian team is on a roll in the Hockey World League Semi-finals, having beaten Scotland and Canada so far in the tournament. Image courtesy: Hockey India via Twitter

India's Dutch hockey coach Roelant Oltmans is one of a kind. He believes one day hockey will be  more popular than cricket. But for those who know Oltmans, it's that siege mentality when confronted with a question that nine miles to the West of London's Olympic Park, another India-Pakistan match, cricket at that, is hogging all the limelight. The second one being the final of a major event. Indian hockey on the other hand plays a Pool B match with Pakistan in the Hockey World League Semi-finals.

Pakistan coach Khawaja Muhammad Junaid is under a different kind of siege. Two consecutive losses, especially the 0-6 thrashing at the hands of Canada have put the Pakistan hockey team and Junaid's job under some real pressure.  India, come into this match with six points and two consecutive victories. Their 3-0 win against Canada showing a yawning gap between the gameplan of Pakistan, and the one that India adopted against Canada.

Yet, when both the teams walk out under a bright, shining sun (weather predicting) at the Lee Valley Hockey Centre, it's a fresh start. "All talks about strength go out of the window," says Oltmans. "An India-Pakistan match brings with it much more than just skills and a better game plan." In the November of 2016 at the Asian Champions Trophy in Kuantan (Malaysia) India played Pakistan twice, once in the Pool and then in the final and both times the score-line was 3-2 in India's favour. Pakistan was engaging till the last minute with the Indian defence on their toes, alert till the hooter had sounded making the issue safe.

"I know you are guys are writing us Off," says Junaid with a smile. "But I have forgotten what happened in the previous matches. Against India, it's a new day and the players will focus on the India match and not dwell on the past." It's not an ominous warning from Junaid. But against India, a little bit of bravado sounds good back home. "It's not the skill factor I am worried about," says Oltmans. "It's the emotional bit that makes the match interesting but also at times freezes the players. That needs looking into."

Former Indian captain and the man who came onto the scoreboard against Canada, Sardar Singh, can't wait to take on Pakistan. "It's one match we are looking forward to and we will have a game plan. In fact, we need to stick to what we do well and that is controlling the flow of the game. But Pakistan, as always, will raise their game against us." Sardar remembers the 2010 World Cup and Commonwealth Games against Pakistan and that too a side which was better than the one that will walk out against India today. In the 2010 Commonwealth Games, India beat Pakistan 7-4 and then 4-1 in the World Cup. Needless to say, Sardar is the only surviving member of that team.

Unlike in the past, India puts a lot of emphasis on controlling the game. Right from the start, the defence and the midfield rotate the ball making the opponents come after them. The simple result is the creation of space. But to the opponents, it's also a period of frustration where they are chasing the ball, creating errors which the Indians can capitalise on; exactly the game plan that paid off so well against Canada. Pakistan, as Junaid points out, had more opportunities in the striking circle than Canada — 18 to Canada's 11. Yet, Canada won 6-0. It's something that India will speak about in the team meeting.

Even Oltmans agrees that the Pakistan-Canada match was lopsided from the statistics point of view. "But a team needs to score," emphasises Oltmans.  That's one area where India have been doing well — putting the ball into goal. With seven goals against Scotland and Canada, Indian strikers are effective. But the real strength for India is their positioning on the field. Akashdeep is in brilliant form creating lovely subtle moves that opens up the middle of the striking circle for Sunil and Ramandeep. Even Ramandeep, criticised for long, has been playing with strength, battering away with moves that split the defences. His move against Canada was classic strength and pace that tore apart the Canadian defence ending with a deft flick to the right creating the opportunity for Sardar to score.

India does fall back on rotation to catch breath and also psychologically hammer away at the opponents. In the second quarter of the match against Canada, for almost a minute and a half, India held the ball as Canada ran all over the pitch. Losing the ball gives the opponents a chance to rebuild and that is what India tries and avoids. But in a sport like hockey, attacks from the opponents can't just be wished away. This Pakistan team may have an average age of 21 and also miss the services of three of their players who play in the European League — Rashid Mehmood, Muhammad Rizwan Sr and Farid. But as a team they will toughen up against India; Ajaz Ahmad has the skills and verve to beat defences. Pakistan's glaring weakness is their defence under Tasawar Abbas, Abu Mahmood and Muhammad Mushtaq. All three were opened up against Canada with high balls, Canada scoring from two of them. India will keep that in mind.

India's biggest strength lies in their midfield, which is a sheer delight to watch when on a song under Manpreet, Sumit, Sardar and Chinglensana. Sumit, arrived just a couple of days, replacing SK Uthappa and he should do well on Sunday. He has the guile, much needed for some playing as right half and also inter-changing as central midfielder. Manpreet has been playing well and with his bursts of speed, the forwards are always expecting pacy crosses into the striking circle. Sardar may have scored a goal against Canada. But that control and authority has been lacking, though his defensive skills have stood out.

Chinglensana better check the soles of his hockey shoes. He has been one of the players with the highest output in the team. Against Canada, he was holding the midfield, running down the left flank and then setting up balls in the opposition striking circle and on the counter attack, back in the Indian defence. Indian captain P Sreejesh's absence with an injury may be a blessing in disguise as it has given Vikas Dahiya exposure at this level. The Junior World Cup goalkeeper played the entire match against Canada, even though he had a baptism by fire for allowing Scotland to open the scoring against India. Oltmans had said then, after the match, that 'Dahiya will play more matches in the tournament.'

The equations of an India-Pakistan match are not difficult to visualise. Open spaces, wave like attacks, at times jettisoning the structure that is so important in modern hockey. "I will try and keep the emotions at bay," said Oltmans. "It's important to win matches. Not get swayed by the occasion." Oltmans has seen both sides of the spectrum. He was also coach of the Pakistan 2004 Athens Olympics team. So he understands the line 'duress under emotion'.

Junaid understands the enormity of the task at hand. A defeat at the hands of India will put him under the microscope. "I will try that we win or at least play a better game than the one we displayed against Canada." On Sunday, India takes on Pakistan in what is the 168th match between the two sides. Pakistan has won more games, 82 to India's 55; 30 matches have been drawn. For those who will fill up the seats, the neutrals wanting a good match, to those who believe the spirit of hockey still survives between the boundaries of India and Pakistan, they will also believe that both these nations will distill that spirit into art.

Firstpost


---

India beats Pakistan 7-1 at Hockey World League semifinal

Harmanpreet, Talwinder and Akashdeep score a brace each



Making merry: Talwinder scored two quick-fire goals in the first half to put India on course.   | Photo Credit: PTI

A clinical India demolished a hapless Pakistan 7-1 to register its third consecutive victory and seal a place in the quarterfinals of the Hockey World League Semifinal, here on Sunday.

Goals by Harmanpreet Singh (13, 33), Talwinder Singh (21, 24), Akashdeep Singh (47, 59) and Pardeep Mor (49) ensured India toppled the Netherlands to lead the points table with its third successive win. Pakistan, on the other hand, is at the bottom.

India will next play the Netherlands on Tuesday, while Pakistan will face Scotland on Monday.

It was Pakistan that got its first real opportunity, coming within three minutes of the match, when Ajaz Ahmad drifted away just a little bit from his man Pardeep Mor to take a shot on goal. But he was wide off the mark.

India won the first penalty corner soon after when a Pakistani defender fouled in the circle. A good dragflick by Harmanpreet Singh was well defended by Pakistan's first runner to deny an early lead.

As the match progressed, India started to control the proceedings with Pakistan playing a catch-up game.

Harmanpreet gave India the lead in the 13th minute, converting a penalty corner with a low grounded flick. India secured another penalty corner four minutes into the second quarter but Harmanpreet's flick was saved by Amjad Ali. Talwinder doubled India's lead soon after combining well with Satbir Singh and S.V. Sunil.
Talwinder dazzles

Minutes later, Talwinder scored his second goal of the day when he neatly lifted over Amjad a high ball from Satbir and India went into the breather with a comfortable 3-0 cushion.

India continued in the same vein after the change of ends and three minutes into the second half, Harmanpreet scored from another set piece to extend the lead.

In between, Pakistan had its share of chances but failed to get past an alert Akash Chikte. After Chinglensana Singh was brilliantly denied by Pakistan goalkeeper Amjad Ali, Akashdeep scored a brilliant field goal from the top of the circle after fine one-two with Sardar Singh.

Two minutes later, Pradeep Mor drilled home from a tight angle to beat Amjad Ali at the post. Umar Bhutta scored a consolation goal late into the match but Akashdeep restored India's victory margin with yet another fantastic strike just a minute from the hooter.

The results: India 7 (Harmanpreet Singh 13 & 33, Talwinder Singh 21 & 24, Akashdeep Singh 47 & 59 and Pardeep Mor 49) bt Pakistan 1 (Umar Bhutta 57).

The Hindu


---

India thrash Pakistan 7-1 in World Hockey League

ISLAMABAD: With a dominating performance, India thrashed Pakistan 7-1 to register their third straight win and seal a place in the quarter-finals of the Hockey World League in London on Sunday. According to a spokesman for the Pakistan Hockey Federation (PHF), India were on the offensive right from the world go and buoyed by Talwinder Singh, Harmanpreet Singh and Akashdeep Singh's double strikes, India went on to top the table in Pool B. India got their first goal in the first quarter when skipper Harmanpreet converted a penalty corner. After Pardeep Mor won his team a second penalty corner, the drag-flicker Harmanpreet fired in a grounded stroke after a successful injection from Ramandeep to get India the lead. The team went on to double the lead in the second quarter with Talwinder finding the net. After another forward push, SV Sunil took the hit and Talwinder gently pushed the ball inside the goalpost to give India a 2-0 lead in the 21st minute.

Talwinder went on to double his tally with another field goal in the 24th minute after the forward deflected a high ball into the cage. Pakistan, who made repeated incursions into the Indian half, failed to find a goal while India pounced on most of their opportunities. In the third quarter, India won another PC and Harmanpreet found the net once again to put India 4-0 ahead. Pakistan continued to push forward and then earned two back-to-back PCs, but Indian custodian Vikas Dahiya, who too had a stellar game, denied the opposition. India did not relent and made it 5-0, with forward Akashdeep getting himself on the scorer's list courtesy a sublime pass from Sardar Singh. He fired right from the top of the Pakistan D and hit the mark in the final quarter. Mor then helped himself to goal with a fantastic strike. Pakistan pulled one back late in the match with a 57th minute strike from Muhammad Umar Bhutta. But India completed the rout with Akashdeep Singh finding the net in the 59th minute.

The Daily Times


---

We scored some great goals against Pakistan: Roelant Oltmans

LONDON: India chief hockey coach Roelant Oltmans exuded satisfaction after his boys went on a goal spree against Pakistan in the Hockey World League Semi-Final but said they still need to work on some areas.

India rode on goals from drag flicker Harmanpreet Singh (13th minute, 33rd), Talwinder Singh (21st, 24th), Akashdeep Singh (47th, 59th) and Pradeep Mor (49th) to beat Pakistan 7-1 and zoom to the top of Pool B on Sunday.

"I thought Pakistan were the better team in the first quarter and they created more opportunities but after we scored the first goal we started to play according to our plan," said Oltmans after the match.

"We scored some great goals today and when we score the type of goals that we did today, that is what makes a coach happy. I enjoyed the way we played, but as always I look for things to improve in our performances but scoring seven and conceding one is good," he added.

The 7-1 win was also India's biggest over Pakistan, bettering the 7-4 effort against arch-rivals in 2003 Champions Trophy and 2010 Commonwealth Games.

India will next play The Netherlands on Tuesday.

The Times of India


---

India rout Pakistan 7-1 to enter quarters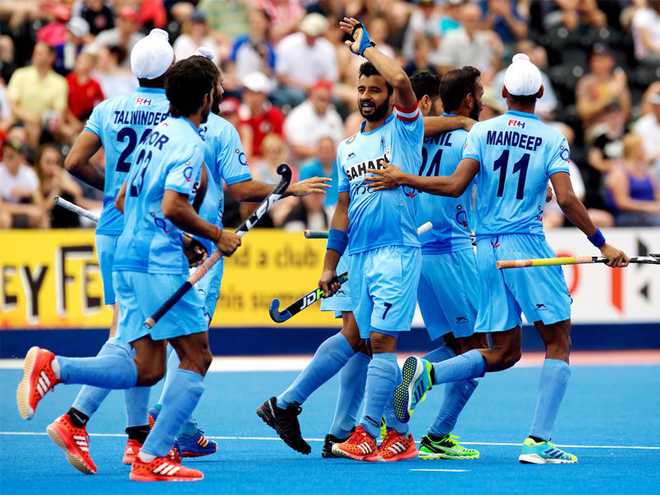 Indian Hockey team celebrates during the quarter-final match against Pakistan in London. Photo: Twitter

Penalty corner specialist Harmanpreet Singh and forwards Talwinder Singh and Akashdeep Singh scored a brace apiece as India flayed Pakistan 7-1 in a Pool B clash to storm into the quarter-finals of the Hockey World League (HWL) Semi-Final here on Sunday.

Harmanpreet (13th and 33rd minutes), Talwinder (21st and 24th) and Akashdeep Singh (47th and 58th) ripped apart Pakistan's defence. Pardeep Mor (49th) too contributed a goal for India.

Coming into the match, four-time world champions Pakistan had conceded four and six goals in consecutive losses to the Netherlands and Canada, respectively. India further exposed Pakistan's weaknesses in their team's structure in a match that had chances galore for both the teams right from the start. But it were India who capitalised on most of them.

Pakistan got the first opportunity of the match in the third minute when a counter-attack from the right flank saw Indian goalkeeper Vikash Dahiya at the mercy of Ajaz Ahmad but the latter flicked wide of the far post.

Akashdeep then was in with a chance to break the deadlock but his soft hit from close range was easily blocked by goalkeeper Amjad Ali.

Then drag-flicks from both Pakistan's Muhammad Aleem Bilal and India's Harmanpreet Singh went wide.

Pardeep Mor earned a penalty corner in the 13th minute and Harmanpreet came up with a grounder to beat Ali on the latter's right to give the 1-0 crucial lead.

India, having scored the opening goal, seemed to ease their nerves and they played smooth and fluent hockey thereafter. The way they did the build-up play through the back and midfield unsettled Pakistan and the latter ran out of patience.

It resulted in two quick field goals through Talwinder in the 21st and 24th minutes. The first one was a brilliant team goal, as a Mandeep's cut-back from the left byline to S.V. Sunil, stationed in front of the goal, saw him drive the ball to a waiting and unmarked Talwinder at the far post, who just had to tap it in. Three minutes later, Talwinder dinked past goalkeeper Ali from the right to make it 3-0.

Harmanpreet's second goal, an unchallenged drag-flick three minutes after the half-time break, gave India a handsome 4-0 lead, putting the game beyond doubt.

Trailing by four goals, Pakistan showed some resilience and tested Indian goalkeeper Akash Chikte but the Indian didn't allow their citadel to be breached and instead pounded two more goals through Akashdeep and Mor to complete the successful outing.

Muhammad Umar Butta (57th) scored a consolation goal for Pakistan.

With this win, India moved to the top spot with nine points, while their neighbours are yet to open their account.

The Tribune


---

Indian players wear black arm bands against Pakistan to pay respect to martyrs

The hockey fraternity in India has always been vocal about the pride and respect it has for the Indian soldiers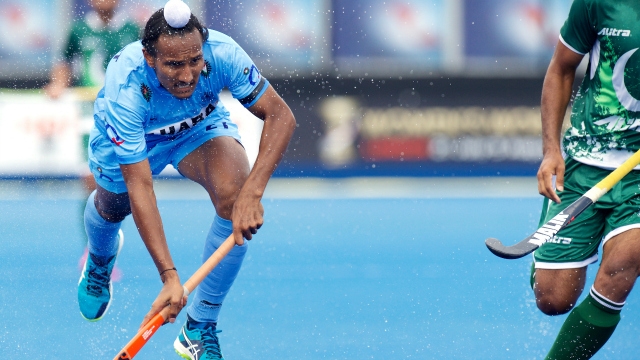 India's Harjeet Singh in action during a Hockey World League Semi-Final clash against Pakistan on Sunday (Photo credit: Hockey India)

India hockey team on Sunday wore black arm bands during its match against Pakistan at the Hero Hockey World League Semi-Final to condole the deaths of martyrs in the recent attacks on the Indian army. The Indian team support staff also wore the black arm bands.

India eventually thrashed Pakistan 7-1 in this match. The hockey fraternity in India has always been vocal about the pride and respect it has for the Indian soldiers and always condemned such barbaric acts. The players have often taken to social media to show their condolences for the martyrs of the country. In fact, PR Sreejesh had dedicated the team's victory at the 2016 Asian Champions Trophy to the soldiers, where they beat Pakistan in the final.

"The players of the Indian hockey teams have always shown tremendous belief and support for the Indian Armed Forces who guard the safety of our nation. They are proud of the nation's soldiers and are often inspired by their dedication and sacrifice," said Mohd Mustaque Ahmad, Secretary General, Hockey India.

"As sportsmen, the Indian hockey teams have always shown solidarity and compassion towards the soldiers and have often dedicated their victories to the Indian Army. on Sunday, the team strongly felt the need to condole the recent attacks carried out in Jammu & Kashmir where Indian soldiers lost their lives. It was a unanimous decision to wear black arm bands to condole these deaths and they wish for peace to prevail in the state of Jammu & Kashmir," he added.

Captain Manpreet Singh said: "We wanted to win on the field on Sunday to show not only our proud nation but all the world that we will stand up and fight for what we believe in through sport."

DNA


---

Malaysia face must-win match against South Korea

by Aftar Singh

KUALA LUMPUR: Malaysia are in a do-or-die situation to qualify for next year's World Cup Finals in India.

To date, world No. 14 Malaysia have suffered two heavy losses in Group A in the World Hockey League Semi-Finals at the Lee Valley Hockey and Tennis Centre in London.

image: http://www.thestar.com.my/sport/hockey/2017/06/19/malaysia-face-mustwin-match-against-south-korea/~/media/c6ed143c13d24da680413cc5afcaa9fc.ashx?h=616&w=250

Coach Stephen van Huizen's side went down 5-2 to Olympic champions and world No. 1 Argentina in their opening match on Friday. The next day Malaysia were humiliated 7-3 by world No. 7 England.

Veteran Barry Middleton (fifth and 34th minutes), Sam Ward (32nd and 51st), Mark Gleghorne (39th and 55th) and Christopher Griffiths (eighth) scored for England. Malaysia replied through Faizal Saari (19th and 57th) and Tengku Ahmad Tajuddin Tengku Abdul Jalil (28th).

The Malaysians are last in the group without a point.

They need to beat South Korea today to keep their hopes alive for a place in the quarter-finals.

Malaysia will wrap up the group fixtures against world No. 18 China tomorrow.

Only the four sides from the two five-team groups will advance to the last eight.

All the quarter-finalists are guaranteed a spot in the 2018 Finals in Bhubaneswar.

Fourth-placed Korea, the world No. 12, are also winless as they lost to Argentina (2-1) and China (5-2). Like Malaysia, Korea need to win to make the last eight. The Koreans wrap up their group fixtures against England tomorrow.

Said Stephen: "The matches against Korea and China are very crucial. First, we must collect full points against Korea. The Koreans play a fast attacking game and I hope our players can rise to the occasion."

Malaysia last played Korea at the Asian Champions Trophy in Kuantan last year.

In the round-robin match, the match ended in a 1-1 draw.

But Malaysia edged Korea 3-1 in a penalty shootout to win the bronze after both teams drew 1-1 in regulation time.

The Star of Malaysia


---

NZ counting down to World League Final




There's now less than six months until the world's top eight women's teams hit our shores for the FIH Women's World League Final.

The fast paced and action-packed tournament will be hosted at the North Harbour Hockey Stadium in Auckland from 17-26 November.

The World League Final is the culmination of four competition rounds played over two years, giving nations from all over the world a change to compete for the overall championship.

As hosts the Vantage Black Sticks Women gain automatic qualification, while the other seven competitors will be determined by results at this month's World League Semi Final events in Brussels and London.

The Kiwis are currently poised to compete in the Brussels leg, which remains crucial with qualification for the 2018 Hockey World Cup up for grabs along with valuable world ranking points.

The Black Sticks open their campaign against Spain at 6am on Thursday 22nd July (NZ time), with all New Zealand games broadcast live on SKY Sport.

The Women's World League Final is proudly supported by the Ministry of Business, Innovation and Employment (MBIE) and Auckland Tourism, Events & Economic Development (ATEED).

Hockey New Zealand Media release


---

Green Army Take Another Top 10 Scalp At 4 Nations




The opening half was a much tighter affair than the last time these two sides met, on that occasion Korea sauntered into half time 3-0 up before the Green Army ran out victors in a penalty shootout, thanks to 2 goals in the final 60 seconds of the match.

The opening 30 minutes of this fixture saw no goals from either side and very few real chances in the opening quarter. Korea seemed content to step off and allow Zoe Wilson and Elena Tice the room they needed to stride toward the halfway line and launch attacks from there with sweeping passes. But it was only really in the second quarter that the goalkeepers were called on; 3 penalty corners for Ireland yielded no return but an Upton drag flick was the pick of the bunch as she drew a fine save from Jang. Better build up play from Deirdre Duke and Sinead Loughran got Ireland into the circle but a few too many shots went wide or were dealt with by Korea. Emily Beatty rounded out the half with a crisp reverse strike but again a good save denied the Irish to leave it 0-0 at the half.

The Green Army began to find their rhythm in the second half as their circle entries and penalty corner count continued to rise. They took the lead in the 35th minute as Shirley McCay was quickest to a bobbling rebounded ball from Zoe Wilson's initial PC sweep. A minute later Anna O'Flanagan had the chance to double her sides lead as she was faced with an open goal after beating the keeper but she uncharacteristically shot side. The game was all level 2 minutes later as Seul Ki Cheon scored a superb drag flick from a PC, leaving Grace O'Flanagan with no chance. The opportunties were increasing for Ireland though and Beatty found herself free on the top of the circle but couldn't connect with the shot. However, the winning goal was worth the wait as Duke burst out of her own half towards the circle before slipping a pin-point pass to captain Katie Mullan, who had work yet to do as she forced the keeper to commit before scoring a superb goal on her reverse. The Green Army may well have had another goal in them with chances falling to Beatty, O'Flanagan and Nicci Daly but no doubt will be more than satisfied with yet another win against top 10 opposition in the space of 4 days. 

Speaking after the victory, head coach Graham Shaw said "We controlled the phases a lot better today than we did against China. It's very pleasing to see the areas we discussed being implemented and we're very happy with the performance and result.

This 4 Nations has been invaluable for us in our preparation for World League in Johannesburg and we'd like to thank German Hockey for the invitation."

Ireland 2 (McCay, Mullan)
Korea 1 (Cheon)

Ireland: G O'Flanagan, Y O'Byrne, K Mullan (Captain), E Tice, E Beatty, G Pinder, S Loughran, R Upton, L Colvin, N Daly, Z Wilson,

Subs: A McFerran, N Evans, S McCay, C Watkins, H Matthews, A O'Flanagan, D Duke

Korea: Jang, H Kim, Y Hong, E Cheon, E Cho, KS Cheon, H Cho, K Park, E Baek, Yuri Lee, J Kim (Captain)

Subs: Y Cha, Y Kim, S Park, Youngsil Lee, KY Cho, M Han, H Shin

Berlin Four Nations (all Irish time)
Thursday: Germany 1 (J Teschke) Ireland 2 (A O'Flanagan, K Mullan); Korea 1 China 1
Friday, June 16: China 5 v 2 Ireland, 4pm
Sunday, June 18: Ireland 2 v 1 Korea, 11am

Irish Hockey Association media release


---

Scotland U21 beaten in second Irish test by fresh legs



Susan Al-Haddad

The Scotland U21 women's team faced a fresh Irish team in the second of their three match series against Ireland in Belfast.

The scots started well and were causing all sorts of problems for the Irish defence. The pressure told as Millie Steiger made space for herself at the top of the circle and a quick forehand found its way into the bottom corner to make it 1-0.

The scots continued to press the defence and soon after that, Lorna Cruikshank pinched the ball from an Irish centre back and crashed the ball into the roof of the net for the second goal, and a 2-0 lead at the end of the first quarter.

The second quarter saw the Irish coming into the game, though the scots were mostly secure and Megan Inch did a good job of stifling the Irish chances on goal.

Ireland struck one back as half time approached. The breakdown from a short corner meant the Irish pulled one back just before half time.

The third quarter was another very even affair but Ireland claimed an equaliser with a good strike when allowed space at the top of the Scottish circle.

Into the final quarter and the fresher legs of a 36-player squad resulted in clinical finishing from the Irish, bringing three goals in quick succession despite Susan Al-Haddad smothering many of their chances. It resulted in a score line of 5-2 at full time with the Scotland squad looking to learn from encounter, and bring home the series win in the final game.

Scottish Hockey Union media release


---

Arminen claim EHL ticket from Austrian final four




SV Arminen will be Austria's representative in next season's EHL as they claimed the national title with a superb 3-0 win over Post SV this afternoon in front of 750 fans.

Both sides won through their Saturday semi-finals with 3-2 wins, seeing off NAVAX AHTC and WAC, respectively but the final was not quite as close.

Arminen, the defending champions and winner of the regular season, started in the best possible fashion when Daniel Fröhlich scored in the ninth minute.

The black and white side worked a strong press throughout this phase and penned Post into their own territory for long periods.

The Bundesliga's top scorer, Patrick Schmidt, then added the second goal in the 21st minute, finding a way by Post goalkeeper Matej Karel.

Post attempted to counter via Fabian Unterkircher and Peter Kaltenböck but nothing accrued from their rare breaks. They won a corner after the change of ends but Arminen were able to block out the double-switch move.

And their hopes were well and truly finished in the 56th minute when Arminen won a penalty stroke which was converted by Sebastian Eitenberger to land the title and the EHL ticket.

Fröhlich was named the player of the final four while, with an incredible 32 goals from 17 matches, Schmidt, was the top scoring. Mateusz Szymczyk completed the individual awards as best goalkeeper.

It was the perfect weekend for the club with the side's women's team landing their national title as well.

Euro Hockey League media release

---

RSPB stays on top of pool

Chandigarh continues to impressive

Railways Sports Promotion Board (RSPB) stayed on top of Pool A with a comprehensive 9-1 win against Jharkhand in the men's National hockey championship A division here on Sunday.

Yuvraj Walmiki struck twice with eight players getting their names on the scoresheet as RSPB scored at will for its third win in as many games. Anselem Hemrom reduced the margin.

In Pool D, Chandigarh continued its impressive performance, notching up its third consecutive win to stay on top and on course for a spot in the quarterfinals while Air India finally got a win under its belt against Haryana.

The results: Pool A: RSPB 9 (Yuvraj Walmiki 2, Amit Rohidas, Rajin Kandulna, Manpreet, Ajit Kumar Pandey, Affan Yousuf, Karanpal Singh, Gauravjeet Singh) bt Jharkhand 1 (Anselem Hemrom); SSCB 5 (Jugraj Singh 2, Chandan Aind, Rana Pratap Singh, Robin) bt Namdhari XI 2 (Sukhdev Singh, Gagandeep Singh). Pool B: Punjab 6 (Baljinder Singh 2, Gurjant Singh, Ajit Pandit, Sarvanjit Singh, Dharamvir Singh) bt Bhopal 2 (Harshal Sharma, Abhishek); CAG 5 w/o FCI 0.

Pool C: PSB 4 (Karamjit Singh, Prabhdeep Singh, Parvinder Singh, Gurinder Singh) bt Odisha 1 (Rakesh Tete); MPHA 2 (Nikky Kaushal, Haider Ali) bt Patiala 1 (Gursahib Singh).

Pool D: Chandigarh 2 (Damanjit Singh 2) bt AIU 1 (Joginder Singh); Air India 2 (Harsahib Singh, Armaan Qureshi) bt Haryana 1 (Munish Rana).

The Tribune


---

Nairobi's Sailors secure victory in Mombasa

By BRIAN YONGA



Amira Sailors' Yvonne Madovo (left) and Sheila Chebet celebrate a goal during their Kenya Hockey Union women Premier League match against Jomo Kenyatta University at City Park Stadium on August 13, 2016. PHOTO | MARTIN MUKANGU |  NATION MEDIA GROUP

Nairobi-based Amira Sailors secured a 3-1 win away to Mombasa Sports Club in a Kenya Hockey Union women's Premier League match at Mombasa Sports Club.

A brace from Susan Oketch and further strike from Pauline Naise secured the three points for the visitors.

Maureen Okumu had levelled for the hosts but they conceded twice to fall to their sixth loss of the season.

The win saw Amira move to third spot on the log with 17 points, dislodging Strathmore University Scorpions who are fourth a point back. Amira coach Linet Onyango was delighted with her side's work ethic and patience.

"We had a tough time breaking them but the first goal allowed us to settle. We had to dig deep after we conceded and I am delighted with our fighting spirit," Onyango said.

Amira, came into the match on the back of a 2-0 loss at the hands of USIU Spartans , while the hosts were buoyed by their 2-0 win against University of Nairobi last weekend to clinch their first win of the season.

The visitors struggled to impose their match in the opening quarter as the home side dominated possession.

Mombasa had the first chance in the second quarter after they were awarded a short corner but Okumu sent her effort wide to the relief of the Amira defence. The miss proved costly as Amira found the breakthrough in the 25th minute.

Amira swept forward in a well-worked move but Oketch was hounded down as she was about to score, forcing the umpires to award the visitors a penalty stroke.

Naise made no mistake blasting her shot past Brenda Wangila for her ninth goal of the season. The goal saw Amira launch more attacks as the quarter ended.

The hosts improved in the third quarter and levelled matters in the 45th minute with Okumu finishing off a rebound.

Two minutes later, Amira regained the lead as Oketch took advantage of sloppy defending to score before adding a second three minutes from time.

At City Park Stadium, Allan Odongo struck for Parklands as they secured their second win of the season 1-0 over Nakuru in a men's Premier League match.

Nakuru were hoping to end their tour of the city on a high, having shocked Chase Sailors 2-1 on Saturday at the same venue. Dolcan Mugaisi and Erick Aywe scored for the visitors, as Ammon Esese replied for the bankers.

In the second tier men's league, Multimedia University thrashed Karate Axiom 6-1 as Parkroad Tigers drew 2-2 with Mombasa Sports Club.

Daily Nation


---

Indian coaches feel inferior and let-down: Viren Rasquinha

Narain Swamy

Recommending the way forward in Indian sport is never easy. But that is what the Olympic task force, headed by Abhinav Bindra, has attempted. Having covered the entire country and spoken to a cross section of the fraternity, the task force concluded that the country had to first address the concerns of those fundamental to the system as it embarked on the path of excellence.

Coaches' welfare and appreciation of human endeavour reflects in every recommendation this task force has made to the government for Tokyo 2020. Former India hockey captain Viren Rasquinha, a member of the task force, says this aspect would be India's stepping stone to success. Having represented India for eight years and spent as many years as a sports administrator, Rasquinha has his finger on the pulse of the issue.

Excerpts from an interview:

What was the feedback from Indian coaches?

One of the biggest complaints they had was that they were not being paid on par with foreign coaches. Even those with experience, expertise and a proven track record. Coaching plays a critical part in the development of sport. We felt the anomaly has to be corrected.

Did you speak with coaches at the grassroots?

We did. We realised that at every level, they felt inferior and let-down. They said there was no pride in being a coach. This feeling is not restricted to grassroots alone, it pervades the coaching scene, starting from the physical education teacher. Speak to any Indian coach and he will tell you the same thing. We realised that they had to be given importance and respect, their stature had to be enhanced. We hope that incentives, better salaries and upgrade of skills will be a small step towards that goal.

Has the task force recommended incentives as well as coaches' development across the board?

Yes, in equal measure. One, the performance of top Indian coaches needs to be incentivised not only to encourage them and raise their profiles but push those in the lower rungs to look forward to a better deal if they performed well. If we don't do it now, it will have a demoralising effect on coaches across sections. It can also dissuade former players from taking up coaching.

Two, we need to upgrade their skills and knowledge. To that end, an expert committee formed by the government and headed by (national badminton coach and task force member) P Gopichand is already at work, charting out steps for their development.

Is the sky now the limit for Indian coaches?

We have called for the removal of salary caps.Having said that, not all coaches qualify for this.The government has to take it up on a case-bycase basis. The merit of the coach, experience, expertise, track record and results produced will decide his or her pay. This also applies to other support staff — physios, mental trainers, nutritionists amongst others.

The task force is keen on former players contributing their mite...

For a former player, the greatest value lies in giving something back to the nation. Many of them are keen on doing it. Not in coaching alone but coaching is definitely one of them.Owing to the absence of a proper policy in the country, they are content with administrative jobs in public sector units. There is no doubt PSUs have contributed greatly to their financial stability. But we are keen that these players realise their potential as coaches as well. This is where PSUs can play a big role.

But former players employed with PSUs are not paid for their coaching stint with national squads...

We need to change the notion. We have recommended that in the case of former players of calibre who want to get into coaching, a formal note should go from the sports ministry to their employers (generally PSUs) that they should get official leave with pay and that they should retain their seniority in their organisation. These players will also have a separate coaching contract and be paid for their work at national camps.

Would you differentiate betwee an experienced coach and an Olympian who has just stepped in as a tutor?

We will because even if someone has won an Olympic med al he wouldn't have the expe rience as coach. At the same time, one cannot discount his experience and expertise as a player. We need to strike a balance here. Obviously, their pay cannot be the same as what the top Indian coaches get. Neither can we recommend a beginner's salary for them. That will hardly be an incentive for Olympians and internationals looking to make a career out of coaching.

As players they would have been away from their families for almost 11 months a year. As coaches, they will do the same thing and we need to make it worthwhile. So monetary incentives, opportunities and upgrade of coaching skills' are necessary. We have recommended a short coaching course for Olympians at the best institutions around the world before ushering them into national camps.

But all athletes are not good enough to be coaches...

I agree that everyone cannot become a coach. The skill sets of a player and coach are different. But we need to welcome all those who are willing to. We need the numbers now so that we can find quality in them. A majority of the athletes at the top level already have jobs in PSUs. If we have to offer them alternative careers, we need to make them feel welcome first.

A lot of these former players can begin at the age-group level where there is a huge dearth of coaches. This is where numbers matter. There are a few who have already taken the plunge, like Gagan Narang. He is still an active shooter but finds time to train his wards at his academy. We hope he will continue the good work.Likewise, other shooters — Joydeep Karmakar, Anjali Bhagwat and Suma Shirur too have turned coaches. In hockey, my former teammates — Arjun Halappa, Bharat Chetri and Jugraj Singh — have joined the ranks. Players like Jugraj have specialised knowledge (drag-flicks) and the country needs more such coaches.

Shouldn't India be aiming at excellence in coaching as well? The country also needs a plan in place to fine-tune their coaching skills...

That is the ultimate aim. We need to develop coaches at every level — community, grassroots, junior — with ample opportunities to go up the pyramid.But we are not thinking about it for 2020. We will recommend this for the long term. But we need to make a beginning soon so that a job stream is created and coaches are treated as professionals, like engineers and doctors.

It also means India will begin to rely less on foreign coaches...

In the long run, we will want all positions to be occupied by Indians.

The Times of India