All the news for Friday 30 June 2017

China stun Hockeyroos: New Zealand, Netherlands and Korea all qualify for 2018 World Cup




In a day of exciting action, top quality performances and the occasional upset, four teams have booked their ticket to both the 2018 Hockey World Cup and the Hockey World League Finals in Auckland at the end of this year.

China stunned the Hockeyroos when they turned on the style and saw their counter-attacking strategy pay off. The Netherlands continued their serene progress towards the semi-finals with a win over Spain; New Zealand put in a workmanlike performance to defeat Italy and Korea broke the hearts of a stadium full of Belgium fans to take the fourth semi-final place.

9th/10 place Scotland v Malaysia 1-0

Nicola Skrastin was able to celebrate her 100th cap for her country as Scotland (Hero FIH World Ranking: 16) enjoyed a win over Malaysia (WR: 22).

The match saw a strong and structured performance from the higher-ranked team and, despite some tricky skills and speedy movement from the Asian team, this was to be Scotland's day as they finished their first Hockey World League Semi-Final event in ninth position.

The Malaysian goalkeeper, Farah Yahya, was the first to be called into action as Scotland's Rebecca Merchant fired a fierce shot goalwards. That was the start of a period of sustained Scottish pressure and Sarah Robertson was able to fire home a few minutes later as she swept the ball into the goal following another well-worked penalty corner routine.

Malaysia fought back and created their own scoring opportunities, with Norsharina Shabuddin and Norfaiezah Saiuti in particular causing some trouble to the Scottish defence as they weaved their way through. Nicola Cochrane was called on to make an acrobatic save to maintain her team's lead, the tall 'keeper somehow managing to change direction in mid-air to palm the ball away. With three minutes left Malaysia were reduced to nine players as two players were sent off for poor tackles, and Scotland put the pressure on and kept the ball in the Malaysian half of the pitch for much of the remaining time.

"We have certainly learnt a lot from this tournament," said Skrastin after the game. "Which will stand us in good stead for the coming months. And we really enjoyed competing against some of the top teams. That opening match against the Netherlands was a great game to play in."

Speaking to Melanie Kreusch, from the local media team, Kareena Cuthbert said: "We knew Malaysia were fast and tough, but we were so happy to finish the tournament with a win. It has been a very good learning curve for us, we had a few debutantes in the team, so this is invaluable experience. We had a really good defensive structure throughout, we just need to score more goals."

Quarter-final 1

New Zealand v Italy 2-0

Quick breaks, fast counter-attacks and some fiercely competitive battles on the pitch – the match between New Zealand and Italy was a game that pitted the strong, physical fifth-ranked team against the rapidly-improving and equally tenacious 16th-ranked side.

It was the Black Sticks who prevailed and became the first nation to book their place, not just in the semi-finals of this event but also at the 2018 Hockey World Cup in London in 2018. Samantha Harrison scored a field goal in the sixth minute to give the Black Sticks the lead in the first quarter-final of the FINTRO Hockey World League Semi-Final.

A few minutes later a devastating run by Stacey Michelesen created the next clear-cut scoring opportunity – the captain's run gave Erin Goad the chance to shoot but Martina Chirico was up to the challenge and pulled off a good save.

Samantha Charlton added New Zealand's second – another goal from open play after more great build-up play. The long-serving player capitalised on her speed to fire the ball home.

Italy refused to give up and won a series of penalty corners in the third quarter. Sally Rutherford was called on to save twice but the New Zealand runners were also out quickly and bravely to negate the danger.

With five minutes left, Agata Wybierralska nearly halved the deficit with a well-taken penalty conner, which again put Rutherford under some pressure to deal with.

For Italy, this was a performance that showed great energy in the build-up but the next step in development must be to use a strategy to get around the well-disciplined defence that is the domain of higher-ranked teams such as New Zealand.

Italy's captain Chiara Tiddy said: "We knew this was always going to be a hard game because New Zealand play to a very high tempo. We created a lot of opportunities, especially penalty corners. We are now very excited for the next game because that is very important for our chances to qualify for the World Cup."

Mark Hager, head coach to New Zealand said he was delighted to have qualified for the World Cup and he was looking forward to the semi-finals. "There are still things to improve on but our defence played well and we created more opportunities than we had in earlier games."

Quarter-final 2 Australia v China 0-2

A subtle slip right on a penalty corner presented Wu Mengrong with the perfect opportunity to propel China from a fourth-place pool finish into the semi-finals and also into the 2018 World Cup. The second goal came on the counter and was quite stunning in its speed and ferocity. The goal was made by the excellent running of Zhang Jinrong and put away by Liang Meiyu.

The match itself was a classic encounter between the defensive Chinese, whose style of play is to defend strongly and counter with long passes, and the tenacious Australians, whose game plan is to press high and create as many attacking chances as possible.

The closest either side came to breaking the deadlock in the first half was when a break by China found Wang Na waiting on the edge of the Australia circle. Rachael Lynch was quickly out to nullify the attack.

At the other end of the pitch, Georgia Nanscawen was busy in midfield trying to spark an attack, but a major problem with the Australia side in this game was the lack of opportunities to shoot.

The first China goal, when it came in the 32nd minute of the match, was the result of a well-rehearsed and quite unexpected penalty corner routine. The ball came out to the top but rather than taking a first time shot, the ball was slipped to Wu, who was able to place it in the corner, past Lynch's outstretched foot.

With 10 minutes left on the clock, the Hockeyroos threw all they had at the Chinese defence. Emily Smith came close to equalising when she just failed to connect cleanly with a cross from Kathryn Slattery. The world number four side was made to pay when Liang Meiyu fired past Lynch to double the lead but Australia should have been alert to the danger as just seconds earlier Zhang Jinrong and Liang Meiyu had nearly combined after a virtually identical move.

Full credit must go to the Chinese for a game plan that took the sting out of the Australian attack and played to their own strengths.

"I don't think we had played our best in the earlier games," said Zhang Jinrong. "But today, we were focused and concentrated on our own game."

Captain Cui Qiuxia added: "We are so very, very pleased to have qualified for the World Cup and the Hockey World League Finals."

A disappointed but composed Jane Claxton said: "That is definitely shattering. We should have scored early but we didn't. We are a new, young group and we are still learning but it is a case of making the right decisions at the right time."

Quarter-final 3 Netherlands v Spain 2-0

A composed performance from the Netherlands saw the world's number one side book their place at the 2018 World Cup, giving them the chance to defend the title they won so convincingly in 2014. The result means the Dutch will be competing at the Hockey World League Final in Auckland at the end of the year.

Spain must now go into the 5-8th place play-offs and look to seal their place at the World Cup by finishing in fifth place.

An early trademark goal from Caia van Maasakker gave the Netherlands the initiative in this quarter-final encounter between two European teams. Spain are an attacking side that does not sit back and just soak up pressure and so the team in red worked hard to get the ball into the Dutch defending half – but they found the number one team on sharp form. For the first quarter, Netherlands enjoyed the majority of possession, mainly in the Spanish-defending quarter of the pitch.

As the half drew on, Netherlands continued to enjoy the majority of the game but they found themselves up against a Spanish team with a heap of resolve and, despite creating scoring opportunities and four penalty corner chances, the teams remained separated by just one goal at half-time.

Speaking at half-time, Spain's head coach Adrian Lock spoke about the need for his players to keep possession and be a little more clinical. Unfortunately for Lock, the team that took to the field with a higher level of clinical proficiency was the team in orange and a great run by Charlotte Vega forced a foul from the Spanish defence. Van Maasakker made no mistake with the ensuing penalty stroke as she sent Maria Ruiz the wrong way to double her team's lead.

Spain came back immediately as Berta Bonastre – who was a ball of energy throughout the game – burst into the Dutch circle and drew a reaction save from Anne Veenendaal, The subsequent penalty corner was scuffed and the Spanish were left rueing a chance to halve the deficit.

Van Maasakker declared it "a very good game, with a lot of pressure from both sides."

"The whole team is on the same page across the pitch. The main goal today was to turn pressure into goal scoring opportunities and we did that."

Korea v Belgium 1-1 (Korea win 3-2 penalty shootout)

Fast, furious with many, many scoring opportunities for both teams and the first shoot-out of the tournament – this was a match that had everything.

The final quarter-final match to decide who would grab the final Hockey World League Final ticket on offer at this event was frenetic and entertaining. The match went to the team from Asia as they proved the more clinical in the shoot-out with Cheon Eunbi, Cho Yun Kyoung and Cho Eunji all finding the target.

To the disappointment of the large host crowd, Korea took an early lead when Choen Seul Ki – the tournament's top goal scorer so far – sent a rocket of a shot past Aisling D'Hooghe in the third minute of the game. Belgium fought back hard and created a lot of scoring opportunities in the opening half but were unable to find a route to goal.

The score was levelled just after half-time when Emma Puvrez scored an innovative goal, picking the ball up in mid-air and shooting past Jang Soo Ji in the Korea goal. Three successive penalty corners for Korea severely tested D'Hooghe but the 'keeper proved herself more than up to the challenge. In a further Korean attack, a crucial tackle by Louise Cavenaile prevented an almost certain goal as Cheon Eunbi had received the ball in lots of space in the circle and was lining up to shoot home.

At the other end of the pitch some great play by Aix Gerniers earned her team a penalty corner which Lien Hillwaert narrowly failed to convert.

With neither side able to break the deadlock, the match went to shoot-out, with Korea prevailing to take one of the five World Cup qualification spots available at this event.

Belgium will be in the 5-8 place play-off, still with an opportunity to qualify in fifth place.

Manon Simons said: "I am very disappointed in the result but the overall game was good. We just lacked scoring. We were also very disappointed to lose the shoot-out. We have worked so hard as a newly-formed squad, so we are sad to finish on this result."

By contrast, Jang Soo Ji, goalkeeper during the shoot-out said, she was delighted at her team's increasingly good performances over the course of this tournament. She was also over the moon to have qualified for the World Cup and the Hockey World League Final.

With the four of the event's five World Cup qualification places filled by the four semi-finalists, there is now considerable interest in the race for fifth place. Italy, Australia, Spain and Belgium will all be focussed on the next match and the chance to play for that all important fifth place on Sunday.

And, depending on the outcomes of the upcoming Continental Championships, the number of World Cup qualifers from the Hockey World League Semi-Final events could increase ensuring that there is still all to play for here in Brussels.

In Saturday's semi-finals, Korea play China and the Netherlands take on New Zealand. Like the semi-finals, the 5-8 matches take place on Saturday 1 July, with Spain facing Italy and Belgium against Australia. 

We will be providing full coverage of the event via www.fih.ch including reports, news stories, event imagery and much more.

There will also be comprehensive coverage of the event via our social media channels, including Facebook, Instagram and Twitter using the #HWL2017 hashtag.

Quarter-final Results

(9/10): Scotland 1, Malaysia 0
(QF): New Zealand 3, Italy 0
(QF): Australia 0, China 2
(QF): Netherlands 2, Spain 0
(QF): Korea 1, Belgium 1 (pso 3-2)

Match schedule for 1 July (Times CET)
(5-8): Spain v Italy - 11:15
(5-8): Belgium v Australia - 13:30
(SF): Korea v China - 15:45
(SF): Netherlands v New Zealand - 18:00

FIH site


---

Vantage Black Sticks qualify for World Cup



Photo: Planet Hockey

The Vantage Black Sticks Women have qualified for the 2018 Hockey World Cup after defeating Italy 2-0 to progress to the semi finals in Brussels.

Five automatic berths for the Women's World Cup were available at the tournament with the Kiwis sealing one of those thanks to a guaranteed top four finish.

The result also double qualified the Black Sticks for the FIH Women's World League Final in Auckland from 17-26 November, for which they were already an automatic inclusion as the host nation.

Three other sides will join New Zealand at the World League Final following results later today in Brussels, while the top four finishers at the World League Semi Final in Johannesburg will also book a spot.

The Black Sticks now progress to the semi finals in Brussels where they will meet the winner of the Netherlands vs Spain quarter final on Saturday (NZ time).

Head coach Mark Hager said it was great to accomplish the top priority of World Cup qualification.

"It's fantastic to qualify for the World Cup at the earliest opportunity, that was the number one thing for us to tick off here," he said.

"We were finally able to put away some goals which was pleasing. We continue to create plenty of chances and just need to polish the finishes.

"We're now looking forward to the challenge of either the Dutch or Spain in the semi finals, we will watch that game pretty closely and then get ready to play for a place in the final."

New Zealand opened the scoring in the sixth minute when a nice pass across the face of goal found Samantha Harrison open for a straightforward tap in.

Samantha Charlton doubled the lead early in the second half when she received the ball at the top of the circle and sent a rocketing shot past the goalkeeper on her reverse stick.

The Kiwis continued to create opportunities on attack but Italy's desperate defence was able to scramble and avoid any further goals.

Italy put together some good plays of their own in the final 10 minutes but goalkeeper Sally Rutherford made several brilliant saves to keep a clean sheet.

VANTAGE BLACK STICKS 2: (Samantha Harrison, Samantha Charlton)
ITALY 0
Halftime: New Zealand 1-0

Hockey New Zealand Media release


---

Black Sticks women account for Italy 2-0, advance to semifinals in Belgium



Sam Charlton banged in a reverse-stick strike from the edge of the circle in the 35th-minute of the Black Sticks' 2-0 victory over Italy. GETTY IMAGES

With goals from the two Sams - Harrison and Charlton - the New Zealand Black Sticks defeated Italy 2-0 to advance to the semifinals of the FIH Hockey World League Semifinal tournament in Belgium.

With their fourth victory in five matches in Brussels on Thursday (Friday NZ Time), Mark Hager's Black Sticks moved into the final four on Saturday (Sunday NZT), where they will face unbeaten Netherlands, who defeated Spain 2-0 in their quarterfinal.

The victory also confirmed New Zealand's place at the 2018 Women's Hockey World Cup in London in July-August. As hosts, the Black Sticks had already qualified automatically for the Hockey World League Final tournament in Auckland in November but moving into the semifinals this week would have qualified them anyway.

"We're always striving to be better," Hager said. "We came here to qualify for the World Cup and we've done that and now we've got a chance to go on and play in a final."

New Zealand again got on the board early, with Harrison opening the scoring in the sixth minute with a field goal, her first goal of the tournament.

Charlton doubled the lead in the 35th minute with a fantastic reverse-stick strike from the top of the circle after the Black Sticks forced a turnover as Italy attempted to clear from their defensive zone.

"I think I score once every two years or so," Charlton said. "So it's pretty rare for me. I was happy to put it in the goal as I'd missed a bit of a sitter just before that, so it was due for me."

However, the Black Sticks again squandered several quality goal-scoring chances. They out-shot Italy 20-5 in total shots, including 12-2 in shots on goal but went 0-for-4 on penalty corner attempts, two days after going 0-for-11 in their 1-0 Pool B victory over Spain.

"We were better in front of goal. We finally put in a few goals," Hager said of his Black Sticks, who scored just four goals in four pool matches, three of those wins. "We said we'd be more concerned if we weren't producing opportunities but we've just go to put the polish on that."

Black Sticks 2 (Sam Harrison, Sam Charlton) Italy 0. 1Q: 1-0, HT: 1-0, 3Q: 2-0

Stuff


---

China defeat Hockeyroos 2 - 0 in QF at World League Semi's

Can still qualify for World Cup by placing 5th

Holly MacNeil




China have qualified for the 2018 World Cup after defeating the Hockeyroos 2 – nil in the quarter finals of the World League Semi-Finals held in Brussels, Belgium today.

China were first up for a chance at a penalty corner with five minutes to go in the first term, however the Australian defenders covered the net nicely and the ball went back into Australian territory.

Two minutes into the second half and China had their second opportunity at a penalty corner. The first flick was defended, however the second shot from Mengrong Wu sailed into goal giving China a one – nil advantage.

Australia answered immediately with a shot on penalty corner but the Chinese defence knocked the ball clear away from goal.

China made a break for goal in the 37th minute of play and with goalkeeper Rachael Lynch defending out to the left of goal, it was Karri McMahon who snuck in front of the net to knock the ball clear.

The Hockeyroos were left chasing after China scored a second goal in the 54th minute of play – a field goal from Meiyu Liang leaving the Australian's trailing.

With just over five minutes in the game the Hockeyroos replaced goalkeeper Rachael Lynch with Edwina Bone as kicking back; however it was too late in the game and China came away with the victory, progressing through to the semi-finals.

Following the game, Hockeyroos head coach Paul Gaudoin said: "Obviously I'm extremely disappointed with our performance; we didn't create enough chances, our basics let us down and our skill level has to be improved if we're serious about being amongst the top teams in the world.

"We knew the game was going to be a tough match, it was going to be a grind. We have a lot to do in the next period of time, but at the moment we're focusing on trying to ensure we qualify for the World Cup which will be the next two matches."

The Hockeyroos are still able to qualify for the 2018 World Cup should they finish in fifth position at the World League Semi-Final.

The Hockeyroos next play in the classification games on Saturday, 1 July. Who they will play depends on the outcome of the remaining quarter final matches played today. Tune into the game live on Fox Sports Australia.

Hockeyroos Match Schedule
Saturday, 1 July: Classification match TBC

HOCKEYROOS 0 (0)

CHINA 2 (0)
Mengrong Wu 32 (PC) 
Meiyu Liang 54 (FG)

Hockeyroos team v China
Athlete (Hometown, State)
Edwina Bone (Orange, NSW) *plays for ACT 141/3
Jane Claxton (Adelaide, SA) 125/11
Madison Fitzpatrick (Cabarita Beach, NSW) *plays for QLD 24/5
Kate Hanna (Constitution Hill, NSW) 23/1
Jordyn Holzberger (Ipswich, QLD) 52/5
Stephanie Kershaw (Townsville, QLD) 20/2
Rachael Lynch (Melbourne, VIC) 163/0
Georgina Morgan (Armidale, NSW) 64/14
Kathryn Slattery (South Stirling, WA) 75/27
Emily Smith (Crookwell, NSW) 177/67
Renee Taylor (Everton Park, QLD) 25/0

Used Substitutes
Laura Barden (Kew, VIC) 35/5
Jacqui Day (Mountain Creek, QLD) 14/0
Karri McMahon (Berri, SA) 117/9
Georgia Nanscawen (Melbourne, VIC) 203/37
Madeleine Ratcliffe (Warnambool, VIC) 17/3
Georgia Wilson (Mahogany Creek, WA) 7/0

Unused Substitutes
Jocelyn Bartram (Albury, NSW) 17/0

Hockey Australia media release


---

Scotland women defeat Malaysia to finish World League with a win



(Photo: FiH/Getty)

Scotland's women's hockey team ended their World League Semi-Final campaign with a dominant 1-0 win over Malaysia to claim ninth position in the tournament. The Scots were in complete control of each quarter of the match and could have won by a wider margin but for some tremendous Malaysian goalkeeping.

Scotland enjoyed control of the ball in the opening stages of the contest and managed a couple of circle entries in the first five minutes, without creating anything clear cut.

Their first shot on target came in the sixth minute from a well-worked penalty corner. Becky Merchant sweep the ball into the D for an Amy Brodie deflection but it was well saved by Farah Yahya in goal for Malaysia.

The Scots were awarded their second penalty corner just a minute later and this time they made it count when Sarah Robertson opened the scoring to give Scotland the lead. Robertson herself injected the penalty corner for a one-two exchange at the top of the D, before the ball was passed back to Robertson who arrived at the post to tap home.



(Photo: FiH/Getty)

Scotland went hunting for more goals and had chances for Amy Brodie and Nikki Lloyd denied by the Malaysians.

Fiona Burnet was also foiled by an absolutely fantastic save by Yahya. The ball was passed across the D by Katie Robertson and Burnet placed it in the corner only to be saved by the goalkeeper at full stretch.

Scotland's Amy Costello was also denied a goal from a penalty corner by a Malaysian defender on the post as Scotland pressed for a second goal.

Malaysia had their first shot of the match just after the start of the fourth quarter and prompted Nicki Cochrane's only save of the match. It was a solid defensive performance by the Scots.

Scotland turned up the heat towards the end of the match after the award of two Malaysian yellow cards in the final five minutes, but there were to be no more goals and Scotland ran out 1-0 winners.



(Photo: FiH/Getty)

Scotland Head Coach Gordon Shepherd said, "It was a very good performance, and it was pleasing to see the team dominating every quarter of the match. The game was 1-0 but it should have been about three or four nil on chances created.

"I'm delighted to finish the tournament with a win. We've not played badly in any of our games, and we've been unlucky at times too - we've had five solid games. So to finish on a win, with such a good performance, is very good for building towards the European championships."

Scottish Hockey Union media release


---

Hockey girls finish last

KUALA LUMPUR: Malaysia have ended up as wooden spoonists in the Women's World Hockey League Semi-Finals after losing 1-0 to Scotland in the ninth-placing playoff at the Fullon Stadium in Brussels, Belgium.

The national team were hoping to claim at least one win in the tournament but a seventh-minute penalty corner goal by Sarah Robertson put paid to their hopes.

This is world No. 22 Malaysia's first appearance in the World Hockey League Semi-Finals.

Coach K. Dharmaraj had set them a target of winning at least one group match, but they lost to Australia, Spain, Belgium and New Zealand.

The Star of Malaysia


---

Fintro Hockey World League Semi-Final match preview.




As the teams prepare for the penultimate day of action at the FINTRO Hockey World League Semi-Finals in Brussels, we take a look at the teams contesting the top spots. With the top four teams already qualified for the 2018 World Cup and the Hockey World League Final in Auckland in November, much of the attention will be on who can finish in fifth place – and take the final automatic World Cup qualification spot on offer at this event.

Spain v Italy

Spain played a strong game against the Netherlands in the quarter-finals and will be looking to take all they learnt from that encounter into this meetings with their European rivals. Both Spain (Hero World Ranking: 10) and Italy (WR: 16) have made tremendous progress since their performances at the equivalent Hockey World League Semi-Final events in Valencia and Antwerp in 2015, and will be looking to be in the mix for the fifth place on Sunday.

Expect Rocio Ybarra to be exhorting her team to finish this event with two winning performances. The Spanish have several danger players but the athlete who has caught the eye with her tenacity has been Berta Bonastre.

For Italy, Jasbeer Singh and Dalila Mirabella are two players who can inspire those around them to lift their game. With the excellent Chiara Tiddy marshalling the defence, Italy are a side that like to attack but are patient and disciplined when under pressure.

Belgium v Australia

Both Belgium and Australia will be licking their wounds after failing to reach the semi-finals. Belgium were incredibly unlucky not to have already booked a place at the 2018 World Cup – their match against Korea was the pick of the quarter-finals in terms of excitement and drama. Australia will be aware that they under performed and will be determined to redress that.

Both teams have the firepower to score goals: in Australia's case it is a question of whether the chances can be converted while in Belgium's case, it is a question of whether they can break down the strong Australian defence. Expect the game to be open and fast-paced because Australia is a team that likes to dominate the whole pitch, while Belgium love to play quick, innovative patterns, which can leave them open to counter-attacks.

Korea v China

Korea and China are two teams who set out their stalls to secure Wold Cup and Hockey World League Final qualifications and both teams achieved that in some style in the quarter-finals. The semi-final match could go one of two ways. This could be a classic encounter between two defensive sides – cagey and tactical rather than spectacular. Alternatively, one or both of the teams might decide to throw caution to the wind and go for a big win and bragging rights over their Asian rivals.

Korea's Cheon Seul Ki is the tournament's top scorer currently, and she is a danger on penalty corners but in the quarter-finals the player who caught the eye was China's Zhang Jinrong, whose speed and stick skill proved the undoing of the Australian defence.

Netherlands v New Zealand

The Netherlands have looked untroubled as they have advanced through the stages of this tournament but they might find the route to the final takes a tougher turn as they meet the Black Sticks. It is fair to say that neither side has yet reached its optimum performance, although New Zealand approached that point in their win over Australia. In other games, New Zealand's notorious speed and physicality has looked slightly off-key and Mark Hager will be hoping that the spark is lit in this semi-final encounter.

On their day, the speed and ferocity of players such as Stacey Michelesen, Sam Charlton and Sam Harrison, plus the strength of Liz Thompson and Olivia Merry, makes the Black Sticks a fearsome opponent.

The Netherlands has a new crop of prodigiously talented players, with the old-timers Margot van Geffen and Carlien Dirkse van den Heuval marshalling. It is difficult to pick out key players as each athlete has the capacity to astonish with their skills. Kitty van Male is an important catalyst for the team; Maartje Krekelaar is a talent for the future and Xan de Waard is living up to all the expectations that she will be a key member of the Oranje team for some time to come.

Match schedule for 1 July (Times CET)
(5-8): Spain v Italy - 11:15
(5-8): Belgium v Australia - 13:30
(SF): Korea v China - 15:45
(SF): Netherlands v New Zealand - 18:00

FIH site


---

Eyeing 2018 World Cup, Indian women's hockey team to leave for HWL Semi-Final tomorrow

Hockey World League Semi-Final will begin from July 8 in Johannesburg.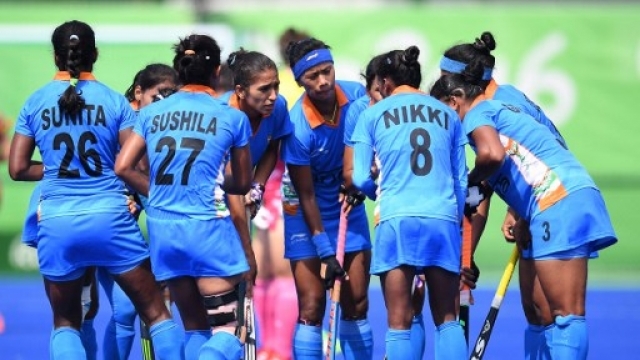 (AFP - File Photo)

With their eyes set on a berth for the 2018 World Cup, the Indian women's team will leave on Saturday for the Hockey World League Semi-Final in Johannesburg, starting July 8.

The 18-member Indian team led by striker Rani has been training in Delhi for the last six days before leaving for the World Cup Qualifier. "We played a couple of matches over the past one week against U-18 Boys. The whole idea of playing these matches was to see how the team copes with handling speed considering the boys play faster hockey. The physical aspect too was put to test," stated chief coach Sjoerd Marijne prior to their departure from here.

Earlier this month, the squad trained at the SAI Centre at Shillaroo to get acclimatised to the testing conditions in Johannesburg. Under Scientific Adviser Wayne Lombard, the team was put through intense training, with focus on improving speed, agility and attaining a greater level of fitness. "We would do four sessions a day and it is not easy training so hard at high altitude. The sessions were very challenging but the girls are eager and excited to earn a berth for the World Cup," said skipper Rani.

"Barring a couple of us in the team, most of them have not participated in a World Cup event and that anticipation is driving the team to give their 100% each session, each match and I am confident of a good show," she said.

Ahead of their first Pool B match against hosts South Africa, the team will play two practice matches against England and Ireland on July 3 and 5 respectively. "We can test ourselves against these two countries and analyse the areas we need to improve before we play our first match. While the recent camp was focused on improving speed and fitness, we also worked individually with strikers, midfielders and defenders, created more awareness about the techniques and strategies we need to adapt to and I am happy with the kind of progress the team has shown," Marijne said.

India are grouped with South Africa, USA, Chile and Argentina.

The chief coach insisted that the team can excel if they stick to the structure and execute the plans effectively. He said they would not want to repeat the mistakes they made against New Zealand where they lost 0-5 in a five-match series in May this year.

"Here in Delhi, we tried out different activities in which tennis too was one of them. I wanted the girls to understand what unforced errors are in tennis. When we played against New Zealand last month, it's not that we played badly but we made unforced errors which led to them scoring many goals. If we can avoid these slip ups then I believe we stand a good chance, stated the Dutchman.

India will take on South Africa on July 8 at 2130 hrs IST.

DNA


---

Skipper Rani confident of making the World Cup cut at Johannesburg

Indian women look to repeat Antwerp heroics

Uthra Ganesan



Ready to roll: The Indian women hope to clinch a World Cup in the HWL Semifinal in Johannesburg. 

Less than a week after the men finished a disappointing sixth at the Hockey World League Semifinal in London, the Indian women's hockey team leaves for Johannesburg to try and better that.

They need to, given that the men did not have anything at stake while the girls would be battling for a World Cup spot. A top-five finish would ensure a berth even though there remains the Asia Cup later this year.

"But if we qualify from here, there will be no pressure at the Asia Cup. We are fairly confident of making the cut at Johannesburg," captain Rani Rampal told The Hindu on the eve of the team's departure.

"We were not expected to, but qualified for the Olympics two years back in Antwerp. We can do it again. Also, we have a lot of youngsters in the side and are constantly trying to motivate them by giving our own example and the Olympics experience. It's a high that cannot be explained. So the younger players are excited to do well and prove a point," she added.

It is this belief and excitement that coach Sjoerd Marijne will be counting on when India takes on host South Africa in its opening game on July 8. Chile, USA and Argentina are the other teams in the pool and both the girls and the coach believe it isn't impossible to win against two of those. In fact, India defeated Chile in the HWL Round 2 this year.

"I can do all kinds of predictions but our focus right now is only on South Africa," Marijne said.

While the skills are there, and the girls are becoming fitter, the two areas he is concerned about are tactical awareness and self-belief.

"Every country has its culture and I think the things we are trying to change here are really deep-rooted. There is a lot of respect for others in India, and that's a good thing, but you can also give too much respect and that's what the girls are doing.

"We speak a lot about that but I know it cannot be changed overnight. The best thing to do is win against higher-ranked teams" said Marijne.

The Hindu


---

Mary Kom pep talk inspires Indian eves ahead of HWL semis

NEW DELHI: Battling against odds has been the hallmark of her illustrious career and that's precisely what MC Mary Kom told the members of the Indian women's hockey team as they embark on their journey to qualify for 2018 World Cup to be held in London.

Five-time world champion and London Olympic bronze medallist Mary Kom had a surprise session with Indian eves on Wednesday ahead of their departure for the FIH Hockey World League Semi-Final to be held in Johannesburg from July 8 to 23.

"We did everything in our capacity to prepare ourselves for the event. We even had an hour long inspirational session with Mary Kom yesterday. It was a surprise for the girls and they really liked it very much," Indian women's hockey team chief coach Marije Sjoerd told PTI.

The Indian eves, who are clubbed in a tough Pool B along side world no. 3 Argentina, world no. 6 USA besides hosts South Africa and Chile, will have to finish in top five to qualify for the World Cup.

The coach really liked how Mary interacted with the girls and inspired them with her life story.

"During the session Mary told her story to the girls. She talked about all the hardships she overcame. She talked about how important is the mental preparation. It was really an inspirational session," he said.

Marijne said the Indian girls are presently in a much better shape and he is confident of a positive result from the upcoming tournament.

"Our goal is to qualify for the World Cup. Argentina and USA are two higher ranked teams in our pool but we are not at all bothered about our opponents. We are just focussing on our game," the Dutchman said.

Just after taking charge of the team, he once said what Indian eves lack is self belief but Marijne is quite happy with the progress they have made on that front.

"The self belief is getting much better. The better the results the higher will be the confidence of the girls. They have also improved their fitness a lot. They now can play harder," he said.

Before the tournament starts, India will play two practice games against England and Ireland, which the coach feels will give him an idea about where his wards stand in front of their rivals.

India will open their campaign in the tournament against hosts South Africa on July 8 followed by matches against USA (on July 10), Chile (July 12) and Argentina (July 16).

The Times of India


---

Rank loss in London: The defence couldn't hold

Inexperience of defenders and unsettled midfield led to disappointment in World League Semifinal

Indervir Grewal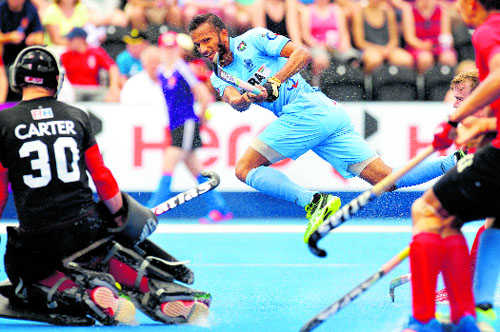 India lost to Canada in the World League Semifinal to finish sixth at the first major tournament in the new Olympics cycle. file

Roelant Oltmans apparently got a bit agitated during the press conference after India's shocking loss to Canada in the Hockey World League Semifinal in London.

The 63-year-old has a sardonic wit, but he is not known for losing his temper, especially on the sidelines during matches. However, he was left fuming during India's defeat to Malaysia, even hurling a jersey towards the team dugout.

It is easy to understand the Dutchman's frustration. Being a fan of the inconsistent and unpredictable Indian men's hockey team is exciting, but also frustrating.

Oltmans would be disappointed with India's 6th-place finish at the first major tournament in the new Olympics cycle; the fans surely are, having expected better from world No. 6 India, who were the third-highest ranked side at the event.

However, there had been no indications in the run-up to the tournament that should have raised expectations. India struggled at the Azlan Shah Cup and were unimpressive in the three-nation tournament in Germany.

It was only the team's big wins in the first three matches that ignited hopes for a medal. The big margins, in wins over lower-ranked teams, only concealed the cracks that had been there in the run-up to the event. When the intensity increased, the cracks widened and India fell short.

After the defeat to Canada, Oltmans said that sometimes defeats helped identify the problems better.

Defence: Lack of experience

India's defence has always been their weakest characteristic. But after years of hard work, starting from the time of Australian Terry Walsh, a level of discipline was instilled in the team. That regimen involved a certain set of players working together towards a single goal. Working together is the key in any team sport, but it was more so in this case because individually, most of these players were not the strongest defenders.

In London, India missed three prominent members of that group — VR Raghunath, Birendra Lakra and Rupinderpal Singh.

The absence of PR Sreejesh through injury compounded India's troubles. He was missed not only as a goalkeeper but as someone who could marshal the defence. The young defence badly needed a leader. There was too much of chaotic running — in the Malaysia match, especially, two-three defenders tried to tackle a rival forward without much benefit. There was a lack of understanding, both at the back and in the midfield. It led to lapses in zonal defence — one of Canada's goals resulted from a 70-yard pass to an unmarked forward in the Indian third.

Technically, the youngsters show big potential, but it will take time and work for India's defence to become a solid unit.

Midfield: Unsettled

Over the last couple of years, Oltmans has constantly experimented with new combinations in the midfield, be it trying different players or changing the playing positions and roles of the regulars. More emphasis has been on finding the right combination in the centre — with Sardar Singh coming to the fag end of his career, there is a need for playmakers. Last year, even striker Akashdeep Singh was used in a playmaking role at a tournament.

Sardar's role, over the last year, has been the most unsettled. And with the new Olympics cycle starting, there is a conscious effort to bring in the new generation. Oltmans has already used a few of the players from the junior team. They, however, will need time to mature. Oltmans' go-to man, his star ward in the Junior World Cup campaign, Harjeet Singh, is neither physically nor mentally ready to handle the intensity and speed of the senior level.

Strike-force: Improvement

Watching the Indian forwards make the same decision-making mistakes — missing chances galore — over the last few years gave rise to hopelessness. Profligate has become a commonly used term to describe the Indian strikers. Even Oltmans said that if you can't stay cool in the scoring area, you don't deserve to win. However, Oltmans chose to look at the positives as well.

Amidst all the disappointment and negativity, it would be unfair to overlook the positives. Despite the missed chances, the forwards' performance was the most encouraging in many years. In the seven matches, India had 177 circle entries and 95 shots on target. They earned 25 penalty corners. Though they could only score 25 goals, the number of chances created was much better than in the past. Even against the Netherlands, India had 10 shots on goal. 

There is a definite improvement in decision-making and positioning in and around the opponent circle. The next step is to convert more chances. Also, the forwards need to be more creative, which includes more dodges and interplay. There were glimpses of it, especially from Akashdeep. There will be improvement with time, as the forwards' confidence grows and judgement improves.

The Tribune


---

Paul Revington appointed GB Development Programme Head Coach



Paul Revington

Great Britain Hockey are delighted to announce the appointment of Paul Revington as GB Development Programme Head Coach.

Paul is a hugely experienced senior international coach, and will bring a significant depth of experience as he leads the GB Development Programme and supports the senior England and Great Britain women's programme as they seek repeated medal winning performance on the world stage.

With that split role, Paul will be driving a step change in performance and player development in the sub-senior group. His role will maximise the potential of future world-leading players and help underpin consistent and systemic medal-winning performance at senior level.

The 43-year-old South African has a hugely impressive CV, having been head coach of Ireland, Malaysia and South Africa's senior teams in a 16-year international coaching career.

He oversaw significant progression in the world rankings of all three of those nations, and has also held assistant coaching positions with Spain's senior men's team, as well as the Delhi Waveriders in the Hockey India League. As the FIH All Star Coach of 2011, his reputation in the game is of the highest order.

Performance Director Ed Barney said: "First of all, after a hugely competitive recruitment process, I am delighted to welcome Paul on board. We are very much looking forward to adding his expertise to our coaching group. His role is an extremely important one, and with a strategic emphasis on a progressing the GB Development Programme in the Tokyo cycle, I have no doubt that Paul will bring a wealth of knowledge, expertise and impact to our programmes.

"Paul's experience at international level of developing players and maximising their potential were key factors in us bringing him on board, and I look forward to his hard work bearing fruit in both the medium and long term."

Paul added: "It is indeed an honour and a privilege to become a member of the England and Great Britain Hockey team and organisation, one which I have admired and been inspired by ever since starting my own involvement in hockey between 1986 and 1988. It is extremely exciting for me to enter at the start of the Tokyo 2020 cycle in a position to add value to England and Great Britain Hockey as they aim to make a significant step-change in the development of players in the GB Development Programme.

"The women's teams have brought considerable success and pride to the entire public over the past years and I enter into the role with immense determination and drive to search for areas of continual improvement within the environment. I look forward to playing my role in helping to enhance the collective 'winning after winning' culture within the current GB and England Squad."

Paul will be responsible for planning, implementing and having a transformational impact on player development within the GB Development Programme, and leading England under 21 activity. As part of Paul's role, he will also spend approximately two days per week supporting delivery of the England and Great Britain senior programme, and, support the senior women's programme at major international tournaments such as World Cup and Olympic Games.

To that end, Paul will be part of our group for July's Hockey World League Semi Final in Johannesburg, and the EuroHockey Championships in Holland in August.

Paul will be relocating to England with his wife and two children.

England Hockey Board Media release


---

Beltran and Catlin snapped up by Rotterdam



©: Frank Uijlenbroek

Rotterdam have signed up Albert Beltran, pictured, and Nick Catlin for the upcoming season when they will return to the Euro Hockey League.

Spanish international Beltran, 23, moves from Atlètic Terrassa and will link up with the panel following a busy summer – he is currently part of the Spain team to compete at the World League semi-final in Johannesburg in July.

Catlin, 28, moves to the club from East Grinstead who he played with last season having lined out for Holcombe the year before when they topped the English regular season table.

They are among several additions to their first team panel with youth players Nick van Trigt and Hugo Mann moving up while Sijbrand Bolhuis comes in from the second team.

Tjep Hoedemakers comes in from Oranje-Rood when Rolf Steenmetser switches from Beeston. In addition, Thijs van Dam and Jochem Bakker have extended their contracts with the club.

On the flip side, England internationals Adam Dixon and Harry Martin have returned to their national league with Beeston and Hampstead & Westminster, respectively.

Euro Hockey League media release


---

Rickli moves from Racing Bruxelles to Almere



©: Frank Uijlenbroek

Swiss international Andrin Rickli has moved from Racing Club de Bruxelles to Almere in the Netherlands. Rickli has been a key player with Racing for the last few seasons, competing in the Euro Hockey League in the 2013-14 season when the club reached the FINAL4 as well as last season in the KO16 in Eindhoven.

Previously, he played for Rot-Weiss Köln in 2013 where he became the German champion while, last season, he helped Racing land third place in Belgium and a return visit to the EHL.

Euro Hockey League media release