All the news for Friday 23 June 2017

Four teams book World Cup 2018 tickets on Day 7 in London




London, England: The seventh day of action at the Men's Hero Hockey World League Semi-Final saw four teams confirm their places at the Odisha Hockey Men's World Cup Bhubaneswar 2018 thanks to victories in the quarter-final stages.

Argentina, Malaysia, Netherlands and England all recorded the wins they required, and will now switch their attentions to winning this event and also booking a place at the showpiece end-of-year Odisha Hockey World League Final, which also takes place in the Indian city of Bhubaneswar.

Rio 2016 Olympic gold medallists Argentina will meet Malaysia in the event semi-finals here in London after defeating Pakistan and India respectively.

Argentina (1st Pool A) were the first team to confirm their place at next year's Odisha Hockey Men's World Cup Bhubaneswar 2018, although Pakistan (4th Pool B) gave the reigning Olympic champions a stern trst before going down 3-1. Maico Casella scored twice in the contest, with Gonzalo Peillat also on target with his 12th goal of the competition. Ali Shan was the scorer of Pakistan's solitary but deserved goal, netting from open play in the 49th minute. It was a special day for Matias Paredes, who celebrated his 300 senior international match with a victory.

Speaking after the game, 20-year-old attacker Maico Casella said: "I'm very happy with the game and personally really pleased to have scored. Luckily we have qualified for the World Cup which was our aim coming into this as well as reinforcing our position as world number one."

The fact that Argentina's semi-final opponents here in London are Malaysia is certainly something of a turn-up for the books, with India starting the quarter-final as heavy favourites against their lower ranked rivals from Asia.

India (2nd Pool B) fell to a surprise 3-2 defeat against Asian rivals Malaysia (3rd Pool A) in the day's second quarter-final, with Malaysia's third successive victory at the event confirming their place at the World Cup and the event semi-finals here in London. Razie Rahim and Tengku Tajuddin gave the Malaysians a 2-0 advantage in the second period, but a brilliant double strike from Ramandeep Singh restored parity ahead of half time. Razie claimed his second goal of the match with a 48th minute penalty corner, a strike which proved to be the winner despite Ramandeep missing a golden opportunity to level in the final minutes. 

India's failure to finish in the top four here in London has a knock-on effect for the Odisha Hockey World League Final at the end of the year in Bhubaneswar. As the hosts, India will be joined in Bhubaneswar by the top three finishers from the World League Semi-Finals both in London and Johannesburg, as well as the highest ranked of the fourth placed finishers from those events.

The other semi-final will be contested between The Netherlands and home favourites England, who overcame the challenges of China and Canada to book a safe passage through to the final four here in London and also seal their respective tickets to next year's World Cup.

The Netherlands (1st Pool B) made light work of their quarter-final to confirm their World Cup qualification, turning on the style with a sparkling 7-0 win over China (4th Pool A). The Dutch scored some sensational team goals, with Mirco Pruijser netting twice alongside strikes from Robbert Kemperman, Jonas de Geus, team captain Billy Bakker, Bjorn Kellerman and Tristan Alegre. Bakker's goal was the 50th of his international career on the occasion of his 150th international match.

While The Netherlands made cruised to victory against their opponents, host nation England were given a real scare by Canada before taking a 4-2 win. Canada established a 2-0 lead in the opening 12 minutes thanks to goals from John Smythe and Gordon Johnston before Barry Middleton reduced the deficit by tipping in a brilliant high ball, getting just ahead of Canada goalkeeper David Carter to a make it 2-1 at the end of the first quarter. Mark Gleghorne levelled matters with a fine deflection in the second period, with David Goodfield and Sam Ward scored the goals that confirmed England's place at next year's showpiece Hockey World Cup in Bhubaneswar.  

Earlier in the day, Korea were the winners of the 11-12 classification match, defeating Scotland 6-3.

With four of the event's five World Cup qualification places now filled by the four semi-finalists, there is now considerable interest in the race for fifth place. Pakistan, China and Canada are all in the hunt, with World Cup 2018 hosts India completing the 5-8 line-up. Depending on the outcomes of the upcoming Continental Championships, the number of World Cup qualifers from the Hockey World League Semi-Final events could increase, ensuring that there is still all to play for here in London. Like the semi-finals, the 5-8 matches take place on Saturday 24 June, with India playing Pakistan and China taking on Canada.

Quarter-final Results
Match 21 (9/10): Korea 6, Scotland 3
Match 22 (QF): Argentina 3, Pakistan 1
Match 23 (QF): India 2, Malaysia 3
Match 25 (QF): Netherlands 7, China 0
Match 24 (QF): England 4, Canada 2

Match schedule for 24 June (All times local - GMT +1)
Match 27 (5-8): Canada v China - 0930
Match 26 (5-8): Pakistan v India - 1145
Match 28 (SF): Argentina v Malaysia - 1400
Match 29 (SF): England v Netherlands - 1615

FIH site


---

England secure World Cup qualification



David Goodfield celebrates his goal v Canada

England secured World Cup qualification in dramatic fashion as they came from behind to beat Canada 4-2 and reach the Hero Hockey Men's World Hockey semi-finals.

Goals from Barry Middleton, Mark Gleghorne, David Goodfield and Sam Ward were enough to ensure their side made it through to the final four, where they will face the Netherlands on Saturday.

It wasn't all plain sailing and an upset looked to be on the cards when Canada found themselves two goals ahead after just 12 minutes courtesy of strikes from John Smythe and Gordon Johnston.

Having conceded just seven goals in the group stages, Canada then made England work hard for their chances but eventually the continuous pressure told as Bobby Crutchley's side pulled ahead to earn their fourth victory of the tournament.

It was the hosts who started the final fixture of the day as the brighter team, creating the game's first chance in the sixth minute as David Carter saved Sam Ward's snapshot.

But their opponents were the ones who opened the scoring three minutes later as Smythe slammed the ball into the goal after a superb run by Keegan Pereira down the left.

Canada then doubled the lead in the 12th minute as Johnston's fantastic penalty corner flick gave George Pinner no chance down to his left.

That seemed to wake England up however and moments later they had halved the deficit as Middleton rose above Carter to get the faintest of touches on a deflected Ward pass and turn it into the goal.

With the support of another superb crowd spurring them on England then pushed for the equaliser and it duly arrived in the 23rd minute as Gleghorne cutely deflected Mikey Hoare's wicked cross past Carter.

They had chances to go ahead before half-time but Carter did well to keep out a Chris Griffiths strike as well as a penalty corner with just one second remaining to ensure the sides went into the break level.

England then went straight back onto the attack in the second half as Carter was called into action once again after just 15 seconds, using his legs to keep out a stinging drive from Middleton.

He then produced another good save to keep out Ward but, as the pressure continued to mount, it seemed only a matter of time before England would score again.

And that they did in the 38th minute through Goodfield as he got in front of a Canadian defender to divert Phil Roper's cross into the goal.

Ward was then denied twice more as Iain Smythe did well to charge down a penalty corner before a diving Carter saved another effort four minutes from time.

He did eventually get his eight goal of the tournament though in the 57th minute, producing a fantastic reverse stick shot to score from the narrowest of angles and wrap up the victory for his side.

England Hockey Board Media release


---

Canada takes early lead but loses quarterfinal to England in London

Shaheed Devji



Mark Pearson of Canada and Henry Weir of England battle for possesion during the quarter final match between England and Canada on day seven of the Hero Hockey World League Semi-Final at Lee Valley Hockey and Tennis Centre on June 22, 2017 in London, England. (Photo by Alex Morton/Getty Images)

Canada's men's field hockey team went up 2-0 in the first quarter, before England tied and eventually won by a score of 4-2 in Thursday's quarterfinal match at the 2017 World League Semi-Final in London.

"It was a tough game, I think our guys worked hard," says Canadian interim head coach Paul Bundy. "We kept the game plan where we could. They're a good side and they took their opportunities when they came."

When it comes to the World League Semi-Final quarterfinals, Canada's men's field hockey team is not averse to dramatics.

In Thursday's match against World No. 7 and tournament host England, Canada's men – who upset No. 7 ranked New Zealand in the 2015 quarterfinal match – looked like they were going to produce another upset for the ages after going ahead early much to the surprise of the pro-England crowd at the Lee Valley Hockey and Tennis Centre.

John Smythe put Canada on the board first in the 9th minute when he smashed home a rebound, after England goalkeeper George Pinner made a save off Keegan Pereira, who made an impressive run into the circle before putting a shot off the keeper's shoulder.

England had a chance to get on the board in the 10th minute but Canadian netminder David Carter made a calm foot save on Mark Gleghorne.

Canada then picked up its first corner of the game in the 12th minute and doubled its lead when Gordon Johnston scored his third goal of the tournament on a drag flick that beat the English post-man.

It was a start to the game that not even Canada could have expected. But what happened next was even more surprising.

In the 13th minute, a ball played from well outside the Canadian circle took a deflection off a Canadian stick, high into the air and made its way towards the Canadian goal.

On the other end was Carter waiting for it to come down, and an onrushing Barry Middleton who leaped with his stick high in the air and seemingly got a slight touch on the ball before it hit Carter and went in.

The umpires went to review and ruled there was a touch from the England player and therefore the goal should count.

But Bundy and Canada saw it from a different perspective.

"It should be dangerous no matter if it's an aerial or not," says the Canadian coach. "I think the umpires have made an error. They've given me the nod…and we have to live with it."

From that point, the game changed.

England was given a shot of energy, while Canada weas drained of some. And before the first half came to an end, England tallied the equalizing goal on a deflection from Gleghorne in the 24th minute.

In the second half, the English kept coming and scored two more.

While Canada held the slight edge in possession in the third quarter, England had more chances and the eventual winner came in the 38th minute when David Greenfield picked the ball out of the air after a Carter save and batted it in the Canadian goal.

The fourth and final goal came in the 57th minute when Carter, who was in top form all game, made two saves on an England penalty corner before Sam Ward knocked in the rebound with a backhand.

Canada pulled the keeper in favour of a kicking back but was not able to find any more goals.

The Canadians will now play off for the 5th-8th spots throughout the remainder of the competition.

However, with fifth spot in London being given a spot at the 2018 World Cup, there is still a lot to play for.

Canada, currently ranked 11th in the world, faces 18th ranked China on Saturday (1:30am PT/4:30am ET, live on CBC Sports).

The winner of that match will play either India or Pakistan, who both also lost in Thursday's quarterfinal matches, in the 5th place match on Sunday.

Field Hockey Canada media release


---

Malaysia score upset win over India in World Hockey League Semi-Finals

PETALING JAYA: Malaysia upset world No. 6 India 3-2 to advance into the semi-finals of the World Hockey League Semi-Finals in London.

Malaysia, ranked 14 in the world, started off well by scoring two penalty corner goals in a space of one minute.

Defender Mohd Razie Abdul Rahim gave Malaysia the lead in the 19th minute and a minute later Tengku Ahmad Tajuddin Tengku Abdul Jalil scored off another penalty corner goal at Lee Valley Hockey and Tennis Centre.

But India managed to equalise with two goals in a spell of two minutes. Ramandeep Singh scored in the 24th minute and two minutes later he was on target again to score off a penalty corner.

Mohd Razie was the hero for Malaysia netting the winning goal off a penalty corner in the 48th minute.

It was the first time Malaysia reached the last four in the World League Semi-finals and they will face world No. 1 and Olympic champions Argentina in the semi-finals on Saturday.

The Star of Malaysia


---

Stephen salutes players' character after sealing World Cup spot

by Aftar Singh



On target: Fitri Saari celebrating after scoring against China in the Group A match of the World Hockey League Semi-Finals in London on Tuesday.

KUALA LUMPUR: Who would have thought that Malaysia would qualify for next year's World Cup after losing their two opening group matches in the World Hockey League Semi-Finals in London?

They lost 5-2 to world No. 1 Argentina in their first Group A match before being trounced 7-3 by England.

National coach Stephen van Huizen's men then bounced back to beat South Korea 1-0 and, on Tuesday, completed their group fixtures with a 5-1 win over China to check into the quarter-finals and seal their place in next year's World Cup, to be held in Bhubaneswar, India.

World No. 14 Malaysia will face Group B runners-up and world No. 6 India in the quarter-finals at the Lee Valley Hockey and Tennis Centre today.

Malaysia played their best match in London against China – scoring four goals in the first 27 minutes.

Defender Mohd Razie Abdul Rahim was the toast for Malaysia after netting two penalty corner goals in the 19th and 27th minutes.

Faizal Saari (second minute), Muhd Najmi Farizal Jazlan (12th) and Fitri Saari (51st) added a goal apiece.

Du Talake scored China's consolation goal in the 43rd minute.

"We knew before coming to London that the first two matches – against Argentina and England – would be tough. I am happy that my boys bounced back to win the next two," said Stephen in a telephone interview from London yesterday.

"We struggled against the Koreans, but played well against China for a convincing win."

Stephen expects another tough time against India as "they have a solid team".

"They also have a penalty corner specialist in Harmanpreet Singh, who has scored three goals in this tournament," said Stephen.

"India will also be seeking to avenge their 1-0 loss to us in the Sultan Azlan Shah Cup (in Ipoh last month).

"My players are in high spirits and ready to give their best. We want to go beyond the quarter-final stage, which was our initial target."



The Star of Malaysia


---

India beaten by better Malaysia in the quarters

s2h team

Malaysia made history of their own, dousing Indian hopes in time to win the HWL SF 2016 quarterfinal with a tight 2-3 score, and thus made it to not only the London semis but also to the next World Cup. India made valiant effort to come back into the game after trailing 0-2 to 2-2 with a brace from Ramandeep Singh, but a controversial penalty corner that was unsuccessfully referred to neutral umpire by India, was converted by Razie Rahim (3-2) in the 48th minute. It lasted till the hooter. It was his second goal in the most important match Malaysia played this year. Malaysia converted 3 of its seven penalty corners to corner glory in London.

Thus another Asian Country, Malaysia, qualified for the Delhi World Cup 2018.

Disappointed Indian coach Roelant Oltmans was said to be in a mood to lodge an official protest on the award of Malaysia's second penalty corner in succession which gave India the last blow, but it is learnt he could not do within deadline. Its quite unlikely technical table will turn the result even it a protest is put down in time.

India played late part of second quarter and the last very well, but the frontline missed many sitters with unbelievable close misses. Akashdeep Singh, Ramandeep Singh, especially Talwinder Singh did not measure up when their class and acumen were needed the most.

With barely 30 seconds left in the clock, Sardar Singh set up a good move, but Ramandeep Singh just missed to connect in front of the goal, so also Akashdeep who pushed outside the cage a close range move a minute ago.

Sensing their chances to beat India, as was done in May this year in the Azlan Shah Cup, Malaysian played their heart out to indulge in wide celebrations later.

Its pumped up Malaysia that dictated the field proceedings in the first 20 minutes and expectedly built up heavy pressure on Indian defence. Goalie Vikas Dahiya played with his big heart to ward off two one to one solos wrought by sharper Malaysian forwards but could not stop them from getting first penalty corner in the very second minutes, but Razie Rahim's low flick was cleared.

Malaysia wont give up and earned two more penalty corners of which first Razie converted (1-0) in the 18th minute and then off his drag in the next penalty corer Tengku put the stick in the flight to deflect the ball on the top of roof (2-0) two minutes later.

The two goals in two minutes was returned in the same coin by the rampaging India who woke up to the task bit later. Ramandeep Singh dived to his right to connect a long cross from Sumit (1-2) and then off Chenglensana's rebound shot off India's first penalty corner(2-2).

Over all, India conceded as many as seven penalty corners while earning three which all went up in smoke a Harmanpreet Singh was ordinary and Kumar Subramaniam in the rival's cage was extraordinary.

INDIA-MALAYSIA LAST ENCOUNTER: India needed a 2-goal margin win in their last pool match to enter the Azlan Shah Cup final this May. While India could not convert any of the five penalty corners it got, Malaysia went on to convert its fourth and fifth in the51st minute to deny India win. This 0-1 loss denied India entry into the final.

Stick2Hockey.com


---

Malaysia ease past listless India in Hockey World League Semi-final

The below-par performance and some sloppy defending ruined India's hopes of making it through the quarter-final of the World Hockey League Semi-Final. They eventually lost 3-2 to Malaysia.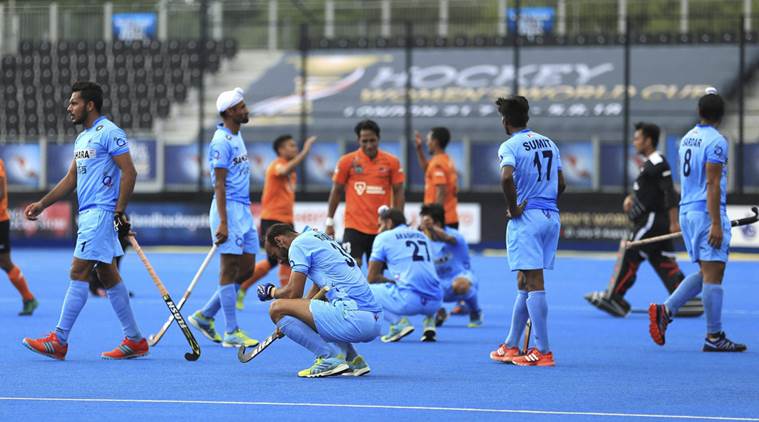 India lost 3-2 to Malaysia in the quarter-finals of Hockey World League. (Source: AP)

Out of disgust, Roelant Oltmans threw a bib in the dugout. With less than five minutes left for India to find an equaliser and force a shoot-out, Ramandeep Singh tried to dribble past a couple of Malaysian defenders through the centre instead of passing it to a free man either side of him. Expectedly, he was blocked and another Indian move ended with nothing.

You never really see Oltmans show emotions on the touchline. It's rarer to see him lose his temper. But India's performance on Thursday had left many frustrated. They eventually lost 3-2 to Malaysia in the quarterfinals of the Hockey World League Oltmans and his players will point out a controversial umpiring decision in the final quarter, which led to Malaysia getting a penalty corner. Razie Rahim duly converted it to give Malaysia the lead with just 12 minutes left to play. But India had several opportunies before and after that goal to wrap up the match. India began slowly.

A surprised Oltmans said the team was 'nervous', because of which they could not execute the gameplan. The idea was the pass the ball around quickly, not allowing the Malaysians to settle. Instead, the Indian players ran aimlessly.

Very often in big matches, India have resorted to this age-old technique that Oltmans has been trying to get rid off. Against India, Malaysia tend to pack their half while defending, leaving very little space for the attackers to find space. In their attempt to dribble past the defenders, Indian players kept hitting the wall. "They (Malaysia) are a team that is crowded around their own 25 (metre line). So carrying the ball does not work. They (Indian players) know, understand and discussed it. But you still need to execute it," Oltmans said.

The below-par performance and some sloppy defending ruined India's hopes. They conceded as many as seven penalty corners, three of which were converted by Malaysia through Rahim (19th, 48th minutes) and Tengku Tajuddin. India's goals came from the sticks of Ramandeep Singh (24th, 26th).

Ramandeep had a chance to complete his hattrick in the final minute of the game. He was unmarked in inside the circle but his deflection in front of an open Malaysian goal was wide by inches.

By virtue of this win, Malaysia have qualified for next year's World Cup to be held in India. For India, it is their second defeat against Malaysia in little less than two months. Roelant Oltmans' men had earlier lost 0-1 to the same opponents in the Azlan Shah Cup last month.

Malaysia will face reigning Olympic champions and world number one Argentina in Saturday's semifinal. Argentina had earlier in the day defeated Pakistan in the first quarterfinal match. India, meanwhile, will face Pakistan in the 5th-8th place playoff match on Saturday.

Indian Express


---

Misfiring India pays the price

Malaysia prevails 3-2 to set up a last-four meeting with Argentina



Short-lived joy: Ramandeep Singh is ecstatic after slotting his second goal that helped India draw level in the semifinal against Malaysia on Thursday. However, the Asian rival had last laugh winning 3-2 to enter the last four. 

Fancied India crashed out of the Hockey World League Semifinal after suffering a shocking 3-2 defeat at the hands of Malaysia in a quarterfinal match here on Thursday. By virtue of this win, Malaysia has qualified for next year's World Cup to be held in India.

It was hard-fought encounter, as both teams played with great intensity, and the Indians only had themselves to blame as a below-par opening 20 minutes and some sloppy defending ruined their hopes.

India conceded as many as seven penalty corners, three of which were converted by Malaysia through Razie Rahim (19th, 48th minute) and Tengku Tajuddin (20th). India's goals came from the stick of Ramandeep Singh (24th, 26th).

For India, it is its second defeat against Malaysia in little less than two months. Roelant Oltmans' men had lost 1-0 in the Azlan Shah Cup last month.

Malaysia will face Olympic champion and World No.1 Argentina in Saturday's semifinal. Argentina had, earlier in the day, defeated Pakistan 3-1 in their quarterfinal match.

Ranked sixth in the world, the Indians started as overwhelming favourites against 14th placed Malaysia but the script did not unveil as expected at least in the first 23 minutes of the game.

The Indians were yet again slow to get off the blocks and looked scrappy.

Malaysia, on the other hand, were compact in their defensive structure initially and also troubled India's backline.

Malaysia pressed hard early on and secured two penalty corners but wasted both the chances. The first quarter ended goalless with Malaysia controlling the proceedings.

Malaysia continued their attacking game and got a great opportunity to break the deadlock in the 17h minute when a scoop from the deep found Nabil Noor alone inside the Indian circle but an alert goalkeeper Vikas Dahiya came off his line to deny Noor.

Two minutes later, Malaysia earned another penalty corner but this time Dahiya failed to keep Razie Rahim's flick out of the goal as the ball went in after hitting his body.

A minute later, Malaysia doubled their lead against the run of play as Tengku Tajuddin neatly deflected in from their fourth penalty corner.

Down by two goals, it was time for India to bounce back strongly into the game and they did exactly that and levelled the scores with two goals in a span of two minutes.

Ramandeep scored from literally India's first shot at the goal, deflecting in Sumit's defence-splitting cross from the right flank.

Two minutes later, Ramandeep once again found himself at the right place at the right time and scored the equaliser after skipper Manpreet Singh messed up a variation effort from India's first penalty corner.

After the change of ends, the Indians continued to dominate the proceedings and earned two penalty corners in quick succession but Harmanpreet Singh failed to deliver once again.

While the Indians played attacking hockey, the Malaysians preferred to sit back and defend and rely on counter-attacks.

Malaysia's ploy worked and they secured two more penalty corners in the 48th minute, the second of which was converted by Razie Rahim for his second goal of the day.

Down by a goal, the Indians went all out attacking in the last 10 minutes and had three clear chances to score.

While Mandeep's deflection off Harmanpreet's pass went just wide, three minutes later veteran Malaysia goalkeeper Kumar Subramiam made a brilliant save to deny Akashdeep Singh.

In the final minute of the game, an unmarked Ramandeep had a golden chance to score his hat-trick and take the match into shoot-out but his deflection in front of an open Malaysian goal was wide by inches.

The Hindu


---

Argentina beat Pakistan 3-1 in the quarter final

Argentina beat Pakistan 3-1 in the quarter final of the  Hockey World League Semifinal Round which is also  the qualifiers for the  Hockey World Cup, at London's Queen Elizabeth Olympic Park.

Argentina, world's no 1 ranked side dominated for large phases. Their most potent weapon Gonzalo Pelliat

was a little off colour. He converted only one out of the eight penalty corners. Pakistani net minder Amjad's brilliance also denied him on a few occasions.

Though there was no score in the first 15 minutes but it was all Argentina, who had three penalty corners. Pakistan failed to make a single circle penetration.
In the second quarter, after Argentina wasted another PC, Pakistan had a good attacking spree. Two PCs were obtained but the green shirts couldnt make them count.

Soon,  Amjad thwarted another PC. However, in the 22nd minute after Amjad had made an outstanding save off a top of the circle attempt, a rash stick challenge by Aleem Bilal resulted in a penalty stroke. Maico Casella cashed in on it.

Half time: Argentina: 1 Pakistan: 0

The South Americans held the upper hand throughout  the third quarter. Off the sixth PC, finally the maestro scored. It was missile of a flick by Pelliat.

In the 44th minute, it was 3-0. A wonderful reverse stick pass from left of the circle by Ortiz was easily slotted in at the far post by Casella, standing unmarked close to the goal.

The last quarter was perhaps the most evenly contested.

Off the third PC, Abubakr's well placed flick was brilliantly stopped by the defender on the line. However, off the rebound, the ball remained in the Argentine circle for a while. Finally Ali Shan's forceful reverse shot sounded the board for Pakistan's only goal.

Argentina's eight PC saw the save of the match. An air borne Amjad Ali put the full blooded Pelliat attempt out with the edge of his stick held well above the head in fully stretched right arm.

Now, Pakistan would appear in the 5-8 position play off matches starting from Saturday.

SCORERS:
Argentina: Maico Casella (2) & Gonzalo Pelliat
Pakistan: Ali Shan

PHF Media release


---

Argentina edge out Pakistan, enter last four

London - Unlike their cricket team in the ICC Champions Trophy, Pakistan could not produce any magic against World No 1 Argentina in a quarterfinal match of the Hero Hockey World League semifinal on Thursday. Argentina beat Pakistan 3-1 to become the first team to enter the last-four stage of the tournament and await the winners of the match between India and Malaysia. Maico Casella bagged a pair of goals for Argentina.

The Hockey World League is also serving as a qualifier for the World Cup and today's defeat reduces Pakistan's chances of making it the world championship in India in 2018. This has been a horror tournament for the Pakistanis. They were lucky to make the knockouts as the fourth team in their group. The former World Cup and Olympic champions looked a pale shadow of their golden past, winning just one group match against lowly Scotland.

On a cool and breezy afternoon at the Lee Valley Hockey and Tennis Centre, Pakistan had their backs to the wall for most of the match. At one stage of the second quarter, Pakistan were defending with all 10 men, a reflection of their inability to stitch together a single noteworthy move.

Argentina had complete control of space and ball possession. The Pakistanis only made it easier for the world No. 1 team by losing the ball easily and frequently. Maico Casella's 23rd minute goal from the spot separated the teams at half time. The 1-0 scoreline was not a true reflection of the Argentina's domination. Pakistan goalkeeper Amjad Ali's four fabulous saves denied Argentina from walking away with the game. The Argentines could not score a single goal from their first five penalty corners.

Pakistan conceded two goals in the third quarter. In this session, they were down to nine men. Gonzalo Peillat finally converted a penalty corner with a sizzling hit past Amjad Ali's right in the 32nd minute. An unmarked Casella scored his second in the 44th minute, showing great composure in front of the goal (3-0). Pakistan won their third penalty corner of the match in 48th minute. It was yet another weak attempt at the goal but Ali Shan capitalised on the rebound, found space on the left, blinded the Argentina keeper with a swift turn and scored with a rasping reverse hit.

Pakistan's best man on the pitch was undoubtedly goalkeeper Amjad Ali. He saved at least half-a-dozen certain goals. Or else, the green shirts would have ended with their heaviest defeat in this tournament. India had beaten Pakistan 7-1 in a group match and Canada pumped in six goals against a team that has much work to do to revive their status in world hockey.

Meanwhile, Malaysia once against proved to be a thorn in India's flesh. Ramandeep Singh's double strike went in vain as India went down 3-2 in a quarterfinal match of Hero Hockey World League semifinal on Thursday.

India's coach Roelant Oltmans, however, wasn't ready to concede defeat easily. He challenged the umpire's decision to award Malaysia their sixth penalty corner from which Razie Rahim scored the match-winner in the 48th minute of the match. "It was not fair on us," India's Dutch coach said after the match.

Malaysia's win gives them a ticket to the 2018 World Cup in India. Razie Rahim, who opened Malaysia's scoring in the 19th minute, told HT: "It is a dream come true. We have been waiting for this day for a long time."

Malaysia will now clash with world No 1 Argentina in the semifinals while India will take on Pakistan for the second time in the tournament for the fifth/sixth positions. India had beaten Pakistan 7-1 in their group match. Argentina defeated Pakistan 3-1 in Thursday's first quarterfinal at the Lee Valley Hockey and Tennis Centre at the Queen Elizabeth Olympic Park.

The Nation


---

Scotland men battle bravely but lose final game against Korea



(Photos: FiH/Getty)

Scotland men, in a courageous performance, were defeated in their final match of the Hockey World League Semi-Finals in London. A battle-weary Scotland from their heroic efforts throughout the tournament fought every inch of the match, but were undone by the clinical finishing of Korea at Lee Valley.

Scotland got off to a great start in the match and opened the scoring when the game was just three minutes old. Tim Atkins popped up in the right place at the right time and provided the finish when he deflected home from close range to give Scotland a 1-0 lead.



(Photos: FiH/Getty)

In the eleventh minute of the match Korea equalised. Jongsuk Bae was on hand to tap home at the back post to bring his side back into the match. Just three minutes later and the Koreans got their noses in front. Jihun Yang found the back of the Scotland net from a penalty corner to make it 2-1 just before the end of the first quarter.

The Blue Sticks were punished by another penalty corner just over halfway through the second quarter. Jonghyun Jang flicked the ball into the top right corner from the penalty corner to put some daylight between the teams as half time approached.

Scotland battled hard before half time and created chances through Alan Forsyth, Gordon McIntyre, and Kenny Bain but were unable to convert to pull the score back before the break.

In the second half Junwoo Jeong furthered Korea's advantage when he scored from open play on 40 minutes to make it 4-1. Then just before the end of the third quarter Korea made it 5-1 through Jungjan Lee.



(Photos: FiH/Getty)

The Scots were giving it everything they had and were matching the Koreans for possession and opportunities created. Korea however made it 6-1 just after the restart through Weonki Hwang.

Scotland kept plugging away and were rewarded for their efforts when Kenny Bain pulled one back with six minutes remaining. The Blue Sticks were fighting all the way until the end and Bain got his name on the scoresheet again when he converted his second of the match with a minute remaining to make a final score of 6-3 to Korea.

Scottish Hockey Union media release


---

Australia move to top of Pool B: Spain's Rocio Ybarra enjoys double celebration




It was a day of celebration for Spain's Rocio Ybarra and Australia's Georgia Nanscawen as both players celebrated winning performances and reaching 250 and 200 cap milestones respectively. Ybarra's achievement is a Spanish national record.

The day itself saw Australia establish themselves at the top of Pool B, with two wins from two matches. In Pool A, things are a little tighter as Korea and Italy, plus Scotland and China both played out a draw.

Early in the day, hordes of youngsters from Belgium schools enjoyed an entertaining afternoon of hockey, and the noise levels increased further when host nation Belgium took to the field later in the day, cheered on by the knowledgeable Belgium supporters.

With the dual prize of qualification for the 2018 Hockey World Cup and a place at the Hockey World League Final 2017 for those finishing in the top slots, this is an event in which every team will be pulling out all the stops to secure as high a pool place finish as possible.

There are rich rewards for the top placed teams. The four highest finishers will go on to compete in the showcase end of year event, the Hockey World League Final in Auckland, New Zealand between 17-26 November.

And five automatic berths are available for the 2018 Hockey Women's World Cup in London, England, although this will increase depending on the outcomes of the upcoming Continental Championships, which are also World Cup qualification events.

Korea v Italy 0-0

A goalless draw between Italy and Korea was, nevertheless, full of energy and passion, with both teams chasing their first win in Pool A. For Italy, ranked at number 16 in the FIH World Rankings, this was a result that confirms their ability to compete with the higher ranked nations. For Korea (WR: 9), a win in their next match is now vital if they are to progress and get one of the all important World Cup and Hockey World League Final qualification spots.

Italy, who drew their first game with China, started much the stronger as they drove energetically and relentlessly at the Korea defence. Lara Oviedo came close to penetrating the Korea defence with a mid-air shot that was saved by Jang Soo Ji. The resultant penalty corner was also well saved. The second quarter saw the Korea side edge back into the game. Pressure led to the Asian team's first penalty corner but Italy's 'keeper Martina Chirico was quick to react with a diving save.

Much of the second quarter was characterised by good build-up in the midfield but little reward in either attacking circle. The tempo and intensity of the game built as the time ticked down but these were two teams who were as concerned about not conceding as they were about scoring. Strong defence on both sides meant that any attacking moves were stopped abruptly in their stride and frustration levels grew on both sides. Italy put the goal in the back of the net but the goal was disallowed as an attacker was judged to have entered the circle too early.

Italy's Eugenia Matstronardi said: "We are very happy with both the results against China and Korea. We knew they would be physical and we had prepared for that. We are playing this and what ever they were expecting, they knew they were going to be physical. Overall they were happy past results.

"We are doing it step by step, the next game is against Scotland and we now hope to secure a win against a lower ranked side. That really is the nature of our team, retake it game-by-game."

China v Scotland 1-1

Scotland got off to a dream start in their second match in pool A. The Scots took the lead in the eighth minute when Rebecca Merchant slammed the ball into the Chinese goal. This galvanised the lower ranked team – Scotland are ranked 17 in the FIH World Rankings – and they poured forward to put pressure on the Chinese. But, the Asian side, who are currently ranked eighth in the world, are experienced at this level and they continued to keep working to their game plan. The reward for their efforts was scored by Gu Bing Feng, who shot home from a penalty corner to even the score.

"That is my job, my responsibility," said the Chinese striker, speaking after the game.

There was drama in the last minutes of the game as China pushed hard for the winning goal but despite referrals and penalty corners, the Scottish defence held firm and were pleased to take a point from their second match of the competition.

Speaking to Melanie Kreusch of the local organising committee media team, Merchant said: "We were very satisfied with the result. Obviously I was pleased to score the goal in the first few minutes as that gave us a lot of confidence and we played some really good hockey. Now we are looking forward to our match against Italy (WR: 16); we have played two higher ranked teams, so we are looking forward to take all we have learnt and use it against a team of similar ranking."

Spain v Malaysia 3-1

On the day that Rocio Ybarra celebrated her record-breaking 250 caps for her country, Spain were forced to come from a goal down to secure the points in this intriguing match-up against Malaysia. The Tigeresses took the lead through captain Siti Ruhani as she clinically shot home from a penalty corner in the third minute. Spain were rocked by this unexpected turn of events as Malaysia are currently ranked at 22 in the world, 12 places below 10th-ranked Spain.

Urged on by Adrian Lock on the sideline, Spain turned up the pressure to get back on terms but they were made to wait until the 28th minute by a staunch Malaysian defence. it was Carola Salvatella who turned a ball into the goal as it bounced loose in the circle after sustained Spanish pressure. Spain's second goal came from a penalty stroke, Lola Riera putting the ball calmly past Farah Yahya in the Malaysia goal. It was Riera who scored the Red Sticks third goal – a belter of a shot from a penalty corner after some good work by the Spanish attack had pressured Malaysia into conceding the corner. Malaysia worked hard but Spain were now in their stride and looked capable of scoring with every attack. They had a goal disallowed towards the end of the third quarter and Malaysia dug deep to keep the score at three.

Head coach to Malaysia, Muhammad Dhaarma Raj, said he was pleased with the way his team had performed in both matches in Pool B so far. "We came here ranked 22nd in the world and the teams we play all have Olympic and World Cup experience.

"We are learning with every game and these players are determined to work hard, perform well and turn the spotlight on women's hockey in Malaysia. That is what I am proud of."

Spain's coach Adrian Lock said: "We started slowly and then we got into the game in the middle of the match. We will go away and look at the video to see what we need to work on, but the basics are possession and ball movement."

Two-goal hero Lola Riera said: "I am very happy about the team performance. Of course I was pleased to score but I value how well the team worked together, particularly as we stayed calm when we went behind. The difference between today and yesterday was that we took our chances today."

Australia v Belgium 1-0

The final match of Day Two was a fast-paced and exciting game between Oceania champions Australia and host nation Belgium. Although there is currently a 10 place gap between the two teams' FIH World Rankings (Australia are fourth and Belgium are 14th), this was a tense and close encounter. Australia moved into the lead in the first quarter as Georgina Morgan continued to show why she is fast earning a reputation as a penalty corner specialist. From that moment on, the game swung back and forth with Belgium creating as many chances as their higher ranked rivals.

Aisling D'Hooghe in the Belgium goal was on fine form as she saved from numerous Australia attacks but her counterparts Rachael Lynch and Jocelyn Bartram, who shared the 'keeper's spot, were equally busy as the Red Panthers showed creativity and imagination in their attack.

"We were playing the world number four," said Joanne Peeters, "although we would have preferred not to lose, it was a good performance and it gives us a lot of confidence in the next games."

The win was doubly sweet for Georgia Nanscawen who celebrated 200 caps.

"We haven't played Belgium for a while," said coach Paul Gaudoin, "they had some experienced players out there, so I was pleased to get a second win. I thought we played better than the previous game but every match is a step towards improvement.' Action resumes on Satruday 24 June.

FIH site


---

Hockeyroos defeat home team Belgium 1 - 0

Second win at World League Semi-Final

Holly MacNeil




The Hockeyroos took on home team Belgium tonight at the World League Semi-Finals in Brussels, coming away with their second win of the tournament in a fast paced and skilful game.

Both teams were fighting to take control of the match early on with circle entries aplenty at each end of the pitch. In the twelfth minute of play the Hockeyroos forced a penalty corner opportunity, with Georgie Morgan's powerful flick converting for Australia to give them a 1 – nil lead.

Belgium fought back with two circle entries minutes later but Australia had two spectacular saves from goalkeeper and game captain Rachael Lynch.

Belgium had their first chance at a penalty corner 28 minutes into the game, however the Australian defence were all over the ball sprinting from the net to avoid giving Belgium the equaliser.

With three minutes to go in the third quarter Belgium were up for a second chance at a penalty corner. Again, the Australian defence were too good with a tackle from Edwina Bone stopping their chance at goal.

With just a minute to go in the game Belgium were awarded a penalty corner opportunity, however the shot went wide and the Australians came away with their second win of the tournament defeating Belgium 1 – nil.

Hockeyroos head coach Paul Gaudoin said: "It was pleasing to get the win, that was important today. There are lots of little things we can learn – game smarts that will put us in good stead for our game against New Zealand.

"I think we improved from yesterday which was fantastic, but we still have to have a better understanding of the stage of the game and how to play in those situations. We'll do a fair bit of work on that in the next 48 hours."

The Hockeyroos next play New Zealand on Saturday at 2pm local time / 8pm AWST / 10pm AEST. Tune into the game live on Fox Sports Australia.

HOCKEYROOS 1 (1)
Georgie Morgan 12 (PC)

BELGIUM 0 (0)

Hockeyroos Match Schedule
Saturday, 24 June v NZL at 2pm local / 8pm AWST / 10pm AEST
Sunday, 25 June v ESP at 2pm local / 8pm AWST / 10pm AEST
Thursday, 29 June – quarter finals TBC

Hockeyroos team v Belgium
Athlete (Hometown, State)
Jane Claxton (Adelaide, SA) 122/11
Jacqui Day (Mountain Creek, QLD) 11/0
Kate Hanna (Constitution Hill, NSW) 20/1
Jordyn Holzberger (Ipswich, QLD) 49/5
Rachael Lynch (Melbourne, VIC) 160/0
Karri McMahon (Berri, SA) 114/9
Georgina Morgan (Armidale, NSW) 61/13
Georgia Nanscawen (Melbourne, VIC) 200/37
Madeleine Ratcliffe (Warnambool, VIC) 14/3
Emily Smith (Crookwell, NSW) 174/66
Renee Taylor (Everton Park, QLD) 22/0

Used Substitutes
Laura Barden (Kew, VIC) 32/5
Jocelyn Bartram (Albury, NSW) 15/0
Edwina Bone (Orange, NSW) *plays for ACT 138/3
Madison Fitzpatrick (Cabarita Beach, NSW) *plays for QLD 21/5
Stephanie Kershaw (Townsville, QLD) 17/2
Kathryn Slattery (South Stirling, WA) 72/25
Georgia Wilson (Mahogany Creek, WA) 4/0

Hockey Australia media release


---

Malaysia lose to Spain in women's World Hockey League Semi-Finals

PETALING JAYA: Malaysia put up a good performance against world No. 10 Spain before losing 3-1 in a Group B match of the women's World Hockey League Semi-Finals in Brussels, Belgium on Thursday.

Malaysia, ranked 22 in the world, started off well by taking the lead off their first penalty corner, converted by skipper Siti Noor Amarina Ruhani in the third minute at the Fallon Stadium.

But Spain, the 1992 Barcelona Olympics gold medallists, came back strongly to net three goals in the spell of eight minutes.

Carola Salvatella equalised in the 28th minute off a field goal.

Lola Riera, meanwhile, was the heroine for Spain scoring two goals — in the 31st minute off a penalty stroke and from a penalty corner in the 36th minute.

On Wednesday, Malaysia lost their opening match 3-0 to world No. 4 Australia.

The Star of Malaysia


---

Dharmaraj: Women's team stepping up the plate against the big guns




KUALA LUMPUR: The Malaysian women's hockey team have shown good progress on the international stage after going down fighting 3-0 to former world champions Australia in their opening Group B match of the World Hockey League Semi-Finals in Belgium.

Coach K. Dharmaraj (pic) girls' also showed great determination and even managed to penetrate world No. 4 Australia's tight defence and earn four penalty corners at the Fallon Stadium in Brussels on Wednesday.

"We played an open game and caused problems for the Australian defence. We created many chances and also earned four penalty corners. It's too bad we couldn't get our act right.

"I believe that my players will be able to raise their game against the other teams in our group," said Dharmaraj, who has been coaching the women's team the last 18 months, in a telephone interview.

Malaysia are playing in the World League Semi-Finals for the first time and it showed as Australia took the lead off their first penalty corner attempt in the fourth minute.

Maddy Fitzpatrick's shot from the top semi-circle went through the pads of goalkeeper Farah Ayuni Yahya.

Despite the early setback, Malaysia – the lowest ranked team in Brussels at No. 22 – troubled the Australian team with their counter-attacks.

But Australia proved just too good with the penalty corner conversions, with Fitzpatrick netting the second in the 44th minute before Georgina Morgan added the third in the 59th minute.

The Star of Malaysia


---

Scotland draw with China in second game of World League Semi-Finals



(Photo: FiH/Getty)

Scotland women drew with China, ranked nine places above Scotland, in their second match of the World League Semi-Finals in Brussels. It was an excellent performance from the Scots who were unlucky not to pick up the win in a highly entertaining match.

China got off to a bright start and took the game to Scotland with pace without really causing the Scots any real difficulties in defence. The Scotland defence was strong and confident and restricted the Chinese to playing keep-ball.

That all changed when Scotland took the lead after a swift move down the left created the opportunity for Becky Merchant who calmly slotted the ball home to put Scotland 1-0 up.

Scotland were looking comfortable in possession since the goal, keeping the ball well and passing with ease. Scotland had a good chance to double their lead when they won a penalty corner. Amy Costello's effort was charged down just on the whistle for the end of the first quarter.

Just as they did the in the first quarter, China started the quarter very quickly and came close to equalising when they worked their way into the Scotland D from the right. Some excellent defending by Costello denied a shot on goal for China, which would have spelled danger had the effort been fired away.

Then a penalty corner was awarded to China, and it was bravely charged down by Ali Howie. The block prompted a Scotland break but it ended in a long corner, which China defended well.



(Photo: FiH/Getty)

China looked certain to score when a fleeting move down the left created a great chance for an arriving striker in front of goal, but Katie Holmes made up incredible ground to make an exceptional interception to deny a clear shot on goal.

Scotland weren't in the clear yet and some loose defending forced Gibson to pad the ball away, leading to a penalty corner.

The penalty corner was struck well towards the bottom right corner but Gibson was quick down to it and made a superb save to keep her team in the lead at half time.

Then another penalty corner was awarded to China after a Costello challenge. China set out for an elaborate set-piece but a great challenge by Howie disrupted the set-piece; she read the pass perfectly and broke clear.

Then it was Scotland's turn to be awarded a penalty corner; the resulting ball into the D found Cuthbert unable to connect to deflect the effort, and the ball was cleared easily by the feet of the goalkeeper.

Scotland then fashioned an excellent chance to score but Merchant was unable to get a shot on goal and was crowded out.

China looked dangerous as the quarter drew to a close but the Scots were solid in defence and kept the door firmly shut as China battled for an equaliser.

Scotland started the final quarter strongly and nearly doubled their advantage. Some lovely hockey by Scotland saw Millie Brown send Howie running at speed into the D, but her smash hit couldn't find Merchant at the back post.

Another opportunity came soon after - Merchant did well in the corner to find Nikki Lloyd who turned well in the D but her shot fired over the bar.



(Photo: FiH/Getty)

Then China won a penalty corner and used it to find an equaliser. The low bullet into the right corner made it 1-1.

With five minutes to go Scotland went pressing for a winner but they were nearly caught out by the China break.

Some lovely play by China led to a penalty corner, which prompted a simply amazing save by Gibson low to her right to keep it 1-1.

In the dying seconds of the match a series of penalty corners were awarded to the Chinese but they couldn't convert any of them and Scotland held on for a well-earned draw.

Scotland Head Coach Gordon Shepherd said, "It was a very good performance and I'm delighted to get a point from the match. It was tough to lose the equaliser late in the game but the performance was excellent, and a point is a good return against the higher ranked team.

"We've played the world number one, and world number eight now and we're very pleased with the performances. We get a day's rest now and will prepare well for the Italy game."

Amy Gibson, "They're ranked higher than us so it was always going to be tough, we were looking for win but we're happy with the point. We've been working hard to stay solid, and focus on strengths to win points. We're looking to do our best and pick up as many points as possible."

Scottish Hockey Union media release


---

Black Sticks women must improve attack to gain World Cup qualification: coach Mark Hager

OLIVIA CALDWELL



Defender Sam Charlton has been a stand-out performer for the Black Sticks since they landed in Europe this month. GETTY IMAGES


The Black Sticks must up the ante on attack to win their FIH World League Semi Final, says coach Mark Hager.

The Black Sticks women beat Spain 1-0 on Thursday morning (NZT), through the well-placed penalty goal from striker Olivia Merry.

Hager says the win was a lucky escape for his side as either team could have come out on top of the tough encounter in Brussels.



Pippa Hayward adds a strong element to the Black Sticks midfield. GETTY IMAGES

"We are still probably not where we want to be, we are still not playing our best hockey," he said.

"We are not doing our best in attack."

While the Black Sticks women are renowned for their attacking ability and speed in the midfield, they have been adapting to a new-look side and have relied more on a defensive game, which was key to their win against Spain.

The Kiwis had just come off a series loss to Spain in Barcelona, which made the narrow win particularly satisfying for Hager.

"We were better defensively. Barcelona gave us a real good look at them [Spain] and in the end it was a strong defensive performance that won it."

Hager said strong performances from captain Stacey Michelsen, midfielder Sam Charlton and the defensive line had proved crucial this week, but he would like to see more consistency across the field.

"There were moments of good play and moments of bad play. I think that's what's letting us down - our inconsistency. We were a little bit lucky to get away with a one-nil win."

Likewise their next opponent of the tournament, Australia, narrowly beat Belgium 1-0 on Friday morning (NZT). Hager believes his side is capable of an upset against the trans-Tasman foe and possibly the host nation Belgium this weekend.

While the Black Sticks gain automatic entry into the world league series final held in New Zealand in November, a top-five finish in Belgium would qualify them for next year's Hockey World Cup.

"We really want to win if we can, it's going to be tight. There are three other really good teams here."

Hager has come fresh off a "back seat' position in the coaching panel while assistant coach Sean Dancer had been coaching the side since April this year.

He said the rest period had been refreshing and, while he had never lost the passion for coaching, it had given him the opportunity to watch from a distance.

The tournament hosts Belgium, reigning world champions Netherlands, Oceania champions Australia, Asian champions Korea, China, Spain, Malaysia, Scotland and Italy are competing in Brussels.

After the pool matches New Zealand are likely to face the Netherlands and heavyweights China in playoff stages.

The men's semi will be held in Johannesburg between 8-23 July.

AT A GLANCE
Women's Hockey World League Semi-Finals June 21 –  July 2, Brussels
June 21 vs Spain (Won by NZ 1-0)
June 24 vs Australia
June 25 Belgium
June 27 Malaysia
June 29 Quarter finals
July 1 Semi finals
July 2 Final

Stuff


---

Green Machine Put 4 Past Spain On Route To Victory




Ireland got off to a flying start with a drag flick goal from Shane O'Donoghue in the second minute and rarely relinquished control of the ball in the opening exchanges.  The pace was blistering at times and captain Jonny Bell was causing the Spanish trouble all over the pitch as he distributed the ball at will. Spain began to grow into the game but a mis-trapped penalty corner in the 8th minute saw their first chance wasted and Pau Quemada aired his reverse shot after doing the hard work to get around 3 defenders into the circle. Alan Sothern doubled his sides lead in the 20th minute via another penalty corner drag flick, Mario Fernandez beaten low on his right side again. David Harte was called into action late in the first half but was out to smother the ball before clearing the danger to ensure his sides 2-0 lead at the half.

The second half didn't alter much from the first as the Green Machine looked in control for much of proceedings. A well-worked penalty corner routine in the 29th minute gave saw O'Donoghue fake his drag to set up Lee Cole who made no mistake in bringing the score to 3-0. The goal-scoring chances simmered down as Spain began to apply more pressure but rarely looked like scoring. Diego Arana got his side on the scoresheet late in the game as a goal-mouth scramble saw him bundle the ball in following Harte's initial save. But Ireland got the last word,breaking at pace, and Spain without a keeper in net, saw Matthew Nelson add the finishing touch to the 4-1 victory.

The Green Machine are back in action again tomorrow against Austria at 3:45pm.

Ireland 4 (O'Donoghue, Sothern, L Cole, Nelson)
Spain 1(Arana)

Ireland: D Harte, J Jackson, J Bell (Captain), M Bell, C Cargo, M Nelson, A Sothern, S O'Donoghue, S Murray, J McKee, S Loughrey

Subs: J Carr, E Magee, N Glassey, P Gleghorne, J Duncan, L Cole, S Cole

Spain: S Enrique, M Delas (Captain),  P Quemada, V Ruiz, A Iglesias, R Santana,  M Salles, A Beltran, J Romeu, M Fernandez, E Gonzalez

Subs: Q Cortes, R Sanchez, D Arana, A de Frutos, M Serrahima, M Bolto, M Perrellon

Hamburg Masters (all Irish time)
Thursday 22/6 3:45pm: Ireland 4vs1 Spain
Friday 23/6 3:45pm: Ireland vs Austria
Sunday 25/6 11:30am: Ireland vs Germany

Irish Hockey Association media release


---

Trio of corners keeps unbeaten streak rolling



Shane O'Donoghue scored the opening goal for Ireland against Spain. Pic: Adrian Boehm

Ireland's men stretched their unbeaten run to 12 games with a 4-1 dismissal of 10th ranked Spain on the opening day of the Hamburg Masters.

Indeed, they have lost just once in 14 games in 2017 as Shane O'Donoghue slung home a very early penalty corner, the first goal coming just 90 seconds into the tie, won when John McKee turned the ball onto a foot.

Alan Sothern pinged the post 30 seconds later in a spectacular opening from the Green Machine, a first-time shot after Chris Cargo burst forward and won the ball in midfield. Sothern did get the second goal from a 20th minute corner to make it 2-0.

Spain rallied and had a couple of half-chances in the second quarter, the pick of them from Pau Quemada but he fresh-aired his diving reverse from mid-circle.

In the third quarter, though, Spain offered little and the game's result was pretty much done and dusted when Sothern produced some magic down the left wing to win Ireland's fourth corner.

Lee Cole whipped in from a left switch, finishing off from O'Donoghue's dramatic spin to lay on the chance, making it 3-0.

The Spaniards perked up in the final quarter though chances were scarce enough until three minutes to go via Diego Arana from their second corner, bundling home the second phase.

Ireland, though, had the final word when Matthew Nelson stole in ahead of Sothern to nab the fourth goal from John Jackson's pass, the players queueing up to touch into an open goal after Spain withdrew their goalkeeper.

Ireland are back in action on Friday at 3.45pm (Irish time) against Austria before meeting Olympic bronze medalists on Sunday in their final preparation games before the World Cup qualifiers in July in Johannesburg.

Hamburg Masters
Ireland 4 (S O'Donoghue, A Sothern L Cole, M Nelson) Spain 1 (D Arana)

Ireland: D Harte, J Jackson, J Bell, M Bell, C Cargo, M Nelson, A Sothern, S O'Donoghue, S Murray, J McKee, S Loughrey
Subs: E Magee, N Glassey, P Gleghorne, J Duncan, L Cole, S Cole, J Carr

Spain: M Fernandez, S Enrique, M Delas, P Quemada, V Ruiz, A Iglesias, R Santana, M Salles, A Beltran, J Romeu, E Gonzalez
Subs: R Sanchez, D Arana, A de Frutos, M Serrahima, M Bolto, M Perrellon, Q Cortes

Umpires: T Meissner, M Eilmer

The Hook


---

USMNT Splits First Two Test Series Games with France




PARIS, France -  After being overseas for ten days training in Germany, the U.S. Men's National Team hit the turf on Tuesday evening for their first match of a three-game series against FIH Hero World Ranked No. 17 France. The first game, which took place at INSEP (National Institute of Sport) located on the outskirts of Paris, saw Team USA fall to France 2-1. Ready to show their persistence in match two on Wednesday, the USMNT stuck to the game plan while showing dedication to the process to defeat France 3-2.

"We're in the second week of our camp here in Europe and have booked great progress, tactically, technically and mentally," said Rutger Wiese, USMNT Head Coach. "As always we take the 'today must be better than yesterday' approach and we're just doing that: getting better every day."

Match two, which took place on a brand-new turf at Circle Athletique de Montrouge, saw more than 300 fans pack the stands as the USMNT and France took the field. Players chanted and cheered, to help build the atmosphere, as they were ready to give spectators a 60-minute battle.

Coming out stagnate, neither team could earn a penalty corner or find the backboard in the first quarter. France managed four shots on goal by all were denied by Team USA's goalkeeper Brandon Karess (Allentown, Pa.).

When the second quarter whistle blew, the tempo started to rise. Eight minutes in, France capitalized when a striker's reverse shot hit the post and rebounded to another striker, who buried the ball into the roof of the net to give France a 1-0 lead. Team USA was able to establish a bit more presence on the attacking end but were unable to create many open chances to notch one of their own. This left the halftime score at USA 0, France 1.

France came out strong at the start of the third quarter, but the USMNT's defense held off their threating attacks which led to some instant offense. Six minutes into the quarter, Will Holt (Camarillo, Calif.) won possession on the left side of the circle and played a threading ball to Paul Singh (Simi Valley, Calif.) who deflected it in on the far post to tie the score, 1-1. Just two minutes before the end of the quarter, France converted on a penalty corner drag flick which went the USA's goalkeeper's Jon Klages' (Berlin, Germany) left side to take a 2-1 lead.

With possession and control of the game being held primarily by the host country, Team USA came out ready to fight and search for a comeback in the fourth quarter. Creating more chances as the game grew longer, the USMNT's confidence started to win over the crowd at times and demonstrated the team's never give up mentality. With 7 minutes remaining in the game, Team USA earned a penalty corner opportunity. Holt's low drag was sent down to Deegan Huisman's (Almere, The Netherlands) who scored to tie it at 2-2.

Continuing off that momentum, the USMNT earned three consecutive penalty corners in the final minute and half of the game. On the third chance, a straight shoulder-height drag flick by Holt found the side of the net giving Team USA a 3-2 lead with under a minute to play. A last effort by France came as they drove the ball into USA's defensive end but were unable to convert on any changes.

This 3-2 victory for Team USA leveled the series at 1-1 as they head into an off day. The final match up in this three-game test series will come on Friday, June 23 at 11:30 a.m. local time at INSEP (National Institute of Sport) outside of Paris. (National Institute of Sport)

"We're looking forward to finishing the tour strong this week before we continue our preparation in the United States next week," added Rutger.

These friendly matches will not be streamed or live tweeted, continue to visit usafieldhockey.com during the tour for updates.

Team USA Tour Roster:
Michael Barminski (Ventura, Calif.), Tom Barratt (Greensboro, N.C.), Amrit Beaty (Simi Valley, Calif.), Sean Cicchi (Thousand Oaks, Calif.), Ajai Dhadwal (Agoura Hills, Calif.), Mohan Gandhi (Ventura, Calif.), Alex Grassi (Brookeville, Md.), Pat Harris (Moorpark, Calif.), Will Holt (Camarillo, Calif.), Deegan Huisman (Almere, The Netherlands), Aki Kaeppeler (Stuttgart, Germany), Brandon Karess (Allentown, Pa.), Jaja Kentwell (Royersford, Pa.), Amardeep Khokhar (Valencia, Calif.), Jon Klages (Berlin, Germany), Adam Miller (Panama City, Fla.), Nick Molscan (Wanganui, New Zealand), Nate O'Lari (Orange, Mass.), Johnny Orozco (Ventura, Calif.), Paul Singh (Simi Valley, Calif.), Ruben Van Dam (Valkenswaard, The Netherlands)

USFHA media release


---

Tremendous effort by Scotland U21 women, but Ireland take the spoils



Lorna Cruickshank Scotland U21 women

On Sunday, the Scotland U21 Women's squad faced their third and final match in their first set of international games in preparation for the Junior European Championships in July. The squad, having had a disappointing game the day before, were determined to end the weekend on a high. With tired legs and the sun beating down it was always going to be a tough game, but there was no doubt that the Scots had plenty of fight left.

The game began with a high intensity from both sides. The Scots were disciplined in defence; the forwards shuttling side-to-side, the midfield pressuring the screen players, and the defenders marking their opposition tightly. The Irish struggled to create any significant chances, despite some strong and skilful dribbling from their midfielders, the girls in blue made tackle after tackle to defy them entering the circle.

With the Scots in possession for a large percentage of the time, moving the ball well, and transitioning through the midfield and forward lines it was justified when two short corners were awarded but failure to convert meant that the score remained 0-0.  In comparison to the previous game, this was shaping up to be a fight till the final whistle.

The beginning of the third quarter initiated a 15 minute spell when there were momentary lapses in concentration, however despite this, Scotland managed to soak up the pressure, be organised in defence and prevent the conceding of a goal. This was until a quickly taken free hit outside the defending circle left a forward free to dribble into the circle and score a scrappy goal.

Learning from the mistakes of the previous game the Scots were positive and kept their heads up, putting the goal behind them. At the end of the third quarter, a fantastic 70 yard ball from Shona McNab found Millie Steiger at the edge of the circle who swiftly turned her defender, passed to Lorna Cruickshank just inside the top circle who narrowly missed the goal, and a hat-trick for the weekend.

The final 15 minutes of the weekend consisted of short corners and numerous attacks into the Irish final quarter who were under great pressure from the Scots. But again, failure to convert meant that the score remained 1-0.

With four minutes to go the Irish converted from a short corner to make it 2-0. With only a few minutes left the Scots called for a high and hard press and immediately the forwards pushed up, pressuring the full backs and winning the ball.

With good communication from everyone on and off the pitch the Scots transitioned the ball from left to right and back again, grinding the Irish girls down. All ten outfield players were in the final third of the pitch, the pressure was mounting on the opposition yet attack after attack yielded no reward.

The final whistle went with the score at 2-0, a score that did not reflect the effort that was put in by the U21 side, but a score that showed that chances must be taken when offered.

All-in-all the weekend was successful for the young squad, progress was certainly made from the first-to-third game and it was clear that there was a game plan and it was executed well for the most part. The girls move forward to their next challenges versus England and Wales, before travelling to the Czech Republic in July.

Scottish Hockey Union media release


---

South African sides attempt to Qualify for the FIH Indoor Hockey World Cup

Tyron Barnard

The African Hockey Indoor Cup of Nations takes place this weekend in Swakopmund where Namibia, South Africa and Zimbabwe will play off for a spot in the FIH Indoor Hockey World Cup. The desert town on the coast of Namibia is the host for the tournament as Africa's best do battle.

The SPAR South African ladies side captained by Cindy Hack know that in Namibia they will face an opponent who has tested them more frequently over the last 24 months and will need to be at their best to ward off any surprises.

Lennie Botha, hoping to lead the SPAR South Africa women to a second World Cup, was delighted with the preparation of his side, sharing: "We are feeling really good and excited for the tournament to start, our preparation has be really good. We also used training today to get used to the bigger and quicker court."

The court being used is the inline hockey court at the Dome in Swakopmund, a sensational base for sports. The court has been made out to maximum FIH ruling of 44m and should offer the two South African fans a bit more joy as time and space will be more prevalent.

"We are at full strength which we haven't been for previous series" added Botha "but we are confident that we can get the job done with the players selected."

The South African Men are probably favoured even more than the ladies and were able to bring a full strength team thanks to the backing of main sponsor Tops @ Spar as the title sponsor as well as the conglomeration of Blue T Hockey, Cutstudio and Teahupoo. These incredible companies came to the party to ensure that the SA Men would be at their best here in Namibia.

Although three of the men playing for the SA Men's side will be receiving their first official cap, every one of them has represented the green and gold in the exhibition series against the All Stars at the various PSi National tournaments. Coach Pierre le Roux believes his team are ready to go.

"We are glad to be here. We cant wait to get playing and have used our training session to get used to a very quick surface. Namibia are playing in front of a home crowd and they should be fired up, so we need to stick to our structures and do what we have to do!"

Of course the unknown entity for both the SPAR SA Women and the Tops @ Spar SA Men are the Zimbabwean who they have not played before. Both Botha and le Roux admitted as much with le Roux adding.

"We don't know much about Zimbabwe, but we are really excited to have them here. The more countries we get playing indoor hockey in Africa, the better it will be for the development of our game!"

The tournament features a round robin stage where you play each opponent twice before the top 2 nations play off on Sunday morning in the winner takes all final and confirms their place at the Indoor Hockey World Cup in Berlin in 2018.

There is no television coverage of the event confirmed at present, however you can follow updates on Twitter @TyronBarnard who is with the team in Namibia.

SA Hockey Association media release


---

USWNT Athlete Ali Campbell to Retire from Squad




COLORADO SPRINGS, Colo. - U.S. Women's National Team defender Ali Campbell (Gilbertsville, Pa.) shares her decision to retire from the senior squad following 4 years and a total of 31 international caps while representing Team USA.

"From the moment, I joined the USWNT staff 3 years ago, Ali was a player keen to learn and improve herself," said Janneke Schopman, USWNT Head Coach. "Her willingness to go beyond was remarkable, always working hard in training but also putting in the hours to watch video and taking care of her body. Many young athletes can take an example in how she approached her sport, never leaving anything to chance."

A native of Boyertown, Pa., Campbell was a four-year varsity starter who was named All-Area, All-State, All-Pac 10 and MVP as a Boyertown High School Bear. She also served as captain her senior year. She was a member of the X-Calibur Club Team that attended and medaled at various USA Field Hockey national events including the National Hockey Festival and National Indoor Tournament.

"My mom was the one who got me into hockey," commented Campbell. "She played, and her and my dad found a league at Perkiomen Valley for me to begin playing. Hockey is a unique sport, and I love the skill and speed needed to play. I love that women and men can play, and that it can be played indoors and outdoors."

Faced with adversity, Campbell's drive and determination propelled her through two ACL tears to play collegiately at the University of Maryland in College Park, Md. An integral part of the Terps defensive unit, she accumulated various personal accolades while assisting with two program national championships and an Atlantic Coast Conference title throughout her career.

"When I got hurt, I felt it was an opportunity to really stick to the mindset, 'now or never,'" mentioned Campbell. "I could choose to come back from my setbacks, or I could just move on. I think that is what has given me the work ethic and passion that I have today. I always play with a now or never attitude because you never know what could come in the next play or moment. It also gave me a chance to really get to the dark places and know that I can keep pushing and keep going, because I might not have this opportunity, so I better give it all I have to get the best out of myself."

Campbell first entered the USWNT's Olympic Development Pipeline in 2006 when she was named to the U.S. U-16 Women's National Team. This was followed up by time on both the U.S. U-19 and U-21 Women's National Teams, where she participated and won bronze at the women's Junior Pan American World Cup Qualifier in 2012, clinching a bid to the 2013 women's Junior World Cup. She was also a member of the U.S. Women's National Indoor Team for 5 years and participated in an Indoor Pan American Games in Argentina.

"The best thing about being on Team USA is the chance to represent your country on the highest stage," said Campbell. "It is a bonus playing with a group of such strong women. The ability to represent my country in the sport that I love is an unbelievable opportunity. Hearing the anthem and holding onto my 'sisters' is one of the most special moments I will always cherish in my career with Team USA."

While wearing the red, white and blue, Campbell participated in many series with Team USA and she got to travel to various countries. One of her favorite tour memories are the bus rides to the games. She enjoyed the atmosphere of everyone and how they were buzzing with excitement, singing to music, laughing and bonding. She will relish those little moments that made her grow closer with her teammates.

"As a player, she was very skillful with a great pass over short and long distance, her positive mindset and engagement in training sessions I'll definitely miss," said Schopman. "Moving toward a new career, I want to wish her all the best and thank her for her hard work in the USWNT the past years.

Campbell has no set future plans but hopes to continue to coach. She enjoys watching athletes improve as they reach closer to their potential.

"Seeing them grow on and off the field is rewarding and I love to be a small piece of that development," added Campbell.

USA Field Hockey wishes the best of luck to Campbell in her future endeavors.

USFHA media release


---

PSB knocks out Air India

Uthra Ganesan



Quick reflex: Air India goalkeeper Adrian D'Souza stretches to save a goal from PSB players in the National hockey championship 'A' division quarterfinal on Thursday. 

In the clash of two of the most organised institutional teams on the domestic circuit, Punjab & Sind Bank managed to knock out a star-studded Air India 3-2 in the penalty shootout and enter the semifinals of the men's National hockey championship 'A' division here on Thursday.

With the teams tied 1-1 at the end of regulation time in the quarterfinal, PSB came back after missing the first two shots to find the target thrice while Air India paid the price for waywardness despite being stronger on field for a large part of the match. The likes of Armaan Qureshi, Mohd. Umar, Mohd Raheel, Arjun Sharma hit wide and out of position often.

Veterans Arjun Halappa, Shivendra Singh, A.B. Cheeyanna, Ajmer Singh and Adrian D'Souza stood out with their commitment and brilliance. In fact Shivendra, doubtful for the game after suffering food poisoning a couple of days before, and Halappa proved there was no substitute for experience.

One of those moves from the left put Umar in position to slot the ball in the 24th minute but the lead was cancelled when Gaganpreet Singh's weak push five minutes later bounced off goalkeeper D'Souza's pads into the net.

The second half saw Air India piling on the pressure, Shivendra and Halappa constantly finding their way into the PSB circle, but could not get the final touch. In contrast PSB, relying more on counters, came close to scoring in the fourth quarter but were thwarted by Ajmer and D'Souza who took the game into penalties. But the youngsters faltered, once again.

In another quarterfinal, last year's runner-up Punjab registered an easy 4-0 win against host Uttar Pradesh.

The Punjab side, with as many as eight players with international experience, was dominant all through against an inexperienced UP side.

In the morning session, defending champion Railways beat CAG 3-1, courtesy two goals in as many minutes by former India internationals Yuvraj Walmiki and Affan Yousuf.

Chandigarh managed to edge past a fighting Mumbai side 4-3.

The results (quarterfinals): RSPB 3 (Affan Yousuf, Yuvraj Walmiki, Sheshe Gowda) bt CAG 1 (Gurpratap Singh); Chandigarh 4 (Damandeep Singh 2, Damanjit Singh 2) bt Mumbai 3 (Mayur Patil, Amit Goswami, Vikram Yadav); PSB 1 (Gaganpreet Singh) bt Air India 1 (Mohd. Umar) (3-2 in shootout); Punjab 4 (Baljinder Singh, Amanpreet Singh, Dharamvir Singh, Gurjant Singh) bt Uttar Pradesh 0.

Semifinal line-up: RSPB vs Chandigarh, Punjab vs PSB.

Hindu


---

Hockey Nationals remain in uncertain zone

Championship high on talent but low on priority

Uthra Ganesan

A few former India stars, several wannabes and a handful of juniors crowned World champions in this very city six months ago – the men's National hockey championship here would have them all in action as the tournament enters its business end with the quarterfinals on Thursday.

As the Hockey India League (HIL) keeps growing both in terms of competition and its importance in identifying new talent, the national championships have been relegated further into the background. While it continues to draw teams and institutions from across the country — with almost 400 players in the A Division and almost 700 in the B Division participating — the level of competition has lessened.

"It's true that both the level and prestige of this tournament has gone down. For us, it's both an advertisement for the bank itself in terms of participation of the team and also a matter of prestige if we win the trophy. But other than that, there is little at stake," admitted former India coach and now in charge of Punjab and Sind Bank side Rajinder Singh.

A team like Petroleum Sports Promotion Board, who win the B Division, had to hardly exert itself all through, having players in its line-up who on their day could easily win matches for the national side single-handedly. With most of them including Devinder Walmiki, VR Raghunath and Tushar Khandker having well-playing jobs with various PSU oil companies, there was little to fight for except a promotion to the higher group, which they did.

In the A Division currently on, a team like Air India boasts of the likes of Arjun Halappa, Adrian D'Souza, VS Vinaya and Shivendra Singh, all veterans of international duty. Punjab is being led by Gurbaj Singh and includes Dharamvir Singh, Gurjant Singh, Sarvanjit Singh and Gurvinder Singh Chandi. None of them are desperate for a job, the lone incentive for some of the youngsters.

"A core group has already been made for the senior side. Another is finalised for the juniors, which means at least 66-70 good players are gone. There are selectors here watching these games but with no hope of any change in the core group, it is up to Hockey India to decide what role the nationals actually play in their scheme of things," a senior player admitted.

Rajinder claimed that even the job incentive was not big now. "Anyone who has to recruit a player watches them in action and picks up on their own. Some of our players were selected from our own academy and some from the inter-university games. The certificate of having played a national championship doesn't hold much value now," he admitted.

Another coach, refusing to be named, said that nationals were being held simply as a formality because they are imperative for government recognition and funds. "There is no serious thought being given to this tournament," he added.

Hockey India High Performance Director David John had already clarified earlier that regardless of performances, players like Dharamvir and Yuvraj Walmiki would not be considered for inclusion into the core group, at least for this year. A development side for juniors who have not made the cut for the senior camp would be ideal and chief coach Roelant Oltmans has insisted it has been on the radar for quite some time now but nothing has happened so far, awaiting approvals from the government agencies including SAI.

"Otherwise, those juniors who won the World Cup here but are not in the scheme of things for the seniors would be lost to the country, left to play only on the domestic circuit," warned Rajinder.

The Hindu


---

Olympic Day 2017: India's global domination in hockey

Feroz Khan

NEW DELHI: On the occasion of International Olympic Day, TOI Sports is recapping some of the glorious Indian moments at the Summer Games over the years. Here, relive the Indian hockey team's golden era which saw them collecting a record eight gold medals at the Olympics

What do the New York Yankees, Chicago Bulls, Miami Dolphins, Brazil's football team, FC Barcelona, the Australian cricket team, New Zealand's All Blacks and the Indian men's hockey team have in common?

A rudimentary Google search will tell you that each of these have been, at different points in time, one of the most dominating sports teams. The Indian men's hockey team of yesteryear puts the country in the elite category of global teams that have crushed every challenge thrown at them as they annihilated their opponents en route to world dominance.

From 1928 to 1956, India won an astonishing six straight Olympic gold medals while remaining unbeaten at the competition. From the famous canals of Amsterdam to suburbs of Melbourne, the men's hockey team conquered everything and gave the hockey world its biggest superstar in Dhyan Chand. To date, India have won 11 Olympic medals in hockey - eight gold, one silver and two bronze. The last of these medals came at the 1980 Summer Games in Moscow where India beat Spain 4-3 in the final to clinch gold.

In their first appearance at the event in 1928 at Amsterdam, India, without conceding a single goal, roared to their maiden gold medal by beating hosts Netherlands 3-0 in the final to cap off a remarkable debut. That, as it turned out, was just the beginning. At the next five Olympics as well (Los Angeles '32, Berlin '36, London '48, Helsinki '52 and Melbourne '56) the Indians stamped their authority.

This golden run was broken by Pakistan at the 1960 Rome Olympics, where they became the first team to beat India at the event and thus claim gold. However, order was restored in Tokyo where India won their sixth gold medal during an unbeaten run, in the end exacting revenge over Pakistan with a 1-0 win in the final.

In the following two editions of the Games (in '68 and '72) India had to remain content with bronze medals but the real low came at the 1976 Montreal Games where they finished a stunning seventh. Coincidentally, it was the first time that field hockey was organised on an artificial surface. Jolted by this body blow, the team made a stunning recovery at the 1980 Games where they reclaimed the crown with a record eighth gold medal which also happens to be their last at the Olympics.

At last year's Rio Games, the men's team reached the quarter-finals of the Olympics for the first time since 1980.

The Times of India


---

A family that plays together, stays together

Fitzpatricks make hockey a family affair

Penny Sidhu



From L-R: Tara (a cousin), Kendra, Maddison, Margie & Savannah Fitzpatrick. Taken just prior to playing a home game with their local club Casuarina.

They say the family that plays together stays together and that's certainly true for the Fitzpatricks of the Tweed Border Hockey Association.

The clan, which includes current Hockeyroos back Madison Fitzpatrick, makes up a large percentage of Far North Coast club Casuarina—when they aren't on regional, state and national representative tours.

Both Madison and sister Savannah, who has also represented Australia, still come home to play as often as they can.

In fact, it isn't unusual for them to be on representative duty one week and back playing at grassroots level on Barrie Smith Hockey Field in Murwillumbah the next.

"Tweed Border have introduced a marquee system so that if any representative players are in town, they can play," she said.

"The rule is it's a one-off situation, so knowing the girls were going to be home on and off last year, I could have registered them but didn't. This year I did. I thought if they are home, they can have a run."

Margie said coach Sharon Buchanan had managed to slot the girls into the side and not upset the team's balance.

"She's very good, not allowing them to go on the field and dominate. They are in a similar rotation to everyone else," Margie said. "The team isn't out there to smash anyone. It's also great for the community to see our own locally produced national players in action."

A family affair

Formed by Margie and her friends (many of them former top line players) in the early 2000s, the Casuarina club has had its fair share of mother-daughter, father-son player combinations. However, nothing compares to the Fitzpatricks.
 
Over the years, the family have had up to 10 members involved in the Casuarina club.
They currently have six family members registered to play in the Women's Division One team—a mother, three sisters and two nieces, if they are home.
 
"The most we've managed to get on the field is five; someone is always away," Margie said.
 
"But I have played hockey with all my girls now and it's an amazing feeling. I can't really describe it. It's just pretty special."
 
And Margie said even the non-playing family members have a role to play.
 
"Both grandmothers come to watch. Nanny Fitz's house is still where we go and have a big meal between all the hockey games. A team ends up there eating her pikelets."
 
Margie and her husband Scott—a former NSW and Australian representative—have four children together. As well as Madison, 20, and Savannah, 22, the family includes 18 year-old Callum, and sixteen year-old Kendra.
 
Callum has represented Queensland and currently plays for University of Queensland in the Brisbane competition. Meanwhile, Kendra has just been identified by reps for her talent.
 
Scott's brother Murray also played to the elite level, and his daughters—Tara, Ella and Lucy—are regular Casuarina players that continue to follow in his footsteps.
 
"We probably have a hockey team ready to go with all of us," said Margie. "We just don't have a goalie. I don't know who is going to do that."

A winning combination

Margie believes that the secret for the family's success isn't just genetics, or even that they are self-confessed "hockey tragics".

Despite being Tweed Border's youngest club, Casuarina is already a regular fixture in the finals each season.
 
"I think we were particularly lucky those first couple of years because we had attracted some retired elite hockey players. We had Kim Crane, Sharon Buchanan, Kym Small and Mel Woosnam," Margie said.
 
"Mixed with a couple of young girls coming through, it worked.
 
 "As they were retiring, the kids they had trained were coming through. Our kids were so lucky—they had trained hard and they had worked hard but they were very fortunate to have that environment to nurture whatever they had.
 
"Maddy played defence and she had Kim Crane, who was the captain of Victoria for five years, to learn from. 
 
"We had Sharon Buchanan, a three-time Olympian up front, along with Kim Small who is the most phenomenal striker I think we've seen. They were great examples for the kids."

History repeats itself
 
And while this generation of Fitzpatricks is making a major impact on the Aussie hockey world, other family members have further proved that sporting talent really does runs in the family.
 
Murray and Scott's late father Dennis played Rugby League for Parramatta, while Margie's parents also had notable contributions to hockey.
 
"My mother and father started a hockey club in Western Sydney called Guildford Leagues," said Margie.
 
"We were attached to a big sporting club and they started the hockey sub-committee. Eventually, that grew and became quite a huge club.
 
""Back then, you couldn't play when you were that young  and I was about eight. You had to be 12, but they use to sneak me on."
 
And for Margie, not a whole lot has changed—the Fitzpatrick family continue to make their mark on the hockey industry, adding to both the local community and the sport as a whole.

Hockey Australia media release


---

Narinder Batra apologises to Pakistan Hockey Federation for 'inappropriate comments'

Narinder Batra, who was elected as the FIH president last year, also clarified that his comments were emotional and he understands that he hurt the sentiments of several people.



Narinder Batra, President International Hockey Federation

After making remarks against Pakistan during the ongoing Hockey World League Super-final, FIH President Narinder Dhruv Batra has apologised to Pakistan Hockey Federation for India's black armband protest. In his letter to the President of Pakistan's Hockey Federation, reported by Hindustan Times, Batra wrote, "I would like to offer my sincere regrets to PHF and all concerned for using my social media page to make inappropriate comments."

The International hockey governing body was not pleased with Batra's outburst and forced the former Hockey India chief to delete his tweets. Just like cricket, India- Pakistan have not been involved in any bilateral hockey series and FIH tournaments continue to be the platform where the two teams play each other.

Batra, who was elected as the FIH president last year, also clarified that his comments were emotional and he understands that he hurt the sentiments of several people. He further assured something of this nature will not happen in future.

"My comments were made on the spur of the moment and were an emotional outburst. This will be a lesson for me as I understand I have hurt the feelings of many people as well as placed the FIH in a difficult position…I can reassure PHF that such thing will not happen in the future," said Batra.

Pakistan hockey chief Shahbaz Ahmed said that Batra forgot his role as FIH president and it was unbecoming of a man who should be keeping politics aside from hockey.

Indian Express


---

FIH boss Narinder Batra says sorry to Pakistan Hockey Federation

India's black armband protest during the Hockey World League semifinal match against Pakistan and the FIH president Narinder Batra's social media comments sparked a lot of controversy.

Soumitra Bose



Ramandeep Singh (left) wearing a black arm band on his left sleeve during India vs Pakistan Hockey World League semi-finals match.(Hockey India )

International hockey federation president Narinder Batra has apologised to Pakistan for India's black armband protest during the Hockey World League semifinal match against their traditional rivals on June 18.

Indian players wore black armbands to show their respect to soldiers killed fighting terrorists in Jammu & Kashmir. This sensitive show of "political message" directed at Pakistan caught FIH and tournament organisers England completely by surprise.

What made matters worse was Batra taking to social media to vent his angst against Pakistan, a country that has been repeatedly blamed by the government of India for sponsoring terrorism.

In a letter to the Pakistan Hockey Federation president on Thursday, Batra said: "I would like to offer my sincere regrets to PHF and all concerned for using my social media page to make inappropriate comments."

The FIH was not amused at Batra's outburst. On Wednesday, it forced the former Hockey India chief to delete sensitive tweets that threatened to bring relationship between Indian and Pakistan players and officials to a boil.

PHF secretary general Shahbaz Ahmed told HT that Batra forgot his role as FIH chief and it was unbecoming of a man who should be keeping politics aside from hockey.

"My comments were made on the spur of the moment and were an emotional outburst," wrote Batra. He goes onto clarify that FIH had nothing to with this.

"This will be a lesson for me as I understand I have hurt the feelings of many people as well as placed the FIH in a difficult position...I can reassure PHF that such thing will not happen in the future," said Batra, who was elected international hockey federation boss in November 2016.

Just like cricket, India and Pakistan do not have bilateral sporting relations apart from multi-nation international events. India will host the 2018 World Cup in Bhubaneswar and Pakistan still retain a mathematical chance to qualify.

Hindustan Times