All the news for Tuesday 23 May 2017

England women head to Spain

England women head to Spain for a three match series in Madrid as they step up their preparations ahead of this summer's Investec Internationals.

The side will take on the hosts on the 23 May (6.30pm), 25 May (11am) and the 26 May (11am) having arrived on Sunday and will fly back home to the UK Friday.

This tour sees the welcome return of Susannah Townsend to the squad after nine months out with a knee injury, while forward Alex Danson also joins the group having missed the tour to South Africa back in February.

Danson is just two goals away from reaching her century at international level with 51 for England and 47 for Great Britain.

The 20 players selected include 7 players aged under 25 with 4 of these aged 22 and under with the new contingent of youngsters hoping to add to the caps they won in South Africa.

Goalkeeper Maddie Hinch is still unavailable due to club commitments with SCHC in the Netherlands.

You have the chance to support Danny Kerry's England squad on home soil this summer as they take on the best in the world in the Investec Internationals. Tickets for the game with the Netherlands on the 11 June are sold out but are still available for the match with Argentina on the 10 June.

Full squad can be found below:

Giselle Ansley, Grace Balsdon, Sophie Bray, Alex Danson, Emily Defroand, Sarah Haycroft, Jo Hunter, Joie Leigh, Hannah Martin, Shona McCallin, Miriam Pritchard, Ellie Rayer, Erica Sanders, Zoe Shipperley, Amy Tennant, Anna Toman, Susannah Townsend, Laura Unsworth, Hollie Webb, Nicola White

England Hockey Board Media release


---

Surprise keeper steps into Hinch's pads

By Mike Haymonds

MIRIAM PRITCHARD is the surprise pick in the England squad which begins a three-test series with Spain in Madrid today. The 18-year-old Oxford Hawks goalkeeper will hope to make her senior international debut after impressing for England U-21s in a series against the USA at Easter. Her chance comes in the absence of England's first choice keepers Maddie Hinch (Dutch club commitments) and Sabbie Heesh (knee injury). Bowdon's Amy Tennant is the other keeper in Madrid.

Surbiton women's dominance of the Investec Premier League is reflected in the selection of six players in the squad. Surbiton's captain Sarah Haycroft is joined in Spain by Giselle Ansley, Hollie Webb, Emily Defroand, Hannah Martin and Jo Hunter. The Surbiton sextet will have only five days at home before leaving with their club for the EuroHockey Club Cup in Holland which starts next Friday.

Daily Express


---

NZ squad for Brussels has plenty of experience

By David Leggat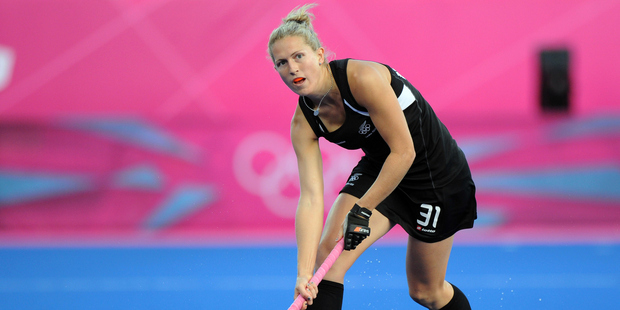 New Zealand's Stacey Michelson during the Womens Hockey match. Photo / Photosport

New Zealand women's hockey coach Mark Hager says form made selection for the World League semifinal next month difficult.

Three teams provide the lions share of the Black Sticks squad for the tournament in Brussels.

The fifth-ranked side includes five players from the Waikato-based Midlands side, with four apiece coming from Northland and Canterbury. Ten players have more than 130 caps, headed by world-class defender-cum midfielder Stacey Michelsen, with 224 internationals.

The least-capped player is unattached goalkeeper Grace O'Hanlon, who has been based in Australia but is now living in Auckland. She's won just 10 caps but edged out Auckland's Amelia Gibson for the second keeping job, alongside Sally Rutherford.

Hager has given all his players decent match time recently to put their case for selection. The world No 5 Black Sticks won the Hawkes Bay Cup in Hastings in April, then beat India 5-0 in their most recent series which ended last weekend.

"There were some very challenging decisions in selecting the final group which shows we have healthy depth at the moment which is great following an Olympic year," Hager said.

New Zealand will host the world league final in Auckland in November so don't need to worry about qualifying. However they should do well in the 10-nation tournament.

Their pool matches are against Spain (ranked 10), Australia (4), Belgium (14) and Malaysia (22) before quarter-finals, semis and final playoffs.

New Zealand women's squad for the World League semifinal:

Goalkeepers: Grace O'Hanlon (unattached), Sally Rutherford (Midlands)

Defenders/Midfielders: Sam Charlton, Natasha Fitzsimons, Rose Keddell (Midlands), Erin Goad (North Harbour), Ella Gunson, Stacey Michelsen, Brooke Neal (Northland), Liz Thompson (Auckland), Pippa Hayward, Jordan Grant, Rachel McCann (Canterbury).

Strikers: Kelsey Smith (Capital), Sam Harrison (Auckland), Kirsten Pearce (North Harbour), Olivia Merry (Canterbury), Amy Robinson (Midlands). Travelling reserve: Frances Davies (Midlands).

The New Zealand Herald


---

Garcia makes T&T hockey team return

Former England-based T&T standout Brian Garcia is set to make a return to the international hockey field from a six-year hiatus after he was named in national coach Glen "Fido" Francis training squad for the upcoming Pan American Cup in the USA.

The 38-year-old Garcia last represented T&T at the 2010 Indoor Pan American Cup in Barquisimeto, Venezuela, a qualifier to the Indoor Hockey World Cup and is currently the coach of the senior national women's hockey team and along with his Petrotrin clubmates Michael O'Connor, Nicholas Triston Grant and Arielle Bowen are the main new faces in the training squad that were not part of the team at the FIH World League Round Two Qualifiers which were held at the National Hockey Centre, Tacarigua earlier this year.

Commenting on his return, Garcia said with the abundance of young talent coming through he could not refuse the call to help guide the junior players onto better things with the likes of Kwandwane Browne and Solomon Eccles in the team as well."

"So with the help of us experienced players and the other senior team members we are looking forward to building on our bronze medal placing from the last Pan American Cup as well as from our display in the World League on home soil earlier this year," said Garcia.

He added, "In general I believe its a very exciting time for the men's national hockey programme and any way I can contribute I will do my part."

The squad which also includes the overseas quartet of Kwandwane Browne and Tariq Marcano, both based in England as well as Akim Toussaint, who is plying his trade in Australia along with Stefan Mouttet resumed training last week at the same Tacarigua venue and will continue to do so on Tuesdays, Thursdays and Saturdays in preparation for the Pan Am Cup which will be held in Lancaster, from August 4-13. August 2017.

T&T will compete in Pool B with Mexico, Canada and Brazil while Pool A comprises host USA, Argentina, Chile and Venezuela.

The winner of this tournament will qualify for the FIH World Cup and the top six teams will qualify for the Pan American Cups, 2021.

T&T men's hockey team training squad

Aidan de Gannes, Marcus Pascal, Jordan Reynos, Stefan Mouttet, Darren Cowie (QPCC), Mickell Pierre, Shaquille Daniel, Marcus James, Dylan Francis, Karlos Stephen (Defence Force), Kwandwane Browne (Notre Dame), Tariq Marcano, Teague Marcano, Lyndell Byer, Daniel Byer, Kristien Emmanual, Kwasi Emmanuel, Kieron Emmanuel, Andrey Rocke (Malvern), Jordan Vieira, Che Modeste (Fatima), Isaiah Scott, Akim Toussaint, Jabari Perez, Christopher Scipio (Paragon), Brian Garcia, Michael O'Connor, Nicholas Triston Grant, Arielle Bowen, Solomon Eccles (Petrotrin)

The Trinidad Guardian


---

Tuks win 2017 Varsity Hockey title in thrilling final



Tuks team celebrate after winning the match 1-0 during the Varsity Hockey Final between Tuks and Maties at Tuks Hockey Astro on May 22, 2017 in Pretoria, South Africa. (Photo by Christiaan Kotze/SASPA)

Tuks earned their maiden Varsity Hockey title thanks to a Catherine Morris goal as they defeated Maties 1-0 on Monday night in Pretoria.

It was end-to-end action from the get-go as Tuks used the home support to begin the match on the front foot on a crisp Monday night in the capital. It was the hosts who had the early momentum as Natalie Estevez pulled the strings from deep in midfield. Maties had Stephanie Botha and Paige Phillips to thank for keeping a clean sheet.

The first penalty corner was awarded in the 14th minute. Maties' receiver slipped it left but Tuks cleared the resulting slap. Just seconds later they had their second penalty corner. Tuks were lucky not to concede a P-flick as the ball hit a defender's leg a metre from goal with the goal keeper out of the picture completely. Tuks defended brilliantly but Maties had another short corner just moments later. A brilliant Tarryn Glasby shot was deflected wide and there was soon respite for the home side as the first chukka came to an end after a period of five minutes spent in the Tuks circle.

It took just 10 seconds for Anél Luus to break through on Maties goal with a backstick effort going inches wide. The hosts soon forced Nicole la Fleur into a point-blank save and another not long after as momentum swayed once more; this time in favour of Tuks.

Tarryn Glasby was put through one-on-one with Marlise van Tonder but Marissa Poolman came from nowhere to tackle her seconds before she could strike. Another corner for Maties went begging as the match's frantic pace eased into a rhythm just on the half time buzzer. Both teams would have welcomed the breather and been happy to have clean sheets heading into the third chukka.

Tuks were soon back in the ascendency in the third chukka. A brilliant move in the 37th minute almost resulted in the opening goal as Danielle Kerdachi displayed a piece of individual brilliance. Her stickwork dazzling the Maties defence as she slipped the ball to Amy Etherington who was open on the penalty spot. But her shot was blocked by the brick wall that was La Fleur.

Minutes later La Fleur kept out for Tuks' first penalty corner. Estevez' drag-flick attempt hitting the body of Heather Mc Ewan, the first wave. But they score eventually came off their second penalty corner, in the 43rd minute. The ball was slipped by Estevez to Catherine Morris, who lashed the ball into the roof of the net. The referee awarded a Maties free hit due to the height of the ball being above the backboard off a penalty corner, but Tuks reviewed and the decision was overturned after it became evident that the ball was deflected off a Maties defender's stick.

Maties had the majority share of the possession in the final chukka as they pressed for an equaliser. Tuks were playing the match at a far slower pace, happy to slow things down whenever they had possession.

Maties took their Powerplay in the 64th minute and immediately won a penalty corner. Tarryn Glasby mishit her shot and the ball went wide. Maties were running out of time. Maties would spend the final two minutes of the match with just nine players as Tuks took their Powerplay. Hard as they tried they couldn't break down the Tuks defence and in the end it was Catherine Morris' goal that was the difference.

FNB Player of the Tournament: Izelle Verster (Tuks)
Mugg & Bean Star Saver of the Tournament: Nicole la Fleur (Maties)

Mugg & Bean Star Saver: Natalie Estevez (Tuks)
FNB Player of the Match: Natalie Estevez (Tuks)

Scores
Tuks: 1
Goals: Catherine Morris (Penalty Corner)

Maties: 0

Teams
Tuks: Marlise van Tonder, Marissa Poolman, Chané Hill, Anél Luus, Catherine Morris, Izalle Verster, Natalie Esteves, Luvolwethu Nkole, Claire Gibbings, Amy Etherington, Thandokazi Chithi
Subs: Melicia van Loggerenberg, Jénica de Encarnaçăo, Meeghan Scheffer, Danielle Kerdachi, Amoné Mouton, Mabongi Nyalungu

Maties: Nicole la Fleur, Lenta Cullinan, Simone Strydom, Heather Mc Ewan, Paige Phillips, Sandiswe Tabata, Tarryn Glasby, Natasha Rootenberg, Aimee Pote, Page Alcock, Minke van Heerden
Subs: Stephanie Botha, Lida Kotze, Danielle Cairns, Polly Mashau, Alegra Dijkstra, Kirsten Block, Georgia Grobler

Varsity Sports media release


---

Excitement Builds as 2017 Cal Cup Commences Friday




MOORPARK, Calif. - One hundred and thirty-four teams from five nations will compete at the 2017 California Cup International Field Hockey Tournament starting on Friday, May 26 running through Monday, May 29. The 46th edition of one of the oldest and largest field hockey tournaments in the world, more popularly known as the Cal Cup, will feature teams from Argentina, Canada, Mexico, Taiwan and the USA, as well top athletes from Australia, Brazil, England, Germany, Holland, India, New Zealand and Pakistan. There are 13 divisions ranging from Mixed U-8 to Men's and Women's Super Divisions. Each will be competing concurrently on nine fields at three different venues: Moorpark College, Arroyo Vista Community Park and Moorpark High School. More than 90 umpires will be officiating all games. Cinthia Melli, an FIH international umpire, is appointed as the Umpires Manager for the Super Division games.

Teams are an important influx of tourism to the area with an estimated revenue of $5,000,000 and impacts all local businesses. As a result of the event's popularity, there are more than 1,500 booked rooms in 16 different hotels in neighboring cities of Simi Valley, Thousand Oaks, Agoura, Westlake Village, Newbury Park, Oxnard and Camarillo.

At the youth level, there are mixed teams participating in the U-8, U-10 and U-12 age groups. Typically more boys than girls compete at this level for the United States teams. Cal Cup also offers girls' divisions in the U-14, U-16 and U-19 age groups. However, the differentiator from some other events, is the existence of boys- and men-only teams. In 2016, Cal Cup had six teams in the U-14 Boys Division, four teams in the U-16 Boys Division, five teams in the U-19 Men's Division, five teams in the Competitive Men's Division and eight teams in the Men's Super Division. That is a total of 28 all-male squads.

Families can enjoy watching some of the best players from the United States compete at a high-international level. A huge draw is also the cash prize offer in the Men's and Women's Super Divisions. The winning team in each division wins $7,500. There are also Mixed Social Divisions offering competition to players of all levels.

For registration, schedules and directions to the venues, please visit: www.calcup.com.                 

USFHA media release


---

English Men's County Championships



Mens County Championship trophy

Yorkshire won the County Championship for the third consecutive season and Derbyshire took the B Division honours at the Nottingham Hockey Centre, in Saturday's finals of a competition that dates back to 1958.

In the B Division semis Derbyshire came from behind to defeat Norfolk 3-2 and Leicestershire beat Cornwall 4-1. This set up an East Midlands derby and Derbyshire raced into a four goal lead with goals from Dunn, Foster Beastall and Northcott. Matt Snow pulled a goal back for Leicestershire on the stroke of half time and when John Harrison scored another midway through the half an unlikely comeback looked possible. However a Dan Molloy goal extended Derbyshire's three goal cushion with 15 minutes left to run out 5-2 winners.

In the A Division Yorkshire powered past Somerset winning 7-0 having been six up at half time. Kent also scored seven in the other semi but were made to work hard by Lincolnshire who were hoping for their first title since 2013. The final score 7-5 with Kent coming from 5-2 down with 25 minutes left.

In a goal laden final Yorkshire and Kent were three apiece at half time. Smith Chapman, Cresswell for Yorkshire and Turner, Bandurak and Stiff for Kent. The White Rose county pulled away in the second period thank to goals from Gibson, Hearn, Humphreys and Cresswell (2) to earn his hat-trick. Bandurak got a late consolation for Kent with the final score 8-4. This meant competition organiser and proud Yorkshireman Roger Lomas was able to present the magnificent Leonard Bone trophy to Yorkshire, team photo below.




England Hockey Board Media release


---

Kenya Police juggernaut rolls on

By BRIAN YONGA



Willis Malesi of Western Jaguars (left) tries to tackle Vincent Odindo of Kenya Police during their Kenya Hockey Union men's Premier League match at City Park Stadium on May 14, 2017. Police won 4-0. PHOTO | MARTIN MUKANGU |  NATION MEDIA GROUP

Kenya Police have clearly underlined their intentions of winning this season's Kenya Hockey Union (KHU) men's Premier League title.

Nine wins out of nine has propelled the law enforcers to the top of the table with 27 points, seven points ahead of the chasing pack.

Their performances have improved with each game and with only five matches left until the end of the first leg, the 2013 champions are early favourites to reclaim the title.

Unlike last season when they struggled to score goals, Police are scoring goals at will this campaign but most importantly, they are conceding less.

They have scored 30 goals and conceded five, a feat that has left stand-in coach Patrick Mugambi beaming with delight.

"I think unlike last season when we had a lot of pressure, this season we are playing with a lot of ease, no pressure and the players are enjoying the game," Mugambi said.

"We are taking a game at a time and our cohesiveness as a team is what makes us tough to beat this season" he added. Police had to come from behind to defeat 2012 winners Sikh Union 3-1 at City Park Stadium over the weekend.

Greensharks reclaimed second place from Butali Sugar Warriors after they edged out visiting Nakuru Athletic Club 2-1 to move to 20 points from nine matches. Butali, who like Police are still unbeaten, chalked up two wins to improve to 18 points.

The lakeside club have three games in hand over the top two. Wazalendo remain in fourth on 11 points, while Chase Sailors are up to fifth after their 0-0 draw against champions Strathmore University Gladiators saw them increase their tally to 10 points.

The struggling champions, who have not won a match since a 2-0 win against Sikh Union on March 20 this year, are down in eighth place, 22 points behind leaders Police.

In the women's Premier League, Amira Sailors are up to second place after their 2-0 win over Kenyatta University (KU) Titans. Pauline Naise, who scored one of the goals, is now the top scorer after bagged her ninth goal of the season.

Amira are on 14 points, four behind leaders and champions Telkom Orange who were not in action this weekend.

"Our aim is to secure a top two finish this season and we are right on track to claim the feat," Naise said.

USIU Spartans were the highest climbers in the league, moving three spots to fourth place after a good weekend.

The students are on 12 points.

Daily Nation


---

Clarendon win Border Coastal hockey challenge

Clarendon High became the third school to qualify for the SPAR Eastern Cape Schoolgirls Hockey Challenge provincial finals when they won the Border Coastal tournament in East London, South Africa on Sunday.

Played in fine weather at Cambridge, the Clarendon girls took the honours by defeating Stirling 2-0 in the final, reversing a defeat they had suffered to the same opponents in the pool phase.

Defending champions Hudson Park were undone by Clarendon 3-0 in the semifinals, while Stirling beat hosts Cambridge 2-0 in the other play-off.

Tournament director Bev Forword said it was another excellent day of schoolgirls' hockey, with the teams producing some exciting play throughout the competition.

"The final between Clarendon and Stirling was always set to be a humdinger after their closely contested pool match," said Forword.

"In that game, Stirling scored a goal against the run of play to push Clarendon to second in their pool."

She added that Clarendon had then produced their best performance of the day to be crowned the Border Coastal champions.

Spar Eastern Cape promotions and advertising manager Alan Stapleton was delighted with the success of another high quality tournament.

"It was great to see all the teams giving it their all, enjoying the fun aspect of the day, but also showing their competitiveness on the field of play," he said.

"Kudos must go to Clarendon for the way they fought back after losing to Stirling in the pool matches.

"We welcomed two new teams to the event this year in Grens and Alphendale and it's encouraging to see the growth of the concept."

The outcome means Clarendon will represent the region in the provincial finals which will be played at Woodridge, just outside Port Elizabeth, on August 12.

They have become the third team to qualify for the finals, joining Union High, who won the Port Elizabeth Inland tournament, and Kingsridge, who were crowned Border Inland champions last Sunday.

The final two teams for the provincial finals will be decided over the next two weeks when the South Western Districts tournament takes place in George on Saturday and the PE Coastal competition is held at Pearson on June 4.



The Clarendon team which won the Border Coastal tournament in the SPAR Eastern Cape Schoolgirls Hockey Challenge in East London on Sunday was, back from left, SPAR Eastern Cape promotions and advertising manager Alan Stapleton, manageress Lynelle Coetzer, Courtney Coetzer, Bianca Wood, Caitlyn Rushton (captain), Jayde Harty, Sarah Milne, Abby Pope, Lauren Tarr, Donna Greyling, Paige Jacoby, coach Cheryl Pope, and, front from left, Zeta Williams, Kia-Leigh Erasmus, Thando Mtalana, Claudelle McKay and Kate Mandell. Photo: Craig Giese

R News


---

Kaelin nets top hockey honours at KHS

Lloyd Mackenzie



Kaelin Hartog

KAELIN Hartog is Kloof High School's SPAR Star of the Month.

Kaelin is an all-rounder as she is the 2017 head girl. Academically she has been in the top three in her grade throughout her high school career and her great passion is indoor and outdoor hockey.

On average, she practices up two hours per day, seven days a week and her effort has been duly noted as she has played in the school's 1st team since 2015 and is the captain this year. She has scored more than 100 goals for the team since becoming a member.

She is sponsored by Gryphon Hockey SA for 2016 and 2017 and was selected for the Collegians Munies Premier team for both indoor and outdoor hockey.

Kaelin was selected for the U18 PADSA hockey side and at the Fairmont Hockey Festival in Cape Town she was selected as one of 16 girls to represent an U19 international team which will compete in the Netherlands and France in October this year.

Kaelin also scored a total of 13 goals at the festival for her team.

She was awarded honours for both academics and hockey.

"Kloof High School is extremely proud of Kaelin and her achievements," said the school's marketer, Janet Brodey.

Highway Mail


---

Notts Sport Girls Inter Districts



Scottish Notts Sport Inter District

The Under 14 Girls' Notts Sport Inter District took place at a rather wet Peffermill on Saturday. The girls travelled from across Scotland to compete on the day with West eventually coming in first position after a great final against South.

The day started with pool B taking to the pitch first. East took on South as the heavens opened in Edinburgh. South were first to score in an end-to-end match with Georgia Main getting the final touch to a well-worked move past the East keeper. It wasn't until the second half that East were able to convert one of their chances. Laura McNamara converting from a penalty corner.

In the other pool B match West took on North. Anna Smith drew first blood with a penalty corner conversion after 7 minutes of the first half. North absorbed a lot of pressure from West but Ava Smith scored from open play, seconds later Abbie Blair made it 3-0 to West - no response came from North.

The first games of Pool A saw Midland take on Highland and The Hybrid team of Mid-East-West against South West.  Midland came out winners over Highland with two open play goals, the first coming from Helena Oldroyd in the first minute and the second early in the second half, scored by Iona Kirsty Fleming. The Hybrid squad faced off against Southwest, a single penalty corner separated the two, Neave Halliday converting.




The action then came from Pool B once again. East took on rivals West, they took a one goal advantage at half time with a strike coming from the captain Emily McGlynn. West came out all guns blazing after half time and scored an early goal to make it 1-1. A minute later a second goal was converted by Priyanka Sharma to take the lead. Abbie Blair extended the lead to 3-1 with a well-placed sweep into the bottom corner, East could not reply to the quick conversions.

South played North in the other fixture in Pool B, a close contest before South took the lead in the first half Captain Holly Shepherd scoring the only goal of the game.

They Hybrid team took on Midland in the first of the afternoon matches. A competitive fixture with only one goal to separate the two sides, Rebecca Paul converting with only 3 minutes left in the match. Highland versus Southwest was a game of set plays with Southwest converting 3 Penalty corners to take the 3 points. Neave Halliday converting the first, Leigh Timothy the second, and Connie Reid the third.

The final games in Pool B saw North take on East and South against West. A very closely contested match for South and West saw the score finish 1-1. West took the lead just before half time with vice-captain Ava Smith earning the lead with some great team play. South replied early in the second half with a penalty corner conversion by Hannah Patterson.  East took an early lead with a penalty corner goal from Captain Emily McGlynn adding to her tally for the day. East began to dominate in the closing stages of the match with a further two goals from Nina Whitakker and Itske Hooftman.

There was nothing to separate Midland and South West in their final pool fixture, both sides converted a penalty corner to end the game 1-1 meaning that Southwest topped the group on goal difference.

Semi Final 1 was a closely contested match between South and South West. With both teams fighting for a Final spot, the difference between the two came in the final minute of the first half when Holly Shepherd converted a penalty corner. South managed to curtail Southwest's advances in the second half to steal into the Final for the first time.

In Semi Final 2 West eased past Midland by 3 goals, Lucy Anderson earning a brace and Ava Smith a single. This set the final to be a fierce repeat of the early pool match against South, which had ended in a 1-1 draw.



Eilidh Seedhouse MVP

The final was an end-to-end affair with both teams having chances. West put South under a lot of pressure from the outset, South's defence were able to withstand the heat and played some well-worked moves to counter-attack West. The game was 0-0 at the half time break. Both teams came out all guns blazing in the second half, but nothing could part the teams. With five minutes to play it looked to be one for running penalties to decide. A foul inside South's D earned West a penalty corner, Vice Captain Ava Smith stepped up and converted the chance making it 1-0 to the West. South battled for an equaliser but could not get past the West keeper. The match finished West 1-0 South. Both squads having put maximum effort in to the match, making it an absolutely superb final. Eilidh Seedhouse of North was voted BYTE MVP at the end of the tournament.




Final Placings

1-      West
2-      South
3-      Southwest
4-      Midland
5-      East
6-      MidWestEast (hybrid)
7-      North
8-      Highland

Photos by Mark Pugh

Scottish Hockey Union media release


---

Gwent Hockey Club gearing up to play their part in Hockey For Heroes #OpStretcher challenge

Steven Prince

A REGIONAL hockey club will feature as part of an endurance challenge aiming to raise money for injured service personnel from the armed forces.

Gwent Hockey Club have teamed up with the Hockey for Heroes (H4H) team for the 2017 event, which has been codenamed - #OpStretcher.

The H4H team will be walking 200 miles in 10 days across Wales and England, while playing 30 games of hockey and carrying injured ex-serviceman on a stretcher- Dominic Robert Lovett.

Cwmbran Stadium will host two of the matches on Friday, May 26, following the first leg of fundraising marathon from Cardiff's Sophia Gardens to Cwmbran.

Tim Miller, the chairman of Gwent Hockey Club, said the club and its members were proud to be supporting the challenger.

"Everyone at Gwent Hockey Club is extremely proud to be supporting the #OpStretcher challenge," he said, "the response from the local community has been outstanding.

"Local members of the Royal British Legion, the Royal Welsh Regimental Association and the Veterans' Association have volunteered to march alongside the Hockey for Heroes squad as they approach Cwmbran Stadium.

"We have an action packed evening of hockey planned and we would like to invite the public to come along to watch the high octane games and help raise funds for this worthwhile cause."

The 44 members of the H4H team will carry Mr Lovett, a former British Marine who was injured during military training, from Wales to London with the trek ending on Sunday, June 4 at Marlow.

''We are about to embark on this 10 day objective, we feel prepared and ready to take this challenge head on," said H4H CEO Joel Forrester.

"The planning and preparation has gone fantastically well and the squad are ready to make #OpStretcher a huge success."

The H4H team are set to arrive between 6pm and 6.30pm on May 26, and will play two games against the Welsh Masters and the Gwent Hockey Club at 7pm and 8.30pm respectively.

A previous event in 2015 saw the H4H squad raised over £30,000 for the H4H charity by playing 33 hockey games across three countries while climbing the three highest peaks in the British Isles: Scafell Pike, Snowdon and Ben Nevis.

Visit justgiving.com/fundraising/OpStretcher.

South Wales Argus


---

Hockey numbers on the rise in Manawatu



Hockey Manawatu general manager Kevin Nicholson. GRANT MATTHEW/FAIRFAX NZ

From where Hockey Manawatu boss Kevin Nicholson is sitting, things must be looking pretty good.

That's because the association has just won an award from Hockey New Zealand for the biggest participation growth in the country, having had a 28 per cent growth last year.

Nicholson praised the work of Raewyn Beattie is putting into hockey at Feilding High School and he said they now are the biggest school in Manawatu in terms of hockey players, overtaking Palmerston North Boys' High School.

"There's been a lot more development stuff and the work that our regional development officer [Nitin Ahuja] is doing in schools," Nicholson said. "Last year he developed the small sticks coaching to over 4000 kids across 19 schools.

"And Nicollete [van Zeijl], our regional development manager, the programme she set up, as well our development programmes which all contributed, along with the amount of work that's happening over in Feilding.

"They're trying to do things to provide opportunities for juniors over there. They're running development programmes for hockey."

Funnily enough, fellow Central associations Taranaki were second and Wanganui third.

Nicholson said Manawatu is now the sixth largest association in the country

"It's massive. We went from last year having 2366 registered players and this year it's gone up to 3045.

"We've had a 21 per cent growth in our club competition, a five per cent growth in secondary schools and 49 per cent growth in junior hockey."

Nicholson said that 49 per cent is largely driven by Raewyn Beattie.

The division one senior women's club competition had to merge with the division two competition this season because division one was down to just three teams.

There are six teams in the men's division one competition this year.

The No 2 turf at the twin turfs will be refurbished later this year and the No 1 turf will be done in the next couple of years.

Stuff


---

Hockey Loverz inspiring the next generation



Photo: Hockey Loverz

It is every young hockey player's dream – three days full of intense hockey competition, followed by an evening (into early morning) jam-packed with live music, DJ's, food tents and other activities. Welcome to Hockey Loverz, the ultimate party for young hockey players.

Spreading as far as the eye can see, rows of large, colourful tents, multiple and varied food stalls and huge musical stages dominate the landscape, although the focus of the action sits on the rectangular artificial turf and pristine grass pitches that ring out to the sound of stick and ball from 11am until the early evening.

Teams of between 11 and 16 players, plus two adult supervisors, take part in the three-day tournament, which is held over three separate weekends in July. Teams from across the globe take part, sporting the flags of their nations as well as their own club colours.

At the 2016 event, teams from Argentina, New Zealand, India, the UK, Belgium and the host nation, Netherlands, all took part in the hockey festival. It is set to be even bigger this year, with two of the three events sold out already.

HockeyLoverz attracts more than 10,000 players to the venue in the Netherlands. And while there is a party atmosphere during the evenings, when it comes to match time, it is serious stuff.

All the players participating must be members of a club and competition is fierce. The event is the biggest fun hockey tournament in Europe and teams can enter and participate in a range of events, both single gender and mixed.

Once the hockey stops there is beach hockey, football, paint-balling, water sports and a host of other activities. There is also a wellness centre for people who just want to chill out.

In the evening, it becomes one big party with thousands of young people dancing and jumping to the sounds of some of Europe's best DJs. The party on the outside stage stops at 11pm but then the party moves to the Silver Dome, where the diehard party-goers can continue until the early hours.

The value of such a tournament is clear to see. The players pitch their own tents – many of them huge army-type constructions – and organise themselves for the matches and the off-pitch activities. This is team-work, social cohesion, competition and respect for others at its best.

Ultimately, Hockey Loverz is about showing that hockey is a fun activity to take part in and, as thousands of players jump up and down to the sounds from the big stage, there is no doubt that the message is getting through.

For more information about Hockey Loverz, visit their Official Website.

FIH site