All the news for Sunday 30 April 2017

India Held

Five-time champions India and Great Britain got off to their campaign in the 26th Sultan Azlan Shah Cup Men's International Hockey Tournament with a 2-2 draw here today.

The India-Great Britain blockbuster match was earlier delayed for two hours due to thunderstorm which has been a norm in this city over the last two weeks. The last time both nations met was at the 36th FIH Champions Trophy in London last year which India won 2-1.

After a drab start, it was Great Britain who made the first move in the Indian defence. Henry Weir's reverse stick shot in the 10th minute was stopped by goalkeeper P. Sreejesh. However, in a quick Indian counter attack, the Britons drew deep into defence after a superb pass from Akashdeep Singh to Sunil Sowmarpet had them in trouble but fortunately for the Britons, Sunil failed to make a neat stop with only goalkeeper Harry Gibson in his way.

India upped the ante in the second quarter and earned the first penalty corner of the match in the 20th minute. Akashdeep made no mistake this time by pushing the ball past Gibson from a rebound after Manpreet Singh's hit from outside the penalty box was padded away. India takes the lead.

But the Britons, ranked 7th in the FIH World Rankings, were less that perturbed with the early Indian goal and went on the offensive in search of the equaliser. Willars Ollie weaved his way past two defenders near the left goal line and relayed the ball to Tom Carson who blasted the ball past Sreejesh to level 1-1.

The Indians went 2-1 ahead in the 47th minute when Manpreet Singh drilled his way into the D, relays the ball to Sunil who in turn lifts the ball to Mandeep Singh who had no trouble placing it into the goal mouth. However, the joy in the Indian camp was short-lived as Great Britain rode back on track four minutes later through an Alan Forsyth open goal.

India, placed 6th in the world, aim to start the new season on a comfortable note by claiming the Sultan Azlan Shah Cup for the sixth time - precisely seven year after their last triumph here in 2010.

Unofficial tournament site


---

Kiwis hold Aussies

Defending champions Australia and New Zealand played out a 1-1 draw in a far from impressive encounter between the two Trans-Tasman nations in 25th Sultan Azlan Shah Cup Hockey tournament tonight.

Though disappointed with the result, Australian coach Colin Batch remained optimistic.

"We had seven penalty corners but could not make good use of it. The result would have been different if we had scored a couple more in the penalty corners but New Zealand defended well in the penalty corners. We don't have any serious drag-flick specialist here and this was expected but I hope we can turn things around in the next few days," said Colin.

"Our mission is to defend the title and we will get back on track.

"As for today's result I must say I am quite happy. Things just could have been better for us but we failed to increase the score when we were in control of the match.

There was a little pressure on the youngsters who will come out of it as this was this was their first match. I am confident we will play a much better game with good results."

The Kookaburras earned the first penalty corner two minutes into the game but Trent Mitton placed the ball straight into goalkeeper Devon Manchester who padded it away. 

The World No 2 Australians, who are the highest ranked team in the tournament, had better possession of the ball in the first two quarters.

They had a total of five penalty corners coming their way but blew away each of it.

On the opposite end, New Zealand, ranked 8th in the world and Sultan Azlan Shah Cup champions here in 2012 and 2015, had the first clear opportunity to score in the 20th minute but Sam Lone muffed a clear direct shot which was saved by goalkeeper Tyler Lovell.

Australia's long wait for a goal was celebrated in the 32nd minute when Tom Craig had the simplest of task in putting the ball past Manchester to go 1-0 ahead.

The Kookaburras came back in the third quarter to earn a sixth penalty corner through Jake Whetton from the top of the D but was disallowed by British umpire Paul Walker.

The Black Sticks could do little to change their fortunes around despite winning two penalty corners, the second in the early fourth quarter.

However, a full push in the 51st minute by the Kiwis saw the Australian defence crumble as substitute Dominic Newman made a darting shot that gave Lovell no chance at all to draw level 1-1.

With the clock ticking away, it was obvious that the Australians, who have been less impressive, and Kiwis who are here with an experimental side, are poised to share the points.

New Zealand coach Darren Smith was obviously please with the result.

" We had a few opportunities today. It was a good game overall and I was hoping we could just sneak through a goal or two in the fourth quarter," said Darren.

"But I must commend the players for the hard work in winning the equaliser.

"Overall, a 1-1 draw is acceptable judging that it was a tough match.

"Everyone had expected Australia to dominate this game but it has always been a balanced game with both teams having a fair chance of scoring and ball possession. I am happy with the overall performance of my players."

In the opening match of the day, India were held to a 2-2 draw by a Great Britain side that clawed back from being a goal down twice.

"I can learn to accept this result. Obviously playing in Malaysia we (all the teams) have to be prepared for the weather and the long delay did not affect our momentum," said Indian coach Roelant Oltmans.

"Off course I did expect both teams to play a hard game after the first quarter.

"Overall, it was our first match in the Sultan Azlan Shah Cup today and a first since November. We hope to play much better in the next matches.

"My only disappointment is we did not make good use of our chances and only earned one penalty corner throughout the match. The younge players gave a good performance, including Sumit who is making his debut with the seniors. Like I said, I can accept the result as we played well overall."

Adverse weather conditions caused a two hour delay but once action got underway both teams adapted well to the heavy pitch.

Great Britain had a first look at the Indian goal in the 11th minute but keeper PR Sreejesh made a comfortable save.

India were awarded a penalty corner in the 19th minute but it was miss trapped.

However Manpreet Singh sent in a quick hit towards goal and the ball bounced off Great Britain custodian  Harry Gibson and Alashdeep Singh was on hand to steer the ball home giving India a 1-0 lead

Great Britain were on level terms in the 25th minute as Tom Carson sent a quick hit into the far corner catching Sreejesh on the wrong foot.

The third quarter  saw play largely confined to the midfield as India tried to penetrate through the middle but with no success.

India went 2-1 ahead in the 47th minute as SV Sunil laid up the ball for Mandeep Singh who tapped the ball into goal.

That got Great Britain fighting back and in the 52nd minute they were back on level for the second time, this time through Alan Forsyth.

Great Britain coach Bobby Crutchley was obviously please with the result.

"We played pretty well and did not give India much space to move with the ball. It was indeed a very tight game and I am happy with the way the players came back fighting hard after going down twice," said Crutchley.

"I just wish we had scored in the last penalty corner and that would have made a lot of difference.

"Generally, it was a good game playing against the World No 6 who has had a great season.

With this latest team of youngsters coming through the ranks I wish to play more often in international tournaments as Great Britain.

"We have a long way and competing in the Sultan Azlan Shah Cup is a high level tournament of distinction. I have so much good to say of the team, the way they played against India today and I hope it gets better against Japan tomorrow."

Unofficial tournament site


---

Treat us with respect says Japan

Japan served up a warning to other teams with a battling display to hold Malaysia to a 1-1 draw at Ipoh.

Placed 14 in the FIH World Rankings, the Malaysians were up against the Japanese who are World No 16.

Both teams have come into the tournament with respected credentials recently.

Malaysia emerged champions in the recent Hockey World League Round 2 in Dhaka and Japan crowned winners in the Trinidad and Tobago edition – a qualifying process for the Hockey World League Semi-finals in June.

But the Japanese have a mission here – to erase the 4-3 defeat against the host in the 2016 edition of the Sultan Azlan Shah Cup and 7-2 demolition in the Asian Champions Trophy.

"I would have liked to get a win. The boys played a good game but we gave Japan too much time on the ball and allowed them to get back into the game," said Malaysian coach Stephen van Huizen.

"Both sides had equal chances. We had one goal from five penalty corners and this is an area we need to pay attention.

"It was disappointing that we did not get three points.

"Against Australia tomorrow (Sunday) we have to be focused. We have to create the goal chances and make it count. It is just a start and we can only get better."

Against  the run of play, Malaysia earned the first penalty corner in the 8th minute and drag-flick specialist Muhammad Razie Abdul Rahim made it count, placing the ball to the left of goalkeeper Suguru Shimmoto. It was a great start on a cold night for the host.

The Malaysians missed a chance to double the lead three minutes into the second quarter when Haziq Samsul miscued a sitter.

However, Japan bounced back ferociously as the host lived dangerously in the next moments – midfielder Kenta Tanaka's powerful shot in the first attempt forced goalkeeper S. Kumar to make a darting save while the second in the 29th minute bounced off the keeper's pads with no takers.

Japan had a fair share of ball possession in the third quarter to win a third penalty corner and Shota Yamada made it count. His powerful drive took a deflection off Kumar's pads into goal much to the delight of the Japanese camp as they strolled back to level 1-1.

The Malaysians earned a penalty corner in the fourth quarter - three minutes to the hooter but nothing came out of it. Japan was far from finish and came firing from all cylinders in search for the winning goal. Unfortunately, Kumar had his fort well guarded.

The result was certainly greeted with much joy by the Japanese but for Stephen van Huizen's Malaysia the 1-1 draw means life is never going to be easy against the top ranked teams in coming days.

"I was disappointed with the result as we had every chance to beat Malaysia tonight," said Japanese coach  Takahiko Yamabori.

"There is no doubt we faced a lot of difficulties against Malaysia but I am very happy with the way my players came back to win a point.

"We will make some changes in the next match and hope to pull off some surprises as being the lowest ranked team here our oppositions are pretty confident when playing against us.

"Tonight we proved a point. Treat us with respect."

Unofficial tournament site


---
Stats Speak: Japanese earn first ever point in AZ history

B.G.Joshi (Sehore-Bhopal, India)

Day-1 have all squares in Ipoh, as seen 3 matches played without victory. Japan have earned first ever point as drew the match with hosts Malaysia. In previous two appearances in 1987 and 2016, Japanese have lost all the 9 matches played by them. Indian rookie Sumit did not kept himself 5m away while British player took the free hit outside the D. Malaysian umpire Eric Koh awarded the penalty corner to Brits in dying minute, fortunately it was wasted by Britain and India salvaged the pride. Here are the statistics of Day 1 in Ipoh:
Team

Penalty Corners

Goal Shots

Scores

Results

Obtained

Converted

Obtained

Converted

Australia

7

0

11

1

1-1

Drawn

New Zealand

2

0

4

1

1-1

Drawn

Great Britain

1

0

5

2

2-2

Drawn

India

1

0

3

2

2-2

Drawn

Japan

4

1

5

1

1-1

Drawn

Malaysia

5

1

10

1

1-1

Drawn
Head to head In Azlan Shah Cup (includes yesterday matches):
| | | | | | | |
| --- | --- | --- | --- | --- | --- | --- |
| Teams | MP | W | D | L | GF | GA |
| AUS-NZL | 10 | 8 | 2 | 0 | 29 | 13 |
| IND-GBR* | 7 | 4 | 1 | 2 | 15 | 10 |
| MAS-JPN | 3 | 2 | 1 | 0 | 8 | 5 |
*includes England

Fieldhockey.com
---

Great Britain's men earn fighting draw vs India



Alan Forsyth celebrates for Great Britain's men

Great Britain's men's got their Sultan Azlan Shah Cup off to a very positive start with a fighting 2-2 draw against India.

Bobby Crutchley's side showed great resilience, twice coming from behind thanks to goals from England's Tom Carson and Scotland's Alan Forsyth. In addition, the team had to deal with a near-two hour delay to the game getting underway thanks to near monsoon conditions.

The tournament is an important step in the team's progress towards vital World Cup qualifiers taking place in London this June, and there was much to be pleased about.

Dan Kyriakides became the first Welshman to pull on a GB jersey in recent years, a great moment for both him and the nation.

In addition, England's Barry Middleton and Mark Gleghorne made welcome returns for the first time in this Olympic cycle.

Crutchley said, "For the start of a tournament, that was a good performance. We allowed India few scoring opportunities. I would have liked to have seen us create a few more than we did and we will look to improve on that when we play Japan tomorrow."

The game started evenly, with both sides enjoying decent possession but unable to break the deadlock in the first quarter. Talwinder Singh was closest for India but inadvertently knocked the ball onto Mandeep's Singh foot.

It was India who broke the deadlock, a penalty corner initially being misplaced, only for Akashdeep Singh to poke home well after Harry Gibson made a good save.

The lead only lasted a few minutes though and Carson scored the game's best goal, smacking home an arrowed low finish after excellent play by Chris Griffiths, who continues to impress as he works back from long-term injury.

The third quarter was equally as competitive, and with 46 on the clock India worked the ball nicely down the left, Mandeep Singh turning home from Sunil's Sowmarpet's handiwork.

Again though, GB were not easily beaten, and Ian Sloan this time was the provider for Scotland's Forsyth to show why he has won England's domestic league's top goalscorer and Player of the Year award twice in a row, firing home a tidy - and timely - finish.

GB won a penalty corner in the last minute and it looked as if Crutchley's team would take victory, but Gleghorne's effort was narrowly wide, ending a cracking game of hockey.

Great Britain 2 (Carson 25 (FG), Forsyth 52 (FG))
India 2 (A Singh 19 (PC), M Singh 47 (FG))

Team: Gibson (GK), Creed, Sanford, Kyriakides, Roper, Middleton, J Griffiths, C Griffiths, Sloan, Ward, Forsyth
Subs (used): Willars, Weir, Gleghorne, Goodfield, Carson, Gall
Sub (unused): Wyver (GK)

England Hockey Board Media release


---

Kookaburras draw with Black Sticks at Azlan Shah

Holly MacNeil




After a two hour delay due to an electrical storm, the Kookaburras first match against New Zealand finally kicked off at the Azlan Shah Cup at around 8pm local time. The Kookaburras were the first to score, but the Black Sticks fought back leaving their first game of the tournament a draw.

Just two minutes into the game and the Kookaburras had their first chance at goal, forcing a penalty corner opportunity. Trent Mitton took the flick at goal, but the ball was defended by Black Sticks keeper Devon Manchester.

After another missed penalty corner opportunity for the Kookaburras, the quarter time break began with a nil all score.

New Zealand were the first with a chance in the second quarter with Sam Lone breaking away from the pack to find himself alone in the circle, however the shot went wide and the score board remained untouched.

The Kookaburras had numerous chances on penalty corners only minutes before half time, but they were unable to convert and the score remained at nil all going into half time.

Two minutes into the second half and the Kookaburras were finally on the scoreboard after Tom Craig was left undefended in the Australian circle, scoring a field goal to give the Aussies the lead.

With just eight minutes of play remaining in the game, the Black Sticks scored the leveller with a field goal from Dominic Newman tying the score at 1 apiece. The Kookaburras fought back in the remaining minutes, but the Black Sticks defence were all over the pitch and the score tied up at 1 all at full time.

Kookaburras head coach Colin Batch said: "It was a disappointing result tonight. We had a lot of ball possession and created a lot of opportunity on goal, but unfortunately, we just missed those shots on goal.

"We need to go away and review our performance ahead of tomorrow's match against Malaysia. New Zealand played a good strategy game tonight, and kept the ball away from our front areas as best they could - we won enough chances to win the game, and that's the key for our match against Malaysia. We need to improve our finishing and our goal shooting ahead of tomorrow's match."

The Kookaburras next play Malaysia on Sunday 30 April, at 8.35pm AWST / 10.35pm AEST.

KOOKABURRAS 1 (0)
Tom Craig 32 (FG)

BLACK STICKS 1 (0)
Dominic Newman 52 (FG) 

Kookaburras squad v Black Sticks
Athlete (Hometown/State)
Tom Craig (Lane Cove, NSW) 29/10
Matthew Dawson (Killarney Vale, NSW) 67/9
Jeremy Edwards (Hobart, TAS) 13/1
Jeremy Hayward (Darwin, NT) 74/26
Aaron Kleinschmidt (Melbourne, VIC) 14/5
Tyler Lovell (Perth, WA) 80/9
Trent Mitton (Perth, WA) 107/44
Edward Ockenden (Hobart, TAS) 285/65
Flynn Ogilvie (Wollongong, NSW) 48/13
Matthew Swann (Mackay, QLD) 147/6
Jake Whetton (Brisbane, QLD) 119/48
Dylan Wotherspoon (Murwillumbah, NSW) *plays for QLD 31/7

Used Substitutes
Andrew Charter (Canberra, ACT) 123/0
Ben Craig (Lane Cove, NSW) 13/2
Aaron Kleinschmidt (Melbourne, VIC) 14/5
Andrew Philpott (Melbourne, VIC) 30/1
Joshua Pollard (Melbourne, VIC) 14/0
Tom Wickham (Morgan, SA) *plays for WA 7/2
Matthew Willis (Tamworth, NSW) 21/2

Kookaburras Azlan Shah Match Schedule
30 April: AUS v MAS 8.35pm AWST / 10.35pm AEST
2 May: AUS v IND 4.05pm AWST / 6.05pm AEST
3 May: AUS v GBR 6.05pm AWST / 8.05pm AEST
5 May: AUS v JPN 6.05pm AWST / 8.05pm AEST
6 May: Finals

Hockey Australia media release


---

Black Sticks share points with Australia



Photo: Megat Firdaus, PMF Images

The Vantage Black Sticks Men have drawn 1-1 with trans-Tasman rivals Australia in their opening game at the Sultan Azlan Shah Cup in Malaysia.

Following a two hour delay due to a lightning storm, the Kiwis played a staunch game against Kookaburras with neither side scoring in the first half.

Goalkeeper Devon Manchester, playing his 100th tests, was outstanding in shutting down any chances from Australia includes several penalty corners.

The Kookaburras were first to score just two minutes into the second half with Tom Craig finding some space in the circle to score a field goal.

The Black Sticks equalised in the 52nd minute when Dominic Newman struck from the field to bring the game back to level terms.

New Zealand played strongly on both attack and defence in the dying minutes but weren't quite able to find a winning goal.

The Vantage Black Sticks are back in action against India at 8pm tonight (NZ time), with live coverage on SKY Sport 4.

In today's other matches at the Sultan Azlan Shah Cup, Great Britain drew 2-2 with India and Malaysia and Japan also tied 1-1.

VANTAGE BLACK STICKS 1: (Dominic Newman)
AUSTRALIA 1: (Tom Craig)
Halftime: 0-0

Hockey New Zealand Media release


---

A day of draws

By Jugjet Singh

A RAGING thunderstorm and painful delays saw three draws in the opening day of the Azlan Shah Cup in Ipoh Saturday.

Malaysia drew 1-1 with Japan, Australia drew 1-1 with New Zealand while India drew 2-2 with Britain.

All the matches were moved two hours from starting time, due to thunderstorm which has been a norm in this city over the last two weeks.

Razie Rahim gave Malaysia the lead off a seventh minute penalty corner, but Shota Yamada's 40th minute penalty corner goal stood until the final whistle.

"After taking the lead, we failed to settle down and score more and that was our main fault in this game. We also failed to score more off the five penalty corners we received, and could not make use of our better possession and 10 shots at goal.

"Tomorrow (today) we face a tougher match against Australia who also drew, and we need to forget this game and re-group for this grueling encounter," said Malaysia coach Stephen van Huizen.

India coach Roelant Oltmans said: "I can learn to accept this result. Obviously playing in Malaysia we (all the teams) have to be prepared for the weather and the long delay did not affect our momentum.

"My only disappointment is we did not make good use of our chances and only earned one penalty corner throughout the match. The younge players gave a good performance, including Sumit who is making his debut with the seniors. Like I said, I can accept the result as we played well overall."

RESULTS: Britain 2 India 2, New Zealand 1 Australia 1, Malaysia 1 Japan 1.

SUNDAY: India v New Zealand (4pm), Japan v Britain (6pm), Australia v Malaysia (8.30pm).

MONDAY: REST DAY.

TUESDAY: India v Australia (4pm), New Zealand v Japan (6pm), Malaysia v Britain (8.30pm).

STANDINGS

           P  W  D  L  F  A  Pts
BRITAIN    1  0  1  0  2  2  1
INDIA      1  0  1  0  2  2  1
MALAYSIA   1  0  1  0  1  1  1
AUSTRALIA  1  0  1  0  1  1  1
N ZEALAND  1  0  1  0  1  1  1
JAPAN      1  0  1  0  1  1  1

Jugjet's World of Field Hockey


---

Malaysia settle for draw against Japan in opener

by S. Ramaguru



That's mine: Malaysia's Fitri Saari (left) vying for the ball with Japan's Genki Mitani in the Sultan Azlan Shah Cup match in Ipoh yesterday. — RONNIE CHIN/The Star

IPOH: Malaysia failed to get off with a winning start as they were held to a 1-1 draw by gritty Japan in their opening match of the Sultan Azlan Shah Cup.

Malaysia were a stronger side in the early part of the game but had to stave off a fierce fightback from the Japanese to settle for a draw at the Azlan Shah Stadium.

It was the third draw of the day as all three matches ended in a stalemate.

It was a great start for Malaysia as they struck the opening goal just after eight minutes through a penalty corner by Mohamed Razie Rahim.

Two minutes later the Japanese had two penalty corners in a row but the attempts were well foiled by Malaysia.

As the match wore on, the Japanese grew stronger and more confident with their moves.

In the 40th minute they had their third penalty corner and Shota Yamada's hefty flick was deflected into goal by a Malaysia defender.

Malaysia counter-attacked immediately after the equaliser and earned their second penalty corner but this time the Japanese were alert enough to stop it.

In the earlier match, defending champions Australia could only manage a 1-1 draw with New Zealand.

World No. 2 Australia, a record nine-time champions, snatched the lead in the 32nd minute through a field goal by Tom Craig at the Azlan Shah Stadium.

But New Zealand, the 2012 and 2015 winners, managed to equalise in the 52nd minute through Dominic Newman.

Earlier, five-time champions India also began their campaign with a 2-2 draw with Britain.

The scheduled 4.05pm match was delayed by more than two hours due to a heavy downpour, forcing the organisers to push back all the starting time of the opening day's three matches.

The last time India and Britain met was at the Champions Trophy in London last year with India winning 2-1.

After a drab start, it was Britain who made the first significant attack. But India goalkeeper P.R. Sreejesh was alert enough to deny Henry Weir from scoring with a reverse stick shot in the 10th minute.

Britain goalkeeper Harry Gibson also did well a minute later to deny India from scoring from a quick counter-attack.

World No. 6 India, however, were not to be denied in the 19th minute after earning their first penalty corner. Akashdeep Singh made no mistake, pouncing on a rebound to slot the ball past Gibson.

Britain, ranked seventh in the world, did not have to wait long to find the equaliser.

In the 25th minute, Willars Ollie weaved his way past two defenders and unselfishly relayed the ball to Tom Carson to blast the ball past Sreejesh.

The Indians went 2-1 ahead in the 47th minute when Manpreet Singh scored a field goal.

But Britain were back on level terms again after Alan Forsyth scored an opportunistic goal in the 52nd minute.

Indian coach Roelant Oltmans was not disheartened by the draw.

"The opening match is always tough. And obviously playing in Malaysia, we (all the teams) have to be prepared for the weather and the long delay. It did not affect our momentum," said the Dutchman.

"Today was our first competitive match since November. We hope to play much better in the coming matches.

"My only disappointment is we did not make good use of our chances and only earned one penalty corner throughout the match," added Oltmans.

Britain coach Bobby Crutchley was happy with the point.

"We played pretty well and did not give India much space to move the ball. It was a very tight game and I'm happy with the way the players came back after going down twice," said Crutchley.

The Star of Malaysia


---

India drew GB

s2h team



Photo: Shah Bekson

Set up energetic Manpreet Singh Sr, India took lead twice only to see the leads being cancelled by the fighting Great Britain, as the opener that started two hours late due to heavy rains and thunder, ended in a 2-2 draw in the opener of the 26th Sultan Azlan Shah Cup, Ipoh, Malaysia. Akashdeep Singh struck first in the 23rd minute, only to see the Great Britain equalizing off a minus feed from right side of D to end the first half 1-1

its Gleghorne whose strong forehand saw the ball crashing into far corner of the net, bemusing goalie PR Sreejesh who stopped even stronger and fiercer looking shots in the first quarter.

Similarly, India conceded another goal after taking 2-1 lead through Mandeep Singh. Again as 6,7 goalies were crowding themselves on the left, the goal came from the other corner (2-2) from Forsyth. Again, Sreejesh was stranded on the other corner.



Photo: Shah Bekson

The last minute saw intense activity, Indians being on the edge. First, a GB's PC, quoting debutante Sumit's clearance inside D was wilful did not cut any ice with neutral umpire.

However, when the same player obstructed a speeding forward near the right backline, umpire was quick to blow the whistle for England's only PC. However, the flicker could only send the ball very wide off the right post.

Both team got a penalty corner each, indicating cautious approach the team had.

Technically, India did not convert its solitary PC, but when the pushed ball from Sardar Singh was not stopped properly by Sumit, alert Manpreet Singh Sr rushed fast to effect slap shot at goal, which the goalie took on chest, but the rebound was 'batted', or easily guided, into the goal to the right of lanky goalie by even more alert Akashdeep Singh.

It was poetic justice for Akashdeep Singh, who twice set up his forwards in the first quarter, but only see his effort go abegging due to bad positioning and bad stopping. First, SV Sunil could not stop a defence splitting Akashdeep's serve.

After the golden miss, Mandeep Singh, standing in front of goalie, let the ball carried much to the chagrin of the whole Indian team and the enthusiastic crowd.

These misses cost India full points in the final analysis.

India and Great Britain thus opened their 26th Azlan Shah opener with a draw.

Stick2Hockey.com


---

Lightning delays India vs Britain tie in Azlan Shah Cup

Dangerous conditions caused by lightning forced India and Great Britain players to halt their warm-up as their opening match in the Sultan Azlan Shah Cup hockey tournament was postponed due to inclement weather on Saturday.



The India team celebrates after entering the final of the Junior Men's Hockey World Cup at Lucknow in December, a tournament it went on to win. India, with some players from that side, are looking to go all the way in the Azlan Shah Cup tournament in Ipoh.(HT Photo)

Lightning accompanied by seasonal showers disrupted the players' warm-up session ahead of India's opening match against Great Britain in the 26th Sultan Azlan Shah Cup hockey tournament here on Saturday.Lightening has been an occurrence here in the last fortnight.

Tournament director Josh Burt postponed the India-Great Britain match by two hours and the match was scheduled to start at 6 pm local time (3.30 pm IST). All matches have been pushed back by two hours.

Since the introduction of artificial turfs, hockey is no longer affected by rain but matches are stopped at the slightest sign of lightening to ensure the safety of players and officials.

Read more | Sultan Azlan Shah Cup: Indian hockey team looks to put best foot forward

As the Indian and English players hurried off the pitch, organisers said they were braced for frequent weather disruptions during the week-long tournament.

Heavy showers and lightening have been a feature of the tropical weather this season and the Indian team has experienced it during the training sessions over the past few days.

India chief coach Roelant Oltmans said on Friday that he was hoping that the games do not get affected. India, last year's runners-up, are scheduled to play four of their five round-robin matches in the afternoon, and it has been raining around the time in Ipoh.

In 2010, the organisers declared India and South Korea joint champions due to flooding of the pitch on the day of the final.

Hindustan Times


---

India squander lead twice as Britain earn 2-2 draw

IPOH (Malaysia): India squandered the lead twice as Great Britain rallied to earn a 2-2 draw in the rain-delayed opening match at the 26th Sultan Azlan Shah Cup hockey tournament on Saturday.

Akashdeep Singh (19th minute) and Mandeep Singh (48th minute) scored field goals to give India the lead two times in the match but only to see the Britons hit back through Tom Carson (25th) and Alan Forsyth (52nd).

India survived a last-minute penalty corner that was awarded against them for an obstruction outside the circle.

The penalty corner was confirmed after the video referral by India, but British captain Phil Roper sent his drag flick wide to the right.

In the last encounter between these two teams, India had defeated Great Britain 2-1 in the Champions Trophy in London last year.

The match started two hours behind schedule after the teams, who were warming up, had to scurry off the turf when lightening and heavy showers arrived in the afternoon.

Heavy showers and lightening have been a feature of the tropical weather this season.

Since the introduction of artificial pitches, hockey is no longer affected by normal rains, but matches are stopped midway at the slightest sign on lightening to avert any threat to players and officials on the pitch.

As the Indian and British players ran off the pitch and the start of the game was deferred, organisers were bracing for frequent disruptions during the week-long tournament.

India are scheduled to play four of their five round- robin league matches in the afternoon, exactly when dark clouds tend to drench the pitch at the Ipoh hockey stadium.

Great Britain launched the first raid in the ninth minute and Henry Weir took a reverse shot at the goal from top of the circle, only to see goalkeeper P.R. Sreejesh pad the ball away.

Three minute later, India could have posed a danger to the British citadel when Akashdeep beat a defender guarding the circle with a shot that went straight to S.V. Sunil inside the scoring zone.

But Sunil failed to trap the ball and British goalkeeper Harry Gibson was not tested.

India were awarded their first penalty corner when Pradeep Mor's diagonal ball landed on a defender's foot in the circle.

The penalty corner shot could not be taken as the push was not stopped, but Manpreet Singh, captain for this match, picked up the ball on the 25-metre line and sent a firm drive into the circle.

Manpreet's shot was padded by the British goalkeeper and the rebound went straight to Akashdeep, who capitalised on the chance by beating the custodian with his flick that put India in the lead in the 19th minute.

The British team mounted an attack in the next minute, forcing India to pack the circle to thwart any danger. Great Britain were not to be denied the equaliser in the 25th minute when a fine foray by Ollie Willars split open the Indian defence.

Dribbling parallel to the goal-line from the right flank, Willars sent a pass to Carlson, who made the most of his fine positioning by shooting into the goal.

India had their second penalty corner cancelled on a video referral by Great Britain, who challenged the umpire's view of a defender carrying the ball.

When several replays could not conclusively establish if the ball had touched a defender's foot, the video umpire reversed the decision.

India reclaimed the lead in the 48th minute when Sunil relayed a narrow-angle pass from Manpreet on the left flank for Mandeep Singh, who deflected the ball past goalkeeper Gibson.

India's lead was short-lived as the determined British made the most of their 52nd minute attack even in a crowded circle.

The Indian defenders were not able to clear the ball, which was switched around four Britons before Alan Forsyth's flick beat Indian custodian Sreejesh.

The Times of India


---

Oltmans unhappy with failure in creating chances



'I think we can play much better than we did'

Indian hockey team coach Roelant Oltmans was unhappy that the strikers created very few scoring opportunities during the 2-2 draw against Great Britain in the Sultan Azlan Shah Cup tournament's opening match here on Saturday.

"Overall, I can live with the result. But I am not happy about the number of goals — scoring opportunities we created in the game," Oltmans said after the match.

It was the season's first tournament for India, six months after the Asian Champions Trophy which it won in Kuantan City, Malaysia.

Oltmans said the defenders did a good job, but two unnecessary mistakes saw India concede goals that allowed Great Britain to stage a comeback twice in the match.

"We made a couple of unnecessary mistakes that they took benefit of," said Oltmans. "Otherwise, we defended fairly well and conceded only one penalty corner. I think we can play much better than we did. But this is the first match with this combination and also the first since November," he said.

"It's not strange that all the rhythms and automatic movements are not part of your game."
Special game

Oltmans said this game was special for the three juniors — Gurinder Singh, Manpreet Singh Jr. and Sumit — as they made their senior international debut.

"The first match is something special, but there was a little bit of tension that built up because we had to wait for the start," Oltmans said.

"All these boys can play hockey, there is no doubt about that. Today, it was not the best hockey they have showed in their lives before, but I am 100% sure they will improve their game. You know that if you bring in some players for the first time, they will make some mistakes. That's what they have to go through and hopefully won't make those errors again," he said.

On the other hand, Great Britain coach Bobby Crutchley said his team showed quality and did not give India many goal-scoring opportunites.

"Not allowing India many chances was one of our aims. If we had nicked the game with the corner at the end, it would have been perfect," said Crutchley.

He was all praise for his team's fight-back that saw it neutralise the Indian lead twice. "When you are behind, players push on to try and score the equaliser. That's a good sign," he said.

The Hindu


---

Black Sticks score late to draw with Australia

By David Leggat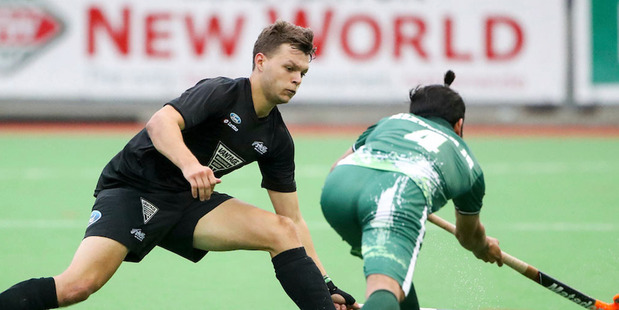 New Zealand's Dominic Newman. Photo / Photosport.co.nz

A classy snap shot by Dominic Newman nine minutes from the end gave New Zealand a 1-1 draw in their opening Azlan Shah hockey tournament match against Australia in Malaysia.

The match was a pretty even contest, with Australia having more penalty corner opportunities but unable to cash in against New Zealand's industrious defence.

Sam Lane had an opportunity in the second quarter, clear on his own on the right of the penalty area but drove his shot wide.

Defending champions and world No 2 Australia took the lead at the start of the third quarter with a goal from Tom Craig, after a ball was swept in from the right hand side. A New Zealand stick was involved in the deflection past Joyce.

Chances were created by the Black Sticks and Jonty Keaney had a great opening in front of goal but couldn't control the bouncing ball driven in from the left.

Newman's equaliser was an impressive piece of work.

The Black Sticks pressed into Australia's defensive circle from the right, the ball rebounded out to Newman near the top of the circle. He swivelled sharply and banged his shot into the goal past the goalkeeper's left hand.

''We had a few opportunities today," New Zealand coach Darren Smith said.

''But I must commend the players for the hard work in winning the equaliser. Overall a 1-1 draw is acceptable in a tough match."

The other two games on the opening night in Ipoh, which was delayed by poor weather by two hours, were also drawn.

Hosts Malaysia finished 1-1 with Japan and India and Britain drew 2-2.

In the second round of matches tonight, world No 8 New Zealand will play No 6 India.

The New Zealand Herald


---

New Zealand hold defending champions Australia

IPOH (Malaysia): Dominic Newman's fine field goal in the 52nd minute enabled New Zealand hold defending champions Australia to a 1-1 draw on the opening day of the 26th Sultan Azlan Shah Cup hockey tournament, here.

The spate of draws on the opening day continued when Japan rallied to hold hosts Malaysia 1-1.

Leading through an open striker by Tom Craig in the 32nd minutes, Australia were looking to bolster their position when New Zealand capitalised on a brisk breakaway.

The 20-year-old Newman, playing in his 11th international, made the day a memorable one with a deft shot that left the Australian defenders stunned.

New Zealand have brought a very young team to this tournament, leaving out all seven players of the national squad who are currently playing as professionals with European clubs.

Australia, nine-time winners of the Sultan Azlan Shah Cup, are using this tournament to rebuild their squad after the disappointing show in the 2016 Olympics at Rio de Janeiro.

Boosted by support from the spectator galleries, Malaysia took the lead through a penalty corner conversion by Razie Rahim in the eighth minute, only to see Japan equalise in the 40th minute penalty corner strike by Shota Yamada.

Japan could have clinched victory had Malaysian goalkeeper Kumar Subramaniam not charged forward to thwart Koji Yamasaki, who had dribbled in unmarked in the 56th minute.

The Times of India


---

Iran beats Kazakhstan to win Indoor Hockey Asia Cup



The Iranian men's national indoor field hockey team

The Iranian men's national indoor field hockey team has claimed the top position at the end of the seventh edition of the Asian Cup in Qatar, after trouncing the Kazakh side in the title challenge.

On Friday evening, the Iranian players began the final match at the world's largest indoor multi-purpose dome – Aspire Dome – in the Qatari capital city of Doha, in a dominant fashion, and managed to open the scoring in the 5th minute.

The Iranian field hockey players heaped pressure on Kazakhstan's defense afterwards, and doubled their advantage three minutes later.

The Persians then tacked two more goals followed in quick succession just before the half-time break.

The Iranian sportsmen did not capitulate in the second half, and continued to mount attacks to score the fifth goal in the 21st minute.

The only consolation for the Kazakh team came in the 22nd minute, when they netted their sole goal in the game.

Later on, the Iranian men's national indoor field hockey team could get five more goals, and deservedly lifted the trophy. Iran is the most decorated Asian team, having won seven editions.

The 7th edition of Indoor Hockey Asia Cup kicked off in Qatar on April 24, and ran through April 28, 2017. 

The Iranian squad comprised Yaghoub Bahrami, Amir Aruei, Nima Heydari, Behnam Sa'di,  Hamid Nouraniyan, Abbas Aruei, Mohsen Bohlouli, Seyed Mohammad Ghorayshi, Navid Taherirad, Alireza Chezani Sharahi, Behdad Biranvand and Vahid Samadi.

The team was led by Esfandiar Safaei as the head couch. Masoud Bohlouli and Abolfazl Yousefi assisted Safaei as coaches.

Press TV


---
South African Senior Men and Women Inter-Provincial Tournament 2017 Final day

Spar KZN were crowned men's and Women's A Section Champions on the final day of IPT while SG Nuggets and Mpumalanga where victorious in the Men's and Women's B Section respectively.

2017 Inter-Provincial Mens A
| | | |
| --- | --- | --- |
| WITSIES - SPAR KZN | Pool A | 1 - 2 |
| SOUTHERN GAUTENG - EASTERN PROVINCE | 5th Place | 5 - 1 |
| NORTHERN BLUES - WESTERN PROVINCE | 3rd Place | 2 - 2 (2 - 1 SO) |
| FREE STATE - WP PENS | 7th Place | 2 - 3 |
Final Standings

1. Spar KZN
2. Witsies
3. Northern Blues
4. Western Province
5. Southern Gauteng
6. Eastern Province
7. WP WP PENS
8. Free State
2017 Inter-Provincial Mens B
| | | |
| --- | --- | --- |
| SACD - NORTHWEST | 3rd Place | 0 - 4 |
| BORDER - NORTHERN DAISIES | 5th Place | 5 - 3 |
| SG NUGGETS - KZN MYNAHS | 1st Place | 3 - 1 |
| MPUMALANGA - EASTERN GAUTENG | 7th Place | 1 - 1 (1 - 2 SO) |
Final Standings

1. SG Nuggets
2. KZN Mynahs
3. Northwest
4. SACD 5. Border
6. Northern Daisies
7. Eastern Gauteng
8. Mpumalanga

2017 Inter-Provincial Womens A
| | | |
| --- | --- | --- |
| SPAR KZN - SOUTHERN GAUTENG | 1st Place | 2 - 1 |
| FREE STATE - NORTHWEST | 5th Place | 1 - 5 |
| WESTERN PROVINCE - NORTHERN BLUES | 3rd Place | 2 - 1 |
| WITSIES - WP PENS | 7th Place | 1 - 3 |
Final Standings

1. Spar KZN
2. Southern Gauteng
3. Western Province
4. Northern Blues
5. Northwest
6. Free State
7. WP WP PENS
8. Witsies

2017 Inter-Provincial Womens B
| | | |
| --- | --- | --- |
| SACD B - SACD A | 7th Place | 1 - 0 |
| EASTERN PROVINCE - MPUMALANGA | 1st Place | 1 - 3 |
| BORDER - SG NUGGETS | 5th Place | 2 - 1 |
| NORTHERN DASIES - KZN MYNAHS | 3rd Place | 0 - 2 |
Final Standings

1. Mpumalanga
2. Eastern Province
3. KZN Mynahs
4. Northern Daisies
5. Border
6. SG Nuggets
7. SACD B
8. SACD A

Fieldhockey.com


---

Haryana eves face Railways in final

Haryana beat Association of Indian Universities 2-1 in the semifinals in Rohtak on Saturday. Hockey India

Hosts Haryana edged past Association of Indian Universities to set up the title clash with defending champions Railways in the senior women's hockey National Championship (Division A) here today.

Railways defeated Madhya Pradesh 2-0, thanks to penalty corner conversions from Neha (19th minute) and Poonam Barla (29th).

In the second semifinal, Haryana had to grind out a 2-1 victory over AIU. A defensive game saw Haryana's Pooja breaking the deadlock in the 52nd minute. Reena converted a penalty corner in the 54th minute to make it 2-0. AIU didn't give up, with Jyoti Gupta scoring in the 60th minute; but Haryana held on for a win.

Punjab boys lose in semis

Punjab suffered a heartbreaking loss in the shootout, going down to defending champions Odisha in the semifinals of the junior men's Division A event in Bhopal today.

After a 4-4 draw in regulation time, Odisha clinched the match 5-4 in the shootout.

Punjab twice came from behind to make it 2-2, but lost their lead twice in the second half. Punjab were guilty of conceding goals quickly after scoring.

Kawaljit Singh cancelled out Odisha captain Suraj Minz's 16th-minute strike in the 31st minute. But Odisha went ahead three minutes later through Minz again.

Arvinder Singh converted a penalty corner in the 47th minute, and Harmanjit Singh put Punjab ahead two minutes later. But Odisha equalised in the next minute through Suman Beck.

Punjab again took the lead, Varinder Singh scoring in the 60th minute. But two green cards in the final 10 minutes — in the 61st and 67th — put Punjab under pressure. Odisha equalised in the 63rd minute as Minz completed his hat-trick.

In the other semifinal, Steel Plant Sports Board beat Sports Authority of India 4-2

The Tribune


---

Railways to face Haryana in final of women's hockey championship

ROHTAK (Haryana): The Railway Sports Promotion Board and hosts Hockey Haryana entered the final of Hockey India's women 7th senior national championship 'A Division following wins over Hockey Madhya Pradesh and Association of Indian Universities on Saturday.

Railway Sports Promotion Board defeated Hockey Madhya Pradesh 2-0, thanks to goals from Neha (19th minute) and Poonam Barla (29th).

In the second semi-final, hosts Hockey Haryana had to grind out a 2-1 victory against Association of Indian Universities. A largely defensive game saw Hockey Haryana's Pooja breaking the deadlock in the 52nd minute. Reena converted a penalty corner in the 54th minute to make it 2-0.

The Association of Indian Universities didn't give up though with Jyoti Gupta scoring a late goal in the 60th minute. In the end it wasn't enough as Hockey Haryana held on for a win and secured a place in the finals.

The Times of India


---

Railways, Haryana enter final of Sr Women nationals

Railways and Haryana to clash in the final of the National women's hockey championship after wins over Madhya Pradesh and Association of Indian Universities

The Railway Sports Promotion Board and hosts Haryana entered the final of Hockey India's 7th senior women national championship 'A Division following wins over Madhya Pradesh and Association of Indian Universities here on Saturday.

Railway Sports Promotion Board defeated Madhya Pradesh 2-0, thanks to goals from Neha (19th minute) and Poonam Barla (29th).

In the second semi-final, hosts Haryana had to grind out a 2-1 victory against Association of Indian Universities. A largely defensive game saw Haryana's Pooja breaking the deadlock in the 52nd minute. Reena converted a penalty corner in the 54th minute to make it 2-0.

The Association of Indian Universities didn't give up though with Jyoti Gupta scoring a late goal in the 60th minute. In the end it wasn't enough as Haryana held on for a win and secured a place in the finals.

Hindustan Times


---

Three Rock To Meet Monkstown in EY Champions Trophy Final

Men's EY Champions Trophy semi-final

Monkstown won a dramatic shoot-out in the third round of sudden death, getting the better of league and Irish Senior Cup champions Banbridge after an incredible 3-3 draw in normal time.

Town looked perfectly set to win the tie with something to spare as Davy Carson's second half double had them 3-1 up with barely four minutes to go. But two Owen Magee strikes earned Bann a reprieve, the second of them coming with just 43 seconds on the timer to give them a shoot-out chance.

Both clubs had experienced heartbreak in this format in recent months, Town losing the Mills Cup final and Bann going out of the Euro Hockey League. This time, both were more effective in attack than before.

Town took the early initiative with Karl Smith, Kyle Good and Karl Lynch all scoring for a 3-1 lead but Bann hung in there with two brilliant Luke Roleston saves. Jonny McKee rescued a sudden death chance when his effort was adjudged to have cleared the line before the eight-second whistle to much debate and consternation.

It meant three rounds of sudden death before McKee was beaten by the whistle on his second attempt. Karl Lynch was fouled allowing Lee Cole the chance to slam in a penalty stroke and the winning goal.

The Dubliners were the better side in the first half and took a 1-0 lead going into the big break thanks to another Lee Cole stroke, awarded after a drag-flick hit Owen Magee's body on the line. Bann did have major chances, though, with Eugene Magee hooking a close range flick wide while a flurry of shots in succession were also scrambled away in the last minute.

The second half was very different with Bann penning Town in their own 23 metre area for long periods and winning corner after corner. From one, Eugene Magee shot home a brute of a shot for 1-1 and they looked set to pile on the pressure.

But within three minutes they were playing catch-up once again as Carson – the season's top scorer to date – got set free one-on-one. He brilliantly dodged left and then hit into the goal on his reverse.With 12 minutes to go, Carson made it 3-1 from another break-out against the run of play, sliding to get a touch to Andrew Ward's right wing cross and it looked like Town were home and hosed.

Bann kept on pushing, though, and got one back when Fraser Mills' cross found Owen Magee at the near post to finish. Magee was then set free on the right in the last minute and swept a rocket into the top left corner for what could have been a famous comeback.

Town recovered, though, and took back the momentum in the shoot-out to earn their final berth. 

Monkstown 3 (D Carson 2, L Cole) Banbridge 3 (O Magee 2, E Magee), Monkstown win 6-5 on shoot-out



Credit: Adrian Boehm

Like Monkstown, Three Rock Rovers took the long route before eventually seeing off Lisnagarvey in a shoot-out, winning out 3-2 after they had let slip a strong lead in the dying minutes.

Incredibly, just like the first semi-final, an equaliser came with exactly 43 seconds remaining as Andy Williamson rounded on a loose ball that popped to him at the edge of the circle. Taking it early, it left Jamie Carr little time to settle and thudded the backboard.

That sent a topsy-turvy tie to a shoot-out but Rovers scored their first three efforts via Jody Hosking, a peach from Daragh Walsh and Conor Empey while Jamie Carr kept out both Timmy Cockram and Daniel Buser.

When Michael Robson's shot pinged off the post, it sent Rovers through to the final of the Irish Hockey League for the first time, their last triumph at this level coming in the last edition of the old club championships.

They had started superbly with Mitch Darling haring away from James Lorimer before laying off for Hosking. His crack at goal was turned in by Kevin Mullins for a third minute lead.

James Milliken denied them a second from another swift move, Ross Canning's inside ball met by Harry Morris but was on it like a light to save. A minute later, Garvey were level when Timmy Cockram produced a sublime piece of baseline skill to spin around Carr and pot for 1-1.

Milliken then denied Darling's powerful shot and Garvey shut down two corners to stay equal at the big break. The goalkeeper also kept out Canning's revers early in the second half before the Hillsborough side enjoyed their best spell.

It culminated in a lovely piece of work on the left touchline from Daniel Buser and his pass was able to pick out Daniel Nelson who scrambled in for 2-1.

Early in the final quarter, Luke Madeley struck back with a corner drag for 2-2 in the 56th minute and Rovers were in front for a second time with four minutes to go from a stroke, awarded after four shots came from a corner with the last adjudged to have hit a body on the line. Canning converted. Garvey roared back with Cockram missing a gilt-edged chance only for Williamson to earn the reprieve but Rovers prevailed for an all-Dublin final.

Three Rock Rovers 3 (K Mullins, L Madeley, R Canning) Lisnagarvey 3 (T Cockram, D Nelson, A Williamson), TRR win 3-2 in shoot-out

The Final will take place in Three Rock on Sunday April 30th at 5pm, live steaming link to follow.



Credit: Adrian Boehm

Irish Hockey Association media release


---

UCD To Face Monkstown In EY Champions Trophy Final

Women's EY Champions Trophy semi-finals

Clodagh Cassin kept out four shoot-outs to keep UCD in line for a potential treble as they snuck past Loreto after a scoreless first semi-final at Grange Road.

The Kilkenny College graduate kept out all four of Loreto's efforts, allowing Deirdre Duke and Katie Mullan's goals to make the difference.

The game itself was one of few chances with Loreto set up defend compactly and UCD could not find the fluidity to unpick their backline. Duke's snap-shot into the side-netting and a Sarah Evans deflected strike was the sum total of the open play chances in the first half while Ali Meeke charged down the only corner.

UCD upped the tempo in the second half in spite of seven minutes of sin-binnings but got little change from Hannah Matthews and Hannah McLoughlin.

From the one free-flowing move, Gillian Pinder and Sarah Robinson worked an excellent overlap to feed Duke on the baseline but Freya McDermott swept away the chance when it arrived.It set up a lively final quarter in which Louisa Healy kept out Duke's near post touch and an Emma Russell thump. McLoughlin, meanwhile, won Loreto's only corner but her shot was deflected to safety.

UCD had a couple of late corners but no shot made it to Healy, sending the tie to a shoot-out where the students held their nerve and now are one game away from adding to the EY Hockey League and Irish Senior Cup titles already in the bank.

UCD 0 Loreto 0, UCD win 2-0 on shoot-out



Credit: Adrian Boehm

Hermes-Monkstown eased into the women's EY Champions Trophy final courtesy of a 6-2 win over Cork Harlequins who suffered badly in the absence of their international stars.

In addition to Cliodhna Sargent, Roisin Upton, Naomi Carroll and Rebecca Barry were all out injured while Emma Buckley had only come out of hospital after an eight day spell.

And the Dubliners were in no mood for sympathy as they burst into the game with three goals in the first ten minutes. Nikki Evans and Sinead Loughran had already fired warning shots before Evans pumped home a backhand shot in the third minute.

Anna O'Flanagan finished off a classy move after Chloe Watkins and Evans set her up from a turnover. Evans finished off the third for 3-0. Watkins dragged in a corner from the first set-piece of the tie for a 4-0 half-time lead.O'Flanagan – back after a spell out with concussion – finished off a pass from Evans for the fifth with 12 minutes to go. Caoimhe Perdue pulled one back with a cracking strike before Karen Bateman nailed a stroke but O'Flanagan closed out the win in the last minute with a clever finish for 6-2.

It sets up a final date with UCD on Sunday at Grange Road at 2.30pm. The match will be streamed live on Hockey Ireland Youtube, link to follow.

Hermes-Monkstown 6 (A O'Flanagan 3, N Evans 2, K Bateman) Cork Harlequins 2 (C Perdue, K Bateman)



Credit: Adrian Boehm

Irish Hockey Association media release


---

Reading earn biggest Men's Cup Final win in 15 years



Reading win the 2017 Men's Cup Final

Reading took the Men's Cup in fine style, seeing off Canterbury 6-1 to secure the biggest margin of victory in this final for some 15 years.

With player/coach Andy Watts and stalwarts Jonty Clarke and Richard Mantell all set to move on from the club, it was a fitting way for them to sign off with medals around their necks. They sealed their five-goal win as James Carson scored with the final touch of the match, with his brother Tom having scored for Great Britain earlier in the day.

With seven goals it was a great finale to this, the most prestigious knockout tournament in English hockey.

The game started at a lively pace, Scottish international Tommy Alexander making a super save from an early penalty corner. His Reading teammate Monty Jefferson then went on a superb individual run from deep in his own half, and was agonisingly close to creating a wonderful goal.

Reading began to up the ante, and 'Bury's Bill Cain was soon shown a green card as his side performed a rearguard action. However they were powerless to prevent Reading's top class opening goal on 17 minutes, Imre Gerrits firing across a super pass that Nick Park turned home from close range.

Canterbury went in search of an immediate reply, and Will Heywood was inches away from an equaliser after a trademark charge forward.

Then with the half drawing to a close, Reading made a penalty corner pay dividends, the ball being worked to veteran player/coach Andy Watts, who made no mistake in his final game for the 'Ding. His side then went in search of another, James Carson only denied by a good save from Diccon Stubbings.

Into the second half and Reading further imposed their dominance on the game, Ben Boon charging down the right, firing a cross in that Stubbings did well to parry, but he was powerless to stop Tim Atkins' magnificent finish into the top corner.

But, as so often happens in hockey, the game took another twist as Canterbury skipper Craig Boyne scored what one journalist described as a contender for goal of the season, volleying home a wonderful aerial to reduce the deficit.

Reading's Park then had a great chance, but shot wide at the near post after a slip from a Canterbury defender. With ten minutes to go, the lively Gerrits did make it 4-1 with a neat shot, practically ending Canterbury's resistance.

With confidence at a high, Watts then added a stylish fifth, before Carson made it 6-1 with the final touch of the game at a penalty corner.

Reading 6 (Park 17 (FG), Watts 27 (PC), 67 (FG), Atkins 40 (FG), Gerrits 60 (FG), Carson 70 (FG))

Canterbury 1 (Boyne 42 (FG))

Reading:
Tommy Alexander (GK), Ciaran O'Connell, Richard Mantell, Monty Jefferson, Ben Boon, Ed Carson, Dan Shingles (c), James Carson, Jonty Clarke, Andy Watts, Tim Atkins, Rhys Doherty, Imre Gerrits, Nick Park, Ajai Dhadwal, Jonny Gooch

Canterbury:
Diccon Stubbings (GK), Kris Glass, Bill Cain, Jack Balsdon, Chris Laslett, Matt Burton-Bowen, Sam George, Craig Boyne (c), Sam Barrett, Hamish Roberts, Edward Welch, Andrew Dunn, Sean Gilmore, Will Heywood, Max Liebenshutz-Jon

England Hockey Board Media release


---

Men's Vase and Trophy Final



Trophy Blackheath KOFinals

Men's Trophy Final

In a dramatic penalty shoot out Blackheath took victory in the Men's Trophy after they beat a gutsy Didsbury Northern side.

Both sides were hungry for the trophy and it was the northern side that took the lead with Matthew Abell who slotted it past the keeper. Both sides had great support from fans, cheering on their teams and it was Blackheath who then equalised midway through the second half from Michael Lawrence beating the keeper. As the final whistle went it was 1-1 which meant a penalty shoot out and it was Blackheath that came away the winners 4-3.

Blackheath captain Chris Harden said "We certainly made it hard for ourselves. We were pretty disappointed getting to the final last year and losing so this year we were pretty determined but still couldn't quite stick it into the back of the net and thought we better give the crowd a good day out! We came well in the end which is the main thing. I think we have the best crowd and they are the nosiest bunch here and we have got them a cup to celebrate!"

Didsbury Northen (1) 1
Matthew Abell (17)

Blackheath & OEs (0) 1
Michael Lawrence (56)

Blackheath won on penalty shoot out 4-3



Vase Men Southampton

Men's Vase Final

Southampton are the Men's Vase winners after an end to end final against Briggs at the Lee Valley Hockey and Tennis centre.

Southampton were quick of the mark with Rob O'Brien converting the penalty with just 5 minutes gone. Daniel Clay pulled one back for Briggs early in the second half but Southampton took their chances and scored minutes later by George Watling. Minutes before the final whistle Charlie Griffths added to Southampton's lead finishing 3-1 and Vase Champions. 

Southampton captain Bryn Webber said; "Its feels fantastic, it has been a long season, had a lot of ups and downs and this has brought it all to a brilliant end. It's been a fantastic experience to play here, once in a life time but we shall see if we can make it again next year!

"There was a lot a nerves naturally, it was the first time we had been here as a first 11. It has been a fantastic environment to play in and a great day out for us and our friends and family."

Brigg (0) 1
Clay (46)   

Southampton (1) 3
O'Brien (5) Watling (52) Griffiths (68)

England Hockey Board Media release


---

Men's Knockout Masters Round Up



O50s Cup Men Reading

Men's O50s Cup Final

Reading stopped Ben Rydding retaining their O50 title beating them 2-0 to be crowned the Men's O50s Cup Champions.

Both sides took their time to get into the game but with Reading having the attacking edge, first being all square at 0-0. Reading opened the second half applying pressure to the title holders and was soon rewarded as Ian Fitt tapped in the ball on his reverse to give his side the lead.

With 8 minutes left on the clock Reading extended their lead by Soma Singh skipping the ball past the keeper to make it 2-0.

Reading Captain Andy Holden said;

"We were knocked out in a game by them where were leading 3-1 with a few minutes to go in the quarters last year so this was revenge I think. It's great to play here. Virtually all of us were here during the Olympics in some sort of capacity, some spectators and few of the guys were games makers at the time so to come back no it is great fun."

Ben Ryding (0) 0

Reading (0) 2
Ian Fitt  Soma Singh



O60s Cup Men Surrey

Men's O60s Cup Final

In a thrilling O60s Cup final Surrey beat 3 times title holders Indian Gymkhana in a penalty shoot out to take home the title for the first time.

Surrey opened the scoring by a goal from Nick Wren early in the first half, both sides applied pressure but it was Indian Gym who found the back of the net and Santa Bansal scored his first goal of the game drawing it all level at half time.

Second half both teams were eager to take the lead with Surrey having multiple chances on goal but it was Bansal whose straight strike gave his team the lead 2-1. He secured his 3rd  ten minutes later to extend Indian Gymkahas lead to 3-1.
Surrey didn't give up and Ray Conrad and Ian Wallace pulled two back to draw it 3 a piece on the final whistle forcing the game to go to a penalty shoot out.

Indian Gymkaha decided to swap their keeper and put hat-rick hero Bansal in between the posts, it was all to play for but Surrey won 2-1 to take the victory.

Surrey captain Tochi Singh Panesar said; "It feels brilliant, our fourth time of trying and my team did fantastically well. It was great to come back from 3-1 down to draw 3-3 then to win the shoot out. We had not practice the shoot out so we are just pleased to have won."

Indian Gymkhana (1) 3
Santa Bansal (27) (49) (58)

Surrey (1) 3
Nick Wren (7) Ray Conrad (61) Ian Wallace (66)



O60s Plate Winners Kent 2017

Men's O60s Plate Final

Kent are the O60s Plate champions after overcoming a dogged Hampshire side in a tight game at the Lee Valley Hockey and Tennis Centre.

Second half goals from Roger Snelling and Mike Rudd were enough to hand victory to a Kent side who had cruised through to the final.

Hampshire started the brighter of the two teams however, with Bill Stokes' strike in the ninth minute disallowed, but Kent soon found their stride and started piling on the pressure at the end of the half.

They also had a goal chalked off in the 47th minute before Snelling eventually opened the scoring with nine minutes to play, pinching the ball of a defender's toes and slotting it past 'keeper Nigel King.

Rudd then secured the title with a penalty stroke with just seconds left to play, much to the delight of captain John Maylam.

"I felt that we were the better team and that we deserved to win - we should've taken our chances earlier. This tournament gives us old boys a chance to play and it keeps us in the game and we can give something back to our clubs. It's a great day."

Hampshire (0) 0

Kent (0) 2
Snelling (61), Rudd (70)



O40s Trophy Epsom

Mens Over 40s Trophy Final

Epsom defended their Men's Over 40 Trophy title with a convincing win over Khalsa at the Lee Valley Hockey and Tennis Centre.

Having eased into the final by beating City of Peterborough last time out, Epsom found a tougher opposition this time round and struggled to create clear chances early on.

But a bit of magic from Andre Bailey changed that in the 21st minute as he swivelled and turned his way past a number of defenders before forcing the ball home.

Khalsa hit back just three minutes later with their own outstanding goal though as Surinder Singh superbly deflected a wicked pass past Colin Savage.
The game was an even affair thereafter until Karamjit Singh was shown a red card in the 42nd minute, with Epson soon taking advantage of their extra player.

Captain Ali Murrell gave them the lead from a penalty corner shortly after before Kai Smith sealed the win with 11 minutes to play, leaving Murrell overjoyed. He said: "It's a great result. We said last year we would try to defend it and we have. It was a great final.

"It's an amazing feeling to score as well. It had some help going in but they all count."

Epsom (1) 3
Bailey (21), Murrell (52), Smith (59)

Khalsa (1) 1
S Singh (24)

Men's O50s Trophy Final

Captain Alan Dalley's stunning hat-trick inspired his Formby side's superb comeback against Timperley and saw them clinch the Men's Over 50s Trophy at the Lee Valley Hockey and Tennis Centre.

The day hadn't started so well for Formby, with their opponents racing into a 2-0 lead after 11 minutes thanks to goals from Colin Taylor and Stuart Nicholson.

That second goal seemed to spark them into life though and they reduced the deficit just two minutes later as Dalley fired a short corner past Timperley goalkeeper Gary Weatherley.

He then levelled the scores three minutes before before John Bazley gave Formby the lead in the 42nd minute after a great run by Peter Langley.

Dalley then finished his hat-trick with quarter of an hour to play to secure the victory against his former side, something he admitted he found a little bit weird.

"I feel ecstatic," he said. "But I used to play for Timperley and I know a lot of them so it is a bit of a funny feeling.It was great to score a hat-trick and it has been a great day. We started sluggishly but we came good and it feels brilliant."

Timperley (2) 2
Taylor (5), Nicholson (11)

Formby (2) 4
Dalley (13, 32, 55), Bazley (42)

Men's O50s Shield Final

Bowdon eased to victory in the Men's Over 50s Shield Final with a clinical display against Bournemouth at the Lee Valley Hockey and Tennis Centre.

The opening stages were a tense and cagey affair, with both sides trying to figure each other out, but it was the Bournemouth defence that cracked first, with Tony Bray squeezing the ball through a defender's legs on the line from a penalty corner in the 20th minute.

That seemed to settle them down however and just six minutes later that lead had doubled courtesy of Steve Royle.The half-time break couldn't disrupt their rhythm as it became a three goal lead in the 37th minute as Steve Holah pounced on the rebound after Karl Gorse's shot cannoned off the post.

And Phil Brown finished off Bournemouth with 16 minutes to play by slamming a penalty corner past an unlucky Colin Kimber.

Despite the ease at which they seemed to secure the win, Bray believes that it was much harder than the bare statistics may suggest.

He said: "The score flatters us, it was a harder game than it suggests but we took our chances when they came. At our age it is very important to have a squad of 16, that's for sure."

Midfielder David Welsh also shared the key ingredient to their victory, quipping: "The secret to our success is jellybabies, nothing else!"

Bournemouth 0

Bowdon 4
T Bray (20), S Royle (26), Hola (37), Brown (54)

Men's O40s Shield Final

Doubles from Jon Hauck and David Knapp ensured Old Cranleighans ended the day as Men's Over 40 Shield winners by beating Norwich City at the Lee Valley Hockey and Tennis Centre.

The game started in the best possible fashion for Cranleighans as they scored in just the third minute of play, Hauck slotting his first past Malcolm Jewers in the Norwich goal.

Despite dominating much of the play, Norwich nearly grabbed an equaliser in the 28th minute but Matt Close produced an unbelievable head-high reflex stop on the line to keep on Haren Patel's flick.

The lead was doubled on 55 minutes as Knapp smashed in a penalty stroke and that opened the floodgates for Cranleighans as the same man scored again just four minutes later with a superb turn and finish.

Not to be outdone, Hauck then added his second with two minutes to play to top off a perfect day for both himself and the team.

"It feels great, it was a really, really good game.Everyone played well, although I thought the last goal was obviously the best. We had fantastic support as well, lots and lots of people came down from the club and were just great."

The victory ensured Cranleighans picked up their second trophy of the season, both of which captain Chris Brewer has dedicated to Christan Davies, a former member of the team who unfortunately passed away earlier this year.

"We did it for him, that was for Christian" Brewer said.

Norwich City 0

Old Cranleighans 4
Hauck (3, 68), Knapp (55, 59)

Men's O40s Cup Final

Isca beat Canterbury 2-1 in an end to end match to secure victory in the Men's O40s Cup at Lee Valley Hockey and Tennis Centre.

As the skyline turned pink both sides put on a show but neither able to convert chances in the first half. Isca were first to break deadlock from Matt Clark but Canterbury were quick on the bounce as Stewie Keir made the score line level.

It was a sliding tap in at the post from Chris Bryant that made his team, Isca the O40s Cup winners.

Isca (0) 2
Matt Clark (50) Chris Bryant (67)

Canterbury (0) 1
Stewie Keir (52)

England Hockey Board Media release


---

Double for Kelburne as they lift the cup



Kelburne winners 2017

The main event of day one of the cup finals weekend at the Glasgow National Hockey Centre was the Men's Scottish Cup Final between Grange and Bromac Kelburne, and it was Kelburne that did the domestic double with a solid victory on the final.

After the drama of last week's final game of the league season, where Kelburne snatched the title on the final day, there was always going to be added spice to this final.

It was a slow-burner to begin with, neither side really created any great opportunities, although Grange probably edged the play.

It was Kelburne however who opened the scoring. Some great play by Lee Morton down the right found Jonas Nommenson bearing down on the goalkeeper, and he scooped it over Nathan Doherty in the Grange goal into the net.

Grange had hardly settled following the goal and Kelburne were at them again. A Josh Cairns pass found Jack McKenzie who struck home to make it 2-0.

Grange weren't going to go away quietly and Luke Cranney pulled one back for his side after a surge down the right into the Kelburne D found him unmarked to finish. 2-1.

Johnny Christie then restored Kelburne's two goal cushion with ten minutes remaining. A Josh Cairns penalty corner was saved low by Doherty but Christie was on hand to scoop the ball into the roof of the net to make it 3-1.

Into the second half and although Grange again dominated play, it was Kelburne who struck the net. A ball in the D saw Nommenson lunge at it as the goalkeeper attempted to clear. It set things up nicely for Craig Morton who flicked the ball into the left corner of the net to make it 4-1.

Chris Nelson finished off a neat penalty corner routine to make it 5-1 for Kelburne. Grange kept fighting and pulled another one back through and exceptional finish from a tight angle by Ali Irvine.

Full Time: Grange 2-5 Bromac Kelburne




Western Wildcats 4-1 Watsonians

The Men's Scottish Plate Final between Western Wildcats and Watsonians saw Wildcats crowned the winners after an excellent display of hockey.

Wildcats played great hockey from the push-back, and looked hungry for goals, so much so they scored their first goal inside ten minutes. It was Niall Sommerville who provided the finish after a good run down the left. Sommerville popped up to provide a tap-in for the finish to make it 1-0.

A penalty corner gave Western Wildcats their second goal. It was set up for Andrew McAllister who blasted it towards goal and Rob Harwood deflected it into the net. 2-0.

A convincing first half for Wildcats was rounded off by a third goal, which was a carbon copy of the second. McAllister again picking out Harwood who found the net to make it 3-0.

Wildcats kept up their impressive form in the second half, playing fast concise hockey.

A penalty flick was awarded to Western to give them the chance to further their lead. Harwood stepped up and sent his effort just wide of the left post.

Watsonians were fighting hard and had opportunities to get back into the game. Two penalty corners were well saved as Watsonians hunted for goals.

Fraser Heigh threw himself at the ball as a long pass was launched into the Wildcats D but he couldn't connect.

Adam McKenzie for Wildcats was denied from a penalty corner, he launched towards the bottom right corner prompting a great save by Luke Campbell.

The fourth goal eventually came for Wildcats. After a great initial save by Campbell, Andrew McConnell was on hand to slam the ball into the net to make it 4-0.

Watsonians got their well-deserved goal in the closing minutes of the match. A nice move down the right saw the ball pinged towards Fraser McCurdy who scored to make it 4-1.

Full time: Western Wildcats 4-1 Watsonians




Watsonians 2s 1-4 Grange 2s

The Men's District Cup Final was a fast and furious contest between Watsonians 2s and Grange 2s with Grange winning their second trophy of the day.

A lightning fast opening by Grange 2s saw them take the leads in just 15 seconds when David Ellis opened the scoring to make it 1-0.

It was nearly 2-0 through a Rob Barr penalty corner 30 seconds later. The second goal did come, and it was Barr who provided it with a penalty corner slipped low into the net to make it 2-0.

It was 3-0 for Grange 2s soon after when Barr sent a spectacular drag flick sailing into the top left corner of the net. His second of the match.

Goal 4 for Grange 2s was an absolutely sensational solo goal by Kyle Wright. He took the ball on a run round the contour of the D before smashing across goal into the net.

The second half was slower-paced but a valiant display by Watsonians 2s saw them battle back into the game. They were rewarded when they pulled one back from a very well executed penalty corner, Jamie Cochrane scoring from close range to make it 4-1.

Full time: Watsonians 2s 1-4 Grange 2s

Edinburgh University 2s 4-1 Erskine Stewart's Melville 2s

The Men's District Plate Final on Pitch 2 was a great contest between Edinburgh University 2s and Erskine Stewart's Melville FP 2s, with the students running out winners.

Edinburgh Uni 2s opened the scoring from a short corner, when Finlay Walker shot low and hard against the back board to make it 1-0.

ESM's Mathew Smith equalised from a nice penalty corner routine – another low finish, this time against the post and into the net.

A well-defended short corner saw the ESM defence deny Edinburgh Uni a goal when the heat was on, and keep the score at 1-1 at half time.

Edinburgh Uni took the lead again when they scored through Jack Martin to make it 2-1.

A great save by ESM's Pete Lucas-Herald kept the score at 2-1, diving low to his right at a penalty corner.

Edinburgh Uni's Finlay Walker scored his second from close range at a well-worked penalty corner to make it 3-1.

It was a Finlay Walker hat-trick to round off the scoring when he finished from open play to make it 4-1 and secure the plate for Edinburgh Uni.

Full time: Edinburgh University 2s 4-1 Erskine Stewart's Melville FP 2s




Hillhead 3s 0-1 Grange 3s

Getting the day underway on pitch 1 was the Men's Reserve Cup Final between Hillhead 3s and Grange 3s.

The first big chance of the match fell for Hillhead; a penalty corner routine was well saved by Jonny Baird in the Grange 3s goal at his left post.

It was a very cautious opening ten minutes from both sides. The game sparked into life when Alan Meikle set-off on a skilful run into the D but the play was pulled back when a foot played the ball.

Then Steve Swanton went running through on goal for Grange 3s, but his effort was well saved by the rushing goalkeeper.

Hillhead 3s were next to come close – from a penalty corner injection by Meikle, Philip Godsiff flicked towards the top corner but it went just wide of the target.

Then another Hillhead penalty corner routine found the ball slipped back to the injector, Meikle, but he couldn't connect a stick to finish.

Into the second half and a good move down the left saw the ball switched to the right and Lewis Williamson had a shot low and hard saved by the goalkeeper.

Grange 3s finally opened the scoring when Gordon Allan showed great composure to slot the ball into the net to make it 1-0.

They were at it again soon after when a quick Grange 3s break saw Gordon Allan set up Dave Coaton, who had his effort slam off the inside of the post and away from danger.

Hillhead 3s pressed as the minutes ticked away and then with ten seconds to play, they had a shot saved on the line, to give Grange 3s the victory.

Full-time Hillhead 3s 0-1 Grange 3s




Watsonians 3s 2-5 Grove Menzieshill 3s

The opening match of the day on Pitch 2 was the Men's Reserve Plate Final between Watsonians 3s and Grove Menzieshill 3s.

It was a very even start to the match, Watsonians' Captain Robert Stewart dictating the play for his side, and Grove Menzieshill 3s moved the ball very well.

The first opportunity came when Grove Menzieshill's Tom Dalgarno had a turning shot blocked by the goalkeeper to deny the opening goal.

It didn't take long for Grove Menzieshill 3s to open the scoring. A penalty corner injected by Shaun Craig led to an exchange between Ian Soutar and Sam Tiltson, and finished with Soutar slotting the ball into the back of the net to make it 1-0.

It was 2-0 moments later when Dalgarno finished to double the advantage.

Then Watsonians pulled one back when Andrew Littlejohn fired home from the top of the D to make it 2-1.

The equaliser came not long after. Calum Wood went running on goal for Watsonians 3s until he was wiped out by the advancing goalkeeper, resulting in a penalty flick. Harry Campbell stepped up and found the bottom left corner to equalise.

Grove Menzieshill 3s responded immediately when Gavin Cruickshanks scored and made it 3-2 just before half time.

The second half was a very competitive affair lacking in the end-to-end chances of the first half.

The game swung towards the Dundonians when Grove Menzieshill 3's made it 4-2 with 18 minutes to go through Tiltson.

Watsonians 3s battled back and Harry Campbell had a good chance at the top of the D but his shot was charged down by the defence.

Grove Menzieshill 3s rounded off the scoring when Andrew McQueen added a fifth as the game neared a conclusion to make it 5-2.

Full time Watsonians 3s 2-5 Grove Menzieshill 3s

Photos by Duncan Gray and Mark Pugh

Scottish Hockey Union media release


---

Pakistan juniors defy odds to win tournament

By Nabil Tahir



Photo Courtesy: Click In Focus

KARACHI: Pakistan's junior hockey team defeated New South Wales State (NSWS) 3-2 in the final of Australian U18 Junior Hockey Championship to clinch gold on Saturday.

Pakistan lost against the same opposition when the two sides last met in pool matches and because of that seemed to be under pressure and therefore started the match on a defensive note.

However, it took them only 13 minutes to settle in and take control of the game when Naveed Alam finished a spectacular move to give his side the lead.
Advertisement

NSWS replied with some shots on target but to no avail.

Pakistan, on the other hand, upped the ante and put pressure on their opponents and that paid dividends as by the 24th minute, the Colts were 2-0 up.

And that was how the first half ended.

The second half saw Pakistan extend their lead in the 44th minute to make it 3-0. And just when it looked as if Pakistan would canter away with the win, NSWS won a penalty stroke and made it 3-1 by the 48th minute when Ehren Hazell converted.

Pakistan were now in complete defensive mode and allowed NSWS to attack which resulted in another goal by the latter when Daine Richards found the target in the 65th minute.

However, that was too little too late and Pakistan were able to see off the remainder of the match to clinch gold.

"This is a great achievement and a bonus for us. We came here to gain experience and now the boys have also won the championship," head coach Kamran Ashraf told The Express Tribune from Hobart. "NSWS had a lot of international junior players and to beat them is a great achievement. In the last match we lost to this team but the fact that we were able to defeat them shows that the boys have learnt their lesson well."

Ashraf went on to praise the players and reserved special praise for the spirit they showed throughout the tournament. "The energy in the boys is immeasurable; the way they played throughout the championship is remarkable. This attitude will take these players to great heights and one day they will be representing the Pakistan national team," he added.

Pakistan Hockey Federation (PHF) Secretary Shahbaz Ahmed Sr also showered praise on the youngsters' achievement. "Our main motive was to provide international exposure to the players who have been included for the first time in the team. But the way they played is incredible," he said.

The Express Tribune


---

Jkuat, Sliders share the spoils in women's league

By BRIAN YONGA



Sliders' Christine Mmbone (right) vies for the ball with Elizabeth Okama of Jomo Kenyatta University of Science and Technology during their Kenya Hockey Union Women's Premier League match at City Park Stadium on April 29, 2017. PHOTO | MARTIN MUKANGU |  NATION MEDIA GROUP

Jomo Kenyatta University of Agriculture and Technology (Jkuat) on Saturday came from behind to hold Sliders 1-1 in a Kenya Hockey Union women's Premier League match at City Park Stadium, Nairobi.

Georgie Randiel had put Sliders ahead in the 34th minute after finishing off Dorris Kirui's penalty corner but the students fought back to rescue a point through Lesley Obonyo who popped up to hit the equaliser in the 49th minute after a defensive lapse from the Sliders defenders.



Georgie Randeci of Sliders drives the ball during their Kenya Hockey Union Women's Premier League match against Jomo Kenyatta University of Science and Technology at City Park Stadium on April 29, 2017. PHOTO | MARTIN MUKANGU |

The result infuriated Sliders stand-in coach-cum player Anita Agunda who rued her team's missed chances. "It feels like a loss because we had countless  chances to bury the game and we got hit by a sucker punch. It is disappointing and as a team we need to really improve on our finishing," Agunda told Sunday Nation Sport.

A win would have taken Sliders to second place above the students but following the result they remain in third place with seven points, while Jkuat are second on eight points.

Jkuat's coach Sammy Oungo praised his team's fighting spirit in the encounter.

"We suffered for most of the game but we never stopped believing and eventually got ourselves back in the match. It could have been a different result but our keeper also helped us," the tactician said.

Indeed, the Juja based team could have been 3-0 down at the close of the opening quarter but went into the break goalless after Emmah Aroni thrice denied Agunda brilliantly.

Sliders, who lost 2-1 to Vikings in their last match on Easter Monday, continued to attack in the second quarter but Aroni was simply unbeatable. In the 20th minute, she threw herself at Agunda's feet forcing the striker to pass the ball and the chance was wasted.

Jkuat settled in this quarter and began creating chances with skipper Wendy Atieno seeing more of the ball in midfield and linking well with her partner Vivian Gikonyo. The duo combined to set up a chance for striker Ivy Wamoyo but the latter was unable to beat Sliders keeper Catherine Opicha, who until the end was a mere spectator in the tie.

Sliders finally got rewarded for their relenting pressure four minutes into the third quarter as Kirui's dragged penalty corner was brilliantly finished by Randiel with Aroni finally breached.

The students abandoned their defensive game and went in search of a goal. They were almost hit at the break but again Aroni was at bay to deny Sliders to extend their lead.

A moment of madness in the Sliders defence saw Jkuat get the precious goal. Defender June Kagongo, who up until the point had an excellent game attempted a back pass to Opicha but the the short pass was intercepted by Bonyo who rounded the keeper before firing to the empty post.

Daily Nation


---

KUAT tackle Sliders

Students hope to maintain their unbeaten run

By Elizabeth Mburugu



Orange Teresa Juma(l) and Sliders Beryl Atieno in action when they played Africa Cup Championship at City Park, Nairobi, Kenya yesterday, on 12/01/2017. PHOTO: JENIPHER WACHIE

Jomo Kenyatta University of Agriculture and Technology (JKUAT) ladies take on Sliders today at City Park Stadium in a Kenya Hockey Union women's Premier League match. Currently second on the log, the Juja-based students will be seeking to maintain their unbeaten run.

JKUAT have eight points from four matches whereas Sliders are third with six points from to wins and a loss. The two sides earned easy points last weekend after being awarded walkovers against Mombasa Sports Club (MSC) ladies who failed to honour their matches at City Park.

Defending champions Telkom Orange will be away in Mombasa to take on Mombasa Sports Club (MSC) in another women's league encounter.

MSC will be seeking to make their return to the league count after missing last season's challenge. Orange have had a good run winning all their matches and are yet to concede a goal.

In another women's tie, Multimedia University will face off with their Kenyatta University counterparts tomorrow while Amira Sailors will lock horns with Strathmore University Scorpions on Monday.

In the men's Premier League, former champions Kenya Police take on Nakuru HC today. Police who are currently second on the standings behind leaders Greensharks will be eying another victory. Greensharks will be seeking to maintain the top spot when they tackle Parklands on Monday.

Tomorrow, Kenya College of Accountancy University (KCAU) play Nakuru while 2012 holders Nairobi Sikh Union play debutantes Technical University of Kenya.

In the men's second division tier, Thika Rovers, Wazalendo Masters and Impala will be away in Mombasa to take on Mombasa West, Mvita XI and MSC.

The Standard Online

The Star of Malaysia