All the news for Tuesday 25 April 2017

Second Test: Malaysia 3 New Zealand 3

By Jugjet Singh

NATIONAL coach Stephen van Huizen made a few changes to the team, and Malaysia drew 3-3 with New Zealand in the Second Test at the Tun Razak Stadium Sunday.

In the First Test on Saturday Malaysia, ranked 14th, hammered eighth ranked New Zealand 8-2.

The Tests double up as selection for the Azlan Shah Cup in Ipoh on April 29-May 6, and van Huizen will name his final squad today.

In Ipoh, the hosts will be up against Australia, Great Britain, India, Japan and New Zealand.

Sam Lane scored off a penalty corner in the 19th minute, but Malaysia pulled back in the 22nd minute when Marhan Jalil scored off a penalty corner rebound.

Fitri Shaari gave Malaysia the lead in the 53rd minute, but a minute later Stephen Jenness scored to make it 2-2, and Nick Ross' solo effort in the 56th made it 3-2.

However, Faizal Shaari's 60th minute penalty corner attempt saw both teams share the spoils.

"I rested a few players and tried out the others to give them a chance in the selection process for the Azlan Shah Cup and admittedly, we played below our standard in the first two quarters.

"However, a win and a draw heading towards Azlan Shah Cup is a good result, and I hope to have another friendly (possibly against Australia) at the newly laid pitch in Ipoh to get used to the conditions -- and we will be ready for the challenge," said Stephen van Huizen.

New Zealand coach Darren Smith brought a young team and his gradual target is the World Cup and Olympics.

"It was good for my youngsters to play against world class players in the two Tests. However, this is just the start of our journey heading towards the World Cup (2018) and the Olympics (2020)," said Smith.

Jugjet's World of Field Hockey


---

Faizal comes to Malaysia's rescue with late equaliser

by S. Ramaguru



Flying in: Shahril Saabah challenging New Zealand's David Brydon in the second Test at the Tun Razak Stadium yesterday. — M. AZHAR ARIF/The Star

KUALA LUMPUR: Forward Faizal Saari scored a late goal to salvage a 3-3 draw for Malaysia in the second hockey Test against New Zealand.

With Malaysia heading for a defeat, the 26-year-old converted a penalty corner in the 59th minute to snatch the equaliser.

Earlier, Sam Lane had give the Kiwis the lead in the 19th minute after blasting a penalty corner past goalkeeper S. Kumar.

But Mohamed Marhan Mohamed Jalil restored parity three minutes later when he blasted home a penalty corner rebound.

Fitri Saari then gave Malaysia the lead for the first time with a field goal in the 53rd minute.

New Zealand, however, scored two quick goals though Stephen Jennes in the 55th minute and Nik Ross in the 56th to lead 3-2.

But New Zealand's hopes of a win after an 8-2 thrashing in the first Test on Sunday went up in smoke when Faizal came to Malaysia's rescue.

Malaysia coach Stephen van Huizen was pleased with his team's fightback.

"We made some good moves. We rested some players so that the others can have some time on the field.

"But we need to cut down the errors. We also missed many sitters," said Stephen.

For Kiwi coach Darren Smith, the draw was a satisfying result.

"We did better in this game. There were some soft goals given away but overall it was a much better effort," said Smith.

Both Malaysia and New Zealand are preparing for the Sultan Azlan Shah Cup, which begins in Ipoh on Saturday.

The other countries competing in the six-nation tournament are defending champions Australia, Britain, India and Japan.

The Star of Malaysia


---

Black Sticks Men draw with Malaysia




The Vantage Black Sticks Men have drawn 3-3 with hosts Malaysia in their second test ahead of the Sultan Azlan Shah Cup which starts this weekend.

It was an evenly poised encounter with the score level 1-1 for much of the match before a flurry of goals from both sides in the final 10 minutes.

Canterbury's Sam Lane opened the scoring for the Kiwis in the 19th minute through a well worked penalty corner shot.

Malaysia equalised thanks to a Marhan Jahlil penalty corner three minutes later and finally took the lead in the 53rd minute after Fitri Saari struck from the field.

But two goals in the 55th minute saw the Black Sticks surge into the lead when Stephen Jenness and Nick Ross both delivered field goals to put New Zealand up 3-2.

The hosts snatched a draw in the final minute of the game through a last minute penalty corner, which Faizal Saari sent into the goal.

The Vantage Black Sticks now head to Ipoh to prepare for their opening game at the Sultan Azlan Shah Cup against Australia at 10pm this Saturday.

All New Zealand games will be broadcast live on SKY Sport.

VANTAGE BLACK STICKS 3: (Sam Lane, Stephen Jenness, Nick Ross)
MALAYSIA 3: (Marhan Jahlil, Fitri Saari, Faizal Saari)
Halftime: 1-1

Hockey New Zealand Media release


---

Black Sticks improve ahead of Sultan Azlan Shah Cup



Sam Lane opened the scoring for New Zealand against Malaysia. PHOTOSPORT

The Black Sticks men have bounced back from their horror loss to draw with Malaysia in their final warm-up ahead of the Sultan Azlan Shah Cup.

New Zealand lost the opening test 8-2 on Sunday but rebounded with a 3-3 result.

It will put them in a better frame of mind as they head to Ipoh to prepare for their opening game at the high-profile tournament. They play Australia first-up on Saturday (10pm NZ time).

Malaysia certainly proved a handful over the two preparation internationals.

The score was 1-1 for much of the match before a flurry of goals from both sides in the final 10 minutes.

Canterbury's Sam Lane opened the scoring for the Kiwis in the 19th minute through a well worked penalty corner shot.

Malaysia equalised thanks to a Marhan Jahlil penalty corner three minutes later and finally took the lead in the 53rd minute after Fitri Saari struck from the field.

But two goals in the 55th minute saw the Black Sticks surge into the lead when Stephen Jenness and Nick Ross both delivered field goals to put New Zealand up 3-2.

The hosts snatched a draw in the final minute of the game through a last minute penalty corner, which Faizal Saari sent into the goal.

Stuff


---

Black Sticks draw with Malaysia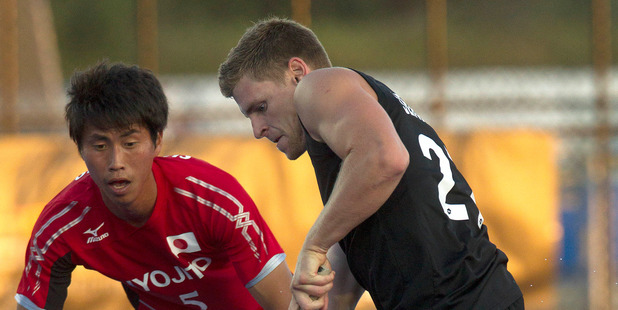 New Zealand's, Stephen Jenness

New Zealand have completed their official Azlan Shah tournament buildup with a 3-3 draw against hosts Malaysia in their second test in Kuala Lumpur.

The result was a vast improvement on the first international 24 hours earlier when the world No 14 Malaysians thumped the Black Sticks, ranked No 8, 8-2.

The game was level 1-1 for much of the contest before a late flurry of goals.

Canterbury's Sam Lane got his second goal in as many days to open New Zealand's scoring from a well worked penalty corner early in the second quarter.

Malaysia equalised through Marhan Jahlil three minutes later and went ahead seven minutes from the end with a goal by Fitri Saari.

However two goals in the 55th minute from Stephen Jenness and Nick Ross, both with field goals, had New Zealand's nose in front.

Malaysia grabbed a draw in the final minute with a penalty corner converted by Faizal Saari.

New Zealand open the annual Azlan Shah tournament against world No 1 Australia on Saturday night, before further games against No 6 India on Sunday night, No 16 Japan on Tuesday night, Malaysia 24 hours later and Britain, who as England are world No 7.

The playoffs are on Saturday night.

New Zealand head to tournament venue Ipoh where they have a couple of practice hitouts before facing Australia.

The New Zealand Herald


---

Extreme heat no surprise for Black Sticks at Azlan Shah

By David Leggat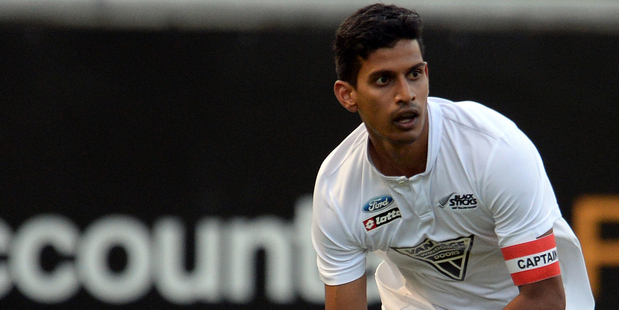 Black Sticks captain Arun Panchia. Photo / Photosport

There won't be any surprises for the Black Sticks when they chase a third victory at the annual Azlan Shah men's tournament in Ipoh, Malaysia from this weekend.

The extreme heat, a tropical 33degC average, necessitates playing smart hockey, trying to conserve energy, and acting captain Arun Panchia reckons his players will know what to expect.

New Zealand are regular visitors to the tournament - they have won it twice, in 2012 and 2015 - and expect his team to be highly competitive.

The leadup didn't go as well as would have been hoped, after an 8-3 tonking by the hosts in Kuala Lumpur, followed by a 3-3 draw yesterday, but getting quality games behind them won't hurt the world No 8 side ahead of the opener against defending champions and world No 1 Australia on Saturday night.

''Traditionally the team has done well. It's a tough competition and we're looking forward to getting tested and playing a few different oppositions,'' midfielder/defender Panchia said.

''A lot of the guys have played junior tournaments in Malaysia so we know how to play in the heat and we're a fit side well accustomed to the heat.''

Panchia, with over 200 international caps to his name, is filling in for striker Simon Child as skipper, Child one of a handful of players sidelined either by injury or European club commitments.

He had his captaincy debut in the 2-1 home series loss to Pakistan this month, where the big lesson for his players was achieving a consistent level of performance.

''We need to be able to adapt throughout games, but at the same time have a consistent message through that we want to be a hard-working team, we've got to compete every minute and we aware of the team we're playing, their strengths and what they're likely to do.''

First up the Black Sticks will face their former coach Colin Batch, who resigned after the Rio Olympics to take on the Australian job. Panchia, 27, is enjoying the extra responsibility of leadership, although admitting he hasn't thought too much about the role.

''My natural game is to be loud and communicate well and be organised,'' he said.

''I still want to play my natural game, make sure I do the right things off the field and lead by example.

''But it's a really good group, there's a number of guys who have been in the squad a number of years.

''With team sports nowadays you need to share that responsibility and everybody's got to take on that leadership role in some aspect.''

New Zealand's Azlan Shah Cup schedule (all matches live on Sky Sport):

Saturday: v Australia (world No 1) 10pm
Sunday: v India (6) 8pm
Tuesday: v Japan (16) 10pm
Thursday: v Malaysia (14) 12.30am
Friday: v Britain (7), 8pm
Saturday: Playoffs

The New Zealand Herald


---

Hockey is still his life

by Roger Rodrigo



Sarjit (second from right) putting his national junior players through the pace on the first day of training. — filepic

He easily qualifies as one of Malaysia's hockey heroes, having served as captain at the junior and senior levels as well as coaching both the junior and senior national teams in his career.

Now 54, some might say Sarjit Singh's mission is over. In fact, the opposite might be true.

Sarjit is one of the rare few to do national duty as both player and coach.

Since taking up the coaching position with Terengganu in 2014, he has turned around the east coast side's fortunes in the national league.

Sarjit had led Terengganu to win the Malaysian Hockey League Premier Division from 2014 to last year.

"Hockey is my life and I'm quite happy with it," Sarjit said when met.

"I brought in five South Korean players and that changed our game," he recalled the key decision he made after becoming coach.



Terengganu captain Faizal Saari (in black) lifting the TNB Cup trophy his team won in May last year. Sarjit (left) looks on with runners-up Police skipper Baljit Singh (second from right) and coach Gurmit Singh. — filepic

This plus seven Malaysian internationals, the presence of consultant Paul Lissek and strong financial backing from the state government helped Terengganu's cause immeasurably, he added.

Terengganu won the league and beat Kuala Lumpur Hockey Club 2-1 on penalties to wrest the TNB Cup achieving the double after joining the league in 2013. They repeated the feat in 2015 and last year.

"Most important is that the players believe in me and I believe in them.

"I cannot ask for more from them as they have played well as a team," he said of the state team.

Recalling his earlier days, Sarjit said he used to train a lot, so much so that many people called him mad.

Anyone who knows him well would concur that he is still crazy about hockey.



A photo of Sarjit taken in the 1990s. — filepic

Of course, as in any sportsman's career, there have been ups and downs, said Sarjit, citing missing out on a World Cup appearance twice.

" I played in two qualifiers - Barcelona in 1985 and Poland - but did not make it."

Those misses would seem like minor blots in a distinguished playing career that saw him feature in the Junior World Cup, Olympics, Asian Games and a host of international tournaments.

"I played for Malaysia more than 200 times in 12 years, seven as captain," he recalled.

Sarjit's international career started as a 19-year-old in January 1982, playing for the national team in the Asia Cup.

Seven months later he led Malaysia to a fourth place finish in the Junior World Cup in Kuala Lumpur.

As a 22-year-old he remembers making his debut in his first Olympics in Los Angeles in 1984.

"I missed a penalty stroke in the first match when the score was tied 0-0".

That match saw Australia run riot with a 5-0 win. Malaysia beat Canada 1-0 in the 9-12 classification match before edging USA 4-3 for 11th place.

In Barcelona eight years later, Malaysia improved, finishing ninth under the guiding hand of then national coach Terry Walsh of Australia.

That finish remains Malaysia's best standing in the Olympics so far.

"We could have done better, at least sixth place if K. Embaraj had not got injured at the last minute," said Sarjit.

A high point came in 1986-87 when he was selected to join the Asian All-Stars, featuring the best players in Asia.

Sarjit retired in 1993 at 31 and thereafter played and coached in Singapore until 2003.

In 2002, he was selected by the Malaysian Hockey Federation together with Tai Beng Hai, Arul Selvaraj and others to attend a seven-month coaching course under consultant and later national coach Paul Lissek.

Sajit served as national junior coach from 2003-2006 before taking over the reins of the national team in 2007.

Some of his coaching highlights included taking the team to third place in the Asia Cup and steering Malaysia to its first appearance in the final of the Sultan Azlan Shah Cup tournament in Ipoh where they lost 1-3 to Australia.

Sarjit moved on to Hong Kong for four years from 2010 to 2014 where he coached the national team for one year and a club side for three years.

He took Hong Kong to ninth place in the Asian Games, their best finish thus far.

The Star of Malaysia


---

Derek Forsyth to join GB Hockey men as Assistant Coach for tournament in Malaysia



Photo by Nigel Duncan Media

Derek ForsythScotland's senior men's hockey Head Coach, Derek Forsyth, will be joining GB Hockey's men's team as Assistant Coach for the upcoming 2017 Sultan Azlan Shah Cup tournament in Malaysia.

Derek will join Bobby Crutchley who leads his new-look squad for the tournament, which is an invitational event featuring four of the world's top eight teams. Teams taking part include current World Champions and Champions Trophy holders Australia, plus New Zealand, Japan, India and Malaysia. Games are due to be streamed online by the hosts, more details to follow.

The tournament will run from 29 April until 6 May 2017 and will be held in Ipoh, Perak.

Derek Forsyth said, "I'm looking forward to joining the GB coaching team for what will be a very competitive tournament in Malaysia. It's a great opportunity to see close-up how the GB set-up works, contribute to the coaching team, and work in that environment at a high-profile tournament."

Scottish Hockey's Head of Performance Andy Tennant said, "We are delighted for Derek that he has been chosen - and I am sure he will benefit from working within the GB coaching team in such a high profile tournament environment. This is a great example of the GB Hockey partnership working really well and benefitting all the home nations. We wish the team every success in Malaysia."

Scottish Hockey Union media release


---

Sam judge joins Scotland women's coaching team



Sam Judge in action for Scotland

Former Scotland internationalist, and current Edinburgh University Women Player-Coach, Sam Judge has joined the Scotland senior women's coaching team.

The addition of Judge to the coaching staff brings great experience from her time as an international Scotland player where she won 199 caps. Judge has been coaching in the role of Player-Coach at Edinburgh University over the last five years, and it has been a successful time for the club.

Judge made her debut for Scotland in 1999. She played in three consecutive Commonwealth Games tournaments: Manchester, Melbourne and Dehli.

Sam Judge said, "I'm delighted to join the Scotland coaching team, it's unexpected and a huge honour. I've just had my first session with the girls and it was great to be back in the international team environment.

"There's such an exciting summer ahead and I'm looking forward to helping prepare the squad for World League and the Euros. It's a great time to be involved."

Scotland senior women's Head Coach Gordon Shepherd said, "I am delighted to have Sam working with the squad. She brings fantastic international experience from her time as a player. She has gone into coaching as player coach of Edinburgh University over the last few years and has been learning all the time.

"It is important to me and to the squad that we have female coaches within the coaching setup at senior level. This summer is an extremely busy time for the women's programme with the World League Semi-Finals in Belgium followed by the European Championships in Amsterdam, and added into that the U21's will be competing in the Junior European Championships.

"It's a demanding time for players and coaches and I wanted to make sure that we had a group of coaches that are available to help and assist the players improve, and be competitive in every competition."

Scottish Hockey Union media release


---

South African Inter-Provincial Men's and Women's Tournament

Results and Pool standings from Day 1

2017 Inter-Provincial Mens A
| | | |
| --- | --- | --- |
| SOUTHERN GAUTENG - FREE STATE | Pool A | 11 - 1 |
| NORTHERN BLUES - WITSIES | Pool B | 3 - 0 |
| WEST PROVINCE - EAST PROVINCE | Pool A | 0 - 0 |
| SPAR KZN - WP PENS | Pool B | 5 - 0 |
Pool A
| | | | | | | |
| --- | --- | --- | --- | --- | --- | --- |
| Team | GP | W | D | L | GD | P |
| Southern Gauteng | 1 | 1 | 0 | 0 | 10 | 3 |
| Western Province | 1 | 0 | 1 | 0 | 0 | 1 |
| Eastern Province | 1 | 0 | 1 | 0 | 0 | 1 |
| Free State | 1 | 0 | 0 | 1 | -10 | 0 |
Pool B
| | | | | | | |
| --- | --- | --- | --- | --- | --- | --- |
| Team | GP | W | D | L | GD | P |
| KZN Raiders | 1 | 1 | 0 | 0 | 5 | 3 |
| Northern Blues | 1 | 1 | 0 | 0 | 3 | 3 |
| Witsies | 1 | 0 | 0 | 1 | -3 | 0 |
| WP Pens | 1 | 0 | 0 | 1 | -5 | 0 |
2017 Inter-Provincial Mens B
| | | |
| --- | --- | --- |
| NORTH WEST - NORTHERN DAISIES | Pool B | 3 - 1 |
| SACD - MPUMALANGA | Pool B | 3 - 2 |
| KZN MYNAHS - SG NUGGETS | Pool A | 3 - 3 |
| EASTERN GAUTENG - BORDER | Pool A | 3 - 9 |
Pool A
| | | | | | | | | |
| --- | --- | --- | --- | --- | --- | --- | --- | --- |
| Border | 1 | 1 | 0 | 0 | 9 | 3 | 6 | 3 |
| KZN Mynahs | 1 | 0 | 1 | 0 | 3 | 3 | 0 | 1 |
| SG Nuggets | 1 | 0 | 1 | 0 | 3 | 3 | 0 | 1 |
| Eastern Gauteng | 1 | 0 | 0 | 1 | 3 | 9 | -6 | 0 |
Pool B
| | | | | | | | | |
| --- | --- | --- | --- | --- | --- | --- | --- | --- |
| North West | 1 | 1 | 0 | 0 | 3 | 1 | 2 | 3 |
| SACD | 1 | 1 | 0 | 0 | 3 | 2 | 1 | 3 |
| Mpumalanga | 1 | 0 | 0 | 1 | 2 | 3 | -1 | 0 |
| Northern Daisies | 1 | 0 | 0 | 1 | 1 | 3 | -2 | 0 |
2017 Inter-Provincial Womens A
| | | |
| --- | --- | --- |
| SOUTHERN GAUTENG - WP PENS | Pool B | 3 - 1 |
| NORTHERN BLUES - FREE STATE | Pool A | 3 - 0 |
| SPAR KZN - WITSIES | Pool B | 6 - 0 |
| NORTHWEST - WEST PROVINCE | Pool A | 0 - 4 |
Pool A
| | | | | | | | | |
| --- | --- | --- | --- | --- | --- | --- | --- | --- |
| Western Province | 1 | 1 | 0 | 0 | 4 | 0 | 4 | 3 |
| Northern Blues | 1 | 1 | 0 | 0 | 3 | 0 | 3 | 3 |
| Free State | 1 | 0 | 0 | 1 | 0 | 3 | -3 | 0 |
| North West | 1 | 0 | 0 | 1 | 0 | 4 | -4 | 0 |
Pool B
| | | | | | | | | |
| --- | --- | --- | --- | --- | --- | --- | --- | --- |
| Spar KZN | 1 | 1 | 0 | 0 | 6 | 0 | 6 | 3 |
| Southern Gauteng | 1 | 1 | 0 | 0 | 3 | 1 | 2 | 3 |
| WP Pens | 1 | 0 | 0 | 1 | 1 | 3 | -2 | 0 |
| Withies | 1 | 0 | 0 | 1 | 0 | 6 | -6 | 0 |
2017 Inter-Provincial Womens B
| | | |
| --- | --- | --- |
| KZN MYNAHS - EAST PROVINCE | Pool A | 2 - 1 |
| SG NUGGETS - BORDER | Pool B | 4 - 7 |
| MPUMALANGA - SACD B | Pool B | 7 - 0 |
| SACD A - DASIES | Pool A | 0 - 4 |
Pool A
| | | | | | | | | |
| --- | --- | --- | --- | --- | --- | --- | --- | --- |
| Northern Daisies | 1 | 1 | 0 | 0 | 4 | 0 | 4 | 3 |
| KZN Mynahs | 1 | 1 | 0 | 0 | 2 | 1 | 1 | 3 |
| Eastern Province | 1 | 0 | 0 | 1 | 1 | 2 | -1 | 0 |
| SACD A | 1 | 0 | 0 | 1 | 0 | 4 | -4 | 0 |
Pool B
| | | | | | | | | |
| --- | --- | --- | --- | --- | --- | --- | --- | --- |
| Mpumalanga | 1 | 1 | 0 | 0 | 7 | 0 | 7 | 3 |
| Border | 1 | 1 | 0 | 0 | 7 | 4 | 3 | 3 |
| SG Nuggets | 1 | 0 | 0 | 1 | 4 | 7 | -3 | 0 |
| SACD B | 1 | 0 | 0 | 1 | 0 | 7 | -7 | 0 |
Fieldhockey.com


---

Big wins for AIU, Chattisgarh

NEW DELHI: Jyoti Gupta and Narinder Kaur's triple strikes helped Association of Indian Universities beat Hockey Karnataka 8-1 in Pool A match of the 7th senior national women's hockey championship in Rohtak on Monday. In a Pool B match, Chhattisgarh Hockey swamped Mumbai Hockey Association Ltd 9-0. In Pool C, Hockey Madhya Pradesh beat Hockey Unit of Tamil Nadu. Shivani Singh scored a hat-trick for the winners in the 6-0 rout.

Riding on four goals from Shilkanand Lakra, Steel Plant Sports Board beat Mumbai Hockey Association Ltd 9-0 in the 7th Junior national hockey championship 2017 (men) in Bhopal on Monday. In a Pool B match, Hockey Maharashtra beat Hockey Himachal 9-4 in a goal fest.

The Times of India


---

Surprise league leaders MBPJ ready for a fight despite feeling the heat

KUALA LUMPUR: Petaling Jaya City Council (MBPJ) are beginning to feel the pressure of being the Malaysian Junior Hockey League's (MJHL) Division One leaders.

But they are ready for the battle and see a good chance of finishing in the top four and even go for the title.

MBPJ lead the 10-team league with the maximum 12 points after four matches. Universiti Kuala Lumpur (UniKL) are second on nine points but they have played six matches. BJSS Thunderbolt, also on four matches, are third on eight points.

Said MBPJ coach Mohamed Harfizi Baharom: "All the teams are now trying to beat us as they need to topple us to be champions.

"When we started, there was no pressure. We just set a top-four target after failing to make the knockout stage last season.

"But things have changed. The players have shown they have what it takes to win matches. Yes, it is still early in the league but our confidence is high and we plan to make the most of it."

MBPJ kicked off the season with a 2-1 win over UniKL. They then hammered BJSS Juniors 7-0 and edged AHP-MSP Thunderbolt 3-1 and SSTMI Thunderbolt 3-2.

MBPJ are one of the MJHL regulars and were overall champions in 2003. This season, they only retained three – goalkeeper Mohamed Raziq Rahman, Mohamed Faisol Rozihan and Zafri Afiq Nor Azlan – from last year's squad.

"I'm sure many are surprised with our good run and that we're leading the pack. At the start of the season, the attention was on the four Thunderbolt teams. But we have beaten two so far ... I don't want the players to be complacent at this stage," said Harfizi.

MBPJ are looking to get more points on board this week when they face sixth-placed Olak Nurinsafi on Friday and fourth-placed SMKDBL Johor Juniors on Sunday.

"We can win these two matches, but we cannot take them for granted. The good thing this year is that we have our own pitch and can conduct longer training sessions. This is one of the reasons for our fine form.".

There are three matches today with BJSS having a chance to move up a rung to second if they beat second-from-bottom AHP-MSP-Thunderbolt at the KL Hockey Stadium.

The Star of Malaysia


---

Denayer and Dragons dreaming of historic Brasschaat hosting




Felix Denayer said his KHC Dragons side had to show major patience before eventually breaking down Racing Club de France in their KO8 tie to earn the much-coveted home date for the FINAL4.

They found the Parisians a tough nut to crack for 21 minutes before a Thomas Briels goal opened the floodgates, scoring four times in eight minutes.

Dragons ended up winning 5-1 and captain Denayer said he was satisfied with his team's work.

"We knew we had to be patient with the French," he told the Hockey Belgium website. "Friday against Racing Club de Bruxelles, we were a little tense, too.

"We knew this would be the most complicated step in the KO16. We were not actually on the field. We were not calm enough but, in the quarter-final, we played an excellent quarter of an hour and that was enough."

Those results mean that Dragons will play hosts to the FINAL4 party, the first time this stage of the competition will come to Belgium.

Their Mansion in Brasschaat, just north of Antwerp, will welcome crowds of up to 5,000 on June 3 and 4. Dragons won their national title last year on home turf and Denayer says that the d-Side fans can propel them to even greater glory.

"It's something we all dream of; battling in the FINAL4 is already incredible in itself. We are delighted that the atmosphere will be in our favour in Brasschaat.

"Obviously, there are a lot of expectations and we have already twice won the bronze medal and silver once. We will target gold.

"It would be even better to do it at home and be the first Belgian club to win the EHL. The motivation is there and we will work very hard to achieve this goal."

Before that, Dragons will aim to win their third Belgian title in succession. They topped the regular season table despite a surprise 2-2 draw with basement side Wellington last Sunday.

They will be joined in the playoffs by Herakles, Racing and the Waterloo Ducks with the hope of ultimate glory on May 21 in Leuven.

"I do not know if we are the big favorites for the title. The Belgian competition has reached an exceptional level. We are perhaps the most experienced and the most regular side remaining but, in the key moments, it is the details that make the difference.

"Clearly, we want to win another title and we dream of the double along with the EHL."

Euro Hockey League media release


---

Poster Boy Bob smiles his way through EHL KO16 victories




Bob de Voogd, the poster boy for the EHL, said he loved being the face of the KO16, helping to promote the event at his home club in Eindhoven last week.

It included a series of "Bob on Tour" videos where he took on rivals in golfing challenges, linked up with G-hockey Bulls and gave away a number of EHL competition prizes among other adventures.

And he brought the same beaming smile from those video clips to the field as he helped HC Oranje-Rood beat AH&BC Amsterdam in the KO16 and Atletic Terrassa in the KO8.

"I really enjoyed it," he told the EHL website. "Dutch television said it that we all played with smiles on our faces. That's what its all about it. I am happy we won; maybe I should have scored some more goals but it is incredible what we, as a club, did."

He missed out on the man of the match award against Atletic with commentators Nick Irvine and Simon Mason choosing to go with Jelle Galema, both nominated for the honour, after de Voogd missed a late chance after a fine game.

"That's fine," he laughed. "We won so that's all that is important. For the first 15 minutes against Amsterdam was the worst we played this season and we abrely touched the ball. After that, we played very well, winning against Amsterdam with a good first step. Against Atletic, the score could have been four or five nil rather than two but we were always in control."

Looking forward to the FINAL4, his side will play the English regular season champions.

"Wimbledon have a strong team and don't make many mistakes. I watched their games and they have strong players and a strong collective. For us, it will be hard to play against but we have lots of quality players. So if we bring our best hockey, we should be able to get a good result but its going to be a big fight again."

As for whether he will miss being the poster boy and being Bob on Tour, he said that there were ups and downs in terms of the pressure: "The week before, I was really unsure.

"A lot of people came to me for tickets and so on so I had to shut down my phone and focus on just playing hockey.

"But, for me, I love playing this kind of big games. I don't think about the pressure anymore; it's just fun. Always when there is a big crowd of people, we play well and I enjoy it – that's why we play, the connection with the crowd, sometimes having a joke with the crowd! It's what it is all about!"

Euro Hockey League media release


---

Surbiton make history

By Mike Haymonds

SURBITON made history, being the first club to win both men's and women's titles in the same year at the League Championships play-offs since they were introduced in 2009/10.

The women were champions for the fourth successive time by beating Holcombe 3-1 while the men beat reigning champions and this season's league winners Wimbledon, coming from 3-0 down to draw 3-3 and then triumph 3-2 in the subsequent shoot-out to take their first championship crown. Both earned their berths at next season's European Club tournaments with beaten finalists Wimbledon and Holcombe also qualifying.

Surbiton's women were always in command in the Investec final, with Rio Olympic gold medallists Giselle Ansley and Hollie Webb sinking penalty corners  and Aussie Naomi Evans ending Holcombe's hopes of a revival after an Ellie Watton corner strike.

Surbiton's rise to domestic dominance began when they won the South Premier in 2004/05, 10 divisions below their present level.

The men's final was a compelling drama with Wimbledon's Phil Ball and Rio Olympians Henry Weir and Simon Mantell giving them a three-goal lead after 50 minutes. But Surbiton surged back with strikes from Scot Alan Forsyth and a brace from Wales international Gareth Furlong, all from penalty corners, in a seven-minute spell bringing them level.

In the shoot-out Forsyth and Luke Noblett for Surbiton and Phil Roper and Mantell for Wimbledon were on target but Ball failed and David Beckett beat goalkeeper James Bailey to clinch Surbiton's historic victory.

A third-place match was played to find a possible third English qualifier for Europe next year if Wimbledon's progress to the Final Four in this season's competition justifies it. Holcombe beat Hampstead & Westminster 7-3 and must wait until early June to await their fate.

Fieldhockey.com