All the news for Friday 31 March 2017

Men's HWL Round 2 - Tacarigua, March 30, 2017    

Qtr Final     CAN - SUI     2 - 1
Qtr Final     RUS - CHI     4 - 2
Qtr Final     JPN - BAR     5 - 0
Qtr Final     USA - TTO     2 - 2 (3 - 2)

Upcoming play-offs April 1, 2017    

5 / 8 Place     13:15     SUI - CHI
5 / 8 Place     15:30     TTO - BAR
Semi Final     17:45     CAN - RUS
Semi Final     20:00     USA - JPN

Official event microsite


---

Tupper scores twice, Canada advances to World League 2 semifinal

Shaheed Devji



Canada's Scott Tupper celebrates a goal vs India at the Rio 2016 Olympics Games on August, 12 2016 (Photo by MANAN VATSYAYANA/AFP/Getty Images)

Canadian captain Scott Tupper scored twice from the penalty corner as Canada defeated Switzerland 2-1 in the World League 2 quarterfinal Thursday in Trinidad and Tobago.

With the win, Canada's men advance to the tournament semifinal on Saturday (2:45pm PT/5:45pm ET) and will play the winner of the quarterfinal match between Russia and Chile. Tupper will play in his 250th international game for Canada on Saturday, while Adam Froese will play in his 150th.

If Canada wins on Saturday, it will be guaranteed a top-two finish in Trinidad and Tobago and thus will advance to the World League Semi-Final (Round 3) to be played later this year and at which 2018 World Cup berths will be played for.

Entering Thursday's match against Switzerland, Canada's men had outscored their opponents 19-3 through the first three games of the competition. And despite their opponent being Switzerland – ranked 33rd and a relative unknown in the field hockey world – the quarterfinal was Canada's closest game of the tournament.

"It was obviously a little bit difficult and at times frustrating because we weren't able to punch through and score on some of the opportunities we had," Tupper said after the game. "Ultimately to get the win in the quarterfinal is what's important.

"I think we've matured a lot over the last maybe four years. I think there is a lot of confidence in the group and when going into that 3rd and 4th quarter there was no panic. We were calm and collected and there was a lot of discussion about what we need to do to get the win."

The Canadians controlled the play for the majority of the match, and much like the final pool match against Trinidad and Tobago, the chances came early. But the Swiss were able to withstand much of the pressure thanks to good goaltending from Jonas Verest.

Matthew Sarmento earned Canada's first penalty corner of the game in the 6th minute, but the Canadians could not convert.

Mark Pearson had Canada's next best opportunity to score in the 11th minute when he was spotted at the penalty stroke spot by Keegan Pereira and let go of a backhand that was turned away by Verest.

Sarmento had his own backhand stopped in the 23rd minute and Pereira had a chance on the half-time buzzer, but was stopped as the game went into the break scoreless.

But Canada finally broke through in the second half.

After Balraj Panesar earned a corner with nice work on the back line, Tupper potted his first of the game on a flick, high to the left of the keeper in the 38th minute.

Switzerland quickly replied in transition in the 41st, when Nicholas Steffen was left alone in front of David Carter and put one by the Canadian keeper to tie the game.

Similarly to when Chile opened the scoring in the second half after being outplayed by Canada in the first half of their pool match, Canada was not fazed.

The Canadian men continued to press in the fourth quarter, and after Pearson had two close calls turned away, Sukhi and Balraj Panesar connected to pick up a corner for Canada in the 54th minute.

Tupper stepped up to the plate again and put another high, hard flick to the top shelf to give Canada the 2-1 lead and ultimately send Canada on to the semi.

Canada will be looking to move-on to World League 3 with a semifinal win and is confident in its ability, based on past experience.

"First off, it's taking care of ourselves and doing all the recovery we need to do today and tonight. We'll train a little bit and focus on some things we need to do to be successful.

"We're a little bit more hardened in games like this, where there's something on the line, compared to maybe a few years ago."

Canada will face either Russia or Chile on Saturday at 2:45pm PT/5:45pm ET.

Field Hockey Canada media release


---

Solid Back-To-Back Shootout Performances at Hockey World League Round 2 Set Up USMNT For Semifinals 

USMNT Overcomes Host Nation 3-2 in Shootout Competition

TACARIGUA, Trinidad & Tobago – Under the bright stadium lights of National Hockey Centre, a fast and physical quarterfinal game unfolded between the U.S. Men's National Team and Trinidad and Tobago National Squad (TTO) at FIH Hockey World League Round 2. After a hard-fought competition, Team USA secured the win on the final match report with a shootout score of 3-2.

With the stands full of energy, Team USA went head to head with the host nation. Initially proving to be stronger on the ball, the red, white and blue patiently passed around the perimeter of the attack circle. Despite feeding the ball through to ready forwards, flurries of hard hits didn't cross the goal line. Team USA's aggressive offensive line earned three penalty corners in the first quarter, two of the shots taken by Aki Kaeppeler (Stuttgart, Germany) and one by Will Holt (Camarillo, Calif.), but the direct flicks didn't convert.

Shifting to the other end of the pitch, TTO striker Tariq Marcano's quick drag flick hit the crossbar without a result but generated a shift in momentum. TTO moved into their offensive end determined to strike but a composed USA defense channeled fast runs to the baseline or went one-on-one to strip the ball away from their opponent. A threatening crossed ball from TTO's forward line nearly trailed in front of the goal but was cut short by USA defender Johnny Orozco (Ventura, Calif.) who intercepted the play.

In the second quarter TTO forced an error in their attack circle to win their first penalty corner. The goal-bound ball hit a USA foot, earning TTO a stroke. A strong performance by USA goalkeeper Brandon Karess (Allentown, Pa.) denied the shot with a glove save. Firing back in the 23rd minute, TTO secured a penalty corner, slamming an initial shot on target. After a scramble at the top of the circle, the ball hit the mesh courtesy of Mickell Pierre to make the score USA 0, TTO 1. Shortly after, Karess charged after the ball as a lone TTO forward entered the offensive end. Although redirecting the play, the ball ricocheted off Karess' pads to the right post where Ajai Dhadwal (Agoura Hills, Calif.) used an outlet pass to extinguish the dangerous advance. In the 34th minute of play, TTO was awarded a penalty corner but USA's Tyler Sundeen (Simi Valley, Calif.) used a solid stick effort to halt the ball's path to the goal.

The last minutes of play contained the most scoreboard excitement. In the 58th minute, Dylan Francis charged into TTO's attacking end to place a ball past Karess' reach making the score USA 0, TTO 2. USA subbed out goalkeeper Karess, turning Mohan Gandhi (Ventura, Calif.) into a kicking back. In the same minute, Team USA quickly responded with two goals. Michael Barminski's (Ventura, Calif.) precision hit from close range and Pat Harris' (Moorpark, Calif.) low, baseline shot hit the roof of the goal cage for a tremendous comeback in the last seconds of play. Tied in regulation time, 2-2, the squads went into shootouts.

Haris, Dhadwal and Sundeen struck hard blows into the backboard. Karess' quick reflexes and stick save only permitted two goals into the goal cage to give USA the win.

The USMNT will be back on the turf Saturday, April 1 to take on Japan at 8:00 p.m. EST for semifinals.

USFHA media release


---

Down to the wire: it's all to play for in West Vancouver




The final HWLR2 event bursts into action in West Vancouver, Canada, as another seven teams vie for a place at this summer's HWL Semi-Finals and the chance to qualify for the 2018 World Cup in London.

Home advantage, experience gleaned in 2015 against top flight opposition and the lure of a place at the 2018 World Cup – Canada women have to be among the favourites to take one of the two automatic HWL Semi Final qualification places in the third HWL Round Two competition of the current cycle.

Many of the current Canadian team (World ranking: 18) were part of the squad that played at the HWL Semi-Finals in Valencia, Spain in 2015, and the squad has undoubtedly learned from the experience. On that occasion, the team finished in ninth position, just one place ahead of fellow PAHF team, Uruguay.

Defender, Danielle Hennig, who has been a member of the team that has experienced highs and lows over the past few seasons, says: "Our team's ultimate goal is to qualify for the World Cup. Our main focus though is just performing well throughout the entire tournament because we know, if we do that, we can accomplish our goals."

The defender, who has more than 120 caps for her country added: "As for what we learned from the HWL Semi Finals in Valencia, I guess just taking confidence that we can and have made it through to Round Three before is a powerful thing. From there we've used those games, and what maybe let us down, to shape the past two years of training and competition. We have been constantly refining and improving our game."

However, Canada's chances of success are far from guaranteed. Fellow PAHF teams Uruguay and Chile, are two nations that are on the rise and have exciting and experienced players in their ranks. Inspirational and long-serving captain Camila Caram and the skilful midfielder Manuela Arroz are just two of a team of Chileans who are hungry for success. A recent four place shift up the FIH world rankings leaves Chile just one place behind Canada in 19th position.

Another player from the team who is determined that Chile will make their mark on the tournament is Denise Krimerman-Losada. While she is a prolific striker, she says the Diablas' greatest strength is their defence: "We play in a very compact way when we are playing in our area. We are setting out to win in Vancouver and to prove that Chile is a difficult country to play against. Our preparations have been against top 10 teams and we were still able to play our game. We are always in search of victory."

Matching Chile step-for-step is Uruguay (WR: 23). Like Canada, Uruguay have experienced top flight competition recently as they also competed at Valencia in the HWL Semi-Finals in 2015. It is an experience from which the south American side have learnt valuable lessons.

Speaking after the team's adventures in Spain, Janine Stanley said: "We arrived in Valencia as 29th in the world, we played against the best teams and we didn't disgrace ourselves. In fact, against South Africa (a 1-1 draw) we could have won the game and against Ireland we came close (3-2). Both those teams were ranked much higher.

"The experience had added confidence, awareness of a wide range of playing styles and an awareness of just how fast this game can be played," said the experienced midfielder. "Our learning curve was huge. In every game we discovered new things about ourselves and about the team as a whole."

Their ability to perform when it matters was evident at the HWL Round One event in Peru, where Uruguay took top spot after beating Chile in the decisive final match of the round robin tournament.

The top ranked team at this event will be the Eves from India. With Ritu Rani restored to the ranks as captain, after she missed out on Rio 2016, the team ranked 12th in the world will be bringing all the experience they gained from their Olympic campaign to West Vancouver.

With new coach Sjoerd Marijne at the helm, Rani says the team has been working extremely hard in the national camp in Bhopal and were ready to show their quality on the pitch. "Apart from emphasis on fitness, there was also special sessions for mental training and it has helped the team a lot," added the captain. A recent 5-0 test series whitewash against fellow Pool A competitors Belarus, will have given the Eves a great confidence boost going into Hockey World League Round Two.

Both Trinidad and Tobago (WR: 34) and Mexico (WR: 30) are teams that can upset the rankings. Mexico, in particular, enjoyed a strong showing at HWLR1. The central American side was unbeaten in the qualifier, with a trio of strikers – Michel Navarro, Marlet Correa and Arlette Estrada – all demonstrating great goal-scoring ability throughout the event.

Mexico beat Trinidad and Tobago 3-0 and 4-1 in that event, but the Caribbean team has been working hard, particularly on its tactics and, despite being the lowest ranked team in West Vancouver, can not be written off.

The final team in our preview is the eastern European team, Belarus. Ranked 20th in the world, Belarus has enjoyed a resurgence in hockey of late and expect to see prolific striker Sviatlana Bahushevich causing problems for the opposition's defence throughout this event. As India discovered in the recent test series, Belarus is not a team that ever stops trying to find a way to win.

This third and final HWL R2 event promises to be an exciting mix of hockey styles and cultures, with the top two teams securing a place at the HWL Semi Finals in June and July. The third-placed team must be ranked higher than 15th placed Italy and 17th placed Scotland (who finished third in the previous two HWLR2 events) to progress to the Semi Finals.

This means that only India can afford to finish third at this event and still qualify. The action starts on 1 April, with India taking on Uruguay in the opening match.

You can keep track of the tournament in West Vancouver on the official competition pages by clicking here and on FIH's social media channels using the #HWL2017 hashtag.

FIH site


---

Haughn's career comes full circle at Gryphon Hockey World League 2

Shaheed Devji



Hannah Haughn carries the ball in Canada's pre-World League 2 test match vs Chile on March 22, 2017 (By Blair Shier)

The importance of Gryphon Hockey World League Round 2 in West Vancouver is well-documented. The top two nations move on to the World League Semi-Final this summer, where spots for the 2018 Women's Hockey World Cup are up for grabs.

But with the tournament being hosted in British Columbia, there is much more at stake.

Midfielder Hannah Haughn knows exactly what kind of impact having a tournament of this magnitude hosted in West Vancouver can have.

"I think whether we like it or not, as elite athletes we are role models," says the 22 native of North Vancouver, who grew up playing her club hockey with the West Vancouver Field Hockey Club. "Having the opportunity to play here and potentially spark interest in younger athletes is a really great opportunity for us and not one that we get very often."

But when that opportunity comes around, the payoff can be immense.

Haughn herself is in part the by-product of the last time a competition with this stature and implication was held in B.C.

In 2008 – as a 12 year-old just about to go to high school – Haughn's parents took her and her older sister to an Olympic qualifying event being held in Victoria and featuring Canada's women's field hockey team.

"My sister and I were both field hockey fans at the time, but we had never seen an international event before," she says.

"I didn't even know it was an Olympic sport at that point."

But seeing the event, and the high level of play, quickly opened her eyes to the possibilities.

As she looks back, Haughn realizes that it was not only then that she began to think about a career in field hockey, but it was also she became aware of the ability for elite athletes to make a difference in the lives of young ones.

"I was definitely one of those kids at the end of the game begging the Canadian team for their autographs. It was definitely the first time I even considered playing at an elite level. It was definitely inspiring to see some of the older girls there."

One of the "older girls" there was a young Kate Gillis, who is the only member of that 2008 team currently still with the Canadian Women's National Team.

In fact, Gillis – who now goes by the name Wright after marrying fellow field hockey player and former Men's National Team member Philip Wright  – is the team's captain, most experienced player, and third in all-time games played for the Women's National Team with 162 senior games played.

And 9 years ago, whether she intended to or not, Gillis had a hand in pushing one of the team's future stars in the direction of playing field hockey for Canada.

"One of the only memories from that tournament in 2008 is a small flag that I have that was up on my wall for a really long time," Haughn explains. "She (Gillis) was one of the only players that was willing to give me an autograph. That is definitely a significant thing in my field hockey career.

After that experience, Haughn's rise in Canadian field hockey was quick.

About a year later, she played her first international game for Canada's jwomen at the Junior Pan American Championships at the age of 14.

She then went to become the youngest Canadian women to reach 100 senior international games and has played at many of the sport's premiere events such as the Pan Am Games, Commonwealth Games, and World League Semi-Finals.

Now, Haughn is set to represent Canada at Gryphon Hockey World League Round 2 in her hometown and at her home field, with the chance to inspiring the next generation of Canadian hockey players.

"It hasn't quite sunk in yet I don't think. To be able to play at my home club is incredible."

"We're really looking forward to playing here and having my family and friends come out.

Canada opens World League Round 2 on Saturday, April 1st at 4:30pm PT/7:30pm ET against Mexico.

Field Hockey Canada media release


---

T&T hockey women open against Chile

By Mark Pouchet



EXPERIENCED GOALKEEPER: Petal Derry, left, in action for T&T.

Trinidad and Tobago's senior women's hockey team will face Chile tomorrow from 3 p.m. as they open their FIH Women's World League Round Two campaign in West Vancouver, Canada.

Captain Patricia Wright-Alexis's squad, ranked 34th in the world, is the bottom-seeded team in the seven-team April 1-9 tournament.

They are grouped in Pool B with Canada, Chile and Mexico while Rio Olympic team India, the competition's top seed and number 12 world-ranked team, heads Pool A with Belarus and Uruguay.

Head coach Brian Garcia's charges will then meet Mexico Sunday before rounding out the round-robin stage with an encounter with Canada on Tuesday.

In the three-team FIH World League Round One qualifier in Salamanca, Mexico last October, Team TTO were second behind the hosts as both team readily outclassed Guatemala.

Mexico defeated Team TTO 3-0 and 4-1 in their match-ups while they walloped Guatemala 13-0 and 14-0 in their two clashes.

But the current team in West Vancouver has much more strength and depth than that which toured Mexico.

Midfielder Kristin Abreu (Northeastern University/Boston), wing/centre back Katherine Benjamin who plys her trade in the Premier Division in England and forward/midfielder Kimberly Young who plays professionally in New Zealand, have joined the squad in Canada to add their quality.

Also making a return to national team duties is captain Wright-Alexis, who missed the FIH Women's World League Round 1 competition in Salamanca, Mexico due to pregnancy, and Kwylan Jagassar. Amanda Tang Nian and Samantha Olton will make their senior team debuts in this tournament.

The top two teams from this tournament will advance to the semifinal stage of the FIH World League.

This is T&T women's third qualification for the FIH World League Round 2, following on their fifth place finish in Brazil in 2013; the local stickwomen were sixth in Uruguay in 2015.

T&T women's squad

Kristin Abreu, Katherine Benjamin, Petal Derry (goalkeeper), Chelsea Dey, Kayla Marie Escayg (goalkeeper), Brittney Hingh, Zene Henry, Kwylan Jagassar, Felicia King, Sekayi Liburd, Yesenia Luces, Fiona O'Brien, Saarah Olton, Samantha Olton, Anya Sealy, Amanda Tang Nian, Patricia Wright-Alexis (captain), Kimberly Young

FIH Women's World League

Round 2 schedule (TT time)

April 1

A-India vs Uruguay, 3 p.m.
B-Chile vs Team TTO, 5:15 p.m.
B-Canada vs Mexico, 7:30 p.m.

April 2

A-Belarus vs India, 3 p.m.
B-Mexico vs Team TTO, 5:15 p.m.
B-Chile vs Canada, 7:30p.m.

April 4

B-Mexico vs Chile, 3 p.m.
A-Uruguay vs Belarus, 5:15 p.m.
B-Canada vs Team TTO, 7:30 p.m.

April 6

Quarterfinals (5:15 p.m. & 7:30 p.m)

April 8

5th/7th, 3 p.m.
Semifinal 1, 5:15 p.m.
Semifinal 2, 7:30 p.m.

April 9

5th/6th, 3 p,m.
3rd/4th, 5:15 p.m.
Final, 7:30 p.m.

Trinidad & Tobago Express


---

HWL round 2: Marijne era begins with Uruguay test

Manuja Veerappa

BENGALURU: A little over a month after taking over the reins of the Indian senior women's hockey team, Sjoerd Marijne will face his first big test at the Women's Hockey World League Round 2 that gets under way in Vancouver on Saturday. First up for the Marijne-coached side will be Uruguay on the opening day.

The Dutchman, who worked with his wards at the National camp in Bhopal, said he took up the assignment with an open mind. "I was open-minded for this challenge. Their skill-sets are good and that gave me a feeling that they will improve their game. The players have potential but we have to work hard to make progress," said the former national coach of the Dutch women's team.

Since the previous Indian coach, Neil Hawgood, was an Australian, there is a vast difference in the style of hockey played and coached by people from Down Under. But Marijne dismissed the question of adaptability of the players to a new style of hockey as a non-issue, saying the team will develop its own style of hockey.

"I don't want to follow the European style but create our own style. We want to play fast hockey from a good defensive structure where the players can use their creativity at the right moment. We must not forget where the team comes from but in modern hockey we have to implement a few new things to use our potential to the maximum," said Marijne, whose contract will run up to the 2020 Tokyo Olympics. The coach also revealed that as a team, they have set themselves small targets to achieve higher goals.

"We are focusing on small team targets and everybody in the team has to focus on her task. If we can do that well, we will be successful.

"Small targets will lead to achieving higher goals."

With the event being the first major outing for the Rani-led side after the Rio Olympics, Marijne believes the team is well-prepared. "I am happy with this preparation because the first couple of weeks they did a lot of physical (training) and we will take benefits of that. In the last few weeks we played a lot of high intensity hockey. It was exactly the way I like to play," he said.

The Times of India


---

Indian hockey girls acclimatised ahead of HWL Round 2: Coach

WEST VANCOUVER: India's chief coach Sjoerd Marijne has asserted that the side is bracing up for opening match against Uruguay at the Womens Hockey World League (HWL) Round 2 here on April 1 as it has gotten used to the conditions.

On arriving from a different climatic condition in Bhopal, where the women's squad trained since January 14, to seven degrees Celsius in West Vancouver which has seen a few spells of rain in the past week, the girls have acclimatised to the conditions here, according to the Dutch trainer.

"We had 10 days to acclimatise and get used to the weather. The difference is about 27 degrees. But the girls have gotten used to this and are ready for the start of the tournament," stated Marijne in a Hockey India (HI) release on Thursday.

Due to the importance of the HWL Round 2 tournament, which serves as the qualifier for the 2018 FIH World Cup, India played warm-ups against Canada and Chile earlier this week.

"It is always good to get a few matches before the start of the tournament. Since this is a short tournament, every match we play is important and there is no reason why we cannot get off to a good start. I have a lot of confidence in the team and we are ready to make a winning start," expressed the Dutchman.

Speaking about Uruguay as opponents, Marijne said they are a team that play with a lot of passion. "We have seen them play twice so we know a little bit about them. They typically play South American style like Argentina and there is a lot of passion in their game which helps them do well. But we must focus on our own game," he stated.

Meanwhile, skipper Rani Rampal said the team is upbeat and eager to get on with the tournament.

"I believe we have had a good start to this year with a series win against Belarus. Though the results in the two matches we played here against Chile (drew 2-2) and Canada (lost 1-3) didn't go in our favour, it helped us get used to the weather.

"We found it tough initially as it is cold and rained at times during the matches but the team has gotten used to it now. Coming here early has really helped and we are ready for a good match against Uruguay," stated Rani.

The Times of India


---

A draw for the Hockeyroos v USA at the Hawkes Bay Cup

Madi Ratcliffe scores for Australia

Holly MacNeil




Napier, New Zealand) - The Hockeyroos took on the USA today in the first game of the four nations Hawkes Bay Cup in which they will also compete against Japan and home side, the New Zealand Black Sticks. In a tightly fought match, the Hockeyroos came away with a one – all draw in their first game of 2017.

The USA were the first to score, with captain Alyssa Parker fighting through the Australian defence to get a field goal in past Australian goalkeeper Jocelyn Bartram. Both teams were pressing in the second half with plenty of opportunities but it was to no avail, with the score remaining at USA 1 – 0 AUS going into the half time break.

Two minutes into the second half and Madi Ratcliffe fought back for the Hockeyroos, scoring a sensational field goal from a tomahawk which again left the competition on an even playing field.

Hockeyroos head coach Paul Gaudoin said: "We were a bit rusty and sluggish to begin with, being our first game for the year, however we were able to talk about this before going into the second half and we came back with a clearer approach and played well.

"Kristina Bates debuted today, and she played a reasonable game so she'll all the better for it tomorrow. Madi Ratcliffe also scored her first goal for the Hockeyroos after being out with injury for a little while, so that was pleasing, and will be a great confidence boost for her.

"I think the one all score line was about right going on the play of the game."

The Hockeyroos next play New Zealand tomorrow at 3pm AEDT / 12pm AWST. Keep up to date with the score by following @Hockeyroos on Twitter.

HOCKEYROOS 1 (0)
Madi Ratcliffe 32 (FG)

USA 1 (1)
Alyssa Parker 8 (FG)

Hockeyroos Match Schedule
Saturday 1 April: AUS v NZL 5pm NZDT / 3pm AEDT / 12pm AWST
Monday 3 April: AUS v JPN 4pm NZST / 2pm AEST / 12pm AWST
Tuesday 4 April: AUS v USA 4pm NZST / 2pm AEST / 12pm AWST
Thursday 6 April: AUS v NZL 5.30pm NZST / 3.30pm AEST / 1.30pm AWST
Saturday 8 April: AUS v JPN 3pm NZST / 1pm AEST / 11am AWST
Sunday 9: Finals

Hockeyroos team v USA
Athlete (Hometown, State)
Kristina Bates (Port Melbourne, VIC) 1/0
Jocelyn Bartram (Albury, NSW) 5/0
Jane Claxton (Adelaide, SA) 112/10
Kirstin Dwyer (Mackay, QLD) 121/2
Ashlea Fey (Sunshine Coast, QLD) 7/2
Stephanie Kershaw (Townsville, QLD) 7/2
Gabi Nance (Kingscliff, NSW) *Plays for SA 49/3
Georgia Nanscawen (Melbourne, VIC) 190/37
Kaitlin Nobbs (Newington, NSW) 5/0
Madi Ratcliffe (Warnambool, VIC) 4/1
Mariah Williams (Parkes, NSW) 57/7

Used Substitute
Laura Barden (Kew, VIC) 22/4
Edwina Bone (Orange, NSW) *plays for ACT 128/3
Kate Hanna (Constitution Hill, NSW) 10/0
Jordyn Holzberger (Ipswich, QLD) 40/4
Emily Smith (Crookwell, NSW) 164/65
Renee Taylor (Everton Park, QLD) 13/0
Ashlee Wells (Morwell, VIC) 84/0

Hockey Australia media release


---

USWNT Enters First Tournament Since Rio 2016 Olympic Games at The Hawke's Bay Cup

HASTINGS, New Zealand - The U.S. Women's National Team is ready to put all the training they have done in 2017 to the test. After splitting two pre-event matches with New Zealand, the USWNT will enter its first tournament since playing at the Rio 2016 Olympic Games with competition at The Hawke's Bay Cup. Many new faces will get the opportunity to showcase their skills against highly ranked international competition.

Following an extended training block on the west coast, USWNT Head Coach Janneke Schopman named 19 athletes to represent the United States in The Hawke's Bay Cup from Sunday, March 31 to Friday April, 9. Among those selected, six will be earning their first international cap at the senior level and of those, two athletes were pulled up from the U.S. U-21 Women's National Team. Click here for the 2017 USWNT's Hawke's Bay Cup Roster.

"After a great month of training in California I am happy to announce the team that will travel to New Zealand," said Schopman. "The games we play there will give us much needed experience on the international level and show us on which areas we need to focus moving forward to World League Semifinals in July. Two players in the selection are selected from the U.S. U-21 Women's National Team for this tour. Both Erin Matson and Ashley Hoffman have showed me their continued progress and I am giving them the opportunity to show their potential with the senior team."

The tournament, hosted in Hastings, New Zealand, will act an integral pitch primer for Team USA's stacked summer schedule of competition including July's FIH Hockey World League Semifinals in Johannesburg, South Africa and August's Pan American Cup in Lancaster, Pa.

Gathering at Hawke's Bay Regional Sports Park to vie for the cup alongside Team USA (Hero FIH World Rank 6) are Australia (Hero FIH World Rank 3), New Zealand (Hero FIH World Rank 5) and Japan (Hero FIH World Rank 11). The event schedule can be viewed by clicking here.

USWNT The Hawke's Bay Cup Schedule:
 Date      Local Time      EST Time      Match
 Friday, March 31      4:00 p.m.      11:00 p.m. (3/30)      USA vs. Australia
 Saturday, April 1      3:00 p.m.      10:00 p.m. (3/31)      USA vs. Japan
 Monday, April 3      6:00 p.m.      2:00 a.m. (4/3)      USA vs. New Zealand
 Tuesday, Aril 4      4:00 p.m.      12:00 a.m. (4/4)      USA vs. Australia
 Thursday, April 6      3:30 p.m.      11:30 p.m. (4/5)      USA vs. Japan
 Saturday, April 8      5:00 p.m.      1:00 a.m. (4/8)      USA vs. New Zealand
 Sunday, April 9      3:00 p.m      11:00 p.m. (4/8)      3rd/4th Placement
       5:15 p.m.      1:15 a.m. (4/9)      1st/2nd Placement

 *All times are local to New Zealand
 * Local time is 17+ hours ahead of Eastern Standard Time

Only the final three days of competition will be live streamed. For viewing link, please check out The Hawke's Bay Cup event page on Thursday, April 6 (Wednesday, April 5 EST).

USFHA media release


---

Times a-changing for Black Sticks

By David Leggat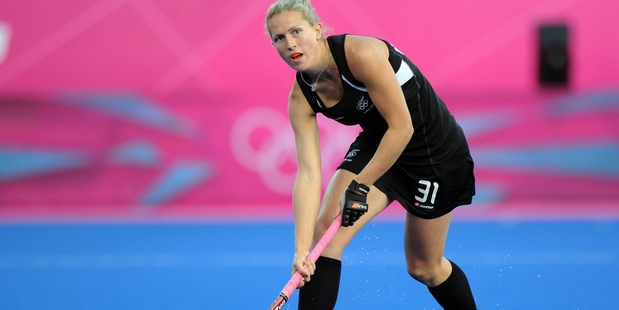 Stacey Michelsen is looking forward to the injection of new talent in the Black Sticks women's team at the Festival of Hockey in Hastings. Photo / Photosport

New Zealand will defend their Hawke's Bay Cup title in Hastings over the next 10 days with a significantly different squad from a year ago.

There are plenty of players finding their feet in the Black Sticks women's squad , but for those who like familiarity among the names on the team sheet a core of them are still there.

This is a time of change. Gone - temporarily or for good - are influential former captain Kayla Whitelock, Emily Naylor, Anita McLaren, Gemma McCaw, Charlotte Harrison, Sam Charlton and Sophie Cocks. That's a bucketload of accumulated hockey wisdom.

Balancing that seasoned players goalkeeper Sally Rutherford, Liz Thompson, Olivia Merry, Rose Keddell, Brooke Neal, Sam Harrison and Stacey Michelsen remain.

Former world player of the year finalist Michelsen takes the positives out of that loss of hefty experience.

"We certainly don't dwell on the fact people have moved on from the team," the 221-cap Northlander said.

"There's an injection of really exciting young players. A lot of them have been training as development squad players so they've had an opportunity to already get that training base which has helped them.

"A lot of teams are in a similar position. There's been sort of a refresh across world hockey.

"Going forward we have a lot of talented young girls who are really hard workers and it's good to have them at training to push those of us who have been around longer."

For all the absentees, it's easy to forget that there's still a pile of caps in the squad of 18 for Hastings. Midfielder-defender Michelsen has the most but Merry, Keddell, Rutherford and Hayward have all accumulated more than 120.

Fifth-ranked New Zealand beat Japan 3-2 in last year's final, to complete a clean sweep of six wins. This time the eight-team field has been trimmed to four, with all playing each other twice before the finals day. "It is a bit of a shame," Michelsen said of the reduction of teams at the annual festival, which involves a range of hockey events at different levels.

"It's really exciting when you get to play such an array of teams. But the teams here are really good quality so I think it will be a fantastic building tournament for us."

Michelsen has had an injury-hampered lead-in to the year. Players had a break after last year's Rio Olympic disappointment of finishing fourth for the second straight Games. Then Michelsen damaged an Achilles as soon as players got back to training.

The two internationals in Rangiora against the United States this week were her first matches since Rio.

"I'm not where I want to be in terms of my own standards. But I have time to work really hard for the next six weeks before heading overseas."

Michelsen, studying law and commerce at Auckland university - when hockey doesn't interfere - made her debut in 2009 against Argentina at 18. She has been at two Olympic and Commonwealth Games and is an influential figure in the Black Sticks.

Michelsen was the International Hockey Federation's young player of the year in 2011. Last year, she was one of five finalists for the FIH world player of the year.

The fun is still there. So no grind yet? "Absolutely not. It's still something I'm passionate about, I definitely want to be training, and going away with the girls and I'm enjoying it."

She got some matchplay in the two-game series with the US.

Bigger challenges lie ahead - the world league semifinal in Brussels in June-July, Oceania Cup and transtasman trophy in October and the world league final, hosted in Auckland in November.

Festival of Hockey

Women's tournament in Hastings, starting tonight

Draw:
Tonight: Australia (4) v US (6), 4pm; New Zealand (ranked 5) v Japan (11), 6pm.
Tomorrow: Japan v US, 3pm, New Zealand v Australia, 5pm
Monday: Japan v Australia, 4pm, New Zealand v US, 6pm.
Tuesday: Australia v US, 4pm, New Zealand v Japan, 6pm.
Thursday: US v Japan, 3.30pm, New Zealand v Australia, 5.30pm.
April 8: Japan v Australia, 3pm, New Zealand v US, 5pm.
April 9: 3rd-4th playoff, 3pm, final 5.15pm.
New Zealand squad: Sally Rutherford, Amy Robinson, Rose Keddell, Kim Tanner, Natasha Fitzsimons, Shiloh Gloyn (Midlands), Erin Goad, Kirsten Pearce (North Harbour), Liz Thompson, Sam Harrison (Auckland), Stacey Michelsen, Brooke Neal (Northland), Kelsey Smith (Capital), Pippa Hayward, Rachel McCann, Olivia Merry (Canterbury), Tessa Jopp (Southern). Grace O'Hanlon (tbc).

The New Zealand Herald


---

Students to compete alongside hockey world's best



Napier Girls' High School students Kaitlin Cotter and Mikeely Jones, both 15, are ready for the Festival of Hockey. Megan Hunt

Four Hawke's Bay school teams will take to the turf this week, alongside top international players at the Festival of Hockey.

The annual event is back for a fourth year and runs from March 31 to April 9 with games played between the Hawke's Bay Regional Sports Park in Hastings and Park Island in Napier.

The top division of competition is the Hawke's Bay Cup which features international women's teams from New Zealand, Australia, America and Japan.

The next level of competition is the national affiliates tournament with male and female Maori, regional and university teams.

Napier Girls' High School students Kaitlin Cotter and Mikeely Jones, both 15, are part of the Furnware cup competition, a tournament between eight female high school teams from around the North Island.

Mikeely, a striker and mid-field player, grew up playing hockey as her father was keen on the sport.

When she first started playing in Tauranga she was six or seven-years-old and most of her games were played on grass; it was a real treat to have a turn playing on an astroturf field.

But she has more than made up for it, playing for Napier Girls' High School's top team, representing the region and playing for a club side.

Last year both girls had the opportunity to watch the international games from a special position as they were stationed on the edge of the pitch as ball girls to retrieve shots hit over the sidelines.

After the players warmed down the girls were also welcomed for photos. "They were all really nice," Mikeely said about the Black Sticks New Zealand team.

Kaitlin, who plays the position of mid-field or inner said she was looking forward to having a home crowd at the tournament.

"Lots of people we know can watch and it's the start of the year so it's a new team."

She was also looking at playing the team from Auckland Diocesan School as this was the team's first time at the event.

Their first match of the tournament is April 5 at 6.45pm against another Hawke's Bay team, Havelock North High School.

More information and tickets for the event can be purchased at the Festival of Hockey website.

Stuff


---

Black Sticks roll into town for the Canterbury hockey premiership

ARI BARROW



Carlton Redcliffs celebrate after winning the Canterbury premier hockey men's final last year. Joseph Johnson

The Canterbury premier hockey championship gets underway this weekend, with plenty of intrigue in store as the Carlton Redcliffs look to defend their men's and women's titles. .

Recently renamed Bealey's Ale House Canterbury premier league, the 2017 competition will have all 15 clubs returning to fight for the most sought after titles in Canterbury hockey.

Carlton Redcliffs' men and women had memorable seasons last year with the women breaking a three-year hoodoo after reaching two previous finals. Both teams however will be up against it this season with a number of sides looking to punt them off their pedestal.



Gemma McCaw at last year's Rio Olympics (playing under her maiden name). She will play for Carlton Redcliffs. Mark Kolbe/Getty Images

Running fast in favour of the defending women's champions is Black Stick's Gemma McCaw's availability for at least the beginning of the season as she is taking a break from international hockey, along with Black Stick Sophie Cocks.

Other Black Sticks Jordy Grant, Catherine Tinning and Jessie Anderson, along with the uncapped Cass Reid will all contribute to Harewood's chances this season. Former Black Stick Sian Fremaux has returned from France and will slot in to her former HSOB/Burnside club.

​The men's side of the draw will have noticeable added strength in retired Black Stick Brad Shaw's permanent return to club hockey for Southern United. Black Sticks Richard Bain (Harewood) and Willy Davidson (Carlton Redcliffs) will also be available.

The format for 2017 is the same as last year, with eight sides in the men's draw and seven in the women's. Rankings from last year have been combined to create an overall CPL ranking.

The CPL Championship will be played over two rounds, with the President's Shield and Rosebowl up for grabs for the teams at the top of the standings at the end of the rounds.

Talking points:
* Trent Summers, who has over 50 caps for the Canterbury Cavaliers moves from captaining University to play for Carlton Redcliffs. University men have a tough adjustment to make after losing Summers, Guy Strawbridge (Canterbury u21s) and Jono Anderson from their midfield.
* Cavaliers and Redcliffs goalkeeper George Enersen has been selected for the Black Sticks and will be in Auckland this season. Sean Poulsen replaces him in the cage.
* Cocks (100 Black Sticks caps) at only 23 is taking a break from international hockey and will play for Redcliffs, changing from her High School Old Boys side/Burnside. She and McCaw are likely to be a prolific strike line.
* Southern United men lose 19-year-old Sam Lane to Auckland for Black Sticks duty which will be a huge loss as the young gun was a lethal scoring machine in 2016. However they welcome back Shaw after his retirement from international hockey.
- HSOB/Burnside men have lost Black Stick Dave Brydon, but have picked up Strawbridge from University and welcomed junior Black Stick James Bennett from his studies in Dunedin.

THIS WEEK:
Men:    
1:15pm    Carlton Redcliffs v University, Waimakariri Turf
1:45pm    Marist v Southern United Stingers, Marist Park at St Bede's College
2:45pm    HSOB/Burnside v Avon, Waimakariri Turf
3:20pm    Harewood v Hornby Vipers, Marist Park at St Bede's College

Women:
Carlton Redcliffs, bye   
12:15pm Marist v Southern United Stars, Marist Park at St Bede's College
4:15pm HSOB/Burnside v H & B Avon, Waimakariri Turf
4:50pm Harewood v Hornby Tigers, Marist Park at St. Bede's College

Stuff


---

Scottish National League title race is hotting up




The race for this season`s National League titles is certainly hotting up; Grange have moved into the favourites spot in the men`s race after Uddingston produced a 2-1 win over 12-times winners Bromac Kelburne, while the destiny of the women`s title might be a little clearer after Sunday`s clash between Grove Menzieshill and Edinburgh University.

Uddingston undoubtedly upset the applecart last weekend, they lost 6-3 to Grange on Saturday but a day later upset Kelburne`s plans for a 13th consecutive league by inflicting only their second reversal of the season. The consequence was that Grange slipped into pole position by a single point with three games left

David Knipe, Grange`s coach, is fully aware that the destiny of the title lies in his charges own hands, but he is content to play down the significance and concentrate solely on the home game against Watsonians. "Watsonians are having a good season so we know we have to keep working and improving to win this game," said Knipe

Grange won the earlier fixture 5-2 with captain Cammie Fraser scoring a hat-trick, but Knipe is fully aware that any slip-up in the final run-in could be fatal to his side`s aspirations, so perhaps there is additional pressure on the match.

Watsonians lie sixth in the table after reasonable results since the restart, but were on the wrong end of a six-goal defeat by Western Wildcats last weekend.

Kelburne are not so likely to stumble in their game against a Clydesdale side that have lost their last three encounters.

Uddingston have their own aspiration of holding onto that top four spot, but face a Wildcats` side that have scored 14 goals without reply in their last three outings. After the Kelburne result there is clearly a new spring in the Uddingston step, as mentioned by Captain Tom Hyndman. He said, "One of the biggest factors against Kelburne that kept our focus was the fact that we never got on each other`s back, we worked as a team and rarely showed dissent to the umpires."

Uddingston took six games to record their first win of the season, but then notched up five further victories in the following nine league matches.

Hyndman said: "Without doubt having brought in three new Malaysian players has been one of our biggest strengths. With one playing defence, midfield and attack, we have strengthened all areas of the pitch.

"However, I can`t take anything away from our domestic players, the work rate, team effort and composure pushed us to the 70 minute mark."

On the Wildcats` game, Hyndman said: "We are not a team that would get over confident after the Kelburne result as well as having beaten Wildcats in the first game. Should we play the game we have been playing, we hope to break Western`s recent form and take the three points."

Uddingston have another chance to pick up more points when they entertain Grove Menzieshill at home on Sunday.

Both Edinburgh University and Hillhead have had a rather miserable run of results since the restart and both have slipped into the relegation zone. They meet head-to-head at Peffermill with the winner reversing the recent trend.

A few weeks ago Gordonians looked dead and buried, but two recent victories have put them within four points of Clydesdale. If the Aberdonians can pick up another three points against Grove Menzieshill, then survival may still be on the agenda.




There can be no doubting the women`s National League 1 game of the weekend, the long-awaited clash between unbeaten Grove Menzieshill and champions Edinburgh University on Tayside.

Grove Menzieshill are in the driving seat, they have won all their games to date and have a two-point lead, and with a game in hand. On paper this may seem a clear advantage but the Taysiders` remaining games include a double against third placed Milne Craig Western and another with the Edinburgh students, so the title race is far from concluded.

Sam Judge, Edinburgh`s player/coach, will take encouragement from their 3-1 victory over Grove Menzieshill in the semi-final of the Scottish Cup a few weeks ago.

Edinburgh will spend their weekend on Tayside - on Saturday they take on Dundee Wanderers. Earlier in the campaign Wanderers came to the capital and left on the wrong end of a 6-0 reversal, Sophie Maunder was top scorer that day with a couple.

While Wanderers have not made their usual impact this season, any side with the mercurial Vikki Bunce along with young talent like Emily Dark and Charlotte Watson cannot be discounted.

On Saturday Grove Menzieshill are up against bottom side CALA and will hope to continue their good form.

Saturday may not be an easy day for Western, they travel to Auchenhowie to face a Wildcats side that have made fourth place their own. And the Auchenhowie side are only three points adrift of Western, but with two more games played.

However, the sides met earlier this month at Titwood and Western emerged comfortable four goal winners.

At the other end of the table it would appear that Watsonians have made a successful bid for safety from the relegation web with a late surge that included back-to-back victories over CALA and Erskine Stewart`s Melville, along with a very creditable goalless draw with Western.

Erskine, Kelburne and Hillhead look destined to take part in the relegation play-off unless one of their number can repeat Watsonians' lifeline tactics. Kelburne are perhaps best placed, but even if they can take all six points from this weekend`s encounters with Erskine and Hillhead, that would still not be enough to escape the play-offs.

Scottish Hockey Union media release


---

Two sports schools to vie for supremacy in junior hockey league

by Aftar Singh

KUALA LUMPUR: Since 2004, two sports schools have won the double in the boys' competition of the Malaysian Junior Hockey League (MJHL) for a total of nine times.

Bukit Jalil Sports School (BJSS) did the double five times – in 2004, 2005, 2007, 2008 and 2009 – while Tunku Mahkota Ismail Sports School (SSTMI) clinched it from 2012 to 2015.

Last year, SSTMI retained the league but lost the overall title to BJSS 4-3 in the final.

So, it is no surprise that these two schools will again start as favourites for the Division One and overall titles when the MJHL begin today.

BJSS coach Lokman Yahya is confident his boys can do the double again, especially since he has retained 16 of the 20 players from last year's squad.

"I have a solid team capable of strongly challenging for the double in this Under-19 tournament ... I have faith in my players," said Lokman, who has been coaching BJSS for the last seven years.

"The good news is that we have a calibre forward in Arif Sabron, who can score field goals as well from penalty corner setpieces.

"He won the top scorer's award last year with 21 goals and was also named the best player in the MJHL. I expect him to do the same this year."

Ten teams will feature in Division One this year. They are SSTMI, BJSS, Universiti Kuala Lumpur (UniKL), Petaling Jaya City Council (MBPJ), Pahang Hockey Academy, Olak-Nurinsafi, SMK Datuk Bentara Luar, MSSWPKL, Felda Juniors and Politeknik Malaysia.

Lokman has picked SSTMI and the Pahang Hockey Academy as their toughest challengers.

SSTMI are determined to win the double and equal BJSS' record.

Coach Wan Roslan Wan Abdul Rahman, who has guided SSTMI to the double four times, said: "A strong challenge from BJSS will definitely spur players from both teams to play their best. That will be good for hockey and the league.

"It will also spur my players to go all out to achieve the double."

But for now, Wan Roslan and Lokman will have to put their rivalry aside as they jointly take charge of the national team competing in the Under-18 Asian School Boys' Hockey competition in Bhopal, India, from April 4-12. The team will leave for India tomorrow.

SSTMI and BJSS' matches this weekend have been postponed as their players will also be involved in the tournament in India. The two schools will begin the MJHL campaign on April 16.

The Star of Malaysia


---

Malaysian Junior Hockey League: MISC-UFL bent on development

By Jugjet Singh



MISC-UFL Kuala Lumpur players training at Kuala Selangor during their one week camp there.

THE Junior Hockey League (JLH) season begins Friday, with three Division One matches postponed due to the Asian Schools Hockey in India.

Division One will have 10 teams, with League champions Tunku Mahkota Ismail Sports School (SSTMI) and Overall champions Bukit Jalil Sports School (BJSS) starting off as early favourites.

And In Division Two, 20 teams have been drawn in three groups and there are no clear favourites in this development group.

The Girls' JHL will also be held simultaneously with the 11 teams placed in two groups.

The number of teams competing in the Boys and Girls events is huge, and this augurs well for the development of the sport at the grassroots.

And two teams in Division Two will be on a mission of their own -- to increase the number of Indian hockey players in the country.

Malaysian Indian Sports Council (MISC) in collaboration with Universal Fitness & Leisure (UFL) fielded one team last season, and came back stronger this year with two teams in the Northern and Central zones.

MISC-UFL Kuala Lumpur and MISC-UFL Penang will see 41 Indian and Punjabi boys competing in the JHL.

"The objective of fielding MISC teams is to give boys of Indian origin (even Indian Muslims) a chance to play hockey and be spotted by scouts for further development.

 "There used to be many Indian and Punjabi players in the national teams, but today, only goalkeeper S. Kumar and Baljit Singh (Charun Singh) are left," said former international Nishel Kumar who will be coaching the Central zone side.

After two months of training, the MISC KL went for a one-week camp in Kuala Selangor.

"In training and during friendlies, the players were just average. But after undergoing a one-week camp during the school holidays, I can see some positive changes which I hope to see during our first match (on Sunday) against Terengganu Juniors," said Nishel.

Nishel will be coaching a young side with four 14-year-olds, two 15-year-olds and 10 16-year-olds.

The pioneer MISC side did not do well last season, as out of the seven matches, they only won one and drew one.

But with a long-term development programme in mind, MISC have set higher goals to achieve in the next few years from these young players.

MISC-KL -- Goalkeepers: Kumara Guru, S. Ramanan, Sanjit Singh Randhawa.
  Sharan Kumar, P. Roshan, S. Surenthar, P. Tanesh, Paul Chelladurai, T. Praveen, R. Phavineshmittra, P. Mithiran, Harroshan Singh Kuldip Singh, Harsuraj Singh Kuldip Singh, R. Kanesh, D. Vickneswaran, S. Shivaneishan, H. Kishorthanan, Danish Kumar, T. Perabu, S. Rishikumar, R. Thivagaran.

MISC-Penang -- Goalkeepers: Haamrid Kumar, K. Harishan.
  B. Visnu, Chin Peng Hoong (Vinok), A. Muhkkesh Adrian, A. Gubenthiran, G. Mithiran, A. Arunan, Thullsisyamanath, N. Mugeash, M. Vassudevaan, S. Thanesh, V. Veeran, S. Tharushan, M. Nilavarasan a/l Mahendran, Angad Singh Khalsa, Gobind Singh Khalsa, B. Yuvvaraj, Jasraj Singh Sarwan Singh, Satvinder Singh Naranjan Singh.

FRIDAY: Division One: UniKL Young Guns v BJSS Juniors (KLHA, 6pm).

DIVISION TWO: Group A -- MSSP Stinger v MSS Kedah (Kuala Perlis, 5pm), MSSC-UFL Penang v MSSPP-USM (Sungai Petani, 5pm), USM Juniors v MSN Young Lions (USM, 6pm); Group C: Johor Baru HA v Datuk Taha (Taman Daya, 5pm).

GIRLS' -- Group A: MSN Kedah v Sabah SS (Lela Pahlawan, 5pm), USM Juniors v CBN (USM, 4pm).

Jugjet's World of Field Hockey


---

Durban Girls scoop hockey title one more time

Durban Girls College retains 100% record after wining the cup for the seventh time

by Rudy Nkgadima



Standing solid, Maris Stella's keeper Kristina le Roux boldly stands her ground next to a lurking Amba Brown from Durban Girls' College as the ball pops up during the semi-final of the Durban Central Regional of the SPAR KZN School Girls' Hockey Challenge.

DURBAN Girls' College, raised the cup for the seventh time in the SPAR KZN School Girls' Hockey Challenge which took place at the 3 Schools' Trust astroturf in Glenwood on Sunday.

In a seamless display of exquisite hockey, College dominated from the get go showing off why they have owned this regional since the tournament's inception. Advancing effortlessly through to the finals, they met St Henry's Marist College for the second time, having met earlier in the pool games. College maintained possession in the crowning game, breaking St Henry's defense three times and not allowing any opportunities to find the back of their goals. Goal scorers for DGC Emma Sharratt, Bulelwa Mzimela and Georgia Cloete respectively, all were in the right spot at the right time to convert the field goals enabling them to determinedly claim victory over St Henry's.



St Henry's Melissa Calitz fires in a shot during a short corner, with the support of Isabella Goncalves during the Durban Central Regional of the SPAR KZN School Girls' Hockey Challenge that took place at 3 Schools Trust Astro.

DCG Captain Lori Niemand, who was ecstatic with the win, said "We always love the SPAR tournament as it is loads of fun and there is great sportsmanship shown on and off the field. Today we worked hard as a team, and kept passing to each other and communicating well, leading to the final outcome."

St Henry's quietly advanced through their pool games and finished second on the log, behind College. Durban Girls' High and Maris Stella ended their efforts at the top of their pool. The four teams proceeded to a cross pool play off. Durban Girls College's centre forward Georgia Cloete landed her teams two solid goals to Maris Stella's nil sadly knocking them out of play.

A delighted coach for Durban Girls' College, Bell Meek said after the prize giving, "I was impressed with the girls, they played with a really good spirit in everything they did.Throughout the course of the day, College showed great improvement, and built on that with every game. I was very happy with their progress."

Durban Girls' College is the sixth team to go through to the Grand Finals that takes place at St Mary's in July, and will join Our Lady of Fatima, who won the Durban North Regionals on Saturday, March 25, and four other teams that have already secured their berth at the tournament, Ferrum High School (Northern KZN); St John's DSG (PMB Central); St Anne's College (PMB North) and Amanzimtoti High School (DBN South).

Berea Mail


---

Hockey challenge kicks off in Graaff-Reinet



DSG from Grahamstown will defend their title when the PE North tournament in the SPAR Schoolgirls Hockey Challenge takes place in Graaff-Reinet on Friday. Photo: Full Stop Communications

Seven schools will have the common objective of becoming the first team to be crowned regional champions of the SPAR Eastern Cape Schoolgirls Hockey Challenge that starts at Union High in Graaff-Reinet, South Africa on Friday.

One of five events in the Eastern and Southern Cape, the Port Elizabeth North tournament will kick off proceedings as hundreds of schoolgirls look forward to the second year of the challenge.

Introduced to the region last year, national tournament director Les Galloway said it had been "extremely succ
She said several new schools had already been drawn into the fold.

"It was a new concept last year, but now some schools have had a whiff of what it is all about and there is huge excitement for this year's tournaments.

"More schools are wanting to get involved and it's all about spreading the game of girls' hockey and promoting the SPAR brand."

The challenge was held in KwaZulu-Natal for the seventh time this year and also takes place in the Western Cape.

Galloway said this year they had gone further afield, adding tournaments in the Free State and Gauteng.

"This all bodes well for SPAR as the sponsors, while the young ladies are benefiting from the concept too."

Hosts DSG won the inaugural PE North tournament in Grahamstown last year and will be back to defend their title in Graaff-Reinet.

They will come up against Union High and Volkskool from Graaff-Reinet, Gill College from Somerset East, Kingswood and Victoria Girls from Grahamstown and Brandwag of Uitenhage.

The Eastern Cape Challenge will take a break after the opening event due to the school holidays.

The provincial finals, won by Collegiate Girls' High School from PE last year, will be played at Woodridge on August 12.

The remaining regional tournaments will take place on the following dates:

May 14 – East London North at Queenstown Girls' High in Queenstown
May 21 – East London Coastal at Cambridge in East London
May 27 – South Western Districts at York High in George
June 4 – PE Central at Pearson in Port Elizabeth

SPAR Schoolgirls Hockey Challenge media release


---

Sunil, Harmanpreet win AHF awards for brilliant 2016

MUSCAT: Ace forward SV Sunil and young dragflicker Harmanpreet Singh has been named as the Asian Hockey Federation (AHF) Player of the Year and Promising Player of the Year 2016 respectively.

While Harmanpreet was named the Promising Player of the Year 2016 in the junior men's category, Sunil has been honoured in the senior men's section.

The nominations for these awards were made by coaches of the national teams across Asia and the criteria of nomination was based on the performance of the year gone by.

Harmanpreet had a stupendous 2016 with the Indian junior men's team winning the Junior World Cup in Lucknow. He was also part of the senior men's team at the 2016 Rio Olympics and the FIH Champions Trophy in London where India won a historic silver medal.

"I am very excited to receive this award. I have said this before that awards and recognition are motivations for a young player like me to improve on my skills and come up with memorable performances. I believe 2016 was a great year for Indian hockey and I would like to thank the AHF for honouring me with this prestigious award and Hockey India for their ongoing support," said Harmanpreet, who is currently part of the Indian senior men's national camp that is preparing for next month's Sultan Azlan Shah Cup.

Sunil, on the other hand, played a vital role in India's successful outing at FIH Champions Trophy in London last year where he led the forwardline.

Considered to be one of the fastest men on the pitch in the world, Sunil has also served as the team's vice-captain.

The Coorg lad thanked the AHF for the award.

"This award is an icing on the cake. I believe Indian hockey is growing year by year and we have enjoyed some memorable victories in 2016. This award could not have been possible if not for our team work. I would like to thank Hockey India for their efforts, our coaches and support staff too who work with us day in and day out as one big family," Sunil said.

"It is always a good feeling to be recognised with such awards as it only adds to a player's motivation to improve."

The Times of India


---

Hockey India CEO Elena Norman wins AHF Diploma of Merit honour

MUSCAT: Hockey India Chief Executive Officer Elena Norman was on Friday awarded with the Diploma of Merit by the Asian Hockey Federation here during the AHF Congress.

The event was graced by Prince AHF President Prince Abdullah, FIH CEO Jason McCracken, Executive Board Member of AHF Akhtar Rasool and President of UAE Hockey Ismail Ali Al Banna among other distinguised dignitaries.

Norman was awarded the rare distinction for her contribution as the CEO of Hockey India which has had an outstanding impact on the development and promotion of Asian hockey within the continent and beyond.

The Diploma of Merit was presented to her by Ismail Ali Al Banna, President UAE Hockey.

On recieving the prestigious award, Norman said, "I would like to thank the Asian Hockey Federation for recognising the efforts of Hockey India. Over the years, we have strived towards promoting hockey at all levels and have earnestly worked towards garnering support required to make hockey a popular sport not just in the region but world over with our activities including the Coal India Hockey India League.

"I would like to thank the entire team at Hockey India, Executive Board and our players for their contribution. This rare distinction will only inspire us to do better work in promoting hockey."

The Times of India


---

Joshua Burt wins Victorian Official of the Year award

Penny Sidhu




Congratulations to Joshua Burt for winning the 2016 Sports Accounting Australia Victorian Official of the Year award.

In 2016 Joshua was appointed as Technical Officer for the women's Jr. World Cup Qualifier and the men's Four Nations Tournament. Joshua officiated the Gold medal match at the Rio Olympic Games and was name the Hockey Australia Technical Official of the Year.

Josh is a much loved and admired member of the hockey community, not just in Victoria but throughout the world. Not content with just coaching, Josh became the Manager of the Australian Men's Hockey Team (The Kookaburras) in 2010, a position he had worked tirelessly to achieve and loved dearly. At about this time, he started down the Technical Official pathway. His game knowledge and respect within the hockey community soon saw him appointed in his first international match (2011 Oceania Cup). Shortly after that he received his first overseas appointment as a Judge at the 1st Sultan of Johor Cup in Malaysia.

ABOUT THE VICTORIAN SPORT AWARDS

For more than 30 Years the Victorian Sport Awards has recognised outstanding achievements in sport - individual athletes, teams, coaches, officials, and administrators. In an exciting new development, the Awards will for the first time include community sport and active recreation categories as it has been combined with the Victorian Community Sport and Recreation Awards.

This new development, presented by the State Government of Victoria and Vicsport, will see the full spectrum of Victorian sport represented and recognised, from grassroots through to elite level.

(Source: www.vicsport.com.au/awards)

Hockey Australia media release