All the news for Saturday 25 March 2017

Up to the challenge

T&T stickmen start campaign tonight vs Russia

By Mark Pouchet



BIG TASK AHEAD: T&T goalkeepers Andrey Rocke, centre, and Kwasi Emmanuel, left, limber up with the help of teammate Marcus James, right, before training at the National Hockey Centre on Thursday. —Photo: ISHMAEL SALANDY

Trinidad and Tobago senior men's hockey team skipper Darren Cowie says the players are experiencing a nice balance of emotions as they approach their FIH (International Hockey Federation) Men's World League Round 2 campaign opener against Russia today.

When the match gets underway at 8 p.m. at the tournament venue -- the National Hockey Centre in Tacarigua -- T&T will seek to improve on their 2015 FIH World League Round 2 performance in San Diego, California when they finished 8th and last, after losing 1-6 to the Russians in round-robin play. Russia placed 4th in that competition.

It is a result the host team will definitely be seeking to reverse today against the 22nd-ranked Russians, who are led by Evgenii Mokrousov.

"The team is feeling really good and upbeat," Cowie, a veteran of 128 matches for T&T, said, "There is a nice balance of emotions around the team right now. It is a pretty big challenge (to tackle Russia) but we had a look at them against Barbados (in a warm-up match) earlier this week and they (Russia) are technically strong on the ball and move the ball around really well."

But as coach Glen "Fido" Francis indicated Thursday, Cowie advised that T&T "have improved immensely" and are buoyed by three consecutive warm-up match victories coming into the week-long competition. They defeated Barbados 3-1, Chile 1-0 and the USA 1-0 in the space of four days.

"In the deep and with our help-defence, we have improved (from the last time when they lost 1-6) so it would be hard for them (Russia) to break us down in open play."

Cowie added that the team is also looking forward to playing in front of their home crowd, with one proviso.

"Everyone on the team is also not wanting to get caught up in the hype and get ahead of ourselves," the national U-21 coach said, "so we have to take it one game at a time."

T&T will depend on the experience of Cowie, the talismanic and most-capped T&T player Kwandwane Browne and the other senior players including Shaquille Daniel, Marcus James, Aidan De Gannes, Mickell Pierre and goalkeeper Andrey Rocke, to lead the younger members. Among the emerging players promoted from the Pan American Junior Men's Championship team are Teague Marcano (Tariq's younger brother), the Emmanuel brothers Kwasi, Kristien and Kieron and the Byer duo of Danielle and Lyndell.

Hosts T&T, currently ranked 33rd, will compete in Pool B alongside Russia, Japan (16), and Switzerland (30) while Pool A consists of Barbados (48), Chile (25), the USA (29) and the tournament's top-seed, Canada (11).

The top two teams at the end of this tournament will qualify to the Hockey World League Semi-Finals (Hockey World Cup 2018 qualifiers) to be hosted in June and July this year.

Trinidad and Tobago
From: 4. Aidan de Gannes, 6. Marcus Pascal, 7. Kwandwane Browne, 8. Stefan Mouttet, 12. Daniel Byer, 13. Keiron Emmanuel, 14. Darren Cowie (captain), 17. Marcus James, 18. Mickell Pierre, 19. Shaquille Daniel, 20. Jordan Reynos, 21. Tariq Marcano, 22. Kristien Emmanuel, 23. Andrey Rocke (goalkeeper), 25. Kwasi Emmanuel (goalkeeper), 26. Jordan Vieira, 29. Dylan Francis, 31. Teague Marcano.

Russia
From: 1. Marat Gafarov (goalkeeper), 2. Evgenii Mokrousov (captain), 5. Dmitriy Laptev, 6. Alexander Skiperskiy, 7. Andrey Kuraev, 8. Ilfat Zamalutdinov, 9. Semen Matkovskiy, 10. Artem Borisov, 11. Marat Khairullin, 12. Anton Kornilov,
14. Sergei Spichkovskii, 15. Denis Shchipachev, 16. Aleksei Maiorov, 17. Nikolay Yankun, 18. Andrei Ivanov (goalkeeper)19. Iaroslav Loginov, 21. Mikhail Proskuriakov, 24. Alexander Korolev

Trinidad and Tobago Express


---

Canadian men comfortable being "target" at World League Round 2

Shaheed Devji



Mark Pearson (left) and Matthew Sarmento (right) at the 2016 Olympic Games in Brazil. Both will be at World League Round 2 in Trinidad and Tobago (By Yan Huckendubler)

Canada's men's field hockey team enters World League Round 2 in Trinidad and Tobago on Saturday as the number one ranked team, and there is no other way they would have it.

But with that designation, there is no flying under the radar for the Canadian men, who will be the only Olympic team at the competition in Tacarigua.

"We are under no illusions, we know that every side at Round 2 is going to be tough," says Men's National Team Head Coach Anthony Farry. "The big thing now is that we're the number one ranked team going in to this, so we have a target on our back.

"Every one of those sides is going to be looking to perform well against us, looking to try and knock us off. There's that added pressure and that's a good thing."

After making waves in the last World League cycle in 2015 and subsequently going on to the 2016 Olympic Games and improving its world ranking to 11th in the world, Canada is the team to beat in Trinidad and Tobago.

And while the group knows ranking does not guarantee anything on the field, the status is one the Canadian men are proud to have earned over the last several years.

"What we look to bring into this tournament is that strong last 18 months when the chips were on the table, we were able to get a result," says veteran Mark Pearson, who has now appeared at two Olympic Games, and has been a part of Canadian teams that have had both success and failure in the World League circuit.

"We've kind of learned to win. The team that went to 2000 and 2008, they had instances and circumstances where they didn't qualify and they regrouped and trained harder and learned how to grind out those key wins that get you to an Olympic Games."

And that's what Canada's current squad of men has been able to do.

Many players on the current World League 2 roster were part of the Men's National Team that fell short at the 2013 World League Round 2 in France, where Canada dropped a 3-2 decision to host France. The loss prevented Canada from moving on to Round 3 and limited its chances at 2014 World Cup qualification.

Canada then fell short at the Pan American Cup at home in Brampton, losing to Argentina in the final, and did not qualify for the World Cup.

But it's the same core of players that had success in the subsequent round of World League in 2015, when Canada prevailed through adversity in Round 2 and then upset higher ranked New Zealand to earn Olympic qualification in Round 3.

And it's that same group of players that has made Canada the target this year in Trinidad and Tobago.

But as the Canadians know well, success will come down to results. And Canada's men are relying on what got them to this point.

"Irrespective of our position in the world, we know that we've still got a lot of work to do. We know that what got us to the position we are in now is nothing short of hard work, and understanding of working for each other. Those thins we talk about constantly.

Canada opens World League Round 2 on March 25 against the United States at 1:15pm (local time) in Tacarigua, Trinidad and Tobago. Click here for Canada's full schedule, results, and game recaps.

Field Hockey Canada media release


---

What to watch: Men's World League Round 2

Shaheed Devji



Canadian captain Scott Tupper celebrates a goal at the 2016 Olympic Games in Brazil. Tupper will likely play in his 250th international match at World League Round 2 (By Yan Huckendubler)

There will be no lack of storylines as Canada resumes competition at World League Round 2 in Trinidad and Tobago on Saturday.

Here is what to look out for:

Renewing acquaintances

Being such proximate countries, Canada and the United States see a fair bit of each other. And while Canada has had a decided edge on the field in recent memory – they swept a four game series against the U.S. last summer before the Olympics – there is always an edge when the two North American teams meet.

Prior to last summer Olympic Sendoff Series, where Canada went 4-0 against the States, the Canadians and Americans met at World League Round 2 in San Diego in 2015, when Canada won 5-2.

If the Americans want to be a player in international field hockey, the first thing they will be looking to do is knock off the Canadians.

Canada will be looking to continue its dominance against the U.S. when the two teams meet to open the tournament on March 25th at 1:15pm (local time).

Will Canada and Russia meet again?

At that same World League Round 2 competition in San Diego, Canada and Russia developed some what a rivalry of their own.

The Canadian dropped their only pool stage match that year 2-1 to the Russians, in what were wet conditions in San Diego. Canada wasn't happy with the performance and had a chance for revenge in the 3rd place match later that tournament.

With a spot in the next round of World League on the line, Canada's men came up big with a convincing 4-1 victory to move on to Round 3. The loss significantly impacted the Russians' chances at qualifying for the 2016 Olympic Games, as it left them having to beat a host of the world' top field hockey nations including Germany, the Netherlands, England, Belgium and Ireland at the 2015 EuroHockey Championships in order to qualify for Rio. It's something the Russians couldn't do.

Canada and Russia are in opposing pools at World League 2 in Tacarigua, but there is a good chance they meet again with a lot on the line. And if they do, there is no doubt both teams will remember what happened in San Diego.

Scott Tupper on the cusp of 250 games played for Canada

At the last edition of World League Round 2, Canada's captain Scott Tupper reached a milestone in his field hockey career: 200 games played.

In that monumental game, Tupper celebrated by netting a hat-trick in Canada's win over Italy.

Now, more than two years later, Tupper is back at World League Round 2, a two-time Olympian and on the cusp of another milestone: 250 games played.

Tupper currently sits at 245 senior international games played for Canada, which puts him at 5th all-time for Canada' men, and behind the only other four players who have played 250 games or more: Ken Pereira (348), Rob Short (346), Paul "Bubli" Chohan (317), and Peter Milkovich (268).

Barring anything out of the ordinary, Tupper will hit 250 in Canada's semi-final match on April 1st. Here's to Captain Canada celebrating in style like he did in 2015.

More milestones

Canada's Brandon Pereira will be playing in his first senior international match when Canada hits the field against the United States to open the tournament on March 25 at 1:15pm (local time).

Defender Adam Froese will hit 150 games playing in Canada's semi-final match on April 1st.

Field Hockey Canada media release


---

Canada picks up second straight win over Chile in World League prep series

Shaheed Devji




Judging from its first two pre-tournament matches, Canada's women's field hockey team is in top form headed into next week's Gryphon Hockey World League Round 2 in West Vancouver, British Columbia.

Canada's women's field hockey team picked up its second straight win against Chile, coming out on the positive side of a 1-0 decision at Rutledge Field Friday night.

North Vancouver's Stephanie Norlander scored the game's lone goal – which was her second in as many pre-tournament games – in the 12th minute and goalkeeper Rowan Harris kept a clean sheet in the winning effort.

"We came away with the win, but it was definitely a bit more of a battle, and credit to Chile, but it was good to get the win," says Norlander.

After suffering a 3-1 loss on Wednesday, Chile seemed determined to put in a better effort from the outset of Friday's match.

The Chileans picked up the first circle entry of the game, but a strong sequence of defensive stops from Sara McManus meant Canada got away unscathed.

Canada then began to control the ball, and subsequently the play.

In the 12th minute, midfielder Brienne Stairs picked up the ball just inside the Chile half and magically made her way through a group of Chilean players and into the circle before letting go a shot that went through the keeper and found Norlander on the goal, where she tapped the ball in for the game's lone goal.

Canada had to endure playing shorthanded for two minutes later in the first half after being given a green card. And Rowan Harris was tested late in the half, but keep Chile at bay.

Canada picked up a corner at the 30th minute after more positive work from Stairs, but two attempts after the injection from Karli Johansen and McManus were blocked and deflected wide.

Chile had two corners of its own to begin the second half, but could not convert on either. The first redirected before hitting the post and staying out, while the second was redirected wide.

That would be the last and best of Chile's chances to equalize as the Canadians finished strong, picking up chances of their own to extend the lead in the 51st minute on a Danielle Hennig drag flick that was stopped, and in the 60th minute when Kate Wright just missed an open Alex Thicke at the side of the Chilean goal.

The game ended at 1-0 and ended the pre-tournament games between Chile and Canada, with Canada winning both games by a combined score of 4-1.

The next time Chile and Canada will meet will be in the second pool match on April 2nd at the 2017 Gryphon Hockey World League Round 2 in West Vancouver.

"We've definitely got a lot of confidence going in," adds Norlander. "But also, just knowing that Chile is going to be out for us when we play them in the tournament, so we've got to put it on even more."

The Canadians will now face India in one final World League prep match on Sunday at 3:00pm at Rutledge Field, before turning the focus to World League Round 2 which begins on April 1st with a match against Mexico.

Field Hockey Canada media release


---

Black Sticks well beaten by USA in Rangiora



Liz Thompson fights for the ball. Photo: www.photosport.nz

USA poured on four second half goals to defeat the Vantage Black Sticks Women 6-2 in front of a huge crowd in Rangiora.

New Zealand opened the scoring and went goal for goal with the hosts in the first half, going into halftime tied at 2-2.

But the United States came out firing in the second period with four more goals while the Black Sticks were unable to create anything on attack.

Head coach Mark Hager said it was a disappointing performance from his side against the Americans who played with high intensity.

"Our second half was pretty terrible, we lost all structure and struggled with individual skills. At times we showed an inability to make clean tackles and they really made us pay," he said.

"We need to be a lot better tomorrow or they will punish us again. We need to show some real character to make sure we come out firing in game two."

The Black Sticks were first to score when Kirsten Pearce showed her skills in sending home a seventh minute field goal.

USA responded in the 10th minute from a penalty corner before the Kiwis pushed out to a 2-1 lead after Kim Tanner scored from a penalty corner rebound.

The visitors equalised yet again just before halftime thanks to a Michelle Vitese field goal.

After halftime it was all USA traffic with Caitlin van Sickle, Jill Witmer, Loren Shealy and Kathleen Sharkey all finding the back of the goal.

The Vantage Black Sticks will be hunting for redemption against the USA in the second test in Rangiora at 3pm tomorrow.

Presale tickets are still available for the second test through www.blacksticks.co.nz

VANTAGE BLACK STICKS 2: (Kirsten Pearce, Kim Tanner)
USA 6: (Ashley Hoffman, Michelle Vitese, Caitlin van Sickle, Jill Witmer, Loren Shealy, Kathleen Sharkey)
Halftime: 2-2

Hockey New Zealand Media release


---

USA too strong for the Black Sticks in match one of two match series

OLIVIA CALDWELL



Kirsten Pearce celebrates scoring one of the Black Sticks women's two goals. PHOTOSPORT

It was a matter of missed opportunities for the women's Black Sticks today in their 6-2 loss to the USA at Rangiora's Waimakariri Hockey Stadium in wet and cold conditions.

It was easy to see why these two sides are ranked so closely on the world stage as very little set them apart, the main difference being the USA's ability to convert their opportunities while the Black Sticks chances in the circle weren't really sticking at all.

After some initial early nerves from both sides, the match began to pick up the pace in the second quarter with a crowd of well over 1000 getting behind the home side.



NZ's Kelsey Smith tussles for possession in Rangiora. PHOTOSPORT

While the match was high scoring by international test match standards, it could well have been higher if it wasn't for star of the first half, Black Sticks goal keeper Sally Rutherford, as well as several unconverted chances to the home attack.

The Black Sticks looked sharp in the second quarter and dominated play, however they were unable to convert these chances into points and allowed the USA back into the match in the second half, which was owned by the visitors.

Looking promising, only ten minutes in to the match the Black Sticks persistent attack was rewarded when striker Kirsten Pearce landed a strike over the USA goal keeper, Alesha Widdel's top right shoulder.

The Black Stick's defence played their part early in the match as the USA were able to enter the circle several times, but thanks to goal keeper Sally Rutherford the team was able to be relieved. Defender Erin Goad was also an early standout in defence, working hard to collect the ball off USA strikers to hold back any early onslaught.

While penalty corners featured heavily in the match, it took as long as 14 minutes in the first quarter for the first to be awarded to the USA and converted by an Ashley Hoffman drag flick.

The Black Sticks had several moments of brilliance in the first two quarters as pressure from Pippa Hayward and Amy Robinson tested the USA defence, as well as some great skill from seasoned Sam Harrison carrying the ball into the circle, but left unrewarded.

The second quarter is where the two sides picked up the pace, but the USA looked slightly hungrier for the win. Luckily, Hayward's back tackling was an asset to her side keeping the USA out of the attacking 25.

Aggressive play from Olivia Merry earned the Black Sticks a penalty close to the circle, but some sloppy passing meant several attacking opportunities were given straight back to the USA midfielders setting up for some dangerous counter attacking opportunities. However, the Black Sticks were finally rewarded seven minutes into the second quarter with a collected deflection and a calculated direct shot into the net by Kim Tanner.

USA standout, striker Kathleen Sharkey, earned her side a crucial penalty goal in the second quarter and while saved first up by Rutherford, USA Michelle Vittese was able to calmly collect the deflection and feed it directly below Rutherford's reach taking the two sides into the first half, 2-2.

The third and fourth corners were owned by the visitors, and it was a matter of the Black Sticks defending to the final whistle.

Three consecutive penalty corners to the Black Sticks were left unconverted. The USA capitalised on this by taking the attack to the other end to receive their own strike of luck by the referee, which was awarded by a Caitlin Van Sickle touch.

Black Sticks midfielder Shiloh Gloyn is owed a mention for her outstanding feeds to the forwards, however some poor option taking and missed opportunities in the second half left them scoreless. Whereas the USA were able to convert their opportunities when they arose, another easy goal coming rom Jill Witmer off a penalty corner.

The game was in the bag when when USA strike forward Loren Shealy slotted an easy deflection past Rutherford, and shortly after Kathleen Sharkey snuck past the goalie with a clever flick to the net taking the match to it's final score of 6-2.

This was the first time North Canterbury have hosted a New Zealand senior international team of any sport, the new turf holding up in the wet conditions.

The second of the two match series will be played at the same venue tomorrow at 3pm.

Stuff


---

USA sweep aside Black Sticks Women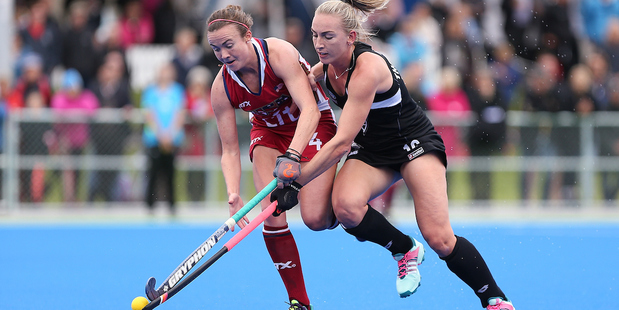 Liz Thompson of Black Sticks battles with Loren Shealy of USA. Photo / Photosport

The New Zealand women's hockey team have been swept aside 6-2 by the United States in the first of their two match series.

Playing in Rangiora, the Black Sticks took a 2-1 lead early in the first half, and were deadlocked 2-2 at halftime thanks to goals from Kirsten Pearce and Kim Tanner.

However, three goals in 15 minutes shortly after the break gave the USA an unassailable lead, and they added another at the death to seal a comprehensive win.

As usual, penalty corners proved to be the decider, with the USA scoring three times from penalty corners and once from a deflection from a penalty corner, while New Zealand missed three consecutive PC's.

The USA are ranked sixth in the world, with New Zealand in fifth, and the two sides meet again in Rangiora tomorrow at 3.00pm.

The New Zealand Herald


---

Pakistan in Australia after a Moral Boasting Series Victory  in New Zealand

After winning the series in  New Zealand, Pakistan hockey team has arrived in Australia for a 4 test series.

In New Zealand, the 14th ranked Pakistan came from behind to win the 5 test series 2-1, with two matches ending in a draw. The hosts stand 8th in the FIH rankings.

First three tests were live streamed and the gradual improvement was there to be seen.

After losing the first test 3-4, Pakistan drew the next 2-2 and then outclassed the opponents 4-2 in the third.

The green shirts went ahead in the series with a 2-1 win in the fourth test and managed to hold the black sticks 1-1 in the last test.

Pakistan side for this tour is without many senior players  including  Fareed (Pakistan's captain in their last international appearance at the Asian Champions Trophy), Rizwan Sr, Rashid, M.Irfan Sr (another former national captain) and Tauseeq.

Four players wore the senior national shirts for the first time: Abubakr Mahmood, Atif Mushtaq, Tazeemul Hassan and Umair Sarfraz. Of them, Abubakr emerged as a surprise package. In his very first outing, he converted a penalty corner in the second test. The next test proved to be the turning point in the series and Abubakr was Pakistan's hero with a hat-trick off penalty corner goals. Skipper Haseem Khan distinguished himself with a number of crucial goals especially in the latter part of the series. Goal Keeper Amjad also performed outstandingly. But it was a wonderful team performance throughout.

Admittedly, bilateral series are mainly to blood new talent and try various combinations. But these days, with all the top sides having business houses as  their sponsors, the results are also important. Hockey New Zealand has a partnership with Vantage Windows & Doors as the naming rights sponsor. Hence it was Vantage Black Sticks vs Pakistan.

Importantly, it would do a lot of good for the morale of the Pakistan team.
Now, they should face Australia, world's top team, with greater confidence.

All the four tests in Australia are scheduled to be played at Marrara Hockey Centre in Darwin on March 28, 29, 31 and April 1.

Australian coach, the former great Coln Batch, means business, "I believe the team we have selected will be able to show Darwin just why they are ranked number 1 in the world when they take on Pakistani in the four game test."

PHF Media release


---

Sultan Azlan Shah Cup Will Be A Good Warm-Up For SEA Games - Van Huizen



Stephen Van Huizen. Photo: The Star

KUALA LUMPUR -- The Sultan Azlan Shah Cup hockey tournament will be a good warm-up for the national hockey team ahead of the SEA Games in Kuala Lumpur, said head coach Stephen Van Huizen.

He said his squad faces a tight schedule ahead of the SEA Games in August, as after the Sultan Azlan Shah Cup tournament ends in May, the third round of the World League Hockey will begin in London in June.

"It is a good competition to maintain the momentum of the players before the the SEA Games begin.

"I am confident that with rigorous preparation, we will be able to defend the gold medal from the last edition," he said after a receiving a visit from Malaysia's Chef-de-Mission of the 2017 SEA Games, Datuk Marina Chin at the men's hockey training ground here, today.

The Sultan Azlan Shah Cup which takes place from April 27 to May 6 will be a good platform for the national team, as several big teams such as Australia, New Zealand, England, Japan and Korea will also be participating.

Meanwhile, team captain Sukri Mutalib said the squad should take advantage of playing at home during the SEA Games while also maintaining their focus and high commitment.

Malaysian Digest


---

Lot of emphasis on scientific approach in training: Halappa

BENGALURU: Former India skipper Arjun Halappa believes the recent success of the Indian hockey teams, both senior and junior, need to be attributed to the new approach adopted in training.

"There is a lot of difference when it comes to training when compared to my playing days. There is a lot of emphasis on scientific approach," said Halappa, who has recently joined the Indian Senior Men's camp as a coach.

"Back then, this is in the early 2000, we did not use any scientific methods to train. But now, I see this team go about a very systematic approach which is backed by scientific methodology when it comes to training.

"There is a lot of emphasis given on diet. We ate mostly carbs back then but now it's all about protein intake, the testing methods have all changed for the good and things are far more professional now.

"Between 2008-2012, we were introduced to some innovative training methods but it's far more advanced now and it's only helped in the growth of the sport," he added.

The 36-year-old insisted that having a support staff that includes a physio, masseuse, a mental trainer, scientific advisor apart from an analytical coach is the key to work towards better results.

"It's this approach that matters. Having people who are experts in their own department was lacking and now that these things are put in place even the players are happy. Smaller details are looked into and I feel these aspects have been the key in the team's rapid progress," asserted Halappa, who is also part of the Hockey India Selection Committee.

With the Indian Men's Team placed No.6 in the world, Halappa says that Chief Coach Roelant Oltmans has charted out a four-year plan which highlights the goals the team needs to achieve through this course.

"Only yesterday he (Oltmans) discussed with the team and put forth a few points to the team that highlighted our goals to ensure we reach the top. I am happy I am working with this team in a new role and I am thankful to Hockey India and Roelant for giving me this opportunity to pay back to the sport," he said.

For Halappa, who was popular for his attacking skills as a midfielder, this stint with the team is a new learning.

"Like I said, hockey has become very fast-paced today. It's all about power and speed and to be involved with an elite group and work towards the team's progress is a new learning for me," he said.

"It was very different when I was playing. Main thing for me right now is to get to know each other well, players come from different cultural backgrounds, language and their approach is different and I see this as a chance for me to grow as a person," he said.

Halappa, who has played alongside senior players such as Sardar Singh, PR Sreejesh, SV Sunil, said the junior players see him as one among the senior players as opposed to seeing him as a coach.

"I think it's a good thing that junior players see me as one among the players. This new group of juniors who have come in are a very talented bunch and there is a lot of focus on their development and while we are investing in them for 2020 Olympics and 2018 World Cup; and I believe with right exposure they will peak at the right time," he said.

The Times of India


---

Police plan to arrest Sailors at City Park

By Elizabeth Mburugu



Chase Sailors George Mutira with the ball as Kenya Police Felix Okoth blocks when they played Men Premier at City Park yesterday, 17/07/2016. Chase Sailors scored 3-2. PHOTO: JENIPHER WACHIE

Former champions Kenya Police will clash with Chase Sailors in a Kenya Hockey Union men's Premier League match tomorrow at City Park Stadium.

This is one of the nine planned matches this weekend in Nairobi, Nakuru and Kakamega.

The two sides are enjoying a good start this season. They won their opening matches and will be hunting for the second win. Police beat Kenya College of Accountancy University 3-1, while Chase defeated premier debutantes Technical University of Kenya 2-0.

Police last won the premier league title in 2013 and finished second in 2014 and 2015. Last year, they  finished third behind winners Strathmore University Gladiators and Butali Sugar Warriors.

The law enforcers will be on a revenge mission against the bankers, who subjected them to a shocking 2-3 defeat last season.

Police captain Brian Saina said they  are not ready to lose again to Sailors.

"They (Chase) are a very good side. They beat us last season, but we don't want to let them have their way. We are determined to turn the tables on them and don't want to lose to them again," Saina said.

Police will, however, be without their all-time top scorer Moses Cheplaiti and midfielder Vincent Odindo who are both injured. Nonetheless they will welcome back forward Samuel Wokila who returns from police training.

Today, Nakuru HC will host Wazalendo in Nakuru, while Western Jaguars will entertain champions Strathmore in Kakamega.

Tomorrow, Park Road Badgers will tackle Greensharks in another men's premier encounter.

In the women's title chase, champions Telkom Orange will play United States International University of Africa (USIU-A) Spartans tomorrow. Orange, who launched their 20th title hunt with a 3-0 victory over Amira Sailors, will be hoping to extend their dominance over the students.

USIU-A on the other hand will be seeking to overcome the champions and will build on their 2-0 victory over Kenyatta University last weekend.

Strathmore University Scorpions will be out for their second win of the season against University of Nairobi (UON). Scorpions, who finished second last season, defeated Vikings 3-0 in their opening match on Wednesday evening.

Amira Sailors play Multimedia University today in a women's match.

The Standard Online


---

Princeton, X-Calibur and Central Penn Crowned 2017 JPIL Champions




PHILADELPHIA, Pa. - The 6th Annual Junior Premier Indoor League (JPIL) ended on Saturday, February 25 with crowning of the U-14 Champion. The U-16 and U-19 Championships were held on Saturday, February 11. Both Championships were held at the 422 Sportsplex in Pottstown, Pa. Those in attendance witnessed intense competition throughout and some very thrilling finishes, including the U-16 Championship decided in the last second of regulation.

After six league dates of competitive indoor hockey on a consistent and regular basis, all participating clubs were now ready to face any level of competition at the National Championship with hopes of being successful. Huge improvements were seen by all participating clubs and most, if not all, were successful in the preceding National Indoor Tournament (NIT). This overall success is commendable and attributed to the commitment made by players, parents and coaches alike.

In the U-14 Division, both Central Penn FH and Freedom HKY went undefeated in pool play, so it was not surprise to see them competing in the Championship game. With the first half ending at 4-4, Freedom took the early lead with a goal by Sarah Barker (Sykesville, Md.), her 4th of the game. But Central Penn, led by Emma Rosensteel (Dillsburg, Pa.) with three goals of her own, scored three unanswered goals and took control of the game. They were crowned Champions with a close 7-5 victory. Although her team was the runner-up, Katie Fichtner (Harwood, Md.) of Freedom HKY was recognized and awarded the 2017 U-14 Dita Most Valuable Player honor.

In the U-16 and U-19 Division, the questions each year on most people minds is can X-Calibur reclaim their dominance over the top indoor clubs in this league?

The day started off with the U-16 Division. The semifinals resulted with X-Calibur's easy win over Shore Byrds FHC and Freedom HKY's tough 4-2 win over H2O. This was the first JPIL season for both Shore Byrds FHC and H2O who had very promising showings in pool play. And thus, the final match up was secured as a rematch of the 2016 Finals between Freedom HKY and X-Calibur FHC.

From the sound of the whistle, Freedom was up for the challenge and was looking for revenge. Their performance was reflected in the 3-2 half time score. Freedom held on to this lead up until the 37th minute when Kailtyn Benton (Lansdale, Pa.) converted to tie the game. This game had all signs of headed to shootout as the seconds ticked away in the final minute of play. Coaches were urging on their players and parents were on their feet shouting from the stands with every possession and opportunity. X-Calibur's Sophia Gladieux (Boyertown, Pa.) was not about to let the game go into a shootout and converted the winner with no time left on the clock. X-Calibur's successfully defended their Crown and retained the Championship trophy. Gladieux was named the 2017 U-16 Dita Most Valuable Player.  

In the U-19 Division, last year Champions Hudson Valley, were one-point short of making the semifinal and defending their title after placing 5th in pool play.

In the first semifinal, X-Calibur FHC, again for the second year in a row, fell short of regaining the crown. They came up against a very strong Princeton FHC who was participating in their first JPIL season. It was a very close match, but Princeton came away with a 3-1 victory.

In the second semifinal, Freedom HKY, who went undefeated in pool play and was the favorite to take home the Championship, came us against FSC and survived a very competitive and close game. They eventually came away with a tough 4-2 victory to claim their spot in the final.

The stage was now set for the two top clubs who demonstrated their speed, skills and abilities all season long and were ranked No. 1 and No. 2 going into the Championship weekend. 

Princeton took control early in the game when Sammy Popper (Blue Bell, Pa.), a member of the USA FH Junior Indoor team, converting her first goal of the game. She went on to be proved unstoppable, scoring all six of Princeton's goals. The final score was 6-4, but was a much closer game that could have gone Freedom's way, had it not been for Lauren Hausheer (West Windsor, N.J.), Princeton's goalkeeper.

Hausheer was outstanding in goal, smothering Freedom's offense, chance after chance and helped Princeton maintain their slight lead in the jaws of victory. Hausheer was named the 2017 U-19 Dita Most Valuable Player for her outstanding performance in the cage.

Special Recognition was given to the following individuals who were each presented with a $150.00 gift certificate thanks to the generosity of our Award Sponsor, Dita USA.

    U-14 Most Valuable Player: Katie Fichtner (Harwood, Md.), Freedom HKY
    U-14 Most League Goals: Tori Griffiths (Clarksboro, N.J.), Uprise FHC
    U-16 Most Valuable Player: Sophia Gladieux (Boyertown, Pa.), X-Calibur FHC
    U-16 Most League Goals: Taylor Marchetti (Forest Hill, Md.), H2O
    U-19 Most Valuable Player: Lauren Hausheer (West Windsor, N.J.), Princeton FHC
    U-19 Most League Goals: Rachel Fleig (Pasadena, Md.), The Gaels FHC     

With the NIT format of two periods of 20 minute the same as JPIL, all participants were well prepared and ready to compete at this final competition of the indoor season. The NIT results reflected the hard work and preparation put in by all the participating clubs.

The current and continued success of JPIL would not be possible without the support of others who we would like to recognize.

To the Umpire Managers, Dean Wenrich and Fran Corl and all the dedicated umpires. We appreciate your commitment and support for this event and hope you will continue to make yourselves available.

To Technical Director, Lurah Hess and her technical officials, including the parents who provided technical assistance as judges by keeping the games running on time with accurate results reported. We thank you all!

We also want to give recognition to the college coaches who took the time to be present and hope that you were all pleased with the level of competition.

Last, but not least, many thanks to our Award and Ball Sponsor, Dita USA, for seeing the need and value for such an event in the development of the athletes, the sport and for agreeing to support this event. Pelase reciprocate appreciate for their support of Junior Premier Hockey by visiting Dita USA online by clicking here.

On behalf of the League Organizers, Rachael Bloemker and Nigel Traverso, we thank you for your hard work, commitment, support and cooperation in making the sixth year another successful one.

Congratulations to our 2017 Champions, Central Penn FHC (U-14), X-Calibur FHC (U-16) and Princeton FHC (U-19) and to all the clubs for your participation!

JPIL is looking for a Title Sponsor for this event to cover the period from 2018-2020. If you or anyone you know who may be interested, please contact us by clicking here.

For all results and final rankings, visit our web site at www.JuniorPremierHockey.com.

USFHA media release


---

Banbridge Academy Win Subway Schoolgirls Championships



SUBWAY® All-Ireland Kate Russell Schoolgirls Championships

Banbridge Academy landed the SUBWAY® All-Ireland Kate Russell Schoolgirls Championships at the first attempt having only won their maiden Ulster title earlier in the spring.They claimed the title in front of their home fans with a devastating 6-2 performance against Ursuline Convent, Thurles in the final game of the tournament.Prior to that final tie, the competition had been poised on a knife-edge as Academy and Kilkenny College went toe-to-toe for much of the two days.

The two schools were level after day one on six points with Kilkenny ahead by a single strike on goal difference. It remained that way after the two sides drew 1-1 in the second game of the day.Kilkenny took the lead with a superb Jessie Fryday strike in the first half, squeezing home at the right post. But Banbridge fought back as time went on and got back on terms three minutes into the second half when Orla Thompson turned home Charley Brush's corner sweep.

Both sides had chances to win it but defences held firm, meaning the title would go down to the wire.Kilkenny were first to stake their claim, facing a Muckross Park side who still had an outside chance of success. It was a real battle with Yasmin Pratt netting a sublime solo goal. The Dubliners fought back to level at 1-1, however, with Niamh Shaw shooting home from a corner.The result meant that Muckross ended third with Kilkenny needing Ursuline Thurles to do them a favour against Banbridge in the last game of the tournament.Such a result, however, was never likely to happen as Katie McKee scored within the first 15 seconds with an amazing piece of skill, taking the ball from the tip off, racing to the circle and unleashing a reverse-stick finish for 1-0.

Orla Thompson added a hat trick before the first half was out with a lone Caoimhe Perdue reply. That made it 5-1 at the break and Banbridge scarcely looked back.Sarah Murphy pulled another one back for Thurles early in the second before Nadia Benallal restored the four-goal gap nine minutes into the second half and that was enough to see Bann primed for glory.Earlier in the day, Muckross beat Colaiste Iognaid 1-0 thanks to Rachel Cuddy's fine finish from mid-circle, adding to an opening day win over Ursulines to help their run to third place.Ursulines finished fourth, their highlight a 2-1 win against Colaiste Iognaid on Friday afternoon.

Speaking ahead of the finals on behalf of the SUBWAY® brand Muriel O'Grady, SUBWAY® Ireland Marketing Board Chairperson commented: "As this year's SUBWAY® All Ireland Schoolgirls championship draws to a close, we can take a look back on what has been another exciting tournament. "We are very proud to partner with school's hockey, as it demonstrates SUBWAY® stores' commitment to supporting a healthy and active lifestyle in schools and communities throughout Ireland. "On behalf of SUBWAY® stores I would like to wish all competing teams and players the very best of luck at the finals."

Thursday results: Banbridge Academy 2 (K McKee, L McGaw) Colaiste Iognaid 0; Ursuline Convent, Thurles 0 Kilkenny College 1 (Y Pratt); Muckross 0 Banbridge Academy 2 (O Thompson, C Brush); Kilkenny College 4 (E Atkinson, J Fryday, S Thomas, I Cahill) Colaiste Iognaid 0; Muckross Park 2 (C Browne, L O'Byrne) Ursuline Convent, Thurles 0

Friday: Muckross Park 1 (R Cuddy) Colaiste Iognaid 0; Banbridge Academy 1 (O Thompson) Kilkenny College 1 (J Fryday); Colaiste Iognaid 1 (A McGovern) Ursuline Convent, Thurles 2 (C Perdue, R Hassett); Kilkenny College 1 (Y Pratt) Muckross Park 1 (N Shaw); Ursuline Convent, Thurles 2 (C Perdue, S Murphy) Banbridge Academy 6 (O Thompson 3, K McKee, L McGaw, N Benallal)

Standings: 1. Banbridge Academy 10pts (+8) 2. Kilkenny College 8pts (+5) 3. Muckross Park 7pts (+1) 4. Ursuline Convent, Thurles 0pts (-7) 5. Colaiste Iognaid 0pts (-7)

Irish Hockey Association media release


---

National U16: Sabah Girls step closer to final

By Jugjet Singh

SABAH Girls' took a step closer to playing in the final of the Malaysian National Under-16 hockey tournament when they came back from a goal down to beat Johor 2-1.

Nor Aina Najwa gave Johor a ninth minute lead, but a brace from Cyra Cynthia Anis in the 50th and 58th minutes handed Sabah the crucial three points.

Sabah team manager Ibrisham Nadzri was not happy with the way his girls played in the first two quarters.

"We lost control of the match for two quarters, but recovered after the rain came pouring down (at half-time). But we can't afford the same attitude against Negri Sembilan tomorrow (today) if we want to play in the final," said Ibrisham.

In the Round Two of the tournament, the top two teams in the boys and girls groups are divided into Group X and Y after an open draw. The winners in both the groups advance to the final.

RESULTS -- Boys' Group X: Pahang 2 Malacca 1; Group Y: Sabah 2 Perak 4.

Girls' Group X: Kuala Lumpur 2 Selangor 0; Group Y: Johor 1 Sabah 2.

FRIDAY -- Boys' Group X: Malacca v Terengganu (KLHA, 7pm); Group Y: Perak v Negri (KPM, 7pm).

Girls' Group X: Selangor v Penang (KLHA, 5pm); Group Y: Sabah v Negri (KPM, 5pm).
 
ROUND TWO STANDINGS

BOYS'

GROUP X
         P  W  D  L  F  A  Pts
PAHANG   1  1  0  0  2  1  3
MALACCA  1  0  0  1  1  2  0
T'GGANU  0  0  0  0  0  0  0

GROUP Y
         P  W  D  L  F  A  Pts
PERAK    1  1  0  0  4  2  3
SABAH    1  0  0  1  2  4  0
NEGRI    0  0  0  0  0  0  0

GIRLS'

GROUP X
         P  W  D  L  F  A  Pts
K LUMPUR 1  1  0  0  2  0  3
SELANGOR 1  0  0  1  0  2  0
PENANG   0  0  0  0  0  0  0

GROUP Y
         P  W  D  L  F  A  Pts
SABAH    1  1  0  0  2  1  3
JOHOR    1  0  0  1  1  2  0
NEGRI    0  0  0  0  0  0  0

Jugjet's World of Field Hockey


---

Perak storm into boys' final after thrashing Negri

by S. Ramaguru



Pressure's on: Malacca's Muhammad Farid tries to clear the ball as Terengganu's Syarman Mat Tee closes in during their Under-16 match yesterday. Terengganu won 3-2. — RICKY LAI/The Star

KUALA LUMPUR: Three-time champions Perak stormed into the boys' final of the MHC-Milo Under-16 hockey championships after a 4-0 win over Negri Sembilan in a Group Y match at the KL Hockey Stadium.

In Group X, defending champions Terengganu are on track for a second final appearance as they carved out a 3-2 win over Malacca.

They will play Pahang today and the winner will advance to the final. Pahang had beaten Malacca 2-1 on Thursday. If both teams draw, then the match would be decided by a penalty shootout as both teams have a similar goal difference.

The Perak-Negri match was even in the early stages. But once the Perak side hit the net in the 31st minute through a field goal by Afsraf Iqbal Alias, the silver state were in total command with further goals from Mohamad Shamir Mohamad Amran (42nd), Mohamad Zulhanif Sahran (51st) and Affiful Najmi Mohd Masri (60th).

In the other game, champions Terengganu fought back from two goals down to edge Malacca.

Mohamed Hafiz Ismail (15th) and Fariez Aquif Mohd Saidi (26th) gave Malacca a great start before the east coast side stormed back with three goals from Syarman Mat Tee (41st), Mohamed Ariff Farhan Azli (49th) and Mohamed Izzul Azim Mohd Nasir (51st).

In the girls' category, Sabah qualified for their maiden final after beating Negri Sembilan 3-0 in their last Group Y match.

The Sabah team had on Thursday defeated Johor 2-1 and now have six points.

It was a historic moment for the Sabah girls as they have never finished in the top four.

Sabah HA secretary Avtar Singh said this was the result of their continued development program­me.

"In 2014 our Under-14 girls won the title for the first time. (Now) our Under-16 girls have broken the barrier and I am sure this will give our programme a big boost," he said.

A five-minute spell from the 10th minute was enough for Sabah to destroy Negri's hopes.

Kersimah Kauran was the star, scoring a brace from a penalty corner set-piece in the 10th minute and a field goal in the 13th minute. Nor Asfarina Isahyifiqa Isahhidun seal­ed the win with a penalty corner goal in the 15th.

In Group X, the final berth is still open with all three teams in the fray.

Kuala Lumpur are best positioned as they have three points after a 2-0 win over Selangor. They only need a draw against Penang today to qualify.

Selangor, who defeated Penang 4-2 yesterday, will have to wait for the outcome of the KL-Penang match to know their fate

The Star of Malaysia


---

Perak outclass favourites Sabah in Group Y opener

by S. Ramaguru

KUALA LUMPUR: Former champions Perak stunned favourites Sabah 4-2 in their opening Group Y match in the second round of the MHC-Milo Under-16 hockey championships at the KL Hockey Stadium.

The Sabahans failed to stem their well-drilled opponents who are mainly from Sekolah Menengah Kebangsaan Anderson.

Sabah started off well when they took the lead in the 13th minute through a field goal by Mohamed Salman Sudirman.

But Perak mounted a strong comeback and in a 10-minute spell destroyed the East Malaysians.

Mohamed Fahmi Khalid was the hero as he struck in the 19th minute and added a second a minute later for a 2-1 lead.

Hardly had the cheers subsided, the silver state struck again with another field goal from Mohamed Syazwan Syafiq (25th).

Four minutes later, Asraf Iqbal Alias found the target to give them a comfortable lead.

Sabah managed to pull a goal back in the 53rd minute through Granson Godeh but it proved too late.

Perak, who won the title in 2006, 2007 and 2013, will play against Negri Sembilan today for a place in the final.

Team manager Kulwan Singh said his boys are beginning to play to their true potentials.

"We had two bad games in the first round but the players have recovered and are playing to the level we expect from them. It was tough but our early goals rattled Sabah," said Kulwan.

"There is one more match tomorrow against Negri and we will be out to seal our final berth," he said.

In another match, former 2015 champions Pahang also took a step closer to the final with a 2-1 win over Malacca in Group X.

Pahang will now have to battle with defending champions Tereng­ganu tomorrow to secure their final berth.

SECOND ROUND RESULTS

 BOYS
Group X: Pahang 2 Malacca 1
Group Y: Sabah 2 Perak 4
Classification matches
10-12 placings: Penang 3 Kuala Lumpur 4
7-9 placings: Johor 1 Kelantan 0

 GIRLS
Group X: Selangor 0 Kuala Lumpur 2
Group Y: Sabah 2 Johor 1
Classification matches
10-12 placings: Kedah 0 Perak 2
7-9 placings: Kelantan 3 Malacca 6

 TODAY'S FIXTURES

 BOYS
SECOND ROUND
Group X: Malacca vs Terengganu – 7pm
(KL Hockey Stadium)
Group Y: Perak vs Negri Sembilan – 7pm
(Education Ministry Turf)
Classification matches
10-12 placings: Kuala Lumpur vs Perlis – 7.30am
7-9 placings: Kelantan vs Selangor – 3pm
(Matches at KL Hockey Stadium)

 GIRLS
Second Round
Group X: Selangor vs Penang – 5pm
Group Y: Sabah vs Negeri Sembilan – 5pm
(Matches at Education Ministry Turf)
Classification matches
10-12 placings: Perak vs Terengganu – 7.30am
7-9 placings: Malacca vs Pahang – 3p

The Star of Malaysia


---

Olton hockey make history with club day



Olton Hockey Club

There was a ladies day with a difference at Olton Hockey Club when all five women's teams played League hockey at home on the same day for the first time in the club's history. Olton Hockey club share their story with us!

73 players represented Olton throughout the day across the five matches, and with so many players all in one place their experience totalled over 500 years of hockey playing.

There was also a large age range represented on the pitch with players from 13 to 57 years old taking their place on a team and experience from first year debutants to stalwarts who have been playing for over 40 years.

It was a real social success for the club, but produced a mixed set of results, and Olton ladies won one, drew two and lost two.

Despite this the club came together and as the sun shone they raised over £600 and got the chance to cheer each other on and catch up with lots of ex players who had been invited down to join the festivities.

Helen McLeod, 39, from Solihull, who helped to arrange the event and scored a hattrick on the day, said; "I've been playing hockey since I was 9 and my dad played in goal at the club, so I've grown up here. I really enjoy the friendship and community we have here, which really shone through at Ladies Day. All in all we made some history but had a really fun day."



Olton hockey club players

Another local player was Rosie Plackowski (one in the middle), aged 54, who was born just one mile from the club and first took up the sport aged 9. "For all of us here it's about the comradery, today when we've chatted about the club it's really been clear that the friendship and community is what people most enjoy," she said. "And of course we quite like playing hockey too."

The trend continues with the younger players as well, who really enjoy being in a team rather than playing a singular sport.

Charley Richardson, aged 17, from Solihull, said; "I've been playing for three years now. I really enjoy the competitiveness and the team spirit, it's a lot more fun than playing an individual sport. Plus I've made some great friends along the way."

Despite the friendly nature of the Olton ladies there is still a desire to win. One of our youngest players, Millie Fenwick, aged just 14 from Warwick, summed this up;"I really enjoy hockey here at Olton, it's a high standard of playing and my favourite part is winning matches – especially when I score."

For more information about Olton Hockey Club and how you can get involved visit www.oltonhockeyclub.co.uk

England Hockey Board Media release