All the news for Friday 10 March 2017

Final Four known at men's Hockey World League Round 2 event in Bangladesh

Malaysia face Egypt while China and Oman to meet in Dhaka semi-finals



Action from Thursday's quarter-final meeting between Oman and Ghana at the men's Hockey World League Round 2 event in Dhaka, Bangladesh. Credit: Bangladesh Hockey Federation

The semi-finals of the men's Hockey World League Round 2 event in Dhaka, Bangladesh have been revealed, with Malaysia set to face Egypt and China taking on Oman this coming Saturday (11th March) at the Moulana Bhashani National Hockey Stadium.

Top ranked Malaysia (Hero FIH World Ranking: 13) made their way through to the semis with a controlled 5-2 win over Sri Lanka in the first quarter-final on Thursday (9th March). Remarkably, all seven goals scored came within the opening 30 minutes of the contest. Malaysia's all out attacking strategy paid the dividends as Ramadan Rosli netted a field goal in the 4th minute. However, Sri Lanka were level in the 14th minute as Nalantha Karunamunige dragged the ball inside the post from a penalty corner.

A regrouped Malaysia struck field goals in the 18th, 22nd and 23rd minutes to move into a 4-1 lead and stamp their authority on the contest, with Tengku Ahmad, Rosli Ramadan and Aiman Nik Rosemi all on target.

Sri Lanka threatened a comeback when they netted another penalty corner goal, scored by Ishanka Doranegala in the 27th minute, but Rashid Baharom netted the fifth goal for Malaysia in the 29th minute to re-establish the three-goal cushion and end the match scoring.

Malaysia's rivals Egypt powered into the semis with a convincing 5-1 win over hosts Bangladesh in their quarter-final. The power and control of the Africans proved too much for the hosts as Egypt took the control, leading 3-1 at the end of the second quarter. Mahmoud Mamdouh, Sayed Amr and Gamal Ahmed found the Bangladesh goal before the half way mark, with Mainul Islam Kowshiq on target for the home favourites. Egypt came out firing all cylinders in the last thirty minutes, scoring another two via the sticks of Sayed Amr and Hassan Mohammed to ensure a last four slot.

Second ranked China faced little resistance against Fiji, claiming a 17-0 victory over the South Pacific islanders. The Chinese onslaught saw 12 goals scored from penalty corners and five field goals. Guo Xiaoping and Du Talake both scored three goals respectively, E Wenlong and E Liguang netted two goals each. Ao Suozhu, E Wenhui, Ao Rang, Wo Wei, Lu Fenghui, Du Chen, Guo Jin scored apiece joining the goal carnival.

Oman had to work hard to get past Ghana 4-3 before earning the last four ticket. Mohammed Al Lawati and Rajab Basim Khatar's early strikes gave Oman a strong start, while strikes from Khalid Al Shaaibi and Bait Jandal Mohammed saw Oman sitting on a four-goal cushion. Johnny Botsio's brace and a strike of Godsway Balagi rocked Oman in the dying minutes but failed to change the outcome.

Like all the Round 2 events, the competition in Dhaka features a clash between teams that came through the first phase of the competition against sides that were automatically given a bye through to Round 2 due to their higher placement in the FIH Hero World Rankings. The highest ranked teams will enter the competition at the Semi-Final stage of the Hockey World League.

The top two finishers from the men's Round 2 events in Dhaka, Belfast (11-19 Mar 2017) and Tacarigua, (25 Mar-2 Apr 2017) are certain to qualify for the Semi-Finals, being joined in the World Cup qualifier phase by the two highest ranked of the third placed finishers from those three events. 

You can keep track of the tournament in Dhaka on the official competition pages by clicking here and on FIH's social media channels using the #HWL2017 hashtag.

FIH site


---

RED card revoked

By Jugjet Singh

MALAYSIA were placed in a tight corner in the first quarter by World No 41 Sri Lanka before they won 5-2 to qualify for the semifinals of the World League Round Two in Dhaka, Bangladesh, Thursday.

Now, coach Stephen van Huizen's men must win in the semi-final on Saturday to claim a ticket to the World League Semifinals either in South Africa or London.

Only the top-two teams in Dhaka will make the trip to either London or South Africa for a shot at the 2018 World Cup in India.

Rosli Ramadan scored a ninth minute field goal, but Sri Lanka equalised in the 15th minute off K. Nalantha.

But World No 13 Malaysia were in no mood to lose, and went on to score off Tengku Ahmad Tajuddin (18th), Rosli Ramadan (22nd), Aiman Nik Rozemi (23rd), Rashid Baharom (29th)

The other Sri Lanka goal was scored by D. Ishanka in the 27th minute.

There seemed to be an ugly incident in the game when Sri Lanka player Samida de Costha was flashed the red card for hitting Joel van Huizen on the head in what appeared to be an off the ball incident in the third quarter.

However, after the Technical Officials viewed a video of the incident, they saw Joel falling down on his own and de Costha was not involved in the incident.

The red card was revoked, and De Costha can play in the next match.

SATURDAY: Semi-finals: Malaysia v Egypt (3.45pm), China v Oman (6pm).
  Note: Malaysian time.

Jugjet's World of Field Hockey


---

Malaysia keep their cool to tame Sri Lanka for place in semis




KUALA LUMPUR: Sri Lanka knew they could not match Malaysia in terms of skill and finesse.

So, they tried the rough-house tactic – playing a robust game and provoking the Malaysian players.

But it was to no avail as Malaysia cruised to a 5-2 win to book their place in the semi-finals of the World Hockey League Round Two in Dhaka, Bangladesh, yesterday.

Sri Lanka's aggressive performance resulted in them being reduced to 10 men when Saminda De Costha was flashed a red card in the 39th minute for hitting Joel van Huizen on the head with a hockey stick in an off-the-ball incident.

Joel is the son of national coach Stephen van Huizen (pic).

Forward Mohd Rama­dan Rosli, who replaced the injured Faizal Saari at the last minute, scored a brace in the ninth and 22nd minutes. Tengku Ahmad Tajuddin Tengku Abdul Jalil (18th), Nik Aiman Nik Rozemi (23rd) and Rashid Baharom (29th) netted the other goals for Malaysia.

Nalantha Karuna­mun­gie (14th) and Ishanka Doranegala (27th) replied for Sri Lanka off penalty corners.

Malaysia, who scored five field goals in the first two quarters at the Maulana Bhasani Natio­nal Hockey Stadium yesterday, will take on Egypt in tomorrow's semi-finals.

The other semi-final will be between China and Oman.

Stephen was happy that his players stuck to their game plan.

"Our plan was to get early goals and we did just that.

"Sri Lanka played a robust game and provoked my players. I told my boys not to retaliate."

One thing which Stephen wasn't too pleased with was Malaysia's failure to get more goals when Sri Lanka were reduced to 10 men.

"Although Sri Lanka were a man down from the third quarter onwards, we didn't push forward to get more goals. Instead, we played a defensive game and it was Sri Lanka who came back strongly in the last two quarters," lamented Stephen.

The Star of Malaysia


---

Germany has final say in Summer Series

Germany won the last match of the 2017 Summer Series by beating South Africa 5-2.

This was the second of two Summer Series events played by South Africa and included teams from England, Holland and Belgium as well.

The first chukka flew past with both teams playing some good hockey. Even though no goals were scored the action was entertaining. South Africa was probably the better team in this quarter keeping the Germans at bay.

The halftime score was 1-0 for the visitors after Lukas Windfeder scored with some three minutes of play left. This goal came after almost 10 minutes of constant pressure on the South African defence.

In any sports game how you start and end a period of play is crucial. South Africa did really well in the first two quarters to not conceded goals in these crucial periods of play. It is something they have been working on and it seems that progress is been made in this area of play.

The third quarter had more than enough action on both sides of the field. Germany took a 3-0 lead with goals from Jonas Gomoll and Constantin Staib. Germany's counter-attack is deadly. The precision and speed with which they pass and go from defence to attack is something special.

The home team finally got on the scoreboard after Jonty Robinson converted a penalty stroke. South Africa got the stroke after well-worked penalty corner from which Rhett Halkett almost scored.

In the final quarter Germany got two more goals when Niklas Wellen and Nils Grunewald scored. It was the 18-year-old South African Dayaan Cassiem who had the final say of the series though when he scored the second goal of the match for his team.

Next on the calendar for both the South African teams is the FIH Hockey World League in July as well as the Africa Cup of Nations in August. Both events take place in Johannesburg. These tournaments are preceded by the IPT and PHL.

SA Hockey Association media release


---

Ritu Rani back in National side for HWL 2

Uthra Ganesan



Ritu Rani. 

NEW DELHI: Exactly eight months after she was dropped from the Indian squad for the Rio Olympics and six months after she was recalled only to call it quits from the national side, experienced midfielder and former captain Ritu Rani completed her return to the Indian women's hockey team after being named for the Hockey World League (HWL) Round 2 in Vancouver next month.

The team was officially announced on Thursday but Ritu had returned to the fold earlier, featuring in the recent Test series against Belarus that India won 5-0. She had refused to talk, though, preferring to concentrate on the matches. After the official announcement, however, she admitted the feeling was one of homecoming and relief.

"It is good to be back. It is good to play competitive hockey again, be with my teammates, be out there in an India jersey and play for the country. It's good to come back to the team on a winning note. That's what I have done for more than 10 years, there has been little else in my life. It was tough to be away for so long but now is a new beginning with a new staff and new coach," Ritu told The Hindu from Bhopal, where the team is training at the moment.

She had been dropped from the Olympics side for form and disciplinary issues by former coach Neil Hawgood, something that was denied by the player who later quit, saying with her Olympics dreams shattered, there was no reason for her to continue.

"I am glad of the fact that Hockey India understood my position and accepted my decision to come out of retirement. My family is extremely supportive of me playing hockey and encouraged me to pursue the sport even after marriage," she added.

The HWL Round 2 will begin on April 1 and a good placing in the competition will help the team qualify for the HWL Semifinals and also improve its ranking.

Besides Ritu, the other senior hands in the side include Deepika Thakur, Rani Rampal, Vandana Katariya, Deep Grace Ekka, and goalkeeper Savita, all part of the Rio squad.

New coach Marijne Sjoerd was optimistic about the team's chances.

"The most important thing in the test series was to understand each other. We also wanted to implement a few new things and the girls understand better and better which is really good. The next few weeks will be crucial as we will train on specific details. The focus will be on fitness, passing and receiving specific to the tactical structure we want to play," he said.

Besides India, the other teams at Vancouver include Belarus, Canada, Mexico, Trinidad and Tobago, Uruguay and Chile.

The squad:

Goalkeepers: Savita Punia, Rajani Etimarpu; Defenders: Deep Grace Ekka, Sunita Lakra, Gurjit Kaur, Renuka Yadav, Lalhlunmawii; Midfielders: Deepika Thakur, Navjot Kaur, Ritu Rani, Monika, Lily Chanu, Namita Toppo; Forwards: Rani Rampal, Vandana Katariya, Poonam Rani, Sonika, Anupa Barla.

The Hindu


---

Was painful to stay away from hockey: Ritu

Gagan K. Teja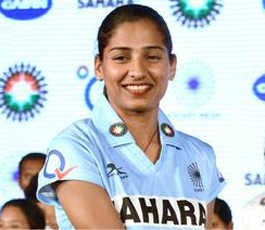 Ritu Rani

Patiala: Ritu Rani, the former skipper of the Indian women's hockey team, has come out of retirement, five months after she bid a farewell to the sport. The 24-year-old is part of the 18-member Indian squad for the women's Hockey

World League Round 2, which will be played in Canada from April 1.

Having reached Bhopal today to join the national camp, Ritu is looking forward to making a fresh start, putting behind all the bad memories.

Speaking to The Tribune, Ritu said that her love for hockey never went away, and it was "due to some unavoidable reasons" that she had announced her retirement from the sport. "But I really missed hockey because that is the only thing that I have practically worshipped all my life and it was painful to stay away," she said.

Ritu was dropped from the team for the Rio Olympics last year, even though it was under her captaincy that the Indian women had qualified for the Olympic Games after a gap of 36 years. After an initial showdown with Hockey India and her coaches, Ritu chose to retire in September last year, citing "personal priorities".

"My mother-in-law — who is a hockey coach herself — and my husband were my inspiration to return to the field because they realised that ever since I had given up hockey, I was sad," Ritu said.

"They motivated me to take a leap again since I am too young to quit the game which I started learning from the age of nine," she added. "Then an opportunity came my way and I grabbed it. I am so excited to be back in action. I am thankful to Hockey India and my coaches for giving me another opportunity and I am not going to disappoint them."

The Tribune


---

Ritu Rani comes out of retirement to join Indian hockey team

NEW DELHI: Former captain Ritu Rani shunned retirement to make a comeback in the Indian team after a seven-month sabbatical as Hockey India announced an 18-member Indian squad for the women's Hockey World League Round 2, to be held in Canada from April 1.

The Indian squad includes experienced Deepika, Ritu, Vandana Katariya, Poonam Rani, Navjot Kaur, Deep Grace Ekka, Renuka Yadav, Monika, Sunita Lakra, Namita Toppo, and goalkeeper Savita who were all part of the Rio Olympics squad.

India will be up against Belarus, Canada, Mexico, Trinidad and Tobago, Uruguay and Chile in the Round 2.

Midfielder Ritu had announced her retirement in September last year, post her wedding.

"I am very happy and excited to be back in the national camp with my teammates. I thank Hockey India for allowing me to withdraw my retirement and giving me the opportunity to be part of the team again," Ritu said.

"My family is extremely supportive of me playing hockey and they really encouraged me to pursue the sport even after marriage. They are the reason why I am back again. I think the women's team has entered a new and exciting phase where I believe if we work hard, we can really make a mark in world hockey," she said.

The Indian eves recorded an emphatic 5-0 whitewash of Belarus in the recently-concluded Test Series in Bhopal.

Speaking about the big win ahead of the Hockey World League Round 2, Sjoerd Marijne, the newly-appointed chief coach for the Indian women's team said, "The most important thing in the Test Series was to understand each other. Besides that, we wanted to implement a few new things and the girls understand better and better which is really good. I am happy with the result and most importantly I am happy with their consistent performance."

Marijne insisted that the following weeks at the national camp in Bhopal will be crucial in terms of improving their fitness and other tactical structure.

"The next few weeks will be crucial as we will train on specific details. The focus will be on fitness, passing and receiving specific to the tactical structure we want to play. We like to play fast hockey and it starts with these elements," insisted the Dutchman. He further stated that playing practice matches is important as it helps improve the team's defensive skills.

Marijne expressed that his first few weeks have been fruitful. "We feel really welcome. The team is very disciplined and they show the eagerness to get better and better. As coaches, it is a good environment to be in," he said."

SQUAD:

Goalkeepers: Savita, Rajani Etimarpu; Defenders: Deep Grace Ekka, Sunita Lakra, Gurjit Kaur, Renuka Yadav, Lalhlunmawii; Midfielders: Deepika, Navjot Kaur, Ritu Rani, Monika, Lily Chanu Mayengbam, Namita Toppo; Forwards: Rani, Vandana Katariya, Poonam Rani, Sonika, Anupa Barla.

The Times of India


---

5 Dar Hockey Academy Boys in National Junior Team for New Zealand & Australia

By Ijaz Chaudhry



Debutant Hammad Anjum

Five players of Dar Hockey Academy, the great conveyor belt of hockey talent have been named in the Pakistan junior hockey team for the coming tour to New Zealand and Australia.

Dar HA boys in the side are Waqar Younis (goal keeper), Adeel Latif, Awais Arshad, Ali Aziz and Hammad Anjum .

Two other academy players, Asif Haneef and Zulqarnain are among the standbys.

Hammad Anjum, a recent discovery, was spotted by the academy scouts in Chichawatni, district Sahiwal. The tall forward made his first overseas tour with the Dar HA colts to Malaysia a few months back, where he performed outstandingly.

The national junior side would play four tests in New Zealand, against the hosts' junior team.

From New Zealand, they would move to Australia where Pakistan juniors will participate in the very competitive Australian National Junior Championships in Hobart.
 
Ijaz Chaudhry writes on hockey & other sports. For more about him and his work, visit: www.sportscorrespondent.info  


---

Canterbury plot the great escape



Canterbury's James Oates in action during last season's play-offs. Credit Simon Parker

Relegation-threatened Canterbury host unbeaten leaders Wimbledon on Sunday as they bid to escape from the drop in the Men's Hockey League Premier Division.

Currently ninth, Canterbury will once again have to battle against the three Conference winners to preserve their top-flight status if they can't climb up to eighth.

"This Sunday's game is hugely important for us," said Canterbury's Manager Gary Wyver. "We go into the game unbeaten in three matches so have hit some good form at the right time.

"In the first match at Wimbledon we put in a good first half and led twice so we know we can compete against them. Going forward we need some of our younger players to raise their game to another level as we look to pinch points on Sunday, and then against East Grinstead to hopefully take our hopes of avoiding the play-offs to a final game decider against Brooklands at home.

"We don't want to think about play-offs yet but if it happens we will be ready. It will be interesting to see who will top of the South and West conferences. It looks as though they could both go down to the wire."

Elsewhere, eighth-placed Brooklands Manchester University go to Beeston as they aim to keep Canterbury at bay. But Beeston are also desperate for points to continue their push for a play-off spot.

Hampstead and Westminster are currently fourth, and could clinch a place at Finals Weekend if they can win at Reading.

Bottom of the table Loughborough Students face a tough trip to high-flying Surbiton, while Holcombe head to East Grinstead aiming for a repeat of the 2-0 win they secured earlier in the season.

Leaders Cardiff and Met could wrap up the Men's Conference West title this weekend as they face second-placed Team Bath Buccaneers. But a win for Team Bath will narrow the gap to just two points, and leave the title race wide open. And Cardiff and Met are missing a number of players who are in action at the World League round two in Belfast which starts this weekend.

It's still tight at the top of the Men's Conference East, with Teddington and Sevenoaks level on points. Leaders Teddington face a home game against third-placed Southgate this Saturday, while Sevenoaks go to West Herts.

And in the Conference North, all eyes are on the battle to avoid relegation. Bottom club Leek go to Doncaster, while ninth-placed Oxton have a tough match at Conference winners University of Durham.

Cannock are not safe yet either, and go to Deeside Ramblers, while Sheffield Hallam head to Bowdon desperate for points to avoid dropping down the table.

FIXTURES – Sunday, March 12

Men's Hockey League

Men's Premier Division
Canterbury v Wimbledon 12:45
Surbiton v Loughborough Students 14:00
Beeston v Brooklands MU 14:00
East Grinstead v Holcombe 14:00
Reading v Hampstead and Westminster 14:30

Men's Conference East
Cambridge City v Indian Gymkhana 12:30
Oxted v Wapping 12:45
Richmond v Brighton and Hove 13:30
Teddington v Southgate 13:30
West Herts v Sevenoaks 14:00

Men's Conference North
Deeside Ramblers v Cannock 13:30
Olton & West Warwicks v Preston 13:30
Univ of Durham v Oxton 14:00
Doncaster v Leek 14:00
Bowdon v Sheffield Hallam 14:30

Men's Conference West
Chichester v Cheltenham 12:15
Univ of Exeter v Isca 12:30
Cardiff & Met v Team Bath Buccaneers 12:30
Univ of Bristol v Univ of Birmingham 13:00
Fareham v Old Georgians 13:30

England Hockey Board Media release


---

Richardson-Walsh nominated for Hall of Fame



Kate Richardson-Walsh

Legendary England and Great Britain women's hockey captain Kate Richardson-Walsh has been nominated for a place in the European Hockey Hall of Fame.

Kate won 375 caps in a 17-year international career, culminating in an historic Olympic gold medal for Great Britain's women's team in Rio last summer, lining up in the same team as her wife Helen. She then retired from international hockey at the very pinnacle of her career, having been named flagbearer for Team GB at the Olympic closing ceremony.

Having inspired a generation, since Rio she also became an OBE for services to hockey, and was the first hockey player ever to be nominated for BBC's Sports Personality of the Year Award, finishing sixth overall and the second-highest placed female.

This week she was invited to 10 Downing Street to help mark International Women's Day, and was also asked by the United Nations to be part of their HeForShe Arts Week.

Kate Richardson-Walsh CV
375 caps for England and Great Britain
49 goals
19 medals
13 years as captain
1 Olympic Gold Medal
1 Olympic Bronze Medal
1 World Cup Bronze Medal
1 EuroHockey Championship Gold medal
1 EuroHockey Championship Silver medals
5 EuroHockey Championship Bronze Medals
Ambassador for Access Sport
Representative on the European Olympic Athletes' Commission
Patron of Women's Sport Trust.
Awarded both the MBE and OBE for services to hockey

Fans can vote for Kate between now and 1st April at http://eurohockey.org/hall-fame-2017-voting and the winner will be announced in this summer's Rabo EuroHockey Championships in Amsterdam.




England Hockey Board Media release


---

Harte of Mumbai embraces second world goalkeeper award




SV Kampong goalkeeper David Harte says that winning the FIH Goalkeeper of the Year for 2016 had an extra element of excitement this year as the world body organised its first gala awards ceremony.

The Irish shot-stopper also won the title in 2015 for his performances with the Green Machine but the presentation of the award could not have been more different between the two seasons.

"The ceremony in Chandigarh was quite the spectacle with local Punjabi dancers," he told the EHL website. "There was entertainment from India's Got Talent finalists along with the worldwide broadcasting of the event.

"Comparing it to last year, having the award presented to me after a Hockey India League match by Matthew Swann, still wearing my goalkeeping kit and dripping sweat in Mumbai, it was quite different!

"It was a credit to Hockey India and the FIH for putting such an event together to honour all the winners from umpires to players and coaches – having each category represented in Chandigarh made it a unique occasion."

It was his fifth season in the Hockey India League and he reached the final for the first time, lining out with Kampong club mates Robbert Kemperman and Sander de Wijn with Dabang Mumbai.

"I would have to say it was definitely my favourite Hockey India League experience thus far. Yes, naturally winning more than we have the past three seasons helps but also the group we had this year was a fantastic group of players and a great backroom staff.

"Adding the fact of having two club teammates with me this year made it more special, similar to the year having my twin brother Conor with me. Sharing the highs, lows and unique experiences the country has to offer with those who are close to you makes it an unforgettable six or seven weeks.

"I am naturally disappointed that we didn't go the whole way this year but having missed the semi-finals the past three seasons, it was lovely to have had the opportunity to play in a HIL semi and final. Coming home with a silver medal is something I can look back upon and feel a sense of pride of what Dabang Mumbai achieved."

Harte's next challenge starts in Belfast this week at Hockey World League Round 2 before focusing on the Euro Hockey League in Eindhoven as Kampong look to retain their title.

Euro Hockey League media release


---

UPM-KPT aim to outgun Police in return leg

KUALA LUMPUR: Universiti Putra Malaysia (UPM)-KPT are not ready to throw in the towel despite trailing Police 6-3 after the first leg of the President's Cup semi-final clash.

The two teams meet today at the same venue – Tun Razak Stadium – in the return leg and UPM-KPT coach Azlansaufi Ahmad Supian is confident of staging the "mother of all comebacks".

"It will be tough, but not impossible. We have done it before ... coming back from two goals down to beat BJSS (Bukit Jalil Sports School) 7-3," he said.

Another reason why he is so confident is the return of his two key players – defender Razlan Mohd Radzi and midfielder Mohd Sabri Mohd.

Both players had to sit for their university examinations on Wed­nesday and did not feature in the first-leg tie.

"With them back in the team, we will go on the offensive right from the start and, hopefully, get some early goals," said Azlansaufi, who is aware that they cannot afford to concede too many penalty corners.

"Police have a good drag penalty corner flicker in Baljit (Singh Sarjab) ... he scored a hat-trick against us on Wednesday. So, the challenge will be on goalkeeper Mohd Fareez (Nari Musa) to thwart Baljit."

Police skipper Baljit, who has netted 21 goals, said they won't take UPM-KPT for granted either.

"We hope to score first and put more pressure on them. We're playing well and I'm confident we can beat them again to book a place in the final," he said.

The other semi-final should see newly-crowned Division One champions Nur Insafi confirming their place in the final after outplaying Royal Malaysian Air Force (RMAF) 6-2 in the first leg.

The Star of Malaysia


---

League action and women's semi-finals in a big weekend of hockey




There is some fantastic league action to look forward to this weekend, not to mention women's semi-finals in a big weekend of hockey.

Defending men's National league champions Bromac Kelburne and second placed Grange have opened up a sizeable points gap over the chasing pack, but this weekend they will have to maintain that advantage without their international players - they are on Scotland duty in Belfast.

Kelburne will have to dispose of Hillhead without the services of the influential Lee Morton, but Gordon Shepherd`s charges will feel that is not beyond their capability. Kelburne have dropped only three points all season, while the Glasgow side have slipped back to sixth place after three defeats in a row since the end of the winter shutdown.

The two sides met on the opening day of the campaign where the champions emerged 4-2 winners with Ben Peterson grabbing a brace.

Grange are still five points behind Kelburne, albeit with a game in hand, and they travel to the North East to take on bottom side Gordonians. The Aberdonians will be on a high after last weekend`s 2-1 win over Edinburgh University while Grange will have to maintain the pressure on Kelburne without captain Cammie Fraser and Duncan Riddell in the midfield. Last time out Grange gave the Aberdonians a 7-2 defeat, striker Luke Cranney claimed a hat-trick, and he has been a regular on the score sheet all season.

Back-to-back defeats against Grange and Kelburne last weekend have severely dented Grove Menzieshill`s challenge for honours, although they have still managed to hold on to third spot. The Taysiders have the chance to consolidate that position with a home win over Western Wildcats but they need to retain their composure after the game against Grange.

Watsonians have the chance to move up the table with a home win over an Uddingston side that seems to produce a different level of performance from one week to the next, but have moved up to fifth place in the table after beating Hillhead last weekend.

On Sunday Clydesdale entertain Hillhead in a catch-up fixture at Titwood; while Clydesdale still remain in second bottom spot in the table, they picked up a couple of draws against Watsonians and Edinburgh University in their last two outings and are now in a position to move up the league with a win at home. Their cause will be helped by the absence of Hillhead`s Callum Duke who is also with the Scotland squad.

In the women`s first division Edinburgh University are unlikely to surrender pole position, they take on a CALA side that have yet to win a point this season.

The Edinburgh students have a far more difficult assignment on Sunday, they are up against Grove Menzieshill in the semi-final of the Scottish Cup at Meggetland.

The Dundonians are the only unbeaten side in the top flight this season, but they have yet to cross swords with either Edinburgh or indeed Milne Craig Western, so their real staying power is as yet untested.

Grove Menzieshill will hope to maintain their perfect record in the league with an away win against Kelburne on Saturday; that would keep them only a point behind Edinburgh University with two games in hand.

The other cup tie brings together Western and Dundee Wanderers for the second time in as many days. Some will say the odds are on the Glasgow club to win both the league and cup encounter, but that back-to-back scenario is never easy. Western did win the earlier league tussle, but only by 3-2 in the end after being down 2-0 at one stage, Millie Brown, Jen Eadie and Ali Howie were on target for Derek Forsyth`s charges.

This has not been a vintage season for Wanderers, they lie in fifth spot with only 13 points from ten games and nine points adrift of Wildcats immediately above them. Three points against Western is almost a must if they retain any hopes of making a top four slot.

After losing to both Edinburgh University and Western last weekend, fourth placed Wildcats will hope to return to winning ways at home to a Watsonians side that have picked up four points in their last two outings. Last weekend Watsonians beat Hillhead 4-1 to move up to sixth place in the table.




The final league encounter brings together Hillhead and Erskine Stewart`s Melville, both within the relegation play-off zone with the latter a point to the good. The Edinburgh side will fancy their chances of moving up the table, they were 4-1 winners in the earlier league fixture.

Scottish Hockey Union media release


---

Kampala Cement win Women's Day gala

By Kasozi Balikuddembe



Kampala Cement's Cidy Alum (left) takes on Movit's Pamela Agaba during the Women's Day Hockey gala at Lugogo on Wednesday. (Credit: Michael Nsubuga)

There was something for everyone as Weatherhead hosted the second edition of the Women's Day Hockey gala Wednesday at the Ugandan National Hockey field, Lugogo.

The event which was hosted under the theme 'Promoting health through improved hygiene among sports ladies-hockey in particular' saw Kampala Cement emerging winners after garnering 15 points from the five games they played.

"This is a special day for the women and as we celebrate it we thought about the general health and sanitation of the players in our fraternity," said Jackie Namyalo, the chairman of Weatherhead Hockey Club, the organizers of the annual event.

The participants were also taught how to conduct First Aid earlier in the day.

Mildred Amia emerged the top scorer with three goals as Vivien Namwanje from Old Kampala was recognized as the upcoming player.

The five franchise teams comprised of players from the league and schools including Old Kampala, Kakungulu Memorial and City High School.

The participants were given sanitary pads from AFRIPADS in line with the theme of the day. Meanwhile an exhibition game between a men's select side and women was held as the latter beat the former 2-1.

SELECTED TEAM POINTS

Kampala Cement 15
Roofings 10
DSTV 6
Kiboko 5
Movit 3
AFRIPADS 1

The New Vision


---

More clubs for 2017 hockey season

By Elizabeth Mburugu



Wazalendo Joseph Ndegwa(l)and Western Jaguar Colins Omachi fight for the ball when they played Premier Men at City-park yesterday. PHOTO: JENIPHER WACHIE

The 2017 Kenya Hockey Union season that begins tomorrow at City Park Stadium will feature 44 Clubs, nine more than last year.

This is due to the formation of new clubs and the return of others that had not featured in 2016. The men's National League has three new entrants, namely Mombasa West, Gorilla and Wazalendo Masters as well as five returnees. Some 18 teams will battle for a premier league promotion.

The women's Premier League has three more teams while the men's top tier will feature 15 clubs, same as in 2016.

The Standard Online


---

South Africa's KHS is ready for hockey season

Over the past five years, this festival has grown exponentially.

Nadine Maré



Krugersdorp High School (KHS) is ready for the new hockey season.

The team calls itself the Best of the West Girls' Hockey, and set the stage for a thrilling start to the Best of the West Festival.

The school welcomed 10 U/14 hockey teams from in and around Gauteng. Over the past five years, the festival has grown exponentially and has become one of the favored tournaments to participate in as a pre-season warm-up. This year's line-up ensured that the top hockey schools in the province had an opportunity to compete against one another.

The aim of the festival was to give all young girls an opportunity to compete against one another in a friendly, yet competitive environment that encourages the development of the sport.

Over and above the fact that the festival marked the beginning of the 2017 season, it was also the opening of the refurbished Henry Hartman Astro. The school has opted to move from the traditional sand-based turf to the International Hockey Federation's certified water-based surface.

The school would like to thank the community for its support as it was a superb weekend of girls' hockey.

The highlight of the day was when St Andrews played against Kempton Park and trounced them by six goals to nil.

The hockey players are all very passionate about the sport and are in it to win it.

Lauren Jooste, Marketing Director of KHS, told the News that the school is very proud of their positivity and the hard work their learners put in. They believe that this season will be one to keep track of.

Krugersdorp News


---

Chief Executive Officer position at Hockey Australia

Penny Sidhu

The Board of Hockey Australia is seeking an exceptional individual to be its new Chief Executive.

This is a unique and outstanding opportunity to shape the future of Hockey at the national and grassroots levels and have real impact on sporting outcomes for all hockey athletes and the greater Australian sporting community.

Hockey in Australia is played by over 100,000 players varying in age from 5 to over 70 years of age, a true sport enjoyed by both male and female participants. The ideal candidate will be able to demonstrate:

• Proven experience in managing complex, multi-layered stakeholder relationships, as well as a sound understanding of the governance and political nuances involved in a high-profile sporting organisation is essential.

• A strategic mindset coupled with a dynamic, contemporary leadership style and well-honed people skills;

• An ability to navigate complex stakeholder relationships throughout the national and local sporting environments, in particular with government bodies, member organisations, teams, key sponsors and the players' association;

• Strong commercial acumen and financial skills and the ability to grow investment in the game;

• A track record for effectively managing communication, media and public relations;

• A passion for sport, an understanding of the Australian sporting landscape and a strong desire to build hockey's success internationally, nationally and at grassroots levels; and

• Impeccable ethics and personal integrity.

The role is based in Melbourne, Victoria. A detailed statement regarding this opportunity is available by calling the assisting consultants, O'Leary & Partners on (02) 9248 0115 or you may request a copy by email to This email address is being protected from spambots. You need JavaScript enabled to view it.. Written applications close on Friday, 31 March 2017.

Hockey Australia media release