All the news for Friday 10 February 2017

Semi-final line-up confirmed at Valencia HWL Round 2




Scotland, Ukraine, Poland and host nation Spain marched onwards into the Valencia HWL R2 semi-finals with varying degrees of difficulty as the competition hit quarter-final stage.

Scotland v Russia 2-1

In the opening match, Scotland were made to work hard by a very determined Russia, who just refused to be cowed by the Scottish team's ceaseless running and long periods of possession. It was Scotland's goalkeeper Nikki Cochrane's 50th cap for her country and penalty corner goals from Amy Brodie and Robyn Collins made the occasion one to celebrate as the team ranked 17 in the world put paid to Russia's chances of a place at the HWL Semi-Finals in the summer. Russia did get a consolation goal back, through Irina Osipova, but for Anthony Thornton's side, it was too little, too late. 

Scotland women Head Coach Gordon Shepherd said, "I'm very happy with today's performance and result. The focus, concentration and application of the players was excellent today. We're in the semi-finals, which is where we want to be, and the focus on that game will start later today."

Spain v Ghana 7-0

A steady stream of goals from the Redsticks left Ghana with no answers in the second quarter final of the day. The Spanish team opened the scoring with a sweet strike on the run from Carola Salvatella. This was followed just a minute later by a penalty corner from Maria Lopez. This was the first of three penalty corner goals from the Spanish player, who is now second in the scoring table. Also on the scoresheet were Beatriz Perez, Xantal Gine and Carmen Cano. This result means Spain have scored 26 goals in four matches, a statistic that will give their semi-final opponents Scotland, something to think about.

Czech Republic v Ukraine 0-1

A single goal from Yevhenizya Moroz in the 50th minute was all that separated these two teams. It is a result the Czech Republic will be disappointed by as they entered the quarter finals with high hopes of reaching the semi-finals after a strong second place finish in Pool A. For Ukraine, who at 35 in the world are 10 places lower than Czech Republic, this was a great result. They proved they are made of strong stuff as they held onto their slender lead, despite finishing the match with 10 players after Yana Vorushylo was sent off with a yellow card. The result means Ukraine will now face Poland in the semi-finals.

Poland v Turkey 2-1

Poland will be relieved to have made it through to the semi-finals after a spirited performance from Turkey. The match up was between top of Pool B and fourth in Pool A, but the game was much closer than predicted. The team ranked 37th in the world held out against a strong Poland attack until the 47th minute. Magdalena Zagajska broke the deadlock and just a few minutes later, the Polish score was doubled when Natalia Wisniewska scored from a penalty corner. This was not the end of Turkey however, as Perigean Kucukkoc struck the ball sweetly past the outstretched body of Marta Kucharska in the Polish goal.

Semi finals and 5/8 place matches will take place Saturday 11 February (all times are CET)

5/8 place 09:00 Ghana v Russia
5/8 place 11:30 Czech Republic v Turkey
Semi Final 14:00 Ukraine v Poland
Semi Final 16:30 Spain v Scotland

Follow the action on the FIH events page

FIH site


---

Scotland defeat Russia to reach World League 2 semi-finals



Scotland v Russia HWLR2 Quarter-finals

Scotland's senior women have progressed to the World League 2 semi-finals on Saturday after a 2-1 victory over Russia. In Scotland's goalkeeper Nikki Cochrane's 50th game for her country, goals from Amy Brodie and Robyn Collins made the occasion a sweet one, and gave the Scots deserved victory.

It was a great start to the game for Scotland; they were dominant in possession and looked dangerous around the Russian D. Jennifer Eadie had the ball in the net early doors but the umpire had already blown for a penalty corner. The Scots wouldn't be denied for long however and took the lead when Amy Brodie finished off a penalty corner routine at the back post to make it 1-0.

Scotland nearly doubled the lead a short while later through two Amy Costello penalty corners. The first was saved by the goalkeeper's leg guards, as was the second which saw the ball shoot up into the air before being scrambled clear.

The second goal for Scotland would come some enough, and it was Robyn Collins who buried another penalty corner into the net to make it 2-0.



Scotland v Russia HWLR2 Quarter-finals

In the second half Scotland continued to ask questions of the Russian defence. Eadie had a chance arriving at the far post, but the Russian goalkeeper was out quick to block and deny Scotland a third.

Then at the end of the third quarter, on a rare Russian attack, a shot by Irina Osipova from the top of the D found its way under Cochrane and into the net to make it 2-1.

The Russian goal made for an important final quarter, and the Scots stepped up and retained control of the match. They were piling on pressure as they set out to put the game to bed; Sarah Robertson and Nikki Lloyd providing the main threat.

A third goal looked a certainty when Eadie and Becky Merchant battled to force the ball over the line, but with six Spanish bodies in the way, the Scots eventually had to make do with winning a penalty corner.

In the end a third goal wasn't required and Scotland defeated Russia 2-1 to progress to the semi-final on Saturday.

Scotland women Head Coach Gordon Shepherd said, "I'm very happy with today's performance and result - the focus, concentration and application of the players was excellent today. We're in the semi-finals, which is where we want to be, and the focus on that game will start later today."



Nikki Cochrane 50th cap

Photos by John Preece

cottish Hockey Union media release


---

Canadian men's roster named for World League Round 2 in March

Shaheed Devji



Canada at the 2016 Olympic Games in Brazil. The Canadian men successfully qualified for Rio through the World League competition (By Yan Huckendubler)

Eighteen men have been named to the Canadian men's field hockey team that will compete at the International Hockey Federation's World League Round 2 in Trinidad and Tobago from March 25th to April 2nd.

The eight-team tournament is part of the 2018 World Cup qualification process. The top two finishers of the competition move on to World League Round 3 later this year, where 2018 Men's World Cup spots will be up for grabs.

Canada – currently ranked 11th in the world – enters the tournament as the highest ranked team and is grouped in Pool A with Chile (26th), the United States (29th), and Barbados (49th).

Of the 18 players named to the roster and headed to Trinidad, 12 were part of the team that represented Canada at the 2016 Olympic Games in Rio de Janeiro, Brazil last summer. A thirteenth, goalkeeper Antoni Kindler, was a reserve at the Games.

Two members of the touring roster, Balraj Panesar and Brandon Pereira, recently competed at the 2016 Junior World Cup.

After having recently been named to the Men's National Team, Pereira will be making his senior international debut for Canada.

Panesar joins older brother Sukhi on the roster – the two join brothers Iain and John Smythe as the second set of siblings on the team.

Canada opens the tournament on March 25th against the United States and rounds out pool play with games against Chile and Barbados on March 26th and 28th respectively.

Canada's full World League 2 schedule and latest results can be found here.

The last time Canada competed at World League Round 2 was in 2015 in San Diego, California, when it moved on to Round 3 after a top two finish. Canada then qualified for the Olympic Games through its placing at World League Round 3.

The Canadian men did not qualify for the 2014 World Cup after placing 3rd at World League Round 2 in France in 2013, and losing in the Pan American Cup final that year to Argentina. The winner of the Pan American Cup this year also earns a spot at the 2018 World Cup. The Pan American Cup will be played from August 4th to 13th in Lancaster, Pensylvannia.

Men's National Team - 2017 World League Round 2
Name, Position, Hometown, Club
Antoni Kindler, Goalkeeper, Vancouver, BC, West Vancouver FHC
David Carter, Goalkeeper, Vancouver, BC, United Brothers FHC
Brandon Pereira, Defender, Surrey, BC, United Brothers FHC
John Smythe, Midfielder, Vancouver, BC, Vancouver Hawks
Scott Tupper, Defender, Vancouver, BC, Schaerweijde (Netherlands)
Gordon Johnston, Defender, Vancouver, BC, University of British Columbia
Balraj Panesar, Midfielder, Surrey, BC, United Brothers FHC
Floris Van Son, Forward, Apeldoorn, Netherlands, HIC (Netherlands)
Taylor Curran, Midfielder, North Vancouver, BC, West Vancouver FHC
Sukhi Panesar, Midfielder, Surrey, BC, United Brothers FHC
Mark Pearson, Midfielder, Tsawwassen, BC, West Vancouver FHC
Brenden Bissett, Midfielder, New Westminster, BC, UVIC
Devohn Noronha-Teixeira, Forward, Mississauga, ON, Toronto Lions
James Kirkpatrick, Forward, Victoria, BC, Racing Club of Paris
Matthew Sarmento, Forward, Vancouver, BC, University of British Columbia
Iain Smythe, Forward, Vancouver, BC, Vancouver Hawks
Gabriel Ho-Garcia, Forward, Burnaby, BC, Burnaby Lakers
Keegan Pereira, Forward, Ajax, ON, HTC Uhlenhorst Mülheim

Field Hockey Canada media release


---

Scotland men's squad announced for test matches against France



Photo by Duncan Gray

The Scotland senior men's hockey squad has been selected for test matches against France in Le Touquet, on 12 -17 February 2017.

The games will be played on 14 February at 15:00; 15 February at 15:00; and 17 February at 09:00.

The games are the final part of the squad's preparation for World League 2, held 11-19 March in Belfast, where the Scots will face France in their opening match. Scotland has been drawn in Pool B at World League 2 against France, Poland and Wales.

It's the first major tournament this year for the Scots, in a year where they will compete in Glasgow at Men's EuroHockey Championship II in August. The main aim for the team is to qualify for the Commonwealth Games in 2018.

Scotland men's Head Coach Derek Forsyth said, "The games against France will be a good test ahead of World League 2 in Belfast, and it's one the squad is looking forward to. The camp in France follows a good camp in Spain, and selection will be made following these two solid sets of test matches."

The Scotland senior men's squad is as follows:

Name, Club

Wei Adams, Canterbury
Russell Anderson, Cannock
Tim Atkins, Reading
Michael Bremner, Klipper THC
Gavin Byers, Grove Menzieshill
Patch Christie, Durham University
Dan Coultas, Edinburgh University
Ben Cosgrove, Grove Menzieshill
Callum Duke, Hillhead
David Forrester, Edinburgh University
Alan Forsyth, Surbiton
Cammy Fraser, Grange
Ed Greaves, Nurnberger
Sean Hadfield, Bowden
Hamish Imrie, Schaerweijde
Willie Marshall, Surbiton
Lee Morton, Kelburne
Nick Parkes, Surbiton
Duncan Riddell, Grange
Jamie Wong, Edinburgh University

Scottish Hockey Union media release


---

Tristan Clemons ensures Jaypee Punjab Warriors won their maiden home game   




Chandigarh: It was the home team's goalkeeper Tristan Clemons who was rock solid at the post to defend a narrow 1-0 lead that ensured Jaypee Punjab Warriors beat Ranchi Rays in their maiden home game in the fifth edition of the Coal India Hockey India League here on Thursday.

The defending Champions taking on two-time title winners Ranchi Rays meant that this was going to be a high-voltage game that would feature great skill and speed. The teams lived up to the expectations as they raced out of the blocks at a frenetic pace, attacking each other from hooter to hooter.

Both teams were evenly poised in the first quarter, however, with just two minutes to go for the first break, Manpreet Singh came close to giving the Ranchi Rays a 2-0 lead when he picked up the pass rather perfectly from Gurbaj Singh, tackled into the circle beating two defenders but his powerful strike unfortunately rebounded off the cross-bar.

Though Rachi Rays continued to put pressure on the home team into the second quarter too by earning the first PC of the match. It was Baljit Singh who found the foot of Jaypee Punjab Warriors skipper Mark Knowles foot in the 18th minute that won the visitors a PC. However, German drag flicker Christopher Ruhr was slightly off the mark as he sent the ball far and wide.

However, Mink van der Weerden didn't dent his team's hopes when Jaypee Punjab Warriors won a PC in the 25th minute, thanks to youngster Ajit Kumar Pandey's clever play in the circle. Weerden, who has been in top form especially with converting PCs, gave the home crowd a reason to celebrate when he fiercely flicked the ball past the Ranchi Rays keeper Tristan Clemons. This was the Dutchman's fourth successful attempt at converting a PC this season. The Jaypee Punjab Warriors ended the first half with a 1-0 lead.

Tristan Clemons, starred in the third quarter for Jaypee Punjab Warriors as the goalkeeper saving two back-to-back PCs that seemed right on target by Ashley Jackson. This was his sixth save in the game. His efforts ensured the home team continued to enjoy the 1-0 lead. Meanwhile, the Ranchi Rays coach Harendra Singh would not be a happy man with his team's poor PC conversion rate.

The final quarter was tense with Ranchi Rays open to taking risks, making desperate attempts to fetch that elusive goal. The pressure, however, led them to make a foot foul in the circle gifting the home team another PC. There was no way Mink van der Weerden would have missed this opportunity. Though he sent the ball into the net, Ranchi Rays' Ashley Jackson's video referral asking if Baljit Singh who had trapped the ball stopped it with his hand was upheld by the umpires. A rookie mistake denied the Jaypee Punjab Warriors a 2-0 lead.

The young Baljit Singh, didn't seem like he was having a great day, as he found himself making a foot foul in the circle, in the 52nd minute, that handed the visitors a chance to draw level in the match through a PC. However, a different variation by Christopher Ruhr saw the ball deflect off the post. The action didn't end there. There were as many as four PCs won by the visitors in the dying minutes of the match. But Tristan Clemons continued to be rock solid at the post denying any chance for a late comeback by the Ranchi Rays and further ensured his team walked away with the winner's points.

Mink van der Weerden of Jaypee Punjab Warriors was awarded with a prize money of Rs 50,000 for scoring the Coal India Goal of the Match from Mr B.K. Upadhyay, Regional Sales Manager, Coal India Ltd.

Manpreet Singh of Ranchi Rays won the prize of Rs 25,000 for being the Hero Young Achiever of the Match from Mr. Balbir Singh Senior, Olympian.

The Airtel Most Entertaining Player of the Match was awarded to Flynn Ogilvie of Ranchi Rays that came with a prize money of Rs 25,000 and presented by Dr. Mahender Singh, Joint Director Sports, Chandigarh Administration.

Tristan Clemons of Jaypee Punjab Warriors was declared the Man of the Match and was awarded a prize money of Rs 50,000 by Mr. Inderjit Vinayak, Senior Vice President, Jaypee Cement.

On 10 February, Uttar Pradesh Wizards will take on Kalinga Lancers in Lucknow at 1900hrs.

Official HIL site


---

Van der Weerden single goal give full points

s2h team




Mink van der Weerden's 24th minute solitary goal turned out to be match winner for Jaypee Punjab Warriors to collect full five points against struggling Ranchi Rays today in the Hockey India League at Sector 42 stadium, Chandigarh.

Dominating the field of play Ranchi had upper hand in terms of number of attack, circle penetration and ball possession, and even 3-8 penalty corner advantage, but poor finish inside the circle let them down.

Punjab's goalie Clemens it was who came out with sterling shows whenever required to, denying at least three penalty corner shots of Ashley Jackson alone.

He walked away with both Thrilling Goal of the match award and Man of the Match.

Despite seemingly slim scoreboard, the match was full of action.

Mink's goal was disallowed after the umpire went for self-referral as he felt Baljit Singh, who stopped the pushed ball in the penalty corner sequence, used his hand instead of stick.

Ranchi had four penalty corners in the last five minutes, but could not beat Clemens. One sweep off Christophe Ruhr just missed the other goal, hit the post.




Mink van der Weerden struck off the only penalty corner that his team got in the 24th minute to change sides with a solitary goal lead.

Birendra Lakra, who otherwise had an excellent game carried while clearning a rebound generated after goalkeeper padded a firm Arman Qureshi's hit, proved to be nemesis for Ranchi. Min van der Weerden made use of the lapse to take t1-0 lead.

Earlier in the first half, Ranchi also got a penalty corner but Christopher Ruhr flicked wide. It pales into insignificance when seen in the light of another seven were missed in the second half.

Its eighth match for Ranchi, and has only 18 points with just two wins and three draws.

Punjab, on the other hand, has 16 points with five more matches to go.

AWARDS
THRILLING GOAL Rs.50K: Mink van der Weerderman
YOUNG ACHIEVER AWARD 25k: Manpreet Singh
MOST ENTERTAINING PLAYER: Flynn Ogilve
MAN OF THE MATCH Rs.50K:Mink van der Weerderman

Stick2Hockey.com


---

Clemons stands firm, Warriors pip Rays

Uthra Ganesan



Warriors' Varun Kumar attempts to score in the HIL match against Rays. Photo Credit: Akhilesh Kumar

Two minutes from time, Manpreet Singh sent in a rasping hit from an acute angle that, at most times, would have sounded the boards.

On Thursday, however, it simply hit the extended pads of Tristan Clemons, the Jaypee Punjab Warriors' goalkeeper, who was determined to not let go anything past him. A few minutes before, Christopher Ruhr's shot had bounced off Clemons's pads to the far post, much to the German's anguish.

It was that kind of day for Ranchi Rays, with nothing going right for them.

There was little cheer in the stands from the few hundred spectators for Warriors's first home match of the Hockey India League (HIL). This was reflected in the muted performance on the field, the host managing to edge ahead 1-0, courtesy Mink van der Weerden's penalty corner conversion.

The visitors were far more enterprising and created quite a few chances, but failed to make them count. Clemons, deservedly named man-of-the-match, was the man who kept Ranchi at bay.

He not only saved the goal-bound shots from Ruhr and Manpreet, but also stood firm against Ashley Jackson's repeated flicks from penalty corners, including two back-to-back saves in the 39th minute. Other than that, there was little the host did or tried to do.

Warriors managed to get just a handful of shots at goal, apart from two penalty corners, to Ranchi's six. It converted both, but was credited just one — the first, in the 25th minute — as the second was disallowed for the ball not crossing the striking circle properly and dragged cleanly.

Big guns fail

Having lost Australian Simon Orchard to a tendon injury, Warriors found its big guns — Sardar Singh, S.V. Sunil, Mark Knowles, and Jake Whetton — failing to fire.

There was hardly a worthwhile move created even as Gurbaj Singh, Manpreet and Jackson tried to combine and find the breakthroughs upfront for Ranchi.

Rays created the moves, had its shots on target and got the referrals right; it had everything except a goal against its name.

Warriors had none, barring luck, and that mattered the most in the end.

The result: Jaypee Punjab Warriors 1 (Mink van der Weerden 1-PC) bt Ranchi Rays 0.

The Hindu


---

Punjab Warriors eke out fighting win on home turf

Indervir Grewal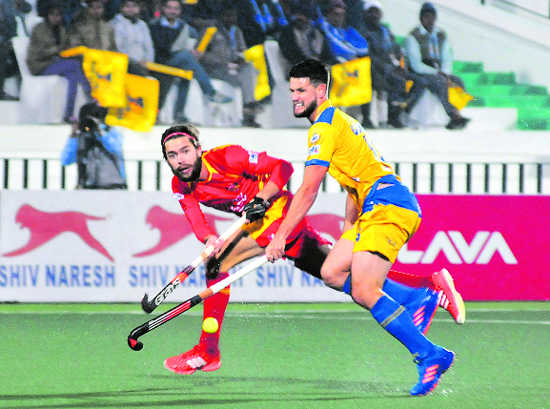 Players vie for the ball during the HIL match between Punjab Warriors and Ranchi Rays in Chandigarh on Thursday. Tribune photo: Pradeep Tewari

Chandigarh: Defending champions Punjab Warriors started the home leg of their Hockey India League campaign with a tight win over Ranchi Rays here today. Ranchi missed a flurry of penalty corners right at the end, while Punjab goalkeeper Tristan Clemons kept them out with brilliant saves throughout the match, as Punjab squeezed through for a 1-0 win in front of a sparse crowd. Clemons won the Man of the Match award for his performance, which included a reflexive right-foot save that kept out German Christopher Ruhr's tomahawk grounder after a well-disguised penalty corner variation.

For the second game in a row, Punjab managed to earn full points despite being scrappy, while Ranchi failed to score for the second successive game as they failed to cancel out Mink van der Weerden's 25th-minute penalty corner goal.

The Dutch drag-flicker's powerful drive to the left of the goalkeeper got a wholesome applause and roar from the spectators in a match marked by gasps and sighs every time a chance went abegging. Weerden's strike was accurate; however, the Ranchi goalkeeper should have done better  —  in a seemingly tactical move, the post-man in the left corner had moved to the right at the last second, so the goalkeeper should have covered the left angle better.

Defensive and error-ridden

Ranchi is a defensive and counter-attacking team, so Punjab's strategy of cautious hockey was expected. But the match could never spring out of its cautious start; on the contrary, it spiraled into a patchy, error-stricken affair with few clear goal-scoring chances.

Ranchi's Manpreet Singh got the earliest and the best chance of scoring a field goal in the 13th minute. After a counter broke out from the right, he overlapped Gurbaj Singh and dodged past Jasjit Singh to enter the circle — his 'hook' dodge, as it's called in colloquial terms, was the cleanest seen so far in this tournament. The India player then ran along the baseline before shooting at the goal; his high push, though, got deflected off the goalkeeper and hit the horizontal bar before rolling out of play.

As Punjab struggled with their attack, Ranchi got more chances, most of those from penalty corners. But Clemons denied Ranchi skipper Ashley Jackson on numerous occasions to get his team the crucial points that took Punjab's tally to 16 points from five matches.

The Tribune


---

Punjab Warriors beat Ranchi Rays 1-0 for third win



Action during the Hockey India League match between Punjab Warriors and Ranchi Rays, in Chandigarh on Thursday. (HIL)

Starting with the psychological edge of routing Ranchi Rays in an away match earlier, Punjab Warriors had an expected start in their first home match of the Hockey India League on Thursday. With a 1-0 triumph against Ranchi, the Punjab franchise has now registered three wins in five games.

The Warriors' Dutch import Van der Weerden Mink along with goalkeeper Tristan Clemons of Australia were the heroes of the day. Penalty-corner specialist Mink, who was a member of the 2012 London Games silver medal-winning team, gave the home team the winner in the 24th minute with a low push.

He was on the mark again in the third quarter (49th minute), but the goal was disallowed after Ranchi Rays took a referral and third umpire gave the decision in their favour.

Ranchi Rays got as many as seven penalty corners but they failed to convert even one. The closest they came to scoring was off the fourth penalty corner, but the visitors were unlucky as, after clearly beating the goalkeeper and defender, the ball bounced off the goalpost.

Barring that, Warriors' goalkeeper Clemons was too good under the goalpost and made some brilliant saves. He got the Man of the Match award.

Punjab's coach Barry Dancer was full of praise for his goalkeeper. "Clemons played extremely well and made some brilliant saves. The Ranchi team had more chances compared to our team, but it was the goal that made the difference," said Dancer.

On their second loss to Punjab Warriors in the league, Ranchi Rays' coach Harendra Singh says, "Though we lost the match, I can say this was the best match my team has played so far in the league. Our forward line was effective in generating so many penalty corners. But the problem lies in converting them and we are struggling on this front. Hopefully, we will be able to sort this in the remaining matches."

The Ranchi team has been awarded 37 penalty corners in eight games but has only been able to convert one with a conversion rate of three per cent. Punjab Warriors will be playing Dabang Mumbai in Chandigarh on February 11.

Hindustan Times


---

Inspector Sahabs: Razie, Nabil make grand entry



Graduates ... Nabil (left) and Razie.

KUALA Lumpur Hockey Club (KLHC) received a new lease of life when their two ace Policemen finally graduated, and returned to the hockey pitch.

National No 1 penalty corner flicker Razie Rahim and midfielder Nabil Fiqri graduated into inspectors from Pulapol on Feb 4, and on Wednesday they helped demolish UitM-KPT 9-1.

Razie scored a brace in his first Malaysia Hockey League (MHL) outing this season.

The win, and double champion Terengganu Hockey Team's 1-1 draw against Tenaga Nasional, has placed both the teams on 23 points after nine matches.

THT only lead the standings by a 15-goal margin.

KLHC had registered both the players, but could not field them in the first leg as they had to undergo a nine-month training to become inspectors.

"Razie and Nabil are experienced players and their entry into KLHC could not have come at a better time. Now I believe we have a fighting chance to lift the League title," said KLHC manager Ahmad Anuar Sham.

With Razie in defense and penalty corners, and Nabil in midfield, KLHC are the team to beat in the Premier Division now.

"We not only need to win, but score as many goals as possible to catch up with THT. However, I believe the title will be decided in the last match of the League on Feb 19," said Anuar.

That's the day KLHC will meet THT in the second leg. In the first leg, the match ended 2-2 with KLHC claiming the Charity Shield 6-5 on penalties.

Only the draw counted for points, while the shoot-out was for the Shield.

National seniors coach Stephen van Huizen still has his eyes on both the players, who last represented the country in the Asian Champions Trophy in October last year where Malaysia finished third.

"Both the players have been coming for fitness training even when they were in Pulapol for their Police training. They are an asset and will be considered for the Dhaka World League (Round Two, from March 4-12).

Both KLHC and THT are expected to win full points against Maybank and UiTM-KPT respectively today.

TODAY: UiTM-KPT v Terengganu HT (Tun Razak, 6pm), TNB Thunderbolts v Tenaga Nasional (SSTMI, 5pm), SSTMI v UniKL (SSTMI, 7pm), Kuala Lumpur HC v Maybank (KLHA, 6pm).

  STANDINGS

             P  W D L F  A  Pts
T'GGANU HT   9  7 2 0 49 5  23
KLHC         9  7 2 0 43 14 23
UNIKL        9  6 1 2 24 10 19
TENAGA       9  4 3 2 22 14 15
MAYBANK      9  3 1 5 19 27 10
THUNDERBOLTS 9  3 1 5 18 31 10
UITM-KPT     9  0 1 8 11 45 1
SSTMI        9  0 1 8 5  45 1

Jugjet's World of Field Hockey


---

KLHC expect more good results with Razie and Nabil back in the squad

by Aftar Singh




KUALA LUMPUR: Kuala Lumpur Hockey Club (KLHC) can look forward to better results in the Malaysia Hockey League (MHL) with the presence of national players Mohd Razie Abdul Rahim and Nabil Fiqri Mohd Noor.

Penalty corner drag flicker Razie and midfielder Nabil, who are undergoing police inspector training in Kuala Lumpur since May, have been released to play in the MHL on Monday.

The duo played their first match against Universiti Teknologi Mara (UiTM)-KPT on Wednesday and each scored one goal to steer KLHC to a 9-1 win, their biggest thus far.

KLHC and Terengganu are tied on 23 points with five matches remaining but the east coast team lead the eight-team Premier Division standings on goal difference.

KLHC team manager Ahmad Anuar Sham Kamar is delighted to have the duo.

"Razie not only can marshal the backline but he can also deliver goals from penalty corners," said Ahmad, who is looking at full points against Maybank today. "Nabil can also score and is commanding in midfield."

KLHC defeated the Tigers 4-1 in the first round.

Terengganu are expected to lead the standings as they should have no problem downing UiTM-KPT. In the first round, they hammered UiTM-KPT 9-0.

The Star of Malaysia


---

Slough and Bowdon Hightown face tough clash



Slough in defensive action against the University of Birmingham. Credit Andy Smith

After tasting success in the Super 6s, Slough will be aiming to convert that form into the outdoor programme as they face a crucial clash against fellow strugglers Bowdon Hightown in the Investec Women's Hockey League Premier Division on Saturday.

Currently ninth, Slough have won just two league matches so far, and are level on points with Bowdon Hightown above them, who have just one victory to their name.

But Slough will also face an important quarter final clash with Surbiton in the Investec Women's Cup on Sunday.

"It's an important weekend, but it's all about the league for us," said Slough captain Kat McGonigle. "Our number one priority is Saturday's game against Bowdon, it's very important and I'm sure they feel the same too.

"We were hoping to take our indoor success into last week's match against Birmingham, and we did that for 68 minutes but conceded late in the game. So we will be looking to do the same, but retain focus for the full match this time."

Elsewhere, second-placed East Grinstead host third-placed Holcombe in a match which could prove crucial to both side's hopes of making it into the top four and reaching the Finals Weekend.

Clifton Robinsons lie fourth, but could leapfrog Holcombe if they beat Leicester. Similarly, the University of Birmingham could also climb from fifth to third if they beat Reading and other results go in their favour.

And unbeaten leaders Surbiton are at home, with Canterbury providing the opposition.

In the Investec Women's Conference East, leaders Wimbledon travel to Cambridge City looking for their ninth straight league win. They were made to work hard for a narrow 1-0 victory when the two sides met back in October.

Elsewhere, second-placed Sevenoaks go to St Albans, whilst third-placed Harleston Magpies take on Hampstead and Westminster who are just a point behind them, with both looking to close the gap should the top two slip up.

The top two in the Investec Women's Conference North both recorded convincing 5-0 victories last weekend, as Brooklands Poynton held their two-point lead over Beeston.

The leaders have a tricky looking home tie against the University of Durham in third, whilst Beeston go to Belper who are still searching for their first points of the campaign.

The lead changed last weekend in the Investec Women's Conference West when Stourport overtook Buckingham, with both sides separated by a single goal.

The leaders entertain fourth-placed Swansea on Saturday, whilst Buckingham travel to bottom of the table Exe.

FIXTURES – Saturday, February 11

Investec Women's Hockey League

Investec Premier Division
Clifton Robinson v Leicester 13:00
Slough v Bowdon Hightown 13:00
East Grinstead v Holcombe 13:30
Reading v Univ of Birmingham 13:30
Surbiton v Canterbury 14:00

Investec Conference East
Cambridge City v Wimbledon 12:30
Southgate v Northampton Saints 12:30
St Albans v Sevenoaks 13:00
Chelmsford v West Herts 14:00
Harleston Magpies v Hampstead and Westminster 14:00

Investec Conference North
Belper v Beeston 12:00
Univ of Durham v Brooklands Poynton 12:00
Timperley v Liverpool Sefton 12:30
Loughborough Students v Ben Rhydding 12:30
Wakefield v Sutton Coldfield 13:30

Investec Conference West
Oxford Hawks v Gloucester City 12:00
Exe v Buckingham 12:00
Bristol Firebrands v Olton and West Warwicks 12:30
Trojans v Isca 13:30
Stourport v Swansea City 14:30

England Hockey Board Media release


---

Unbeaten Wimbledon face tough test



Holcombe's Richard Lane is challenged by Phil Roper & Ian Sloan of Wimbledon. Credit Simon Parker

Unbeaten leaders Wimbledon face second-placed Holcombe on Saturday as the race for the Men's Hockey League Premier Division hots up.

Having leapfrogged them last weekend, Wimbledon will open up a four point lead at the top of the table if they can replicate the win they secured over the same side back in October.

"We're relishing the opportunity to put some daylight between us and Holcombe," said Wimbledon's Director of Hockey Ben Marsden. "We're looking forward to the match and hope to have some good home support.

"Henry Weir is still not fully recovered from his foot injury, but Ian Sloan is back to full fitness after his hamstring problems.

"We've got our eyes firmly fixed on three points, but we know that it will take a very good performance from us to beat a very good Holcombe side."

Elsewhere, Canterbury held Holcombe to an impressive goalless draw last weekend, but their battle to climb out of the bottom two continues when they entertain third place Surbiton.

Beeston have only won once in their last four league outings, but they will be looking for victory when they host Loughborough Students on Sunday, the visitors still without a point after 11 matches.

Hampstead and Westminster will hope to remain in contention amongst the top four, as they are away to Brooklands MU, who themselves won for the first time in four games last weekend.

East Grinstead are without a league game this weekend, as they are playing in the European Indoor Club Championships in Vienna.

The jostle for the top position in the Conference East continues, with the top five still just separated by three points with seven rounds of fixtures to go.

Second play third on Saturday as Teddington host Richmond, a win for either side would send them top, before current leaders Sevenoaks head to bottom of the table Indian Gymkhana on Sunday.

In the Conference North, Sunday sees a battle of the top two, as Bowdon entertain the University of Durham, who stretched their unbeaten run to 11 games last weekend. A victory for the visitors would put them 11 points clear with just six games to play.

Elsewhere, third place Olton and West Warwicks face off against fourth placed Deeside Ramblers.

With leaders Cardiff and Met in action in the EuroHockey Indoor Club Challenge in Hungary, second-placed Team Bath Buccaneers have the chance to reduce the gap to five points at the top of the Conference West when they travel to Chichester.

FIXTURES

Saturday, February 11

Men's Premier Division
Wimbledon v Holcombe 17:30
Canterbury v Surbiton 18:00

Men's Conference East
Teddington v Richmond 13:45
Wapping v Southgate 17:30

Sunday, February 12

Men's Premier Division
Brooklands MU v Hampstead and Westminster 14:00
Beeston v Loughborough Students 14:30

Men's Conference East
Cambridge City v Brighton and Hove 12:30
Oxted v West Herts 12:45
Indian Gymkhana v Sevenoaks 13:30

Men's Conference North
Deeside Ramblers v Olton and West Warwicks 13:30
Sheffield Hallam v Leek 13:30
Doncaster v Oxton 14:00
Preston v Cannock 14:00
Bowdon v University of Durham 14:00

Men's Conference West
Chichester v Team Bath Buccaneers 12:15
University of Exeter v University of Birmingham 12:30
Cheltenham v Old Georgians 12:30
Fareham v Isca 13:30

England Hockey Board Media release


---

Railway Union Ready To Compete At Eurohockey Indoor

Ireland's Railway Union are bound for Turkey this weekend for the Eurohockey Indoor Club Challenge II in Alanya. They will face competition from Norway, Georgia, Turkey and Greece in 5 matches over 3 days. The teams competing alongside Railway Union are Mortensrud-Aker SK from Norway, Anavryta HC from Greece, Gaziantep Polisgucu SK from Turkey and Kutaisi from Georgia.

Railway Union come into the tournament with a new look team says Railway's own Kenny Carroll "We are rebuilding our indoor team. A lot of our players are new so we have quite a different team than that won the Irish championship in 2016 and competed in Rotterdam in 2015".  Some key players for the Dublin side will be Goalkeeper Stephen O'Keefe "who is one of the most consistent goalkeepers in Ireland on an annual basis and a veteran of European Indoor hockey" as well as Eoin Mac Arthur "who plays in a creative and unique fashion" .

Railway have clear goals in mind for the tournament including promotion and adding silverware to their club's proud history "Our goal is to get Ireland promoted back to the C division where ourselves and Three Rock have competed well in recent years .

We also want to take the opportunity to win a European competition with both hands. Our ladies team won Gold in Bratislava in 2011 so it would be a nice achievement for the club to have European title winners across both mens and ladies hockey, and something unique enough in Irish hockey".

Railway Union are also actively involved in growing the game at grassroots level "With the assistance of Hockey Ireland and Sport Ireland we have recently started a school coaching programme in our community introducing hockey to new schools who don't currently play the sport. Of course the medium of indoor hockey will be used in this programme which we have big plans for."

See the full match schedule below and follow the scores live here.



Irish Hockey Association media release


---

India junior hockey World Cup winning team meets former great Balbir Singh Sr.

The team members along with coach Harendra Singh, met Balbir Singh Sr at his residence in Chandigarh.

The members of the victorious Indian Junior Hockey World Cup team has called on hockey legend The team members along with coach Harendra Singh, met Balbir Singh Sr at his residence here last evening to pay their respects during a private interaction.here and got some valuable tips from the 92-year old.

The team members along with coach Harendra Singh, met Balbir Singh Sr at his residence in Chandigarh on Thursday to pay their respects during a private interaction.

They spent time with the legend, who in a special effort to inspire them to win more medals for India, showed his three Olympic gold medals to the youngsters.

Balbir Singh Sr congratulated them on their World Cup victory and said: "They are the future of Indian hockey. I wanted them to feel with their own hands what an Olympic gold medal feels like, so that they are inspired to go win one for themselves and India."

"Aim high, think positive, work hard, the spot at the top is always empty," Balbir Sr said as he shared the mantra for success with the boys.

Balbir Sr was a member of three Olympic gold medal winning teams in London (1948), Helsinki (1952) and Melbourne (1956 as captain).

Besides being a player par excellence, Balbir Sr was the manager and chief coach of the Indian team at the 1975 World Cup, which India won, and the 1971 World Cup, where India settled for a bronze medal.

During the interaction, Harendra Singh said: "It is an honour for me to be able to meet and spend time with sir. I'm blessed! His achievements as a player, coach and administrator are unequivocally the most by any person in the history of hockey and for him to make efforts to meet and interact with the rising stars of Indian hockey will surely inspire them.

"Hockey India is definitely on the right track to fulfill Balbir ji's wish to see Indian hockey atop the podium once more," he said.

Notably, India had created history by winning the FIH Junior Hockey World Cup after a gap of 15 years with a clinical 2-1 victory over Belgium in the final at Lucknow in December last year.

Indian Express


---

Edwards is Hand-Selected for Leadership Role within USWNT Staff



Photo courtesy of John Quackenbos

COLORADO SPRINGS, Colo. – USA Field Hockey is pleased to share that Phil Edwards will become an integral part of the U.S. Women's National Team staff by lending his diverse and hefty expertise in the assistant coach position. Alongside Janneke Schopman, USWNT Head Coach, Edwards will continue to shape and guide the flourishing Team USA's international pitch presence in 2017 and beyond. Edwards will also take the reign as head coach for the U.S. U-21 Women's National Team.

"It's with great pleasure we welcome Phil to our coaching staff," said Schopman. "He offers a wide range of expertise including goalkeeper coaching and performance analysis which will be of a substantial benefit to the team. I'm confident Phil's qualities will help our program progress, and I look forward to working together."

"We are thrilled to add Phil to our U.S. Women's National Team coaching staff," said Simon Hoskins, Executive Director of USA Field Hockey. "He is a top up and coming coach in the sport who is at the leading edge of contemporary thinking on coaching."

No stranger to the national team setting, Edwards has served as the Junior High Performance Goalkeeping Coach for the U-17, U-19 and U-21 National Teams. In 2013 he was the assistant coach for the U.S. Men's National Team program and 2 years later acted as the Performance Analyst for the senior men's and women's national teams at the Pan American Games in Toronto, Canada. As a USA Field Hockey Level 3 Coach, Edwards has honed in on his skill set to instruct and mold leaders on the turf.

"My coaching philosophy very much puts the individual athletes at the center of the process and as such the month-long training block in San Diego is perfectly timed as it affords a great opportunity to get to know each of the athlete's better straight out of the blocks," said Edwards.

He notes that after that, it comes down to creating a motivational climate where the athletes truly want to come out to train every day in an environment where appropriate challenges are embraced as an opportunity for growth both individually and collectively. He goes on to explain it is necessary to integrate the lessons from education and sport science to ensure that we accelerate our development as we relentlessly pursue better.

Previously, Edwards was in the collegiate sports system as the assistant coach for Boston College from 2015 to 2016 as well as the associate/interim head coach of Indiana University in Bloomington, Ind. In these role he generated student-athlete development framework, supporting performance analysis and a video feedback system. He also created effective fitness testing and tracking systems and was responsible for domestic and international talent identification and recruiting.

"I have had a fantastic five-year experience in the college game working as a part of two great coaching staffs and with two motivated groups of student-athletes at Indiana and Boston College for which I am truly grateful," commented Edwards. "I am looking forward to continuing to work closely with college athletes and coaches over this next cycle as we look to build on last year's World Cup showing from the U-21 group."

As an athlete himself, Edwards was part of England's U-18 National Squad in 2000 and went on to represent Loughborough University on the pitch while majoring in BEng Materials Engineering.

The USWNT has been on an upward trajectory with most recently completing tremendous play at the Rio 2016 Olympic Games. Other notable accolades, a gold medal performance at the 2015 Pan American Games and 2016 Champions Trophy bronze medal finish have also contributed to the squad as an international threat on the pitch. With the addition of Edwards, the squad looks to build upon previous milestone achievements.

"Field hockey or sport in general, is about chasing personal best performance and, in the context of team sports, being able to do that as a collective," said a passionate Edwards. "That is what gets me out of bed in the morning."

USFHA media release


---

Belfield hockey pitch no longer up to international standard

National teams to play games in Belfast due to deterioration of playing surface at UCD

Johnny Watterson



The National Hockey Stadium in UCD, Belfield, is in need of an upgrade. Photograph: Donall Farmer/Inpho.

Hockey Ireland and UCD are in something of a stand-off with regards to how to proceed with the synthetic surface hockey pitch in Belfield.

The pitch needs investment in order to re-lay the surface and bring it up to International Hockey Federation (FIH) spec for international matches.

Belfield has been the National Hockey Stadium for the last number of years but recently a World Series tournament was awarded to Stormont in Belfast.

Because of the current condition of the pitch international hockey matches cannot be played on it as it does not reach the exacting standards set out by the FIH for the staging of senior international events.

"The pitch has been in use for over a decade and has played host to countless memorable matches, both at club and international level," said a Hockey Ireland spokesperson.
Suitable pitches

"However, it is now at the end of its usable life for international fixtures and there are more suitable pitches available around Ireland. We're in discussion with UCD as to how we can go forward."

It is no secret that Hockey Ireland is financially strapped following last year's campaigns by the men's and women's national teams, which ended in the Rio Olympic Games for the men.

The Hockey Ireland offices are currently located within the UCD grounds close to the Leinster rugby offices with the UCD synthetic pitch the only one in Dublin with a covered stand capable of holding a few hundred people.

International matches were staged last summer in Monkstown's pitch at Rathdown School prior to Rio. The Monkstown pitch is top of the range but there is no covered seating for spectators.

UCD will play Cork C of I on the Belfield pitch on Saturday as the EY Hockey League resumes. C of I have got themselves into third place in the league behind Banbridge and Lisnagarvey with the students now third from the bottom.

The Irish Times


---

Hockey clubs must deal with player migration
       
Alan Good

Clubs should stop blaming ambitious players for migrating elsewhere and instead look inwards for solutions to one of Irish hockey's big talking points, according to a highly- respected coach educator.

Mick McKinnon, who guided Armagh from the seventh tier of Ulster hockey to the Irish League and also won numerous national titles with Railway Union, believes clubs that have seen their best talent move to EY Hockey League teams shouldn't feel sorry for themselves.

The advent of a season-long, 18-game national league last season has seen clubs such as Cork Harlequins women and Lisnagarvey's men benefit from a major influx of provincial club players who wish to compete at the highest level.

Annadale's coaching director Andy Smyth has expressed fears that young players moving to EYHL clubs could hinder their own development if they fail to break into the first team, noting that just one of the 36 Ireland U18 boys squad members sees regular game-time at that level.

While McKinnon feels Annadale handled the departure of their own star player, Michael Robson to Lisnagarvey with dignity, he says sport is a "food chain" clubs must live and die by.

Citing his experiences at Armagh, McKinnon noted many players joined them from other clubs during their halcyon days in the 2000s, but now there are 10 former Armagh players lining out for EYHL sides while the club toils near the bottom of Ulster's second tier.

"To imply it happens because of the introduction of the EYHL is wrong. It has always happened, and always will," he wrote in his Hockey Coach Share blog. "Clubs have no right to feel aggrieved if this happens.

"It is far easier for a club to blame the players than to look at themselves and question why these players left. Were the club fulfilling their needs? Was the coaching of a high enough standard? Did they feel they could maximise their potential there? Clubs need to strive to provide for the needs of their players, be they aspirational or monetary, and if they cannot then they must accept that the players will look elsewhere."

McKinnon adds smaller clubs need to double down on their own development work to create a "pack" of players who will stay together and bring the club to the EYHL under its own steam.

On the pitch, it's a massive double weekend for Cork Harlequins women. They must negotiate Pembroke to keep up their EYHL title challenge tomorrow, before heading north 24 hours later to meet Pegasus in the semi-finals of the Irish Senior Cup.

The Irish Examiner