All the news for Friday 27 January 2017

Rampant Ranchi Rays score a sensational 7-2 win against Kalinga Lancers   




Ranchi: Ranchi Rays earned their first victory in front of an animated home crowd who turned up in large numbers to support their team and they were not disappointed. The hosts handed Kalinga Lancers their first defeat with a 7-2 win in a sensational match in the fifth edition of the Coal India Hockey India League played at the Astroturf Stadium here on Thursday.

It was goals by Ashley Jackson (24'), Mohd Amir Khan (30'), Christopher Ruhr (31'), and Manpreet Singh (44') who fetched Ranchi Rays five points.

Having learnt from their earlier encounter against Kalinga Lancers that ended in a 4-2 defeat, Ranchi Rays refused to let the visitors control the ball in the first quarter, closing them down high up the pitch and constantly hunting in packs. When in possession, they were always in control, passing the ball around neatly and quickly to penetrate Kalinga Lancer's circle.

Though the home team made a few successful forays into the striking circle, the Kalinga Lancers' defence was solid enough to keep them from taking an early lead, thus ending the first quarter in a stalemate.

Ranchi Rays had their first PC of the game in the 17th minute, Trent Mitton stepped up to the drag flick. His attempt was good but not enough to put it past Kalinga Lancers' goalkeeper  Andrew Charter  who continued to impress with an incredible save. Another chance at scoring a penalty corner came in the 24th minute, and this time, Manpreet Singh was spot on with the injection while the experienced Ashley Jackson made no mistake in converting the goal and giving the home team a much needed 1-0 lead.

Kalinga Lancers earned their first PC of the game in the 26th minute but Gurjinder Singh's drag flick was brilliantly padded away by Tyler Lovell and ensured Ranchi Rays held on to the lead.

In the 30th minute, Ranchi Rays took their lead to a strong 3-0 when Junior World Cup winner Sumit, from within the circle, perfectly passed the ball to Mohd Amir Khan for a deflection which sent the ball into the post.

Rampant Ranchi Rays continued their dominant form into the third quarter. This time Ashley Jackson took charge, seeking possession of the ball, and acting as the lynchpin in the midfield. Racing into the Kalinga Lancers' circle, it was Jackson's pass to forward Christopher Ruhr, a minute into the third quarter, that won Ranchi Rays their third goal taking their score to a comfortable 5-0. This was also the 25th goal of the Coal India Hockey India League 2017. Another goal came in the 44th minute when Gurbaj Singh intercepted Kalinga Lancers' pass in the midfield and raced away towards their circle and passed to Manpreet Singh who made no mistake in finding the gap. The score read 7-0 before going into the final quarter.

In the final quarter, Kalinga Lancers started fast, desperate to find the goal that would give some respite. In the 49th minute, though Ranchi Rays's defence came undone when Lalit Upadhyay put a field goal past Lovell making the score 7-2.

The action wasn't over yet as Kalinga Lancers had their own opportunities at the close, but Ranchi Rays's defence stood their ground denying them off anymore goals running down the clock, to give them their first victory in the League.

Ranchi Rays Christopher Ruhr was awarded with a prize money of Rs 50,000 for scoring the Coal India Goal of the Match from Mr Gopal Singh, CMD, Central Coalfields Ltd.

Anand Lakra from Kalinga Lancers won the prize of Rs 25,000 for being the Hero Young Achiever of the Match from Olympian Mr Sylvanus Dung Dung.

The Most Entertaining Player of the Match was awarded to Sarvanjit Singh of Ranchi Rays that came with a prize money of Rs 25,000 by Shrimati Raj Bala Verma, Hon'ble Chief Secretary of Jharkhand.

Ranchi Rays Ashley Jackson was declared the Man of the Match and was awarded a prize money of Rs 50,000 by NK Pal, Assistant Director SICCL.

On 27 January 2017, Dabang Mumbai will take on Jaypee Punjab Warriors at the Mahindra Hockey Stadium in Mumbai.

Official HIL site


---

Ranchi Rays outplays Kalinga




After winless in the earlier two outings, the hosts Ranchi Rays needed a win to further progress in the highly competitive Hockey India League Season Five. Realizing the tight situation they are in, Ranchi Rays, trained by Jr World Cup gold winning Harendra, rose to the occasion to outplay the visiting Kalinga Lancers for a heartwarming 7-2 win.

Ashley Jackson started the rout with a penalty corner conversion (24th min) and then young Amir Khan (30th min) struck a narrow angle through a bemusing reverse leaving Christopher Ruhr (31st Min) and Manpreet Singh Sr. a minute before third quarter, add to the tally.

Despite losing today's encounter, Kalinga remains at top of the table with 10 points followed by Ranchi Rays (8 points)

Its the league's costliest player Gurbaj Singh who cut short a Kalinga's upfront attack, and sent a perfect cross into D for the free Manpreet to tap and deflect the ball into the net to ther right of goalie Andrew Charter.

The manner with which the goal was struck prove how faster and more opportunistic were the home side.

Lalit Upadhyaya, standing close to goalie connected a high ball sent in as a minus from backline to reduce the margin in the fourth quarter, but it came too late.

Ranchi in fact struck three field goals and a penalty corner goal, which gave them a flattering 7-2 score though if not the new stipulation for two goal award to field goal provision is Ashley Jackson's penalty corner conversion and then Junior World Cup goldie Sumit's field goal gave home team Ranchi Rays 3-0 lead at half time.




Ranchi Rays which lost a close encounter to the same rival at away game, and then drawing its first match against Dabang Mumbai in the season opener, was in desperate need for a good win to come up and count. And it seemed they are right on their way when Ashley Jackson and Sumit punctured the visitors' net apiece before half time.

AWARDS

THRILLING GOAL Rs.50K: Christopher Ruhr
YOUNG ACHIEVER AWARD 25k: Anand Lakra
MOST ENTERTAINING PLAYER: Sarwanjit Singh
MAN OF THE MATCH Rs.50K: Ashley Jackson

Stick2Hockey.com


---

Rampant Ranchi drub Kalinga Lancers 7-2

Goals by Ashley Jackson, Mohd Amir Khan, Christopher Ruhr and Manpreet Singh fetched the hosts five points and a revenge win, having lost 2-4 to the same opponents earlier.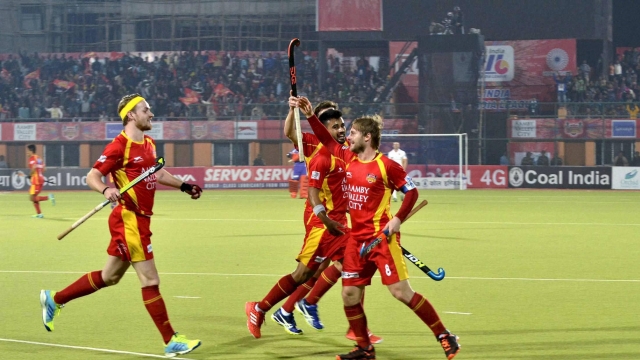 Ranchi Rays celebrate a goal against Kalinga Lancers on Thursday (PTI)

Putting up a dominant show, Ranchi Rays pounded Kalinga Lancers 7-2 to earn a revenge win in a Hockey India League match in Ranchi on Thursday. Goals by Ashley Jackson (24 ), Mohd Amir Khan (30 ), Christopher Ruhr (31 ), and Manpreet Singh (44 ) fetched the hosts five points and a revenge win, having lost 2-4 to the same opponents earlier.

Though the home team made a few successful forays into the striking circle, the Kalinga Lancers defence was solid enough to keep them from taking an early lead, thus ending the first quarter in a stalemate.

Ranchi Rays had their first PC of the game in the 17th minute, Trent Mitton stepped up to the drag flick. His attempt was good but not enough to put it past Kalinga Lancers goalkeeper Andrew Charter who continued to impress with an incredible save.

Another chance at scoring a penalty corner came in the 24th minute, and this time, Manpreet Singh was spot on with the injection while the experienced Ashley Jackson made no mistake in converting the goal and giving the home team a much needed 1-0 lead.

Kalinga Lancers earned their first PC of the game in the 26th minute but Gurjinder Singh s drag flick was brilliantly padded away by Tyler Lovell and ensured Ranchi Rays held on to the lead.

In the 30th minute, Ranchi took their lead to a strong 3-0 when Junior World Cup winner Sumit, from within the circle, perfectly passed the ball to Mohd Amir Khan for a deflection which sent the ball into the post. Rampant Ranchi Rays continued their dominant form into the third quarter. This time Ashley Jackson took charge, seeking possession of the ball, and acting as the lynchpin in the midfield. Racing into the Kalinga Lancers circle, it was Jackson s pass to forward Christopher Ruhr, a minute into the third quarter, that won Ranchi Rays their third goal taking their score to a comfortable 5-0.

This was also the 25th goal of the Coal India Hockey India League 2017. Another goal came in the 44th minute when Gurbaj Singh intercepted Kalinga Lancers pass in the midfield and raced away towards their circle and passed to Manpreet Singh who made no mistake in finding the gap. The score read 7-0 before going into the final quarter.

In the final quarter, Kalinga Lancers started fast, desperate to find the goal that would give some respite. In the 49th minute, though Ranchi Rays's defence came undone when Lalit Upadhyay put a field goal past Lovell making the score 7-2.

The action wasn't over yet as Kalinga Lancers had their own opportunities at the close, but Ranchi Rays's defence stood their ground denying them off anymore goals running down the clock, to give them their first victory in the League.

DNA


---

Coach Shaiful is furious with his lame Tigers

by Aftar Singh

KUALA LUMPUR: Maybank coach Shaiful Azli Abdul Rahman is furious with his players for their staid performances in the ongoing Ma­lay­sia Hockey League (MHL).

The Tigers have won just two of their six Premier Divison matches so far this season.

And the straw that broke the camel's back was the 7-3 drubbing at the hands of a bunch of school boys from the TNB-Thunderbolt team at Bandar Penawar on Wednesday.

"That's the worst game we've played in the league this season. It's disgrace to lose to an inexperienced side featuring in the Premier Division for the first time," admitted Shaiful.

"What's really annoying is that we have six foreigners in our squad ... and still lost to a team comprising players with an average age of just 17.

"The score was 3-3 after the first two quarters ... I don't know what happened in the next two quarters as our defence just collapsed and conceded four goals.

"Our penalty corner specialist Nam (Hyun-woo of South Korea) was also a letdown ... he failed to convert a single penalty corner goal in the match.

"I need to talk to my players to better understand what went wrong in the match. I have to use the one-week break for the Chinese New Year to lift my players' spirit."

Maybank, who have been featuring in the MHL since 1987, are in fifth spot in the eight-team Premier Division with six points and Shaiful doubts they can finish in the top four to qualify for the TNB Cup (overall title).

"I don't think that we can win six of our eight remaining matches to qualify for the TNB Cup," admitted Shaiful, whose side finished runners-up to Terengganu in the Tan Sri P. Alagendra Knockout Trophy earlier this month.

Maybank's next Premier Division match is against fourth-placed Universiti Kuala Lumpur (UniKL) at the Bukit Serendit Hockey Stadium in Malacca on Feb 3.

The Star of Malaysia


---

Penultimate indoor hockey weekend has much to play for



Grove Menzieshill v Hillhead

The indoor first division championship reaches its penultimate stage this weekend, and it's set to throw up some exciting encounters in the process.

Looking at the points currently on the board, the men`s semi-finals seem more likely to pair the Edinburgh rivals Grange and Inverleith, while Grove Menzieshill look like they may take on Bromac Kelburne. However, there are a couple of important details to be sorted out in the earlier games of the day before Grange and Grove Menzieshill can claim their official places in the semi-finals.

In Pool A Hillhead are three points behind Grange but with a better goal difference, to upset the applecart the Glasgow side would have to beat high-flying Kelburne and hope that Grange lose to bottom side Uddingston. It is a similar scenario in Pool B, this time Clydesdale would have to overturn Inverleith and Grove Menzieshill would have to lose to Wildcats.

If it should pan out that Grove Menzieshill and Grange progress to the semi-finals then Grange face a big clash against Edinburgh neighbours Inverleith, and with the competition entering the knock-out stages anything can happen in a one-off encounter.

Good omens are definitely with Inverleith in search of their fifth indoor crown; they have won every game since their 8-4 reversal against Bromac Kelburne in the first game of the season. The Champions' recent form has been ominously clinical, last weekend the 5-3 win over traditional rivals Grove Menzieshill was followed by a 10-4 victory over Western Wildcats.

Most impressive has been the high penalty corner conversions by Adam McKenzie and Stephen Dick, along with supporting open play strikes by the likes of Patrick Christie, Derek Salmond, and Stuart Hatton.

Although Stuart Neave`s charges finally triumphed 8-5 in the league encounter between the two, the contest was on a knife edge when Callum Milne`s strike brought the score to only 6-5 with three minutes left. It took set piece goals from Dick and McKenzie to eventually settle the affair in Inverleith`s favour.

Grange have shown a fair amount of form with Frank Ryan, Luke Cranney and Milne chief among the goal scorers, but the Edinburgh side have yet to make a breakthrough against the top three of Kelburne, Grove Menzieshill and Inverleith. If the two meet in the semi's it could be the time to buck that trend.

Should it transpire, the other semi-final is difficult to predict - a clash between the methodical play of 19-time champions Grove Menzieshill and the refreshing swashbuckling approach of Kelburne. Many have predicted that if the Paisley side put their mind to it they could take the indoor championship by storm; this season they have done just that dashing through the league and group stages undefeated.

Kelburne have a match-winning asset in their armoury - the lethal finishing of striker Johnny Christie, he has amassed a staggering forty goals already in this season`s campaign - and never less than a hat-trick in any match. When the sides met on league business the contest ended in a 4-4 draw, Christie scored a hat-trick and also secured the crucial equaliser with less than two minutes left. That said, the Taysiders have a wealth of indoor experience and will be desperate to regain the crown they last held in 2013.

What is, however, a certainty is that pool bottom sides Uddingston and Wildcats will clash and the loser will automatically be relegated to the second division next season. This could be a close affair, the league encounter ended in a 2-2 draw; the Wildcats surrendering a two goal half-time advantage.



Wildcats v Bon Accord indoor women

There are also some loose ends still to be decided in the final pool matches in the women`s competition. In Pool A there is still a chance that Wildcats could overtake Grove Menzieshill for a place in the semi-finals, but they would have to defeat champions Dundee Wanderers to do so.

Also the bottom relegation spot in Pool B is still to be decided between Bon-Accord and CALA Edinburgh; it could well come down to goal difference and at the moment CALA have the edge to survive.

Although the two Tayside giants, Dundee Wanderers and Grove Menzieshill, could be favourites to contest this year`s final, the statistics offer an alternative picture.

It has been a few years since champions Wanderers lost a domestic joust, but in December they went down 4-3 to Milne Craig Western - their opponents in the semi-final. Western raced into a four goal lead before the Taysiders got going, and despite a hat-trick from Vikki Bunce, a well-earned victory went to the Glasgow side.

Newly promoted Edinburgh University have been this season`s surprise packet with a lengthy unbeaten run, which took them to second in the league competition. The students finally lost that accolade to Wanderers, but only by 8-6, and the score stood at 6-6 with only a few minutes left.

Edinburgh will go into the semi-final against Grove Menzieshill with some degree of confidence having already recorded a 4-3 victory over the Dundonians in the league contest. Becky Dru was the heroine that day with a well-taken hat-trick, Katie Hibbert got the other.

Not an easy one to call - the upstart students have surprised many with the quality of their play, but Grove Menzieshill can call on a host of former Scotland players to take them over the line. What is certain is that it is a weekend of drama and great hockey waiting on the horizon.

Scottish Hockey Union media release


---

Super 6s Men's Final Four: Reading



Tom Carson in indoor action

Today we take a look at the third of our Men's Super 6s semi-finalists as Reading come to the SSE Arena Wembley looking to make up for their disappointment in the semi finals last time out.

If Reading were to adopt a motto for the Super 6s it would probably be "he who dares, wins" as evidenced in their approach to the final game of the qualifying phase. Faced with a win or bust situation and lining up against the reigning champions of the last eight years to qualify Coach Richard Springham threw caution to the wind and played the whole game with six outfield players and no goalkeeper. In an enthralling game the gamble paid off as they won 10-8 and booked their place in the semi-finals against the same opponents.

Reading finished in the third qualifying spot after wins over Loughborough, Team Bath, Wimbledon and East Grinstead helped propel them to 14 points. They have tasted finals day victory once in this competition before, in 1997-98 but despite many appearances at finals day since have yet to get their hands on the trophy since.

"It's a great honour to make it back to Wembley. " said Reading Captain Tom Carson. "We have a big game in the semi final after a huge game to get there, beating East Grinstead to scrape through and get back to the big time with a rematch in from of a big crowd."



Reading HC

The East Grinstead vs. Reading clash is sure to be a hum dinger with both sides packed with talented indoor players. Harry Jawanda has led the way for the Sonning Lane side with 13 goals so far ably supported by Andy Watts. Watts who has nine goals is the personification of the phrase "he knows where the goal is". With three Carsons, James, Ed and Tom working together and the telescopic reach of Richard Mantell at the back Reading will fear no one.    

"There are four good teams at the finals and East Grinstead have always shown their pedigree. Surbiton have been strong and Sevenoaks are no mugs. We have a good chance. We aren't the favourites but you never know, do you?"

With 44 goals scored, the second most in the tournament and a host of good indoor players, masterminded by coach Springham, Reading will be raring to go at the big day.

Can they overcome the reigning champions and get to that coveted final?

East Grinstead



Nick Catlin in indoor action for EG

The kings of the domestic indoor game East Grinstead are back to the SSE Arena, Wembley once again as they hunt down their ninth consecutive title this coming Sunday.

The Sussex side have been totally dominant in the competition for approaching a decade and have swatted away all-comers in the process. This time around they qualified in relative comfort although they had to cede top spot in the qualifiers to Surbiton.

 Undeterred, Captain Simon Faulkner is raring to go:

"It'll be tough this year but I feel as though we will be competitive. There are some great teams and it'll be tough to make the final and tough whoever we face."

"It's great to have made it to Wembley again. It's a great opportunity for us to get nine in a row and I can't wait to get going."

East Grinstead have won this title 12 times, including the last nine titles, which inevitably places a bullseye on their backs for all the other teams. There has been much talk of "knocking them off their perch" but after a solid qualifying campaign and a relatively safe passage to the finals day, the Sussex side will play with their usual confidence.

There were five wins, two losses and one draw for Grinstead in the qualifying, and they scored 44 times with Ben Allberry leading the way with 12 goals. Faulkner identifies Scottish star Ross Stott as their one to watch as the No20 marries defensive solidity with an eye for goal, grabbing six strikes in eight games on the way to this stage. Rio Olympians Nick Catlin and David Condon add some star quality to the ranks whilst goalkeepers Paddy Smith and Giles Dakin – a multiple time winner of this competition ensure they are hard to breach even when you beat their defence.



EG Super 6s

Grinstead will face Reading in the semi-final after the side from Sonning Lane won the final match of the qualification phase – against East Grinstead 10-8 to progress. With Reading experimenting with playing with no goalkeeper and six outfield players, this one is sure to be an entertaining clash. If the side from Saint Hill make it past the semi-finals they will be on course for a magnificent ninth consecutive title, a prospect that excites their skipper:

"It would be a great honour to win nine in a row. So much hard work has gone in from both the players and the volunteers around the club. It would be a real reward for all that effort. It would cap off an amazing piece of history for us and for East Grinstead as a whole."

So, will it be an historic day this Sunday or will one of the other three teams break the streak?

Surbiton



Surbiton on the attack at the Super 6s

With the Men's Semi-Finals of the Super 6s almost upon us we take a look at the teams aiming to break East Grinstead's domination of the competition, as well as the reigning champions themselves. First up is Surbiton.

Surbiton will be making their first appearance at the finals day at the SSE Arena Wembley. With indoor masterminds Mark Pearn and Matt Jones at the helm it is no coincidence that a side packed with talent and now the knowledge of the Super 6s format impressed in the qualifiers.

Pearn and Jones have been there and done it in this competition and their charges proved to be the great entertainers in the qualifying stages. They netted 58 goals in eight games, an average of over seven goals a game whilst defensively they conceded just 27 goals, the fewest in the competition. A goal difference of 31 is not to be sneezed at.

They managed to hit 11 in one game on two occasions, defeating Reading 11-1 and Canterbury 11-3 whilst their clash with semi-final opponents Sevenoaks ended in a 5-4 victory for Surbiton. 

"It's the first time we've been to the finals and we're trying to focus on ourselves." says Captain Lewis Prosser. "If we put the performances in hopefully that'll stand us in good stead and the results will take care of themselves."



Surbiton indoor 2017

Prosser paid tribute to one of his team mates as well as the influence of the coaching team on their way to the big day at Wembley:

"David Goodfield has some great skills and is a very eye catching player. He's been a top performer for us. This is the first year we've taken it really seriously with Mark Pearn as coach it's been a great experience for us. Our results have been good and we're really looking forward to it."

Goodfield, who honed his skills in the German Bundesliga last season at Harvestehuder has been in fine fettle whilst Scotland Star Will Marshall can't stop scoring. The No11 has bagged 13 goals so far and shows no sign of letting up. David Beckett has netted ten times and there have been significant contributions from Brendan Creed (nine goals) and Alan Forsyth (eight goals.) It is fair to say Subtion have the firepower to take on anyone. 

"We've had good results and we've competed with everyone we've played. We're really excited to go to finals day and it'd be great to knock East Grinstead off their perch. We must focus on ourselves and get the job done, however." said Prosser.

Can Surbiton take the title at their first visit to finals day? We don't have to wait long to find out as the big day approaches this Sunday. Don't have your tickets yet? Buy them now by clicking here.

England Hockey Board Media release


---

Quarterly Coaching E-Newsletter # 2 

DEVELOPING Coaches and their Players

By Shiv Jagday

Core Themes covered in this issue are:

Tactical: Thinking Strategies to play in the Right Offensive Quadrant (ROQ), with specific emphasis on the play making space – Gold Mine - and the player who plays in this position, Right Inner

Technical: Role of the Reverse Stick, in passing, receiving, play making moves and goal scoring

Click here for  the newsletter

CoachShiv.com