All the news for Monday 5 December 2016

Argentina win women's Hockey Junior World Cup 2016




Argentina won the women's Hockey Junior World Cup 2016 as they defeated Netherlands 4-2 in an exhilarating, high quality final in front of a capacity crowd in Santiago, Chile.

Earlier in the day, Australia claimed bronze in the 3/4 match against Spain; Germany defeated Belgium in the 5/6 encounter and England beat USA in the 7/8 match.

As a result the final standings from the event are as follows:

1. Argentina (gold); 2. Netherlands (silver); 3. Australia (bronze); 4. Spain; 5. Germany; 6. Belgium; 7. England; 8. USA; 9. Japan; 10. China; 11. Chile; 12. Korea; 13. New Zealand; 14. South Africa; 15. France; 16. Zimbabwe.

Here is a summary of the final day's action:

Gold medal match: Netherlands 2, Argentina 4
A first gold medal in 23 years was just reward for the Argentina women's junior hockey team as they dazzled spectators, TV viewers and even their opponents to win gold on their home continent.

The match began in a scrappy fashion and the first real scoring chance didn't come until 15 minutes into the game when Netherlands midfielder Maxime Kerstholt batted the ball mid-air at Maria Rossetti in the Argentina goal. Rossetti dealt with it and just seconds later her Dutch counterpart was in action foiling a swift Argentine counter-attack.

The game settled into a fittingly stylish showcase for the sport. The Netherlands played with grace and fluidity; Argentina were busy and imaginative. Both sides were uncompromising when it came to tackling.

The deadlock was broken when Imme van der Hoek shot past the Argentine goalkeeper to give Netherlands the lead but the goal did little to dent the cut and thrust of both teams as they continued to charge up and down the pitch.

Argentina equalised when Bianca Donati swept a penalty corner into the corner of the Dutch goal in the 27th minute. Shortly after there was no stopping Barbara Borgia as Argentina won a penalty corner on the stroke of half-time. The first shot was saved but Borgia was on hand to slam home and give her side a morale-boosting lead to take into the break.

This lead was further extended after half-time when Maria Ortiz pounced on an opportunity to score again and move her team one step closer to gold.

However, as all hockey fans know, giving up is not in the Dutch mindset and on the 50th minute Netherlands perseverance paid off as Pien Sanders was able to lift a rebounded penalty corner over the body of Rossetti to reduce the Argentine lead to just one goal.

With 20 minutes to go, the level of crowd noise increased as everyone in the stadium prepared for a hockey showdown.

Netherlands Kerstholt came agonisingly close to scoring the equaliser from a penalty corner but her ferocious shot just flew wide of the post.

The Dutch continued to attack the Argentina circle but with players such as Agostina Alonso, Sofia Toccalino and Eugenia Trinchineti throwing themselves in front of the ball, this was a gold medal that Argentina were not going to handover easily.

An Argentina break from their own defence led to a foul and subsequent penalty stroke. Agostina Gorzelany made no mistake as she made it 4-2 and the large numbers of Argentina supporters in the stands started the party before the final whistle blew.

Speaking afterwards, Argentina's Lucia Sanguinetti said: "I think we deserved it as we played really well from the beginning of the event to the end. We are a great team, we played a great final. We knew it was going to be hard - Netherlands are a great, great team. We are so happy and excited to bring the gold to Argentina as it has been some time (since we last won it)."

Bronze medal match: Spain 1, Australia 1 (Australia won 3-1 in shootout)
Australia won bronze at the women's Hockey Junior World Cup 2016, but they were made to work every inch of the way by a hard-working and skillful Spanish team. Despite large periods of pressure from Australia, Spain held the in-form Oceania giants to a 1-1 draw and took this exciting bronze medal match to shootout. Here the Jillaroos held their nerve as they won the penalty shoot-out 3-1. For Australia, this is the first medal at the Hockey Junior World Cup since 2001, when they also won bronze. Spain meanwhile secured their highest finish at this event in their history. Speaking after the match, Mariah Williams said: "Spain really gave it to us the whole game. Luckily we were good enough to put it away in the shootout."

Germany 4, Belgium 3
A hat trick from Viktoria Huse and a commanding defensive performance from Hanna Granitzki and her fellow defenders meant Germany finished this edition of the women's Hockey Junior World Cup in fifth position. The battle for fifth place was fast-paced encounter between two of Europe's finest. Belgium took the lead with just five minutes played through Stephanie Vanden-Borre. Viktoria Huse levelled things three minutes later through a penalty corner but Alice Weiker restored the Belgium lead in the 12th minute. Huse scored her second at the start of the second half, but then the game turned into a cagey match between two evenly matched teams. The deadlock was broken with another flurry of goals. Mathilde Raymakers put Belgium ahead in the 55th minute, then Huse scored her third – this time a penalty stroke – to bring the score to 3-3. The winning goal came with four minutes of the match remaining. Maxi Marquardt was the scorer, her shot rifling across the face of the Belgium goal to defeat 'keeper Elena Sotgui and put Germany ahead.

England 3, USA 1
​England won seventh place at the women's Hockey Junior World Cup 2016 at the expense of a hard-working USA. The 3-1 scoreline gave Craig Keegan's team a bright finish to the end of their campaign. The two teams played out an open game of attack and counter attack. Both teams played expansive running games but a lack of direct and speedy passing created problems with maintaining possession for both. An even first half saw England move into the lead through a goal scored from open play by Esme Burge. England maintained that lead for just 10 minutes before Erin Matson evened things up with a well-taken penalty corner. After the half-time break, England came out the stronger and moved into the lead on the 41st minute when Lydia MacDonell scored a neat goal from open play. The lead was extended when Charlotte Daly struck a penalty corner past the outstretched leg of Kelsey Bing.

Fans can find scores, fixtures, photos, videos and more via the official event website on FIH.ch as well as through FIH Twitter, Facebook and Instagram using the hashtags #HJWC2016 and #RockTheJuniors.

FIH site


---

Jillaroos win bronze at JWC

Game v Spain goes to shoot-out

Author: Holly MacNeil




The Jillaroos have won the bronze at the Junior World Cup in Santiago, Chile after their game against Spain went to a shoot-out following a one all draw at full time. The Jillaroos won the shoot-out 3 - 1 and in doing so won their first World Cup medal since 2001.

Spain got off to a fantastic start, scoring an early lead with a penalty corner goal going in only six minutes into the game, the flick from Florencia Amundson flying straight through the line of Australian defenders.

The Jillaroos took some time to settle, before taking back control of the game. Just minutes before the half time break, the ball worked back into the Australian circle with Greta Hayes passing to Laura Gray who was inside the circle. Gray trapped the ball and flicked it into the top left of the net to score for the Jillaroos tying the game at 1 all.

The second half of the game was owned by the Jillaroos who came back from the half time break determined to take the game out. The Jillaroos continued to press, but Spain held on taking the bronze medal match to a shoot-out.

Australia were up first with captain Mariah Williams making it look easy as she took her shot on goal and getting the first score on the board for the Jillaroos. Williams was followed up by Australian's Kristina Bates (goal), Laura Gray (miss) and Kaitlin Nobbs (goal) who left the Jillaroos with 3 points on the shoot-out

Goalkeeper Aleisha Power was in the net defending Spain's shots, blocking 3 out 4 of the shots, with the work of Power and the Jillaroos giving Australia their first medal at the Junior World Cup in 15 years.

Jillaroos head coach Tim White said: "The bronze medal is a fantastic result and reward for lots of hard work and commitment by all of the athletes and many staff both here in Chile and back at home.

"We were really proud of the team's performance today. Spain started well and scored an early goal. We needed to compose and start to play our game. By halftime we were back in the contest, and we reminded the girls that we have finished all the games well.

"Th second half was played on our terms although we couldn't score. The girls showed skill and belief during the shootout and we are all thrilled with the win."

You can watch the Jillaroos v Spain match in full by heading to Livestream.com

The Netherlands played Argentina in the gold medal match with Argentina victorious with a 4 - 2 finish.

JILLAROOS 1 (1) (SO 3)
Laura Gray 28 (FG)

SPAIN 1 (1) (SO 1)
Florencia Amundson 6 (PC) 

Shoot out details
Mariah Williams (AUS) Goal
Clara Ycart (ESP) Miss
Kristina Bates (AUS) Goal
Begona Garcia (ESP) Goal
Laura Gray (AUS) Miss
Belen Iglesias (ESP) Miss
Kaitlin Nobbs (AUS) Goal
Lucia Jimenez (ESP) Miss

Jillaroos squad v Spain
Kristina Bates (Port Melbourne, VIC)
Madison Fitzpatrick (Cabarita, NSW)
Laura Gray (Goulburn, NSW) *ACTAS scholarship holder
Rebecca Greiner (Bundaberg, QLD)
Greta Hayes Maroubra, NSW)
Kaitlin Nobbs (Newington, NSW)
Mikaela Patterson (Blackbutt, NSW)
Aleisha Power (Clackline, WA)
Grace Stewart (Gerrigong, NSW)
Sophie Taylor (Camberwell, VIC)
Mariah Williams (Parkes, NSW)

Used Substitutes
Savannah Fitzpatrick (Cabarita, NSW)
Kate Hanna (Constitution Hill, NSW)
Ambrosia Malone (Molendinar, QLD)
Karri Somerville (Kensington, WA)
Michaela Spano (Toorak Gardens, SA)
Renee Taylor (Brisbane, QLD)

Unused Substitutes
Rene Hunter (Wentworth Point, NSW)

Hockey Australia media release


---

England beat USA to take seventh place



England U21s celebrate scoring at JWC

England finished their Junior World Cup campaign on a high with a well earned 3-1 win over the USA. Goals from Esme Burge, Lydia Macdonell and Charlotte Daly did the honours for Craig Keegan's side and ensured they took seventh place in the tournament.

Both sides came into the match off the back of defeats in their previous game so it was always going to be a case of which side was able to bounce back the quicker.

USA threatened first and it was Erin Matson who had sight of goal but her effort flashed over the top. England gained control of the match in the early stages and took the lead in the ninth minute. Esme Burge snapped up the ball in the circle and made no mistake with an unerring finish to make it 1-0.

USA began to exert pressure of their own and forced a series of penalty corners. Matson hit one wide and Julia Young was well kept out by some fine goalkeeping from Miriam Pritchard.

After 19 minutes Janneke Schopman's team levelled the scores. Matson, who was at the heart of all their good attacking play latched onto a penalty corner re bound and fired home the leveller.

England began to cause the States problems with Alice Wills marrying some outstanding defensive work with some marauding runs down the flanks. It was from one of these raids that Ellie Rayer had a chance but her effort flew just wide. England had a penalty corner right at the end of the half but Kelsey Bing made the save and it was all square at the break.

England got their second half off to the perfect start. MacDonnell fired an unstoppable shot across goal into the far corner to make it 2-1.

The game became a war of attrition in the middle of the field with the sides fighting tooth and nail for control of the midfield. Chances were hard to come by but England made their next clear sight count. A well worked penalty corner saw the ball slipped left to Kathryn Lane, her slapped pass picked out Daly whose deft touch got the ball over the goalkeeper to make it 3-1. There was still time for Katherine Somerville, a half-time substitute in goal for England, to make a good block from Margaux Paolino but England were not to be denied and took the win. 

England 3 (1)
Esme Burge 9 (FG)
Lydia Macdonell 41 (FG)
Charlotte Daly 56 (PC)

USA 1 (1)
Erin Matson 19 (PC)

England Hockey Board Media release


---

England Defeats the U-21 USWNT in Last JWC Game




SANTIAGO, Chile -The U.S. U-21 Women's National Team met England in the 7th/8th place match of the women's Hockey Junior World Cup. Being familiar opponents, as both teams competed in a friendly test match prior to the JWC, England capitalized on their chances to defeat USA by a score margin of 3-1.

"We went into it wanting to play and show them what we are made of," said Carrie Hanks (Newsyunk, N.Y.). "England's a great team and they came out really strong and that is something we had to work through."

USA started the game quick putting high pressure on England. Many midfield intercepts led to instant attack for USA as they tried to work it their offensive end. A chance came in the 8th minute when Erin Matson (Chadds Ford, Pa.) got a backhand shot off that went over the goal. England took that chance and countered to the other end of the field. With quick ball movement, England worked it behind USA's defense and Esme Burge placed the ball under USA's goalkeeper Kelsey Bing (Houston, Texas) to take a 1-0 lead.

Keeping the pressure high, USA earned their first penalty corner in the 16th minute. Though the chance went wide, USA kept attacking England's defense. Another close chance came went Matson beat two defenders and one-time passed it to Gab Major (Royersford, Pa.) who was met by England's goalkeeper. Major got a backhand shot off but the attempt went over the goal. Being persistence USA regained possession and earned another penalty corner. The initial drag was blocked by England but Laura Hurff (Newark, Del.) found the ball and fired a hard shot to the far post that Matson deflected in to tie the score at USA 1, ENG 1.

England immediately took the momentum to their attacking circle testing USA's defense. Quick passing and a foul in the circle earned England its first penalty corner in the 24th minute. Hurff blocked the play and cleared it wide but England kept attacking as they looked for open lanes in USA's defense. In the final two minutes, England earned three penalty corner chances. The first one saw multiple close range shots but Bing and defenders made the saves. The final two chances came with time expired and USA defended well to keep the score tied going into halftime.

With the score locked going into the second half, both teams knew they had to work hard. A chance came from USA, when quick passing by the forward line led to Julianna Tornetta (Plymouth Meeting, Pa.) open with the ball but her shot went wide. England quickly countered the other way and although USA's defense held strong, Lydia MacDonell got a shot off from the top right of the circle that found the corner of the goal to make it USA 1, ENG 2.

For a period of time possession went back-and-forth. A spark came for the USA in the 50th minute went Hurff out hustled an England player and drove the right baseline. She dumped it across the goalmouth past England's goalkeeper but no USA player was there to finish. England took the ball the other way and earned a penalty corner in the 55th minute. Off the chance, a sweep was sent toward the goal that Charlotte Daly deflected into the net to give England a 3-1 edge.

Not letting up, USA's quick passing showed promise but the final possession pass was missing. As time wound down, it was full force forward as USA continued to attack England's defense looking to cut the lead. As the final horn sounded, the score stood at USA 1, ENG 3.

"We talked at halftime about possessing the ball and moving it up the field going forward to try and get in their circle," added Hanks. "We tried and had a lot of good combinations but we just couldn't get the ball in the goal."

USA finished the JWC tournament with two wins and four losses. In the first match, they defeated Zimbabwe 10-0. The fell to The Netherlands 5-1 in game two and finished pool play with a 3-2 win over Korea. They met Pan American foes Argentina in the quarterfinals and despite a tremendous effort, lost 2-1. In another close match-up, they were defeated by Belgium 2-1 before today's contest.

The U.S. U-21 Women's National Team wants to thank all fans who followed their journey at the women's Hockey Junior World Cup. For upcoming information on the U-21 USWNT, stay tuned to usafieldhockey.com. #SQUAD #HJWC2016 #RockTheJuniors

USFHA media release


---

NZ Under 21 Women finish with a win



Photo: Planet Hockey

The New Zealand Under 21 Women have finished 13th at the Junior World Cup in Chile after an 8-2 win over South Africa in their final game.

The Kiwis led from start to finish with Megan Hull opening the scoring from a 10th minute penalty corner.

New Zealand extended the lead thanks to a quick double from Deanna Ritchie while Tarryn Davey also found the net to take the Kiwis into halftime with a 4-1 lead.

Kayla Reed got the scoring underway in the second half with a 43rd minute field goal before Emily Wium, Alia Jacques and Catherine Tinning all scored in the final 20 minutes of the match.

Tarryn Glasby and Danielle Cairns were the goal scorers for South Africa.

With the classification round now complete, tomorrow's finals day sees Australia take on Spain in the bronze medal match before Netherlands and Argentina face off in the final.

Hockey New Zealand Media release


---

FIH President Dr Narinder Dhruv Batra happy with Men's Junior World Cup preparations

Competition gets underway on Thursday 8th December



FIH President Dr. Narinder Dhruv Batra (centre) meets the Australian Hockey Team during his visit to Lucknow on Sunday (4th December)

With just a matter of days before the start of the Uttar Pradesh Hockey Junior World Cup Men Lucknow 2016, FIH President Dr Narinder Dhruv Batra arrived in the host city and spent the day assessing preparations for what promises to be a thrilling festival of top class hockey.

Accompanied by Dr RP Singh, Sports Director Government of Uttar Pradesh and Elena Norman, CEO of host National Association Hockey India, Dr Batra assessed the facilities at the newly constructed Padma Shri Mohammad Shahid Hockey Stadium before visiting the Major Dhyan Chand Hockey Stadium, the main competition venue which is situated within the grounds of the Guru Gobind Singh Sports College.

"Lucknow is known for the legends it has produced in world hockey and I am extremely happy with the preparations", said FIH President Batra on Sunday (4 December), impressed by the immense effort that had gone into the arrangements so far. "This is beyond expectations and I would like to thank the government of Uttar Pradesh for their full support. The event will definitely help put Lucknow city on the world map."

During his day-long visit, Dr Batra also made time to meet some of the teams that have already arrived in the city, including Australia, Austria and India, the hosts. As well as these three competing teams, the Uttar Pradesh Hockey Junior World Cup Men Lucknow 2016 will also feature Argentina, Belgium, Canada, England, Germany, Japan, Korea, The Netherlands, Egypt, New Zealand, Malaysia, South Africa and Spain all doing battle for the title.

FIH site


---

Large EHL crew set for Junior World Cup in Lucknow




Over 25 EHL-bound players have been selected in a number of the European teams heading to the Junior World Cup which gets under way on Thursday in Lucknow, India.

Germany are the reigning champions and feature three of the Rot-Weiss Köln side that won their national title last season, Henning Hüttermann (pictured), Florian Scholten and Max Werner. They are joined in the squad by UHC Hamburg's Philip Schmid and Mannheimer's Tino Nguyen Luong.

They start their campaign against a Spanish side with 10 EHL players with five hailing from Atlètic Terrassa – including livewire Marc Bolto – three from Real Club de Polo and two from Club Egara.

The Dutch panel features two EHL winners in Lars Balk and Jip Janssen – from SV Kampong – along with AH&BC Amsterdam's rising star Niek Merkus and Oranje-Rood's Joep de Mol. The Netherlands are in a group with Malaysia, Egypt and Belgium.

The Belgians have Dragons' goalkeeper Loic van Doren as their number one along with his club mates Fabrice van Bockrijk, Robbert Rubens, Henri Raes and Thomas Verheijen along with Racing Club de Bruxelles' Martin Lambeau and Augustin Meurmans.

England feature in a group with India, South Africa and Canada. Austria are pooled with Argentina, Australia and Korea with a number of HC Wien players who lined out in last year's EHL ROUND1 in Hamburg.

Euro Hockey League media release


---

It's 'Mission 2016' for coach Harendra Singh

Jaspreet Sahni

CHANDIGARH: "It is not what the coach knows; it is what his players have learnt." Winston Churchill couldn't have put it in a better way. A coach's success is mirrored in his players' learnings. If everything is in order, the result takes care of itself. India's junior men's hockey coach is chasing that very dream.

When Harendra Singh was handed over 48 players in April 2014, he had a king-sized task at hand - to carve out a team for the 2016 Junior World Cup. That moment is upon him and he is ready with his top 18.

Going back to where it all began, Harendra had his plans neatly laid out. He christened the campaign 'Mission 2016', with a slogan: 'We dream the same dream, we think the same thing, we are dream team, we are the Indian team; we are a champion team.' "We chant the slogan before starting training or a match. Every player has it with him in his room, in print," Harendra told TOI.

His plans didn't take time to take effect, as the team returned home with the Sultan of Johor Cup trophy in 2014, and has never looked back since then. Besides the military-like focus inculcated in the team by Harendra, he also introduced 31 words for every situation the players find themselves in. All those words begin with 'C'.

Going through that 31-word list, a surprising omission is the word 'champion', which has been deliberately kept out by the coach.

The Times of India


---

Defending champions Germany wary of 'favourites' India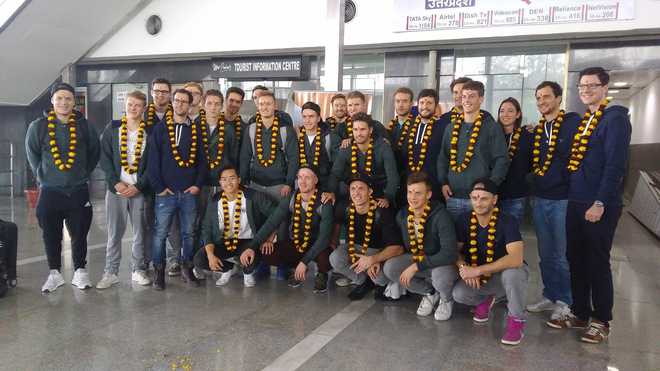 The German team on its arrival in Lucknow on Sunday.

Lucknow: Defending champions Germany, the most celebrated team in the history of the junior hockey World Cup, are seeking a hat-trick of title wins at this year's tournament. Germany won the title in the last two editions (2009 and 2013) and overall, they have won the tournament a record six times. "Yes, we have won the World Cup six times and we are here for a hat-trick," Germany head coach Valentin Altenburg said today.

"The World Cup happens once in four years and for many players it's a one-time opportunity to play the World Cup and win it," said Altenburg, who was also the head coach of the senior team that won the bronze medal at the Rio de Janeiro Olympic Games this year. "So it's not too difficult to motivate the team to do it again and this time they are chasing the goal of a hat-trick."

Altenburg has been working closely with this bunch for three-and-a-half years and believes that this World Cup would help him spot the players who would go on to play for the senior team. "We already have a couple of Under-21 players who have played for the senior team and Timm Herzbruch played at the Olympics too," he said.

"We see this as the stepping stone towards being on top of the world in hockey. Junior World Cup is the stage where you can see who can be your future."

The 34-year-old also pointed out that India would be the team to beat in the tournament. Germany had lost to India in the final of the Four Nations Tournament held in Valencia in October. "India are going to be a big favourites this World Cup and I know they have been working hard for more than two years," he said. "Harendra (Singh) is doing a great job with the team spirit they have. And all the players are individually strong and almost everyone has played the Hockey India League, which helps them a lot to understand the highest level of hockey as they have played with or against some of the finest players in the world. I think if any team wants to be the world champions, then they have to beat India."

Germany are grouped in Pool C with Japan, New Zealand and Spain.

England look for good start

England team manager Paul Gannon has said that they're looking for a strong start against South Africa, in order to build up momentum for their clash with India in their second match. "Our preparations have been good and we recently played the Johor Bahru Cup in Malaysia," said Gannon, expressing his team's eagerness to get started with the tournament. "We are a strong unit and we will be looking at starting the tournament with a win against South Africa, so we can carry that momentum to our second game against India."

Earlier this year, India toured England and the two teams ended up winning two matches each. Gannon said that his boys are looking forward to renewing the rivalry. "India are a good side and we look forward to a good game against them on December 10," Gannon said. "India are a very dominant country when it comes to world hockey and the boys are excited to play here."

It is a homecoming of sorts for the Canadian team, which has 12 players of Indian origin. "It's great to have these young boys who want to carry forward their legacy and family heritage of playing hockey," said Canada coach Inderpal Sehmbi. "The team captain's grandfather has played for Uganda in the Olympics while his father has played junior hockey for Canada. While they are of Indian origin, they take great pride in playing for Canada."

Canada will begin their campaign against India on December 8 while England will play the hosts on December 10.

The Tribune


---

India are big favourites in Junior Hockey World Cup: German coach

LUCKNOW: Germany's junior hockey team coach Valentin Altenburg on Sunday said that hosts India will be one of the contenders to win the FIH Junior World Cup set to begin on December 8.

"India is going to be a big favourite this World Cup and I know they have been working hard for more than two years. Harendra is doing a great job with the team spirit they have," Altenburg said on arrival.

The coach believes that most of them having played HIL has given them exposure for big ticket events.

"And all the players are individually strong and almost everyone has played the HIL which helps them a lot to understand the highest level of hockey as they have played with or against some of the finest players in the world. I think if any team wants to be World Champions then they have to beat India," Altenburg said.

Two-time consecutive winners of the Junior World Cup (2009 and 2013), the German national squad descended to Lucknow City hoping to bag a hat-trick of titles.

For the record, Germany has won the Junior World Cup six times in the past making them the most decorated team participating in the marquee event for the youth teams across the globe.

"Yes, we have won the World Cup six times and we are here for a hat-trick. The World Cup happens once in four years and for many players it's a one-time opportunity to play the World Cup and win the World Cup. So it's not too difficult to motivate the team to do it again and this time they are chasing the goal of a hat-trick," stated the team's Head Coach Altenburg, who was also the Head Coach for the senior men's squad that won the Bronze at Rio Olympics.

Altenburg has been closely working with this junior team for three-and-a-half years and he believes this World Cup will be a stepping stone towards spotting players who will go on to play for the senior squad.

"We already have a couple of Under-21 players who have played for the senior team and Timm Herzbruch played at the Olympics too. We see this as the stepping stone towards being on top of the world in hockey and Junior World Cup is the stage where you can see who can be your future," he added.

The 34-year-old German Coach also pointed out that India will be a team to beat at this World Cup. Germany had lost to India in the Final of the Four Nations Tournament held in Valencia (Spain) in October this year.

Germany are grouped in Pool C with Japan, New Zealand and Spain.

The Times of India


---

Hockey exposure

Pravin Narain

THE Fijian national men's hockey team is introducing a number of new players that played against the visiting Hockey Australia Country team in the country.

The competition started on Saturday at the National Hockey Centre in Suva.

Head coach Hector Smith said exposure was their focus.

"We are introducing a lot of new players from the Western Division.

"During the game, we were leading in the first quarter before Australia equalised and won in the last quarter," he said.

"The President Selection team did not play well on first day but we are playing them on Monday.

"We will look at our mistakes and rectify them in the next game.

"The Australia team is a very good team."

Australia team manager Michael Nelson had been coming to Fiji for the competition for the past nine years.

"These are the under-21 team with the players being chosen from all over Australia. The competition has been very good so far," he said.

He said Fiji had improved over the past couple of years.

"The Fiji team is developing and I noticed in the men's team there are new players while the older players have moved on.

"I think Fiji Hockey needs to be congratulated for bringing in the young players and looking at the future."

The competition continues today.

Results:

Australia Country 4-1 Fiji Warriors (men), Australia Country 3-0 Fiji Women's (women), Fiji Presidents Selection 1-5 Australia (men), Fiji Women 0-5 Australia Country

The Fiji Times


---

Strathmore University Gladiators claim hockey league title

By BRIAN YONGA



Strathmore University players celebrate with the KHU men's Premier League trophy after they beat Butali Sugar Warriors in the play-off final at the City Park Stadium on December, 4, 2016. PHOTO | MARTIN MUKANGU |  NATION MEDIA GROUP

Strathmore University Gladiators on Sunday won the 2016 Kenya Hockey Union (KHU) men's Premier League title.

The students dethroned champions Butali Sugar Warriors 3-0 on post-match penalties in the play-off final to bring the season to a dramatic finale at the City Park Stadium.

The match had to be completed on Sunday after heavy rains forced it to be abandoned on Saturday with the 18 minutes left to play and the sides locked at 1-1. With both sides unable to break the deadlock in 18 minutes yesterday, the teams headed to shootouts.

Strathmore substitute goalkeeper John Brown was the hero as he saved Zack Aura and Seth Oburu's penalties, while Frank Wanangwe's effort went wide.

The students on the other hand were clinical, converting through skipper Francis Kariuki, Dan Onyango and Derrick Kuloba, who scored the winning penalty to hand his side a famous victory.  Striker Festus Onyango sent his spot kick high in the sky.



Strathmore University captain Francis Kariuki is lifted shoulder high by his teammates after their win over Butali Sugar Warriors in the KHU men's Premier League play-off final at the City Park Stadium on December 4, 2016. PHOTO | MARTIN MUKANGU |

Kuloba was embraced by his teammates' after he scored past Butali goalkeeper Evanson Ngoya, and coach Meshack Senge knelt down for a prayer.

Senge said his team deserved the victory and praised his charges for showing hunger and desire to win the title.

"This is the best Christmas gift for the lads. We came back stronger in the second half on Saturday and the equaliser gave us the momentum. The last 18 minutes were a game of nerves. Neither side wanted to make any mistakes," Senge said.

"We beat worthy opponents and I think we were kept our calm and were able to keep them at bay. We used our strengths to win the match."



Strathmore University coach Meshack Senge. PHOTO | MARTIN MUKANGU |NATION MEDIA GROUP

It is Strathmore's third league title, having also lifted the gong in 2006 and 2009. Senge was carried shoulder high by his players on a lap of honour round the pitch, much to the delight of the fans.

DOUBLE CHAMPIONS

Butali, winners in 2014 and 2014 and who were bidding for a hat trick of titles, only had themselves to blame, having dominated the match on Saturday and also created chances in yesterday's 18 minutes.

The Kisumu-based team, which boasts an array talent in the likes of Aura, Wanangwe and Emmanuel Simiyu, were undone by poor finishing when it mattered most.

"It is sad that that when it mattered most, we were unable to take our chances. This game should have been over on Saturday had we been clinical and we know have to bounce back for next month's Africa club championship," Butali coach Cliffe Okello said.



Women's Premier League Champions Telkom Orange pose with their trophy at the City Park Stadium on December 4, 2016. PHOTO | MARTIN MUKANGU |NATION MEDIA GROUP

Kariuki lifted the title flanked by his teammates. Women's Premier league winners Telkom Orange and national men's champions Technical University of Kenya were also awarded their trophies.

Daily Nation


---

Toss to new Champs

Strathmore University reclaim hockey league title

By Elizabeth Mburugu



Premier men Finals- Strathmore vs Butali Sugar Butali Zack Aura(l) and Strathmore Cyril Mandela fight for the ball when they played at City Park during the finals of the premier men 2016 yesterday, on 03/12/2016b PHOTO: JENIPHER WACHIE

The long wait is over!

After six years of tears, heartbreak and failed attempts, Strathmore University Gladiators finally reclaimed their Kenya Hockey Union men's premier league title.

Coming up against star-studded Butali Sugar Warriors in the final, many wrote them off and declared the sugar men champions and were awaiting confirmation after the final whistle.

But no! They refused to let Warriors and their critics have their way. They knew they were in the battle for victory and fight they did. Despite conceding an early goal they refused to be intimidated. They charged on seeking an equalizer and their efforts paid off when Paul Omariba converted a penalty corner.

With determination written all over their faces, they gained control of the game tormenting Warriors who were hopeful of retaining the title. They came close to taking the lead but their efforts were thwarted by a vigil Warriors defence of veteran Saidi Okwemba, internationals Kenneth Nyongesa, Maxwell Fuchaka and Tony Nyunkuri.

Heavens opened in the 52nd minute forcing them off pitch. They were determined to finish the job and they could be heard speaking in hushed tones saying that the rain had just delayed their celebration. They plotted to complete the job after the rains just like they had done with Police in the semi-finals after the rains interrupted the match last weekend.

Yesterday they completed the job stretching Butali all the way to penalty shootouts. The Gladiators will have their second choice goalkeeper John Brown to thank after he saved three penalties to ensure that they won the gong. Brown came on in the 70th minute after Strathmore coach Meshack Senge realised that the winner will be decided on one on one with the goalkeeper.

Brown saved Zack Aura and Seth Oburu's shots while he frustrated Frank Wanangwe's effort forcing him to send the ball off target. Warriors goalkeeper Evanson Ngoya on the other hand was a no show as he allowed the opponents have their way.

Senge said that they overcame Warriors because they desired the title more than they did. ''We wanted this trophy more than them (Butali) and our hard work and determination paid off,'' Senge said.

His Butali equal Cliffe Okello said that the loss was a wake up call for his men.

''This is a wake up call for us because we had gotten used to winning that we forgot what it feels to lose. I hope this gets my players out of the comfort zone as we prepare for the club championships.''

Strathmore last won the league title in 2009. This is their third overall.

Glance Box
Regular time score: 1-1
Butali: Frank Wanangwe 10th minute
Strathmore: Paul Omariba 42nd

Penalty shootout score 3-0
Strathmore scorers
Francis Kariuki
Dan Onyango
Derrick Kuloba

Missed
Festus Onyango

Butali missed penalties
Zack Aura
Frank Wanangwe
Seth Oburu

The Standard Online


---

Police arrest Sharks

Law enforcers fight back in hockey league play-offs to finish third

By Elizabeth Mburugu



KENYA POLICE vs KCA UNIVERSITY Kenya Police's (left) Calvin Kanu and Kevin Oduor of KCA University during Kenya Hockey Union League at City Park Stadium on Sunday, Oct 8, 2016. [PHOTO: JONAH ONYANGO/STANDARD]

Former hockey league champions Kenya Police rallied from behind to beat Greensharks 4-3 yesterday at City Park Stadium and claim the third spot.

Police who last won the title in 2013 failed to seal a finals slot after falling 2-3 to Strathmore in post-match penalties in last weekend's semi-finals.

Calvins Kanu and Willis Okeyo bagged a brace each to help the law enforcers secure a top three finish.

Sharks' Kevin Simiyu was undoubtedly the man of the match and a pain in the neck for Police. He terrorised and tormented their back line sending three past Police keeper Martin Agesa.

Police coach Kenneth Kaunda said that finishing third was just a consolation pointing out they were disappointed not to play in the final.

"We are disappointed that we failed to make the final and were reduced to fight for third place. We hope to bounce back and fight for our honour next season," Kaunda said.

Police were forced to play catch-up as they struggled to contain goal hungry Sharks after they found themselves two goals down after 16 minutes of play. Simiyu struck in the 11th minute after a lapse in Police defence to give his side an early lead.

Simiyu was on fire and five minutes later he was on target again giving his side a 2-0 advantage. In a quest to save face, Police tightened their defence and pressed deeper into Greensharks territory.

After minutes of goal hunting their efforts paid off in the 29th minute when Kanu converted a penalty corner. Police fought hard to level the scores, but their efforts were met with retaliation as Sharks hanged on for a 2-1 lead at the break.

On resumption Police intensified their hunt for an equaliser dominating the proceedings. Okeyo restored parity from a short corner, but their celebrations were short-lived as Simiyu struck once again to complete a hat-trick and restore Sharks' lead in the 54th minute.

Not ready to go down easily Police fought back and Okeyo came through for them four minutes later to put the scores at 3-3.

The search for the winning goal began, but it was police who emerged victorious following Kanu's 61st minute goal.

Meanwhile the finals match pitting defending champions Butali Sugar Warriors and Strathmore University Gladiators was rained off in the 52nd minute.

At the time both sides were at level with a goal each. The match will be played today at the same venue.

The Standard Online


---

Scottish Men's indoor hockey off to an exciting start at Bells

Dundee Wanderers are off to a great start as they look to make an immediate return to the top flight after back-to-back victories over Falkirk GHG, and Dunfermline Carnegie in the opening day of the indoor second division campaign.

Wanderers took a little time to get a grip of their first confrontation with Falkirk and were 3-2 ahead at the interval. The opening six minutes provided three goals, Dave Morris and Cammie Scott were on target for Falkirk with Fergus Sandison getting one back for the former first division side.

The Taysiders took a single goal lead into the break through Sandison again from a penalty corner followed by Bobby Ralph, but they had several chances to add to their tally.

The game seemed to end as a contest two minutes into the second half when Sandison collected his hat-trick and Ralph scored again for a 5-2 lead.

Falkirk then brought the score back to 5-4 through David Norris and Douglas Nicol, but Wanderers replied by banging in four goals in five minutes through Sandison again, two by Ross Glashan and Sean Dowie from a penalty corner to lead 9-4. Towards the end Ralph scored his own third of the game and Norris collected a late consolation for Falkirk.

The contest against Carnegie was over by the interval with a 4-1 lead, Glashan opened from the spot, Tom Cole scored twice and Ralph finished off the scoring.

Although Cole and Dowie added two more in the second half, a Fifers` comeback brought the score back to 6-5 and a shock was in the offing. But Wanderers steadied the ship and Cole scored his own fourth while Sandison notched a late double for a comfortable 9-5 win in the end.

Watsonians also had a good day, but it started inauspiciously when they found themselves two down to Capital rivals Edinburgh University in their first game. They rallied in the second period with winning goals from Dan Prentice, Chris Millar, Blair Wynd and Fraser Sands to take the three points.

The Edinburgh side followed this success with a narrow 5-4 win over Falkirk. A Sands` hat-trick was the catalyst in Watsonians 3-1 lead at the interval.  Although Falkirk had the better of the second half goals by Wynd and Mark Mundell were sufficient to take maximum points again.

Grove Menzieshill`s second string, last year`s champions but as a reserve side not eligible for promotion, struggled to see off Perthshire Coupar Cabs 6-5 in their opening game. Grove Menzieshill found themselves 6-1 up at one point, Olly James and Ben Cosgrove both scored twice, but Perthshire managed to score four times to make it a tense ending.

The Taysiders also made heavy weather of their 3-1 win over newly promoted Edinburgh University, a George Adams` strike put the students one up after 13 minutes. Normal service was resumed by the interval with James and Chris Wilson scoring for Menzieshill. The result was sealed when Andy Suttie gave the Dundonians a two goal advantage inside two minutes of the second half, and that ended the scoring.

In their final game Grove Menzieshill`s second string advanced to the top of the table with a 6-2 win over Granite City Wanderers to take a three point lead over rivals Dundee Wanderers with a game more played.

Inverleith seconds are best placed in the men`s third division after seeing off both Aberdeen GS and Thomson Cycles Kelburne 2s in the opening day. A hat-trick by Stuart Hatton was the catalyst in the comfortable 7-1 win over the Aberdonians.  In the following 10-2 victory over Kelburne four goals from Hanru Wiemence proved to be the decisive factor.

Kelburne`s reserve side did win their other two encounters, they started with an 11-3 win over Stepps, followed by a narrower 7-5 win against FMGM Monarchs.

Harris registered the highest win of the day with a 21-4 scoreline over Stepps, Gavin Martin was top with seven goals while Greg Whittet was only one less in the victory. The Dundonians lost their opening game 11-6 against Aberdeen GS, this time Martin was restricted to only a hat-trick while Patrick van Diggeren notched four for the North-East side.

Dundee Wanderers` second string opened with a 14-2 win over Stepps, Gregor Pearson scored four while veteran Bruce Rowan notched a hat-trick. Later in the day the Tayside reserves overcame Clydesdale 6-3, Paul Dailly scored three while Pearson was restricted to two this time.

Scottish Hockey Union media release