All the news for Friday 2 December 2016

New Zealand, South Africa, China and Japan win 9-16th place matches




New Zealand, South Africa, China and Japan all recorded wins on day seven of the women's Hockey Junior World Cup 2016 in Santiago, Chile.

The teams were playing for 9-16th places and today's results will determine which positions they will be competing for in their final matches of the competition.

Today's competitors will enjoy a rest day tomorrow, while the teams who played in the Quarter-Finals will contest the Semi-Finals and 5-8th place play-offs tomorrow (Friday 2 December) as follows (all times local - CLST):

13:15: USA v Belgium (5-8th place)
15:30: Germany v England (5-8th place)
17:45: Argentina v Australia (Semi-Final)
20:00: Netherlands v Spain (Semi-Final)

Here is a round-up of the action from day seven:

Zimbabwe 0, New Zealand 16
New Zealand hit the highest score by a team at the women's Hockey Junior World Cup 2016 so far as they put 16 goals past Zimbabwe. This was a fine display of attacking play and clinical finishing in the first of the classification matches. They were aided in building a mammoth score by some sloppy defending by Zimbabwe, but this should not detract from a professional New Zealand performance. The first 10 minutes were goalless, despite New Zealand spending most of the time camped in the Zimbabwe half. Zimbabwe's goalkeeper, Jordyn Clipstone, was kept busy and pulled off some good saves but from early dominance by the team in white it was clear the end result – although not perhaps the number of goals – was always going New Zealand's way. The first goal came from Kayla Reed, followed swiftly by goals from Deanna Ritchie and Alia Jaques and that signalled the opening of the flood gates. The first half saw seven goals – captain Phoebe Steele, Megan Hull, Stephanie Dickins and Tarry Davey all found the back of the net. Coach Patricia Davies would have hoped to stem the flood of goals in the second half but New Zealand didn't let their feet off the pedal and nine more goals rattled in. Dickens, Hull, Jaques with two more, Steele with four, Ritchie and Reed all found the goal and earned New Zealand a crack at achieving a 13th place finish in Saturday's match where they will face South Africa. Zimbabwe will play France in the 15-16th play-off match that same day. Speaking afterwards, New Zealand's captain Phoebe Steele said: "We were disappointed not to make the Quarter-Finals so we wanted to go out and play our game. The girls certainly enjoyed this one."

France 0, South Africa 0 (South Africa win penalty shootout 3-1)
France lost their 13-16th place play-off match in the most heart-breaking way after they were beaten on shoot-out after an intriguing 70 minutes of play. Two different styles of play made this a compelling match between Africa's finest and the progressive French team. Where France played a cagey defensive and structured game, so South Africa were all-out attack the minute they turned over possession. Both teams had chances but found the respective goalkeepers and defence playing tight, almost impenetrable games. French defender Yohanna Lhopital was particularly impressive as she played a steady game for the French team, commanding her area of the pitch, while Marlise van Tonder kept a cool head in the South African goal. In the shoot-out, South Africa went first and Natalie Esteves was clinical as she gave her team the lead. Emma Ponthieu responded for France but none of her team mates were able to follow her example. For South Africa, Danielle Cairns and Tegan Fourie both scored to send South Africa into a battle for 13th place against the New Zealand on Saturday. Hero of the shoot-out, South Africa's goalkeeper Marlise van Tonder said: "We made life difficult for ourselves out there but at least we kept a clean sheet. In the shoot-out, I just told myself to stay up, stay calm and don't dive unnecessarily."

Korea 0, China 1
Two Asian giants, China and Korea, were separated by a single goal scored by Tang Wanli in the 44th minute. China had a chance to double the score, eight minutes from time when Zhou Yu and Li Hong combined well to force a foot foul on the line. Li Hong stepped up to take the ensuing penalty stroke but her shot flew wide of Lim Eunhee's goal. Korea had their own chances,, missing a penalty stroke in the first half and a number of penalty corners. The Chinese defence held firm and Korea's shots were either cleared or were struck wide. While both teams were hard working across the pitch and fast on the break, China were worthy winners because of the speed and accuracy of their passing game, their use of channels to build up attacks and the willingness of the midfield and forwards to run at goal. Ou Zixia played a captain's game, leading her team calmly out of tricky moments in defence, while Zhang Jinrong in midfield was a fizzing ball of energy as she ran at the Korean defence. The result means China will face Japan for ninth place on Saturday 3 December while Korea will battle it out with host nation Chile for 11-12th spot later that day.

Japan 6, Chile 1
The host nation were given a lesson in patient build up as they were comprehensively beaten by a well-organised and hard-working Japanese team. Where Japan made the ball work hard, Chile were made to work for every ball. By the closing stages of the match, Japan's players looked to be coolly in control, while Chile's players looked exhausted. That said, Chile's coach, Alejandro Gomez, must have been pleased with both the work rate displayed in this game and the improvement his team has shown over the course of the competition. The skills are in evidence, quite often the difference between the teams was a lack of clinical finishing. This was highlighted when a brilliant piece of build-up play from Agustina Solano passed unchallenged across the face of Japan's goal. Japan opened their account in the 10th minute with a goal from Ayaka Nishimura. This was the first of five goals scored by Japan from open play as their slick passing tore the Chile defence apart. Mai Toriyama was next onto the score sheet, followed by two goals from Motomi Kawamura. Maho Segawa scored the fifth, and Airi Nakahana made it six, from a penalty corner, before Chile got onto the scoresheet through Fernanda Villagran. Chile battled to the final whistle, with Kim Jacob unlucky not to get on the score-sheet, but this was to be Japan's day.

Those who cannot attend can watch the livestream of all games provided by the hosts by clicking here.

FIH site


---

Kiwi Under 21s win big in classification stage



Photo: Planet Hockey

The New Zealand Under 21 Women recorded the highest score at the Junior World Cup so far with a 16-0 win over Zimbabwe.

It was a fine display of attacking hockey and clinical finishing in the first of the classification matches.

The Kiwis were aided in building a mammoth score by some sloppy defending by Zimbabwe, but it was an equally professional New Zealand performance.

The first 10 minutes were goalless, despite New Zealand spending most of the time camped in the Zimbabwe half.

Zimbabwe's goalkeeper Jordyn Clipstone was kept busy and pulled off some good saves but from early dominance by the team in white it was clear goals weren't far away.

The first goal came from Kayla Reed, followed swiftly by goals from Deanna Ritchie and Alia Jaques which signalled the opening of the flood gates.

The first half saw seven goals – Phoebe Steele, Megan Hull, Stephanie Dickins and Tarryn Davey all found the back of the net.

New Zealand kept the pressure on in the second half and rattled in nine further goals.

Steele scored four more while Jacques, Dickens, Hull, Ritchie and Reed all found the goal and earned New Zealand a crack at achieving a 13th place finish in their final match against South Africa on Sunday morning.

Hockey New Zealand Media release


---

Green Machine Denied At Death By Spain




The Green Machine were denied a draw at the death by a late Spanish goal but Fulton's young charges can take plenty of positives from the series against an experienced side.

The opening quarter saw few chances for either side as the teams looked to settle into the fixture. Coach Craig Fulton handed a debut to Cork Church of Ireland's Julian Dale today as well as 3 debuts in Tuesday's fixture to Keith O'Hare, Matthew Nelson and Jamie Wright. It took 23 minutes before the deadlock could be broken as the experienced Mikie Watt drove into the circle to set up Sean Murray who finished the move off to give his side the lead while scoring his first senior international goal.

The Green Machine retained their lead and was under little pressure throughout the third quarter. However, a series of penalty corners half way through the final quarter proved the undoing of the Irish defence as Josep Romeu converted from a well worked routine. As the clock wound down both teams were creating chances with the Green Machine seeing their penalty corner strike saved.  A minute later Alejandro de Frutos gave his side the lead, and the eventual victory, as Spain broke at pace and de Frutos scored from open play.

A notable improvement from the first fixture of the series for a young Green Machine side who now have finished their international fixtures for 2016 and will be looking forward to hosting World League 2 in Belfast in March (11th-19th).

Ireland 1 (Murray)
Spain 2(Romeu, de Frutos)

Squad:

1 Jonny Bell –Lisnagarvey- Defender
2 Matt Bell -Banbridge- Defender
3 Lee Cole –Monkstown- Defender
4 Stuart Loughrey -H & W- Defender
5 Paul Gleghorne –Lisnagarvey- Defender
6 Keith O`Hare -Pembroke- Defender
7 Jamie Wright –Banbridge- Midfield
8 Drew Carlisle -Banbridge- Midfield
9 Neal Glassey –Lisnagarvey- Midfield
10 Michael Robson -Annadale- Midfield
11 Sean Murray –Lisnagarvey- Midfield
12 Luke Chadwick -Voordaan- Midfield
13 Michael Watt -H&W- Forward
14 Johnny McKee –Banbridge- Forward
15 Mathew Nelson -Lisnagarvey- Forward
16 Julian Dale -C of I- Forward
17 Owen Magee -Banbridge- Forward
18 Jeremy Duncan –UCD- Forward.
19 David Harte -Kampong- GK
20 Jamie Carr -Three Rock- GK

Fixtures:

Ireland 0vs4 Spain 29/11/2016 at 15:00 (local time) in ATHC
Ireland 1vs2 Spain 1/12/2016 at 11:30 (local time) in Club Egara

Irish Hockey Association media release


---

Pakistan's Expulsion from Junior World Cup Unjust: PHF

Pakistan Hockey Federation is extremely disappointed as well as astonished over the International Hockey Federation's decision to exclude Pakistan from the Junior World Cup scheduled to start from December 8 in the Indian city of Lucknow.
   
According to the FIH, the PHF had failed to meet the official deadline for submitting the travel documents of its players. The game's world governing body has announced Malaysia as a replacement for Pakistan in the tournament.   

This version of the FIH is completely baseless as the PHF had submitted Visa Application Forms along with the relevant documents pertaining to visa formalities well in time on October 24. The No Objection Certificate from the government of Pakistan had also been obtained on time but still India did not issue visas to the Pakistan's contingent.    

Ironically, India is ready to provide visa to the Malaysian team, who have replaced Pakistan, in three-days.  When Pakistan hockey team last visited India, for the SAF games in February this years, the Visa had been issued within two weeks of submission. 

It is also pertinent to mention that the PHF was ready to send the team despite the prevailing tension along the Line of Control between Pakistan and India. The PHF hadn't even asked for the provision of any special security for the Pakistan's junior squad in India.

This unfortunate decision of the FIH is a great setback to Pakistan hockey. Since, Pakistan couldn't qualify for the last Olympics (2016) and the Senior World Cup (2014), this Junior World Cup was the main event for Pakistan hockey. For last year and a half, a lot of efforts and resources had been spent towards the  training of the junior team. The side made two preparatory tours of Europe this summer. The improvement is very much there to be seen. Pakistan juniors who ended last 6th in the 2015 Sultan of Johor Cup surprised everyone by playing the final of the same event in 2016. The boys had been peaking for the big event in Lucknow.  Despite, its limited resources, the PHF had spent around Rs100 million for the preparation of this junior squad.

All this has now gone down the drain. The junior boys, who had been looking forward to appear in the biggest event for their life, are in a state of shock. Pakistan hockey was banking on this bunch of players for the revival of its fortunes. This unjust act has pushed our hockey back a few years.

PHF Media release


---

PHF blames Pakistan's non-participation in Junior World Cup on FIH

Mohammad Yaqoob




LAHORE: Pakistan Hockey Federation (PHF) secretary Shahbaz Ahmed Senior on Thursday categorically blamed hockey's world governing body FIH for Pakistan's replacement with Malaysia in Junior World Cup due to what he called FIH's inability to ensure timely visas for the participating teams.

The Junior World Cup will be held in India from Dec 8.

Talking to media here in the wake of FIH's withdrawal of invite to Pakistan, a dejected Shahbaz said that Pakistan would not field any team in any tournament allotted to India in future, adding that the junior team was well-prepared for the mega event but all their efforts were in vain amid FIH withdrawal of invite to Pakistan and its subsequent invitation to Malaysia.

"The most dejected and disappointed are our junior players who were well prepared for the World Cup but unfortunately the situation forced the PHF to take a strict decision of not sending any team to India for any tournament in future," Shahbaz said.

"The FIH decision is in fact a damaging blow to our hockey, considering the fact that Pakistan has already failed to qualify for the back-to-back big events — 2014 World Cup and 2016 Olympic Games — and these juniors whom we thought would be groomed in such mega events were our main hope," maintained the PHF secretary.

"Star players are born when they play in such big events as no Test series can hone skills of a player as mega events like the World Cup can," Shahbaz further said.

The PHF secretary said that he admitted that the FIH is headed by an Indian in Narinder Batra but the PHF will present its case before the independent board of the FIH which he said would hear Pakistan's case, adding that Batra cannot take whimsical decisions.

"The PHF will raise the issue at the FIH meetings and though the Hockey India's chief (Batra) is also the president of the FIH, an independent board also exists at the FIH and they will hear our case. It is not possible for Batra to take decision according to his wishes as it is the matter of world hockey's future," he asserted.

If FIH could not ensure timely visa for the participating teams, it should not hold the event in such countries, he maintained while stating that like the IOC, "which first gets assurance of entry of everyone carrying its accreditation card into the country hosting the Olympics, the FIH should take such guarantees before allotting any event to any host country."

Shahbaz said that the players had done a lot of hard work and obtained second position in the last tournament held in Malaysia which showed they had the guts to pose challenge to any top team.

"We have spent Rs100 million on the preparations of the junior team but Pakistan was replaced at the eleventh hour despite applying for Indian visas on Oct 24.

"The most unfortunate fact is that though we applied for the Indian visas well on time but we failed to get the visas but Malaysian players were given the same visas in days who are playing in the event as our replacement," the PHF secretary bemoaned.

Answering a question, Shahbaz said that in fact India did not want to see Pakistan team in their country, adding that even the hotel in India had also written a letter asking the PHF to deposit a non-refundable amount of $40,000 in advance.

"How can we deposit such a big amount when visas were not issued to us? And I can bet that the hotels had not imposed the same condition on the other participating teams which is another example of a biased attitude of India, indicating they are not willing to allow us to field a team in events being held on their soil," remarked Shahbaz.

The secretary said that the PHF had also written a letter to the Pakistan Olympic Association (POA), informing it about the entire situation, adding that the latter had supported the PHF stance.

On the other hand, Senate Standing Commi­ttee on Sports had also been informed about the entire situation while the Foreign Office was also well aware of the matter, Shahbaz commented, adding that the government had also issued the NOC to PHF which was quite serious about featuring in the event and did not make any fuss about security issues in India.

"Our players and we should learn a lesson from the situation and it is that we should stand out in the world of hockey and beat India whenever they face us in any competition," he said.

The secretary said that the PHF would continue to prepare different teams apart from working for arranging tours of Europe and Australia for seniors next year.

Answering yet another question, Shahbaz remarked that the PHF would hold its own hockey league, stating that the federal government had promised that it would talk to the government of Punjab in connection with security issues.

The PHF secretary dispelled the impression that Hockey India chief Batra would create impediments in holding of a successful hockey league.

Dawn


---

India did not grant visas to Pakistan's junior hockey team for world cup: PHF

Abdul Ghaffar

Pakistan Hockey Federation (PHF) has rejected claims from the International Hockey Federation (FIH) that it had not submitted travel documents for its players by the official deadline, which FIH said resulted in its exclusion from the Junior World Cup.

India did not issue Pakistan's junior hockey players the visas that they needed to be able to participate in the tournament, a press release issued by the PHF said.

"This version of the FIH is completely baseless as the PHF had submitted visa application forms along with relevant documents pertaining to visa formalities well in time on Oct 24. The No Objection Certificate (NOC) from the government of Pakistan had also been obtained on time but still India did not issue visas to the Pakistani contingent," it added.

The Ministry of Foreign Affairs also issued a statement on Thursday, confirming that India had not granted the hockey team's visa applications.

Speaking to DawnNews earlier, PHF Secretary Shehbaz Ahmed termed the move "pre-planned" and said "Pakistan did not delay any obligations pertaining to schedules and it is India's fault which did not issue visas to the Pakistani delegation before the given deadline."

Pakistan on Nov 19 had issued NOCs to the Pakistan's junior hockey team in order for them to take part in the Junior World Hockey Cup scheduled to be held in India from Dec 8 to 18.

The Malaysian junior men's has replaced Pakistan as per the decision of FIH issued Monday.

"Ironically," the PHF press release added, "India is ready to provide visas to the Malaysian team, who have replaced Pakistan, in three-days' time."

Calling FIH's decision an "unjust act", the PHF said that despite having limited resources, it had spent around Rs100 million to prepare the junior squad.

Dawn


---

PHF rejects FIH claims

Foreign Ministry and Hockey Federation say India did not grant visas to national squad

LAHORE: Pakistan Hockey Federation (PHF) has rejected claims from the International Hockey Federation (FIH) that it had not submitted travel documents for its players by the official deadline, which FIH said resulted in its exclusion from the Junior World Cup. "India did not issue Pakistan's junior hockey players the visas that they needed to be able to participate in the tournament," a press release issued by the PHF said Thursday.

"This version of the FIH is completely baseless as the PHF had submitted visa application forms along with relevant documents pertaining to visa formalities well in time on October 24. The No Objection Certificate (NOC) from the government of Pakistan had also been obtained on time but still India did not issue visas to the Pakistan contingent," it added. The Ministry of Foreign Affairs also issued a statement on Thursday, confirming that India had not granted the hockey team's visa applications.

Speaking to media earlier, PHF secretary general Shahbaz Ahmed Senior termed the move "pre-planned" and said: "Pakistan did not delay any obligations pertaining to schedules and it is India's fault which did not issue visas to the Pakistani delegation before the given deadline."

Pakistan on November 19 had issued NOCs to the Pakistan's junior hockey team in order for them to take part in the Junior World Hockey Cup scheduled to be held in India from December 8 to 18.

The Malaysian junior men's has replaced Pakistan as per the decision of FIH issued Monday. "Ironically," the PHF press release added, "India is ready to provide visas to the Malaysian team, who have replaced Pakistan, in three-days' time." Calling FIH's decision an "unjust act", the PHF said that despite having limited resources, it had spent around Rs100 million to prepare the junior squad.

The Daily Times


---

FIH must review holding of elite hockey events in India: Jr team head coach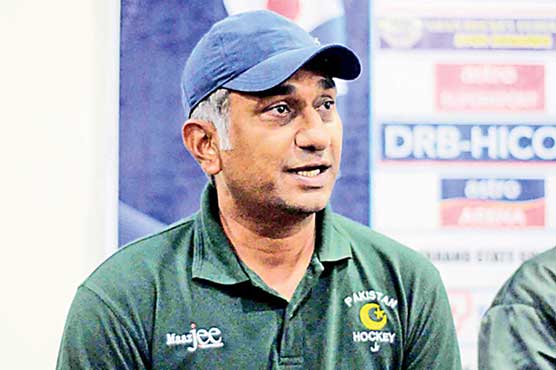 Coach said hockey family around the world and lovers of the game have strongly condemned the act.

LAHORE (APP): Head coach of Pakistan Junior hockey team, former Olympian, Tahir Zaman has urged the International Hockey Federation (FIH) to review its decision for allocating elite international hockey tournaments to India so that it should not deprive any team of participation the way it did in the case of Pakistan by not issuing visas to the junior team.

"Indian authorities deprived Pakistan junior team of taking part in the Junior World Hockey Cup, commencing in Lucknow from December, by not issuing visas without any valid justification or reason," he told the media here on Tuesday at National Hockey Stadium.

He said that the PHF applied for the visas of the team weeks ago but the Indian authorities mixed politics in sports and did not issue visas which clearly shows the intention of the Indian authorities that they want to keep Pakistan team away from the World Junior hockey cup.

"They (Indian authorities) have given an excuse that we (PHF) did not apply for the visas timely, whereas they have included Malaysia in place of Pakistan and with few days left in the start of the Cup how would they be able to grant them (Malaysia) visas," he questioned.

"Our team was not given visas on one pretext or another to block its way into the World Junior Cup which is quite unfortunate and against the spirit of the game," said the former Pakistan captain.

He said that the hockey family around the world and lovers of the game have strongly condemned the negative act of the Indian Government for not issuing visas to the Pakistani team.

"Even the status and repute of the Word Junior Cup is at stake in the absence of hockey team as Pakistan is among world's best hockey team and has a glittering past in the game," he said adding "With the absence of Pakistan from the event the broadcasters will suffer huge financial loss and the event will become colorless and less competitive."

Tahir Zaman urged the FIH and the International Olympic Committee to look into the matter and take remedial measures for not happening of such an incident in future in the larger interest of the games, specially hockey.

He said Pakistan government and the PHF took wise decision by allowing its team to feature in the Junior World Cup in India despite tension at the borders and set an ideal example of fair play and spirit by keeping the sports away from politics.

"On the other hand the Indian government showed a negative gesture and deliberately kept the Pak team away from the Cup due to which reputation of India as a sports loving country has been damaged," he asserted.

To a question, he said no matter Pak junior team was not among favourite teams of the World but it was fully prepared to put up a decent show in the Cup.

"Our team has the potential to win the Cup as nothing is impossible and Pakistan players are disappointed not to be a part of the World Cup," he added.

Dunya News


---

PHF mulls legal action against FIH over Junior World Cup expulsion

FIH has replaced Pakistan with Malaysia in the tournament. (Getty Images)FIH has replaced Pakistan with Malaysia in the tournament. (Getty Images)
KARACHI: The Pakistan Hockey Federation (PHF) is considering filing a case with the Court of Arbitration for Sports in Geneva against the International Hockey Federation (FIH) for expelling it from the Junior World Cup being held in India from December 8 to 18.

A reliable source in the federation told PTI on Thursday that consultations had started with legal experts, who specialise in the field of sports management and disputes as the PHF had spent millions of rupees on preparing its national junior side to first qualify for the World Cup and travel to India.

"Nothing is decided as yet but it could happen. Because the PHF is clear that the FIH which is headed by an Indian, Narender Batra has dealt unjustly with it," the source said.

The FIH has announced it has dropped Pakistan from the list of 16 participating nations in the World Cup in Lucknow, saying the PHF had not fulfilled confirmation requirements before the given deadline for teams.

It has replaced Pakistan with Malaysia in the tournament.

PHF secretary Shahbaz Ahmad also appeared before a national assembly standing committee on sports and briefed them on the situation leading to the FIH decision after the Indian High Commission didn't issue visas for the hockey contingent.

Ahmad told the committee that all legal and rightful steps will be taken against the decision which has deprived Pakistan of the right to play in the World Cup despite having qualified for the mega event.

"We are not going to take this lying down. It is unfair with us and has hurt our hockey," he told the committee members.

Ahmad also briefed them about the applications sent to the Indian High Commission or issuance of visas well on time.

He confirmed that PHF had sent passports of Pakistani players and officials to the Indian High Commission on November 16.

Ahmad said the FIH had made this an issue, stating the PHF had blundered as the directives from the IHC were clear that Pakistani nationals had to apply for visas at least six weeks in advance.

But the former Pakistan captain said it was interesting that while the IHC had not returned passports of Pakistani players India had issued visas quickly for the Malaysian team.

"What happened to the deadline and dates while issuing them visas at short notice. We know what has happened with us," he added.

Interestingly the PHF has still not winded up its training camp for the World Cup in Lahore and players are continuing their training under head coach, Tahir Zaman.

The Times of India


---

Scottish Indoor season gets underway this weekend




With the onset of winter, hockey turns from the outdoor to the indoor version of the game, and in this year's men's competition Dundee Wanderers will be out to get back into the top flight.

For so long one of the giants of the indoor game, along with city rivals Grove Menzieshill, they dominated the competition for almost two decades. Wanderers went on to win the championship four times between 1999 and 2003, but last season they finished bottom of division one and were relegated for the first time.

The Taysiders start their campaign to make an immediate return to the top tier with opening games against Falkirk GHG and Alpha-Data Carnegie in division two at the Bell`s Sports Centre on Saturday.

Coach Kevin Farnan, who played in Wanderers' halcyon indoor days, said: "I want to build a squad with players working together and for each other with good habits.

"Do the correct things well as was the case in the late 80s and 90s by building a team of players and not individuals. Obviously, a return to division one is the target."

But Farnan certainly has players who can score goals in Ross Glashan, Bobby Ralph and the Sandison brothers Fergus and Eliot.

Wanderers` main challenge for promotion may come from Carnegie, the Fifers just missed out at the end of last season when they went down 5-1 to Western Wildcats in the final play-off match.

Grove Menzieshill`s second string are strong favourites to win the second division as they did last season by seeing off Hillhead 5-2 in the ultimate play-off for the title, but as a reserve side they are ineligible for promotion. The Taysiders are scheduled to claim their customary pole position if they can take the nine points from their games against Perthshire Coupar Cabs, Edinburgh University and Granite City Wanderers.

Edinburgh`s interest in the second division rests with a University side that won promotion from division three last season and also Watsonians.

The women`s second division is a curious mixture of second strings from Milne Craig Clydesdale Western, Grove Menzieshill and Dundee Wanderers along with four first teams in a seven team league.

As reserve teams are not eligible for the top flight the contest for promotion will likely be between Bromac Kelburne, Watsonians and Hillhead, all of whom are in the outdoor first division, along with Aberdeen Ladies.

Hillhead almost made it up last season, but they lost out 1-0 on a penalty shoot-out to Aberdeen Bon-Accord after the sides finished at 1-1 in normal time in the promotion play-off.

Scottish Hockey Union media release


---

Performance Centre Squads Announced

The England Hockey Performance Centre squads for 2017 has been announced. This is the start of an exciting development to The England Hockey Player Pathway.

There will be seventeen Performance Centres strategically located across England to maximise opportunity and player development. Through this model England Hockey want to move talent development to a higher level by providing frequent, high quality contact time for a targeted group of players with appropriate competition to support player development, in order to develop an oversupply of high calibre players for National Age Group Squads.

Ed Barney Performance Director is delighted to see Performance Centre come into full effect.

"Performance Centres will provide a stretching and challenging environment that supports the development of more exceptional players. The Talent Development team and Performance Centre coaches will be ensuring that Performance Centres provide a high quality, needs-based, open and flexible environment that accelerates and deepens the development of a broad group of players across the country. It's imperative that we make more progress with the development of young players nationwide!"

Click here for the Performance Centres Squads 2017

For more information on the Player Pathway can be found here.

More information on Performance Centres follow this link.

England Hockey Board Media release


---

Hockey win big at the Team GB Awards.



GB Hockey Stars collect their prizes at the Team GB Awards

Team GB's hockey gold medallists were the big winners at the inaugural Team GB Awards last night with the squad picking up three of the five categories with a further fourth award going to Zoe Hainsworth a Team GB SuperFan and Hockey Maker.

Danny Kerry won Coach of the Year while the BBC Moment of the Games and the publically voted Great Britain's Choice Award, presented by Aldi, both went to the team who became Team GB's first ever women's hockey gold medallists in Rio this summer.

The awards were part of the 2016 Team GB Ball as the Rio Olympians came together once again to celebrate the success of the Games this summer and help support Team GB on the road to PyeongChang 2018, Tokyo 2020 and beyond.

Held at Battersea Evolution and presented by the double act of Claudia Winkleman and Tom Daley, the Team GB Ball hosted over 800 guests for a three-course dinner, a live and silent auction before Gary Barlow entertained the athletes and guests with hits including Shine and Never Forget.

Danny Kerry said: "This is the icing on the cake and it's been a spectacular evening for the team and the staff. At the Games we prepared ourselves well and when it all comes together it really is something special. I'm very proud of the girls – it really is something exceptional. The challenge now is winning after winning and I'm really excited about that."

Alex Danson said: "It's an absolute honour to receive these awards and to be recognised as a sport in this way. Thank you to everyone who voted for us and hopefully what we did as a team this summer has put hockey on the map. The reaction has been incredibly special for the whole of Team GB, so to have played a part in that and have so many people follow our journey was amazing. If I'd had written the story before the Games it couldn't have been as perfect as it was."

Zoe Hainsworth, a Loughborough University hockey player who volunteered at the Hockey Champions Trophy this past summer was named Team GB's Rio 2016 Superfan in the award presented by Panasonic. Five-time Olympic medallist Katherine Grainger was honoured as the Olympians' Olympian in the final award of the evening, voted for by Team GB's Rio 2016 athletes.

Team GB Awards 2016
Team GB Superfan, presented by Panasonic: Zoe Hainsworth
Great Britain's Choice, presented by Aldi: Team GB's Women's Hockey Team
Coach of the Year: Danny Kerry, Women's Hockey
BBC Moment of the Games: Team GB's Women's Hockey Team
Olympians' Olympian: Katherine Grainger

Congratulations to all the winners, especially those from the hockey family!

England Hockey Board Media release


---

New Club Advisory Task Force Appointments Announced by USA Field Hockey

COLORADO SPRINGS, Colo. - USA Field Hockey is pleased to announce the addition of five new members to the Club Advisory Task Force. The responsibility of these new appointments is to guide and act in an advisory role by reviewing and shaping critical parts within the events and club system. Each member will be able to voice opinions, concerns and suggestions in the ever-changing conditions of the club system.

The following individuals have been named to the Club Advisory Task Force: Kathi Liszewski (South Jersey Edge), Yasser Hayat (IFHCK), Miki Osherow (Charlotte Ambush), Gina Maclean (Howard Stampede) , Emily McCabe Alger (Tsunami FHC), Martin Romeril* (Marojoka Hockey Club), Carol Pohlmeyer* (SPark) and Conchi Mulvany* (Viper Field Hockey). In addition, USA Field Hockey Board Members Shawn Hindy and Shannon Taylor along with USA Field Hockey's Executive Director Simon Hoskins and Member Services Director Adam Andrasko will sit on the task force.

"This qualified group plays a crucial part in our event development which permits us to better understand clubs of every size, located both near and far so that we can better serve all of our members," said Chelsea Mitchell, USA Field Hockey's Event Marketing Manager. "We're eager to begin directly working with the task force and making 2017 our best year of tournaments yet."

*Denotes 2nd term member

USFHA media release


---

The Hockey Museum needs you!




The Hockey Museum is recruiting!

Collections Management Officer (CMO)
We are looking for an enthusiastic CMO with proven collections management skills, a meticulous attention to detail and outstanding organisational skills to oversee the maintenance and delivery of collection management procedures to the standards appropriate for an accredited museum. This will extend to overseeing the digitisation of the Museum's extensive collections across all media platforms.
For full details and to download the Job Advert please visit THM website here.

Volunteer Webmaster / IT Advisor
We are seeking a volunteer Webmaster to develop and oversee our website and advise on web and IT progress generally.
For more information on the specific requirements of the position please visit THM website here.

The Hockey Museum