All the news for Monday 21 November 2016

Black Sticks look to keep rolling in Melbourne



Photo: www.photosport.nz

The Black Sticks Men are looking to continue their momentum at the International Festival of Hockey in Melbourne later this week.

Fresh from Sunday night's 2-1 win over the Kookaburras at the Ford Trans-Tasman Trophy, head coach Colin Batch has named a team of 18 who travel to Melbourne this evening.

The four nations event sees the return of four senior Black Sticks who competed at the Rio Olympic Games in Shea McAleese, Hugo Inglis, Arun Panchia and Kane Russell. Striker Jared Panchia also slots into the side.

McAleese, who has been playing club hockey in Europe, will captain the Black Sticks during the series which runs from 23-27 November at the State Netball and Hockey Centre in Melbourne.

The International Festival of Hockey sees the Black Sticks go up against hosts Australia, India and Malaysia in one-off tests ahead of finals day on Sunday.

Coach Batch said the Ford Trans-Tasman Trophy was a great stepping stone for the Black Sticks Men with Melbourne another opportunity to continue progressing.

"Playing consistently has been a big focus for us, and we haven't always been able to do that but we did that pretty well at Trans-Tasman," he said.

"We go to Melbourne determined to put together good performances in four games and certainly we are out there to win.

"It will be great to welcome back five players, four who have been playing in Europe, so they will be in good match form and we look forward to what they will add to the group."

The Black Sticks play their first game in Melbourne against Malaysia on Wednesday at 6:00pm (NZ time), with live coverage on SKY Sport.

CLICK HERE for more on the International Festival of Hockey

BLACK STICKS MEN
International Festival of Hockey, Melbourne


| | | | | |
| --- | --- | --- | --- | --- |
| PLAYER NAME | REGION | POSITION | AGE | CAPS |
| Martin ATKINSON | Central | Striker | 23 | 3 |
| Cory BENNETT | North Harbour | Defender | 25 | 40 |
| James COUGHLAN | North Harbour | Midfielder | 26 | 72 |
| Robert CREFFIER | Central | Midfielder | 24 | 3 |
| George ENERSEN | Canterbury | Goalkeeper | 25 | 15 |
| Nick HAIG | Canterbury | Defender | 29 | 196 |
| Hugo INGLIS | Southern | Striker | 25 | 182 |
| Stephen JENNESS | Capital | Striker | 26 | 167 |
| Richard JOYCE | North Harbour | Goalkeeper | 24 | 6 |
| Kim KINGSTONE | Auckland | Striker | 22 | 3 |
| Shea McALEESE (c) | Central | Midfielder | 32 | 239 |
| Harry MISKIMMIN | Capital | Defender | 21 | 3 |
| Arun PANCHIA | Auckland | Midfielder | 27 | 201 |
| Jared PANCHIA | Auckland | Striker | 23 | 51 |
| Matt REES-GIBBS | Midlands | Midfielder | 24 | 6 |
| Nick ROSS | Southern | Midfielder | 26 | 37 |
| Kane RUSSELL | Southern | Defender | 24 | 87 |
| Jacob SMITH | Capital | Striker | 25 | 58 |
Hockey New Zealand Media release


---

Shea McAleese returns to captain Black Sticks

By David Leggat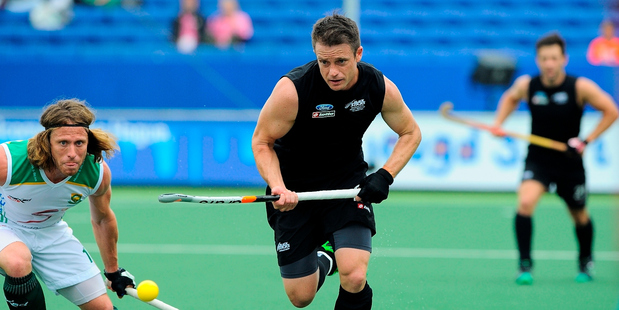 Shea McAleese in full cry against South Africa's Jonty Robinson. Photo / Dirk Markgraf

Fresh from their first win over Australia since 1967, New Zealand are straight back into action at the International Festival of Hockey starting in Melbourne this week.

Four senior Black Sticks, who competed in the Rio Olympics but were unavailable for the transtasman series last week, return to the 18 - midfielders Shea McAleese, who will captain the side, and Arun Panchia, striker Hugo Inglis, and defender and penalty corner specialist Kane Russell.

World No 8 New Zealand will play games against world No 1 and hosts Australia, sixth-ranked India and Malaysia, ranked 14th, in a round robin ahead of finals day next Sunday.

New Zealand's 2-1 win in the final transtasman contest on Sunday broke a 49-year hoodoo on New Zealand soil against the Aussies, although Australia won the series 2-1.

Black Sticks coach Batch said the Ford-sponsored Trans-Tasman Trophy was a great stepping stone for his squad. Melbourne is another opportunity to continue progress.

''Playing consistently has been a big focus for us, and we haven't always been able to do that but we did that pretty well at Trans-Tasman," he said.

"We go to Melbourne determined to put together good performances in four games and certainly we are out there to win.

"It will be great to welcome back five players, four who have been playing in Europe, so they will be in good match form and we look forward to what they will add to the group."

New Zealand's opening game is against Malaysia on Wednesday night.

New Zealand squad:

Goalkeepers: Richard Joyce (North Harbour), George Enersen (Canterbury)

Defenders: Cory Bennett (North Harbour), Nick Haig (Canterbury), Kane Russell (Southern), Harry Miskimmin (Capital).

Midfielders: James Coughlan (North Harbour), Shea McAleese ©, Robert Creffier (Central), Arun Panchia (Auckland), Nick Ross (Southeren), Matt Rees-Gibbs (Midlands).

Strikers: Jared Panchia, Kim Kingstone (Auckland), Hugo Inglis (Southern), Stephen Jenness, Jacob Smith (Capital), Martin Atkinson (Central).

The New Zealand Herald


---

Holcombe stay top after fightback at Beeston



Sam Ward scoring the equaliser for Holcombe in the game at Beeston. Credit: David Kissman.

A Barry Middleton brace helped Holcombe to come from behind against Beeston as they tightened their grip on the top of the Men's Hockey League Premier Division on Sunday.

Beeston led at the break with goals from Elliott Hibell and Chris Proctor. But it proved to be a game of two halves as Barry Middleton hauled Holcombe back into contention with a goal in the 49th minute.

The comeback continued with a Sam Ward strike and then Middleton put the visitors ahead in the 61st minute.

There was still drama left in the game as Beeston thought they had equalised with five minutes remaining - but the goal was disallowed, and the defeat sees them drop to fifth.

Alan Forsyth's great form continued as he hit a hat-trick in Surbiton's 6-2 defeat of Brooklands Manchester University.

A Rob Farrington strike, along with Forsyth's first two goals, had given Surbiton a 3-0 lead at half time. Although the students scored twice after the break through Stefan Ray-Hills and Benedict Van Woerkom, they were outgunned with Gareth Furlong and Luke Noblett extending Surbiton's lead before Forsyth completed his hat-trick. The result sees Surbiton go third.

Wimbledon remain second after a 5-2 win at home against Canterbury. Simon Mantell, Chad Conlon, Nathanael Stewart, Peter Millar and Steven Ebbers were all on target for the home side with Cale Cramer and Craig Boyne replying for the visitors.

Matt Guise Brown took his tally of penalty corner goals up to 10 for the season with two against East Grinstead as his Hampstead and Westminster side won 3-2.

Sam French was also on the score sheet for Hampstead with Martin Scanlon and Sam Driver scoring for East Grinstead.

Loughborough Students are still without a point at the foot of the table after a 3-1 defeat at the hands of Reading. Reading's goals came from a Montgomery Jefferson brace and a Tom Carson strike with Ed Horler grabbing a late consolation for Loughborough.

Men's Conference East

Southgate moved top of the Men's Conference East after a comfortable 4-0 win at West Herts on Sunday.

Timmy Smyth scored the only goal of the first half, before Giulio Ferrini, Adam Miller and John Sterlini all added goals in the second to move the visitors top.

Richmond remain unbeaten and move second, after a single Josh Smith goal four minutes from time gave them all three points at Brighton and Hove.

Cambridge City beat Wapping 4-1, whilst a Robbert Schenk brace helped Oxted to a 4-0 win at Indian Gymkhana.

On Saturday Sevenoaks, who were leaders at the start of the start of the weekend, were defeated 2-1 at home by Teddington.

Tejinder Hanspal's eleventh of the season had cancelled out Richard Gear-Evans' opener for the visitors, but Matt Daly converted a penalty corner one minute from time to give Teddington the points.

Men's Conference North

The University of Durham made it nine wins from nine after a 2-1 victory at Doncaster in the Men's Conference North.

Charlie Stubbings scored twice to take his season tally to eight, as the visitors stay six points clear at the top of the table.

Tom Mallett hit a hat trick as Olton and West Warwicks secured a convincing 6-2 home victory over Cannock to stay second.

Bowdon claimed all three points in dramatic fashion with a 4-3 win at home to Leek.

The visitors led the game 3-1 with just five minute to play, but David Egerton and Oliver Stoddart strikes levelled, before Mike Shaw's second of the match gave Bowdon the victory in the last minute.

Sheffield Hallam also recorded an impressive comeback securing an unlikely point at home to Deeside Ramblers in a 4-4 draw, having trailed 4-0 after 20 minutes.

Preston defeated Oxton 3-2 in the other Conference North game.

Men's Conference West

Cardiff and Met stayed top of the Men's Conference West, but did not have it all their own way as they edged out bottom of the table Fareham 3-2.

James Seager and Robert Wilson had twice given Fareham the lead, but goals from James Kyriakides, Jack Pritchard and Ioan Wall gave Cardiff all three points.

Team Bath Buccaneers' impressive form continued as second half strikes from Ben Stone and Adam Croutear gave them a 2-0 win at the University of Birmingham.

The University of Exeter survived a late rally from Old Georgians, as they held on to a 3-2 victory to stay third in the table.

Elsewhere, Mohamed Samak scored twice to help Cheltenham defeat Isca 5-3, and two late Martin Gough goals earned Chichester a point as their game at the University of Bristol finished all square.

Men's Hockey League (Saturday, 19 November 2016):

Men's Conference East: Sevenoaks 1, Teddington 2.

Men's Hockey League (Sunday, 20 November 2016):

Men's Premier Division: Beeston 2, Holcombe 3; Wimbledon 5, Canterbury 2; East Grinstead 2, Hampstead and Westminster 3; Surbiton 6, Brooklands Manchester University 2; Reading 3, Loughborough Students 1.

Men's Conference East: Cambridge City 4, Wapping 1; Brighton and Hove 0, Richmond 1; West Herts 0, Southgate 4; Indian Gymkhana 0, Oxted 4.

Men's Conference North: Olton and West Warwicks 6, Cannock 2; Sheffield Hallam 4, Deeside Ramblers 4; Preston 3, Oxton 2; Doncaster 1, University of Durham 2; Bowdon 4, Leek 3.

Men's Conference West: University of Exeter 3, Old Georgians 2; Cheltenham 5, Isca 3; University of Birmingham 0, Team Bath Buccaneers 2; University of Bristol 3, Chichester 3; Fareham 2, Cardiff and Met 3.

England Hockey Board Media release


---

Sam Ward joins the 100 club



Hat-trick hero Sam Ward celebrates scoring in the EHL. Credit Euro Hockey League

Goals win games and having someone who can score them in your side is priceless. England and Great Britain star Sam Ward is one of those players. The scourge of defences since his debut as a fresh-faced excited child in Leicester's Banana Bunch through to today when he has become an Olympian and an international striker he's always been able to find the net. 

Ward this week joined the 100 club. The Holcombe star brought up his century of Premier Division strikes against Beeston, the club where he plundered the majority of his goals.

Ward averages just over 1.3 goals per game, having scored his 100 inside just 75 matches, a superb ratio that rightly puts him up there as one of the most feared strikers in the domestic game.

His goal today whilst a landmark on a personal level was important for his side as Holcombe trailed 2-1 to Beeston until their No13's intervention levelled things. Ward then helped lay on Barry Middleton's winner nine minutes from the end to keep the Kent side top of the table.

Despite leaving his boyhood club, Beeston, the striker is held in great affection at the Nottingham Hockey Centre. With the Bees knocking Holcombe out of the cup last weekend, an "interview" with a Beeston official posing as a disappointed Ward was posted on Beeston's YouTube Channel and this week on his return the striker was greeted with around 30 supporters wearing Sam Ward masks as featured in said video.

Goalkeeper George Pinner and defender Dan Fox both took to Twitter to pay tribute to their team mate, with Pinner's tweet showing the unique bond between goalkeepers and strikers.

A delighted Ward told England Hockey: "It was really nice to score my 100th where my national league career started. The fans wearing masks of me and giving me lots of abuse added to the excitement! I remember my first goal aged 19 at Exeter away for the Bees. I didn't think then I'd get to 100 but I'm over the moon to score 100 Premier League goals and hope to score more in the future for club and country."

Congratulations to Sam Ward on his achievement and here's to many more goals!

England Hockey Board Media release


---

Irish Womens EY Hockey League Weekend Round Up



Photo Credit: Rowland White/Press Eye

Hermes-Monkstown extended their lead out to four points at the top of the women's EY Hockey League on a weather-affected day seven of the competition.

The leaders continued their perfect start to the campaign with a comfortable 5-0 win over struggling Ulster Elks with Anna O'Flanagan scoring a hat trick, bringing her seasonal total to 15 goals.

The Elks initially kept things tight in the first half, limiting Hermes to just one goal as Rebecca Davidson made a series of strong saves. But the reigning champions ran up for goals in the 11 minutes after half-time to race clear.

And they profited from Cork Harlequins and UCD's 1-1 draw at Farmer's Cross, the third and second place side losing ground in their bid for top spot.After a scoreless first half – in which Emma Russell cracked the crossbar – Quins went 1-0 up in the 38th minute when Rebecca Barry guided home Yvonne O'Byrne's cross.

But UCD kept plugging away and they got back on terms via Sarah O'Loughlin amid a goalmouth scramble. They kept out a late corner to preserve a point and their unbeaten start to the season.

Ards moved into fourth place with their fourth successive win of the season, edging out Pembroke 2-1 who remain without a point to their name. Ellen Robinson stole possession and fired home for the opening goal in the first half before Chloe Brown – scoring for the fourth successive game – netted the second goal from a corner exchange with Tamara Macleod.

Caroline Hill pulled one back in the closing ten minutes but they could not force a draw. The result lifted Ards above Railway Union into a potential playoff place.Railway's tie with Loreto was postponed due to frost at Beaufort as was Belfast Harlequins game with Pegasus.

EY Hockey League: Ards 2 (E Robinson, C Brown) Pembroke 1 (C Hill); Cork Harlequins 1 (R Barry) UCD 1 (S O'Loughlin); Hermes-Monkstown 5 (A O'Flanagan 3, N Evans, C Watkins) Ulster Elks 0; Loreto v Railway Union, Belfast Harlequins v Pegasus, both postponed due to frost

Day seven extended reports:

Ards 2 (E Robinson, C Brown) Pembroke 1 (C Hill)

Ards continued their excellent recent run with a fourth successive win, Chloe Brown scoring in each of those ties, to see off Pembroke 2-1 who remain without a point this term.

In a cagey start, Ards looked the more comfortable in possession, but Pembroke won the first corner after six minutes, but the attempt from a left slip-move was well cleared.

The hosts began to take control, though, as time wore on and, in the 23rd minute, Jane Kilpatrick took a quick free on the left side and fired a reverse stick cross which flew across the face of goal as a wraning shot. A minute later, Lucy McKee worked a reverse stick opening but fired high over the bar.

Ards then forced a series of three corners with a Brown effort being well saved before two consecutive drag flicks going just wide. They eventually broke the deadlock when Ellen Robinson stole from the Pembroke centre back, carrying into the circle and firing past the keeper for 1-0.

They continued the pressure into the second half and Brown doubled the lead from their second corner of the half five minutes in. She exchanged passes with Tamara Macleod at the top and Brown fired home on her reverse.

Pembroke fought back in the closing quarter in an attempt to get something from the game. Despite being a player down at the time, Pembroke broke quickly after a turnover and Caroline Hill scored to give the away team some hope with nine minutes to go.

Ards managed to create a couple of further penalty corners in the remainder of the half, but failed to convert. It was Pembroke who had the better possession, but were unable to create any clear chances against a hard working Ards defence to force an equaliser.



Photo Credit: Rowland White/Press Eye

Cork Harlequins 1 (R Barry) UCD 1 (S O'Loughlin)

Cork Harlequins and UCD both ended up losing ground on leaders Hermes-Monkstown as the third and second placed sides, respectively, played out a high octane draw.

UCD forced the first major chance after five minutes with a switch left seemingly destined for the roof of the net only for Emma Russell's shot to come back off the underside of the crossbar.

The remainder of the quarter was an even affair with most of the play in the middle third of the pitch. Gillian Pinder showed well for UCD while Karen Bateman and Rachael Kohler kept play ticking over for the home side.

More of the same followed in a second quarter which saw limited goal mouth opportunities. UCD flashed a ball across the Quins goal which was unlucky not to be put in at the back post. At the other end, Caoimhe Perdue won a penalty corner for the home side which they were unable to convert.

Both of the goals cames in the second half with Rebecca Barry breaking the deadlock in the 38th minute when she got on the end of a right-wing cross from Yvonne O'Byrne Barry had a chance to make it 2-0 a few minutes later when she was left one on one versus the UCD keeper but Clodagh Cassin got to down to save well for the visitors.

UCD came more into the game as the quarter went on, winning a number of penalty corners but they were well defended by the home side. The fourth quarter saw the game move from end to end with Quins pushing for a second whilst UCD were trying to find an equaliser.

The visitors made their breakthrough on the hour mark to set up an exciting last 10 minutes. A cross from the right wing lead to a goalmouth scramble which saw Sarah O'Loughlin sweep in at the back post.

Both sides pushed hard for the winner flooding players forward at every opportunity. Naomi Carroll saw an effort on her reverse flash over the bar whilst Lena Tice launched a number of good UCD attacks. Quins forced a corner in the last minute of the game but a Karen Bateman effort whistled past the post.

Hermes-Monkstown 5 (A O'Flanagan 3, N Evans, C Watkins) Ulster Elks 0

A seventh successive win for Hermes-Monkstown in the women's EY Hockey League saw the Merrion Fleet Arena side dig out the first piece of major daylight between them and the chasing pack.

Their comfortable 5-0 win over Ulster Elks means they now have a four-point lead at the top of the table and well set for a return – even at this early stage – to the EY Champions Trophy.

They were always in control but took a long time to break down the Elks defence. Anna O'Flanagan put the hosts ahead in the 14th minute when set up nicely by captain Nikki Evans to give Rebecca Davidson no chance. 

The first half was all about the Elks defence and, in particular, Davidson who was having a blinder. Elks did force two corners in the half but any danger was cleared, leaving the gap at the minimum,

Early in the third quarter, O'Flanagan extended the lead in the 40th minute with a top class finish and, five minutes later, she had her hat trick after lovely work by Ellen Curran to set her up.

Evans made it 4-0 thanks to a lovely team goal a minute later and Chloe Watkins converted a corner in the 46th minute to make it a quarter to forget for Elks. It proved the end of the scoring as Hermes-Monkstown eased to another strong victory.

Irish Hockey Association media release


---

Hermes-Monkstown extend Hockey League lead as closest rivals draw

In-form Hermes clinch their seventh victory in row with 5-0 defeat of Ulster Elks

Mary Hannigan



Hermes-Monkstown's Anna O'Flanagan in action for Ireland against Spain earlier this year: the player bagged a hat-trick in Hermes' 5-0 win over Ulster Elks. Photograph: Rowland White/Inpho/Presseye

Frozen pitches reduced Saturday's EY Hockey League programme from five matches to three, the games between Loreto and Railway Union at Beaufort and Belfast Harlequins and Pegasus at Deramore Park both postponed due to the wintry conditions.

Nothing, though, could stop Hermes-Monkstown from marching on, the reigning champions registering their seventh win in as many games with a 5-0 defeat of Ulster Elks.

Hermes' lead at the top of the table is now up to four points after their closest rivals, Cork Harlequins and UCD, drew 1-1 at Farmers Cross.

Rebecca Barry turned home an Yvonne O'Byrne cross in the 38th minute to give the hosts the lead and she almost doubled the advantage minutes later, only to be denied by UCD goalkeeper Clodagh Cassin in a one on one.
Hat-trick

Sarah O'Loughlin levelled the game with 10 minutes to go when she got the last touch in a goalmouth scramble, but despite both sides pushing for a winner the two defences held firm, UCD maintaining their one-point lead over the Munster side. 

Anna O'Flanagan, meanwhile, helped herself to a hat-trick in Hermes' win over Ulster Elks, the opener coming after 14 minutes.

Thanks largely to the goalkeeping of Rebecca Davidson, though, the home side didn't extend that lead until the third quarter – but once they got the second, three more quickly followed. O'Flanagan completed her hat-trick, with Nikki Evans and Chloe Watkins also contributing.

Up North, Ards' 2-1 win over Pembroke Wanderers saw them rise to fourth in the table, four points behind Harlequins. Ellen Robinson and Chloe Brown put them two up before Caroline Hill pulled a goal back in the final quarter.

The Irish Times


---

Chase Sailors chase down poor Nakuru lads to finish fifth

By BRIAN YONGA



Heshon Ngalinga of Chase Sailors (front) and Evans Sitati of Nakuru during their Kenya Hockey Union men's Premier League match at City Park Stadium on November 20, 2016. PHOTO | MARTIN MUKANGU |  NATION MEDIA GROUP

Chase Sailors on Sunday beat Nakuru Club 3-0 in a Kenya Hockey Union men's Premier league classification match at City Park Stadium, Nairobi.

The win means the bankers end the season in fifth place on their debut season in the top flight.

Goals from Titus Ngolia, skipper George Mutira and Kevin Barasa handed the Chase Bank-sponsored side victory. Both teams had finished third in their respective pools after the final preliminary matches.

DID WELL

"It was our first season in the top league and I think we did pretty well, though our target was to make the play-offs. We however take the positives and promise to bounce back better next year," Oketch told Daily Nation Sport.

Sailors were two goals up at the break mkaing use of the penalty corners awarded to them as Ngoila and Mutira beat Nakuru keeper James Maingi.

The final goal came courtesy of a counter attack as Nakuru lost the ball and were dully punished as Barasa sounded the board with a well taken field goal.

United States International University of Africa secured seventh place after beating Wazalendo 2-1 in another classification fixture. A brace from Brian Makokha fired the students to a 2-0 lead the break before Wazalendo pulled one back through Kiplimo Kipkemoi's field goal.

But men's National League winners Technical University of Kenya suffered a 1-0 loss to Impala a day after clinching the title. Rono Kigen scored the only goal of the game to keep alive Impala's hopes of securing promotion.

"We should have won by a bigger margin and now we have to wait to see if other results go away and hopefully clinch the last spot to next year's premier league, "Impala coach Amwayi Olubai said.

In the women's Premier League, Vikings ended their campaign with a 7-1 thrashing of Jomo Kenyatta University of Science and Technology. The win ensured that Vikings finished the season in sixth place, leapfrogging Kenyatta University.

A brace each by Susan Muchai and red hot forward Charity Miller set Vikings on their way to the huge win.

Daily Nation


---

Delaware tops UNC, 3-2, to capture first national title

Delaware Athletics



Delaware took home the program's first-ever national title. Jamie Schwaberow | NCAA Photos

NORFOLK, Va. - National Champions!

That title belongs to the University of Delaware field hockey team after the No. 8 Blue Hens capped their magical postseason run and history-making campaign with a 3-2 win over No. 4 North Carolina to capture their first-ever NCAA field hockey title.

As she has done all season, Blue Hen sophomore Greta Nauck was the difference-maker as she scored her second goal of the day with just under six minutes remaining to break the tie and send Delaware to the victory at Old Dominion's L.R. Hill Complex.

The Blue Hens (23-2), who advanced to the title game with a 3-2 win over No. 14 Princeton Friday night, become the first Delaware team to capture a national title since the UD football team won the NCAA FCS crown in 2003.

They also become the first UD women's team to claim a national title since the women's lacrosse squad won its third straight national title in 1983.

Delaware, which won its fourth straight Colonial Athletic Association title this season, capped an incredible season that saw the Hens win their final 19 games since mid-September. Delaware outscored its opponents by an incredible 100-39 margin over the course of the season.

The Hens jumped out to a 2-0 lead over the Atlantic Coast Conference champion Tar Heels (20-6) as Nauck scored just 9:32 into the game and Meghan Winesett tallied with 5:11 left in the stanza.

But North Carolina struck early in the second half, pulling to within 2-1 on a goal by Lauren Moyer just 2:50 in to the period. UNC then tied it up when Megan DuVernois tallied with 7:24 left to play.

Then Nauck did her thing once again as she took a long pass from the right side from Taylor Lister and tipped in a shot past UNC goalkeeper Shannon Johnson with 5:56 left to play. The goal was Nauck's school-record 33rd of the season.

Delaware then played out the clock and a wild celebration at midfield ensued.

NCAA


---

Emotional national championship for Shippensburg field hockey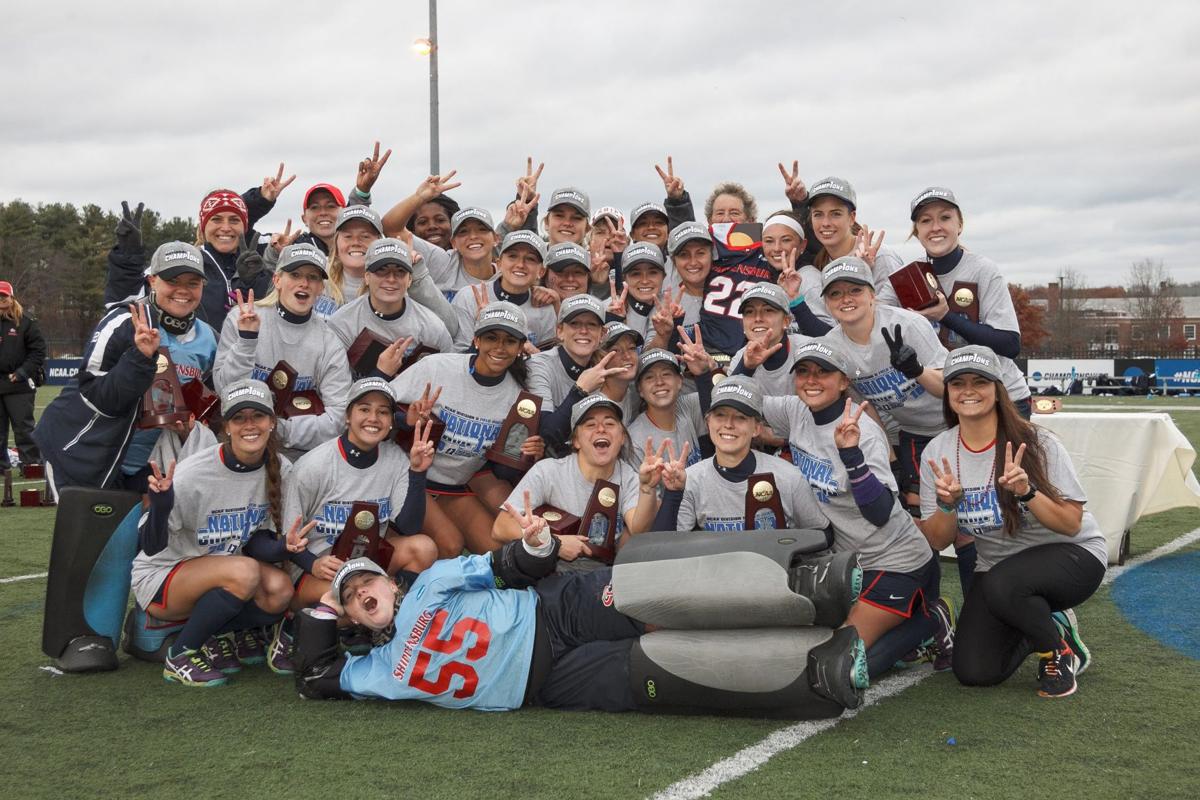 The Shippensburg University field hockey team poses for a group photo after winning the NCAA Division II Championship with a victory over LIU Post on Sunday at Stonewall College in Easton, Massachusetts. Andrew Katsampes

All season long, the Shippensburg University field hockey team has sought to "Leave a Legacy," playing in memory of their late coach and player Amanda Strous by uniting under the collective mantra of "Live, Laugh, Love."

On Sunday, the most emotional season in the history of Shippensburg field hockey culminated with a Division II national championship, as the Raiders defeated East No. 1 seed LIU Post, 2-1, on a cold and windy afternoon at Stonehill College's W.B. Mason Stadium in North Easton, Massachusetts.

Shippensburg (20-3), the No. 3 team from the Atlantic Region, won three straight games as a lower seed to claim the crown — first beating No. 2 seed East Stroudsburg on its home turf in the NCAA quarterfinals (2-1) before Friday's victory over No. 1 seed Millersville in the NCAA semifinals.

Lancaster-Lebanon League grads on the Shippensburg roster are: senior Cassie Rawa (Elizabethtown), junior Morgan Gantz (Elizabethtown), senior Taylor Fisher (Conestoga Valley), freshman Mikayla Cheney (Conestoga Valley) and senior Katelyn Grazan (Manheim Central).

In Sunday's win, the Raiders scored an early goal seven minutes into the contest on a highlight-reel goal, as junior Emily Barnard had a diving tip-in on a long hit from junior Brooke Sheibley that gave Shippensburg a 1-0 lead.

SU led by the same score at the intermission, having posted a 6-1 edge in penalty corners and controlling much of the possession.

That continued into the second half, and the Raiders ultimately went ahead 2-0 with 8:50 remaining when former Baron Grazan slammed home a loose ball off a scrum into an open cage.

LIU Post (16-4) called timeout after the second goal and substituted its goaltender for a kicking back.

The Pioneers applied incredible pressure down the stretch, scoring a goal with 4:14 remaining and nearly tying the game in the final minute with a rocket shot toward the left cage that was blocked away by redshirt-sophomore Ally Mooney.

Shippensburg ultimately survived the final flurry for the victory, winning by the exact same score as it did over LIU Post in 2013 (2-1).

It was the first meeting between the two teams since that national championship game.

The Raiders finish the year by setting a school record in allowing just 11 goals in a season, including just one first-half goal all year long.

The 2001 and 2013 teams held the previous record with just 13 goals allowed.

SU finished as the national leader in goals-against average (GAA) (0.46), save percentage (.899) and shutouts (14).

The 14 shutouts tie the school record set by the 1979 team.

Shippensburg made its 12th NCAA tournament appearance and is now 7-10 overall in NCAA postseason play.

The Raiders are now 2-1 in NCAA championship games, with the other appearance being in the 2010 title contest versus Massachusetts-Lowell.

SU is just the second No. 3 seed to win a NCAA championship, joining the 2011 West Chester team.

PSAC teams have won the past six national championships in Division II field hockey, and 13 of the past 15.

Lancaster Online


---

Famed field hockey player visits Wilton

By Stephanie Kim



Five-time World Hockey Player of the Year Jamie Dwyer held field hockey clinics at the Wilton Fujitani Field from Friday through Sunday, Nov. 18-20. Photo: Stephanie Kim / Hearst Connecticut Media

WILTON — Australian field hockey player Jamie Dwyer, known as the best in the world, joined middle and high school athletes for training sessions at the Wilton High School's Fujitani Field from Friday through Sunday.

Dwyer is a member of the Australia men's national field hockey team, a five-time International Hockey Player of the Year and four-time Olympian and Olympic gold medalist. He has played in more than 350 international games and has scored more than 220 goals in his 15-year career.

"It's good to be here," Dwyer said. "Hopefully the kids will keep on doing field hockey."

The Wilton Field Hockey Association and Wilton Off-Season Field Hockey Association hope to make the clinics a more regular event to inspire young athletes to play at a higher level, said Cecil Nazareth, volunteer coach for the WHFA and former professional field hockey athlete.

"To have the world's best male player in your backyard, teaching you this — you should pay $10 million," Nazareth said. "Because in the U.S., we don't have enough people to show this game at a very high level and he brings all the technical skills, all the international experience."

The Friday and Saturday clinics drew a great turnout, with middle and high school athletes from all over the country and a larger group of male athletes than previous events, said Alex Gheorghe, off-season WHFA volunteer coach.

"We're very lucky that we have him here and also, as you see at the clinic, we have kids from all over the country — Washington D.C., Texas, Pennsylvania and Florida," Gheorghe said. "It is the first time ever in Wilton and, from now on, we're looking forward to more."

Most of the male athletes who attended represented East Coast High Performance, a feeder program for the U.S. field hockey team and the Pan American Junior Olympic team. ECHP coordinator Kathy Schiller said she appreciated the invitation, since they're always looking for more playing opportunities.

"Field hockey in the rest of the world is mostly men. It's only in the U.S. that it's mostly women, which makes it tough when we're going to host the Olympics in 2024," Schiller said. "We don't want to be there as just a token team, we want to do well."

Jess Jecko, a goalie for the U.S. women's national field hockey team and recent Syracuse graduate, was also at the clinics to provide tips and training for aspiring goalies like Emma Likly, a junior at Wilton High School who is set to play at Syracuse University after graduation.

"It's really an honor to be a part of this, working with Jamie and hearing his coaching philosophy," Jecko said.

"Anybody who plays field hockey knows Jamie Dwyer," Likly added.

The town officially welcomed Dwyer on Saturday and presented him with Wilton field hockey apparel and a Tom Brady jersey, knowing he's a patriots fan. There to welcome him were state Rep. Gail Lavielle, R-Wilton; State Sen. Toni Boucher, R-Wilton; Wilton Board of Education Chairman Bruce Likly; and Wilton Superintendent of Schools Kevin Smith.

The Hour


---

ACTing lesson: Akash gains by going back

21-year-old playing as midfielder at Asian CT could help the striker develop into a playmaker

Indervir Grewal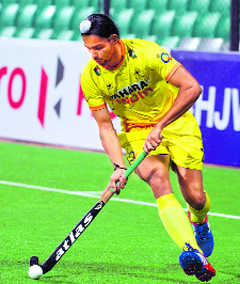 Out of the forward-line, Akashdeep, who will turn 22 next month, is the most experienced in the team after winger SV Sunil.

Chandigarh: The Indian men's team winning the Asian Champions Trophy (ACT) title was no surprise. Being the world No. 6 in a field that had all the others ranked below No. 10, India were expected, on paper at least, to cruise to their second ACT title.

India's win wasn't convincing but satisfactory considering the squad. Roelant Oltmans didn't field his first team. Some mainstays such as SV Sunil, VR Raghunath, Danish Mujtaba and Manpreet Singh were rested; the coach also had the opportunity to try out new combinations while giving match experience to a few youngsters. Experimentation was expected as the new Olympics cycle is beginning.

But the Dutchman's biggest experiment, which could turn out to be a great decision for the future, happened by chance. At the last moment before the tournament, Manpreet picked up an injury and Oltmans decided to take along Akashdeep Singh, who was initially rested.

Akashdeep being a striker, Oltmans' decision to play him as a midfielder — though surprising at that time — shows promise in the long run. It, however, also highlights the shortage of reserve players the national coach faces.

New role, new possibilities

It was not the first time that Oltmans used Akashdeep as a midfielder — the Dutchman did this experiment once before, in the run-up to the Rio Olympics. This time around, though, it continued through the tournament.

"I played as a midfielder in a match during the Spain tour earlier this year. But this was a whole tournament. I enjoyed this role very much," said Akashdeep, whose role has usually been limited to playing in and around the striking circle. "I saw more of the ball, was able to participate more, contribute more. I also liked being given more responsibility, in attack and defence."

Akashdeep said he enjoyed the defensive duties despite struggling initially. "In the first match, I struggled with the defensive positioning but I started feeling comfortable by the end of the tournament."

Playmaker for future

His former coach Avtar Singh, though, did not like the idea of Akashdeep playing as a midfielder. However, he did feel that this experiment could help Akashdeep develop into a playmaker in the future. "When you play high up, your role is limited. There is always a lot of pressure from the defenders. In this tournament, he had a lot of freedom. He not only scored goals but also set up many," said Avtar, who coached Akashdeep at the Surjit Academy, Jalandhar.

"I don't think he should play as a midfielder regularly because he is a brilliant striker," he added. "However, these experiments will give him the confidence and experience to become a complete forward. So, in time, he can become a central striker who can constantly shift into the role of a playmaker, behind the other strikers, during a match."

A famous example of this evolution of a striker is Jamie Dwyer. The Australian great, who retired recently, started out as a centre-forward but with experience shifted between the roles of a striker and a playmaker.

"But that ability comes with a lot of experience. The good thing is that Akashdeep has the capacity. He was always among the best when it came to reading the game," Avtar added. "That is why he has also been a good goal provider for others."

Already, Akashdeep has been made to think about his growing role. "I had many discussions with the coach and with Sardar Singh." said Akashdeep. "I will also talk to Manpreet."

Transition period

It is highly unlikely that Oltmans played Akashdeep as a midfielder only because of Manpreet's absence — in this transitional phase for this young team, filling the playmaker's role becomes an important task for Oltmans, who has been given the coaching job until the 2020 Olympics.

In recent times, apart from Manpreet, the only options for playmaking midfielders have been Sardar, Mujtaba and SK Uthappa. Sardar and Mujtaba are already coming to the end of their careers and cannot match the young forwards in speed; it is highly unlikely that they will last till the Tokyo Olympics.

Out of the forward-line, Akashdeep, who will turn 22 next month, is the most experienced in the team after SV Sunil. The 29-year-old from Karnataka, however, is a winger.

"All eyes are on the junior team as it has some very talented defenders and midfielders. After the World Cup, many from that team are likely to graduate to the senior squad," Avtar said.

However, it takes years to settle into the senior team and only very rare ones, after years of experience, can become playmakers.

The Tribune


---

Perak cruise to second win in Under-14 hockey meet

by S. Ramaguru



Perak's Aman Shannan (left) tries to get past Pahang player Muhammad Syamin Naim during their MHC-1MAS-Milo Under-14 hockey championships at the KL Hockey Stadium. – IBRAHIM MOHTAR / The Star

KUALA LUMPUR: Saiful Shahril Bahri was the hero as Perak carved out a 2-1 win over Pahang in the battle of former champions in the MHC-1MAS-Milo Under-14 hockey championships at the KL Hockey Stadium.

It was Perak's second win in the boys' Group B, having beaten Kedah 3-0 on Saturday.

Saiful gave Perak, the champions in 2005, 2006 and 2013, the lead on Sunday with an 18th-minute field goal. But 2014 winners Pahang managed to equalise, also through a field goal, by Najja Muddin Abdullah Samuri in the 29th minute.

Saiful was again on target, netting the winner with a field goal in the 49th minute.

Perak will play their third match in as many days with a clash with Penang on Monday.

Perak team manager Mohamed Sayuti Abdul Samat said the win over Pahang showed the team were slowly adapting to their playing structure.

"Our opening win over Kedah was a little shaky although we won convincingly. Today the players were much more settled in their play. I want to see the team improve with each match. This is just the preliminary round and we should make the second stage of the tournament. But we cannot be complacent at all," said Sayuti.

In another Group B, Penang were held to a 1-1 draw by Sarawak.

It was Sarawak who took the lead in the eighth minute with a field goal by Jallister West Ranggie. Mohamed Haikal Hilman ensured a share of the points by converting a penalty corner for Penang in the 12th minute.

The Star of Malaysia


---

Hockey heats up in Chile

Sarah Juggins



Liga Bio Bio, Chile. Photo Michael Gibnay

Chile is a nation that is on the move when it comes to hockey. At the end of November, Santiago plays host to the women's Junior World Cup and the start of 2017 will see both the men's and women's national senior teams contesting Hockey World League Round Two after they both eased through the Round One stages.

In this interview we talk to two people who are involved in hockey development in Chile. Alfredo Mella is the man in charge of the national development program and, as such, has a long-term strategy for development in Chile. Michael Gibney hails from the UK but, since moving to Chile, has thrown himself into driving hockey forwards in Concepcion and the surrounding region.

Alfredo explains what has been happening in the past few months to raise the profile of hockey in Chile. "Traditionally hockey was played in Chile only in the established clubs and the English schools, but in the last year our sport has gone through a big change because a lot of new players have been introduced to the game. More schools have introduced hockey onto the curriculum, especially for girls, so now the efforts of the Chilean Hockey Association is to increase the number of boys who play hockey in the country."

This latter point is being addressed by the national association through the provision of coaching programs and resources specifically aimed at getting more boys and men into the game.

Generally speaking however, it seems to be the schools that are leading the changes. There are numerous competitive opportunities for school teams to play and Alfredo says this is being backed up by clubs and the national association who are providing pathways for players to progress once they have left school or reached a certain level of ability within the game.

Of course, like so many other South American countries, football remains the sport of choice both for participants and spectators but Alfredo reports that there has been a surge in people looking for alternative sporting activities to get involved in. As a team sport, hockey has the advantage of appealing to both genders, making it easier for young siblings to be taken to a club for training. And you cannot underestimate the impact of a team's success upon a sport's popularity. Chile men and women have both been moving steadily up the world ranking in recent years after good performances at the Pan American Games and FIH Hockey World League (HWL).

Alfredo also points out that hockey is one of those sports where people remain within the structure even when they stop playing – be it as a coach, an umpire or an organiser.

The drive to promote hockey to young players is paying dividends. Alfredo estimates that more than 8,000 people play hockey regularly in local clubs, schools and fun competitions, with 2,500 playing in national tournaments. The sticking point is the availability of suitable pitches. Alfredo is hopeful that investment will soon be available that will help address the problem. "To play at a higher level, having a pitch is important and for that you have to have investment. We think that we could have soon a public hockey pitch, not only for our national teams to train on, but for a lot of the clubs too. That will be an important help to raise performance levels."

While Santiago was the focal point for hockey in Chile, the game is rapidly spreading. Alfredo is proud to report that there is now serious amounts of hockey being played across the whole country: "Viña del Mar, Concepcion, Antofagasta, Temuco, Punta Arenas – even in Easter Island there is now a hockey program," he says.

The Chile Hockey Association is taking a very 'joined-up' approach to development. Any school, club or area that wants to start a hockey program is supplied with coaching tools and resources. Hockey sticks are provided and the teachers or would-be coaches are given training in delivering hockey sessions. This training is delivered by high performance coaches who are based at the National Academy. Players on the national team are drafted in to help promote the sport and inspire the players.

A strong coaching structure is at the heart of the national association's ethos. The National Academy works with universities to teach hockey coaching to trainee sports teachers and once a year a large coaching seminar is led by the national team coaches and guest coaches from other nations.

The Chile Hockey Association has a strong structure with a clear vision – to make hockey a relevant and sustainable sport in Chile. To make that vision become a reality, the sport needs its grass roots champions and Michael Gibney is just one of many people answering the call.

Michael moved to Chile from Great Britain when he was 25. The move across the seas was precipitated by an invitation to help train young players at the Prince of Wales Country Club in Santiago. As Michael says: "That was where I began to see the fanaticism and passion that drives hockey in Chile."

Michael moved from Santiago to Concepcion in 2013 and he was struck immediately by the difference between access to hockey opportunities in the capital city compared to access in the surrounding regions.

"There is no doubt there are important hockey clubs in Concepcion and the surrounding area, with dedicated trainers and there is a growing hockey legacy in Chile but the quantity of games per month was quite depressing. The same teams played each other quite regularly.

"There has clearly been an increase in recent years to help push the quantity of games played but one of the main issues is the necessity to travel to either Santiago or Viña del Mar in long journeys to only play two games. The time and cost of these journeys create a barrier that essentially stops the growth of hockey."

Determined to do something about the situation Michael and fellow hockey enthusiast Christian Cifuentes put their heads together to come up with a solution. As Michael says, "The Liga Bio Bio was created over a cup of coffee."

The hockey duo got together with local hockey contacts and soon eight club teams and three university teams were initiated into a local league – The Liga Bio Bio. All the matches were played on the school fields at Saint John's School and in September 2015, eight months after the league was created, the University of Concepcion was crowned inaugural league champions. A second season saw the league grow in size with teams from Los Angeles – a city that is an hour's drive from Concepcion – also joining the hockey party.

The league continues to grow. Michael says: "This season, we have been astounded by the inclusion of teams from Temuco, which is four hours from Concepcion, which has brought more competition to the league and started to show that hockey is an important past time for many people in the southern regions of Chile."

In addition to the league, there is also a monthly Liga Bio Bio Festival for young players. More than 100 youngsters from seven schools turn up for the event, ensuring, as Michael points out, that hockey is played by the next generation.

Liga Bio Bio will continue to grow and Michael and Christian's vision is for the local hockey structure to spread to regional leagues and competitions. "We would love to one day become part of a regional league set-up with finals being played with teams in Santiago and also opening up the reality of playing more games and developing links with more communities to ensure better access to hockey in Chile."

The next year could prove a watershed moment for hockey in Chile. The spectacle of the women's Junior World Cup will turn the international hockey community's gaze onto Santiago and send the sport's profile sky high among the Chilean population. A good showing in the Hockey World League Round Two next year will raise the sport's profile even higher. A challenge to football? That may be some way off, but Chilean hockey is certainly heading in the right direction.

Pan American Hockey Federation media release


---

USA Field Hockey Celebrates 2016 Hall of Fame Induction Ceremony



Image Taken by Beth Strauss

NORFOLK, Va. - After a two-year hiatus, USA Field Hockey is pleased to have inducted another class of Hall of Fame and Honorary Members into USA Field Hockey's Hall of Fame. The evening which took place at the Sheraton Norfolk Waterside Hotel in Norfolk, Va. was filled with celebrations of the outstanding honors and prestigious achievements of those indivudals who have dedicated their lives to the game we all love.

The USA Field Hockey Hall of Fame is designed to honor players, coaches, umpires and administrators who have enhanced the sport of field hockey through exceptional achievements. The USA Field Hockey Hall of Fame Honorary Member is designed to honor those who have given long and exceptional service tothe organization and have made significant contributions to the sport in the United States or internationally.

Congratulations to the 2016 Hall of Fame inductees, Kris Fillat-Buchanan, Manzar Iqbal, Carrie Lingo, Antoinette Lucas, Kelli James Precourt and Dina Rizzo. And to the 2016 Honorary Member inductees, Karen Collins, Roque Viegas, Allan Woods and the 1975 West Chester State College National Championship Team.

Click here to learn more about each inductee.

USFHA media release