All the news for Monday 31 October 2016

Clean pleasing Indian Pakistan final ever

K Arumugam




It was a final. Defending champions Pakistan was up against odds: facing traditional foe in the crown match, with much less international exposure and far low ranking than their rival in the world order. Some Indian players somehow stoked up the environ with meaningless and thoughtless indulgence in the run up: 'We will win the Asian Champions Trophy in reply to our Uri martyrs kind of stuff'.

The motional outbreak that the Pakistan players showed after defeating Malaysia in the final was a bit of tasteless. But it showed the Pak team is upbeat, unforgiving and won't let the chance to show the world that they are no mere push overs especially to India.

Therefore the Sunday clash between the former giants at Wisma Belia was expected to be emotional, replete with physical incidents, face off for each infringement, actual or contrived, the ingradient that go with any India-Pak clash.

Whatever the coaches claim in pubic and say to the wards in the dressing room, things boil down to war like pass among the players of both team.

They claim its yet another match, we are a professional players etc.

However, no negatives that go with India – Pak encounters were seen on Sunday.

It was cleanest ever India – Pak match.

One near similarity is Rockingham one where the teams played a quiet test match, after 'bloodshed' in Busselton in Western Australia, where in all seven players and staff were punished with varying degrees including four match suspension for London Olympics bound Gurwinder Singh Chandi.

But Rockingham was a test match, academic, no serious thing was at stake.

Kuantan in this respect is quite opposite: Pak made a dramatic final entry, defending champions, their Federation President and Secretary were there to add to pressure.

At one point of time Pak was trailing by two goals. No panic reaction from them, no physical play at all. Similarly, levelled Indian team too quietly carried on its pace in search of another goal that can give them the title.

There were claims and counter claims on umpire's decision. An India goal after the umpire whistled has been cancelled after Pak's successful referral. And then Pak got a penalty corner cancelled for India from another umpire, now Grime Murray.




The referrals created a buzz on the stands, but where it counts – on the field- the players took it in their stride.

Game structure did not collapse, individual game did not come into play, pushing, shoeing, elbowing, and anything that can ignite violent reactions were not there to see. It was there even in junior meets such as in the 2011 Sultan of Johor Cup, Junior Asia Cup in Hyderabad, Busselton and alike.

So much so that Indians did not even take customary victory lap with tricolour!

The victors just quietly raised their hands, celebrated among themselves, and quickly went to the losing side to shake hands.

Pak coach Mohd Junaid said that in his long career in which he has witnessed more than 100 Ind-Pak contests closely, this was the clean one and pro at that.

His Indian counterpart Roelant Oltmans too expressed similar views. Even Indian players did not go overboard to connect it to any transborder transpiration!

Have India Pak contests come of age?

Is it good for continental hockey?

Or is that the wisdom dawned that when they fight each other bitterly and while every European, Pan American and Oceania outfit cut them into smithereens.

Today it looks so. I cannot guarantee for tomorrow.

I compliment India and Pakistan coaching staff for injecting professional mindset in players rather allowing freeflow of manufactured emotion.

There is also a realization in Pak think tank that India at present is a better side, let us accept the truth, and giving a good fight in itself is a sign of progress.

If so it augurs well for Asian hockey. Pak team will soon bounce back, leaving its historical package for better.

Stick2Hockey.com


---

India retains its status and the Cup

s2h team




Agile and alert Nikkin Thimmaiah's late goal in the fourth quarter helped India maintain its top rank in the Asia and also lift the Asian Champions Trophy for the second time in history here in Kuantan, Malaysia.

India took two-goal lead seven minutes before the half time. Pakistan did not give up, waged grim battle giving little room for Indians to manouvre more.

Quick counters and guile flank openings helped Pakistan to come back.

within three minutes after conceding the second goal, Pakistan reduced the burden by half. Heavy looking Aleem, Pak penalty corner expert, raised his level of expertise to punch the Indian cage off a penalty corner.

For Akash Chitke who had to replace Sreejesh, who aggravated his ankle injury in the Korean semifinal, could not stop the ball whistling past his ears.

The 2-1 half time score stood in good stead for the gifted neighbour.

As always India played a quarter badly in almost every game, and it was third quarter here.

Talwinder, SK Uthappa and the likes were misfiring while Shan Ali weaved past two markers to whack a forehand from top edge of circle to even out the score.

Earlier, ultimate 'Best Player' of the Kuantan mela, Rupinder Pal Singh, did not indulge in indirect methods, but put it away straight in the 18th minute (1-1).

Indians had the upper hand in the second quarter too.

Diminutive Affan Yousaff surged from the right and receiving his return pass from Pardeep Mor flashed the stick making the ball crash into D (2-0)

And then India seemed to have gone up when a freehit entered the D, and even the ever-alert neutral umpire Peter Wright signalled for a goal, Indian celebrations on the field and off it started.

Furious Pak team went for a referral, and got the goal cancelled.

Similarly on the other side Grime Murry gave India a Penalty Corner in melee, but it did not survive a referral.

Struggling India came to celebration when shortly after Uthappa messed up a sitter, with a Sardar Singh led Nikkin Thimmaiah goal 3-2). Pakistan tried hard, had its moments of success in moves and counter movers, but India preferred to focus on defence. A late penalty corner too was wasted, posing no serious challenge to Chikte.

Oltamans had to perforce play with one man less due to Surender Kumar's two-match ban, but he utilized the injury of Sreejesh to rest him and play single goalie, thereby getting one more player for substitution options.

Stick2Hockey.com


---

India win Asian Champions Trophy, Malaysia third

By S. Ramaguru




KUANTAN: India have regained the Asian Champions Trophy after a hard-fought 3-2 with over Pakistan in the final at the Kuantan Hockey Stadium.

India won the first edition in the 2011 while Pakistan were champions in 2012 and 2013.

Although there were some anxious moments, India generally put up a convincing performance to win the title.

World No. 6 India took a two-goal lead through Rupinderpal Singh (18th minute) and Devinder Walmiki (23rd).

Pakistan reduced the deficit through their first penalty corner in the 26th minute, with Mohamed Aleem Billal scoring with a direct drag flick.

Inspired, Pakistan drew level in the 38th minute through an Ali Shan field goal.

That woke up India and they finally got the winner when Sardar Singh passed for Nikkin Thimmaiaah to score in the 51st minute.

Earlier, Malaysia set a unique record when they won the bronze medal for a fourth time.

In the third-placing playoff, they defeated South Korea 3-1 in a penalty shootout after the match ended 1-1 in regulation time.

Malaysia had also won bronze in 2011, 2012 and 2013.

For South Korea, it was a slight improvement compared to their only previous outing when they finished fifth in 2011.

Malaysia took the lead through a Shahril Saabah field goal in the 14th minute.

Their lead lasted just three minutes. South Korea earned their first penalty corner of the match and they made it count, with Jung Man-jae's direct flick beating goalkeeper S. Kumar all the way.

In the shootout, Mohd Firhan Ashaari, Faizal Saari and Nabil Fiqri Mohd Noor scored for Malaysia while only Kang Moon-kyu scored for the Koreans.

Kumar admitted that it was a tough match "considering we had to overcome the disappointment from the previous day (losing 3-2 to Pakistan in a penalty shootout in the semi-finals).

"We are happy to have at least retained the bronze. It was tough, especially with the introduction of the semi-finals. Under the old format, we would have gone straight into the final (by virtue of finishing second behind India).

"I'm proud of the players. They worked hard to deliver when it mattered. It was a great team effort," he said.

The Star of Malaysia


---

India reclaims Champions Trophy



Indian hockey players pose with the Asian Champions Trophy after they beat Pakistan in the final in Kuantan, Malaysia on Sunday.

India prevailed 3-2 over Pakistan to reclaim the Asian Champions Trophy hockey title here on Sunday.

Goals from Rupinder Pal Singh (18th minute), Yousuf Affan (23rd) and Nikkin Thimmaiah (51st) helped India surmount the challenge from Pakistan, which rallied from two goals behind through strikes by Muhammad Aleem Bilal (26th) and Ali Shan (38th) in the title clash of the fourth edition of the tournament.

This was the first time the teams were meeting in the final of a continental tournament since India dethroned Pakistan as the Asian Games champions in Incheon, South Korea in 2014.

India had won the inaugural edition of the Asian Champions Trophy, defeating Pakistan in 2011.

Pakistan reversed the result in the title contest the next year and went on to retain it in 2013 after putting it past Japan in the final. World No. 6 India was the favourite going into the tournament, but was without several seasoned players who had been rested to recuperate from injuries.

India went into the title contest without ace custodian P.R. Sreejesh, who was rested due to a pulled hamstring, and Akash Chikte took the position under the bar.

India scored in the 18th minute off its second penalty-corner as Rupinder sent a rasping drag-flick into the left side of the net.

This was the 11th penalty-corner conversion in the tournament by Rupinder, the highest goal-scorer by a big margin.

India increased the lead in the 23rd minute. Sardar Singh worked his way up the right flank and put Ramandeep Singh in possession on top of the circle.

Ramandeep's cross was deflected in by Yousuf Affan.

Under pressure, Pakistan responded by forcing its first penalty-corner, which was converted by Muhammad Aleem Bilal in the 26th minute.

The Pakistan defence had no trouble warding away India's attempts to send long diagonal balls into the circle and capitalised on a lapse by the Indian defence to tie it up at 2-2 in the 38th minute.

Ali Shan wasted no time in slapping home the ball, deflected to him inside the scoring zone.

India had a goal disallowed on review in the 40th minute when the video umpire ruled that Kothajit Singh's shot from outside the circle went into the goal without a touch.

India wrested the lead back in the 51st minute when Sardar again shaped the goal-bearing move by working his way up the left flank and giving a through pass to Thimmaiah, who beat Pakistan custodian Fareed Ahmed with a diagonal flick.

The Hindu


---

Asian Champions Trophy is Diwali gift to the nation: Sardar Singh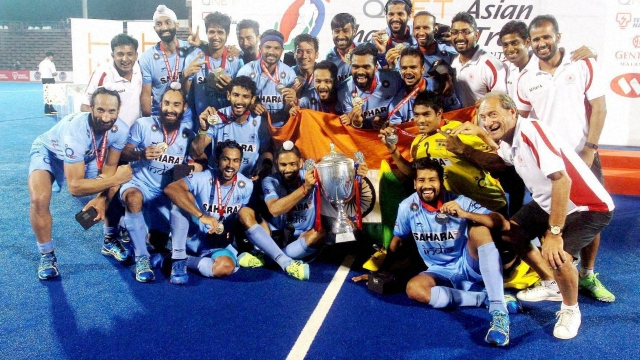 Indian hockey team is elated after winning Asian Champions Trophy defeating Pakistan in the final. However, coach Oltmans said, "For India's hockey fans this is a major title win, but we have to go on and win bigger global events".

Kuantan (Malaysia): Chief Hockey coach Roelant Oltmans today heaped praise on his boys and set his sights on bigger global titles after India reclaimed the Asian Champions Trophy by defeating arch-rivals Pakistan in an exciting final here today.

India today celebrated Diwali, the festival of lights, at the Kuantan Hockey Stadium by notching up a 3-2 victory in the title encounter against Pakistan, who were defending the title they had won twice in succession. Oltmans said he had seen 20 India-Pakistan matches as a coach and knew the excitement of the sub-continental encounters. "For the Indian players, there was no option other than winning the title here. We went in as the favourites and were the target of other teams, who faced no such pressure," said Oltmans. "I'm really proud that the team showed its mental strength in the last quarter to clinch victory after we conceded two goals and allowed the opposition to come back into the contest.

"For India's hockey fans this is a major title win, but we have to go on and win bigger global events," Oltmans added. India's most-experienced player Sardar Singh, who was adjudged most outstanding player of the final for marshalling the midfield and playing a pivotal role in two Indian field goals, said the team played in this manner after a long time. "This trophy is the hockey team's Diwali gift to the nation," said Sardar, the former Indian captain and one of the players designated as team leaders.

"We reclaimed the Asian Champions Trophy by repeating our victory over Pakistan in the Asian Games final two years ago," said Sardar, adding that the pressure was on the Indians as they were now the continent's champions and were tipped to claim the title. Goals from Rupinder Pal Singh (18th minute), Yousuf Affan (23rd) and Nikkin Thimmaiah (51st) helped India surmount the challenge from Pakistan, who rallied from two goals behind to push India close through strikes from Muhammad Aleem Bilal (26th) and Ali Shaan (38th).

India had won the inaugural edition of the Asian Champions Trophy by defeating Pakistan in the final in 2011. Pakistan reversed the result in the title contest the next year and went on to retain the title in 2013 by defeating Japan in the final. India played the final without its team skipper PR Sreejesh, who was ruled out due to a hamstring injury suffered during the semifinal against South Korea, which India won through the penalty shootout.

Sreejesh said he could feel the emotions of the players sitting on the sidelines.

"An India-Pakistan match is always special and this is a special victory," said Sreejesh.

DNA


---

From PM Modi to Tendulkar- Celebrities praise India's hockey triumph against Pakistan

Indian hockey team gave a Diwali gift to the nation by winning the Asian Champions Trophy.

From Prime Minister Narendra Modi to eminent sports personalities, the country was wholesome in its praise for the Indian hockey team after it clinched the Asian Champion Trophy by beating arch-rivals Pakistan in the finals at Kuantan, Malaysia today.

Favourites India prevailed 3-2 over Pakistan to reclaim the trophy and present a perfect Diwali gift to the nation. PM Modi wrote on his twitter handle, "Very proud of our hockey team. Congratulations on winning the Asian Champions Trophy." Cricket legend Sachin Tendulkar too, was prompt in reacting to the team's achievement. "What a win by the Indian hockey team!," Tendulkar wrote moments after India's march to the title.

Tendulkar's former team-mate Virender Sehwag wrote, "Yesterday Moral of the story: Maa ki Mamta Jeet aasan bana deti hai. Today Moral of the story: #BaapBaapHotaHai #IndVsPak #NoMaukaMauka."

Champion boxer and Olympic medallist Vijender Singh called it the "best" Diwali gift.

Vijender said, "Best Diwali gift by @TheHockeyIndia win #championstrophy." The politicians joined the sporting fraternity in congratulating the national hockey team. Union minister and Olympic medallist Rajyavardhan Rathore wrote on his handle, "Congratulations Team India. Well done." Senior minister Arun Jaitley wrote, "Congratulations to Indian hockey team, management & fans on winning the second Asian Champions Trophy by beating Pakistan. Well done!" Another union minister VK Singh said, "A wonderful #Diwali gift for the nation. Many congratulations to the #IndianHockeyTeam for beating Pakistan 3-2 to become Asian Champions."

Goals from Rupinder Pal Singh (18th minute), Yousuf Affan (23rd) and Nikkin Thimmaiah (51st) helped India surmount the challenge from Pakistan, who rallied from two goals behind through strikes by Muhammad Aleem Bilal (26th) and Ali Shaan (38th) in the title clash of the fourth edition of the tournament. BCCI president Anurag Thakur said, "We've got another CHAMPION this #?????? - #TeamIndia @TheHockeyIndia wins #ACT2016 #INDvPAK ! :-) Well played boys!" Another senior BCCI functionary and Congress politician Rajeev Shukla wrote, "Well Done Indian Hockey Team. Congrats for Winning the Asian Champions Trophy beating Pakistan." Cricketers Gautam Gambhir and Mohammed Kaif lauded the team.

Gambhir said, "A heartwarming Diwali gift from the Indian Hockey Team. Congratulations on being crowned Asian Champions. We are immensely proud of you!

While Kaif said, "Congratulations @TheHockeyIndia , what a great Diwali gift to a billion people. Great Victory." Former hockey captain Viren Rasquinha wrote, "CHAMPIONS!!! India beat Pak 3-2. Well done Team India #ACT2016.

"Didnt play too well yet beat Pak. Indian hockey is on the right track. Proud of this team. Well done." Indian women's hockey team player Rani Rampal wrote, "Superb Diwali gift by our Men's team @TheHockeyIndia to d nation by defeating Pakistan in the finals & winning Asian Champions Trophy title."

DNA


---

Pakistan dominate but India end up Nikkin it

By Nabil Tahir



The final lived up to expectations as it ebbed and flowed, with both sides looking likely to win it at certain junctures of the game. PHOTO COURTESY: IHF

KARACHI: Pakistan came close to pulling off a superb comeback against India in a nerve-wracking final of the Men's Asian Champions Trophy in Kuantan, Malaysia yesterday but ultimately lost 3-2 to the pre-tournament favourites courtesy of a late Nikkin Thimmaiah winner.

The Greenshirts had defied expectations to reach the final, showing some superb attacking verve in the process, and gave their fans a lot to cheer about as they came from 2-0 down to draw 2-2 going into the final quarter with all the momentum behind them. But in the end it was India who struck the decisive goal against the run of play to claim the win.

Pakistan, ranked 13th in the world, seemed nervous to begin with but settled in nicely and carved out two presentable opportunities in the first quarter. However, they were unable to score from either of them and their profligacy came back to haunt them when Indian skipper Rupinder Pal scored from a penalty corner in the 18th minute.

Indian midfielder Sardar Singh then found Ramandeep Singh in the 21st minute and the striker promptly crossed for Affan Yousuf to deflect home and make it 2-0.

Many would have been fearing a one-sided affair at that point but Pakistan were back in it just three minutes later as Aleem Bilal Ghumman made no mistake from a penalty corner, flicking the ball low into the bottom corner to give Indian goalkeeper Akash Chikte no chance.

Pakistan knew they had to come out and attack in the second half and that is precisely what they did, putting the Indians under pressure straight away.

Eight minutes into the half they were rewarded when Ali Shaan flicked the ball into the net to level the scoring and send the ample Pakistan support into raptures.

India were reeling at that point and Pakistan seemed the likelier side to score the winner but it was the Men in Blue who struck when Jasjit's aerial ball found Ramandeep, who claimed his second assist of the night when he found Thimmaiah inside the box to make it 3-2.

Pakistan had a chance to level the scoring in the 53rd minute from a penalty corner but drag-flicker Tasawar Abbas failed to convert.

India managed to see out their slender advantage and claim their second Asian Champions Trophy to tie with Pakistan as the tournament's most successful team.

Pakistan head coach Khawaja Junaid praised the energy on show by both sides. "Both teams showed excellent skill on the ball and were much more composed than their last outing. It was a high-energy game and that was really impressive," he said.

"Our players have started to improve with the experience they have gained from the tournament and will build on this in future tournaments," he added.

Ali Shan, who scored the second goal for Pakistan, rued missed chances but was happy with the team's performance. "We did our best; we missed some early chances but I'm happy with the way we played under pressure," he told The Express Tribune.

Meanwhile, former Olympian Waseem Feroz hailed the team's effort against a better-ranked and more experienced side. "Pakistan have not played international matches for a long time and India have players who have played more than 100 matches, so keeping than in perspective, Pakistan performed really well," he said.

The Express Tribune


---

India beat Pakistan 3-2 to lift Asian Champions Trophy

India defeated defending champions Pakistan 3-2 in an exciting final of the Asian Champions Trophy here at the Wisma Belia Hockey Stadium in the Malaysian city of Kuantan on Sunday.

The first quarter ended goalless. In the second quarter, Rupinder Pal Singh converted a penalty corner into a goal to give India a 1-0 lead.

Seven minutes later, Affan Yousuf scored another goal for India, taking the lead to 2-0.

Pakistan staged a come back and reduced the gap to one when when Aleem Bilal scored the first goal for Pakistan on a penalty corner in the 26th minute of the match.

The third quarter saw an intense battle between the arch-rivals. Pakistan put up a good show and managed to draw par when Ali Shan netted a superb goal in the 38th minute to even the scores.

However, India's Nikkin Thimmaiah scored a field goal during the last quarter, helping his side to clinch the title from the defending champions.

In the third-place match, hosts Malaysia claimed their fourth successive bronze medal in the Asian Champions Trophy hockey event as they trounced South Korea 3-1 in the penalty shootout.

Dawn


---

Spirited Pakistan go down fighting against India in final

LAHORE: Five years after they defeated Pakistan in a penalty shootout to win their maiden title in 2011, India reclaimed the Asian Champions Trophy Hockey Tournament crown beating the same opponents 3-2 in regulation time in Kuantan, Malaysia on Sunday.

Apart from few lapses in the defense, the Indians bossed over their archrivals, playing an attacking game, splitting Pakistan's defense on several occasions.

After a silent first quarter, India fired in two goals in a gap of three minutes courtesy a penalty corner conversion from Rupinder Pal Singh and later a field goal from Affan Yousuf.

Pakistan, on the other hand, were always found trying to comeback in the match and courtesy Aleem Bilal's drag were able to make the score 2-1 at the end of the second quarter.

In the third quarter, possession-play from Pakistan helped them create an opportunity for Ali Shan to tap one in and equalise the scores 2-2.

However, when it mattered the most, India held their nerves better than the Greenshirts and Nikkin Thimmaiah was their tormentor as he pushed one in from a cross in the fourth quarter.

Pakistan head coach Khawaja Junaid Ahmad was quite optimistic in the post-match comments.

"Players will take a lot of confidence from this final," he said. "We have achieved many things today. We were unfortunate to not convert. It was a great game of hockey," he added.

This was the first time the teams were meeting in the final of a continental tournament since India dethroned Pakistan as the Asian Games champions in Incheon, South Korea in 2014.

India had won the inaugural edition of the Asian Champions Trophy by defeating Pakistan in the final in 2011.

Pakistan reversed the result in the title contest the next year and went on to retain it in 2013 by defeating Japan in the final.

World No. 6 India were the favourites going into the tournament, but were without several seasoned players who had been rested to recuperate from injuries.

The Daily Times


---

Stats Speak: India won 13 titles in 29 summit clash against arch rivals Pakistan

B.G.Joshi(Sehore—Bhopal,India)

Traditional giants Indian and Pakistani players gave their best in Kuantan Asian Champions Trophy final.  Rupinderpal Singh, Affan Yousuf and Nikkin Thimmaiah have scored for India, whereas Aleem Bilal and Shann Ali have netted for Pakistan. It was 29th occasions when both team have locked horns for Gold Medal. So far India won the 13 titles and Pakistan 16.

Details are:
| | | | |
| --- | --- | --- | --- |
| Tournaments | Numbers | Triumph of India | Triumph of Pakistan |
| Olympics | 3 | 2 (1956,1964) | 1(1960) |
| World Cup | 1 | 1(1975) | 0 |
| Asian Games | 9 | 2(1966,2014) | 7(1958,62,70,74,78,82,90) |
| Asia Cup | 4 | 1(2003) | 3(1982,85,89) |
| Asian Champions Trophy | 3 | 2(2011,2016) | 1(2012) |
| South Asian Games | 4 | 1(1995) | 3(2006,10,16) |
| Invitations Tourneys | 5 | 4(1988,91,2001,03) | 1(1996) |
| Total | 29 | 13 | 16 |
 Total: MP-167, India wins-55, Pakistan Wins-82, Drawn-30, India's Goals For-324, Pakistan's Goals For-388.

Fieldhockey.com


---

We have to win bigger global events: Roelant Oltmans



Indian hockey team's chief coach Roelant Oltmans. Photo: K. Murali Kumar

Chief hockey coach Roelant Oltmans has heaped praise on his boys and set his sights on bigger global titles after India reclaimed the Asian Champions Trophy by defeating arch-rivals Pakistan in an exciting final in Kuantan.

India notched up a 3-2 victory in the title encounter against Pakistan, who were defending the title they had won twice in succession.

The title win last night presented a perfect Diwali gift to the nation as the countrymen were celebrating the 'Festival of Light'.

Oltmans said he had seen 20 India-Pakistan matches as a coach and knew the excitement of the sub-continental encounters.

"For the Indian players, there was no option other than winning the title here. We went in as the favorites and were the target of other teams, who faced no such pressure," said Oltmans.

"I'm really proud that the team showed its mental strength in the last quarter to clinch victory after we conceded two goals and allowed the opposition to come back into the contest.

"For India's hockey fans this is a major title win, but we have to go on and win bigger global events," Oltmans added.

India's most-experienced player Sardar Singh, who was adjudged most outstanding player of the final for marshalling the midfield and playing a pivotal role in two Indian field goals, said the team played in this manner after a long time.

"This trophy is the hockey team's Diwali gift to the nation," said Sardar, the former Indian captain and one of the players designated as team leaders.

"We reclaimed the Asian Champions Trophy by repeating our victory over Pakistan in the Asian Games final two years ago," said Sardar, adding that the pressure was on the Indians as they were now the continent's champions and were tipped to claim the title.

Goals from Rupinder Pal Singh (18th minute), Yousuf Affan (23rd) and Nikkin Thimmaiah (51st) helped India surmount the challenge from Pakistan, who rallied from two goals behind to push India close through strikes from Muhammad Aleem Bilal (26th) and Ali Shaan (38th).

India had won the inaugural edition of the Asian Champions Trophy by defeating Pakistan in the final in 2011.

Pakistan reversed the result in the title contest the next year and went on to retain the title in 2013 by defeating Japan in the final.

India played the final without its team skipper P.R. Sreejesh, who was ruled out due to a hamstring injury suffered during the semifinal against South Korea, which India won through the penalty shootout.

Sreejesh said he could feel the emotions of the players sitting on the sidelines.

"An India-Pakistan match is always special and this is a special victory," said Sreejesh.

The Hindu


---

Sardar bounces back to limelight

s2h team




Indian star Sardar Singh seemed to have found his moorings back in the Asian Champions Trophy, as he among other things has been chosen as the Best Player of the Final.

At 30, the oldest player in the Indian team, Sardar Singh's role in the team came into questioning in some quarters as his loss of form and losing sheen after run of the mill performance in Rio.

Sardar Singh was played at front here as a forward, though he is known for his midfield manouvres and defence expertise.

Sardar did not excel upfront either in Rio or here.

But that was till India's semifinal against Korea.

He proved his worth and also his class with his extraordinary stuff when chips were down.

India was trailing by 0-1 and just seven minutes left in the clock for India to salve something in the semis so that its hopes of reaching the final third time can materialize.

In a spurt of moment, he seized the moment in the right flank, dodged at least three markers, and then reaching close to right side of net along backline, send a gem of a minus to Talwinder Singh, who for once, did not fail. That goal took India to level and then the shoot out is the history

Today in the final, again his class proved the difference between winner and loser.

2-0 India was 2-2 in the fourth quarter. At this juncture, Sardar sprinted to the right side of the circle edge and passed a thro ball to Nikkin, who just did not waste a moment to seize his moment of glory. His diagonal flick crashed in to the net on the right. This goal survived next ten minutes, and India deservedly won the crown which it lost in 2012.

Speaking to stick2hockey.com shortly after getting the Best Player Award at the hands of Chief Minister of Penang State, Sardar said: "This award will boost my confidence, as the title win will do to the youngsters in the team".

He hastens to add that this victory is for the team, and the credit goes to the team.

Stick2Hockey.com


---

PR Sreejesh: I have done my job in the semifinal

s2h team




"I cannot resist and I have to shout". This is what joyous Indian goalkeeper PR Sreejesh said on asked about his vocal power sitting in stands when the team played the final on the ground. Due to ankle injury that the famed goalie and captain aggravated in the Korean penalty shoot out the other day, where he stopped once to get India through to the final, he could not play the final against Pakistan.

He came limping after the match on to the turf to join the team mates in the celebration and also to receive the coveted trophy.

"Its really pressure situation for me. When you are on the field the situation is different, you know what to do and how to control things. This is what ten years of hockey has taught. But when situation comes likes this that I had to sit it outside due to injury and see good moments and bad moments on the field I have to shout, shrill about it. I cannot resist".

"This is what coaches Tushar and other tell me, keep calm like things. But this is my way of supporting, giving way of emotion". undefined

On personal emotions that he had to sit out the final and then join the celebrations, he said:

"I have done my job in the semis. I took them to final. That is more important. That's all what I can do for the country. At the same time, I know the team is competent, and had full trust on them. Such injuries and things are common in sports, and I take it as it comes".

He discounted the reports that he wanted to win the Asian Champions Trophy for the sake of Uri martyrs, and said: "That is correctly reported. All I want to say is that this is the best ever Diwali gift I can give to my country".

Sreejesh missed three matches in all in India's seven match ordeal, and his deputy Akash Tike replaced with fair amount satisfaction.

Stick2Hockey.com


---

Fourth consecutive bronze for Malaysia

By Jugjet Singh

MALAYSIA won their fourth consecutive Asian Champions Trophy bronze medal when they beat South Korea 3-1 in a penalty shoot-out in Kuantan Sunday.

It was the Fourth Edition of the ACT, and Malaysia held Korea 1-1 before winning the shoot-out confidently.

In the final -- will send one more para -- one more para.

After a poot shoot-out in the semi-finals against Pakistan on Saturday, Firhan Ashaari, Faizal Shaari and Nabil Fiqri were all Malaysia needed to win the bronze while the other two players were never needed.

Goalkeper S. Kumar brought off three saves and was the hero of the moment.

"It has been a tough tournament as we had to play seven matches in a packed schedule because the tournament rules were changed to the semi-finals format instead of the norm in the last three editions where the top-two teams after the round-robbin qualify for the final.

"Malaysia (who finished second in the pool) would have been in the final if not for the change of format to semi-finals in a six-team tournament," lamented Kumar. who has been involved in many shoot-outs in his career.

Kumar also said after watching the video of the Korea-India semi-finals shoot-out, he knew what to do yesterday.

"I have been in many shoot-outs before and prepared for today (yesterday) by watching the Korea-India shoot-out. It helped me identify the strikers patterns and that's why I managed to stop all of them," said Kumar.

The rain came pouring down as Malaysia and South Korea started their quest for bronze.

Malaysia took the lead of Shahril Saabah in the 14th minute, his fourth goal of the tournament.

However, South Korea equalised off skipper Jung Manjae off their first penalty corner in the 17th minute.

Shahril was yellow carded 20 seconds from half-time, and Malaysia re-entered the pitch with 10-men and looking very jaded.

The score stood in the next two quarters, and it went to a penalty shoot-out to decide the winners.

RESULTS: Final -- India 3 Pakistan 2; Third-Fourth: Malaysia 1 South Korea 1 (Malaysia win shoot-out 3-1).

Jugjet's World of Field Hockey


---

Rani, Deepika star in India's win against Korea

SINGAPORE: An inspired second half performance saw Indian eves outgun Korea 2-1 in an exciting encounter at the 4th Women Asian Champions Trophy hockey on Sunday.

The win puts India on top of the pool standings.

A composed first quarter saw both sides challenge each other in a midfield battle. India were the ones who were pushed to the back foot early on, conceding a penalty corner, but Rajani's smart save ensured both teams went into the first break locked in a stalemate.

Early in the second quarter, Korea's Eeseul Baek scored in the 28th minute to give her team a 1-0 lead. Though Korea kept up the pressure, Indian defence ensured they went into halftime down by a single goal.

The Indian eves stormed out of the blocks in the second half, and soon enough striker Rani scored India's first goal by tactfully converting a penalty corner to draw them level. It was a much-needed breakthrough for India which came in the 47th minute of the match. With the teams level, India were suddenly on the front foot, crowding the midfield and pushing Korea deep into defence.

The fourth quarter was most exciting, keeping the spectators on the edge of their seats, as both teams pressed hard to take lead. It was Deepika Thakur's experience and skill that earned India it's second goal in the 54th minute when she eased past the Korean defence, making her way into the their D, finding enough space to swing the ball past the Korean keeper.

From being a goal down in the first half, India had stormed to a goal lead within 10 minutes of the fourth quarter. It was a lead India fought to hold on, playing the final few minutes of the match smartly and cautiously, to earn a well-deserved victory.

Indian eves will next take on Malaysia, who have lost the two matches they have played so far in the tournament, on Tuesday.

The Times of India


---

Indian juniors trounce Germany to win Invitational tourney

India's junior men's hockey team (Image courtesy: Hockey India FB page)India's junior men's hockey team (Image courtesy: Hockey India FB page)
VALENCIA: India's junior men's hockey team notched up an emphatic 5-2 win over Germany to win the 4 Nations Invitational Tournament.

Right from the start it was India who were on the front foot, and Parvinder Singh's 10th minute goal only confirmed that fact. They doubled the lead via Armaan Qureshi in the 22nd minute, to head into half time with a comfortable lead.

Despite the lead India were not content to rest on their laurels and kept dictating the terms of play, forcing Germany to defend for large parts of the second half too. Gurjant Singh (40') and Varun Kumar (44') scored in quick succession to turn the game into a purely academic exercise as India racked up a four-goal lead.

Germany got a goal back in the 46th minute via Philip Schmid and then Schmid converted another penalty corner in the 65th minute to reduce the deficit. India didn't fall prey to nerves though, as Simranjeet Singh scored a fifth in the 69th minute to give them the title. Harmanpreet Singh was named the best player of the tournament. Varun Kumar was the highest scorer of the tournament. Hockey India was pleased to announce Rs. 1 lakh prize money to each of the players and coach Harender Singh, and a further Rs 50,000 to the support staff for their performance.

In addition Harmanpreet Singh and Varun Kumar were each awarded Rs 1 lakh for their brilliant individual performances in the tournament.

The Times of India


---

Costa Rica and Guatemala racing for men' s gold.

Panama and Guatemala looking for the top in the women's competition In the Central American Indoor Tournament

Patrick Espejo




Eduardo Orozco's cross shot with 1 minute left boosted Costa Rica National Team's joy. The goal tied the match against Panama, 2-2 and gave the ' ticos', today dressed in green, a ticket to the final match against Guatemala to fight for the Gold Medal of the Central America Indoor Tournament.

Costa Rica played a tied game to Panama, with players running frenetically in all the pitch at the Eugenio Luzcando, Gymnasium in Panama City.

The host had a lead of two goals from Manuel Correa, half the way of the second period (26' and 30') making the day of the excited fans. However, Costa Rica's tactical skills payed when Eduardo Orozco scored a field goal in minute 33 ' with a field goal followed by a penalty corner execution to tie the game.

The result 2-2, equalized the Panamanians, thou a better difference of goals put Costa Rica in the finals.

Guatemala struggled to join Costa Rica in the final match after hard work against Honduras with a 5-3 win (3 goals by their top scorer Leonidas Leiva); making three wins from identical number of matches.

The final between Guatemala and Costa Rica will begin at 4:45 p.m. In the first match of this competition, organized by the Pan American Hockey Federation (PAHF), Guatemala had won 4-3. Panama and Honduras will go for the third place at 1:30.

WOMEN'S COMPETITION: GUATEMALA AND PANAMÁ             

Panama remained favorite, after winning 8-1 to Honduras ensuring a place in the final match of the women's competition. Panama will play Guatemala, who got to the finals after a very closed and even game that only found a definition thru Sandra Sis who broke Costa Rica's defense in the minute 40.

The final match will be played at 3.00pm.  Costa Rica and Honduras will play for the 3rd place at noon.

Pan American Hockey Federation media release


---

Guatemala's men and Panama's women are the champions, for the third time, of the Central America Indoor Tournament

Monserrate Barquero (Costa Rica) and Leonidas Leiva (Guatemala) were awarded Players of the Tournament

Patrick Espejo



Panama's National Team. 2016 Winner of the Central American Indoor Championship (Women).    

Guatemala's men National Team and Panama's women renewed their leadership at the III Central American Indoor Tournament, they won, today, the competition for the third consecutive time, making it three out of three editions of the tournament organized by the Pan American Hockey Federation (PAHF).

A victory that both teams celebrated loud, especially because they had to do their best to beat strong rivals in the finals, Costa Rica, the runner-up in the men's tournament; and Guatemala in the women's.

Monserrate Barquero was awarded Player of the Tournament elected by officials and coaches of the participant teams while Leonidas Leiva (Guatemala) was awarded Best Player of the men competition.

Panama's men and Costa Rica women's Teams won the bronze. Honduras, placed fourth in both competitions goes back home knowing they did a good job and that they are certainly starting to close the gap with their neighbors.

THE THREE TIMES CHAMPIONS PLAYED THEIR ROLE

Leaded by captain Kersthy Montenegro, Panama dominated in both halves, a strong defense prevented the Guatemalan getting to the attacking area. Panama took the control of the game early. And it was Montenegro who opened the score in minute 4. Ruby Diaz added one (minute 7) and Celina Portugal increased the lead in minute 17 and 31, for the final score in the Eugenio Luzcando Gymnasium.

The bronze Medal was for Costa Rica, who defeated Honduras 4-0, thru Monserrat Barquero (minute 12), Nohelia Mata (minute 20), Daniela Solano (minute 32) and Jennipher Barrantes (minute 33).

More about this tournament: http://www.panamhockey.org/en/competitions-56-2016-central-american-indoor-championship

GUATEMALA ADDS ONE MORE TITLE TO THE LIST

In the last match of the tournament, Guatemala and Costa Rica played an exciting game with goals on both sides. Guatemala went away with a 6-3, victory as they could capitalize from the very few mistakes of Costa Rica's defense. Costa Rica had the lead three different times, but had to struggle with a more experienced team.

Leonidas Leiva (2) –scorer of the tournament–, Didier Monterroso, Jorge Ramírez and Agustín Depaz (2), scored for the champion.

The third place was for Panamá, after defeating Honduras 5-1, recovering from a tie 1-1 in the first period. Manuel Correa player # 9 was the player of the game; he scored four times. Jefferson Cerrud added one and Medardo Hernández scored for Honduras.

Th Central American Indoor Tournament came to an end with the evidence of the regional teams working hard in their development.

Pan American Hockey Federation media release


---

Black Sticks side named for Trans-Tasman



Photo: www.photosport.nz

Black Sticks Women's head coach Mark Hager has named a versatile side to compete at the inaugural Trans-Tasman Trophy in Auckland.

The team of 18 includes eight players in their first action since the Rio Olympics, along with plenty of young talent and two debutantes in Capital's Felicity Reidy and Kim Tanner of Midlands.

The tournament also sees the return of several athletes who have seen limited action of the past few years such as Samantha Harrison, Michaela Curtis and Jenny Storey.

Coach Hager said it's the first step in the next Olympic cycle leading into the 2020 Tokyo Games.

"It's a fresh start for us after a tough Rio campaign and we have eight players who played there and are keen to get straight back to business," he said.

"We've named a high quality group for the Trans-Tasman Trophy with plenty of players who have the opportunity to showcase their skills and put pressure on some of the more senior athletes for places in next year's squad which will be named in December."

Northland's Stacey Michelsen is the most experienced in the team with 216 test caps while Olivia Merry, Pippa Hayward, Sally Rutherford and Liz Thompson have all played over 100 internationals.

Promising teenaged forwards Madison Doar (Auckland) and Samantha Polovnikoff (Northland) will also travel with the team as observers after impressing at the Ford National Hockey League.

"This series is a great learning experience for all our players against an opposition who is in a similar transitional phase after the Olympics.

"It's exciting to have two debutantes with Felicity a genuine goal scoring threat up front and Kim a really quality defender who was a key player for Midlands during the NHL.

The Trans-Tasman Trophy is proudly supported by Ford, Polytan, Qantas, Educare, Trillian Trust and NZCT.

Presale tickets are still selling for the Trans-Tasman Trophy and are cheaper online than at the gate.

CLICK HERE for more information and to buy tickets

BLACK STICKS WOMEN
Trans-Tasman Trophy
| | | | | |
| --- | --- | --- | --- | --- |
| PLAYER NAME | REGION | POSITION | AGE | CAPS |
| Michaela CURTIS | Central | Striker | 23 | 36 |
| Natasha FITZSIMONS | Midlands | Defender | 27 | 52 |
| Amelia GIBSON | Auckland | Goalkeeper | 25 | 57 |
| Erin GOAD | North Harbour | Defender/Midfielder | 23 | 3 |
| Jordan GRANT | Canterbury | Midfielder/Striker | 25 | 60 |
| Samantha HARRISON | Auckland | Midfielder/Striker | 25 | 93 |
| Pippa HAYWARD | Canterbury | Defender/Midfielder | 26 | 117 |
| Rose KEDDELL | Midlands | Defender/Midfielder | 22 | 136 |
| Rachel McCANN | Canterbury | Striker | 23 | 29 |
| Olivia MERRY | Canterbury | Striker | 24 | 140 |
| Stacey MICHELSEN | Northland | Striker | 25 | 216 |
| Kirsten PEARCE | North Harbour | Striker | 25 | 61 |
| Felicity REIDY | Capital | Midfielder/Striker | 23 | - |
| Sally RUTHERFORD | Midlands | Goalkeeper | 35 | 126 |
| Kelsey SMITH | Capital | Midfielder/Striker | 22 | 28 |
| Jenny STOREY | Canterbury | Defender | 24 | 9 |
| Kim TANNER | Midlands | Defender | 24 | - |
| Liz THOMPSON | Auckland | Defender | 21 | 122 |
 TRAVELLING OBSERVERS


| | | | | |
| --- | --- | --- | --- | --- |
| PLAYER NAME | REGION | POSITION | AGE | CAPS |
| Madison DOAR | Auckland | Midfielder/Striker | 17 | - |
| Samantha POLOVNIKOFF | Northland | Striker | 18 | - |

Hockey New Zealand Media release


---

Under-strength Black Sticks named for trans-Tasman series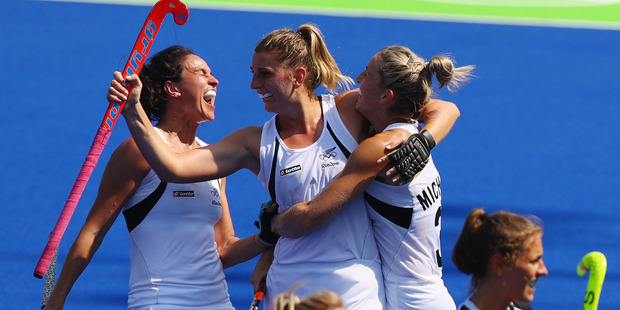 Olivia Merry celebrates scoring a goal at the Rio Olympics. Photo / Getty Images

Black Sticks Women's head coach Mark Hager has named a side missing many big names for the inaugural Trans-Tasman Trophy in Auckland.

The team of 18 includes eight players in their first action since the Rio Olympics, along with plenty of young talent and two debutantes in Capital's Felicity Reidy and Kim Tanner of Midlands but is missing regulars like Anita Punt, Gemma Flynn and Charlotte Harrison.

The tournament also sees the return of several athletes who have seen limited action of the past few years such as Samantha Harrison, Michaela Curtis and Jenny Storey.

Coach Hager said it's the first step in the next Olympic cycle leading into the 2020 Tokyo Games.

"It's a fresh start for us after a tough Rio campaign and we have eight players who played there and are keen to get straight back to business," he said.

"We've named a high quality group for the Trans-Tasman Trophy with plenty of players who have the opportunity to showcase their skills and put pressure on some of the more senior athletes for places in next year's squad which will be named in December."

Northland's Stacey Michelsen is the most experienced in the team with 216 test caps while Olivia Merry, Pippa Hayward, Sally Rutherford and Liz Thompson have all played over 100 internationals.

Promising teenaged forwards Madison Doar (Auckland) and Samantha Polovnikoff (Northland) will also travel with the team as observers after impressing at the Ford National Hockey League.

"This series is a great learning experience for all our players against an opposition who is in a similar transitional phase after the Olympics.

"It's exciting to have two debutants with Felicity a genuine goal scoring threat up front and Kim a really quality defender who was a key player for Midlands during the NHL.

Black Sticks
Michaela Curtis, Natasha Fitzsimons, Amelia Gibson, Erin Goad, Jordan Grant, Samantha Harrison, Pippa Hayward, Rose Keddell, Rachel McCann, Olivia Merry, Stacey Michelsen, Kirsten Pearce, Felicity Reidy, Sally Rutherford, Kelsey Smith, Jenny Storey, Kim Tanner, Liz Thompson.

The New Zealand Herald


---

Black Sticks coach Mark Hager names youthful side for Trans-Tasman Trophy



Michaela Curtis returns to the Black Sticks squad. CHARLOTTE CURD/FAIRFAX NZ

Mark Hager has named a strong, youthful Black Sticks women's side for the Trans-Tasman Trophy.

Two debutants come into the fold, with Capital's Felicity Reidy and Kim Tanner of Midlands getting their first international chances.

The tournament also sees the return of several athletes who have seen limited action of the past few years such as Samantha Harrison, Michaela Curtis and Jenny Storey.

Hager said the tournament is the first step in the next Olympic cycle.

"It's a fresh start for us after a tough Rio campaign and we have eight players who played there and are keen to get straight back to business," Hager said.

"We've named a high quality group for the Trans-Tasman Trophy with plenty of players who have the opportunity to showcase their skills and put pressure on some of the more senior athletes for places in next year's squad which will be named in December."

Stacey Michelsen is the most experienced player in the squad, boasting 216 test caps, while Olivia Merry, Pippa Hayward, Sally Rutherford and Liz Thompson have all played over 100 internationals.

Black Sticks women: Michaela Curtis, Natasha Fitzsimons, Amelia Gibson, Erin Goad, Jordan Grant, Samantha Harrison, Pippa Hayward, Rose Keddell, Rachel McCann, Olivia Merry, Stacey Michelsen, Kirstin Pearce, Felicity Reidy, Sally Rutherford, Kelsey Smith, Jenny Storey, Kim Tanner, Liz Thompson.
Ad Feedback

Stuff


---

SOJC: England challenge for hosts

By Jugjet Singh

MALAYSIA confirmed their Sultan of Johor Cup (SOJC) squad at the 11th Hour, with ten players from last year's bronze medallists still remain standing.

The hosts - the only team in Johor not bound for the Junior World Cup in Lucknow - are out on a missing to redeem themselves after failing at the Junior Asia Cup last year.

Malaysia open their campaign against England Monday, at the Taman Daya Stadium, who boast of many players from last year's Great Britain side, before taking on Australia, Pakistan, Japan and New Zealand.

"We will be out to prove that we are worthy alongside five countries which have qualified for the world cup," said team manager Yahya Atan.

"These are the next batch of Malaysian players and in Johor they must indicate, that they want to be in contention for the senior team someday."

Malaysia have named a number of players that competed in the Australian Hockey League, among them are Rizwan Azmi, Firdaus Omar, Lukman Nur Hakim, Nor Azmi Rahman and Syed Shafiq.

MALAYSIA: Rizwan Azmi, Zaimi Mat Deris, Luqman Nul Hakim, Firdaus Omar, Najib Hassan, Najmi Farizal, Zalupidaus Mizun, Rozaini Baharom, Syed Syafiq Cholan, Amrirol Aideed, Arif Syafie, Ashran Hamsani, Rafizul Ezry, Firdaus Fauzi, Norsyafiq Sumantri, Nik Aiman Rozemi, Hafiizhuddin Zaidi, Akhimullah Anuar, Abdul Khaliq, Zulhamizan Awang.

Jugjet's World of Field Hockey


---

Malaysia out to prove doubters wrong in SOJ hockey meet

by Mohd Farhaan Shah

JOHOR BARU: Malaysia will head into the Sultan of Johor Cup hockey tournament as the underdogs, but team manager Yahya Atan is confident that his Under-21 side can prove their doubters wrong.

Malaysia, the only team in this year's tournament who did not qualify for December's Junior World Cup in Lucknow, India, are hoping to make amends for their failure at the Junior Asia Cup last year.

And Yahya expects them to hit the ground running when they open their campaign against face defending champions England on Monday.

"Although we are the underdogs, we must stay positive and aim to finish in the top four and advance to the final," he said.

The other teams competing in the sixth edition of the Under-21 tournament are Australia, Pakistan, New Zealand and Japan.

The only invitational Under-21 tournament in the world, the Sultan of Johor Cup will be held at the Taman Daya Hockey Stadium from Monday until Nov 6.

The Star of Malaysia


---

Scottish Cup heats up as the competition progresses

There were no shocks in the second round of the men`s Scottish Cup, with five first division sides and three from lower tiers progressing into the quarter-final draw.

Grange continued their successful season so far with a 4-2 win over Hillhead in an all-first division clash. The league leaders opened their account in 15 minutes when Irishman Frank Ryan received the ball in the circle and a quick turn and shot found the Hillhead net. Teenager Joe Waterston doubled the Grange tally with a powerful strike from the top of the circle after a pass from Callum Milne.

Although Hillhead pulled one back early in the second half, the Grange bandwagon was not to be halted and Todd Mills restored the two goal lead with a penalty corner conversion. Fantastic build-up play by Andrew Graham was behind the 4-1 lead; he fed the ball on to Ryan who found the net with a reverse stick shot from the top of the circle. Hillhead got a later counter from a penalty corner but there was no stopping Grange`s progress to the next round.

Edinburgh University, third in the first division, had a tough job disposing the St Andrews students from the lower league. Graham Moodie`s charges found themselves two down midway through the first half and a shock was on the cards. However, Edinburgh finally got their act together and Gordon Amour pulled one back from a penalty to be followed by two open play goals from former Scotland striker Ian Moodie.

A hat-trick by youngster Jack McKenzie was the catalyst in holders Bromac Kelburne`s progression to the quarter-finals with a 6-2 win over Uddingston Riva from the lower reaches of the first division. The other goals came from Finn Halliday, Lee Morton and Josh Cairns.

In the other all-first division clash PSL Team Sports Clydesdale triumphed 1-0 over a Gordonians side that have yet to record a success this season.

There was not a lot in the first half between fourth placed Grove Menzieshill and Inverleith from the second tier but Ciaran Crawford`s success from the spot in 24 minutes gave the Taysiders a slender lead at the interval. But the second half belonged to the first division side, Mike Ross doubled their tally, Hamish Galt added a third from a rebound at a set piece and Crawford scored his second of the match for a 4-0 victory.

But there is guaranteed lower league representation in the quarter-final draw, pride of place going to FMGM Monarchs who saw off Aberdeen Grammar 5-4 on penalties after a 2-2 draw in normal time. MJV Dundee Wanderers powered past Kingdom Homes Carnegie 5-1, Ross Glashan scoring a hat-trick, while second division leaders Granite City Wanderers beat Strathclyde University by the same margin.

There were no shocks either in the women`s cup, pride of place here goes to champions Edinburgh University who defeated second division Inverleith 13-0 - Amy Brodie was top scorer with five while Louise Campbell and Becky Dru both got two each.

Wildcats were taken to the wire by second division leaders GHK and only a strike by Lucy McArthur finally separated the sides in favour of the top flight outfit.

In an all-first division clash Dundee Wanderers saw off Erskine Stewart`s Melville 4-2. Other top tier sides also progressed - Kelburne beat Granite City Wanderers 2-0, Hillhead overcame Edinburgh University 3s 3-1, Milne Craig Western beat their own second string 5-0 and Grove saw off Western 3s 7-0 at Titwood.

Grange will be the only second division side in the quarter-final draw after seeing off Edinburgh University 2s 3-2.

Scottish Hockey Union media release


---

Marist reigns

Maciu Malo



Marist White HOCKEY team wins the Mates Tournament in Lautoka. Picture: REINAL CHAND

MARIST scooped the top prizes on offer at the 28th Medica PacificW&G Mates Hockey tournament held in Lautoka, Fiji yesterday.

The club won both the men's and women's final defeating Ventures 3-2 and 1-0 respectively to stamp their dominance in the competition.

Marist defeated Rebels 1-0 in the men's semi-final while Ventures downed Sugar Sticks 2-0 in the second semi-final to set up an all Suva affair in the final.

In the women's event Ventures thumped Blue Star 5-0 in the semi- final while Marist secured a narrow 1-0 win over a gutsy Rebel team.

Last year's champion Rockerfellers of Lautoka was bundled out in the pool games and failed to secure their spot in the elimination stages.

Tournament co-ordinator Martin Coffin said the tournament was a success and congratulated the Suva teams for their achievements.

He said the competition level had improved compared with last year and a lot of talent was displayed during the two days of competition.

Coffin said the Suva teams dominated the show while the western teams struggled in some games.

He said the drawback for the western teams was the lack of proper training facilities.

"The western teams are still training on grass surfaces while their Suva counterparts have been exposed to regularly training on proper hockey field,' said Coffin.

"But overall we are happy with the standard of games being displayed especially with the abundance of new talent showcased during the tournament."

He thanked the sponsors and all individuals that had contributed to make this tournament a success.

The Fiji Times


---

No. 11 Michigan thumps No. 7 Louisville

Michigan Athletics



Michigan overwhelmed Louisville on Senior Day, easily earning the victory. Michigan Athletics

ANN ARBOR, Mich. — No. 11-ranked Michigan closed out its regular season in style, using a strong second half to highlight a 4-1 win against No. 7 Louisville on Saturday afternoon at Phyllis Ocker Field. It is the Wolverines' third straight win against a ranked opponent.

Despite being outshot (6-2) and outcornered (5-0) in the first half, the Wolverines took the initial lead late in the frame before blowing it open with three goals in the second. Allie Sardo netted the game-winner — the first of her career — at the 24:10 mark, receiving the ball from Carly Bennett on the left side of the circle and pushing a slow-rolling, tight-angle shot just across the goal line.

The Wolverines scored twice in the opening 14 minutes of the second half to build a sizable 3-0 advantage. Sophomore Emma Way tallied her first of two in the contest at 43:10, redirecting a ball from the left post after graduate student Esther de Leijer threaded a pass through a crowd from just outside the top of the circle.

U-M took advantage of another flurry to score less than five minutes later, at 48:27, as freshman Fay Keijer sent a slow roller on net from in front, and Bennett tapped it in on the goal line.

Louisville broke up the shutout bid late with a high reverse chip at the 64:05 mark, but the Wolverines responded with an insurance tally just three minutes later at 67:08 to reestablish their three-goal cushion. Bennett drove the ball into the circle from the left side, pulling the Cardinal goalkeeper out of position, before feeding in front it to Way, who bounced a shot into the open cage.

The Cardinals narrowly outshot the Wolverines 10-8 and outcornered them 7-2. Junior goalkeeper Sam Swenson earned six saves in the Michigan cage, while Louisville goalkeeper Ayeisha McFerran stopped three of seven U-M shots on goal.

NCAA


---

No. 3 UConn staves off No. 12 BC in overtime

UConn Athletics



The Huskies enter the Big East tournament as the No. 1 seed. UConn Athletics

CHESTNUT HILL, Mass. – The No. 3 UConn field hockey team picked up major momentum heading into the Big East Tournament with a thrilling 4-3 win over No. 12 Boston College in overtime on Sunday afternoon.

The Huskies (18-1, 7-0 Big East) bested the Eagles (10-8, 3-3 ACC) when junior Casey Umstead scored a goal in the 84th-minute off a penalty stroke, sealing the victory for UConn in the final game of the regular season.

Junior Charlotte Veitner, senior Anna Middendorf and freshman Barbara van den Hoogen each scored for UConn in the win. Veitner and Middendorf both scored in the 64th minute – helping the Huskies get to overtime.

Freshman Svea Boker had two assists, putting her season total at 13 – tied for second-most on the team. Umstead added an assist, prior to scoring the game-winner.

Redshirt junior goalkeeper Nina Klein had six saves for the Huskies, including a pair in overtime to keep the game tied. UConn had a 16-11 shots advantage on Sunday, as BC goalkeeper Audra Hampsch had six saves of her own.

Prior to playing in the Big East Tournament as the No. 1 seed, the Huskies were able to outlast Boston College – despite a late deficit. Trailing 2-1, Middendorf scored in the 64thminute to tie the game off a corner shot from the right side of the circle.  

Just 21 seconds later, Veitner scored on a shot from the center of the circle to regain UConn the lead at 3-2. In the 68th minute, the Eagles tallied the equalizer when Eryn McCoy scored to bring the game to overtime.

Late in the first overtime, UConn earned a penalty stroke to be taken by Umstead. The junior defender converted, making her 8-for-8 on penalty strokes this season, and the Huskies finished the regular season with an 18-1 record.

Veitner's goal gives her 207 career points, just six away from tying Lauren Henderson for the most all-time points in program history.

UConn enters the Big East Tournament as the top seed and will play No. 4 Temple on Friday in the Big East semifinals. The Owls are hosting the tournament, so the game will be played at Howarth Field at 1 p.m. (ET).

If the Huskies win on Friday, they will play for their fifth-straight Big East Tournament championship on Sunday afternoon at 1 p.m. (ET) against either No. 2 Liberty or No. 3 Providence.

NCAA


---

Maryland field hockey's pre-game surprises made for an emotional Senior Day win

By James Crabtree-Hannigan



Maryland field hockey huddles after the Terps' 4-2 win over Rutgers at the Field Hockey and Lacrosse Complex on Oct. 29. (Reid Poluhovich / The Diamondback)

The Maryland field hockey team's Senior Day game ended with what has become a common occurrence for coach Missy Meharg's program. The team clinched its third consecutive Big Ten regular-season championship, reaching the milestone each season the school has been a member of the conference.

But before the Terps donned commemorative T-shirts and hats and raised their trophy after a 4-2 win against Rutgers at the Field Hockey and Lacrosse Complex, the day started with surprises and commotion.

The first surprise came during warm-ups, when a ball struck one of defender Courtney Deena's finger, breaking it and ruling her ineligible for the match.

Then, as the group of five seniors were preparing to take part in the pregame ceremonies, forward Welma Luus saw a face she wasn't expecting. Her sister, who lives in their native South Africa, came to College Park without telling Luus.

"I had no idea — she came up to me right before we walked out," Luus said. "She was hiding behind the parents, so I didn't see her."

The sisters embraced and soon walked out on the field together, along with Luus' fiance. Before Luus was recognized, though, Deena endured another health scare.

As Deena was posing for pictures with her parents and coaching staff, she began to feel weak and fell toward her mother, who tried to keep her standing. But eventually, Deena, fell to the turf as the team called for head trainer Sandy Worth.

Some of the players requested the BTN2Go cameras not record the scene.

"Obviously we all wanted to make sure Courtney was okay," said Rissinger, one of the seniors. "Luckily she is."

Deena eventually stood and walked to the locker room before returning to the sideline during the game. She stood with her fellow seniors in the game's waning moments as Meharg rotated reserve players onto the field with her team holding a late lead.

"The energy all over the field is amazing," Rissinger said. "Whether you're on the field or on the sideline, it's just fun to be around everyone no matter where you are."

After time expired and the Terps shook hands with the Scarlet Knights, they celebrated their fourth consecutive regular-season conference title, as they also earned one in their final ACC campaign.

"We all come to Maryland to win championships," Rissinger said. "It feels good to know that's what we do."

But at a program like Maryland's under a coach like Meharg, the Terps know Senior Day isn't the climax of the season. The 29th-year coach admitted that after the game.

"To me," Meharg said, "it's about tournaments."

Maryland is ranked third in the nation in the coaches' poll and RPI and will host the Big Ten tournament this weekend. The team could be in a position to host the first two rounds of the NCAA tournament the following weekend, too.

"We have a lot more hockey to play this year. I'd like to think that we have seven games," Meharg said, referencing potential runs to the finals of the conference and national tournaments.

So despite the twists throughout the Senior Day ceremony, the team anticipates it will have a chance to create more memories in the coming weeks.

"We have today to celebrate and have fun with our families," Rissinger said. "But then it's back to work this week, because we still have more championships to win."

The Diamondback