All the news for Wednesday 21 September 2016

Pakistan Pulverises Oman 8-3 in last under 18 hockey test; wins series 3-0

Pakistani boys preserved their best show for the last day. Having already wrapped up the series, they over ran Oman 8-3 in the 4th test at Lahore's National Hockey Stadium.

Thus, the series ended 3-0 in hosts' favour; first test was a draw.

The bench had been successfully tested in the third test. Pakistan were back to their first choice line up as it was their last outing before the Boys Under 18 Asia Cup, starting from September 24 in Dhaka, Bangladesh.

 They were on the offensive right from the outset. Two penalty corners were earned in the first four minutes. All eyes were on Amjad Ali, the hat trick hero of the 3rd test but his efforts were not successful. He was also hampered by the slow injection of the ball due to the rain hit surface. But in the very next minute, Ali Aziz ghosted in to beautifully deflect the ball into the net from a fine right side cross to open the account.

Pakistan's incessant raids continued and they completely  dominated the play with well orchestrated moves. Two more beautiful goals were witnessed in the first half of 35 minutes. Adeel Latif beat two opponents in a  mesmeric run before finding the target with an excellent shot. Then, he became the provider. Another jinking run saw him past three defenders and his diagonal hit from the right found Ali Aziz well positioned to easily put it in and it was 3-0 at the half time. Just before the hooter, two other Pakistani penalty corners had gone waste.

It was 4-0 in the very first minute after resumption. In a move which had goal written all over it, skipper Junaid Manzoor provided the finish. It seemed all over for Oman but the visitors fought back magnificently and made repeated raids in a spell of five minutes. In the 43rd minute, a high ball in the Pakistani circle confused the defenders and Rashad Hamed made them pay by scoring from close range. Very next minute, it was 2-4. In what was probably, visitors' best goal of the entire series, a sweeping move starting from right culminated in Adnan Abdulla scoring from near the left post with a small reverse shot.

Pakistan recovered quickly from this double set back and Oman were put to sword as the hosts added no less than four goals in a 10 minute period. All were results of excellent combined manouvres. Khairullah, Afraz, Abdulla Babar and Ahmed Nadeem put their names in the scoring sheet.

8-2 ahead,made them a bit complacent and Oman were able to add another goal in the 62nd minute when Rashad Hameed scored from a strong top of the circle shot.

Pakistan 8
Ali Aziz 2 (7th & 23rd minute), Adeel Latif (17'), Junaid Manzoor (36'), Khairullah (50')
Afraz (52'), Abdulla Babar (60') and Ahmed Nadeem (61)
Oman 3
Rashad Hameed (43rd & 61st) & Adnan Abdulla (44')

Pakistani manager Kamran Ashraf appeared well satisfied, "My team's coordination and understanding improved with every game. The side appears well prepared for the Boys under 18 Asia Cup starting in Bangladesh in a few days' time."

Chief guest, Federal Minister of Inter Provincial Coordination, Mr Riaz Peerzada informed that the Prime Minister, who is also the Patron in Chief of the PHF, has sanctioned a grant of Rs 200 million for the uplift of the national game.

PHF Media release
 
---

Pakistan down Oman 8-3 in dead rubber



Hosts triumph over Oman in fourth and last game to claim series 3-0. PHOTO: EXPRESS

KARACHI: Ali Aziz's brace and six individual goals sealed an 8-3 victory for Pakistan's U18 team yesterday in their last match against Oman's junior team in the four-match U18 test series at the National Hockey Stadium in Lahore.

With the win, Pakistan swept the series 3-0 after drawing the first match 2-2 and winning the second and third ones 6-1 and 3-0 respectively.

Pakistan scored the first goal of the match in the seventh minute through Aziz, after which Adeel Latif found the back of the net in the 17th minute and then Aziz scored his second goal in the 23rd minute to end the first half with a 3-0 lead.

A minute after the second half's commencement, the hosts scored their fourth goal in the 36th minute courtesy Junaid Manzoor. Oman then stepped up their game and struck twice through Rashad Hameed in the 43rd minute and Adnan Abdullah in the very next minute to cut their deficit to 4-2.

Pakistan subsequently regrouped to hammer two goals in the 50th and 52nd minute through Khairullah and Afraz.

Then followed a spate of goals with Abdullah Babar scoring in the 60th minute followed by Ahmed Nadeem's 61st-minute strike with Oman's Adnan Abdullah pulling one back in the same minute to end the match 8-3 in Pakistan's favour.

Pakistan manager and head coach Kamran Ashraf was a picture of satisfaction. "My team's coordination has improved with every game," he told The Express Tribune. "The side appears well prepared for the Boys U18 Asia Cup starting in Bangladesh in a few days' time. They emerged the better team even with no international exposure before this series."

The Express Tribune


---

Pakistan rout Oman to win series 3-0

Azhar Khan

LAHORE - Pakistan outclassed Oman in the last and fourth test 8-3 to clinch the Under-18 hockey test series 3-0 here at the National Hockey Stadium on Tuesday.

The highlight of the day was Pakistani youngsters' brilliant performances against the visitors which proved that the Pakistan Hockey Federation (PHF) sincere efforts of hunting fresh talent and grooming them for international events have started bearing fruit.

With such sterling performances by Pakistani lads against Oman team without having any international exposure, it can be expected that they will also do well in the upcoming 4th Boys U-18 Asia Cup Hockey to be held in Dhaka, Bangladesh from September 24.

Pakistan started the fourth and last test against Oman with aggressive approach and kept on attacking the opponents' goal.

Their efforts paid off in the 7th minute when Ali Aziz skillfully put the ball into the net to give Pakistan 1-0 lead.

The green shirts continued to raid Oman goalpost and completely dominated the play with well-orchestrated moves.

It was then Adeel Latif, who dexterously dodged two opponents in a mesmeric run before finding the target with an excellent shot.

In the 23rd minute, soon after getting the possession of the ball, Ali Aziz once again converted a superb goal to complete his brace and provided Pakistan 3-0 lead just before the hooter of half time was blown.

Pakistan made it 4-0 in the very first minute after resumption of the match in the second half, with captain Junaid Manzoor thwarting a tremendous goal in the 36th minute.

It seemed all over for Oman but the visitors bounced back in style and pumped in two inspiring goals to make it 4-2.

Rashad Salim Hamed hit the first goal for Oman in 43rd minute while in the 44th minute, Adnan Khalil Abdullah scored from near the left post with a small reverse shot.

Pakistan then recovered quickly from this set back and Oman were put to sword as the hosts added four more goals in 10 minute with Khairullah, Afraz, Abdullah Babar and Ahmed Nadeem hammering one goal apiece to provide Pakistan unbeatable 8-2 lead.

In the dying moments of the match, Oman managed to add one more goal in their total tally through Rashad Hameed to finish the final test at 8-3.

Inter Provincial Coordination (IPC) Minister Riaz Hussain Pirzada was chief guest at the concluding ceremony, while PHF president Brig (R) Khalid Sajjad Khokhar, secretary Shahbaz Senior, Director Development Naveed Alam and others were also present on the occasion.

Talking to the journalists soon after Pakistan's 8-3 triumph over Oman, manager Kamran Ashraf said: "My team's coordination and understanding has improved with every game.

The team appears well prepared for the upcoming Boys Under-18 Asia Cup starting in Bangladesh from September 24."

It is pertinent to mention here that four out of 11 players were from Tauqeer Dar Hockey Academy, who played key role in Pakistan team's triumphs and were ready to represent the country in international events.

Speaking on the occasion, Tauqeer Dar said: "I, along with all the hockey Olympians and fans, am very happy with the revival of international hockey in Pakistan.

The credit of this goes to the PHF top brass, which has been struggling hard in promoting the national game and reviving international hockey in Pakistan."

The Nation


---

PM sanctions Rs200m grant for hockey uplift: Minister

LAHORE - Inter Provincial Coordination (IPC) Minister Riaz Hussain Pirzada has said that Prime Minister Mian Nawaz Sharif, who is also PHF patron, has sanctioned a grant of Rs 200 million to the PHF for the uplift of the national game.

Talking to the journalists here on Tuesday at the National Hockey Stadium at the prize distribution ceremony of Pakistan-Oman U-18 hockey series, Pirzada said: "The government is taking keen interest in the uplift and revival hockey and the prime minister is taking special interest in this regard, therefore, he has sanctioned a grant of Rs 200 million for the PHF."

He said that the funds would soon be transferred to the PHF kitty.

"The government is paying attention on the development of sports and it is also endeavoring that foreign teams should also visit Pakistan in near future."

Speaking about the hockey series between the two nations, Riaz Pirzada lauded the top PHF brass and the organising committee for holding the international event in a successful manner.

"After hosting the Oman team in a befitting manner, I hope the PHF will host more nations which will help in bringing international sports back to the country and we will fully support the PHF in this regard."

He said due to the ongoing military operation against terrorists, the security situation was improving with each passing day.

"The situation is becoming conducive to hold international sports events in Pakistan and we are confident that more foreign teams will be visiting the country in due course of time."

The minister said that visit of Oman junior hockey team would help Pakistan convince other international hockey teams to visit the country.

"The foolproof security was provided to the Oman team and we hope this will also inspire other international teams to visit Pakistan."

To a query regarding arranging jobs for hockey players, he said: "It is the responsibility of the PHF to convince the banks and corporate sector to not only help the federation but also provide jobs to hockey players, so that they may focus on playing hockey instead of worrying about earning bread and butter for their families."

He said under a direction of the prime minister, letters had been written to all the provinces to organise hold sports events at the grassroots level besides holding sports festival for traditional sports at village level.

The minister recalled Pakistan's glorious past in traditional sports including kabaddi, volleyball and wrestling and said due to terrorists' attacks, such activities could not take place in the recent past and Pakistan failed to win medals in respective sports at international level.

"Due to lack of sports activities, we cannot progress in games and it is very imperative to organise sports events on regular basis to develop a sports culture in the society."

"Pakistan Test cricket team has become number one team in the world due to hard work and commitment on part of the players and team management and what is important is the continuation of such efforts to show consistency," Riaz Pirzada concluded.

The Nation


---

Former Olympians give useful suggestions for hockey revival

LAHORE: Former hockey Olympians of different era tabled useful suggestions for the introduction of a uniform hockey manual from grassroots level to the prime level for the revival of the national game at a seminar held under the banner of Pakistan Hockey Federation here on Tuesday. PHF secretary general Shahbaz Ahmad Senior presided over the seminar, which focused on getting input from former 'greats of the game' to evolve a uniform coaching manual to be adopted at all levels in the country. In addition, the one-year performance of the present setup of the PHF and its efforts for revival of hockey were also reviewed. The PHF secretary also presented Federation' Vision 2020 programme for the revival and development of the game. Around 20 former celebrated hockey internationals of Pakistan participated, mostly Olympic gold medallists or World Cup winners, including six former captains briefly spoke on various aspects and factors responsible for the decline for the game for over a decade.

The seminar began with the presentation of the PHF's Vision 2020 programme which outlined the national federation's plans such a revival at the grassroots, improving the profile of the game, marketing of hockey, among others. The PHF's efforts during its one-year tenure were also mentioned which included holding of domestic tournaments such as the national championships for seniors, under-18 and women, introducing innovative formats through the 5-A Side and 9-A Side tournaments, international participation in events like Sultan Azlan Shah Cup, Sultan of Johor Cup, Junior Asia Cup, under-21's tours of Germany, Netherlands and Spain, revival of international hockey in Pakistan (visit of Oman's under-18 team).

However, the main event of the seminar was the brain-storming session in which not only the hockey stalwarts but also the workers at grassroots level gave their canded opinions regarding the system of coaching, to be introduced at all levels in conformity with the modern requirements while also incorporating the traditional sub-continental skills. It was decided to form a committee which would not only recommend a coaching syllabus but also suggest physical fitness model.

That would hopefully help Pakistan hockey to get players from the lowest level, well versed with the modern hockey right from an early age. "We will be holding such seminars and get together in other cities in due course of time to get feedback from those Olympians and hockey players who could not attend the seminar," said the PHF secretary. He said the PHF would also welcome useful suggestions from those who are associated with coaching of hockey at grassroots level regarding preparing a coaching manual. "We will be forming a committee in due course of time which will be given the task to prepare the coaching manual," he said.

The Daily Times


---

Six-shooter Peillat fires Mannheimer to two wins




Gonzalo Peillat showed the amazing quality he brings to Mannheimer as he scored an incredible six times in two games as the club show why they are major contenders for the German league and the EHL.

On Saturday, they beat Klipper 5-0 with Peillat netting four times – all from corners – to power the side to an impressive opening victory. Even more was to come on Sunday when he whipped in a seventh minute opening goal against UHC Hamburg en route to a 7-0 success against last season's finalists.

Timm Haase scored a hat trick in that game while Danny Nguyen Luong and Felix Schües also scored before the Olympic gold medal winner Peillat completed the rout.

Speaking about the win, Mannheim coach Matthias Becher said: "For this early stage of the season, that was already a very solid team performance. To start with six points and a clean sheet in the league, of course, is amazing and allows us to look at the upcoming matches full of anticipation. Nevertheless, we know that there are still areas where we can improve."

It was UHC's second loss of the weekend, falling to TSV Mannheim on Saturday as well and coach Kais al-Saadi cut a frustrated figure as he felt his side were on a par with their Sunday opponents for much of the general play including more penalty corners.

"Hockey games are decided in the circles – up front and at the back. They have almost used every dangerous chance while we had a mixture of bad luck and the inability to score from the many offensive actions."

TSV Mannheim share the lead with their city rivals after they beat Kipper on Sunday 3-1. Harvestehuder THC have four points along with Berliner and Uhlenhorst Mulheim but reigning champions Rot Weiss Koln lost to Mulheim to have just three points after the first weekend.

Euro Hockey League media release


---

All the best



National Coach Stephen van Huizen

"Both of them are in good form and when they played for 30 minutes in the Malaysia Hockey League (MHL) this season, I could see that they were still the best and their form did not drop. For me, it was enough time to include them in the ACT but we will have to rely on the goodwill of Pulapol to release them.

"However, I believe for national duty, and since the tournament in Malaysia -- there should be no problems," said van Huizen.

For the record, Razie and Nabil turn out for Kuala Lumpur Hockey Club (KLHC) in the Premier Division of the MHL and have only played for 30 minutes against Sapura the entire season.

"Against Sapura, even though both of them played only for 30 minutes, Razie scored two goals in their 3-0 win. This shows he is an invaluable player," said van Huizen.

Jugjet's World of Field Hockey


---

Razie, Nabil sit out Australia HL debut

by Jugjet Singh

MALAYSIA will field almost the entire national team in Tigers, their back-up in Blues and women's team in the Australian Hockey League (AHL) on Sept 26-Oct 10 in Perth.

This is a milestone for for country, who aspire to play in the 2018 New Delhi World Cup, as well as the 2020 Tokyo Olympics.

The senior squad will be called Tigers, and missing from the list announced yesterday by national coach Stephen van Huizen were inspector trainees Razie Rahim and Nabil Fiqri.

"Yes we will be fielding an almost full side minus Nabil and Razie who are in training to become inspectors in Pulapol. This is because even though we have an understanding with Pulapol to let them out for national training and matches which concern Malaysia, they can't release trainees for overseas assignments," said van Huizen.

Razie is the No 1 penalty corner flicker in the country while Nabil is a pillar in midfield for the nation.

When asked if both of them would be released for the Asian Champions Trophy in Kuantan on Oct 20-30, van Huizen could not make a commitment.

"Both of them are in good form and when they played for 30 minutes in the Malaysia Hockey League (MHL) this season, I could see that they were still the best and their form did not drop. For me, it was enough time to include them in the ACT but we will have to rely on the goodwill of Pulapol to release them.

"However, I believe for national duty, and since the tournament in Malaysia -- there should be no problems," said van Huizen.

For the record, Razie and Nabil turn out for Kuala Lumpur Hockey Club (KLHC) in the Premier Division of the MHL and have only played for 30 minutes against Sapura the entire season.

"Against Sapura, even though both of them played only for 30 minutes, Razie scored two goals in their 3-0 win. This shows he is an invaluable player," said van Huizen.

As for the Australian HL Malaysian Hockey Confederation (MHC) Technical Director Terry Walsh Said: "After playing in a local league, the players will get a chance to compete in an overseas league and this is a huge step forward for Malaysia."

The other foreign teams in the men's tournament are India and New Zealand.

"Playing in the AHL, then the ACT and then the Azlan Shah Cup for the men and the World League in Singapore for the women are all part of the plan to qualify for the World Cup and Olympics.

"While the men will face some difficulties, but not impossible ones to qualify for the world Cup, it would be much more harder for the women. But this AHL playing chance should come in as a very good experience to wards our future cause," said Walsh.

Shukri Mutalib will skipper the Tigers, Baljit Singh will captain the Blues and Siti Noor Amarina will lead the women in Perth.

Ten teams each will compete in the men's and women's AHL.

Jugjet's World of Field Hockey


---

Malaysia send three teams to hockey league Down Under

by S. Ramaguru



Shukri Mutalib (right) will skipper the Tigers in Australia.

KUALA LUMPUR: The Malaysian Hockey Confederation (MHC) will field a strong national team when they make their debut in the Australian Hockey League (AHL) on Sept 29.

Malaysia will have two teams in the men's category and one in the women's section of the AHL.

The entire national team, minus two players – police inspector trainees Razie Rahim and Nabil Fiqri – will feature for the Tigers. The Blues, as the development squad will be known, will comprise youngsters and seniors.

Their participation in the AHL is part of Malaysia's preparations for the 2018 New Delhi World Cup and 2020 Tokyo Olympics.

The other foreign teams in the men's tournament are the junior teams from India and New Zealand.

Shukri Mutalib will skipper the Tigers, Baljit Singh will captain the Blues and Siti Noor Amarina will lead the women in Perth.

Ten teams each will compete in the men's and women's categories in the AHL.

THE MALAYSIAN TEAMS

TIGERS

S. Kumar, Mohd Hairi Abd Rahman, Mohd Sukri Abdul Mutalib, Mohd Izad Hakimi Jamaluddin, Faiz Helmi Jali, Muhamed Najib Abu Hassan, Mohd Marhan Mohd Jalil, Mohd Fitri Saari, Meor Mohd Azuan Hasan, Joel Samuel van Huizen, Mohd Azri Hassan, Mohd Firhan Ashari, Mohd Shahril Saabah, Mohd Ramadan Rosli, Mohd Rashid Baharom, Mohd Haziq Samsul, Nik Mohd Aiman Nik Rozemi, Mohd Najmi Farizal Jazlan,

BLUES

Mohd Ridwan Azmi, Mohd Hafizuddin Othman, Mohd Firdaus Omar, Luqman Nul Hakim Ahmad Shukran, Nor Azrul Abdul Rahman, Baljit Singh, Mohd Aslam Mohd Hanafiah, Shazril Irwan Nazli, Syed Mohd Syafiq Syed Cholan, Mohd Amirol Aideed, Mohd Ashran Hamsani, Rafizul Ezry Mustafa, Harvinder Singh, Norsyafiq Sumantri, Mohd Sufi Ismat Rohulamin, Mohd Akhimullah Anuar Esook, Izwan Firdaus Ahmad Tajuddin, Faizal Saari.

WOMEN

Mas Huzaimah Md Aziz, Siti Noor Hafiza Zainordin, Siti Noor Amarina Ruhani, Juliani Mohd Din, Siti Shahida Saad, Nurul Safiqah Mat Isa, Nur Syafiqah Mohd Zain, Norazlin Sumantri, Raja Norsharina Raja Shabuddin, Fatin Shafika Mahd Sukri, Wan Norfaiezah Md Saiuti, Nuraini Abdul Rashid, Surizan Awang Noh, Hanis Nadiah Onn, Siti Rahmah Othman, Nurul Nabihah Mansur, Fazilla Sylvester Silin, Fatin Naimah Zaki.

The Star of Malaysia


---

NZ Futures teams named for AHL



Photo: www.photosport.nz

The New Zealand Futures Men and Women have been named to compete at this year's Australian Hockey League (AHL) at the Perth Hockey Stadium from September 29 – October 9.

The Kiwi development sides will battle alongside teams from each Australian State and Territory as well as other invitational teams from India and Malaysia.

Both teams are made up of players identified through national domestic competitions, and include athletes from the Junior and Future Black Sticks squads.

This is the first year the premier Australian domestic league will host the men's and women's competition alongside each other at the same venue.

CLICK HERE for more on the 2016 Australian Hockey League
NZ FUTURES MEN
| | | |
| --- | --- | --- |
| PLAYER NAME | REGION | POSITION |
| Brennan ALEXANDER-PARKER | Central | Striker |
| Craig ARMSTRONG | Midlands | Goalkeeper |
| Joe CROOKS | Auckland | Striker |
| Nick ELDER | North Harbour | Midfielder |
| Angus HAZLETT | Canterbury | Defender |
| Jack HUMPHRIES | North Harbour | Defender/Midfielder |
| Jared JONES | Capital | Striker |
| Mick LAMMERS | North Harbour | Goalkeeper |
| Oliver McINTYRE | Capital | Defender |
| Harry MISKIMMIN | Capital | Defender |
| Ben RADOVONICH | Auckland | Striker |
| Matt REES-GIBBS | Midlands | Striker |
| Oscar STEWART | Central | Defender |
| Matt SYMONDS | Capital | Midfielder |
| Ben TANNER | Midlands | Midfielder |
| Benedict van WOERKOM | Capital | Striker |
| Warren WILD | North Harbour | Striker |
| Zac WOODS | Midlands | Striker |
 NZ FUTURES WOMEN
| | | |
| --- | --- | --- |
| PLAYER NAME | REGION | POSITION |
| Josie ACKROYD | North Harbour | Striker |
| Frances DAVIES | Midlands | Defender |
| Stephanie DICKINS | North Harbour | Defender |
| Maddison DOWE | Auckland | Midfielder |
| Megan HULL | Midlands | Midfielder |
| Alia JAQUES | Midlands | Midfielder |
| Tessa JOPP | Southern | Midfielder |
| Bridget KIDDLE | Canterbury | Defender |
| Nicola McDONNELL | Auckland | Striker |
| Maddi McLEAN | Southern | Defender |
| Kirsten NATION | Canterbury | Goalkeeper |
| Deanna RITCHIE | Auckland | Striker |
| Brooke ROBERTS | North Harbour | Goalkeeper |
| Amy ROBINSON | Midlands | Striker |
| Phoebe STEELE | Canterbury | Striker |
| Catherine TINNING | Canterbury | Midfielder |
| Tayla WHITE | Auckland | Defender |
| Emily WIUM | Canterbury | Striker |
 Hockey New Zealand Media release


---

TNB Cup: It isn't over till the fat lady sings

by S. Ramaguru

KUALA LUMPUR: All four TNB Cup semi-finalists – Terengganu, Sapura, Maybank and Kuala Lumpur Hockey Club (KLHC) – are convinced that the first-leg ties are unlikely to decide the finalists.

In fact, they are bracing themselves for the semi-final clashes to go the distance, including a penalty shootout in the return leg.

The semi-finals will see Terengganu, who are gunning for their third double, facing Maybank and Sapura take on KLHC in a battle of former champions.

"I expect our semi-final against Maybank to be close," said Terengganu coach Sarjit Singh, who will again count on South Korean Jang Jung-hyun and local forward Tengku Ahmad Tajuddin to deliver the goals.

Jung-hyun has scored 10 goals from penalty corners while Tengku Ahmad has seven field goals.

But what has pleased Sarjit most in the last few matches is the impact the local players, like Ismail Abu and Faizal Saari, have made.

"This has given us a lot of confidence. It is important that we take our chances early and not let Maybank seize the early initiative," said Sarjit.

While Terengganu may prove too strong for Maybank, the other tie – between Premier Division runners-up Sapura and former champions KLHC– looks too close to call.

Both teams are packed with star players, but lack consistency.

Sapura lost both their preliminary round matches to KLHC and coach Yahya Atan will have to dig deep into his bag to come up with a winning strategy.

KLHC team manager Ahmad Anuar Sham also admitted that "very little separates both teams" and that "this could go all way to the second leg".

"Both the unseeded teams (KLHC and Maybank) are strong, so it really does not matter who we play in the semi-finals. We will have to give our best in both the legs.

"There is no room for mistakes and any team taking it easy will be punished. We have the edge over Sapura and we should get the better of them again," said Ahmad.

The Star of Malaysia


---

Scotland to compete in England Hockey's Futures Cup

Scottish Hockey is delighted to announce that Scotland will have teams competing in England Hockey's Futures Cup competition in 2016. It is fantastic opportunity for our top U15 and U17 athletes to experience the Futures Cup for the first time.

The competition potentially provides exposure to Great Britain programmes and coaches. It should inspire our players to set targets for their performance, and understand what they need to do to reach the next level; additionally it provides another chance to experience top level competition.

This is another step towards giving our players Great Britain opportunities following the introduction of Great Britain U23 and U21 programmes over the last year. Also, the Futures Cup gives our players an opportunity at a younger age to experience high level competition, an understanding of the level of competition that exists for GB selection in the future, and hopefully impress the watching coaches.

The Futures cup is the English regional competition designed to identify the players of the future. As this is not an international competition Scotland will play as the Caledonian Cougars. The competition takes place on Wednesday 26 October to Saturday 29th October and we are awaiting the fixture list before confirming all further details. Coaches will be looking to identify players for the tournament as part of the inter-districts over the next couple of weeks.

With the introduction of the Futures cup, the U16 regional performance event will be postponed this year to allow coaches to focus on the Futures Cup.

Futures Cup will take place at St Albans Hockey Club, Oaklands College, Smallford, Hatfield Road, St Albans, AL4 0JA from Wednesday 26 October to Saturday 29 October 2016.

There will be six teams taking part each entering an U16 and U18 team for each gender:

    Wessex Leopards
    Saxon Tigers
    Pennine Pumas
    Mercia Lynx
    Caledonian Cougars
    Celtic Jaguars

The competition format for all age groups and genders will be two pools of three teams playing two matches and having one rest day, followed by a playoff match on Saturday. Matches will be scheduled on Wednesday through Saturday.

This is the same format and length of time as the School Games which has run successfully for the last three years.

Scottish Hockey Union media release


---

Confirmed semi-final fixtures

There are four mouth-watering South African PHL semi-finals taking place this weekend. Play gets underway at the Randburg Hockey Stadium at 10h00 on Saturday and all four semi-finals are being broadcast live on SuperSport.

The teams are battling it out for the right to become the first ever PHL finalists. Both the men's and women's finals take place this Sunday (25th September) at the same venue.

See below for full details of Saturday's PHL matches.




SAHA Premier Hockey League media release


---

Clements Earns Highest FIH Coaching Status of any USA Coach




COLORADO SPRINGS, Colo. - Participants came from as far as Argentina, Australia, Tanzania, Japan and Ireland to participate in the International Hockey Federation (FIH) Hockey Academy courses that ran in conjunction with the 2016 Hockey Champions Trophies in June. Included in the group of standout coaches was U.S. Men's National Team Head Coach Chris Clements.

As the first USA coach to go through the FIH coach education system, Clements was among other High Performance Coaches, Coach Educators, Umpire Educators, Technical Official Educators and FIH Event Management Educator, Gerladine Heinen, who had the opportunity to share ideas and good practice.

To be considered for the FIH Coaching Accreditation, Continental Federations must recommend candidates and the submissions are evaluated by the FIH High Performance and Coaching Panel and then invited by the FIH to attend. The FIH has four coaching levels and the High Performance Level (Level 4) is divided in two courses, the International Coaching and the International Final Coaching courses. To access the International Coaching course, candidates must be the head coach of an international hockey team, have a minimum of five (5) years qualified coaching experience, hold a FIH Hockey Academy Level 3 Coach Certificate, or equivalent, and the online Start Coaching course. To access the International Final Coaching course, candidates need to be invited from an International Coaching course. Clements was successful in making it to Level 4 Final Coaching course on his first attempt and achieved it with elite status. This is the highest coach accreditation system in the world.




"The FIH Final Coaching is the highest level course provided by FIH Hockey Academy and Chris' input was outstanding," said Tayyab Ikram, FIH Course Lead. "As an FIH coach, Chris is now responsible for helping to raise the global standards for our game in the USA. We wish him the best for his coaching career."

Clements along with nine other coaches were selected by the FIH based on performances from previous FIH High Performance coaching courses. He came highly recommended to attend the International Final Coaching course after participating in one at the previous Rabobank World Cup in 2014.

The training course lasted 6 days in length with typical days being anywhere between 12-18 hours. The coaches divided their time in London between Loughborough University, which partnered with the FIH in much of its development work, and the Lee Valley Hockey and Tennis Centre. The courses were run by educators and course organizers from the FIH Hockey Academy and partnering organizations, such as hosts England Hockey and Coach Logic, who have recently partnered with the FIH Hockey Academy, and were on hand with advice about video feedback.

"The course provided reaffirmation of our current programs plan and intent in the big picture and within the global game," commented Clements. "The biggest piece of advice that I would give based on the course and my personal journey is to look deeper into each area of the game and this was a part of my study prior to the course. For example, we all focus on a certain tactic like pressing. Yes, we can apply full pressure but are we actually any good at it? There is perceived performance and then there is the reality. Maybe against a certain opponent we may be better at applying pressure from a different height than what we perceive we are good at. If our opponent changes from three to four players in their backfield are we better at applying full pressure against the three or four? Then we can establish stronger tactics and game plans, based off this evidence. My study represented this and in discussions with two Olympic teams, which were a part of the study, I saw some elements of this take place in one particular game which was potentially a result of this 'deeper analysis'. This in turn can allow for more meaningful trainings and athlete development opportunities."




Clements believes that it is important for any coach to further their education. "As a coach, we are a teacher and we must constantly evaluate our ability and performance just as closely as what we ask of the players," added Clements. "I also see myself as a coach of people and hockey is my topic."

Reflecting on what he learned from other coaches, he noted that the need for coaches to have power versus the players having power was something that a number of coaches that he observed needed to evaluate. When a program is player driven it will always out perform a coach driven program.

"We ask our players daily to get better, but how often do coaches actually ask the same of themselves?," said Clements. "If the players are not getting it, is it their fault? Or is it ours? If a training or drill has no mistakes, does it make it a good training?"

Clements doesn't think so. As a coach he thinks that one should empower their athletes to manage and correct their errors or mistakes. This is critical for athlete development, more often saying nothing is better than coaching every second of the game.

Coaching is teaching, it is also an art that one must continue to develop over their careers. Coaches can focus on outcomes but the process will provide greater outcomes in the long run as well as sustainability within their programs.

The opportunity to help people enhance their performance is a great challenge but also incredibly satisfying when coaches see breakthroughs with players and teams. Clements said that the current role that he holds with the men's and boy's programs in the USA is a great honor. "I would like to thank the athletes that I have been working with through the program over the years," commented Clements. "It has not been an easy journey for them either, however, as players and people they have grown greatly along the path as our program has been developing. We are striving for more opportunities for myself and my staff to help the boys and men perform and develop. Resources are limited for us to implement our objectives, however our staff are working tirelessly to put systems and programming in place to enhance the boys game."

For the coaching community, the door is always open for fellow coaches to reach out for professional development opportunities and ideas or observation of the national team. Clements commend those who have already, and encourage all to look for chances to develop daily as a coach.

How are you, as a coach, strengthening your coaching portfolio? Share what you're doing to keep your skills sharp by tweeting @USAFieldHockey.

Content Courtesy of FIH

USFHA media release


---

USA Field Hockey Thanks Franks, Knapp and Hamilton for their Service Toward Growing USWNT's High Performance Program

COLORADO SPRINGS, Colo. - USA Field Hockey extends its sincere gratitude toward High Performance Staff Members David Hamilton, Kelly Knapp and Nate Franks for their outstanding contribution to the U.S. Women's National Team as they announce their decision to look to transition into other career paths. Through their focused energy and dedication, Team USA has achieved serval program success including an impressive fifth placement at the Rio 2016 Olympic Games, evident growth in the program's last place finish at the London 2012 Olympic Games. Dave, Kelly and Nate made an instant impact to the U.S. Women's National Team since their official dates of early 2013. We wish all three the best in their new endeavors.

"USA Field Hockey has benefited as a whole from the expertise of Dave, Kelly and Nate as a result of their dedication and commitment," said Craig Parnham, USWNT Head Coach.



DAVID HAMILTON
Director of Performance Science

As Director of Performance Science, Dave developed a fully integrated physical performance program geared around a training environment that is conducive for physical performance. He made a huge impact in the preparedness and performance of the USWNT elite athletes, furthering his reputation at the very top of his field. Dave's role included addressing the physical preparation of the team as they moved through our training and competition program as well as overseeing the input of additional service providers within the Women's National Team Program.

"The whole journey with USA Field Hockey has been so memorable," said Dave when asked to share one of his favorite memories with Team USA. "I've traveled the world with this team and seen them climb the world ranks, finish 4th in the world cup, win bronze at the champions trophy, rock and dominate some of the best teams in world hockey and constantly push the boundaries of their physical qualities. Having said that, qualifying for the Olympics games and beating our biggest rival and world number 2 Argentina in the final of the Pan Am games would certainly be a contender."

Dave has accepted the position of Assistant Athletic Director, Applied Health and Performance Science at Penn State University. We are hugely disappointed to be losing Dave but recognize this is an excellent career opportunity in front of him.

"My first appointment that I made as head coach was Dave," said Parnham. "I worked with him in the past at GB and seeing how his skills and expertise can develop a group I knew he would be a great addition to our high performance staff. We've seen it here with Team USA. His knowledge and experience has guided the group to their physical peak and preparation. The culture around the physical fitness at the high performance level has completely changed within our sport. Dave is responsible for that."

"As Director of Performance Science, Dave has made a huge impact in the preparedness and performance of our elite athletes, furthering his reputation at the very top of his field," said Simon Hoskins, USA Field Hockey's Executive Director. "He has made a marked contribution to the successful performance of the Women's National Team in this recent period."

Dave has accepted the position of Assistant Athletic Director, Applied Health and Performance Science at Penn State University. We are hugely disappointed to be losing Dave but recognize this is an excellent career opportunity in front of him.

"I am very thankful to have had the opportunity to work with such a unique and impressive group of women," said Dave. "I am grateful to Craig Parham for trusting me with the physical preparation of his team and for having the chance to work with so many professional high performance staff. This is a journey that is impressive and memorable for so many reasons and one that was only made possible through the support we received from our hockey family. I wish the team all the best for the future and very much look forward to observing them from State College."

"I really want to take this time to thank so many amazing sponsors and supporters of our program, but no one more so than our medical support provided by Orthopedic Association of Lancaster," said Dave. "The service we were provided and the level of professionalism we received from their practitioners was world class. Their support undoubtedly made this journey possible and I can't thank Bill Weik and his staff enough."
   


KELLY KNAPP
U.S. Women's National Senior & Junior Team Manager

As Women's National Teams Manager Kelly has been very successful in performing her core role in managing the complex administration of the USWNT program as well as taking on and delivering numerous additional responsibilities with much skill. She not only coordinated all-encompassing international travel tourl itineraries for the staff but acted as the XXX on the pitch. Managing the inner-workings the national team she also helped to develop the Paving The Way campaign that raised necessary funds for the 2016 Rio Olympic Games.

"All tours are fun and unique in their own way but I'd have to say my favorite tour was Rio for the Olympics," said Kelly. "For me,  everything about the Olympics was an experience of a lifetime. For the past 3.5 years, I have seen the athletes work incredibly hard on and off the pitch everyday so to see them play so well down in Rio was amazing and rewarding. I'm truly proud of the team and all their accomplishments."

Kelly has accepted the position of Director of Operations for Women's Lacrosse and Field Hockey in the Athletic department of Penn State University. We are hugely disappointed to be losing Kelly but recognize this an excellent career opportunity and we wish her all the best in her new role. 

"Professionally speaking, Kelly has developed hugely since her start with USA Field Hockey," said Parnham. "She committed herself to learning about the organization and the processes and policies in place. Her attention to detail on day-to-day tasks paired with strategic thinking has really grown during the past 3 years. Her role as team leader at the Rio Olympics was a huge job and the fact that was a seamless tournament is a testament to quality of development while at USA Field Hockey." 

"Kelly has been very successful in performing her core role in managing the complex administration of the Women's National Teams program as well as taking on and delivering additional responsibilities with much skill," said Hoskins. "A big thank you to Kelly for her significant contribution to USA Field Hockey and to the USWNT program."

"Hands down, working with the athletes and USWNT staff is what I enjoyed most about my role," said Kelly when asked to share her favorite part of her job. "I was fortunate enough to be a part of a team and culture where everyone is giving it their best everyday. This is a special group and I will never forget our journey."



NATE FRANKS
Performance Analyst

Nate's role within USA Field Hockey played an integral in the USWNT's success on the pitch during the past several years, even prior to joining the USWNT full-time. As the Performance Analyst, he acted as USA Field Hockey's chief scout by filming every match during every USWNT tour. With the captured footage, he then located and identified key moments and trends throughout the match and put those into a format that the players and coaches can easily digest so that they don't have to watch every minute of every game themselves.

Although recording many memorable moments with the USWNT in recent years, Nate's best memory with the women's program occurred before early on in his career with Team USA.

"In May 2012, after telling me for months that I wasn't going, Terry Walsh and Kate Reisinger called me after a Women's High Performance scrimmage that I was assistant coaching to ask me to join the London 2012 Olympic staff as the performance analyst," said Nate. "Although that moment is extraordinarily high on my list of best memories, the real best moment was calling my father, making him step outside the work event he was in so he could hear me and telling him I was going to London."

"Nate has worked tirelessly over the past years to deliver quality video support to the staff, athlete and the program," said Parnham. "His attention to detail coupled with his work ethic resulted in excellent service. I wish Nate the very best in his future endeavors and I'm sure he will succeed in his next career path."

"Nate established himself as the premier Performance Analyst in field hockey over this past quad," said Hoskins. "He has pushed the boundaries of analysis in our sport providing our national teams with resources at a level we had not previously experienced."
Nate will look to further his professional career by attending Columbia University Business School, a private Ivy League in Upper Manhattan, New York City, with a 2-year MBA program.

As a core staff member of the high performance program, Nate helped mold international talent not only for the USWNT, but the USMNT as well.

"The best part of being in team sport is interacting with the teams themselves, so I always valued being the only person who worked with the Men's Program and the Women's Program," said Nate. "Handling both schedules and adjusting my mindset back and forth was a significant challenge but getting to interact with double the athletes was a positive experience win or lose."

"I'm really looking forward to going back to Spooky Nook Sports  for the dual 2017 Pan American Cup and just sitting in the stands and watching," said Nate. "It will be such a treat to just be an enthusiastic fan enjoying the game after 6 years of stressing over the outcomes."

USA Field Hockey wishes all three the best in their new endeavors.

USFHA media release


---

Flynn to take break before deciding future

By Dale Budge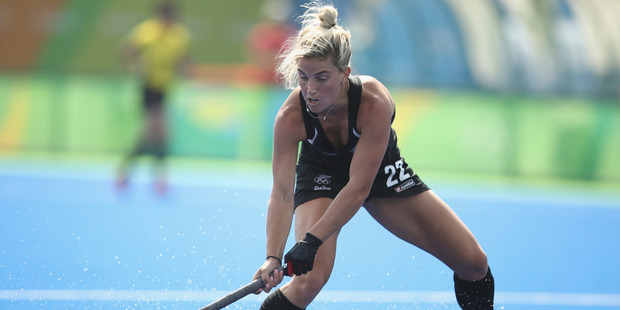 Gemma Flynn during the Rio 2016 Olympic Games. Photo / Getty Images

Black Sticks hockey star Gemma Flynn will take the rest of the year off before making a call on her future in the sport.

The 26-year-old is one of a number of women's Black Sticks players that will take some time out from the sport to try and refresh themselves physically and mentally after the disappointment of narrowly missing a medal at the Rio Olympics.

"For the moment I just want to focus on some other things away from hockey," Flynn tells Radio Sport. "I will still support the team and I will watch the games."

The striker or midfielder says she will weigh up her future in the sport during that time.

"I don't know the exact answer as yet but that will become clearer as the year moves forward."

Flynn won't be the only Black Sticks player to take a break with a number of squad going through the heartbreak of being within reach of an Olympic medal only to miss out by the smallest of margins two campaigns in a row.

"I think some will take time; maybe the rest of the year," Flynn says.

"For some it was their first campaign so they will be still just as eager to get back and into things.

"It will be a personal choice and it will probably be a fairly even split."

Flynn, who is engaged to former All Blacks captain Richie McCaw, says the disappointment of losing back-to-back matches in the medal round at Rio is still raw.

"I'm still hurting a little bit. It is still in the back of my mind but there is not much you can do. You just have to focus on the next chapter.

"I have been lucky enough to have a little bit of a holiday and a rest and some time away from hockey.

"I am refreshed but it doesn't make it any easier."

Flynn was one of six players that went through the same pain after the London Olympics in 2012 and she says that she doubts it will be something they ever fully overcome.

"I just don't think it ever goes away. You will probably look back in 20 years and still feel the same. I spoke to a lady the other night that was in the team in Sydney and they came sixth and just missed out and she said it still doesn't go away even 16 years on.

"To go through it twice is cruel but who said sport was easy? We do it and you never know the outcome. It is why we do it and love it."

As disappointed as they might be about the end result Flynn says she will take some fond memories away from the overall experience.

"You don't feel it at the time but you have to be proud with the way we carried ourselves. I am still really proud to be part of the group but it is just so disappointing not to have something tangible for that hard work.

"It wasn't through a lack of trying."

The New Zealand Herald


---

Black Sticks striker Gemma Flynn to take extended break before deciding future



New Zealand's Gemma Flynn makes a break against Great Britain in the Olympic semifinal last month. John Cowpland

Black Sticks star Gemma Flynn won't decide if she will play again until next year.

The 26-year-old is one of a bunch of Black Sticks players taking extended leave to get over the heartbreak of narrowly missing out on a bronze medal at the Rio Olympics last month.

Flynn, who is engaged to former All Black captain Richie McCaw, told Radio Sport she wants to focus on life outside of hockey for the rest of the year, and will weigh up her decision during that time.



Gemma Flynn and Richie McCaw on the red carpet for the Chasing Great movie premier in Auckland last month. Andrew Cornaga

"I don't know the exact answer as yet but that will become clearer as the year moves forward," she said.

"I think some [players] will take time, maybe the rest of the year. For some it was their first campaign so they will be still just as eager to get back into things.

"It will be a personal choice and it will probably be a fairly even split," she said

Flynn, who was also part of the team that missed out on bronze in London four years ago, admitted the double blow still hurt and wasn't sure it would ever go away.

"I just don't think it ever goes away. You will probably look back in 20 years and still feel the same. I spoke to a lady the other night that was in the team in Sydney and they came sixth and just missed out and she said it still doesn't go away even 16 years on."

The Tauranga born striker shouldn't have any trouble keeping busy while she decides her playing future, as she and McCaw have their wedding day to plan.
Ad Feedback

Flynn and the majority of the Rio Black Sticks skipped last week's National Hockey League tournament in Whangarei.

Stuff


---

Grace Balsdon scored twice as Maryland field hockey earned a 2-1 win over No. 13 Princeton

By James Crabtree-Hannigan

Defender Grace Balsdon provided the offensive production for the No. 6 Maryland field hockey team Thursday, scoring two goals and lifting them to a 2-1 win on the road against No. 13 Princeton.

"It was a bit of a fight, it was kind of scrappy for us," defender Carrie Hanks said. "[Princeton] might not play the same strength of schedule as us, so when they play somebody like us they're going to come out firing."

Balsdon opened the scoring in the fourth minute. She beat the Princeton keeper with a low flick that snuck past the left post and hit the backboard.

That lead lasted through the evenly-played first half, but the Tigers scored shortly after intermission to tie it up.

The attack began when Princeton (3-3) took the ball away from Maryland (6-2) deep in their own territory. Though the Terps regained possession for a moment, the Tigers stole the ball back before anybody could advance it.

The ball went to midfielder Cat Caro, who weaved through some Terps and lifted the ball past goalkeeper Sarah Holliday and into the goal.

The Terps have had some second-half letdowns in the past, but they were able to re-compose themselves after the early mishap.

"When we gave up that goal we said 'Okay we just have to be smarter about what we're doing,'" Hanks said. "We knew we had to stay composed and play how we know and want to play."

The teams remained even throughout the match, though the Terps had some hiccups on defense. A long pass forward rode up off the stick of defender Courtney Deena and drew a foul, despite her not facing much pressure from the Tigers.

Midfielder Anouk van Asbeck also mishandled a long Princeton pass in the backline, but again the Tigers couldn't do anything with the ensuing attack or penalty corner.

Balsdon struck again in the 53rd minute. Maryland earned consecutive corners, and on the second, the Canterbury, England, native scored her team-leading eighth goal of the season.

Similar to her first score, Balsdon kept her shot low. But this time, she went to the right side of the goal. She nearly earned a hat trick a few minutes later, as her shot that seemed destined for the upper-right corner ricocheted off the post.

"She hit a post during warm-ups and I told her … that's the only post she can hit today," Hanks said. "So [in the game], I looked at her and said 'I told you you can only hit one!' and she laughed."

At that point, the team was playing well enough to joke around some, but Balsdon hit the post during a time that could have been quite stressful for the Terps.

In the 56th minute, forward Olivia Reiter was given a yellow card for taking a shot after the whistle, meaning the team would be a player down for five minutes.

Usually, the referee would have issued a green-card infraction and two-minute penalty. But in the 44th minute,  forward Sophie Pelzer had been given a green card for a similar type of disruptive play.

It was the team's first yellow card of the season. The Terps adjusted to the disadvantage well, though, hardly allowing the Tigers to hold possession during that stretch.

Princeton had another opportunity thanks to a defensive misstep with just four minutes remaining. While the Tigers snuck a cross past Balsdon and onto the stick of an attacker, the shot went wide.

It was just a minor blemish on a big day for Balsdon, who has scored five goals in her past three games.

"Balsdon was really good today at hitting her spots," Hanks said. "Once she hits those spots that we want to hit, it goes well."

The Diamondback


---

Hockey's Iqbal waiting for his moment in the sun

Harpreet Kaur Lamba




In 2005, when actor Shreyas Talpade was handed the role of a deaf and dumb cricketer in the movie Iqbal, he did not know how to portray the character. Team sport is all about communication and discussing strategy, but this was a different challenge.

Talpade bought DVDs of sign language and spent days understanding how the mind and eyes would have to play a greater role than mere words on the field.

It was just two months of training and a deeper understanding of a different aspect of life for Talpade, but for hockey goalkeeper Abdul Samad, it is a way of life.

Like Talpade's character in Iqbal, Samad too cannot hear or speak. He is a goalkeeper in the Madhya Pradesh Hockey Academy and has been training under 1975 World Cup winning member Ashok Kumar - son of the legendary Dhyan Chand - and is acknowledged as one of the toughest characters on the field by none other than former India skipper Dhanraj Pillay.

Samad has played in 10 nationals so far, and was declared the tournament's best goalkeeper in the 2015 Scindia Gold Cup in Gwalior, where MP finished runners-up.

Samad was the hero of the team, as he did not let in a single goal en route to the final.




But unlike the movie Iqbal and its characters, who basked in the movie's success,Samad has been fighting a lone, grim battle.

In a household of three brothers and ageing parents, Samad is the eldest at 26. Years of hard work haven't got him a job and the family has begun to wonder if choosing sport as a profession was a wise decision. Younger brother, Qadir, is mentally challenged while the youngest of the family, Suboor, is an upcoming Under-21 hockey player.

In the last few years, Samad has applied for jobs in various departments on sport quota and has cleared trials too. He though is rejected each time on medical grounds.

Says Ashok Kumar, "Samad is an epitome of hard work and talent. There is nothing that this boy cannot do that a regular goalkeeper manages on the field. I think such people use their sixth sense, and it might sound strange, but he understands everything from our team meetings and I have never felt the need to repeat something to him.

"He has even taught sign language to his team mates. He is the backbone of our team."

Samad learnt hockey at the age of 10 from his father Abdul Wahab, also a national level player. His journey begun with the Bharat Heavy Electrical Limited, but he was later rejected by the SAI Academy because of his condition.

Says the Bhopal-based Samad through his brother, "I felt very bad at that time, but I asked them to give me a chance. I told them, 'select me only if you find me capable'.

"They liked my game and I got selected. It has been a long journey and I dream of playing for the country. I want everyone to be proud of me."

Adds Ashok Kumar, "He is rejected every time on medical grounds and is heartbroken. I wish there was a way ahead for him to earn his livelihood as he deserves it."


Suboor, 19, says "the family's financial condition isn't very good".

"We do not know what to do. He is doing what every other sportsperson does for his state, so why this difference? Is being handicapped a crime?

"We have also approached Hockey India and have written to the Prime Minister and other officials.

"In the Rio Olympics, USA's basketball had a team member David Smith, who is deaf. Yet, he was included and made to feel like other players. So, why cannot the same happen in India? The least my brother can get is a job."

The household has many questions, but the answers haven't been forthcoming. In all these years Samad has overcome the battle with disability, but seems to be losing the war with the authorities.

The Asian Age


---

Developing hockey in KZN

Kalisha.Naicker



Pinetown Senior Primary hockey players and donors with their new kit.

MADSEN Hockey Academy (MHA) was formed in 1993 by Adele Madsen, and was one of the first hockey academies in South Africa.

In 1995 the academy moved to St Mary's Diocesan School in Kloof with training for junior primary, senior primary­ and high-school players on Friday afternoons.

Since 2011 there has been specialised goal-keeping training at Thomas More College and St Mary's, Kloof.

In 2014 MHA was launched at Durban Girls' College for Grade 1 Grade 7 pupils and limited to players from Durban Girls' College and Maris Stella only.

MHA are involved with running the coaching at Kearsney Mini Hockey Club and Westville Gryphons Mini Hockey for ages from six to 13. The MHA academy also runs the youth hockey programme for Kearsney Club and Westville Gryphons.

MHA runs holiday clinics during school holiday and also offers private coaching for players.

MHA manages and supplies coaches to Westville Girls' High, Thomas More College, Curro Hillcrest, Hillcrest Primary and Hillcrest High.

They currently have over 30 coaches who are employed by the academy. Current SA hockey ladies player, Kelly Madsen, is one of the head coaches­.

MHA provides leadership opportunities for coaches and opportunities to grow their hockey knowledge by running SA Hockey Association accredited level 0 and level 1 coaching courses as well as keeping the coaches updated on the latest hockey trends.

In keeping with their motto "developing­ hockey in KZN", on 2 September­ at St Mary's Kloof, Madsen Sport Academy handed over a hockey kit to Bridget Barnes, Pinetown Senior Primary School headmistress.

The owner of Madsen Sports Academy­ Trevor Madsen said: "The joy in the young hockey players' eyes was something to behold. A big thank you to all involved, especially our sponsors – Spar, Kadish Foundation Holland for the hockey sticks, Church on the Way Kloof and Madsen Hockey Academy for the running shoes, balls and bags.

"Also thank you to St Mary's in Kloof for allowing us to train Pinetown Senior­ Primary hockey players on their turf every week."

News24


---

Gathering of hockey heroes at Sikh Union

By BRIAN YONGA



Federation of International Hockey President Leandro Negre (left) with Sikh Union Hall of Fame author Del Mudher (right) and former Kenya international Avtar Sohal during the opening of the Mahan Hall of Fame at Sikh Union on September 19, 2016. PHOTO | CHRIS OMOLLO |  NATION MEDIA GROUP

The government has been challenged to invest more in hockey so as to restore the sport back to its glory days.

Federation of International Hockey (FIH) President Leandro Negre said more financial backing would ensure the country records impressive results in a sport it once dominated.

Negre was speaking at Sikh Union Club Nairobi where he opened the Hockey section of the Club's Mahan Hall of Fame - a tribute to all the Olympic, World Cup and national players who have held the stick over the last 85 years.

The Hall of Fame was named after the late Mahan Singh Sandu, who is regarded as the grandfather of hockey in Kenya. It was put together by Sikh Union vice secretary, Del Mudher, who spent 18 months gathering the data.

The Monday night event saw the club's legendary players gather together as they reminisced their playing days and were each recognised for their efforts in making Kenya a hockey powerhouse.

Some 27 players from the club represented the country in hockey in the Olympic Games from 1956-1988 while another 13 played in the 1971 and 1973 World Cups. In total, 92 members of the club were involved in the national team from 1956-1988 either as players or in management. Kenya finished fourth at the first World Cup held in 1971 losing 2-1 to India in extra time in the semi-finals.

Among the Olympians who are still alive and graced the occasion were Avatar Singh Sohal (six Olympics), Surjeet Singh Panesar (Four Olympics), Tarlochan Singh Channa (One Olympic), Resham Bains (One Olympic) Inderjit Matharu (One Olympic) and Sivester Ashioya (One Olympic).

"Football is of course the most popular sport. No one can deny that but with the right investment and support, Kenya can achieve great results in hockey in a short time and once again become a force to reckon with," Negre said.

"Sikhs have written their names in the country's history by giving a lot to hockey and more should be done to ensure the memories are treasured for generations to come," he added.

Negre, whose eight-year stint at the helm of the FIH ends in November, pledged to support the local federation improve the standards of the sport. Negre, a former goalkeeper, recalled the match between Kenya and Spain during the 1968 Olympics in Mexico.

ARTIFICIAL HOCKEY TURF

Sohal, a veteran of six Olympics, challenged the Kenya Hockey Union to work with former players to restore Kenya back to its rightful place in the sport.

"After 1988, we have been going down and our performances have not been that good, what has happened? We need to work towards returning the sport back to the top," said Sohal.

The national men's and women's team failed to advance to the second round of qualifications for the 2018 World Cup after finishing second behind hosts Ghana.  South Africa, Egypt and Ghana have become the dominant forces in the continent since the 90s.

Sports Kenya Director General Gordon Olouch vowed to work with KHU to ensure more playing facilities are put in place across the country. Sikh Union Club in partnership with Chase Bank will put up the second artificial hockey turf in the country by end of this year at the club grounds.

Africa Hockey Federation President Seif Ahmed and KHU president Nahshon Randiek also attended the event.

Daily Nation


---

England Hockey's African adventure




England Hockey is two years into the Targeted Assistance Programme in West Africa. The project is a partnership between England Hockey, The FIH, UK Sport, Ghana Hockey and the African Hockey Federation.

The programme includes the following:

• Provision of hockey equipment and resources to schools and clubs across West Africa

• The creation of umpiring and coaching pathways to recruit, train and retain more officials and coaches for the sport

• Supporting the Ghanaian women's national team with high performance coaching and athlete support

• Working with Ghana Hockey to enable them to host more world level events at the Accra stadium

The latest project meant two England Hockey members of staff, Stephen Barlow (Competitions Manager) and Louise Bull (Clubs & Facilities Officer) travelled to Ghana last week. The trip coincided with the Men's and Women's World League Round One tournaments being hosted by the Ghana Hockey Association at the National Stadium in Accra.



Stephen Barlow and Lu Bull with some of the Ghanaian delegates

The trip involved assisting the Ghana HA to deliver the event and also running a workshop for the African Hockey Association as part of the FIH Academy Observer Programme. The focus of the workshop was competition and event management.



The universal problem of taping up the goals pre-match

The workshop looked at the following areas:

• Organising an Athlete centred event
• Preparing the Field of Play for Competition and managing it in-game
• Training a Ball Patrol team
• Using events to increase participation & visibility of hockey
• Using social media to promote events and communication plans for campaigns
• Introduction to the FIH TMS match management system
• Security, safety, logistics - Matchday Operational Procedures
• Sports Presentation Spectator Engagement – Spectator journey
• Awards Ceremonies



Ghana line up for National Anthems

As well as classroom activity there were practical sessions undertaken during the event itself.

The delegates, who were all from Ghana Hockey Association, were very engaged with the event and were keen to use their learnings for future events in Accra.

The National Hockey Stadium in Accra is a very well appointed floodlit ground and ideal for hosting events. It has a waterbased pitch (the only artificial pitch in Ghana) and 1000 seats in two stands – one covered, one uncovered. There are also full competition facilities – changing rooms, TD and Umpire Manager offices, sports presentation room and electronic scoreboard. A good range of local food and drink is available to spectators. The Ghana national teams live on site at the venue in a dormitory block.

The Association receive great support from the isports360 media team who took a number of the photos that accompany this article.

On the pitch there was delight for the hosts as both teams won their respective tournaments to qualify for World League Round 2 later this season.



Louise Bull celebrates with the victorious Ghana team

Commenting on their visit Stephen and Louise agreed "It was a wonderful experience. We were hosted so well by our Ghanaian friends and met some brilliant members of the hockey family who work incredibly hard as volunteers to run and promote the sport in their country. We are confident that there will be a legacy from or workshop as there was a real appetite from delegates to put into practice what they took from the course."

To find out more about the Targeted Assistance Programme and England Hockey's role in it, click here.

England Hockey Board Media release


---

Des Simon reaches his 100th birthday

On Tuesday 20th September 2016 Des Simon, a Past President of the former Irish Hockey Union and Hockey Ireland Honorary Life Member, achieves his 100th Birthday. Des, a long standing member of Cliftonville Hockey Club, has made an immense contribution to Ulster and Irish Hockey. In addition to his roles above he has been President and Honorary Secretary of the Ulster Branch and was awarded his FIH Badge when he took up umpiring after his playing days were over.

His many friends in Hockey Ireland will want to wish Des well and hope he will enjoy many more Birthdays.

Irish Hockey Association media release