All the news for Friday 30 September 2016

Searching for HWL glory in Peru




Chiclayo, Peru, is the scene of the final Round One event in the third season of Hockey World League (HWL) action.

Five women's teams and six men's teams will be fiercely contesting the top spots and the chance to automatically qualify for HWL Round Two. In the women's competition, two places are available, while in the men's competition only one team automatically qualifies.

The women's event takes place from 30 September to 8 October, while the men's event runs from 1 October to 9 October.

For host nation Peru this is a time for assessing the impact the Target Assisted Programme (TAP) has had upon hockey in the country. With the men's team ranked 80th in the world and the women at 65th, both teams are very much in the developmental stage, but there is a lot of enthusiasm for hockey bubbling away in Peru and the Peruvian Hockey Federation is determined to make the most of it.

The aims of the Peru TAP project has been to prepare the Peruvian hockey teams for participation in the HWL. To that end, head coach Andres Messina has been working alongside FIH Academy High Performance Coach Pablo Mendoza from Argentina. While the long term aim is success at the Pan American Games in 2019, a good finish here in Chiclayo would be proof that things are moving in the right direction.

Ranked at 25 in the world and with a third place finish in the 2015 Pan American Games, Chile men have to be the out and out favourites for the top spot. Martin Rodriguez and goalkeeper Adrian Henriquez bring a heap of experience, while captain Sven Richter is a live-wire in front of goal.

Uruguay and Venezuela are ranked 46 and 47 respectively although the last time the two sides met in a major competition – the 2014 South American Games – Venezuela emerged 7-1 winners in a feisty match that saw six yellow cards issued. One of the stars of the Venezuela side on that occasion was Andy Adrian and he will be hoping to score the goals that will upset the rankings again.

Paraguay (63) and Ecuador (unranked) both bring hugely inexperienced teams to this event. Both are teams very much in the development stage and, for them, much of this tournament is about gaining valuable international experience. Ecuador has five players who are making their international debut, while 11 of the Paraguay side are about to play their first major international competition. With 31 caps to his name, Paraguay's Julio Russo will be hoping his team mates learn very quickly.

Chile and Uruguay women will arrive in Chiclayo with huge aspirations to make it to the next round. In 2015, Uruguay (23) made it all the way to the HWL Semi-Finals in Valencia and won a lot of supporters for their exciting brand of attacking hockey. Rosanna Paselle, the goalkeeper in Valencia, also won plaudits for her performance and will be hoping to lead her team to victory in Peru.

However, Chile are ranked one place higher and in the 2015 Pan American Games, they finished fourth after beating Uruguay in the pool matches.

A fourth place finish in the 2014 South American Championships behind both Uruguay and Chile would suggest that Brazil (41) will be hard pushed to take one of the qualification spots, but with hockey on a high in Brazil after the Rio Olympics, the team led by Andrea Gomes could upset the rankings.

Paraguay (54) have the second lowest ranking in the women's competition but in Sara Rodriguez, Ivanna Romero, Maria Catebra and Lorena Alvarez, they have an experienced quartet who are capable of leading this team to some strong performances.

The final HWL Round One matches will provide a fascinating and exciting finale to what has been a tremendous start to Season Three.

The opening women's match is between Brazil and Paraguay on 30 September, while the men's action begins the following day with a meet-up between Venezuela and Paraguay.

FIH site


---

Outplaying Pakistan India enters Dhaka Sub-Junior Asia Cup final.

K Arumugam




Indian colts displayed a mature and patient hockey much against solo running Pakistan to post a marvelous 3-1 win in the semifinal to lock horns against hosts Bangladesh in the Sub-Junior Asia Cup final tomorrow. India started the Dhaka campaign losing to Bangladesh and will now have a chance to prove the opening loss was storm in the Cup.

Having won all three matches, Pakistan was expected to put up a good show, but typical of its side practicing age-old Asian style devoid of athleticism, bucked before experienced Indians geometric hockey, where ball possession, patience, least errors were prominent.

The match started with Indians missing out twice from right flank, first by Dilpreet Singh and then by otherwise nippy Rabhichandra Singh., And then captain Sanjeeb Xess conceding an easy penalty corner in the sixth minute.

Amjad Ali was to take the flick, but the pushed ball was not stopped properly leaving first charger Hardik Singh to clear on the top of the circle.

Moments earlier, a high ball almost landed in the Indian cage, but luckily India survived.

Shivam Anand tapped in a return pass from Dilpreet and Umar to title the even going proceedings into India's favour (1-0). Indian defence was excellent today, committing almost no errors. Captain Xess and ultimate man of the match Kunwar Dilraj Singh did not allow Pakistan forwards any elbow room.

in the twentieth minute, India had a chance to go up when Kishore Arya sent a minus from right flank, but Dilpreet, momentarily out of focus, just failed to stop against open goal mouth.

Shortly, Kishore was served on platter but he fumbled with his shot.

On a counter India got its first penalty corner, but Xess' drag was predictable to rival goalie Waqar. A minute later in the 24th minutes, Pakistan got two penalty corners, one was saved on goal-line by hardworking Kunwar Dilraj.

India also did not show any prowess with penalty corners, the second one that came in the 28th minutes went abegging as Dharminder could not stop the Sunny pushed ball properly.

In the last minutes of first half, India dominated thoroughly with better ball possession and ball sense, parting and distributing than the Pakistan colts who held on to the ball, and just content in solo runs.

Dilpreet Singh, who has a tendency to hold on to the ball inside D thankfully earned a penaltyconer in the 30th minute, Xess took the drag, hit the leg of charger and got another one. Out of which Xess effected a low drag that sounded the boards to the right of bemused Waqar (2-0) but before that it was turned in by DIlpreet Singh.

The sides were changed with this Indian lead.

After lemon too India kept on attacking and also got a stroke, but Xess pushed wide to the right. Survived Pakistan had its moments but in the midfield Saurabh Anana, Umar and Rabhichandra Sigh would not given in. Sonepat lad Abhisek, whenever pressed into play, showed enormous game sense in containing Pak forwards and also in pepping attack from left flank.




Experienced Umar was error prone today, and had missed two sitters in the second half.

Later Dharminder Singh earned another PC for India, out of which Xess again aimed lower side of right flank and was bang on target (3-0).

With good use of overheads from Amjad Ali and Rizwan Ali, Pakistan took initiative, but was tendative in the circle, Indian defenders easily recouped to thwart many Pak attempts. Indian goalie Pankaj was also in his elements.

Solo running Adeel Latif got an yellow card on dashing Hardik Singh in the 50 the minute, shortly after Umar getting a green for stick check.

Indian were panicky in the last ten minutes or so, committing fouls and getting green cards, but Pak forwards missed to mind read.

They too harried their moves and shots. Seven minutes before the hooter, Pakistan converted its last penalty corner. Amjad Ali ultimately beating Pankaj in the cage.

Stick2Hockey.com


---

Indian Coach: Players implemented what we planned

K Arumugam




Indian coach BJ Cariappa says the comprehensive win India put up against determined Pakistan on Thursday was due to the fact that his boys could transform boardroom instructions and discussions on the turf.

Despite missing out a penalty stroke, India defeated Pakistan 3-1 to enter the final of the SubJunior Asia Cup. Speaking exclusively to www.stick2hockey.com, the gentleman coach said:

After we lost the first match, we did many things that all turned out to be right ones as the result indicate today.

"We came here to win all the matches and the Cup. The loss to Bangladesh was a wake up call as to what is wrong with us initially. We worked on those weak areas. The boys also understood, realized their mistakes, and wanted to come back to winning ways". undefined

"Today the good things was the boys implemented whatever we planned. They played a disciplined hockey with lot of game sense, like when to have ball possession, when having possession how to attack, in the attack also what to do, direct field goal or going for penalty corners etc. Everything went right for us.

"We gathered from video sessions that Pak players are very effective with the ball. We wanted therefore not to give them much possession, we need to keep it most of the times."

"We worked specially on penalty corners, had special sessions, and we got direct results here. We could get PC defence dynamics of Pakistan, and it worked in favour of us today".

"After losing the first match, the boys realized everything. They started taking responsibility. They showed interest to come up and count. They were more focussed in the last three or four practice sessions we had here. They delivered where and when we wanted."

"Its good for their career, they find themselves on winning mode".

Stick2Hockey.com


---

India beat Pakistan to enter U-18 Asia Cup hockey final

DHAKA: India defeated arch-rivals Pakistan 3-1 to storm into the summit clash of the fourth men's Under-18 Asia Cup hockey tournament on Thursday.

India took the lead in the seventh minute through Shivam Anand's strike.

It was the Indians who were more clinical in front of the goal, as three minutes from half time they doubled their lead through a penalty corner conversion by Dilpreet Singh (32nd minute).

After the change of ends, India continued to assert their supremacy and controlled the possession.

Soon India earned another penalty corner and from the resultant effort secured a penalty stroke but Waqar, in front of Pakistan goal, saved the try to keep his side in the game.

Within minutes though, Nilam Sanjeep Xess (46th) converted another penalty corner to give India a comfortable 3-0 lead.

Pakistan managed to pull a goal back through Amjad Ali Khan (63rd) but it proved to be too little too late as India held on to emerge 3-1 victorious.

India will meet hosts Bangladesh in the final on Friday.

Soon after the win, sports minister Vijay Goel took to Twitter to congratulate the Indian colts for their triumph over Pakistan.

The Times of India


---

Rampant India pummel Pakistan to reach U18 Asia Cup hockey final

Shivam Anand, Dilpreet Singh, Nilam Sanjeep Xess were the goal scorers for India, while Amjad Ali Khan netted the solitary goal for Pakistan.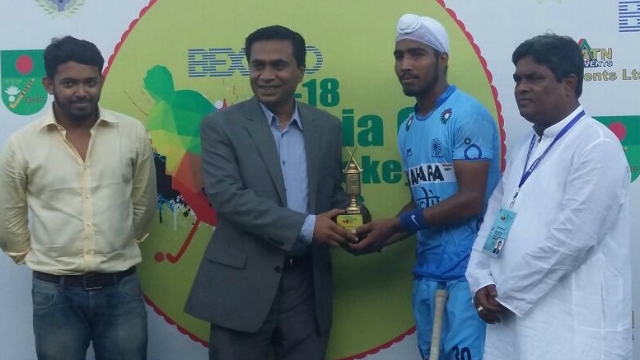 Kunwardilraj Singh receives the man of the match award after India beat Pakistan in the U18 Asia Cup semifinal on Thursday (Hockey India Twitter handle)

The Indian hockey team produced a superior performance as they outplayed arch rival Pakistan 3-1 in the U18 Asia Cup semifinal clash in Dhaka on Thursday.

The Indians made their intentions clear with an early strike to go 1-0 up and doubled the lead moments before half-time. Second half was no different as India continued their aggressive game and scored their third goal immediately.

Although Pakistan pegged one back with less than ten minutes before the final whistle, the young Indians held their ground efficiently to secure their berth for the summit clash. Shivam Anand, Dilpreet Singh, Nilam Sanjeep Xess were the goal scorers for India, while Amjad Ali Khan netted the solitary goal for Pakistan.

In other semifinal, hosts Bangladesh demolished Chinese Taipei 6-1 at the Maulana Bhashani National Hockey Stadium and will take on India in the summit clash on Friday.

DNA


---

India beat Pakistan in Asia Cup semi-finals

PESHAWAR: India on Thursday defeated Pakistan 3-1 in the second semi-final of the Boys Under-18 Asia Cup Hockey at Dhaka's Maulana Bhashani Hockey Stadium.

Both teams produced some perfect short passes before the half-time when India led 2-0. Also, aggressive gestures remained the hallmark of the 70-minute high-octane match fought on a rattling pace between the two archrivals.

Pakistan's only goal was scored by Amjad Ali Khan off a penalty corner while India also scored another goal in the second half.

The final will now be played between India and hosts Bangladesh who defeated Chinese Taipei in the first semi-final to cruise to the final against India.

Bangladesh have an edge over India as they defeated the latter 5-4 in the pool match while Pakistan will play Chinese Taipei for the third position match, according to a PHF press release.

Dawn


---

AHL Day One

Kieron Arthur nails a hat trick for Tassie

Author: Holly MacNeil




Tasmanian hockey player Kieron Arthur has stolen the show on day one of the Australian Hockey League, scoring a hat trick to help the Tassie Tigers defeat the SA Hotshots.

The Championships kicked off today, with ten women's teams and twelve men's teams converging on Perth for the ten-day competition.

The women's competition began first, with guests Malaysia and New Zealand kicking the tournament off. The New Zealand women took out the clash in a game that saw them score 3 – 1.

Tasmania were defeated by Queensland in match two, with the first goal of the tournament coming from Jillaroo Renee Taylor, and the second from Hockeyroo Jodie Kenny.

The NSW game against SA saw NSW take control of the game throughout, with the team's four goals coming in the way of two from Georgie Morgan, one from Mariah Williams and one from Kate Hanna. South Australia were determined not to let it become a 4 nil defeat, coming back to score in the 56th minute with a field goal from Emily Grist.

The home team, the WA Diamonds played the Canberra Strikers in game four, with the Diamonds using the home advantage to come away with the win and finishing day one on top of the leaderboard in their pool.

WA's goals came by way of a double from Penny Squibb, and one each for Kyra Flynn and Annie Gibbs. Kalindi Commerford scored a field goal to fight back for the ACT, but it wasn't enough to claw the game back from WA.

Finally, the Northern Territory Pearls were defeated nil – 3 by the Victorian Vipers. Hannah Gravenall scored the first with a sneaky field goal, with Danielle Schubach nailing two penalty corners.

The men's competition kicked off with India defeating the Malaysia Blue side 4 - 2. Arman Qureshi was the main goal scorer for India with a double, while Saari Faizal scored the double for Malaysia Blue.

The Northern Territory were defeated by Victoria, with Vikings players Chris Ciriello scoring two penalty corners, Josh Simmonds and Glenn Simpson both scoring a penalty corner, and Aaron Kleinschmidt scoring a field goal. Joel Rintala was the scorer for the NT Stingers, taking out a field goal in the 28th minute.

New Zealand and the Malaysian Tigers scored a 1 – 1 draw, with NSW convincingly defeating QLD 3 -1.

The moment of the day came in the game between South Australia and Tasmania, which saw Tasmania take the game out 4 – nil thanks to a hat trick by the way of a penalty corner and two penalty strokes from Kieron Arthur, while Kookaburra squad member Eddie Ockenden scored the final goal for Tasmania.

The WA Thundersticks capped off the day with a 4 – 1 defeat of the Canberra Lakers, mirroring the WA Diamonds competition against the Canberra Strikers from earlier in the day.

The Under 13's Championship is also currently taking place in Perth, with New South Wales State leading the boys table at the end of day one.

For full results on the day, please use the following links:
Men's league
Women's league
U/13 Boys
U/13 Girls

Today's AHL results:
Women's League
NZL 3 – 1 MAL
TAS 0 – 2 QLD
SA 1 – 4 NSW
WA 4 – 1 ACT
NT 0 – 3 VIC

Men's League
MAL Blue 2 – 4 IND
NT 1 – 5 VIC
MAL Tigers 1 – 1 NZL
QLD 1 – 3 NSW
SA 0 – 4 TAS
WA 4 – 1 ACT

Hockey Australia media release


---

Triple Bogey for Malaysia Down Under

By Jugjet Singh

MALAYSIA suffered a triple set-back in their Australian Hockey League (AHL) debut Thursday when the national team were held to a draw, while the back-up and women's team lost their opening matches.

Malaysian Tigers, the national team, drew 1-1 with New Zealand Futures; the Malaysian Blues lost 4-2 to India Juniors and the Malaysian Tigress lost 3-1 to New Zealand Futures.

Meor Azuan gave the Tigers a 35th minute penalty corner lead, but Jarad Jones spoiled the party with a 45th minute field goal.

Malaysian Tigress, the women's national team, lost 3-1 to the New Zealand Under-21 side.

New Zealand took a 2-0 lead, before Fatin Naimah scored off a penalty corner but the Kiwis score another to win convincingly.

Malaysian Blues scored first off Faizal Shaari in the fourth minute, but India Juniors came back with four goals to deny coach Wallace Tan points in the first match.

Faizal scored the second in the 55th minute.

India Juniors skipped the Sultan of Johor Cup but will use the AHL as preparation for the Junior World Cup which they will host at the end of the year.

FRIDAY: Men -- Malaysian Tigers v Queensland, Malaysian Blues v Western Australia.
Women: Malaysian Tigress v Northern Territory.

SATURDAY: Women: Malaysian Tigress v New South Wales.

Jugjet's World of Field Hockey


---

Armaan scores a double as India beat Malaysian Blues in AHL

PERTH: Armaan Qureshi struck twice to guide India's junior men team to a 4-2 win over Malaysian Blues in their opening match of the Australian Hockey League on Thursday.

It was the Malaysian Blues who started on a positive note and exerted pressure on the Indian defence from the beginning.

The Malaysian outfit won their first penalty corner of the game in the fourth minute and were quick to take the lead through Faizal Saari.

India gathered momentum quickly and had two bright scoring chances but the Malaysian defence led by goalkeeper Mohd Hafizuddin Othman stood tall.

Despite several more turnovers, and another penalty corner for India, it was Malaysia who went into the first break with a one-goal advantage.

India started off stronger in the second quarter, and were dictated the tempo of the play.

After a long spell of possession, India earned another penalty corner. Varun Kumar's drag flick from was saved on the line, but from the rebound Armaan scored with a diving effort level the scores.

The equaliser shifted the momentum completely as India showed greater urgency and mounted continuous raids. The relentless pressure paid off within minutes as India secured another penalty corner and this time Varun was on the mark with a high flick into the top corner.

India went into half time with a 2-1 lead having started the game on slow note.

India extended their lead through Gurjant Singh, who scored with a fine deflection.

India kept up the pressure through the quarter, while the Malaysians pressed hard for goals.

In the 42nd minute, India made the scoreline 4-1 in their favour when Armaan scored his second goal of the day.

Malaysia, however, did not give up without a fight as Saari converted another penalty corner in the fourth quarter but the Indians did enough to hold on to the lead and garner their full points from the game.

India will play South Australia in their next Pool B encounter tomorrow.

The Times of India


---

Silver star van Strydonck anticipates tough Bann challenge




Hot on the heels of an Olympic silver medal, Royal Leopold's Elliot van Strydonck says he is really enjoying being back in the club environment and building to the EHL ROUND1 in Banbridge.

The versatile Belgian played a key role in his country's run to the final in Rio in August, helping Red Lions produce the best Olympic finish in their history.

After a quick holiday, he soon linked up with his home club and says he is loving the impact the silver medal has brought to the sport in Belgium.

"It is always a pleasure to be back in your club environment with all of your good friends and your family," he told the EHL website.

"It's quite fun to get this extra attention because you really see that we did something unbelievable at the Olympics, not only for Belgian hockey but also for our country in general."

Leo swept through ROUND1 in Hamburg a year ago with high-scoring wins over Dinamo Elektrostal and SG Amsicora but van Strydonck anticipates a much tougher ride this time around.

They face a rejuvenated Saint Germain along with home club Banbridge.

"Comparing to last year, it's gonna be much more difficult to qualify for the KO16. St Germain got stronger with the Genestet brothers and Banbridge is goning to play at home with some skillful players like Eugene Magee. We have to play two strong games if we want to be first."

He feels Leo need to step up their performance from the Belgian league having won two games – Beerschot and Wellington – while drawing with Leuven and losing on the opening day to Daring.

"We didn't get the start of the season we wanted because we didn't play a lot with the all squad together before our first game. But we are growing every game, trying to reach our best level.

"We need to be more consistent. The atmosphere in the group is really good, especially with [Australian international] Glenn Turner who brings a lot of tips to the strikers as well as off the pitch."

All going well, they hope to go a step further in the EHL than last years when they pushed Oranje Zwart in the KO16 but succumbed to Robert van der Horst's brilliant goal in a 2-1 defeat.

"We really enjoyed last season like always when we play in the EHL. We had a strong game with a beautiful goal from Arthur Verdussen at the KO16 against my old club with a full stadium.

"We could have reached the shoot-out but the talent of Horst made the difference in the last two minutes. We are going to do everything to again be in the KO16 this year but first step is next week in Ireland; it's gonna be tough!"

Euro Hockey League media release


---

Cardiff's Hawker fears no one on EHL stage




Cardiff & Met's Luke Hawker says his side will "fear no one" when they take the field in Banbridge for EHL ROUND1 next Friday when they take on SG Amsicora before facing UHC Hamburg two days later.

They are the only Welsh side to have played in the EHL and will be aiming, at least, to win their first game in the world's premier club competition.

His side form the vast majority of Wales' national team who recently won World League 1 in Glasgow and Hawker says Cardiff & Met – who won last year's EuroHockey Champions Trophy – can build on that success.

"With a wealth of experience in international and European competitions, we relish the opportunity to create more history as a club for our country," Hawker told the EHL website.

"We no doubt approach the EHL games with caution and a measured approach, but I am confident that should we perform anywhere near our ability we will achieve this."

He has little experience of Amsicora directly but says – from experience – he is aware that they "play with passion, flair and emotion".

As for UHC, Hawker says: "It is always exciting to be drawn against a big name. Two years ago, we faced Harvestehuder which we will have learnt some lessons.

"Although UHC have had a slow start [in the German league], a club with their pedigree in domestic and European competitions and the quality which they have throughout their squad means that they can never be underestimated.

"Of course. it will be a challenge for us, but one which I believe we are ready for, and there is no reason why we cannot pose a serious threat."

Cardiff's form, by contrast, has been impressive. Hawker scored a hat trick against University of Bristol in an 8-1 win while they also saw off Team Bath Buccaneers in the English Conference West division.

They have done so in spite of limited time together as a club in preseason due to Wales' participation in Glasgow.

"[With Wales] it was fantastic to end a very successful summer on a high, securing a trip to Ireland for WLR2. But it is always nice to get back to the more settled atmosphere of club hockey and the domestic league.

"The early stages are often somewhat unsettled with strong competition for places in the squad. Personally, I don't particularly enjoy the early stages of the season, as we are often a long way from playing our best hockey.

"Nevertheless, two wins from our first two games without producing performances that we know we are capable of, gives us a huge amount of confidence moving forward and helps to settle the squad.

"The large number of internationals within the squad brings its own challenges. We absolutely benefit from the exposure of our players on the international stage, but at times like this, it can also negatively impact club performances.

"With eight of our players at WLR1, preparations were difficult. We do have great depth in quality at the club and consequently a number of emerging players were able to stake their claim for National League and European hockey.

"The time we have had together as a complete squad has been precious, however, many of us have been playing together for a number of years so it doesn't take long for to get things in place."

Euro Hockey League media release


---

Scottish National League Preview & Fixtures

Grange coach David Knipe has a wealth of riches in his squad for this weekend`s top first division fixture against Grove Menzieshill on Tayside, but that can have its own issues.

The Edinburgh club have gone "down under" to sign Nathan Doherty and Dominic Wild, the latter has already made his mark with two set piece strikes in the 7-2 thumping of Gordonians two weeks ago.   In addition, Scotland players Luke Cranney and Duncan Riddell have been recruited along with under-18 captain James Nairn and Michael McKenzie.

"With so many new players it takes a little time to come together, but the team is working hard and it`s a nice challenge for us," said Knipe.

However, Nairn is still under suspension while the influential Cammie Fraser is also unavailable.

Knipe admitted that Menzieshill will provide challenging opposition, they started the season well with a 4-2 win at Western Wildcats in their first outing.

But last season Grange made the same journey to Tayside to meet a Menzieshill side on the back of a seven game unbeaten run and returned to Edinburgh with the three points after a hard-fought 2-1 victory.

"The match will be very difficult and the outcome is not certain, Grange had an excellent first match result," said Chris Anderson, Menzieshill`s coach.

The Dundonians will still be without Scotland player Gavin Byers after his time out in Australia, and also Euan Cuthill misses the match.

Champions Bromac Kelburne are in action against the Wildcats at Titwood, their final domestic outing before the first round of the EuroLeague next week.

The Paisley side also have foreigh inports in the shape of Ryan Holding (Australia) who played for Grange last season, Nick Finlayson (New Zealand) and Jonus Nostrumm (Germany).

Kelburne started the defence of their crown with a 4-2 win over Hillhead, leaving new coach Gordon Shepherd reasonably happy.

"We were very dominant but we didn`t take enough of our chances, so therefore the scoreline was closer than it should have been.   There`s still plenty to work o
Edinburgh University`s top four aspirations are still in their infancy, but another three points today against Gordonians would augment the possibility.

Last weekend the students went to PSL Clydesdale and came away with a more than comfortable 5-1 victory, the fact that there were five different scorers is a sign of the strength in depth in the present Edinburgh side.

Watsonians, so often a yo-yo side in the top flight, have started this season with three points in a 3-2 win over Uddingston. It would be a real confidence boost if they could add another three with a home win over a Clydesdale side that could see their season in the lower echelons of the table.

You can also catch some top youth hockey at Glasgow National Hockey Centre with the Girls U16 and U18 Inter Districts taking place across the weekend.

Saturday 1 October 2016

Men's National League Division 1

16:00 – Edinburgh University v AAM Gordonians @ Peffermill
13:00 – Grove Menzieshill v Grange @ DISC
13:00 – Bromac Kelburne v Western Wildcats @ Titwood
14:30 – Watsonians v PSL Clydesdale @ Peffermill

Men's National League Division 2

13:30 – Dundee University v Granite City Wanderers @ Riverside Park
12:00 – Falkirk GHG v Alpha Data Carnegie @ Grangemouth High School
TBC – Glasgow University v Greenock Morton @ TBC
14:30 – Inverleith v St Andrews University @ Peffermill
11:00 – Stepps v Harris Academy FP @ Forthbank

Women's National League Division 2

15:00 – Dundee University v George Heriots FP @ Riverside Park

Men's National League Division 3

13:30 - Aberdeen GSFP v CALA Edinburgh @ Rubislaw
14:00 - FMGM Monarchs v ADTI Aberdeen University @ Dalnacraig
13:15 - Highland v Strathclyde University @ Bught Park
12:30 - Stirling University v Perthshire @ Gannochy Sports Centre (University)

Sunday 2 October 2016

Women's National League Division 2

13:00 – Glasgow University v Stirling University @ Gannochy Sports Centre

Scottish Hockey Union media release


---

Junior men hit the field for game action before World Cup selection

Shaheed Devji



Canada's men line up for the national anthem during a match vs Chile at the 2016 Pan American Championship in Toronto, Ontario (By Yan Huckendubler)

With less than a month to go before Canada's 2016 Junior World Cup team is selected, Canada's Under-21 men in contention for selection have begun a series of exhibition matches against local club teams.

The first match was played Wednesday in Surrey, where the Junior men and Burnaby played to a 1-1 draw.

The rest of the matches are as follows:

    Friday, October 1st vs Canadian Senior Development Squad
    Wednesday, October 5th vs West Vancouver
    Friday, October 7th vs Canadian Senior Development Squad
    Wednesday, October 12th vs Vancouver Hawks
    Friday, October 14 vs Canadian Senior Development Squad

The Junior men competed against club teams in advance of the 2016 Pan American Championships as a way to prepare. And this time around, playing against club teams offers a way for the athletes to showcase their improvement in game situation before selection.

"I'm not married to any of those 18 guys (who competed at the qualifier in Toronto)," says Under-21 Head Coach Inderpal Sehmbi. "Everyone has to prove something."

The junior men have been centralized as a group in Vancouver since the beginning of September and following their matches over the next two weeks, many will participate in the Senior Program's Carding and Identification Camp after which the World Cup team will be named.

Field Hockey Canada media release


---

Rookie Duo Propels Field Hockey to 1-0 Road Win at No. 14 BU

Van Vlijmen's winner and Manela's clean sheet lift the Crimson above .500

By William Quan



Freshman goalie Libby Manela, shown during her first career start against Maine last weekend, earned her second shutout in three games on Thursday—this time against nationally ranked Boston University. Matthew W DeShaw

Back at .500 after an impressive weekend sweep at home against Yale and No. 19 Maine, the Harvard field hockey team traveled a little further down the river Thursday night looking for another victory over a ranked opponent.

And for the second contest in a row, the Crimson (5-4, 1-0 Ivy) hit its target, squeezing out a 1-0 victory over No. 14 Boston University (7-3, 1-1 Patriot League) at New Balance Field.

Freshman midfielder Bente van Vlijmen continued her torrid breakout of a rookie season, scoring the game's only goal in the 52nd minute. The goal marks the fourth in three games for last week's Ivy League Rookie of the Week, who is quickly becoming an integral part of a high flying Harvard offense that includes the likes of captain Marissa Balleza and freshman forward Maddie Earle.

"Bente has an unbelievable shot, and she was able to capitalize on one of the opportunities we had," Harvard coach Tjerk van Herwaarden said. "It's something we spend a lot of time on, and I'm glad it turned out to be effective today."

The goal came off a penalty corner served in by senior defender Kyla Cordrey. The ball was then laid on a tee by sophomore midfielder Emily Duarte for van Vlijmen. The hard blast gave no chance for a save.

"[Penalty corners] are kind of my specialty," van Vlijmen said. "I have a pretty hard hit so that always goes pretty well."

Originally from the Netherlands, van Vlijmen has an aggressive nature that shows on the field and one that has helped lead her to success.

"The transition was really big because European hockey is really different from U.S. hockey," van Vlijmen said. "But I love the energy—people are really physical. Our energy is so great. You represent your own college, which I'm really proud of. I'm having so much fun."

Just a few minutes before, junior midfielder Hannah Wellington narrowly missed scoring when her shot went wide. Chances, however, were few and far between. More than anything, the game was a war of attrition with two strong defenses clashing.

"We knew ahead of time that we would have to work really, really hard to compete with a team like Boston University," van Herwaarden said. "We had some opportunities and during the entire 70 minutes our defense stepped up, our press worked really well, and the work everybody put in paid off."

The first half was a wash, with strong defenses on both sides canceling attacks to set the stage for a dramatic second half.

Likewise, sophomore goalie Libby Manela continued her shutdown keeping with her second clean sheet in three games—her first three collegiate starts. The defense in front of her allowed just three shots to go on goal, and the reigning Ivy League Player of the Week saved them all. Manela has allowed just one goal in her three starts.

"Libby has earned her props the last three games now, and she has been doing very well in goal," van Herwaarden said.

Boston University has now dropped third consecutive games after jumping out to a 7-0 start and climbing as high as No. 9 in the national rankings. Harvard, on the other hand, has been moving in the other direction, now winners of three straight before returning to Ivy League play this Sunday against Penn.

"We just beat two ranked, which is very new for us," van Herwaarden said. "Of course, this is a boost in confidence and energy so we are going to use that our next two days while we prepare for Penn. Penn has been a very tough opponent in the Ivy League over the last couple of years."

Part of the Crimson's progression can be attributed to playing against harder opponents, van Herwaarden says, including ones that are nationally ranked. The Crimson's slow start has been long forgotten, and the future appears bright.

"I think that it has been paying off really well," van Herwaarden said. "We want to compete for a championship in the Ivy League, and we need to measure ourselves against the top 15 teams in the nation."

The Harvard Crimson


---

Hockey's golden girl Sam Quek never gave up on Olympic dream

THERE can be few feelings on earth like winning an Olympic gold medal so it's no surprise that hockey player Sam Quek is determined to relive that moment again and again.

By Sophie Donnelly



Sam Quek at Anfield proudly showing her Gold Rio Olympics medal. GETTY

She says she could barely watch as, during the dramatic penalty shoot-out in the final against the Netherlands, her teammate Hollie Webb stepped up to take a shot.

It was the penalty that would secure them the coveted Olympic gold medal.

"As I watched the ball fly into the back of the net, all I can remember is sprinting towards all the girls. It was the fastest I've ever run. It was pure elation and I burst into tears and then went into shock," says Sam.

It was an especially sweet moment for the Wirral-born defender because it was one she thought she would never experience.

For Sam the road to Rio had been filled with injury and bitter disappointment at not being selected for either the 2008 or the 2012 Olympic Games.

When the team won bronze in front of a home crowd during London 2012, Sam was watching from the sidelines, having not even been selected as a reserve.

"Finding out I hadn't been picked was a terrible moment but I went to every single one of the games," says Sam, 27, who lives with her boyfriend of three years Tom Mairs, who works in student housing.

"I vividly remember crying when the team won the bronze medal.

"I was so proud of them but at the end of the day I wasn't there on the pitch with a medal.

"It was one of the hardest things I've ever had to deal with and I swore to myself there and then that I would never be in that position again."

Sam first picked up a hockey stick at the age of 10. With a natural flair for hockey and football, she spent her childhood being driven to matches by her supportive parents Marilyn and Albert.

"I spent a lot of time in the car with mum and dad.

"On Saturdays I'd play a football match in the morning and a hockey match in the afternoon.



The moment the Women's Olympic hockey team secured the gold medal. GETTY

"But it got to the point where I had to pick and I chose hockey." In November 2008, aged 18, Sam had her first GB cap in a Test match against Argentina.

"Hockey is huge in Argentina and I remember walking into the stadium, which held 7,000 people. I hadn't even played in front of 100 people before so it was a moment I'll never forget," says Sam, who now plays club hockey for Holcombe Hockey Club in Rochester.

Having just enrolled at Leeds Metropolitan University to study sports and exercise science, Sam had to balance her budding international hockey career with studying and a social life. "I'd arrive back from training at 11pm and meet my housemates for a quick boogie in a nightclub before heading to bed," she says.

Despite her commitment and determination, Sam was left heartbroken when she didn't make the squad for the Beijing or London Olympics.

On reflection she says it was a mixture of nerves and her stubborn determination to play how she thought she should play, rather than how the coaches wanted her to play, that cost her a place.

After vowing she'd never sit on the sidelines again, Sam swallowed her pride and worked hard to become the player her team needed her to be. It paid off and she captained the squad that competed in the 2014 Champions Trophy in Argentina, playing against the other top teams in the world.

 "To date that is my biggest achievement after winning gold in Rio," she says. But disaster struck in the opening match of the tournament. Following a clash with an Australian player, Sam broke two ribs and in the months that followed she struggled to regain her fitness.

"The Olympic qualifiers for Rio were only six months away and I'd gone from being captain to the bottom-ranked defender.

"When I still hadn't made the squad by May, all the memories of 2012 started flooding back and I almost gave up."



The Olympian and her boyfriend of three years Tom Mairs

It was a few frank words from boyfriend Tom that kept her Olympic dream alive.

"He has always been supportive but one night he sat me down and said, 'Everything that you are moaning about is within your control'. He was very blunt and told me to stop complaining and start training."

That June while the rest of the team went to the Olympic qualifiers, Tom took Sam on holiday to Croatia as a distraction.

"While Tom sipped beers in the sun, I hit the gym every day.

"My strength and conditioning coach set me a two-week programme, which was a combination of cardio and strength training.

"I got fit, strong and overhauled my mindset. By the time the team returned I was the fittest one in the squad and played my best hockey. I was selected for the European Championships in the summer of 2015 and have held my position ever since."

Once in Rio, Sam knew Team GB had every chance of winning gold although the Netherlands were still clear favourites. But the team's determination paid off and after a nail-biting final they won gold as the UK cheered along at home. Adapting to life in the spotlight is something Sam has had to adjust to quickly.

"Before we flew home we were warned the UK had gone hockey mad. As soon as we landed at Heathrow we were thrust into the thick of it. Since then my life has changed completely."

She has recently experienced the downside of celebrity after becoming a victim of Russian hackers leaking athletes' private medical records. HER records showed she had been granted a Therapeutic Use Exemption (TUE) to take an inhaler to treat her asthma.



The Wirral born athlete at the TV Choice awards sporting her gold medal. GETTY

"I got a notification on Twitter and the headline read, 'Golden hockey girls take banned substances'. People will see that headline but might not read the whole story. I was very frustrated and wanted to stand up and not be tarnished with this brush. TUEs are completely legitimate. As athletes we do everything to the best of our ability, including keeping clean."

Sam, who hasn't picked up a hockey stick since winning gold in August, is taking a break from the sport.

"I'm having six months off to recuperate, mentally and physically. One of the reasons for my break is to have a bit of stability in my home life. Hopefully in the near future there might be some wedding bells.

"I've definitely got another Olympic cycle in me but if I do decide to do another one that would be my last. I've been doing it for 10 years now and winning gold is my dream come true."

Daily Express