All the news for Monday 26 September 2016

With an overwhelming Oman win, India is all set to take on Pakistan in the Dhaka semifinals.

K Arumugam




Shrugging off its sluggish start, Nilam Xess' Indian team came in force to outplay Oman for a heartwarming 11-0 win today to set up semifinal clash against Pakistan in the Dhaka Sub-Junior Asia Cup.

Earlier in the day, under hot sun, Pakistan posted its second win, 6-1 against compact looking China.

With two wins in two matches, Pakistan has entered the semis, topping the pool, though a match remains to be played before completing its pool match.

Inexperienced and under-prepared Indian colts lost its first match to the hosts 4-5, and today's win helped them regain the confidence.

Unlike yesterday and also in the morning session in which two matches were played, hot and humid climate gave way to cool overcast sky, which came handy for Indians to come out with colours despite playing their second match in 24 hours. However, despite dominating Oman once the ball was set on motion, India could not move the board, even wasting first four penalty corners got in the first six minutes.

However, once captain Nilam Xess broke the deadlock in the 8th minute off the sixth penalty corner, third in succession, and then in the 15th minute off the sixth PC, the Indians did not turn back.

Dilpreet Singh, was in his elements, striking goals in the 34th 53rd and 68th minutes.

He was declared Man of the Match, Set up by hardworking Umar of MP Hockey Academy (SAI), Abhishek struck in the 16th minute. Ten minutes later, Shivam Anand increased the lead. Four minutes later, National Hockey Academy's Konjengban Singh, who had an outstanding match today, added first of his three goals.

He also tasted the Oman cage in 40th and 62nd minutes. India was awarded a stroke two minutes before the hooter, which Dilpreet converted easily.




Coach BJ Cariappa was happy man.

"Boys have forgotton yesterday. They could gain confidence. They did well today, applied mind in seeing game plan on the turf", the much relieved coach said.

Stick2Hockey.com


---

India thrash Oman 11-0 in U-18 Asia Cup hockey

DHAKA: India registered a thumping 11-0 victory over Oman in the U-18 Asia Cup hockey, boosting their chances to make the knockout round on Sunday.

With three players scoring hat-tricks, the result never looked in doubt, as India looked to boost their goal difference and confidence after the shock loss to hosts Bangladesh.

The goals started early with the captain Nilam Sanjeep Xess scoring off a penalty corner in the 8th minute. In the 15th minute Xess doubled the tally via another PC conversion, before Abhishek's field goal in the next minute gave India a 3-0 lead.

Relentless in attack, and constantly pressurising their opponents, India scored three more goals before half time via Shivam Anand (26'), Ibungo Singh Konjengbam (30') and Dilpreet Singh (34').

Dilpreet has been named the Man of the Match for an all-round performance which also saw him register a hat- trick with two goals in the second half (53', 68'). Hat-tricks were also scored by Xess who completed his in the 52nd minute and Ibungo Singh Konjengbam (40', 62').

The eventual scoreline saw India win 11-0.

The Times of India


---

Pakistan Colts clobber another opponent

By Nabil Tahir

KARACHI: Two goals each by Amjad Ali and Afraz powered Pakistan U18 hockey team to a 6-0 win over China in their second Pool B fixture of the Boys Under-18 Asia Cup at Maulana Bhashani Hockey Stadium in Dhaka, Bangladesh yesterday.

Coupled with their 6-1 win over Chinese Taipei in the opening match, the Colts' latest win lifted them to the top of their group.

The Pakistan boys, against their Chinese counterparts, dominated play from the onset but headed into half-time with only a 1-0 lead. However, they atoned for their profligacy in the second-half, scoring five times in the final 35 minutes to inflict a heavy defeat on another opponent.

In addition to the aforementioned braces, Khairullah and Ali Aziz also got their names on the scoresheet, while the defence also performed admirably against a Chinese offence that had mauled Hong Kong 6-0 in their opening fixture.

"We are doing great here in Bangladesh. The boys are full of confidence and are in full form. China is a strong team but we did not concede any goals, which shows how strong our defence is," head coach Kamran Ashraf told The Express Tribune. "We have one more group match left against Hong Kong which we can win easily."

Captain Junaid Manzoor, meanwhile, believes the team's coherence is the secret to their rich recent form. "We have won the first two matches easily, and the whole team is supporting one another. If we keep this up we can become Asian Champions," he said.

The Express Tribune


---

T&T Stickwomen off to World League qualifiers

Trinidad and Tobago's senior women's hockey team left here yesterday for Salamanca, Mexico, where they will compete in the FIH World League Round One qualifiers from Thursday to Sunday.

T&T will take on hosts Mexico and Guatemala with only the tournament winner earning a place in round two of the World League.

T&T's last run in the FIH World League was in the 2014-2015 season which saw them winning Round One, held in Kingston, Jamaica, before moving on to a sixth placed finish in round two, held in Montevideo, Uruguay.

The squad, led by Malvern's Teresa Lezama, will have a good chance of moving on from round one with experienced goalkeeper Petal Derry and defender Sekayi Liburd of Harvard Checkers joining Lezama to solidify the backline. Felicia King (Paragon) and Chelsea Dey (Notre Dame) are just two of six talented youth players that competed in the Junior Women's Pan American Championships held in T&T earlier this year that have earned selection to the final squad.

MORE INFO
Squad: Petal Derry (GK) (vice capt.), Chelsea Dey, Teresa Lezama (capt), Kayla Marie Escayg (GK), Yesenia Luces, Mindy Charles, Amanda George, Abigail Williams, Giann Anya Marie Sealey, Zene Henry, Sekayi Liburd, Fiona O'Brien, Gabrielle Thompson, Saarah Olton, Lisa Benjamin, Lisa Smith, Felicia King, Kherdine Gonsalves.

Technical staff :  Garth Baptiste (manager), Brian Garcia (coach), Cindy Martin-Faustin (assistant manager), Glenn Francis (assistant coach), Karielle De Bique (physiotherapist).

The Trinidad Guardian


---

Terengganu HT nail treble double

By Jugjet Singh

TERENGGANU Hockey Team claimed their treble double when they beat Sapura 3-0 in the TNB Cup final at the Tun Razak Stadium Sunday.

The maestro was South Korean Jang Jong Hyun who scored two penalty corner goals to bring his tally to 16 overall for the top-scorers award.

THT coach Sarjit Singh said: "Winning the League and TNB Cup titles in three consecutive years is not an easy task, but with solid backing from the management and our supporters, we made it a proud moment for them."

Terengganu have a sound development programme, and this win would further boost hockey in the state.

"We have many upcoming players in the state, and by winning the treble double, it would further boost hockey in the state," said Sarjit.

THT tore apart the Sapura midfield in the first quarter and the absence of national player Marhan Jalil was sorely felt, after he suffered an ankle injury in the TNB Cup Semi-finals Second Leg.

Sapura had no answer to the fast attacking THT forwardline, and in the sixth minute off their second penalty corner, top-scorer Jang Jong Hyun of South Korea sounded the board with a low push to the East Coast side the lead.

It was Jang's 15th goal of the season for THT, singling him out as the best foreign buy in the Malaysia Hockey League.

And in the 22nd minute THT's Argentina import Nicolas Enrique scored a field goal off an acute angle to consolidate their position going into the breather.

It was the sixth goal for the Argentinian.

Jang the Korean import delivered yet again in the 51st minute off a penalty corner, to seal the match for THT. Terengganu supporters who came with two buses, aptly waved the South Korean as well as the Terengganu flags wildly at the stadium.

In the Division One President's Cup final, TNB Thunderbolts hammered Tunku Mahkota Ismail Sports School (SSTMI) 7-2 for the title.

The TNB Thunderbolts goals were scored by Akhimullah Anuar (third, 30th), Nursyahmi Zukifli (11th), Kamil Yusop (14th, 27th), Idris Samad (48th), Izham Azhar (53rd).

The SSTMI goals were scored by Zulhamizan Awang in the 11th and 36th minutes.

And in the Vivian Soars Cup, Police, naming themselves Blue Warriors, beat SSTMI 2-1 for the inaugural title.

The Warriors took a 2-0 lead off Aida Fazriniza Zakaria (19th) and Noor Hasliza Ali (30th) before SSTMI fought back with a goal from Siti Shahidah Saad (49th) but time ran out for them.

RESULTS: TNB Cup Final: Terengganu HT 3 Sapura 0.
  President's Cup Final: SSTMI 2 TNB Thunderbolts 7.
  Vivian Soars Cup Final: Blue Warriors 2 SSTMI 1.

Jugjet's World of Field Hockey


---

Terengganu complete third double with Sapura rout

by S. Ramaguru




KUALA LUMUR: Terengganu won their third straight double when they routed Sapura 3-0 in the final of the TNB Cup at the Tun Razak Stadium.

The east coast side bagged the RM100,000 top prize while Sapura took home RM60,000.

Terengganu coach Sarjit Singh was elated with the win as he felt that his players deserved it after a poor start earlier in the season.

"It is just reward for the players. It was not an easy final, but the early goals helped. We are happy to have achieved this win," he said.

Terengganu drew first blood after only six minutes when South Korean Jang Jung-hyun converted their second penalty corner for his 15th goal of the tournament.

Sapura had chances to score but wasted all their three penalty corners in the first quarter.

In the 22nd minute, Terengganu doubled their tally with Nicholas Enrique Torre scoring a field goal.

Jung-hyun was again on target as he converted another penalty corner in the 51st minute to make it 3-0. He emerged the division's top scorer with 16 goals.

Earlier, TNB Thunderbolt clinched a double in Division One when they lifted the President's Cup with a 7-2 win over SSTMI.

Before Sunday's final, Thunderbolt won the Division One title by edging SSTMI on better goal difference.

In the Women's League, Blue Warriors (PDRM) won the overall title when they defeated SSTMI 2-1 in the final.

Blue Warriors surged to a 2-0 lead through Aida Fazriniza Zakaria (19th minute) and Hanis Nadiah Onn (29th).

SSTMI replied through Siti Shahidah Saad in the 49th minute.

The Star of Malaysia


---

Harvinder to replace injured Marhan for Malaysia

by S. Ramaguru




KUALA LUMPUR: Kuala Lumpur Hockey Club's Harvinder Singh will replace injured Mohamed Marhan Mohamed Jalil in the men's national team for the Australia Hockey League (AHL) which starts in Perth on Thursday.

Harvinder was initially included in the development team, but earned a promotion to the senior squad after Marhan fractured his left leg in the TNB Cup.

Sapura's Harmesh Singh has been brought in to replace Harvinder's spot in the development squad.

Earlier, there was also another change in the development team when Mohamed Syed Mohamad Syafiq Syed Cholan had to withdraw after injuring his hand in the Malaysia Hockey League. Mohamed Hafizuddin Zaidi has been called up as the replacement.

The three Malaysian squads - the men's national and development teams and the women's national side – will be making their debut in the AHL. India and New Zealand are also competing together with hosts Australia.

The Star of Malaysia


---

Cavemen and Bunters first champions of the hockey revolution



Hendy Seerane in hot pursuit of Rusten Abrahams

IN the end consistency triumphed over sporadic form when it came to deciding the men and women's champions of the inaugural South African Premier Hockey League (PHL), with the Maropeng Cavemen and Blyde River Bunters emerging with those titles respectively last night.

Going into the final day of the tournament, the Cavemen had done well in all but the penultimate weekend of the competition, where they lost both their games. But they were still considered easily one of the teams to beat in the competition, which they proved by smothering an Addo Elephants side bristling with intent 2-0 in the final.

For their part the Bunters, who had carved a niche for themselves as a team which never knew when they were beaten, changed things up a bit on championship weekend by being a little more aggressive and less dogged in their approach, and they were rewarded with a 3-1 defeat of a game but outfought Madikwe Rangers.

Many expected the Elephants – who had literally caught alight, form-wise, in the third week of the tournament – to be a handful for the Cavemen.

But the men in neon orange struck as early as the second minute through the reliable Cameron McKay, who got on the end of a James Drummond cross to open the scoring. After that the game fell into the kind of cagey approach finals are meant to degenerate into.

Through that period the Elephants, through a venomous shot by Julian Hykes, were trying manfully but keeper Rassie Pieterse was reminding everyone about his qualities.

With the Cavemen also not resting on their laurels, it became a keeper's kind of night with Matthew Martins also doing his bit to keep the lead slender. But as always in these things something has to give, and unfortunately it was the Elephants who did by conceding their second goal.

Ricky West, a man who's scored a hat-trick of short corner drag flicks here, again came up with the goods with 10 minutes to go in the match.

One supposes the Elephants needed another electric performance and, after three in three days over the last week, this was one too many.

For their part, the Bunters were as clinical as they were big on desire in their performance against the Rangers. The game frequently saw them soaking up pressure from the Rangers, rabidly defend their line and punish their opponents every time they got into their territory with a goal.

And so in the end it was strikes by Mmamoagi Kungoane, Kaydee Miller and Charne Hill that took them to a 3-0 lead by the 37th minute and left them with the relatively simple job of keeping the Rangers at arm's length to win the coveted title.

Kungoane's goal came after a tense first quarter and was courtesy of an attempt at goal by Anel Luus, with the former turning the shot into goal when she was one-on-one with the keeper.

Breaking the deadlock suddenly opened the game into a bit of a free-for-all, with both sides dispensing with the caginess normally associated with finals.

It was during this gung-ho period that the Rangers were caught out by Miller's goal, whose build-up lay in an Izelle Verster shot which narrowly avoided Luus but found a willing Miller at the far post.

And just as they were still reeling from being competitive in a game but trailing 2-0, the Rangers conceded a third to Hill in the 37th minute. Most frustrating for Rangers was that they'd had their chances but had failed to convert.

To be sure they were half-chances, but in finals winning teams have to make those seem fuller. There was Charne Martell's narrow miss in the first quarter, Lisa Hawker's shot, which was blocked on the line by the tigerish Jessica de Bruyn-Smith, and Lisa Deetlefs' shot, which cannoned of the upright.

Indeed, even when they did score, it was through the Bunters' Christine Roos turning Martell's shot into her own net.

Perhaps due to the reputation they'd built of being a team which didn't know when they were beaten, they knew how to handle a lead as opposing to chasing down.

In the bronze matches, the Garden Route Gazelles had to be content with finishing third after beating the SA Under-21 side, playing here as the Golden Gate Gladiators, 3-1.

The Wings, who have lost a staggering four shootouts in this tournament, finally got some luck in the form of a game that didn't go into the dreaded shootout, winning their game against the St Lucia Lakers 3-2.

SAHA Premier Hockey League media release


---

Holcombe make it two from two



England and GB Keeper, George Pinner in action for Holcombe

Holcombe continued their fine start to the English Premier Division campaign with a second successive win, this time beating Reading 3-0 with goals from Sam Ward, Rob Field and Nick Bandurak.

The Kent club will complete their EHL tuning-up phase with a game against back-to-back English champions Wimbledon next Saturday in what will be the perfect build-up tie for that challenge.

It means that they lead the way on Saturday evening alongside Beeston for whom Mark Gleghorne hit a stunning hat-trick in a 3-2 win over Brooklands Manchester University.

That's now five goals in just two games for the penalty corner specialist. Aidan Khares hit back for Brooklands in the first half and Dave Flanagan pulled another back from the penalty spot in the second half but Beeston held on for their second win in two games.

After drawing with Reading on the opening day of the season, East Grinstead claimed their first win as Robbert Schenk netted twice in a 4-3 win over Canterbury. Canterbury held a 2-0 lead at the break with Kris Glass and Tom Bean finding the target.

But three goals in as many minutes from Schenk, Dominic Bowden and Wesley Jackson put East Grinstead into the lead and Schenk made it 4-1 on 66 minutes. Craig Boyne reduced the arrears for Canterbury in the dying seconds.

After firing in a hat-trick last weekend, Matt Guise Brown was once again the main man for Hampstead and Westminster, scoring twice in a 2-2 draw. Late goals from Alan Forsyth and Matt Daly earned their side a point.

Euro Hockey League media release


---

Saint Germain is "my home, my club, my family"




Saint Germain's Hugo Genestet says he is loving being back at the Parisian club after a highly successful spell with KHC Leuven, linking up with his brothers Martin and Tom.

The club fought back twice on Saturday to draw 2-2 with high flying Stade Francais with Guillaume Deront and Hugo scoring before beating Lille 5-1 on Sunday. It means that Saint Ger are unbeaten after four games in the French league, sitting in a tie for second behind Racing Club de France.

And Genestet says he is really enjoying being back in France: "I am enjoying a lot playing again with my brothers and my friends. I found back the spirit that I left a few years ago. The average level is lower than in Belgium but it's my home, my club, my family!

"A lot of things have changed this season with five new players and a new head coach. Our goal is Round1 in Banbridge; we are working physically hard to be fit and ready for the EHL."

His side have what looks to be an evenly matched group, facing home club Banbridge and Belgium's Royal Leopold, a side Genestet has come across on many occasions during his time in Belgium.

"Yes, I know Leo pretty well! It's a really good team with some very talented players. About Banbridge, we don't know much but Irish hockey is getting stronger and stronger.

"We are the underdog but we believe we can win both games. We are all from this club and we know each others very well. We are proud to play with this jersey, that can make the difference in this kind of game!"

Saint Germain complete their pre-EHL preparations next Sunday when they travel to Lyon.

Euro Hockey League media release


---

Women's EY Hockey League Round Up




Anna O'Flanagan's incredible nine-goal haul served notice of both hers and Hermes-Monkstown's intent as the new entity swept aside Belfast Harlequins and Ards on the opening weekend of the EY Hockey League.
 
Saturday saw the Irish international run up six against the newly promoted Quins in a 10-1 success. She settled for a mere hat trick a day later in a 5-3 win over Ards, sweeping into a 5-1 lead before taking the foot off the gas.
 
It provided a memorable start for the Glenageary-based club since the amalgamation of the reigning national champions Hermes and Monkstown. Tougher tests will come but 15 goals in two games is an ominous sign for the rest of the division.
 
Cork Harlequins, meanwhile, suggested they could emerge from the pack to make a big impression after back-to-back wins and clean sheets. One of six debutantes Naomi Carroll got the only goal of a 1-0 win over Loreto in Dublin on Saturday. They backed it up with a 3-0 success on the road at Ulster Elks with Rebecca Barry – another of their new arrivals – completing the victory.
 
Barry and Carroll add to their international representatives, joining defensive duo Yvonne O'Byrne and Cliodhna Sargent in what looks like a side that can cause problems for most rivals, especially when they get to play at their new pitch at Farmer's Cross.
 
For Irish Senior Cup winning Elks, it looks set to be a tricky season of transition after two weekend losses – 6-2 on Saturday against Pegasus – following the departure of 10 front-line players.
 
Railway Union are among the other sides to end the weekend with six points, picking off a 3-0 win over Pembroke on Saturday before beating Belfast Harlequins 2-0, Kate McKenna and Michelle Carey both scoring twice over the weekend. Pegasus were 3-1 winners over Pembroke on Sunday with former Irish captain, Alex Speers, scoring three times across their two games.
 
Promoted Loreto got off the mark on Sunday thanks to a clever Hannah McDermott deflection in the closing ten minutes, allied to a trio of great Louisa Healy saves to end 2-2 with UCD.
 
UCD had beaten Ards 4-0 on Saturday and so occupy fifth place in the table at this early stage
 
Women's EY Hockey League results
Saturday: Loreto 0 Cork Harlequins 1 (N Carroll); Pembroke 0 Railway Union 3 (M Carey 2, K McKenna); Ulster Elks 2 (S McCay 2) Pegasus 6 (R Maguire 2, D Axon, S Ferris, T Doherty, A Speers); UCD 4 (D Duke, K Mullan, E Russell, S Clarke) Ards 0; Belfast Harlequins 1 (C Weir) Hermes-Monkstown 10 (A O'Flanagan 6, N Evans, C Watkins, C McGilp, L Lloyd)
 
Sunday: Monkstown 5 (A O'Flanagan 3, C McGilp, L Redwood) Ards 2 (C Brown , S Alexander); Ulster Elks 0 Cork Harlequins 3 (O Roycroft, Y O'Byrne, R Barry); UCD 2 (K Mullan, E Russell) Loreto 2 (H Mulcahy, H McDermott); Pegasus 3 (A Speers 2, R Henderson) Pembroke 1 (E Hinkson); Railway Union 2 Belfast Harlequins 0
 
Women's EYHL – Saturday reports

Loreto 0 Cork Harlequins 1 (Naomi Carroll)
Naomi Carroll's second quarter goal saw the strongly-augmented Cork Harlequins – who gave six debuts – saw Cork Harlequins get off to a winning start to the new season at Beaufort, seeing off promoted Loreto 1-0.

Loreto got off to a quick start with two early chances on goal with Emma Buckley up to the challenge before Quins started pushing forward with Carroll pulling the strings. Louisa Healy denied Cliodhna Sargent's opening corner effort in the first quarter but their second corner was guided home by Carroll on her first appearance for the Cork club.
 
They kept up the pressure in the second half before Loreto got a grip back on the tie with Ali Meeke and Lizzie Colvin to the fore in midfield while Sinead McGirr attacked down the left. Yvonne O'Byrne showed her experience to snuff out the danger and Quins held on for the win.

Ulster Elks 2 (Shirley McCay 2) Pegasus 6 (Ruth Maguire 2, Dawn Axon, Suzanne Ferris, Taite Doherty, Alex Speers)
Pegasus gave the new look Ulster Elks plenty to think about in their derby tie at Jordanstown as the reds won out 6-2. The visitors dominated possession initially and, after some good pressing, Taite Doherty broke into the circle and opened the scoring with a superb reverse stick shot. Ruth Maguire scored from a short corner to make it 2-0 after seven minutes before Elks settled thanks to a driving run into the circle and a reverse stick shot by Shirley McCay to score.

Dawn Axon, against the club she left during the summer, extended the Pegasus lead in the third quarter via a quick spin the circle and speculative shot that went through two sets of legs before nestling in the bottom right corner. Suzanne Ferris and Ruth Maguire stretched the lead out to 5-1 in the third quarter before Elks finally exerted sustained pressure and got one back from McCay from a corner. Alex Speers, however, completed the win in the closing period.

UCD 4 (Deirdre Duke, Emma Russell, Sorcha Clarke, Katie Mullan) Ards 0
UCD got off to a flying start in the women's EYHL with a comprehensive 4-0 win over Ards at Belfield, sharing the goals around. Ards did get off to a strong start, winning a corner that saw Chloe Brown draw a brilliant diving stick save from Clodagh Cassin.

Deirdre Duke broke the deadlock, however, after eight minutes with an upright reverse which took a touch off an Ards defender beating the goalkeeper. UCD were holding plenty of ball with Lena Tice and Sarah Robinson in control and Miles Warren's side were all but out of sight by half-time. Emma Russell extended the student's lead, scoring on her debut for the college and, after further sustained pressure, UCD sneaked their third through Sorcha Clarke from close range. UCD kept the pressure on in the third quarter with Sally Campbell and Sarah O'Loughlin working tirelessly as much of the game was played in the Ards defensive end.



 
They reaped the reward as Katie Mullan turned over an Ards midfielder, charged into the circle winning a stroke, which she duly converted. It killed off the tie and UCD had a further goal disallowed when Mullan's foot denied a Duke strike from counting but it mattered little in the win.

Pembroke 0 Railway Union 3 (Michelle Carey 2, Kate McKenna)
Michelle Carey's double inspired Railway to a derby day win over Pembroke to get their season off to a winning start. She pounced on a loose ball in the circle to open the scoring in the 4th minute to get her side up and running and her side continued to attack as time wore on but Pembroke defended well for the most part.

Maebh Horan's goal-line save from a corner in the 40th minute typefied this while Tiffaney Ellis was having an outstanding game with several good saves. But the game was finally put to bed in the closing few minutes when Carey again latched onto a cross to grab her second of the match. In the final minute, Kate McKenna added an extra gloss to the scoreline.

Belfast Harlequins 1 (Claire Weir) Hermes-Monkstown 10 (Anna O'Flanagan 6, N Evans, C Watkins, C McGilp, L Lloyd)
Anna O'Flanagan's six goal salvo saw Hermes-Monkstown begin life in devastating fashion, showing the name change took little time to get used to. The striker put the visitors to Deramore Park into the lead in the ninth minute before Caitriona McGilp, debutante Lily Lloyd and Chloe Watkins extended the lead in the second quarter to 4-0.

Nikki Evans and O'Flanagan added a couple more before Claire Weir got one back for Quins. But O'Flanagan scored the last four goals of the tie to complete a huge victory.
 


Photo Credit: Rowland White/Press Eye
 
Sunday reports

UCD 2 (Katie Mullan, Emma Russell) Loreto 2 (Hayley Mulcahy, Hannah McDermott)
Hannah McDermott's late corner deflection allied to three outstanding saves from Louisa Healy down the closing stretch saw Loreto get off the mark from a hotly contested tussle at Belfield.
 
The promoted Beaufort side raced out the of the blocks with Hayley Mulcahy producing a wonder goal to the top corner on her backhand for 1-0 inside five minutes. UCD replied with Katie Mullan dragging home on the quarter-time whistle before Emma Russell made it two for the weekend for a 2-1 lead, getting on the end of Sorcha Clarke's right wing cross.
 
Chances a plenty at both ends with UCD spurning a number of corners before Loreto won a set piece through Sarah Evans' endeavour. The push out was off course but Hannah McLoughlin worked it back to McDermott at the left post to guide in. The students created three big chances but Healy brilliantly denied them all to ensure honours were even.
 
Ulster Elks 0 Cork Harlequins 3 (O Roycroft, Y O'Byrne, R Barry)
Cork Harlequins joined Hermes-Monkstown, Pegasus and Railway Union at the head of the women's EY Hockey League table as they recorded their second win and second clean sheet of the opening weekend of the season.
 
The Cork side dominated the early stages as the Elks again took time to settle. Eventually, the pressure told when a long pass down the right found Olivia Roycroft who drove into the circle and crashed the ball into the net. They held that narrow lead until the second half when Quins once again started positively, Yvonne O'Bynre scoring within one minute of the restart from a penalty corner.
 
Harlequins created a series of chances but Rebecca Davidson in goals for Elks was having a great game to limit the damage. In the last quarter, Elks finally started to get some play together and pressed Cork. However, Cork controlled the game well and finally got a third on a counter attack with Rebecca Barry scoring against her former club.
 
Railway Union 2 (Niamh Carey, Kate McKenna) Belfast Harlequins 0
Railway Union closed out a six-point weekend while newly promoted Belfast Harlequins produced a much improved performance but still returned up the M1 without a point to their name.
 
After an even start, in the 7th minute, Niamh Carey put Railway ahead touching in off a Jade Lamont rebound following good approach work by Anna May Whelan and Emma Smyth

Though Railway had the majority of possession, Harlequins launched an attack down the right hand side through Jodie Savage, who was impressive, but Grace O'Flanagan in the Railway goal was equal to the right wing cross and cleared.

Quins came more into the game in the second quarter, winning a corner through Savage after good work down the right by Gemma Frazer but they were unable to convert.

Railway won three corners but also could not score, the pick of the bunch being a flick by Hannah de Burgh Whyte to the top right which was tipped over the bar by Jade Lamont.

The Dubliners were composed in the third quarter and created a couple more corner chances, one of which was miscued while the other saw Julia O'Halloran hit the post. The clincher came with two minutes gone in the final period when Kate McKenna turned in an Orla Fox sweep at the right post off a corner move.

Irish Hockey Association media release


---

Men's EY Hockey League Round Up




The leading lights of last season, Lisnagarvey and Monkstown, were the the two sides to emerge from the opening men's EY Hockey League season with six points, suggesting they will once again be the teams to beat.
 
For Senior Cup winning Town, theirs was the more comfortable programme. First half goals from Lee Cole, Gareth Watkins and Karl Lynch – against his formative club – saw the sky blues sweep to a 3-0 win over Cork C of I.
 
It was a goal closer on Sunday but Monkstown were always on the front foot against Instonians with David Cole and Davy Carson building a 2-0 lead. William Robinson got one back for the Belfast side but Karl Smith killed off the tie in a 3-1 success.
 
Garvey, the runaway champions last season, found the other promoted side UCD more than a handful at Comber Road. Iain Styles early goal had the students 1-0 up and it was level at 1-1 at the break.
 
Andy Williamson's equaliser was added to by Neal Glassey and James Lorimer but any thoughts of a comfortable finish were upset when Jazze Henry scored with 10 minutes to go but it ultimately ended 3-2.
 
A day later, Garvey shook off the shackles to hammer Railway Union 7-0 in Park Avenue.
 
Banbridge were denied the chance of joining the top two on six points at the death by Glenanne who snatched a 2-2 draw thanks to Sam O'Connor's late goal.
Bann had opened with a high octane 4-2 win over Three Rock Rovers. The Glens lost 2-0 to Railway on Saturday
 
Pembroke, despite a large number of summer departures, got their campaign off to a positive start with a 2-1 against Instonians before falling 3-0 on the road to Cork C of I.
 
Men
EY Hockey League
Saturday: Monkstown 3 (L Cole, G Watkins, K Lynch) Cork C of I 0; Railway Union 2 (P Catchpole, D Mills) Glenanne 0; Banbridge 4 (J Wright 2, M Bell 2) Three Rock Rovers 2 (M Darling, L Madeley); Lisnagarvey 3 (A Williamson, N Glassey, J Lorimer) UCD 2 (I Styles, J Henry); Pembroke 2 (K O'Hare, A Sothern) Instonians 1 (W Robinson)
 
Sunday: Instonians 1 (W Robinson) Monkstown 3 (D Carson, D Cole, K Smith); Railway Union 0 Lisnagarvey 7 (J Lorimer 2, M Nelson, D Nelson, P MacDonnell, D Buser, A Williamson); Cork C of I 3 (J Jermyn, P Sweetnam, J Dale) Pembroke 0; Glenanne 2 (G Shaw, S O'Connor) Banbridge 2 (E Magee, S Farson); UCD 3 (B Campbell, B McCrea, R Browne) Three Rock Rovers 3 (L Madeley, R Canning, K Mullins)

Saturday reports

Railway Union 2 (Peter Catchpole, David Mills) Glenanne 0
Debutants from Cork Peter Catchpole and David Mills helped Railway Union notch a 2-0 win over a short-handed Glenanne at Park Avenue. Railway took an early lead when Eoin MacArthur stole possession, setting up an attack for Catchpole to score from. It was the high point of a scrappy first half in which Richie Forrest also found the net but only after an earlier infringement which chalked off the strike.
 
Glenanne had the better of exchanges as time wore in, winning three corners in the third quarter but Railway pounced on the break with Rob Devlin setting up former Cork Harlequins' man Mills to score in the third quarter.

Forrest went close to a third while Leo Micklem denied Matuesz Nowakowski with an excellent save. Glenanne pushed hard for the last eight minutes but could not get a lifeline in the tie.

Monkstown 3 (Lee Cole, Gareth Watkins, Karl Lynch) Cork C of I 0
Three first half goals set Monkstown up for a strong opening win of the campaign with former C of I man Karl Lynch on the mark against his formative club. Gareth Watkins served an early warning shot before the lively Davy Carson stole possession to win a corner via Andrew Ward. Lee Cole flicked the set piece into the corner.

Julian Dale did win a corner but Stephen Cole blocked John Jermyn's flick from the Cork side's best early chance. And the tie was put to bed in quick time when Stephen and David Cole broke forward before passing to Watkins to make it 2-0. The same creative team broke to assist Lynch's goal for 3-0 at half-time.

Several chances came and went in the second half at both ends with Dale drawing a good stop from Max Maguire in the Town goal but no further goals meant Town start in strong fashion.

Banbridge 4 (Matthew Bell 2, Jamie Wright 2) Three Rock Rovers 2 (Mitch Darling, Luke Madeley)
Doubles from Matthew Bell and Jamie Wright saw Banbridge through a high octane tie at Havelock Park, a strong advertisement for the national league played at a fast-pace throughout. Rovers started fast with a numbers of early chances, Kyle Marshall clearing well before Bann got a foothold with chances for Hugh McShane, Jake Rowe and Eugene Magee.

Mark Samuel's dangerous cross caused a few worrying moments for the hosts before Rovers took the lead in the 21st minute, the returning Olympian Mitch Darling scoring a corner rebound. Jonny McKee drew a great save from Jamie Carr while his counterpart Gareth Lennox did likewise from a three-on-one break as the narrow 1-0 gap stayed in place.

The third quarter saw the majority of the fireworks. Bell got Bann back on terms when he picked up his own rebound from his side's first corner for 1-1. Wright then broke in from the left and found the net from a tight angle to swap the lead.
Luke Madeley drew the teams level from another corner when he beat the first runner and tucked away his shot. Bell, however, restored the lead to 3-2 from a drag-flick in the 53rd minute.

The final quarter was hectic with Bann seeing Matthew Allister and Fraser Mills both shown yellow cards as Rovers pushed for an equaliser. But Bann caught them on the hop as the excellent Wright deflection to McKee's run and shot won the tie.

Lisnagarvey 3 (Andy Williamson, Neal Glassey, J Lorimer) UCD 2 (Iain Styles, Jazze Henry)
Reigning champions Lisnagarvey edged out promoted UCD 3-2 in Hillsborough in a tie much closer than envisaged prior to the tie. Garvey did start well but found Stephen Dawson in cracking form early on to repel any damage while Andy Williamson hit the post.

And UCD opened their EYHL account in the 14th minute from a corner off the back of their first break-out; Iain Styles netted with quick reactions to a rebound. Williamson levelled before half-time with a strong drag-flick into the right corner for 1-1.

The champions enjoyed their most accurate quarter just after the break with two quick goals on the 40th and 43rd minute. James Lorimer scored a corner before Neal Glassey who burst into the circle and rifled a low reverse stick shot into the net.

UCD were not done, however, and pulled one back with 10 minutes to go via Jazze Henry from a corner, ensuring a nervous final phase for the hosts but they held for a 3-2 win.



Photo credit: Rowland White/PressEye

Pembroke 2 (Keith O'Hare, Alan Sothern) Instonians 1 (William Robinson)
First quarter goals from Keith O'Hare and Alan Sothern were just about enough for Pembroke to deny promoted Instonians though they rode their luck with a missed penalty stroke seven minutes from time keeping the points intact.

After those two initial strikes, Sam Brown was called on to make a number of big stops but the second half saw a sea-change with Inst battling back into contention. Pembroke lost Patrick Good to a popped-hamstring to limit their options and Inst had a foothold in the tie from a short corner from William Robinson. It set up an exciting closing period with Inst pressing and Pembroke looking dangerous on the counter.

James Corry, however, saw his stroke denied by Mark Ingram as Pembroke rode their luck to survive as Robinson and David Quinn ended the game in the sin-bin on yellow cards.
 
Sunday reports

UCD 3 (Ben Campbell, Ben McCrea, Rob Browne) Three Rock Rovers 3 (Luke Madeley, Ross Canning, Kevin Mullins)
Rob Browne slid in an equaliser with just a few minutes remaining to earn UCD their – and Three Rock's – first point of the campaign from a helter-skelter battle at Belfield. Indeed, the score could have been even more dramatic if either side had a higher corner conversion rate with both side running up plenty of set pieces.
 
Luke Madeley whipped in an early one for Rovers before Ross Canning scored from the penalty spot when Harry Morris was felled after a pitch-length counter, making it 2-0. Kevin Mullins snatched at a chance for a third but UCD were more than competitive and bossed the next 20 minutes. Ben Campbell, on the switch, swept in a corner and Ben McCrea pushed in for 2-2 by the break during that spell on top.
 
Rovers were much more assured in the second half with more control on the play but were profligate going forward until Mullins scored a very assured goal on his backhand. Once behind, UCD made the running once again and got the leveller when a right wing cross went untouched through a crowded circle where Browne ghosted in to finish off. Rovers had two more corners on the whistle but both were charged down to safety.

Railway Union 0 Lisnagarvey 7 (James Lorimer 2, Matthew Nelson, Daniel Nelson, Peter MacDonnell, Daniel Buser, Andy Williamson)
Lisnagarvey blitzed Railway Union for five goals in the first half to sweep to a huge 7-0 win at Park Avenue, making it the perfect weekend for the reigning champions.
 
A short corner drag flick from James Lorimer midway through the second quarter set tgem on their way before Matthew Nelson slotted home a chance from play.
 
Lorimer added a second in the second quarter while Peter MacDonnell follow-up from another set piece for a 4-0 advantage. Daniel Nelson's outstanding reverse-stick goal put the game all but out of sight. Daniel Buser and Andy Williamson closed out the victory after the big break.
 
Instonians 1 (W Robinson) Monkstown 3 (D Carson, D Cole, K Smith)
Monkstown recorded back-to-back wins to sit top with Lisnagarvey after the first weekend of the season on six points as, like Saturday, they scored early goals and never really looked back.
 
Davy Carson nicked in for the opener inside five minutes as they forced Inst to sit deep for the most part, limiting their chances to counter-attacks. David Cole made it 2-0 from a corner in the 32nd minute to extend the advantage, beating the otherwise impressive Sam Brown.
 
William Robinson pulled one back after half-time – his second of the weekend – but Karl Smith secured the points with five minutes to go. Town broke out of a full press to find Smith with a long ball and he finished well.
 
Glenanne 2 (G Shaw, S O'Connor) Banbridge 2 (E Magee, S Farson)
Sam O'Connor's last ditch goal saw Glenanne nick a point at home against Banbridge, denying the Co Down side a victory with one of the last touches of the game.
 
Sam Farson had opened the scoring from Bann's first circle penetration, finishing off from a clinical baseline pull-back. It remained that way into the break before Gary Shaw scored a typically spectacular goal to level, beating a few players before picking out the corner on the reverse.
 
Eugene Magee responded quickly with a spin-move from a corner to give the visitors the advantage going into the closing stages as Glenanne suffered three cards for dissent. But the Tallaght side won a late corner which was worked to Sam O'Connor to calmly slot home.
 
Cork C of I 3 (J Jermyn, P Sweetnam, J Dale) Pembroke 0
A large crowd turned out in sunny conditions to Garryduff to see three Olympians back in action on home turf. They were entertained by Shimmins's mazy runs, Jermyn's 70 metre overheads and Sothern's high presses as Cork C of I ran out as comprehensive 3-0 winners.
 
The game started at a frenetic pace with Cork C of I setting the pattern for the day with fast passing movements that stretched Pembroke in all directions. Their pressure drew a number of chances which Mark Ingram in the Pembroke goal had to be at his best to keep out including one corner save from a Jermyn drag flick.
 
Ingram was kept busy as C of I broke the Pembroke defence on a number of occasions. Eventually, in the 20th minute, after a long passing movement the ball fell to John Jermyn who made no mistake from the edge of the D. It was a lead they held until half-time.
 
C of I continued to dominate and gained two corners in the third quarter, Ingram making a fine save from Jermyn and also dealt with a Stephen Sweetnam effort.
 
In the 48th minute, the move of the match saw Philip Sweetnam make a super run into the left side of the circle, jink, twist, turn and shoot an unstoppable low shot into the right corner to make it 2-0 at three quarter time.
 
Pembroke upped their pace and Kirk Shimmins entertained us as he had at Rio with mazy runs and insightful passes into the CofI circle but the Cork C of I defence were able to mop up any loose ends and it was only in the 60th minute that Shimmins got Pembroke's only shot on goal. Julian Dale grabbed their third after another fine passing movement up the pitch to close out the win.

Irish Hockey Association media release


---

Warriors unleash terror on Bay Club at City Park

By Elizabeth Mburugu



Hockey- Parklands vs Butali Sugar. Butali warriors celebrate after scoring against Parklands when they played premier league at City Park. Butali scored 4-1. ON 05/09/15 PHOTO: JENIPHER WACHIE

Champions Butali Sugar Warriors whitewashed league returnees Bay Club 9-0 in a Kenya Hockey Union men's premier league match played yesterday at City Park Stadium.

Former titleholders Strathmore University Gladiators went on a rampage as they send six passed Nakuru Hockey Club in another men's top flight match.

Internationals Emmanuel Simiyu and Frank Wanangwe bagged a brace each in the one-sided tie that Warriors dominated from the onset. Warriors coach Cliffe Okello said that his players had played better than they did against Nakuru last weekend.

"They were in good form today compared to our last tie but it was expected because they we were back from a long break but am glad they are back on track," Okello said.

Veteran Saidi Okwemba put Warriors ahead five minute into play successfully converted a penalty corner. Barnabas Odhiambo added a second for Warriors four minutes utilizing his chance against Bay goalkeeper Brent Ochieng from the spot. Simiyu did not allow Bay a chance to put their house in order as he found the back of the net to give Warriors a 3-0 advantage in 11 minutes of play.

Bay led by Coach Tom Bello tightened their defence and were able to resist Warriors attacks until Vincent Odhiambo came calling in the 31st minute to add a fourth for the champions before the breather.

On resumption, Kisumu-based Bay players played defensively as well as tried to strike but their efforts were thwarted by Warriors who pinned them in their own half.

After minutes of resistance, Wanangwe finally got his way breaking Bay's defense to score his first and a fifth for Warriors in the 48th minute. Zack Aura put his name on the score sheet 17 minutes later with Simiyu completing his brace in the two minutes to the whistle. Two quick goals by Wanangwe and Peter Nyambura crowned Warriors successful weekend out in the 70th minute.

Two first and four second half goals were all the Gladiators needed as they tackled Nakuru to remain in contention of a playoffs slot. Gladiators coach Meshack Senge said that the win had improved their chances of making the final four.

"We are looking to make it to the playoffs and this win today is a step closer to achieving our objectives. We now need to win one more match convincingly and the semi-finals will become a reality," Senge said.

Greensharks played to a 1-0 victory against Kenya College of Accountancy University to enhance their chances of qualifying for the semis. Victor Osiche scored Sharks all-important goal in the 24th minute.

The Standard Online


---

Ventures rule at Marist hockey tournament

Pravin Narain

VENTURES won the 2016 Geotech Drilling International Marist Eastgate Memorial Tournament in the men's and women's competition which was held at the National Hockey Centre in Suva in Fiji yesterday.

The men's side coached by Hector Smith defeated Stingers 3-2 while the women defeated Marist 2-1 in the penalty shootout in the final.

Ventures women's team coach Alison Southey said: "The girls played really hard and I must give it to Marist which is a young team for coming out strongly in the final.

"They took us to the wire where the winner was decided on the penalty shootout.

National reps Tiara Dutta and Maxine Brown helped in the win.

The women and men side walked away with $1000 each.

The Fiji Times


---

No. 5 North Carolina caps off huge weekend with win over No. 2 Duke

North Carolina Athletics



North Carolina's 3-2 win over No. 2 Duke capped off a weekend with wins over the top two teams.

CHAPEL HILL, N.C. – Tar Heel sophomore Eva van't Hoogscored twice in just over three minutes, tying the score then giving UNC the lead for good in a 3-2 field hockey win over No. 2 Duke on Sunday afternoon at Francis E. Henry Stadium.

The win completed a stellar stretch for the fifth-ranked Tar Heels, who in consecutive games knocked off the top two teams in the national rankings, both of which arrived at Henry Stadium undefeated. Carolina, which is now 8-2 on the season, beat No. 1 Syracuse 3-2 in double overtime on Friday night.

"I'm incredibly proud of our team — it was a terrific weekend," UNC coach Karen Shelton said. "To put together two big games like this was a huge confidence booster. I can't remember a time when we've played No. 1 and No. 2 back to back. I told the team that this was an incredible opportunity, and they took the opportunity."

Van't Hoog's first goal, which tied the game at 1-1, came in the 50th minute on a reverse stick shot from the left side after she beat a defender and carried the ball into the circle.

Three minutes later, she added another to give Carolina the lead for good. In traffic in front of the cage, she picked up the ball and sent a shot rolling through the legs of a defender and under Duke keeper Sammi Steele for a 2-1 Tar Heel advantage.

"It doesn't really matter who scored, it was just a great team effort," van't Hoog said. "Especially in the second half, I think we showed a lot of maturity."

UNC freshman Eef Andriessen added another goal in the 61st minute, working the ball around a defender and then shooting low into the cage for a 3-1 lead.

The Tar Heels then took a timeout, and Duke capitalized on momentum coming out of the break. In the 62nd minute, Blue Devil Aisling Naughton got the ball after a takeaway in the circle. She missed on her first shot but recovered and shot again to score and draw Duke within a goal, 3-2. But the Carolina defense was able to hold for the final eight minutes and preserve the win.

Duke jumped out early with a goal on the first shot of the game. In the third minute of play, Ashley Kristen took a pass from Naughton and shot from the top-left of the circle into the right corner of the cage. The Tar Heels trailed 1-0 at the half after managing just two shots and one penalty corner in the first period.  In the second half, however, they outshot Duke 9-3 and earned four penalty corners to none by the Blue Devils.

"We showed a lot of toughness and fitness in the second half," Shelton said. "To come from behind is terrific for our team."

After the game, Shelton noted the play of senior Emma Bozek, who shifted up to play at forward from her usual spot in the midfield. "She gave us an unbelievable amount of energy up front and created a lot of offensive opportunities and corners," Shelton said. "Eva had a great day today with the two goals, and Eef having that third one was huge."

Sunday's game was a non-conference contest for UNC and Duke. They'll meet for the designated Atlantic Coast Conference matchup on Oct. 22 in Durham.

Exciting win aside, Sunday's game was a highlight for another reason: The team partnered with Vs. Cancer to raise money for the battle against cancer. A Tar Heel alum, Katie Ardrey, who lettered for UNC from 2009-2012 and is currently battling cancer, spoke to the crowd at halftime.

"You talk about resilience and handling adversity — she has been incredible," Shelton said of her former player, who was a member of both NCAA and ACC championships teams. "It was nice to get the win on this day for Katie."

NCAA


---

Penn field hockey wins Ivy League opener, loses to No. 1 Syracuse

Loss to Syracuse was the Quakers' second of the year against a No. 1-ranked opponent

By David Figurelli



Junior attack Rachel Huang helped the Quakers get off to a positive start in Ivy play, scoring the lone goal in the game against Cornell this past weekend.
Photo by Ananya Chandra

Penn field hockey took a trip to the Empire State this past weekend to take on Ivy rival Cornell and No. 1 Syracuse in what was one of the toughest weekends on their schedule. They came back with some good news and some not so good news.

The positive was an Ivy League win. The not-so-positive part was a harsh defeat at the hands of the nation's No. 1 program.

The Quakers (5-2, 1-0 Ivy) first took on the Big Red (5-3, 0-1) on Friday in Ithaca, opening their Ivy season with a critical 1-0 win. Junior Rachel Huang's goal in the ninth minute of play was the sole difference maker for the Red and Blue, who were spurred by strong defense. Junior goalie Liz Mata made seven saves in her third shutout of the season.

"Obviously our players knew the significance of that game, so we didn't really need to get up for it," Penn coach Colleen Fink said. "We've just been talking a lot about the battleground conditions in Ivy League play, because it is so tight in our league in my opinion. Since there is no Ivy League playoff, all of these games become even more critical. You need to be prepared to battle and be prepared to work hard."

The team's high pressure strategy would continue for the Quakers into the beginning of their next match on Sunday against the second No. 1-ranked opponent of the year for Penn in Syracuse (8-1). The team played previously top-ranked UNC earlier in the season.

The first half of the game was fairly balanced between the two sides, with the Red and Blue controlling possession in the first 10 minutes of the game. Junior forward Alexa Hoover was especially disruptive, allowing the Quakers to create some chances around the arc and forcing the Syracuse defense to turnover over the ball often. Syracuse's only goal in the first half came from their first shot of the game, a wicked backhander that snuck just under the bar, giving Mata virtually no chance to save it. Other than that, the first half was fairly balanced.

The story took a turn for the worse in the second half. The Orange outshot the Quakers, 18-3, and earned eight penalty corners compared to just one in the first half. Mata and the defense were able to keep the score within one for a while until finally Syracuse broke through for their second goal with 15 minutes left in the match. The Orange would go on to score two more in the final minutes of the game, putting a Red and Blue comeback out of question.

"We had a really good understanding of the way Syracuse played through watching film, so I think the team felt really comfortable going into the game and I think they knew what to expect," Fink said. "I think we had Syracuse very frustrated in the first half for the most part.

"Unfortunately in the second half, when they got their second goal, I think some thoughts of doubt maybe crept in to the mindset of our girls, and that's something we really need to work on. We need to know that we are a top-20 caliber team, and that giving up four goals is never going to be okay at this point. We should be beyond that, whether we're playing the best team in the country or the worst team in the country."

Despite giving up four goals in the game, no one could argue that Liz Mata was anything short of great for the Quakers this weekend. After earning the seven-save shutout against Cornell in the first game of the weekend, Mata was able to keep the Quakers in the game against Syracuse for almost the entire second half, making a total of 13 saves — nearly doubling her career high.

"I think that the confidence that the team and the coaches have in me is a big part in that," Mata said after the Syracuse game. "90 percent of the game for me and for a lot of goalies is mental, so I feel like having the ability to come in prepared and knowing that I've put in the work has really allowed to get into a good game-ready mindset. Getting that close overtime win over Fairfield wasreally helpful, but knowing that we, as a team, are putting work right now is really setting us up for success.

The Daily Pennsylvanian


---

Ford NHL heading south to Wellington



Photo: www.photosport.nz

The National Hockey Stadium in Wellington has been announced as the host venue for the 2017 Ford National Hockey League.

Northland Hockey have hosted the country's premier domestic tournament, alongside the National Senior Tournament for the past two years.

Wellington Hockey chief executive Trafford Wilson said it will be great to have the tournament on home soil.

"Wellington Hockey is excited about the opportunity to host the Ford National Hockey League which will showcase the best hockey talent in the country," he said.

"Over the past two years, Northland Hockey has done a superb job in delivering a first class tournament and we look forward to building on this success."

The exact dates of the 2017 tournament will be confirmed in the coming months.

Hockey New Zealand Media release


---

Domestic hockey rivalry ignites over Shield controversy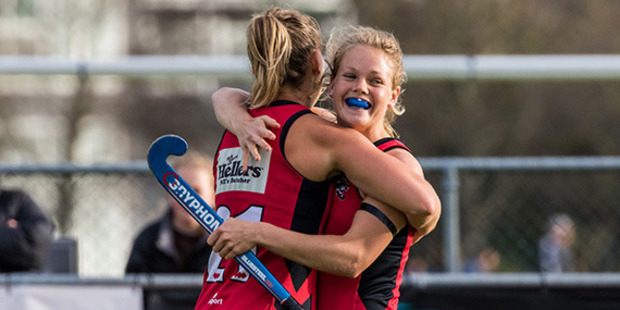 Canterbury's Olivia Merry scores. North Harbour v Canterbury Women. Photo / Photosport

The rivalry between Canterbury and Midlands hockey is alive and well after controversy around the Ramesh Patel Shield.

After a tie in the standings Canterbury were initially handed the shield before a recount deemed Midlands to be the rightful winners as the most consistent province.

Canterbury Hockey CEO Rod Templeton says the war of words has already started ahead of next season.

Templeton says they've already exchanged emails warning they'll be back to win the shield next year and Midlands will be keen to retain it.

Radio Sport


---

PHF beats drum on Oman success as World Cup looms

Anwar Zuberi

The officials of the Pakistan Hockey Federation (PHF) are beating the drum on the success against low-rated Oman in the four-match junior under-18 series as if they had win the junior World Cup.

In fact, the series has thoroughly exposed the loopholes of the home team which is quite evident from the results of the matches. The tour turned out to be beneficial for the visitors.

According to results, the visiting Oman opened their campaign on a confident note when they held greenshirts to a two-all draw in the opener.

The latter won the second 6-1, third 3-0 and fourth 8-3. All the games were played at Lahore's National Hockey Stadium.

Asian giant South Korea and even China have learnt finer points of the game by touring Pakistan frequently in the past. Now Oman is making rapid progress.

The junior under-21 World Cup is around the corner and will be played at Lucknow from Dec 8 to 18 with 16 teams vying for honours.

The teams includes Argentina; Australia; Austria; Belgium; Canada; Egypt; England; Germany; India; Japan; South Korea; Netherlands; South Africa; New Zealand; Pakistan and Spain.

Having won the title six times since inception of the cup at Versailles, France, in 1979, fancied Germany is on course to complete second hat-trick if they retain the title.

Germans have won four titles in-a-row at Kuala Lumpur in 1982, at Vancouver in 1985, at Ipoh in 1989 and at Terassa in 1993. Their back-to-back two titles came at Johor Bahru in 2009 and at Delhi in 2013.

Pakistan won the inaugural edition at Versailles in 1979 under Manzoor Hussain Jr, Australia won at Milton Keynes in 1997, India won at Hobart in 2001 and Argentina at Rotterdam in 2005.

The incumbent PHF officials have completed one year in office last month. They had full blessings of Prime Minister Nawaz Sharif, who is also patron-in-chief of the PHF.

The prime minister has opened government coffers to revive the national game which has reached a new-low.

According to figures, he has doled out millions of rupees to the PHF so far in three tranche -- Rs70.5 million, Rs50 million and recently announced Rs200 million.

Government has always lent financial support to the PHF as well as to the other games within its limited resources but unfortunately, a big chunk of money is misused by national federations besides the foreign sojourns.

The present government alleged that hefty grants were given to Qasim Zia-led and Akhtar Rasool-led PHF's which they have plundered.

The nation will not forgive the damage that has been done to the national game for a long time to come.

Results are a true barometer to judge the performance which can only be achieved through better planning, sincerity and honesty.

In the last one year, the PHF has failed to revive the club and inter-school hockey which serves as a reservoir of unearthing talented youth.

Secondly, it's true that funds are vital but the incumbent PHF chief, who is close to the government, should also ask the prime minister to issue instruction to the banks and multi-national organisations to raise teams.

The monthly stipend will help keep player's interest alive in the game.

Dawn