All the news for Tuesday 30 August 2016

Pak Juniors go down fighting 2-3 in first hockey test against Spain

Terrassa, Spain. Pakistan under 21 lost the first hockey test 2-3 against Spain's Junior side.

The visitors twice went in front through Shan Irshad (field goal) and Hassan Anwar (penalty corner) but Spain equalised each time. Then in the final quarter, the hosts managed to score the winning goal.

The two teams meet again tomorrow at the same venue.

PHF Media release


---

Sapura above water after 11 years

By Jugjet Singh



PIC: KLHC's Haziq Samsul (left) challenges TNB's Amir Farid (centre) for the ball during their TNBMHL 2016 Premier League match at the Kuala Lumpur Hockey Stadium Sunday. KLHC 2-2 TNB.

SAPURA last won the League title in 2005, the year they also won the double by lifting the Overall crown, and 11 years later their head is finally above water in the Premier Division of the Malaysia Hockey League.

Coach Yahya Omar and his men have nine points after four matches, and top the standings by a single point over Kuala Lumpur Hockey Club (KLHC).

However, double champions Terengganu Hockey Team (THT) have hit a dry patch, as first they lost the Charity Shield (2-1 to KLHC) and are now languishing in the middle of the table with only four points after four matches.

Yahya believes it all up to his players, as they have the fitness and skills, only the hunger for titles need to be challenged.

"If we play like we did against THT (won 2-0) where my players showed their hunger for victory, I believe we will finally lay our hands on a title this season.

"As for the League, we still have Tenaga Nasional to play before ending the first round. And then, we have five more matches to play with determination to realise our League dream," said Yahya.

Today, Sapura will play Division One outfit ATM Airod in the Tan Sri P. Alagendra Cup quarter-finals.

ATM Airod have played six matches, with only one win to show and are at the bottom of the standings.

"We should get past the quarter-finals, but the last-four is where we meet true challengers for the Alagendra Cup," said Yahya.

The Alagendra Cup's top match of the day will be between THT and KLHC at the Batu Buruk Stadium.

"We are in bad shape in the League because we missed too many penalty corner and field chances. The League title now looks like a toss between KLHC and Sapura, but the Alegandra Cup is stil within our reach and my players know what to do tomorrow (today)," said THT coach Sarjit Singh.

KLHC coach Harun Rashid said: "Our end game in the third quarter needs to be tightened as we lost many points during that period. The Alagendra Cup quarters will be tough, but not impossible."

TUESDAY: ALAGENDRA CUP -- Quarter-finals: Terengganu Hockey Team v Kuala Lumpur Hockey Club (Batu Buruk, 5.30pm); Politeknik Malaysia v SSTMI (Taman Daya, 5pm); Sapura Hockey Club v ATM Airod (KLHA, 8pm); Universiti Kuala Lumpur v Tenaga Nasional Berhad (KLHA Stadium, 6pm).

PREMIER DIVISION

            P  W  D  L  F  A  Pts

SAPURA      4  3  0  1  9  6  9
KLHC        4  2  2  0  10 6  8
MAYBANK     4  2  0  2  8  11 6
THT         4  1  1  2  10 9  4
UNIKL       4  1  1  2  3  6  4
TENAGA      4  0  2  2  9  11 2

Jugjet's World of Field Hockey


---

Terengganu HT and KLHC slide

By Jugjet Singh

TENAGA Nasional pulled off another upset in the Premier Division of the Malaysia Hockey League when they came back from two goals down to hold Kuala Lumpur Hockey Club (KLHC)  2-2 Sunday.

This came at the back of holding double champions Terengganu Hockey Team  (THT) 4-4 on Friday.

However, double champions Terengganu Hockey Team (THT) were placed in a hopeless position when they were beaten 2-0 by Sapura.

KLHC were 2-0 by the third quarter when all-local outfit Tenaga fought back to steal a point in the fourth quarter.

The KLHC goals were scored by Pedro Lopez (5th) and NamHyunwoo (39th)  while the Tenaga goal scorers were Syed Syafiq (53rd) and Firdaus Omar (60th).

Tenaga coach Amin Rahim was naturally delighted with the two points which they shaved off the two title contenders.

"This is a grand moment for my players as they have pulled off two important draws against  favourites this weekend.

"Before they went on the pitch I told them they have nothing to lose and everything to gain in this match and they did not disappoint," said Amin.

KLHC coach Harun Rashid rued the four points they lost this weekend.

"On Friday we drew 1-1 with UniKL and today (Sunday) were held by Tenaga. This can't continue if we want to chase for titles. In both games we took the leads and then allowed the other teams to claw back," said Harun.

RESULTS: KLHC 2 Tenaga Nasional 2, Sapura 2 Terengganu HT 0, UniKL 1 Maybank 2.

PREMIER DIVISION

        P  W  D  L  F  A  Pts

SAPURA      4  3  0  1  9  6  9
KLHC           4 2  2  0  10 6 8
MAYBANK  4  2  0  2  8  11 6
THT             4  1  1  2  10 9  4
UNIKL         4  1  1  2  3  6  4
TENAGA     4  0  2 2  9  11 2

Jugjet's World of Field Hockey


---

Terengganu bogged down by inconsistencies in hockey league

by Aftar Singh




KUALA LUMPUR: Sarjit Singh, coach of double champions Terengganu, is concerned with his team's inconsistency in the Malaysia Hockey League (MHL).

And that, he believes, is due to two factors – poor finishing and woeful penalty conversion rate.

"We have been let down by poor finishing. Forward Faizal (Saari), who was the top scorer in the last two seasons (with 17 goals in 2015 and 16 goals in 2014), has been firing blanks in four matches," said Sarjit.

"As for penalty corners, we earned a total of 24 in four matches but only managed to convert four despite having three penalty corner specialists."

His three penalty corner drag flickers are Faizal, South Korean Jang Jong-hyun and Pakistani Muhammad Irfan Aslam.

Sarjit is right to be worried by his team's dismal form.

Although powered by six foreigners, they fell to their second defeat in the Premier Division on Sunday, losing 2-0 to Sapura at the Tun Razak Stadium.

Terengganu are now in fourth spot in the six-team standings with four points from a win, a draw and two losses.

Sarjit's men began the season on a losing note, going down to Kuala Lumpur Hockey Club (KLHC) 2-1 at home in the Charity Shield match on Aug 19.

And on Tuesday, Terengganu will renew their rivalry with KLHC when the teams meet in the quarter-finals of the Tan Sri P. Alagendra Knockout Trophy tournament at the Batu Buruk Hockey Stadium in Kuala Terengganu.

Both the teams were given a bye in the first round.

Their poor start to the season has only heaped more pressure on them to get the better of high-riding KLHC, who are unbeaten in the Premier Division.

"We have to play a tight-marking game ... and we cannot afford to miss chances. We lost to them once, we cannot afford another defeat as it will only make life more difficult for us in the league," said Sarjit.

KLHC coach Harun Al-Rashid knows only too well that it won't be easy to beat Terengganu for a second time in their own backyard.

"They will be going all out to avenge their opening-day defeat. I'm also concerned with my own back line as they failed to defend well in the league match against Tenaga Nasional on Sunday," said Harun.

KLHC were leading 2-0 with seven minutes left to play when Tenaga staged a fightback to score two goals to snatch a 2-2 draw.

The other closely contest quarter-final match will be between Tenaga and Universiti Kuala Lumpur (UniKL). In the league match, UniKL edged Tenaga 1-0.

The Star of Malaysia


---

National Sports Awards conferred

The President of India presented the National Sports Awards to players, coaches and organizations from various sports discipline in a glittering function at the Rashtrapati Bhavan in New Delhi. The list of awardees was confirmed by the Ministry of Youth Affairs and Sports a week back.



VR Raghunath receiving the Arjuna Award from the President of India

From the field of hockey, hockey players V.R.Raghunath and Rani Rampal were conferred with the prestigious Arjuna Award. Sylvanus Dung Dung received the Dhyan Chand Award whereas Delhi based hockey NGO, Hockey Citizen Group was conferred with the Rashtriya Khel Protsahan Puruskar in the category of Identifying and Nurturing of Budding and young talent.

Arjuna and Dhyan Chand awardees received statuettes, certificates and Rs. 5 lakh each. Recipients of the Rashtriya Khel Protsahan Puruskar received trophies and certificates.

VR Raghunath, the defender from Coorg has been shining for India since 2005. The burly defender was part of silver winning SAF Games team, and also won bronze and silver in 2007 and 2008 Sultan Azlan Shah Cup. He was also the proud 2014 Asian Games gold medalist. Raghunath's first foray into the national side was the Sub-Junior Asia Cup, Dhaka, which India won. He made his senior international debut against Pakistan in the bi-lateral series in 2005.



Rani Rampal receiving the Arjuna Award from the President of India

Rani Rampal has to her credit of being the only Indian to be nominated for the FIH Women's Young Player of the Year Award, 2010. She was even adjudged the "Best Young Player of the Tournament" award at the Women's Hockey World Cup 2010, recognizing her stellar performance as the top field goal scorer in the tournament.

She played a huge role in winning the silver medal for the Indian team in the Asia Cup held in Nov 2009. After playing with India's national team at 2010 Commonwealth Games and 2010 Asian Games, Rani Rampal was included in the FIH Women's All Star Team of 2010. Undoubtedly, Ms Rampal is one of the most accomplished hockey players of current times. She played an important role in the performance of Indian Team at the 2015 World League Semi-Finals.



Sylvanus Dung Dung receiving the Dhyan Chand Award from the President of India

Sylvanus Dung Dung was a member of the 1980 Moscow Olympics gold winning hockey team. His long wait for a recognition from the government ended today. Besides 1980 olympics, he represented India in major tournaments of 1978 Buenos Aires World Cup, Bangkok Asian Games and several test matches.

Sylvanus scored the golden goal for India to give India 4-3 win against Spain in the finals of 1980 Olympics.



K Arumugam,Founder and CEO Hockey Citizen Group, receiving the Rashtriya Khel Protsahan Puruskar from the President of India

Delhi based hockey NGO, Hockey Citizen Group, which runs the globally acclaimed 'One Thousand Hockey Legs (OTHL)' project across five cities of India has introduced hockey in several schools of India. The NGO, Hockey Citizen Group was formed in 2008 by hockey historian, K. Arumugam. Many of the NGO boys and girls have represented in the Sub-Junior nationals. The target of the NGO chief is to bring 500 new kids to the ambit of hockey in each city of India by starting and running hockey teams in at least 25 schools in each city. Over the period of 7 years, the NGO has achieved several milestones. It serves two purposes: improve hockey in schools and uplift the profile of socially weaker and disadvantaged kids. It's project, One Thousand Hockey Legs received the Hockey India President's Outstanding Award 2014 in March 2015.

Stick2Hockey.com


---

Dhyan  Chand: A peerless genius

BY S.THYAGARAJAN

No string of words, however textured they are with the best of superlatives, can convey to this generation the genius of Dhyan Chand. If ever there was an icon before the country attained independence it was he who carved out India's sporting ethos that vibrates even today.

It is in the fitness of things that we should recall the contribution to hockey, any, to the sport on his birth anniversary today. (August 29)

Even as the debate once again surfaced yesterday after the Prime Minister, Narendra Modi, referred to Dhyan Chand in his "Mann ki Baat" program over the long over due of the Bharat Ratna to this illustrious sportsman, it is mandatory for the sports fraternity in the country, nay, in the whole world, to acknowledge what he had done for the sport of hockey.

Proclaimed as "wizard" or "magician" by those who were fortunate to witness Dhyan Chand in action, the three times Olympian (1928, 36, 48), added an enchanting dimension to stick work and scoring on the hockey field.

What he displayed on the field was nothing but incredible and beyond imitation by any human. His touch of aesthetics and craft took the sport to a totally different trajectory. He symbolised the country's aspirations in the pre-independent era and gave it an image and identity.

"I always felt that a man essentially is a man, and it is unbecoming of him to show off and make others feel that there was snobbery in him," he wrote in his autobiography, "Goal" published by Sport & Pastime.

The incomparable proficiency would have lost to humanity but for the Army that nursed Dhyan Chand's proficiency.

Born on August 29 at Allahabad, he joined the Army at the age of 16. There was nothing eventful in the First Brahmin Regiment, where he worked in 1922, until spark in him was discovered by the coach, Bale Tiwari.

Life for Dhyan Chand transformed into something exhilarating year after year. He flowered into the mould of a genius to script an incandescent chapter in India's sporting history.

In his first overseas tour to New Zealand in 1926 at the age of 23, he underscored his class and caliber. The team won 18 of the 21 matches.

Dhyan Chand became an Olympian at the age of 23 when hockey was re-introduced in Amsterdam in 1928. "The day of our dreams dawned... We were determined to show the world that in this game we are supreme," he noted in his autobiography "Goal," later.

India scored 29 goals without a reply in five matches prompting many wonder whether Dhyan was a magician! He marched ahead mesmerizing rivals with marvelous stick-work.

The third gold medal in 1936 as captain at Berlin, after beating the home team with an 8-1 score was the high point. He was the top-scorer with 13 goals.

Interestingly, India's third successive gold medal at Berlin came on August 15 1936, almost 11 years before India became independent.

India would have easily won two more gold medals had not the World War II intervened to sop the Olympics in 1940 and 1944. When the Games resumed in 1948 in London, Dhyan Chand had passed his prime. He would have ended his career with five gold medals.

Dhyan Chand's entry into the twilight zone after the inevitable end of his career encountered several unpleasant moments. The compulsions of war as an Army-man somewhat crippled him. Posted in Ferozepur at the time of partition, he came back to Jhansi losing a substantial amount of his savings (said to be Rs.15000) in Pakistan.

Dhyan Chand's stay in hockey after India became independent was in 1947 when he led the National team to a tour of East Africa. He also had a short stint as the chief coach in the NIS Patiala.

For a brief period he was even forgotten by the fraternity until he was seen lying in a Delhi hospital until the media highlighted the plight of this master craftsman who was awarded the Padma Bhushan in 1956. Not many are aware that a statue exists for him in Vienna and a street named after him in Berlin or a metro station in his name during the 2012 Olympics in London.

Minus heroes sport is akin to religion without God. Without a shadow of doubt Dhyan Chand is the true and unquestionable hero of our hockey and will remain so forever.

Life ebbed out of this immortal soul on December 3, 1979.

Fieldhockey.com


---

Ratna for Dhyan Chand a reality now?

Vibha Sharma

The longstanding demand for the highest civilian award of the country, Bharat Ratna, to hockey wizard Dhyan Chand may soon be a reality if Prime Minister Narendra Modi's 'Mann Ki Baat' tribute to the legendary player yesterday and his party's "complete support" to the idea is an indication.

Seconding the prevalent viewpoint expressed by several top athletes, senior BJP functionaries said that the man who helped India win three gold medals in the Olympics deserved the honour "ahead" of cricketer Sachin Tendulkar. Major Dhyan Chand definitely deserves the Bharat Ratna and the "party believes he should get the honour next year", they said.

Significantly, the Prime Minister yesterday opened his periodic radio programme with a tribute to Dhyan Chand. Reminding listeners of "his contributions" to the nation, the Prime Minister said: "He played a pivotal role in helping India win hockey gold medals in the Olympic Games in 1928, 1932 and 1936. All of us cricket lovers know Don Bradman's name very well. He had complimented Dhyan Chand by saying that 'he scores goals like runs'.

"Dhyan Chand was a living example of sportsman spirit and nationalism. During a match in Kolkata, a player from the opposite team hit him on the head with the hockey stick. At that point, only 10 minutes were left in the game. And Dhyan Chand scored three goals in those 10 minutes and said, 'I avenged the hit by scoring goals'."

Ahead of his birthday today, which is also celebrated as the National Sports Day, top hockey players also revived the longstanding demand for Bharat Ratna for Dhyan Chand. Top Olympians, including Ajit Pal Singh, Zafar Iqbal, Dilip Tirkey and Dhyan Chand's son Ashok Kumar, urged the government to fulfil their demand and also signed a memorandum to the President and Prime Minister.

Though the demand may not be new (it has been there since sportspersons were made eligible for Bharat Ratna), it is more likely to be fulfilled now. Major Dhyan Chand deserves the honour more than anyone else and there seems to be a political angle as well.

The hockey legend was born in Allahabad and settled in Jhansi (the place of his last posting) — two historic cities of poll-bound Uttar Pradesh where the BJP is hoping to make a mark.

Goel backs calls for award to hockey legend

As the chorus grew to decorate Major Dhyan Chand with the prestigious Khel Ratna award, Union Sports Minister Vijay Goel today echoed similar sentiments.
"I will take forward the popular sentiment of giving Bharat Ratna to Major Dhyan Chand," Goel said.

The Tribune


---

VR Raghunath believes India hockey team has created the blueprint for success

by Jonathan Selvaraj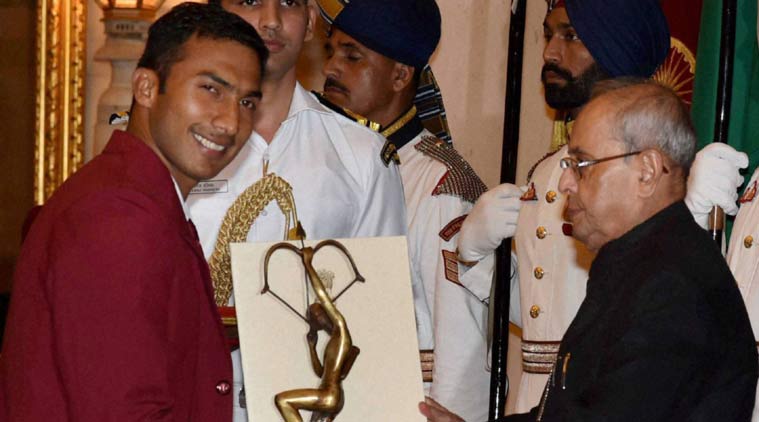 VR Raghunath received an Arjuna award in hockey on Tuesday, seven years after he made the debut for senior India team.

VR Raghunath smiled for the cameras as he collected his Arjuna Award from the President of India on Tuesday afternoon. The bronze trophy was a justified reward for a seven-year long career that has made the defender an Asian Games gold medalist, a multiple medalist at the Commonwealth Games, Hockey World League and Champions Trophy as well as an Olympian twice over.

However, even as the 27-year-old received his sporting honour, Raghunath admits the moment is bittersweet. On the face of it the Indian team failed to live up to their pre-Olympic rankings, losing in the quarterfinal despite going in ranked 5th in the world. However they definitely had their moments. They were were level with both Germany and Holland in the group stages before eventually conceding decisive goals in the final moments of the match.

They were also the only team to beat eventual champions Argentina. In the quarterfinal, they took the early lead against Belgium before losing to the silver medalists. "It was strange after we lost in the quarterfinals. We felt we had more energy to give. The tournament didn't feel complete. We wanted to give more opportunities to our players but we didn't get that chance."

What hurt the team even more feels Raghunath was the feeling that they had it in them to reach the last four and perhaps compete for a medal. " We weren't afraid of playing Belgium. We had played them four times and won and lost the same number of games. Over the last couple of years, ours was a team that had consistently placed in the top 3. (As silver medals in the 2015 World League and 2016 Champions Trophy would suggest) We were confident that we would have made the semifinals here too," he shrugs.

Raghunath isn't a big fan of hindsight. He doesn't believe that the team lost momentum after drawing their final game against Canada or fell away after scoring early in the quarterfinal. "I don't know what we might have done differently in the quarterfinal against Belgium. I guess we could have scored another goal. Things might have been different then. But we had our chances and just did not take them and Belgium did. You cant make excuses for that," he says.

And while India's Olympic dreams may have come to an end in that game, Raghunath feels the team did the best they could. "I can't fault the way our team prepared for this Olympics. Everyone was involved and gave it their best. When we were preparing, there were few off days and we didn't take a single night off. Our training was systematic. We had the same core group of 33 and we ensured we didn't play the same players constantly. That way the players who went into the Olympics were not fatigued," he says.

Blueprint for success

Raghunath believes the Indian team has created the blueprint for success. He points to coach Roelant Oltman's policy of creating multiple captains.

"By making a number of players captains, coach ensured that in each department one of us was taking responsibility and pushing the others forward," he says.

And while the team may have slipped a place in the rankings, Raghunath believes this is only a temporary aberration. And while the World Cup is two years away, he believes the team has what it takes to make the podium. "The kind of tempo the the team has right now is something else. We have a strong group of players who will take India to the next level. We will be in the top three at the world Cup is something I don't doubt."

Indian Express


---

Indian captain Sreejesh's home state Kerala yet to recognise hockey!

By Adwaidh Rajan

THIRUVANANTHAPURAM: It may sound incredible, but is a hard fact. Hockey is not a recognised sport in the home state of P R Sreejesh - captain of Indian hockey team. Nor are Olympic events like golf and rugby. As India is busy assessing its failure at the Rio Olympics yet again, emerges this case of mismanagement and politicking.

Without the Kerala State Sports Council's (KSSC)recognition, these sports miss out on initiatives and financial assistance from the state government to develop the sport. The impact on trainees is more profound as they are denied benefits like grace marks, quota admissions.

While sports like hockey remain unrecognised, there are dubious inclusions like atiya patiya, tennikoit, arm wrestling, roller skating, bodybuilding, kalarippayattu and even tug of war in the 39-event list  Despite being recognised as the official body by Hockey India in 2014 and fielding a state team at the 35th National Games 2015 and national championships ever since, Kerala Hockey, earlier this year, were denied recognition by the Council ciitng legal tangles.

"There have been 3-4 associations who lay claim to the sport in Kerala. This has been the bane of the sport in the state. Let them solve their differences first because it is the players who suffer ultimately," Sreejesh told Express. "These associations should first set their house in order. Or the Council should sit with Hockey India and form a new state body to govern the sport in Kerala," the goalkeeper said.

According to officials, Kerala Hockey does not have any pending cases in court. "We have spent around Rs 13 lakhs to send state teams for Nat'l championships without government aid," said Afsar S Ahammed, secretary of Kerala Hockey. "Some associations have been affiliated by the Council thanks to backdoor entries while deserving association like ours are often ignored," alleged Afsar.

T P Dasan, the new president of Kerala Sports Council approves. "During tenure of the previous administration, there were some undeserving associations who were selected and we had expressed our displeasure when sports like arm wrestling were recognised without any merit," said Dasan. Kerala women's rugby team had won bronze at the National Games.

"Though the acceptance of rugby has increased, we are yet to be recognised despite continuous efforts. I hope the new administration will look into this," said coach Mahesh Kumar, also secretary of Kerala State Rugby Association.

The rugby body was founded in 2002, but Dasan said its application was being processed. "They had only completed the paperwork recently and it is on our table now. We will definitely consider it," he said.

Golf is still in a nascent stage in Kerala despite making its debut in Olympic stage at Rio.

"We haven't received an application for golf but all associations have to conduct district and state championships for three years and have a presence in at least eight districts to be eligible for recognition," said Dasan.

Classification

He said the Council was planning to classify the recognised sports into low, medium and high priority categories to cater to their demands efficiently. "We plan to take up these issues during the Council's administrative board meeting on August 31," he said.

The New Indian Express


---

Top local PHL action coming to SuperSport



SuperSport has partnered with the PHL for the next 5 years.

SuperSport International has concluded an exclusive five year deal to broadcast selected matches from the Premier Hockey League (PHL) – The South African Hockey Association's (SAHA's) new elite hockey competition, which launches in September 2016.

For the 2016 event, 24 of the 40 PHL games, including all semi-finals and both finals, will be broadcast live across all SuperSport platforms, including television, mobile and online – throughout Sub-Saharan Africa. A further eight PHL games will be streamed exclusively live via the SuperSport website and will be repeated, on a delayed basis, on selected SuperSport broadcast channels.

"This is a very exciting moment for hockey in South Africa and is a key part of the SA Hockey Revolution strategy that we launched a few months ago. We are grateful for SuperSport's investment and commitment to growing the sport over the next five years." said Marissa Langeni, CEO of SAHA.

SuperSport's Gideon Khobane, Chief Executive Officer, added: "This is a watershed moment for SA hockey and we are delighted to be a part of it. Hockey is fast and action-packed; perfect television fare. We look forward to seeing hockey reach new heights and enhance the SuperSport viewing experience."

Thanks to support and investment from the Department of Sport & Recreation, the inaugural PHL event will be hosted at the Randburg Astro, Johannesburg and will consist of both a men's and women's league that will run over four weekend's – from Saturday 3rd September to Sunday 25th September 2016 (inclusive).

The PHL forms a key part of the SAHA high performance pipeline which is aimed at better equipping our national men's and women's teams for international competition in future. To this end the PHL will be the very first Hockey League in the world where all the women participating will be paid to play the game.

On weekend one, hockey fans across South Africa will be able to watch the following games, via various SuperSport platforms:
Matchday 1 – Saturday 3rd September, 2016:
| | | | | | |
| --- | --- | --- | --- | --- | --- |
| Time | Pool | Team 1 | Team 2 | TV Channel | SuperSport.com |
| 10h00 | Men's | Mapungubwe Mambas | Every Sun Addo Elephants | Live on SS8 |   |
| 12h00 | Women's | Blyde River Bunters | Orange River Rafters | Live on SS10 |   |
| 14h00 | Men's | Drakensburg Dragons | Maropeng Cavemen | Delayed broadcast on SS10 at 16h30 on Saturday. | Live online |
| 16h00 | Women's | Lip Ice Namaqualand Daisies | Wineland Wings | Delayed broadcast on SS10 at 18h00 on Saturday. | Live online |
 Matchday 2 – Sunday 4th September, 2016:  
| | | | | | |
| --- | --- | --- | --- | --- | --- |
| Time | Pool | Team 1 | Team 2 | TV Channel | SuperSport.com |
| 08h00 | Women's | Young Solutions St Lucia Lakers | Madikwe Rangers | Live on SS5 |   |
| 10h00 | Men's | Mapungubwe Mambas | Drakensburg Dragons | Live on SS5 |   |
| 12h00 | Women's | Blyde River Bunters | Wineland Wings | Delayed broadcast on SS10 at 07h00 on Monday. | Live online |
| 14h00 | Men's | Every Sun Addo Elephants | Garden Route Gazelles | Delayed broadcast on SS10 at 08h30 on Monday. | Live online |
SAHA Premier League Hockey media release


---

Scotland men's World League 1 squad announcement




Scotland men's Head Coach Derek Forsyth has announced his squad to compete at World League 1 in Glasgow next week.

The tournament will be played at the National Hockey Centre on 6-11 September and will see Scotland feature in a five team round robin tournament against Wales; Switzerland; Portugal; and Slovakia. The competition will determine which teams qualify for Round 2 events in early 2017. The 2016/17 World League competition will ultimately decide the teams that will qualify, alongside the Continental Champions and hosts, for the FIH World Cup in 2018.

It is an exciting time for Scotland's men's team as they kick-off their qualifying campaign for the World Cup in 2018. The team made a great start to the summer by winning a 4-Nations tournament in Poland, and then scoring 17 goals over three games against Czech Republic in Prague recently. The men's final preparations for World League 1 saw the team score 16 over three games against Italy in Glasgow.

To come and support the team at World League 1, ticket information is available HERE.

Gordon Amour, Edinburgh University
Russell Anderson, Cannock
Kenny Bain, HGC
Patrick Christie, Durham University
Dan Coultas, Edinburgh University
Callum Duke, Hillhead
David Forrester, Edinburgh University
Alan Forsyth, Surbiton
David Forsyth, Qui Vive
Cammy Fraser, Grange
Ed Greaves, Nürnberger HTC
Sean Hadfield, Bowdon
Hamish Imrie, Schaerweijde
Willie Marshall, Surbiton
Lee Morton, Kelburne
Nick Parkes, Surbiton
Duncan Riddell, Grange
Jamie Wong, Edinburgh University

Reserves

Steven McIlravey, Grove Menzieshill
Nick Samra, Surbiton
Robbie Shepherdson, Loughborough University

Scottish Hockey Union media release


---

Sarah Wilson promoted to World Panel List for umpires



Sarah Wilson

Scottish Hockey Umpire Sarah Wilson has been promoted to the FIH top umpiring group, putting her in the top 16 umpires in the World. It's an exceptional achievement following her appointment for the bronze medal match at the Rio Olympics.

Following Sarah Wilson's performance and the overall mark she achieved at the Olympic Games, the Umpiring Committee approved her promotion to the World Panel List. The FIH said that over the last two years Sarah has shown a consistently improving level of performance at tournaments, which shows how hard she has worked to achieve the necessary standard of umpiring to be promoted to the World Panel.

Sarah umpired Argentina v India; India v Australia; Netherlands v Korea; China v Germany; and Australia v New Zealand at the Olympics as well as the bronze medal match between Germany and New Zealand.

Scottish Hockey umpire Martin Madden was also appointed to a bronze medal match at the Rio Olympics, umpiring the contest between Netherlands and Germany.

It is a tremendous achievement for our umpires, both taking part in the Olympics for the first time in their umpiring careers. It was also the third consecutive Olympics where a Scot has umpired a medal match, showing that Sarah and Martin both upheld the exceptional standard set by Scottish umpires in international hockey.

Martin Madden also became the 39th man to receive a FIH Golden Whistle for umpiring 100 senior international matches with Netherlands v India at the Olympics being his 100th match umpiring senior internationals.

Scottish hockey umpires have an excellent reputation, in both domestic competitions and at international level. If you are interested in umpiring, Scottish Hockey provides Umpire Qualifications that will enable you to officiate at matches and in competitions.

For current officials interested in furthering their skills and knowledge, District Associations run development workshops and craft nights for you to attend. Find out about national seminars and briefings taking place too. They are useful forums for discussing new developments in officiating.

Scottish Hockey Union media release


---

€225,000 Fundraising Target Reached!




Hockey Ireland is delighted to announce that we have reached our fundraising target of €225,000! A massive thank you to everyone who supported our Obsessed campaign by donating and/or buying Obsessed merchandise, as well as spreading the word. Plus a big thank you to all the businesses that sponsored the Green Machine throughout the summer in the run up to the Olympic Games. 

Speaking about raising the funds, acting CEO Rob Johnson said "When we started the fundraising back in February, it was a daunting challenge as we have never fundraised to this extent before.  Your response has surpassed all expectations.  It is a fantastic achievement to raise over €225k in 5 months!  Thank you, to each one of you that contributed and assisted in making this happen.   It was a fantastic result!!  Thank you".

From all at Hockey Ireland and the Green Machine, THANK YOU!

Irish Hockey Association media release